20 Modern ideas for gorgeous fall wedding guest dresses in 2021
Well, the fall season is officially here. Naturally, it brings along the fall wedding season as well. In general, most weddings are done throughout the summer. Some people, however, love to have their weddings during the cozy autumn months. While the summer is incredibly hot and wearing a wedding dress can be a nightmare, the warmer temperatures make fall the perfect time to get married. What's more, your guests can enjoy the wedding day a lot more without sweating like crazy. So, today we have prepared 20 modern ideas for gorgeous fall wedding guest dresses. If you have been invited to a wedding and you are wondering what to wear, this article will definitely help you make the best possible decision. Furthermore, since we are talking about trends, you will absolutely steal the show at the wedding with our suggestions.
Our trendy suggestions will help you steal the show at any wedding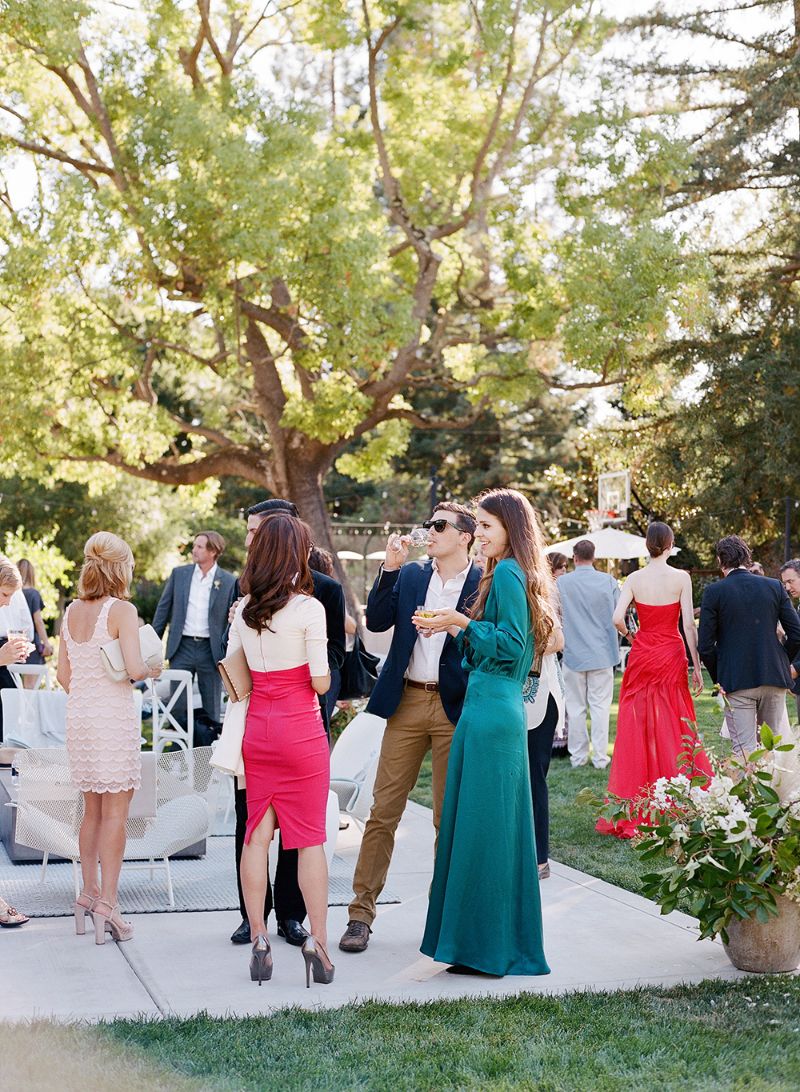 Fall wedding guest dresses are a must for this important event
Everyone loves dressing up, especially when the event at question is very important. Weddings are probably one of the most important even in a person's life. After all, the wedding pictures will be in albums and on social media for everyone to see. That is exactly why it is important to wear something nice and chic.
Keep it simple
Dressing up doesn't always mean going overboard with intricate designs or lots of colors. Sometimes, simplicity is key. Even a simple black dress can leave a lasting impression when worn with the right accessories. For example a simple off the shoulders dress can be a real statement piece. Especially if you combine it with a nice necklace and sandals. Furthermore, it gives you the possibility to wear long sleeves, which is definitely helpful if the temperature drops. You can wear your hair up or down, it doesn't really matter. You will look great either way.
Sometimes less is more when it comes to dressing up for an important event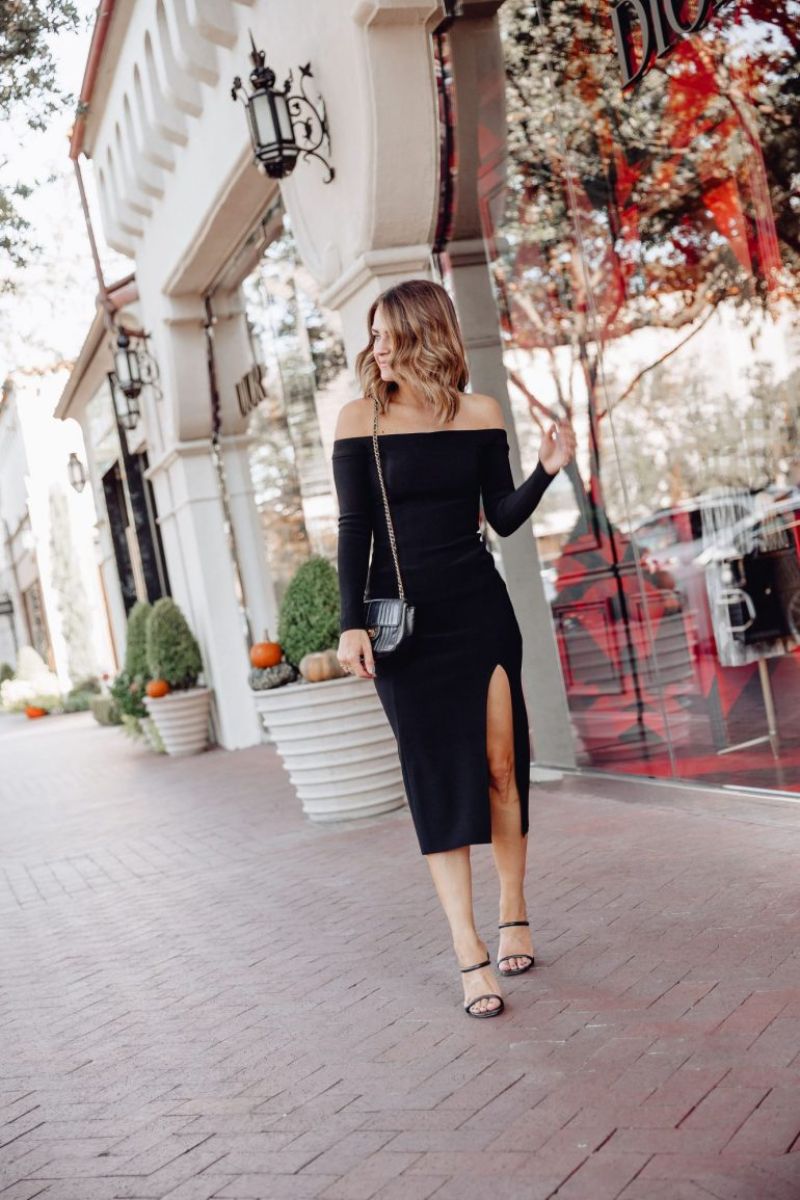 Lacy fall wedding guest dresses
Lace is the queen when it comes to weddings. Most wedding dresses incorporate lace if not entirely, than at least with some lacy details on the back or neckline. That is exactly the reason why lace is always welcomed and is always a good idea for a wedding. Choose a boho lacy dress in a statement color and you will nail the assignment. Combine it with a pair of sandals or simple heels, let your hair flow down with some beach waves and your look will definitely be something everyone at the wedding is going to be talking about.
Lace is a key ingredient in any wedding dress, so why not use it as a wedding guest as well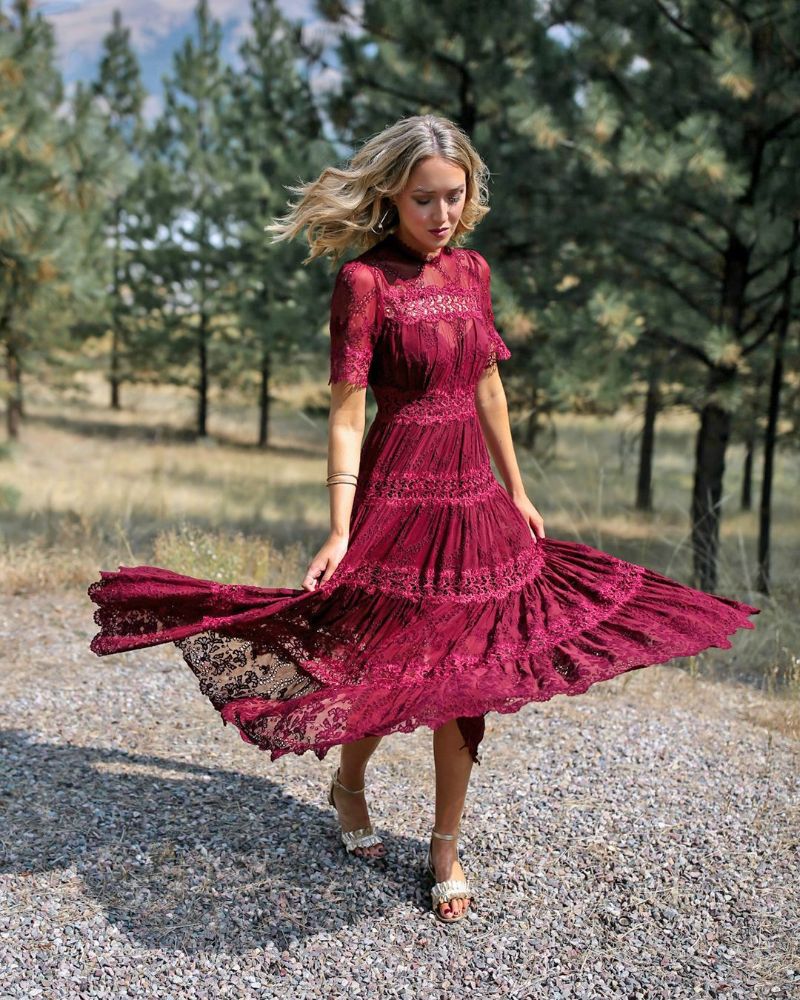 Go floral
In general floral prints are mostly used throughout the summer. However, florals are never a bad idea for a wedding. As we have already said, lace is an inseparable part of any wedding. Well, so are flowers. That is exactly why, floral dresses are perfect for wedding guests. Usually, for the summer we tend to lean more on flowers in bright colors. For the fall season, however, we may try more understated colors with a floral print that pops. Whether you choose a midi or a full length dress, the florals will definitely make enough of an impression.
Florals of any kind are always welcome at weddings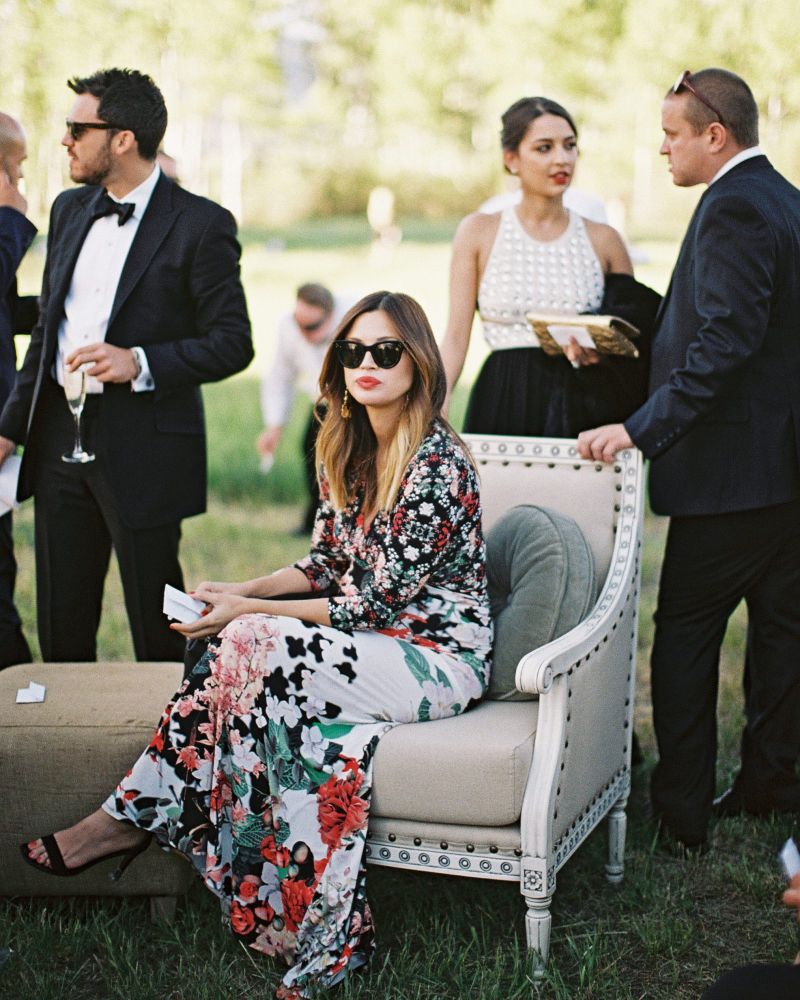 Fall wedding guest dresses which make a statement
Listen, we have all heard numerous times that when you go to a wedding you shouldn't look better than the bride. And we get it, after all it is the bride's day. However, that doesn't mean that you shouldn't dress up to the best of your abilities. So, if you like going all out, then why not choose a wedding guest dress, which makes a statement. Whether it is through an intricate design, plunging neckline or statement sleeves, if you want to go all out and have all eyes on you, than why not do it?
If you own a beautiful dress like this one, don't be afraid to wear it to a wedding to make a statement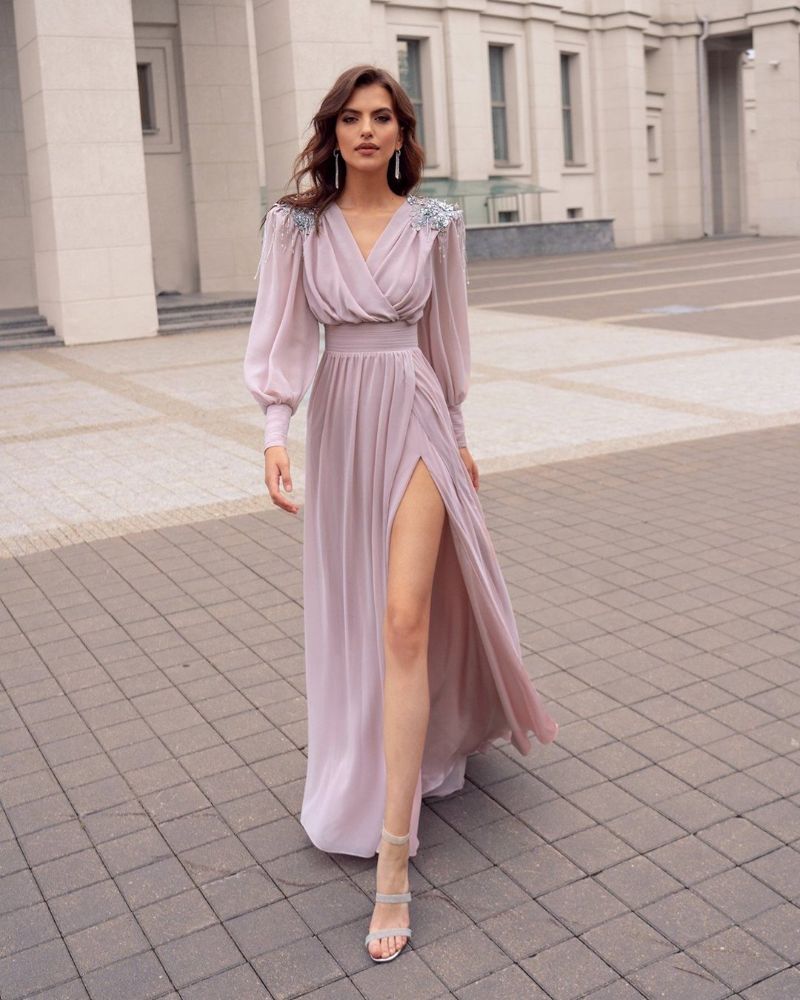 Follow the romantic vibe
It is no secret that weddings are very romantic. After all, they celebrate the love between two people. So, naturally the romantic vibe is all over the place during the wedding. If you want to be a part of that, choose a dress in light pink, blush or red colors. These are considered the colors of love and wearing them to a wedding is always a good idea. For example, the photo below is a perfect example of a romantic light pink hug me dress, which flows down the body and has an interesting print. What's more, the combination with the romantic beach waves makes it the perfect wedding look.
This is just a great example of the perfect wedding look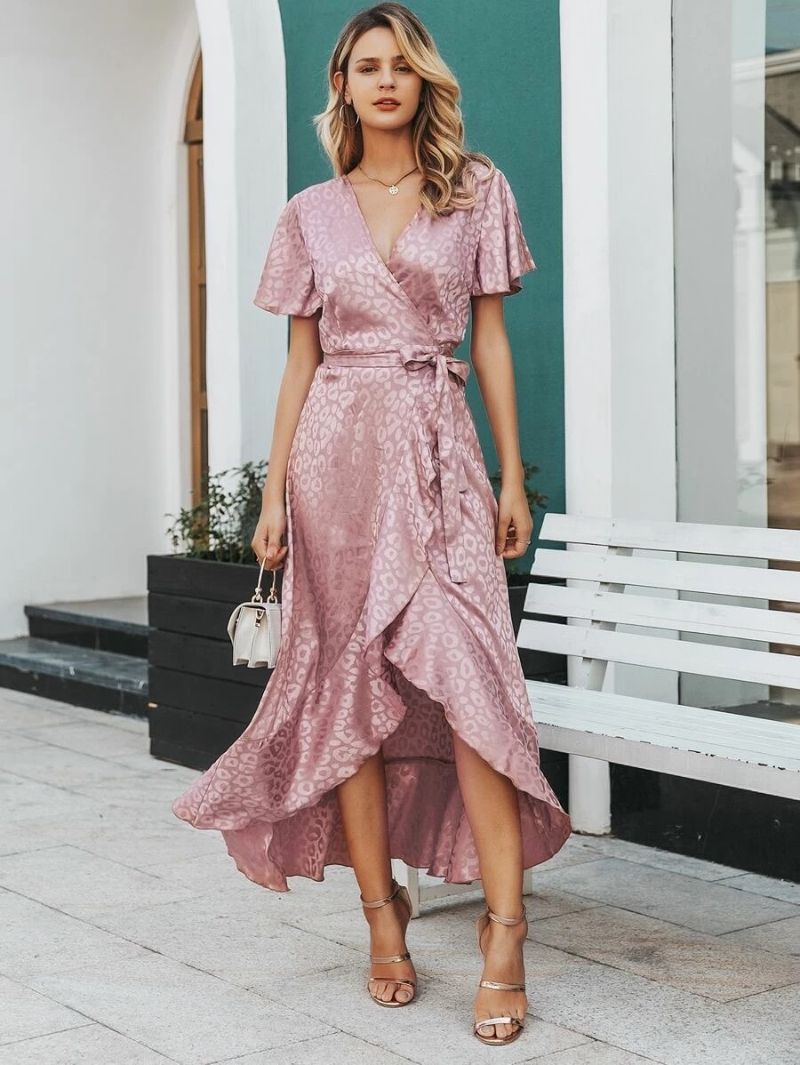 Feel like a princess
Listen, it may not be your wedding, but we don't get to dress up as much anymore, so if you want to feel like a princess on this day, than we say go for it. Choose a flowy dress with statement sleeves, made out of tulle like the one in the picture below, put your hair up in a nice updo and don't forget to take lots of pictures. You will definitely be the star of the party if you put on a dress like this one. And, as we have already said, you should absolutely do it without fear of overshadowing the bride.
Weddings are fairytale like, so why not dress up like a princess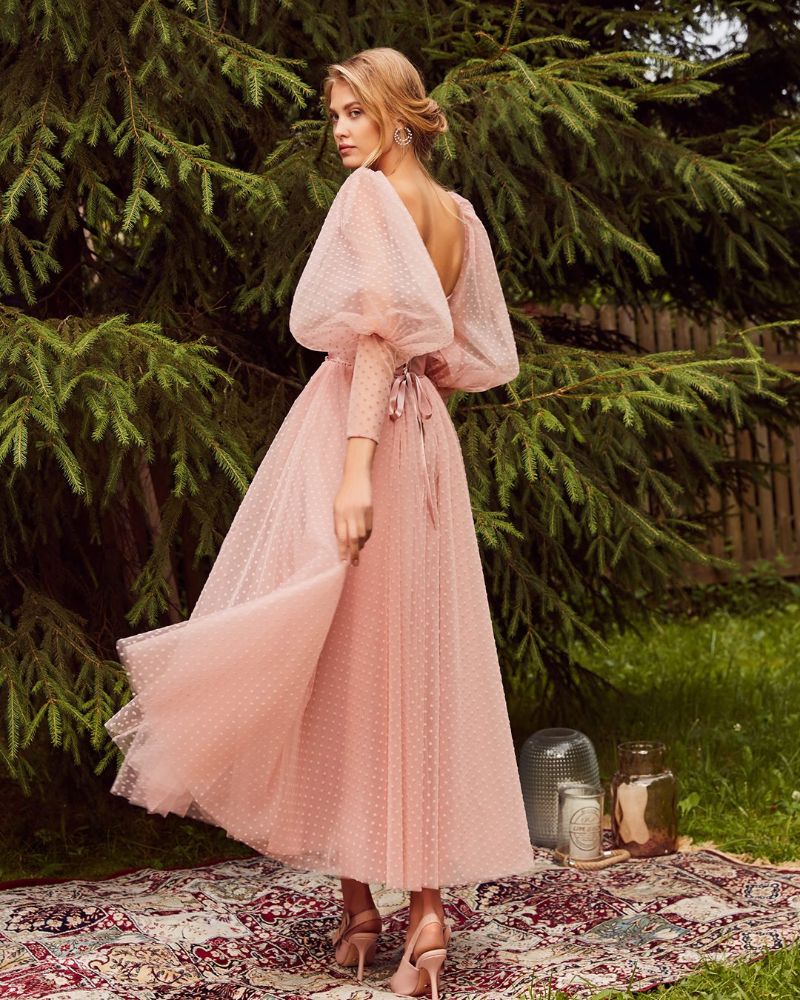 Bet on elegance
How many times do we need to say it? Weddings are for dressing up! And we mean dressing up to the best of your abilities and doing it as classy and elegant as possible. Straight dresses with plunging necklines are incredibly beautiful and definitely make a statement. Pick one made of velvet in a dark blue color and you will definitely win a poll of who is the best dressed person at the wedding. Pair that with a set of eye catching earrings and you will feel like you are about to walk down a red carpet.
A look like this one goes well with both an updo and subtle waves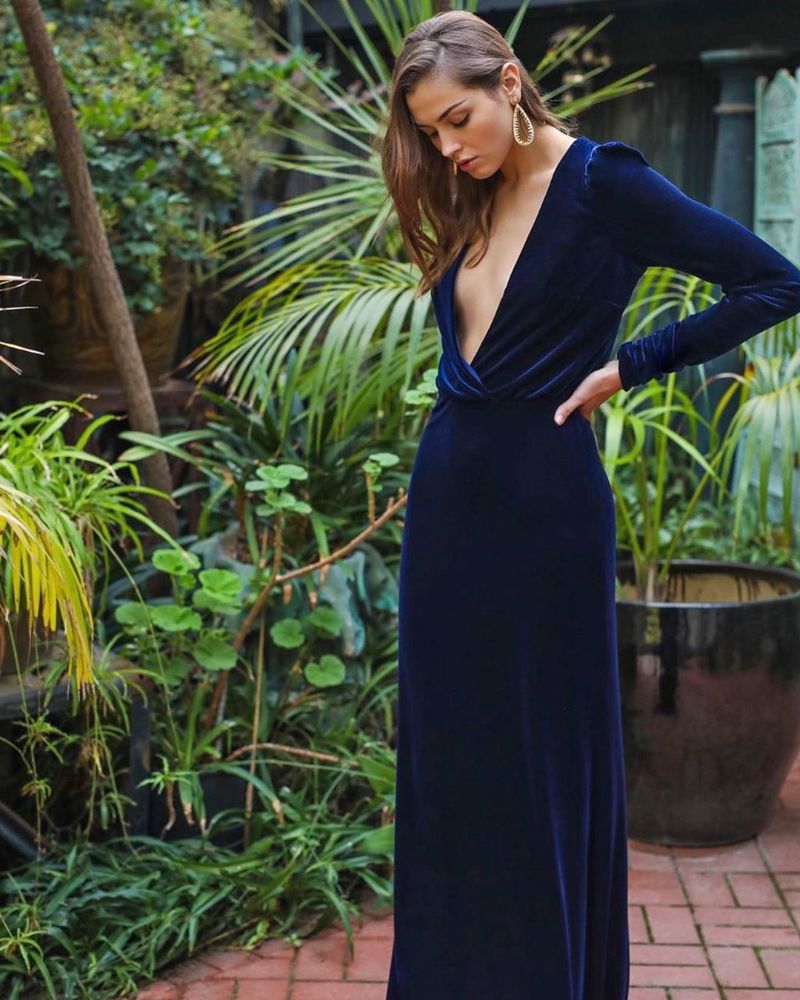 Colors of fall wedding guest dresses
We all know that fall comes in beautiful colors, so why not celebrate the season by choosing a dress in one of them? Brown, red, mustard yellow and dark green are the perfect colors for wedding guest dresses during the fall season. What's more, these colors will be very trendy in the fall/winter 2021 season. So, whether you choose a short or full length dress in one of these colors, you will definitely make a statement with your look and profess your love for the season.
Mustard yellow is the perfect fall colors for any wedding guest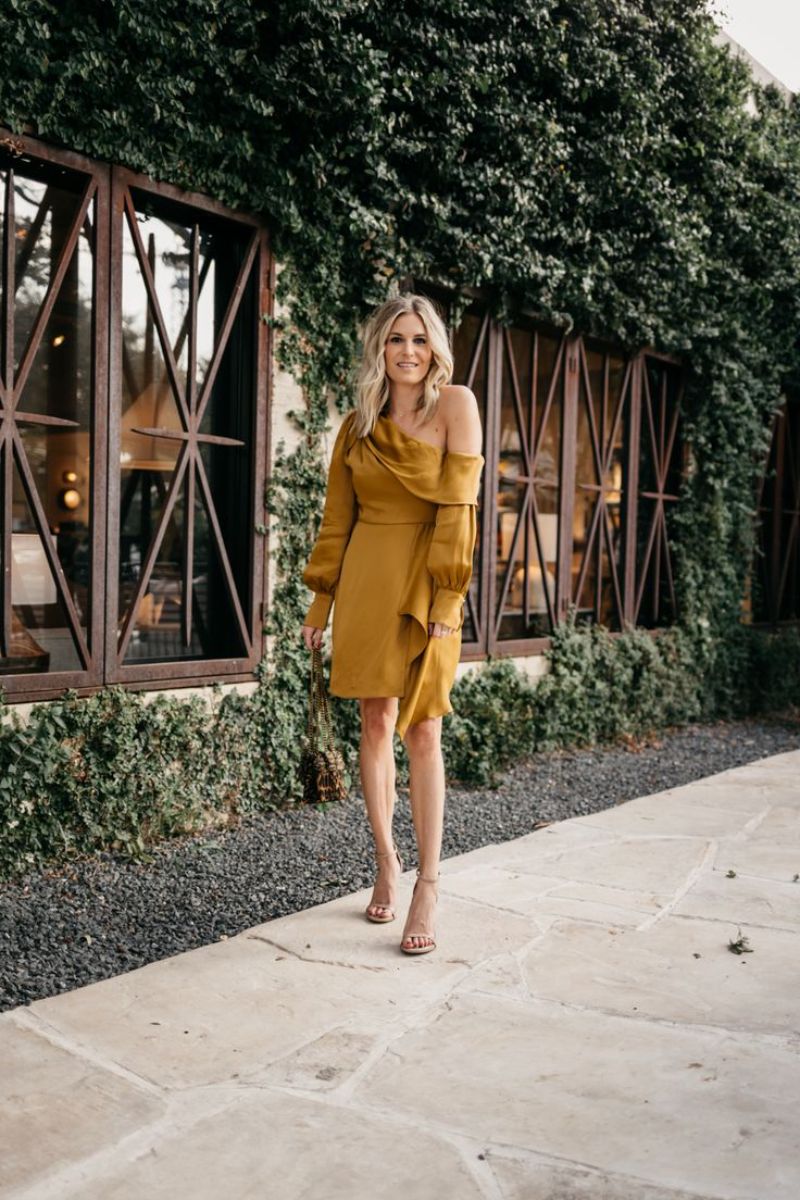 Now it is time to browse through the gallery and find even more ideas for fall wedding guest dresses
Make a statement with your accessories
Burgundy is a very popular fall color
Floral and lace – the perfect combination for any wedding