---
Well, summer is here! And so is the hot weather! There is nothing better in the world than going home after a long day and being able to sit in your garden, drink a glass of rose and enjoy the cool evening. What's more, if you are a lover of the outdoors and have a big backyard, you can basically cook and eat outside with your whole family. Designing the space in your backyard is not easy. There are some tips and tricks that you need to know before you begin this difficult task. Which is why, we want to help you as much as we can. We have gathered 50 backyard patio ideas, which are going to help you transform the garden into your own little oasis.
If you love enjoying the outdoors than your backyard should definitely have a makeover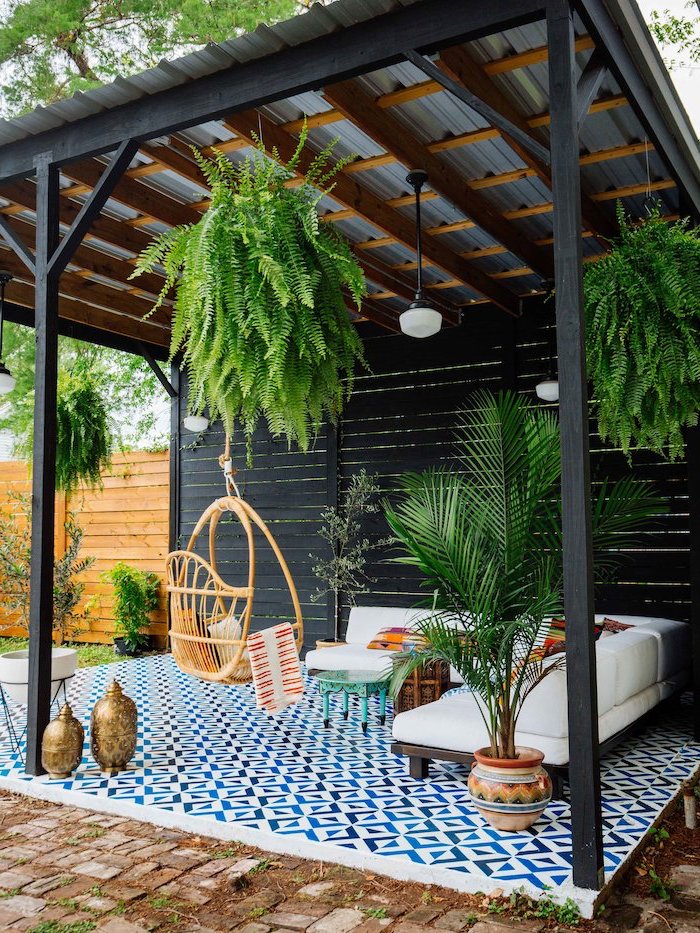 ---
What are the most popular backyard patio ideas?
Regardless of the amount of space you have, you can turn your garden into your own little paradise. Nowadays, people pay as much attention to their exterior as they do the interior. If you are lucky enough to live somewhere warm, then by all means, go all out and create a garden where you can basically do everything. Just think of everything you can have outside. First of all, pool, of course, outdoor kitchen, grill station, lounge area, to name a few. Furthermore, you can have a fireplace or a fire pit outside, so even if it gets a bit chilly, you can still enjoy the fresh air. Trust us, you need to have a garden where you can relax and enjoy your time with friends and family. So, keep reading to find out what you need to consider before you begin. What's more, we are going to give you a few ideas about how to turn your backyard into a modern space straight out of an interior design magazine.
Having an outdoor lounge area is especially important if you live some place, where the temperatures are always high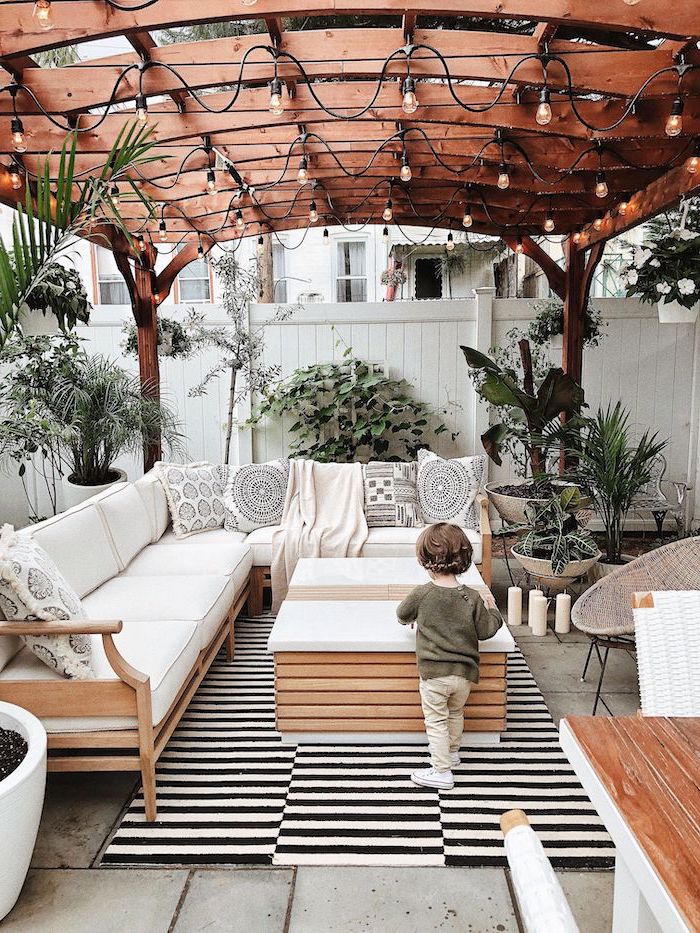 What do you need to consider before you begin your yard renovation? Backyard patio ideas for every taste
As is the case with everything else, there are a few rules to follow when furnishing an outdoor space. So, here are a few things to take into consideration before you begin:
1. Consider your space
Not all of us are gifted with a large backyard. Even if your yard is small, do not despair, however. You can still create a beautiful space you can enjoy. First of all, if you have a large backyard, utilize it. Make sure each space is used. Create a lounge area, plus a dining area. What's more, having a cooking station, grill station and an outdoor kitchen, in general, is a very good idea. Especially for the hottest summer days. Basically you can create and entire space outside where you can do everything you would normally do inside. Furthermore, you will be the queen of summer parties.
On the other hand, however, if you have limited space, consider what it is that you want to use your garden for. If an outdoor kitchen is your preference, then, naturally, that's what you need to go with. If, however, you are looking for a space to chill, read books and watch films, then maybe a lounge area with a nice sofa is perfect.
This ultra modern and contemporary design will automatically turn you into the hostess with the mostest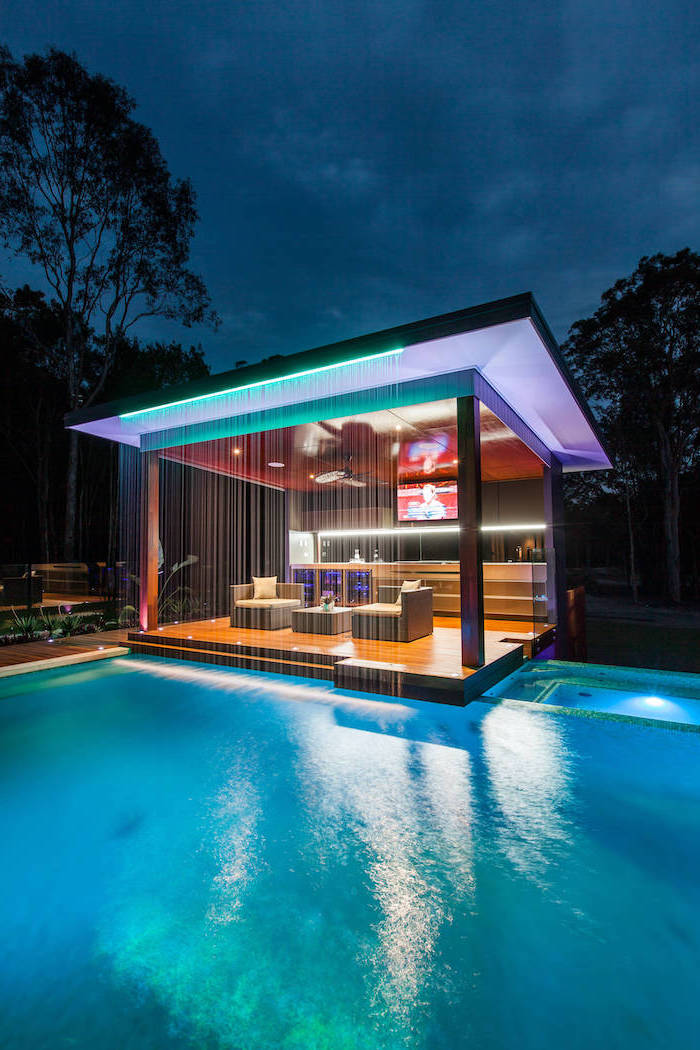 2. Choose your furniture wisely
If you live in an area with rain and winter season, consider building a pergola above your lounge area. For example, if your furniture are wooden, it is not wise to keep them out in the cold and under the rain. They might need to be stored away during the colder seasons. That is, if you don't have anything to cover them with. In that case, metal or plastic furniture are a good idea. However, probably the most preferred material for garden furniture is rattan. Its longevity makes it perfect for any weather, since rain and cold don't really affect it. Just get yourself some nice cushions, which can easily be kept in the house while it is raining outside and you are all set. Another option, which seems to be very trendy nowadays is having stone benches, which are part of the exterior of the garden. Once again, all you need for them is cushions and a few throw pillows to make the stone feel comfy and cozy.
Swings are a very trendy piece of furniture
---
3. Create some shade
If you don't have a large tree, which can do the job, then you need artificial shade. After all, the sun during the summer can actually be quite dangerous. That is why you need some shade to protect you from the UV rays. Like we said, a tree would be perfect. Another option is a nice pergola, open on all sides, which is going to keep you away from the sun, but provide enough fresh air. On other hand, if you are looking for a more romantic, boho feel, than a few sheer outdoor curtains can do the job perfectly.
I wouldn't mind spending my evenings with a view like this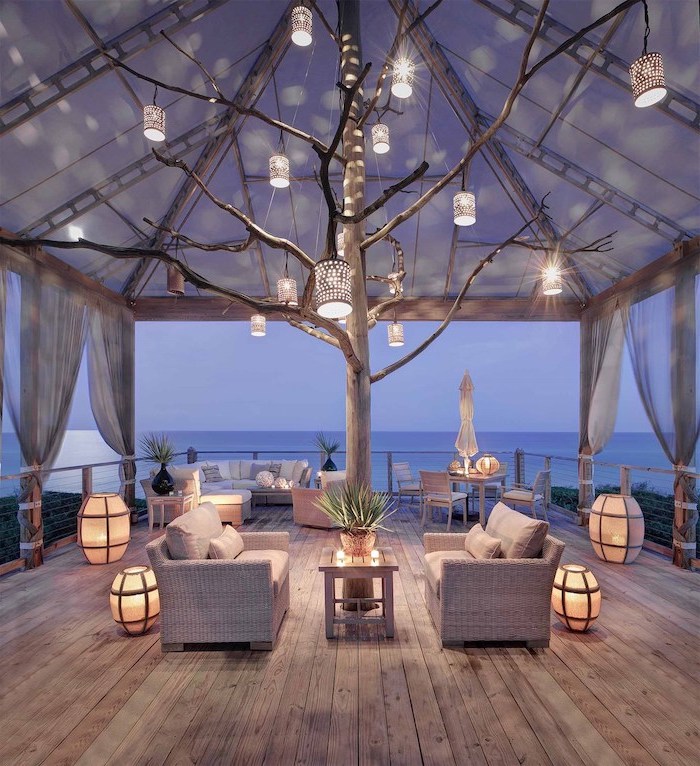 4. Have as much greenery as possible
Don't forget that this is your garden, after all. You need as many plants as possible. Whether you will have grass on the floor or you are planning on vertical planting, greenery brings in so much freshness to any space. What's more, it is proven that plants help you keep calm and relax more. So, even if you don't have space for a whole flower bed, a few potted plants will still do the job.
Vertical planting is a good option for small spaces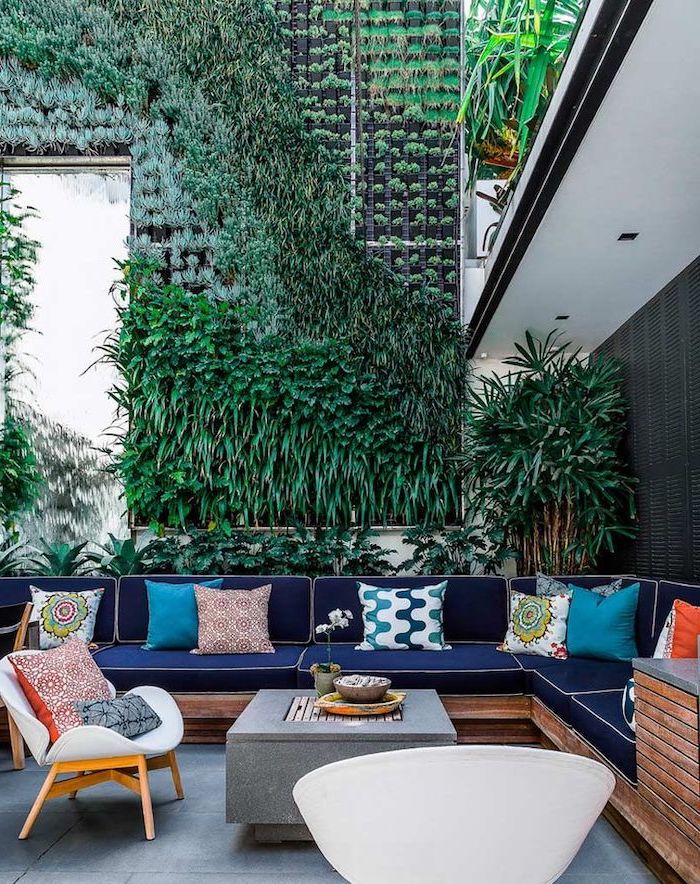 5. Pay attention to your flooring
When it comes to outdoor space, it is very important what flooring we choose. First of all, even if you want to have green grass everywhere, refrain from using it under furniture. It can keep moisture and ruin your furniture. What's more, it is not very nice to step on wet, muddy grass after a summer rain. Instead, opt for tiles or stone, surrounded by grass. Stone or concrete are some of the best materials for outdoor flooring. Pavers are also quite trendy in interior design today. You can also add some gravel in between for an extra modern finish. Naturally, if you have an enclosed patio, wooden floors work just as well. Plus, let's be honest, they are pretty cozy.
You can steal this idea for your outdoor dining area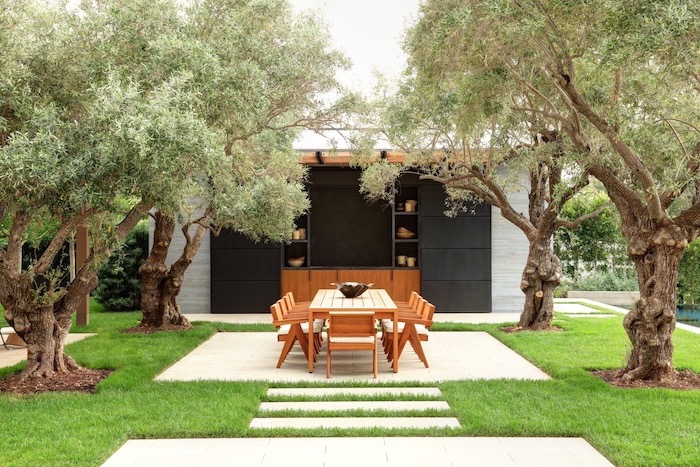 Now keep scrolling through our gallery to find even more backyard patio ideas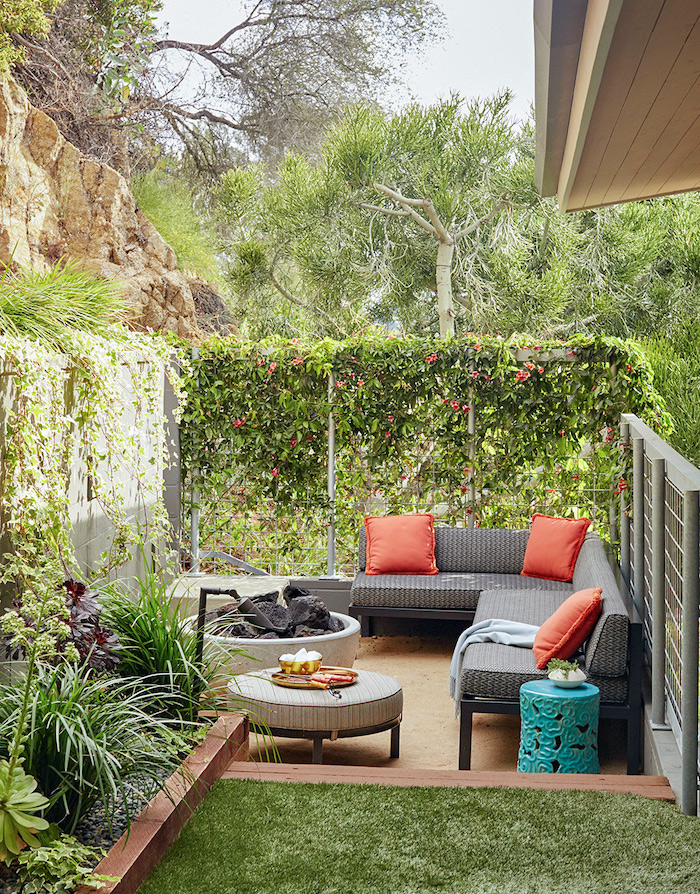 Just look at this view and tell me you wouldn't spend every evening here
Rattan garden furniture are preferred for the outdoors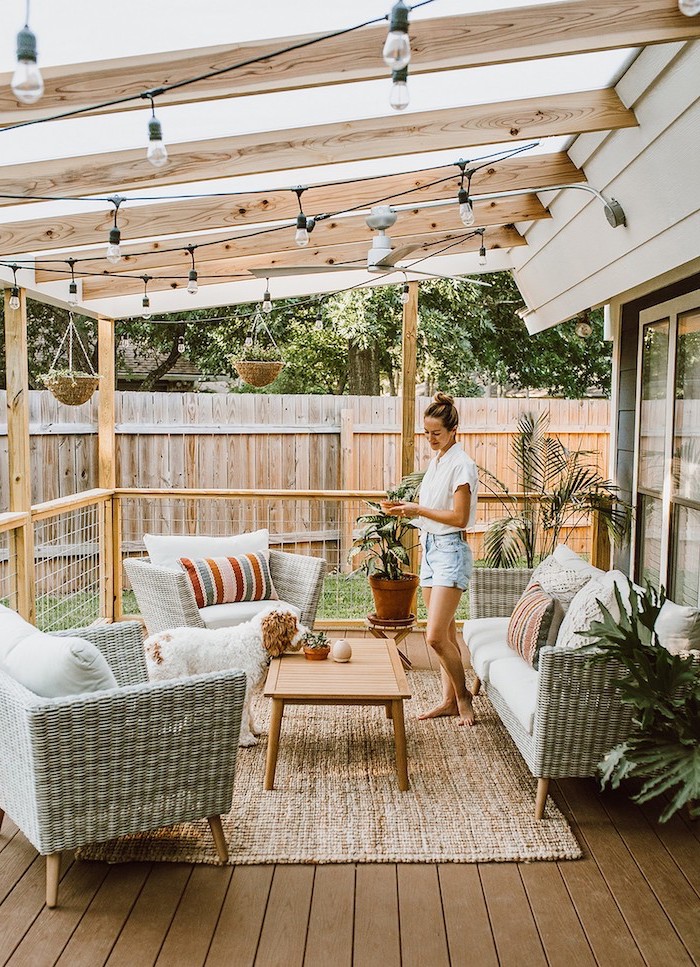 If you have lots of covered space, wood is perfect for the outside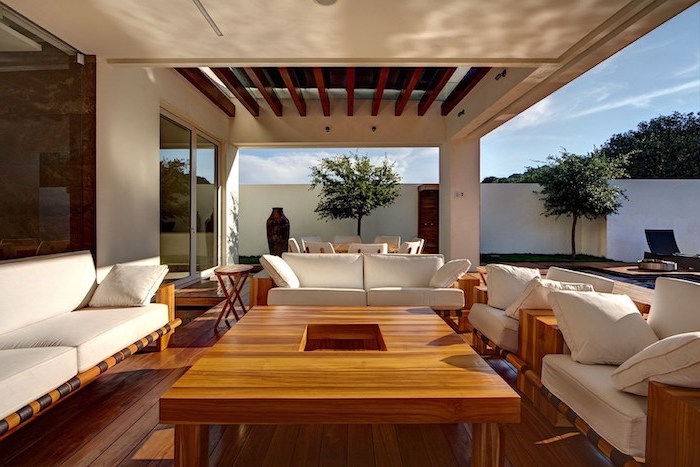 Strings of lights create such a romantic feeling on your patio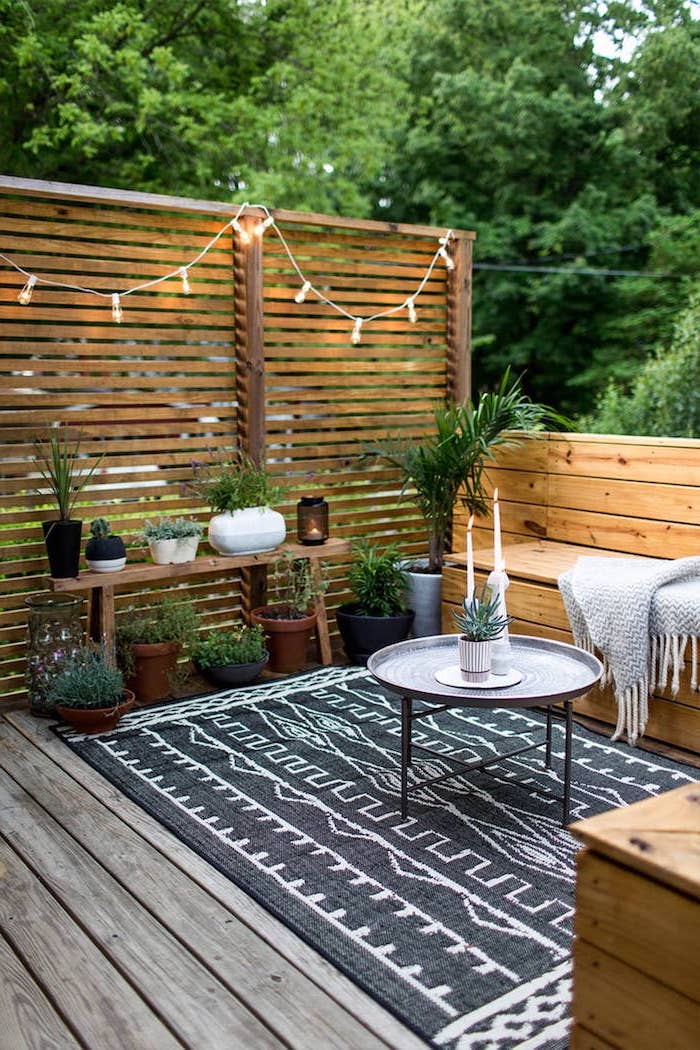 Stone is one of the toughest materials out there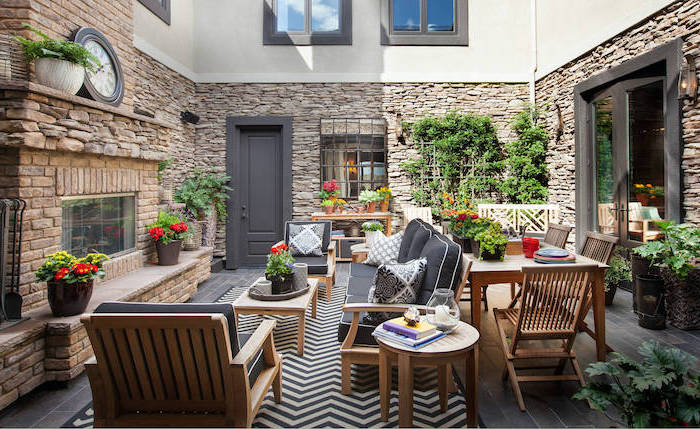 You can even create your very own zen garden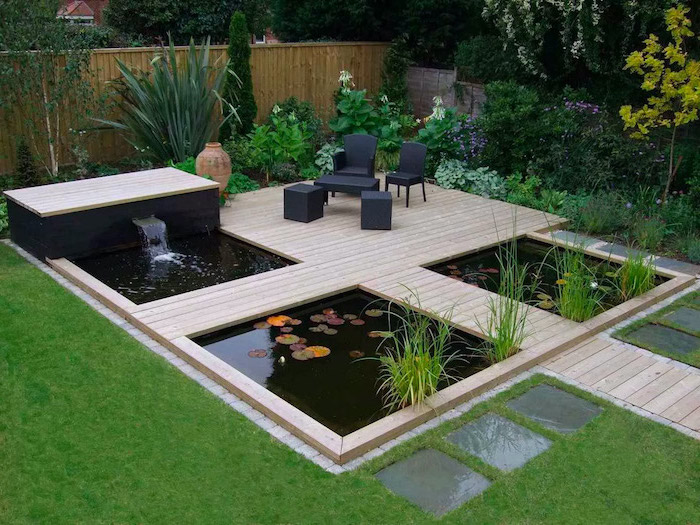 If you don't have enough space, you can still create a small reading nook outside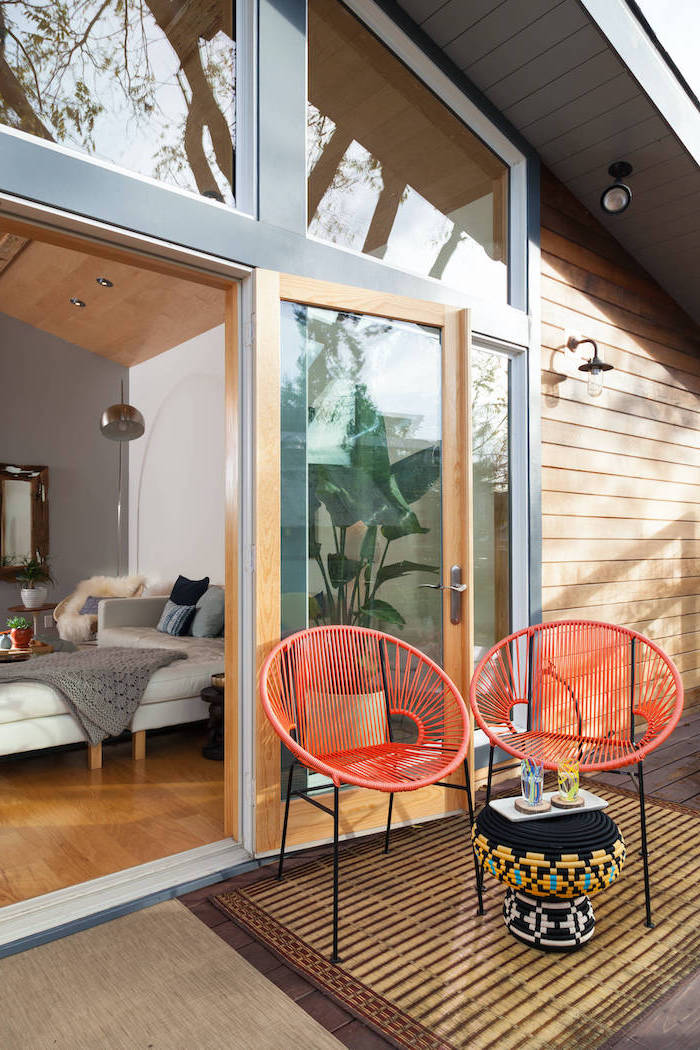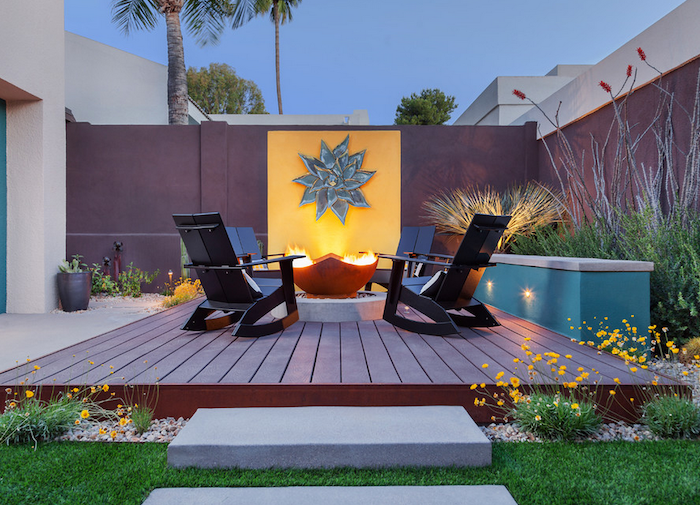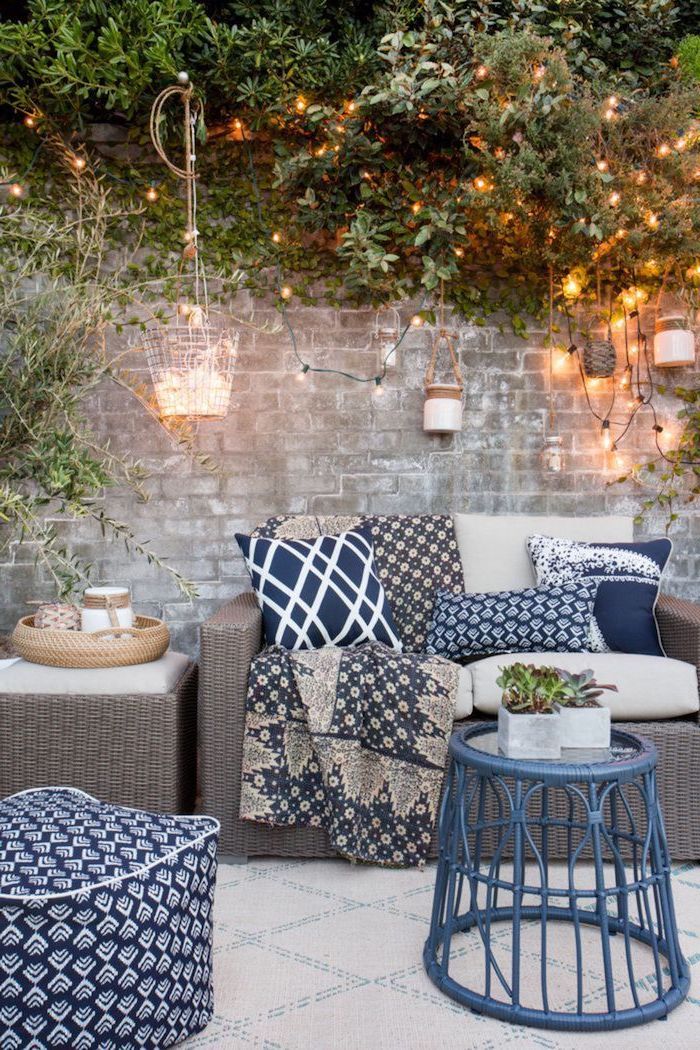 Kitchen + dining room + lounge area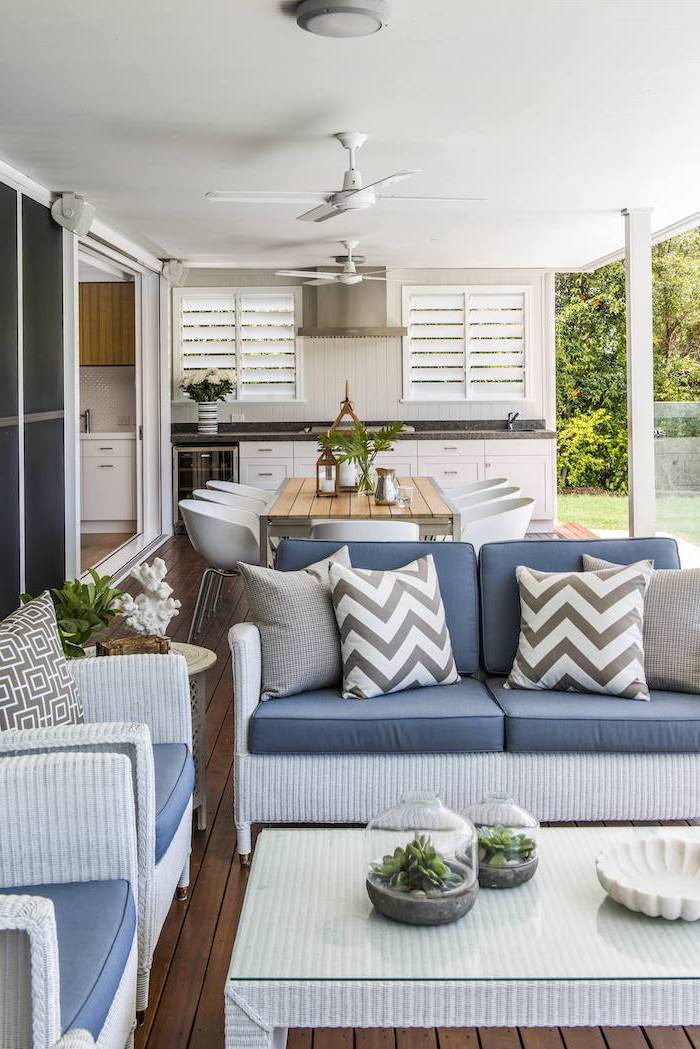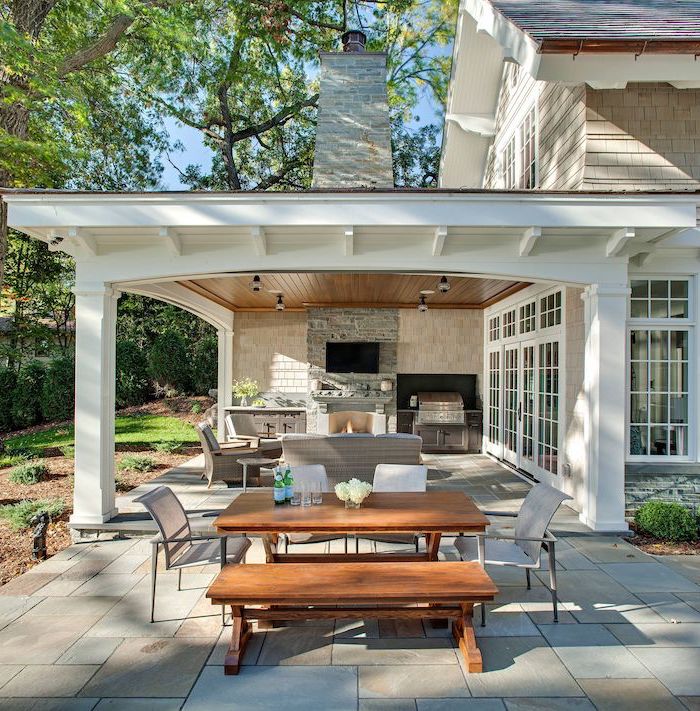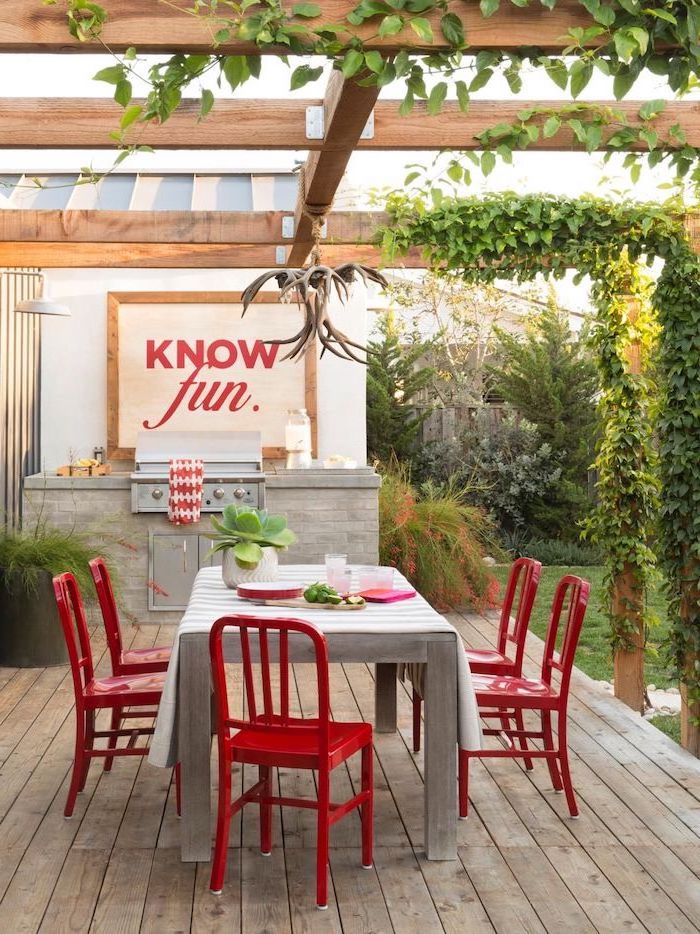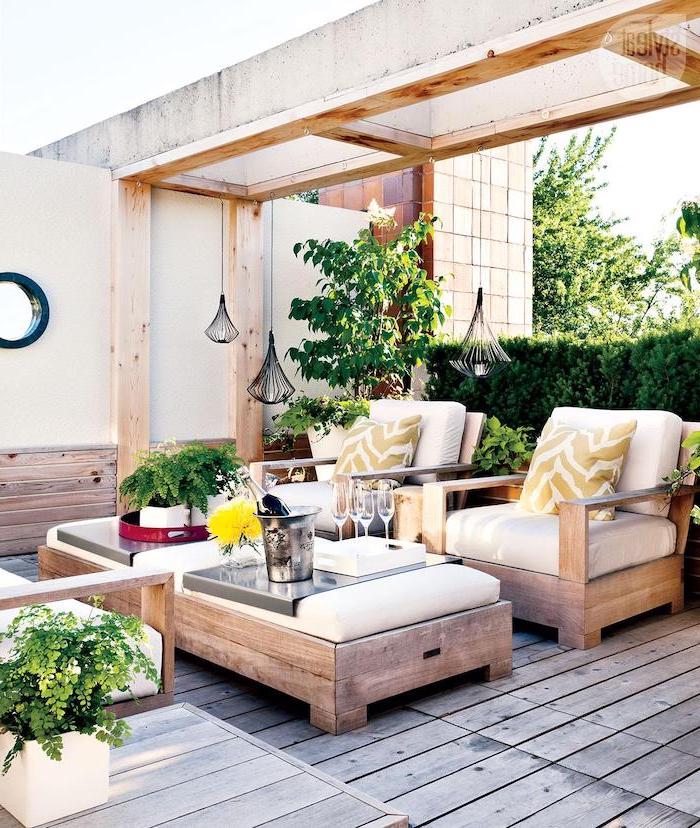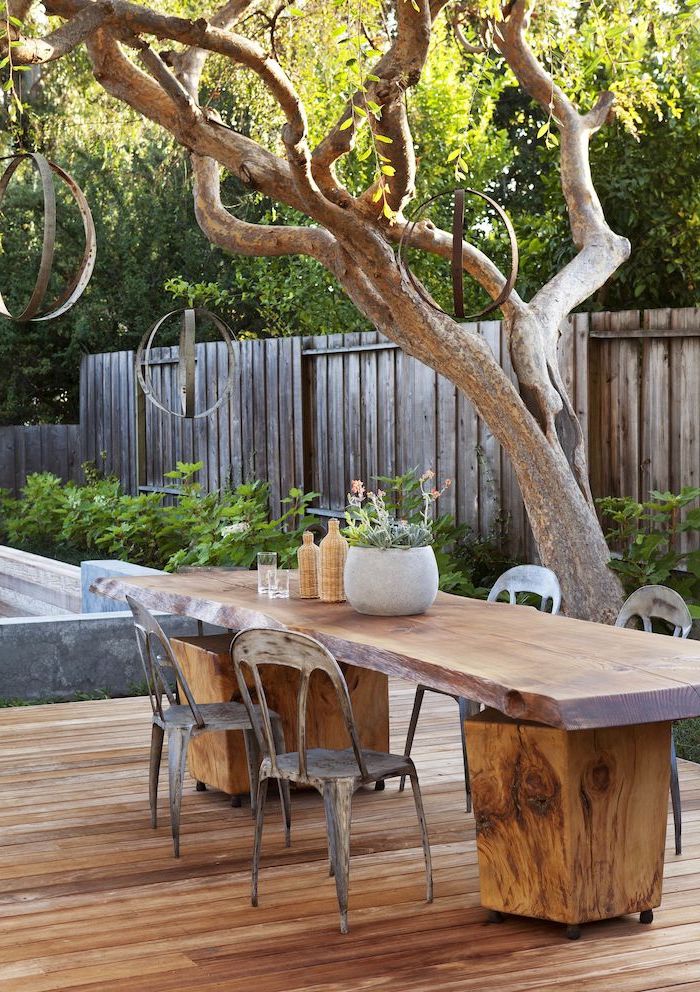 Fire pits are another great addition to your outdoor lounge area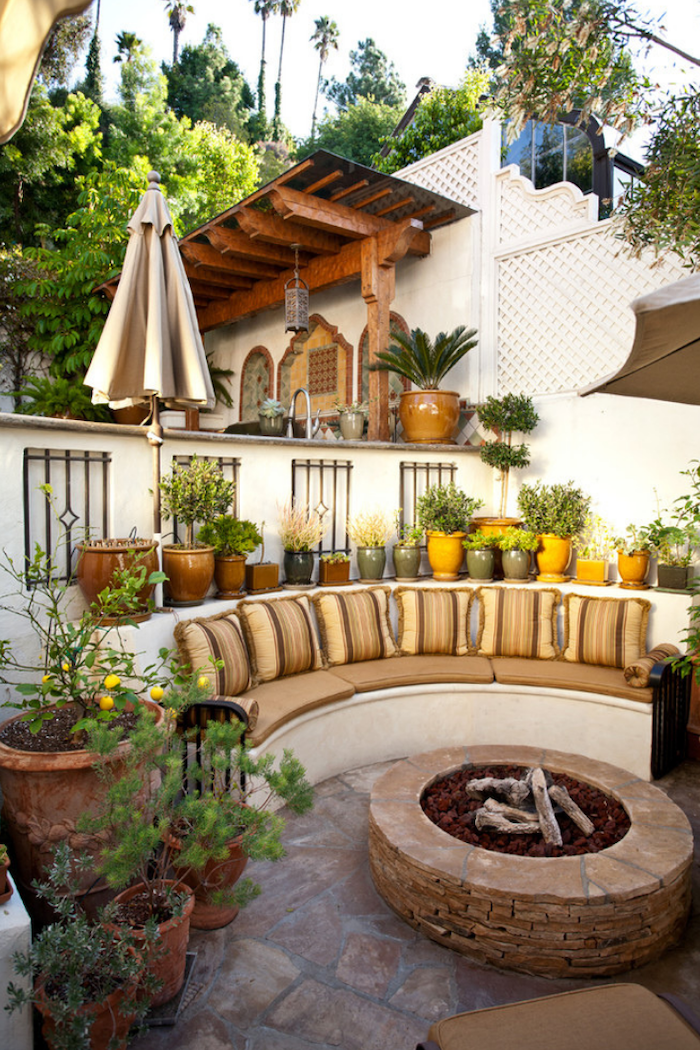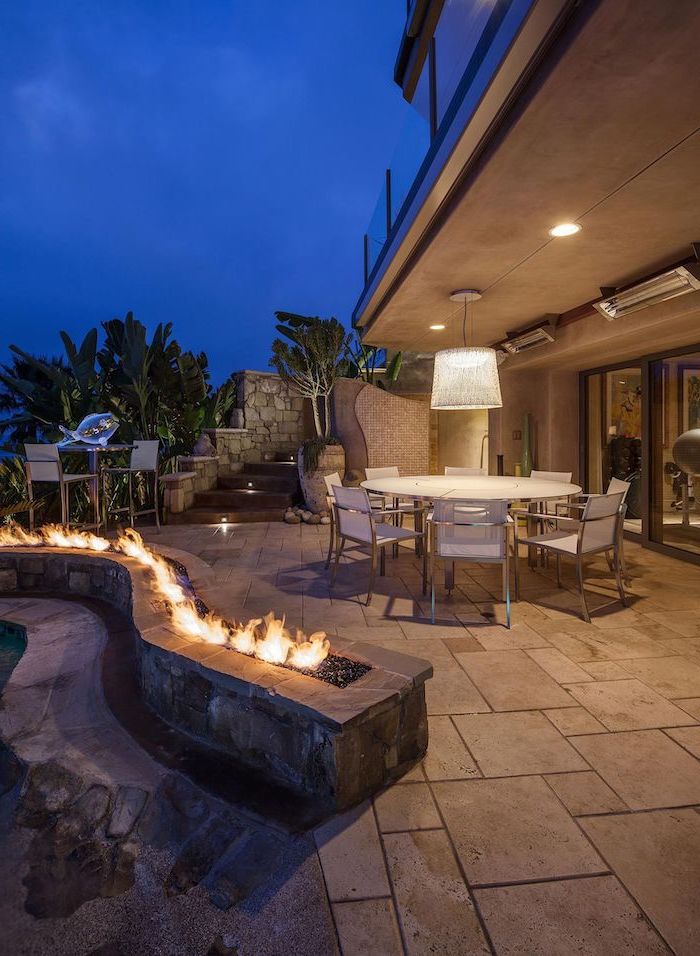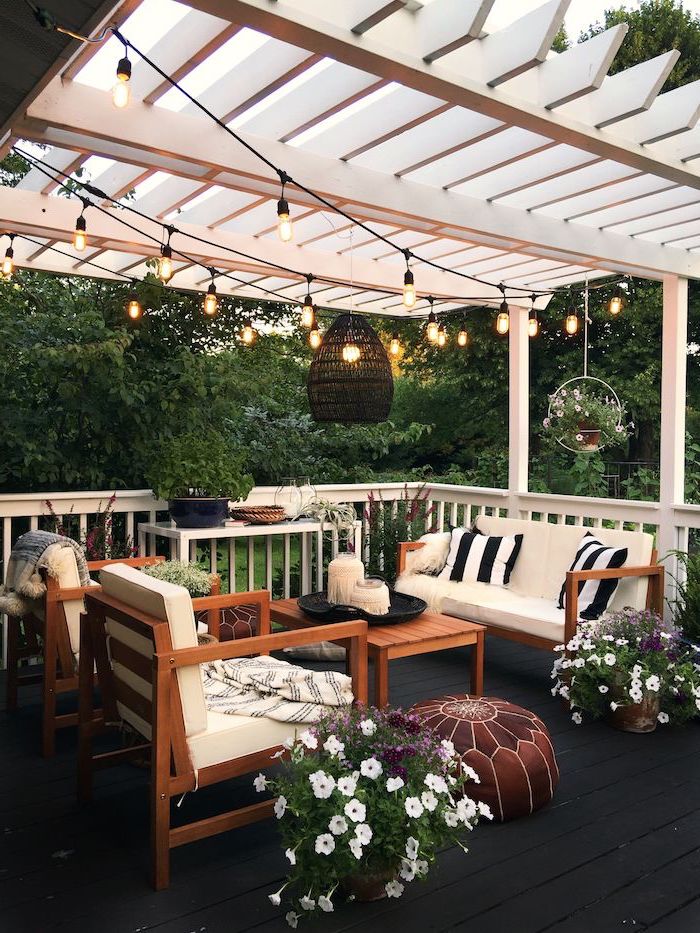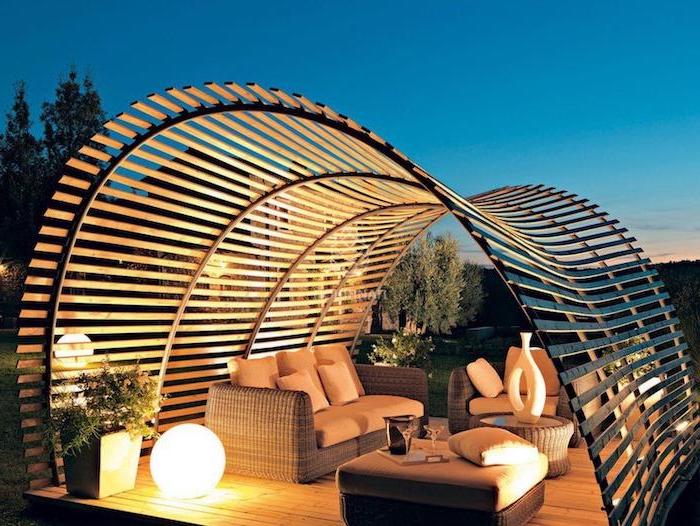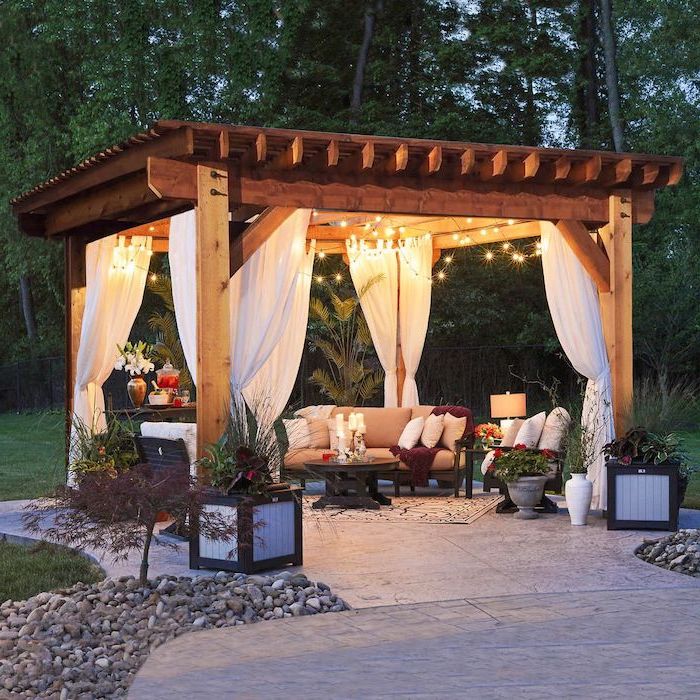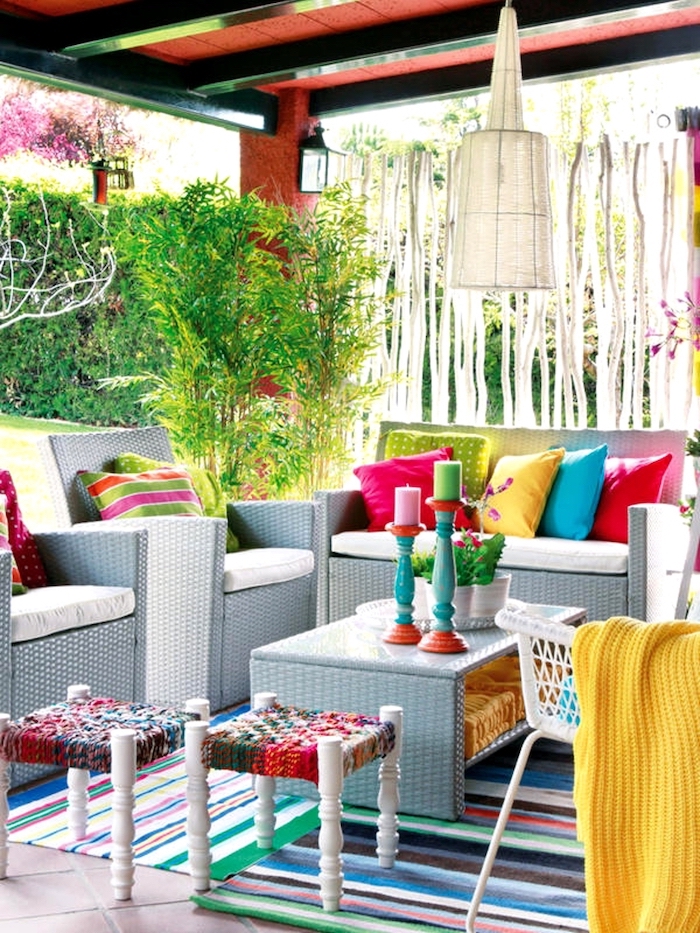 Incorporate some eye-popping color with cool accessories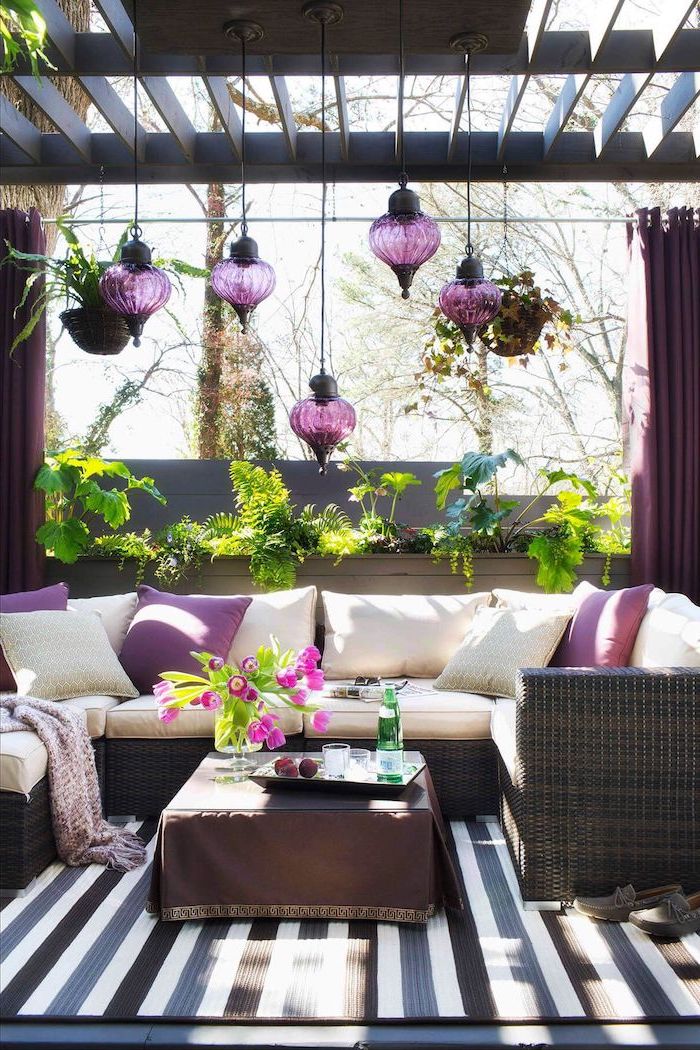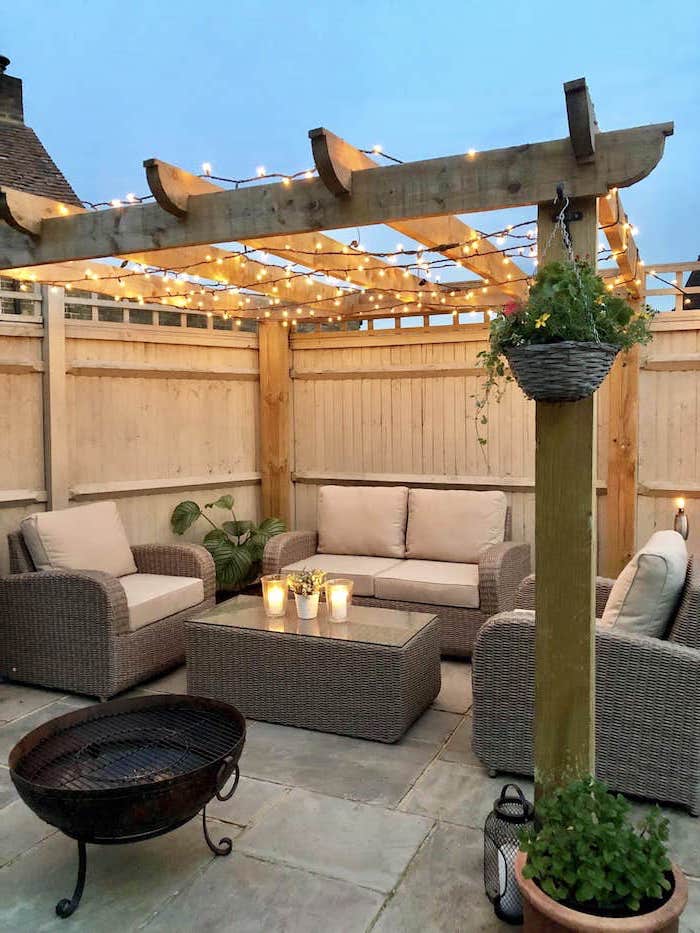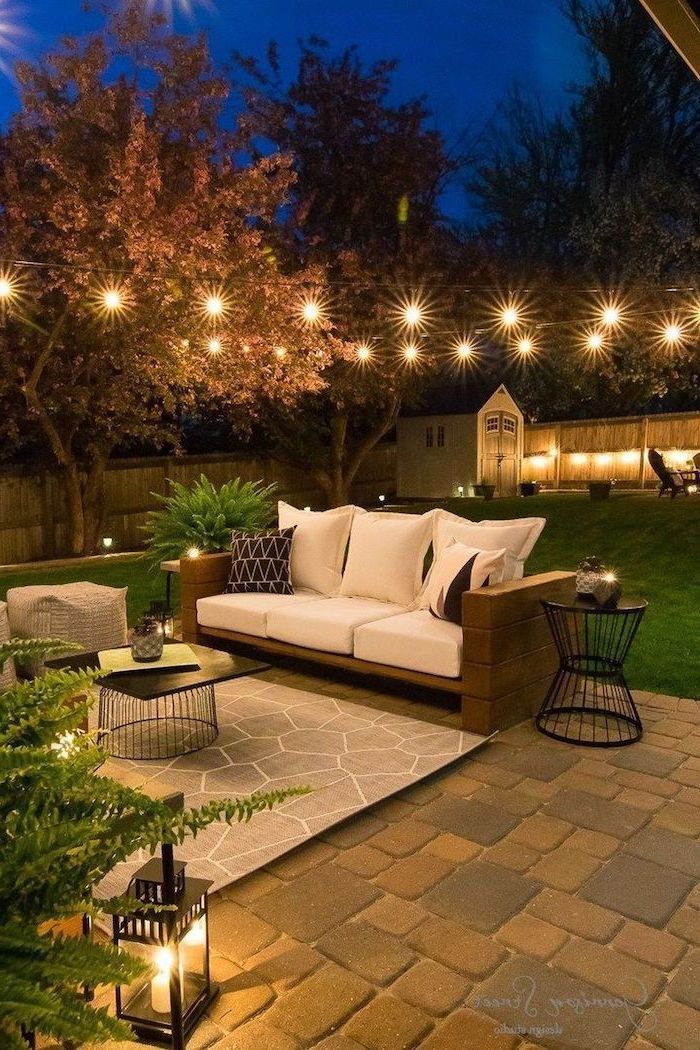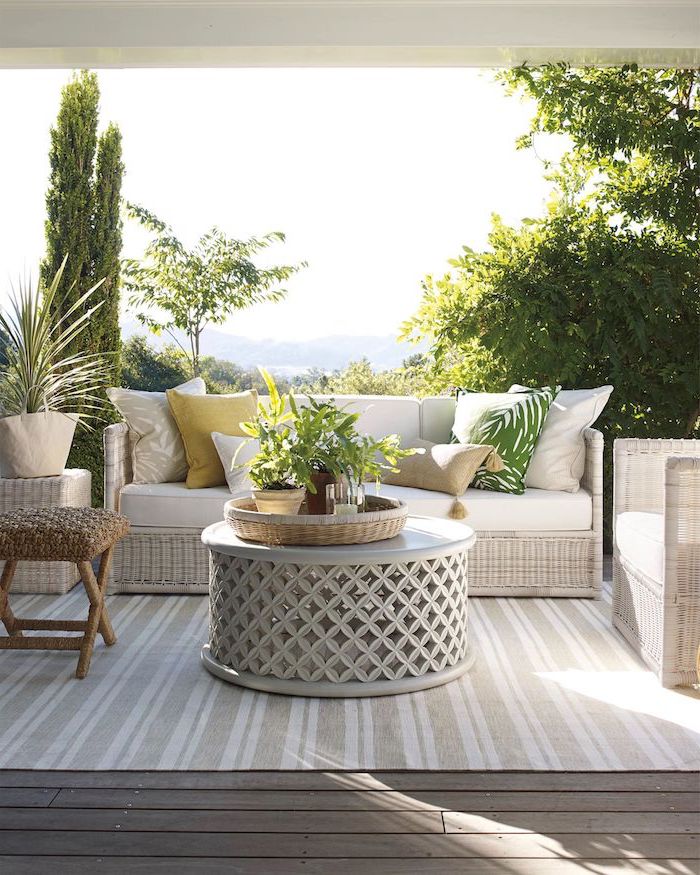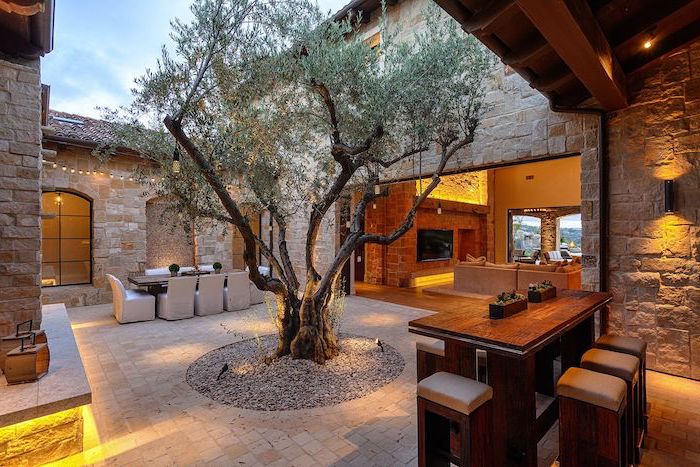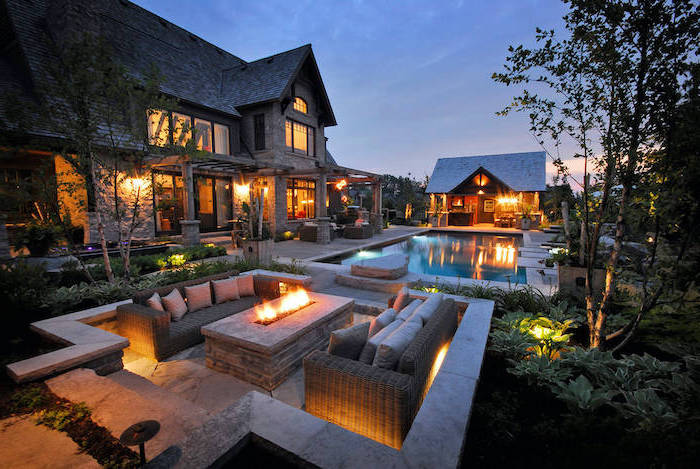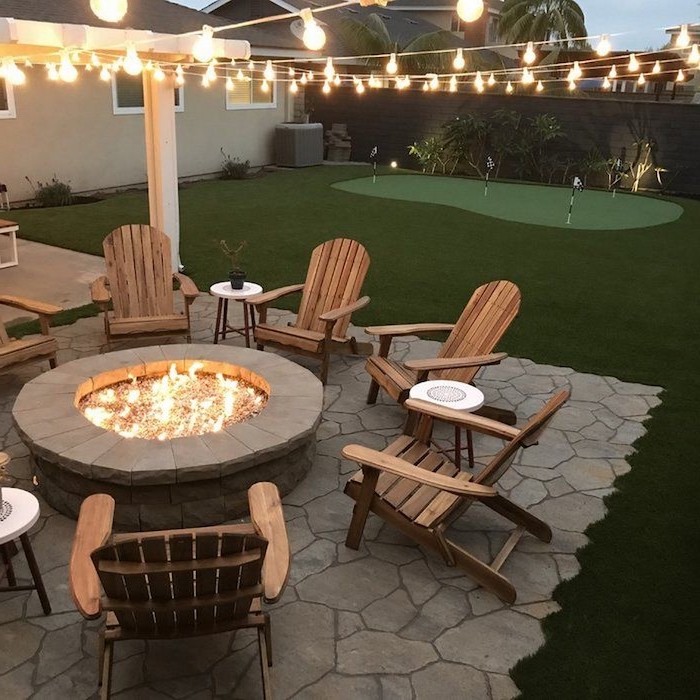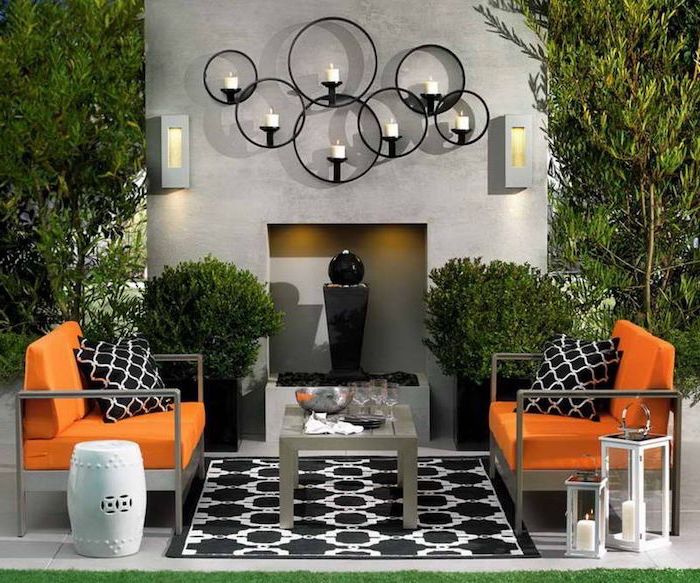 Enclosed patio ideas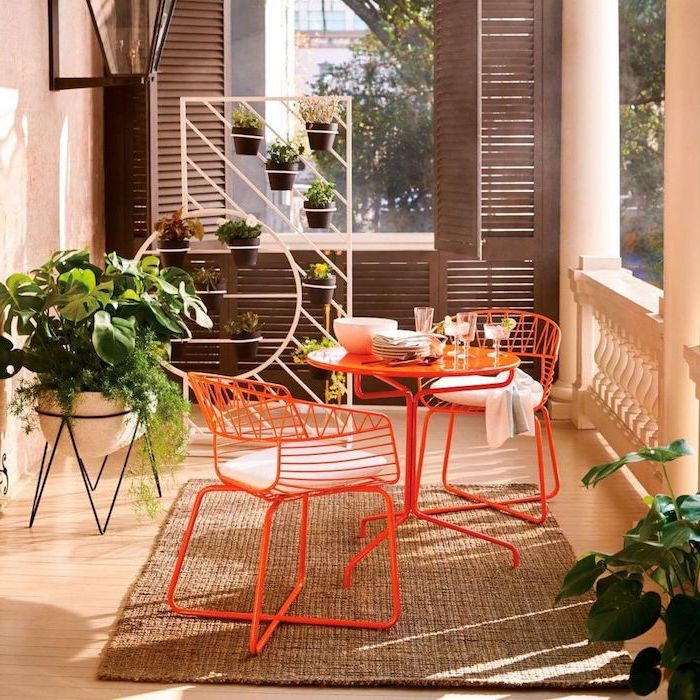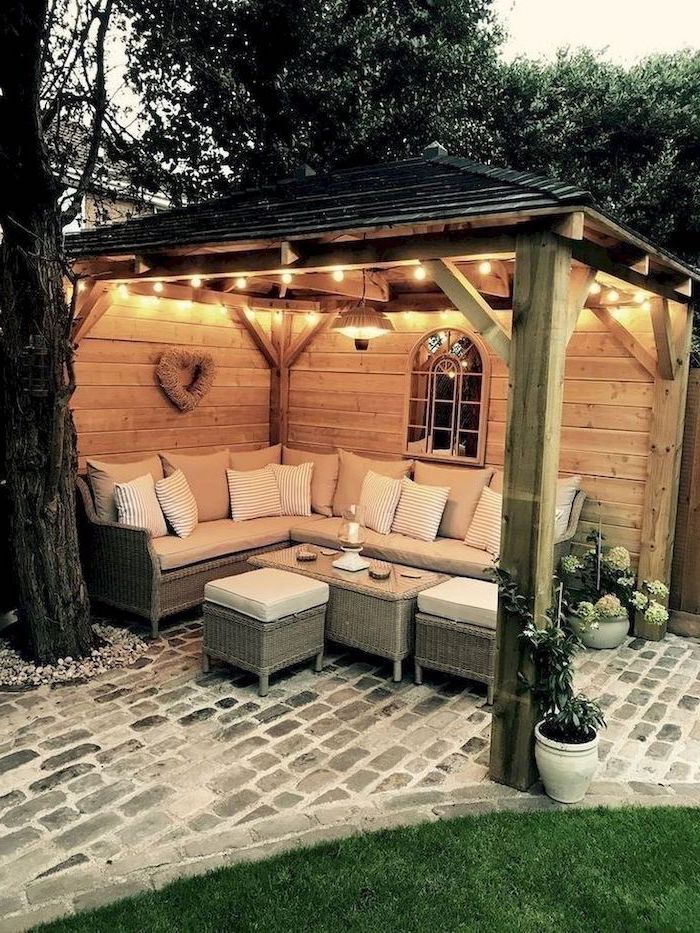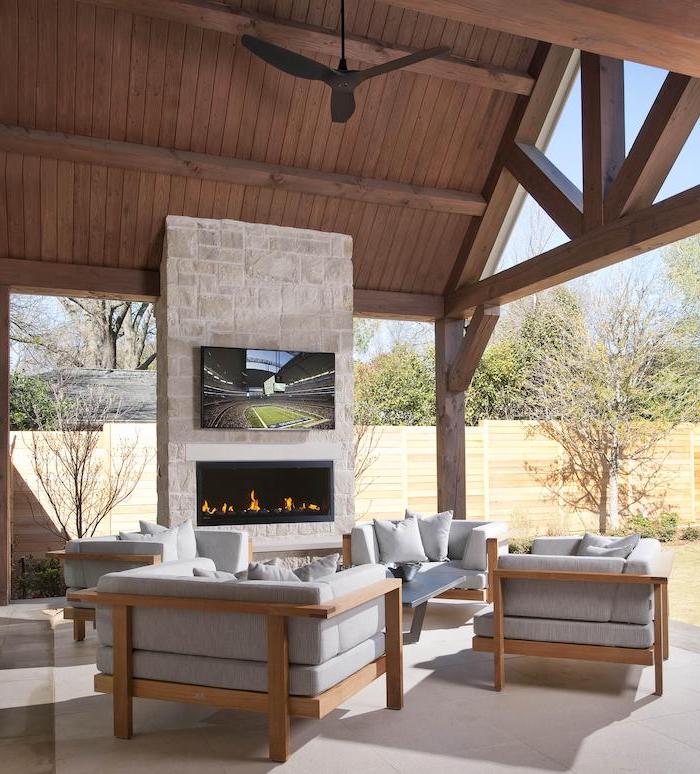 Small patio ideas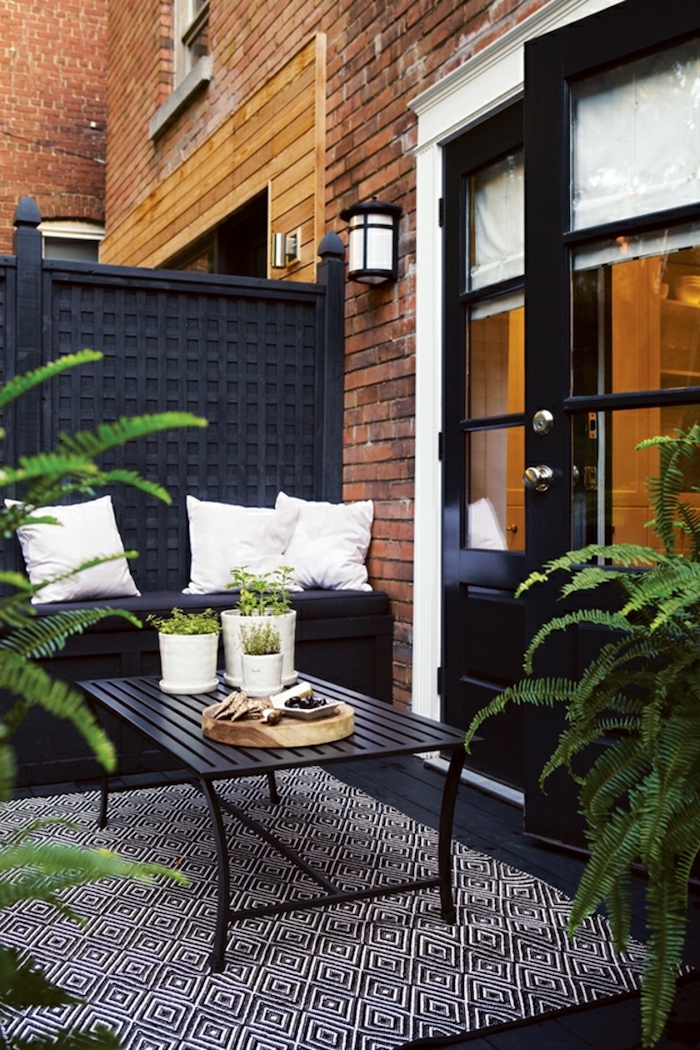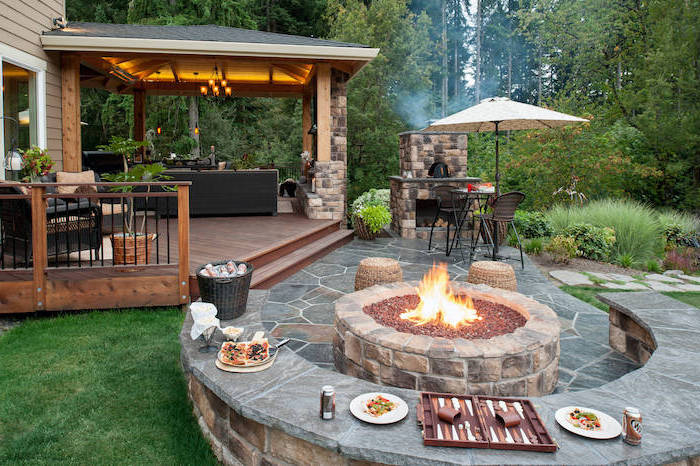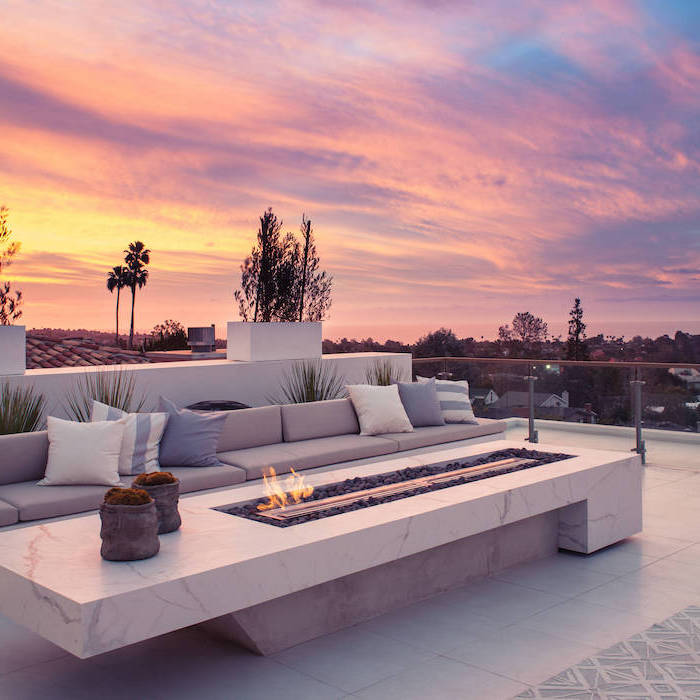 Backyard landscaping ideas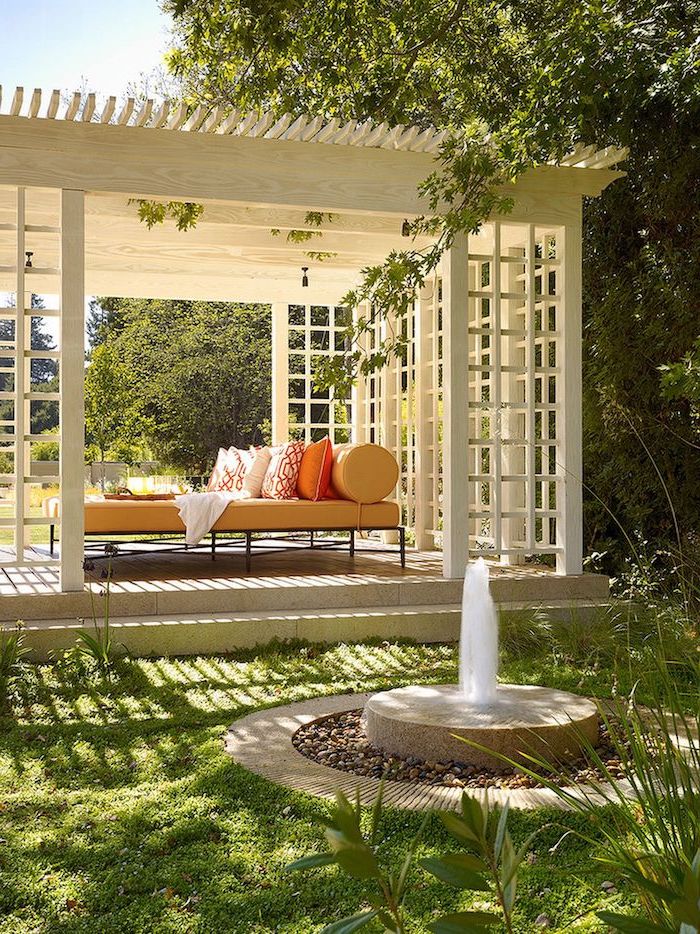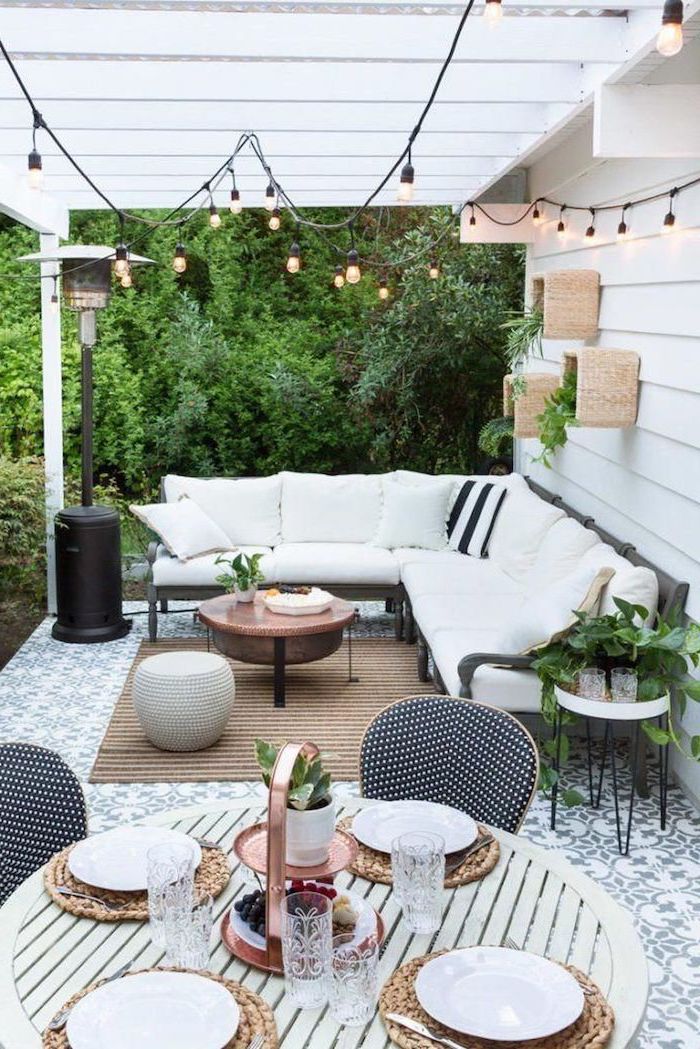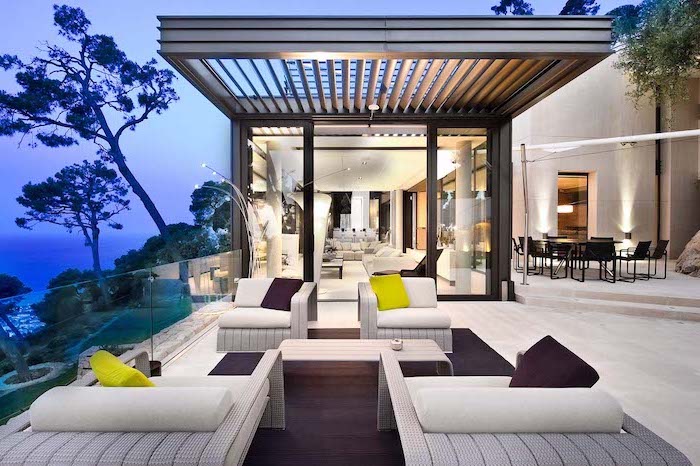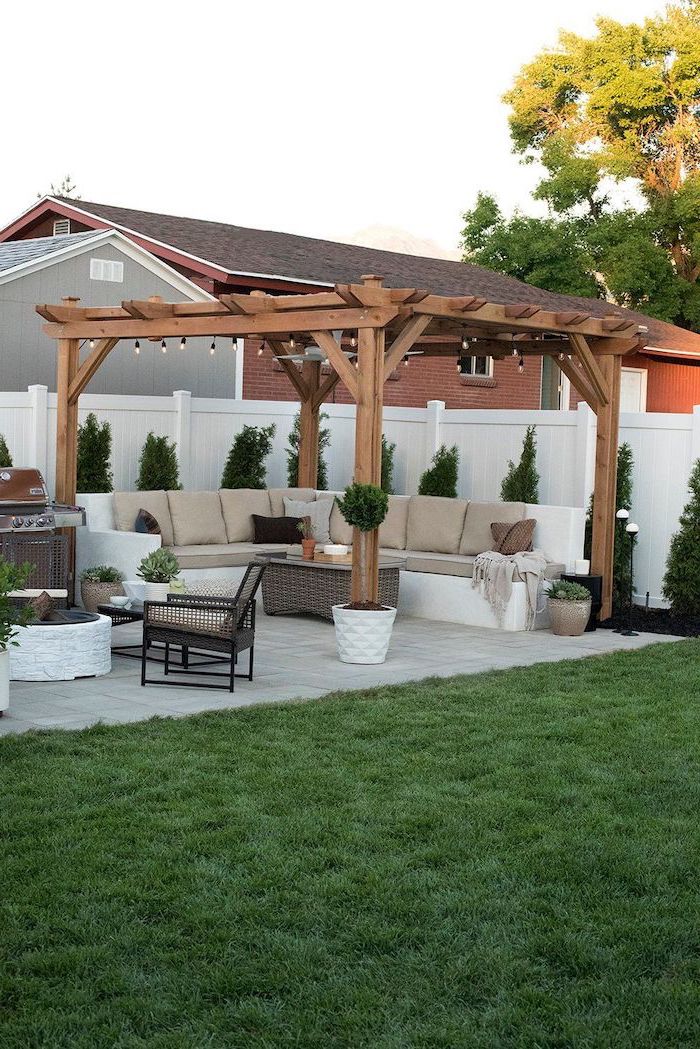 Backyard patio ideas