Backyard lighting ideas for those romantic summer nights
It is official, that the days have become longer. We moved the clocks and all of a sudden the daylight has been blessing us with its presence. We all know what that means, right? It means that summer is finally approaching. For everyone who spent the winter working from home, the warm weather and longer days are for sure a plus. Especially if you have a nice patio or balcony where you can enjoy those cool summer nights. Today, in this article, we would like to discuss all the different backyard lighting ideas, which are going to make your nights outside even more relaxing. What's more, we are going to show all the different ways to light up your backyard and create a chill, romantic ambiance you can enjoy with your significant other, friends, and family.
There are so many different and interesting ways to light up your backyard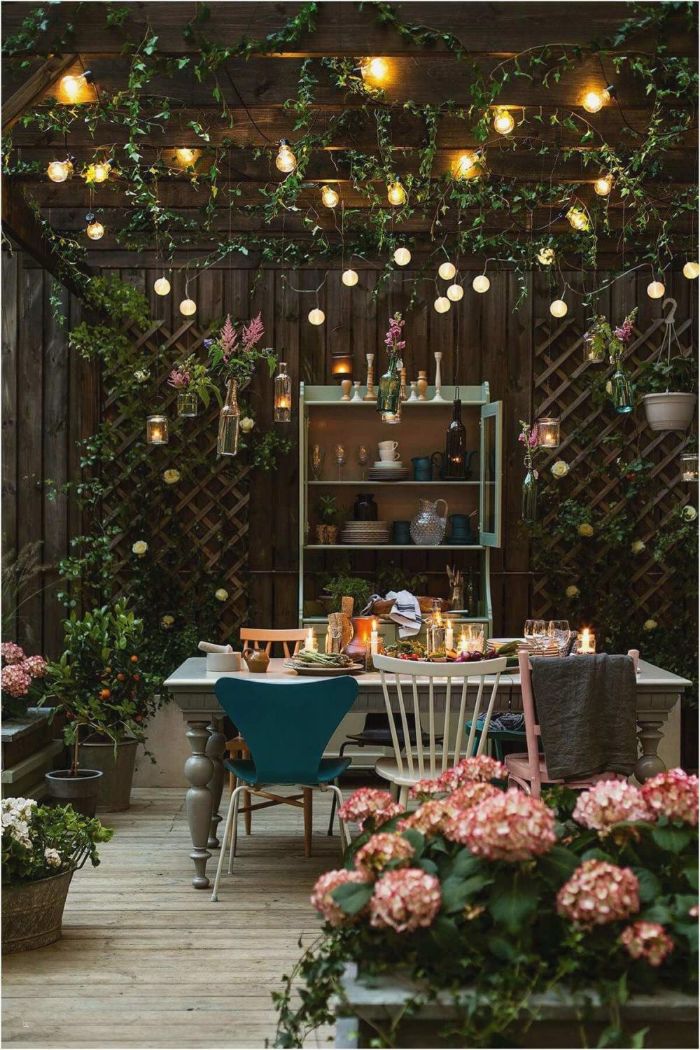 Setting up lights in your backyard definitely takes some planning. First of all, you need to consider what the purpose of your backyard is. If you have garden furniture and want to create a space where you can chill, then you probably need stronger lights. On the other hand, if you just want to show off your flower beds, they can be the only ones illuminated. The second thing to consider is electricity. Nowadays, you can find some pretty great solar lamps, however, if your yard doesn't get enough sunshine throughout the day, they may not be as bright as you need them to be. Furthermore, paper lanterns for example look great. But are you going to have to bring them inside every time it rains? If you live somewhere rainy, they may not be the best option for you. So, before you start buying lamps, consider these things.
You have so many different options when it comes to backyard lighting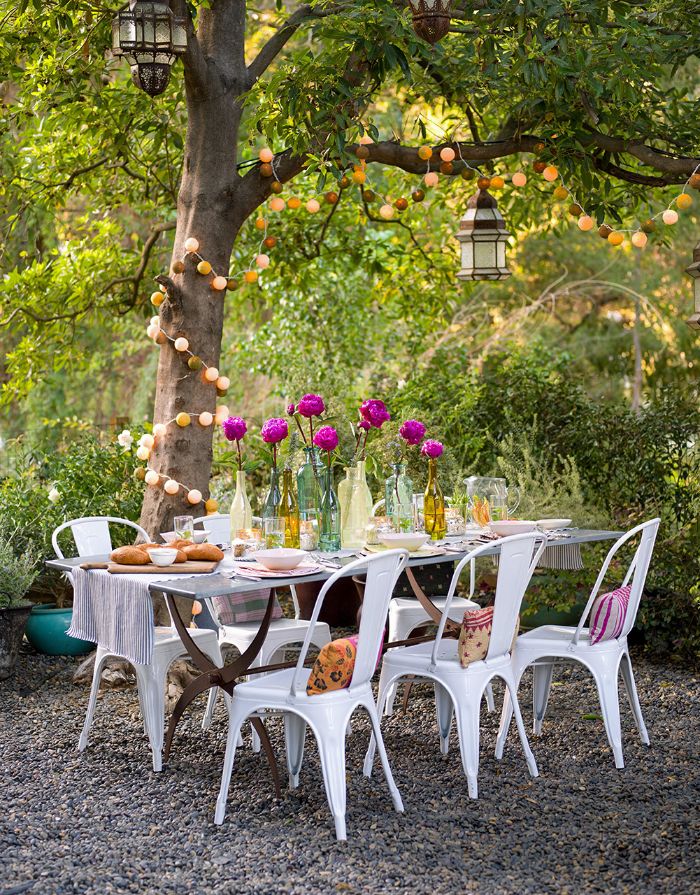 Here are some backyard lighting ideas to try
Fortunately, there are a few great backyard lighting ideas out there. Figure out what would look best and what type would best fit your backyard design and try them out.
Illuminate the trees
If you have a nice garden with a few trees in it then you are lucky. First of all, if you decide to have a lounge area, placing it under the tree is a smart choice, because the tree will provide shade throughout the day. In the evening, however, you need to add some lights. Use the tree trunk to wrap fairy lights around it. This will create a nice, relaxing environment. What's more, the warm light coming off the tree will create a romantic, cozy ambiance perfect for chilling and drinking some wine with your significant other.
All you need for the ultimate relaxation spot is fairy lights, a lounge chair, and a cozy blanket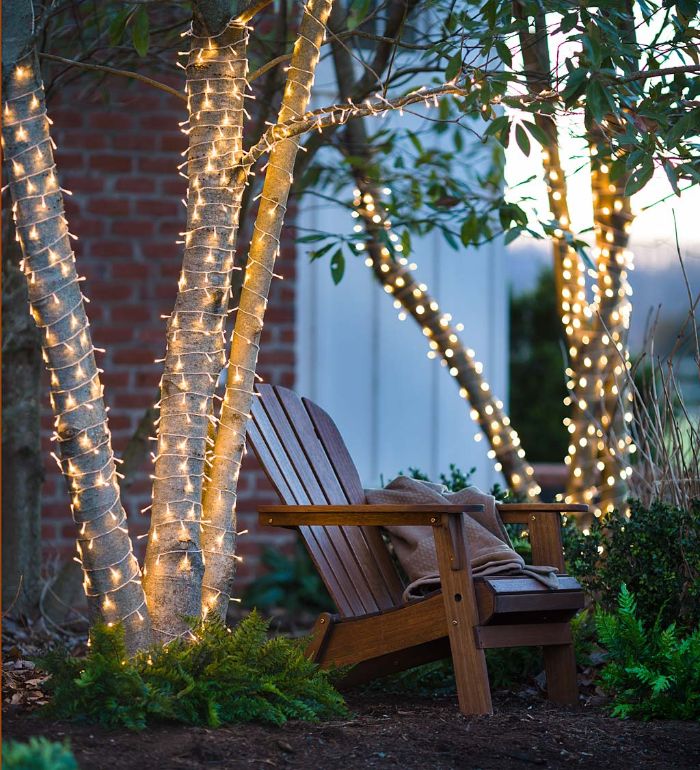 Use outdoor string lights for outside dining
If you have an outdoor kitchen, then you need to properly illuminate it. After all, no one likes to eat in the dark. Plus, if you have guests over you need to be able to see their faces. That is exactly why, a few strings of lights are the perfect lighting tool. If your yard has a couple of trees in it, hang them from one tree to the other. If not, you can wrap them around a fence or hang them from one planter to another. The options are limitless. Regardless of your choice, string lights will provide enough light for your next dinner party.
Here is a great example of how to hang outdoor string lights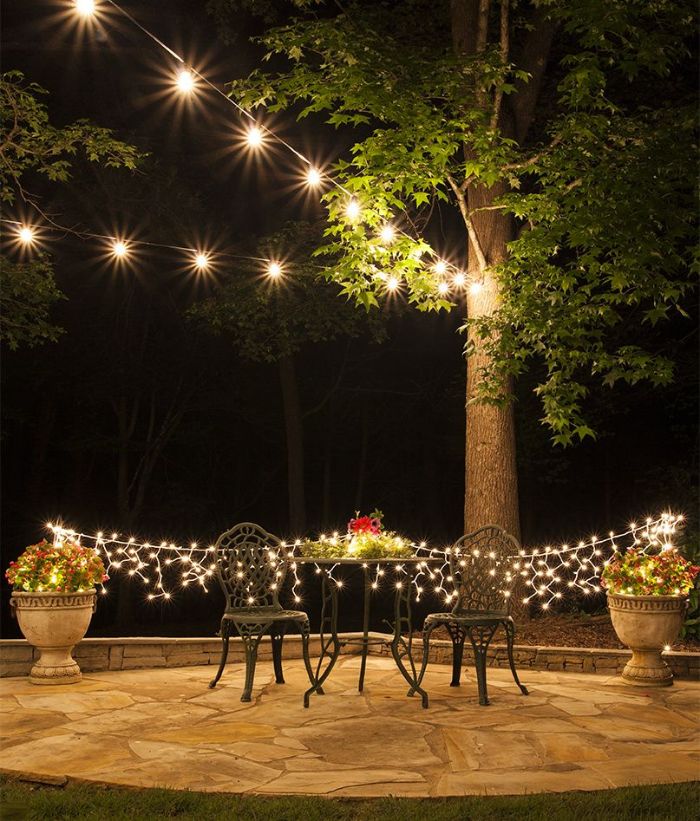 Light up your pathway
Make sure your pathways are visible by installing a few solar lights in the ground. Usually on these types of lamps the solar panels are installed on top. That is why, it is guaranteed that the sun will shine directly on them all day long. That in turn will provide your walkways with enough light all evening long. Plus, it creates a soft, warm glow, which is perfect for a cool summer night. Especially if you have guests over who are not quite familiar with your home.
Create a pathway with a few solar lamps installed in the ground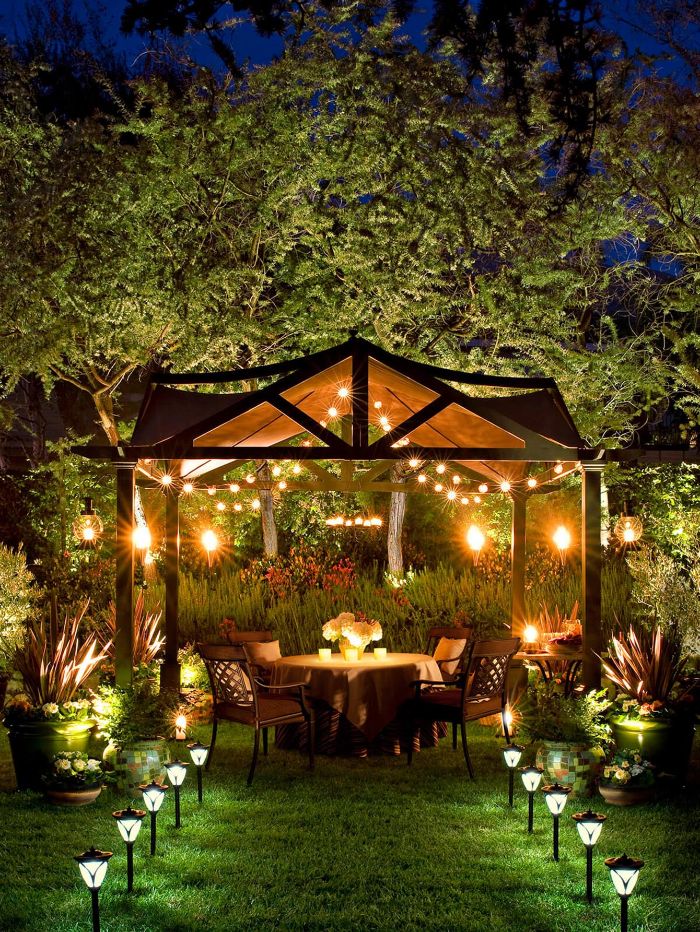 Backyard lighting ideas with rope lights
Rope lights are amazing. They can be used in so many different and versatile ways. You can use them along your pathway. You can use along the sides of a flower bed. What's more, you can even wrap them around trees, bushes, or even furniture. All you need is some creativity and imagination. Try different ways, see what works best for you and fall in love with rope lights. Trust us, you will!
Rope lights can be used in a variety of ways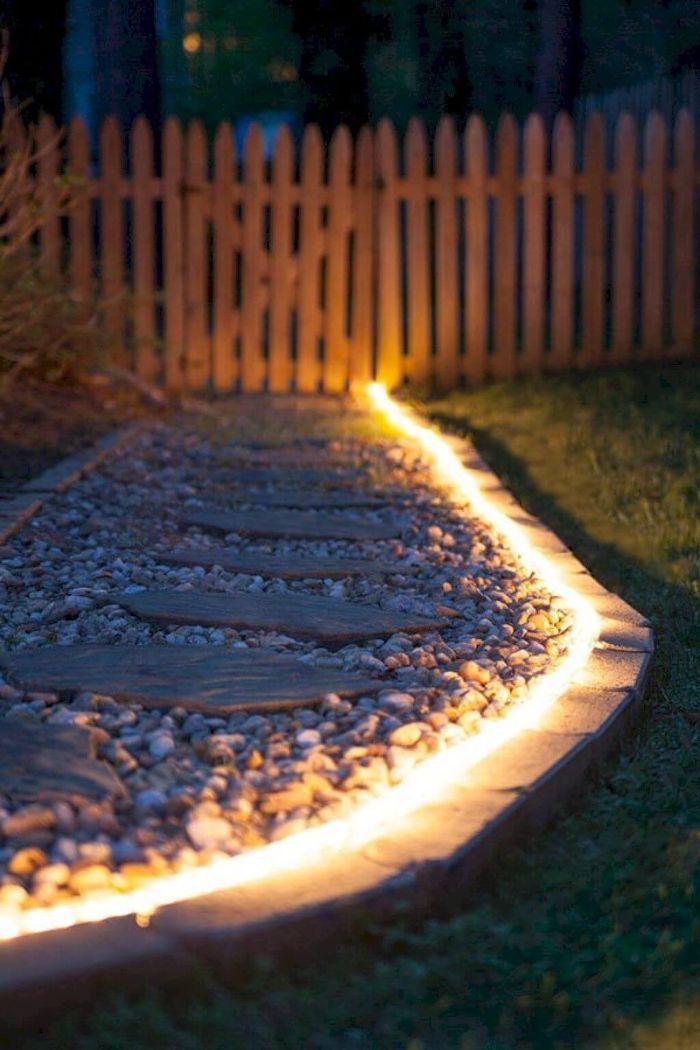 Create a mystic ambience with lanterns
Now, lanterns may not allow you to read a book, for example. But they are a perfect way to create a soft, warm glow of the whole backyard. If you are preparing a romantic surprise for your significant other, for example, just add a few candles and you will be good to go. What's more, lanterns come in a variety of shapes and sizes, so they can be used purely for decoration. If you have another source of light around, they can be a good addition to the decor.
Beautiful lanterns are a good addition to any decor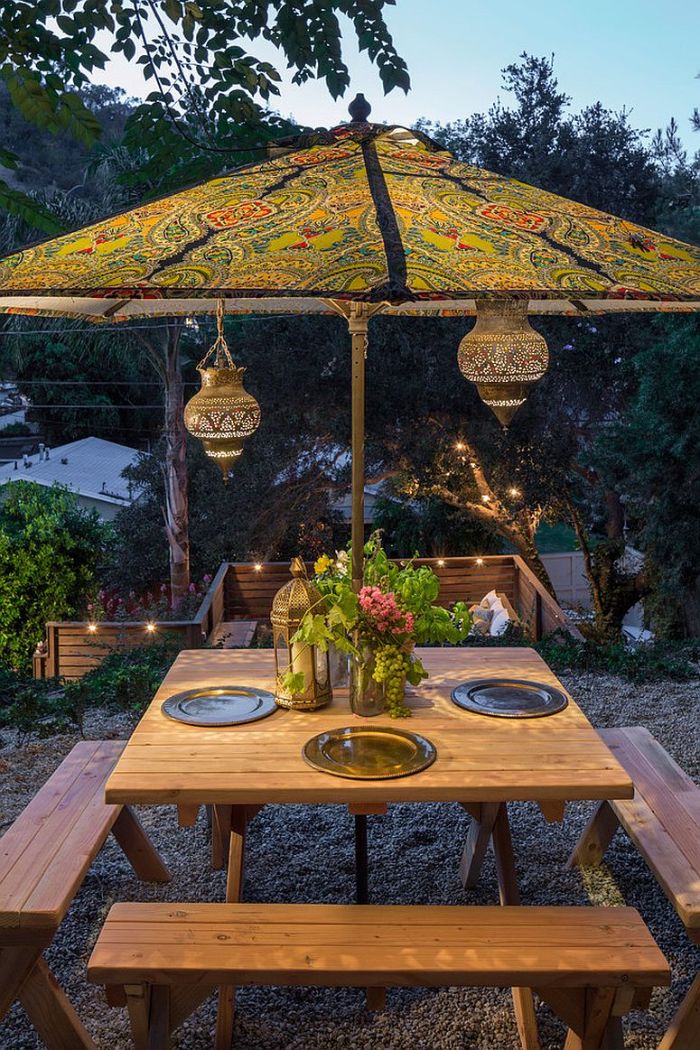 Make the lighting a part of the exterior
Built in downlights are the perfect addition to any deck, especially if there are stairs involved. Don't be afraid to install a few downlights to add safety value to your stairs. What's more, built in lights in your furniture or the fence around your deck is the perfect way to blend style and good lighting. Plus, LED lights installed on the bottom of your garden furniture is probably one of the biggest interior design trends ou there. So, you should definitely try it!
Built in downlights are a must have for any deck with stairs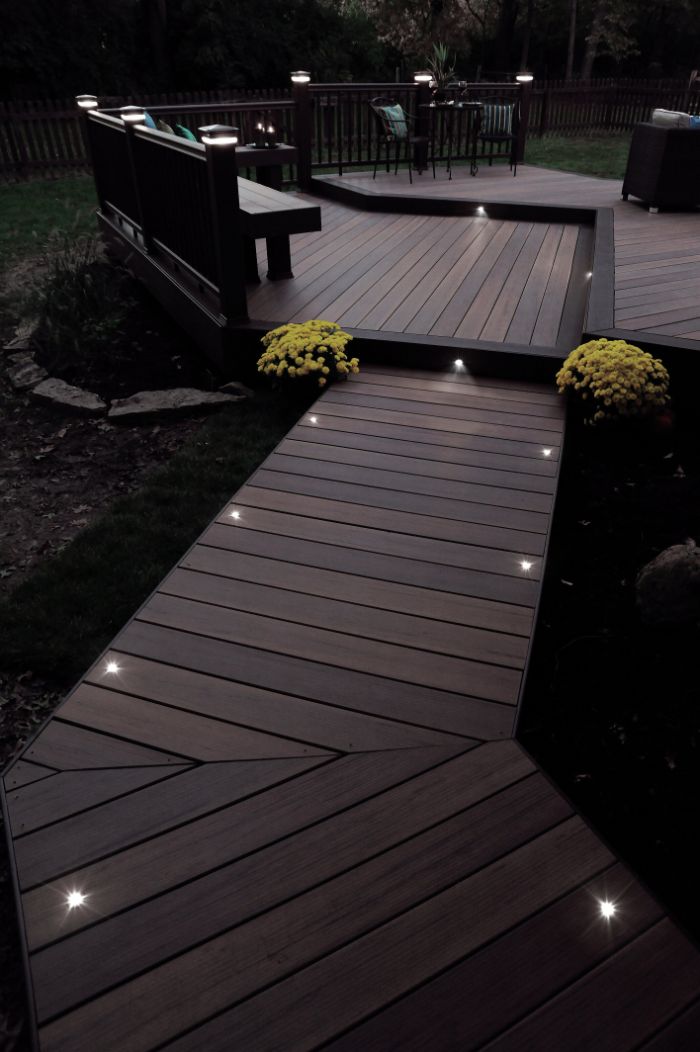 Blend lights with nature
Use spot lights to illuminate you flower garden. If you have lots of greenery, hide the lights in between bushes and small trees. This will create a natural glow, which is going to blend seemlessly with the environment. What's more, if you are fancy and  you have a fountain, it is always a good idea to add lights to it. It will undoubtedly look so much better and will be a lot more effective when it is lit up.
Show off your landscaping design with spot lights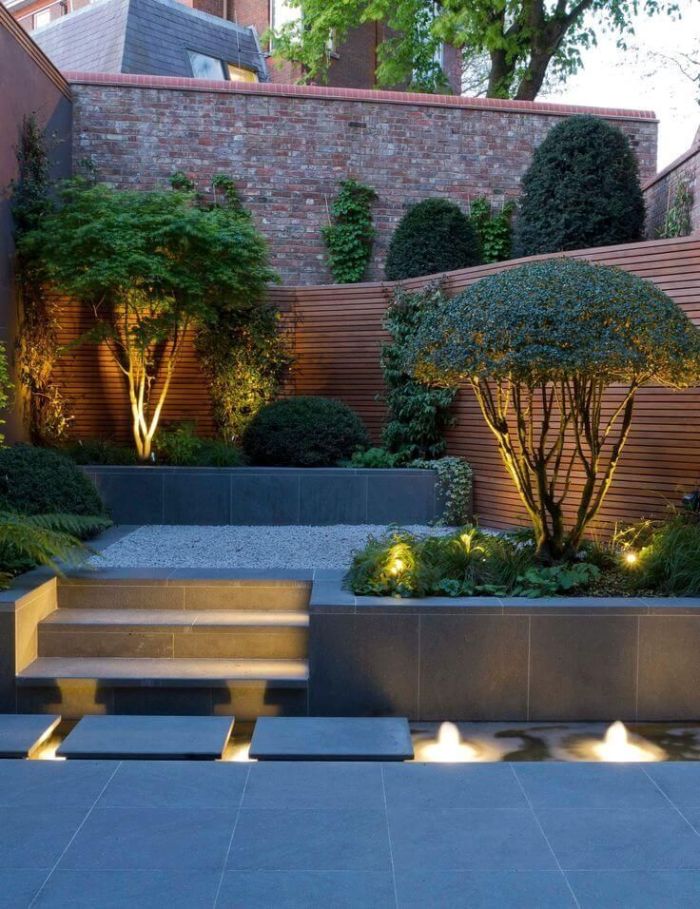 DIY backyard lighting ideas
Grab a few mason jars, some fairy lights and baker's twine. Place the fairy lights inside the jar, close it and use the twine to tie it to a tree. Isn't this so easy? The good news is you can make as many as you like. In general, hanging jars, lanterns, paper lanterns and string lights from your trees is the perfect way to light up your backyard. So, don't be afraid to use whatever trees you have outside to your own advantage.
These cute jars are the perfect lighting tool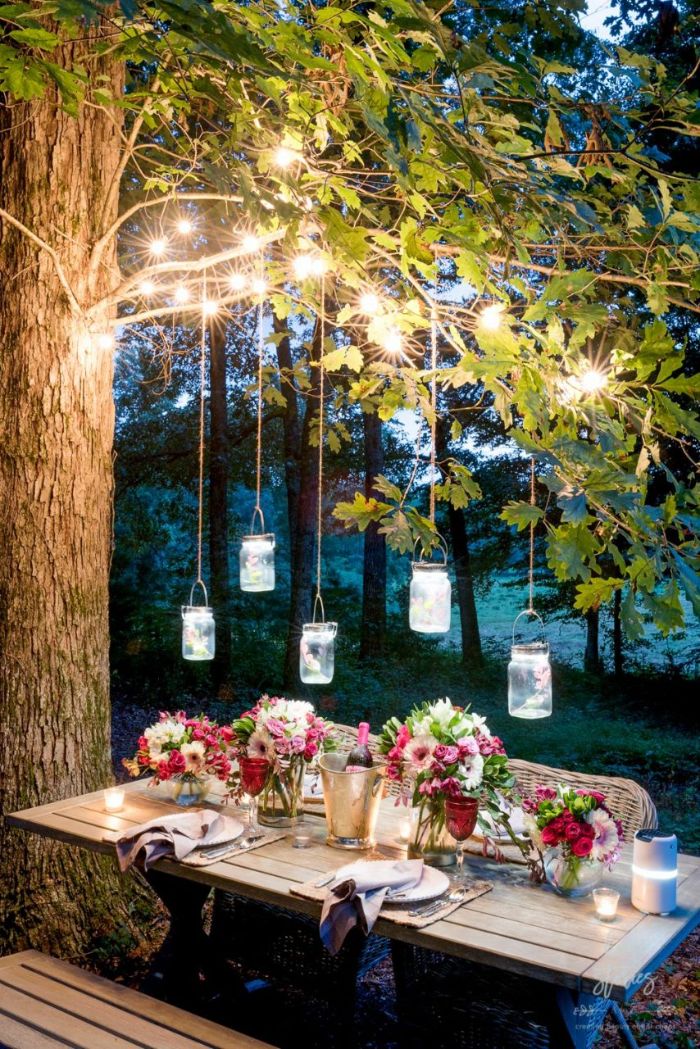 Now scroll through our gallery to find even more backyard lighting ideas
Use your walls to mount lights as well
Sometimes a fire pit can be enough lighting, other times you may need string lights
This is just such a cute, creative, genius idea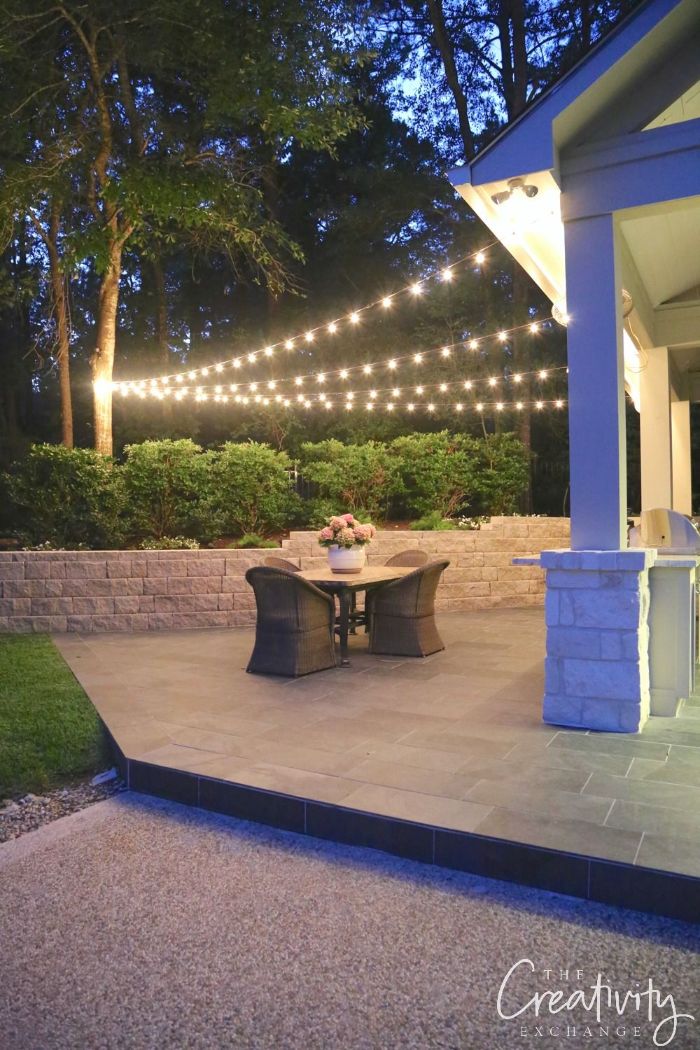 Yet another way to blend light and nature
So much lighting, so much beauty
These LED planters are so cute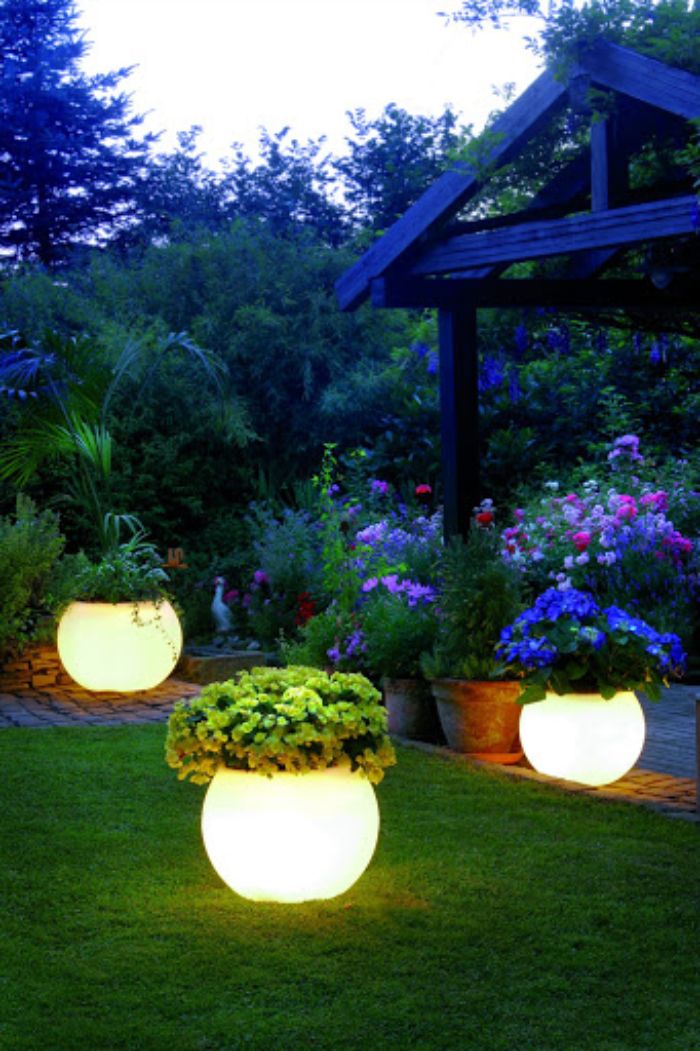 And so are these illuminated logs
Paper lanterns are great, just don't forget them out in the rain
Use as many solar lamps as you can to protect the environment