Cute and easy baby shower gift wrapping ideas + tutorials
Creating and bringing a new life into this world is truly a magical thing. Not only do you get to enjoy, but it is also a huge deal for your family, friends and loved ones in general. That is exactly why, you need a special day to celebrate it. After all, it is such a source of joy and hapiness, why not have an official day where your about to be born baby gets to be at the center of everything. Naturally, if you want people to celebrate your big day, you have to be ready to celebrate other people's big days as well. And, as we've already mentioned, what better reason for celebration. So, if you want to be creative, thoughtful and fun, here are a few cute baby shower gift wrapping ideas you just have to try for the next baby shower you are invited to.
Baby showers have been quite popular for some time now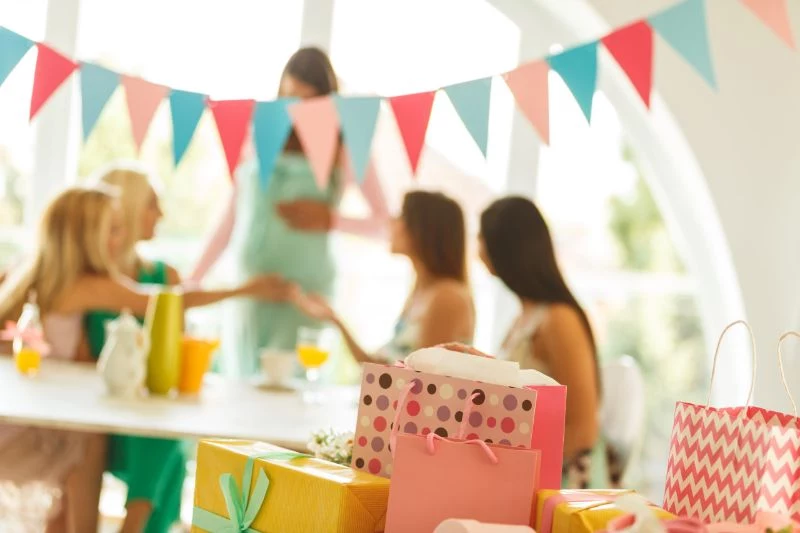 What is a baby shower?
A baby shower is a party or ceremony, which celebrates the delivery or expected birth of a child. According to the custom, only women are invited to a baby shower and each one needs to give a gift to the soon to be mother. Although, as of late, there has been mixed showers being thrown for co-workers, for example. Typical gifts are usually ones, which are going to come in handy for the new mother, such as diapers, onesies, baby clothes, bottles and toys. The party is usually in the afternoon, serves mimosas and includes playing baby themed games. Some games include guessing the gender of the baby, diaper change race, etc. Another custom is for the mother to be to open the gifts during the party and in front of the guests.
Now it's time to get started with the tutorials with the cutest, personalized gift wrap you can ever make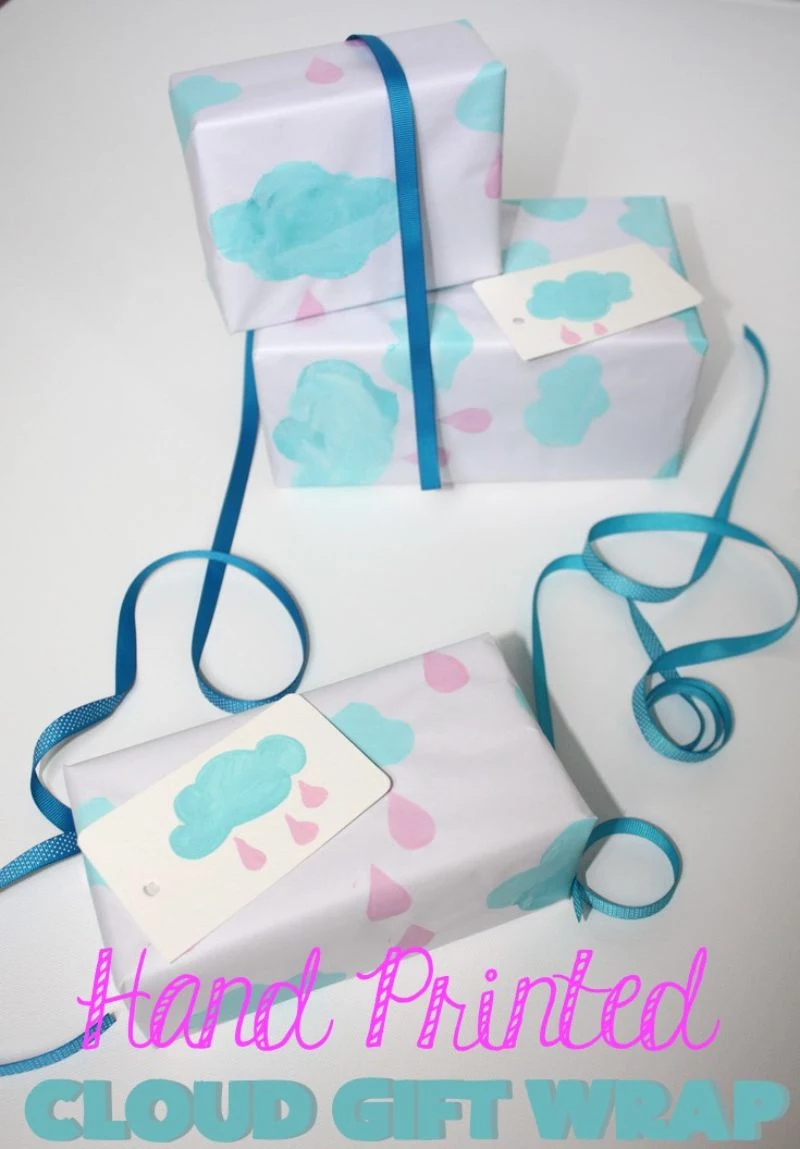 Hand printed baby shower gift wrapping ideas
Supplies:
foam sheet
a small wooden block to mount the foam clouds
large sheet of white wrapping paper
pencil
scissors
shallow tray
blue and pink paint
sponge or cloth
Stick the foam sheet to the wooden block to create the "stamp"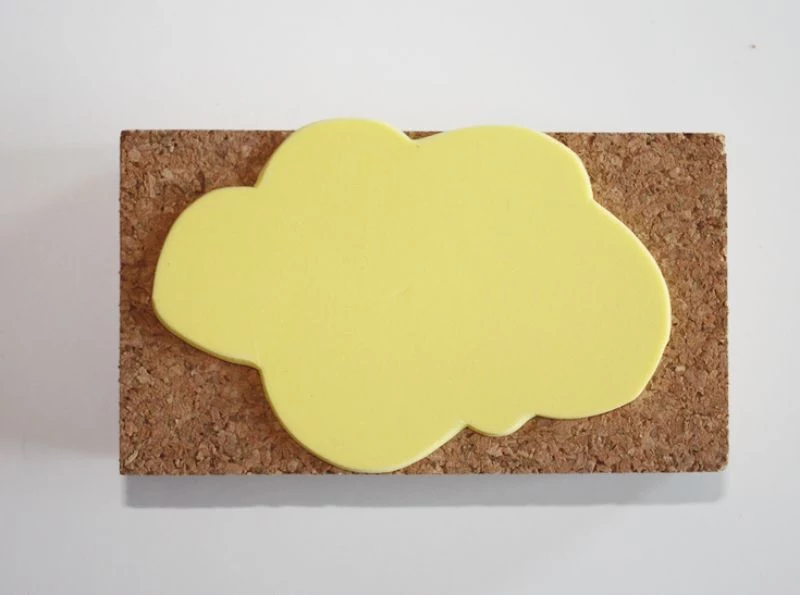 Instructions:
On the foam sheet draw clouds in two different sizes and raindrops, then cut them out.
Attach the foam clouds to the block.
Place a cloth or a sponge on a shallow tray and add the blue paint.
Dip the cloud stamp in the paint and start stamping the clouds on top of the wrapping paper.
Repeat the process with the raindrops, using pink paint.
Let the wrapping paper dry and get to wrapping.
Source: Paint, Sew, Glue, Chew
This is what your personalized wrapping paper should look like, but of course you can experiment with different decorations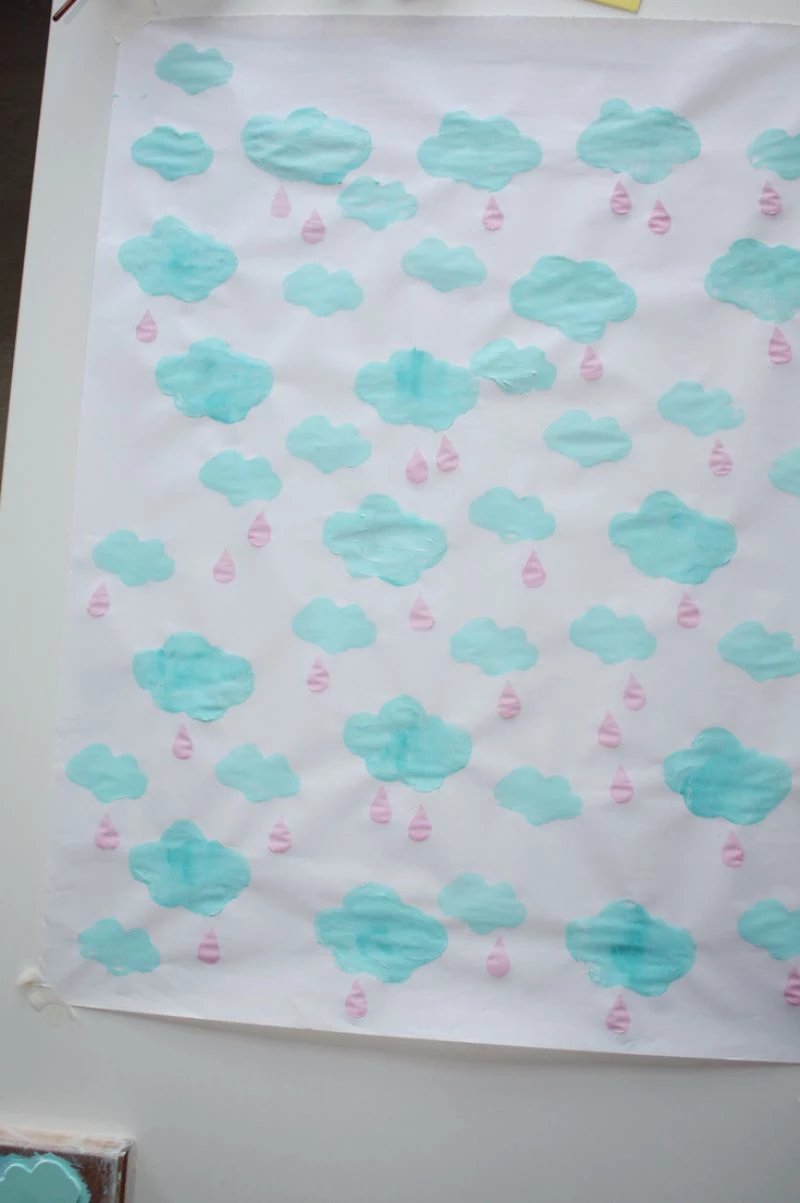 Now let's try and recreate these super cute diaper babies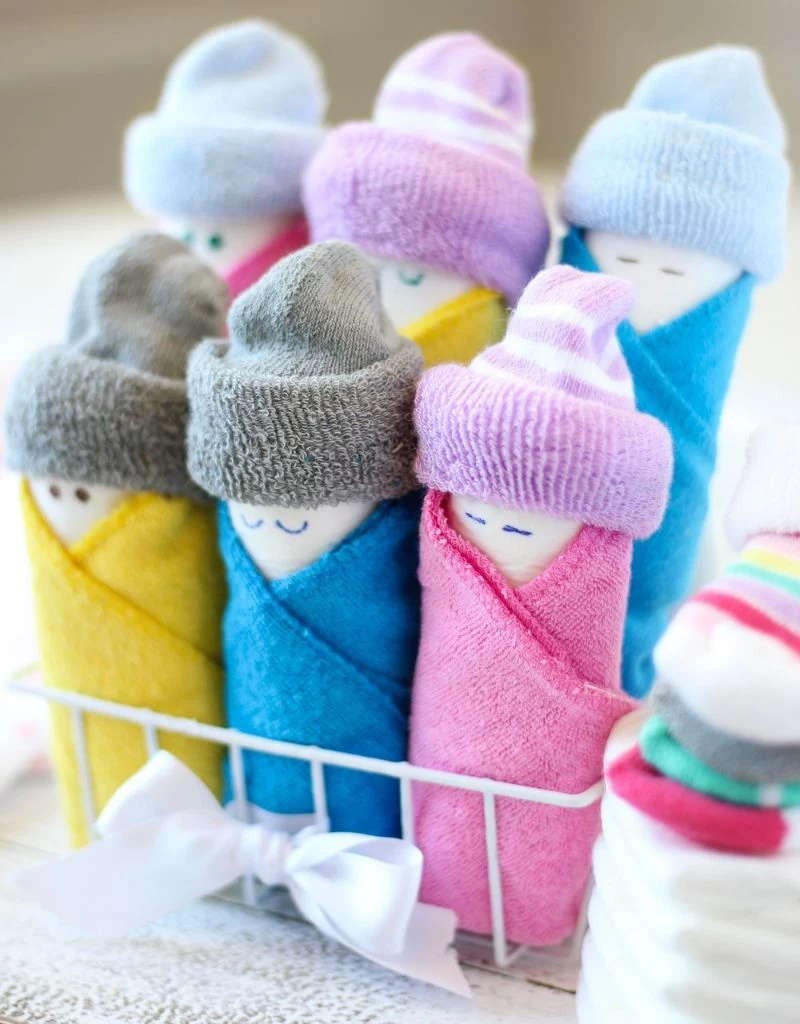 Diaper babies tutorial
Supplies:
diapers
baby socks
baby washcloths
scotch tape
thin tip markers
small basket
Instructions:
Wrap the diapers tightly and secure with a small piece of scotch tape.
Fold the washcloths diagonally, so that they form a triangle. Place the diaper in the middle and put one end of the washcloth over it, then the other, so it looks like a baby, wrapped in a blanket.
Then, add the socks on top as the babies' hats.
Draw eyes using the markers and arrange in a small basket. You can decorate with a ribbon or a gift tag as well.
Source: Smart School House
Here is another cute tutorial for washcloth cupcakes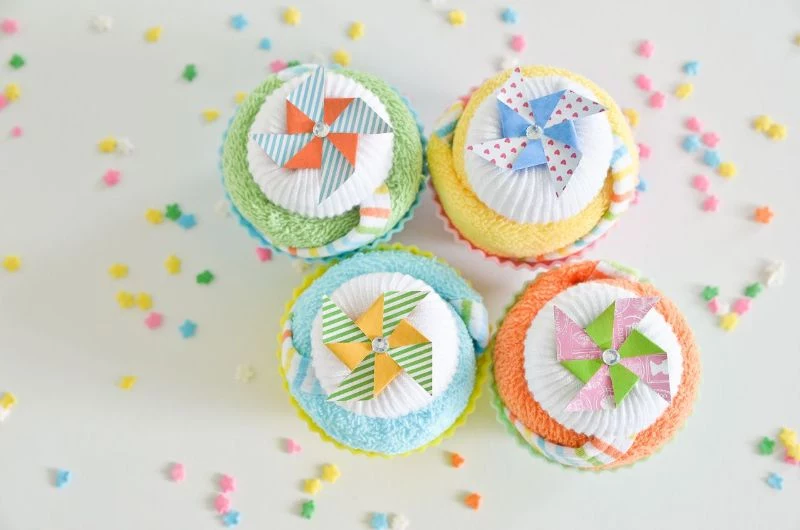 Cute DIY washcloth cupcakes
Supplies:
baby washcloths
baby socks
silicone cupcake liners
paper embellishments
cupcake box
ribbon
They are very easy to make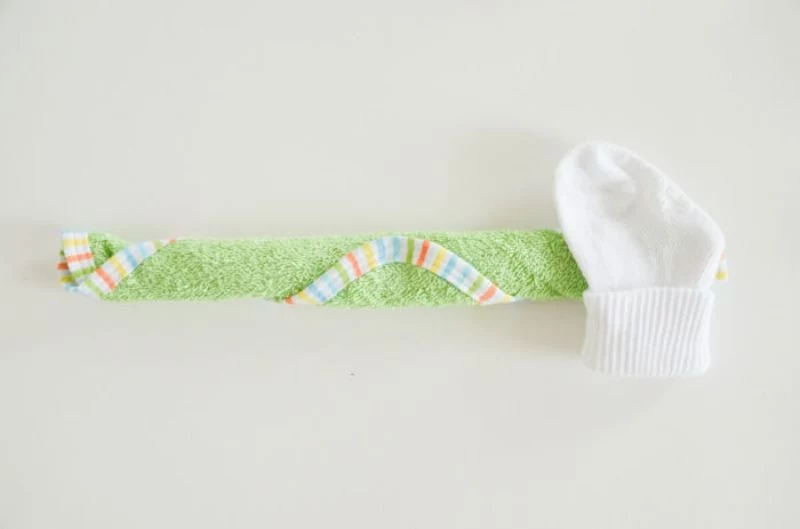 Instructions:
Roll the washcloth in on itself starting from one of the corners.
Place a sock at the end of the washcloth with the cuff below the edge.
Roll into the washcloth and tuck the coil into a silicone cupcake liner.
Fold the sock cuff in half down around itself so that it looks like icing.
Top the "cupcake" with a paper embellishment (you can also use any other decoration, such as pom poms or even candies for the mom to be).
Arrange the cupcakes in a cupcake box and wrap with a ribbon with a bow.
Source: Project Nursery
Isn't this wrapping super cute? Here's how to recreate it!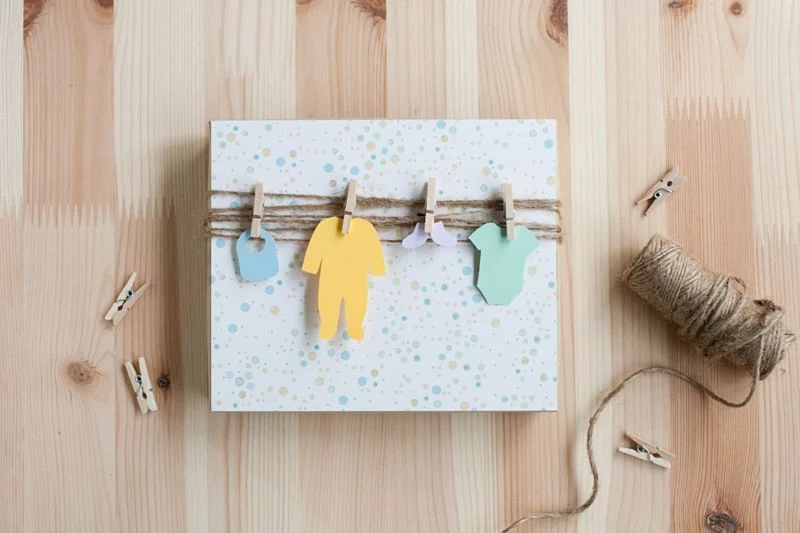 Fun baby shower gift wrapping ideas
Supplies:
craft paper in different colors
mini clothespins
jute
pencil
wrapping paper
scissors
Instructions:
Draw some cute baby things, such as bib, socks, onesie, etc. on the craft paper in different colors. Cut them out.
Wrap your gift with a baby appropriate wrapping paper and wrap some jute around it.
Hang the small baby things onto the jute with mini clothespins.
Source: Anastasia Marie
If you are going to a boy's baby shower, this gift wrapping idea is perfect for you
Boys' baby shower ideas
Supplies:
baby things – onesies, blankets, baby shampoo, etc.
baseball glove
baseball
ribbon
Instructions:
Arrange the baby things inside the glove along with the baseball.
Secure them by wrapping a ribbon around the glove.
Source: Somewhat Simple Living
And now a gift wrapping idea for the girls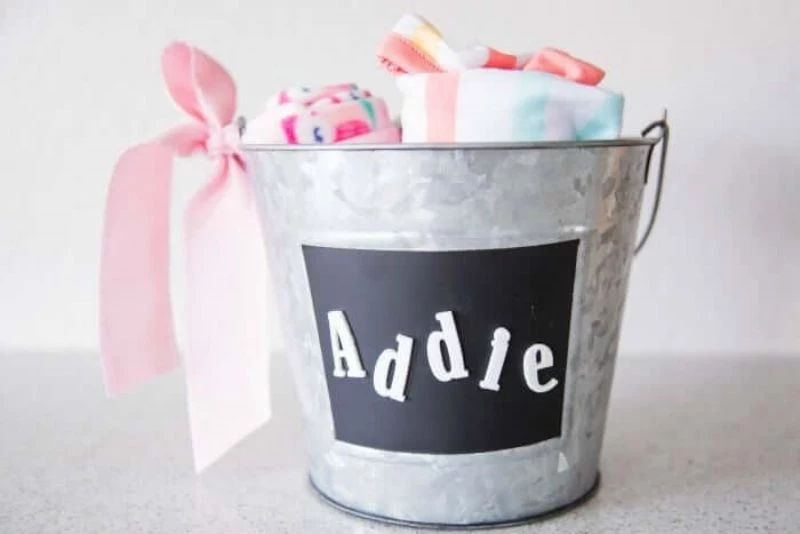 Baby shower gifts for girls
Supplies:
small bucket or basket
three outfits for baby girls
three matching baby headbands
ribbon
Instructions:
Roll up each of the outfits and wrap with the headband to keep secure.
Place the outfits in the bucket or basket and tie a bow on the side or around it.
If you already know the gender and name of the baby, you can personalize the bucket or basket with their name or a cute message.
Source: Somewhat Simple Living
Let's not forget about twins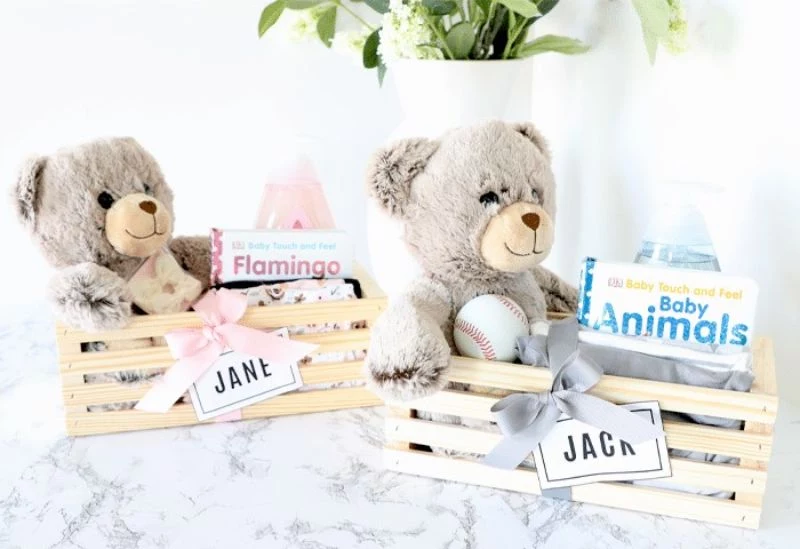 Baby shower gift wrapping ideas for twins
Supplies:
two wooden crates or baskets
two teddy bears (one can have a blue bow and the other a pink one for a boy and a girl)
baby shampoo
baby outfits
ribbons
Instructions:
Depending on the genders of the baby, personalize the two gift baskets. If it's a boy and a girl, have one basket with pink accents and the other one in blue. If it's two boys, then it's two blue baskets. On the other hand, if it's two girls, have two pink ones.
Place the baby items you've chosen into the baskets or crates. Tie a ribbon around them or make a bow and tie it to the front. Voila!
Source: Somewhat Simple Living
Stamp some whales onto a cloth and wrap the gift with it
Get creative with tissue paper
These diaper babies are super cute
Now that you know how to make cupcakes out of washcloths, you can create this beautiful, cute gift yourself