The Green Goddess Salad: How to Make This Viral Healthy Recipe
Everyone is raving about the new TikTok viral Green Goddess Salad recipe! It's packed with flavor, creamy comfort, and plenty of vegetables and herbs! It's enjoyable and colorful. Furthermore, it's also great for any time you want a fresh, tasty salad that will make everyone, especially kids, eat their vegetables with a smile. This salad is a great vegan side dish, but you can also use it to make a meal by dipping chips or crackers in it. The creamy green goddess salad dressing in this recipe coats the salad ingredients well, giving it a true guacamole vibe, suitable for dipping with tortilla chips. So, without further ado, if you want to learn how to make this delicious green goddess salad, just keep on reading:
Learn how to make this viral super healthy and delicious green goddess salad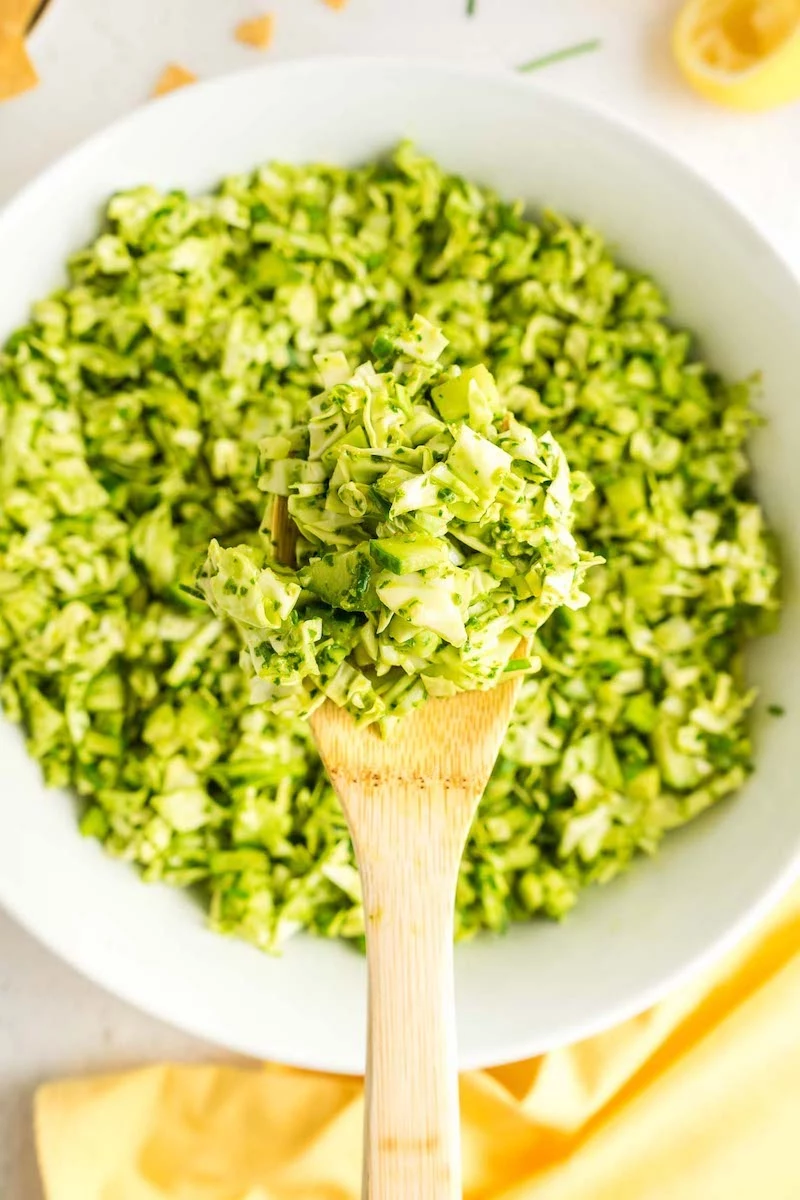 A green goddess salad is any salad that you toss with green goddess dressing, of course. There are hundreds of takes and variations to choose from, which is convenient because it's completely adjustable. You make this salad out of cabbage, cucumbers, green onions, and chives, all diced extremely small, like a finely chopped coleslaw. The dressing is also called green goddess, and it's a vegan pesto made with walnuts and nutritional yeast instead of pine nuts and Parmesan. This is one of the easiest and most nutritious salad recipes!
The green goddess salad is perfect as a light but nutritious lunch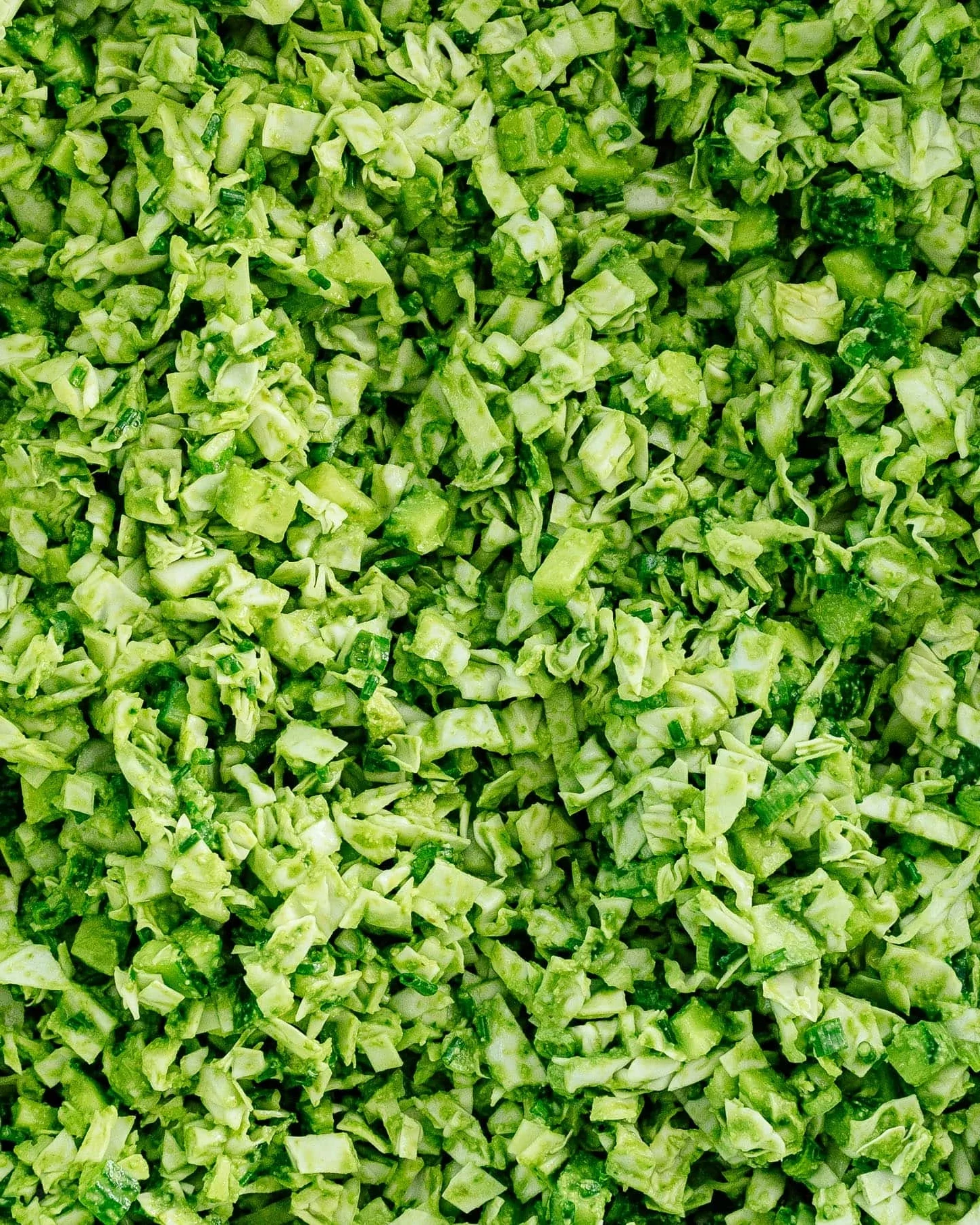 Green goddess salad dressing
The nickname "green goddess" comes from the lovely green hue. Anchovies, green onions, parsley, tarragon, mayo, sour cream, and chives are all mixed into a creamy tangy dressing in the original recipe, which was actually created in San Francisco. Apart from the chives and green onions, the green goddess salad dressing has little in common with the classic. There are no anchovies, mayonnaise, or sour cream in this recipe, so it is a fully vegan recipe. The dressing is herby, fresh, crisp, and slightly acidic, and is based on vegan pesto. Because of the nutritional yeast, it has an addicting cheesiness.
For the green goddess salad dressing, you will need the following:
lemons – for freshness and acidity
olive oil – for good fats
rice vinegar – for a hint of sweetness
shallot – a sweeter onion option
garlic – for the beloved garlicy flavor
basil – for herbal freshness
spinach – healthy greens
nutritional yeast – adds a cheesy flavor and vitamins
walnuts – for a nutty flavor
salt – to finish off the dressing
This vegan salad dressing is super yummy and packed with good ingredients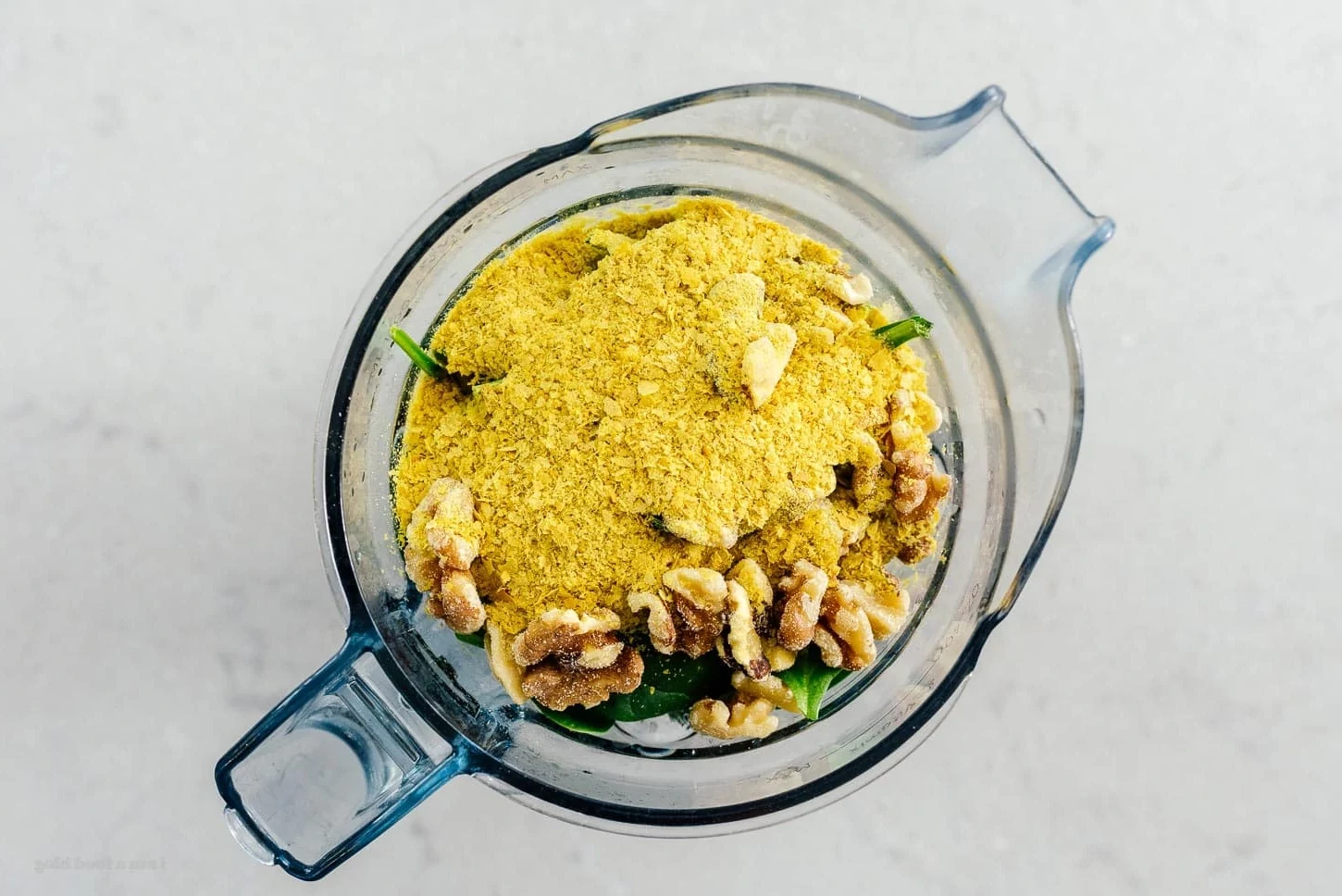 How to store the salad
Dressed or undressed, the salad will keep in the fridge for 2-3 days. However, it is better to dress it ahead of time if you want to have it ready on hand. What's more, the dressing's acid help keeps the salad fresh, and cabbage is a robust vegetable, so it'll be delicious!
Just pop your salad and dressing into your fridge in air-tight containers and jars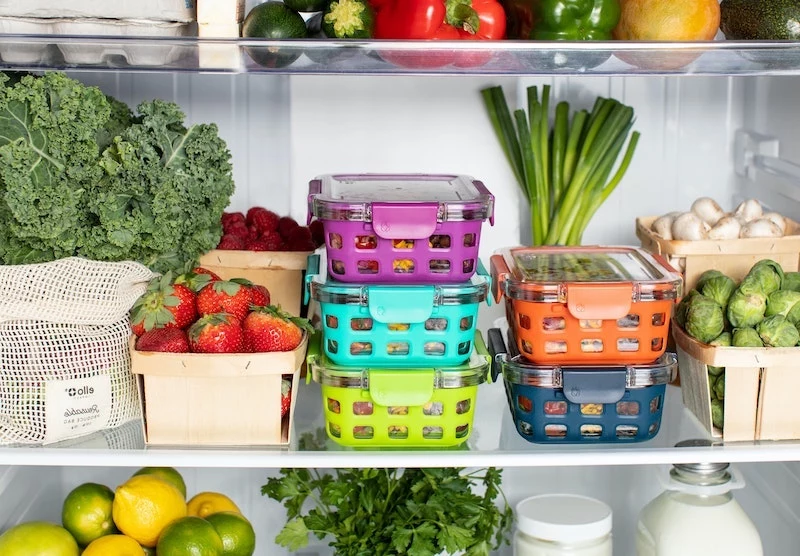 Green Goddess Salad Recipe
Preparation time: 15 minutes
Total time: 20 minutes
Servings: 6-8 servings
Ingredients:
For the salad
5 cups of finely chopped green cabbage
3 cups of finely chopped cucumber
1 cup of finely chopped green onion
¼ cup of finely chopped Chives
For the green goddess dressing 
1 cup of spinach
1 cup of fresh basil
¼ cup mint leaves (optional)
1 medium shallot
1 big clove of garlic
2 tablespoons chives
⅓ cup extra virgin olive oil
⅓ cup lemon juice
2 tablespoons of rice vinegar
a pinch of salt
⅓ cup nutritional yeast
¼ cup almonds or another type of nut you would enjoy
Step-by-step Instructions:
Start by finely chopping the cabbage, green onions, cucumber, and chives.
Put them in a large mixing dish.
Set it aside for now.
After that, get started on the dressing immediately.
In a blender, combine all of the dressing components (spinach, basil, chives, garlic, shallots, mint leaves, chives lemon juice, rice vinegar, almonds, nutritional yeast, olive oil, and salt).
Then blend until smooth and creamy, like a dressing.
Dress the chopped vegetables with the dressing.
Finally, combine all ingredients in a mixing bowl and serve with tortilla chips, crackers, or pita chips.
Enjoy!
Start by gathering all of your ingredients beforehand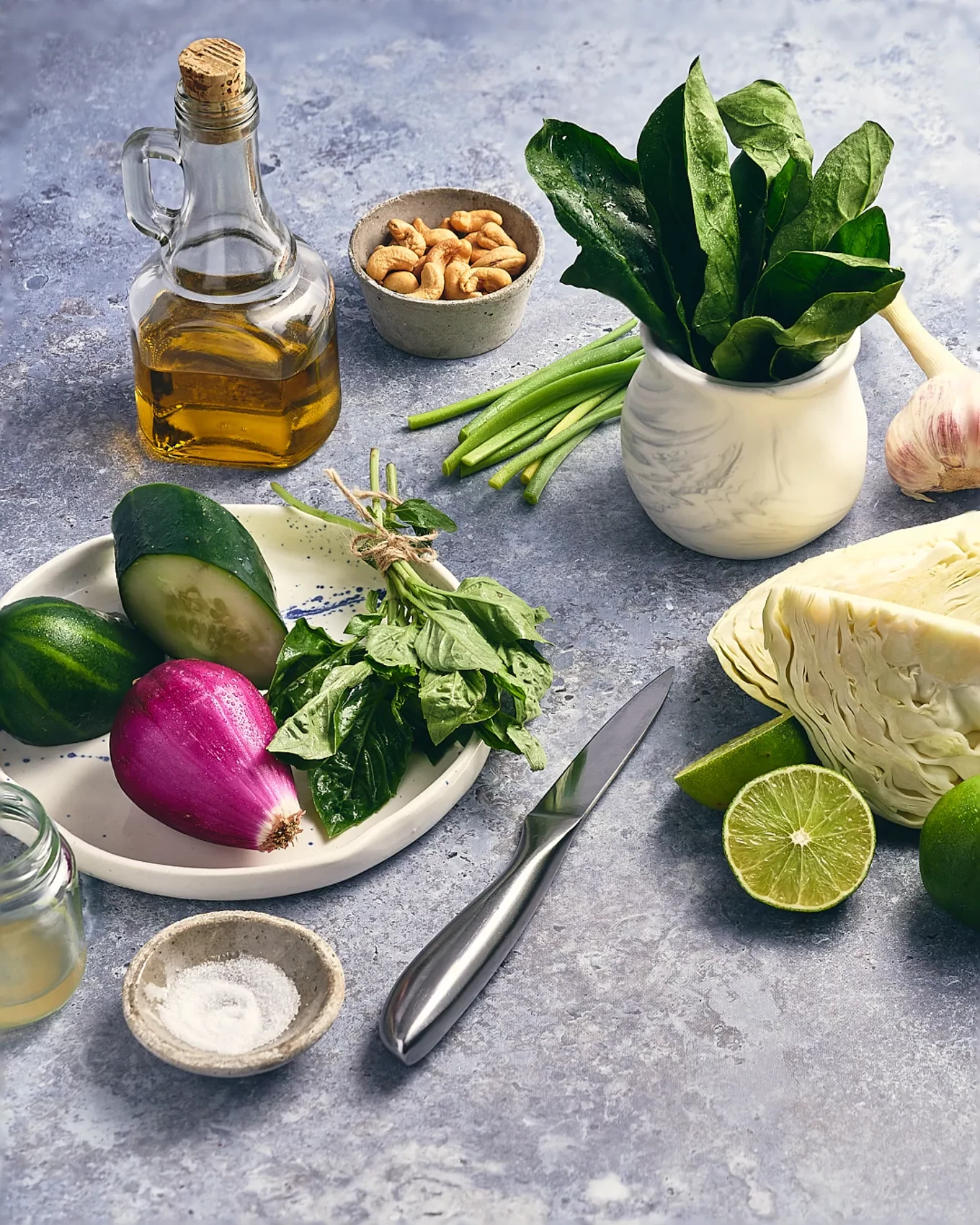 Make your custom green goddess salad dressing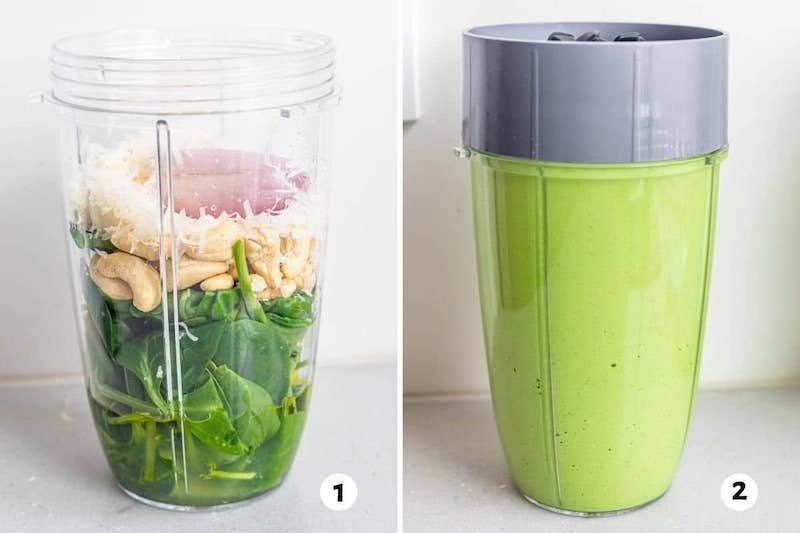 You can use whatever nuts you want as a base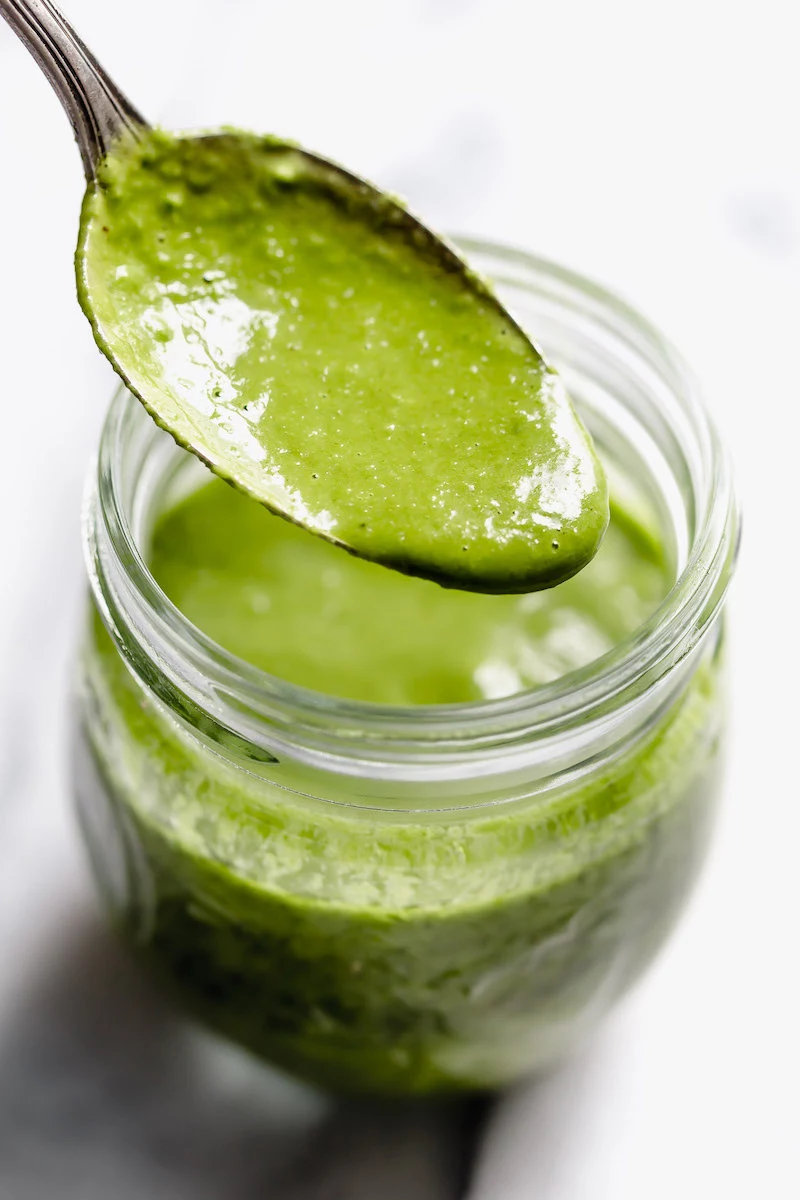 Then chop up all your veggies and add the delicious green dressing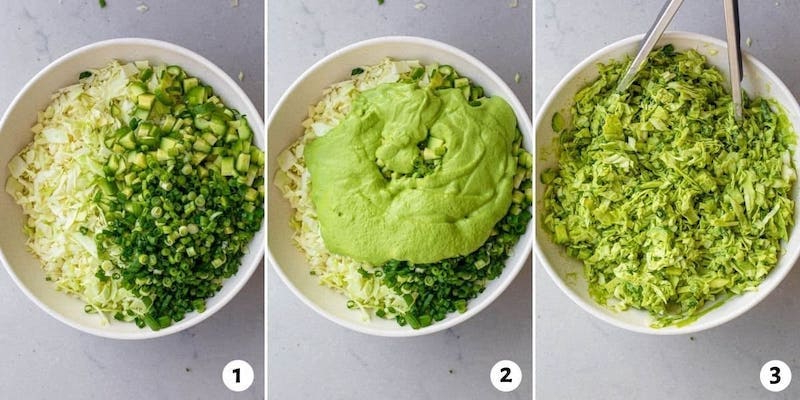 Squeeze some fresh lemon and enjoy it with some tortilla chips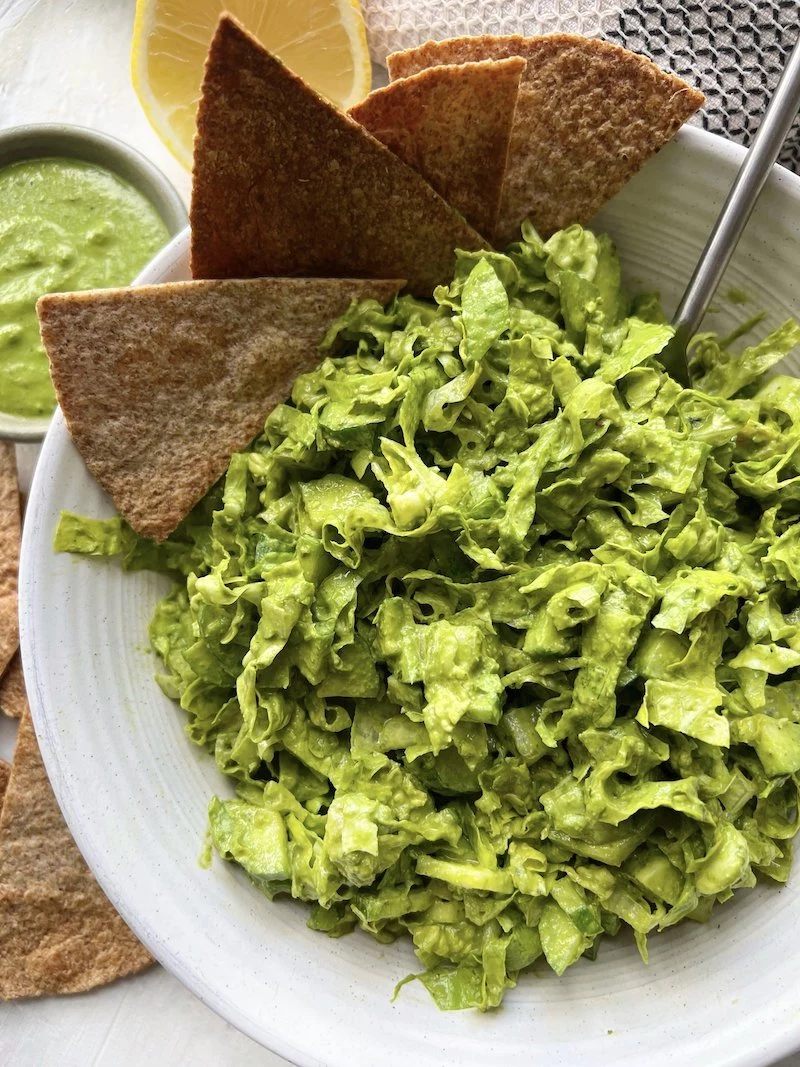 Salad variations
This salad is vegan, but if you don't have nutritional yeast on hand and aren't vegan, you may replace the nutritional yeast with Parmesan.
To add more protein and crunch, add some crispy bacon.
Lean protein can be added in the form of diced chicken breasts, turkey, or some crumbled firm tofu. Here are some delicious air fryer chicken recipe ideas for you to incorporate into this green goddess salad!
For a nutty touch, sprinkle with toasted sesame seeds.
For a salad with a spicy green goddess dressing, add 2-3 diced jalapeños.
To make a super healthy green goddess salad, substitute 1 pound of shredded brussels sprouts for the cabbage, then add 1 pound of chopped spinach and 1 head of shredded kale.
If you love pasta, you can always add it to your salad!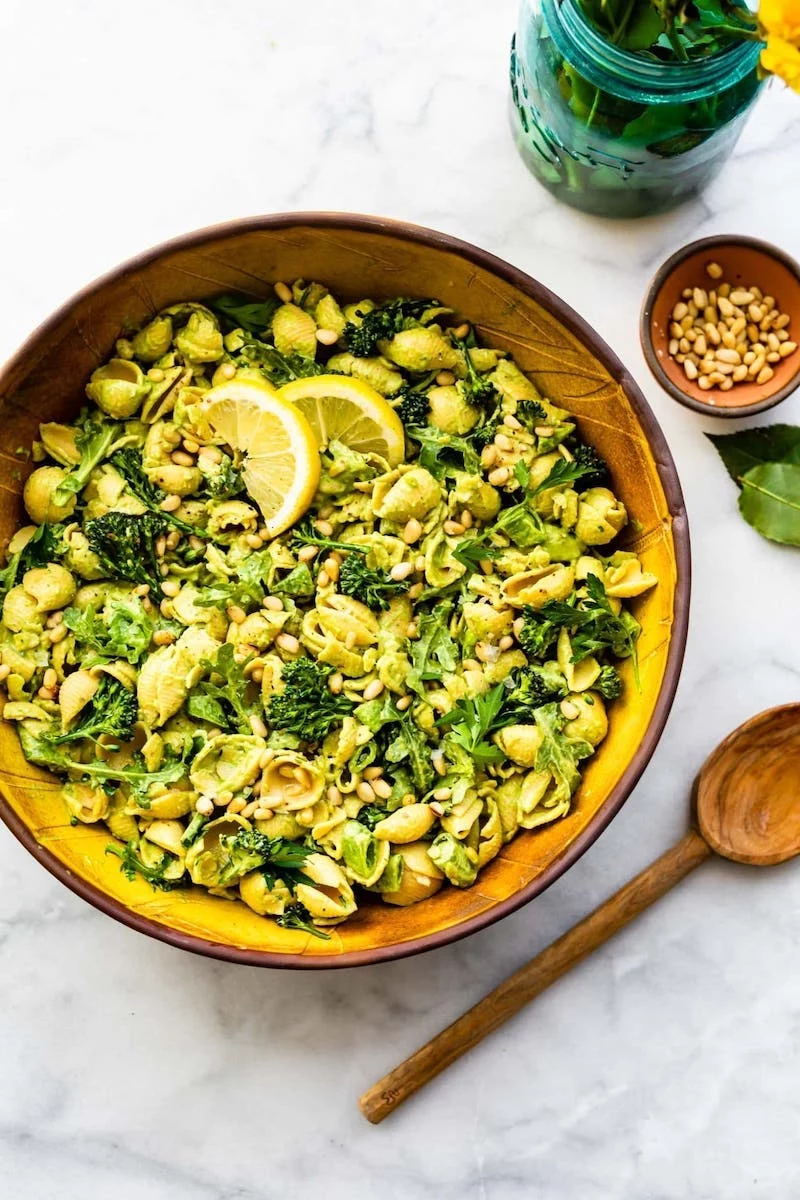 Or, add some pomegranate seeds for extra sweetness and crunch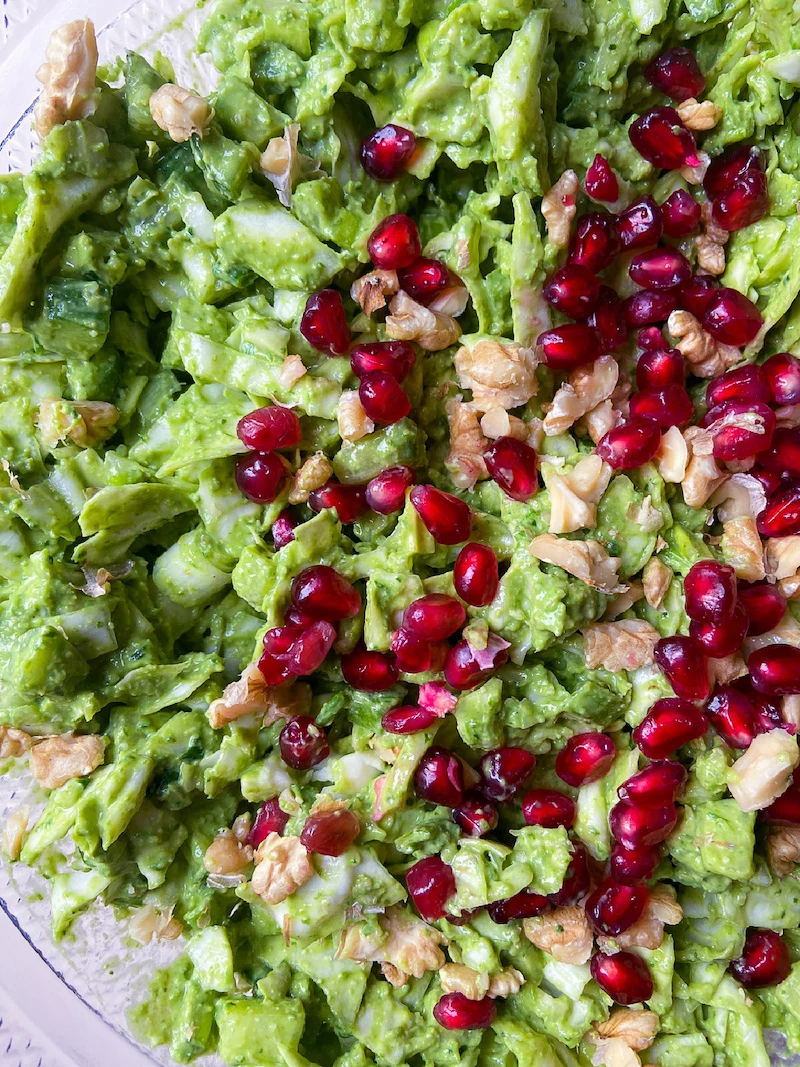 Another great idea is to make a green goddess sandwich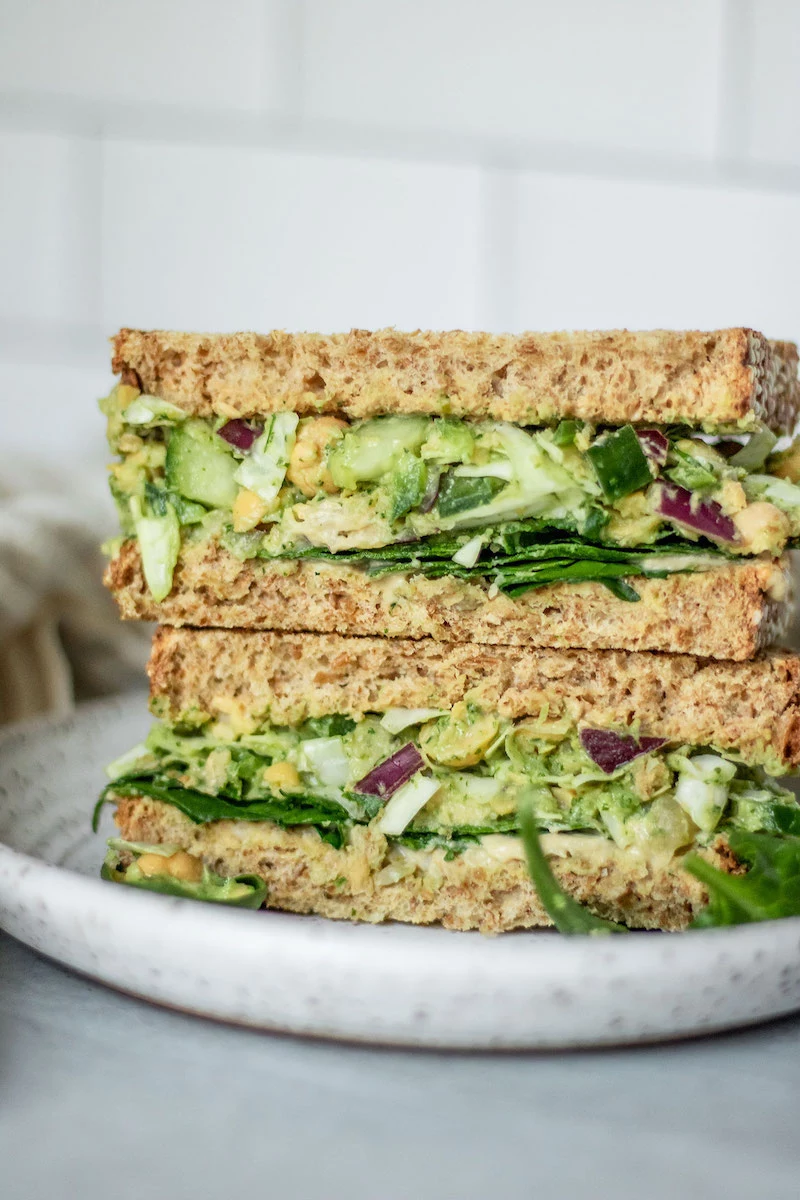 Frequently Asked Questions
Is it possible for me to make this salad ahead of time?
Yes! Cabbage is a hearty vegetable that may be prepared ahead of time. It will last for 2 – 3 days in the fridge if you give it a thorough stir before serving.
Cabbage is not my favorite vegetable. What other options do I have?
If you don't want to use cabbage as a salad basis, shredded kale or chopped lettuce would suffice.  Any leafy green that is reasonably hearty will suffice. You can also opt for some cooked Brussels sprouts!
How long does the dressing last in the refrigerator? 
The dressing will keep in the fridge for up to 3 days if kept covered. Before using, give it a good stir.
Is this salad still good the next day?
Because the cabbage soaks up the dressing, this is the kind of salad that tastes even better the next day. It's like how coleslaw tastes great a few days after you cook it.
In place of walnuts, what other nuts may I use?
If you're allergic to walnuts or just don't care for them, you can replace them with any other nut or leave them out altogether. Pecans, almonds, hazelnuts, macadamia nuts, cashews, pine nuts, pistachios, and even sunflower seeds are some nuts to try.
Is it okay if I use a different type of vinegar?
Rice vinegar is fantastic, but if you only have another type of vinegar on hand, feel free to use it instead. White wine vinegar or apple cider vinegar are good replacements.
You can choose whatever nuts you like most for this recipe!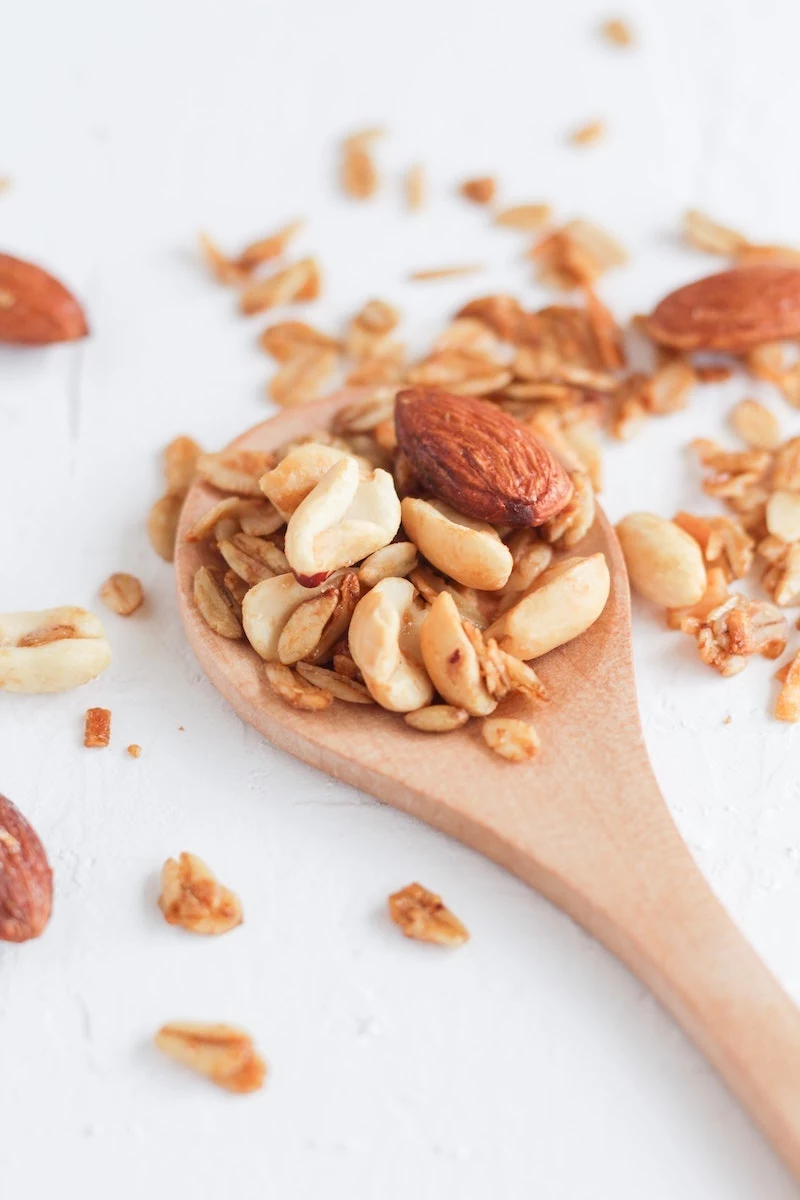 Try out this green recipe yourself, we promise you will fall in love!