---
Some pople tend to think that being vegan is extremely difficult. The usual take is that veganism means you eat just fruits and vegetables and never eat anything delicious. But, naturally, every vegan would argue that that is, of course, not true. So, if you have decided to go on the path to becoming vegan, fear not. There are so many delicious recipes out there which are going to keep you full and provide all of the necessary nutrition. Which is why today we are going to start off with 10 easy vegan appetizers you can prepare for your next party which even your non-vegan friends are going to love!
Delicious falafel recipe from Archzine Studio
One of the most famous vegan appetizers
Ingredients:
240gr chickpeas
1 bunch fresh parsley, chopped
6 green onions, chopped
4 garlic cloves
1 tsp red pepper flakes
salt
1 tbso cumin
1 tbsp baking powder
Simple and easy green falafel recipe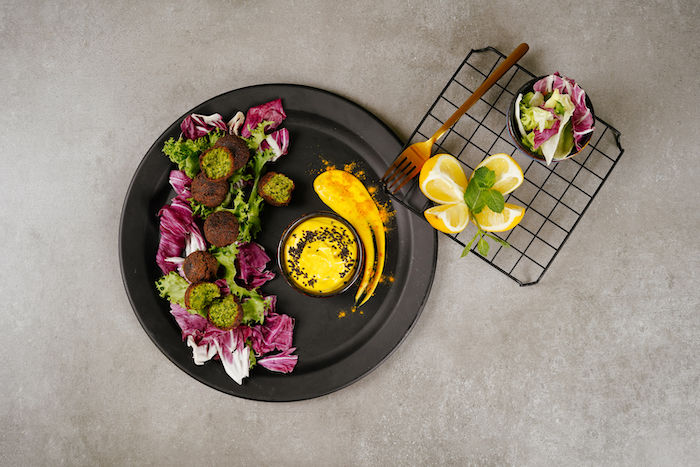 ---
Place everything in a blender and blend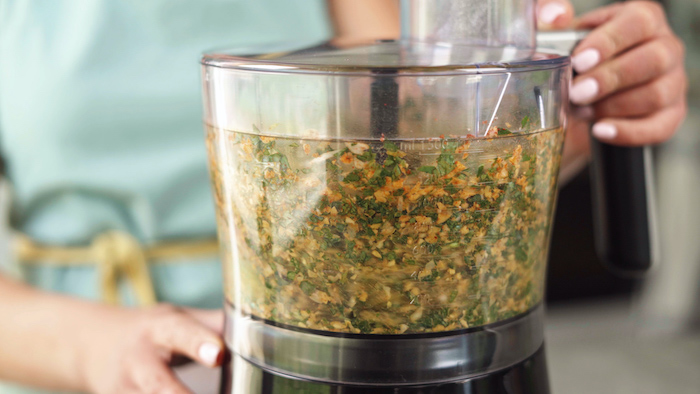 Scoop out a bit of the mixture and shape into a ball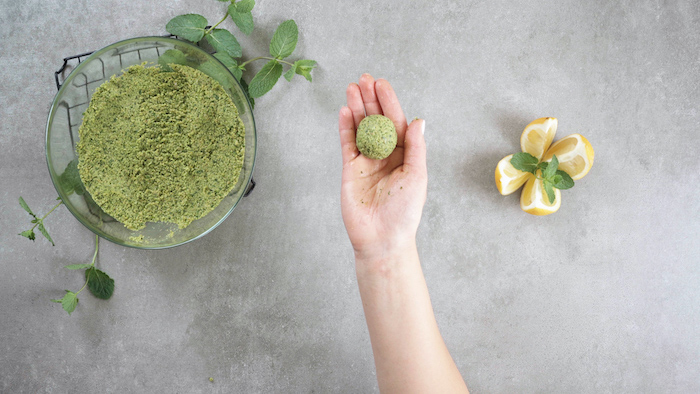 In a pan heat oil and fry each ball for a few minutes on each side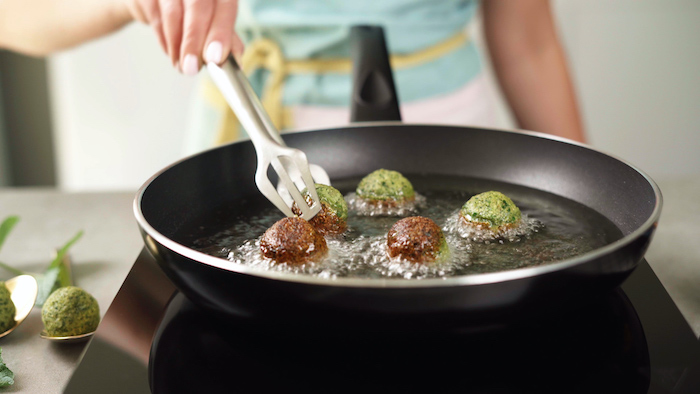 ---
Serve with a dip of your choice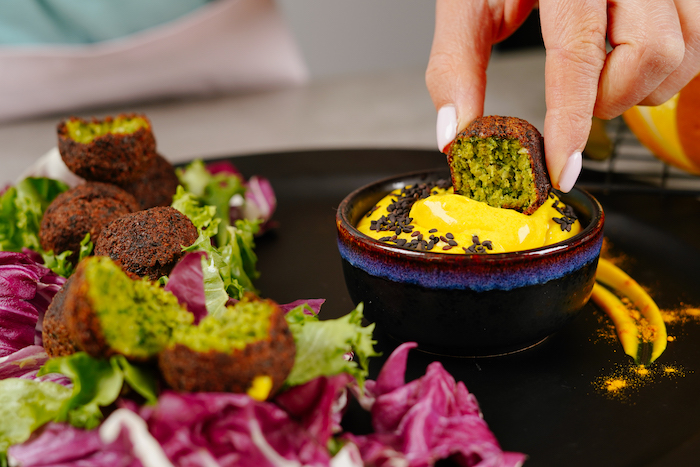 Another recipe from Archzine Studio – vegan chia pudding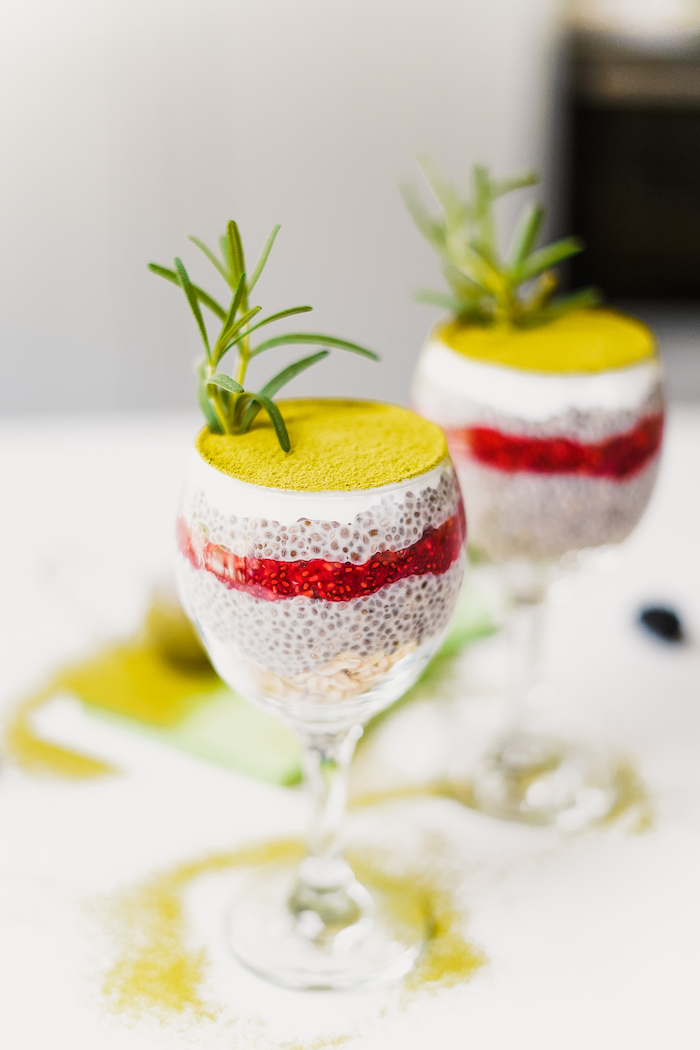 Vegan desserts
Ingredients:
For the raspberry layer:
200gr fresh raspberries
juice from 1 lemon
2 tbsp honey
2 tbsp chia seeds
For the milk layer:
400ml full fat coconut milk
1 tbsp vailla extract
4 tbsp honey
4 tbsp chia seeds
Such an easy dessert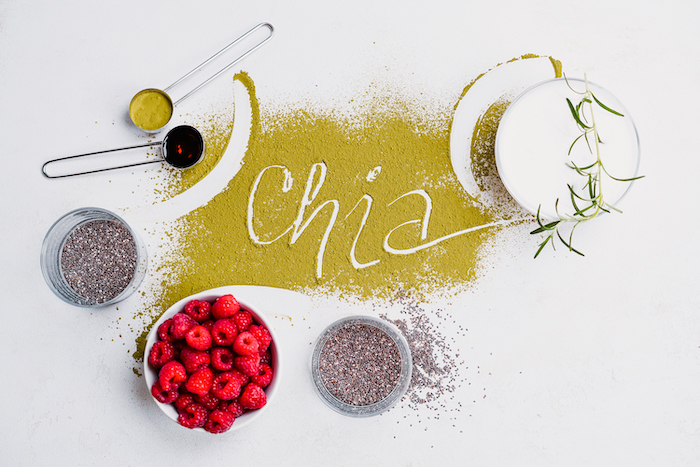 Puree the raspberries and add the rest of the ingredients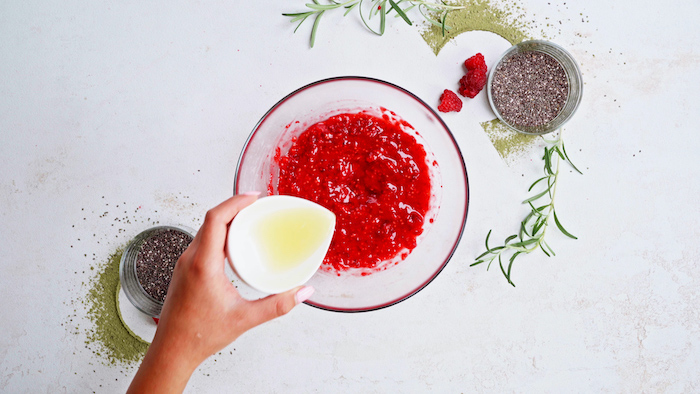 Stir well and let sit for about 30 minutes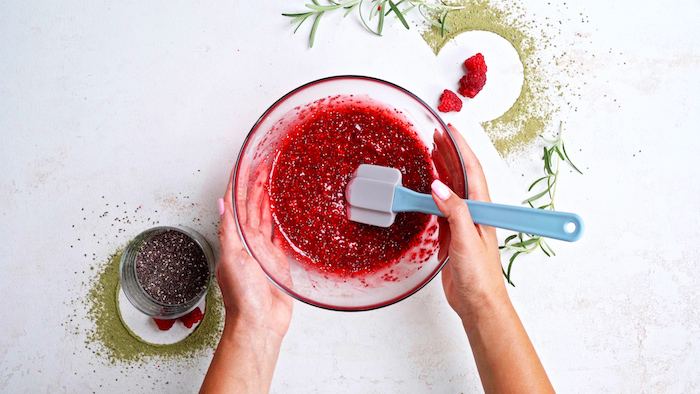 In another bowl mix the milk mixture ingredients and once again let sit for about 30 minutes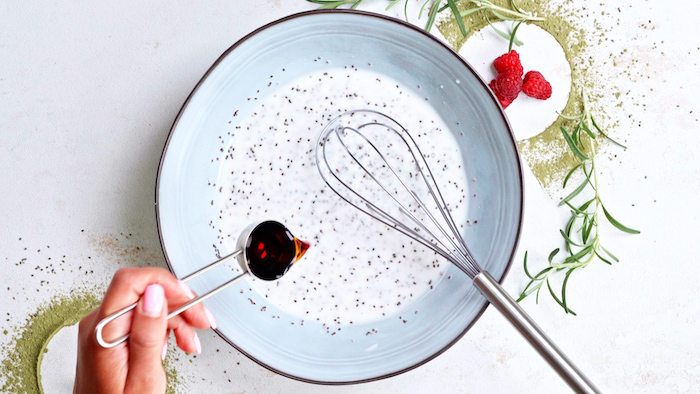 In a glass layer oats, coconut mixture and raspberry mixture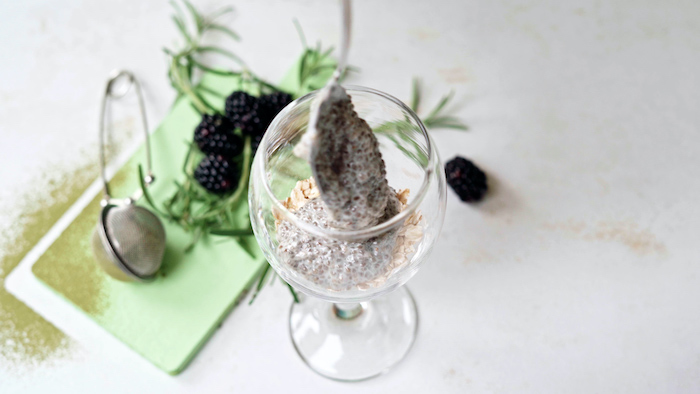 Then layer more of the coconut mixture and coconut yoghurt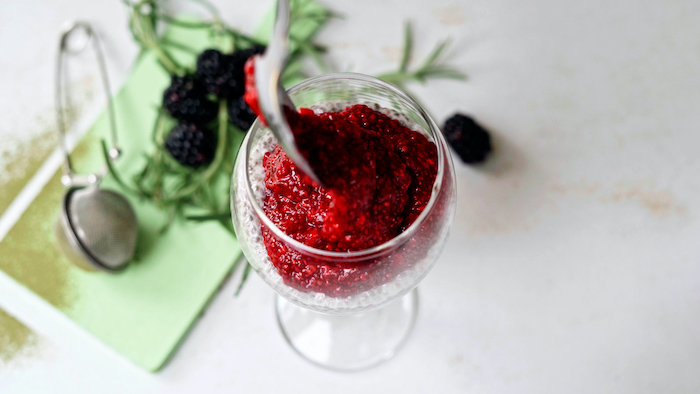 Dust with matcha powder and the chia pudding is ready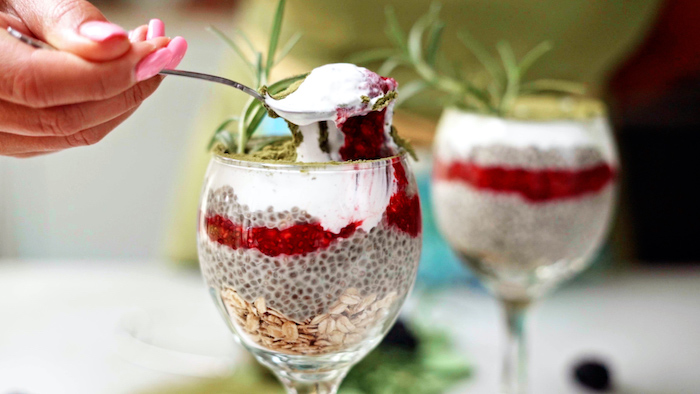 Scrumptious sweet potato wedges recipe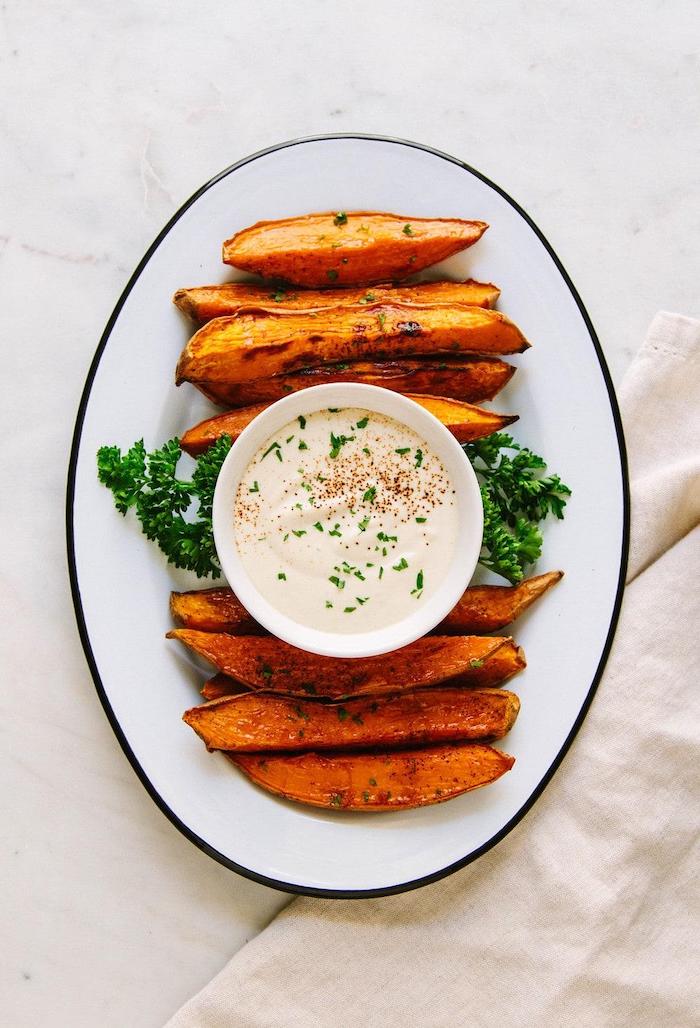 Vegan party food
Ingredients:
5 sweet potatoes
2 tbsp olive oil
1/2 tsp salt
1 tsp thyme
So simple, yet so delicious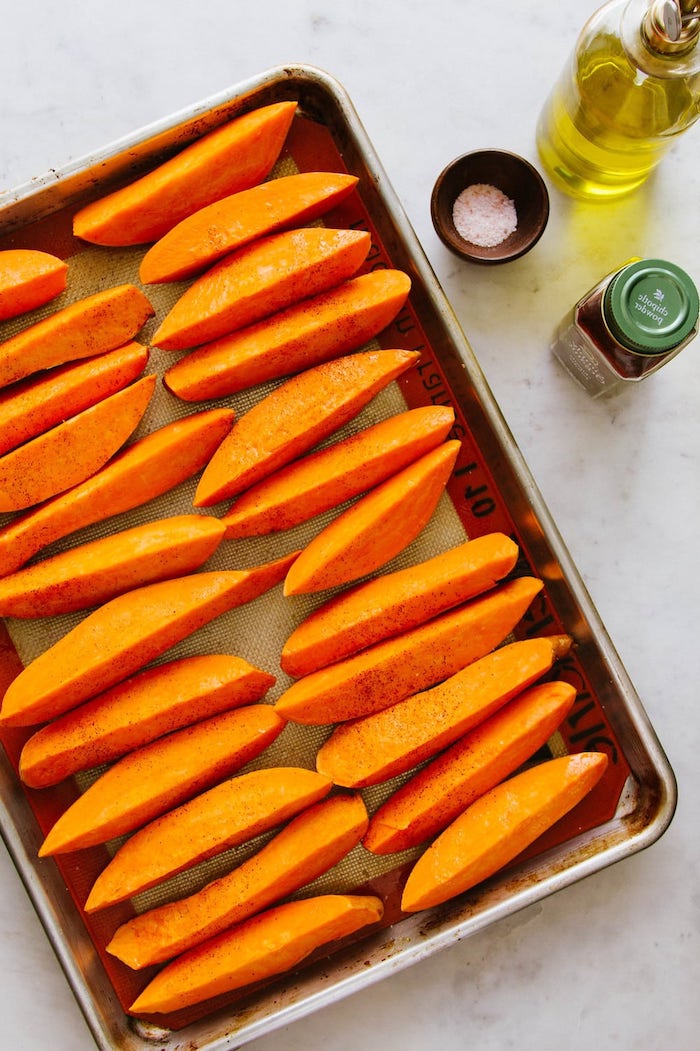 Instructions:
Preheat oven to 425°F.
Cut potatoes into wedges. Trasnfer to a paper lined baking sheet
Drizzle with oil and sprinkle with salt and thyme. Toss and transfer to the oven.
Bake for about 30 mintes.
Serve with chopped parsley and a dip of your choice.
These sweet potato wedges go best with a garlic dip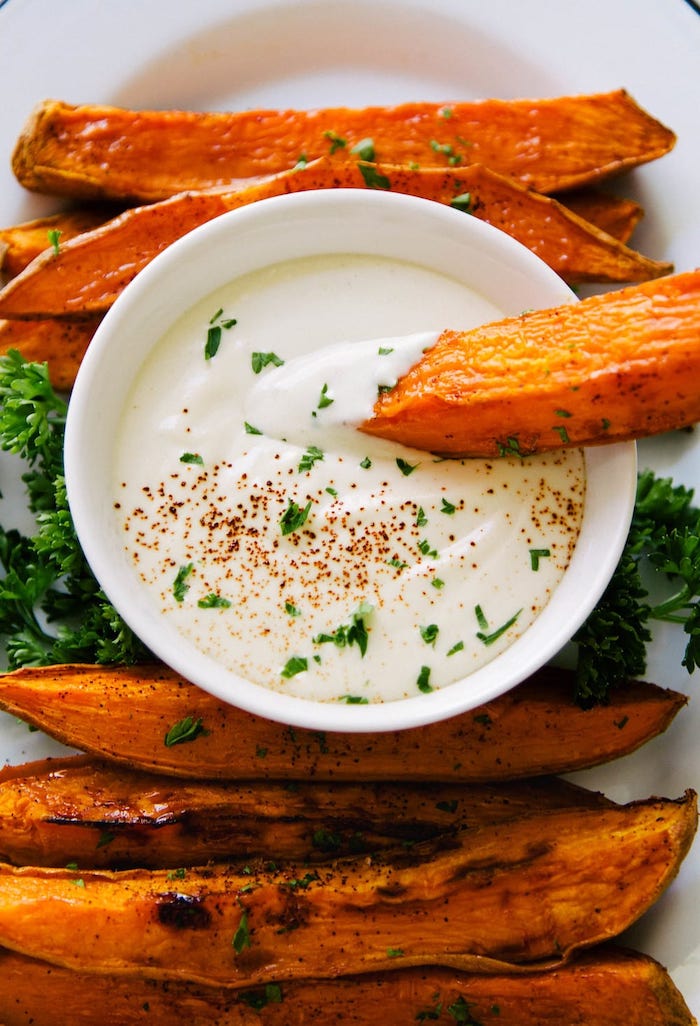 Source: Simple Veganista
Vegan, gluten-free mac & cheese bites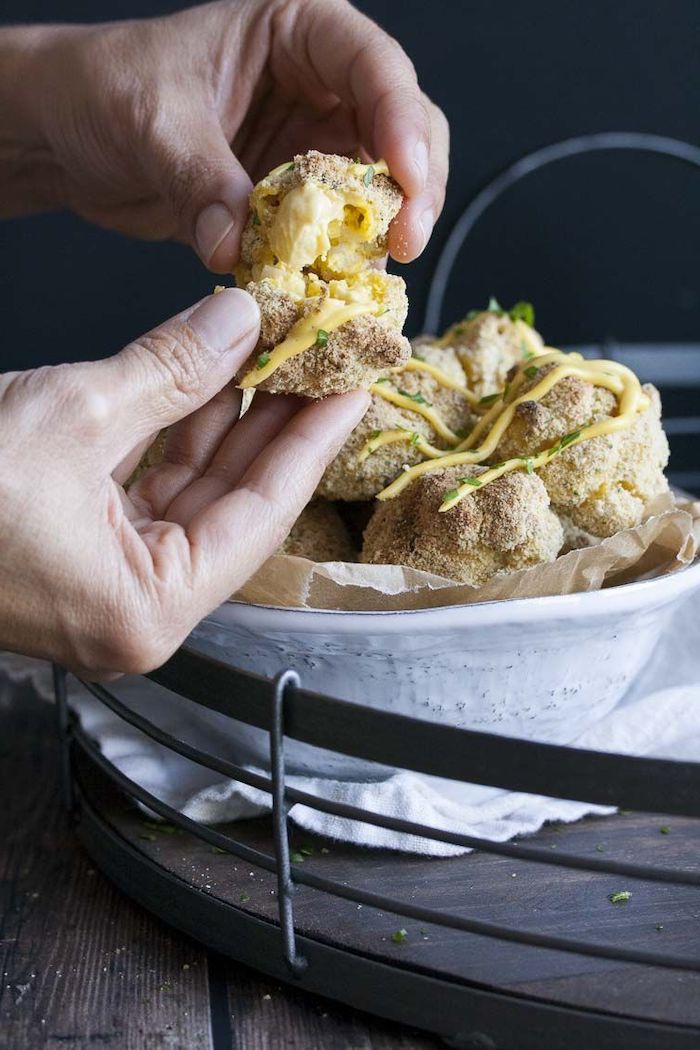 Vegan appetizer recipe
Ingredients:
For the cheese sauce:
2 1/2 cups cooked potato
1/2 cup cooked yellow onion
5 tbsp cooked carrots
1/4 cup cooked yellow pepper
4 garlic cloves
1 1/2 cups raw cashews
1/2 cup unsweetened cashew milk
4 tsp vinegar
3 tsp salt
1/8 tsp ground mustard
For the crispy coating:
3/4 cup cornmeal
3/4 cup breadcrumbs
1/2 cup hemp seeds
1 1/2 tsp salt
Plus:
2 cups unsweetened cashew milk
8oz. macaroni pasta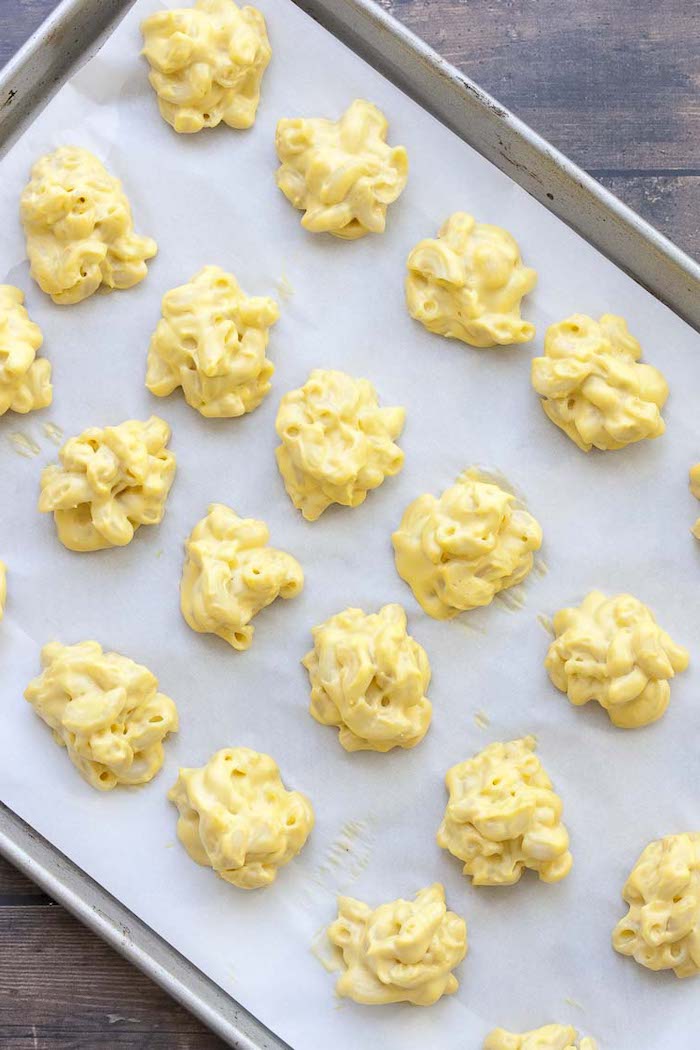 Instructions:
For the cheese sauce
Blend the cooked veggies along with the garlic, cashews, vinegar, milk, 2 tsp salt and ground mustard.
Take out 1 1/2 cups of the mixture for the drizzle and dip, add the other tsp of salt and blend again.
For the balls:
Cook the pasta according to the package instructions, but al dente.
Combine the cheese sauce with the pasta and mix well.
Scoop a bit of the pasta mixture onto a paper lined baking sheet making them look like balls and refrigerate for about 2 hours.
Blend the ingredients for the crusty coating together.
Preheat the oven to 400°F.
Pour 2 cups of milk into a bowl. Dip each ball in the milk and then into the bowl with the coating. Make sure they are fully coated and place on a paper lined baking sheet.
Bake for about 25 minutes and broil for additional 2 minutes.
This is one delicious looking recipe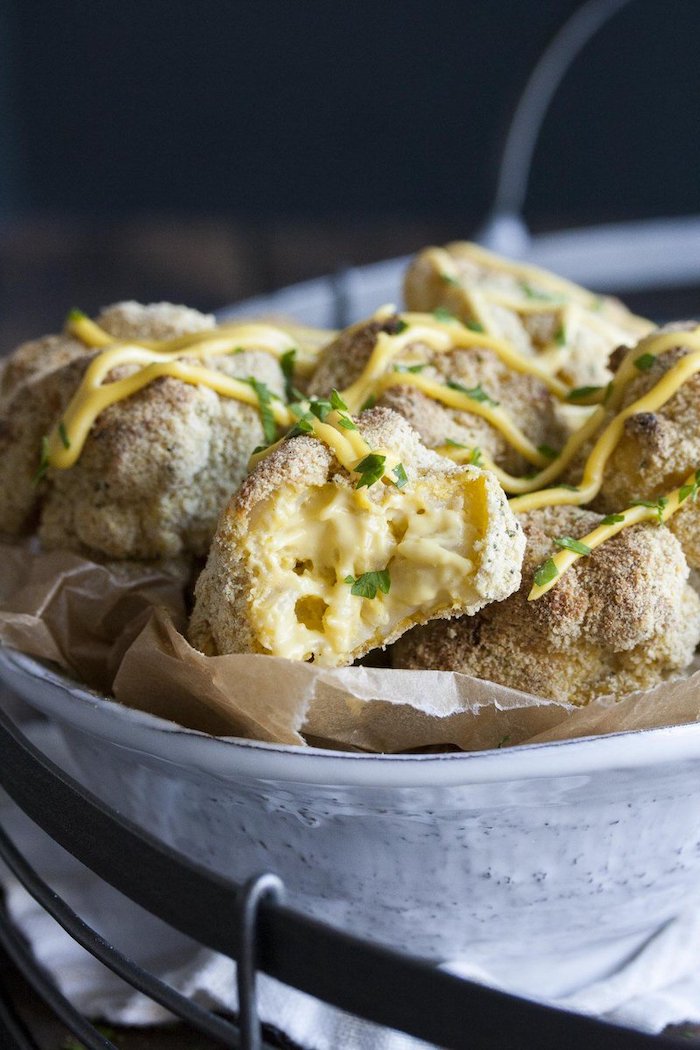 Source: Veggies Don't Bite
Hummus quesadillas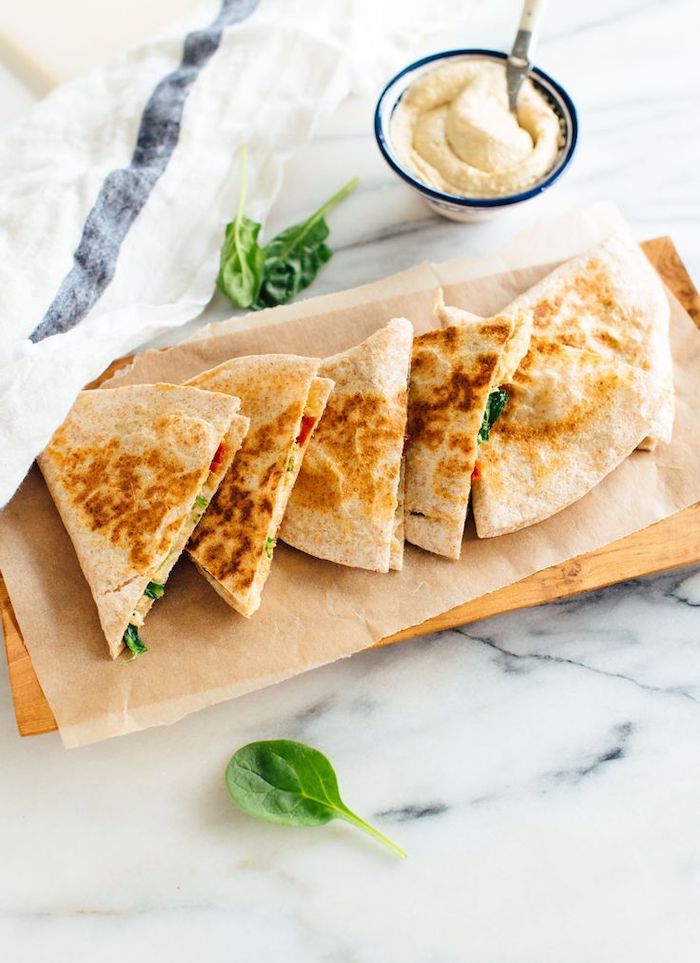 Vegan hors d'oeuvres
Ingredients:
1 8-inch whole grain tortilla
1/4 cup hummus
fillings of your choice
olive oil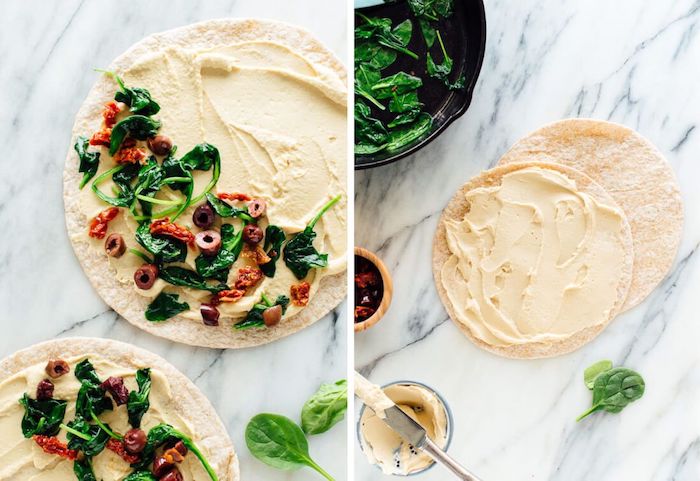 Instructions:
Spread the hummus over the tortilla.
Cover half of the tortilla with the fillings and fold the blank side over the other.
Place the folded tortilla in a skillet over medium heat. Cook on each side for about 2 minutes brushing each side with olive oil. Flip over once again and cook until each side is lightly golden.
Let sit for a bit and cut them into three pieces. Serce with a dip of your choice.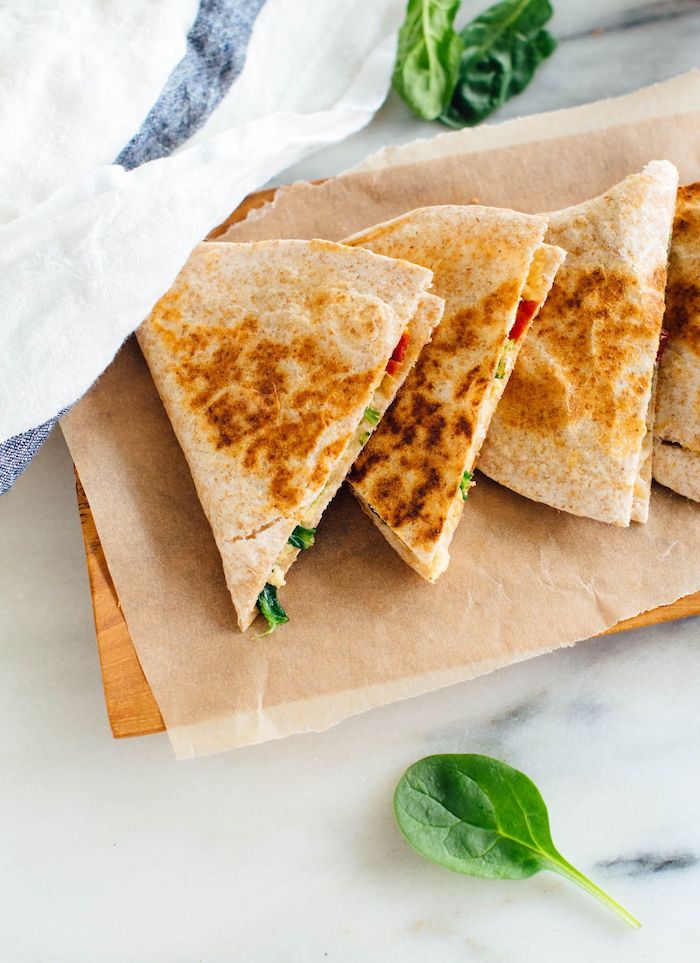 Source: Cookie and Kate
Vegan Teriyaki meatballs recipe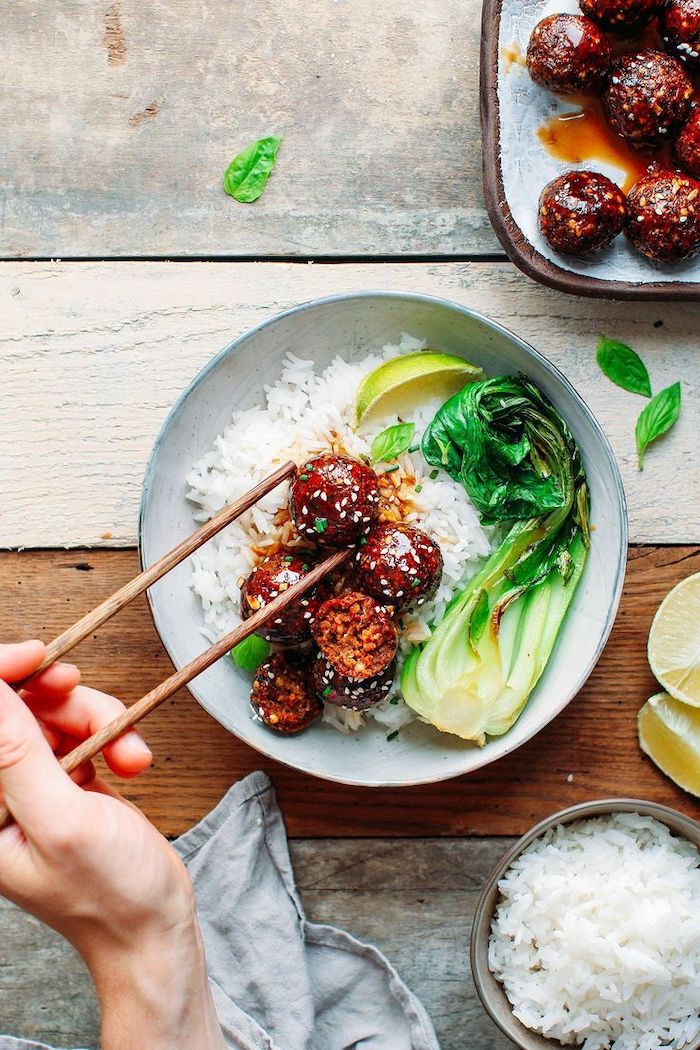 Vegan appetizers
Ingredients:
For the meatballs:
1 tbsp oil
1 medium onion, diced
1/4 cup buckwheat groats
1 garlic clove, minced
1 cup sliced mushrooms
2 cups water
1 tbsp soy sauce
1 tbsp maple syrup
2 tbsp tomato paste
1/4 tsp each: smoked paprika, ground chili, cumin
1/4 cup parsley
1/2 tsp oregano
1 tsp onion powder
1/4 cup almond flour
1/4 cup breadcrumbs
1/2 cup cooked kidney beans
1/4 cup peacans
1/4 cup vital wheat gluten
For the teriyaki sauce:
1/4 cup soy sauce
3 tbsp maple syrup
1 tbsp sesame oil
2 tbsp lime juice
1 tbsp minced garlic
1 tsp cornstarch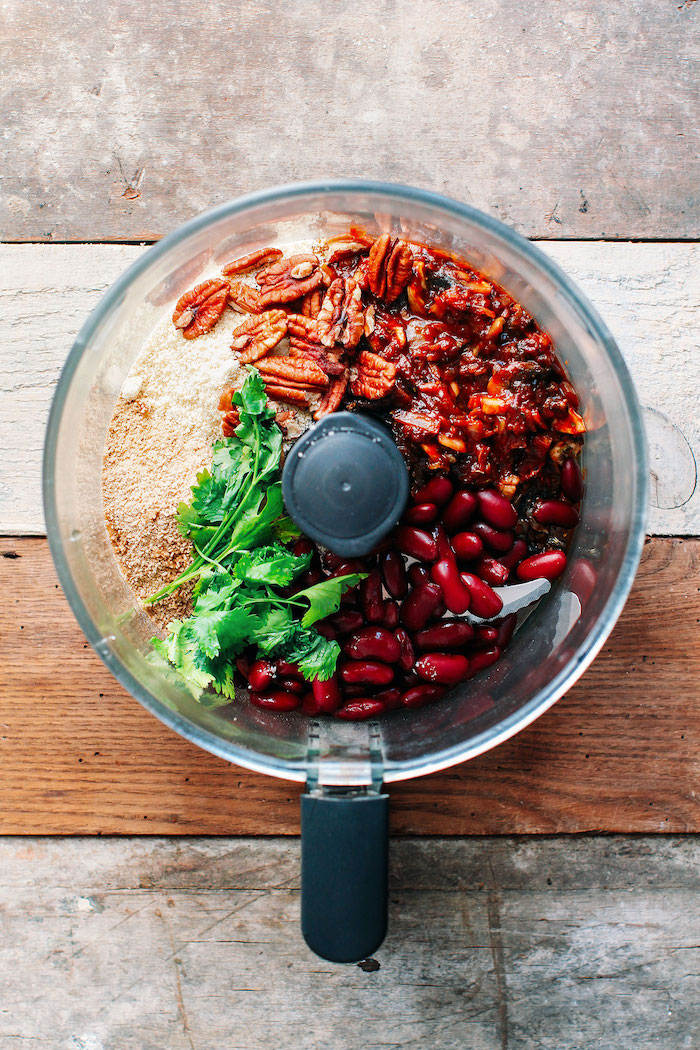 Instructions:
Cook the buckweat groats by boiling them in water and then simmer for 7 minutes. Drain and discard the water.
Preheat oven to 350°F.
In a skillet over medium heat oil and cook the onion and garlic for about 3 minutes. Add the mushrooms and cook additional 7 minutes. Then, add the tomato paste, soy sauce, maple syrup, spices, oregano and onion powder. Cook for 30 seconds and remove from heat.
Pulse the mushroom mixture along with the red kidney beans, parsley, almond flour, breadcrumbs and pecans in a food processor.
Add the buckwheat and pulse again for 5 seconds.
Transfer to a bowl, add the vital wheat gluten and mix until fully incorporated. Shape into balls and transfer to a paper lined baking sheet. Bake for 20 minutes.
In a bowl mix the ingredients for the teriyaki sauce.
Heat oil in a skillet over medium heat. Add the meatballs and fry until golden brown. Remove from heat and add the teriyaki sauce, stirring until fully coated.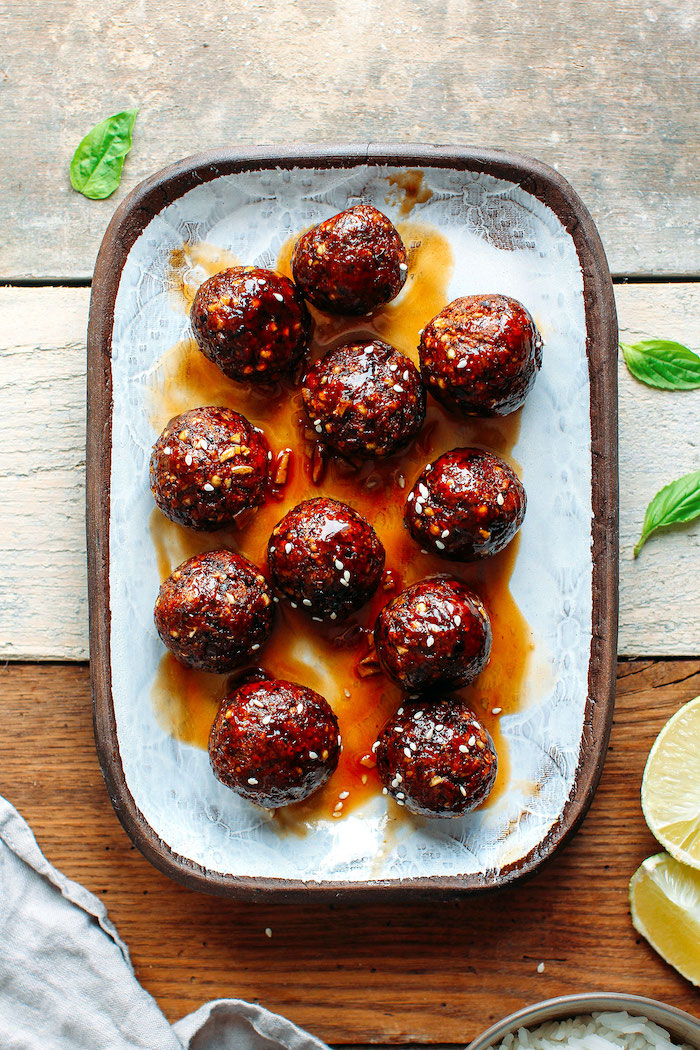 Source: Full of Plants
Have you ever thought that you can be vegan and enjoy sushi
Vegan sushi
Ingredients:
brown rice, cooked
1 roasted red bell pepper
1 cup thinly sliced carrots
4 sheets nori
1 cup thinly sliced cucumber
1 cup sprouts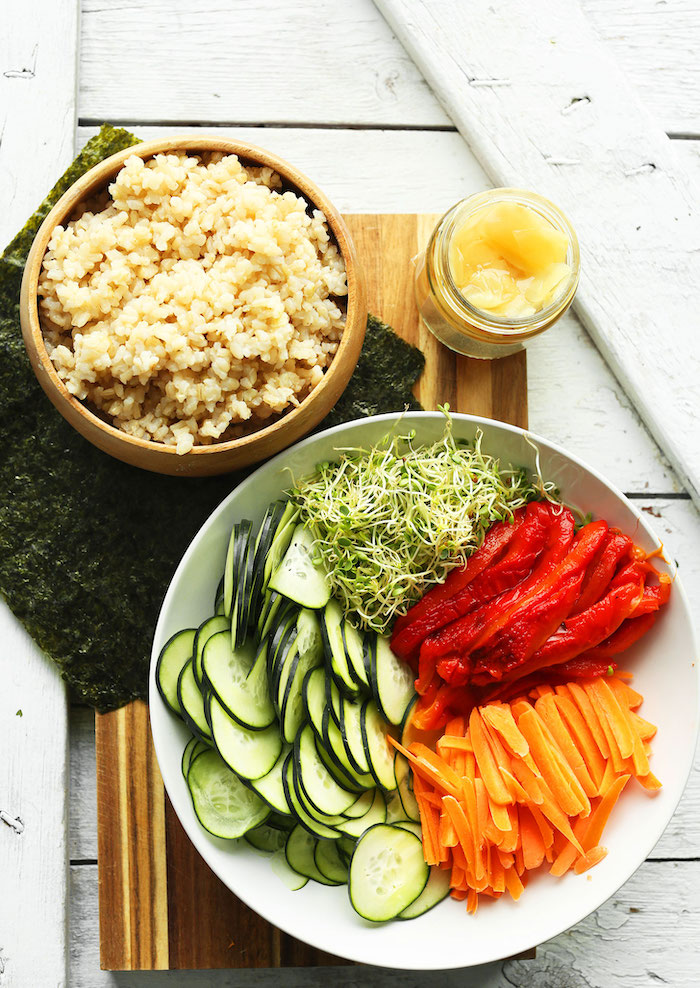 Instructions:
Place a sushi mat on a counter and add a sheet of nori. Add a thin layer of rice.
Add the veggies on the bottom 3/4 of the rice.
Roll the nori and rice until they cover the veggies. Roll the over to compress the roll and keep rolling until ready. Cut into circles and serce with sauce of your choice.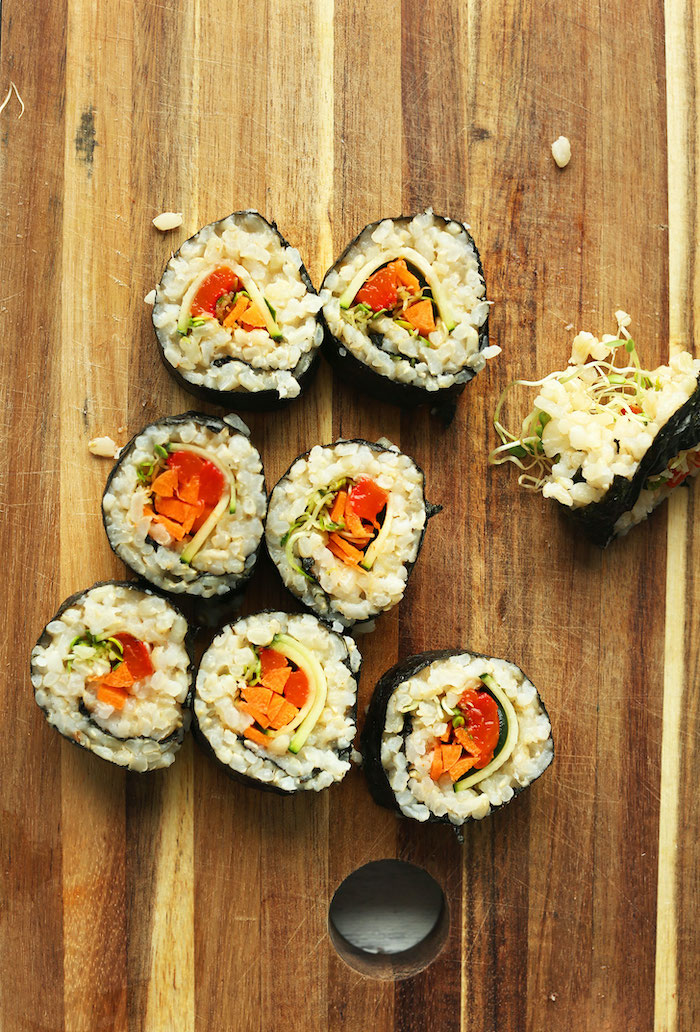 Source: Minimalist Baker
Tomato flatbread recipe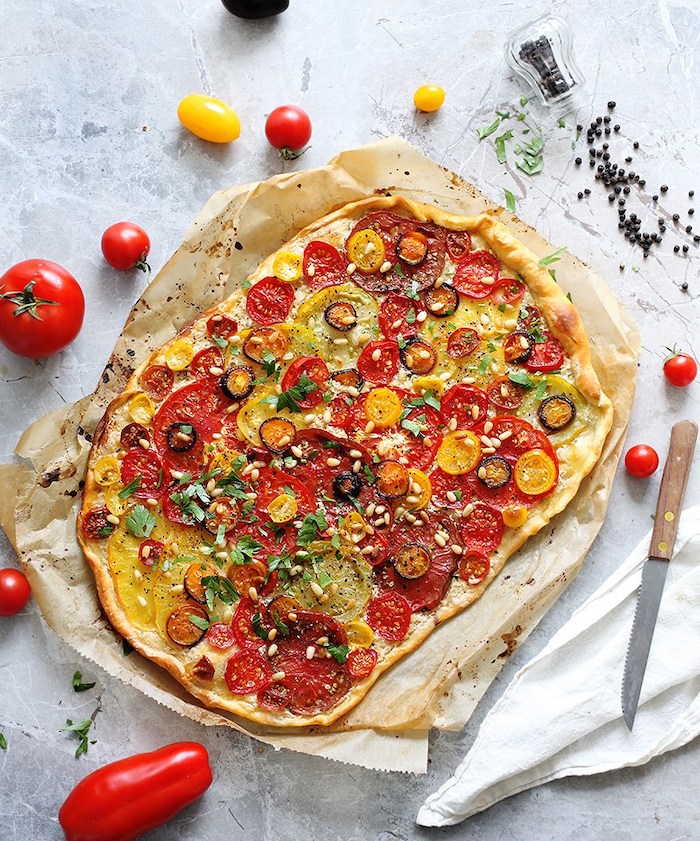 Easy to make vegan appetizer recipes
Ingredients:
350gr pizza dough
2-3 tbsp tahini
3 garlic cloves, minced
500 gr tomatoes, sliced
2 tbso pine nuts
3 tbsp chopped parsley
salt and pepper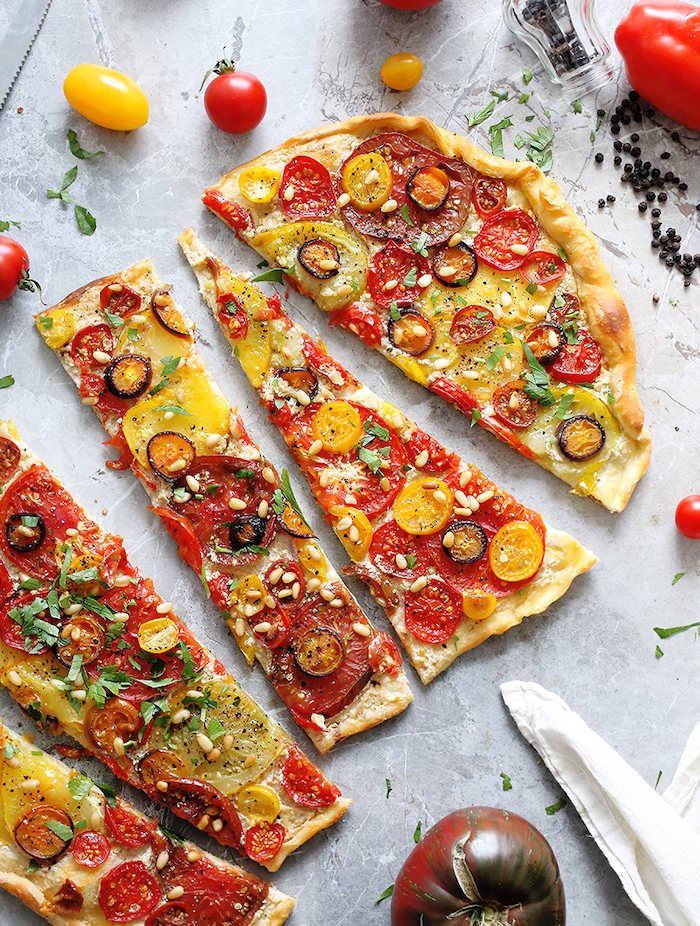 Instructions:
Preheat oven to 480°F.
Roll the dough. Spread tahini over it, sprinkle with garlic salt and pepper. Arrange the tomato slices so they cover the whole dough and top with pine nits.
Bake for about 20 minutes and garnish with chopped parsley.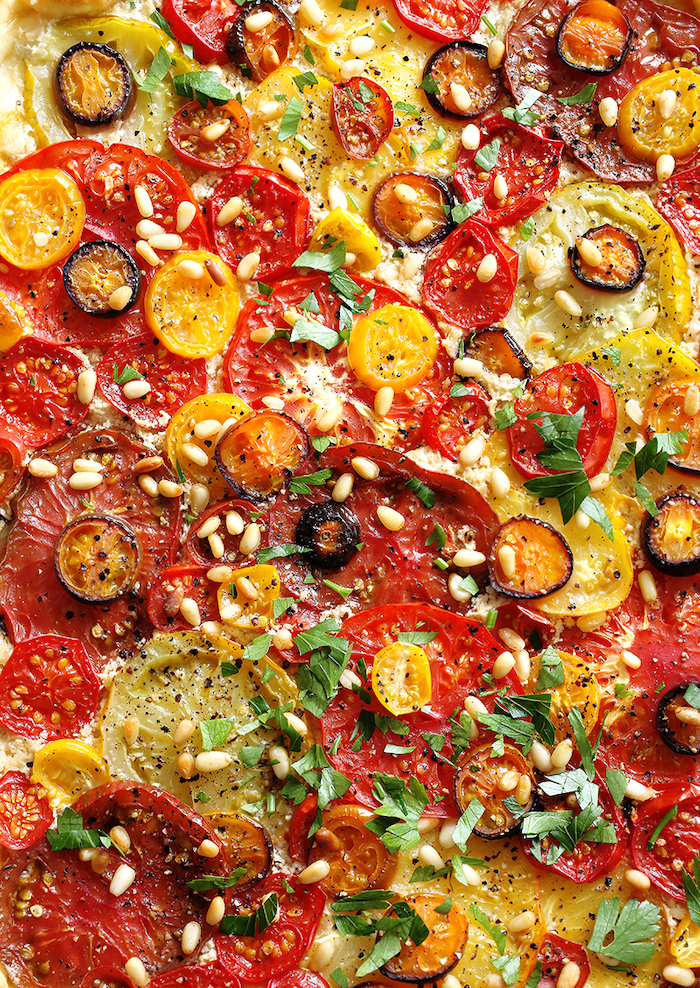 Source: Green Evi
Vegan bruschetta bites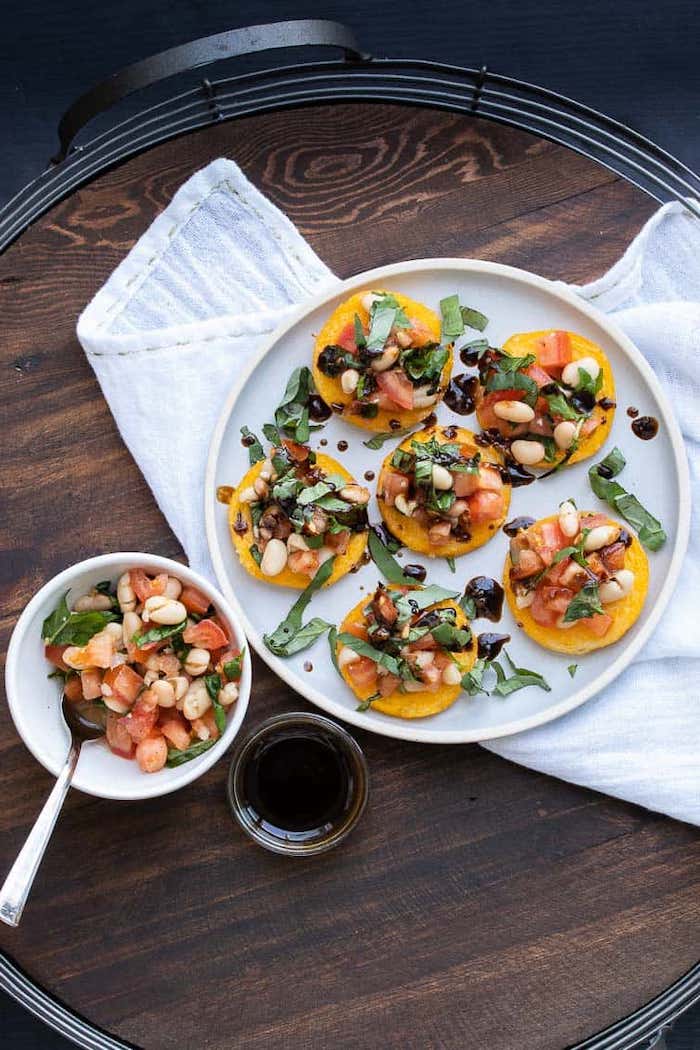 Vegan finger food
Ingredients:
1 sleeve of polenta
4 tomatoes, chopped
1/2 cup basil
1/2 cup arugula
1 cup white beans
2 tsp minced garlic
1/2 tsp salt
1/4 tsp black pepper
olive oil
balsamic dressing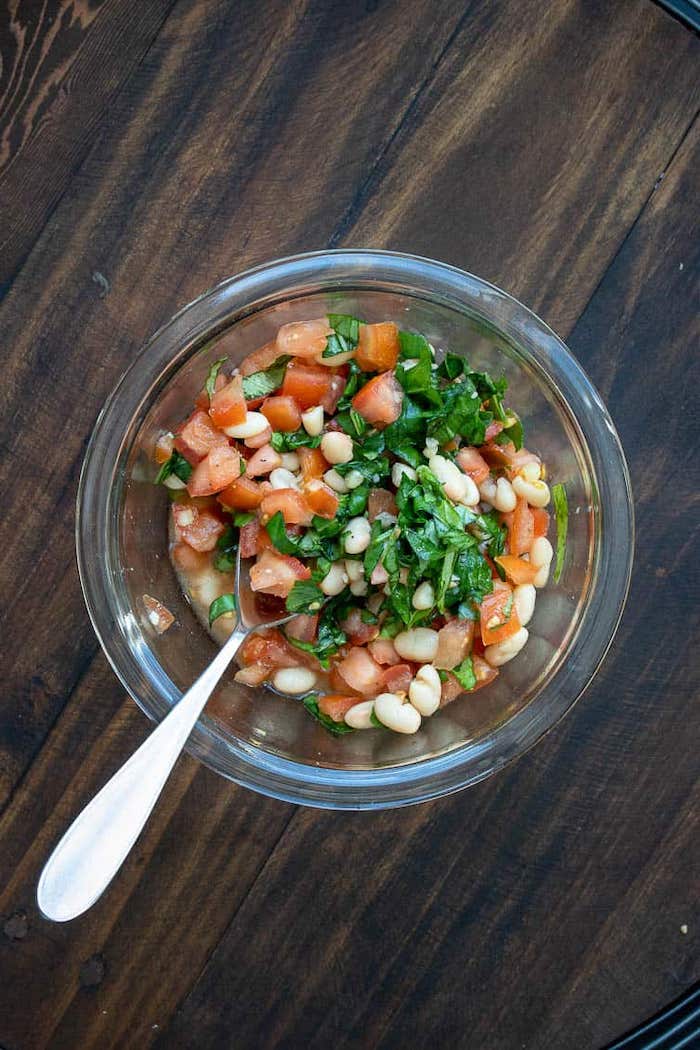 Instructions:
Preheat oven to 400°F.
Slice the polenta into small circles and place on a paper lined baking sheet. Bake for 40 minutes. Let cool.
In a bowl mix all of the ingredients, except the balsamic dressing and stir well.
Serve the polenta with a spoonful of the mixture and a drizzle of balsamic dressing.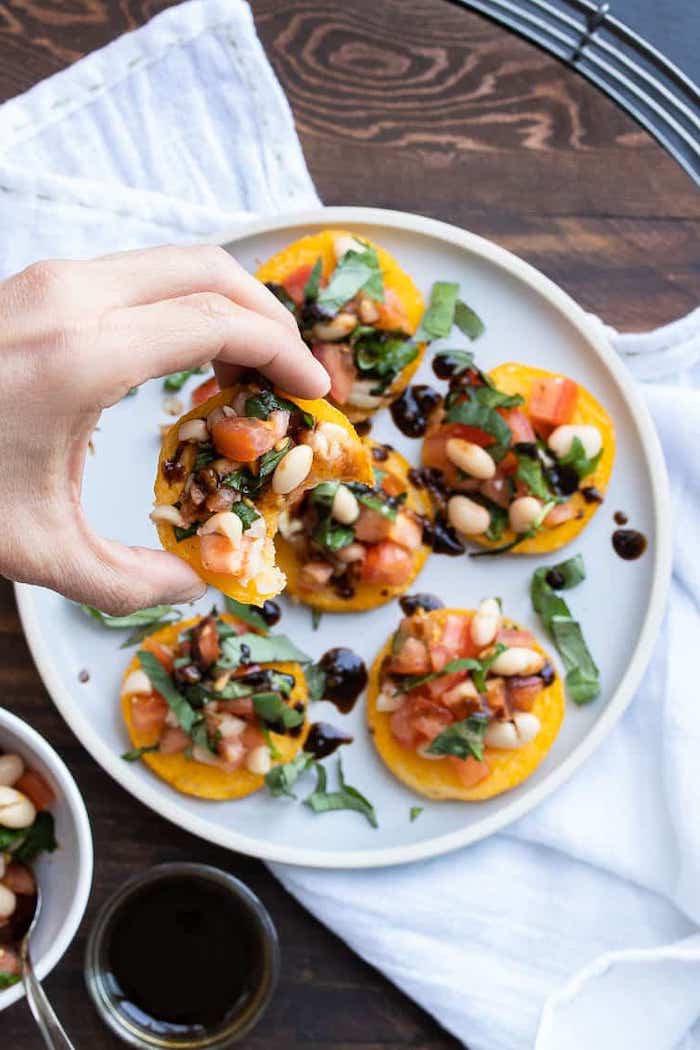 Source: Veggies Don't Bite
Delicious rice paper rolls
Vegan appetizers
Ingredients:
For the rice paper rolls:
6 sheets rice paper
1 avocado
1 cucumber
3 small carrots
1 mango
3 green onions, cut into rings
1 cup purple cabbage
6 radishes
3 cups lettuce
1 cup cooked glass noodles
For the peanut dip:
1/4 cup chunky peanut butter
2 tsp soy sauce
1 galic clove, minced
3 tbsp warm water
1/2 tsp sriracha sauce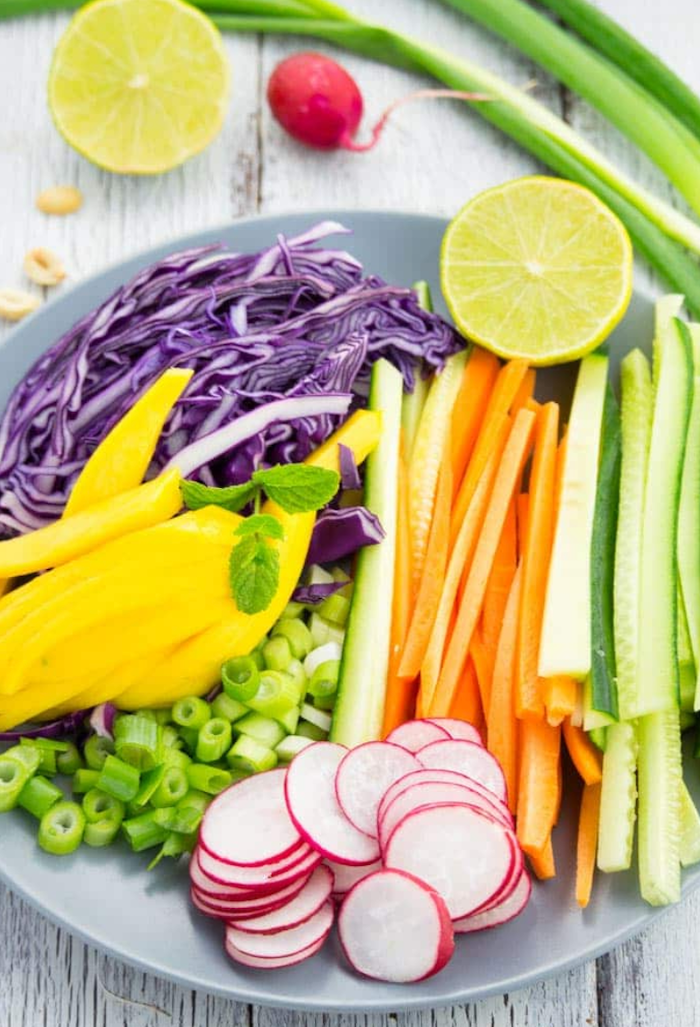 Instructions:
Cut all of the veggies into thin stripes.
Dip the rice papers in water, but not for too long so they don't become too soft.
Spread out the rice papers and fill the with the veggies. Roll the rice paper.
In a bowl mix the ingredients for the dipping sauce and serve along with the rice paper rolls.
Voila! So easy to make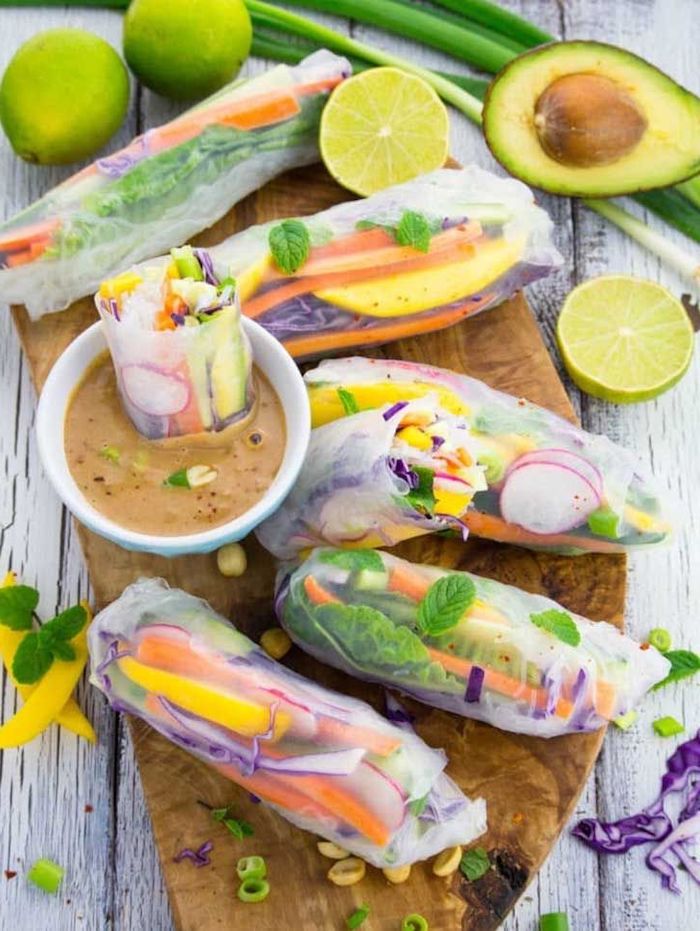 Source: Vegan Heaven
Even more vegan appetizer ideas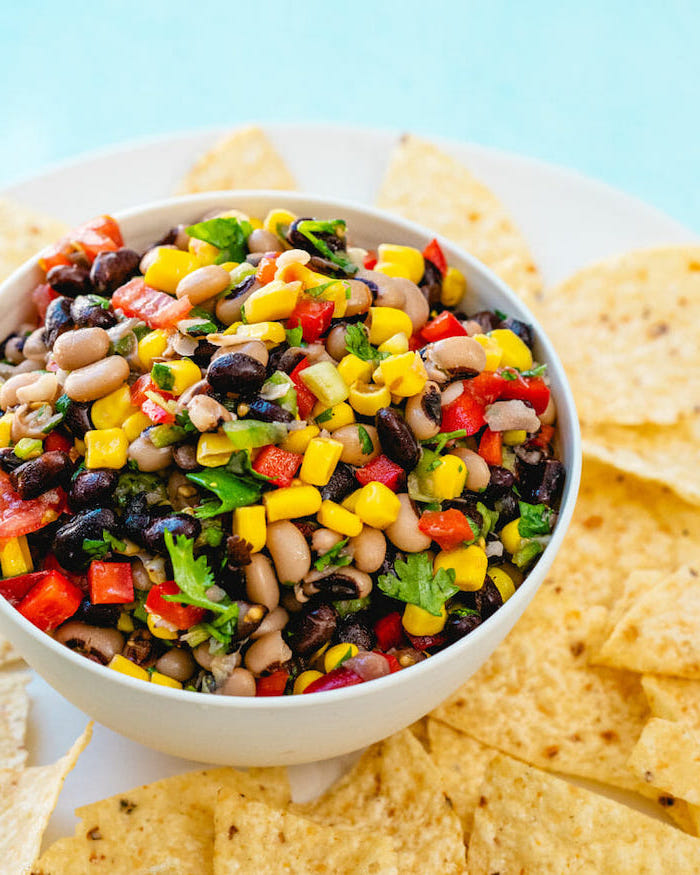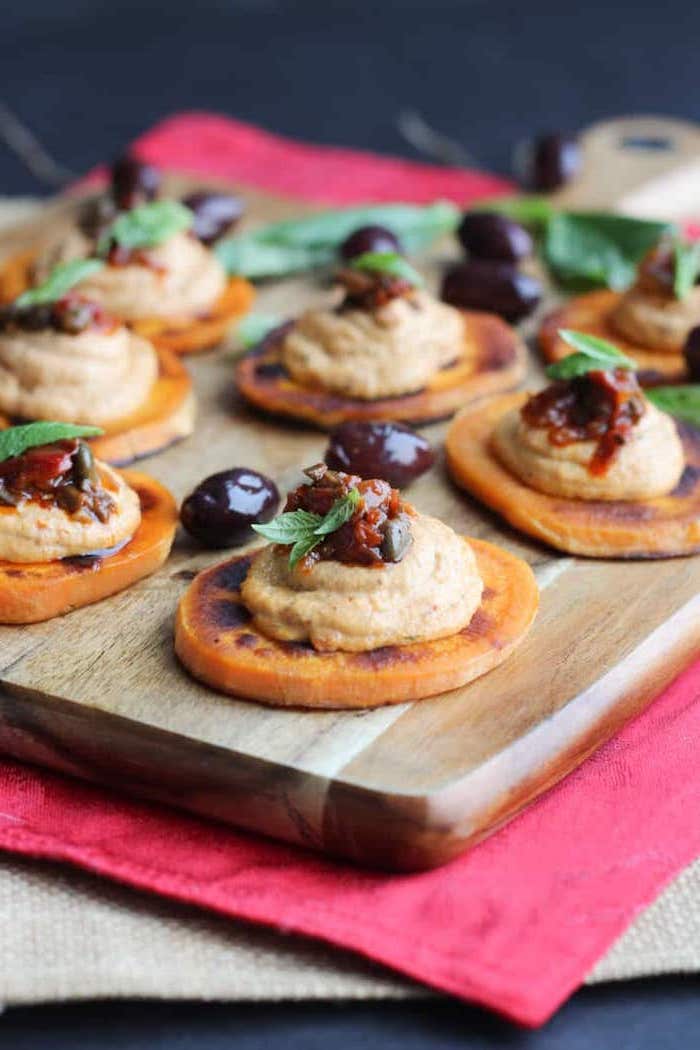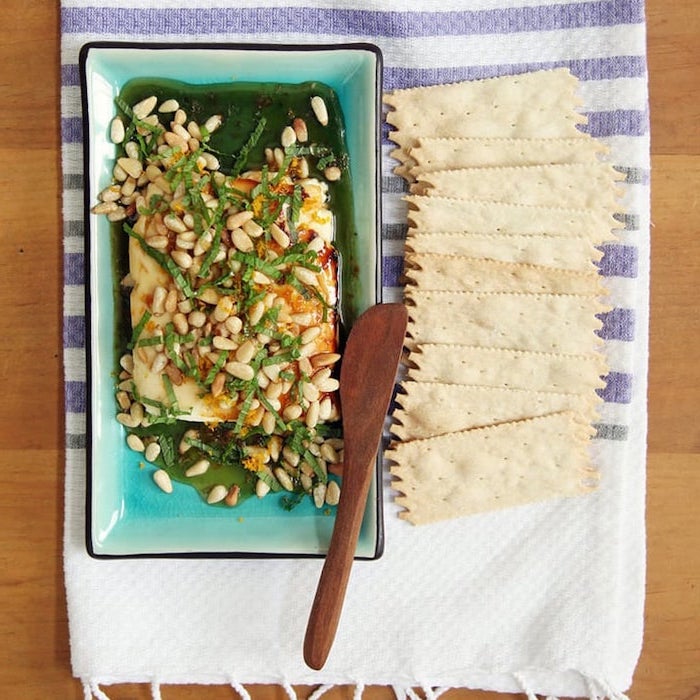 Fun vegan appetizers for your next party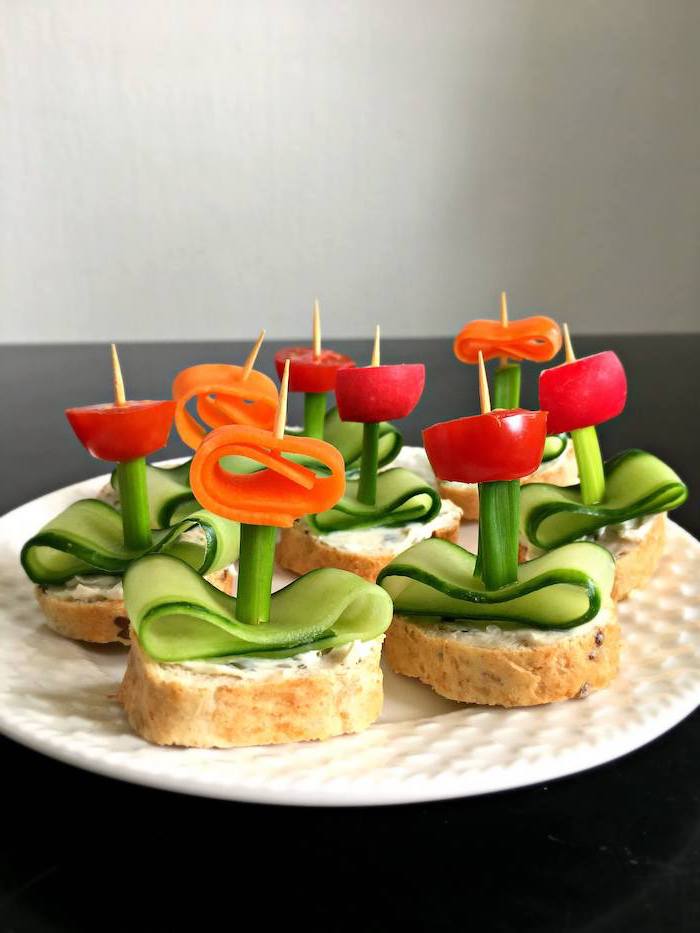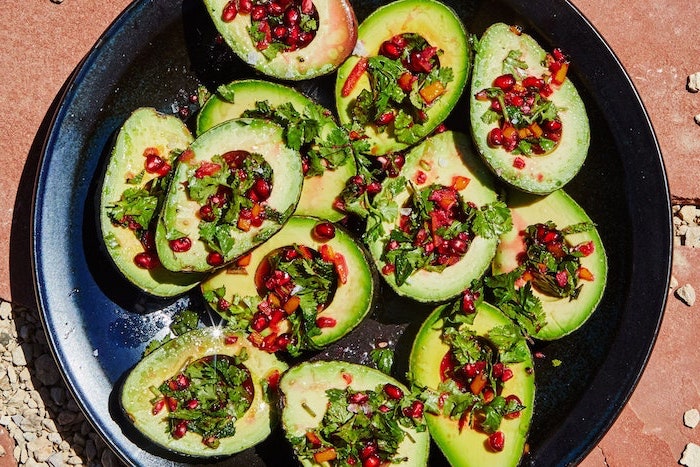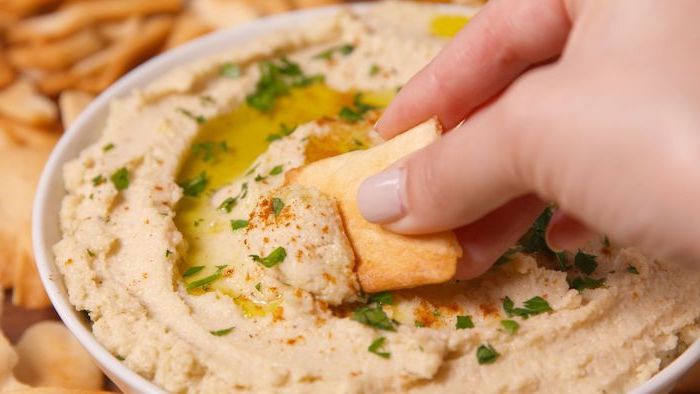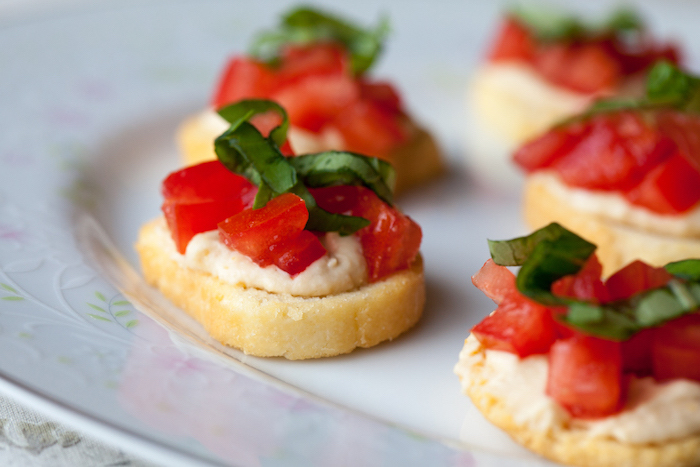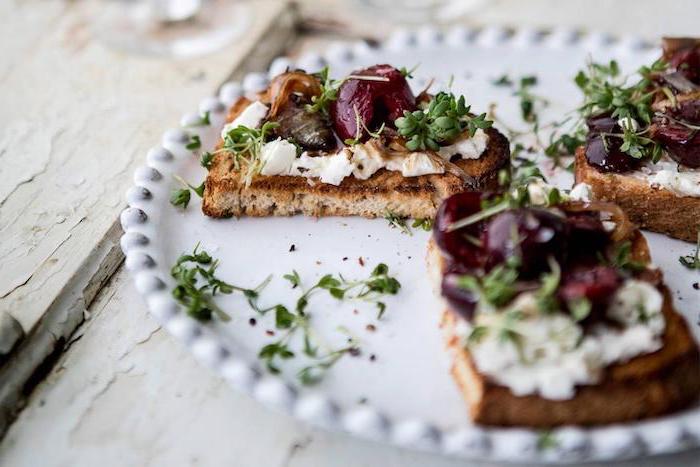 Hummus is one of the most famous vegan dips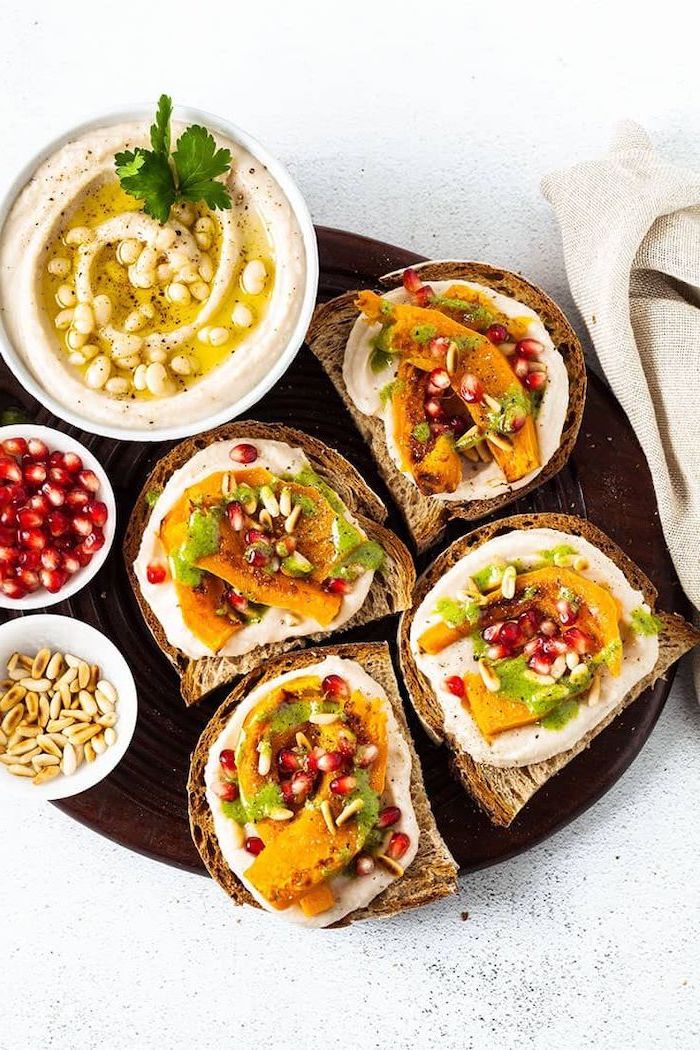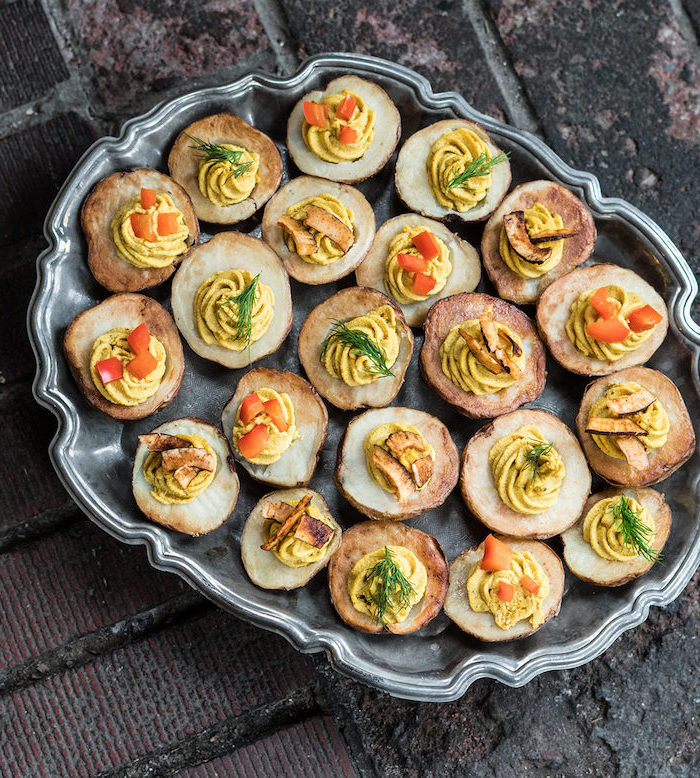 Vegan appetizers are so easy to make