---
Buddha bowls are beautiful to look at and just as good to eat They are super healthy, and nutritious, and the variations are truly limitless. Buddha bowls are most often full of delicious veggies, a protein source like tofu or chickpeas, some type of grain like rice or couscous, and a delicious finger-licking good dressing or sauce! What's more, Buddha bowls are super fast and easy to make, which makes them the perfect healthy quick lunch or super fast weekday dinner! That is why it is always good to have a good protein bowl recipe in hand. In this article, we will show you our delicious high-protein vegan Buddha bowl, so you can easily make it at home. Make sure to watch our video recipe, so you can make this delicious vegan meal as easy as possible!
This vegan bowl is packed with veggies and protein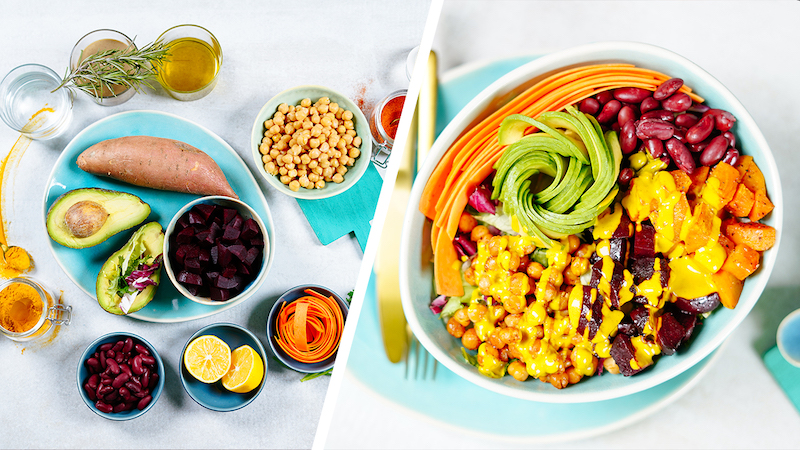 ---
You've seen them all over Pinterest, so you're probably wondering what these Buddha bowls are. A "Buddha bowl," so named because of its large, round Buddha belly shape, can symbolize a variety of things for different people. But, in this situation, let's describe it as a one-dish dinner or lunch with rice or whole grains, roasted vegetables, a vinaigrette, and protein (like beans, tofu, lentils, or in some non-vegan or vegetarian cases meat or fish). It is considered a healthy dish, as it integrates principles of Chinese and Japanese medicinal ideas. The Buddha bowl, which is popular among vegans, is thought to be an excellent way to eat nutritiously and mindfully, and it is linked to a reduction in the risk of chronic diseases. Now that you've learned a bit more about Buddha bowls, why not make this delicious vegan Buddha bowl recipe!
A Buddha bowl is a highly customizable dish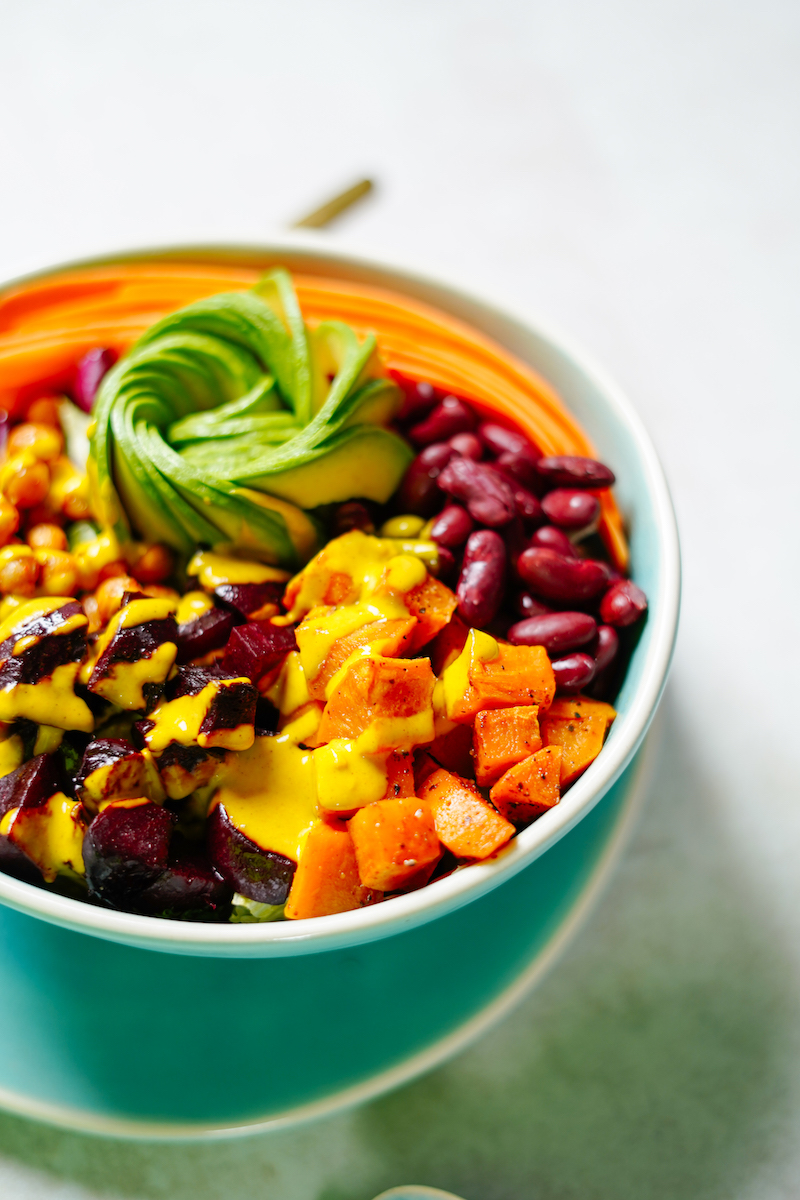 Video Instructions
We decided to make this protein vegan dish, and it turned out so good, that we just had to share it with all of you! In this video, you will find the step-by-step instructions for this delicious Buddha bowl. It is full of crispy roasted veggies, and a delicious garlicy/turmeric/tahini dressing! This recipe is the perfect quick and nutritious lunch or dinner that you can make on busy weekdays in no time!
Watch our YouTube video for in-depth visual instructions:
Recipe for Protein Vegan Buddha Bowl 
Preparation Time: 10-15 minutes
Cooking Time: 40-45 minutes
Total Time: 1 hour
What you will need:
1 big sweet potato
200g canned chickpeas
200g chopped beetroot
salt to taste
black pepper to taste
red pepper flakes to taste
extra virgin olive oil
100g sesame tahini
100ml water
1 garlic clove
half a lemon
1 tsp turmeric
green salad mix of your choosing
1/2 carrot
100gr red kidney beans
1/2 avocado
Step-by-step Instructions:
First, start by cutting your sweet potato into medium-sized chunks and place them on a baking tray lined with baking sheet paper.
Preheat your oven to 200 C degrees.
Then wash and drain the 200g of canned chickpeas and place them on the baking sheet.
After that, add the 200g of beetroot to the baking sheet as well, and sprinkle some salt and black pepper.
Then sprinkle with some red pepper flakes, and drizzle generously in olive oil.
Let the veggies bake for 40-45 at 200 C degrees.
After that, take a small bowl and add the 100gr of sesame tahini, 100ml of water, 1 chopped up a garlic clove, juice 1/2 of a lemon, some salt, 1 tsp turmeric, and mix it all together.
Finally, place your green salad mix in a bowl, add 1/2 sliced carrot, the roasted chickpeas, beetroot, sweet potato, the cooked and drained 100gr red kidney beans, 1/2 sliced avocado, and drizzle the tahini dressing on top.
Enjoy!
Start by adding your sweet potato and chickpeas to a baking tray lined with baking paper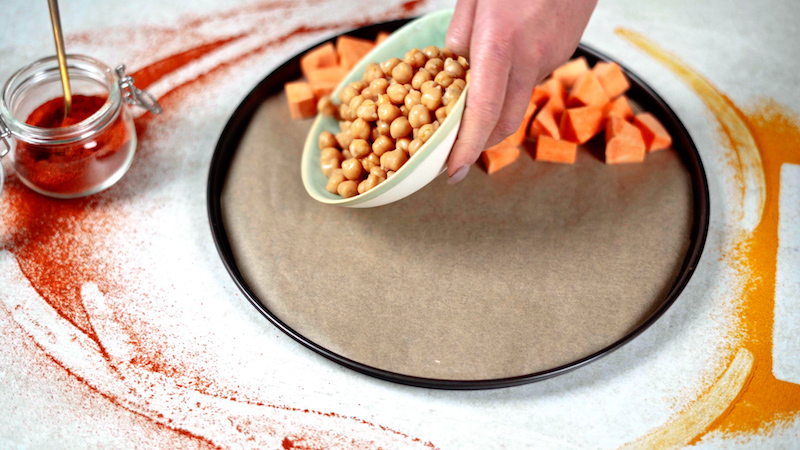 Next, add the beetroot on the cubed baking sheet, as well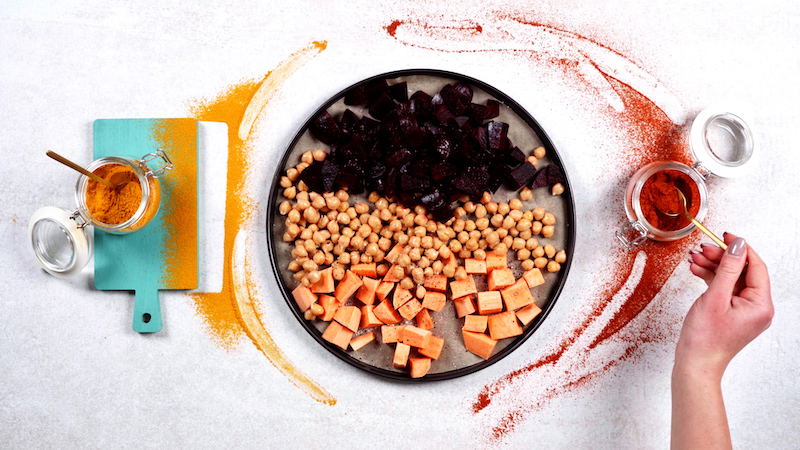 ---
it is time to spice it up with some smoked paprika powder or chili flakes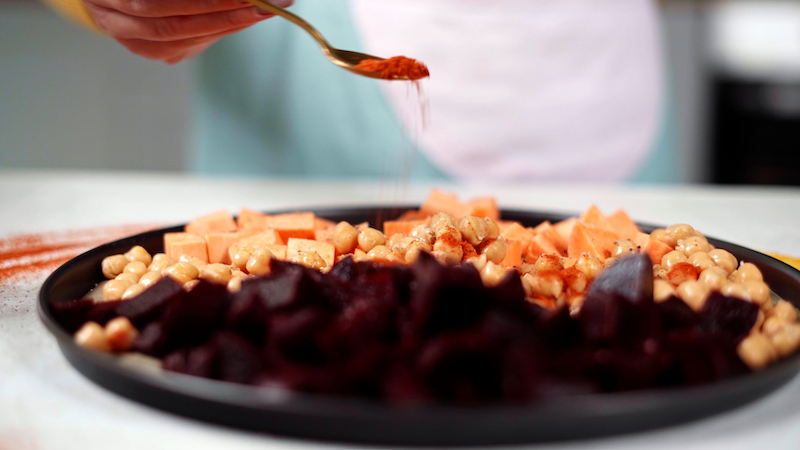 Drizzle everything generously with some extra virgin olive oil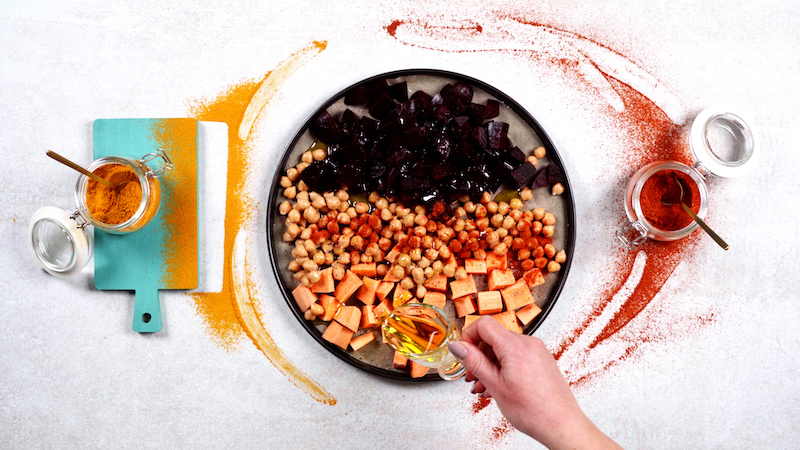 To start the dressing, add the sesame tahini to a small bowl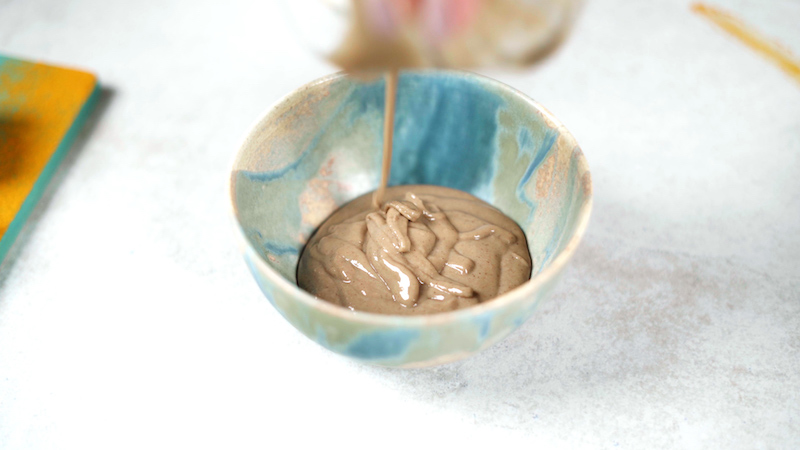 Then add the water to the bowl before moving on to slicing your garlic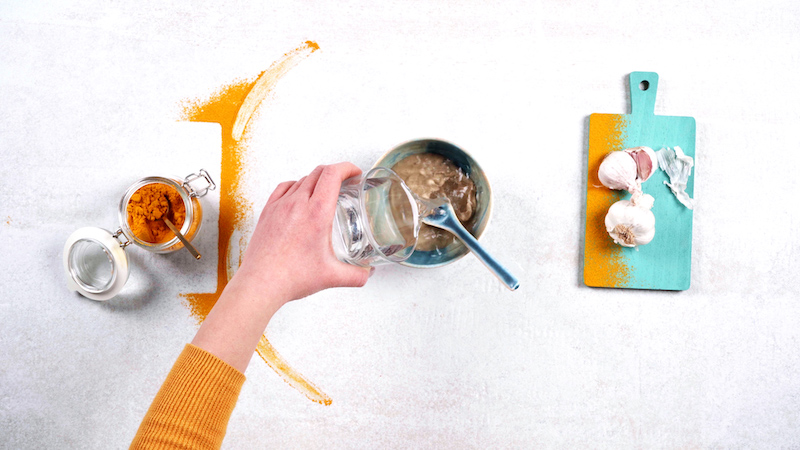 After that, come the sliced garlic clove and the turmeric powder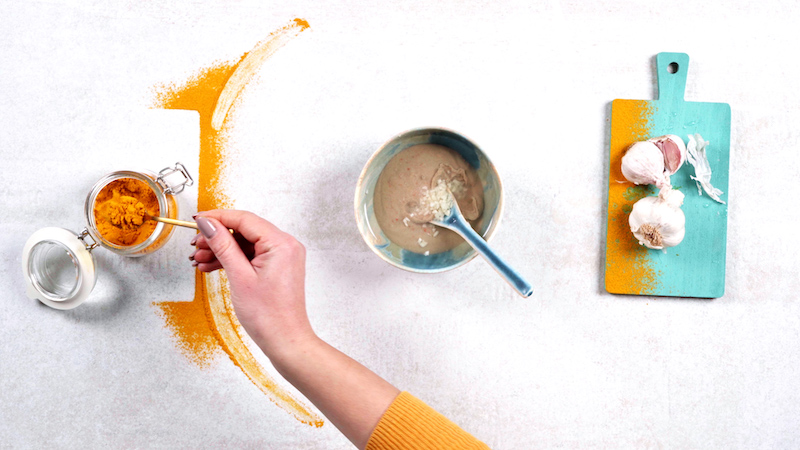 Finally, mix all of the ingredients well so the dressing becomes smooth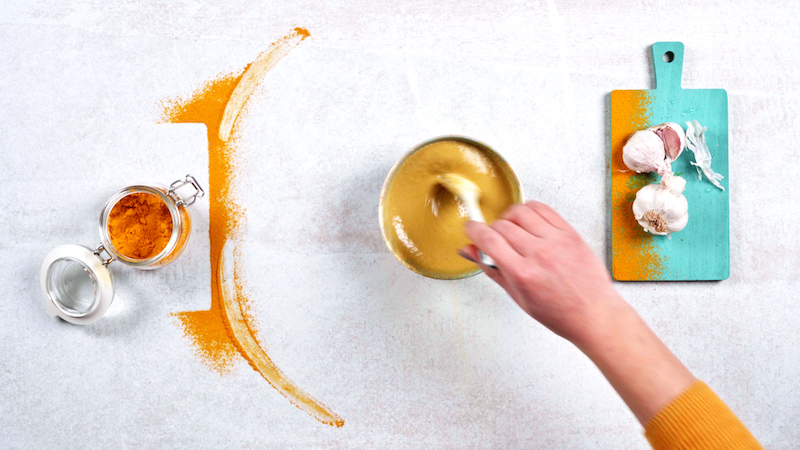 Next, place the green salad mix into a large bowl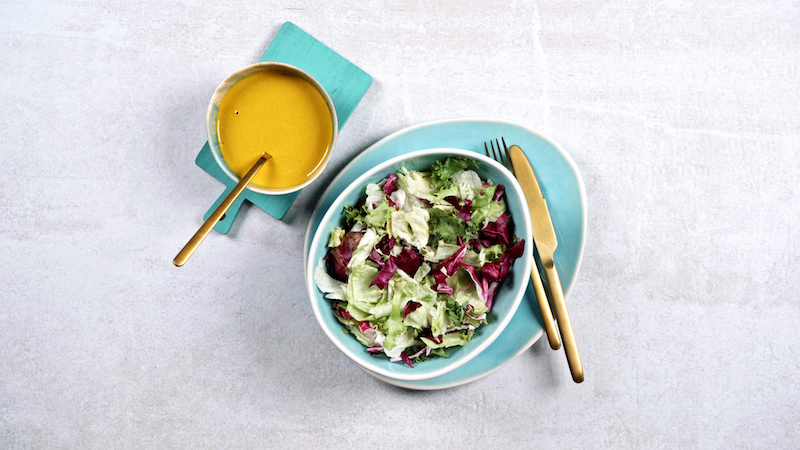 After that, slice a carrot into thin strips and place it on top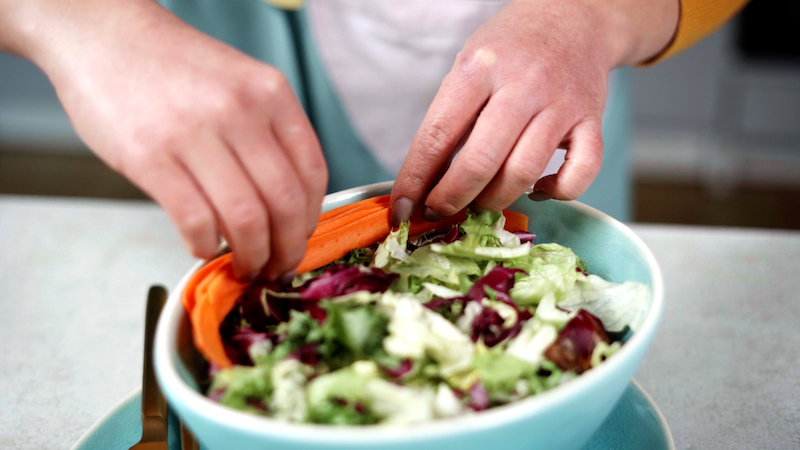 Your spicy roasted chickpeas go on top of the salad mix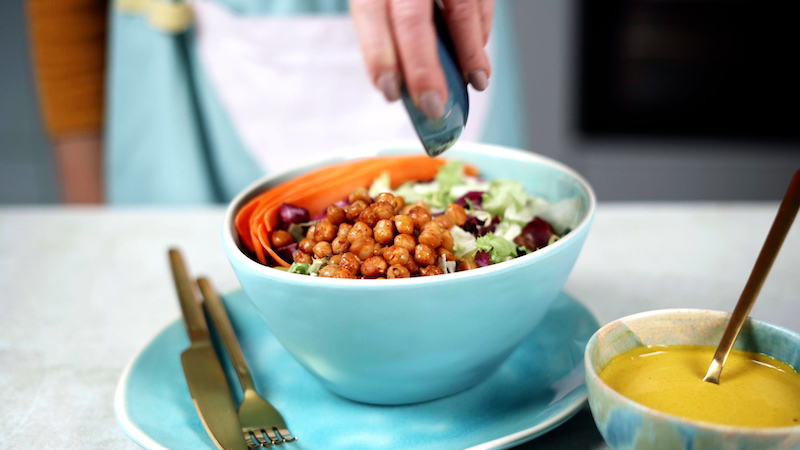 After that, add the washed and dried red kidney beans to the mix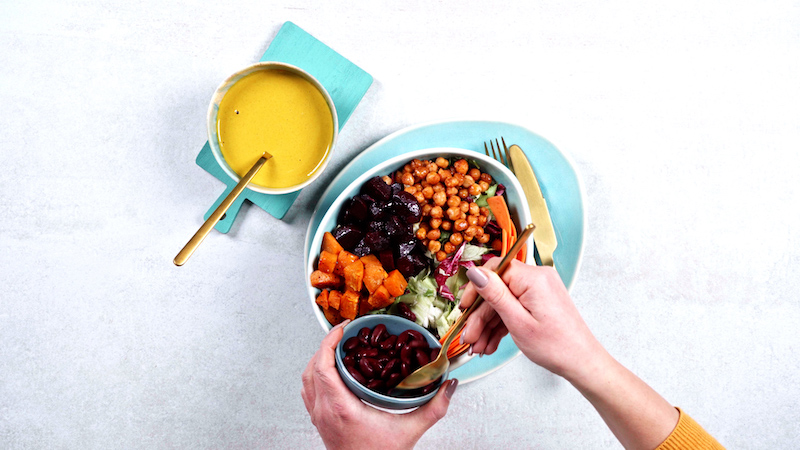 Then gently add the thinly sliced avocado on top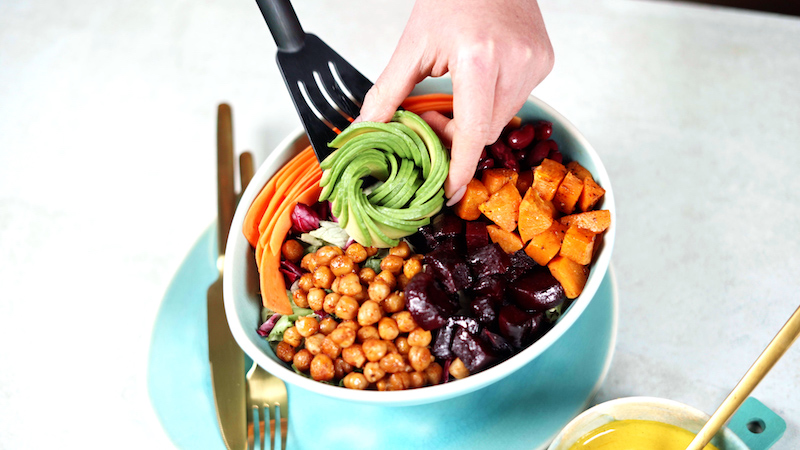 Finally, it is time to drizzle some of our delicious tahini dressing on top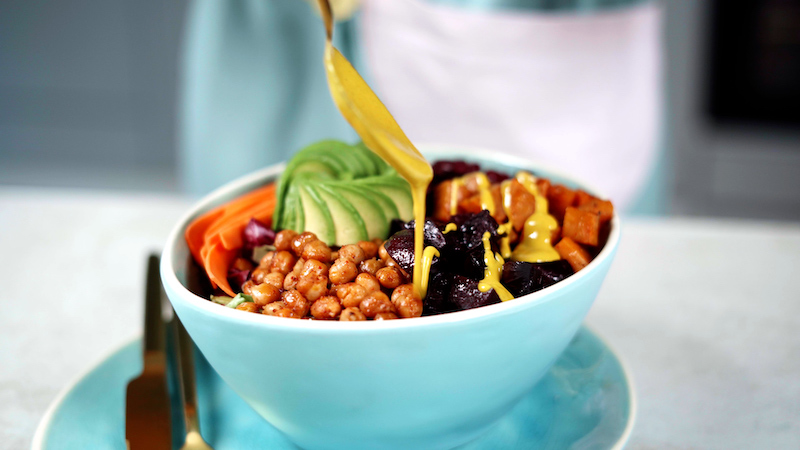 Be generous with your dressing, as it ties everything together perfectly!
And, voilà, your colorful vegan bowl is ready to be devoured!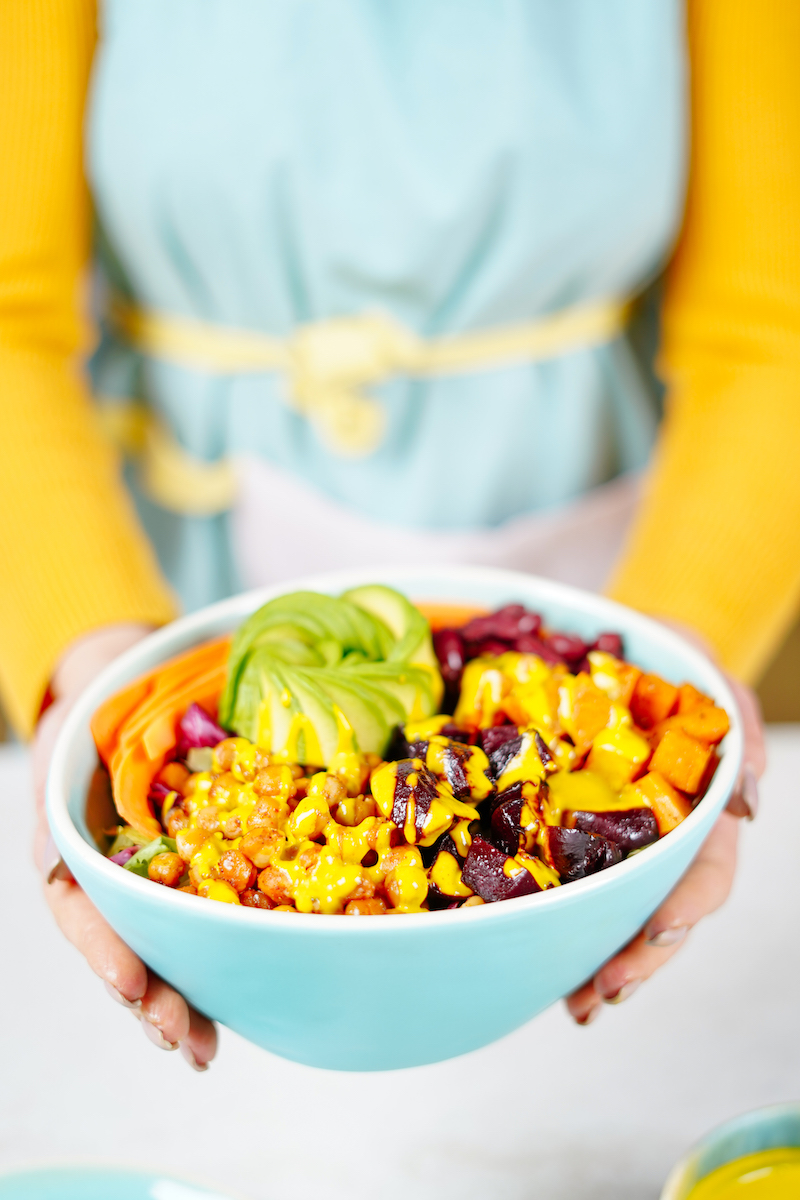 We made this nutritious, protein-packed dinner in a couple of easy steps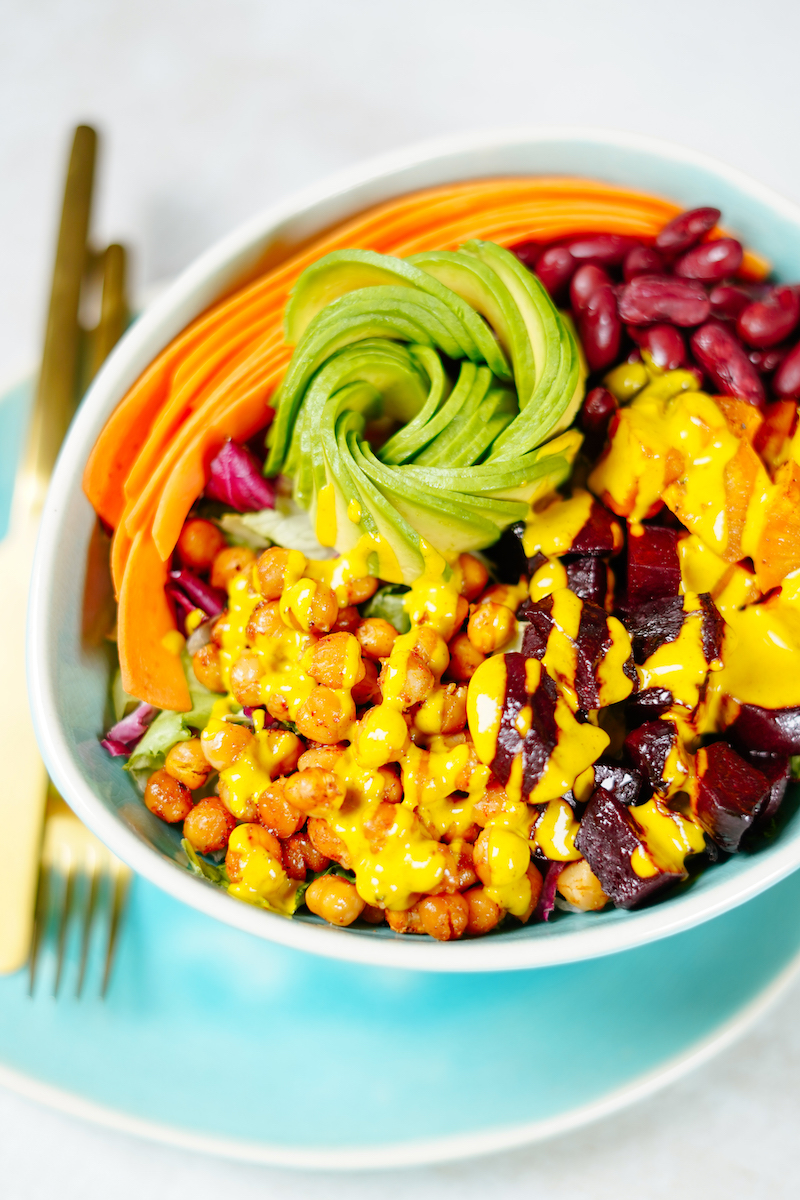 Nutritious vegan bowl variations
Change up the vegetables – Sweet potato, roasted butternut squash, plain potatoes, or a different roasted vegetable can all be used. Roasted Brussels sprouts, broccoli, cauliflower, or asparagus are all excellent options, for example. You might also experiment with different ways to prepare them. They can be steamed, sautéed, or grilled!
Opt for a different protein – Add edamame, lentils, or any kind of bean to your dish, or top it with crispy tofu or tempeh cubes.
Add grain to the mix – Rice, quinoa, farro, or couscous are all good options. Skip the grain and replace it with cauliflower or broccoli rice for more veggie punch.
Change the dressing – Try a peanut sauce, lemon vinaigrette, green goddess salad dressing, cilantro lime dressing, hummus, or sesame oil, and soy sauce or tamari drizzled on top.
Every good dish needs fresh and quality ingredients, so choose them carefully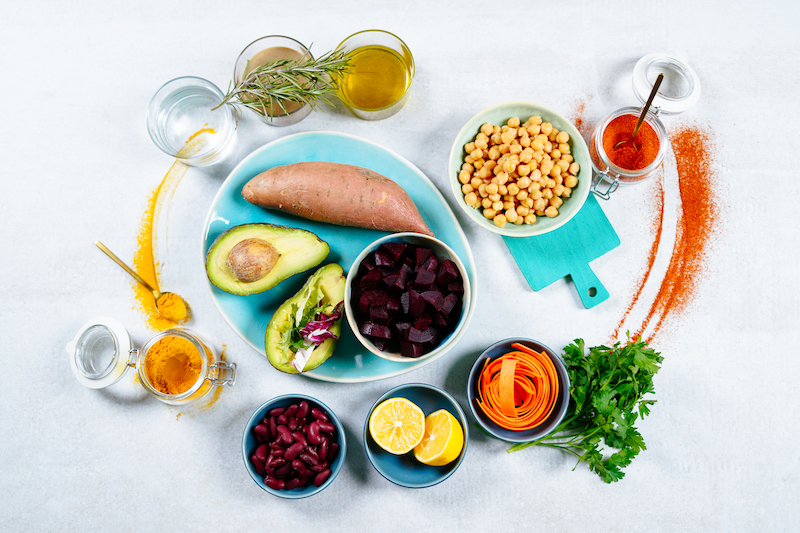 Make sure to add all of your favorite veggies and whatever you have lying around in the fridge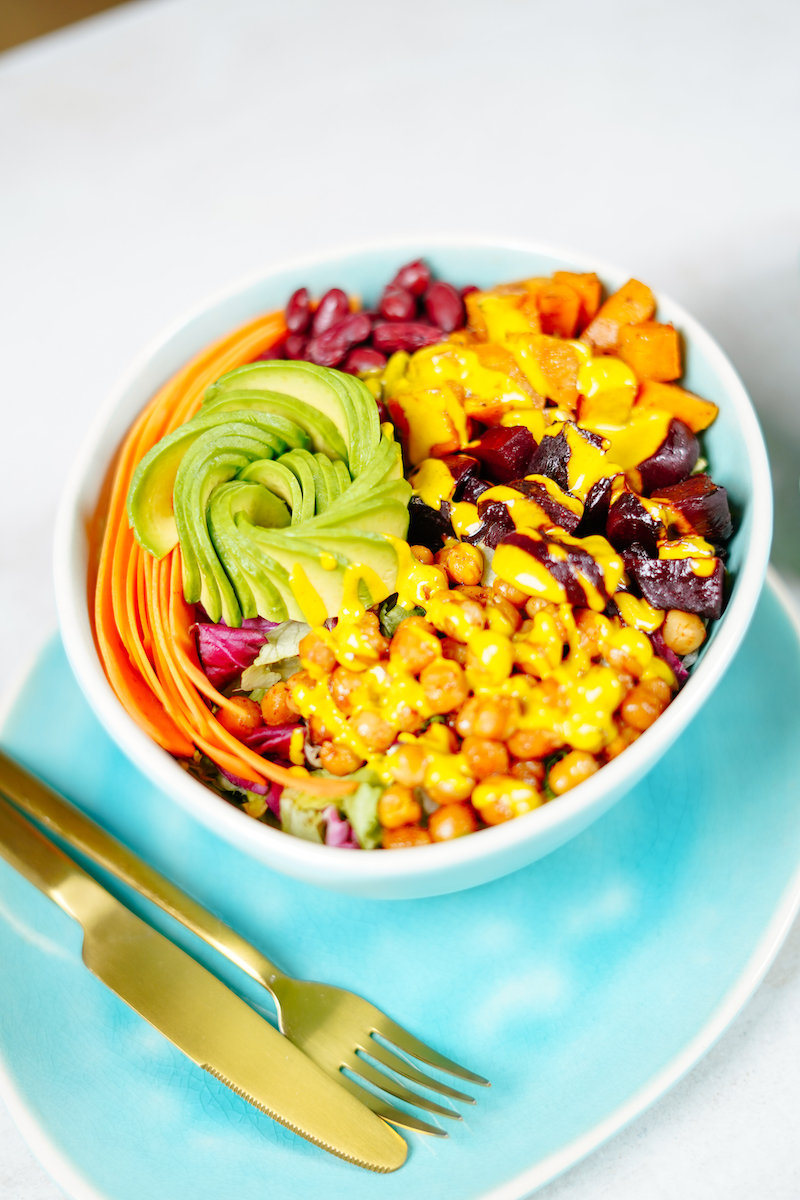 Frequently Asked Questions
Is it better to eat it hot or cold?
Either! The beauty of a Buddha bowl is that there is no right or wrong way to eat it. This recipe is best served warm, but it's also wonderful cold, so you can take it with you and avoid having to reheat it. It's entirely up to you whether you consume Buddha bowls hot or cold.
How long does it last?
This Buddha dish will keep in the fridge for around 5 days once prepared. To protect the vegetables from becoming soggy, serve the dressing on the side.
Should I start with greens or grains as a base?
You can make a Buddha bowl with either a bed of greens or a grain. Adding a bed of greens to the bowl will make it feel lighter, almost like a salad. It will be more satisfying and hearty if you serve it on a bed of quinoa or rice, for example.
Make sure to check out the rest of our delicious recipes on our YouTube channel! There you will find so many unique and yummy recipes to try out. If you are into a vegan lifestyle, try out our delicious homemade vegan mozzarella recipe! It is fresh, creamy, and super easy to make at home! You can add it to pizzas, salads, pasta, or just enjoy it on its own. We don't judge! Also, make sure to let us know what you think of this vegan protein Buddha bowl recipe in the comments below the video, and tell us what else you would like to see us make!
Now make this delicious vegan bowl yourself and enjoy the flavors!