Mid-Century Modern Living Room Ideas For 2021
Nowadays it is easy to get lost when it comes to your home's interior design. Not only is there a plethora of options when it comes to style, but you can also match different styles. What's more, there is always the struggle of having a modern home, but still making it practical and cozy. Because of this conundrum, many people often try to overdo it with their interior, when it is not really necessary. A trend is emerging, which combines old with new and is perfect for any homeowner who prefers practicality over eccentrism. And that trend, ladies and gentlemen, is the mid-century modern decor. So, today we are going to give 40+ ideas on how to furnish the best mid-century modern living room. So, read our tips and tricks and find out just how to recreate the look.
Try these mid-century modern living room ideas in 2021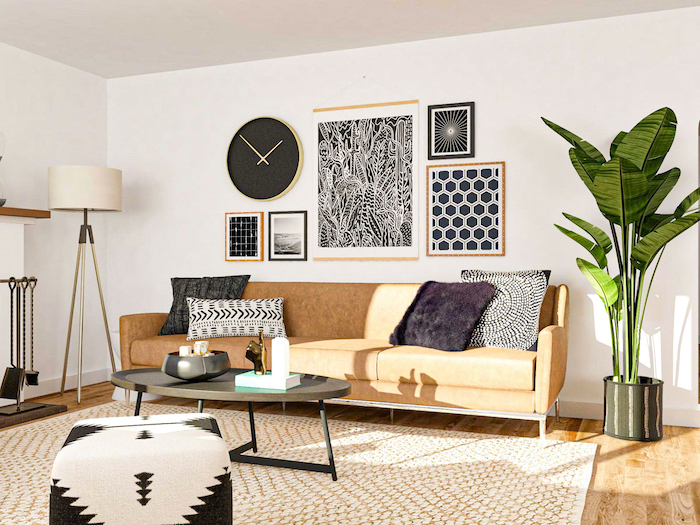 What is mid-century modern?
The mid-century modern decor is all about sleek lines and functionality. It lacks lots of accessories and ornamentations, which makes it incredibly practical and clean. One of the things that probably attracts people the most to the style is the lack of clutter. Instead, everything has a function and is simple with clean lines. The good news is, that because the lines are so sleek, you get to experiment with colors and fabrics. Mixing different textiles or deciding to use more bold colors is definitely encouraged. That way you get a clean interior, but you also have an accent.
Sleek lines and uncluttered space is a must for the mid-century modern decor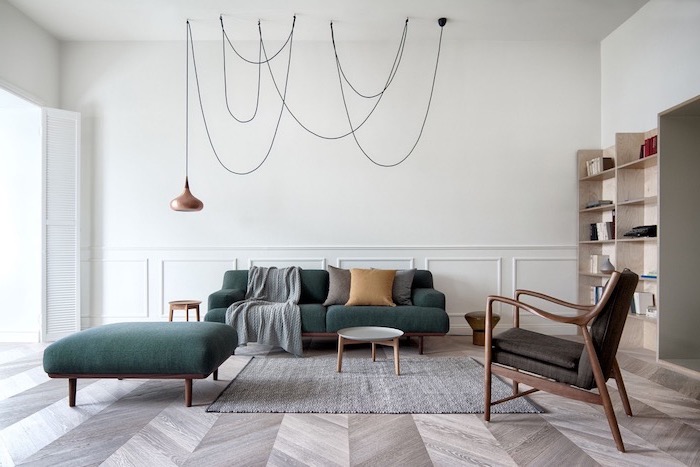 How do you get the mid-century modern look?
As is the case with any other interior design style, this one also has its specific characteristics which set it apart from the rest. So, read on to find out about what exactly makes the mid-century modern style so desired and how to recreate it at your own home.
What sets the mid-century modern decor apart from the rest?
Mid-century modern living room ideas with wooden furniture
Probably one of the most important things in this decor style is wood. TV cabinets, bookcases, coffee tables – wood is a must. What's more, we are talking about natural wood, which hasn't been painted, but is, instead, left with its natural woodgrain patterns. This gives the interior a feeling of natural, functioning furniture, which also looks amazing.
Let the natural woodgrain patterns shine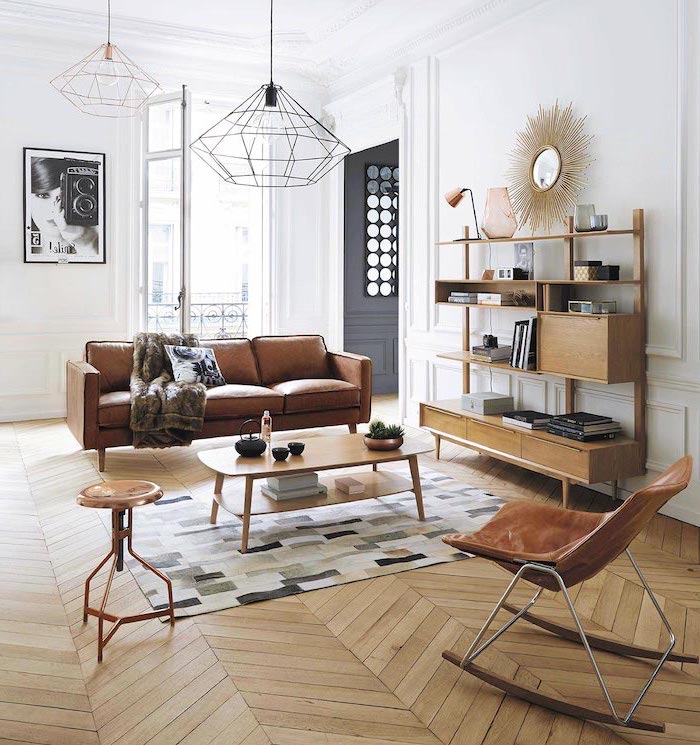 Mix fabrics
Textured fabrics provide so much coziness. Furthermore, they are a part of what makes the mid-century modern decor so special. The ability to mix fabrics and use different colors in your furniture is so much fun. It allows for freedom of creativity and imagination. Sofa, armchair, ottoman, throw pillows – upholstery with textured fabrics will give the room so much character.
Textured fabrics provide so much coziness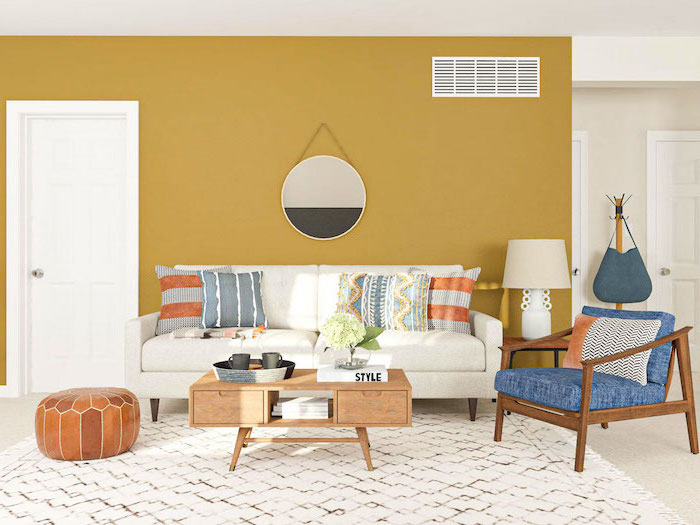 Don't be afraid of colors
Another super fun aspect of the mid-century modern style is the ability to use bold, saturated colors. Pink walls with blue sofa and green armchairs? Sure, sign us up! Mixing colors in your interior is truly a work of art. If done right, however, can provide the room with so much character. What's more, the room will look so chic and modern and definitely show off the homeowner's fun side.
Bold, saturated colors are encouraged when it comes to interior design in mid-century modern style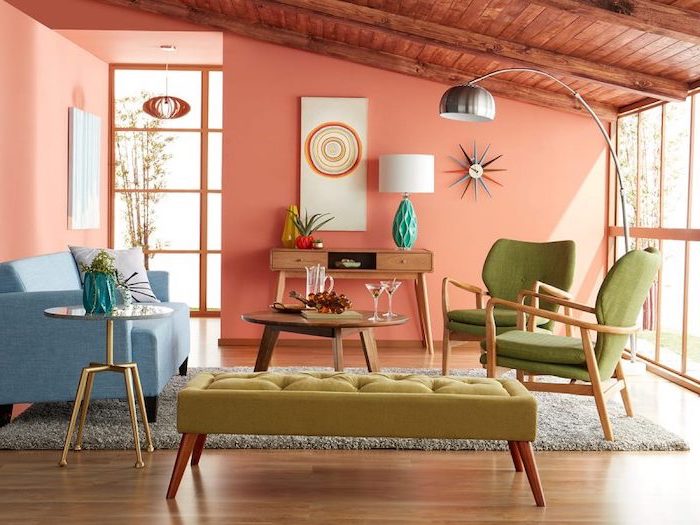 Mid-century modern living room with lots of space
One of the things which is typical for the mid-century modern style is the airy space. Rooms with large windows and lots of space are perfect for this style. The airier the space looks, the better. The sleek lines will just add to the beauty of the room.
Large windows are the perfect setting for a living room in the mid-century style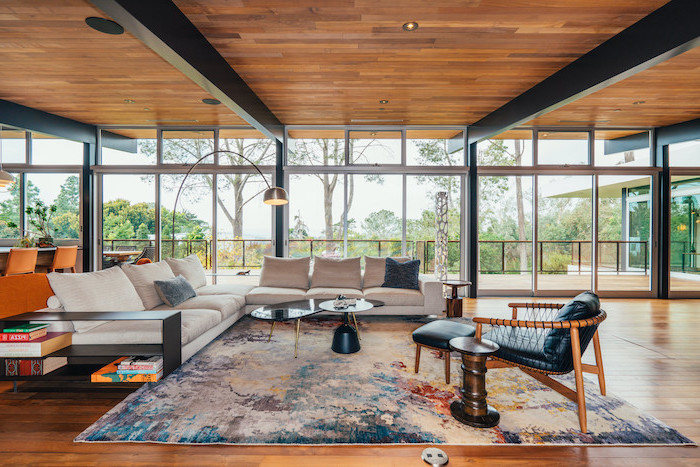 Geometric patterns
As we have already stated, when it comes to mid-century style it is all about the sleek lines. Which is exactly why the geometric patterns are a very good idea for your mid-century living room. The good news is that you have many options on how to incorporate them in your interior. The first and most obvious one is a carpet with geometric patterns. If you don't want to commit to such a big statement piece, however, you can try some geometric art or throw pillows with the pattern.
The geometric patterns only add to the sleek lines of the room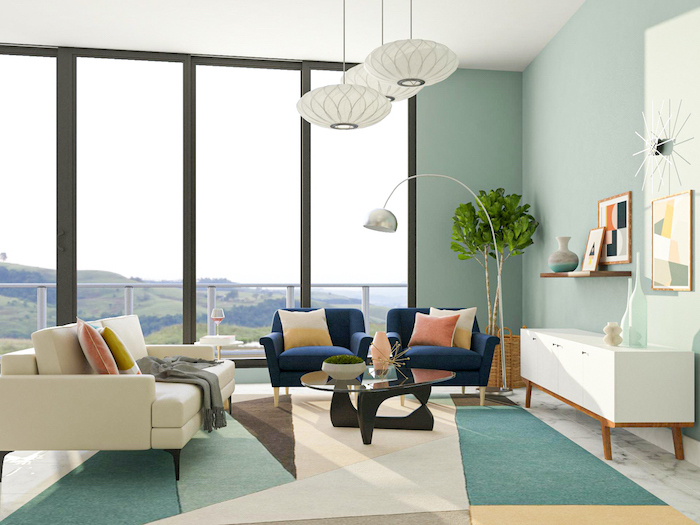 Mid-century modern living room decor which incorporates leather
Leather upholstery is another option you have when it comes to fabrics to use. Leather is such a classic and elegant piece. That is exactly why it is a no brainer when it comes to the mid-century style. If you are looking for a minimalistic option with no colors, then leather might add just the character the room is going to need, whether it is your sofa or just an armchair.
Leather upholstery will definitely add elegance to your living room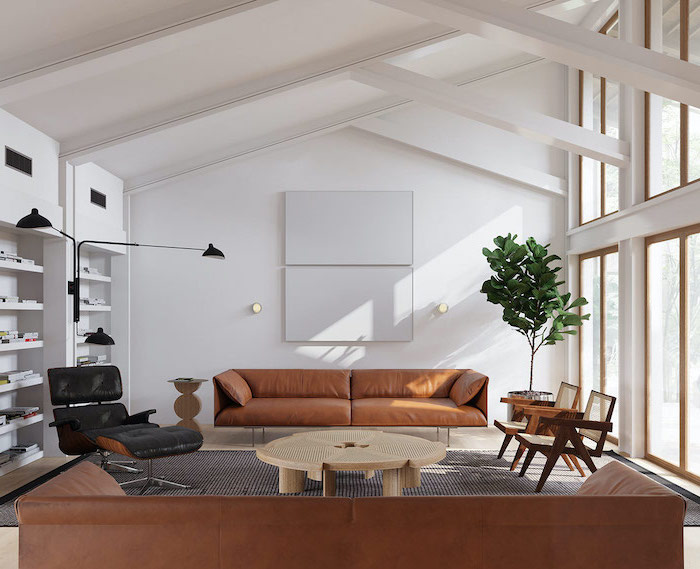 Create an accent with a statement making wallpaper
Many people might argue that wallpapers are a thing of the past. They couldn't be further from the truth, however. While it is true that wallpapers were used a lot more in the past, nowadays they can still be used to make a statement in any room. That is also the case when it comes to creating an accent wall in your mid-century living room. Choose a wallpaper, which of course needs to be color coordinated with the rest of the room and furniture and make a real statement.
Just look at this absolutely stunning interior and how much character the wallpaper brings into the room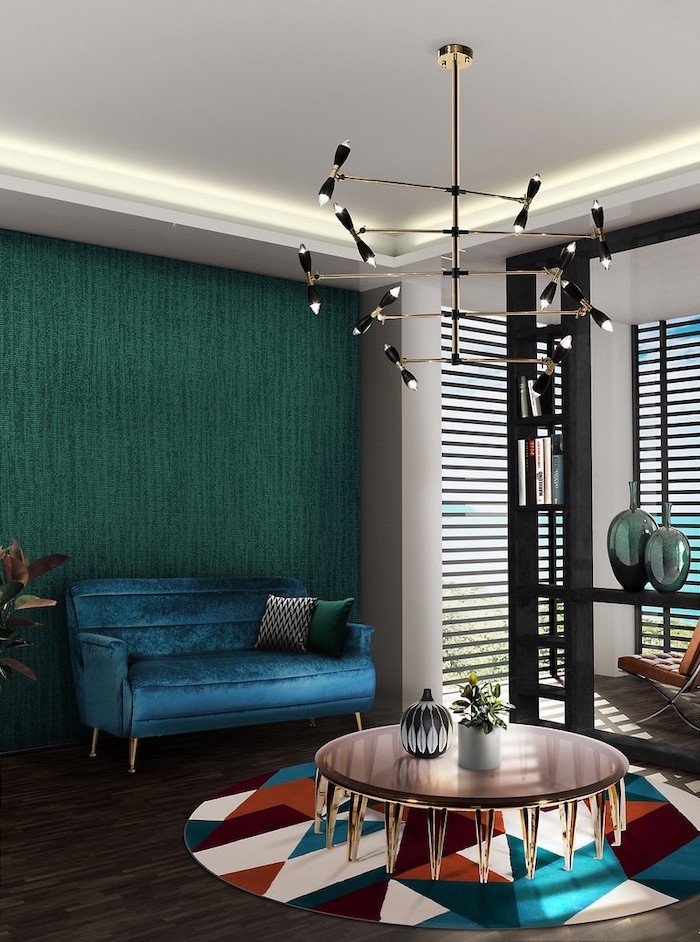 Mix and match materials
Mid-century modern can incorporate so many different fabrics and materials. Which is why in a living room, designed accordingly, you can find wood, metal and marble, for example. Just like in the picture below, if these elements are used right, they bring chicness and diversity to the room. And it doesn't hurt that they make your furniture look so good.
Get creative with your furniture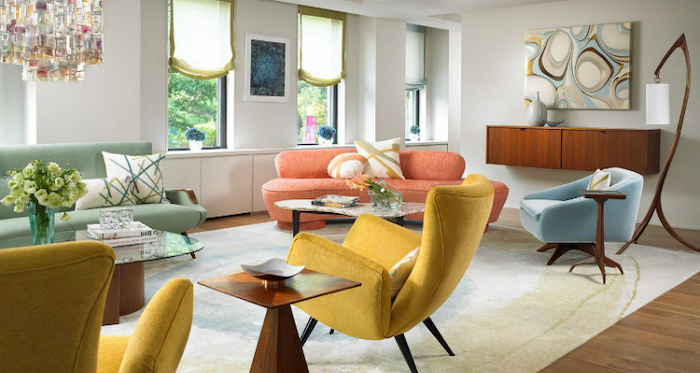 Now browse through the gallery to find even more ideas
Light and airy modern contemporary living room
Gorgeous mid-century modern house with incredible elements
Simple, clean lines are a must for the style
Mid-century living room design incorporating a few colors