The 7 Trendiest Bold Colors to Paint Your Kitchen, According to Designers
Choosing kitchen colors can feel like a major life decision. Why? The kitchen is an area that the entire family uses on a daily basis, so it is important to make this space super welcoming and beautiful to look at!  Your kitchen cabinets, walls, countertops, appliances, flooring, and backsplash tile all work together to make a coherent palette in the kitchen. And they are the different elements you can play with to bring more color and life into your kitchen space. For example, you can repaint your kitchen cabinets or the walls, add a new backsplash, or play around with the decorations. No matter which one you choose, there is no doubt that a little change can make your kitchen your all-time favorite place in your home! And, in this article, you will find a list of the best trendy and bold kitchen colors for you to experiment with! So, take a chance and turn your kitchen into a beautiful, modern, and colorful space that you will marvel at every day!
Let's see which are the trendiest bold colors to paint your kitchen, according to interior designers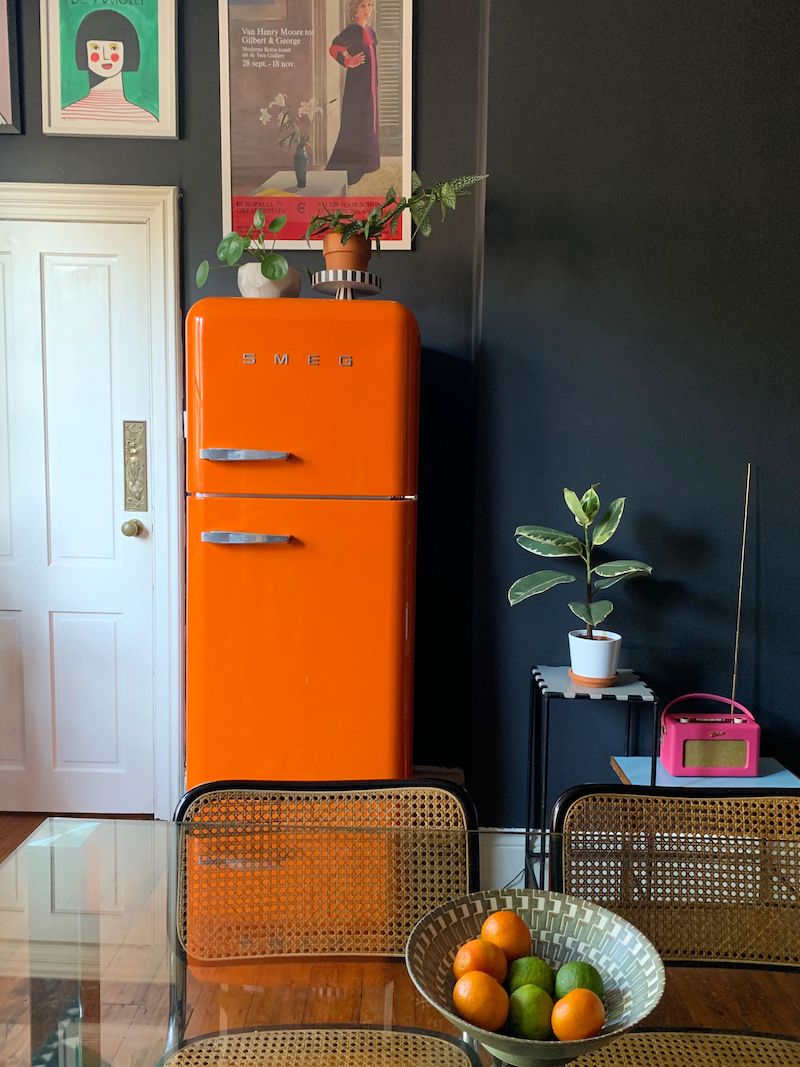 Here is our list of bold and trendy kitchen colors to inspire you to make a change. Psst, if you are into Astrology, make sure to check which is the best home color palette for you, according to the stars!
#Soft Pink
Give place to neutral and natural tones, as pink is the first color included in these recent kitchen trends. The rose hue is perfect for neutral and refreshing interiors. Interior designers suggest going for a perfect combination of a bright and muted pink if you are looking for something a little more fresh and playful—but not too much. Soft pinks are not too much or too little, since this color brings brightness and youthfulness to a room without being overpowering. So, splash this color on kitchen your cabinets, for a unique kitchen space.
Soft pinks make your kitchen a dreamy space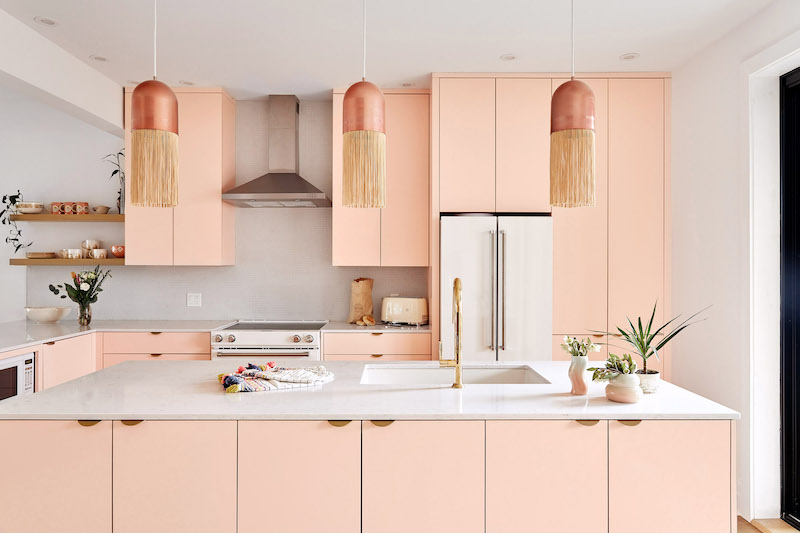 Find the perfect pink shade for you, and incorporate it into your kitchen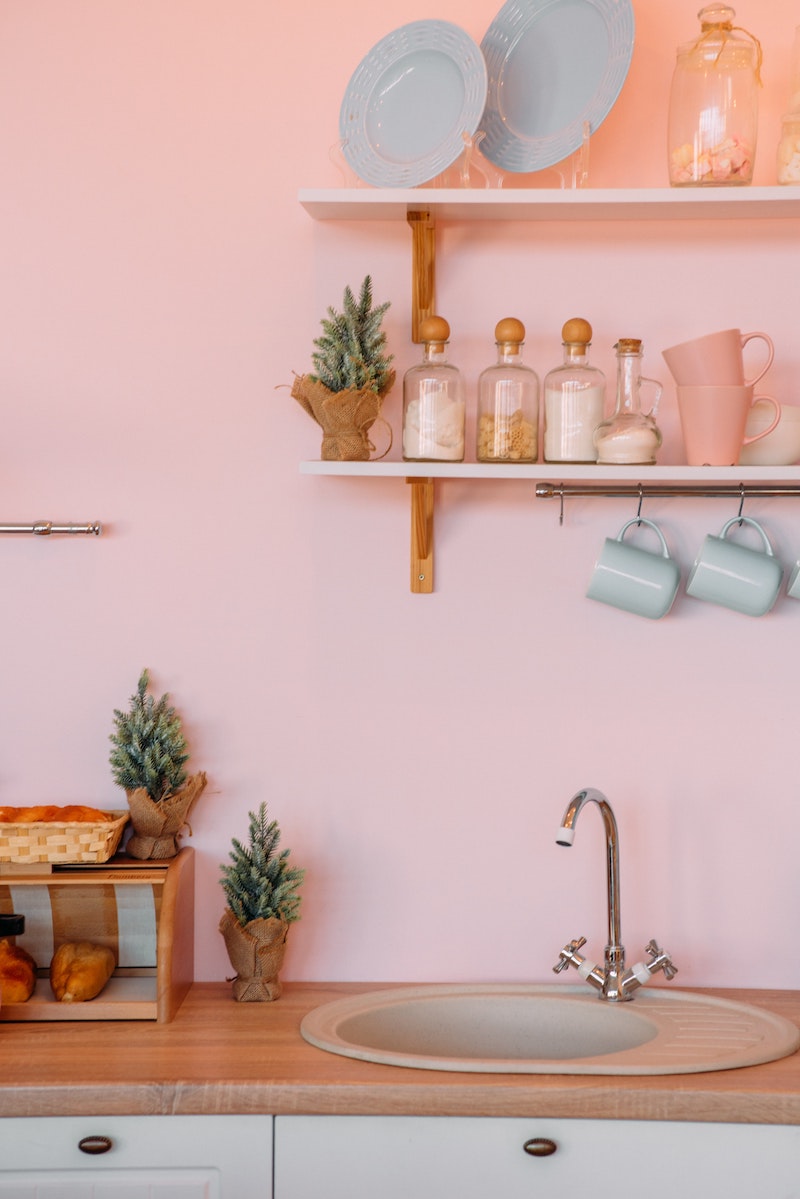 The rose hue is perfect for neutral and refreshing interiors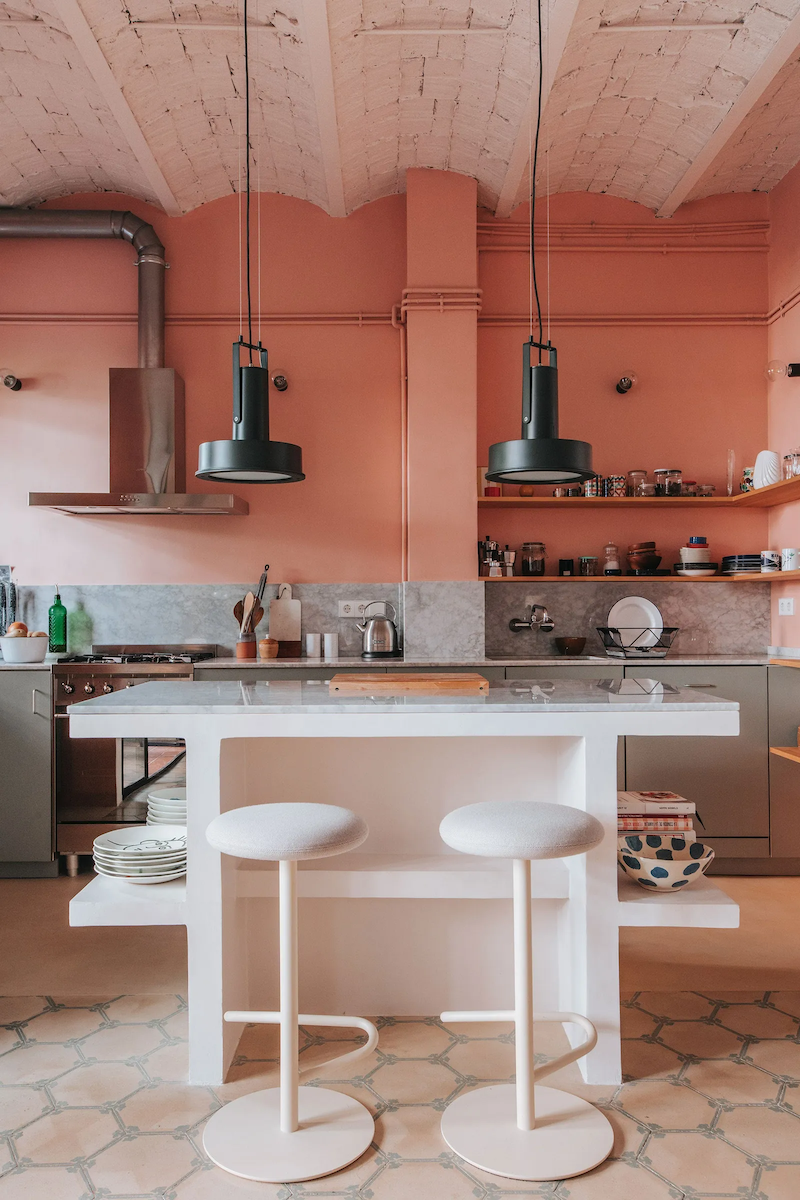 View this post on Instagram
#Sunshine Yellow
A sunny yellow kitchen, according to interior designers, is ideal for a unique and fresh aesthetic. This kitchen color trend brings warmth and cheeriness to kitchens, but remember not to go overboard with it. You can always do sunny yellow cabinets, but if you want to make a smaller commitment, you can bring yellow to your kitchen through wallpaper, fabrics, and accessories. What's more, this color easily combines with the trendy greens you will read more about below!
A sunny yellow kitchen is ideal for a unique and fresh aesthetic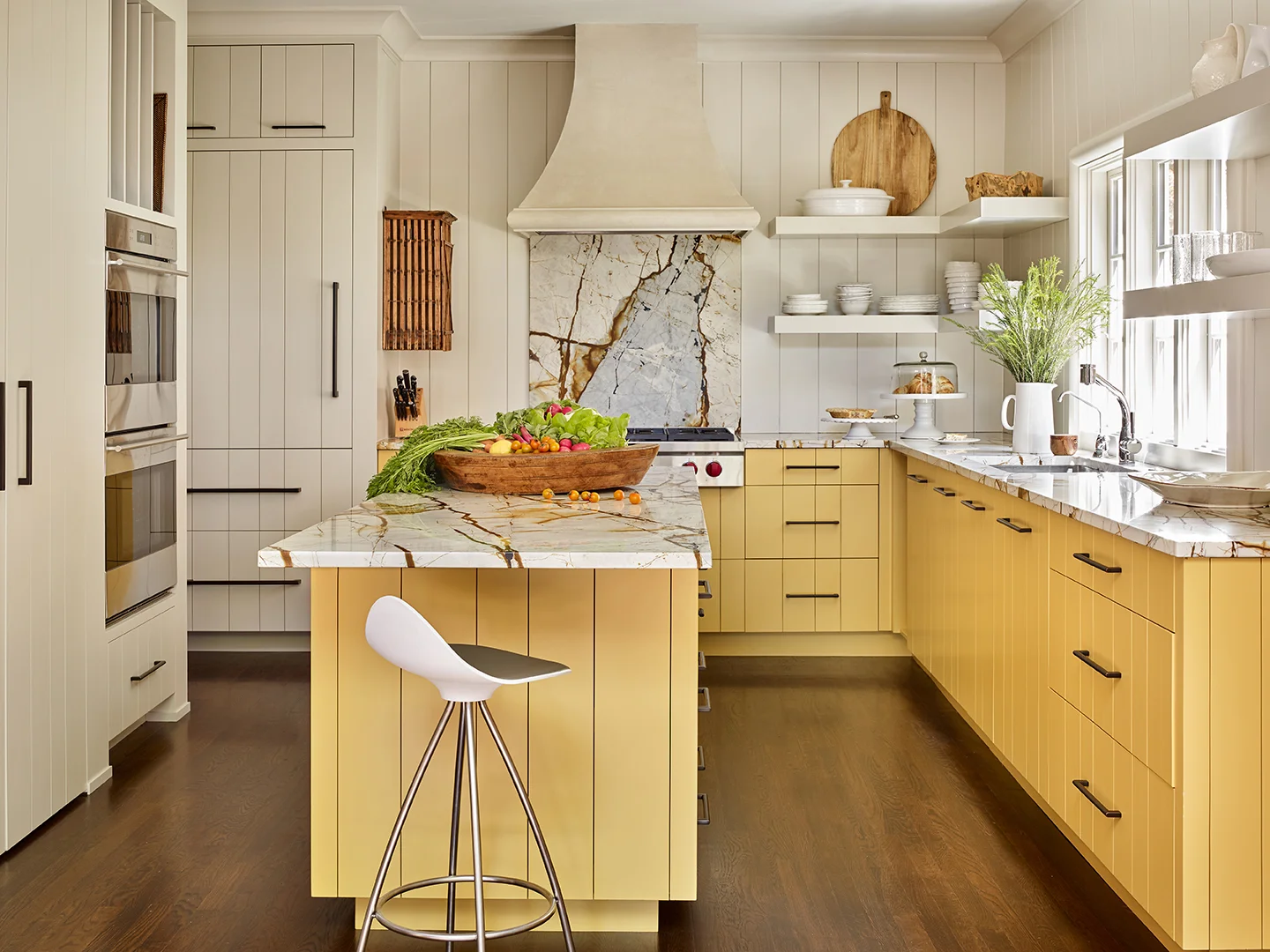 It is perfect for those of you who get energized by the color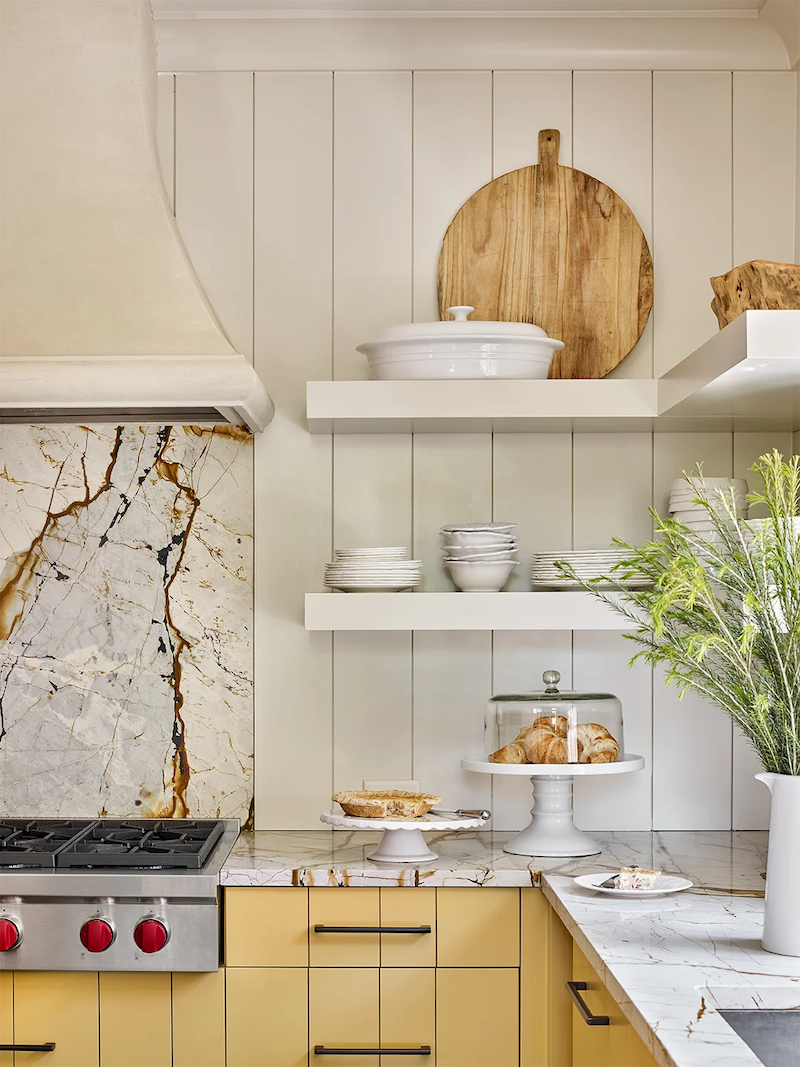 Bring yellow to your kitchen through wallpaper, fabrics, and accessories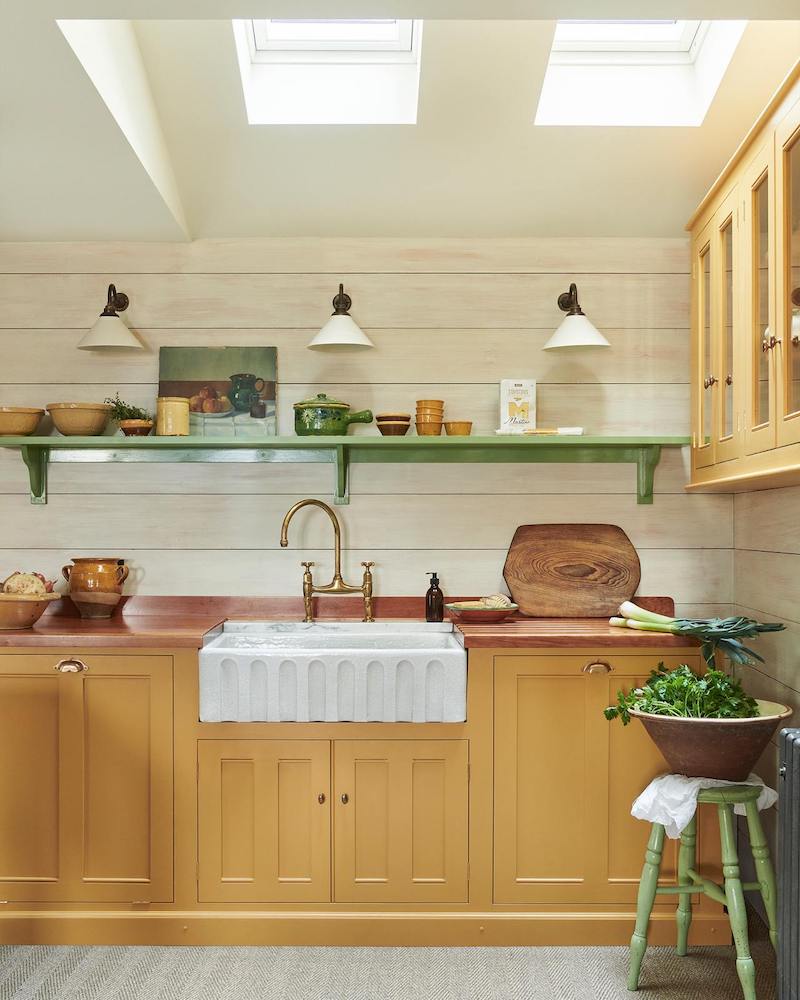 View this post on Instagram
#Muted Blue & Baby Blue
What about baby blue on your shelves and cabinets? Yes, we are serious: add this color to your space for extra coastal beauty. Then just draw attention to this baby blue pastel color with a complementing backsplash or natural accents like natural decorations and potted plants, and you are done! Designers also love moody mutes blues, which are on the cooler side of the blue spectrum, for the kitchen space. These rich tones can appear almost black in some lights, and pretty cobalt throughout the day. So, what are you waiting for? Add blue to your kitchen and see for yourself.
Muted blue is perfectly paired with gold accents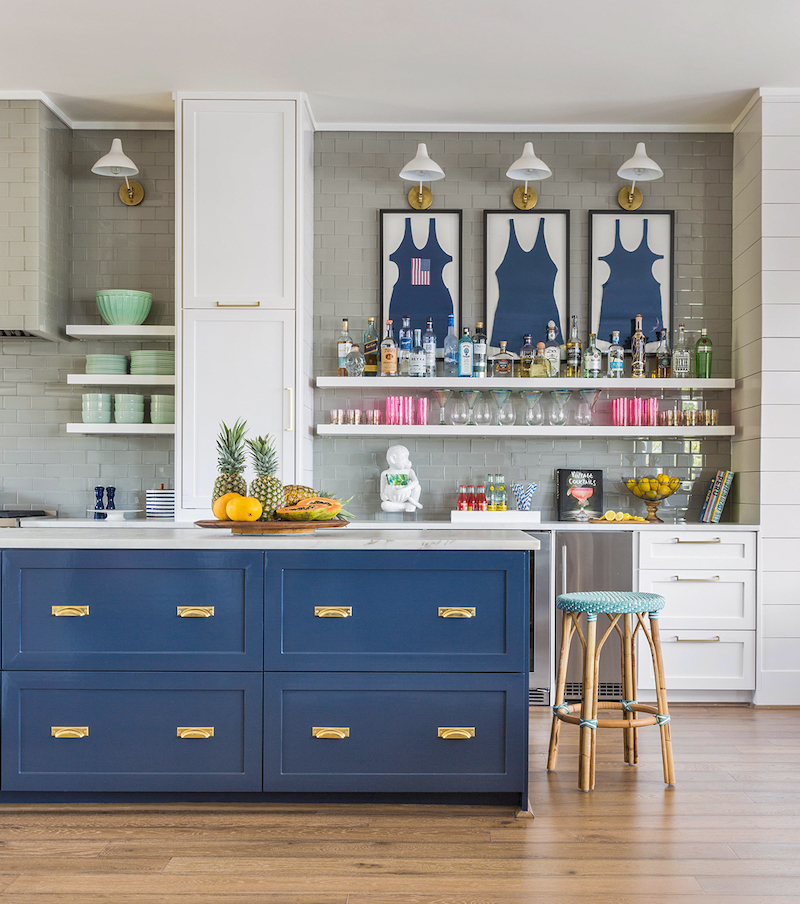 Baby blue can turn your kitchen into a tranquil space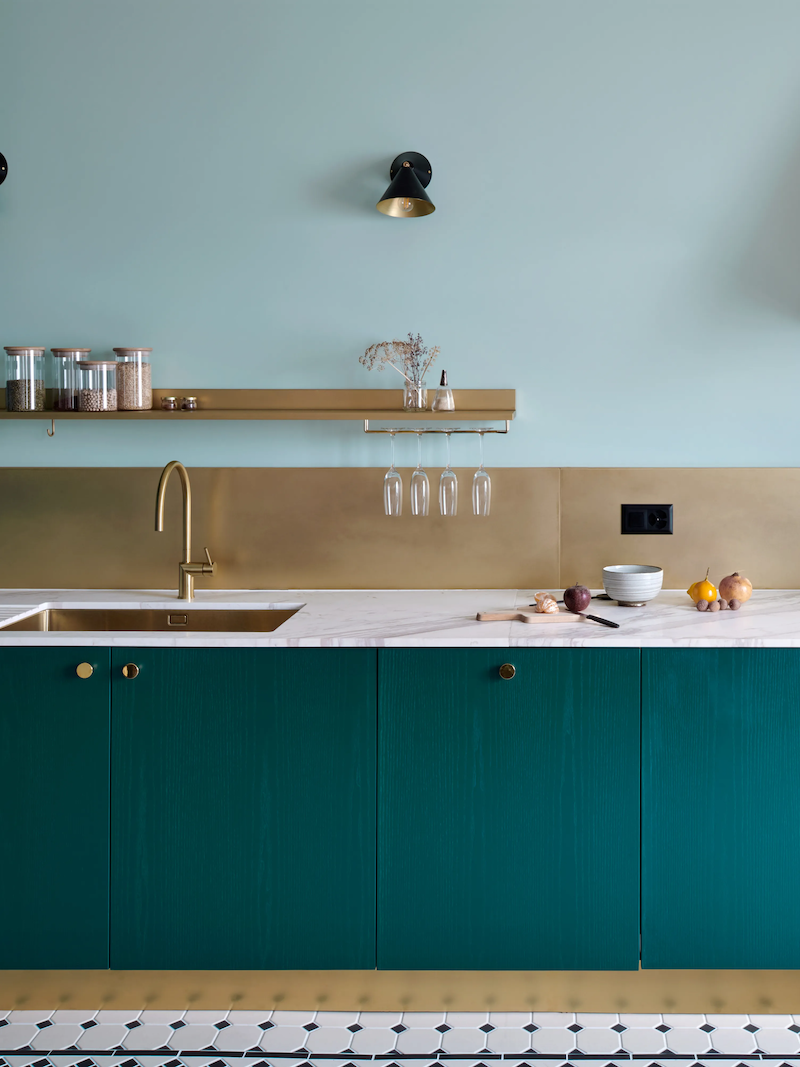 View this post on Instagram
#Soft Sage Green
This light green tone has been a recent interior design trend, and its adaptability gives this special color its substantial staying power. According to interior designers, sage green is a great accent to any home design style, especially natural, Bohemian, minimalistic, and Scandinavian. Because it is such a soothing and natural color, it provides a quiet and neutral vibe. So, if you want to make your kitchen one with nature, soft sage green is the one to go with!
Green is the most modern and trendy home color, according to designers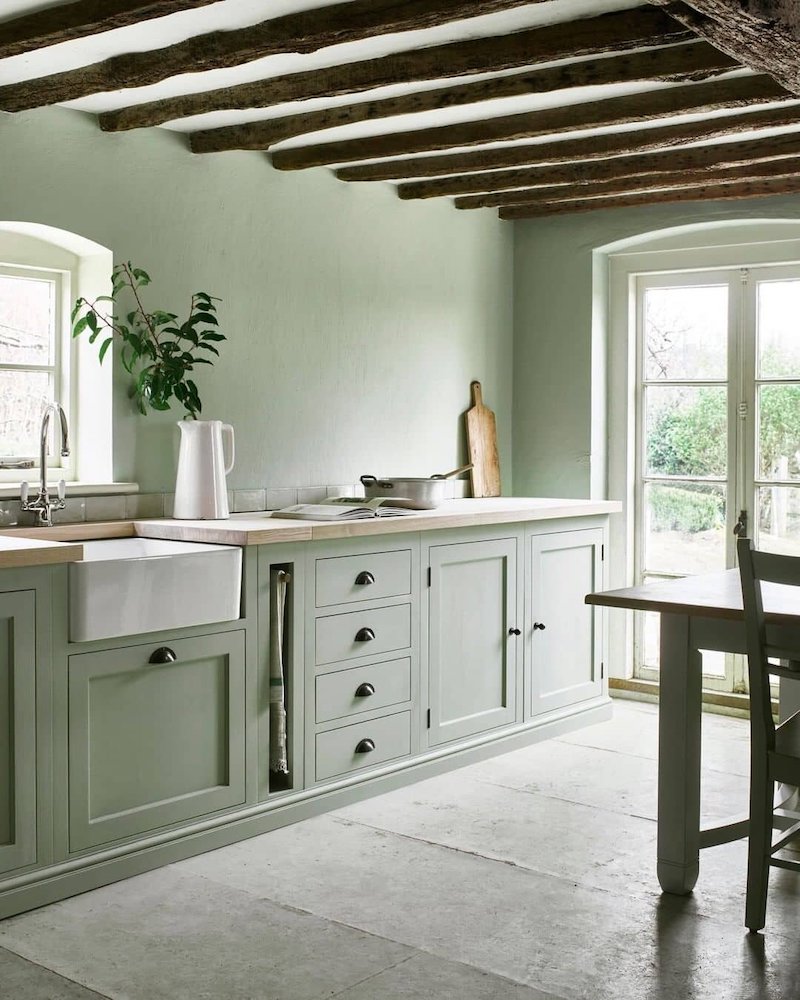 You can never go wrong with nature-inspired colors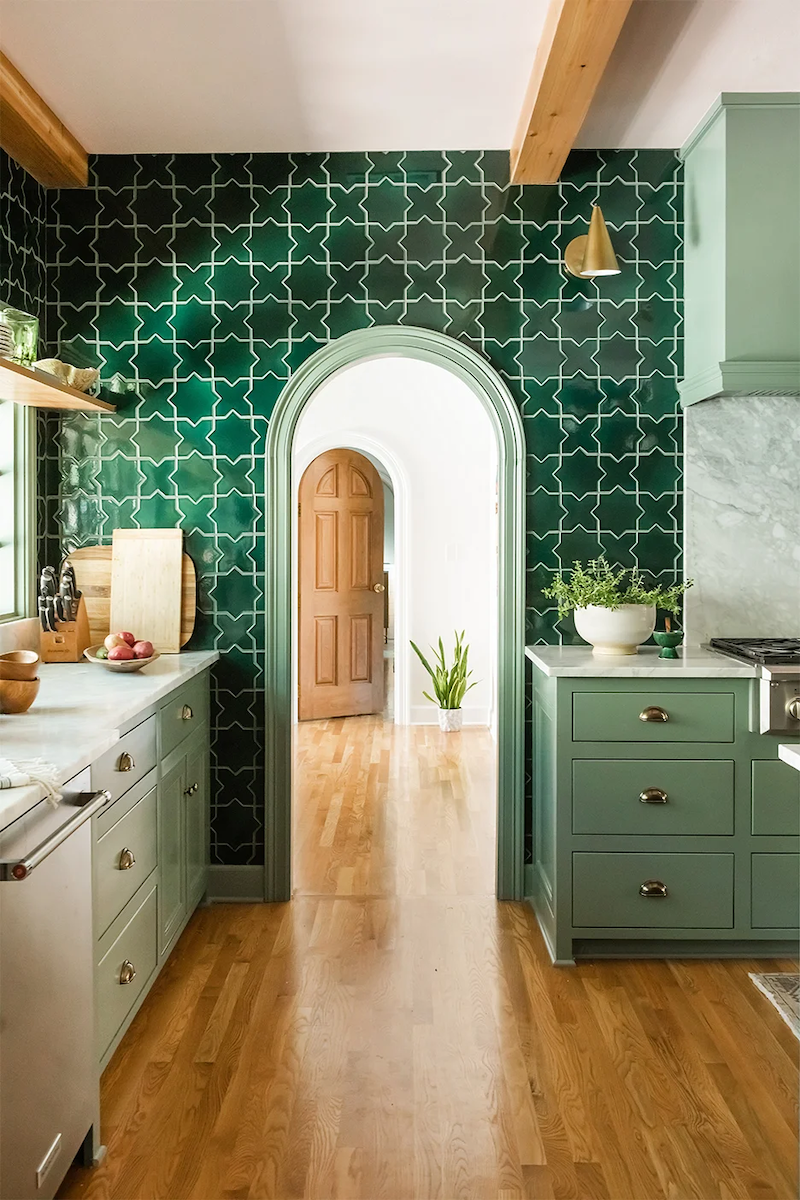 And if you are really bold and colorful, combine sage green with sunny yellow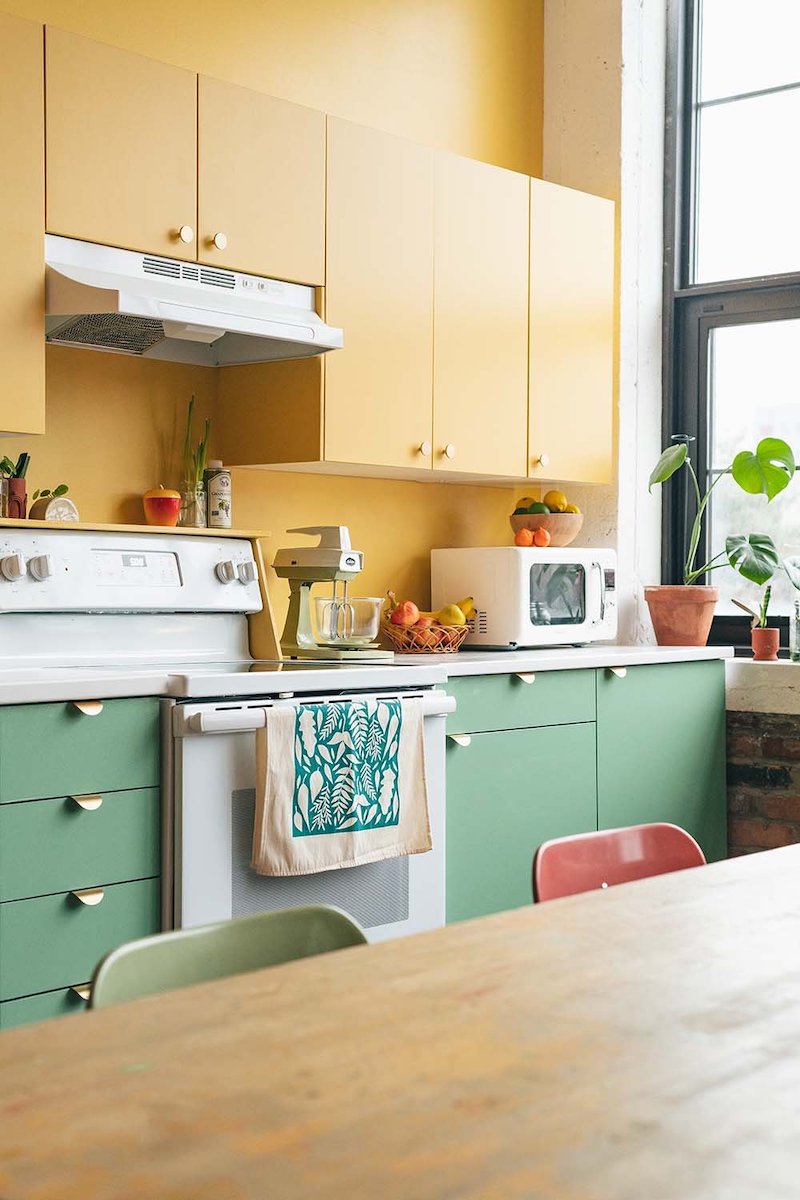 View this post on Instagram
#Deep Emerald
As we already mentioned, green is the must-have color trend that everyone is talking about, and it is expected to be especially popular in kitchens. Green is a safe and timeless color to add to your kitchen because it is prevalent in nature, according to interior experts. And, we have another great green shade for you to choose from – deep emerald green! Deep emerald shades look especially great on cabinetry, where green paint colors may truly pop. This is the perfect green shade to paint your kitchen cabinets with.
Deep emerald is super mysterious and alluring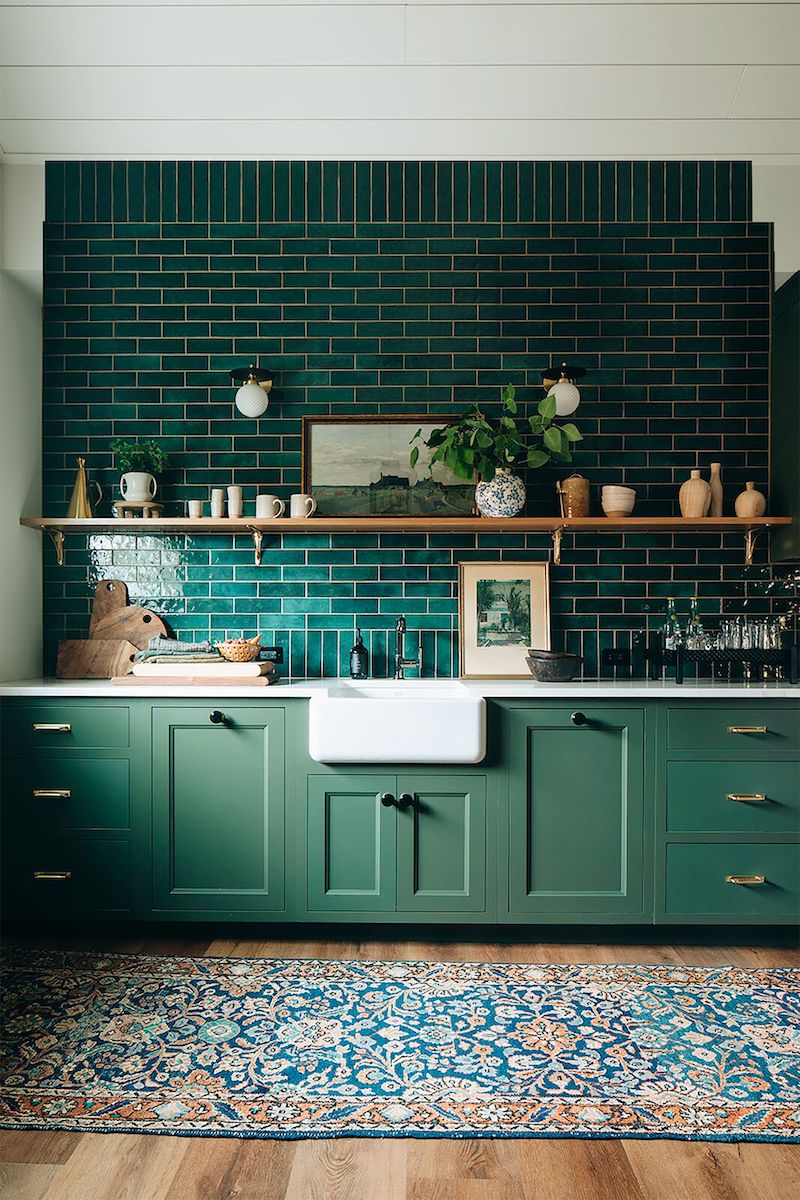 If you are into a darker, more sophisticated aesthetic, this bold color is just for you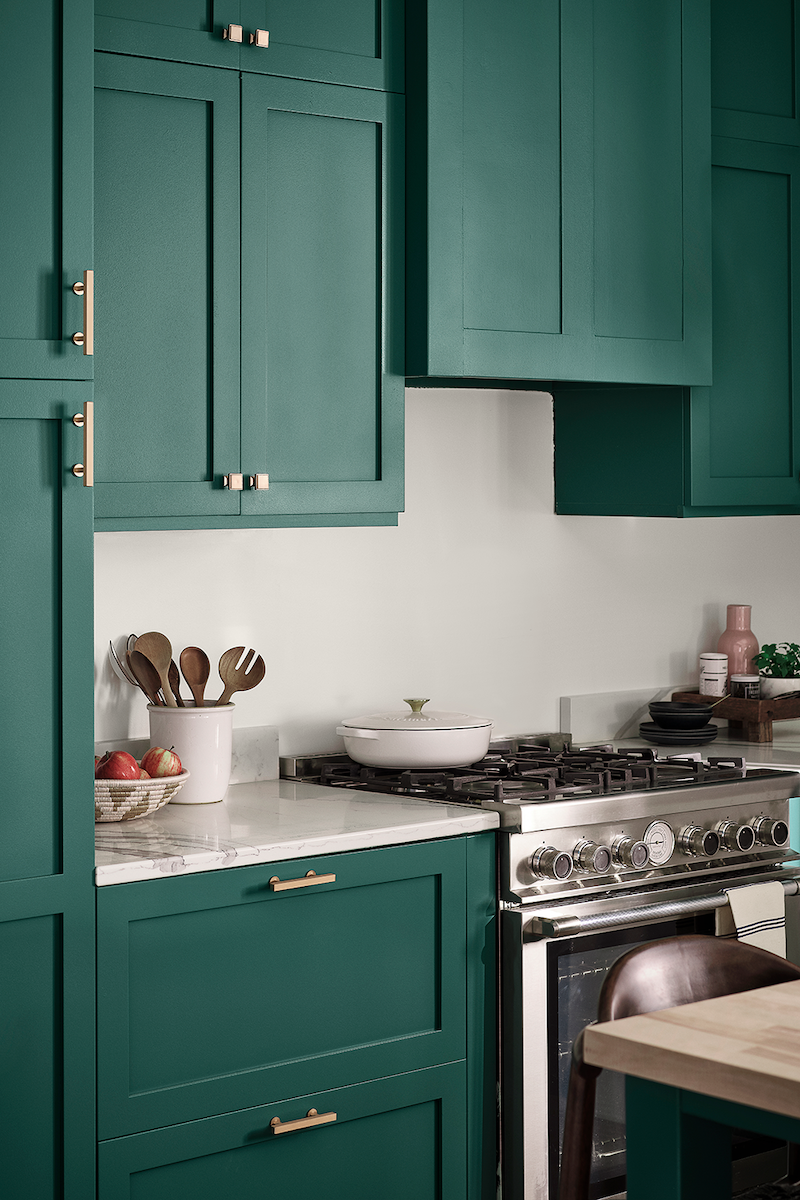 View this post on Instagram
#Muted Baby Purple & Eggplant
We like to call this trend the beauty of the eggplant! This eye-catching color will look great on your kitchen cabinetry. Designers advise that muted baby purple and eggplant are a wonderful option for the brave. Purple is traditionally not used in a kitchen space, but why miss out on all the fun? And while black hardware will emphasize the purple hue, brass knobs will help bring contrast to your larger kitchen. So, be bold and give good old purple a go!
Muted purples should not be underestimated when it comes to bold kitchen colors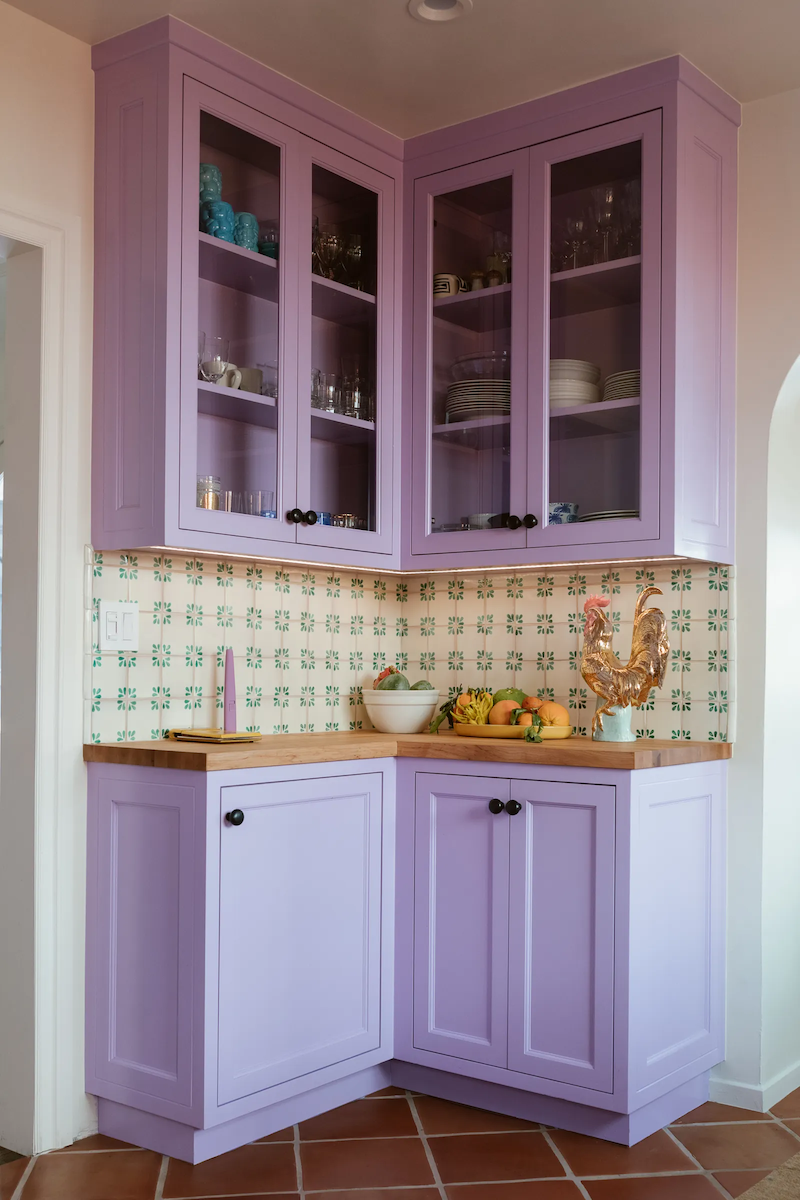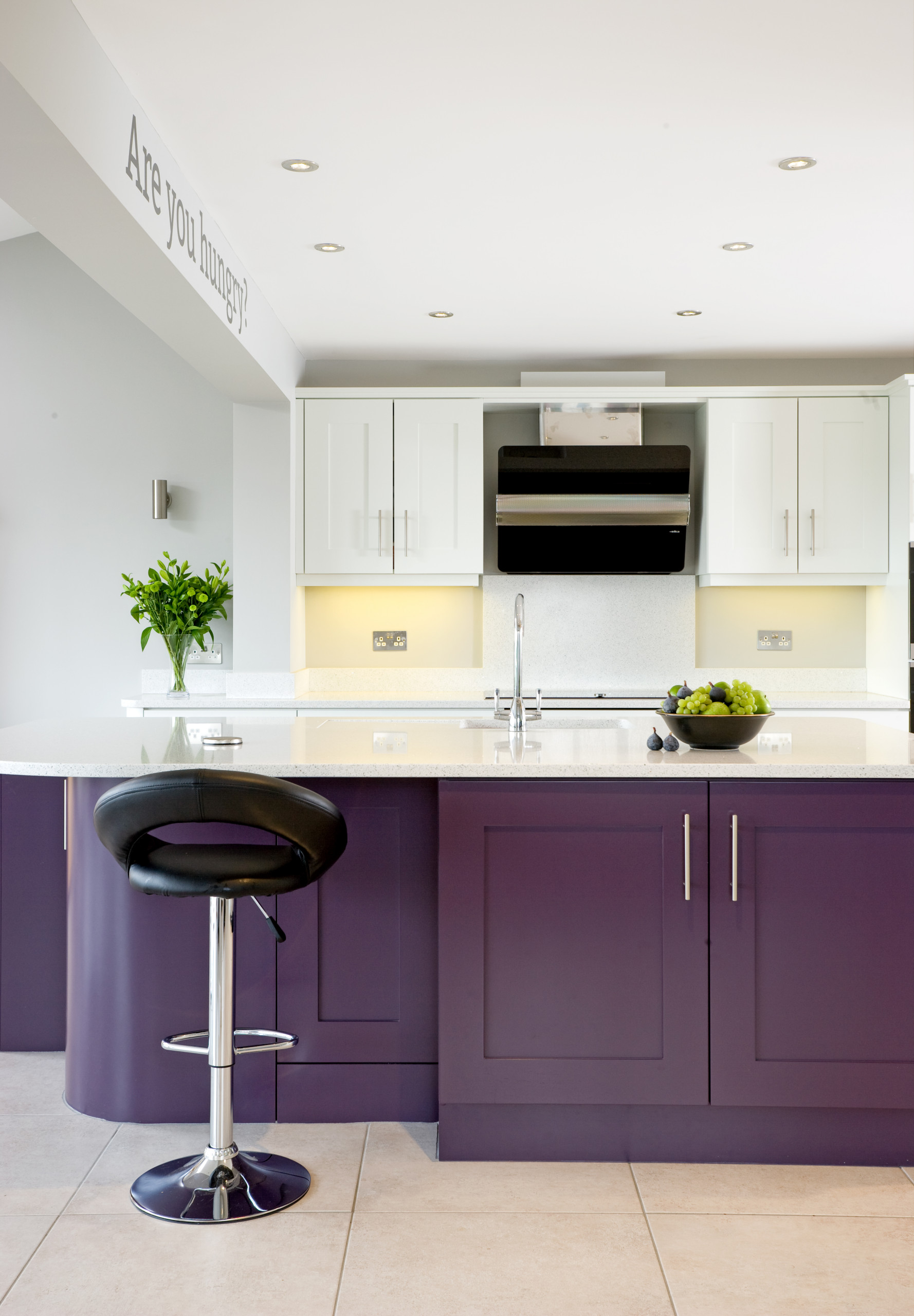 If you are into the unique and unexpected, then paint your kitchen purple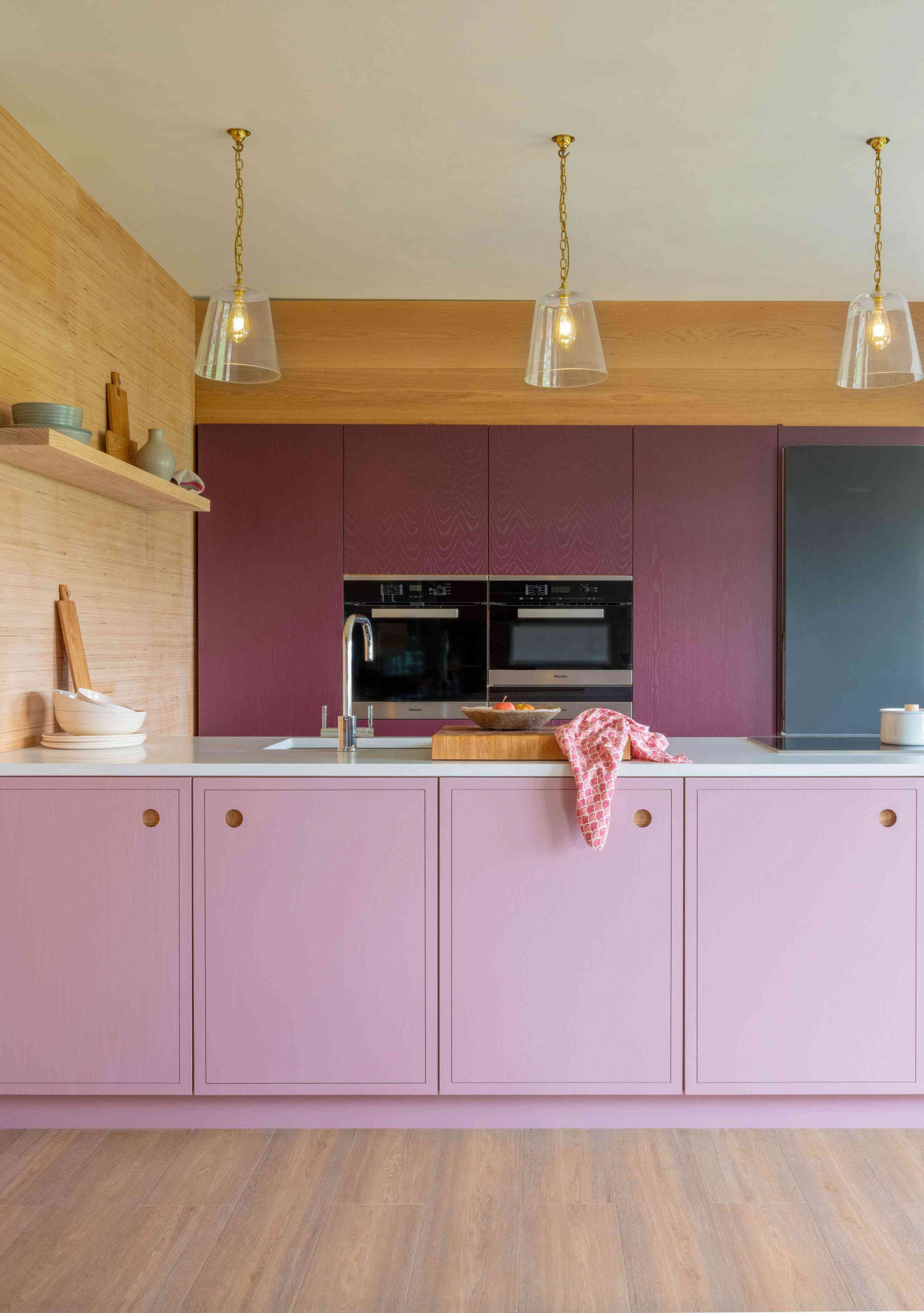 View this post on Instagram
#Teal
Teal is a wonderful, bold kitchen color that also happens to have extremely laid-back energy. If you also happen to live near the beach, this shade is more than perfect for your kitchen space. If you don't want to commit to teal walls and cabinets (which might be too much for some), designers suggest adding teal elements here and there. This color will energize the whole room, and add an unexpected but super trendy pop of color to your home. So, if you are feeling the mermaid vibes, teal is the way to go!
Teal is the ultimate bold kitchen color if you live near the beach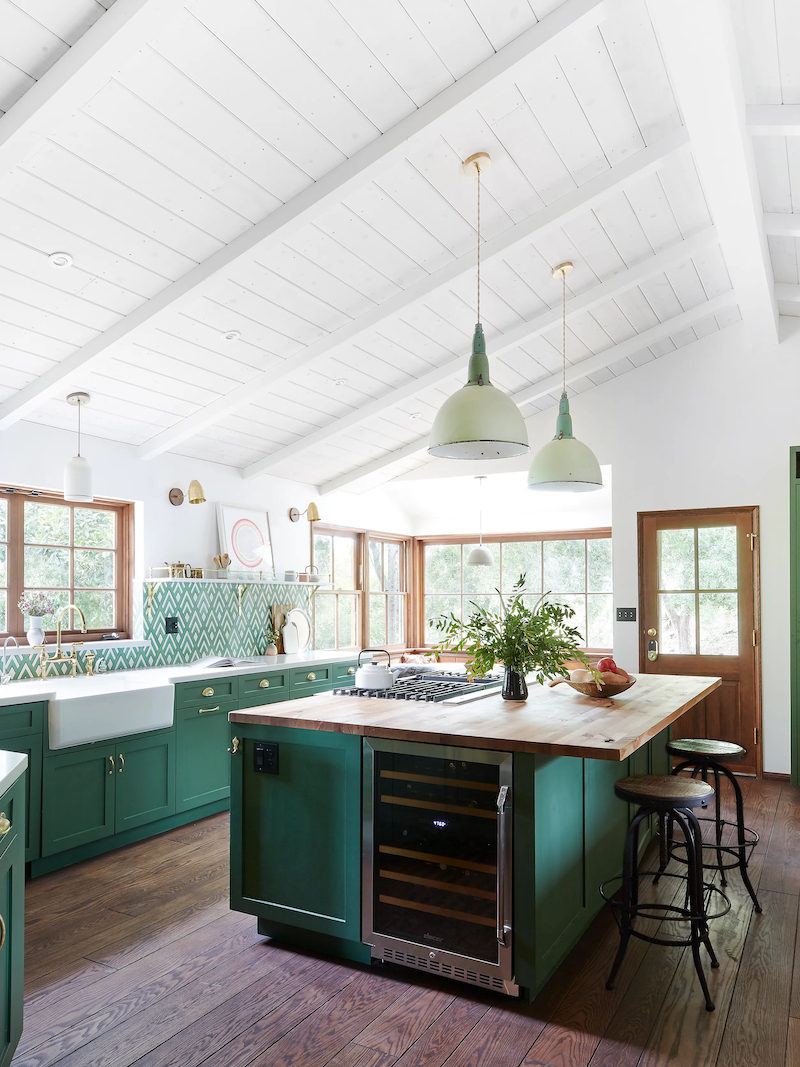 View this post on Instagram
Related Content
Sources