Open Shelving Kitchen Ideas for a Modern Home
If you are a new home owner or are simply remodelling and looking for something refreshing, there are so many decisions that you need to make. From the flooring to paint colors to furniture and overall layout, the possibilities are endless. So, if you are on the hunt for good ideas right now, we have got you covered. We have already talked about different types of interior design so needless to say we have already made it just a little bit easier. Today, however, we are going to focus on a very small detail which may often be overlooked by home owners. So, without further ado, we present to you a few open shelving kitchen ideas. They will deifnitely come in handy if you are looking to create an airy, spacious, modern kitchen. So, keep reading to find out how best to incorporate these ideas into your own home.
Having open shelves in your kitchen provides it with an airy and spacious feeling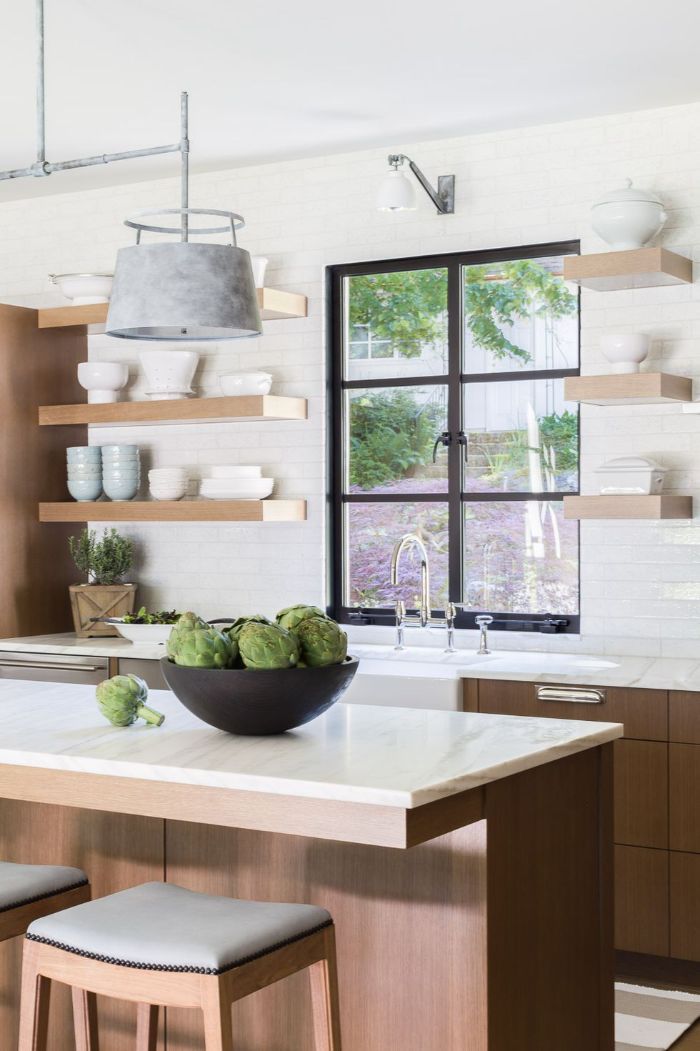 Is open kitchen shelving practical?
This is a very normal question to ask and the truth is somewhere in the middle. Which is exactly why, you need to know all the pros and cons before you decide on open shelving. On one hand, having open shelves allows you to add more character to your kitchen. Funny mugs, cookbooks, beautiful vases and a plethora of other things can be beautifully displayed on a floating shelf. On the other hand, open shelves might require more regular cleaning as they can collect dust. Also, if you decide to display matching dishes on it, they might need rinsing before using them. With all that being said, however, the truth is that open shelving is very trendy. What's more, it can actually be very practical if you are a regular cook, because you will have everything you need within reach and right in front of your eyes.
Open shelving can be used to display art, cookbooks vases and any other thing you can think of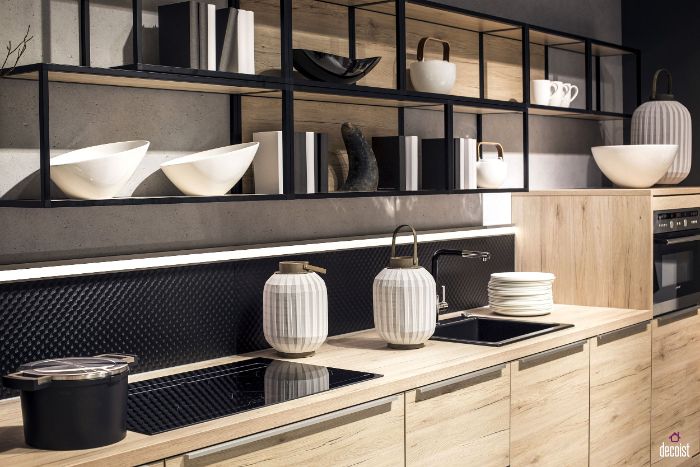 Open shelving kitchen ideas
There are many ways you can use open kitchen shelving in your home. First of all, it is worth noting that it will definitely save you some money. Open shelves are much cheaper to install than top cabinets. Furthermore, if you are not fully committed to completely open shelves you can always use them in a more creative way. For example, if you have a kitchen island you can have a few open shelves on it. Also you can always just try it first a couple of small shelves and expand if you feel like you like them. So, keep reading to find out how to actually incorporate open shelving in your kitchen.
You don't have to commit fully to an entirely open kitchen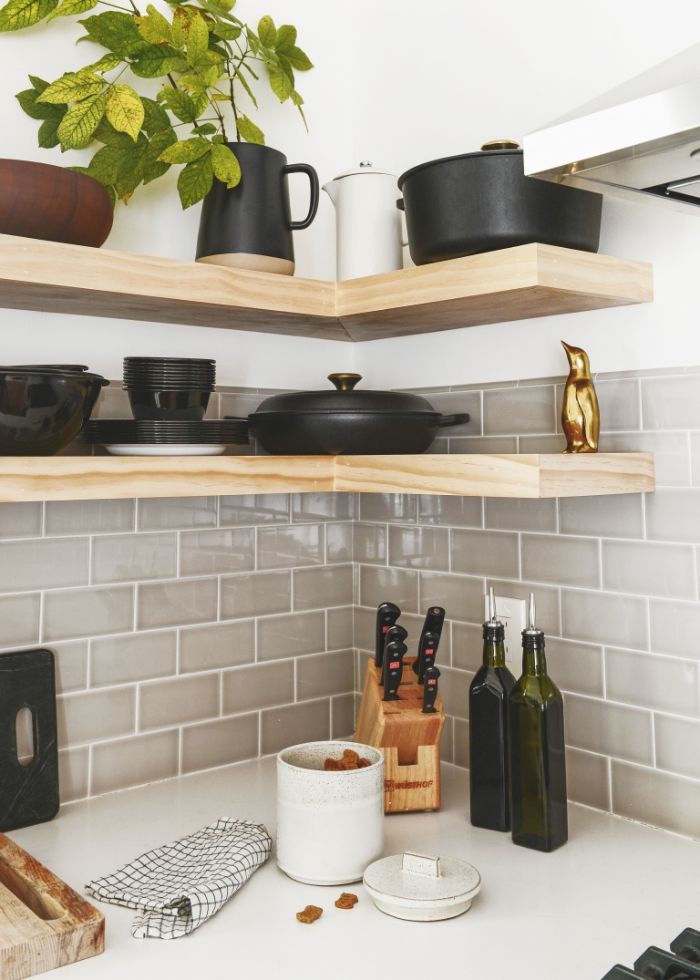 Go half and half
If you are not ready to fully commit to open shelving go for half cabinetry, half open shelves. That way, you will still have beautiful space to display your awesome china sets, but you will also be able to use the cabinets to hide all the non-matching dishes you don't want people to see. Going for the half and half method is also a great way to add some character to your kitchen.
Nice example of gorgeous display of matching dishes and antiquities, along with clean white cabinetry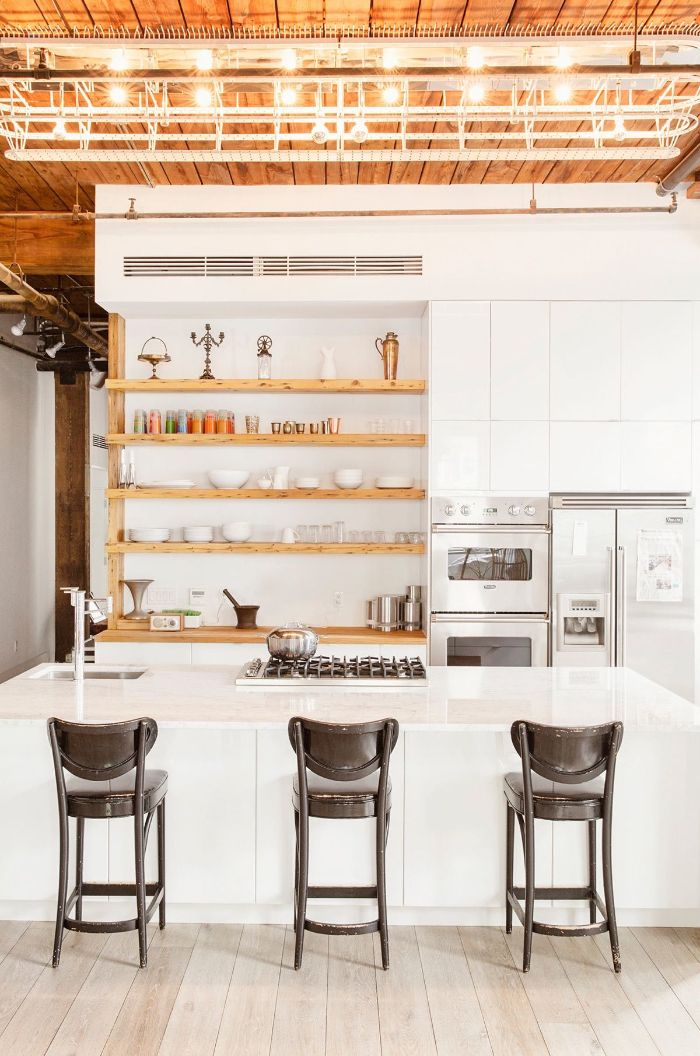 Use your corner space
Open shelving is a great way to utilize all of your corner space. Corner cabinets can be a bit awkward. If you opt out for open shelving however, you will have all the space available to you. What's more, a small kitchen would greatly benefit from open corner shelving. It will make it look airier, more spacious and open. Cabinets on the other hand, will make a small kitchen feel boxed in and tight.
Utilize your corner space with open shelving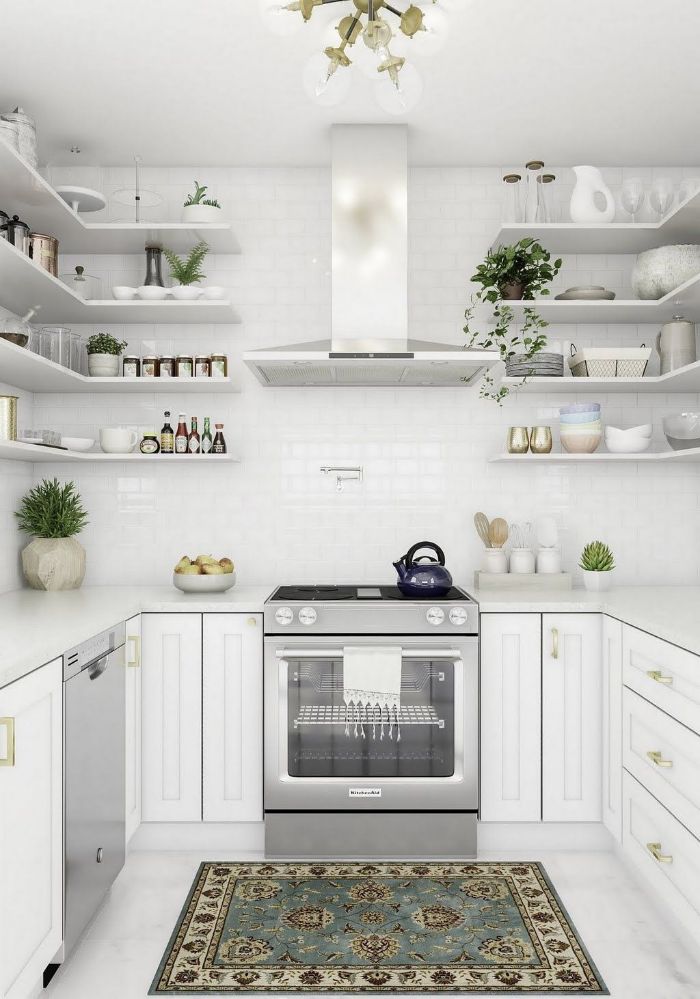 Make your open cabinets the focal point of your kitchen
When we say open shelving we don't just mean shelves mounted on the wall. This category also includes open cabinets, which you can also make the focal point of your kitchen. If you are looking to add some fun vibes into your kitchen opt for a fun backdrop for your cabinets which goes well with the rest of the kitchen. In the photo below, for example, you can see well this teal backdrop goes with the gorgeously patterned orange tiles.
Open cabinets are also a part of the open shelving conversation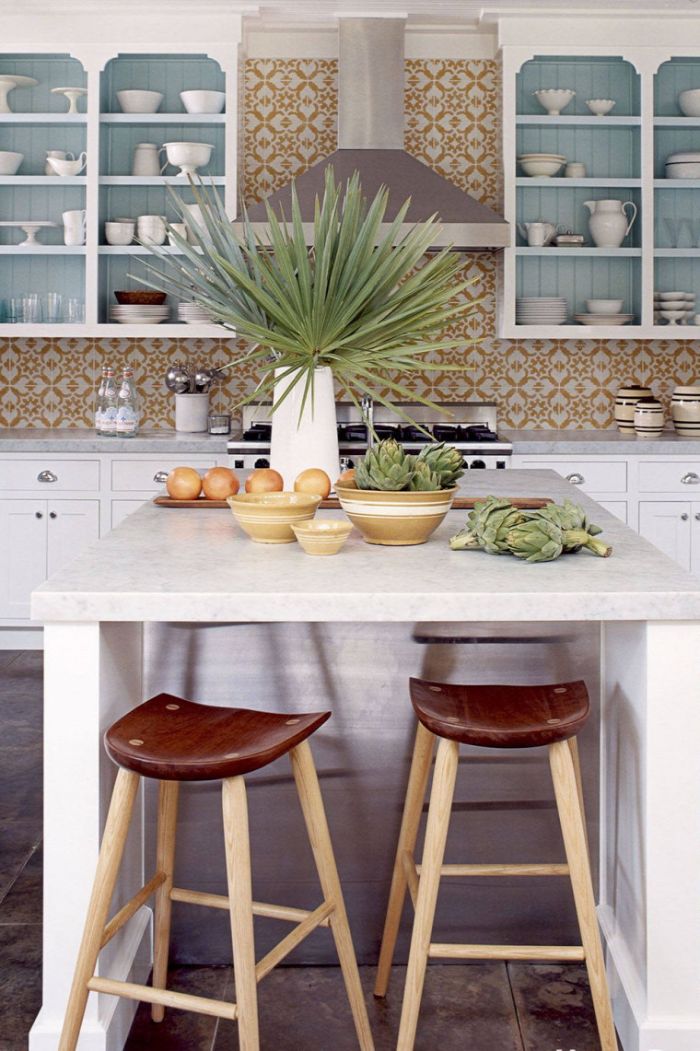 Show off your gorgeous backdrops
If your kitchen already has a gorgeous backdrop, like those subway tiles in the photo below, why not show it off. Covering your wall with cabinets leaves very limited space for an eye catching backdrop. Mounting a few shelves on the wall however, will let your backdrop shine without loosing your storage space. It will also allow you more creative freedom with the choice of a backdrop.
Don't hide a nice backdrop with cabinets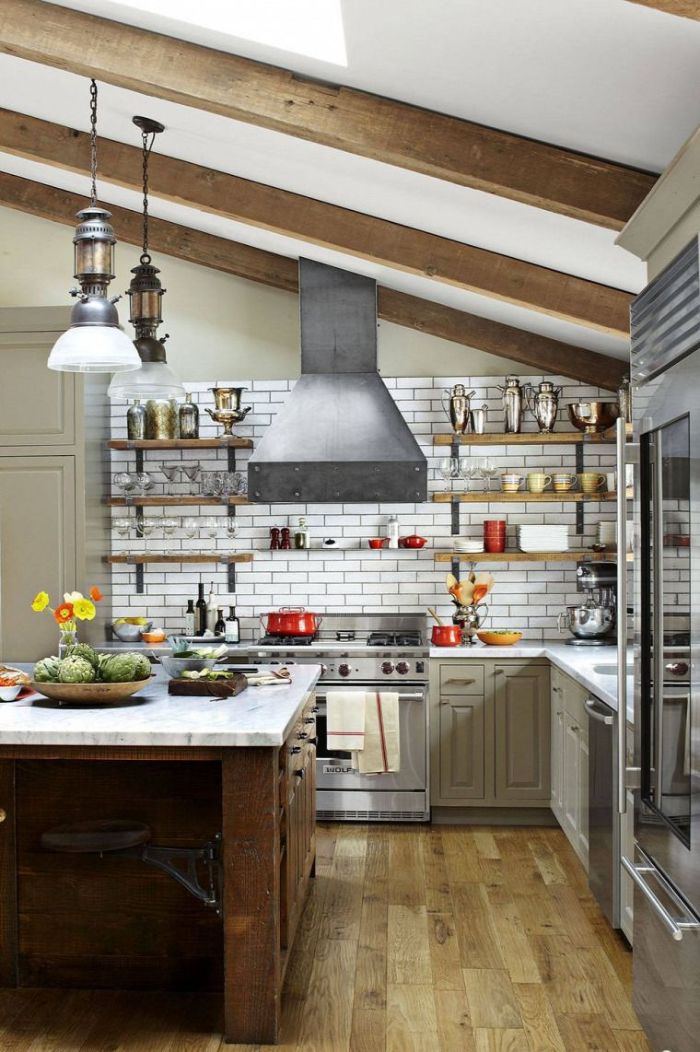 Start small with your open shelving kitchen ideas
If you are not ready to fully commit to open shelving then by all means, go for the tried and tested cabinet look. We strongly advise you however, to mount a couple of small shelves wherever you find some space for them. Not only will this warm you up to the idea of open shelving, it will also add some character to your kitchen. On them you can place a few potted plants, some art or make it a coffee station, it is up to you. But, trust us when we say that once you try it, you will want to open up your entire kitchen.
If you are afraid to fully open your kitchen up, start small with a few small shelves mounted on the wall
Incredibly creative idea – the backdrop flows into the shelf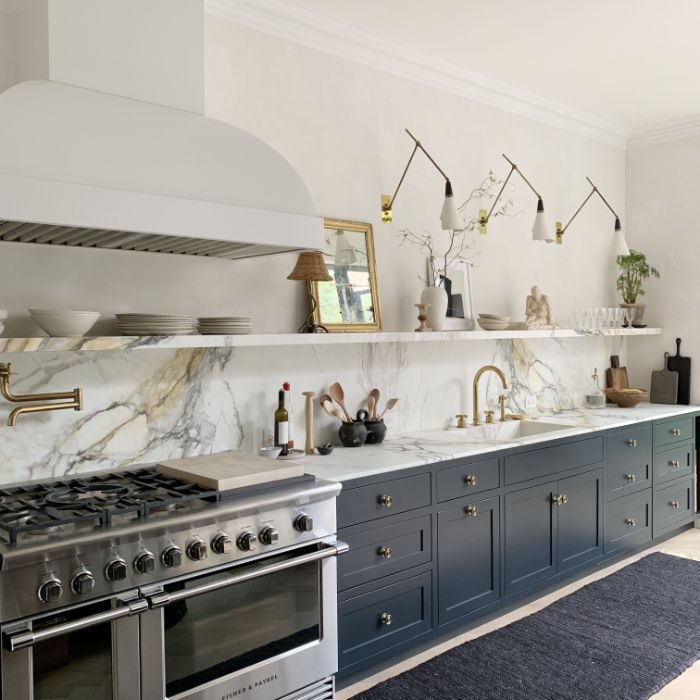 Use wood in your kitchen to give it a warm, cozy feeling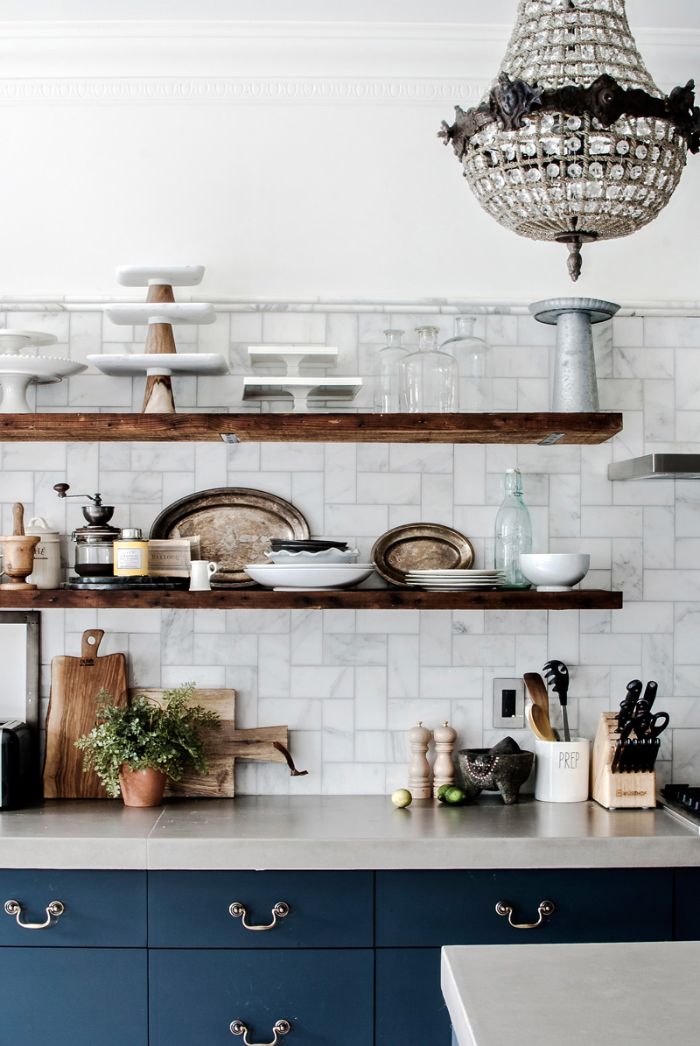 All the eyes are going to be on those beautiful cabinets and stove, the open shelving, however, is a great addition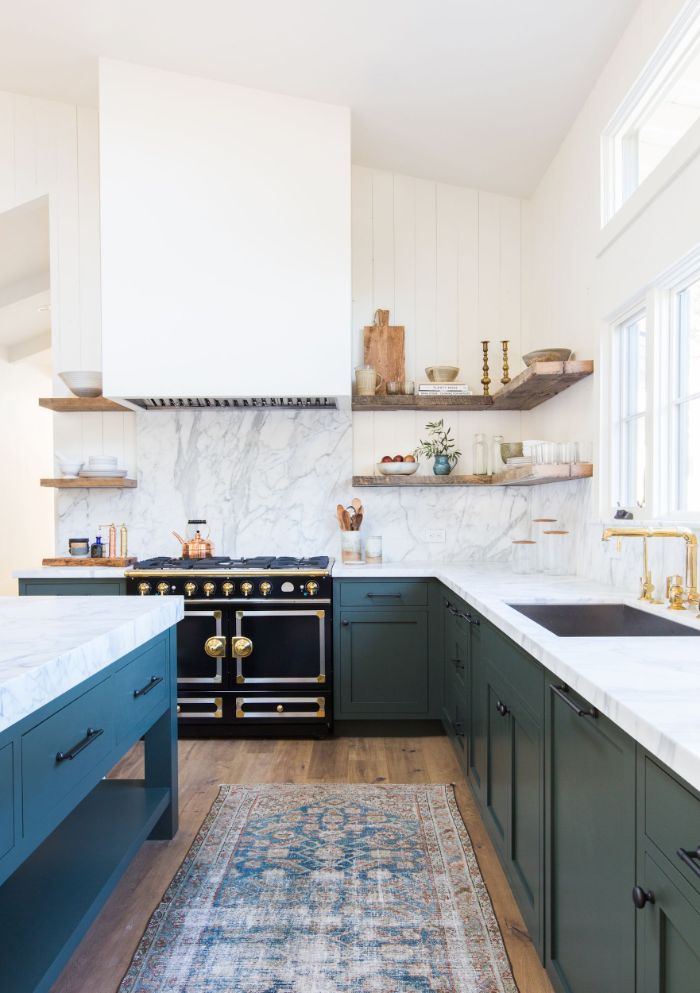 Small shelves can be utilized as coffee or drinks stations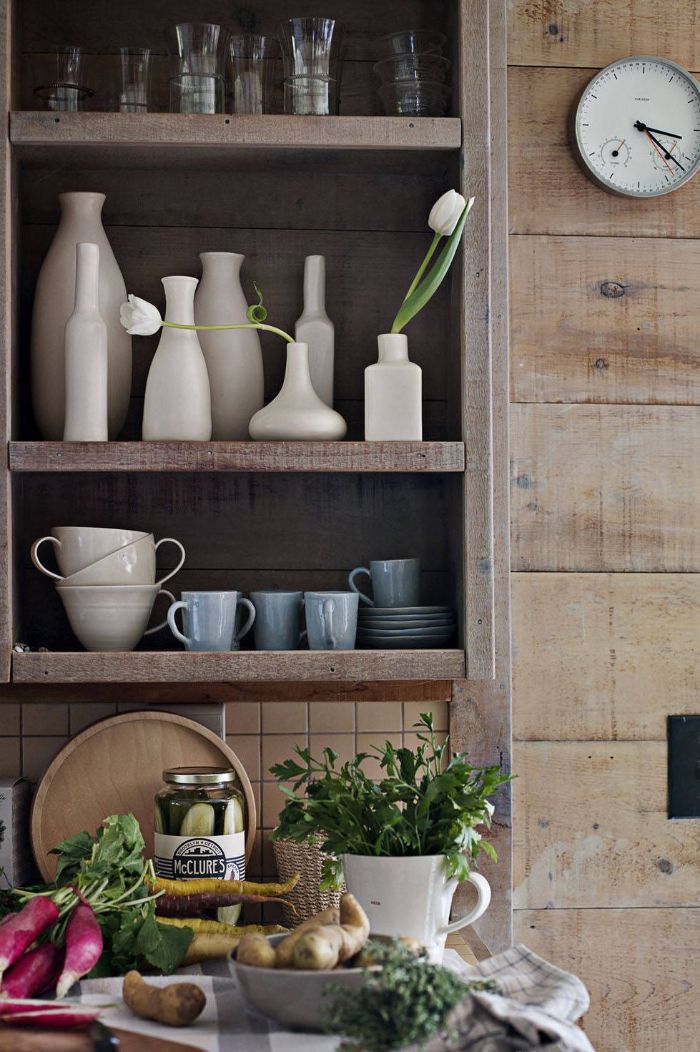 Having an open shelving kitchen allows you to proudly display all of your matching sets
Live edge shelves are a thing of beauty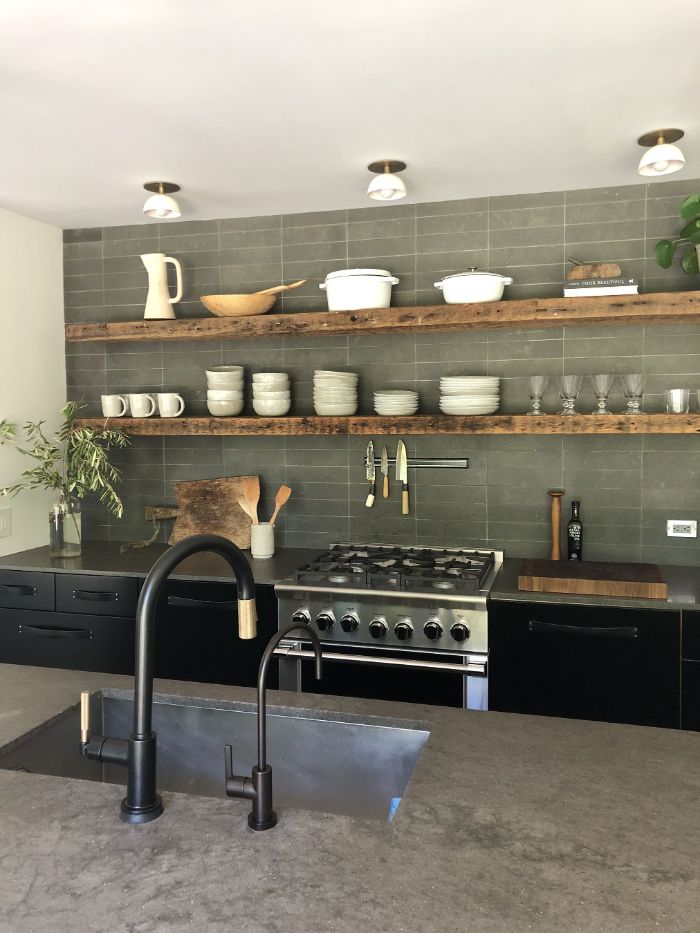 Mix and match colors on your shelves and cabinets
Metallic open cabinets are a great way to make you kitchen ultra modern
Use open shelving above the sink
Mix shelves with dishes with hanging utensils
This is such a creative way to incorporate open shelving into your cabinets
Open shelving kitchen with space for spices, wine bottles and china sets