---
Summer is the season for remodelling and renovating. Home owners all across the world use the good weather to freshen up their homes and turn them into a safe haven for the cold winter months. If that is the case with you, right now you are probably browsing the internet trying to gather as many ideas as you possibly can. What's more, you probably want your house to be the most modern and contemporary version of itself. So, if you are starting with the bathroom, we've got you covered. Because of that, today, we have gathered bathroom decor ideas for both small and big areas. They are definitely going to help you get started with your renovations and will give you lots of inspiration.
Turn your bathroom into a modern, contemporary space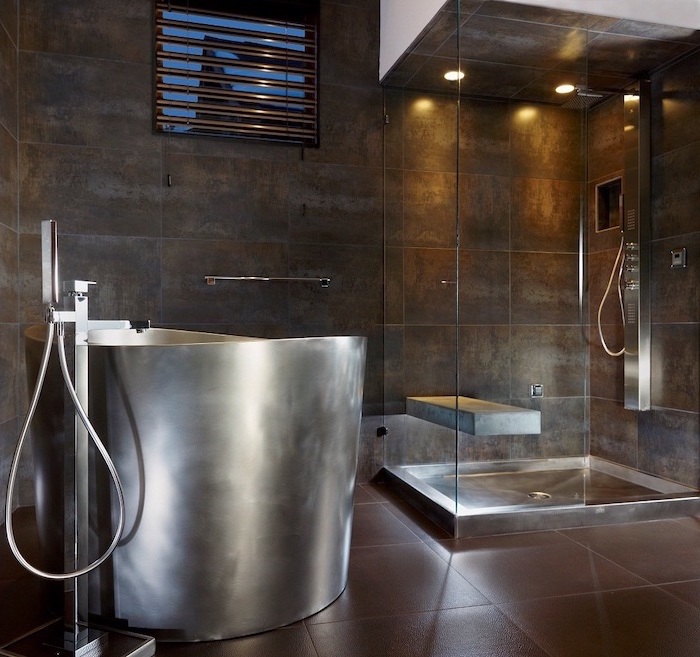 ---
How to decorate a bathroom?
There are a few things to consider before we start redecorating our bathroom. First of all, of course, is the space. How big is your bathroom? If it is large and you have lots of space then you have nothing to worry about. You can get all the inspiration you need and fit everything into your big bathroom. If, on the other hand, you have a smaller bathroom there are some rules you need to adhere to. If you do that you will create a stylish bath with all the amenities you may need which is still going to look super modern.
Another thing to consider is your budget. Renovating a bathroom can be quite daunting and quite expensive. Which is why, you need to consider your budget first. If you have enough money for a full on re-build then you might need some more time planning. If not, however, you might consider sticking to the basics – changing the colors in your bathroom or investing in a shower cabin or a new vanity.
Consider your budget before you start planning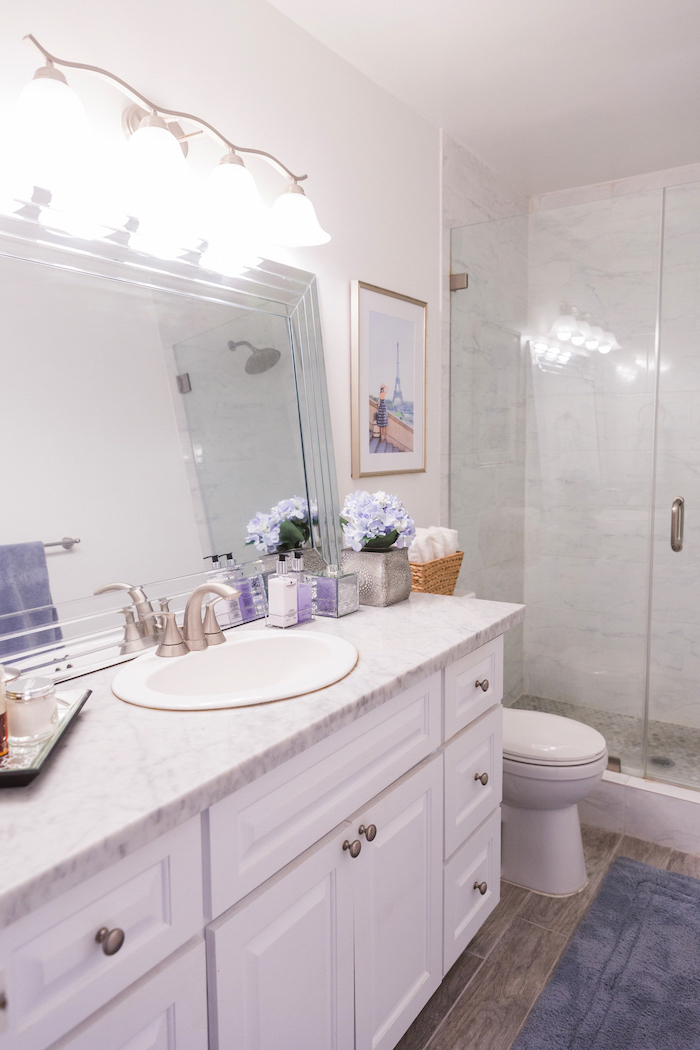 Bathroom decor ideas for a large bathroom
As is the case with everything else, interior design trends come and go all the time. Because of that, if you want your bathroom to be up to date with the latest trends you need to follow a few tips and tricks to keep things modern. So, keep scrolling to find out what is a must-have in your 2020 bathroom design.
Keep things modern with our easy tips and tricks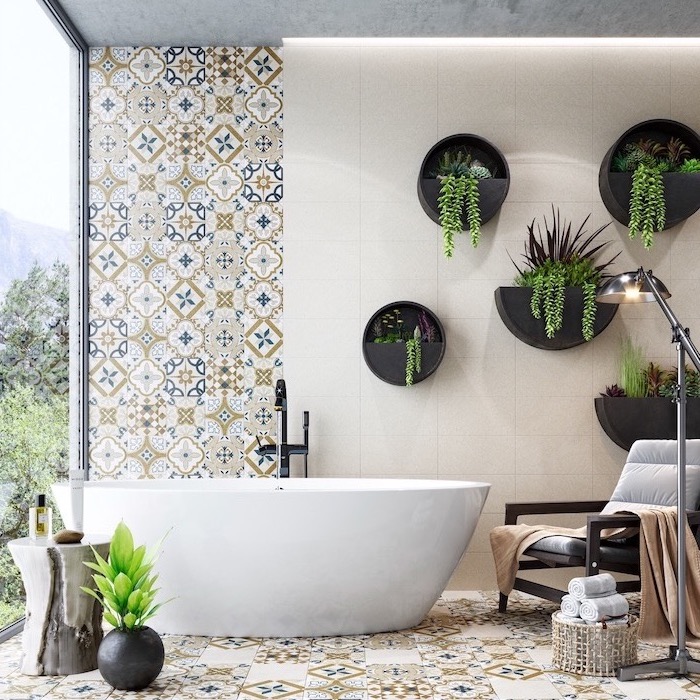 Update you bathroom's floor
If you don't have lots of time on your hands and you are looking for the simplest solution, then updating your floor is what you should do. If you think your bathroom lacks character and is a bit boring, then adding tiles with a modern pattern to your floor can change up the whole appearance of the room. On the other hand, if you are looking for a budget solution to your floor problem, you can always use water resistant vinyl floor cloth. You can find them in a variety of patterns, which you can choose in accordance to the colors of your bathroom.
Updating your floor can breathe new life into your bathroom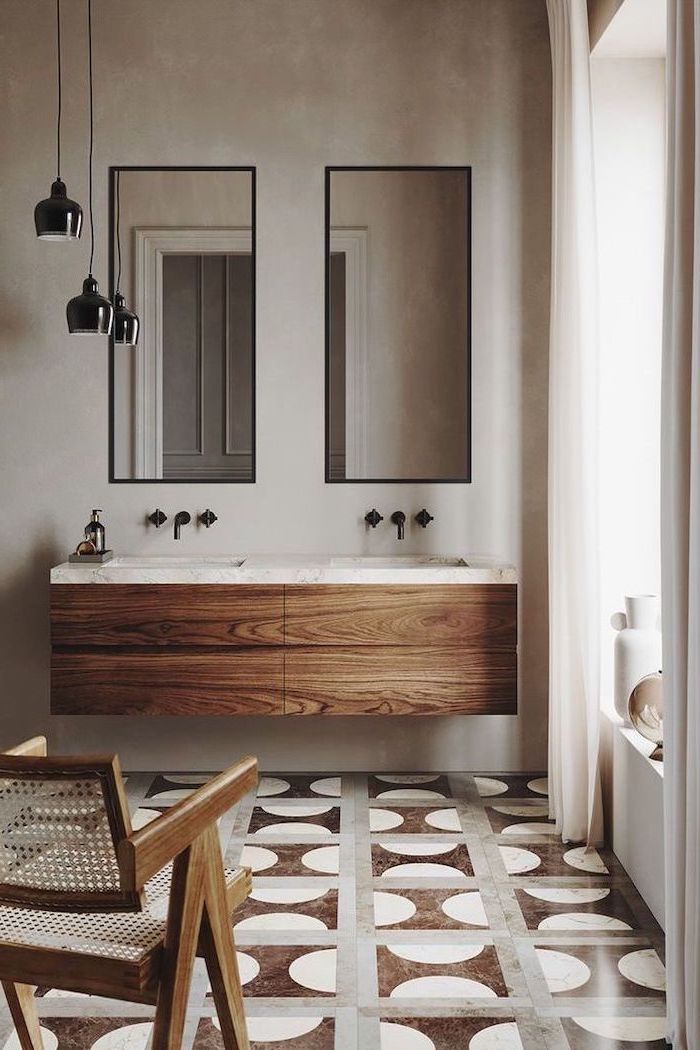 ---
Update the wall colors
One of the easiest things you can do to freshen up you bathroom is to update its colors. What's more, you can do it in a day and you won't have to break the bank. In general, wallpapers are more expensive, because they have to be water resistant. Updating your tiles is also quite expensive and a lot more time consuming. Paint, on the other hand, is the easiest thing you can actually do yourself. Just go to the store, pick out a color you like and start painting.
Add a touch of color and change the whole vibe of your bathroom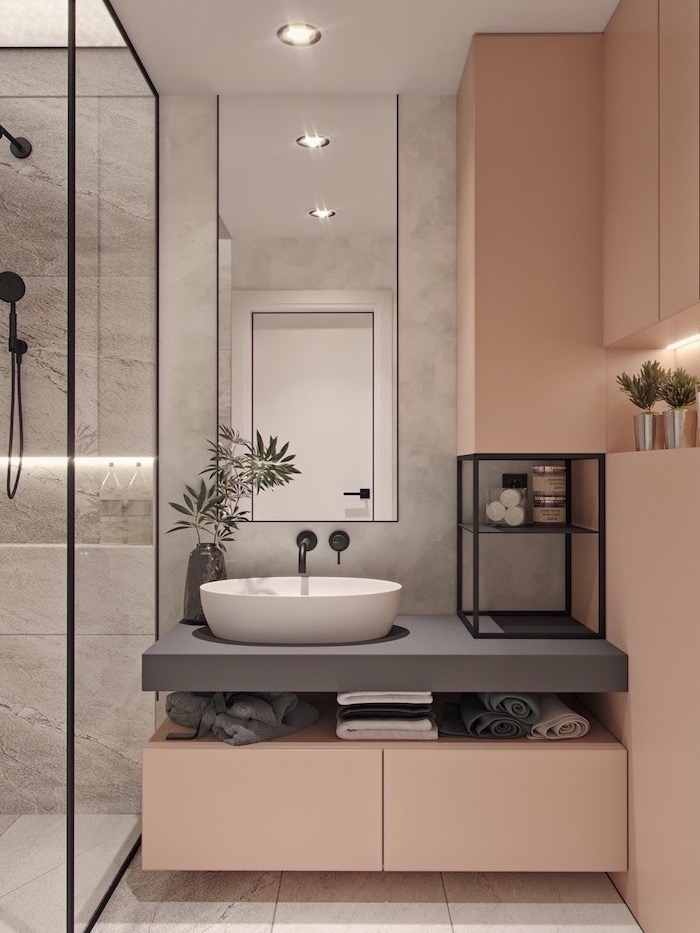 Turn your fixtures into a focal point
Out with the old, in with the new. This relates to bathroom fixtures one hundred percent. Which is why, you need to get rid of your old boring fixtures and replace them with new, modern ones. Black and brass fixtures will definitely draw all the eyes on them. What's more, they will be the accent of your bathroom and will bring character and a trendy vibe into it.
Modern fixtures can give your bathroom and entirely fresh feel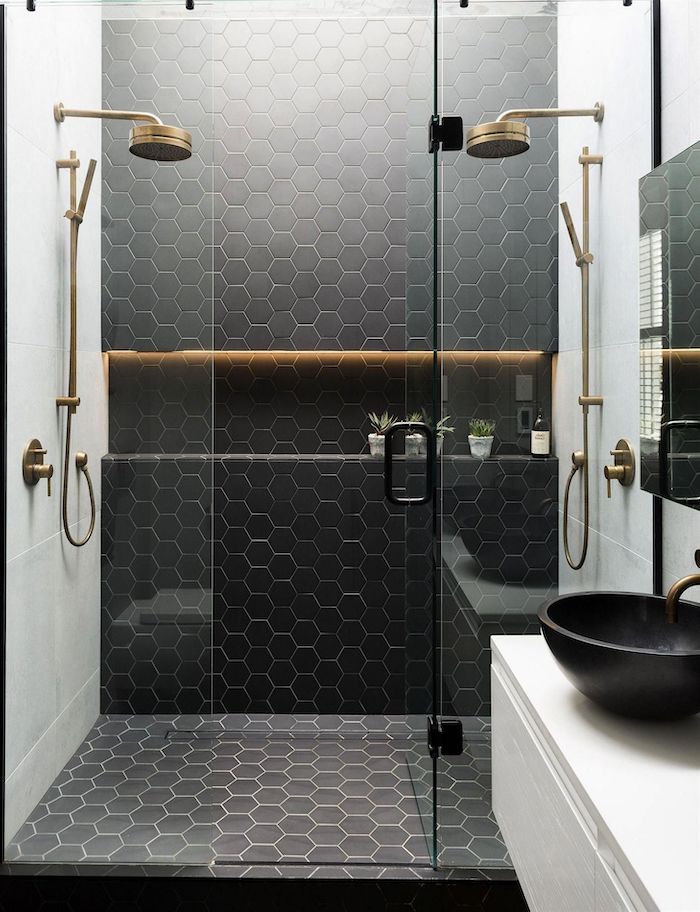 Bathroom decor ideas with more storage
Update your vanity, build a few shelves and you will have a modern bath. In general, when people think of this room, the last thing on their mind is storage. Trust us, however, that it is quite important. Furthermore, a few open shelves provide a space for a few plants or scented candles, which are going to bring in a cozy, boho feeling into your bathroom.
Add a few plants, scented candles and open shelves to your bathroom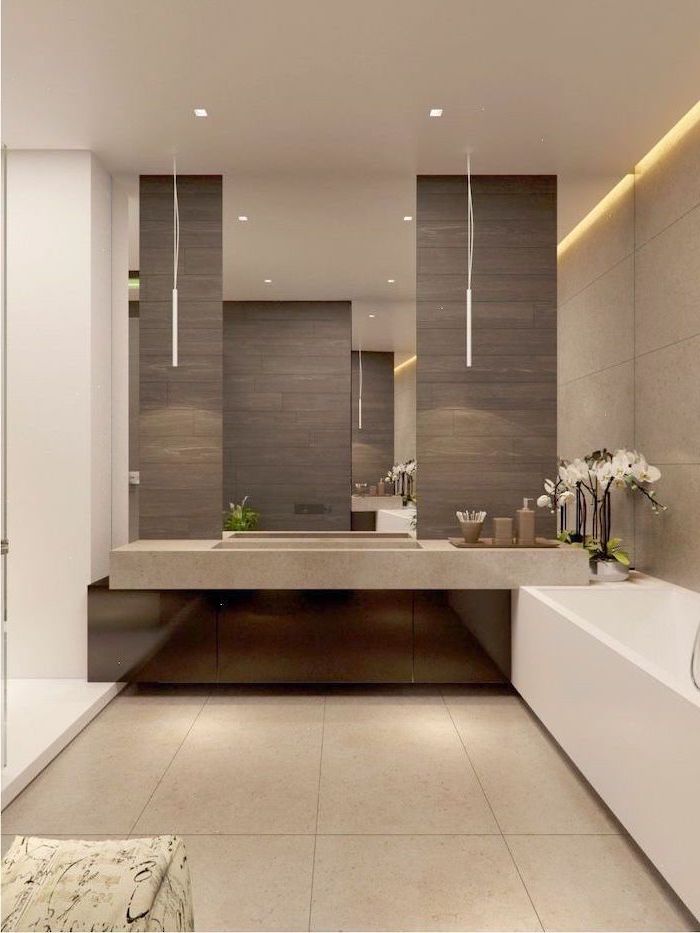 How to decorate a small bathroom?
Decorating a small bathroom can be a difficult task. Fear not, however, because we are here to help you figure it out. Just because you have a small bathroom that doesn't mean that it can't be decorated according to the latest the trends. So, here are a few tips and tricks on small bathroom remodel ideas.
Your small bathroom can still be decorated in a modern and trendy fashion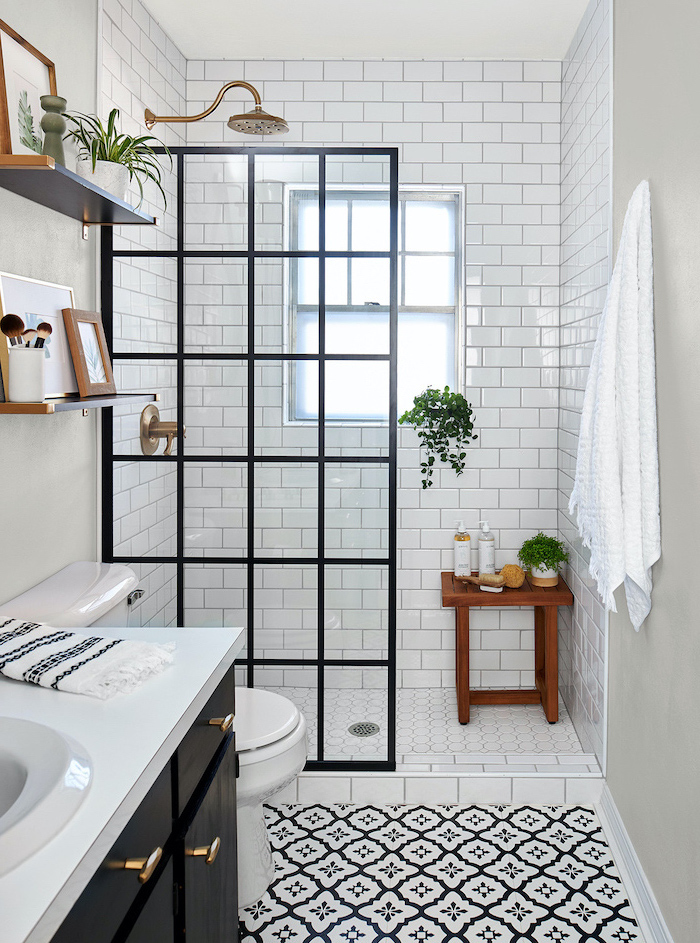 What should I do with a small bathroom?
Pick light colors. It is no secret that the lighter the color, the bigger and airier the room will be. So, if you have a small space, pick out colors like white, gray, neutral or lighter shades in general. Keep the darker colors for the accents.
Invest in floating vanity and shelves. Even if your bathroom is small, you still need space. Floating vanities give off the illusion that the floor is bigger. Adding a few shelves on the walls, on the other hand, will still provide more space for those candles and plants.
Get rid of the bathtub. Listen, we know that having a bathtub is considered trendy, but if you are not using it, it is only taking up the space. Removing the bathtub and placing a glass divider between your shower and the rest of the bathroom will create more space. What's more, you will have your very own version of a shower cabin.
Consider sliding doors. You will be surprised by how much easier it is going to be to have sliding doors. Entering and leaving the bathroom will be much easier, without the need to bump into the vanity or the toilet.
Lighting. If your bathroom lacks natural lighting, make sure you have enough light fixtures. This, once again, creates the illusion of a bigger room.
Now keep scrolling down to find some inspiration and bathroom decor ideas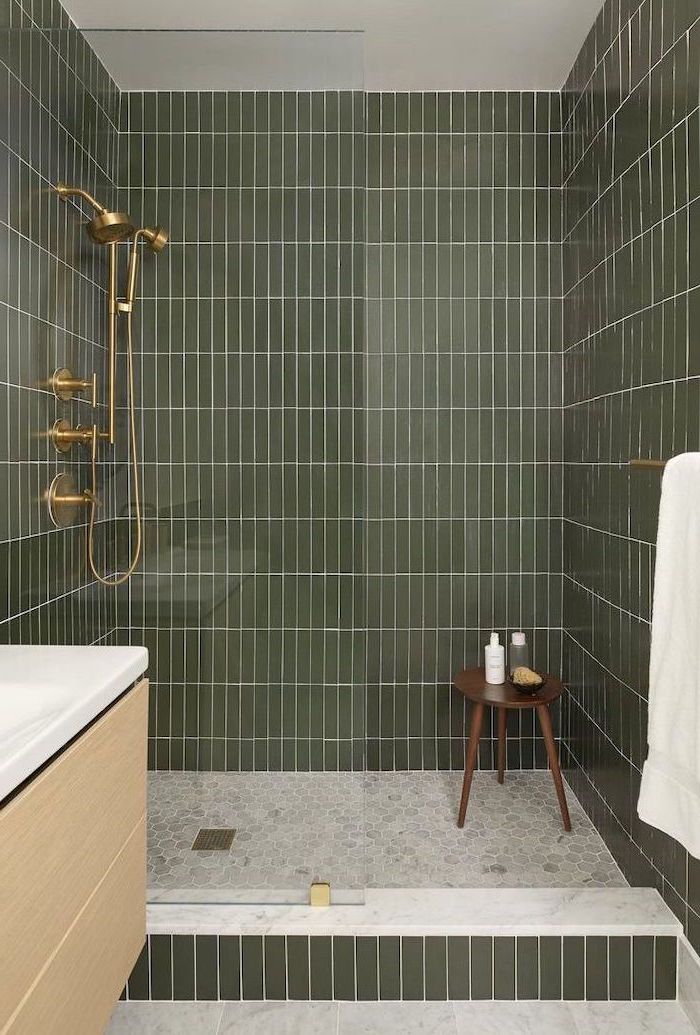 Keep things light and airy with a beautiful white decor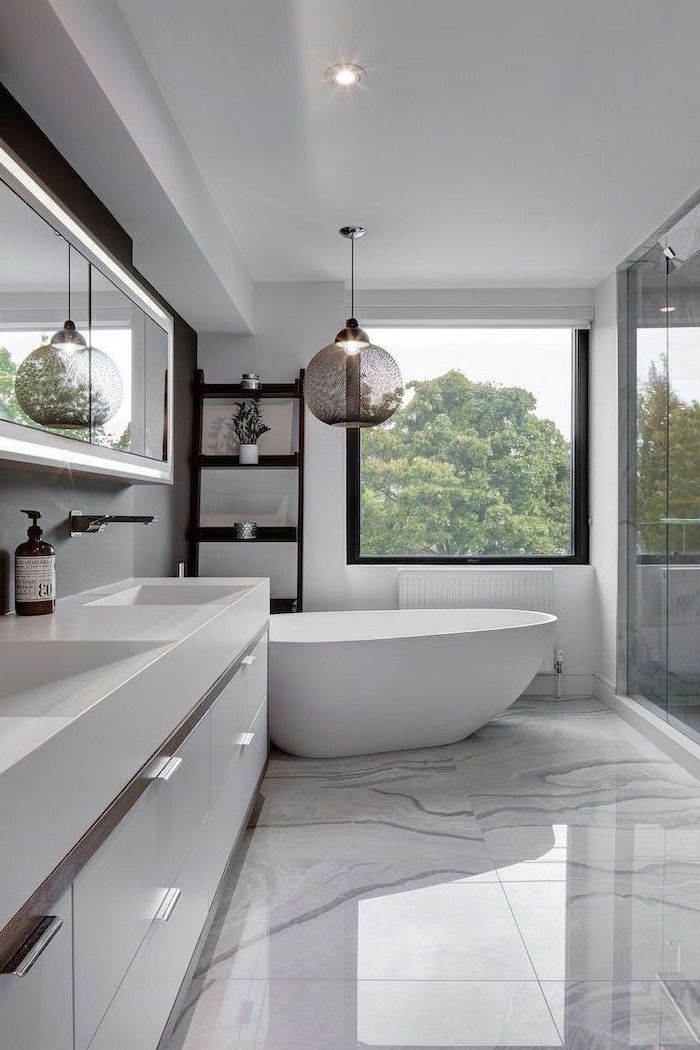 If you are looking for a statement piece why not try a gorgeous bathtub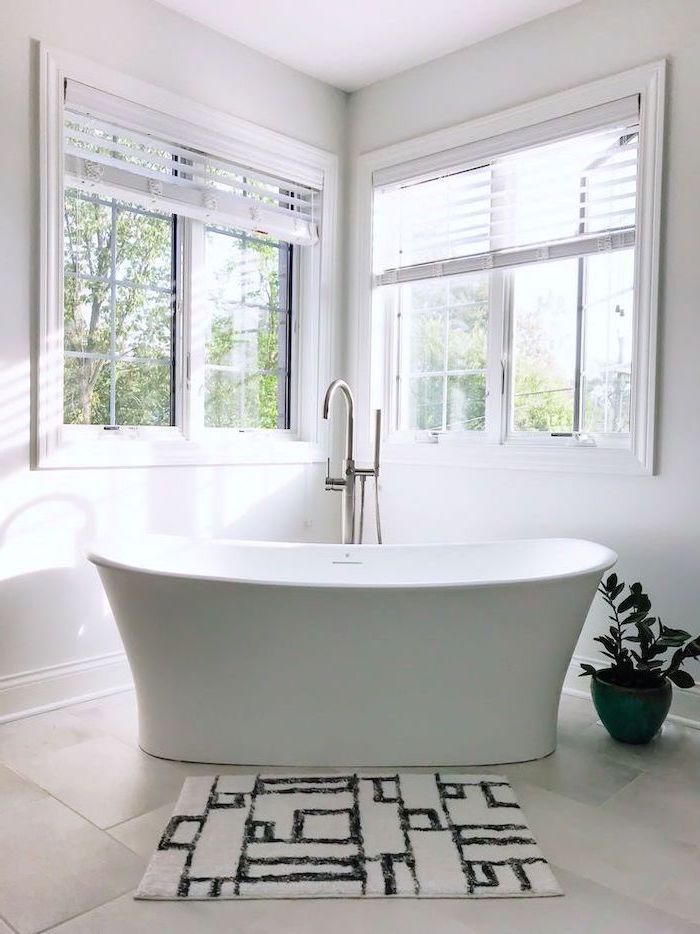 Match your shower tiles with your vanity's countertop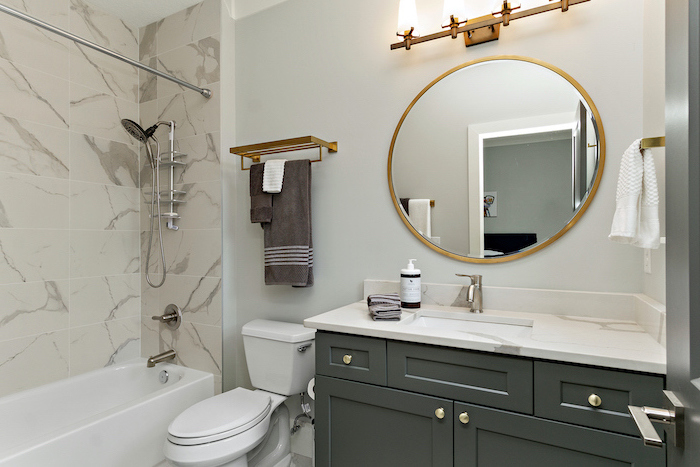 Floating vanities are a must for any small bathroom decor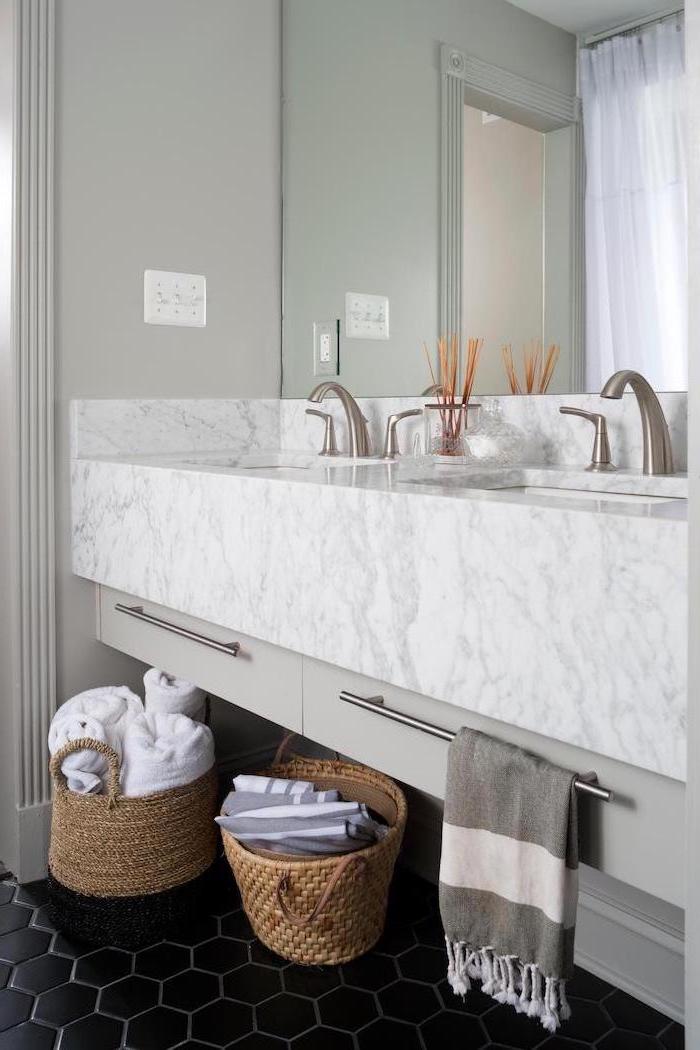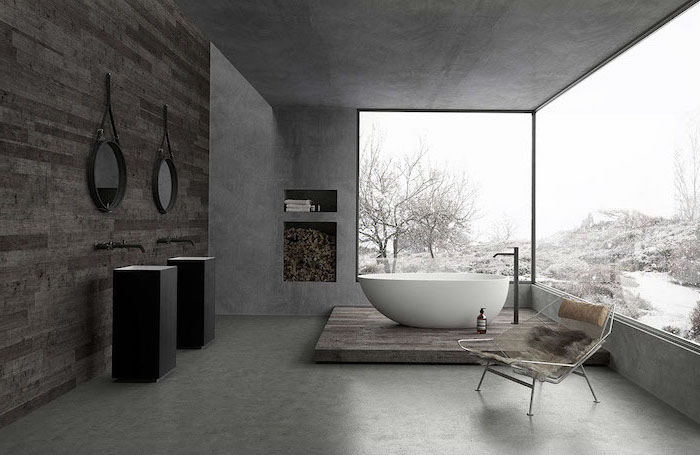 This looks so serene – the perfect place to chill and relax after a long day at work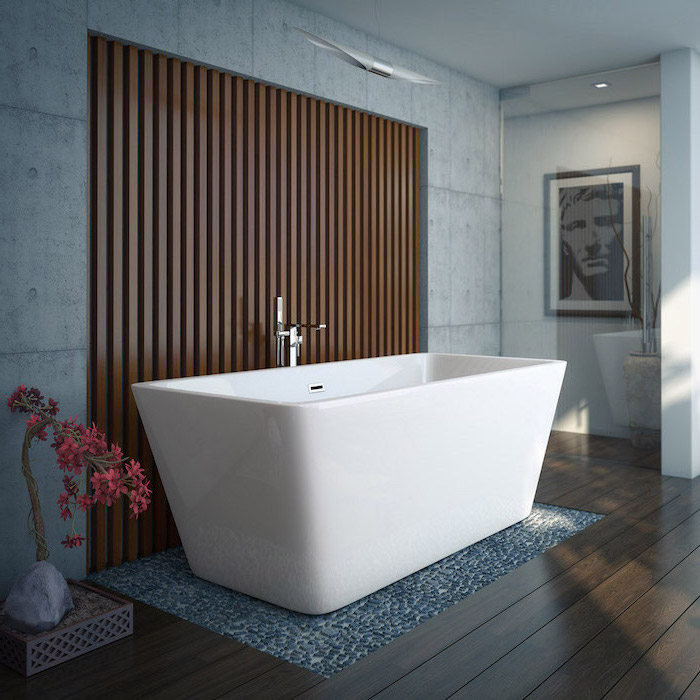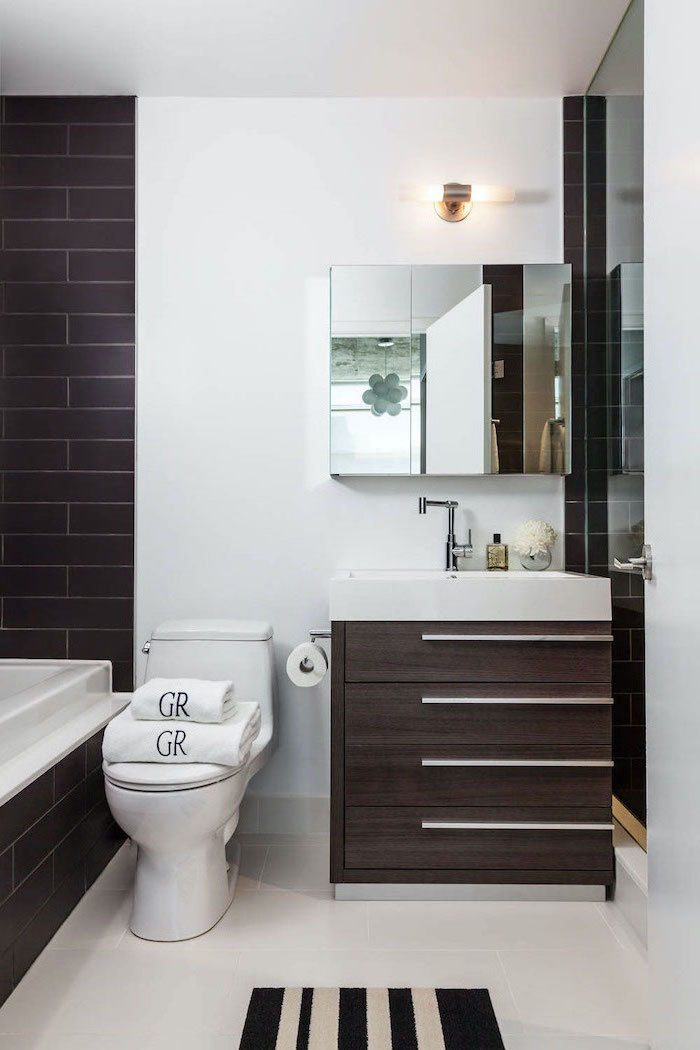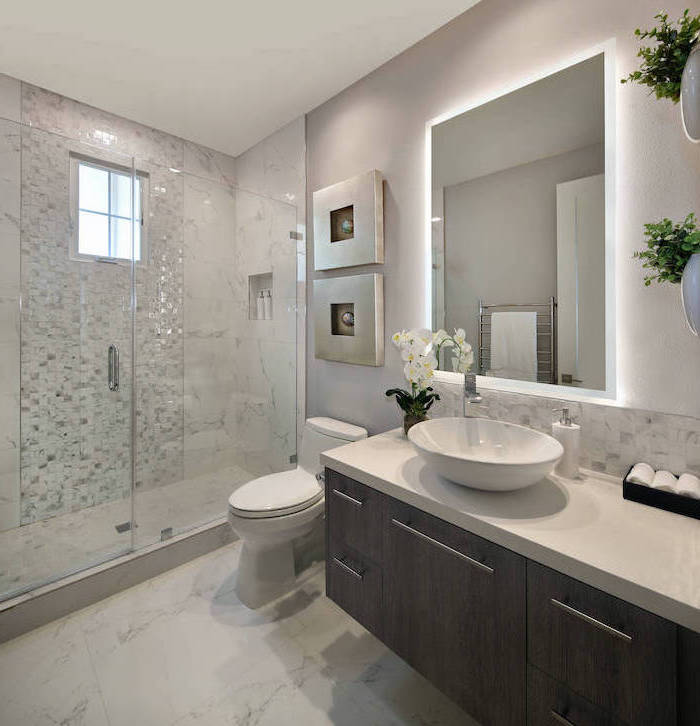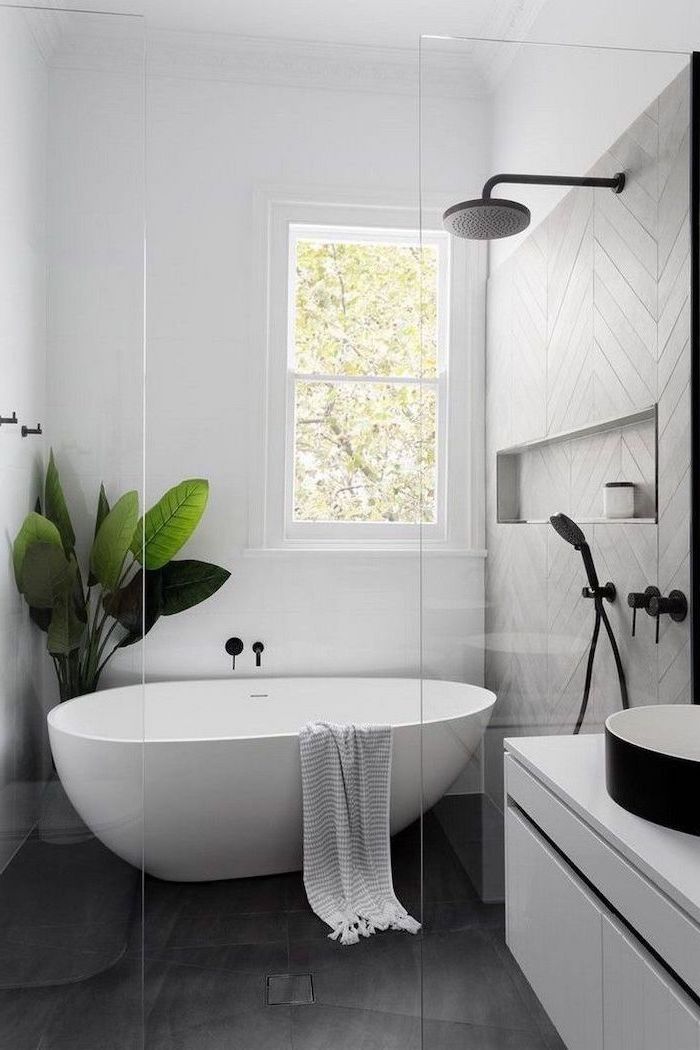 Water resistant wood laminate flooring and wall – sign us up, please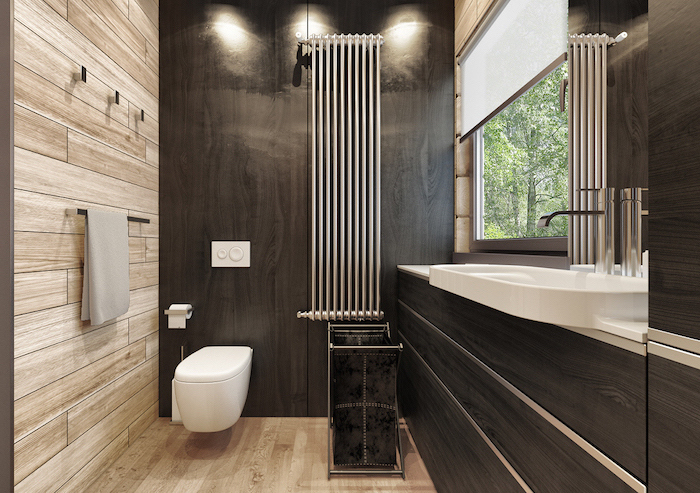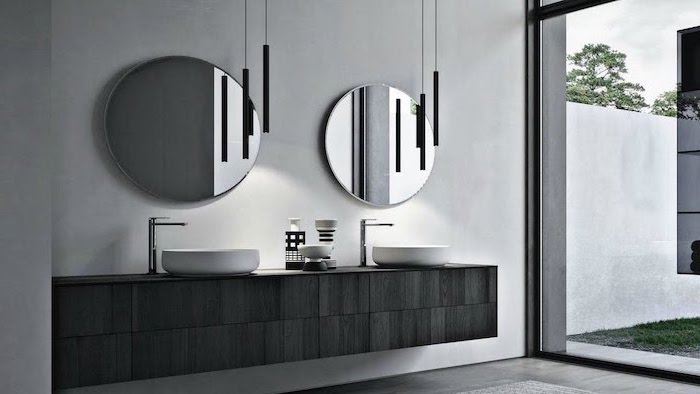 Go vintage with a few statement pieces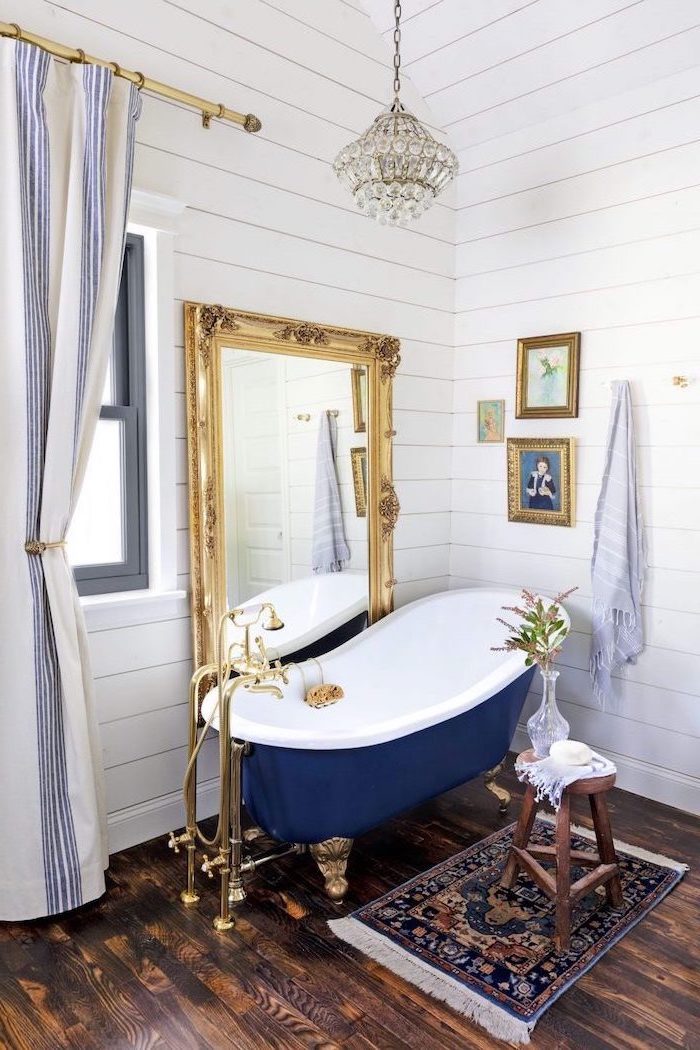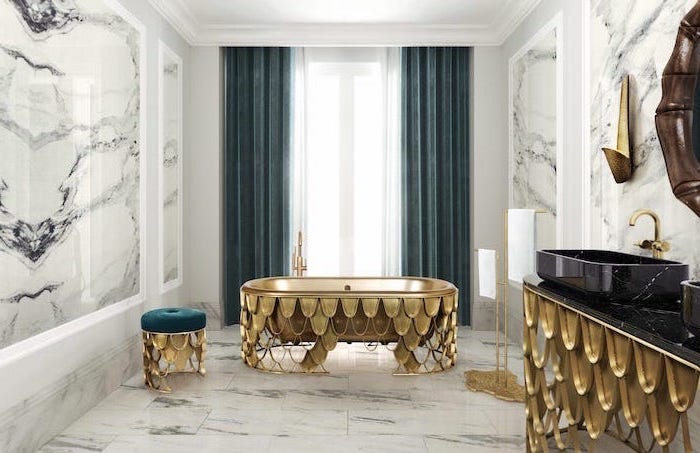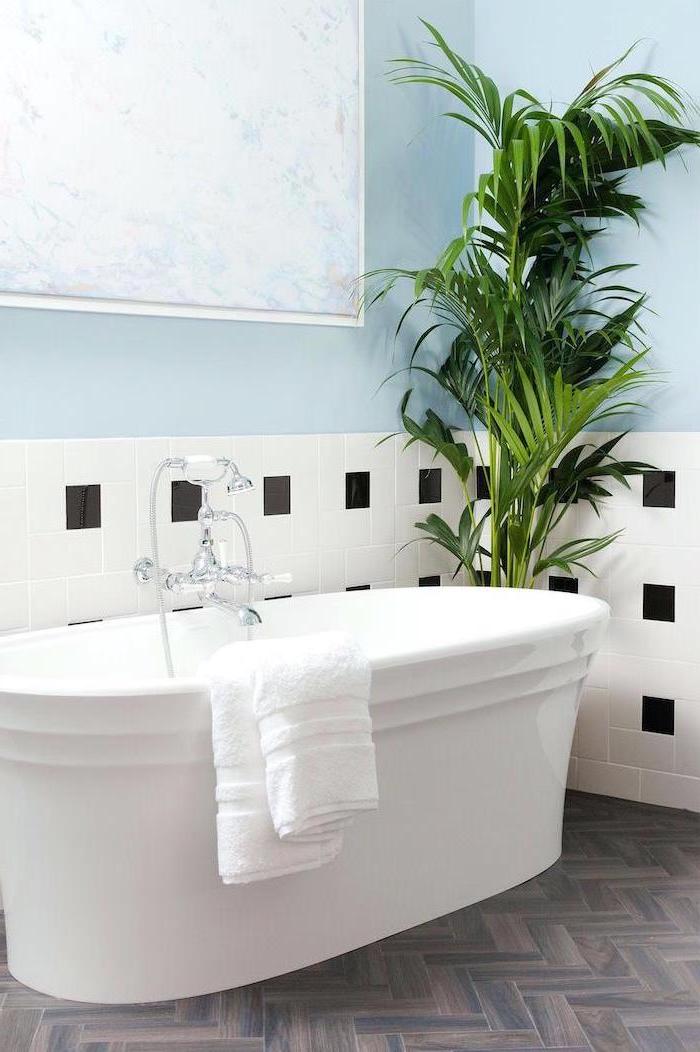 Or go all out with the modern, luxurious look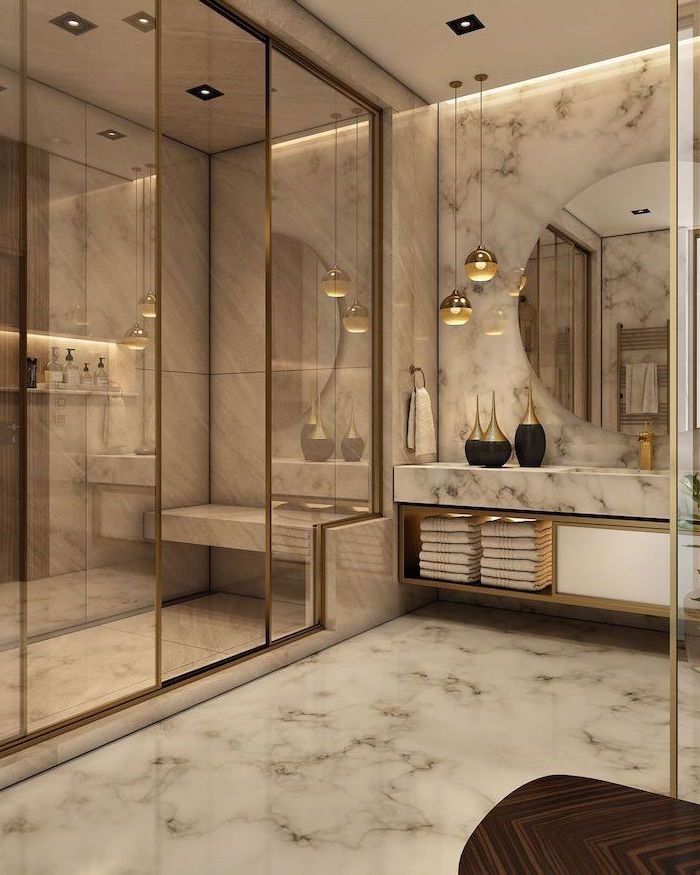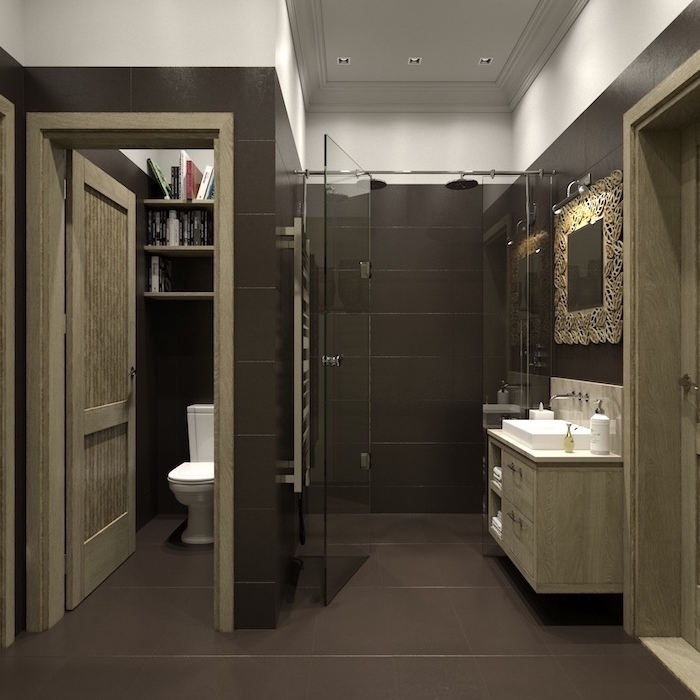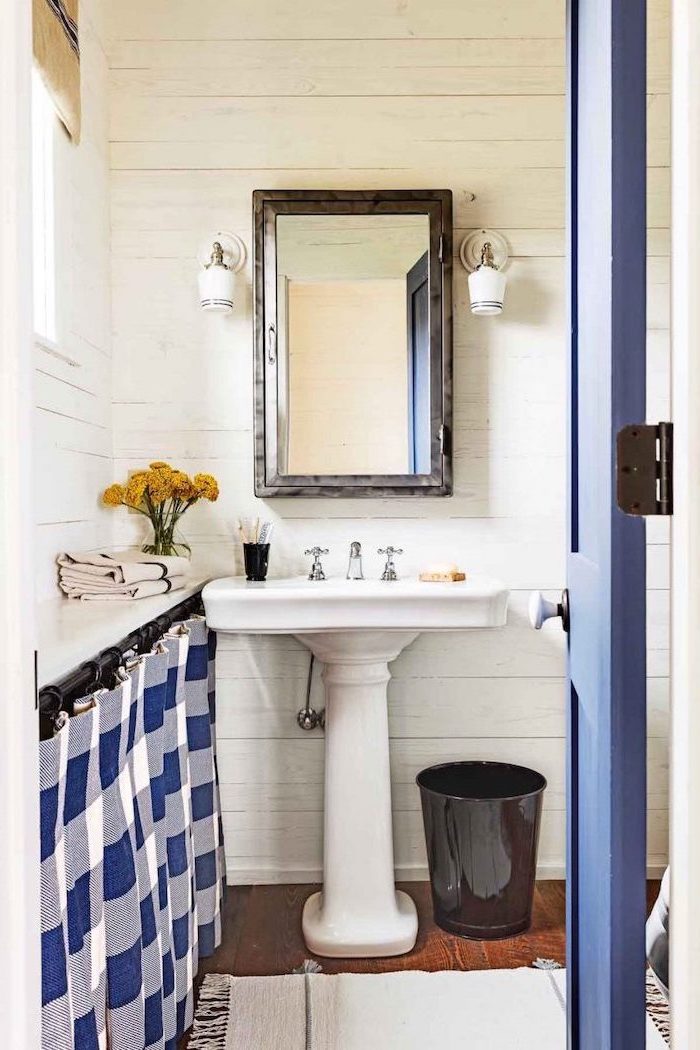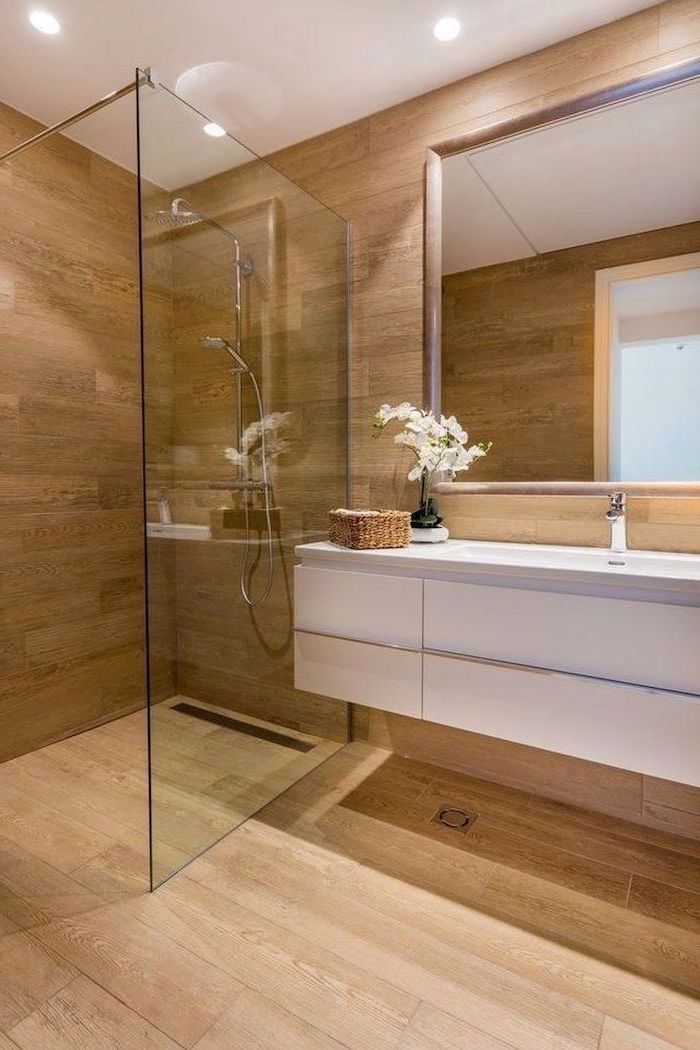 Just because you have chosen white for your bathroom, doesn't mean it is going to be boring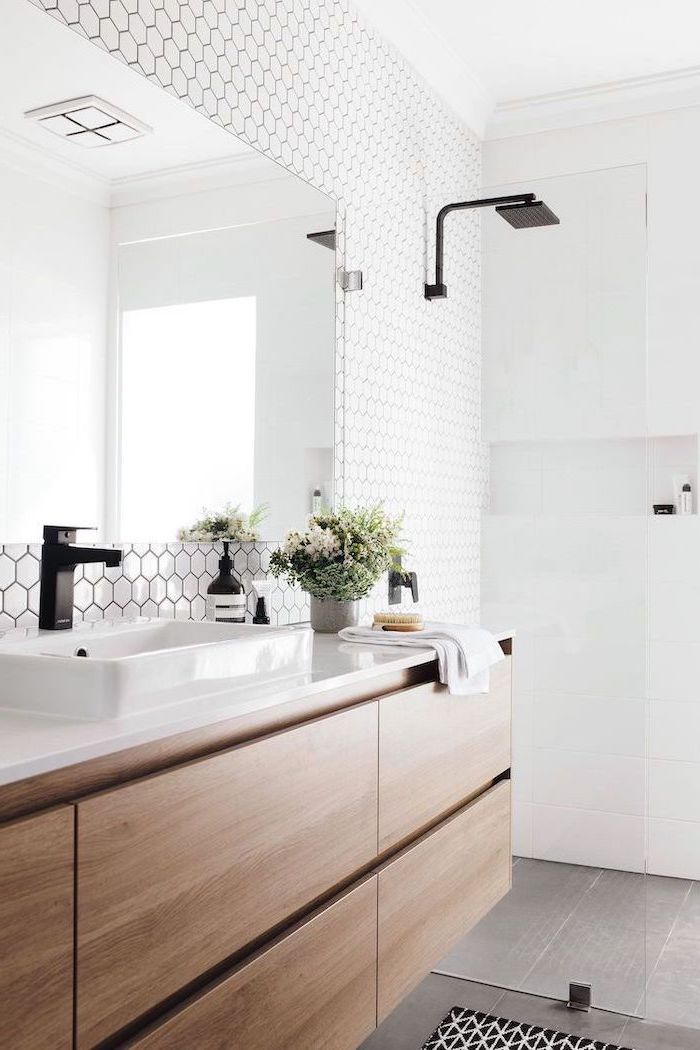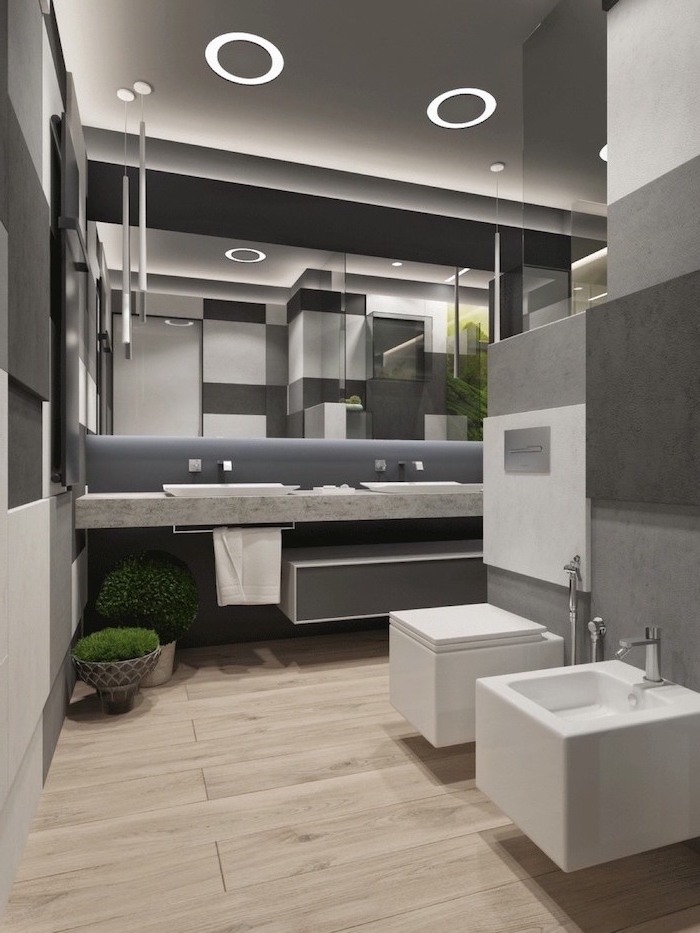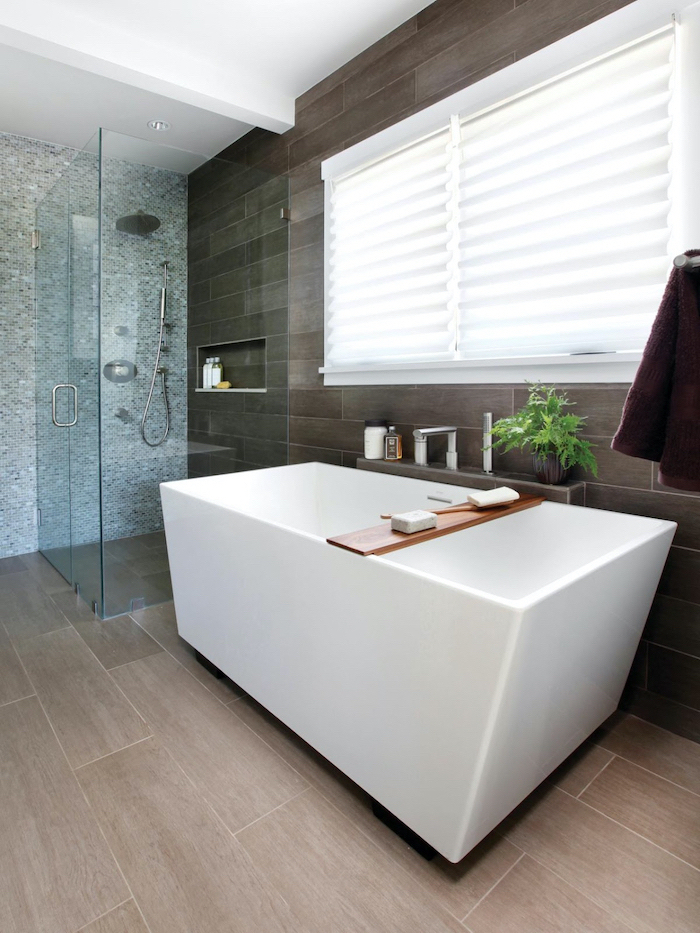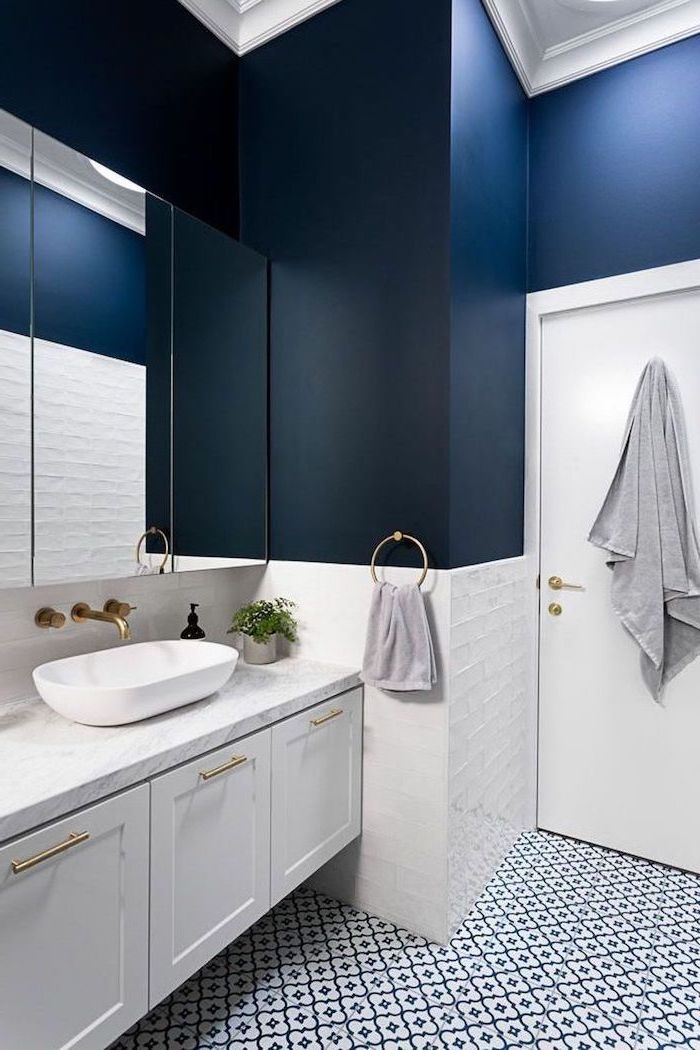 Add a boho feeling to the bathroom with a few patterned fabrics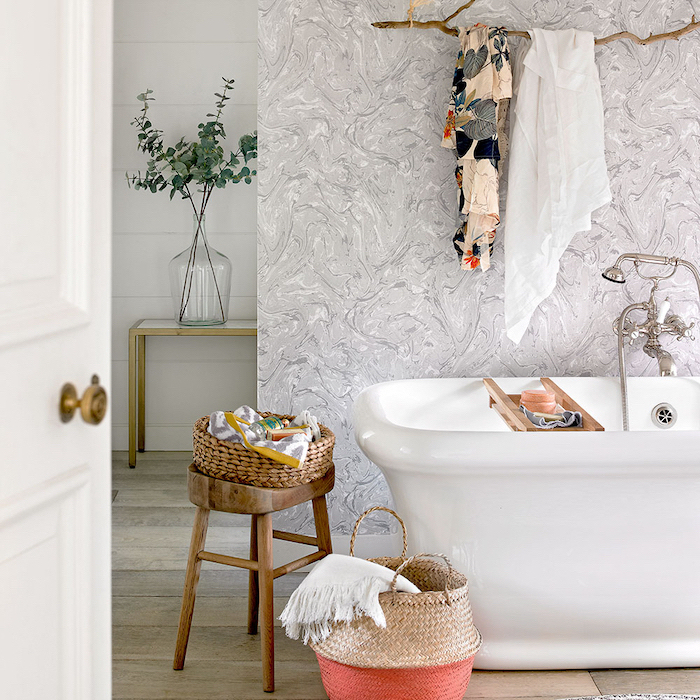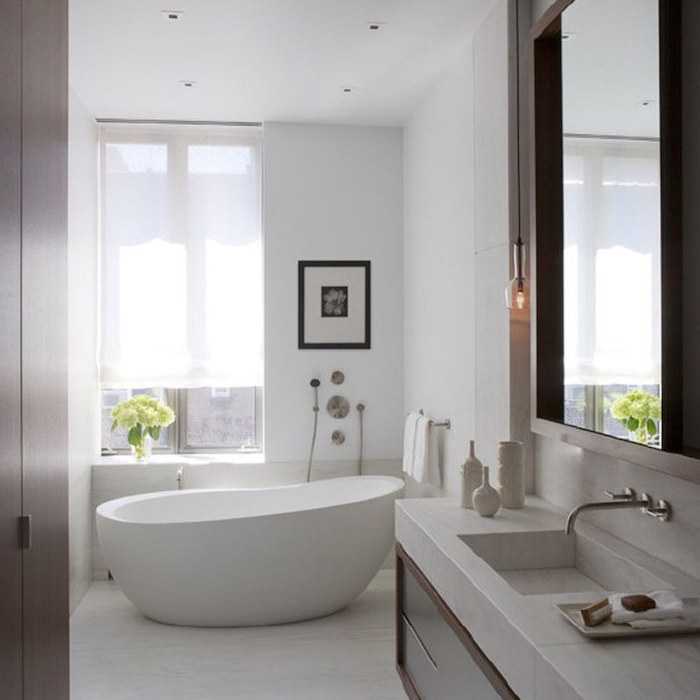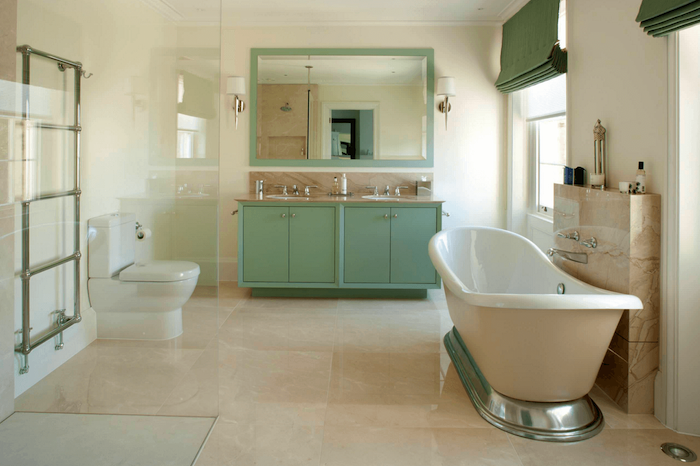 How about an art piece to admire while soaking in the bathtub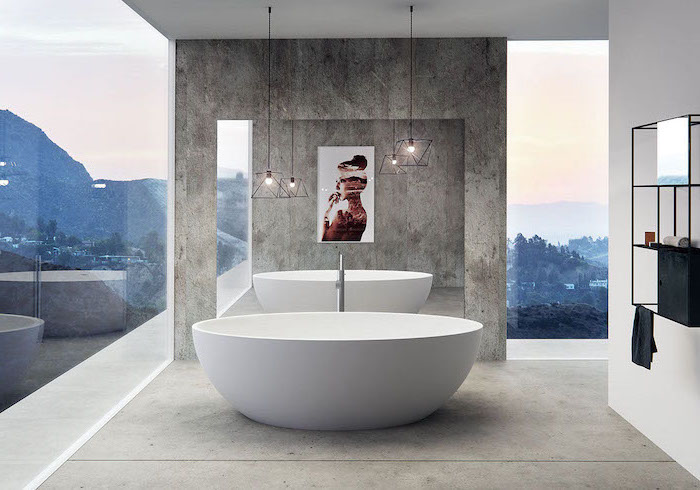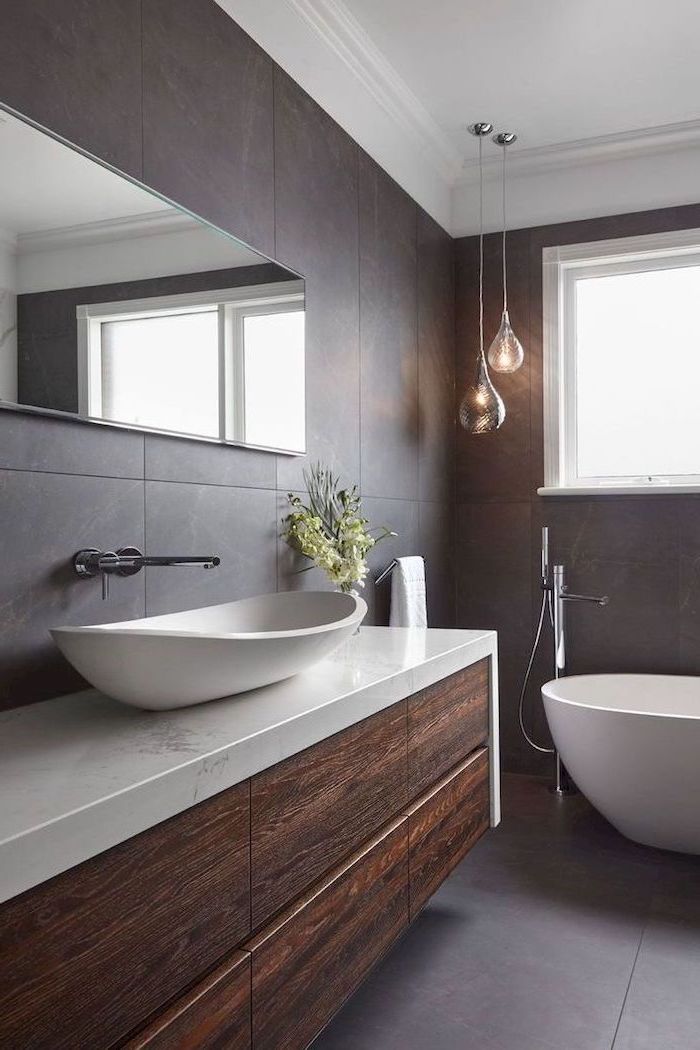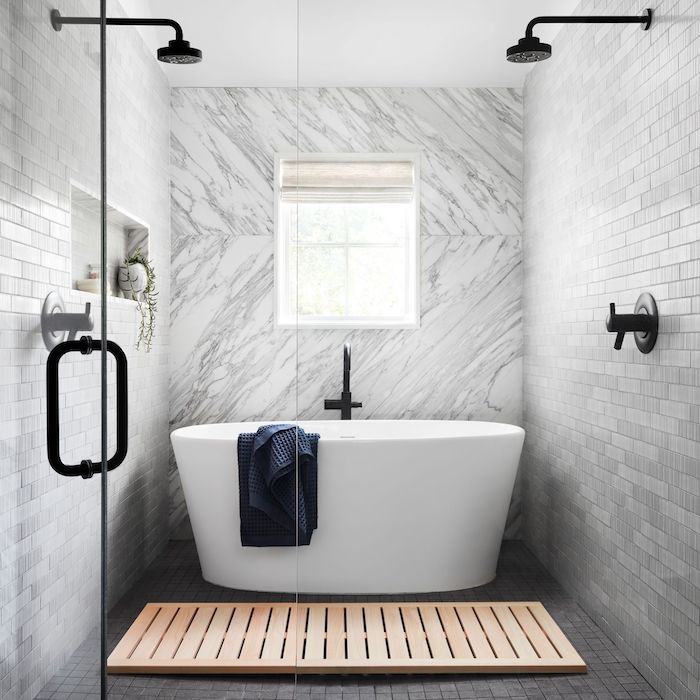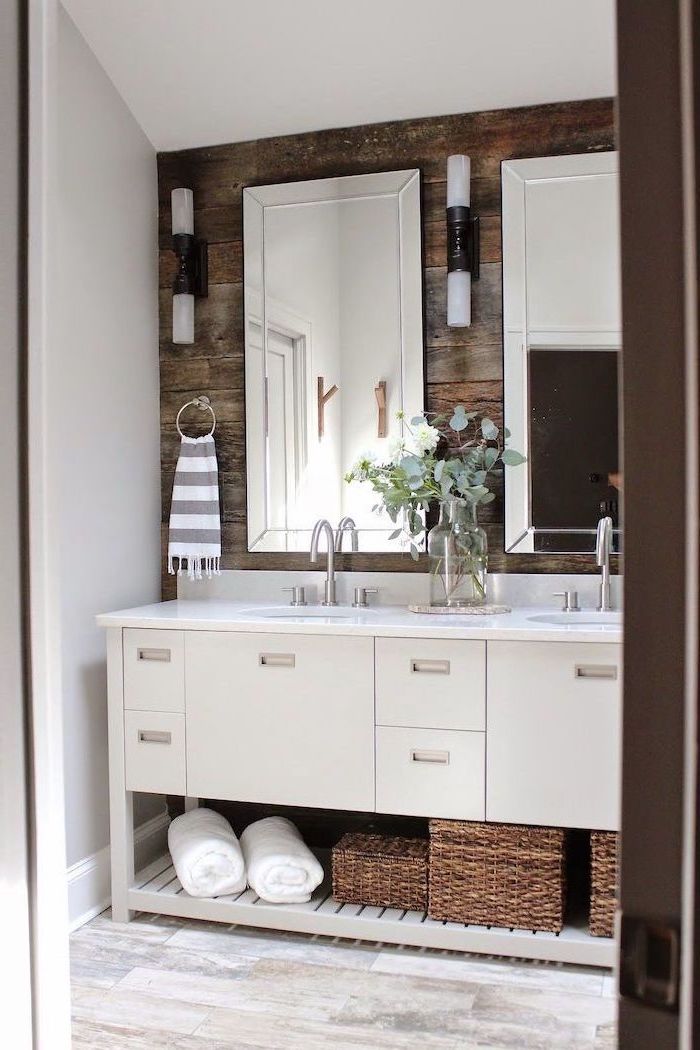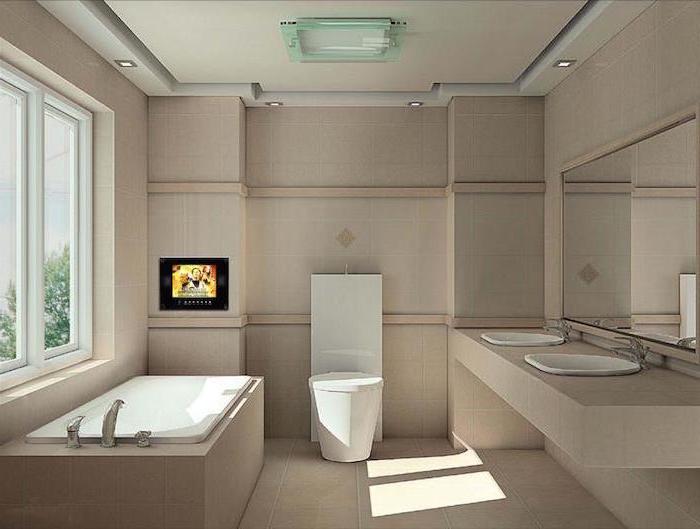 Never underestimate the power of good lighting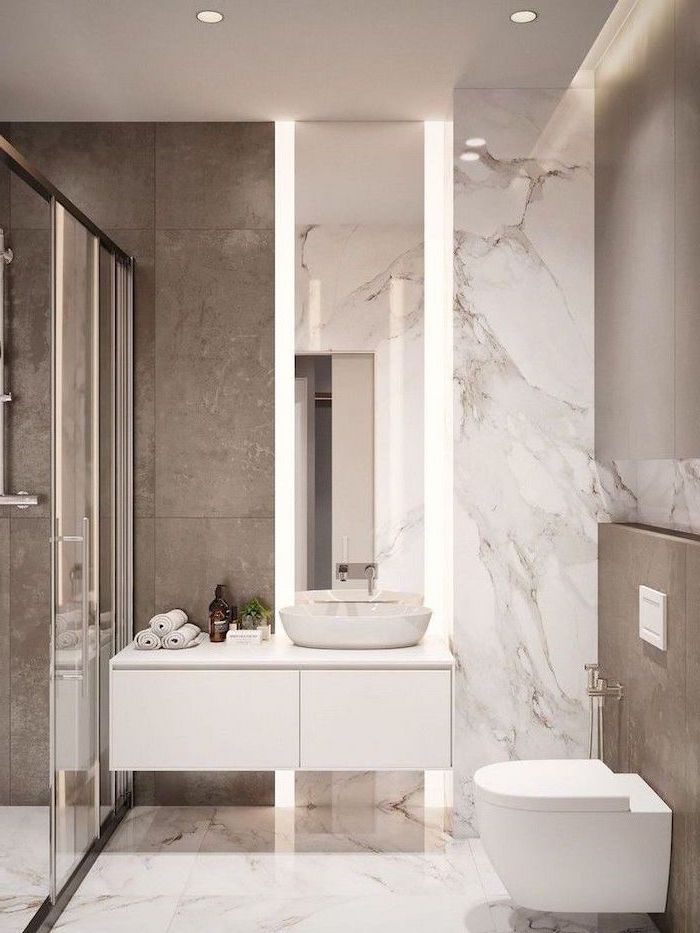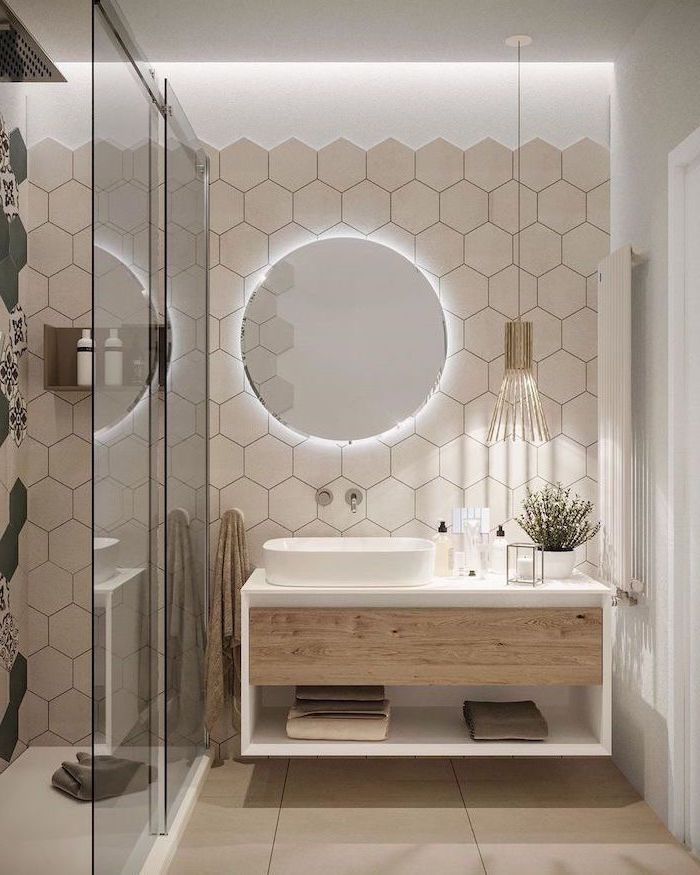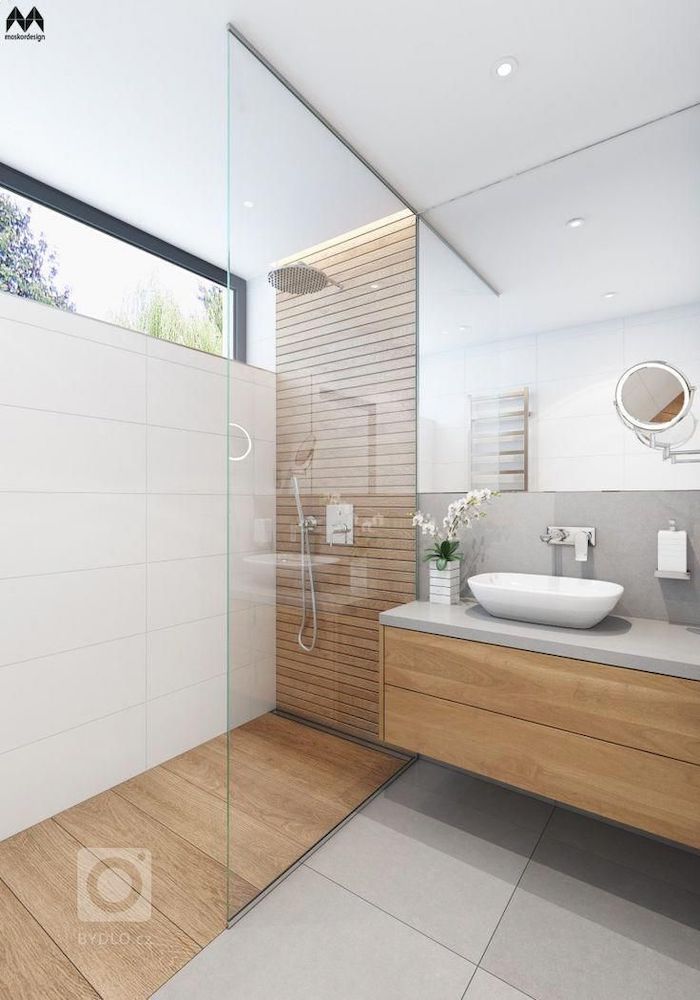 Add as much storage to your bathroom as you can