The Ultimate Guide to Bridesmaid Dresses
Everybody wants their wedding to be perfect. But in order for that to happen, a lot of beforehand planning needs to take place. This includes finding the best venue, picking out a great caterer, choosing the prettiest theme color, and most importantly finding the perfect dresses. However, after the bride has found the perfect piece to walk down the isle with, it's now time for the bridesmaids dresses. It's essential for both the bride and bridesmaids to be involved in the process. After all, if everyone looks equally spectacular and feels comfortable, everything will go much smoother on the special day. However, choosing the best dresses can be overwhelming, to say the least. On top of all the endless number of color options, styles, and silhouettes to consider, there's also the not-so-simple task of finding bridesmaid dresses that fit and flatter each member of your party and still the theme the bride wants. Oh, and let's not forget the fact that everyone has different budgets, preferences, and shopping expectations. We've put together an easy-to-follow, ultimate guide that will simplify the bridesmaid dress shopping experience and make the process go smoothly. So, let's see where to begin.
Choosing the best dresses can be overwhelming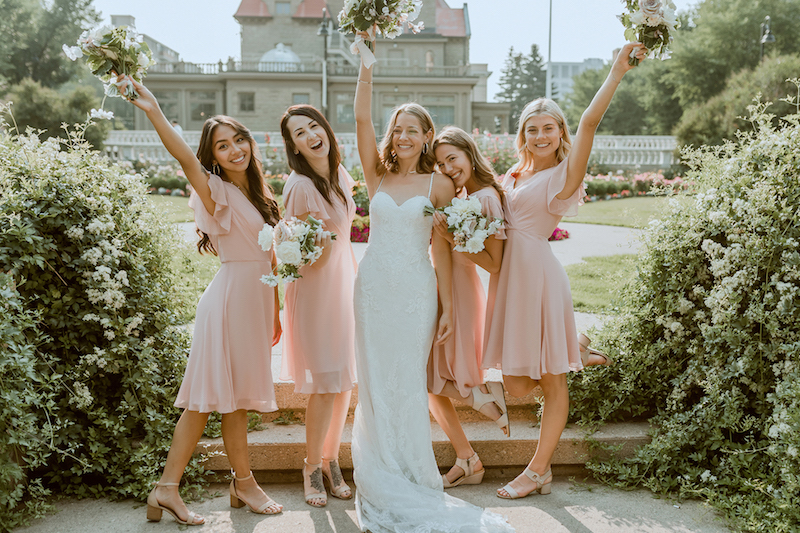 Color is often taken as one of the most crucial factors when considering a dress. Make sure to always take into consideration the wedding theme and color palette. For bridesmaids to be a good fit for the wedding theme, the dresses should match its other elements. However, the bride may have requested all bridesmaids to wear different style dresses. In that case, create a harmonious look by sticking to one color throughout the wedding. Alternatively, you may want each of your bridesmaids to wear a different color. Try a monochromatic look by sticking to shades in the same color range. Additionally, you could also stick to a theme like jewel tones or pastel. Just make sure the colors don't fight with each other. Nowadays, there are plenty of stores, both physical and online, that give you a huge array of choice. Many stores, such as the bridesmaid dresses from Аwbridal, even offer color, style and size customization, which makes the process even easier.
Take into consideration the wedding theme and color palette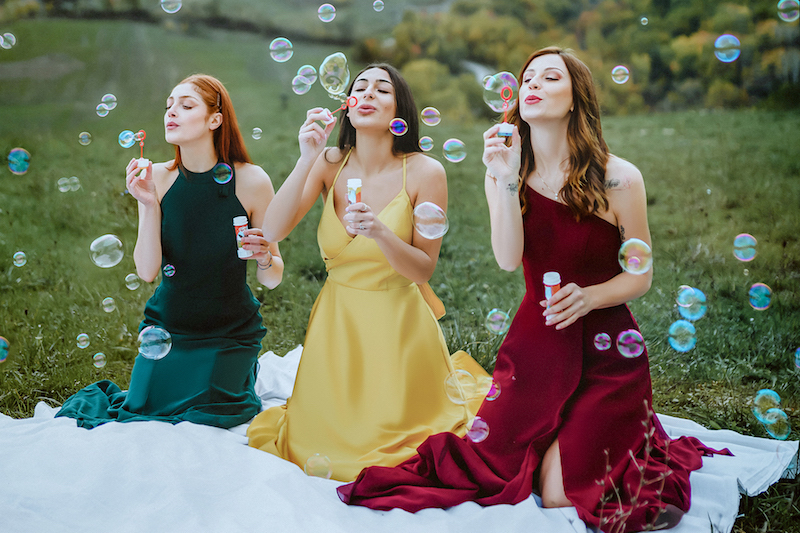 Fabric
Once the color palette is checked off, the fabric choice becomes much easier. Think about things like what time of the year is the wedding going to be? What is the location? Is there a formality level? All of these points will help narrow down the choice. For example, a beach wedding suits long, flowy wrap dresses, while a winter ballroom wedding suits full-length, structured gowns in specialty fabrics such as satin or sequins. Another easy trick is to go back to the bride's wedding dress and draw out ideas of what you prefer. Keep in mind the bride's dress should be picked much in advance than the bridesmaids. Look at the detailing in the veil, the sleeves, and the train. Look for dresses that have similar detailing but are as extravagant. After all, the bridal party should never overdress the bride.
What is the location? Is there a formality level?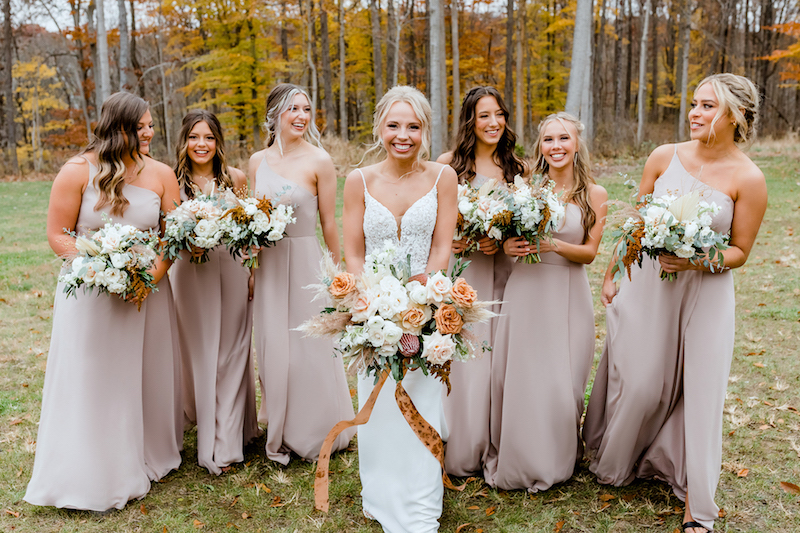 Style
Okay, now that the color and fabric choice, it's time for the style. Make sure to choose from a range of necklines and silhouettes that fit and flatter each person. Since people come in all kinds of beautiful shapes and sizes, finding dresses that will highlight the beauty of each body type is important. This will help ensure everybody fills comfortable and looks stunning. This is why it's crucial that the bride and bridesmaids are all involved in the process. Here are some general tips and rules that can help the decision.
A-line dresses. This style is universally flattering on nearly everyone. This tried, and true style looks amazing on anybody because it's fitted at the natural waist in order to create flattering angles.
Play around with necklines. Specific types of necklines can accentuate certain features. Allow your bridesmaids to experiment with necklines to create a look that everyone loves.
Bridesmaid dresses with sleeves. If one or more of your bridesmaids are self-conscious about their arms, bridesmaid dresses with sleeves can easily solve the problem. Plus, it's also a great choice if the wedding is during winter time.
People come in all kinds of beautiful shapes and sizes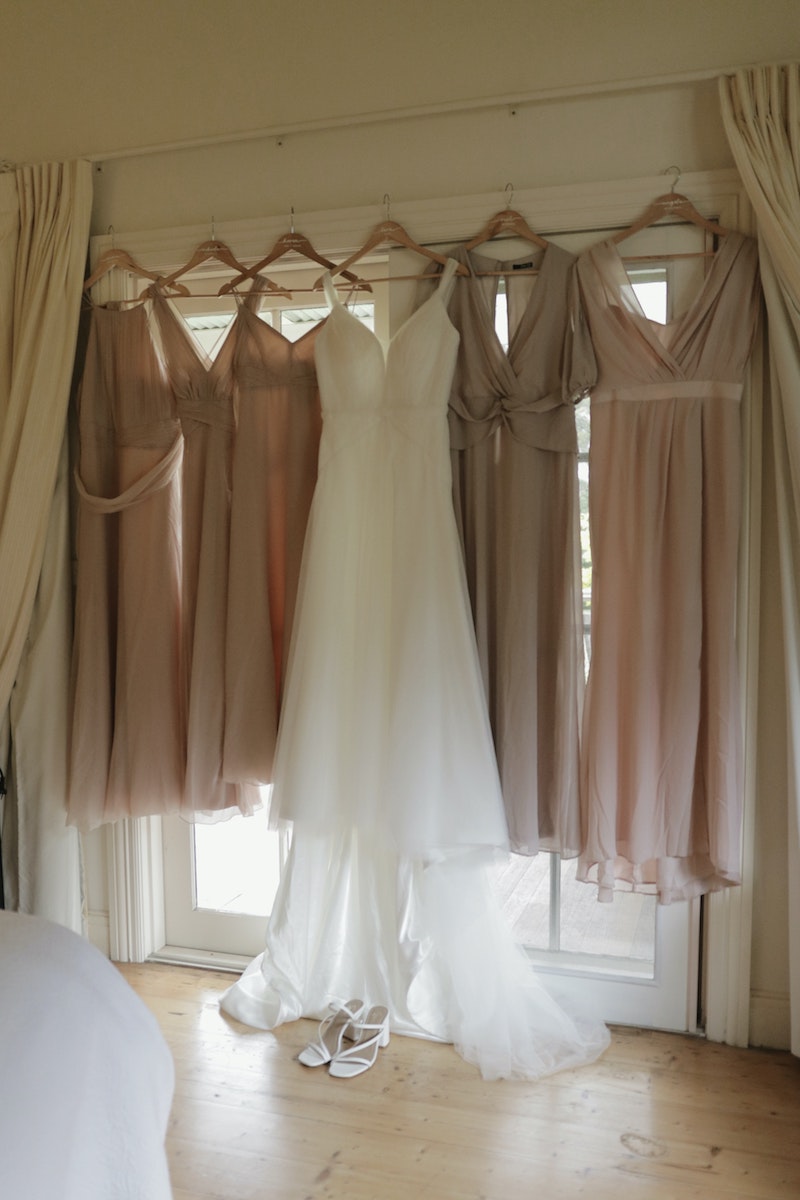 Budget
As a rule of thumbs, bridesmaids are usually expected to cover the cost of their dresses. However, the prices will vary depending on how lavish the wedding will be and what stores you choose to visit. It's best that the bride and the bridesmaids have a conversation beforehand about the budget. While being a bridesmaid is a huge honer, not everybody is going to be thrilled to spend $200 on a dress, they will probably never wear again. Money may be a sensitive topic to some, so be careful when approaching the subject. Once you have a sense of what each of your bridesmaids can reasonably afford, you can set a budget that won't stress everyone out. Even if their budgets are mid-range to high-end, it doesn't hurt to browse affordable bridesmaid dresses that will make everyone look good for a lot less.
Set a budget that won't stress everyone out