The top wedding dress trends of 2021 & 2022
Wedding fashion is a separate branch of the fashion industry, which, along with general fashion trends, has its own secrets and subtleties that you should definitely know about if you really want to be irresistible on your own wedding day.
It is believed that wedding fashion is a very conservative thing. White color, floor-length, lush wedding dresses, Empire style or tight-fitting "mermaid" – this is probably all that designers offer brides from year to year. Undoubtedly, all this is fabulously beautiful, but – more or less – traditional. Modern wedding dresses that follow all world trends look completely different. What surprises await brides in the fall of 2021 and the spring of 2022?
Choosing a wedding dress can sometimes be overwhelming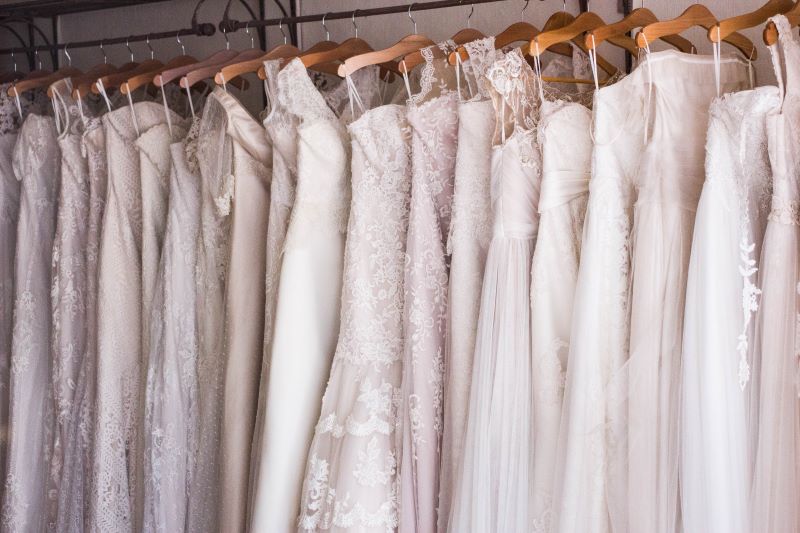 Minimalism
Modern brides are increasingly abandoning voluminous dresses with tulle and crinoline, a dozen underwear and are moving towards minimalism. This trend has been well tracked at the shows from Paris Haute Couture Week. Model Margaret Qualley (daughter of the famous American actress Andie MacDowell) in a laconic ivory wedding dress closed the show for Chanel.
The creative director of the Balenciaga brand Demna Gvasalia also chose a minimalist style for the wedding look in his first couture collection. The designer presented to the public a white dress made of silk satin and gazaar, completely covered with a massive veil.
Modern brides seem to be moving towards minimalism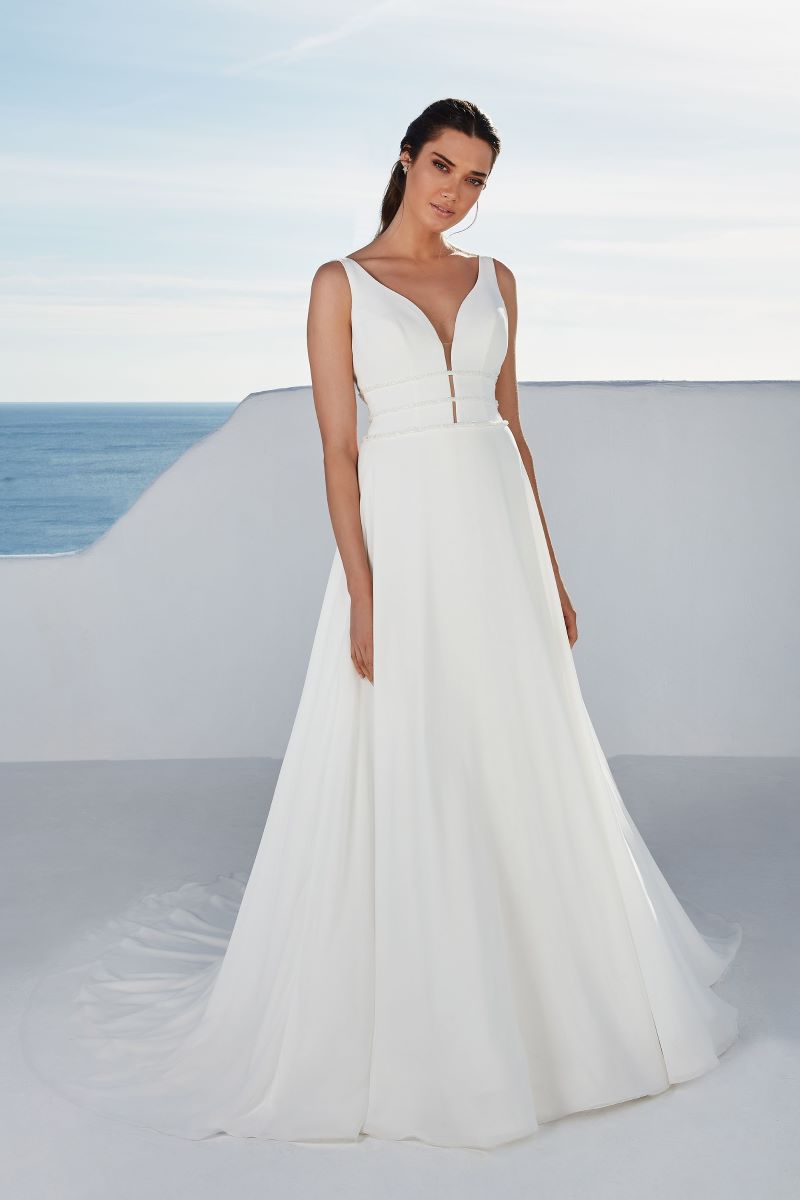 Unusual color palette
I don't know whether it will surprise anyone or not, but many fashionable wedding dresses are made in new solutions, which offer a completely new look at the bride's image. Trendy bridesmaid dresses are not always the usual color, as it was before.
In the new collections of wedding dresses, there was a place for bold and very creative solutions – bright dresses in red, yellow, purple colors will compete with dresses and will be the main trend.
It is worth noting that fashionable wedding dresses 2021-2022, in whatever color they are presented, will demonstrate all the charm and charm of the bride.
In addition to bright colors, wedding dresses from 2021-2022 will be trending in cream, milk and powdery shades. Feathers, pearls, lace, as well as bows, multi-colored ribbons and draperies can become the main decorative elements of a fashionable bride's dress, which will make top wedding dresses gorgeous.
Others choose different color palettes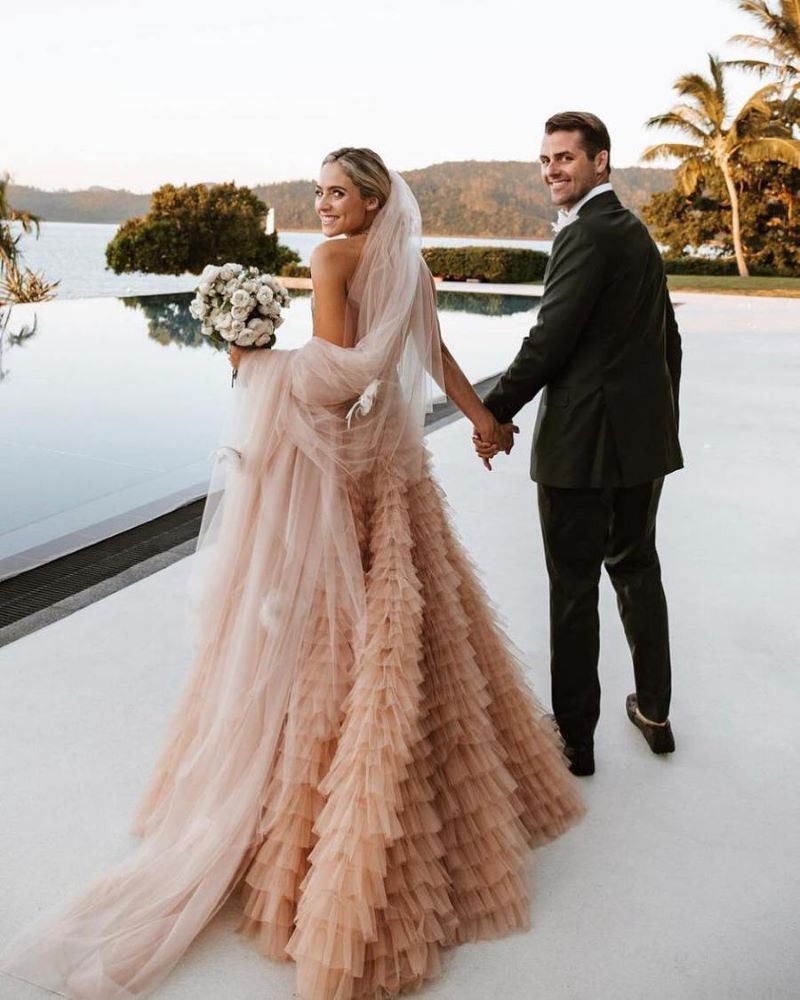 Tiered wedding dress skirts
The desire for a light but luxurious look has always been in trend and is embodied in models with layered skirts covered with tiers of ruffles, and 2022 is no exception. Ruches and flounces can have different widths, contrasting textures, asymmetrical patterns, ornaments made of scallops or feathers, which we talked about earlier.
It is important to take into account the fact that wedding dresses with wide flounced skirts are not suitable for short brides, as they can make the figure squatter and fuller.
An elegant addition to a layered skirt with tiers of ruffles is a laconic corset bodice with bare shoulders or a closed top with tight or loose sleeves. A V-neckline will add grace and piquancy.
Tiered wedding dress skirts make you feel like a princess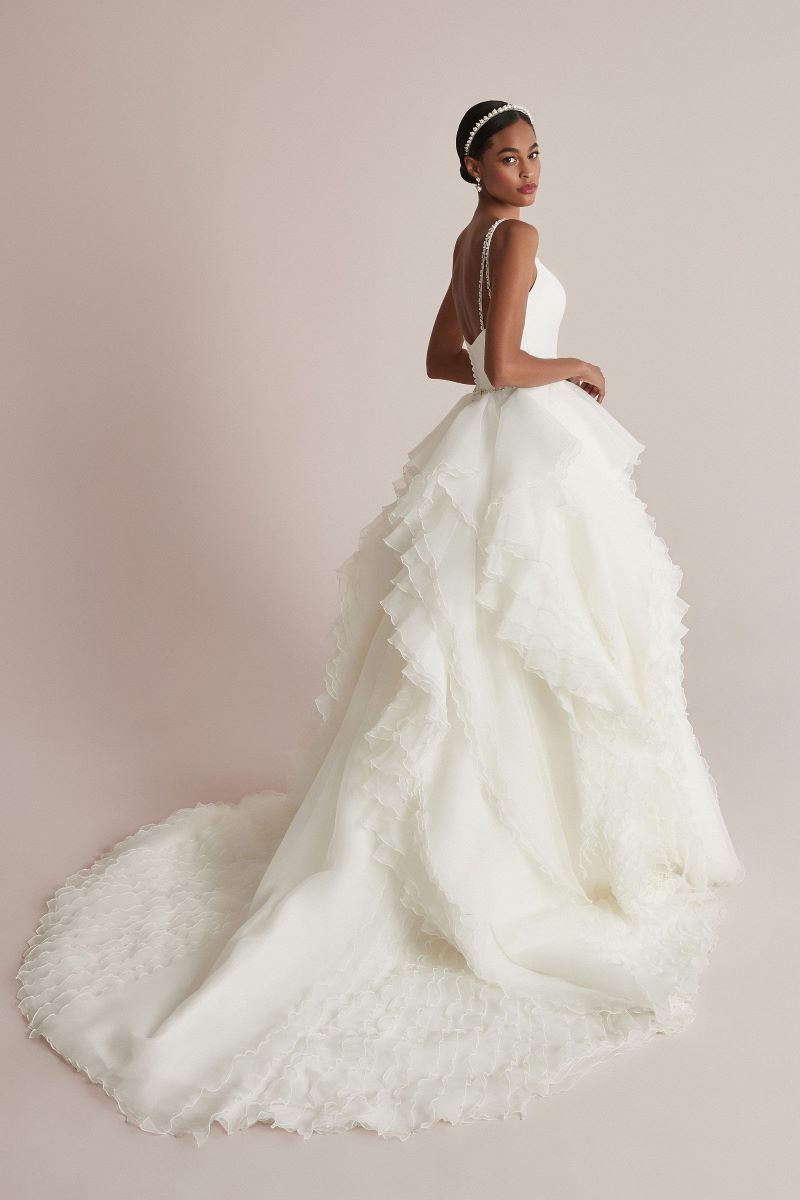 Lowered shoulders
The trend for looks with a dropped shoulder line not only adorns the red carpet and all kinds of world shows by well-known fashion houses but is also a fashionable technique in wedding looks in 2021 and 20222. One of the most attractive ways to emphasize women's fragility and grace, while not forgetting about sensuality and temptation, is to choose a wedding dress with off the shoulders.
 However, this technique works best when paired with a minimalistic cut, which we talked about at the beginning of our article. An off-the-shoulder wedding dress is always a romantic design and has free silhouettes. So, by exposing the line of the collarbones and slightly opening the neckline, the right balance is created between sexuality and modesty, which cannot but decorate the bride's wedding image.
You have a few options when it comes to off the shoulders looks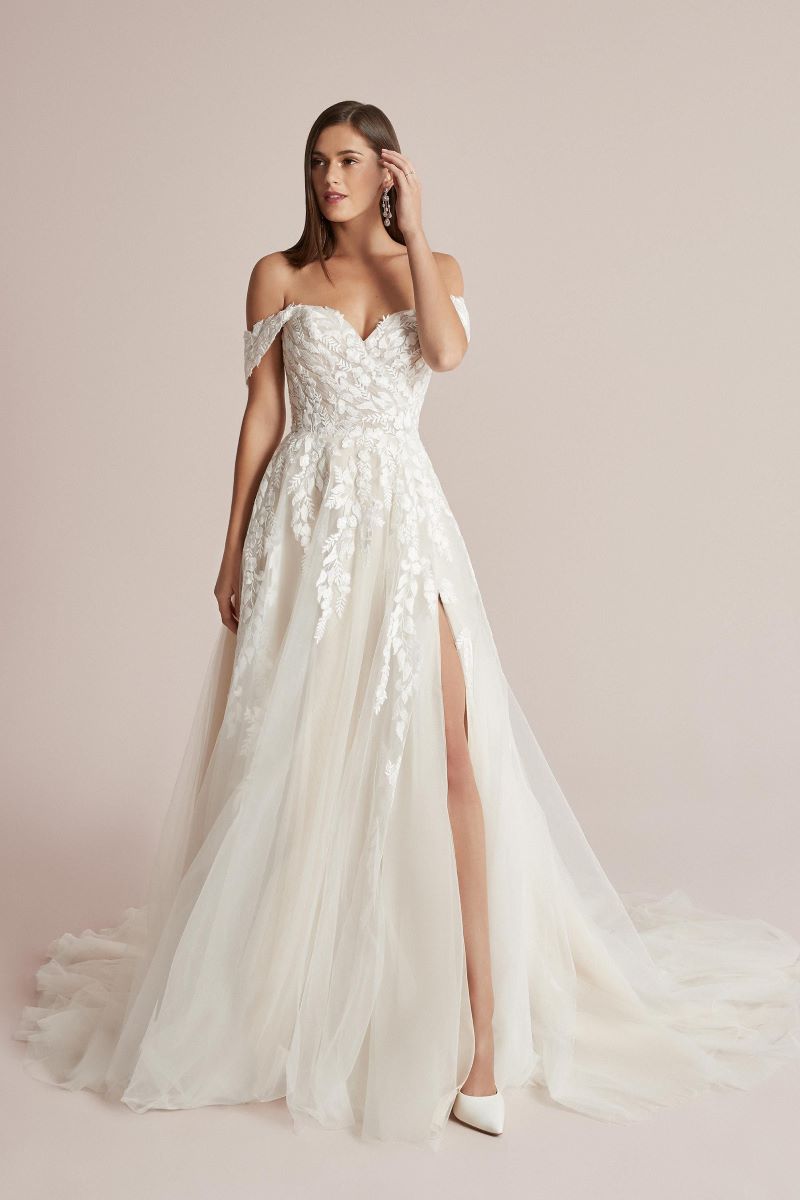 Backless Wedding Dresses
 What could be more seductive than an open back combined with a modest dress? Dresses with an open back were in fashion in 2021: straight "sheath"; lace "mermaid"; flared from the hip; narrow with long sleeves; classic bustiers. In 2022, these positions will not yield, especially in combination with a lace veil-train, an open back will look gentle and touching. Dresses with sheer lace backs give the same effect.
Dresses with bare back are absolutely stunning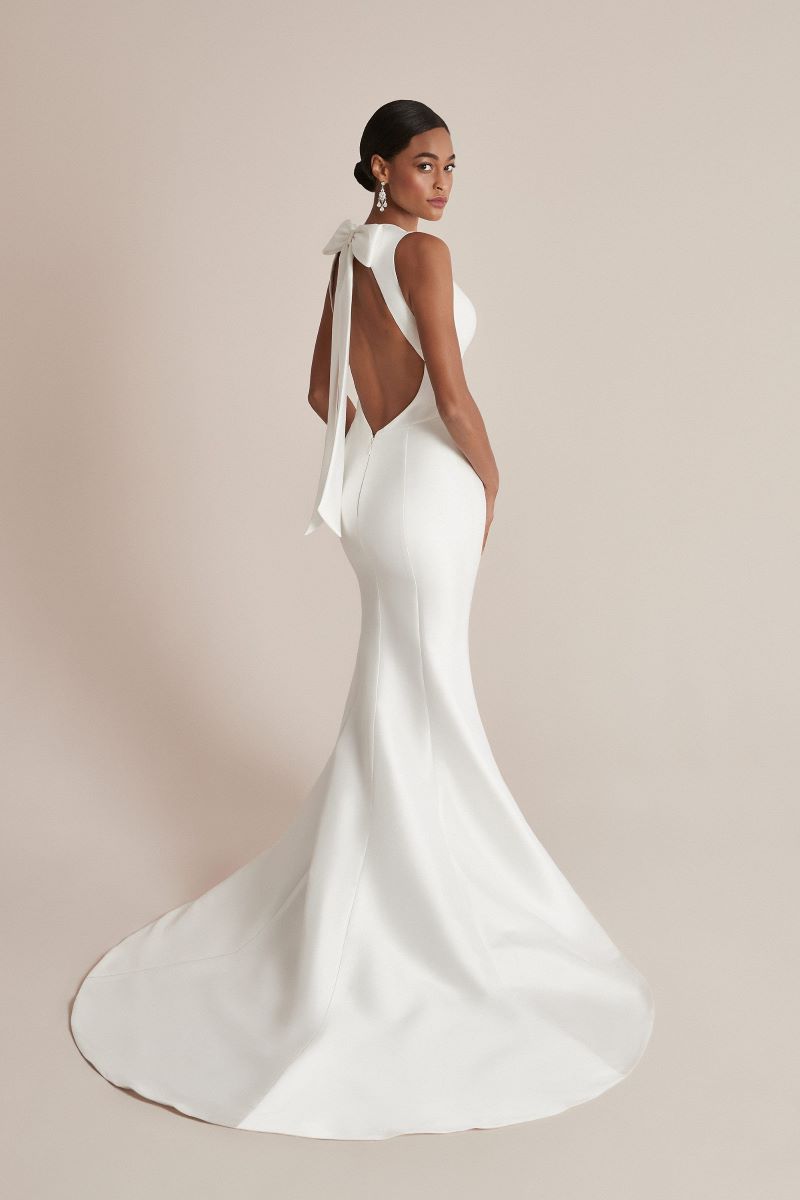 Summing up the fashion trends, it is worth mentioning that a deep neckline combined with short or long sleeves will certainly be an unforgettable effect on your look.