Gorgeous long sleeve wedding dresses, fresh off the 2019's runways
First of all, if you are reading this article, congratulations! You are getting married and we couldn't be happier for you! We know how much hard work gets put into organising a wedding, which is why we try to help as much as possible. So far, we have covered engagement rings, wedding decor and wedding hairstyles. So, now, it is time to look at the most important thing. Her majesty – The Dress. Specifically, long sleeve dresses. We are going to give you some tips on choosing the best fit for you and we also have a versatile photo gallery to choose long sleeve wedding dresses from. Enjoy!
Saying "Yes" to the dress is a big deal, especially if you are not really sure what you are looking for. Going to a bridal store can be overwhelming. They make you try on so many dresses. Plus, there's the pressure of your family liking the ones you don't like. So, before you head to the store, we advise to at least pick a style that is going to suit your body type. It will make things much easier, trust us! In this article, we are going to explain the different types of wedding dresses, as well as flattering necklines for each body type. So, keep reading to find the one, which is going to suit you best.
Long sleeve wedding dresses – elegant and sophisticated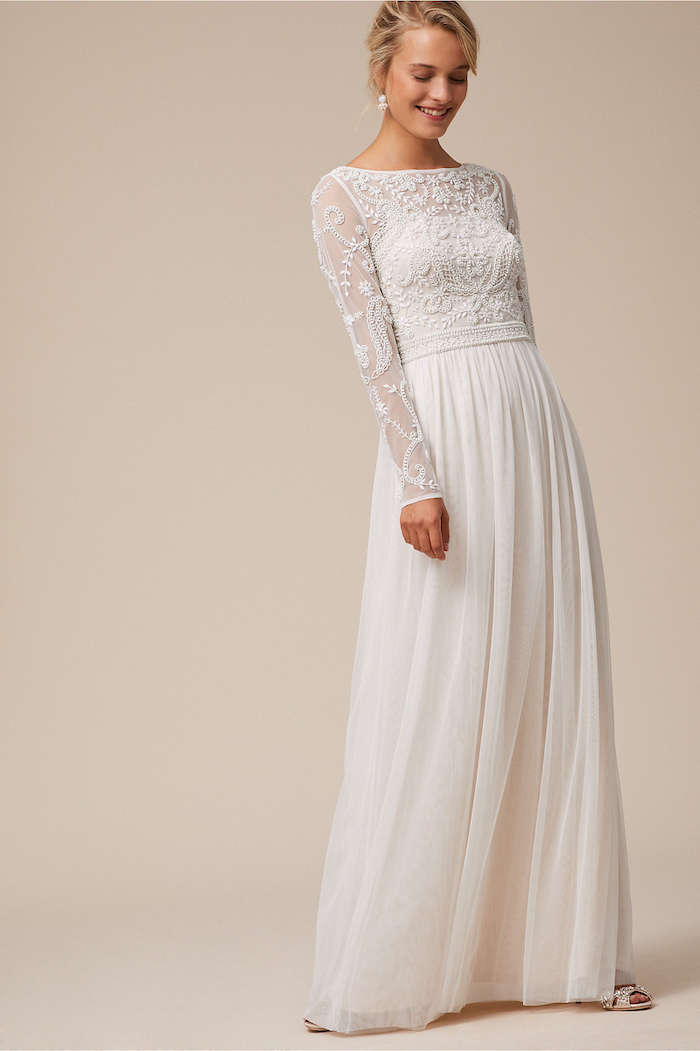 What are the most popular wedding dress silhouettes?
Sheath wedding dress. They are fitted, straight cut dresses, which follow your body's silhouette. They emphasise your waist. This type of dress is perfect for slim figures and petite brides. Because it falls straight down, it is also a very comfortable fit for any bride who wants more space in her dress.
Ball gown. If you want to feel like a princess then this one would be perfect for you. They are made up of a fitted bodice, usually a corset, and a wide skirt. The skirt is usually made of layers of tulle. So, if you want to emphasise your waist, get a ball gown. Keep in mind that it is very big, so it may not be the most comfortable dress. But, hey, you only get to be Cinderella once.
A-line. This type of dress silhouette is somewhat of a cross between a sheath dress and a ball gown. It is called that way, because of the "A" shape that the skirt creates. So, if you want a dress that doesn't fully fit your figure, but it is also not huge, choose the a-line type.
Fit and flare. If you want to show off those curves, but also want to move more freely, then this type of dress is perfect for you. It fits your body perfectly through the waist and hips and gets a bit looser right above your knees. This gives you a bit more room to move and makes walking a bit easier.
Mermaid. We agree that mermaid dresses look gorgeous, however, keep in mind that they are probably the most uncomfortable, too. We do not advise getting this type of dress if you are planning on getting loose on the dance floor. This type of dress hugs your body tightly and only gets looser under the knees, which also makes it difficult to move and walk in.
Beautiful example of a fit and flare wedding dress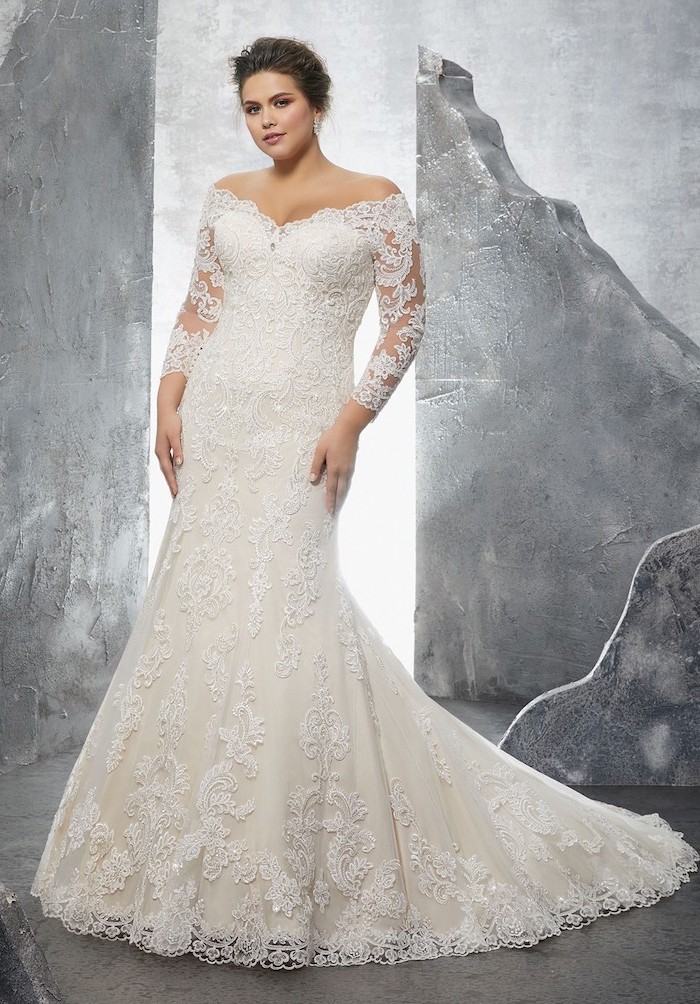 What are the most popular types of wedding dress necklines?
Boatneck / bateau. Perfect for long sleeve wedding dresses. It has a wider opening and grazes your shoulders just enough to show your beautiful décolletage.
V-neckline. Called that way because of the plunging neckline, which forms the letter "V". It is another neckline that goes perfectly with long sleeves or straps.
Off the shoulder. With the straps resting just under your shoulder, this neckline shows off your collarbones. It is one of the most elegant necklines.
Sweetheart. The sweetheart is easily recognisable by the heart shape it creates. It creates the illusion of curves and looks perfect on a strapless dress.
Strapless. Need we say more, the neckline actually goes through your chest without any straps.
Illusion. This type of neckline usually uses soft, see through fabric in the colour of your skin, which covers your neck and goes along the top part of the bodice. It is a perfect fit for more modest brides who want to show off more, but want to keep everything in.
Halter. Perfect for brides who want to show off their shoulders. The halter neckline ties on the back of your neck, emphasising your shoulders.
Scoop. This is a very flattering neckline, suitable for any figure. It creates a rounded neckline.
Gorgeous off the shoulder wedding dress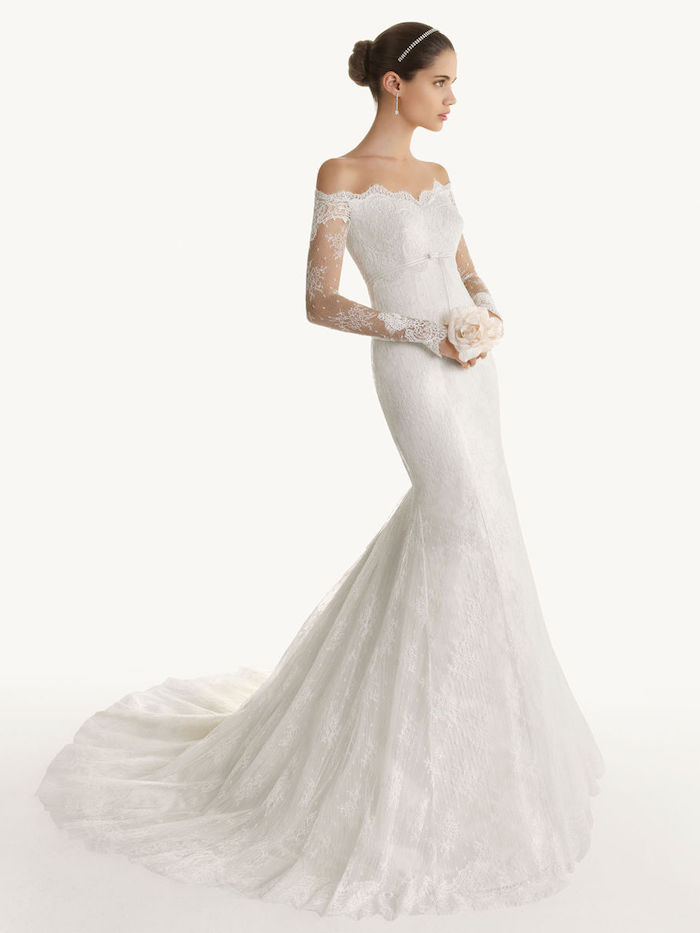 Long sleeve wedding dresses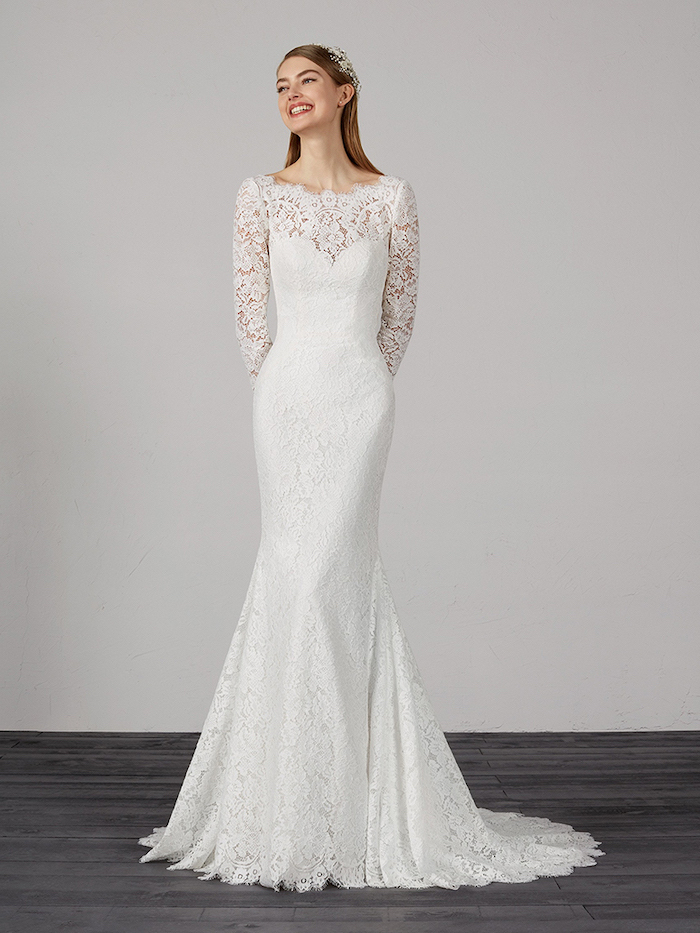 Stunning ball gown with a V-neckline
Beautiful, lace fit and flare wedding dress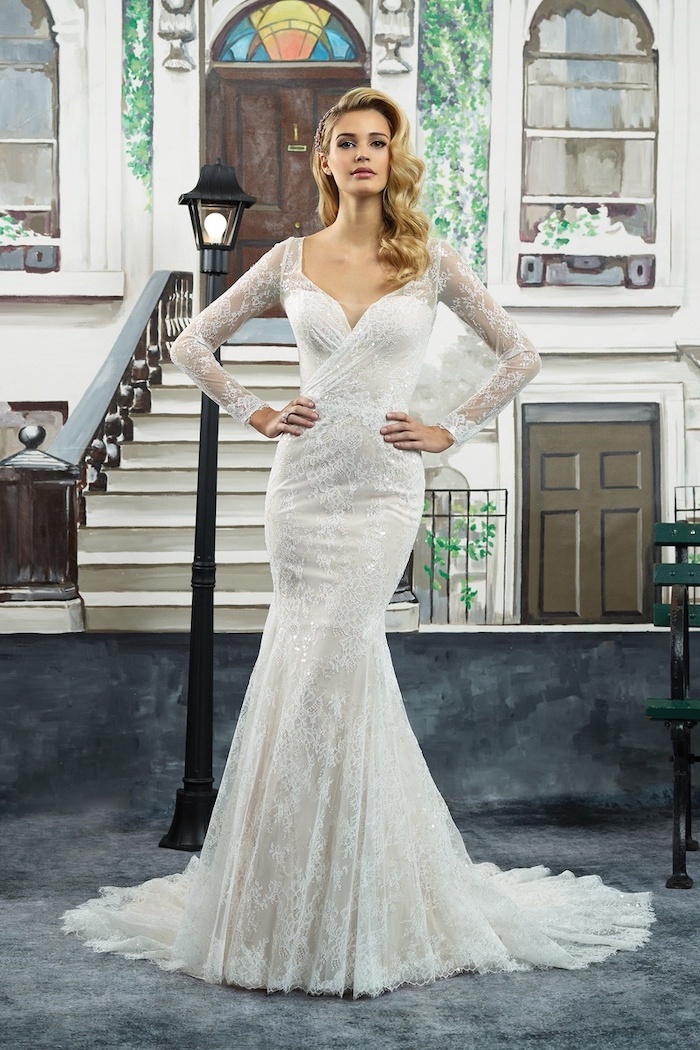 Simple, but super elegant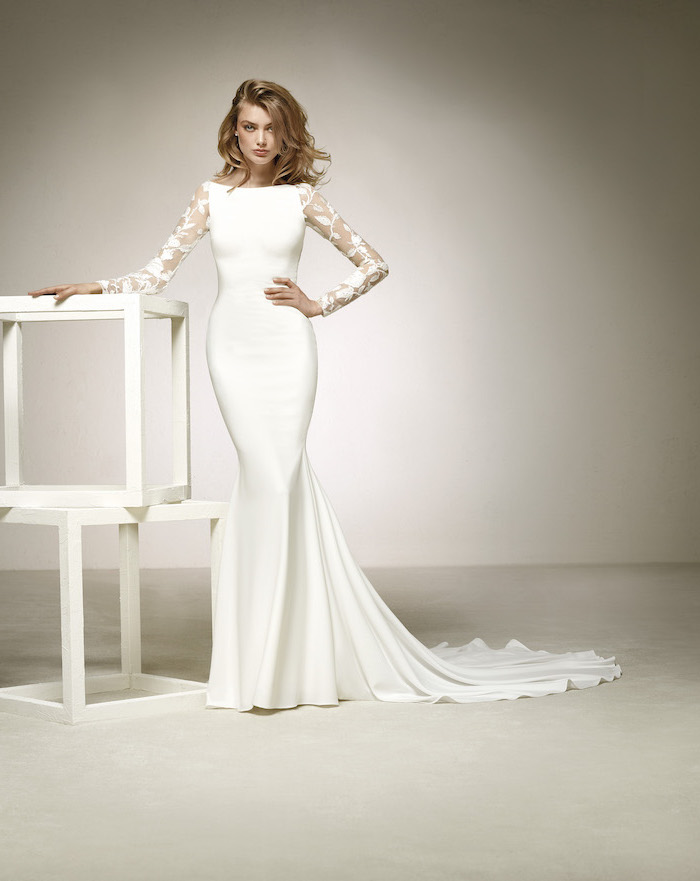 Minimalistic wedding dress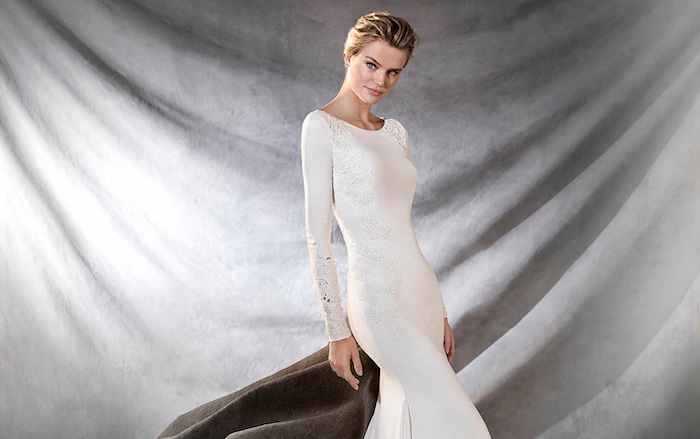 Look at all that lace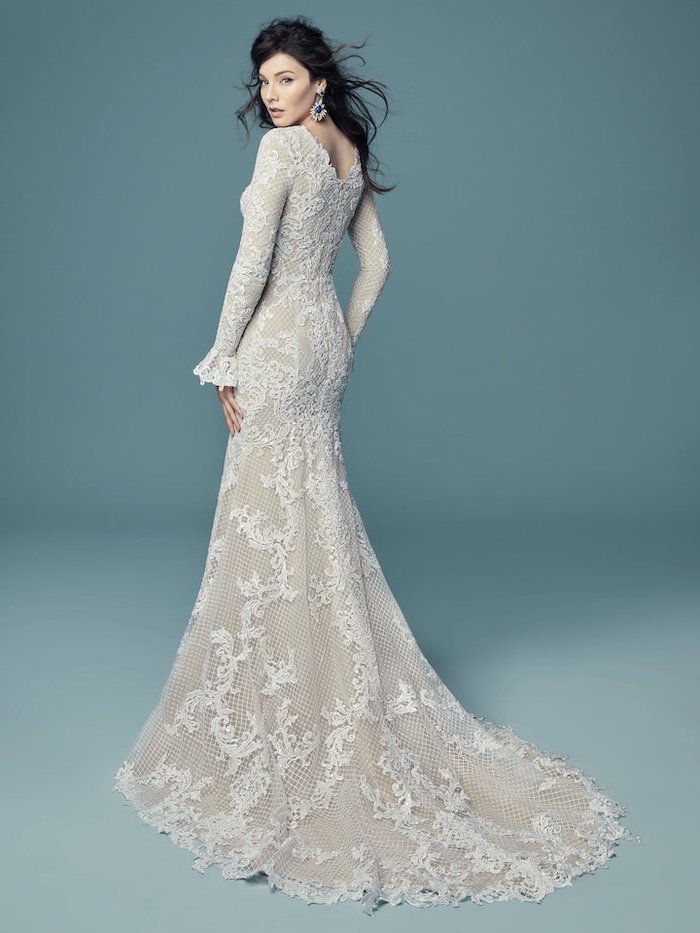 Interesting and creative wedding dress design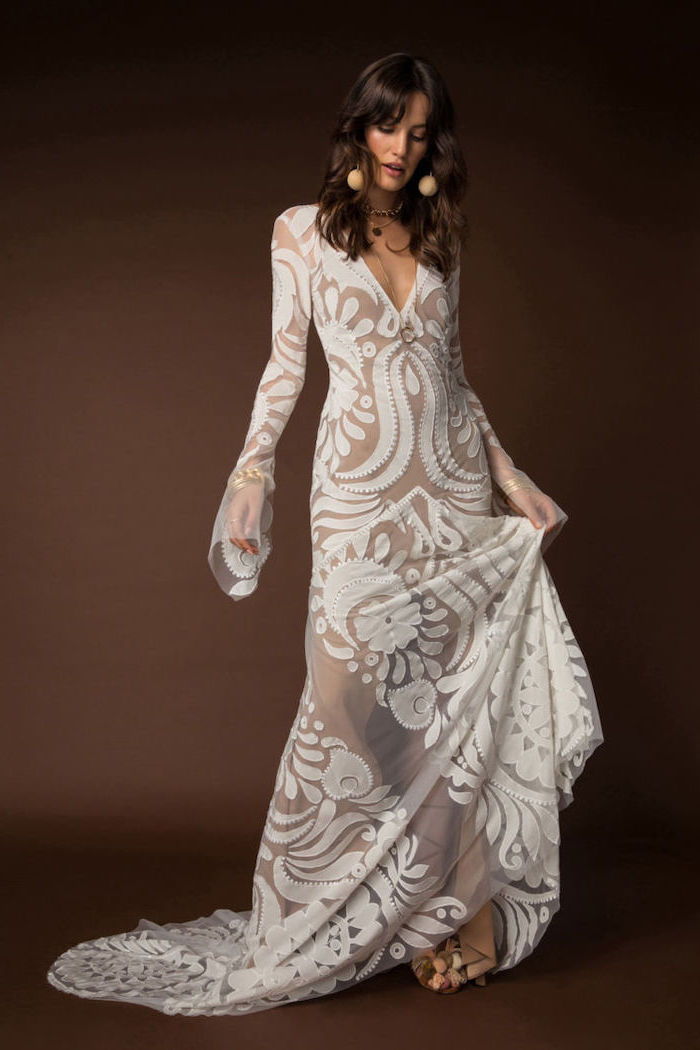 Wedding dresses with sleeves and bare backs look stunning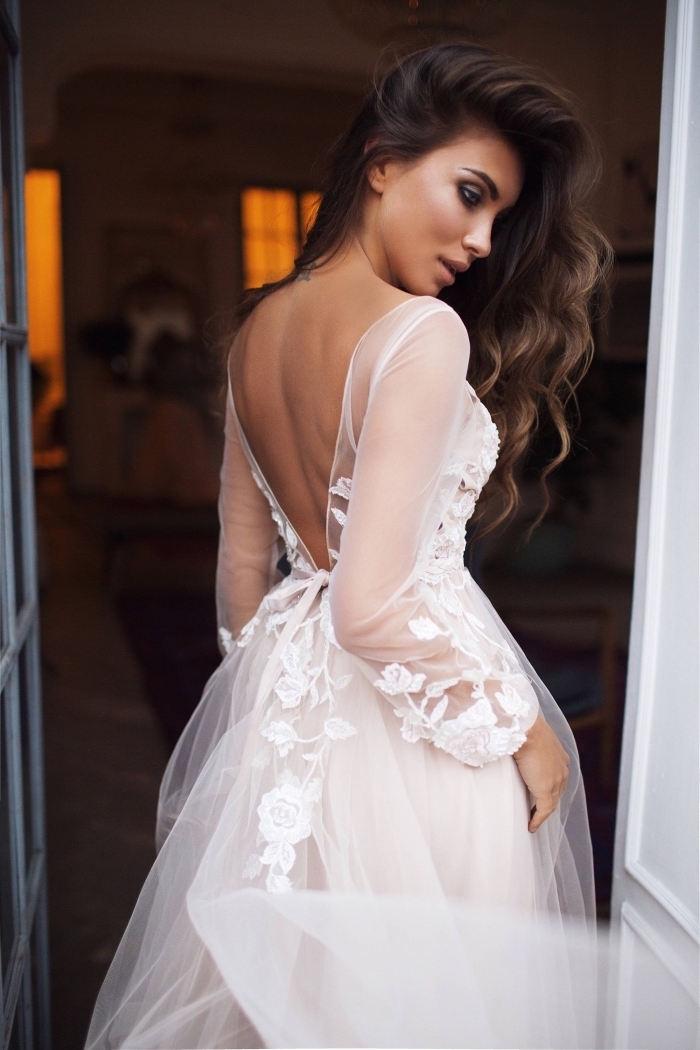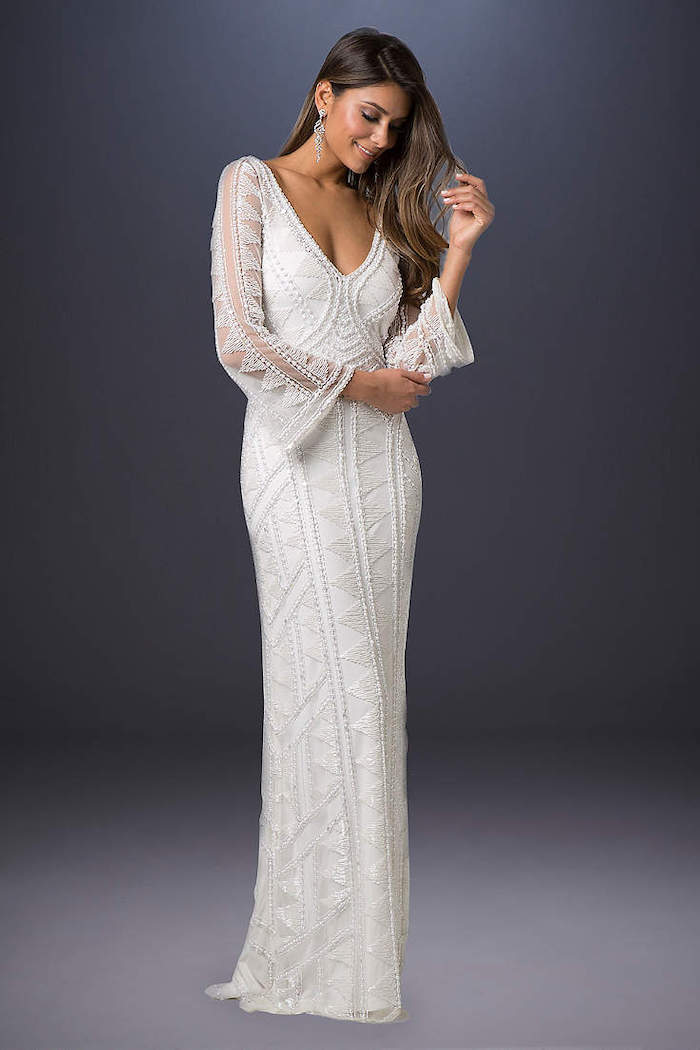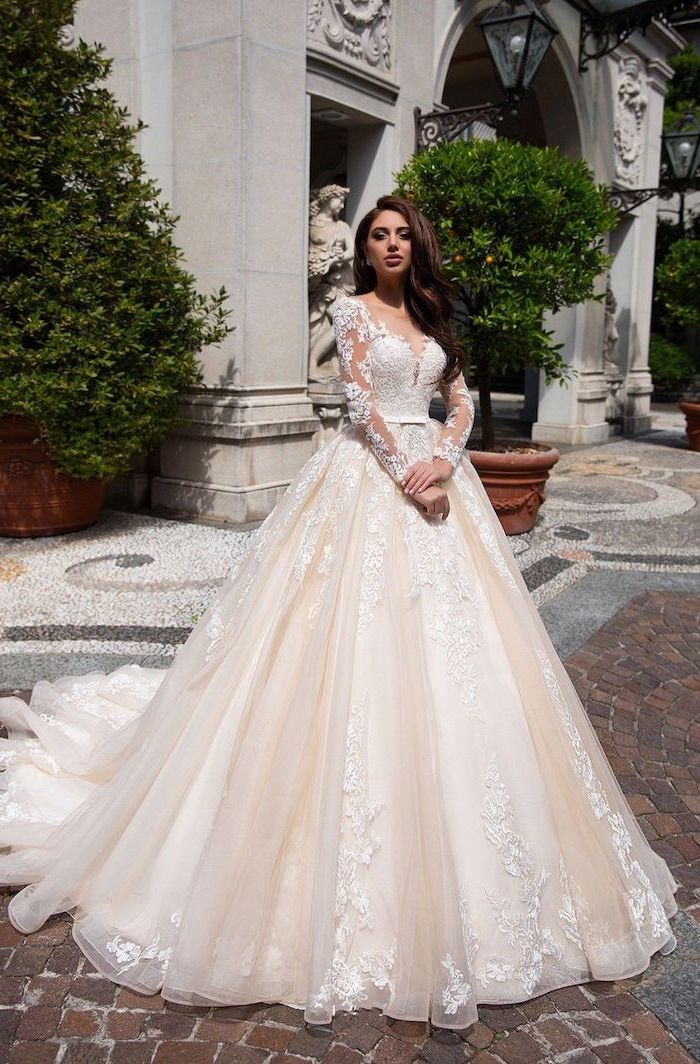 A-line wedding dresses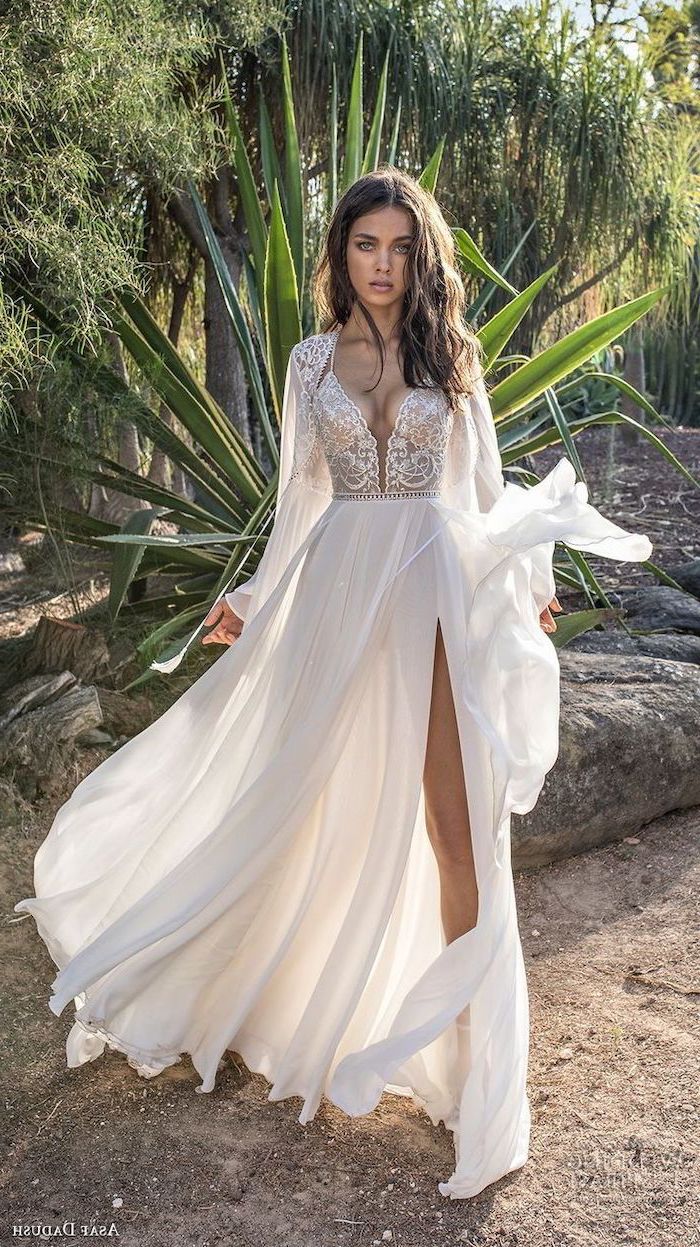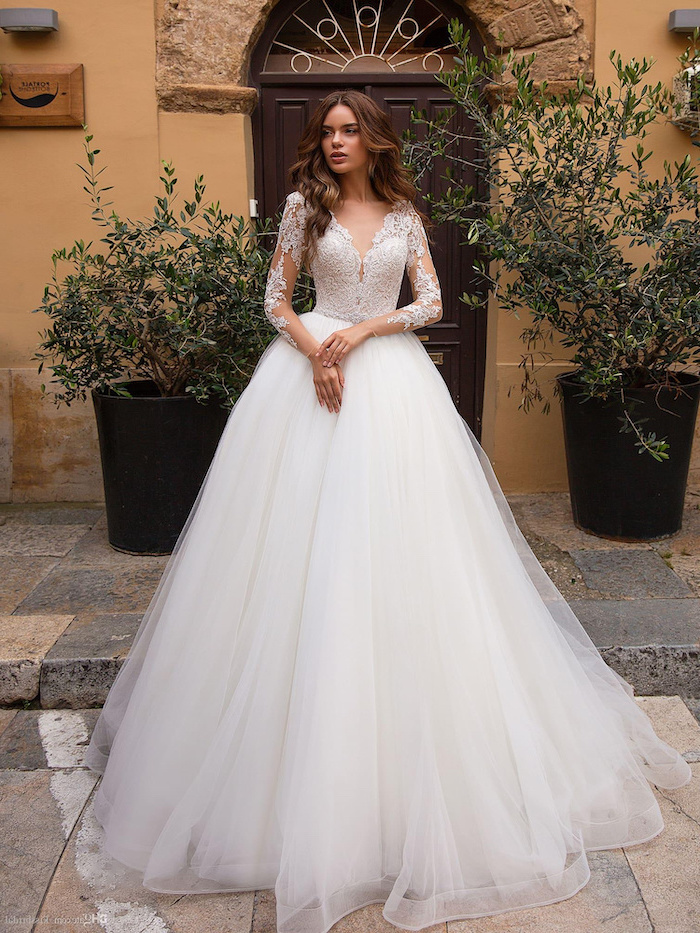 Fit and flare wedding dresses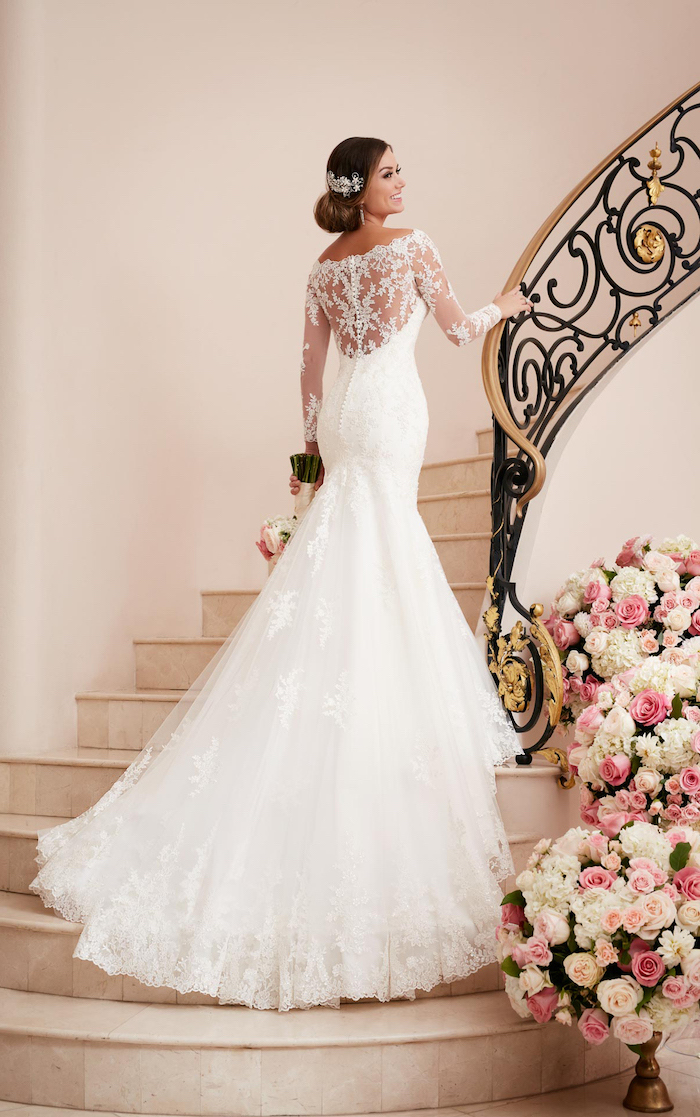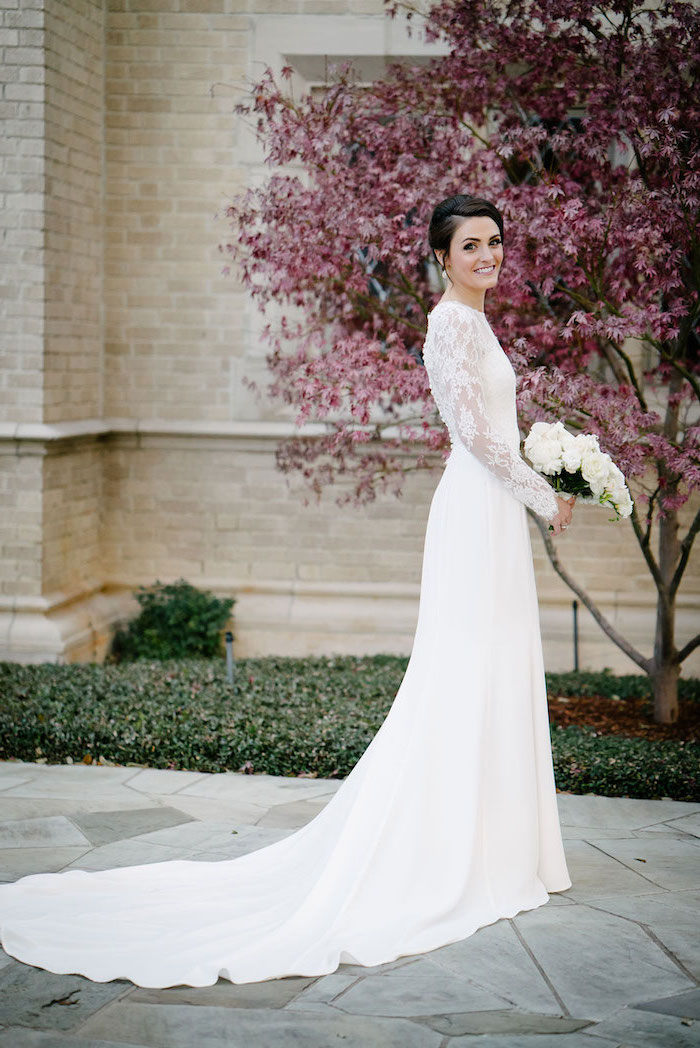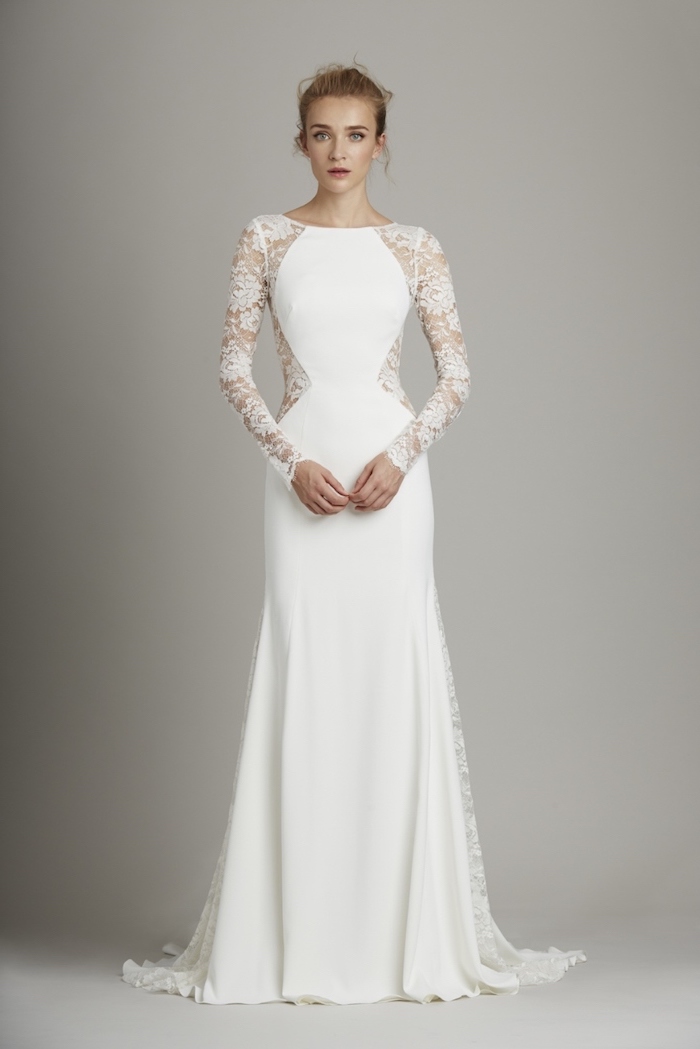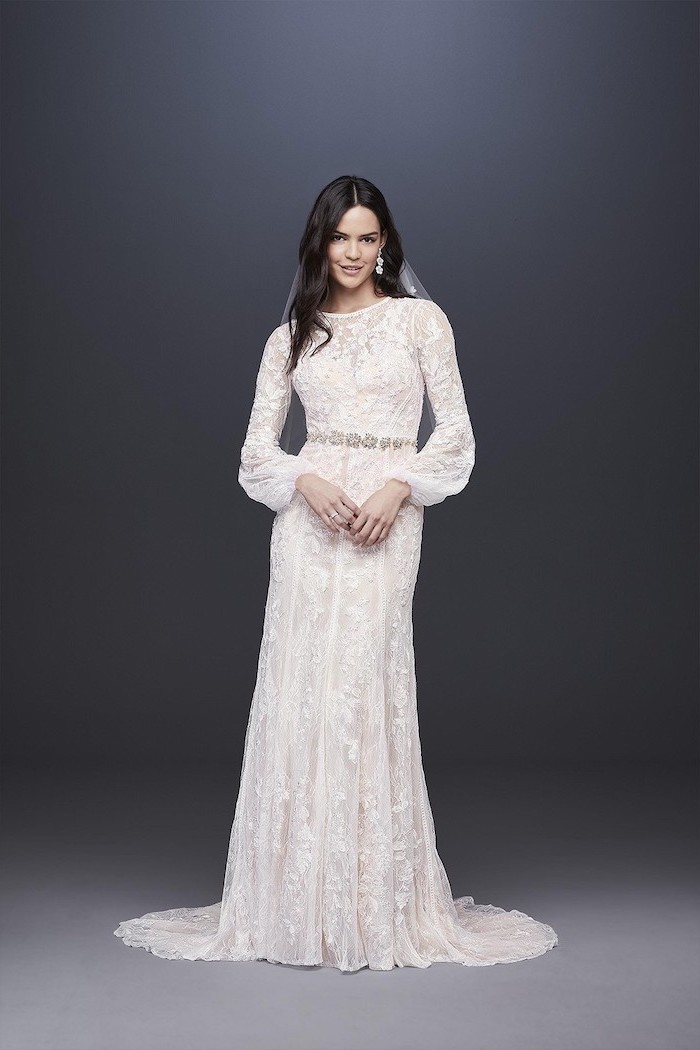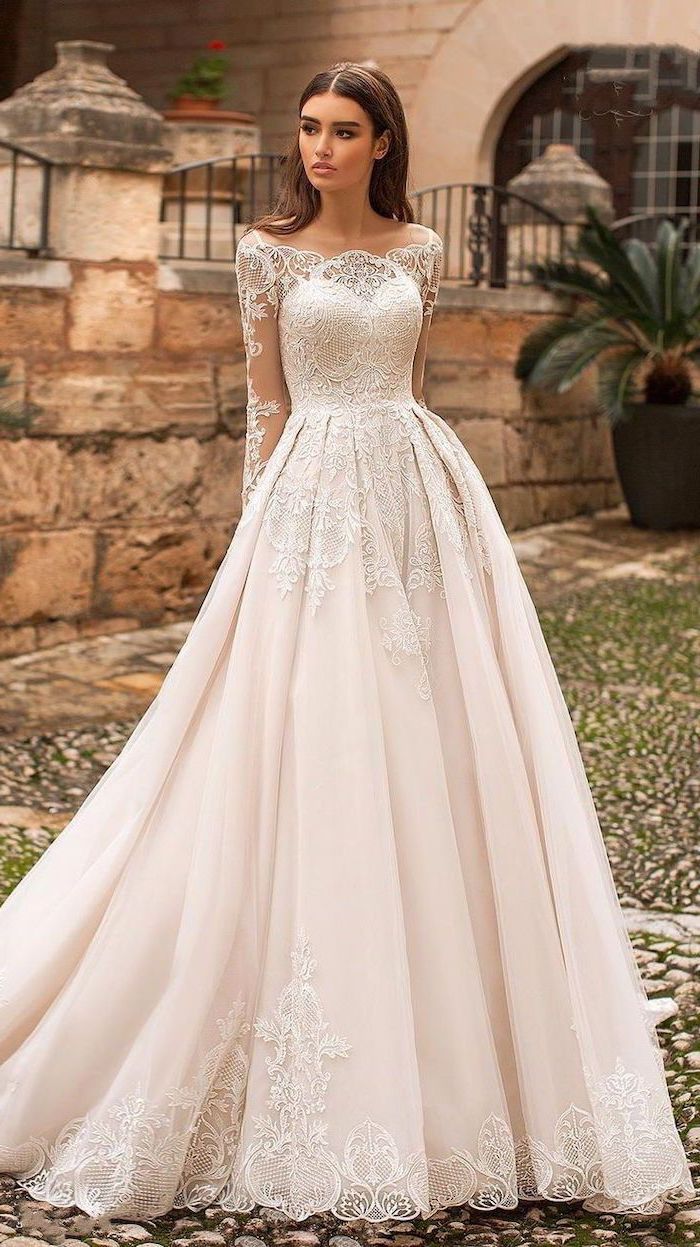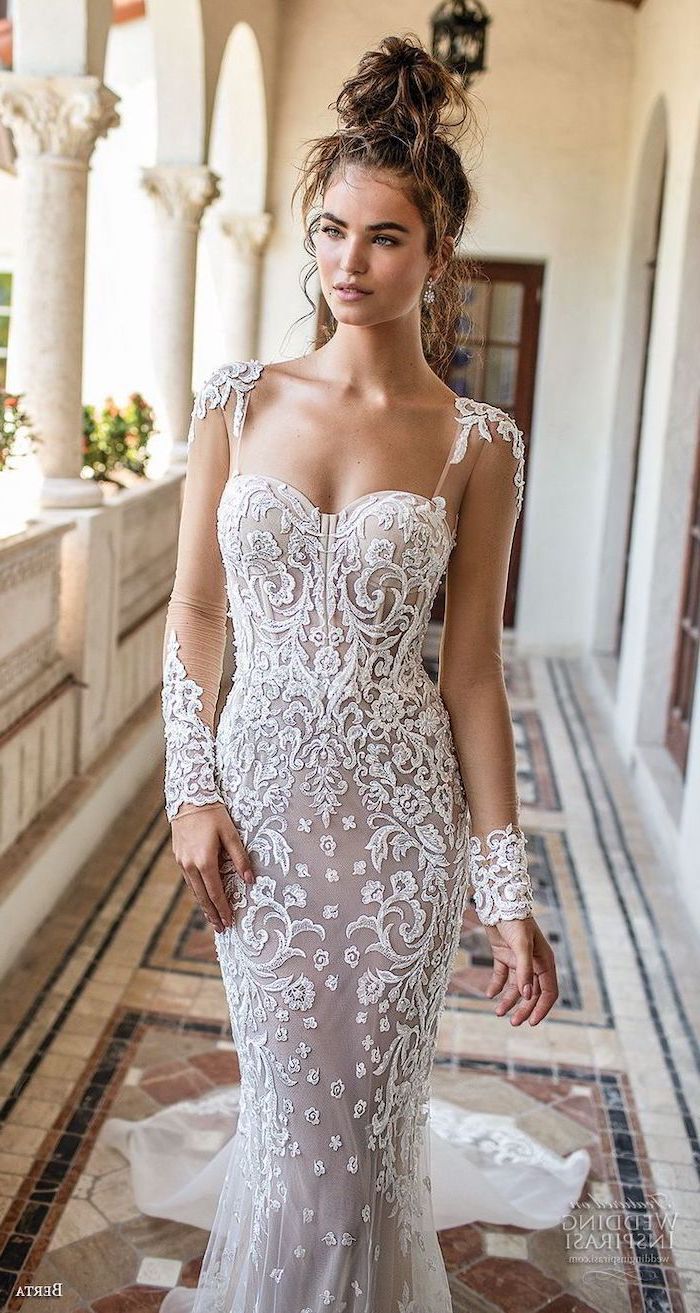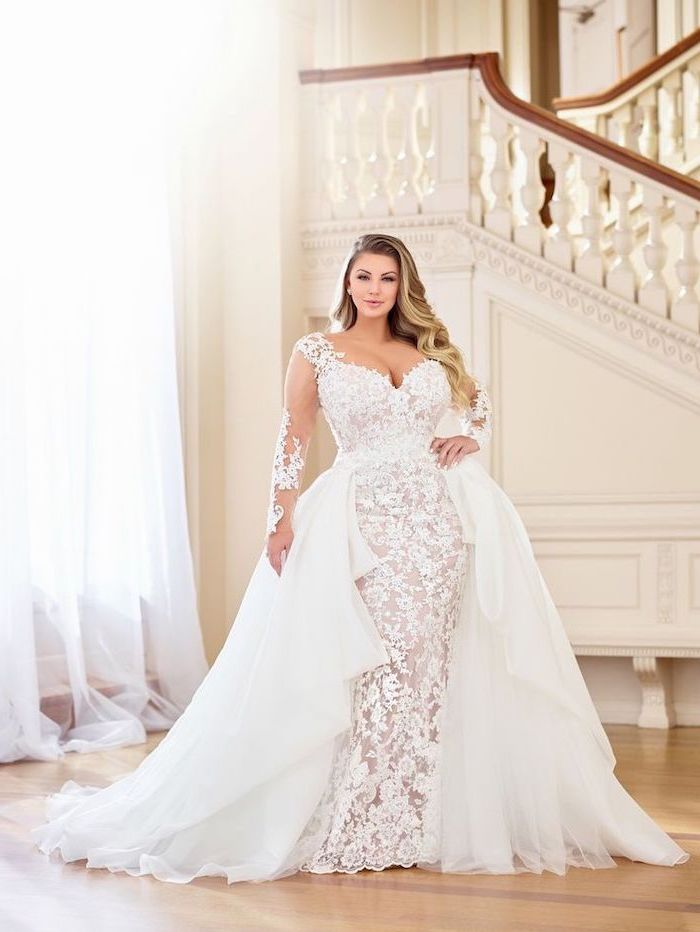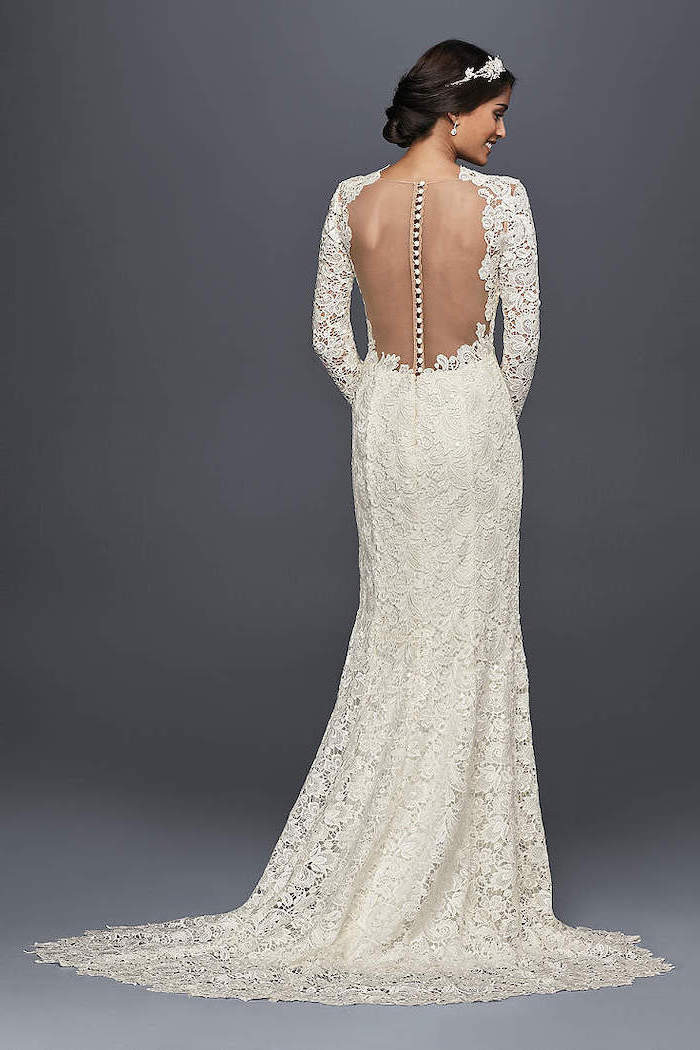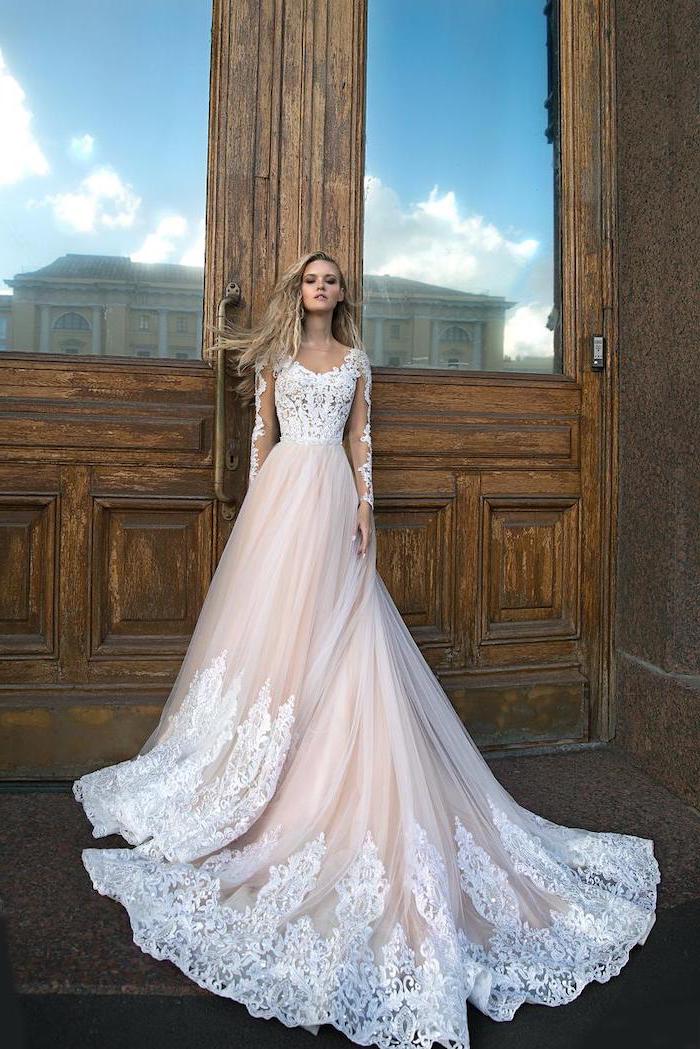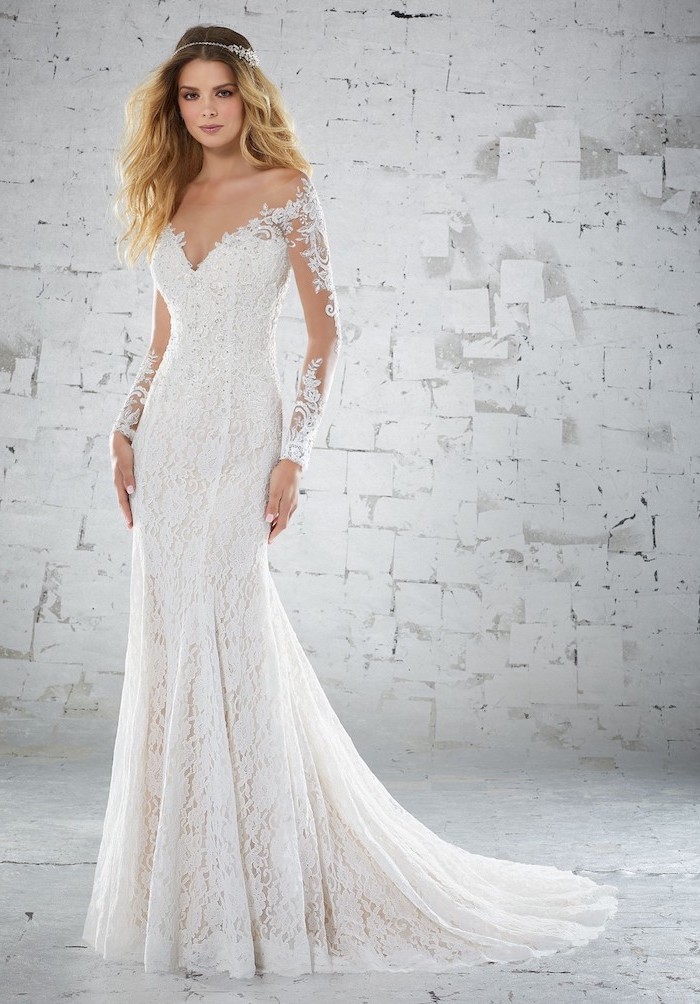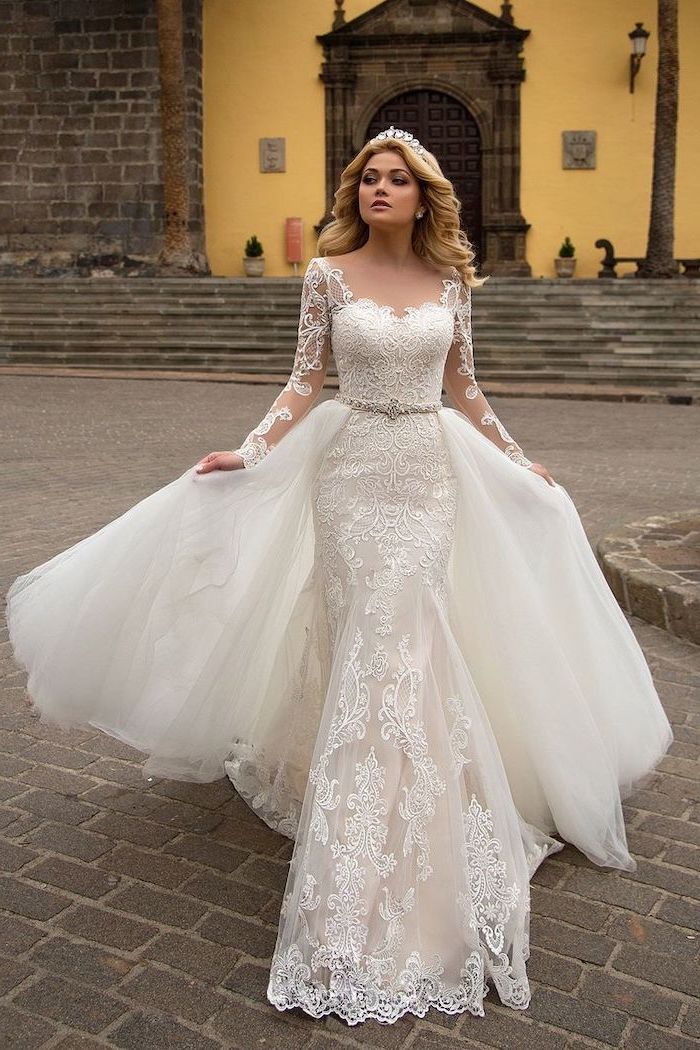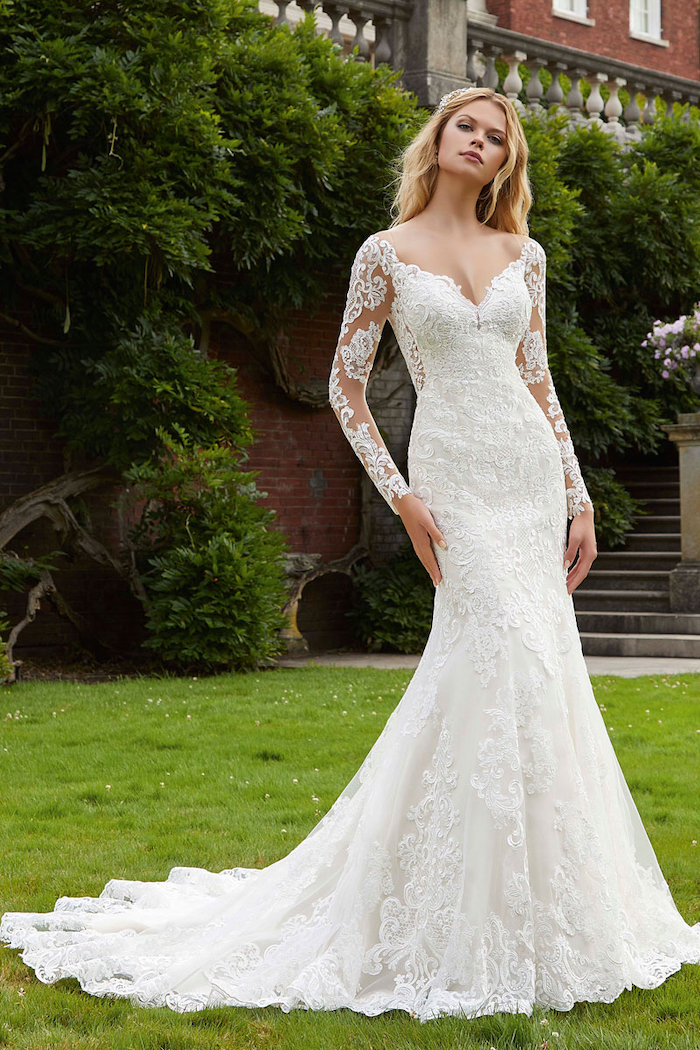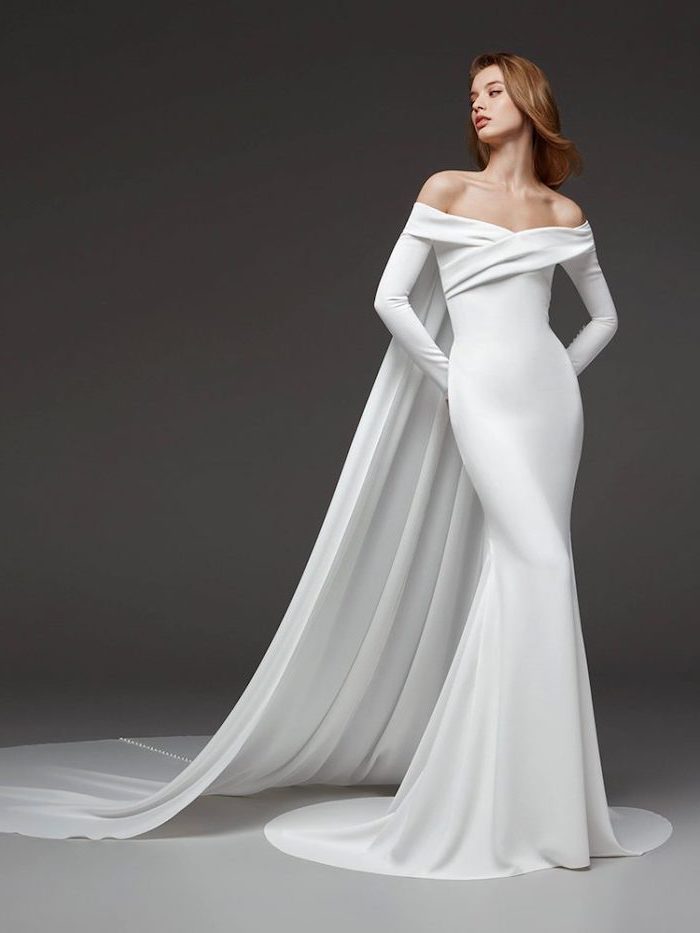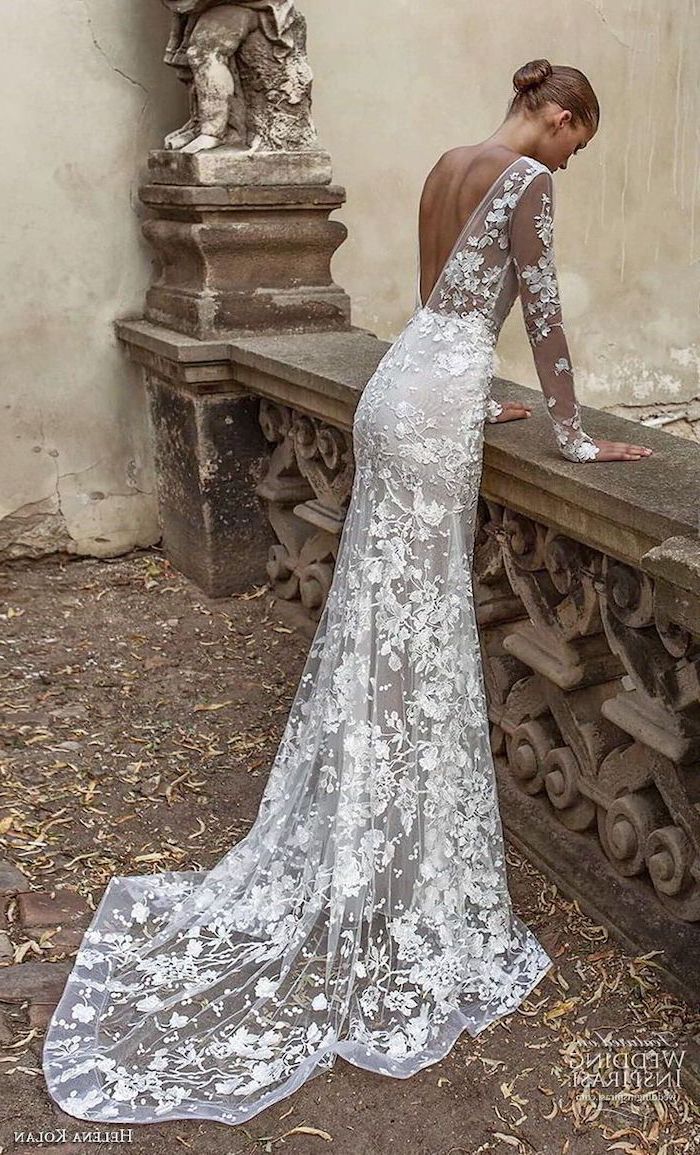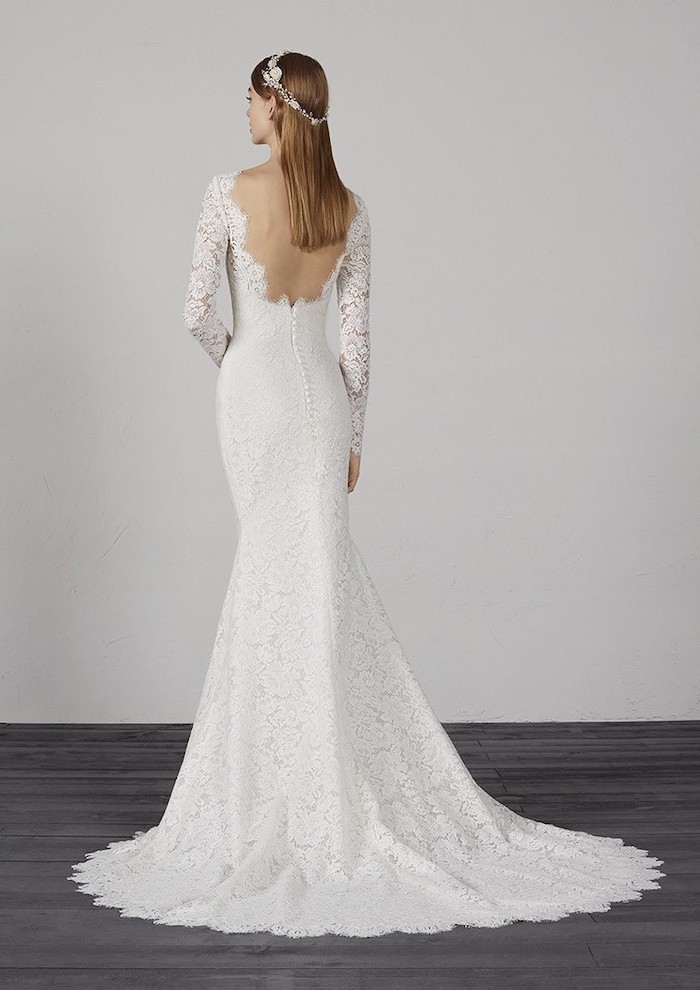 Absolutely breathtaking long sleeve lace mermaid wedding dress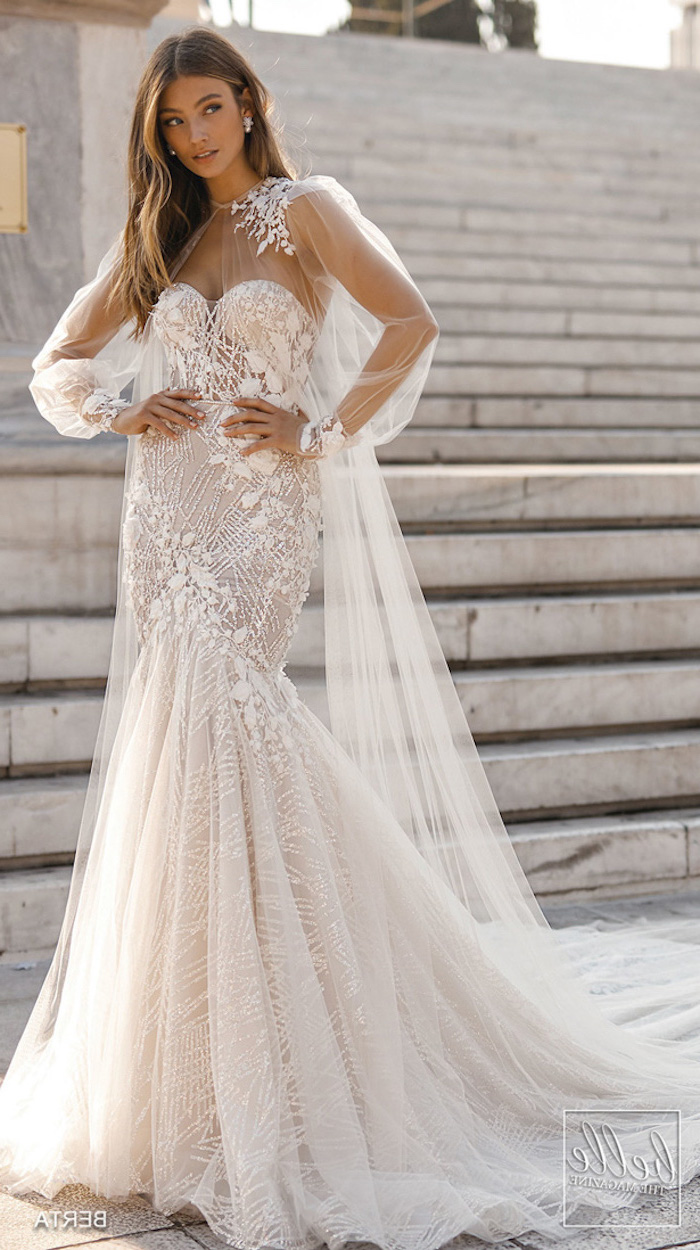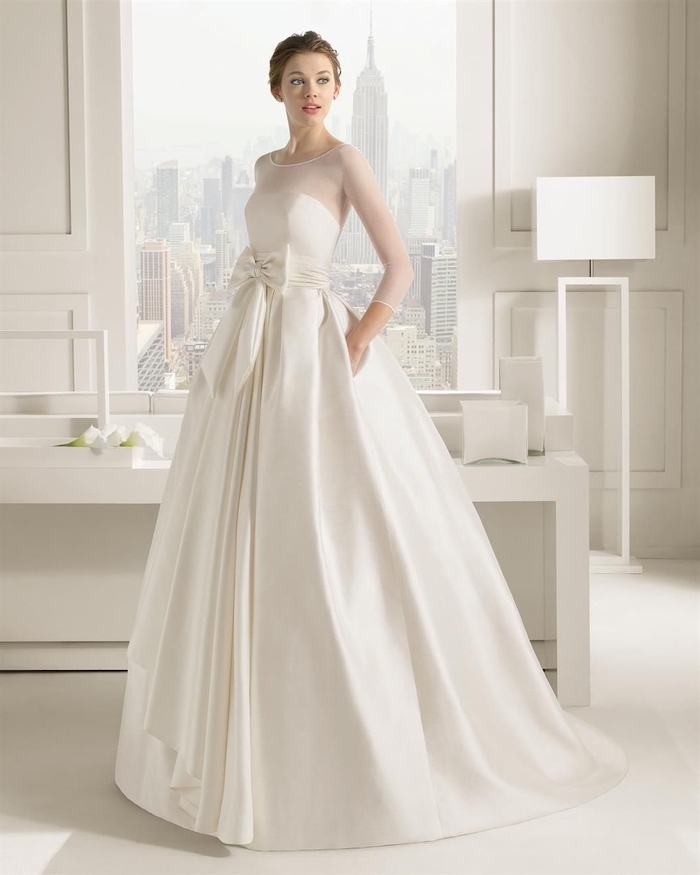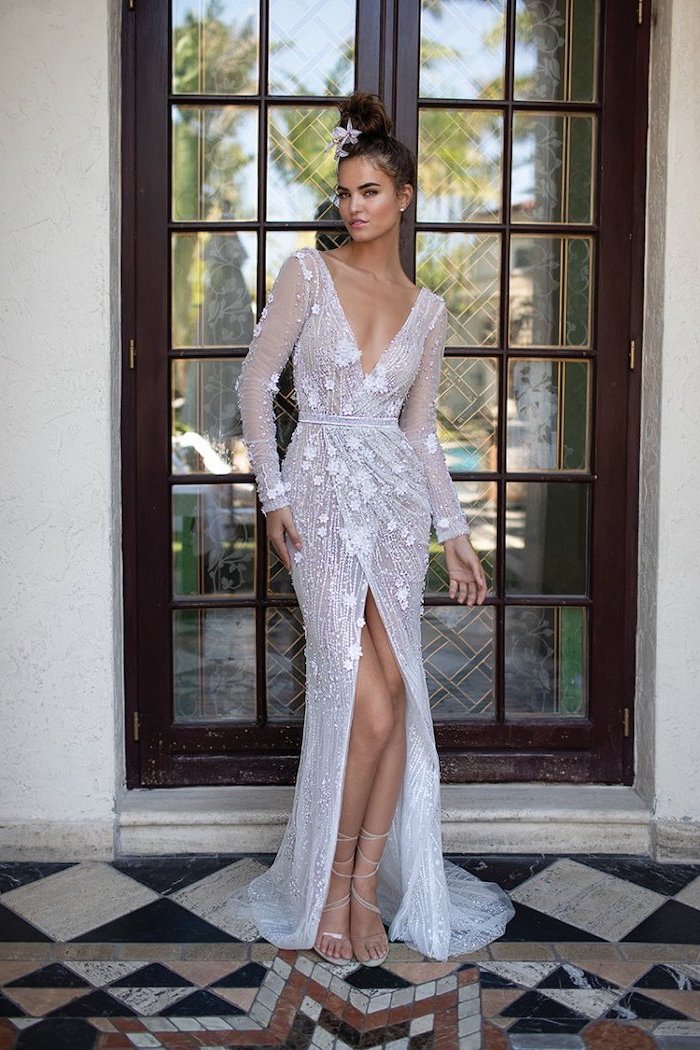 Satin wedding dresses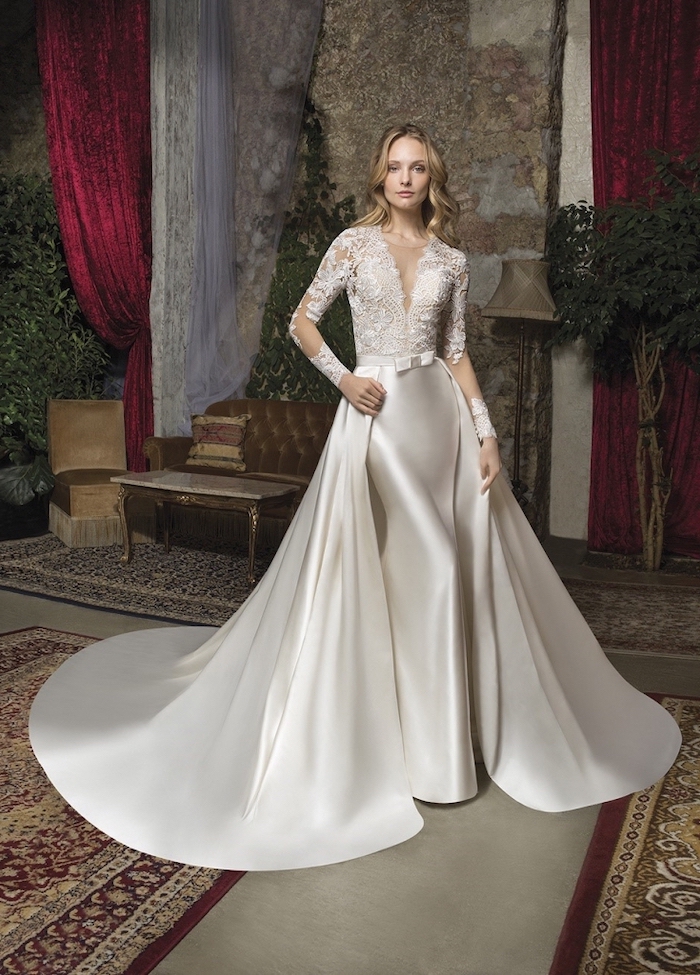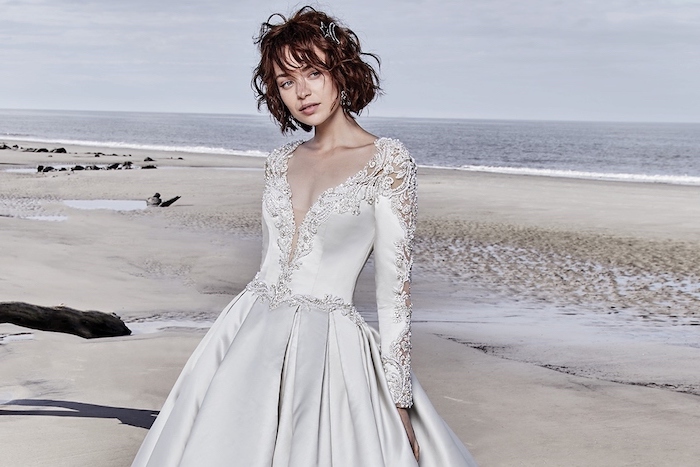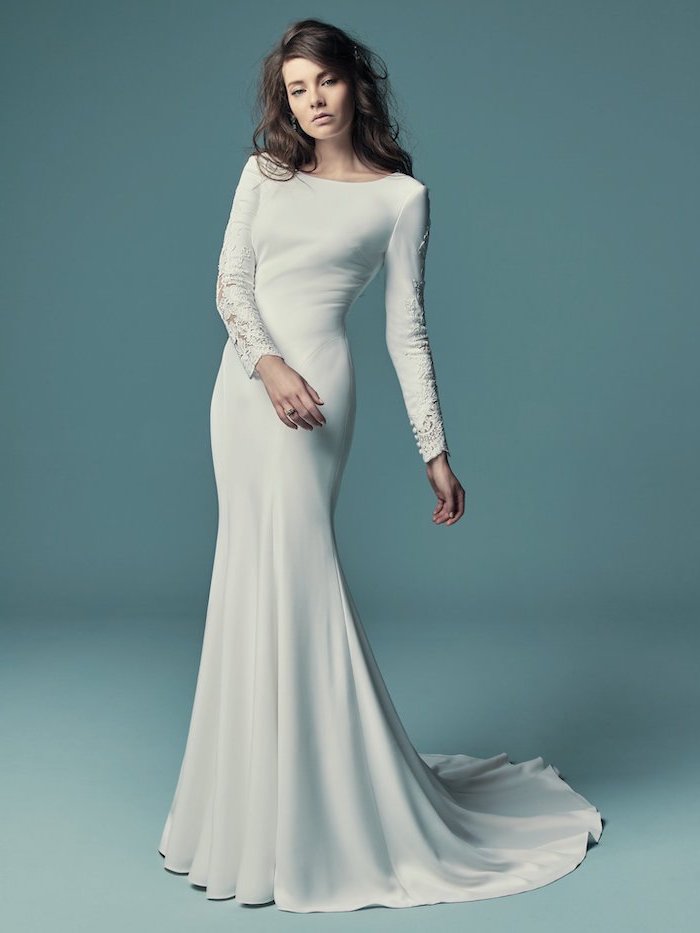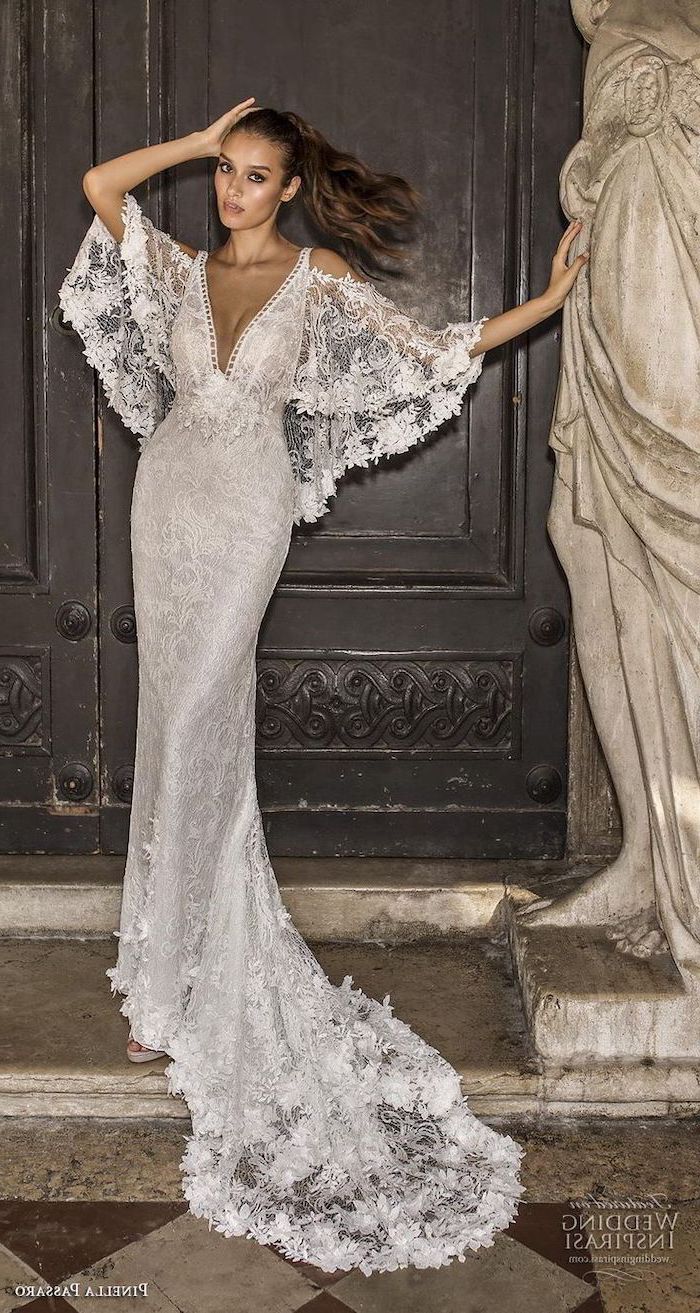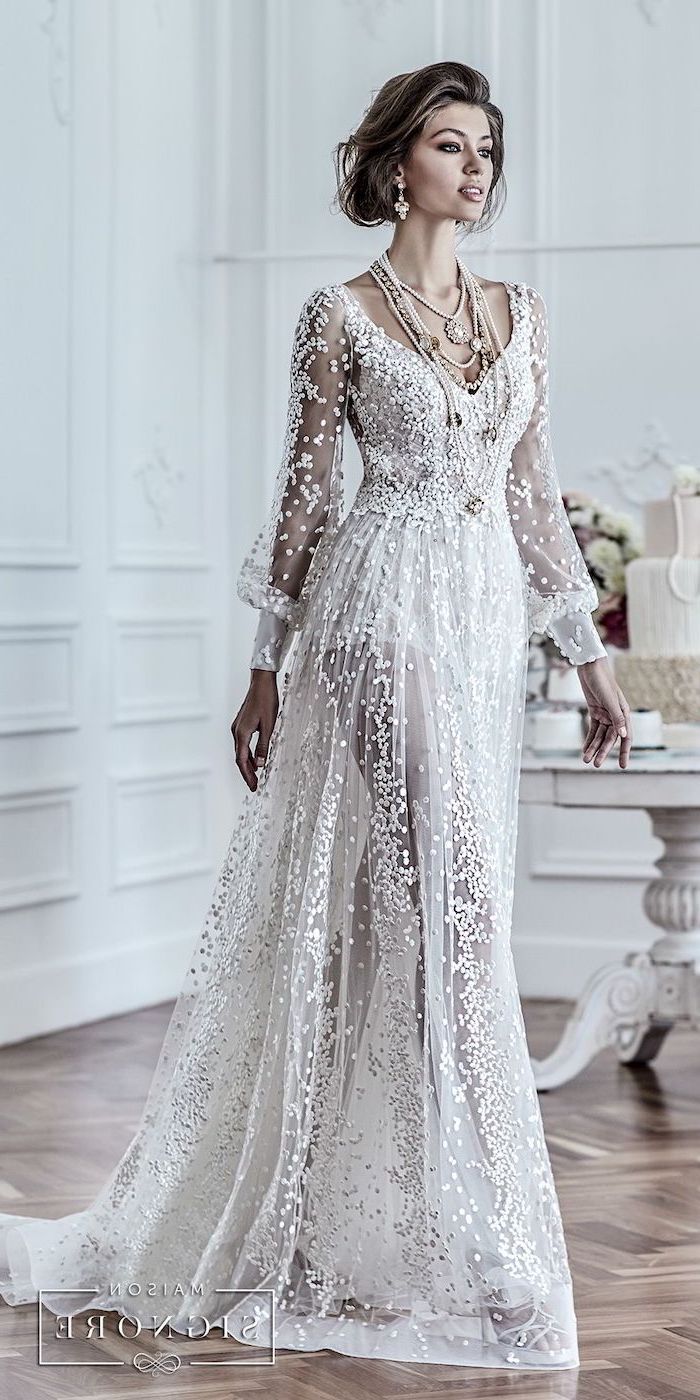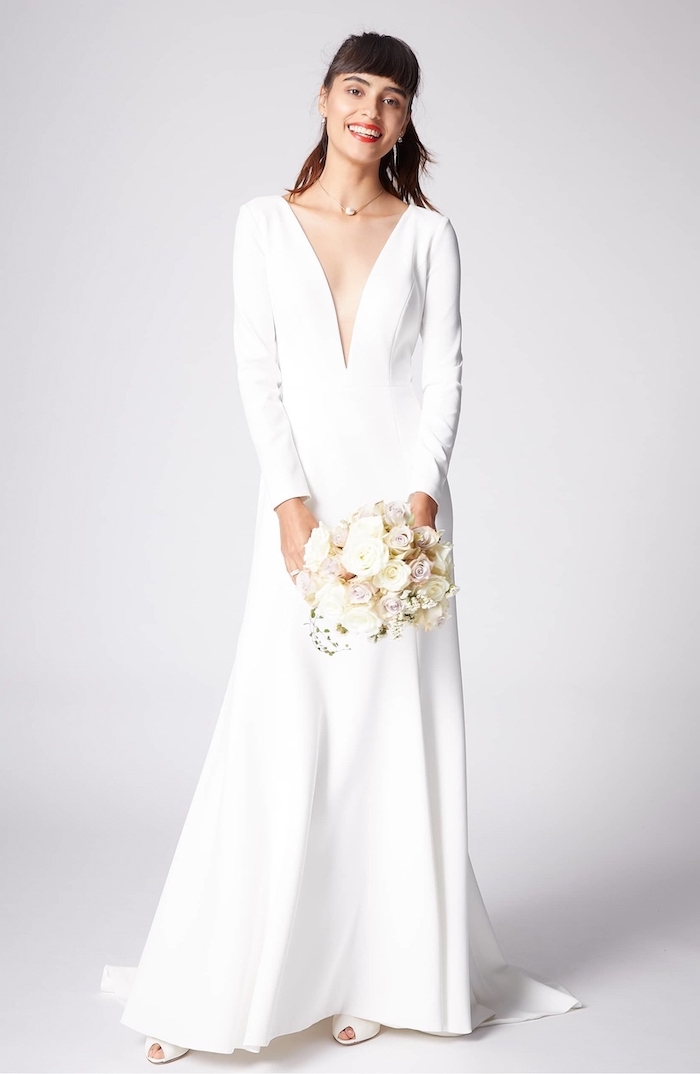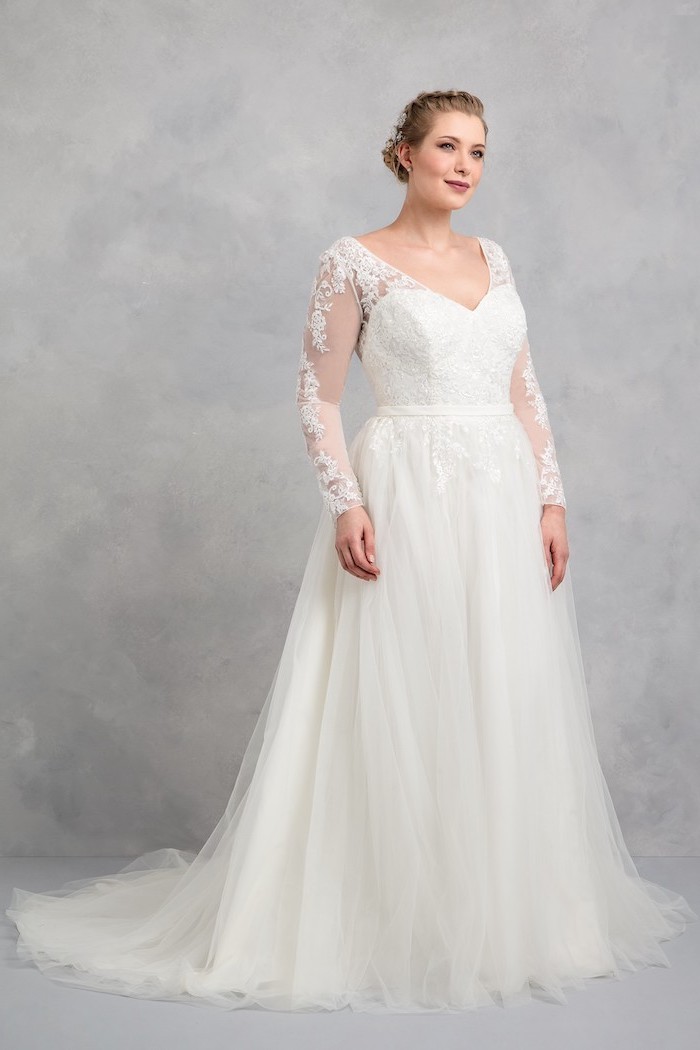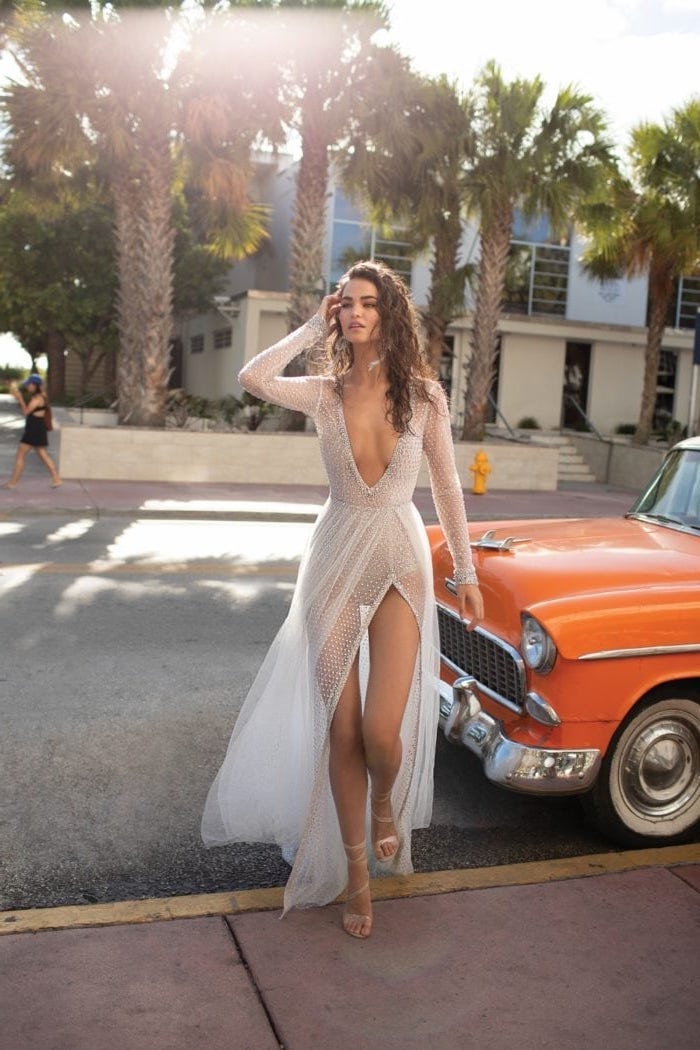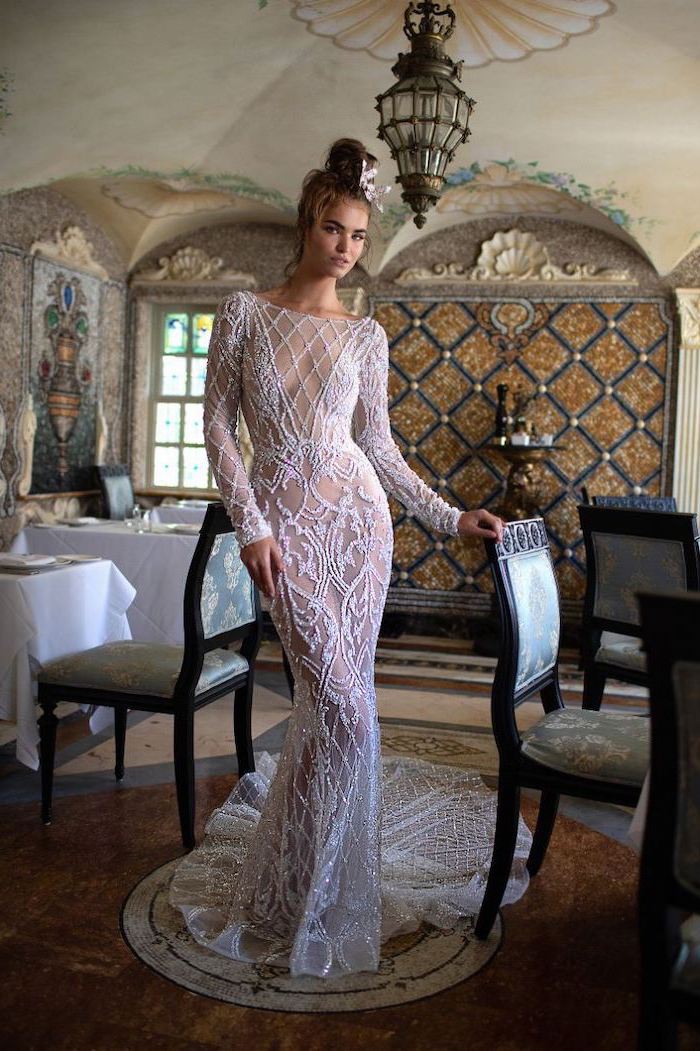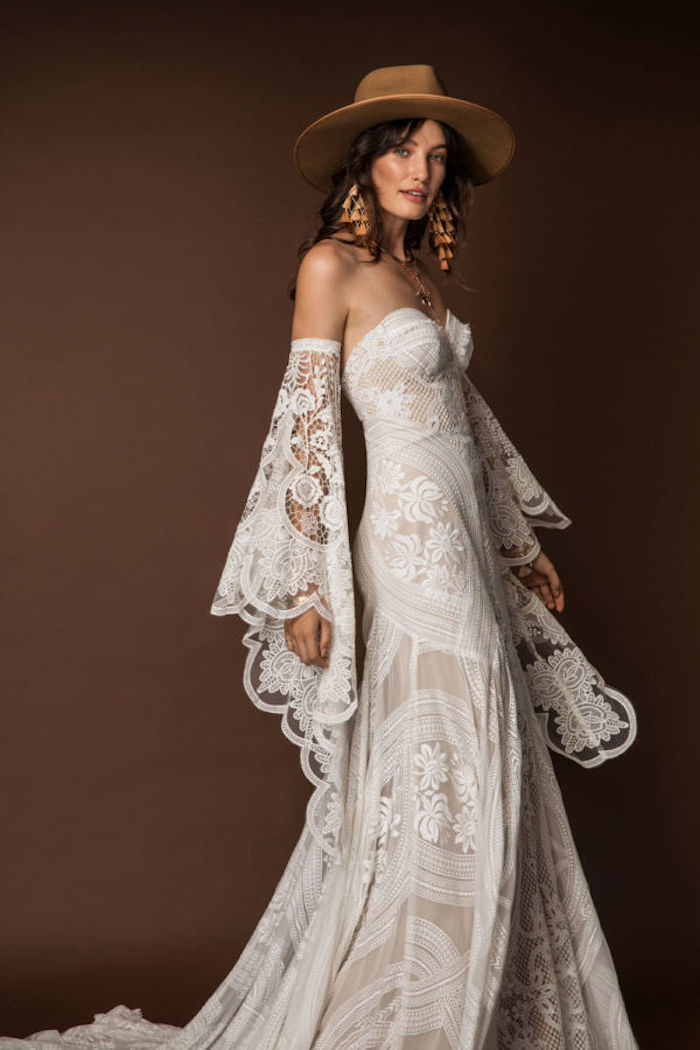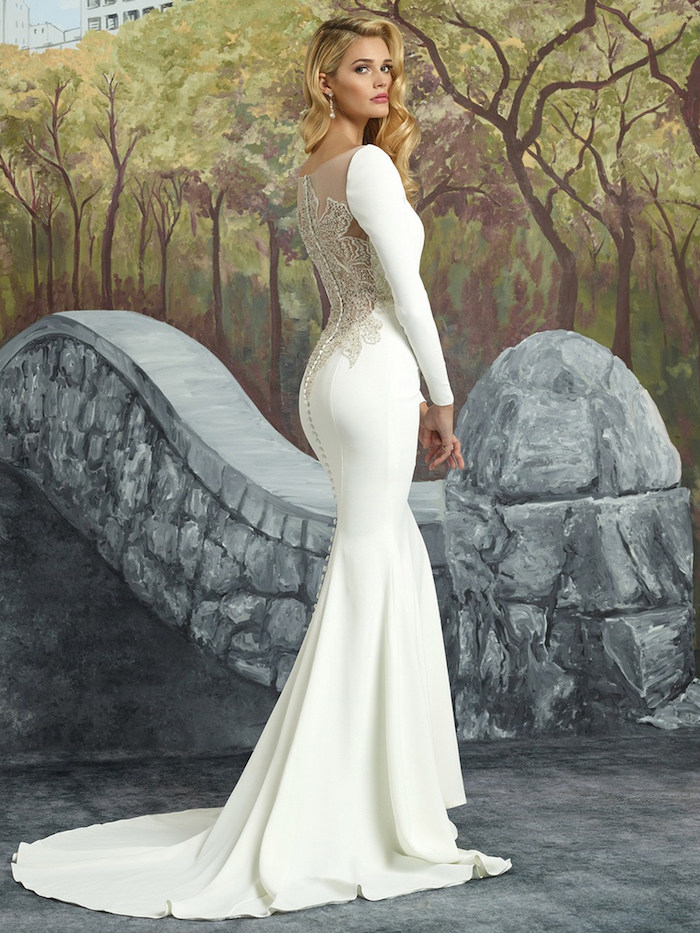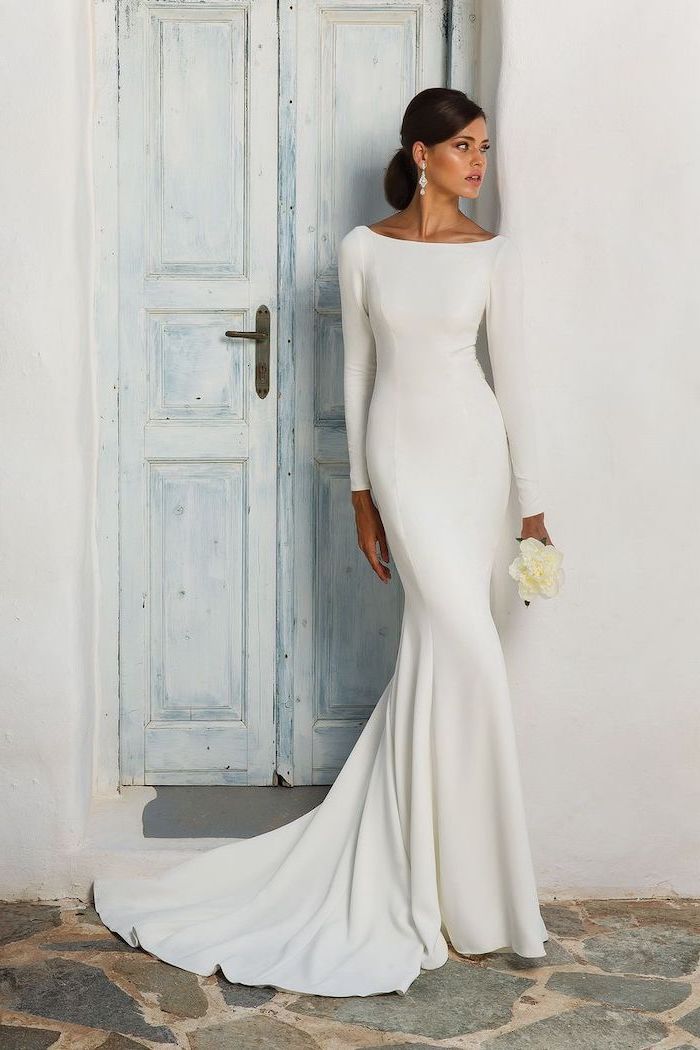 Simple, but effective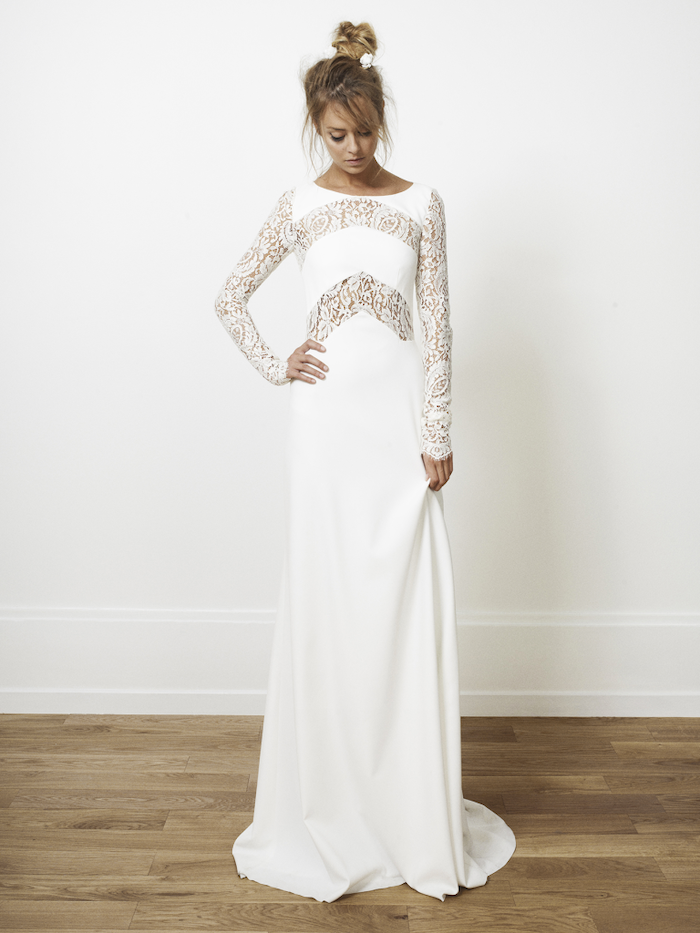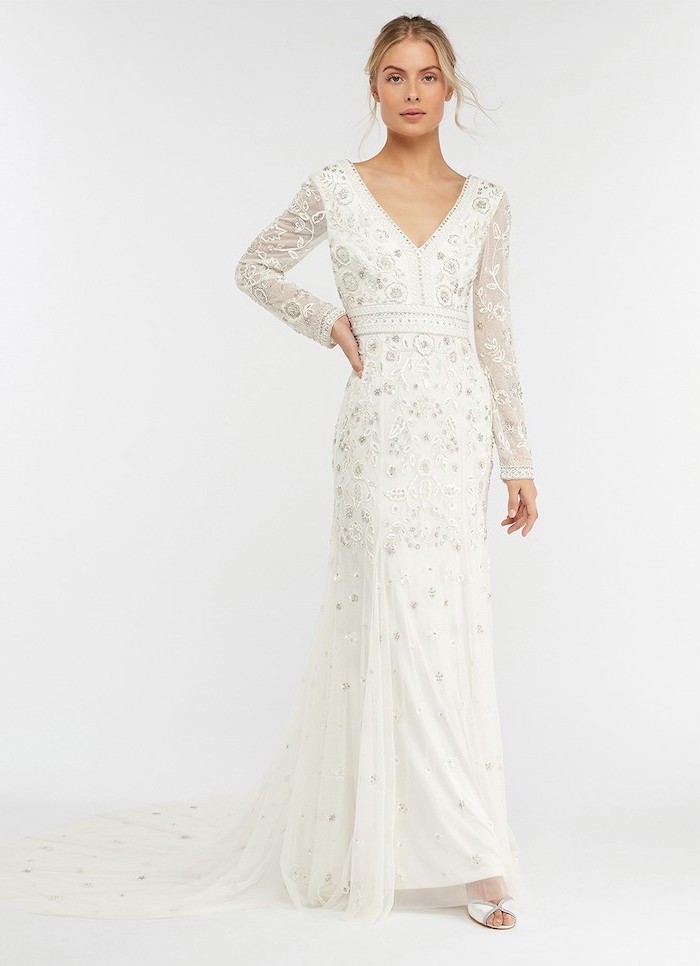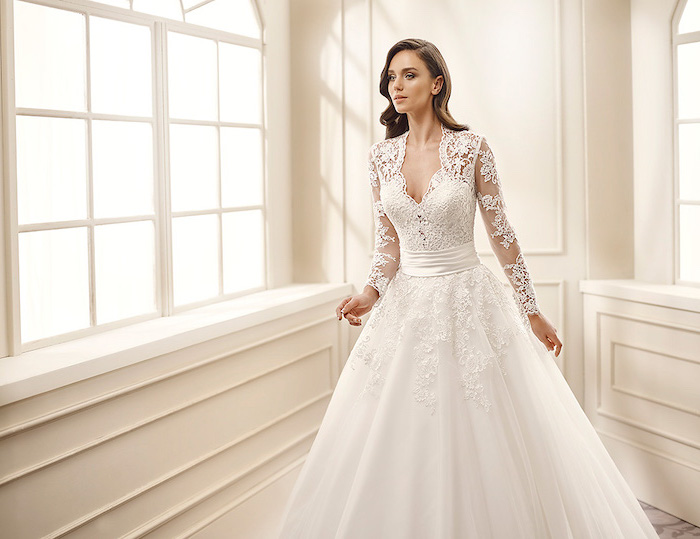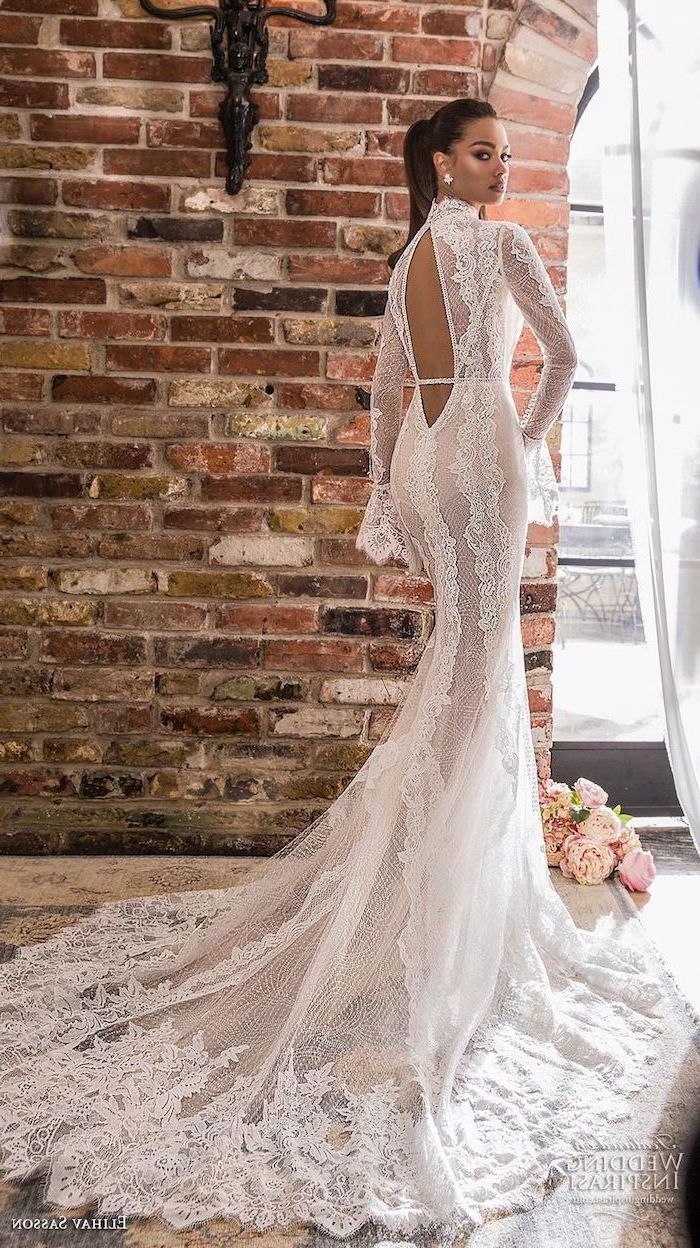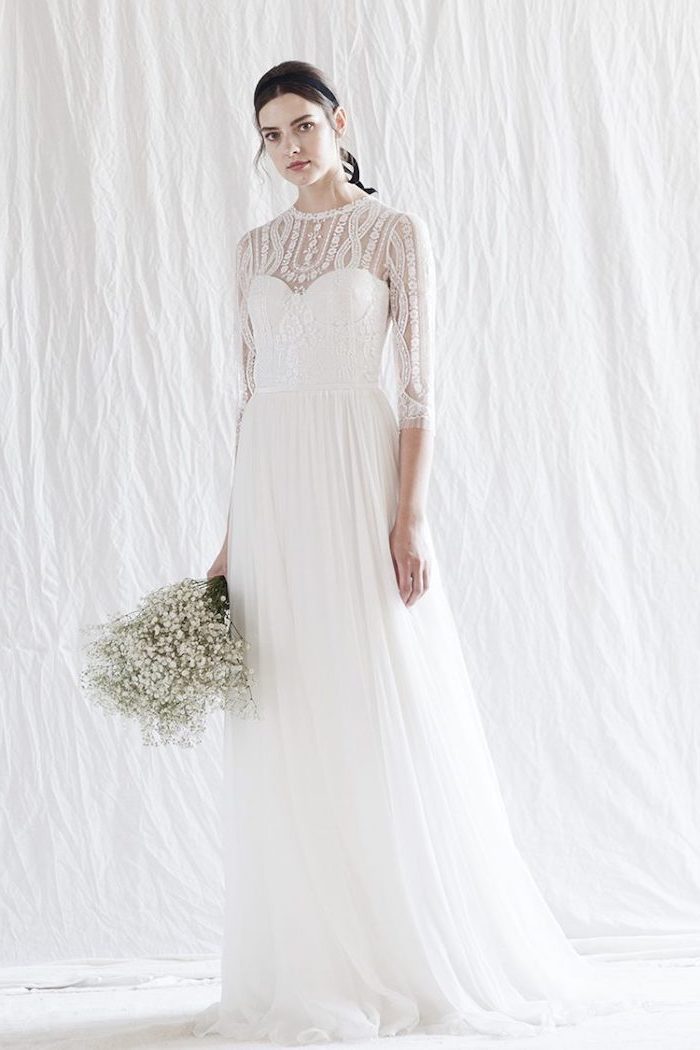 Fitted wedding dresses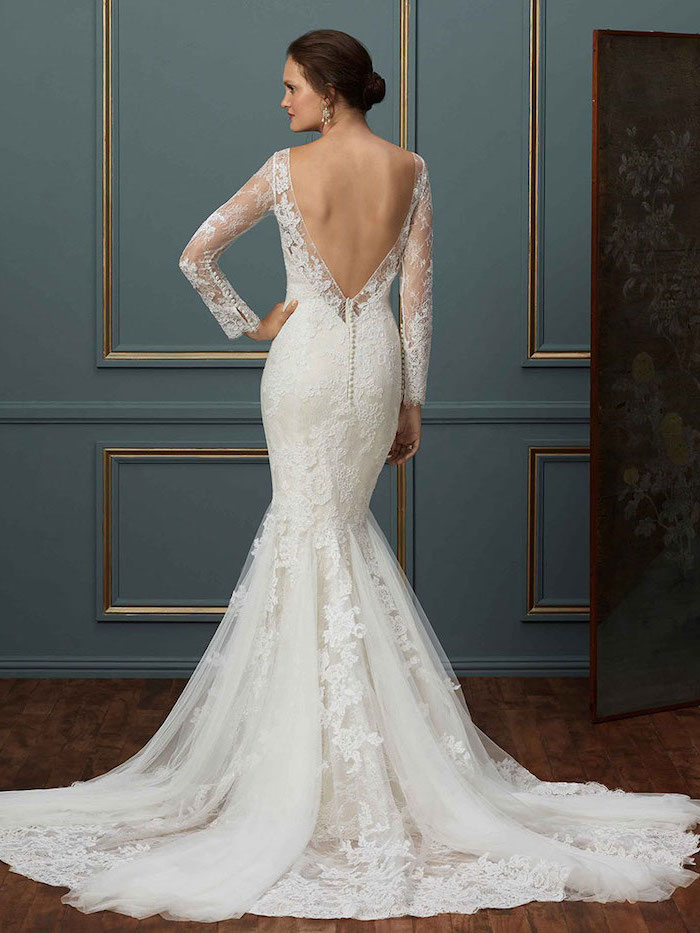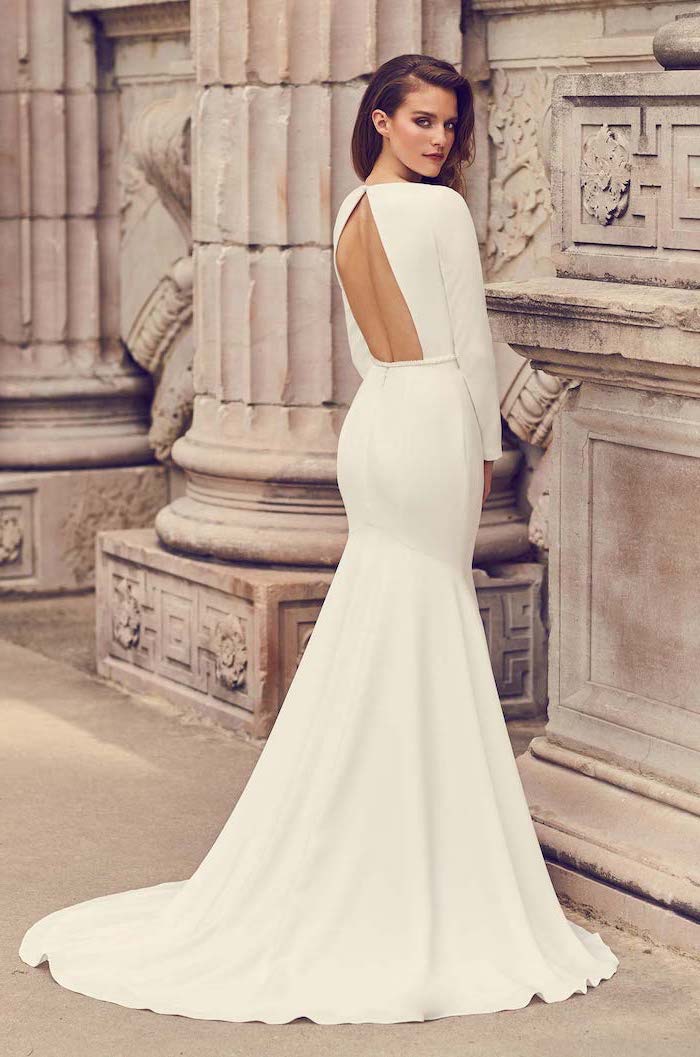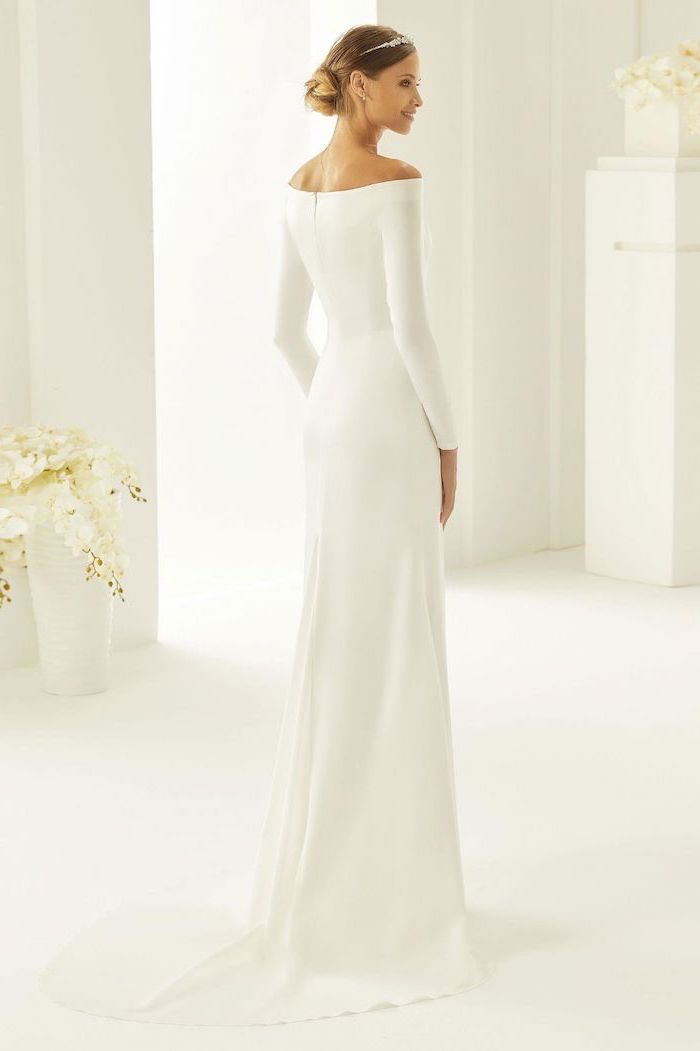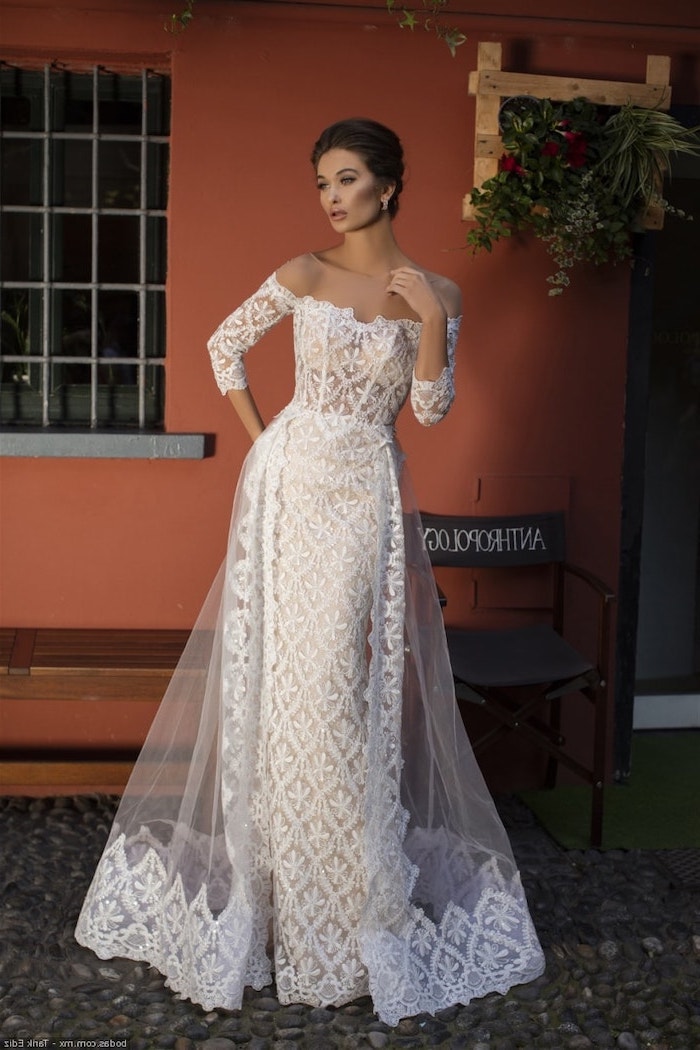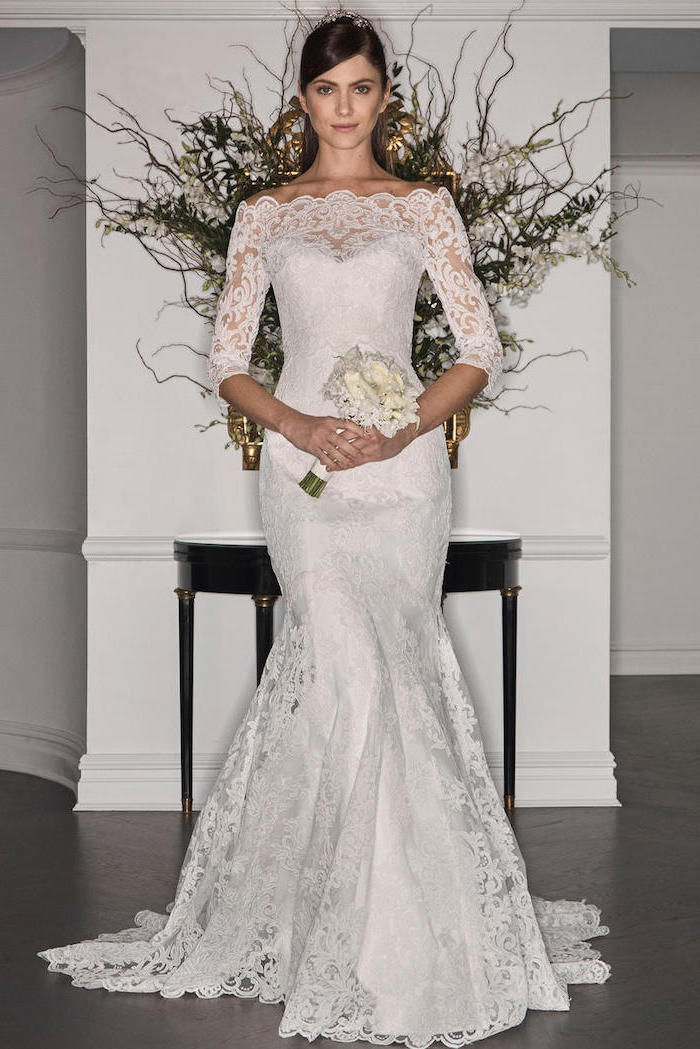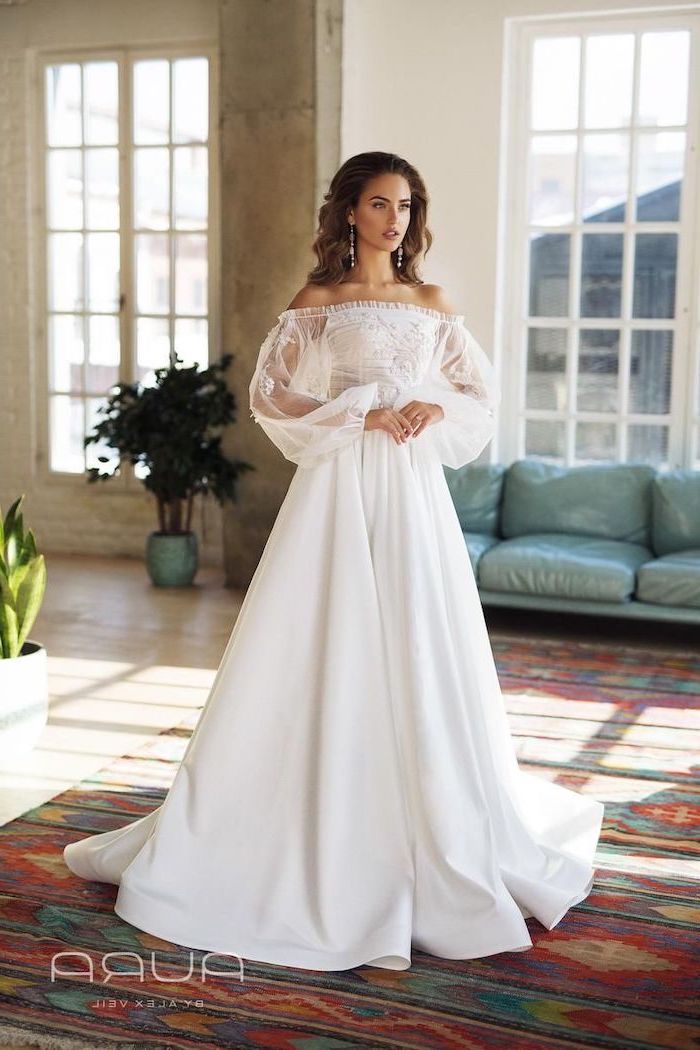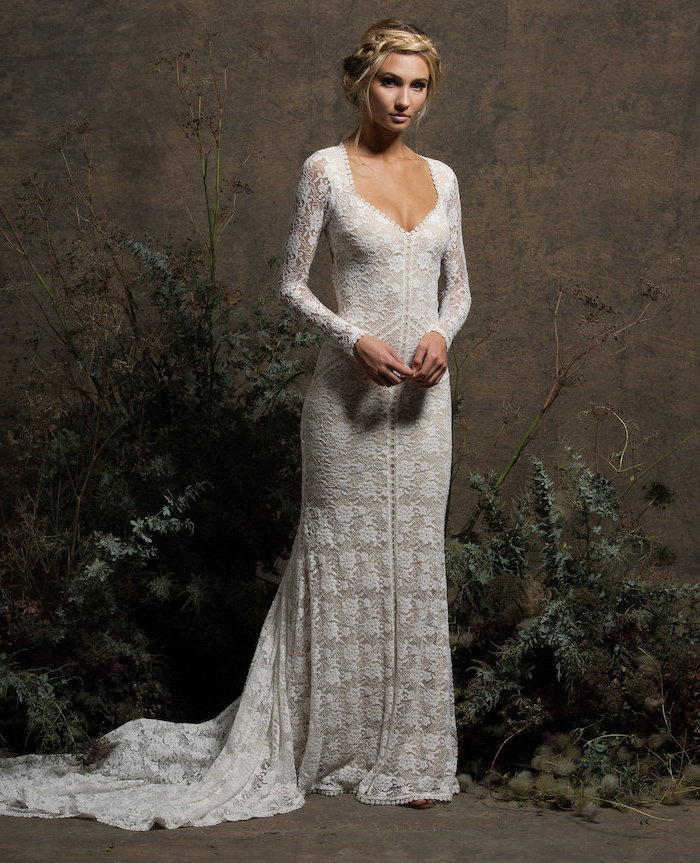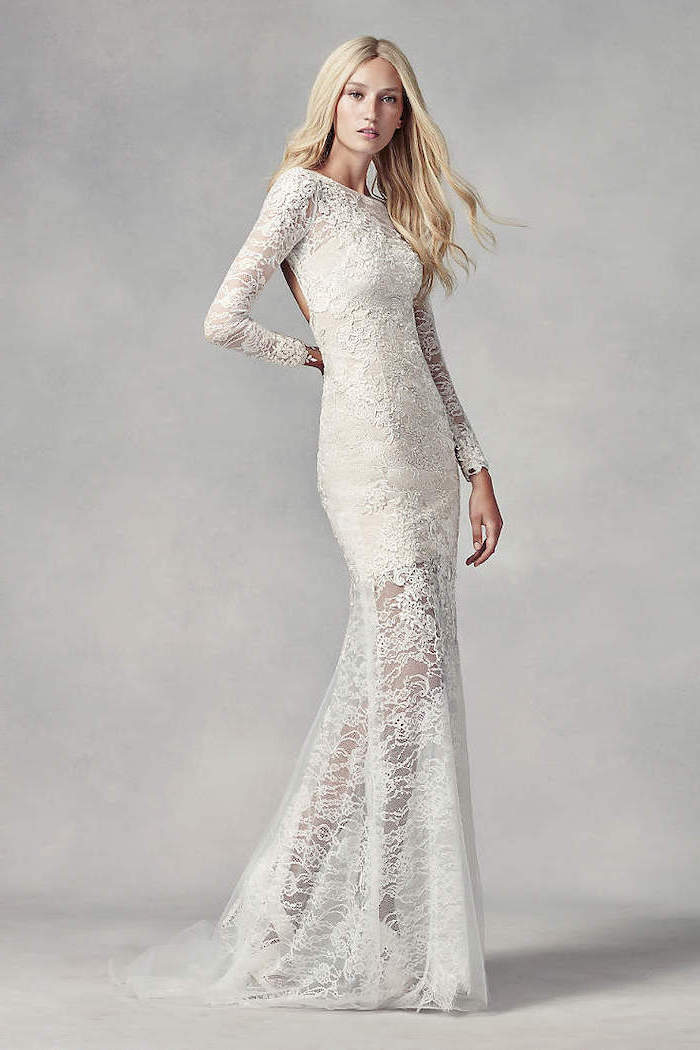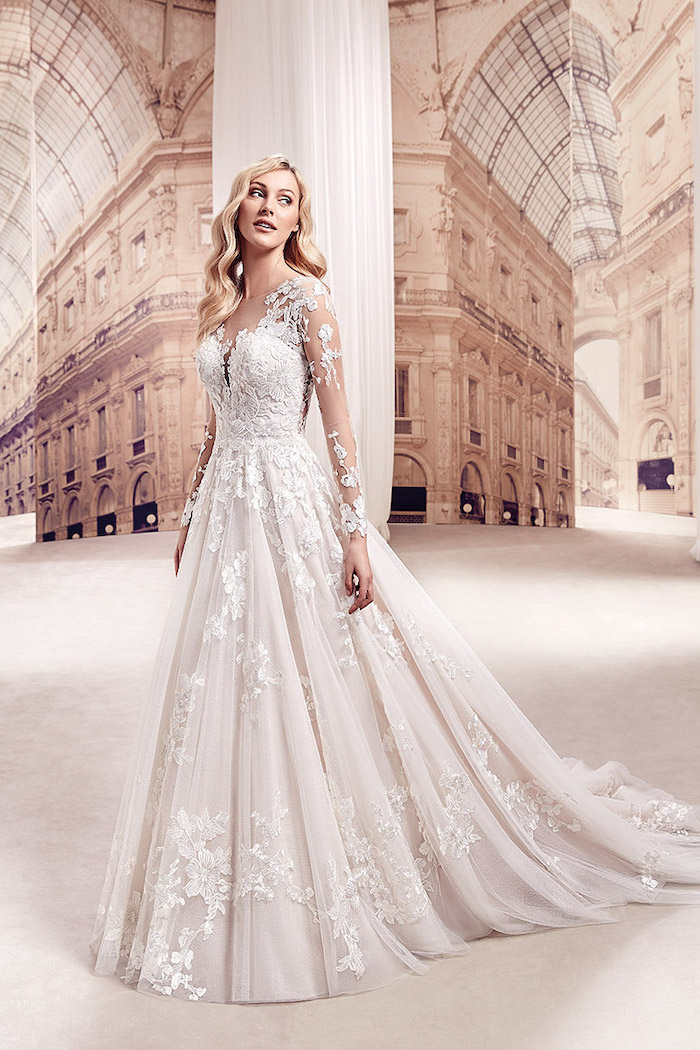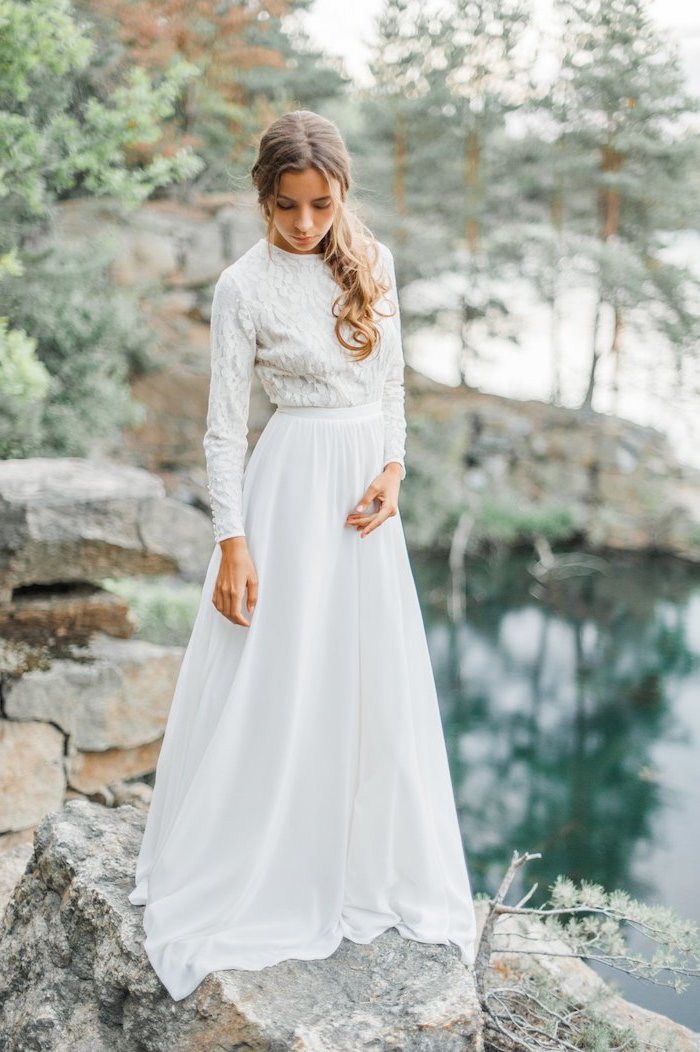 Long sleeve bridal gowns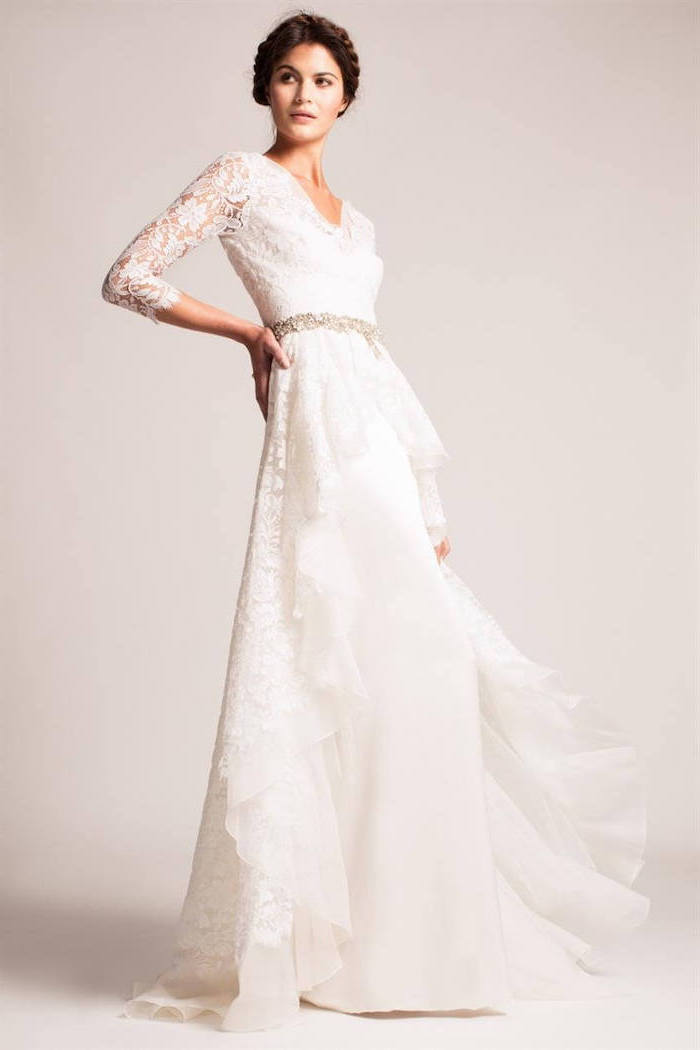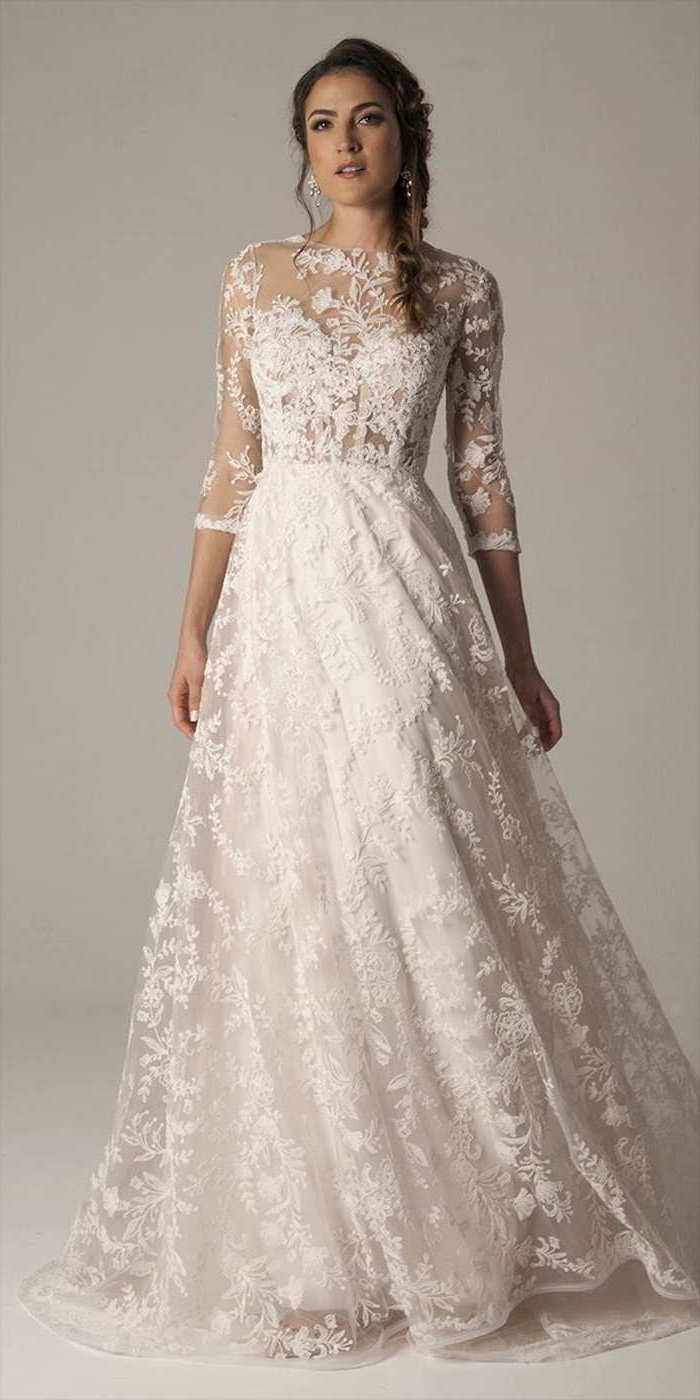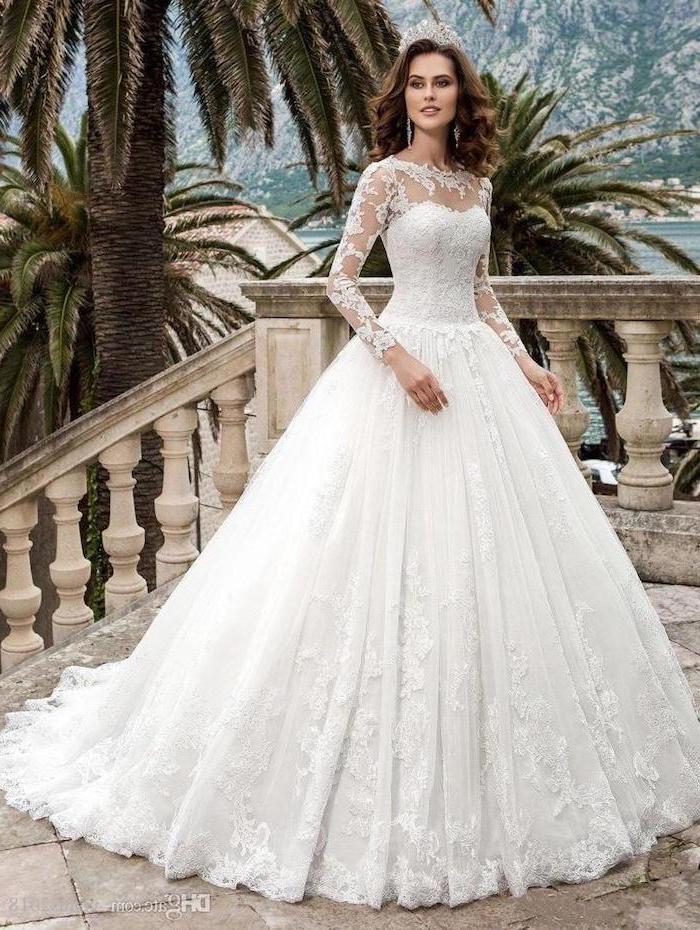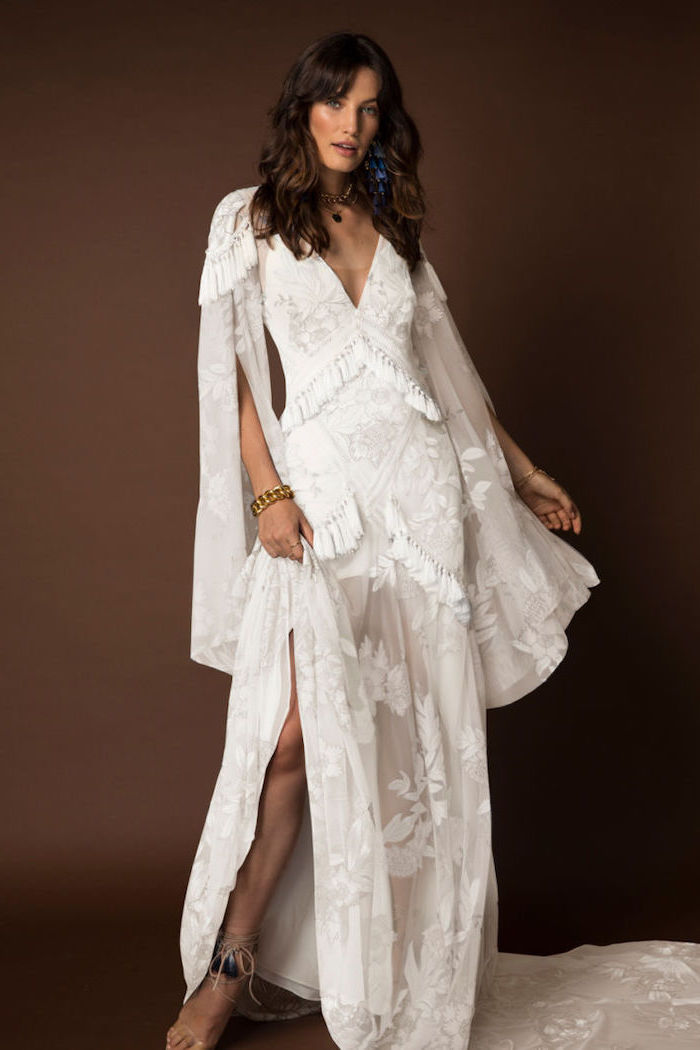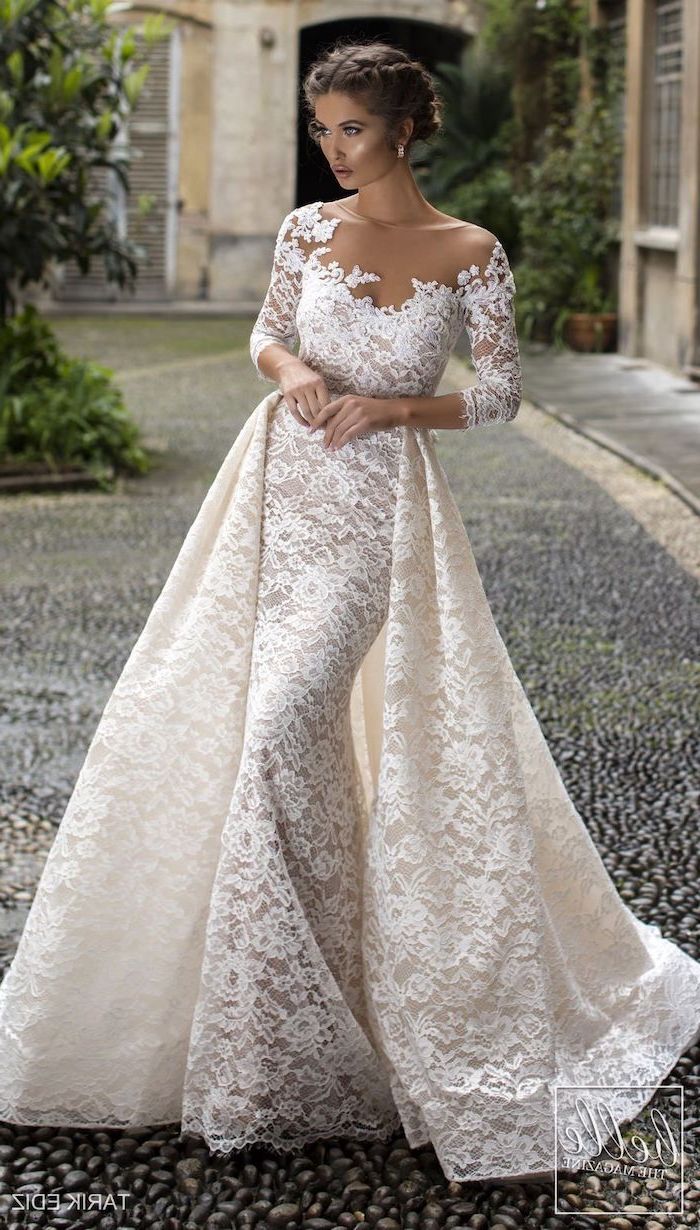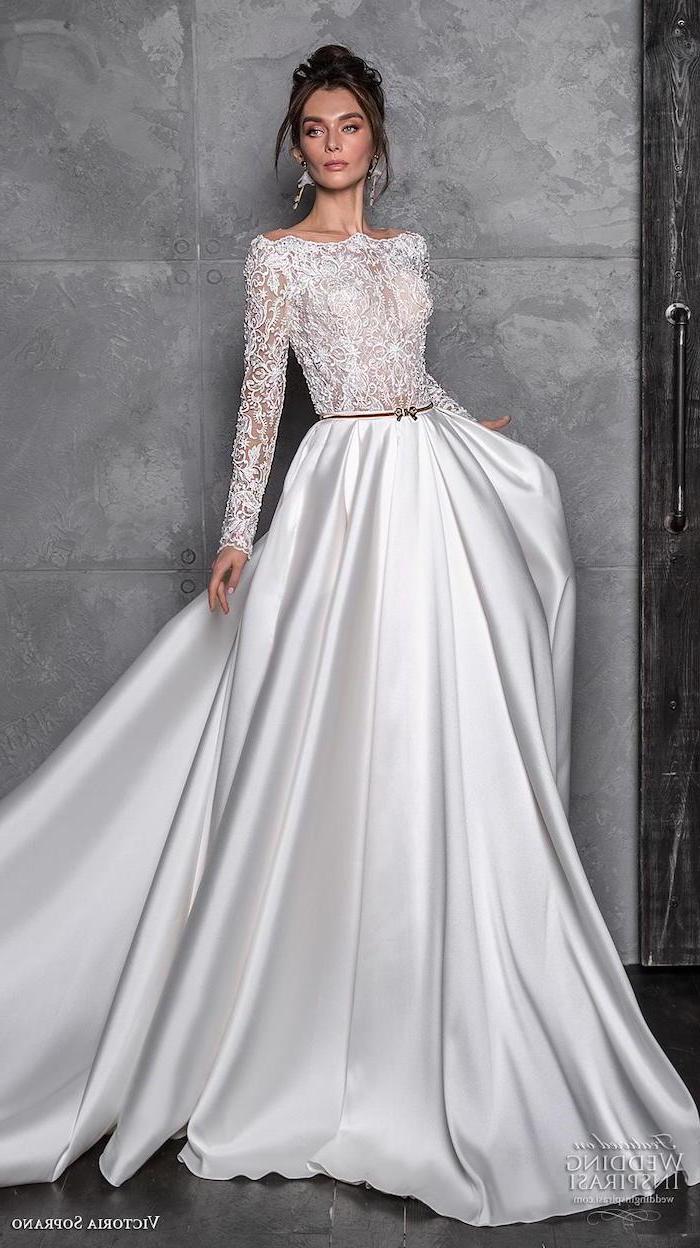 Form fitting wedding dresses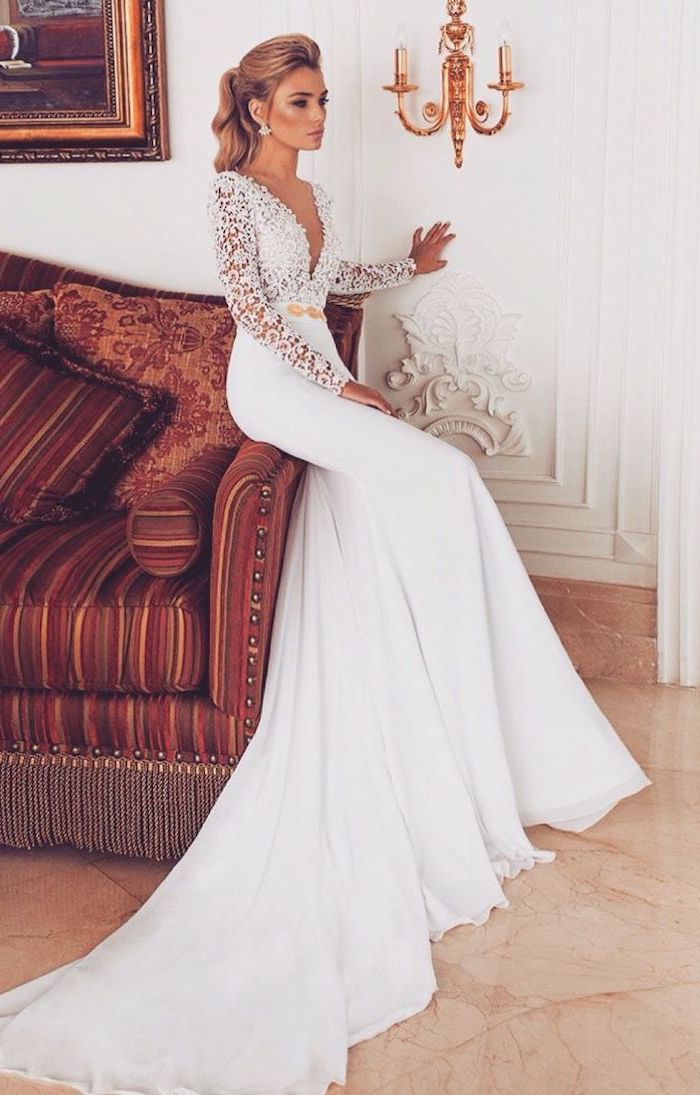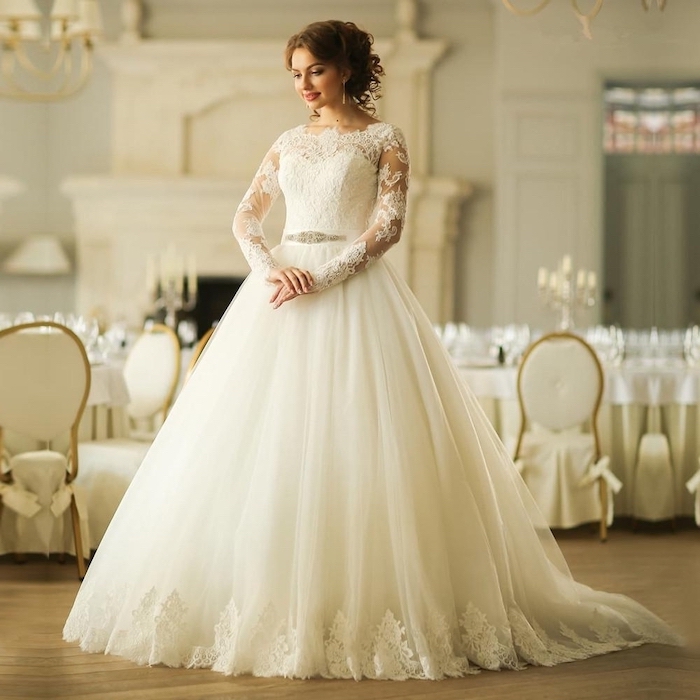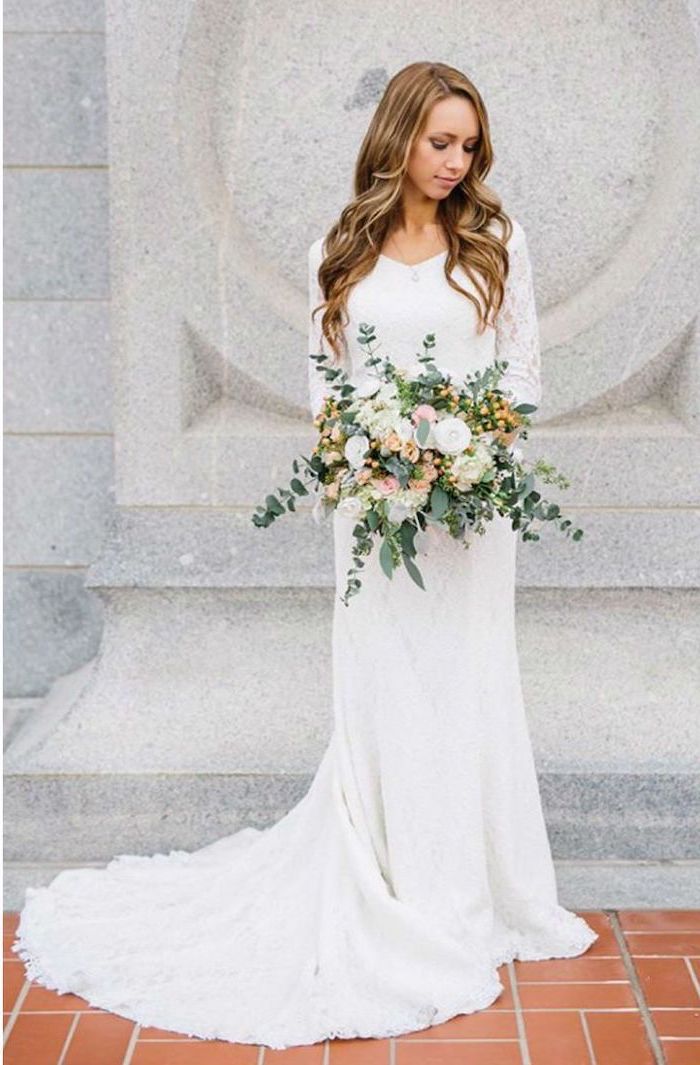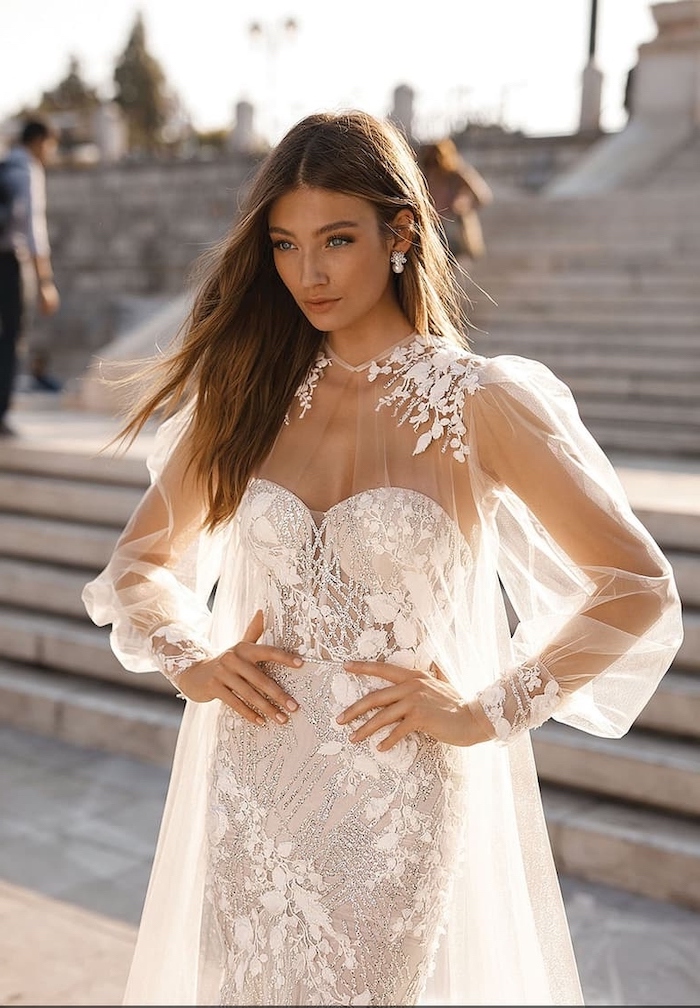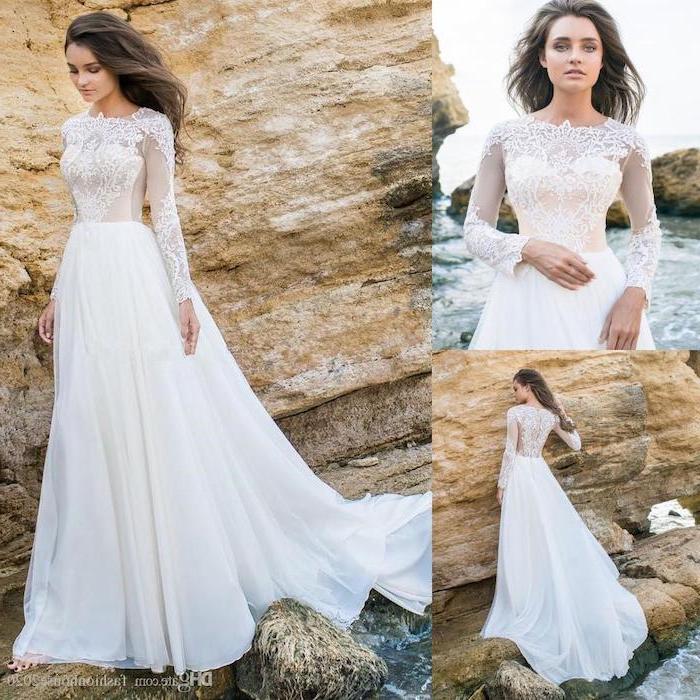 Beaded wedding dresses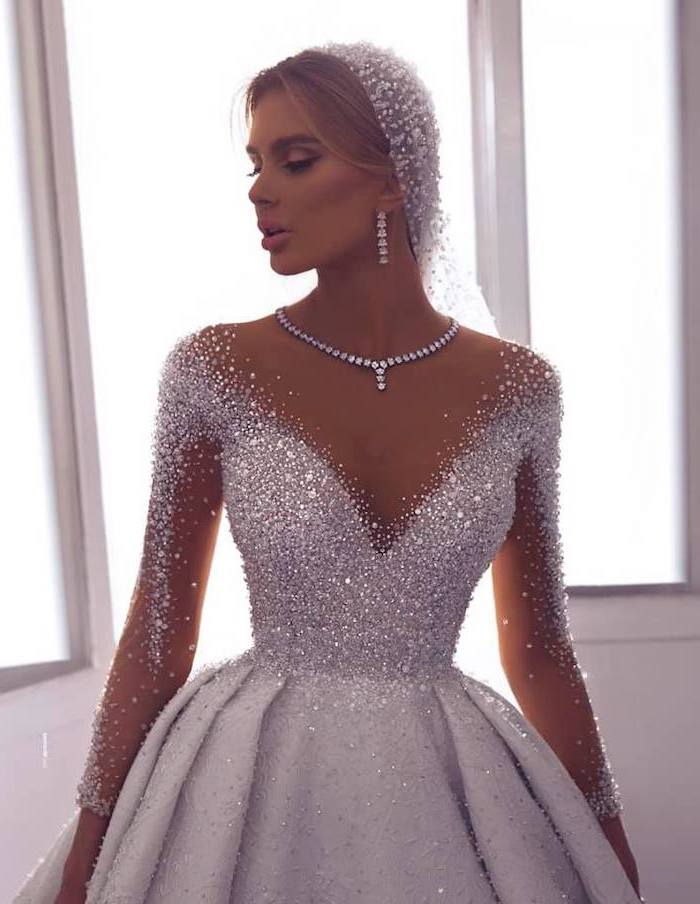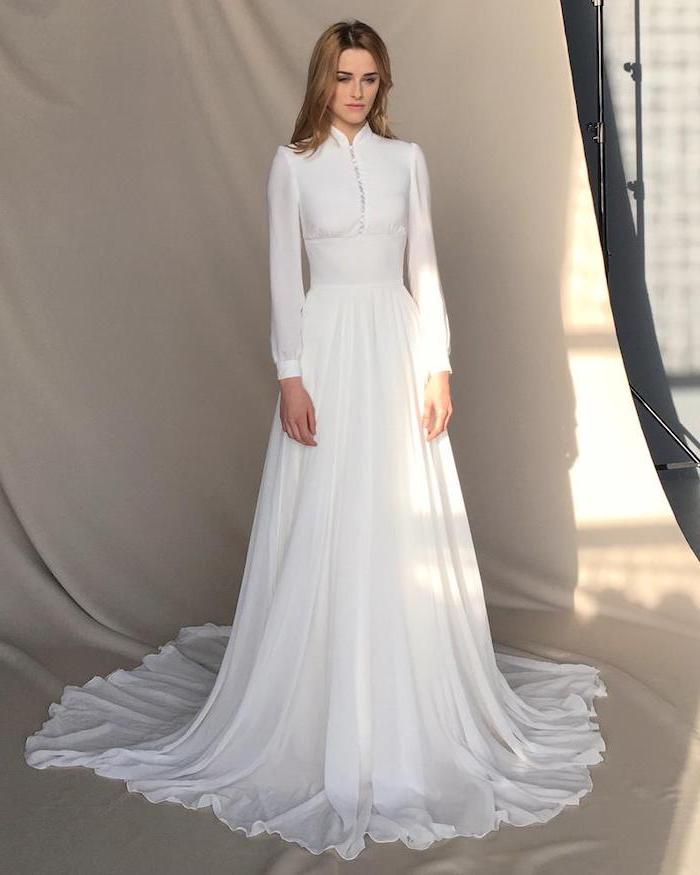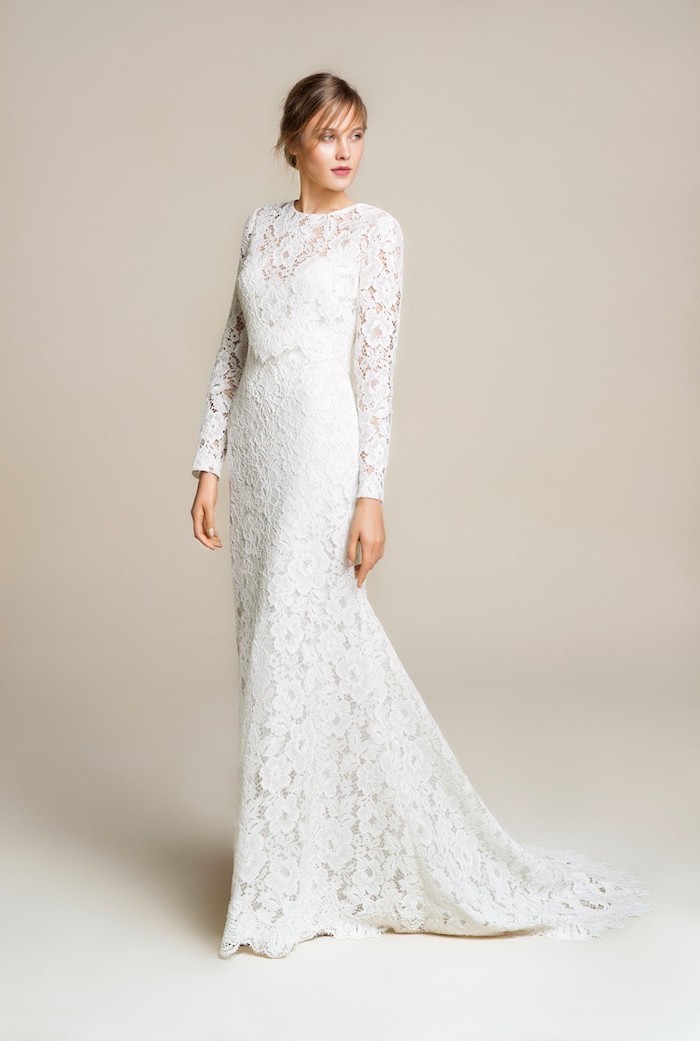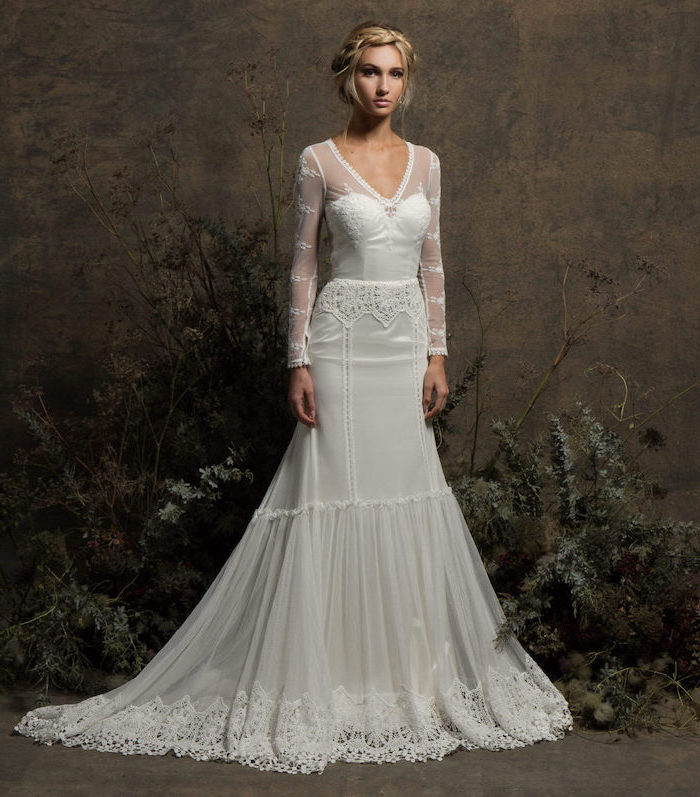 Sparkly wedding dress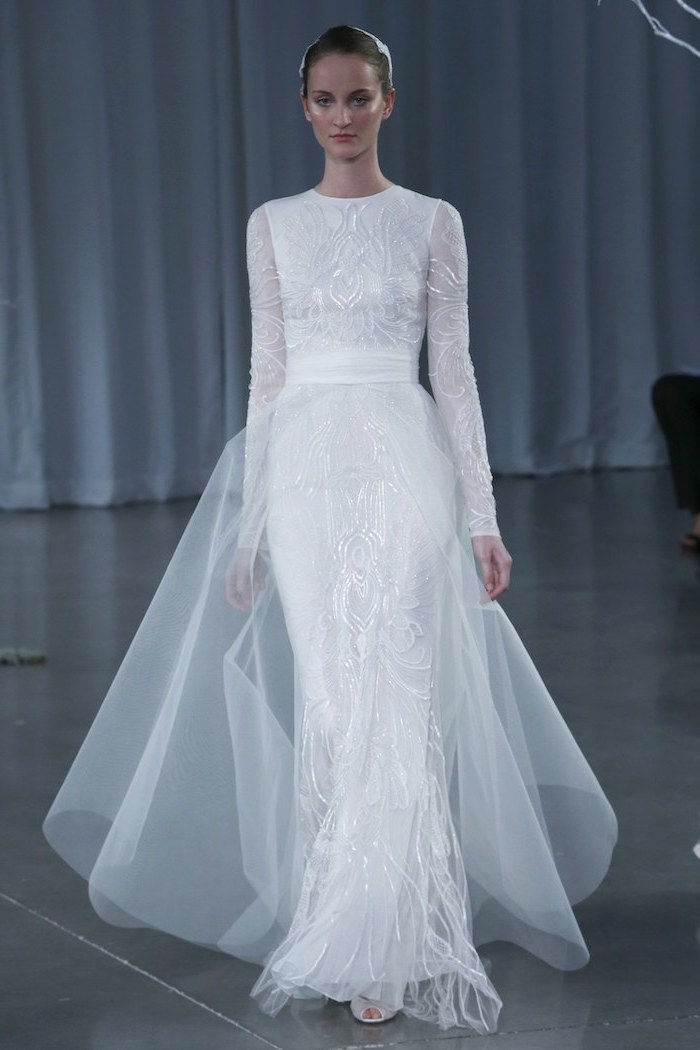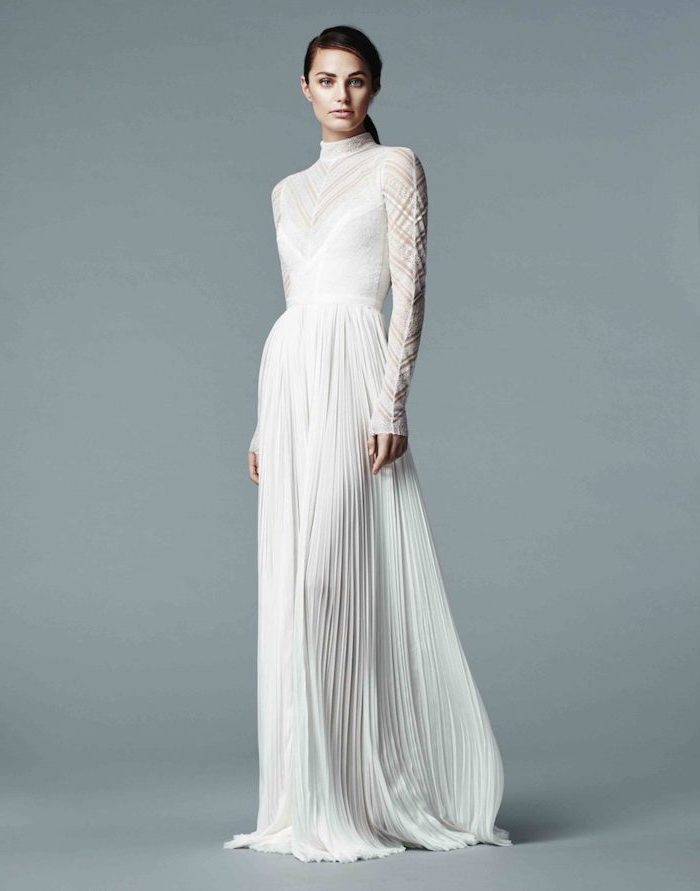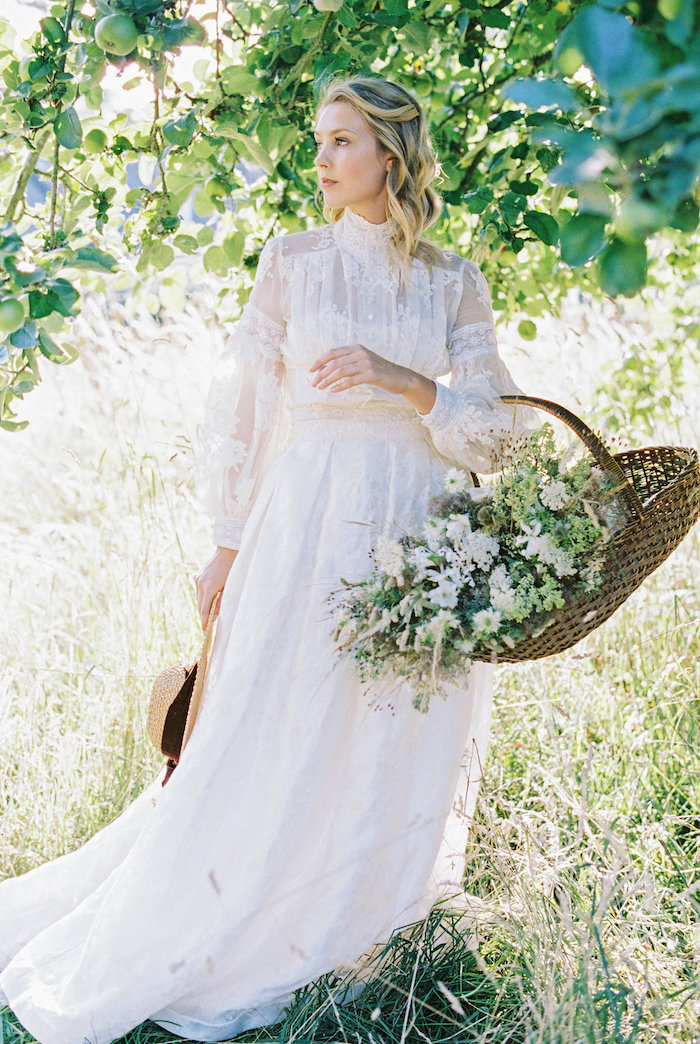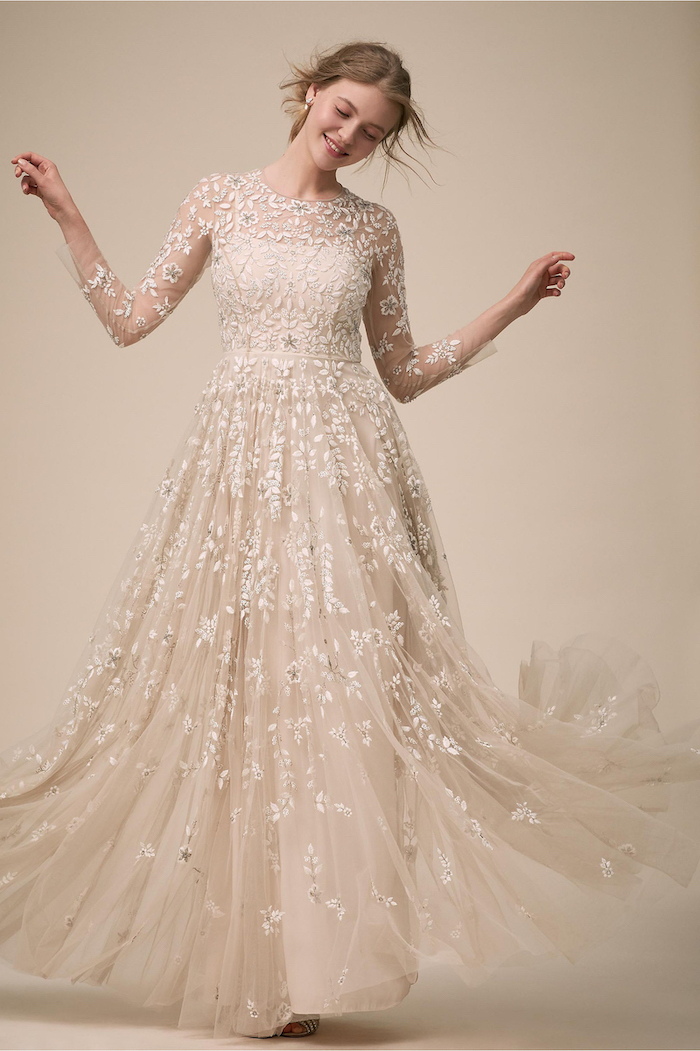 Kate Middleton seems to be a supporter of the long sleeve wedding dresses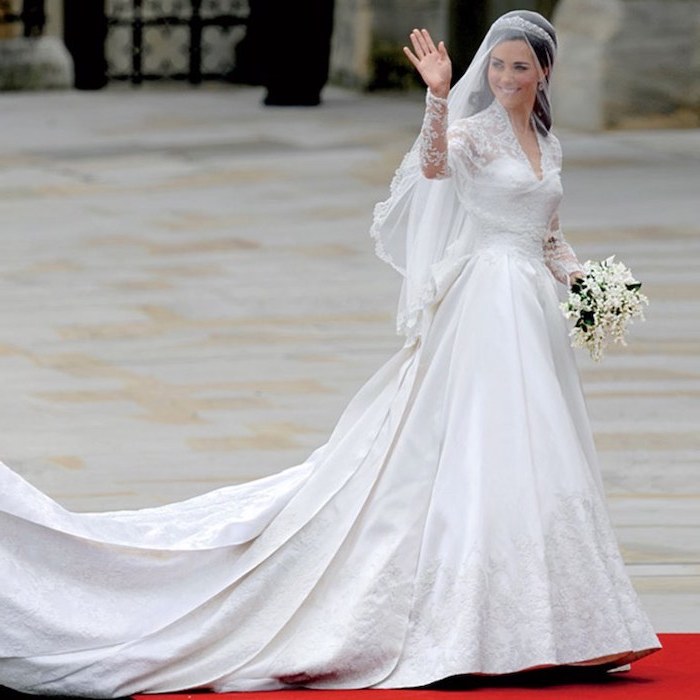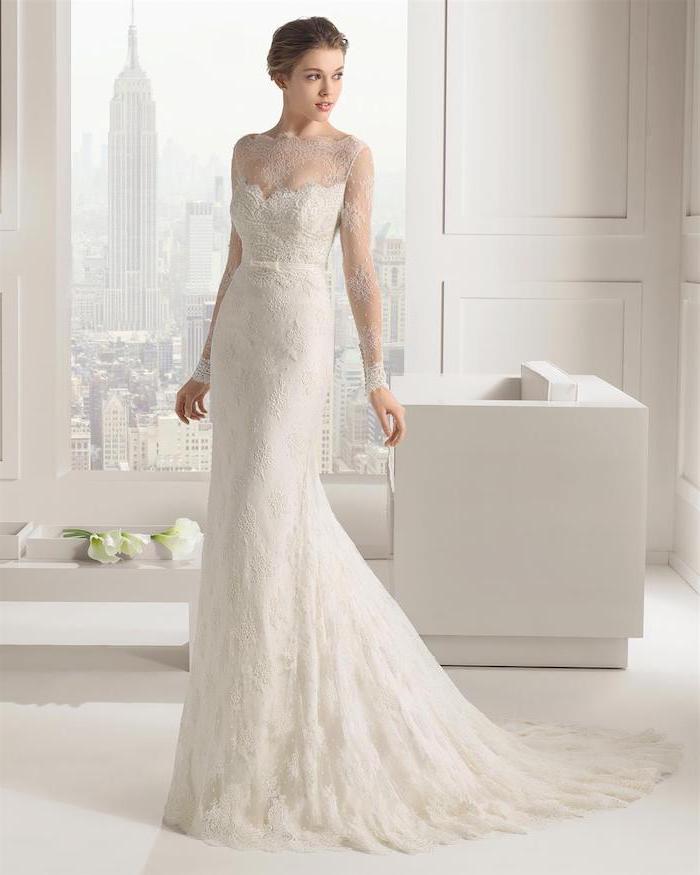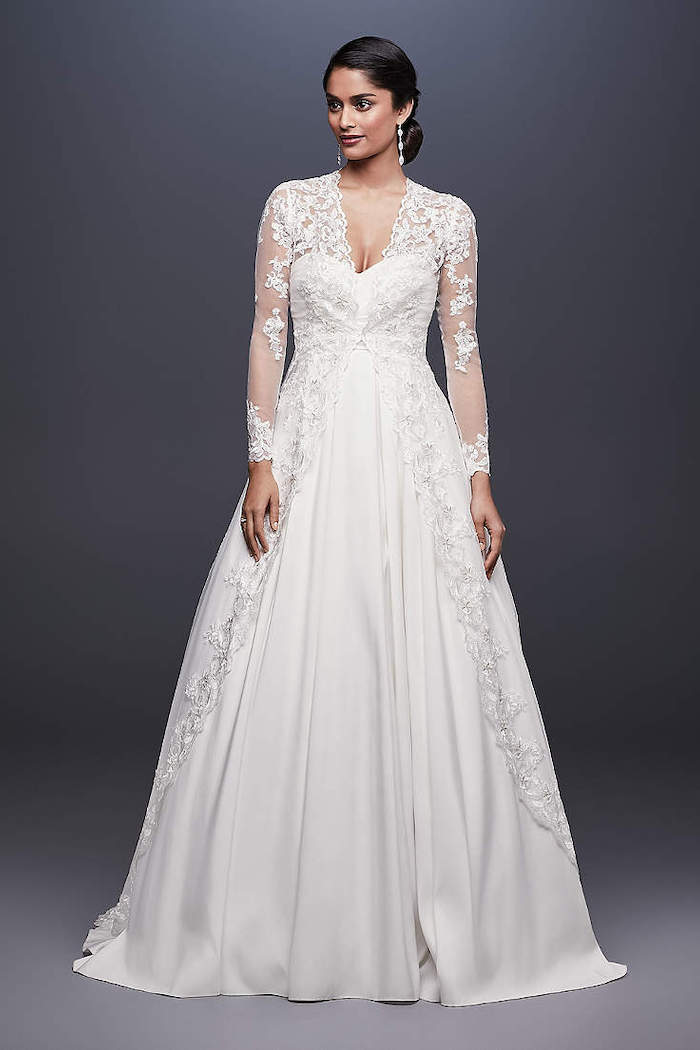 Tulle wedding dress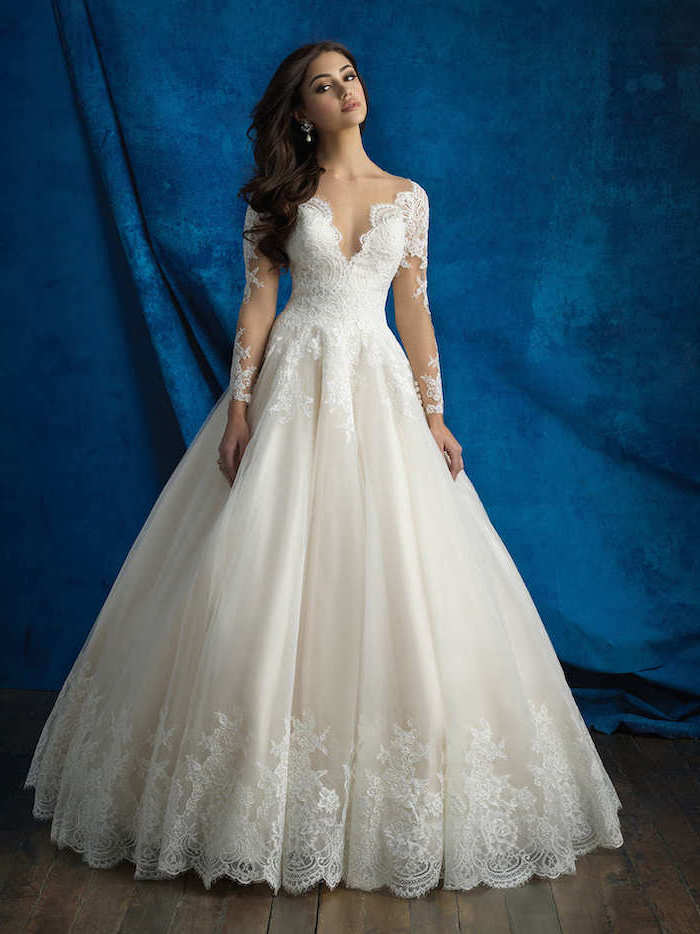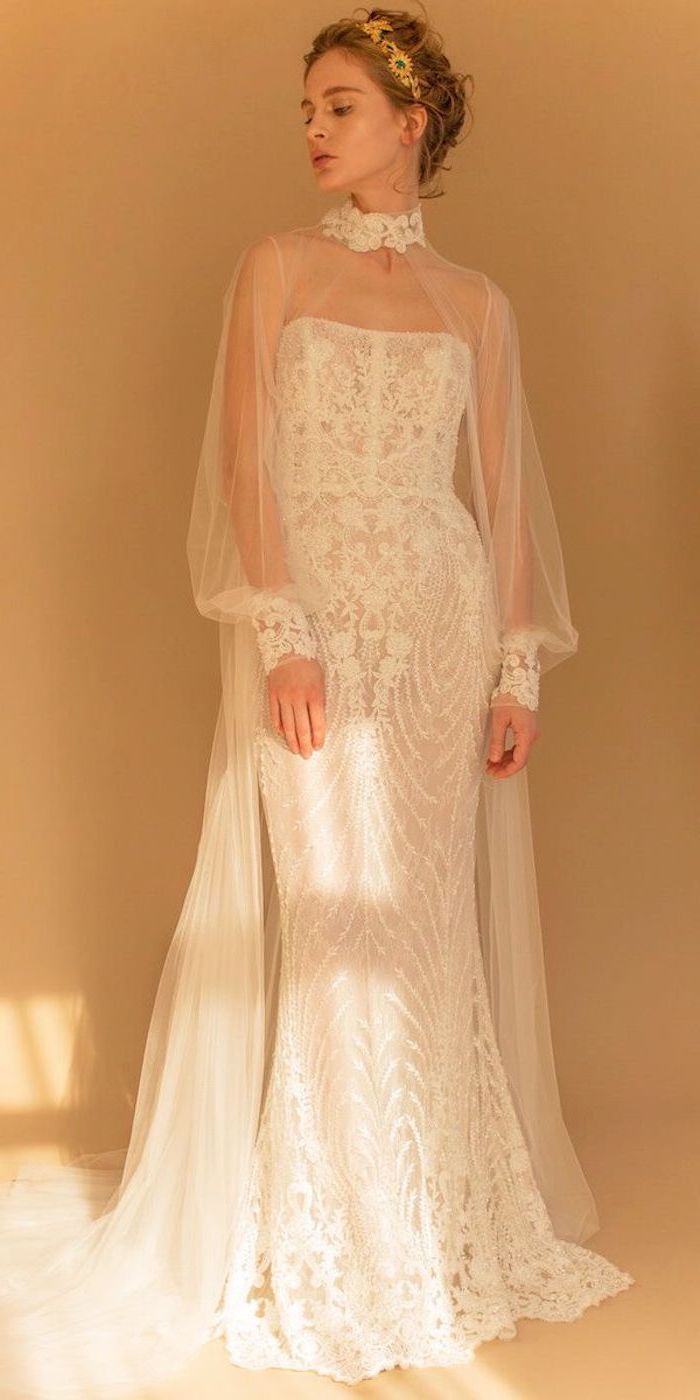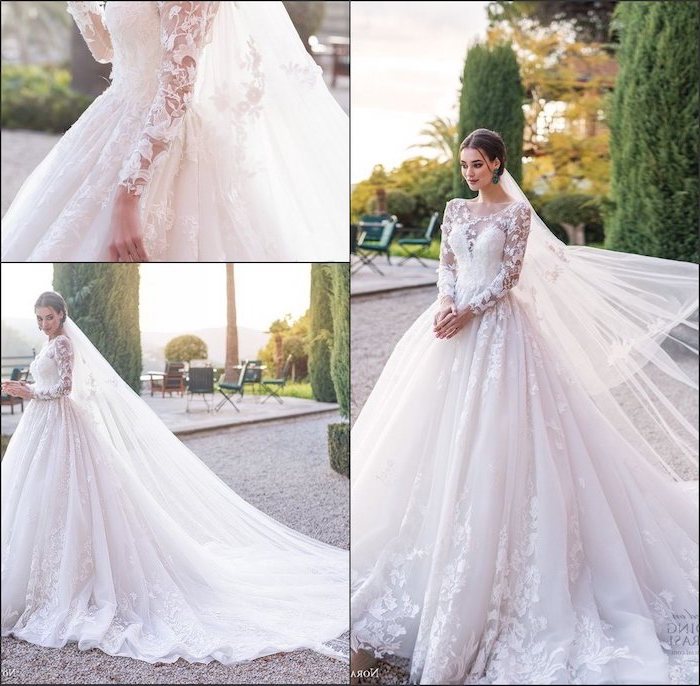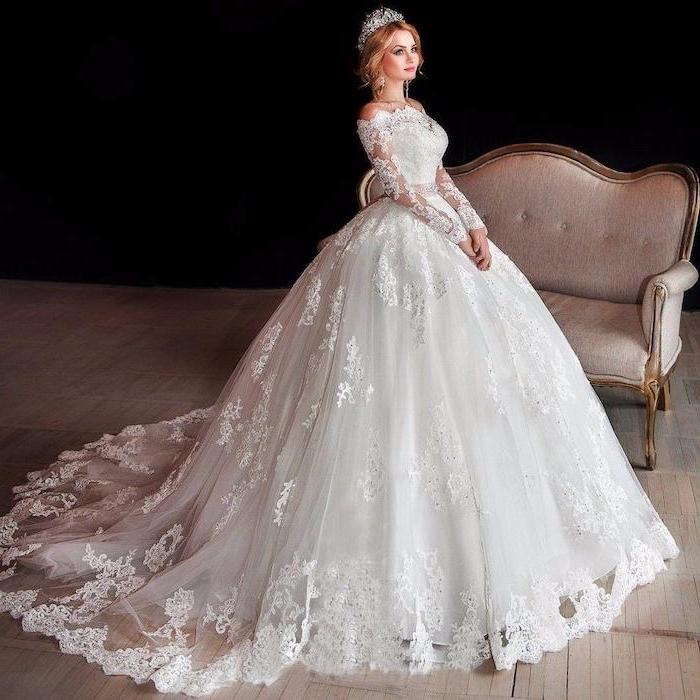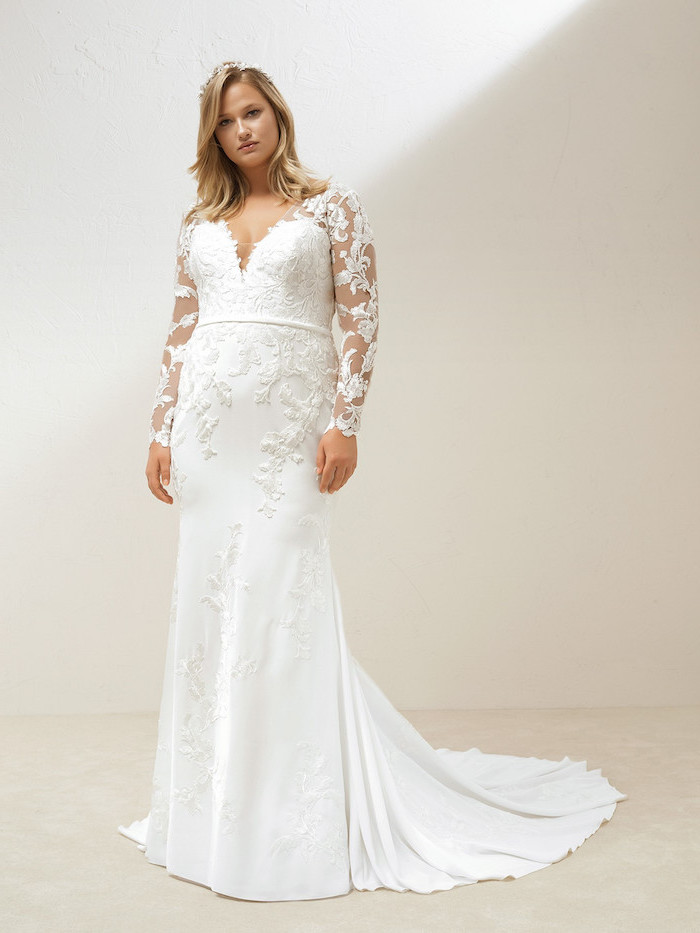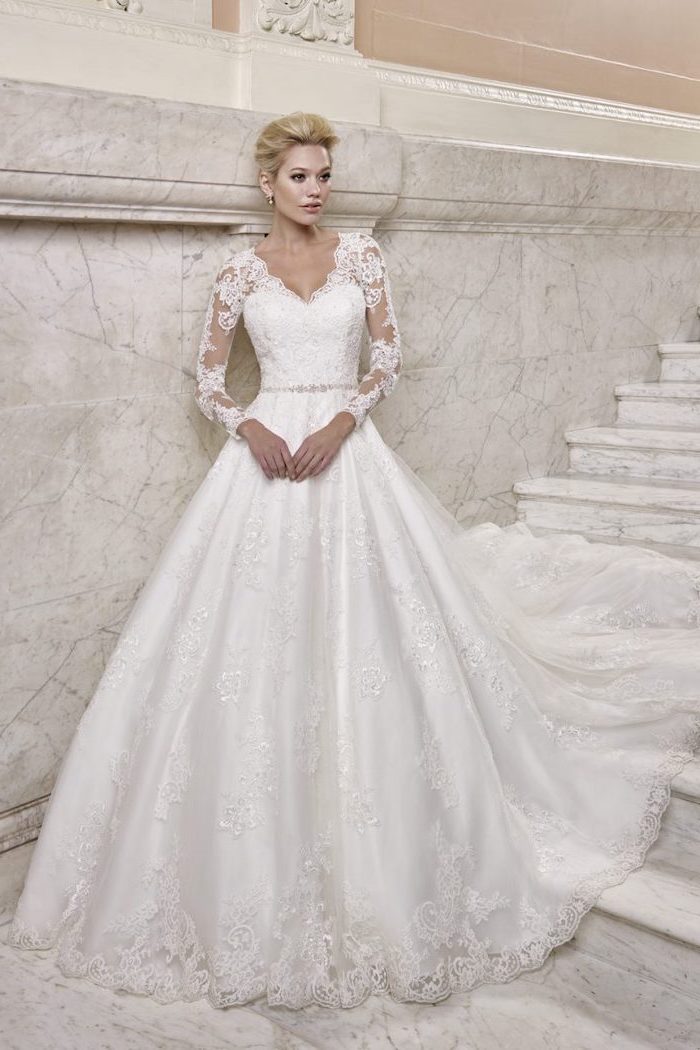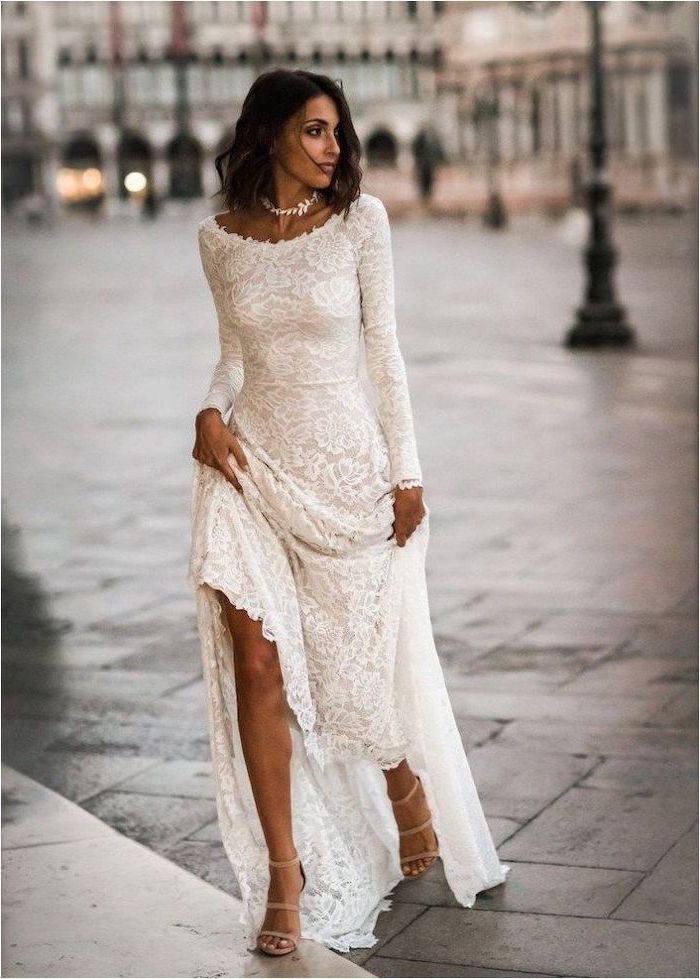 Chiffon wedding dress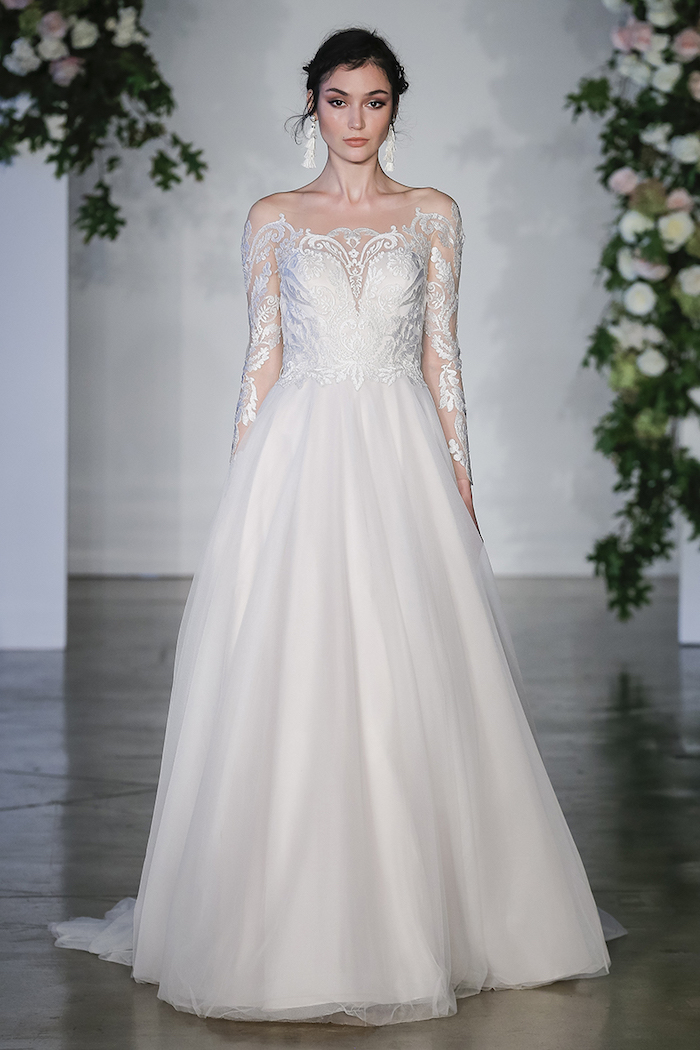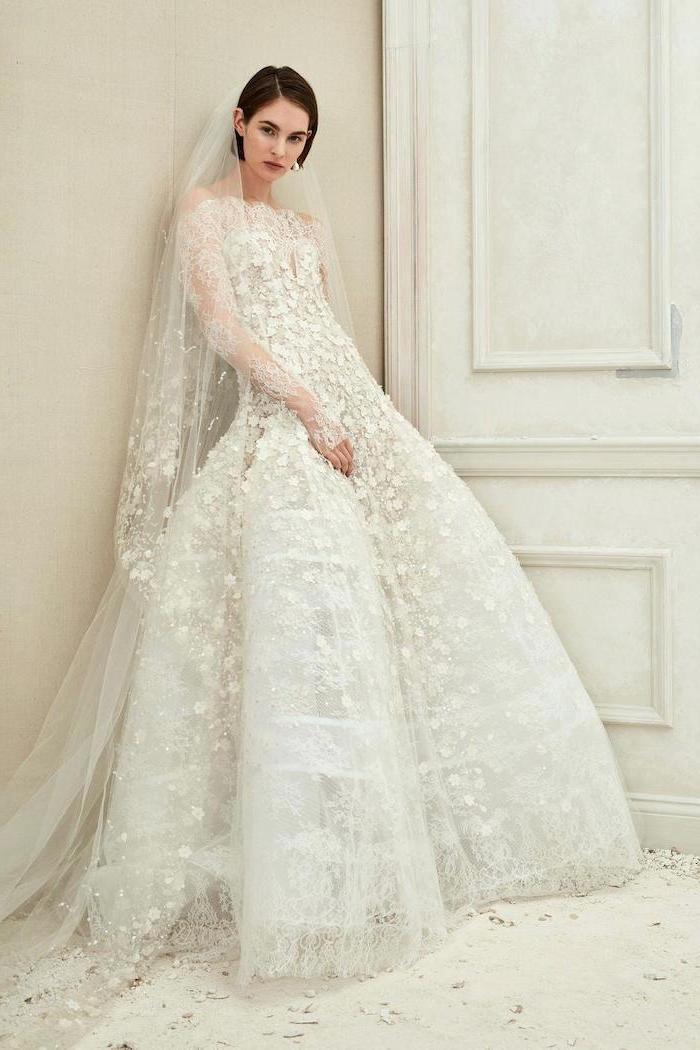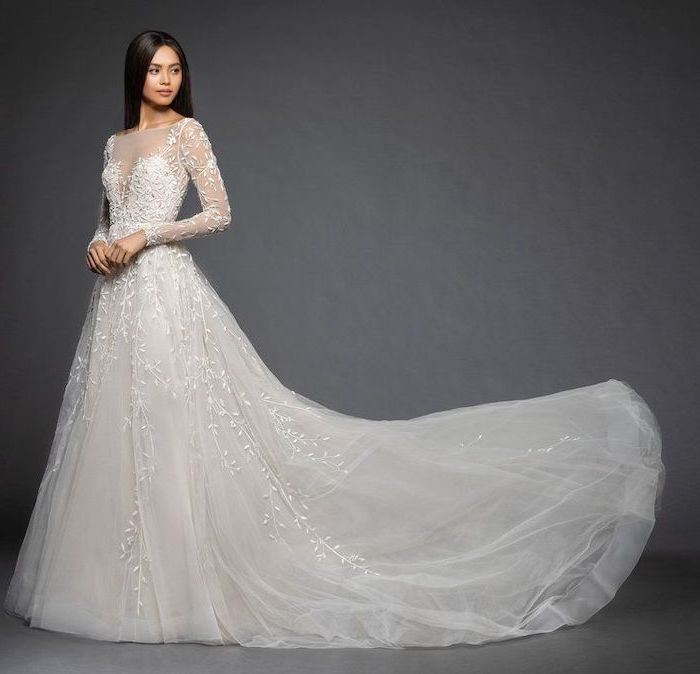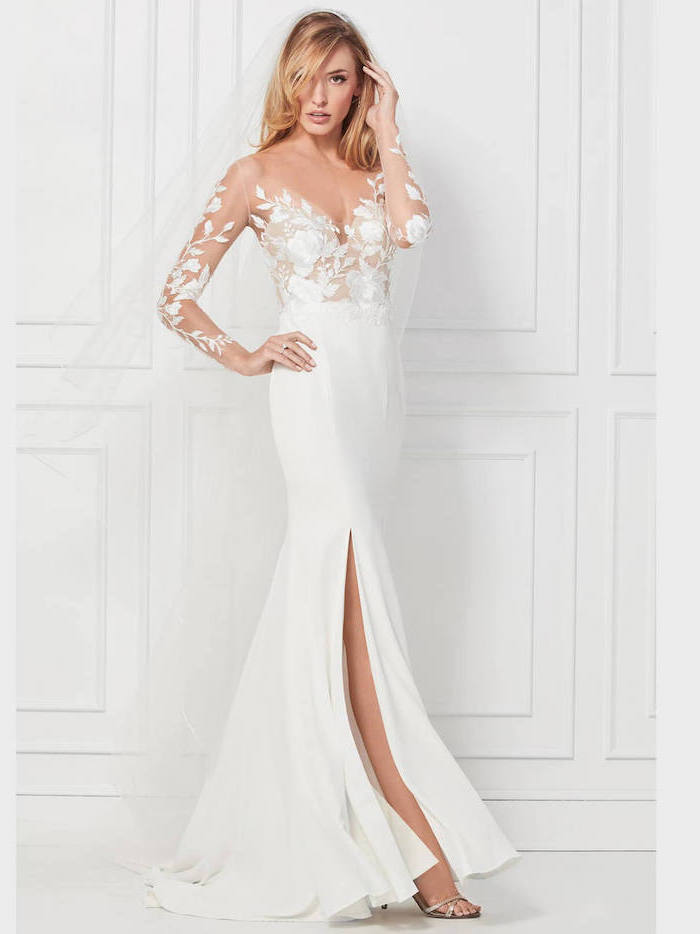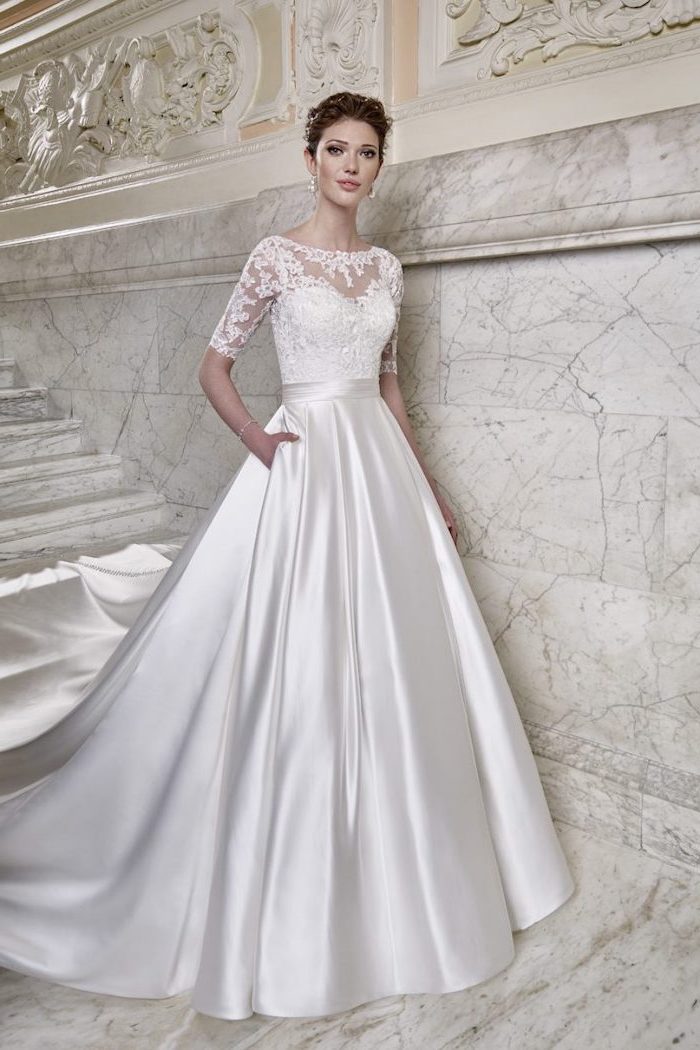 Meghan Markle seems to have started the trend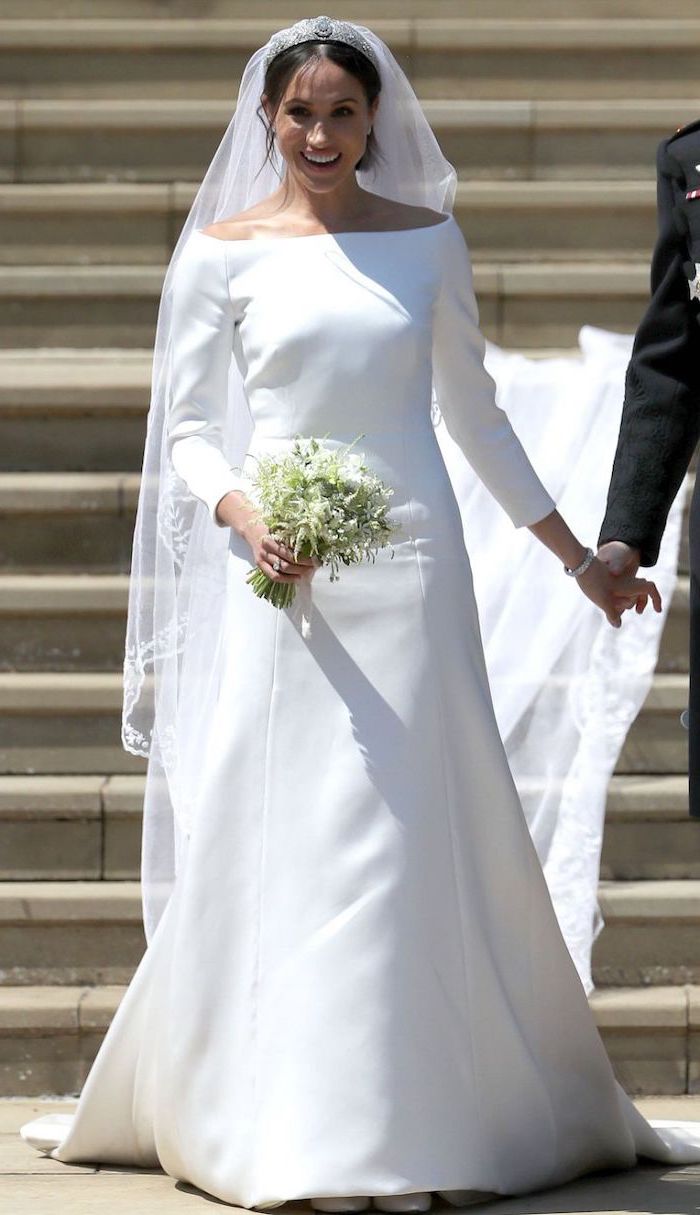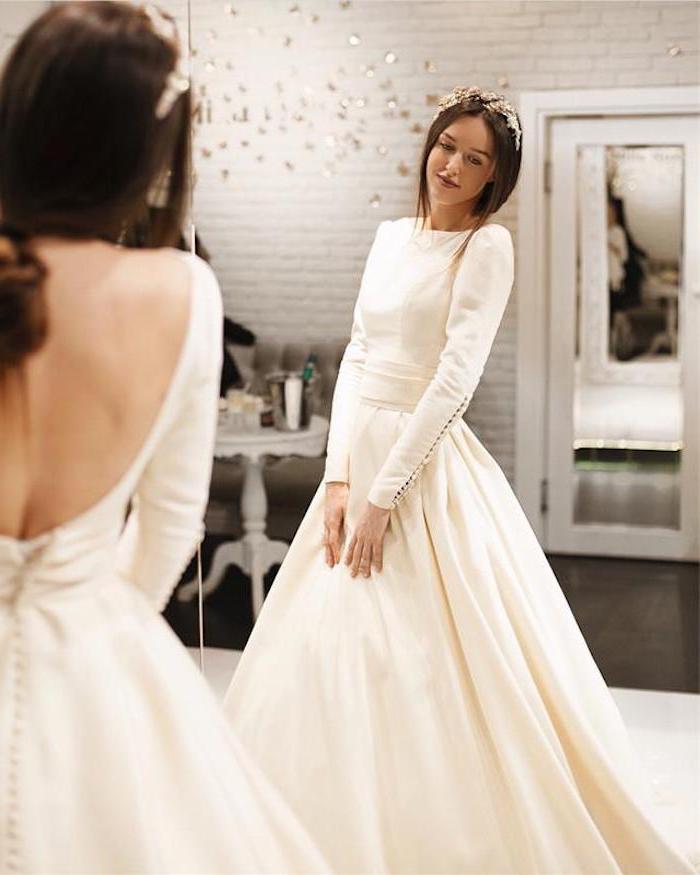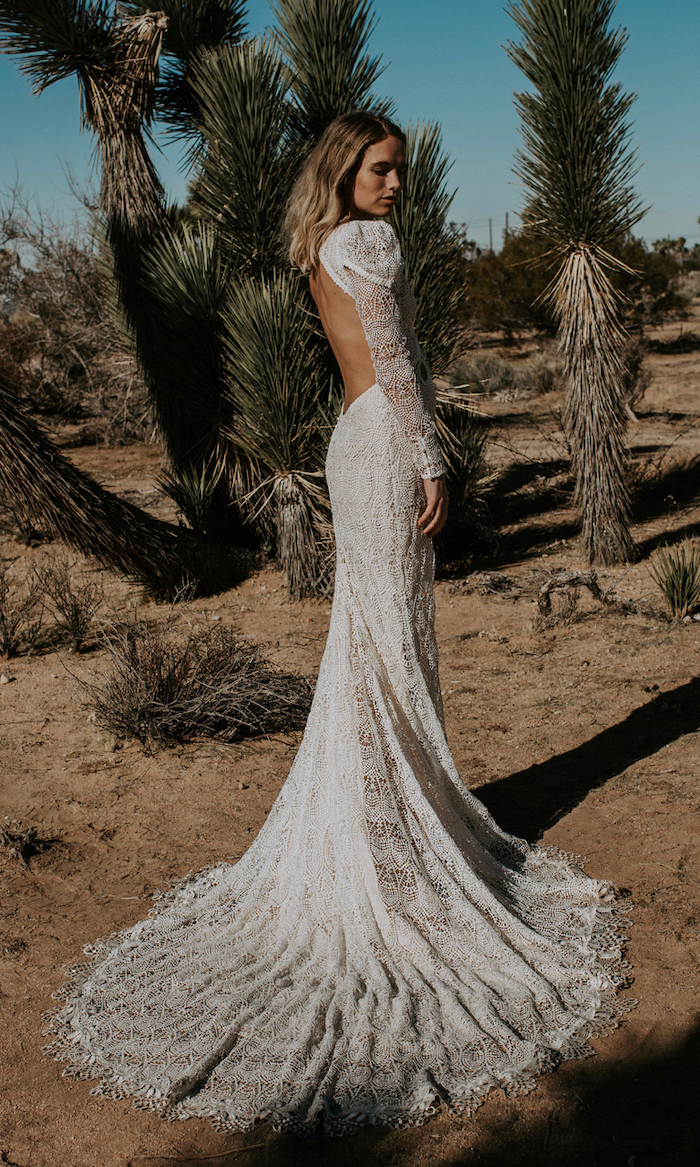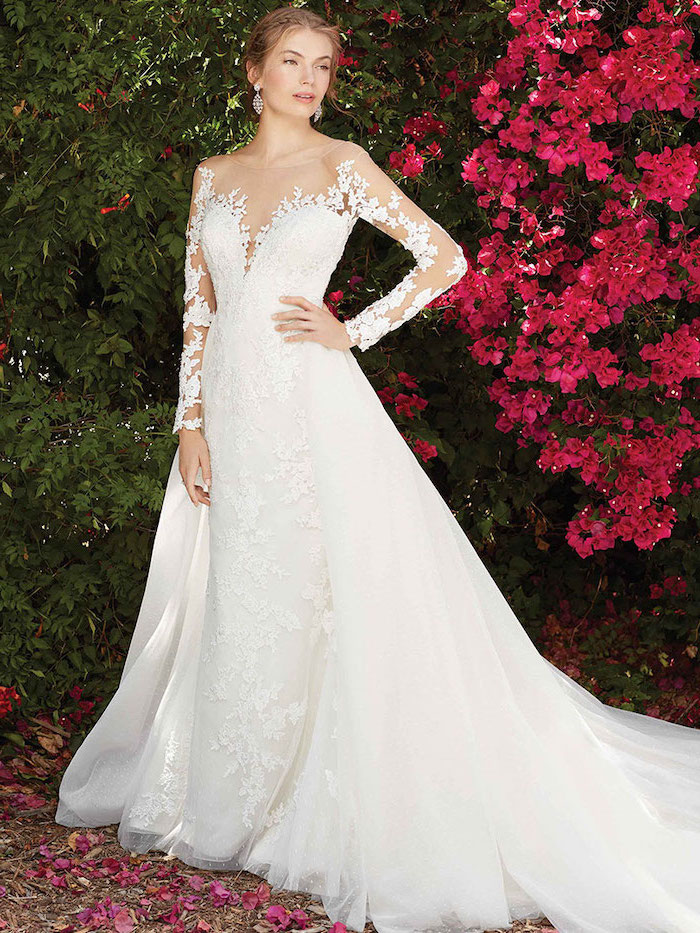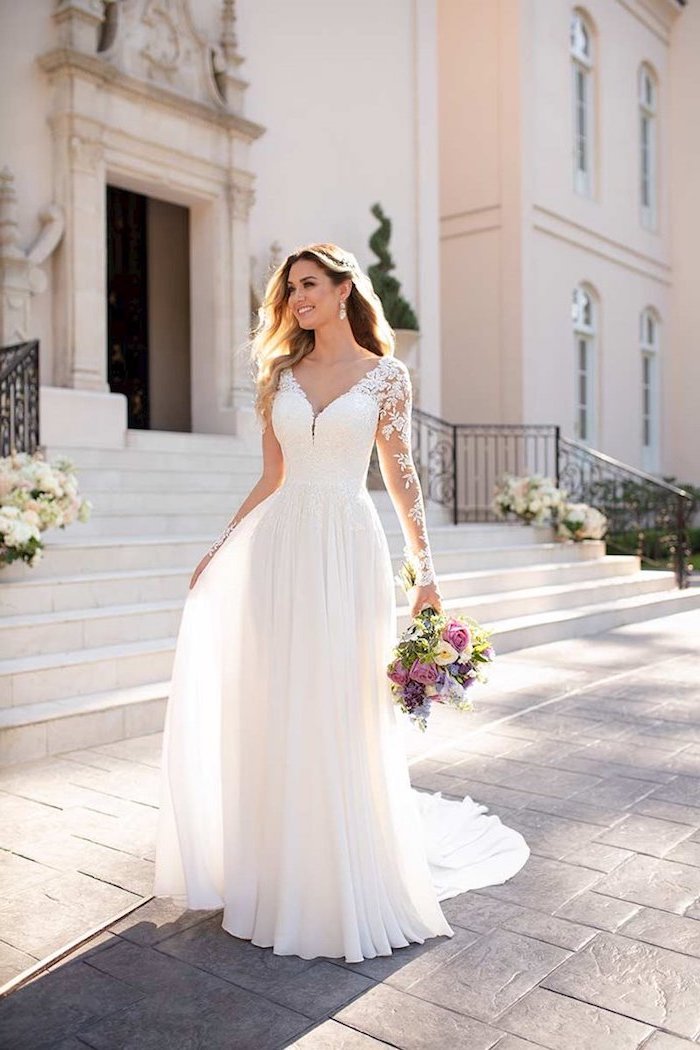 Gowns with sleeves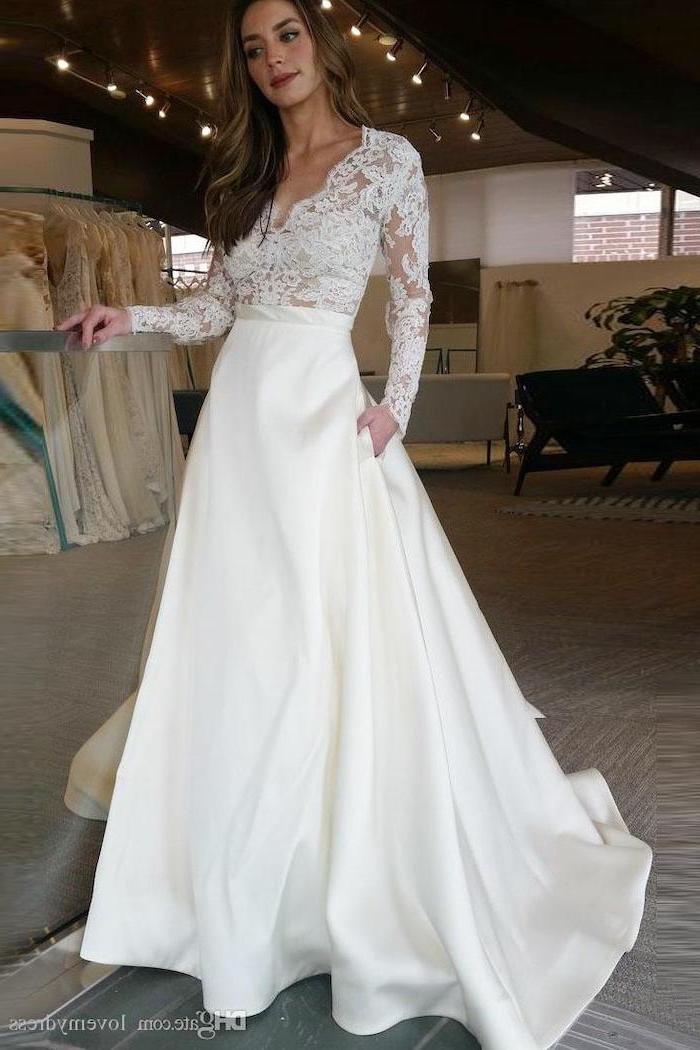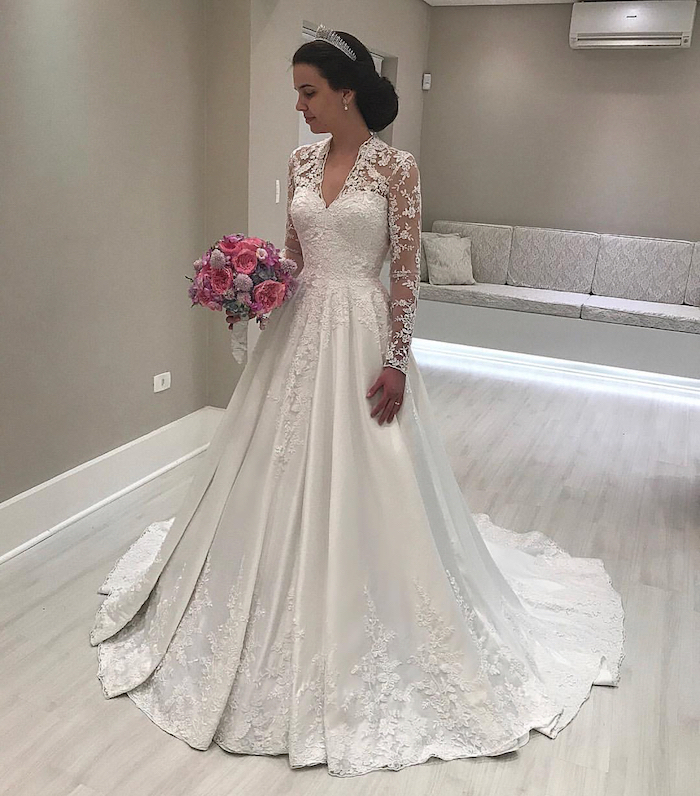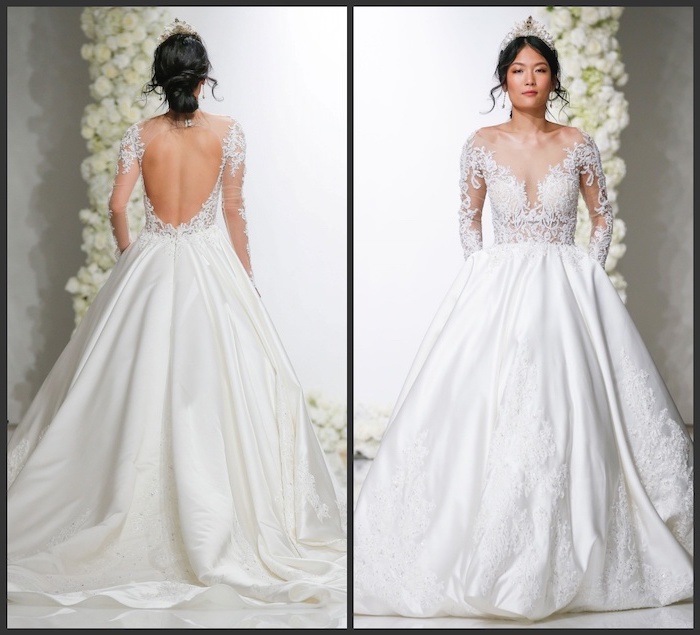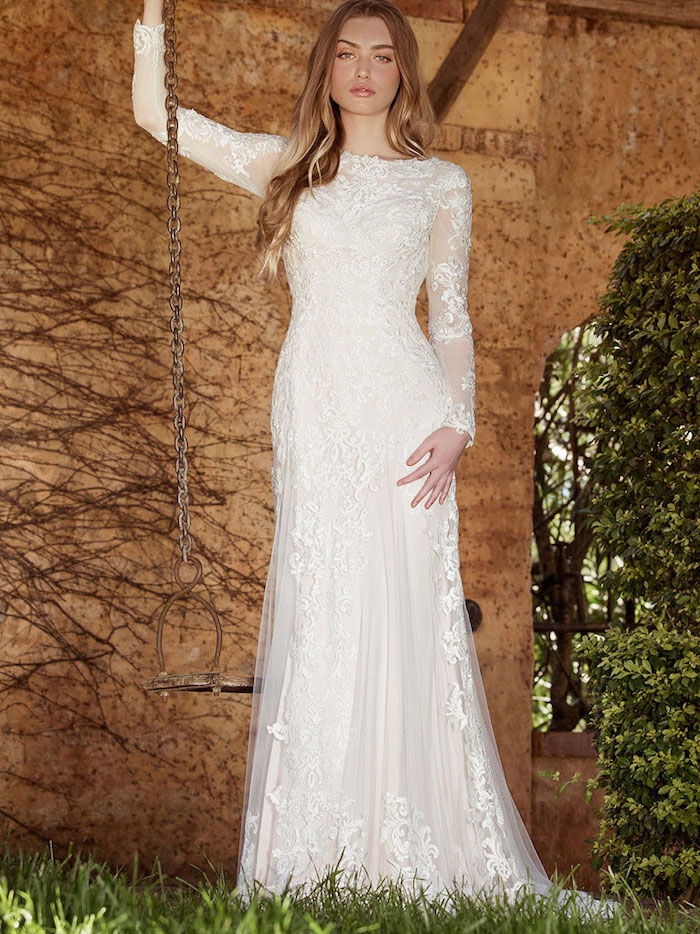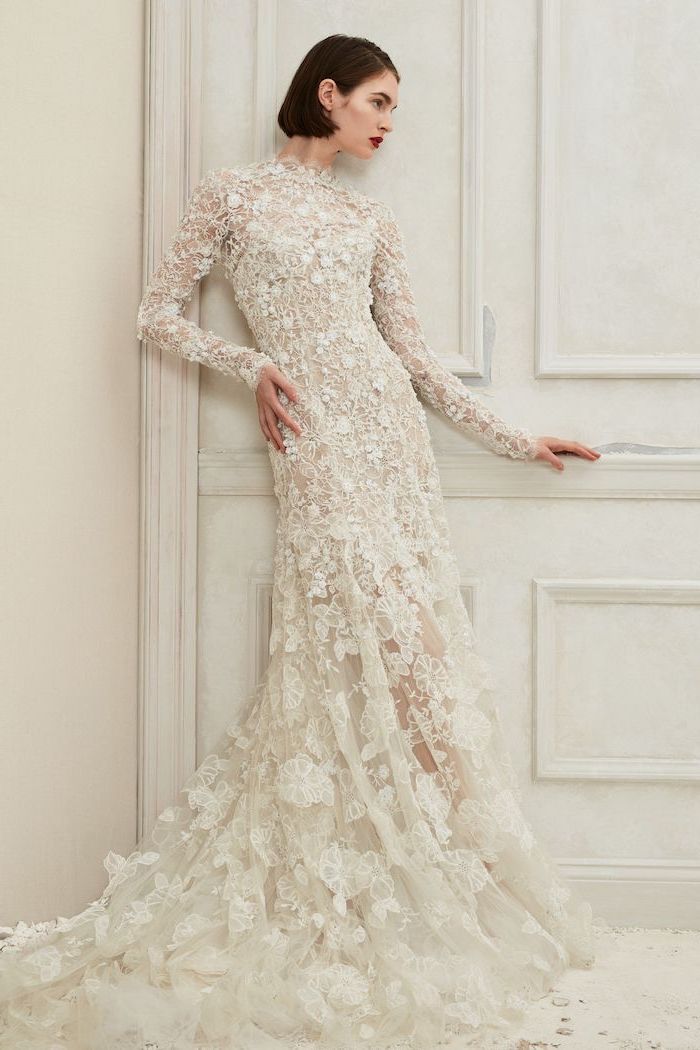 Long sleeve bridal gowns