This Valentine's Day Chocolate Bark Recipe Will Fill Your Heart With Love
Ah, Valentine's Day. It's the one day a year we all allow ourselves to be open and mushy with our feeling towards our loved ones. We give each over gifts, flowers, cards, and candy. Anything to bring a smile to that special person's face. And nothing says "I love you" more than some homemade Valentine's Day chocolate bark. This recipe is super easy to make, on theme, looks stunning, and it is delicious. What more can you want? If you want to surprise a loved one, make a tasty treat for yourself or bring something yummy to your v-day party, this chocolatey bark is the perfect choice. It's brings a mix of flavors that will melt your heart away. So, let's see how to make it.
Nothing says "I love you" more than some homemade Valentine's Day chocolate bark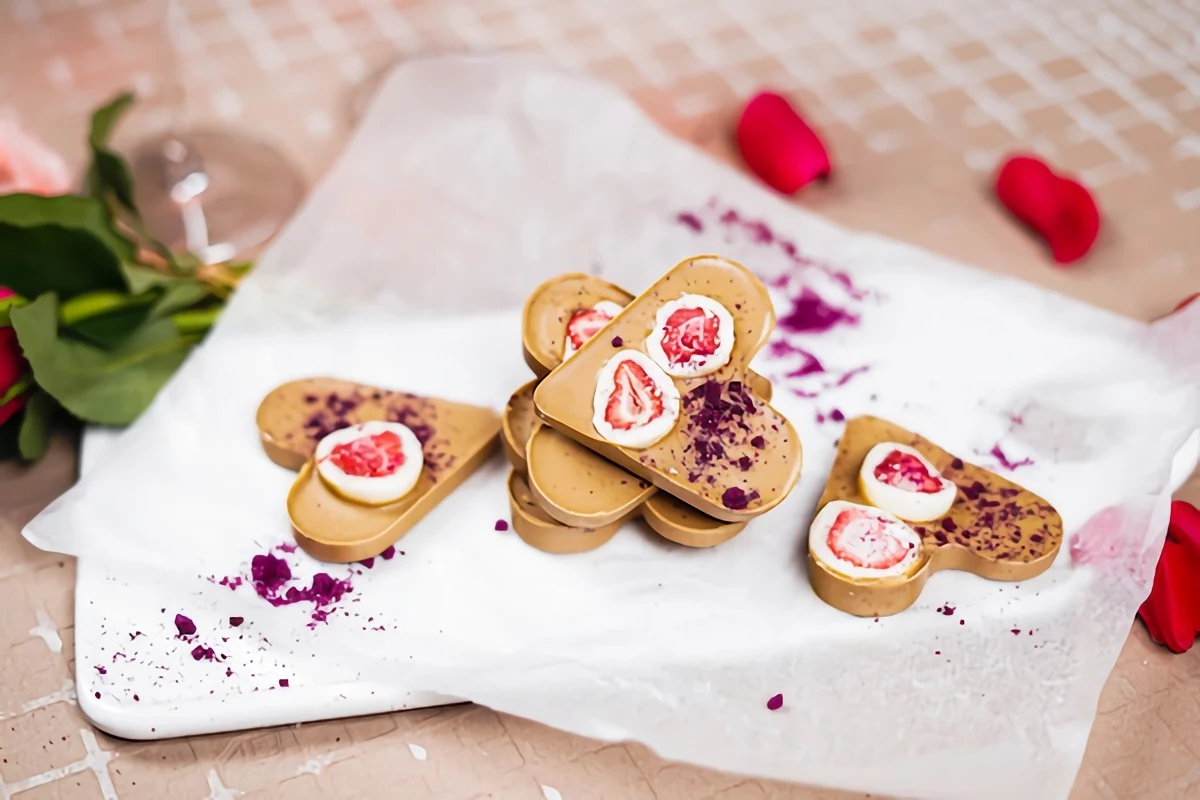 Surprise your loved ones with this delicious chocolate bark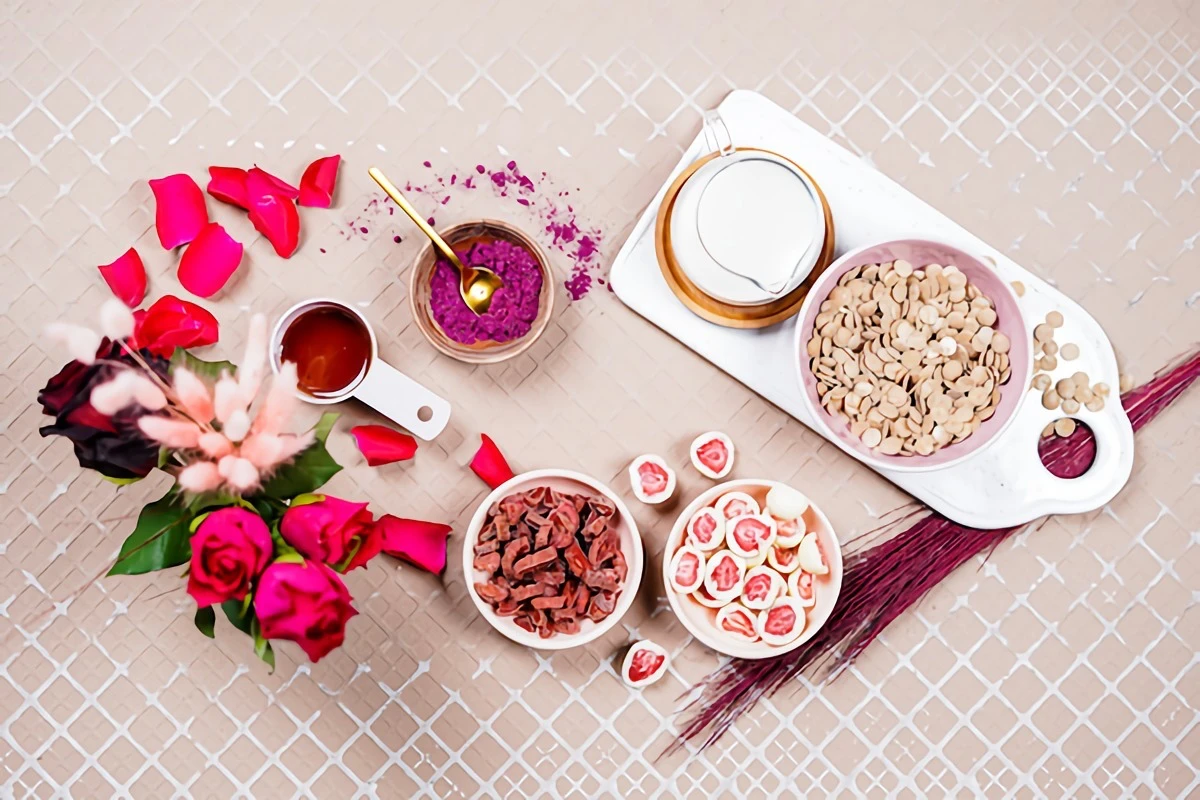 Valentine's Day Chocolate Bark Video Tutorial
Before you start cooking up this beautiful chocolate bark we recommend you give our video tutorial a look. While this recipe is super easy to prepare, it's always nice to look through a visual guide before you start tackling the recipe. It will help give you a sense of direction and how the steps go, so you don't worry during the process.
Make sure to give our video tutorial a watch before starting
Valentine's Day Chocolate Bark Recipe
This sweet Valentine's Day bark is as delicious, as pretty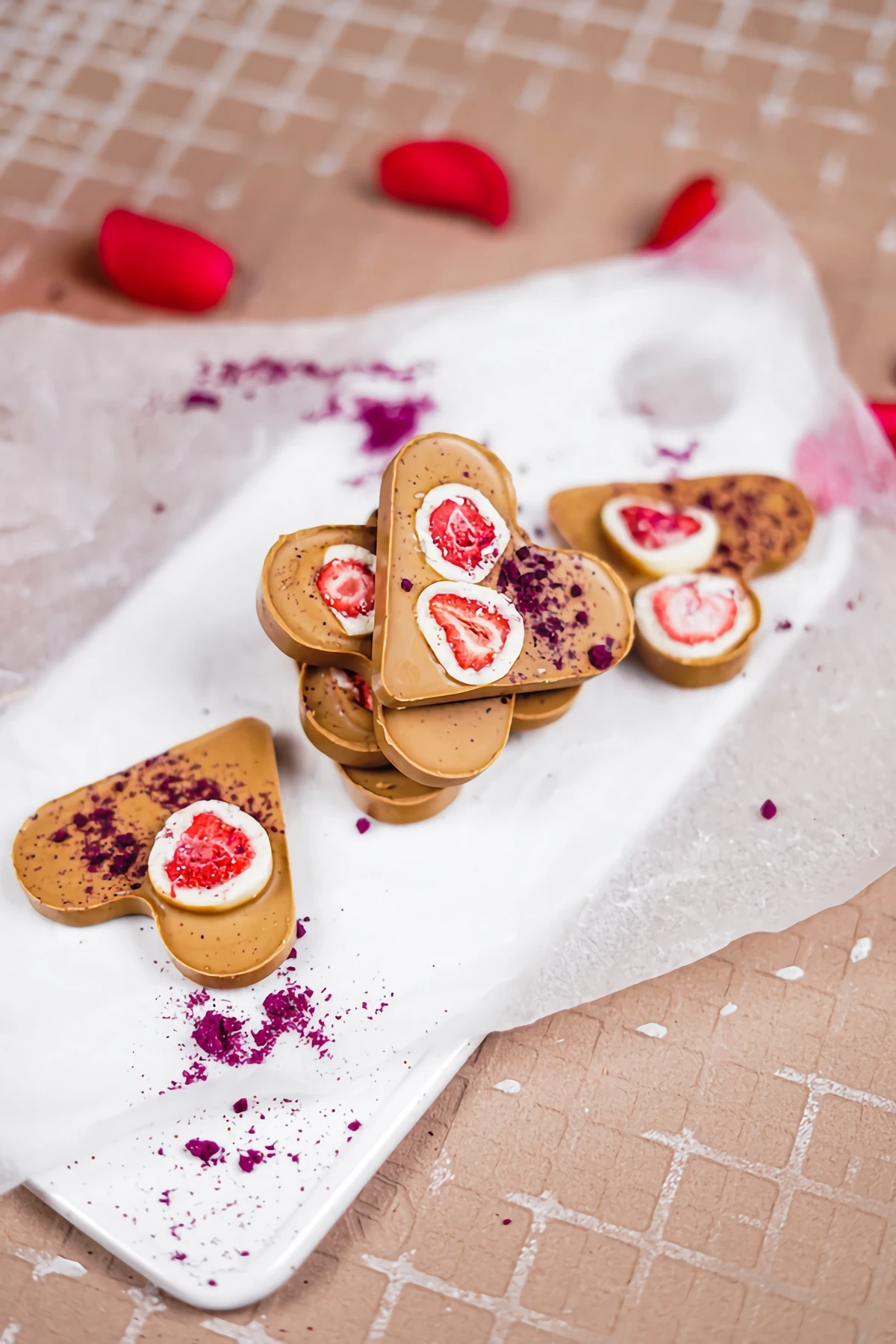 Preparation time: 10 minutes
Chilling time: 20 minutes
Equipment:
Measuring cups
Measuring spoons
Bowls
Microwave/Stove for melting
Whisk
Cutting board
Knife
Fridge
Heart-Shaped Silicone Forms
Ingredients:
50 grams White Vegan Chocolate, melted
100 grams Coconut Paste, melted
2 tbsp Maple Syrup
Dried Strawberries in Chocolate, halved
Freeze-dried Raspberry Powder
Step-by-Step Instructions:
Melt the vegan chocolate, as well as the coconut paste. Mix the two together and add the maple syrup. Whisk everything until it is combined.
Distribute the chocolate mixture equally in the silicone form.
Add two halves of a strawberry to each heart form.
Sprinkle each form with some raspberry powder on top.
Refrigerate the bark for around twenty to thirty minutes.
Take the hearts out of their forms and enjoy!
Visual Steps
First step: Melt your chocolate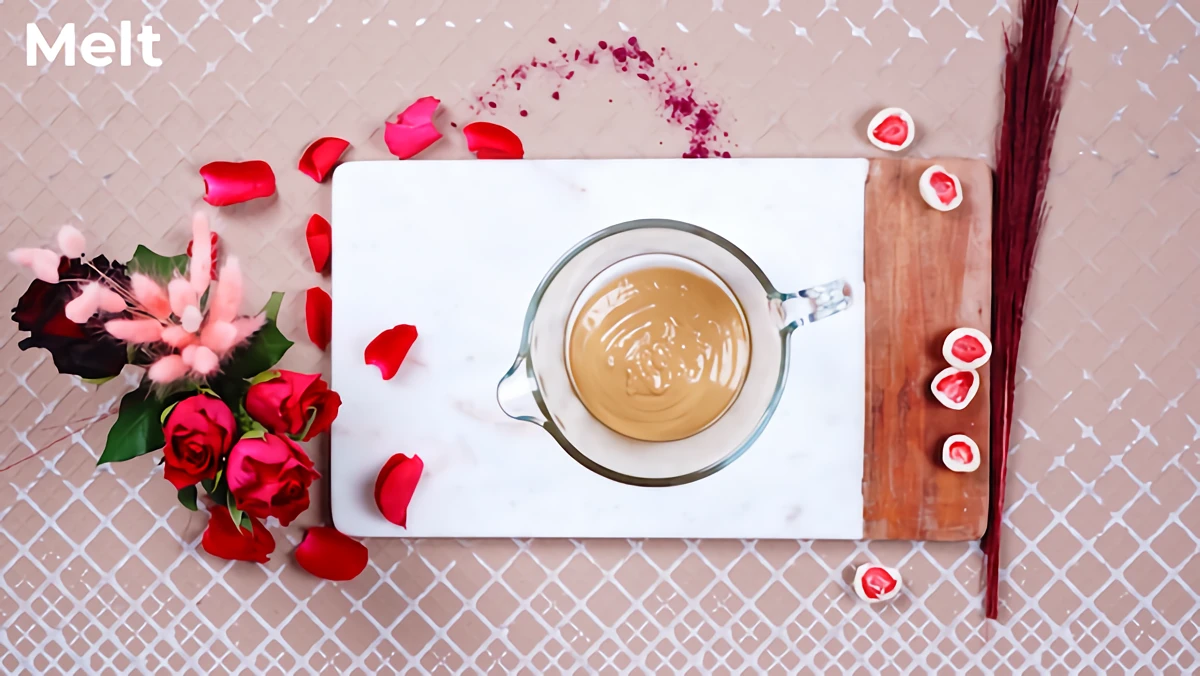 Second step: Add in the melted coconut cream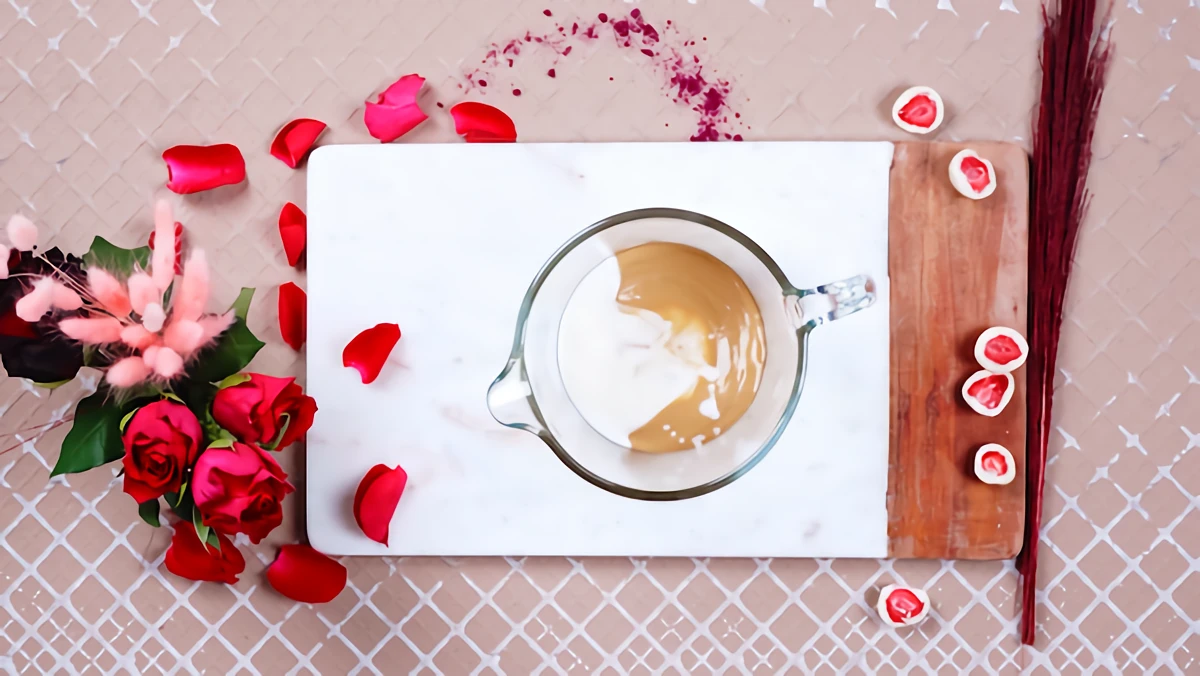 Third step: Add the maple syrup to the chocolate and cream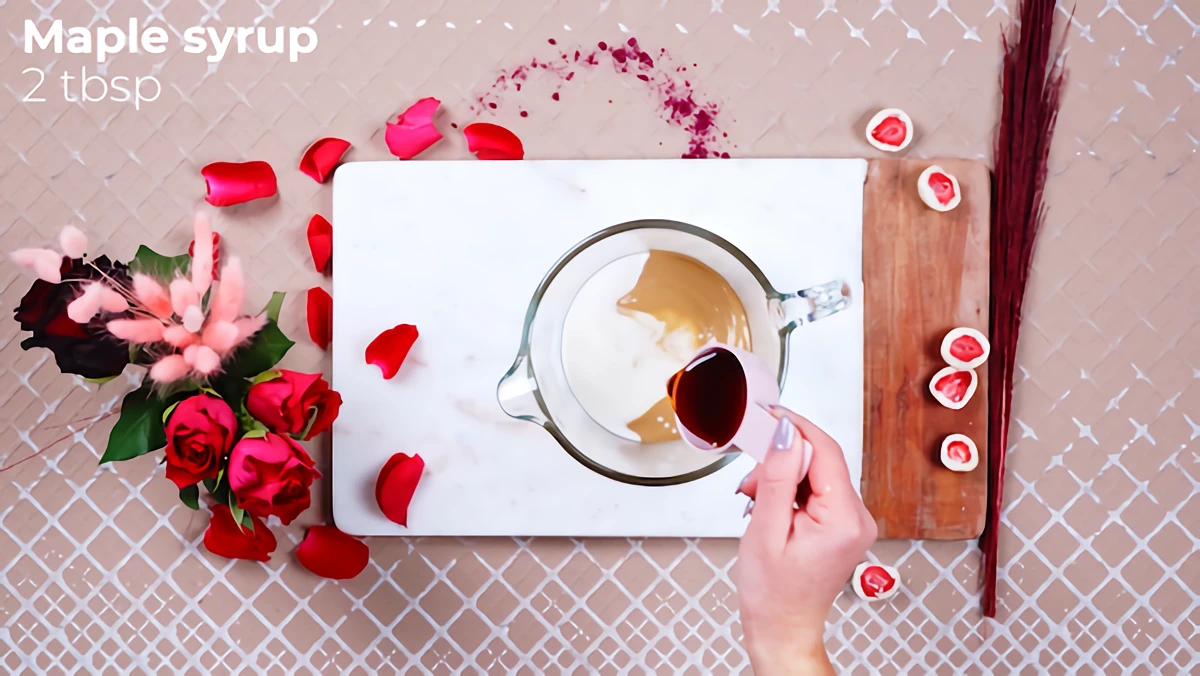 Fourth step: Mix everything until combined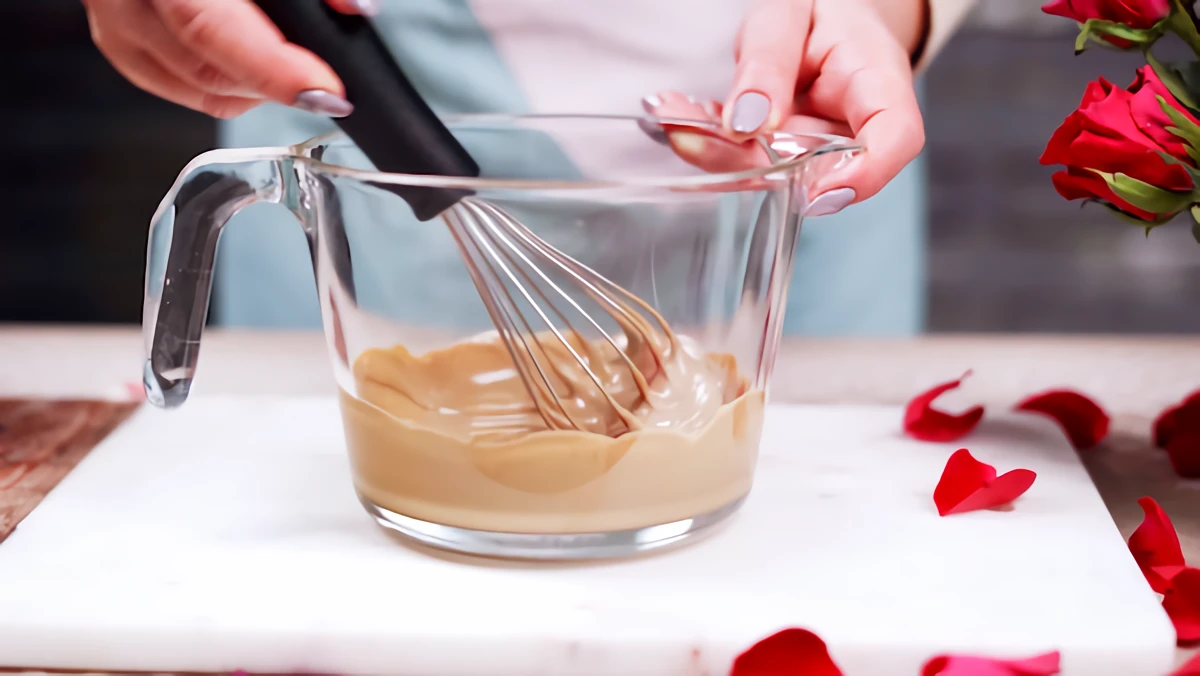 Fifth step: Pour the mixture evenly into your mold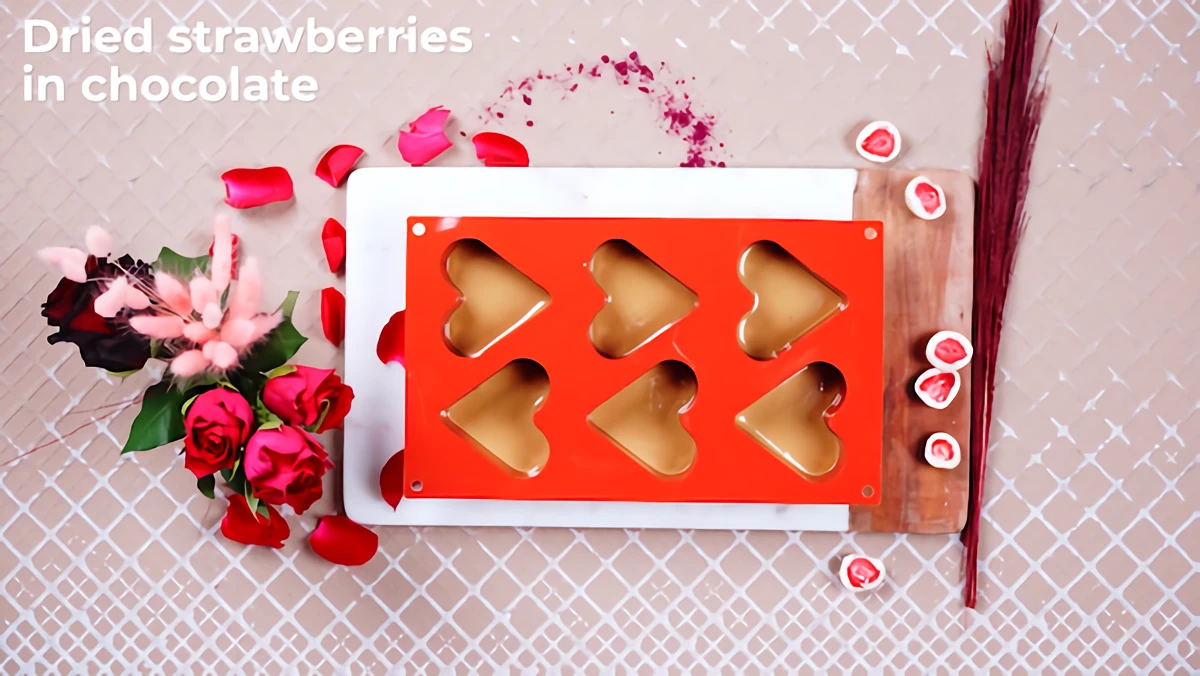 Sixth step: Place the halved strawberries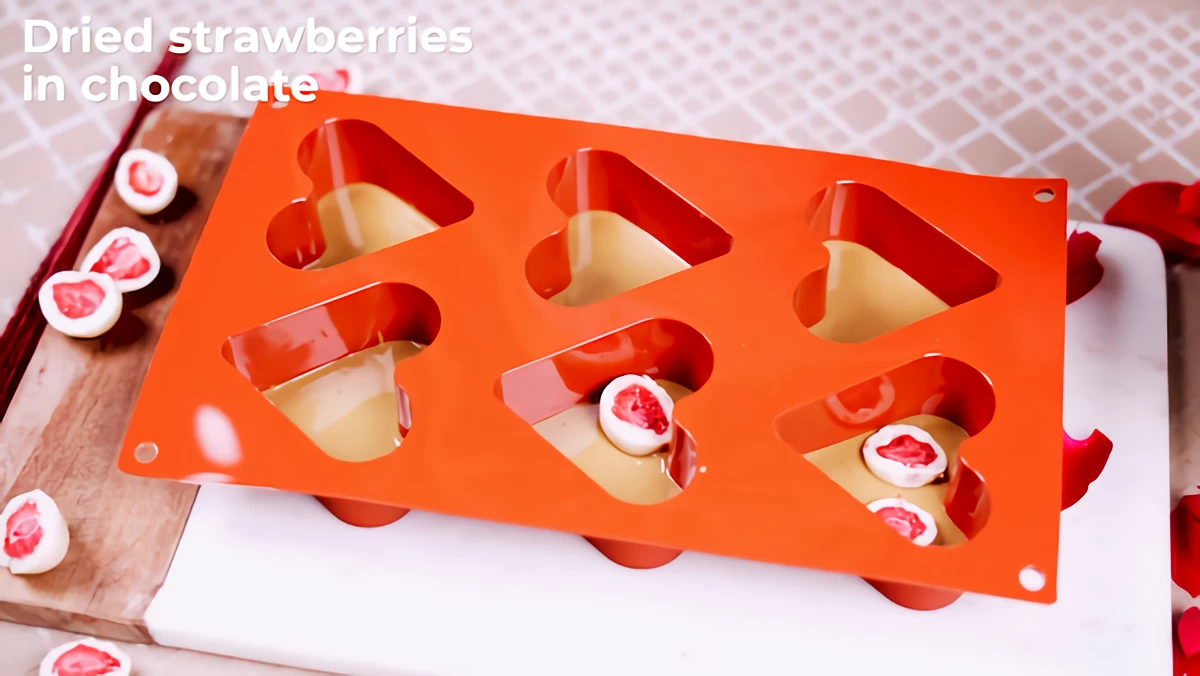 Seventh step: Sprinkle some dried raspberry powder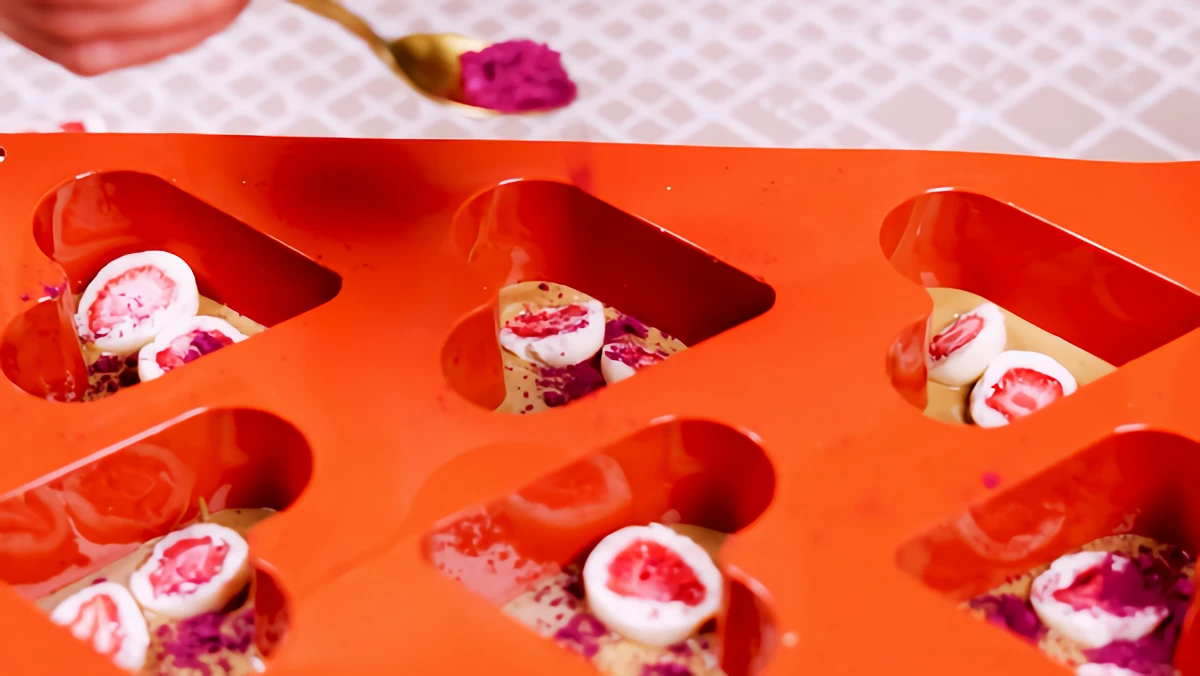 Eighth step: Refrigerate for twenty to thirty minutes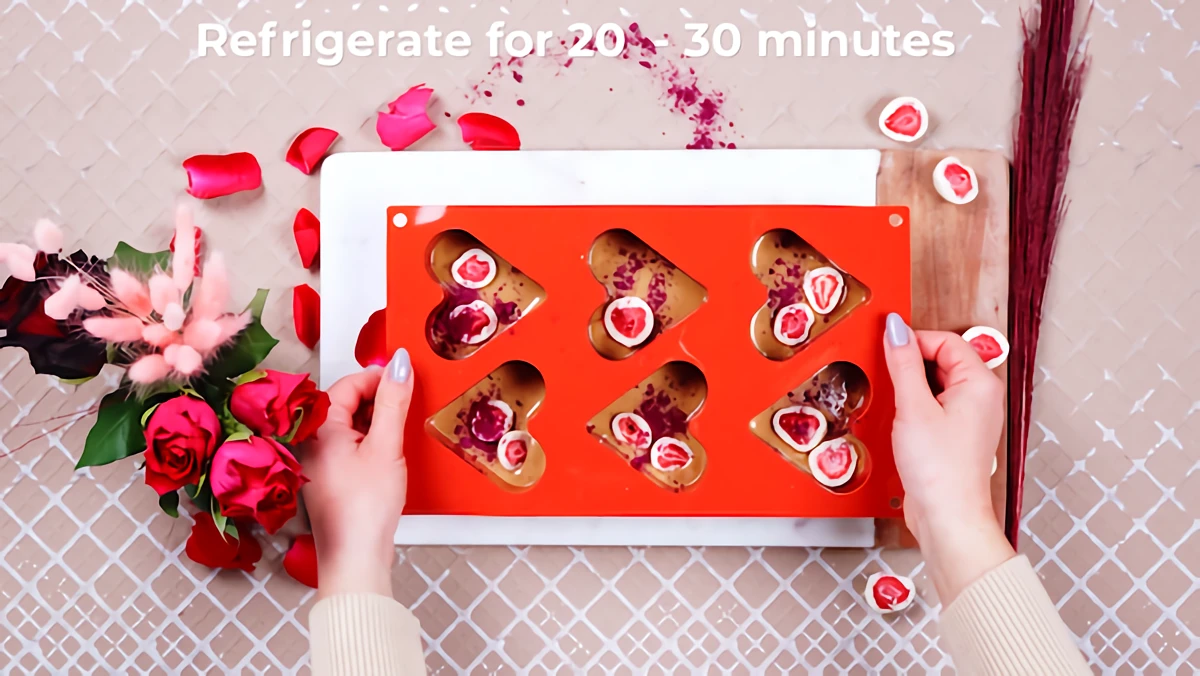 Ninth step: Enjoy!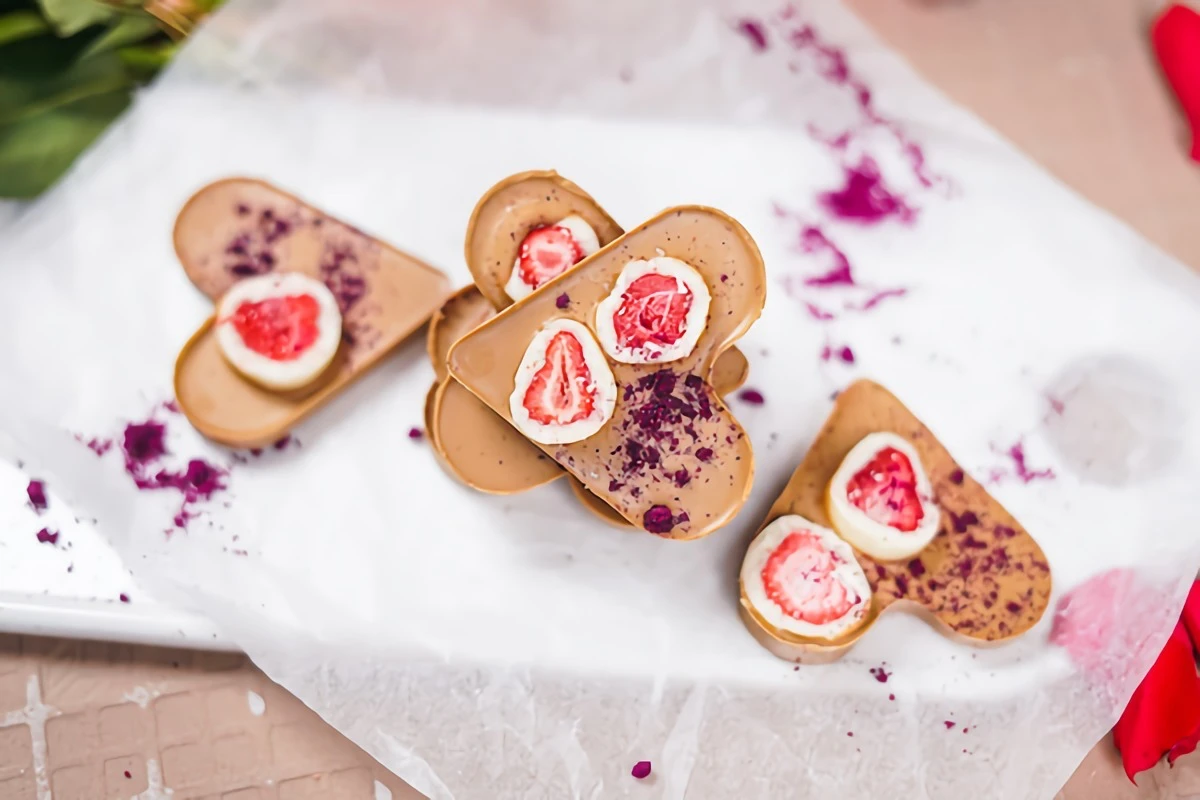 Tips and Tricks
The devil's in the details. Every recipe has its own little secrets. You know, all those little things, substitutions, and tricks that can make it taste not just "good", but amazing. The things can make the final product divine. That's why here we want to share with you all the details you need to know to make this yummy chocolate bark just perfect. Oh, and always remember that in the end, cooking is an art form, and you are the artist. This means you can change, add, or remove anything you like to this recipe. Just make sure the end product is to your taste bud's liking, and you stay true as much as you can to the original dish.
The devil's in the details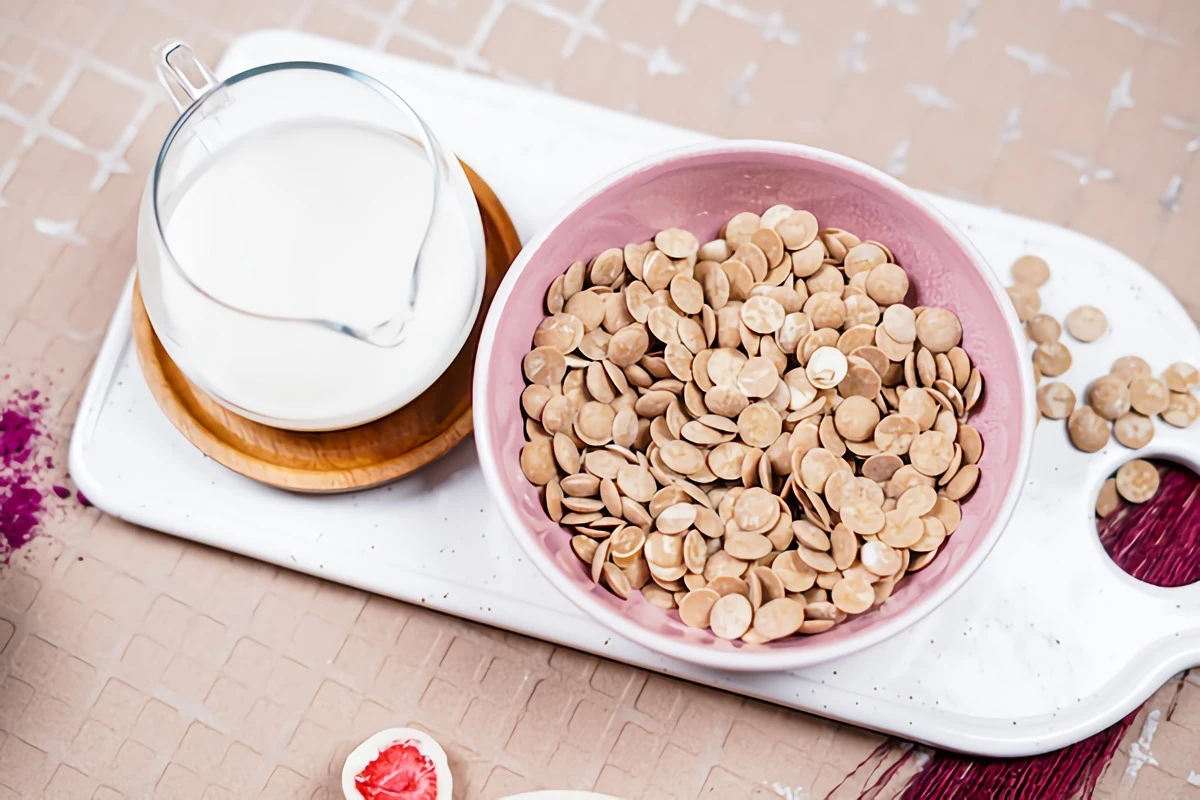 #Chocolate
While we used vegan chocolate in this recipe, feel free to use normal chocolate. You can also use a milk or dark chocolate, but the tastes will change of course. What is most important is that you get a chocolate without additives, so it melts better.
#Work Quick
Once everything is melted, and you've poured the melted chocolate in the forms, it's important to work quick. Place the strawberries in place as soon as possible, as the chocolate will start to harden the second it comes into contact with the cool silicone and air.
Cooking is an art form, and you are the artist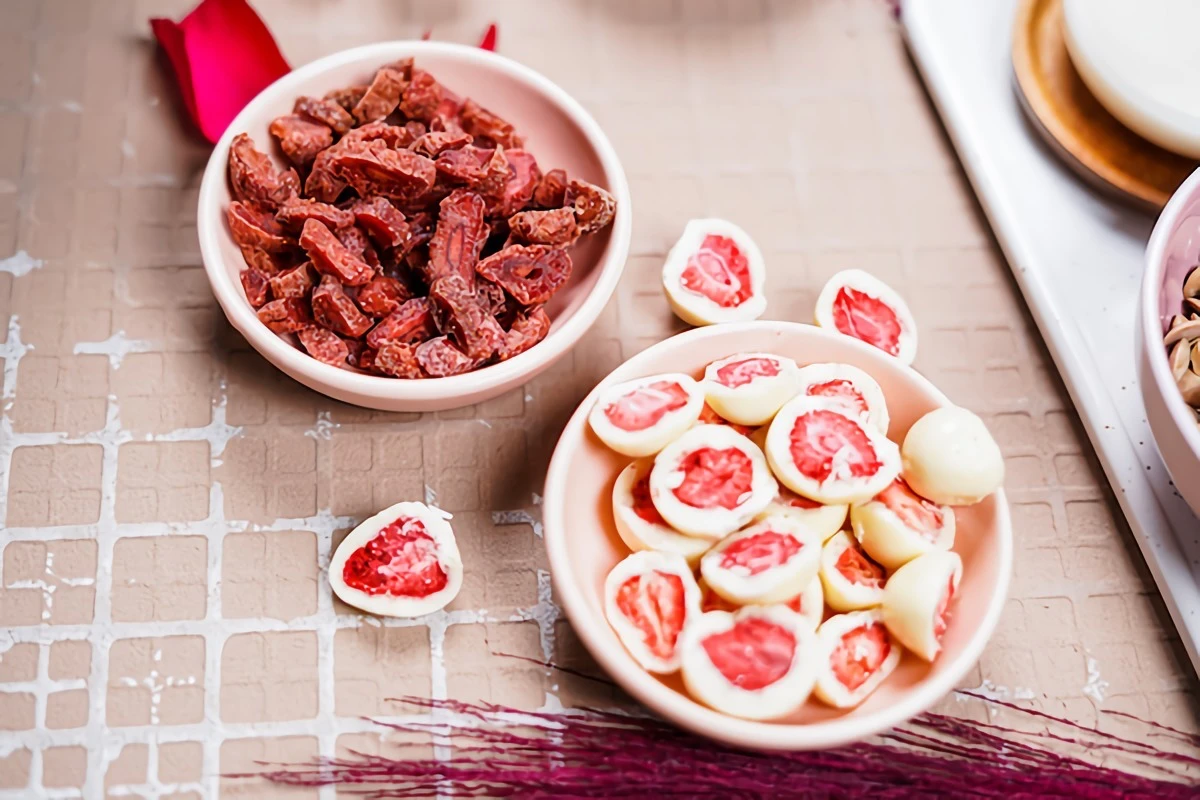 This yummy Valentine's Day chocolate bark is the perfect homemade treat for the holiday. Gift it, make it for date night, or bring it to Galentine's. Everyone will love it! If you enjoyed making this delicious recipe, then make sure to check out what other amazing recipes we have to offer over on our YouTube Channel. And if you need even more inspiration, just take a look at what other recipes we have to offer. You will find something for every occasion, holiday, craving, or party! Looking for something to satisfy your sweet tooth? Then try out our lovely soft and chocolatey gluten-free brownies! Maybe you are in need of some inspiration for a quick dinner? This creamy broccoli cheddar soup will warm you right up. Either way, we have something for everyone.
This yummy Valentine's Day chocolate bark is the perfect homemade treat for the holiday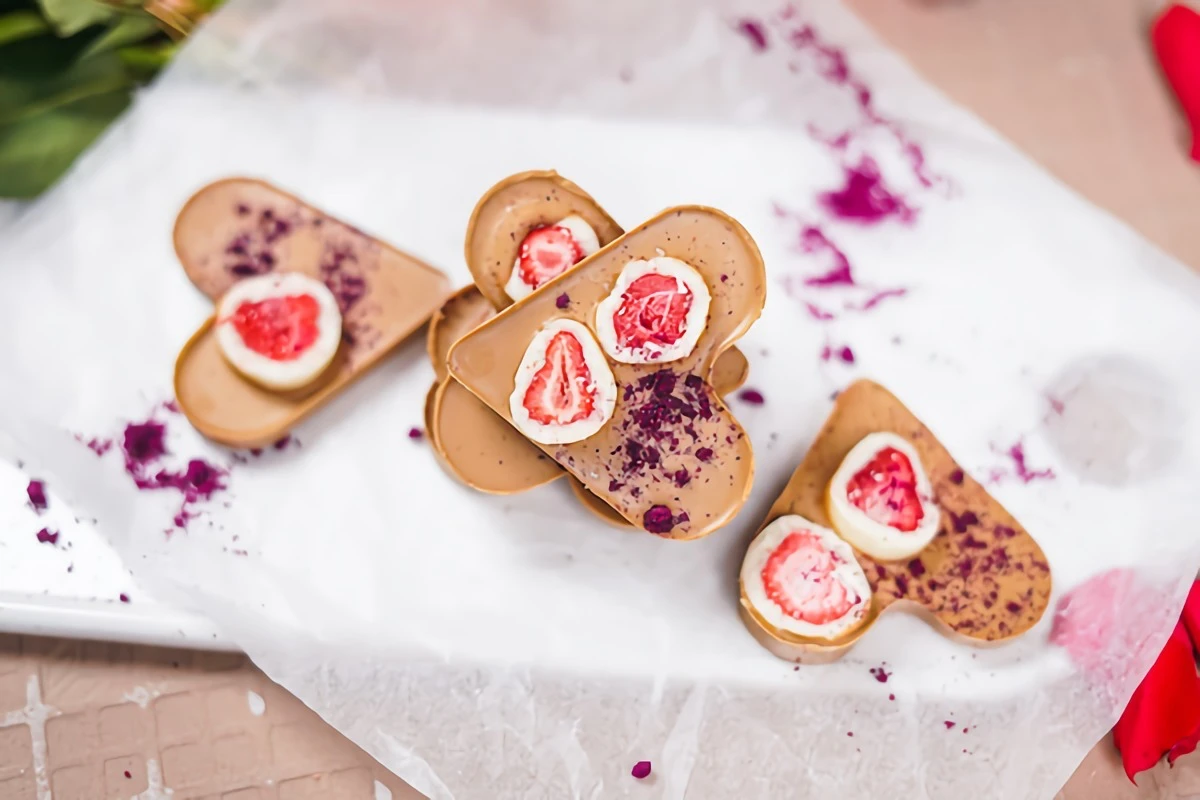 Related Articles
Sources: