Flocked Christmas tree decorating ideas for the 2021 festive season
Well, November is almost gone. Which of course means that Christmas time is getting closer and closer. And, if you are like us, you can't wait to get those gorgeous decorations up. There is just something so special about putting up the Christmas tree, hanging the stockings and decorating your interior. All of a sudden your home looks cozy and filled with joy and Christmas spirit. So, because we want to help you have the most amazingly decorated home this festive season, we've prepared a special article for you today. It is filled with gorgeous flocked Christmas tree decorating ideas which you absolutely have to try for the 2021 festive season. Trust us, your guests will be impressed!
Flocked Christmas trees are so beautiful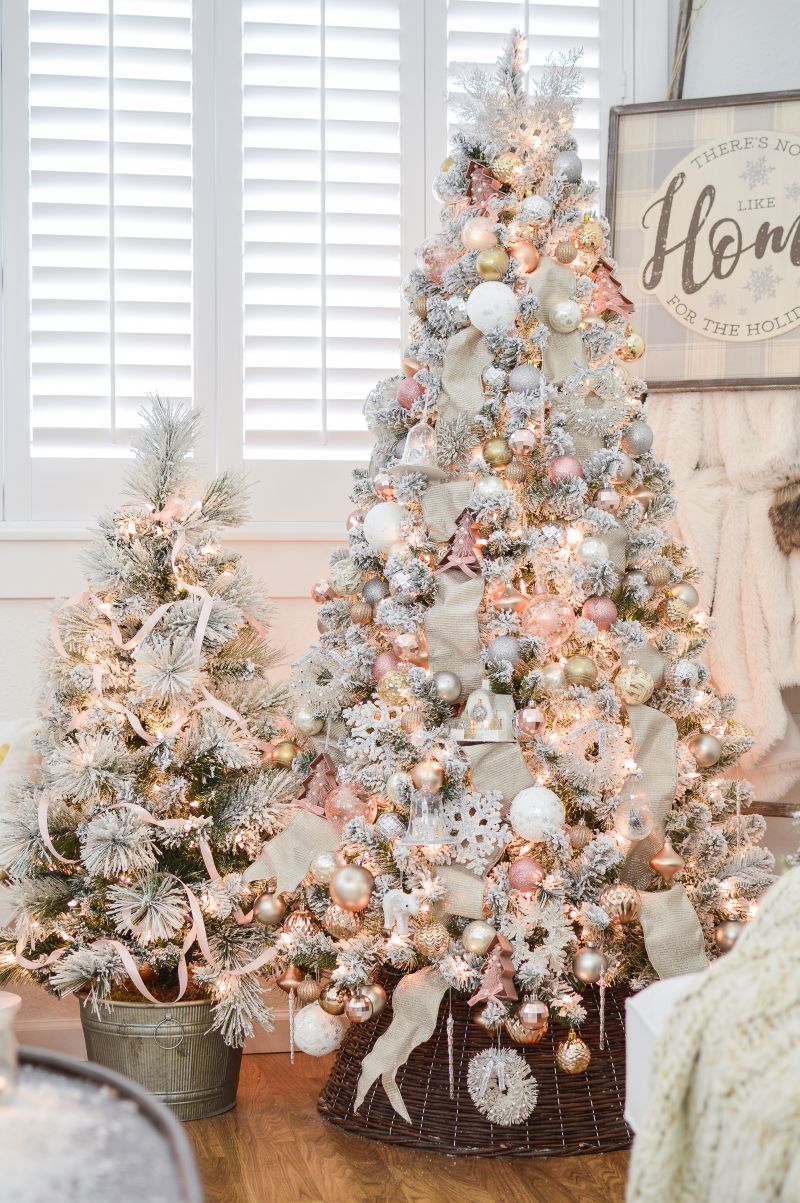 What is a flocked Christmas tree?
A flocked Christmas tree is one covered with artificial snow. Whether you choose a faux tree, which is already, covered with artificial snow or get a real one and cover it yourself, the result is mesmerizing. Having a snow covered tree brings the winter wonderland inside your home. There are a few ways to "frost" a Christmas tree. One is to completely cover it with snow, so that is looks almost white. The other way is to create the so called frosted tips and make it look like it has been under the snow for a short time. That way you will still have the frosted look, but will allow your tree to look as natural as possible.
You can create the so called frosted tips with artificial snow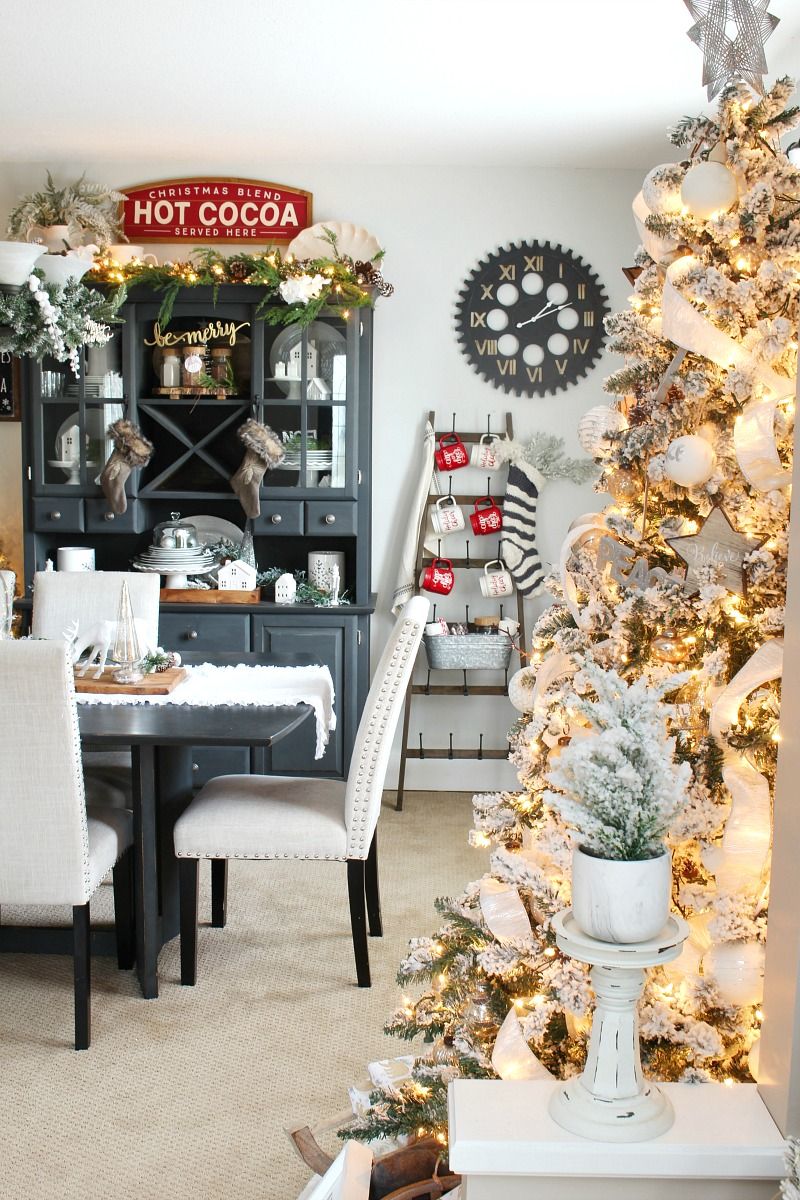 How to flock a Christmas tree?
In order to flock a tree, you can get flocking powder or you can just use artificial snow, which is sold in cans. If you are using flocking powder, you are going to need a spray bottle and a little bit of water. First spray the tree with water, then dust with the powder and spray with water again. The water will activate the adheseve in the powder and stick it to the tree. When it comes to adding the "snow" to your tree, there are several different ways.
Slightly frost the tips by carefully spraying them with artificial snow or flocking powder. Make sure that you spray evenly to create a more natural feeling.
Flock the whole tree by evenly spraying the flocking powder all over it until it is fully covered.
Wrap the lights around the tree and then spray the flocking powder or artificial snow. The glow from the frost covered lights will look absolutely stunning. Trust us!
Flock the Christmas tree after you wrap it with the lights for an extra wow effect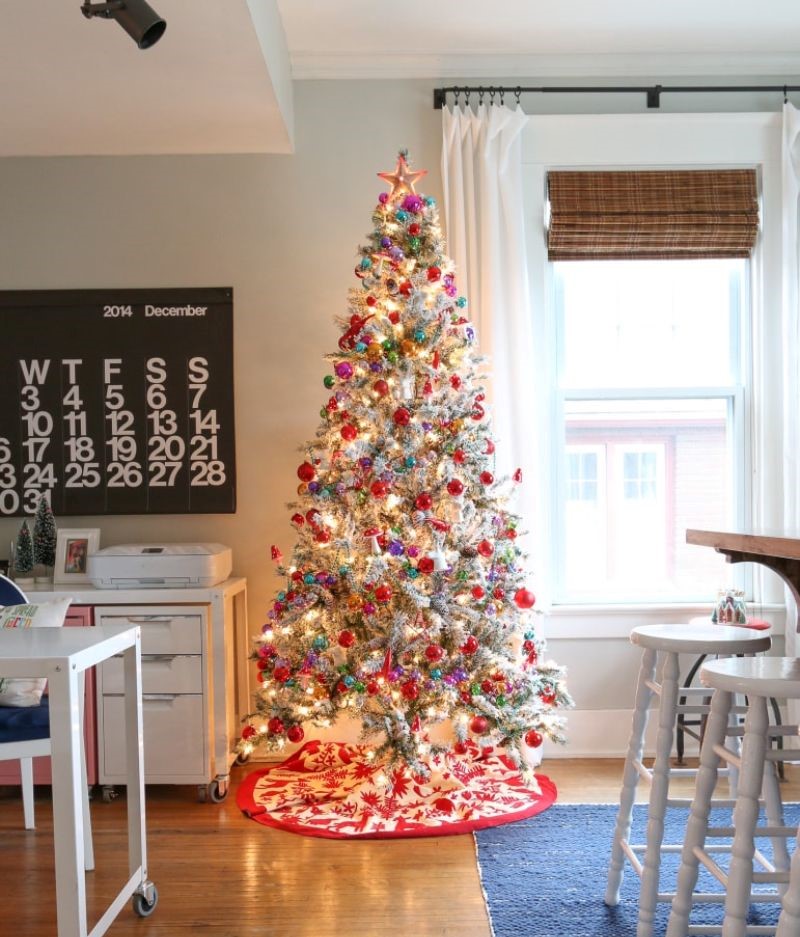 Flocked Christmas tree decorating ideas
When it comes to decorating Christmas trees, the possibilities are endless. You can use ribbons, baubles, lights and ornaments in any colors you want. However, when the tree is flocked, there are a few color combinations, which only enhance the winter wonderland experience. Here they are:
White and silver
A regular Christmas tree in white and silver can look a bit boring. A flocked one, however, will look super stylish, minimalistic and, needless to say, beautiful. Add white ribbon with silver details and mix the silver and white baubles and ornaments with the artificial snow. Don't forget to add LED lights with a warm glow and your Christmas tree will be a Pinterest worthy one, no doubt!
You can also add a few gold details for a more eye catching look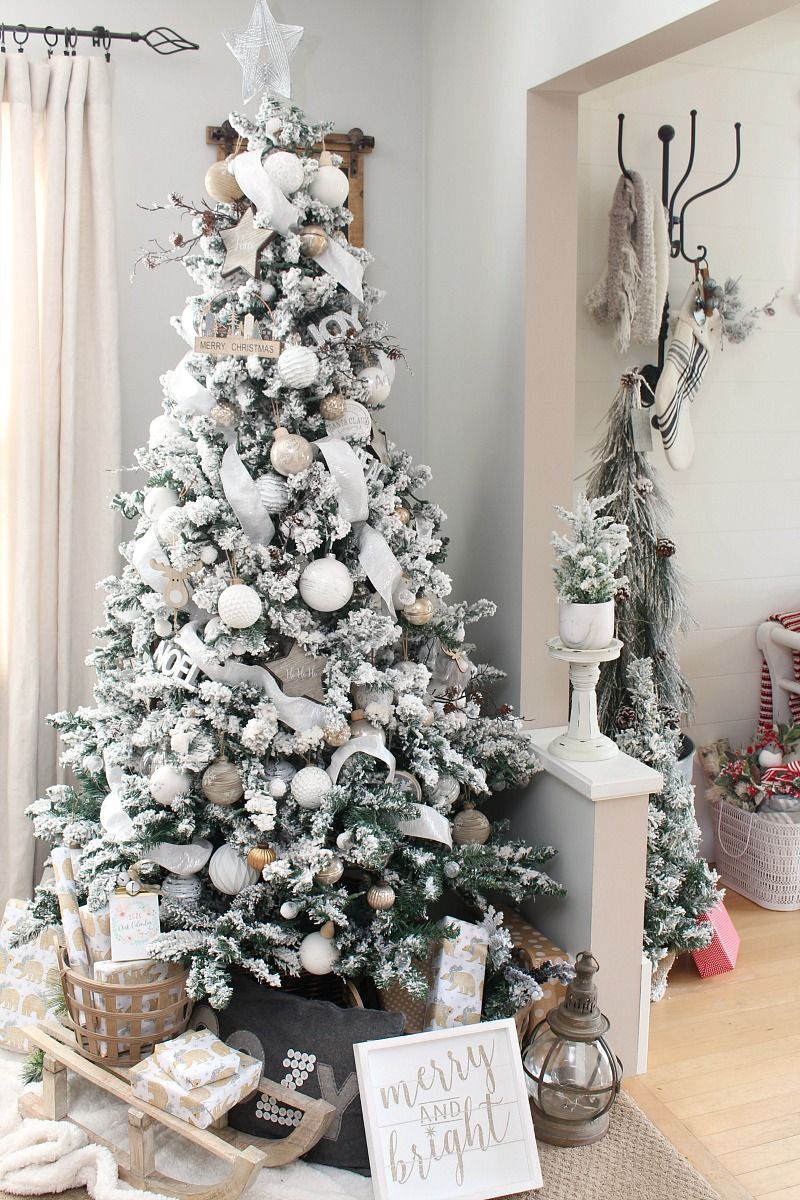 Silver and gold
Yet another classic color combination. A silver and gold frosted tree looks absolutely stunning. The silver ornaments and baubles enhance the frostiness of the tree, while the gold adds a little something extra to the overall look of the tree. If you are using silver ornaments, then you can use a gold ribbon. On the other hand if you are using silver ribbon, mix the silver and gold baubles. Once again, use lights with a warm, natural glow.
This is an absolutely stunningly decorated Christmas tree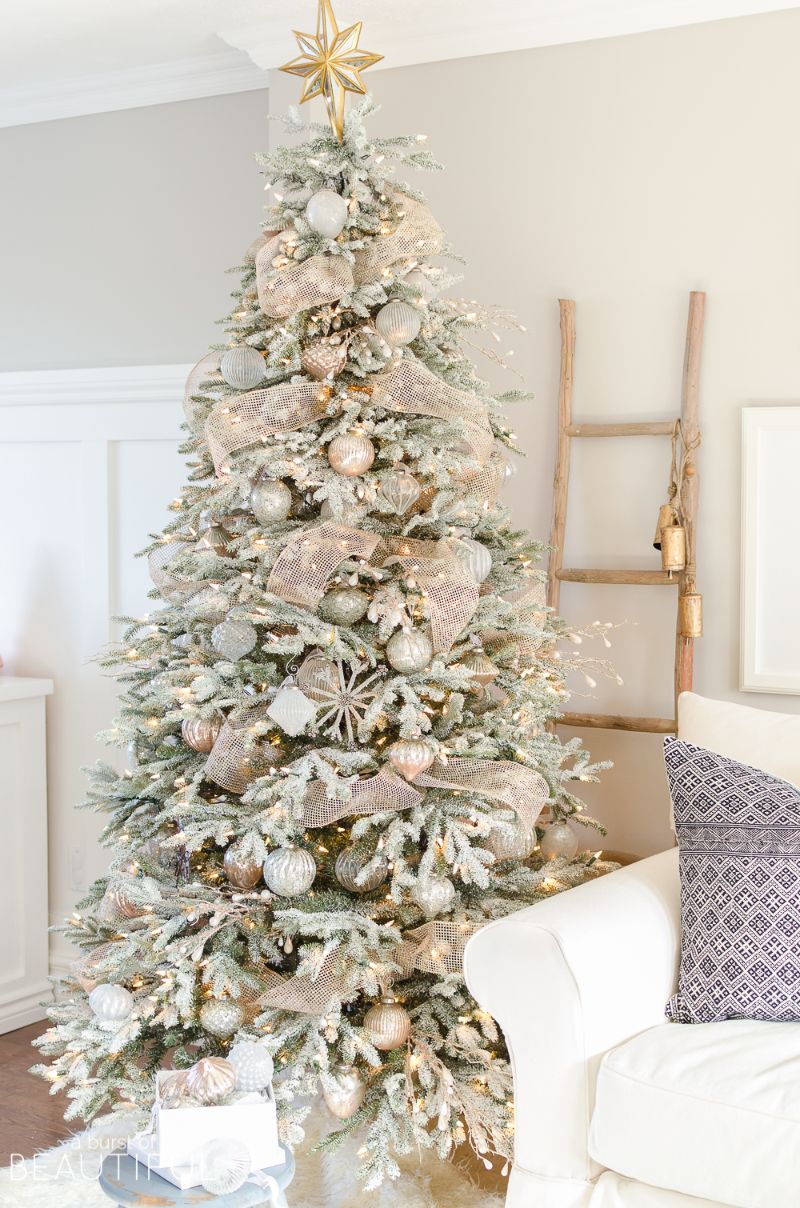 Flocked Christmas tree decorating ideas in rose gold
Rose gold has slowly, but steadily been taking over the world for the past few years. You can find it in jewelry trends, nail ideas and, of course, decor. It is no different when it comes to decorating your Christmas tree. In order to create the rose gold effect you need a gold ribbon, silver and light pink baubles and ornaments and LED lights with a warm glow. The result is an extremely modern, trendy, minimalistic and chic Christmas tree, which is going to draw all of the attention.
Rose gold Christmas trees are all the rage right now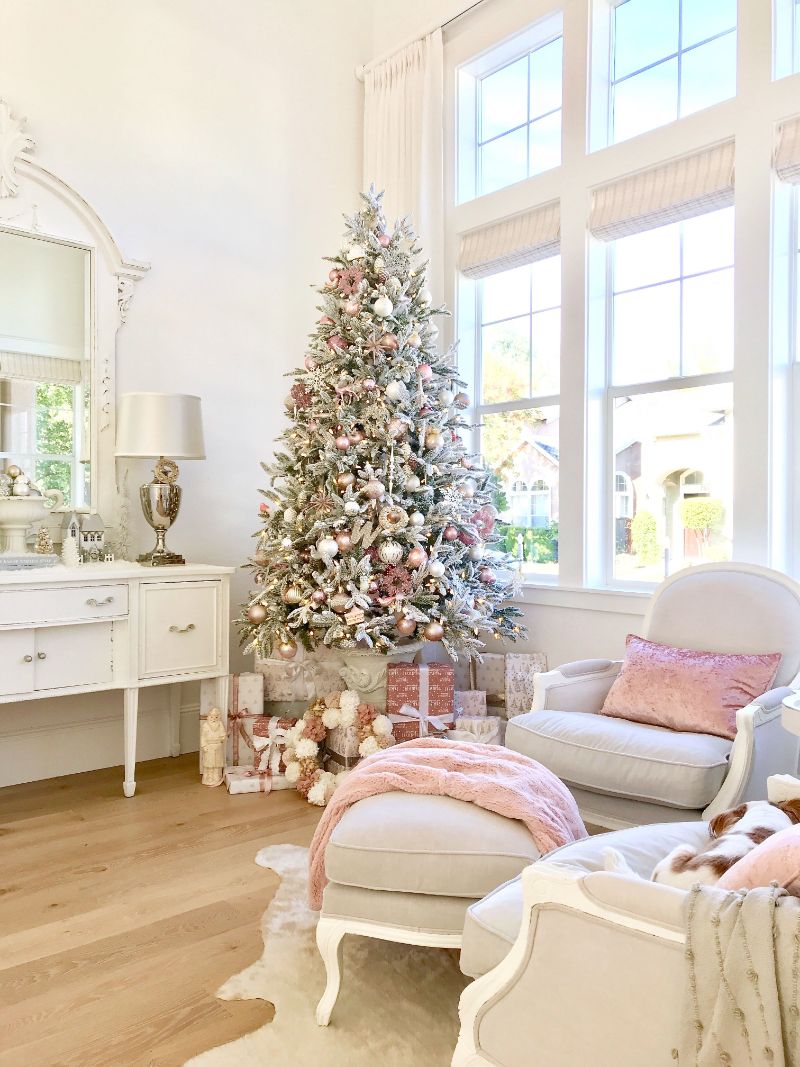 Red and white/silver/gold
Red is the color of Christmas as we all know. Which is exactly why, if you want to be more traditional you can use red on your flocked Christmas tree. Get a red ribbon and mix it in with silver, white or even gold ornaments and baubles. If you want to skip the ribbon, carefully select red baubles and ornaments, which you can place evenly around the tree and the other ornaments in silver, white or gold. Use them just as details. Don't go overboard with the red. Once again, we advise that you get lights with a warm glow.
Red is always a good choice for Christmas decorations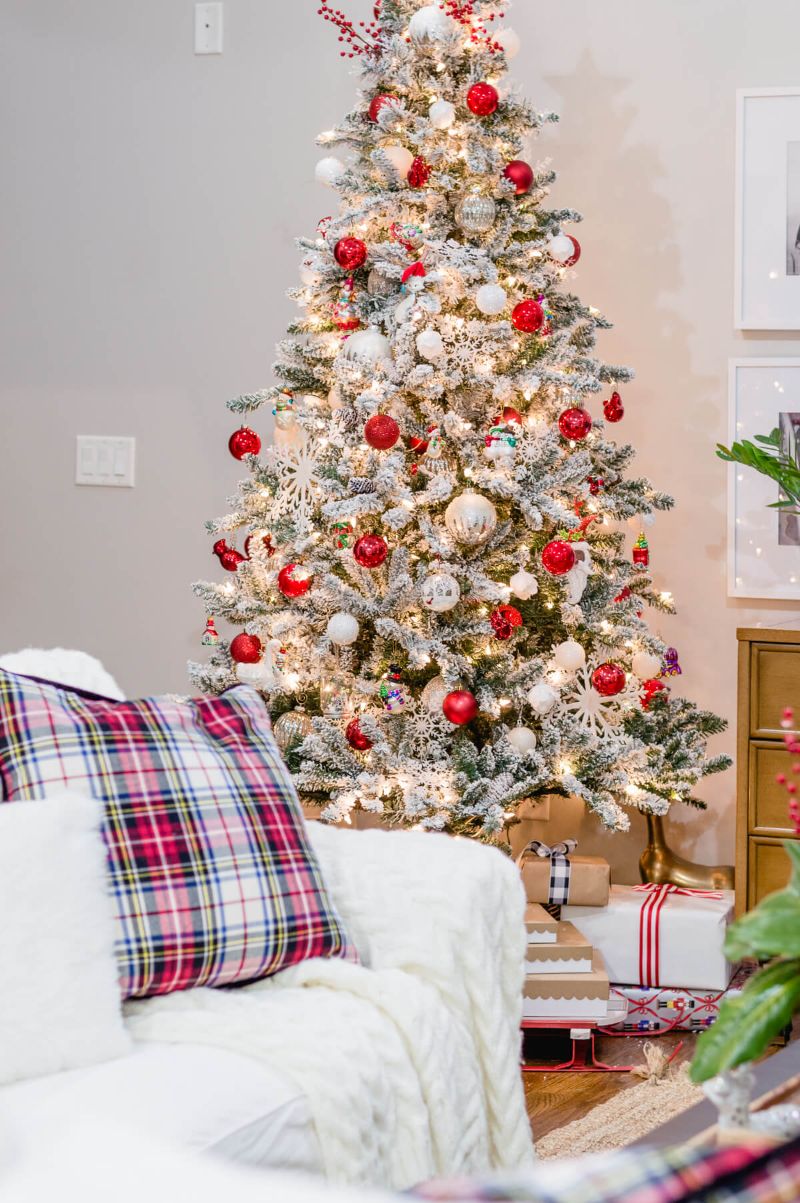 How to decorate a Christmas tree?
Although it might seem easy, there is a right way to decorate a Christmas tree. That is, if you want your tree to look absolutely perfect. So, here is a step by step tutorial on how to decorate a Christmas tree:
If you are using a fake tree, fluff all the branches.
Add the lights on the insides of the tree in between the branches. This will make your flocked tree glow with a warm, cozy light.
Add the filler. The filler includes small things and details, which add interest to your tree.
Now it is time for the ribbon. Choose the way in which you want to wrap the ribbon. Do you want to wrap it around the tree or do you want to let it flow freely down the tree?
Add the ornaments. Make sure you spread them evenly throught the branches.
Finally, finish off by adding the skirt and placing the presents underneath the tree. If you want your tree to be perfect and Pinterest worthy, color coordinate your gift wrapping paper with the Christmas tree theme and colors.
Color coordinate the gift wrapping paper with the Christmas tree colors for extra effect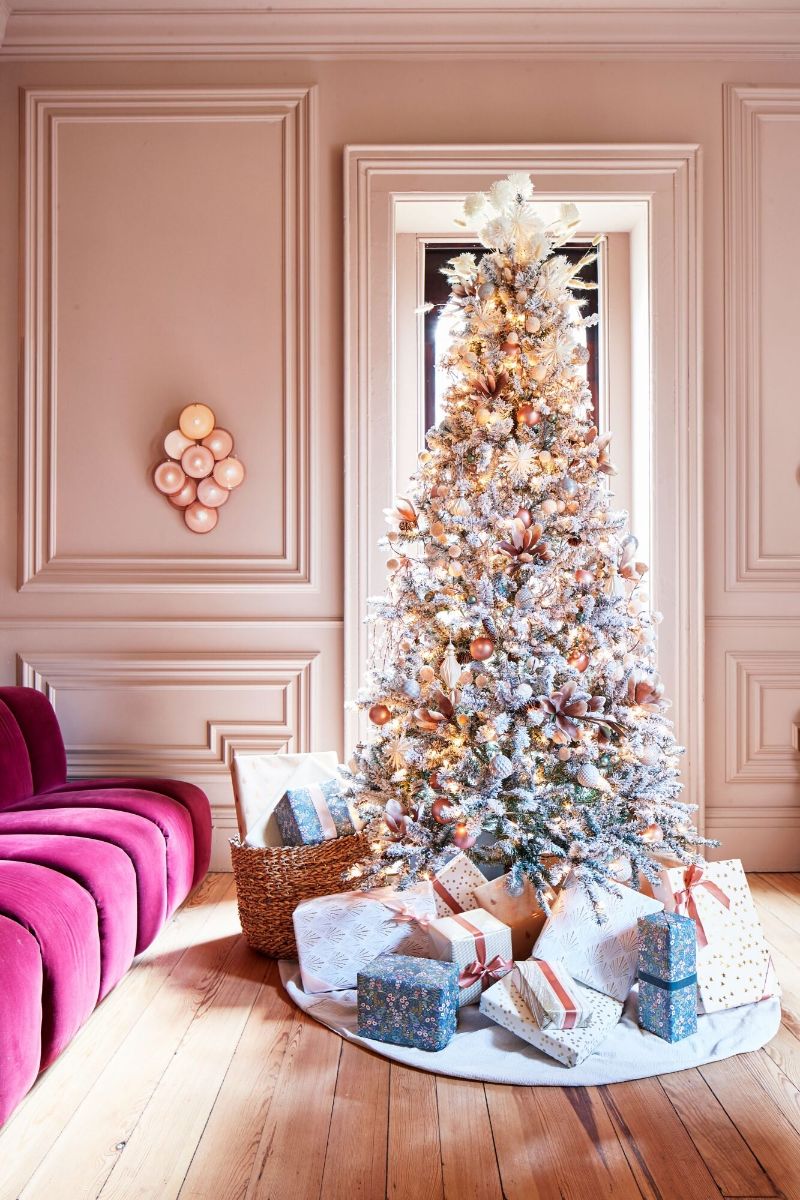 You can even use flannel scarves instead of ribbons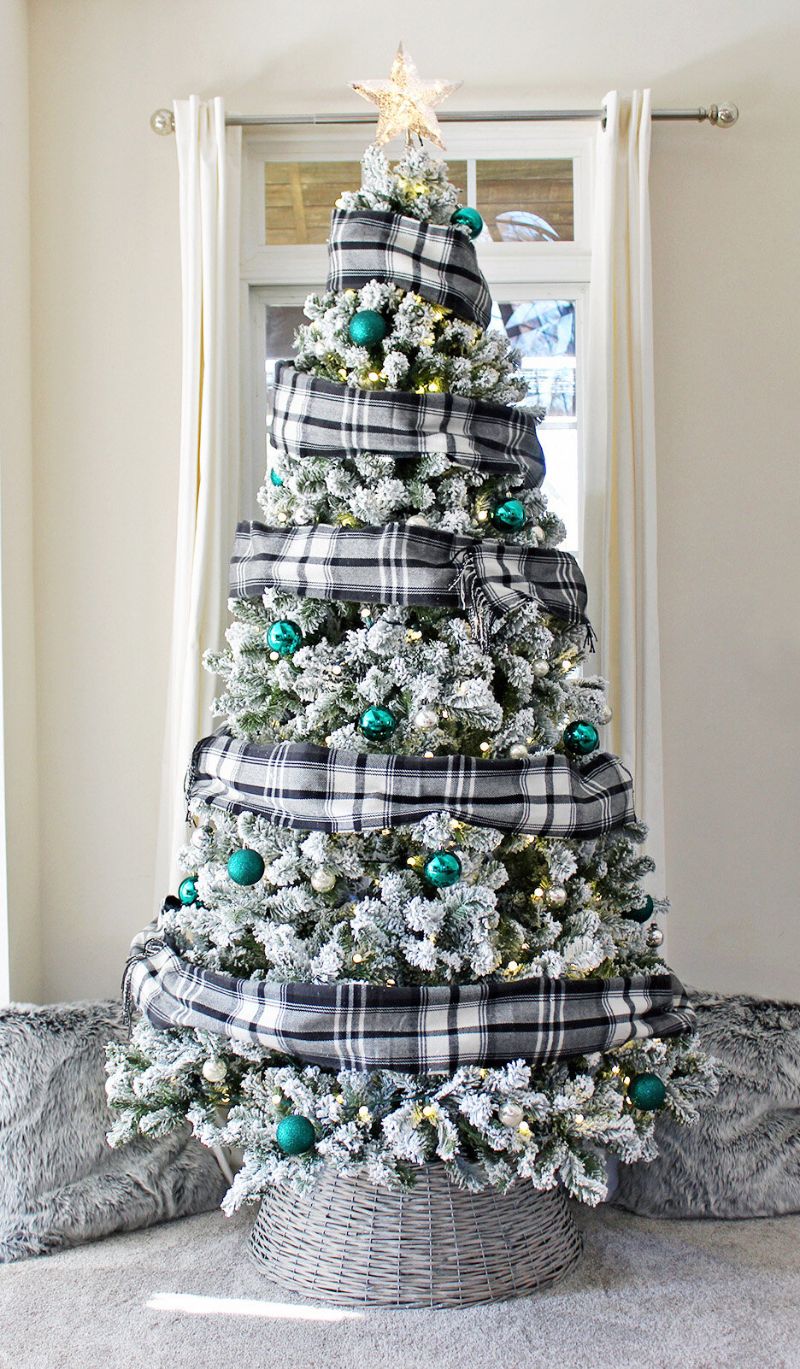 You can choose ribbons with different prints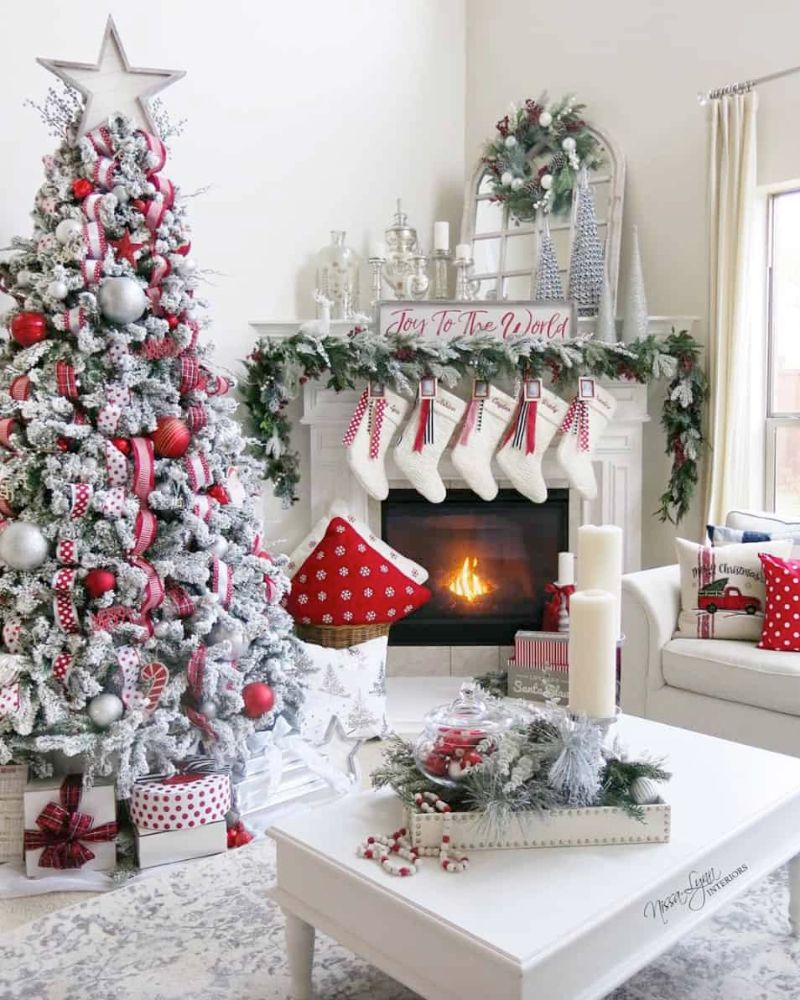 Use big ornaments for a beautiful final look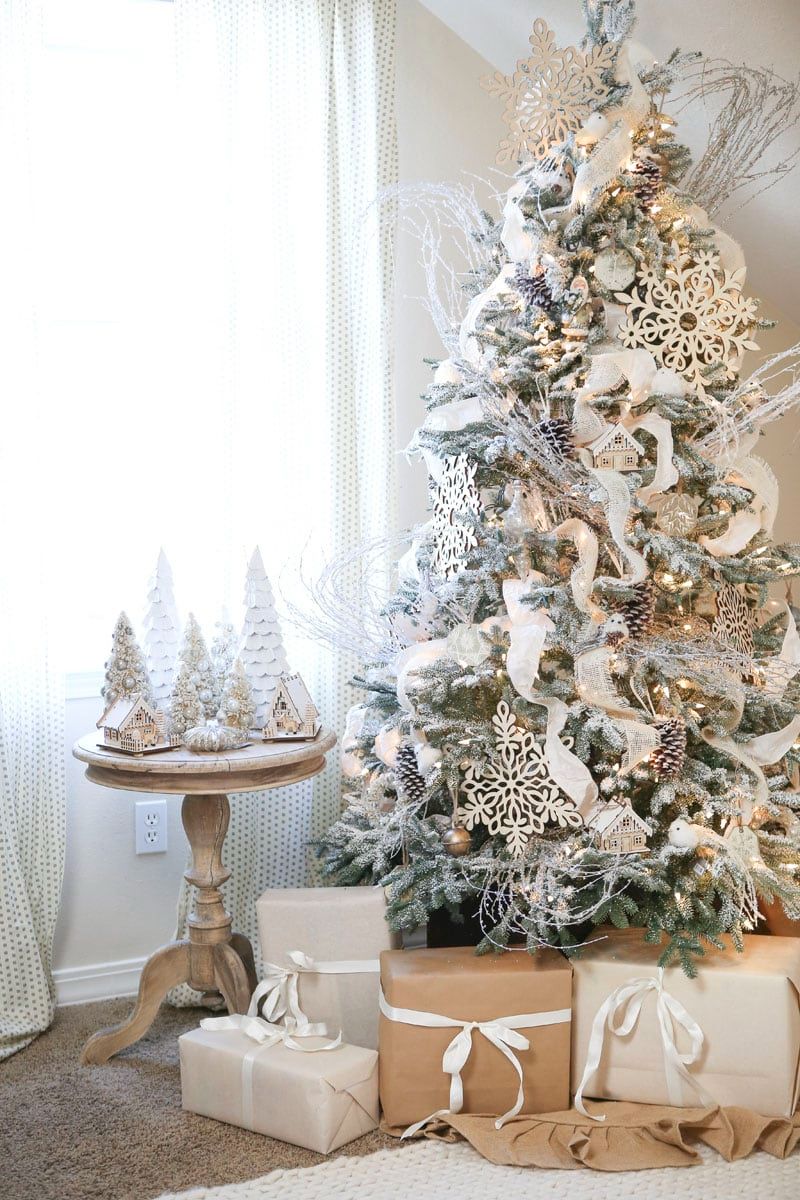 A flocked tree looks just as pretty even with just lights
This tree with a few red details is stunning
If you love red, then this tree is just for you
Just sit back and enjoy the beauty of your flocked Christmas tree