How to recycle materials and create garden edging for your backyard
It seems like everyone pays a lot of attention to their interior design. If you are renovating or have recently purchased a new home, you are probably online, looking for different ways to spruce up your interior. This is something we totally understand. After all, we spend most of our time inside. However, we believe that this shouldn't mean that your exterior doesn't need some love as well. So, if you have already decided on decorating your backyard and turning it into the perfect relaxation spot, you most definitely need some greenery and flowers. In this article, we are going to give you some garden edging ideas, which are going to turn your yard into a real landscaping marvel. So, keep reading to find out how you can recycle materials and create gorgeous flower bed edging.
Garden edging will make your yard look neat and clutter free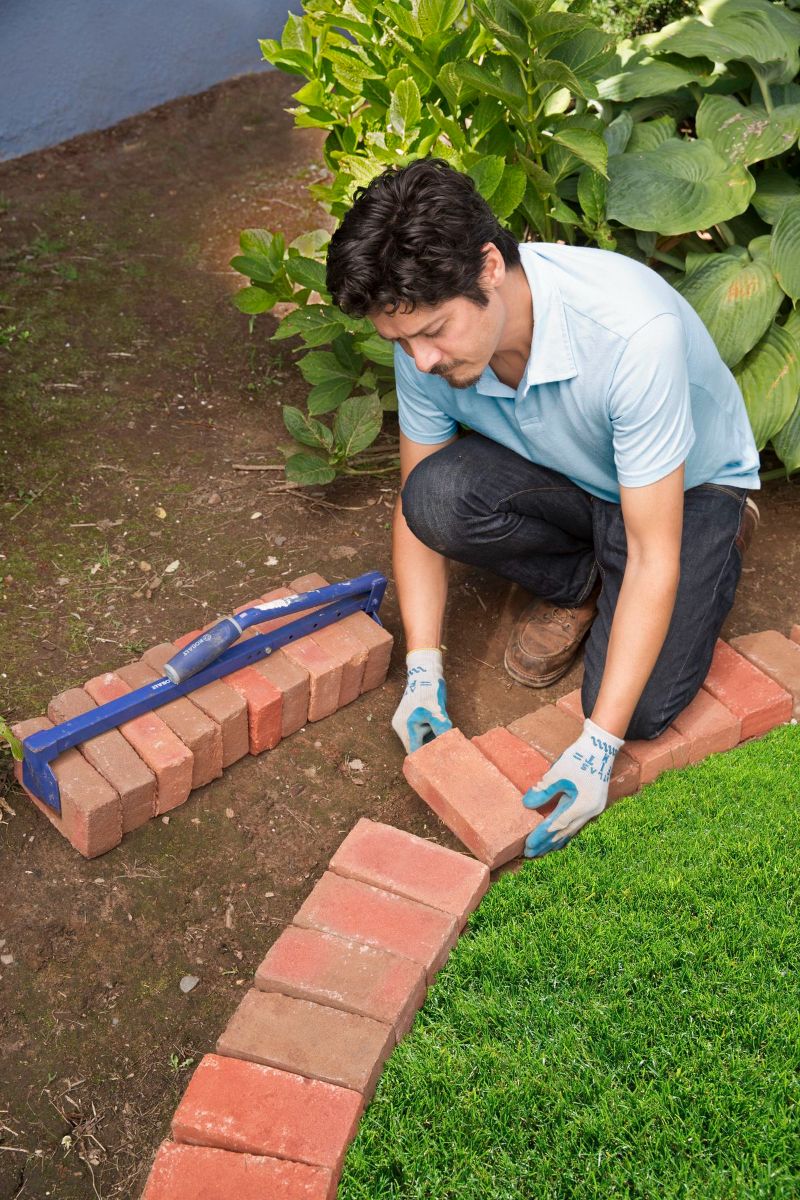 Garden edging ideas with bricks
Leftover bricks are a perfect tool to use to decorate your backyard and garden. Even if you don't have any laying around, you can always find used ones from a reseller at a cheap price. Bricks can be used in a variety of ways.
You can lay them down side by side to create the edging. What's more, you can use them to create all kinds of shapes for your flower bed or garden.
You can prop them up by inserting about 1/3 of the brick into the ground. This creates a slightly raised garden edge.
You can even insert them into the ground diagonally, so that you get an interesting looking edging.
The final thing is you can actually create a whole fence. If you have more bricks and you want a raised flower bed, then you can build a small fence by laying 3 or more layers of bricks on top of each other.
Never underestimate the beauty of natural materials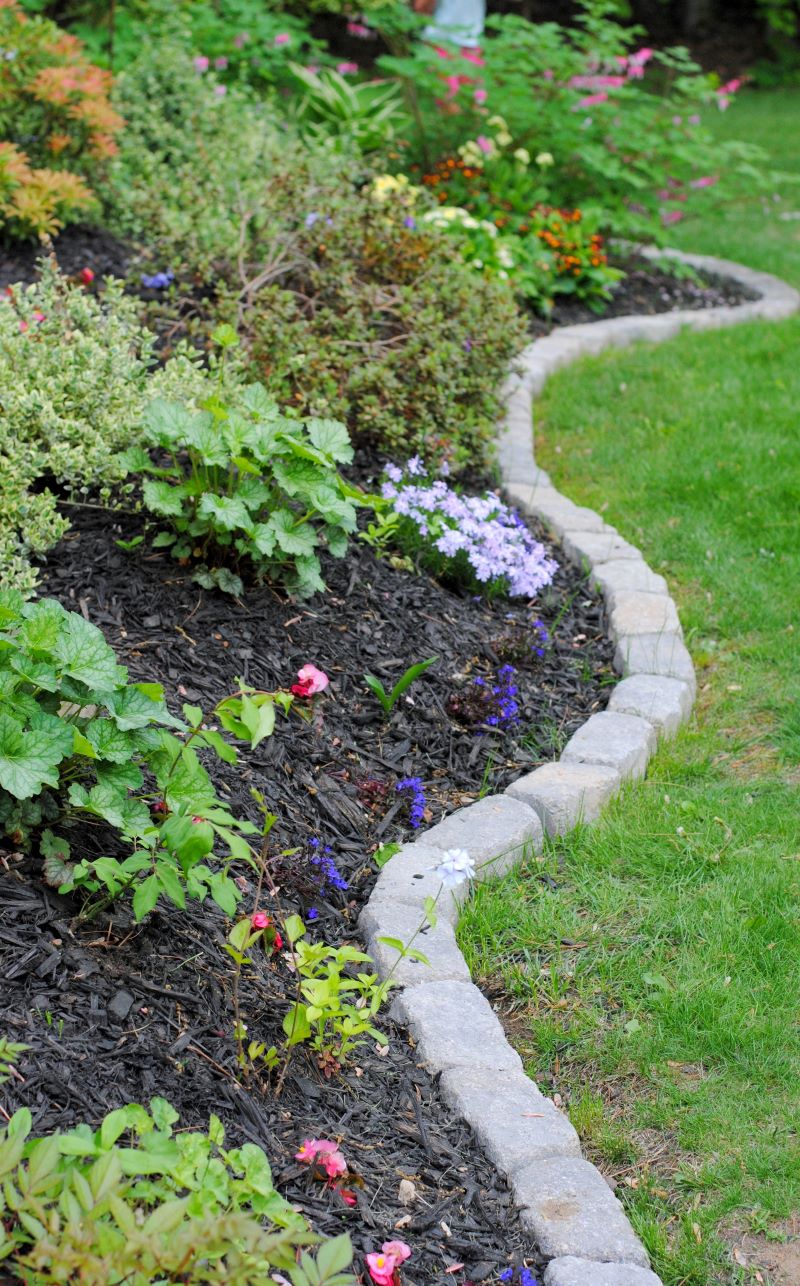 Use stone
Natural materials are just so beautiful. What's more, they will add a lot of character to your garden. You can use stone bricks or even stones in any shape to create beautiful and interesting garden edging. Once again, stone gives you the ability to create any shape you would like for your flower bed. And since stone is a natural material it can withstand all kinds of weather. So, if you live some place where you get all four seasons, than it might be the best option for you.
Look at how well these wooden blocks compliment the beautiful flowers in this garden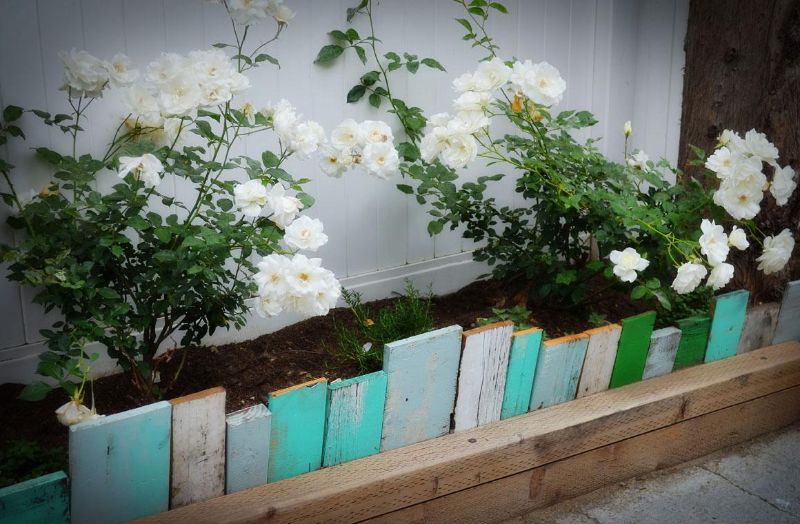 Garden edging with reclaimed wood
Once again, this is a material you can have lying around and, if not, you can find from a reseller or a neighbor who doesn't need it. The good thing about reclaimed wood is that you can use it in a variety of ways. You can take the above photo as an example and decorate your garden with painted, levelled wooden mini fence. As you can see, because you can paint wood in any color you like, it can be the perfect compliment to your flower garden. The only thing you need to keep in mind, though, is that wood can be damaged quite easily because of the moist in your garden. What's more, leaving it in the sun for too long can also damage it. On the flip side, though, this will give you more chances to change the appearance of your backyard.
Do you love wine? Does your husband love beer? Put those bottles into good use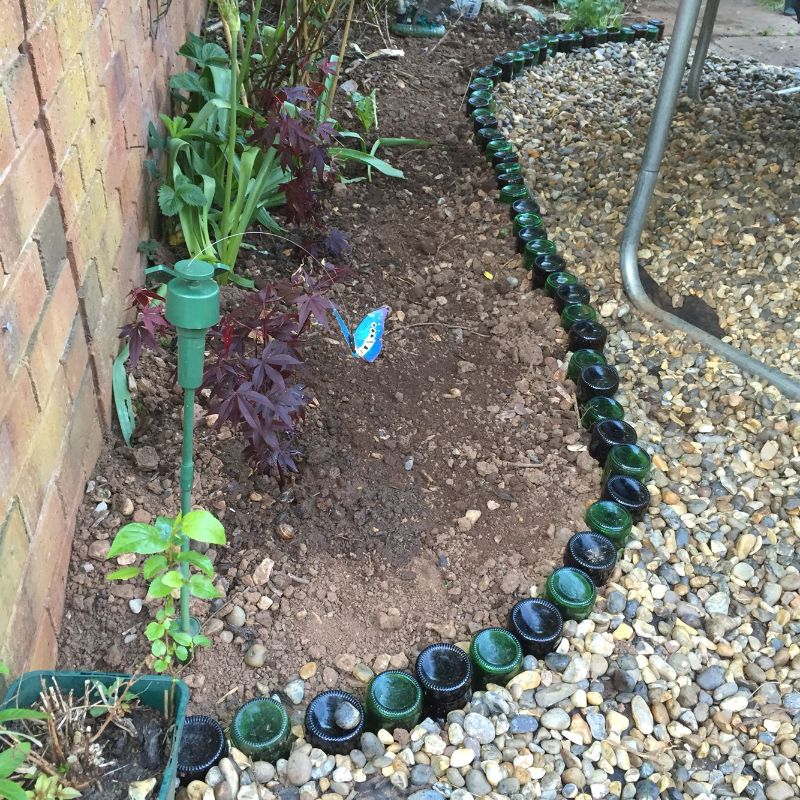 Use glass bottles
If your family loves drinking wine and beer then, surely, you have a bunch of empty glass bottles laying around. Well, here is an interesting idea on how to use them. Dig a small hole into the ground and insert the bottle with its bottom facing up. Arrange the bottles next to each other and you get a really interesting and creative garden edging idea.
Pebble and river stones are always a good idea for your garden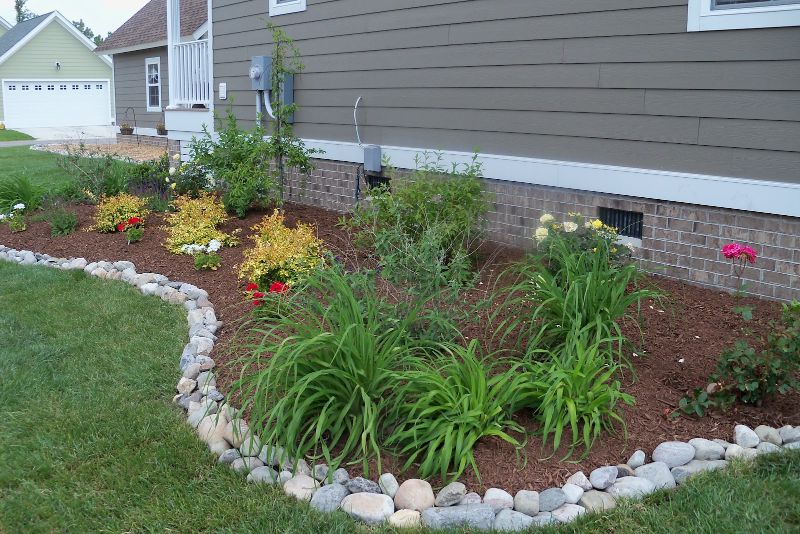 Use river stones
First of all, if you have a river close by, you should definitely go gather some river stones, because they can be used in so many different ways around the house and are always handy to have around. For the sake if this article, however, we would like to focus on their use in the garden. As you can see in the photo above, you can use river stones to create natural garden edging, which is going to withstand all types of temperatures. What's more, because of their different sizes and shapes, river stones give you an opportunity to be creative and let your imagination run wild.
Get creative with a few unconventional ideas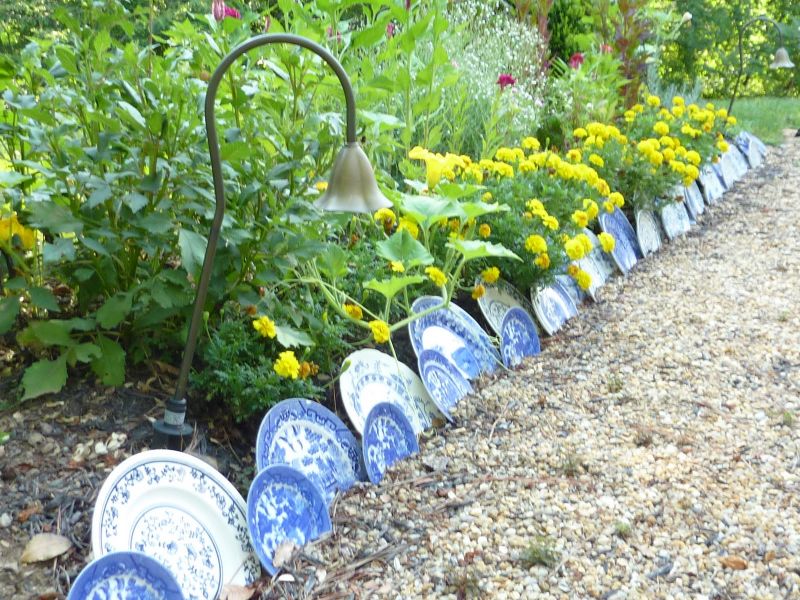 Unconventional garden edging ideas
The ones we already mentioned are perfect, natural and make your excess materials useful again. These next few ideas might seem a bit unconventional, but they look just as good, if not better, than the rest.
Use old plates for edging
Do you have old plates lying around that you are not using? Do you have a bunch of chipped plated you want to throw away? Don't! Use them for your flower bed edging instead. You can arrange them in a variety of ways and bring some color into your garden.
Neatly arrange ceramic pots around your flowers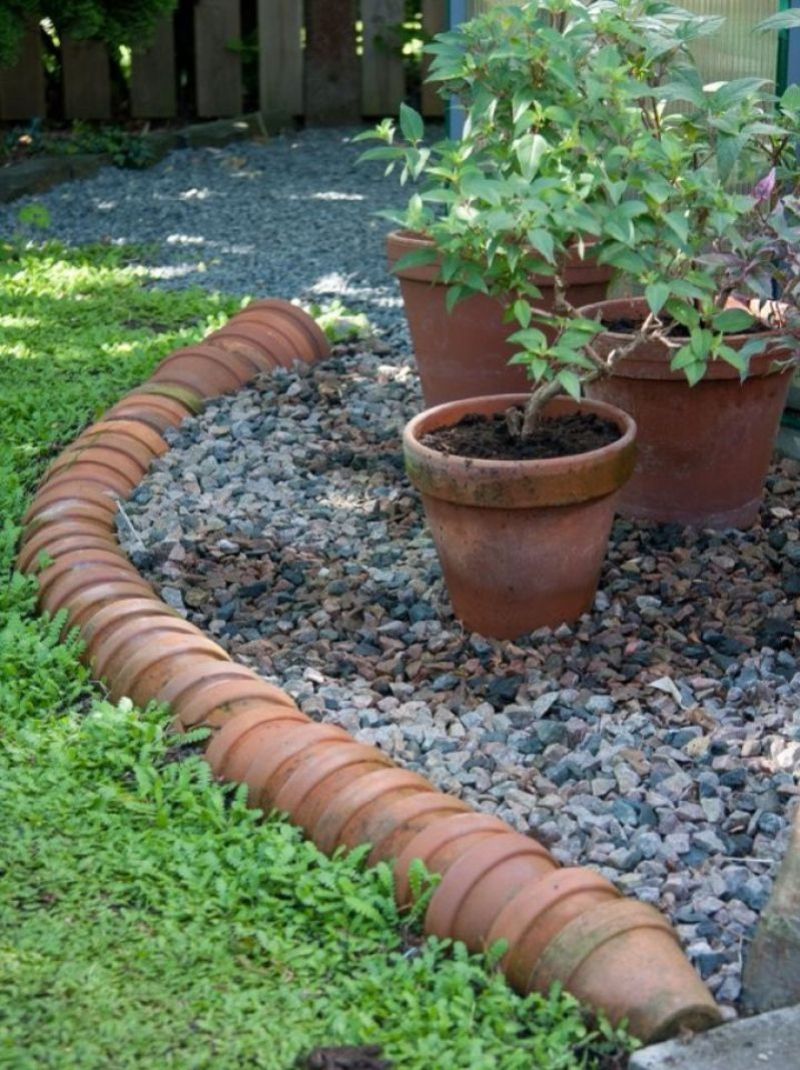 Old ceramic pots
We have to say that you are going to need lots of pots, but if you have them, this idea is so beautiful. Insert ceramic pots into each other as you are laying them down around your flower bed. This is probably one of the most creative ideas we have for you today.
Use your pallets for a fence around your garden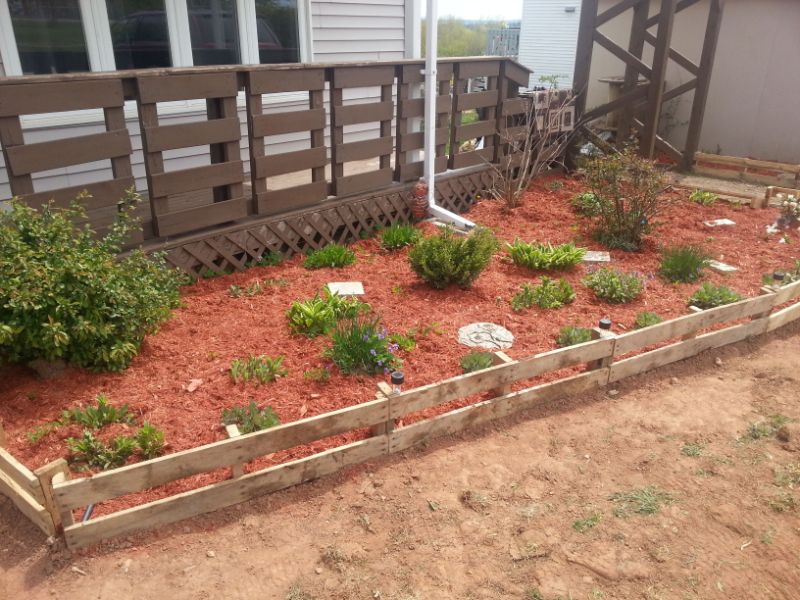 Wooden pallets
If you have wooden pallets and are wondering what to do with them, your first option should definitely be pallet furniture. If you are not that handy, however, or aren't really a fan of them you can take an example from the photo below and create a small fence around your garden with them.