2021 Winter nail designs to inspire your winter mood
Now that November is here, is it officially time to start getting ready for the winter season? We think so! And one of the best ways to inspire our winter mood is through some gorgeous winter nail designs. After all, trends might come and go, but our nails should always follow the seasons. While bright, vibrant colors are suitable for summer, they may not be the best option for winter. Also, the pastel colors of spring, differ from the fall colors, such as brown, dark green and orange. That is why, if you want to follor the trends, it is important to know what are the nail color trends and designs, which are going to be all over social media in 2021/2022. So, what are you waiting for? Keep reading to find out!
Icy fresh with some rhinestones – the perfect winter nails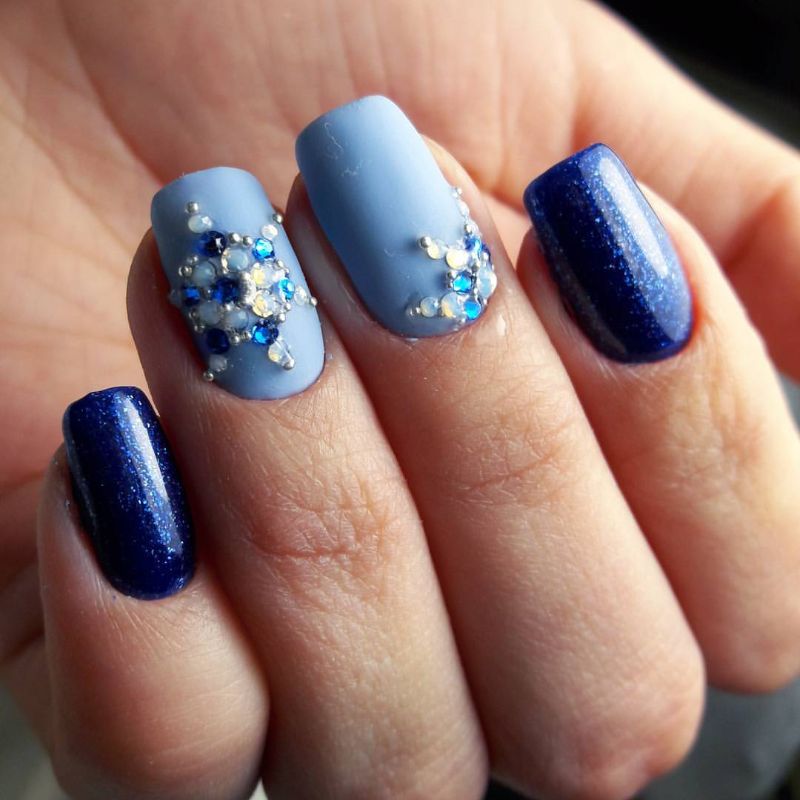 Winter nail designs in blue
Blue is the color of the sky and some consider it the colors of winter. There is just something about icy blue in particular. When we see this color we immediately get the chill, fresh feeling that winter brings along. That is also why blue is very popular during the coldest season of the year. Whether you are going to choose icy blue for each nail, or combine it with darker shades, just adding a few rhinestones will bring even more chill vibes to your manicure. After all rhinestones look so much like small pieces of ice. To sum up, icy blue, combined with rhinestones is definitely one of the most populars winter nail designs.
Nail designs with Christmas colors look so beautiful
Start celebrating Christmas early
In general red, green and gold are the colors of Christmas. So, naturally, these three colors are always a good choice for a winter manicure. However, you shouldn't always stick to just these three shades. Instead, you can try and experiment. Incorporate some blue and some interesting patterns and decorations inspired by Christmas and your nails will be absolutely Instagram worthy. Furthermore, once again we mention adding a few rhinestones. They just give you nail design that extra trendiness we all need in order to properly celebrate Christmas.
Glitter is always a great idea for any nail design, especially in 2021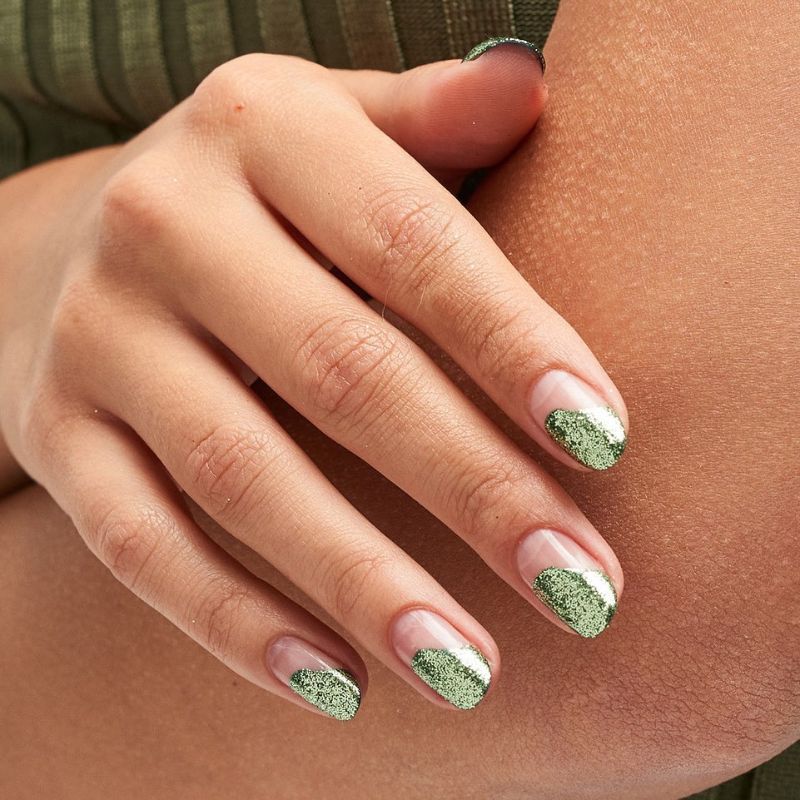 Add some glitter
Glitter is always a good choice for a manicure no matter what season it is. In winter, glitter reminds us of the snow, ice and little snowflakes. What's more, we all know how extra Christmas decorations can be. So, the more glitter there is, the merrier. Therefore, glitter can look amazing on your nails throughout the winter season. Since this year is the year of French manicure and negative space nail design, you can try a French with glitter in gold, green, blue or even red. On the other hand, you can keep things minimalistic with a nude shade and add glitter on one nail or simply as a decoration tool. Either way, it will be the best winter manicure ever, perfect for the nail trends of 2021.
Nail designs which give off a cozy feeling? Yes, it is completely possible!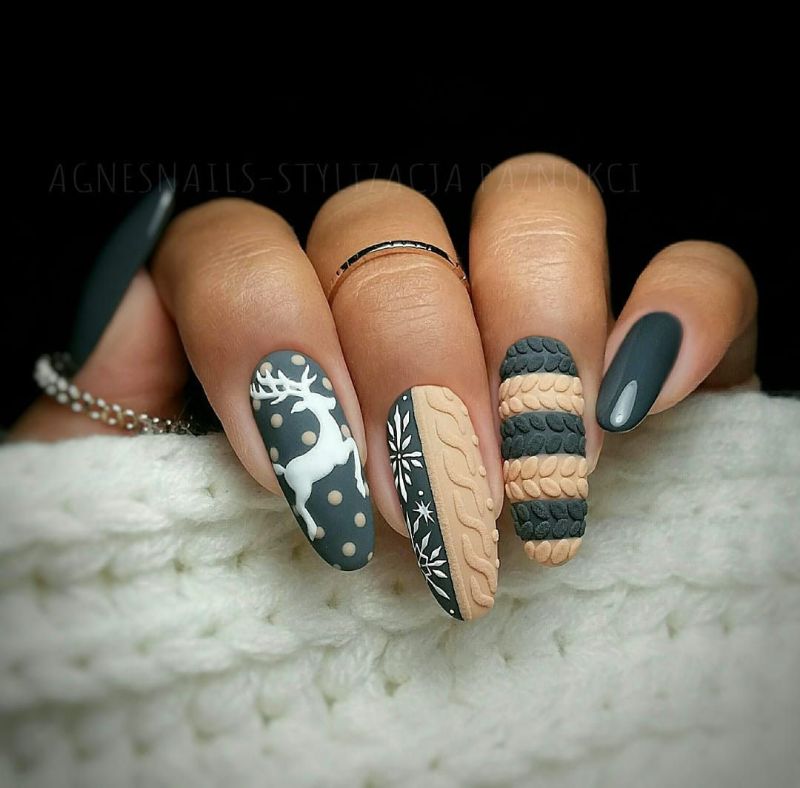 Go all out with the decorations for your winter nail designs
There are so many ideas for decorations throughout the winter season. Whether it is going to be a Christmas themed nail design, or one that has snowflake decorations, either way the more colorful and interesting your nails are, the better your overall manicure will be. Don't be afraid to experiment with different types of decorations. Furthermore, right now you can incorporate decorations, which celebrate winter as a season. But, once December rolls in, those Christmas nail decorations should definitely make an appearance!
These nails are so pretty – the shape, the color, the decoration, everything is top notch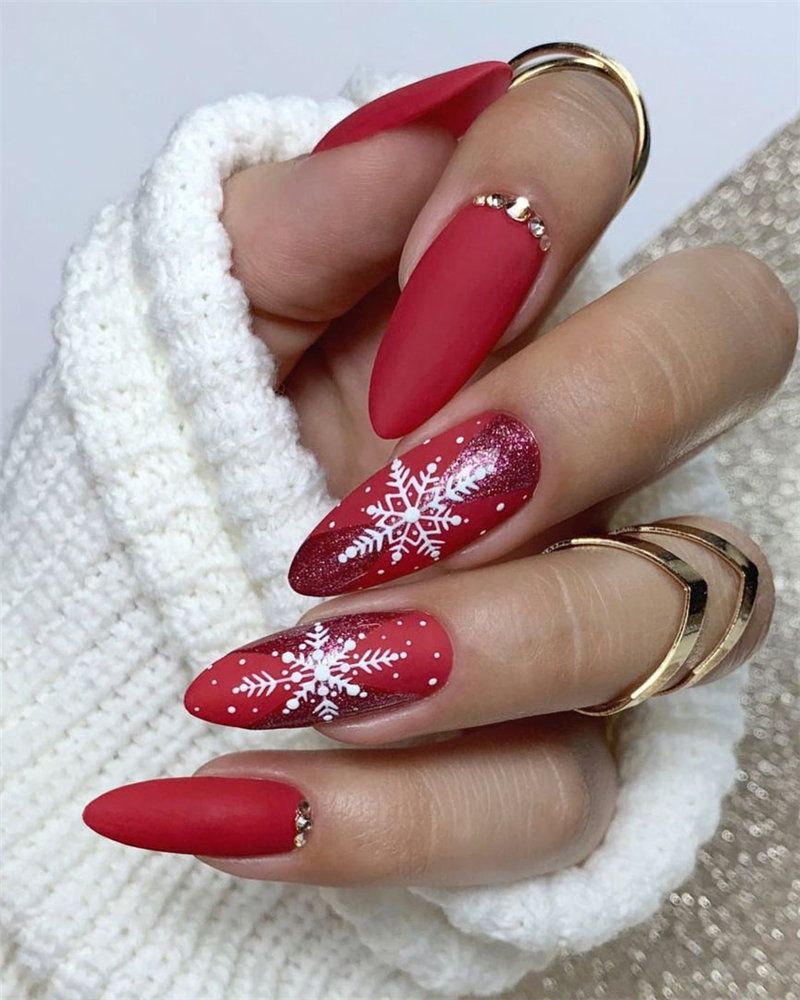 Red – the color of Christmas
Once Christmas rolls around and we start seeing Christmas decorations everywhere, chances are about 50% of them would be in red. As we have already mentioned red is one of the most popular colors for everyone's favorite family holiday. That is why it makes for the perfect winter nail color. As you can see in the photo above, red nails with some rhinestones, snowflake decorations and a matte finish look absolutely stunning. What's more, if you look closely you can see some red glitter in there as well. So, what more could you possibly want out of a winter nail idea.
These nails are a real piece of art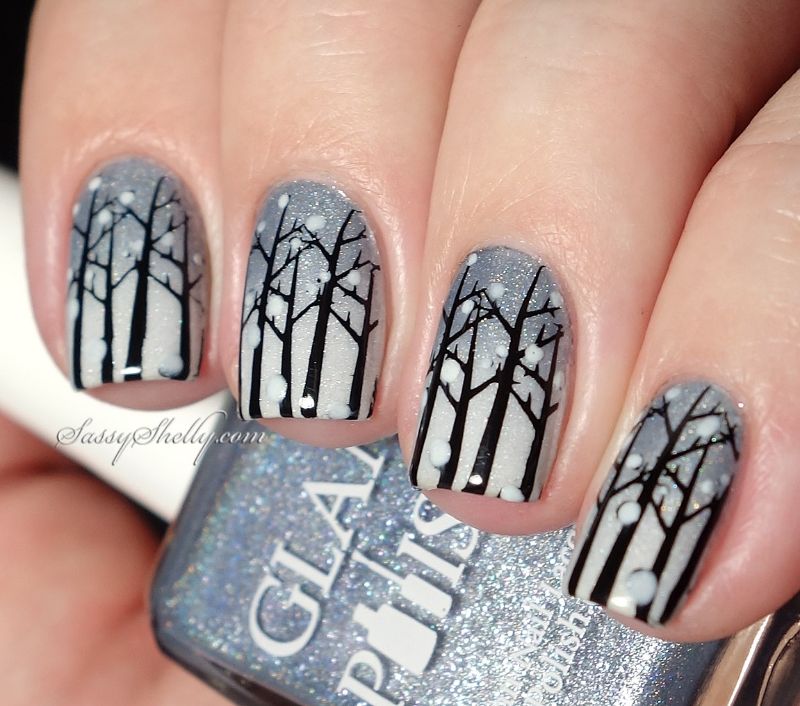 Winter nail designs which tell the story of the season
As we have already mentioned nail decorations are a big part of the winter manicures, which are trending in 2021. We already talked about the ones celebrating Christmas, but what about the ones, which tell the story of the season. Nowadays manicures are a real piece of art. That is why you can paint a whole winter story on your nails. Whether it's a snowy forest or a mountain peak covered in snow, use your nails to show your real love and appreciation for the coldest, but at the same time coziest season of the year.
This design might be simpler, but it's still so beautiful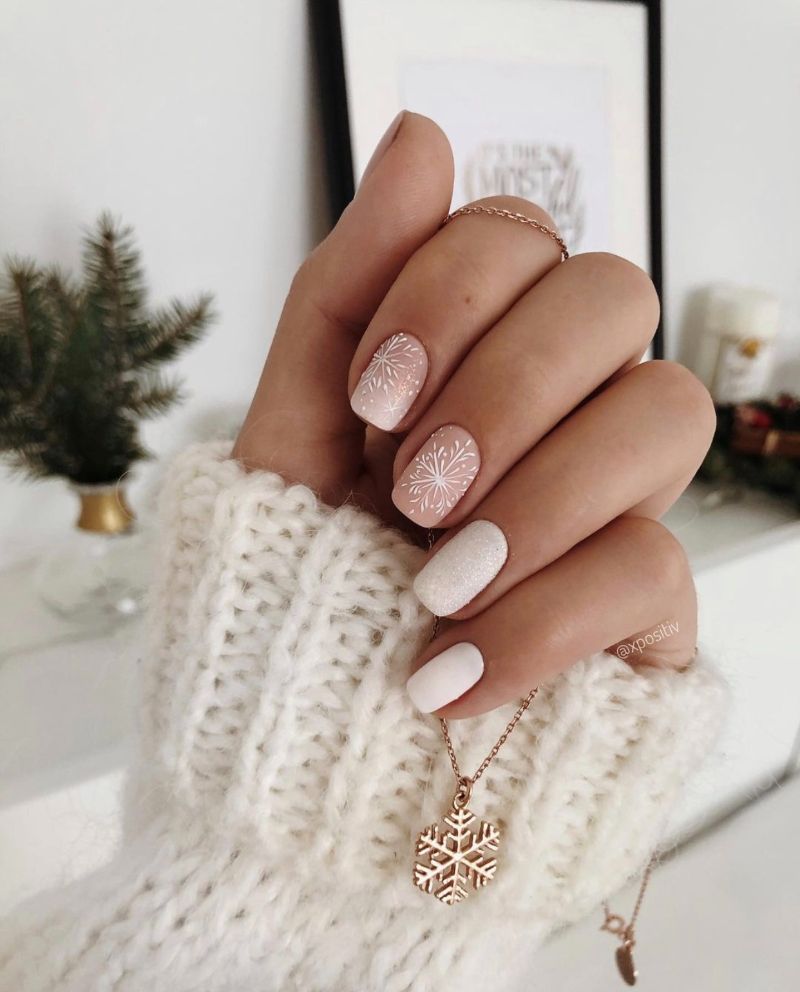 Keep things simple with a minimalistic nail design
Up until now all the trends we mentioned involved lots of color, decorations, glitter and rhinestones. Now it is time to show you that even more simple and minimalistic designs can be just as beautiful, if not prettier, then the ones we discussed so far. In general, we love to use vibrant, bright colors for the summer. Well, the winter nail colors are the exact opposite. In all winter nail designs you can find nude shades and more understated colors. When combined right, however, the results are absolutely breathtaking. Take for example the nail design in the photo above. The nude and white colors combine well together and the design on the ring finger reminds us of snow. What's more, the incorporation of the snowflake decorations are the perfect finish for this minimalistic, yet gorgeous nail design.
Icy blue with some white edges – the perfect combination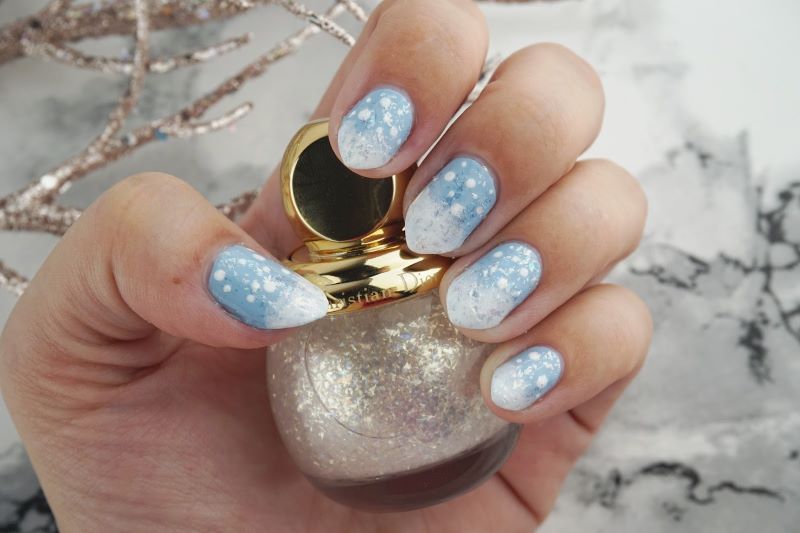 This starry French manicure is so pretty and cute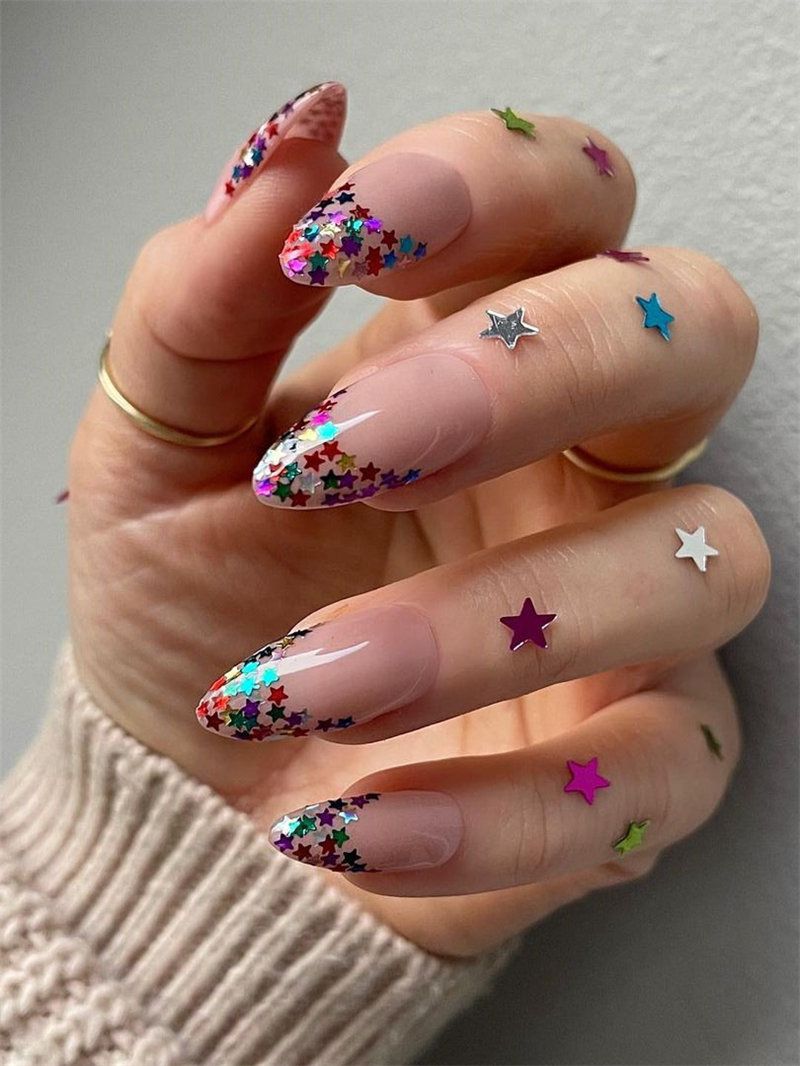 We should never underestimate the beauty of a golden French manicure
This is a very simple, minimalistic, yet beautiful nail design
Negative space nail design in black, which is also a great color for winter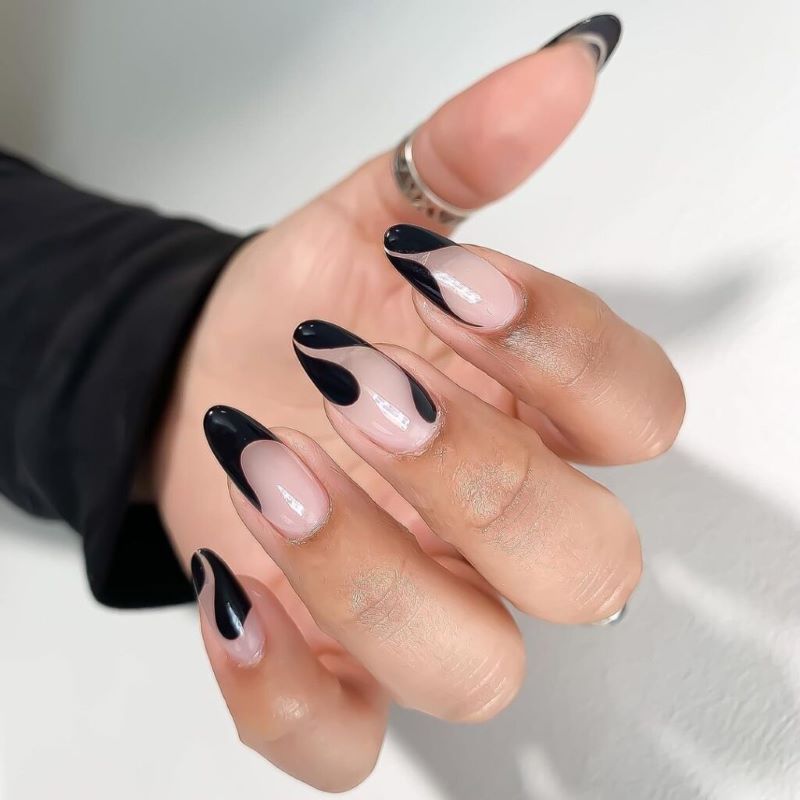 Merry Christmas!
Those are the cutest nails we have ever seen