Fall-winter nail designs 2021 edition
Following the latest trends can sometimes be a daunting task. Not only are they changing every year, they are also different for each season. If you follow some of the biggest influencers on Instagram you will notice that after they wear something, it immediately becomes a trend. And it is not just clothes, it is also shoes, bags, hair styles and, believe it or not, nail designs. So, in this article we are going to focus specifically on the fall winter nail designs 2021 edition. We are going to show you which colors are going to be most popular this year. What's more, we are going to discuss nail shapes, as well as cool decorations for your gorgeous nails. Also, you can scroll through our gallery to find 50 beautiful nail ideas you can try yourself.
Gorgeous nail ideas for 2021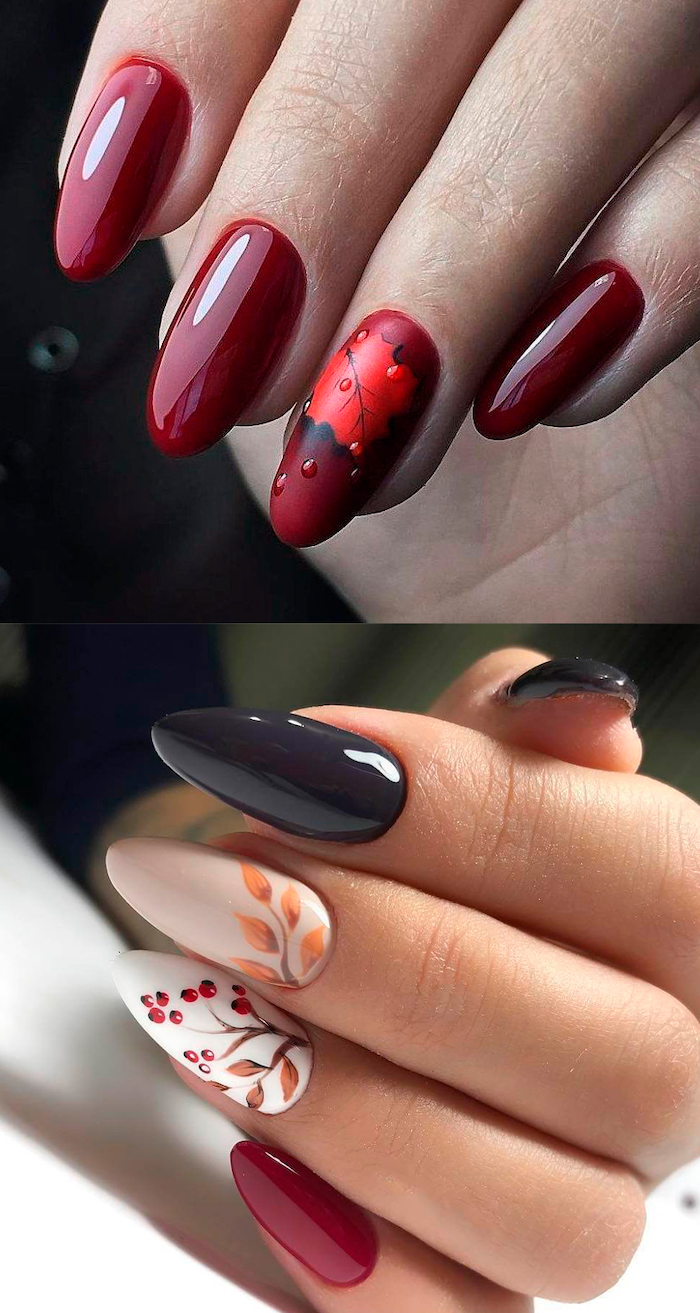 What are the new nail colors for 2021?
Just like there are certain colors, which are trending throughout the different seasons and you can see on the runways, there are color trends in nail designs as well. There are a few colors, which we are staples of a certain season and will always be trendy. For example, red, green or gold for the winter season and in particular Christmas. On the other hand, yellow, orange and bright colors in general will always be reminiscent of summer. So, here are a few nail color ideas for your next manicure.
Bring some sunshine into the colder days with this gorgeous color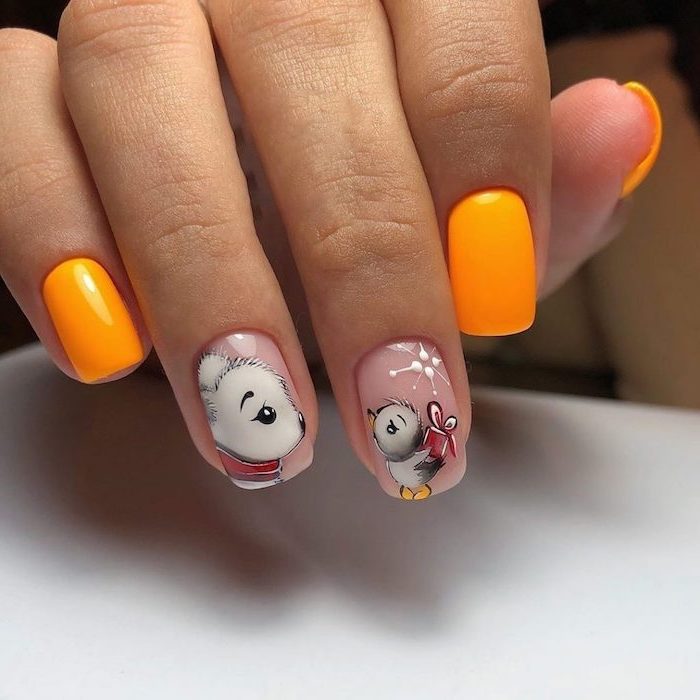 Nude nail designs 2021
Nude nail polish will always be trendy. It is understated, elegant and classy. If, however, you might think that it is a bit boring, the picture below will definitely prove you wrong. Combine nude nail polish with a matte finish and cute nail art and you will fall in love with the final result.
Cute nude nail designs 2021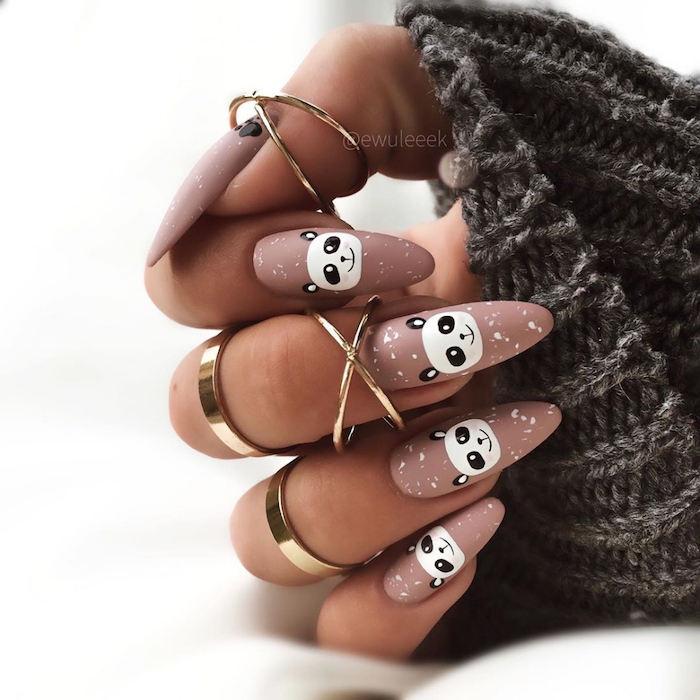 Dark nail designs 2021
Black will always be a good choice. It is classy, elegant and you can pair it with any other color. If you are a risk taker, black nails might be just the thing for you. Whether you want to add some nail art to your ring finger or keep it simple, black will always look good. Another option is dark brown or dark blue. Either way dark colors are the perfect nail design for the fall winter seasons.
Dark nail designs for all the risk takers out there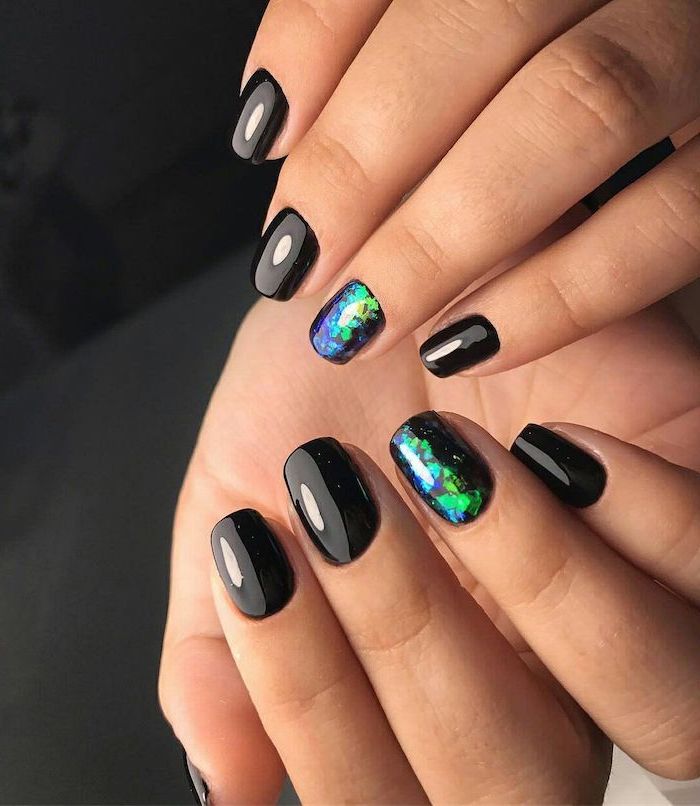 Metallic nail ideas
Metallic nails are a great, modern and trendy idea. They can be extremely beautiful, especially when paired with good nail art and a few rhinestones. Metallic nail polish is a good idea for anyone who wants a simple color with a modern twist. Gray metallic nails are extremely popular all year long, but this season you might notice a rise in the people who choose to go with this color.
Metallic nails are a popular and extremely modern trend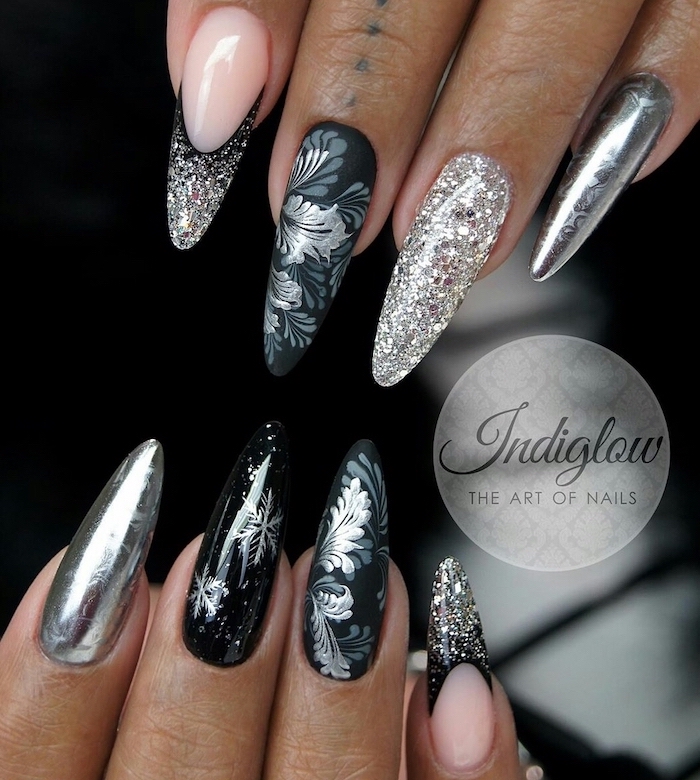 Red with a twist
Red is the perfect color for the winter season, especially when you use it around Christmas. No matter the shade of red you choose, you will still look super stylish, however. As you can see in the picture below dark red with a matte finish and geometrical nail art looks absolutely stunning.
The matte finish is super trendy for the colder months of the year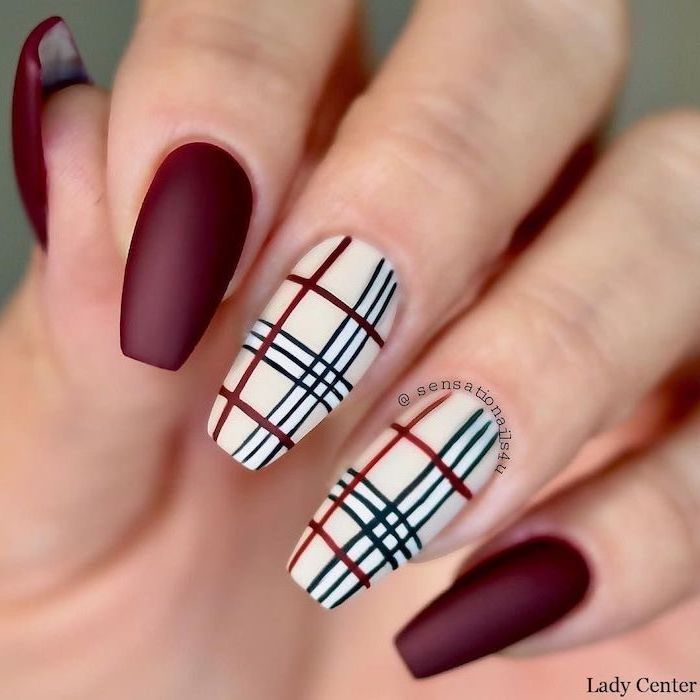 The good old french manicure reimagined in a modern way
First of all, yes, if you are a fan of it, you can always go for the classic french manicure. We are here, however, to talk about trends. And the trend on french manicure for this year comes with a twist. Whether you choose to have a multi colored french or one with negative space, it doesn't matter. French manicure is timeless.
This is such a cool combination of colors to give this French manicure a cute and modern twist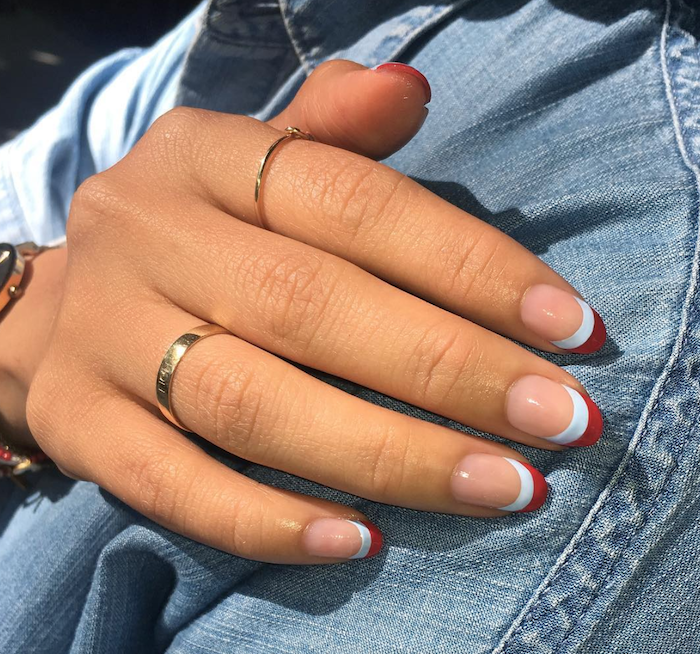 Nail designs 2020 with gold elements
Gold is another color which reminds us of Christmas. Needless to say it looks good no matter the time of year. So, adding a touch of gold to your nails, whether you decide to pair with another color or not, will always make for an eye catching manicure.
Add a touch of gold to your nails to keep up with the fall winter nail designs for 2020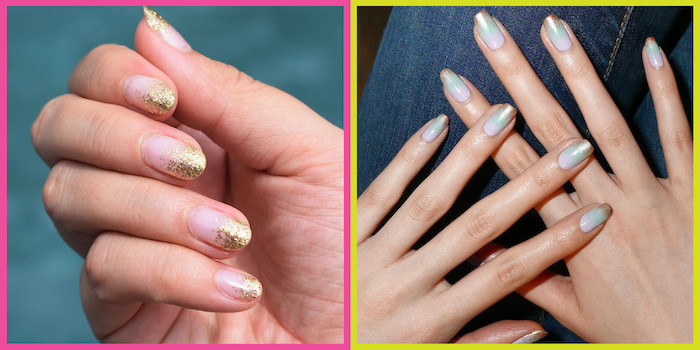 Add rhinestones to your nail designs 2020
If you love to add some shine to everything you do, then adding rhinestones to your nails is perfect for you. Throughout the years we have seen lots of different trends come and go when it comes to nail designs with rhinestones. This fall season the trend is less is more. Keep things simple with a nude shade of nail polish and let these jewels do all the talking.
Minimalist and stylish nail design with rhinestones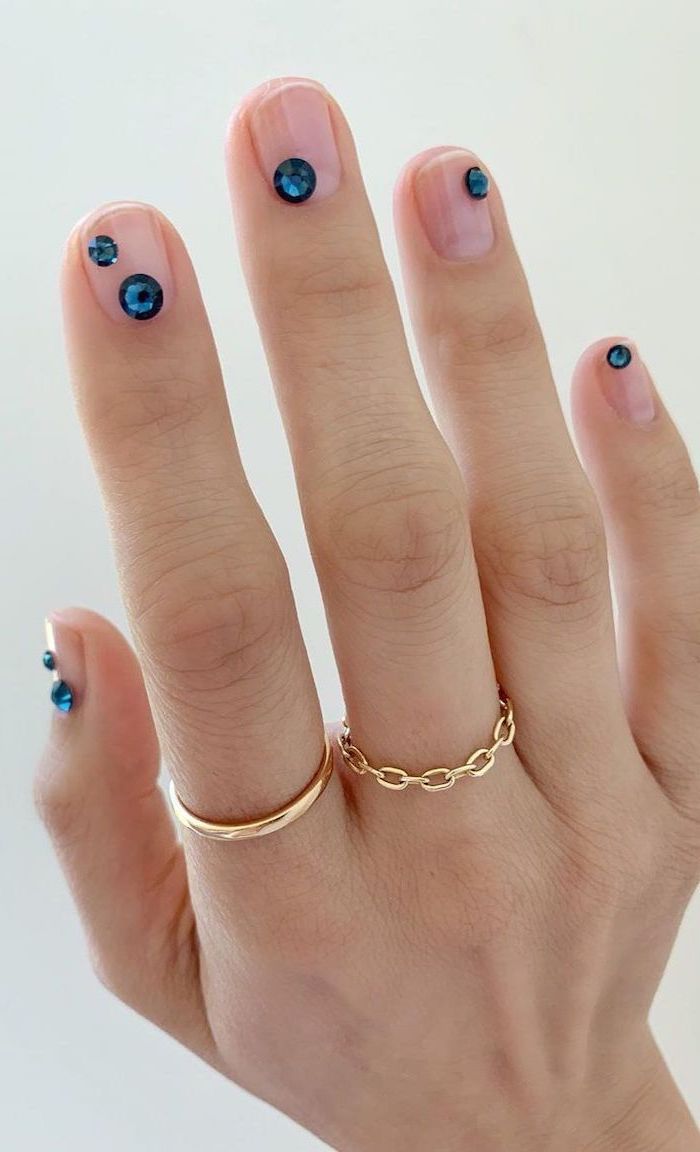 Animal print nail designs 2020
Animal prints will be all the rage in the 2020 fall winter season. So, if you love them, why not add them to your nails as well as you clothes. Needless to say leopard print will definitely be the most popular. However, you shouldn't be afraid to try other ones such as snake skin or zebra print. Experiment, mix and match with different colors and you will find your perfect nail design.
Animal prints will always be on trend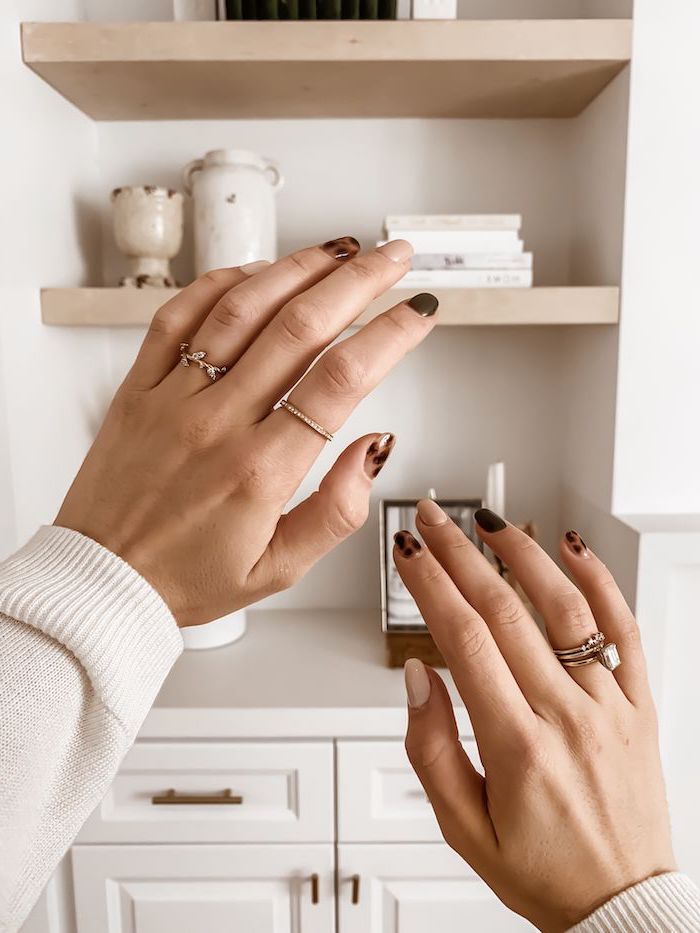 What is the most popular nail shape for 2020?
Without a doubt the shape to get right now is almond. Some people prefer a more rounded almond, but you can also go with a tapered one – sharper than the regular, but not as sharp as a stiletto. Another popular shape for long nails will be coffin of course. If you want to keep it short and sweet, get some oval edges on your nails to create the squoval nail shape and you are all set. Just make sure that the shape and length you pick for your nails will be appropriate for your everyday life.
Almond nails are beautiful, don't require lots of upkeep and look good at any length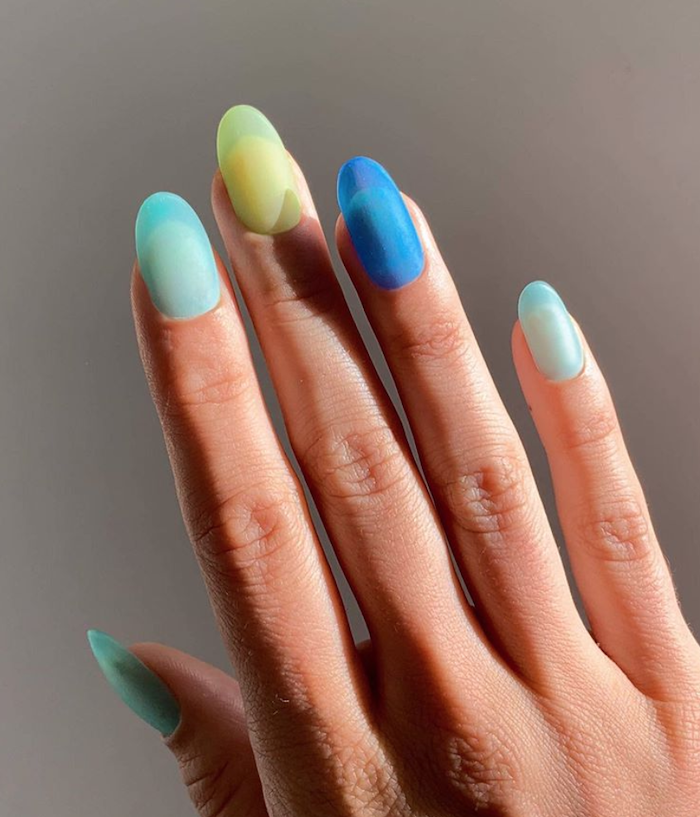 The best fall winter nail designs 2020 edition
No matter what shape you pick, long or short, your nails deserve all of the attention. So, browse through our gallery and pick out the nail design that is most suitable for you. Furthermore, don't be afraid to experiment. Even if you think some design or shape is not for you, just try it on your nails and you will see that it looks great. You never know, it might just become your favorite.
Cool nail polish shades with the popular matte finish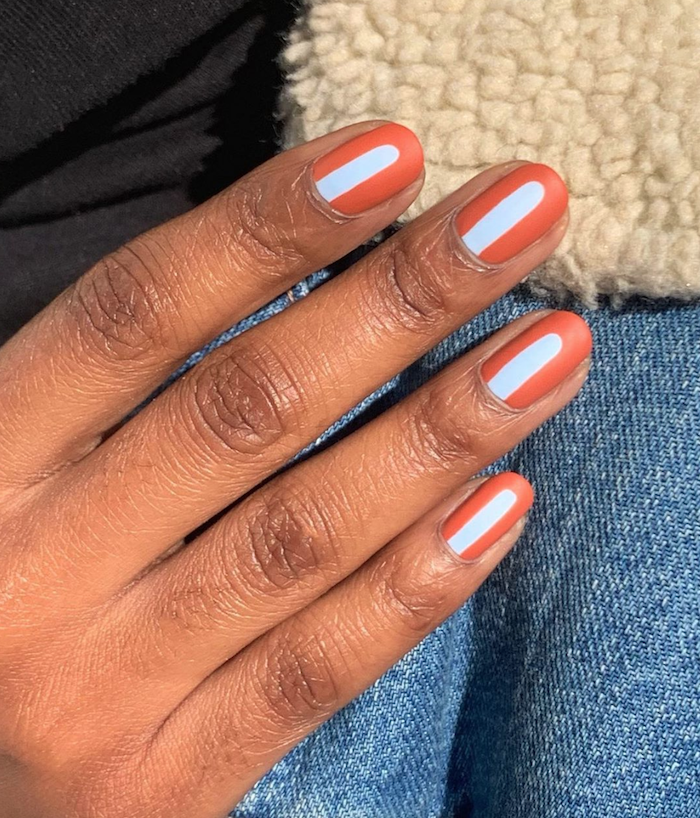 Scroll through our gallery to find even more nail designs 2020
Dark sky with stars nail art – the perfect winter nails
Never underestimate the power of purple
Fall nail designs with a snake skin print
Multi colored nails in nude colors with a matte finish
Nail designs for short nails in dark colors
Trendy short nail designs 2020 with an animal print
Cute acrylic nail designs 2020