---
If you find yourself wondering what to do with leftover chicken, then you have come to the right place! If you have some leftovers sitting in the fridge, consider it a blessing. There is so much you can do with them to turn them into a completely different meal for next day's lunch or dinner. These 5 recipes we will show you in this article are extremely easy to whip up and just as delicious. No matter if you have boneless chicken breast, some shredded chicken, or leftovers from a whole rotisserie, these recipes will work wonders to repurpose it. All you need is some inspiration and a couple of minutes for cooking!
These recipes are perfect for Rotisserie chicken leftovers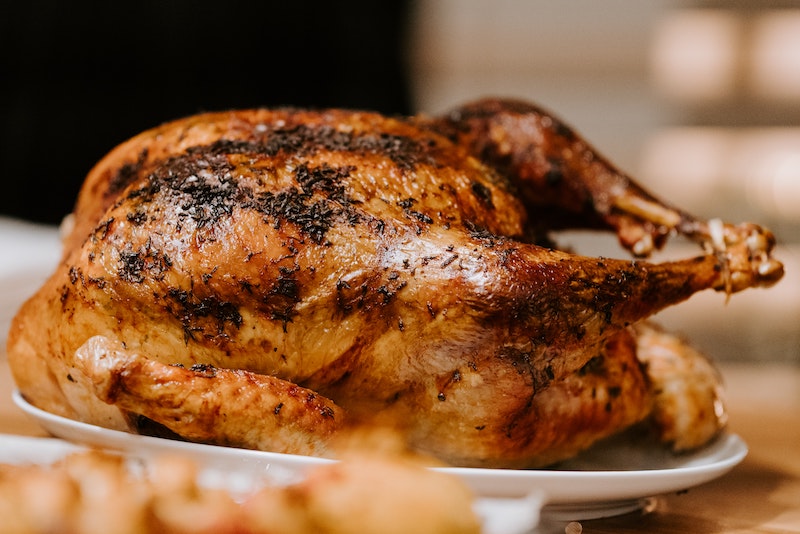 ---
Some leftover shredded chicken is also a good option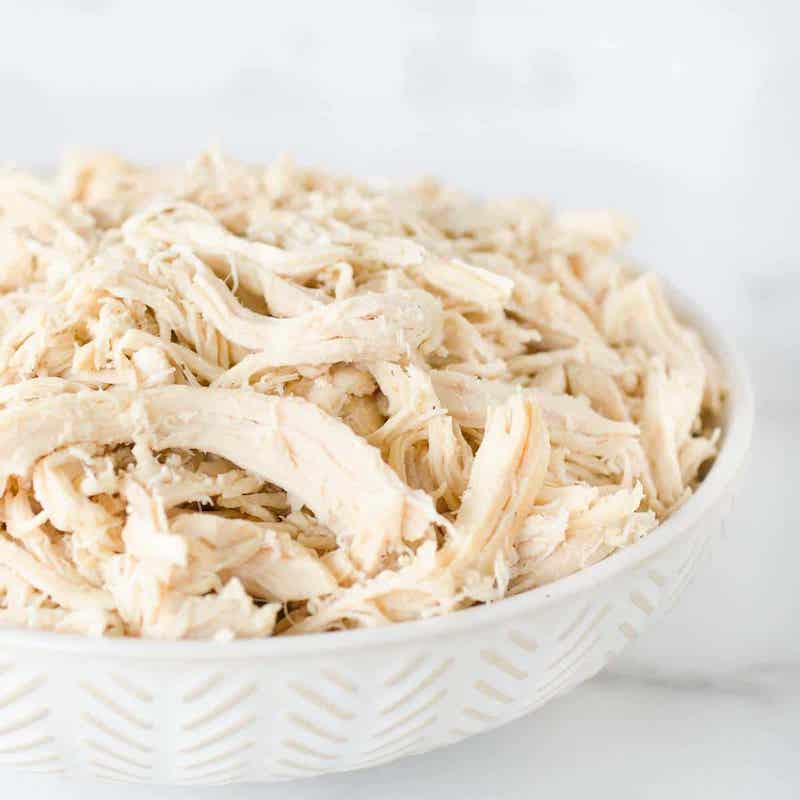 Generally, it is good to eat your leftover chicken within 4 days of cooking it. After that, chicken can be unsafe to consume. But you don't need to worry about that since these leftover recipes we will show you are so good that there will be nothing left.
What can I do with leftover dry chicken?
You would be surprised how many tasty dishes you can whip up with your leftovers in no time! Remember to store your chicken leftovers in the fridge and take them out when it is time for cooking. Below, we will show you 5 recipes you can make easily for dinner or lunch.
How do you make leftover chicken taste good?
It is easy- repurpose it! Create an entirely new meal using your leftovers and surprise your family at dinner time or enjoy on your romantic dinner date night. You can even prepare lunches for the next day. The options are limitless! And the best part? No one will know this is a leftover meal unless you tell them. These recipes are just that good!
Use leftover chicken to make a soup
Sweet Potato, Chicken & Ginger Soup
Prep time: 15 minutes
Cooking time: 35 minutes
Total time: 50 minutes
Portions: 2
Ingredients:
vegetable oil  (for frying)
1 onion (finely chopped)
1 celery stick (finely chopped)
2 garlic cloves (crushed)
1 tsp ground coriander
30g fresh ginger (finely chopped)
500g sweet potatoes  (cut into cubes)
500ml fresh chicken stock
200g cooked chicken (shredded)
3 tbsp Greek yogurt (to serve)
Fresh coriander (to serve)
1 lime, juiced (to serve)
Step-by-step instructions:
First, heat the vegetable oil in a large saucepan.
Then add the finely chopped onion and the finely chopped celery stick.
Next, fry for 5 minutes.
After that, add the crushed garlic cloves, the ground coriander, and the finely chopped fresh ginger.
Next, fry for 2-3 minutes.
Then add the sweet potato and fry for 5 minutes, while stirring often.
After that, add the fresh chicken stock and bring it to a boil.
Next, simmer for 25-30 minutes until the sweet potato is tender. Use a fork to determine if it is cooked.
Then pour the soup into a blender and blend into a smooth soup.
After that, add the leftover shredded chicken into a pan and stir in the Greek yogurt and the roughly chopped fresh coriander.
Finally, season the soup and squeeze in the juice of 1 lime.
Enjoy!
 This soup recipe is healthy and perfect for the colder months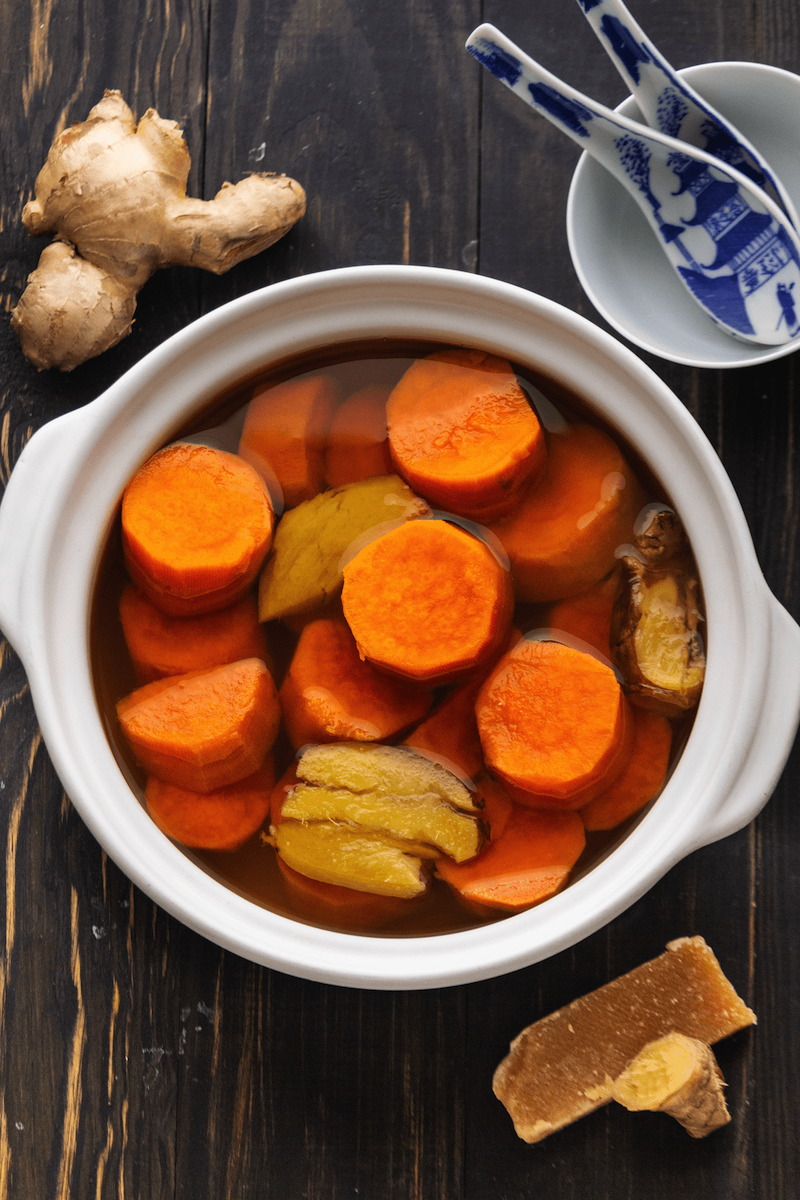 You can add toppings like fresh onion and croutons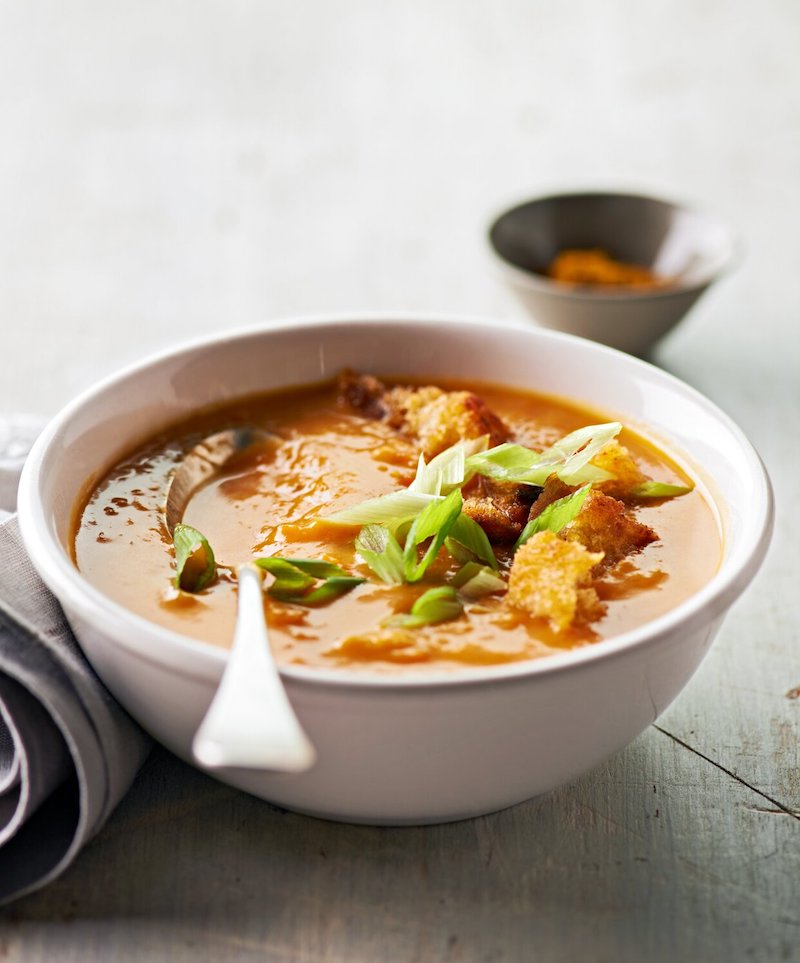 ---
You can blend the whole soup or just half of it to leave some pieces solid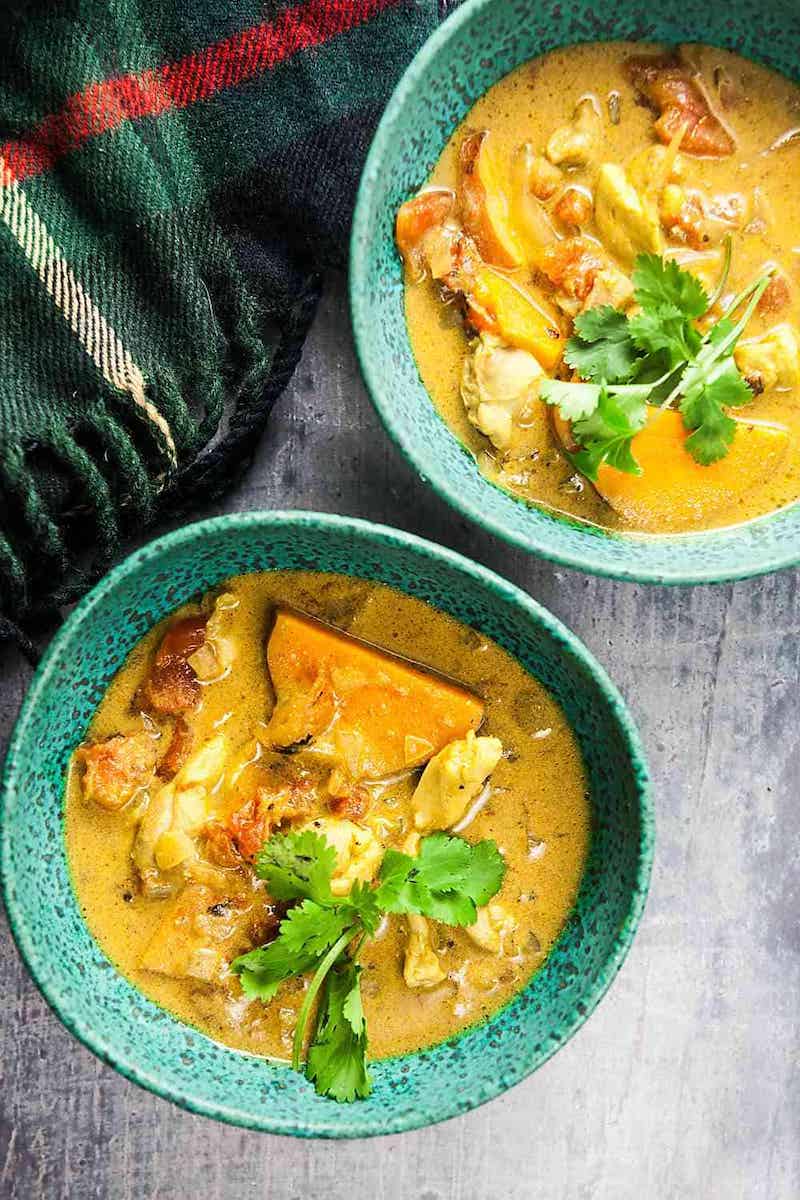 Make a salad for lunch
Yogurt & Dill Chicken Salad
Prep time: 10 minutes
Total time: 10 minutes
Portions: 4-6
Ingredients:
2/3 cup whole milk yogurt
1/4 cup mayonnaise
large shallots, minced
cup finely chopped fresh dill
teaspoon salt, or to taste
leftover chicken
freshly ground black pepper
Step-by-step instructions:
First, shred the chicken with the help of two forks.
After that, chop the resulting shreds finely. You will need about 2–2 1/2 cups of shredded chicken.
Next, whisk together the yogurt and mayonnaise in a bowl.
Then toss in the chicken.
After that, mix in the shallots and dill.
Then taste the salad and season with salt and pepper to your taste.
Finally, refrigerate the salad for at least an hour to let all the flavors combine. (the chicken salad will last up to 3 days in the fridge)
Enjoy!
This salad is creamy, fresh, and perfect for lunch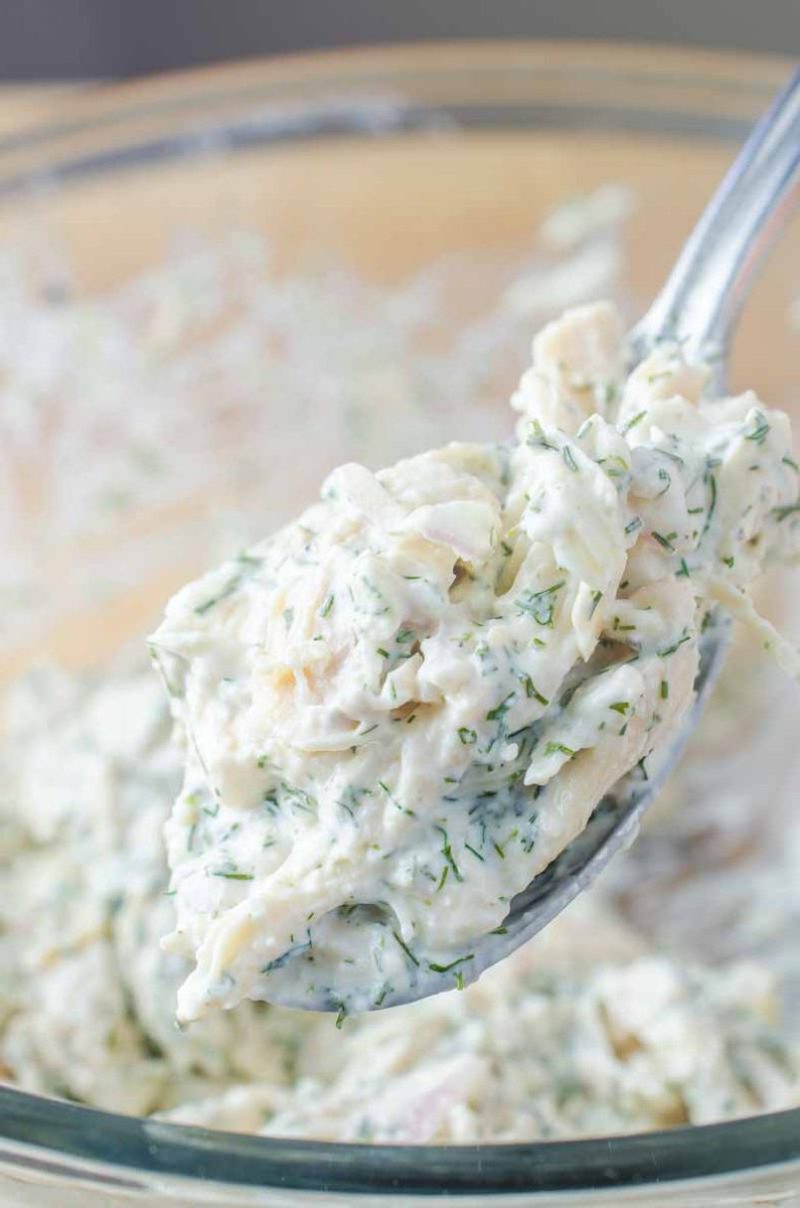 Garnish with fresh dill before serving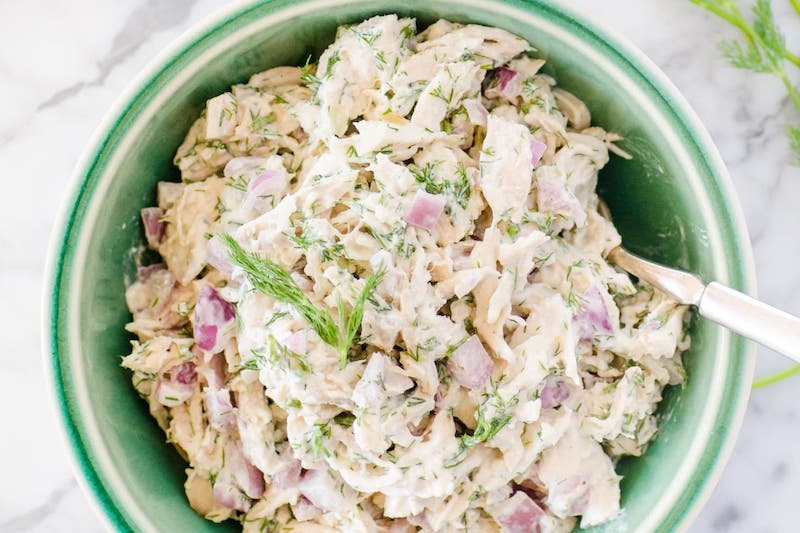 The perfect leftover chicken salad that everyone will love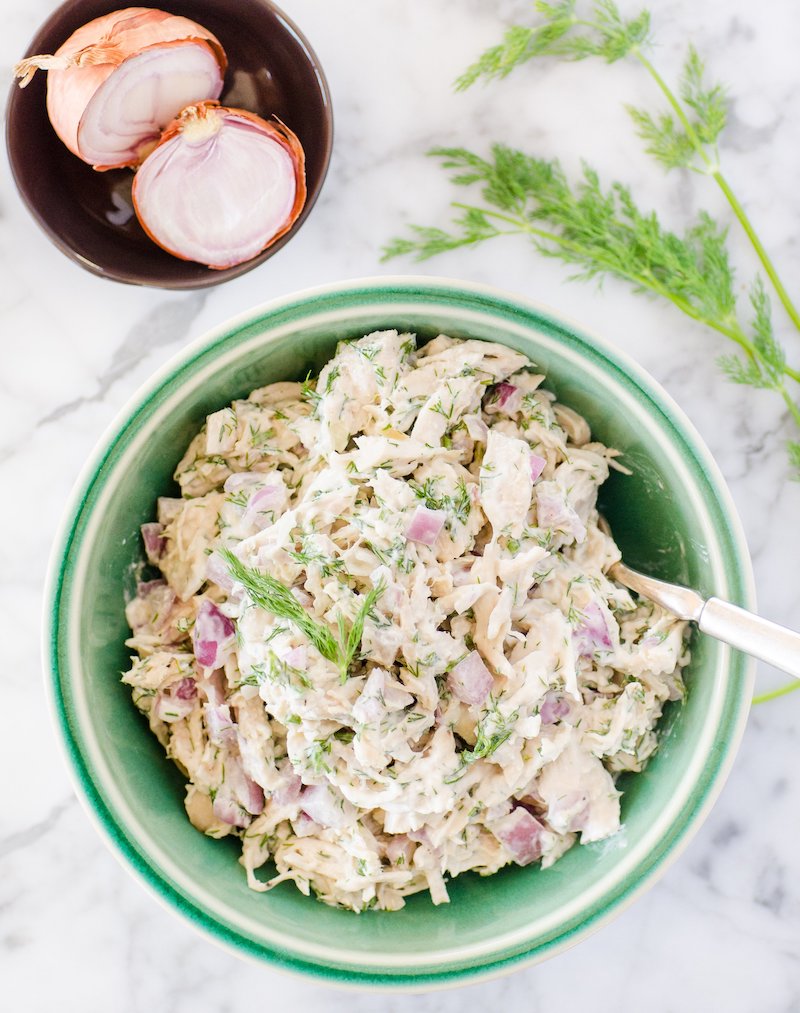 Make a baked pasta dish
Chicken Alfredo Bake
Prep time: 10 minutes
Cooking time: 30 minutes
Total time: 40 minutes
Portions: 6
Ingredients:
12-ounce penne pasta (uncooked)
4 tablespoon butter (unsalted)
6 cloves garlic (minced)
2 tablespoons all-purpose flour
1 cups chicken broth (low sodium)
2 cups half-and-half
1 teaspoon onion powder
1 tablespoon Italian seasoning
1/2 teaspoon red pepper flakes
1/2 teaspoon salt (or to your taste)
1/4 teaspoon pepper (or to your taste)
1 cup Parmesan cheese (grated)
3 cups Mozzarella cheese (shredded)
2 cups leftover chicken (shredded, such as Rotisserie)
1 tablespoon fresh parsley (chopped)
Step-by-step instructions:
First, cook the pasta according to the package instructions. Drain, rinse and set it aside.
Next, preheat the oven to 375 °F degrees.
Then grease a 9×13-inch baking dish.
After that, melt the butter in a large skillet over medium heat.
Next, add the garlic and cook for 30 seconds until aromatic and slightly brown.
Then whisk in the flour and cook for 1 more minute to cook off the raw taste of the flour.
After that, add the chicken broth and the half-and-half, bring to a simmer, and whisk constantly until the sauce starts to thicken.
Next, stir in the onion powder, the Italian seasoning, red pepper flakes, salt, and pepper.
Then whisk in the Parmesan cheese and the 2 cups of Mozzarella cheese.
Stir until the cheese has melted.
Next, add the cooked pasta and the leftover chicken to a large bowl, pour in the sauce, and toss everything really well.
After that, transfer the pasta to the prepared baking dish and top it with the remaining mozzarella cheese.
Then bake the dish uncovered for 20 minutes until the cheese is bubbly and starts to brown on top.
Finally, wait for the pasta to cool off, garnish with parsley and serve.
Enjoy!
This creamy pasta recipe is perfect for a family dinner
Bake until the top is crispy and golden-brown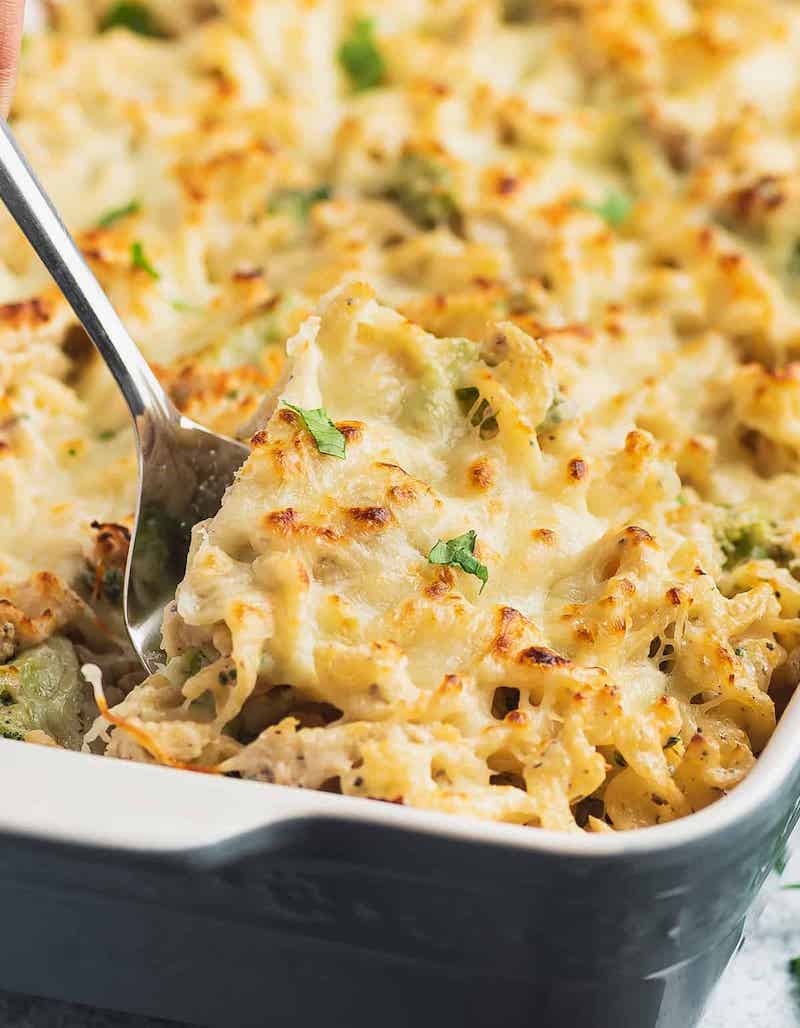 Make a healthy bowl
Greek Chicken Grain Bowls
Prep time: 10 minutes
Cooking time: 20 minutes
Total time: 30 minutes
Portions: 4
Ingredients:
For the sauce:
4 ounces feta cheese (drained)
2 1/2 tablespoons water
1 tablespoon extra-virgin olive oil
For the bowls:
1/2 medium red onion  (thinly sliced, about 1/2 cup)
1/4 cup freshly squeezed lemon juice
1 clove garlic (minced)
2 teaspoons dried oregano
1/2 teaspoon dried marjoram
1 1/2 teaspoons kosher salt (divided)
1/4 teaspoon freshly ground black pepper
leftover chicken (whole breasts or shredded)
1 1/4 cups quinoa (rinsed well)
2 cups water
2 cucumbers (sliced into 1/2-inch-thick rounds)
1 cup cherry tomatoes (halved or quartered if large)
1/2 cup pitted Kalamata olives
Step-by-step instructions:
First, crumble the feta into a food processor and gradually pour in the water and olive oil, and blend until smooth.
After that, heat the oven to 425 °F. And line a rimmed baking sheet with aluminum foil.
Then place the onion and 1 tablespoon of the lemon juice in a small bowl and toss to combine.
Next, place the garlic, oregano, marjoram, pepper, 1 teaspoon of salt, and the remaining lemon juice in a large bowl and stir to combine.
Then add the chicken (shredded or in cubes) and toss to coat it evenly.
After that, place the chicken on the baking sheet and roast until it is cooked through.
Meanwhile, cook the quinoa according to package instructions.
Next, place the quinoa, water, and remaining 1/2 teaspoon salt in a medium saucepan and bring to a boil.
After that, reduce the heat to low, cover the pan, and simmer until the quinoa is tender and the water is completely absorbed.
Then remove the pan from the heat and set it aside.
Next, divide the quinoa into 4 bowls and top each one with the chicken.
After that, divide the red onion, cucumbers, tomatoes, and olives between the bowls.
Finally, drizzle with the sauce on top and serve.
Enjoy!
This fresh Greek recipe will become your newest obsession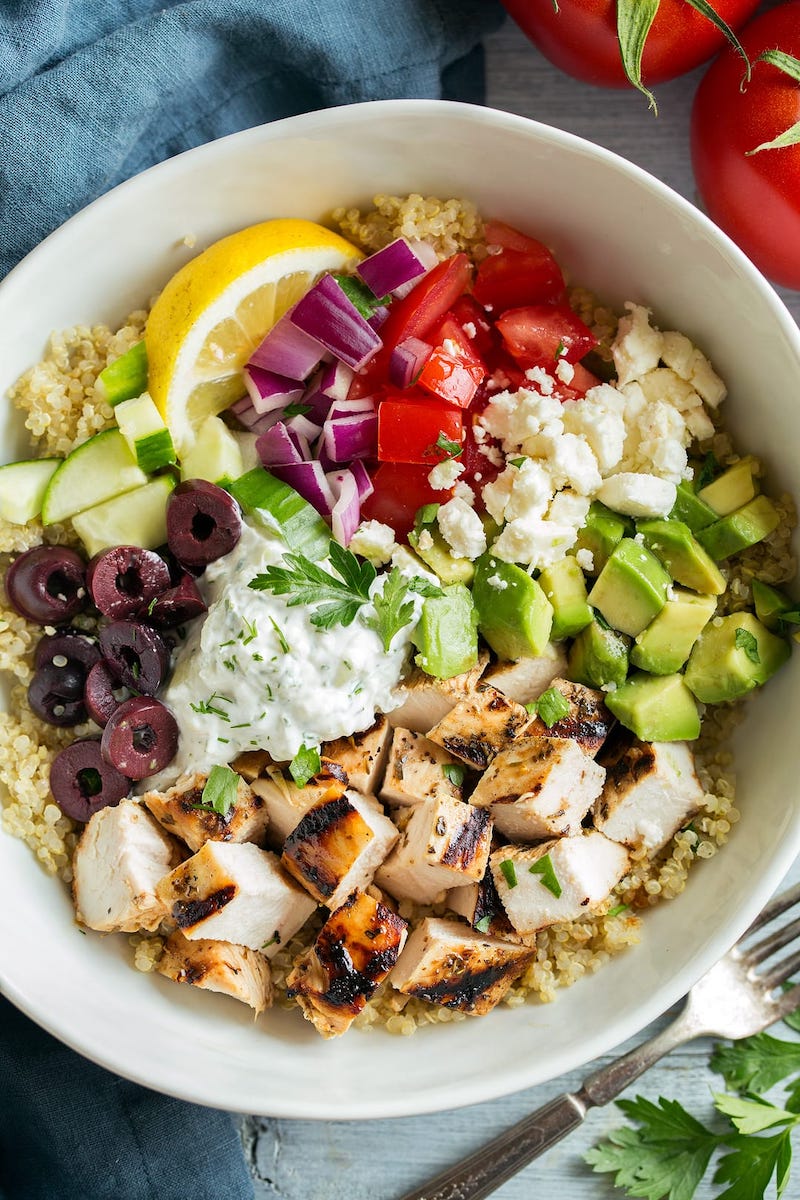 The best part is that you can completely customize your nutritious bowl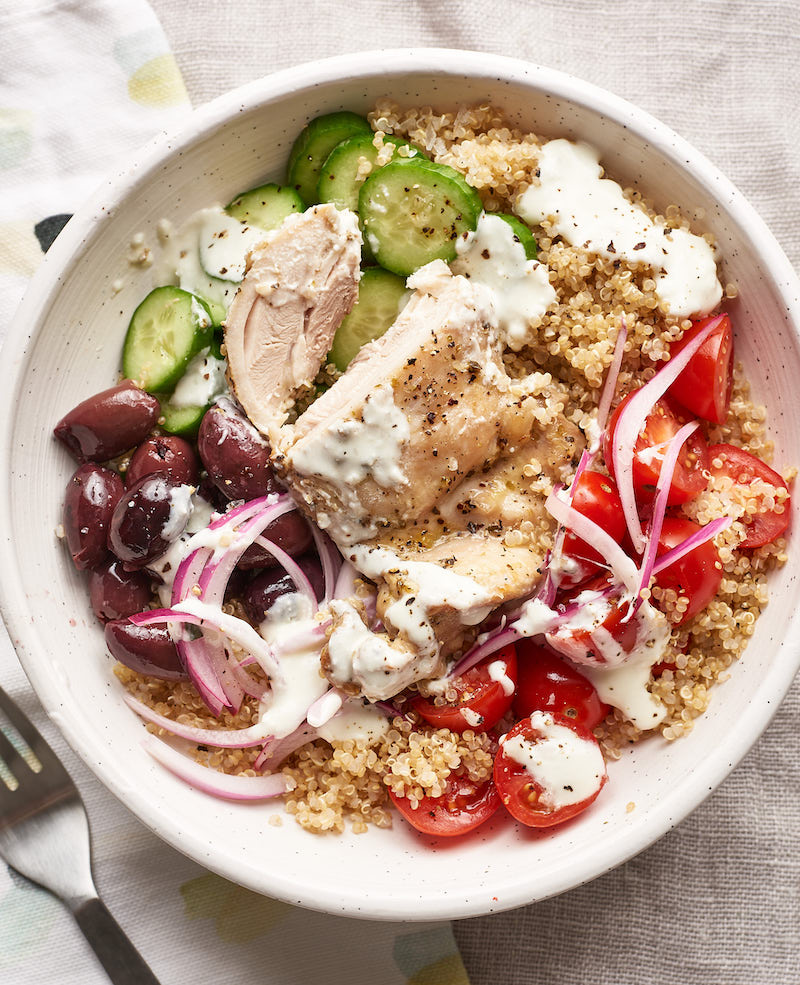 This recipe is the perfect lunch meal prep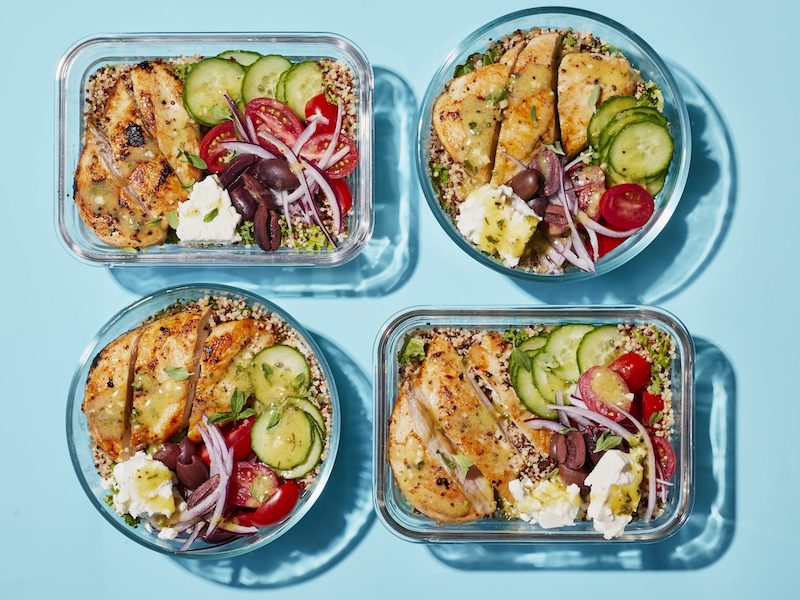 Use the leftover chicken to make tacos
Rotisserie Chicken Leftover Tacos
Prep time: 15 minutes
Cooking time: 5 minutes
Total time: 20 minutes
Portions: 4-6
Ingredients:
12 to 16 (6-inch) corn tortillas
1/2 rotisserie chicken
1 tablespoon chili powder  (or ground cumin if you want it to be less spicy)
1 teaspoon kosher salt  (divided)
2 medium limes
1 (10-ounce) bag tricolor slaw
Freshly ground black pepper
1/2 medium yellow onion
2 medium avocados
1/2 (10-ounce) wheel queso fresco (or other crumbly Mexican cheese)
1 cup sour cream
1 cup salsa
hot sauce (optional)
Step-by-step instructions:
First, preheat the oven to 175ºF.
Then Stack 12 to 16 tortillas and wrap them completely in aluminum foil or parchment paper.
Next, place the tortillas in the oven to warm while you prepare the rest.
Next, remove the meat from the rotisserie chicken, place in a bowl and shred it with the help of 2 forks.
Then add 1 tablespoon chili powder or cumin and 1/2 teaspoon kosher salt, and toss to combine.
After that, place the slaw in a large bowl. Add lime juice, salt and a few grinds of pepper. Toss to combine.
Next, prepare the toppings and place them all in separate bowls.
Then dice 1/2 yellow onion and 2 avocados and rumble up the queso fresco cheese.
After that, place the sour cream and the salsa in serving bowls.
Place the warm tortillas on a plate.
Finally, place the chicken, tortillas, slaw, toppings, and hot sauce out so everyone can make their own tacos with whatever they want.
Enjoy!
Use two forks to gently shred the leftover chicken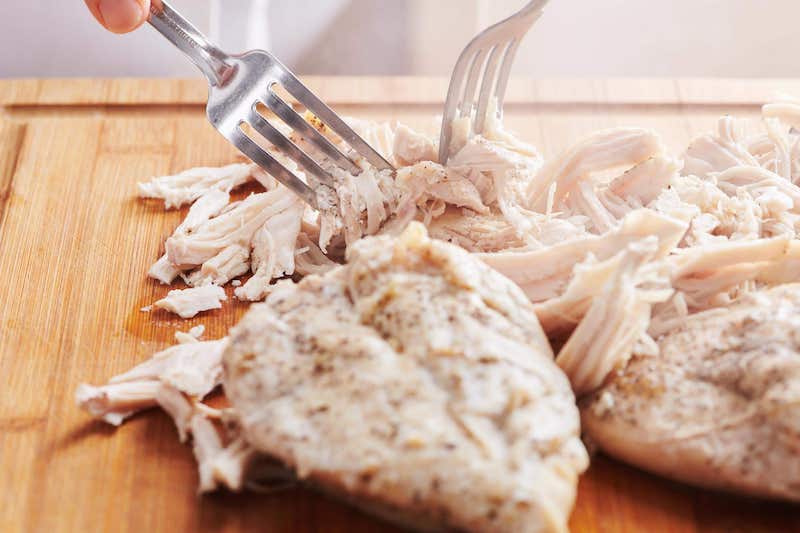 Smash the avocado on the tortillas and add the other toppings on top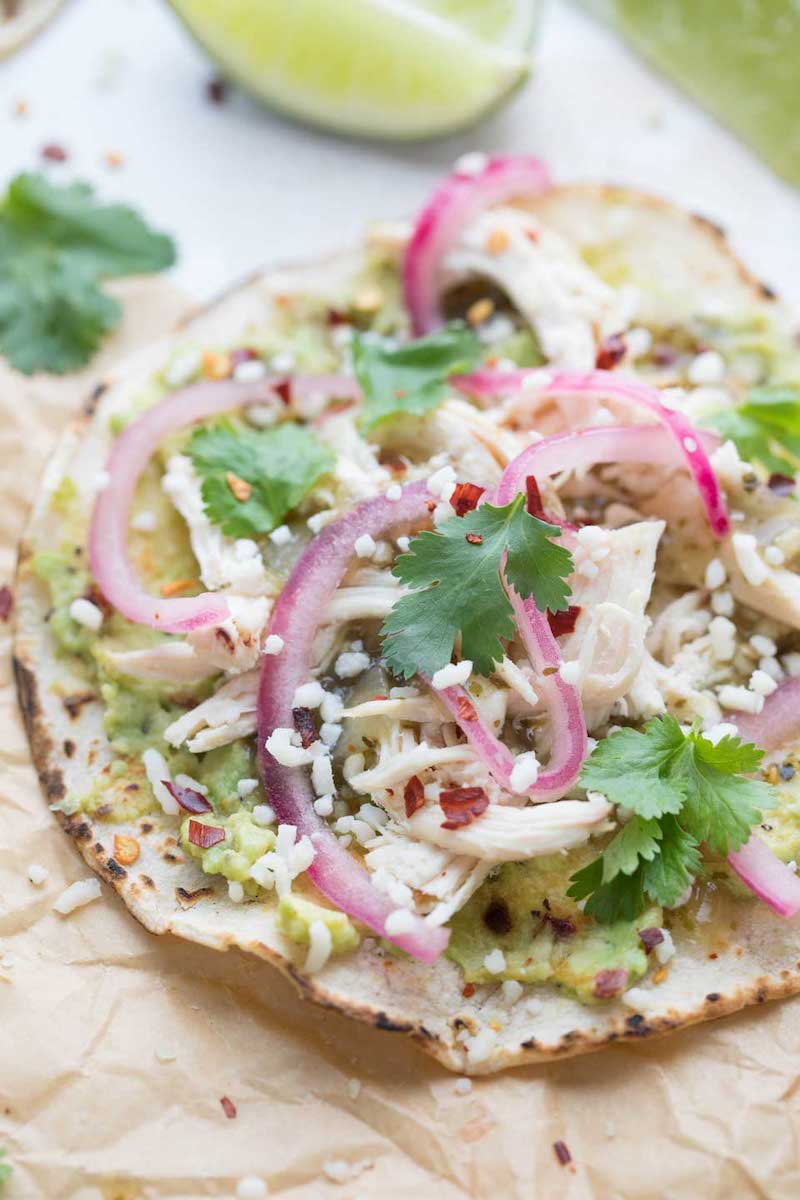 Make as many of these tasty tortillas as you can because they will get eaten immediately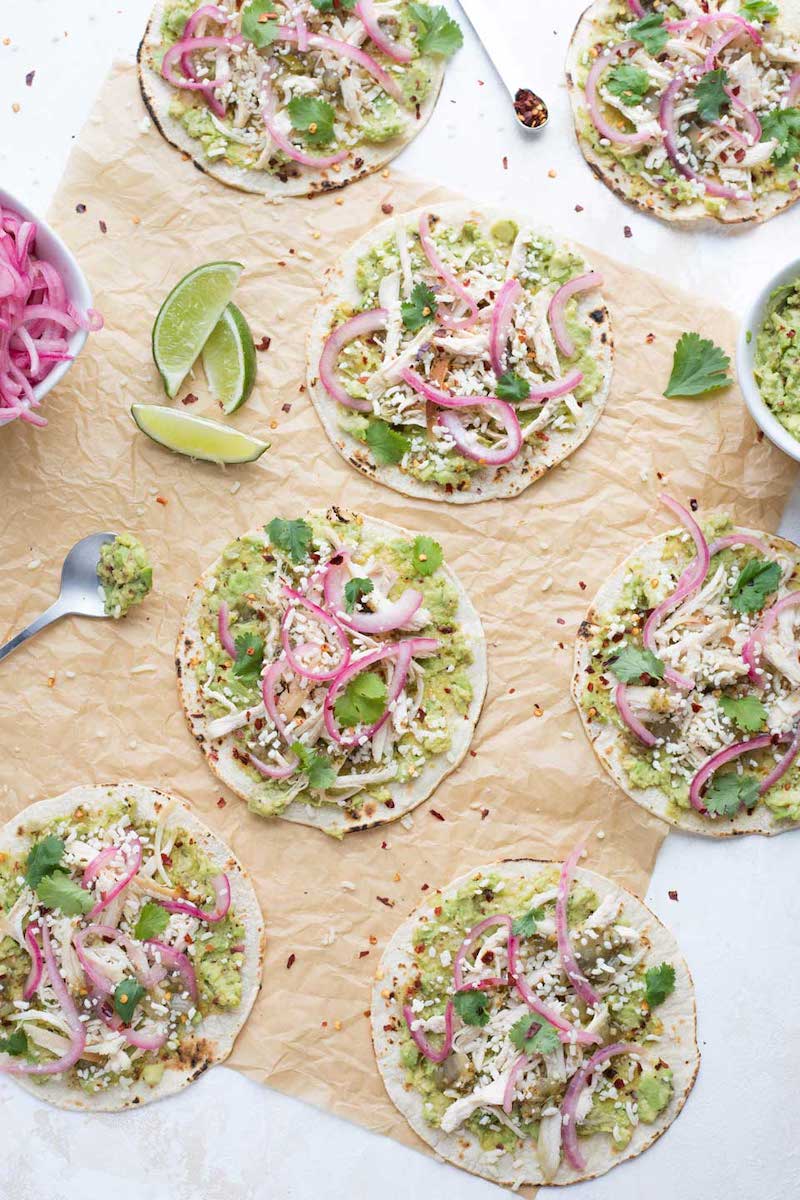 Everyone can customize their own taco so be creative and enjoy!