---
Chicken meat can become incredibly tasty if it is properly processed in advance. A quality chicken breast marinade is the most important component in creating a delicate and mouthwatering dish. There are many variations of the best marinades: sweet, savory, spicy, diet-friendly, and zesty. A properly selected and processed chicken breast can become the star of any dish if treated right and given the opportunity! And, there is nothing quite like a juicy, tender grilled breast to go with your side dishes. So, if you want to learn how to tenderize chicken like a pro, let's get into these 10 delicious chicken marinades!
Wondering how to tenderize chicken? Let's find out:
---
It is not desirable to add mayonnaise and other ingredients containing vinegar. If the marinade for the chicken contains a lot of acids, then the meat will get a sharp taste and will be raw. In general, do not make the mixture too acidic, regardless of what you decide to add: vinegar, juice of some citrus fruits, or kefir.
Salt contributes to the fact that the meat quickly loses its juice and becomes "rubbery". It is better to add salt at the end of the marinating process, 10 to 15 minutes before roasting.
If you want to get a juicy and tender dish, buy chilled, not frozen, chicken! Make sure to get the product only from a reliable store.
But with spices, it is important not to overdo it, otherwise, the marinade will overcome the taste of the chicken itself!
How to tenderize chicken? Marinate the chicken for an hour or two at least!
The chicken will marinate faster at room temperature, but if that is too warm, it is better to put the bowl of chicken in the fridge.
Make sure the chicken breast marinade covers the meat completely. If this is not the case, you should periodically mix the contents, making sure the chicken is completely coated with the marinade.
You can make different flavored chicken for each day of the week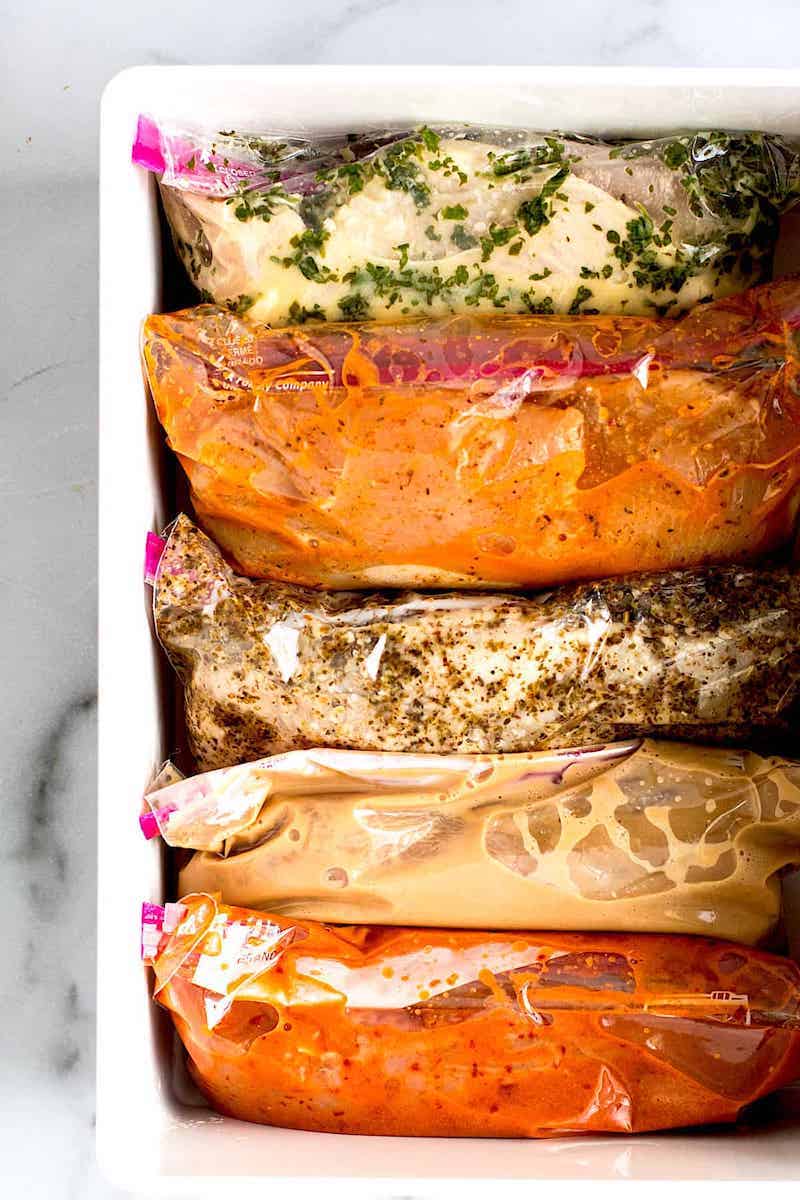 And, now let's learn how to tenderize chicken like a pro!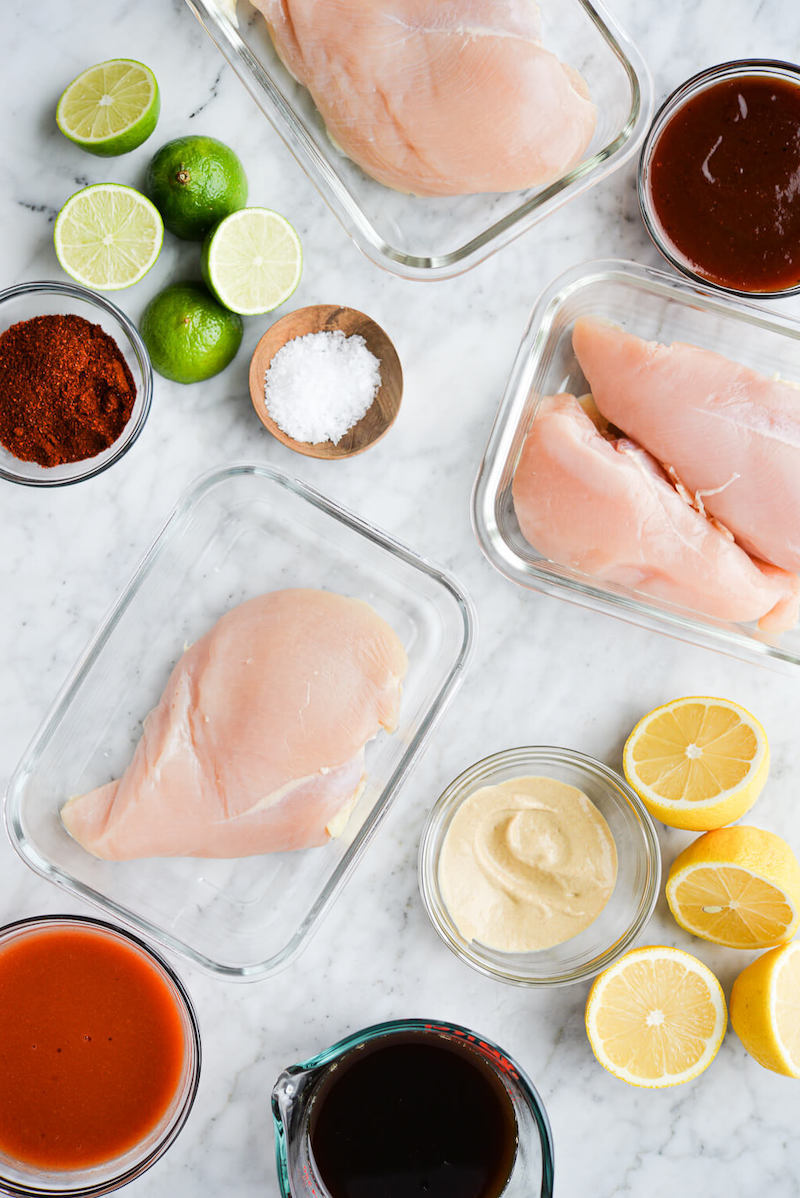 Marinade for Chicken with Ginger
Ginger has amazing benefits for our health and well-being! So, why not make some delicious and juicy chicken with it.
Ingredients:
1 tsp dried ginger
2 tbsp fresh ginger – grated
2 garlic cloves
3 tbsp fresh milk
2 tbsp olive oil
1/2 tsp sugar
1/2 tsp cayenne pepper
black and white pepper
salt
Preparation:
This recipe awakens all taste buds. Just mix all the ingredients until you get a thick porridge.
Spread over the pre-cooked steaks.
Put them in a suitable container in the refrigerator.
After 2-3 hours, turn on the gas barbecue or light the coals and start grilling.
Enjoy!
If you want to try some exciting flavors, make this delicious ginger chicken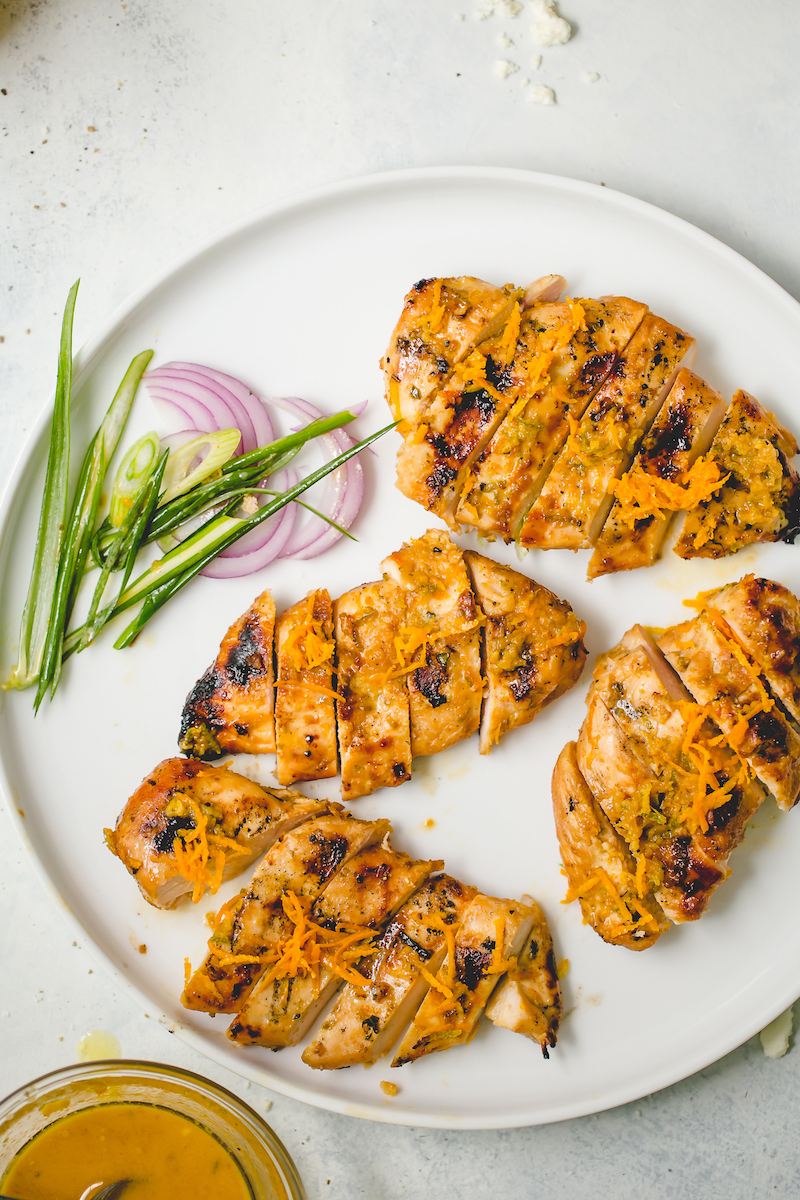 ---
Hot Barbecue Marinade for Chicken
If you are a lover of spicy, this recipe is just for you. But beware – you might drink a lot of beer with this delicious chicken.
Ingredients:
2 tablespoons of cayenne pepper
5 garlic cloves – pressed
1/2 tsp turmeric
1/2 tsp ginger
2 tbsp olive oil
juice of 1 lemon
black pepper
salt
Preparation:
Mix all the ingredients.
It's a good idea to taste the chili to judge the amount to put in.
Coat the chicken well and leave covered in a suitable container in the fridge for about 2-3 hours.
It is then ready for grilling.
Time to cook your chicken!
If you are craving something spicy, then this chicken recipe is the one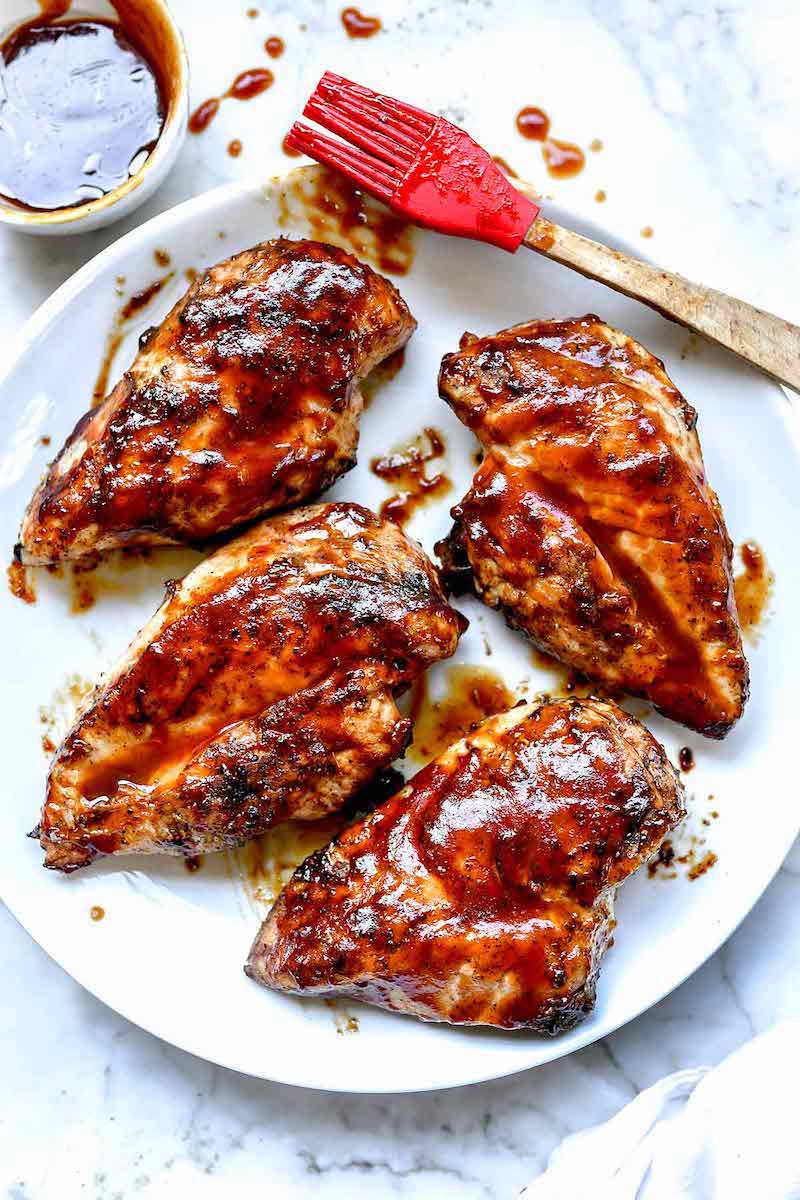 Greek Marinade for Grilled Chicken
The Greek marinade makes the chicken steaks extremely flavorful and tender. If you like skewers, this is one of the best recipes for them! If you happen to make too much of this delicious chicken, see our tips for delicious leftover chicken recipes!
Ingredients:
1 tsp olive oil
1/4 tsp lemon juice
2 tbsp mustard
3 cloves garlic – pressed
2 tsp oregano
2 tsp dried parsley
1 tsp thyme
1 tsp rosemary
pepper and salt to taste
Preparation:
Mix all the ingredients, baste the meat and pour the rest of the mixture over it.
We recommend marinating for about 4-5 hours.
Then turn on the barbecue and start grilling.
You'll taste their irresistible aroma as soon as you grill them.
Then it's ready for grilling.
Enjoy!
This is a classic chicken marinate, perfect for when you want a quick and delicious dinner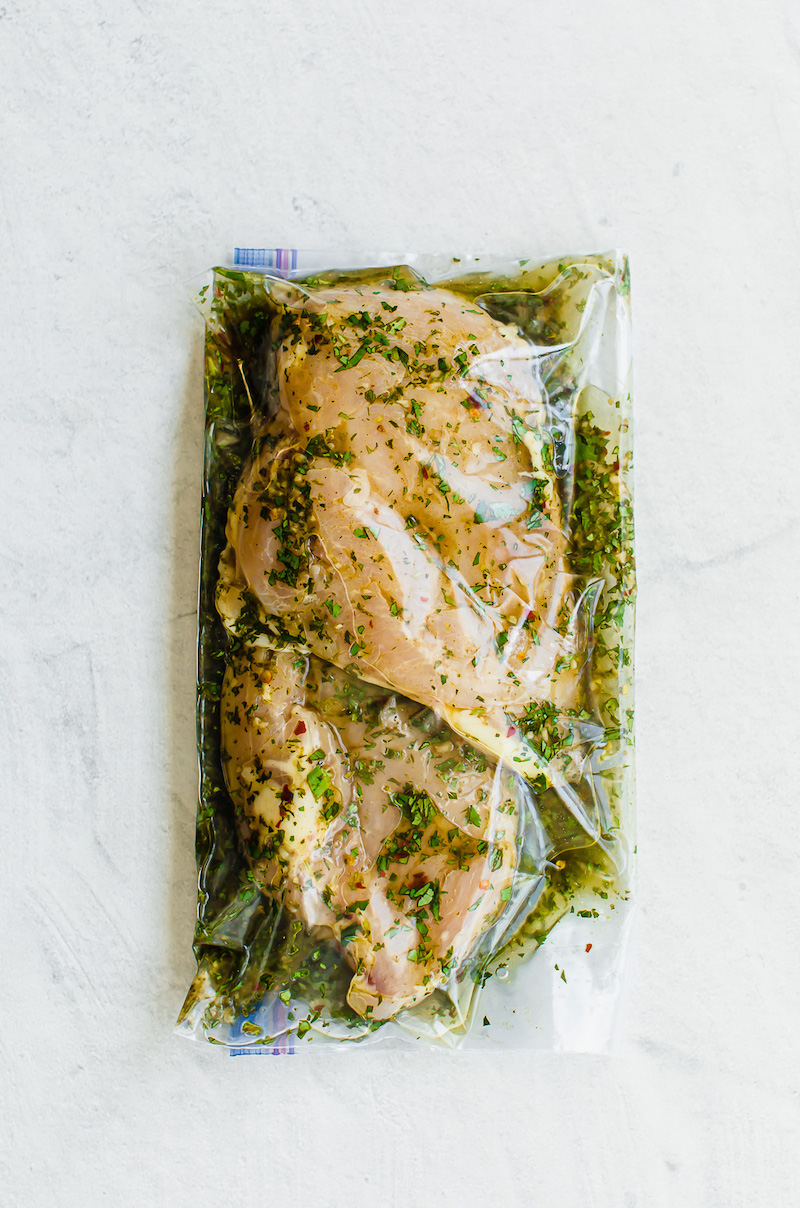 Serve it with some fresh lemons and enjoy it with some toasted pita bread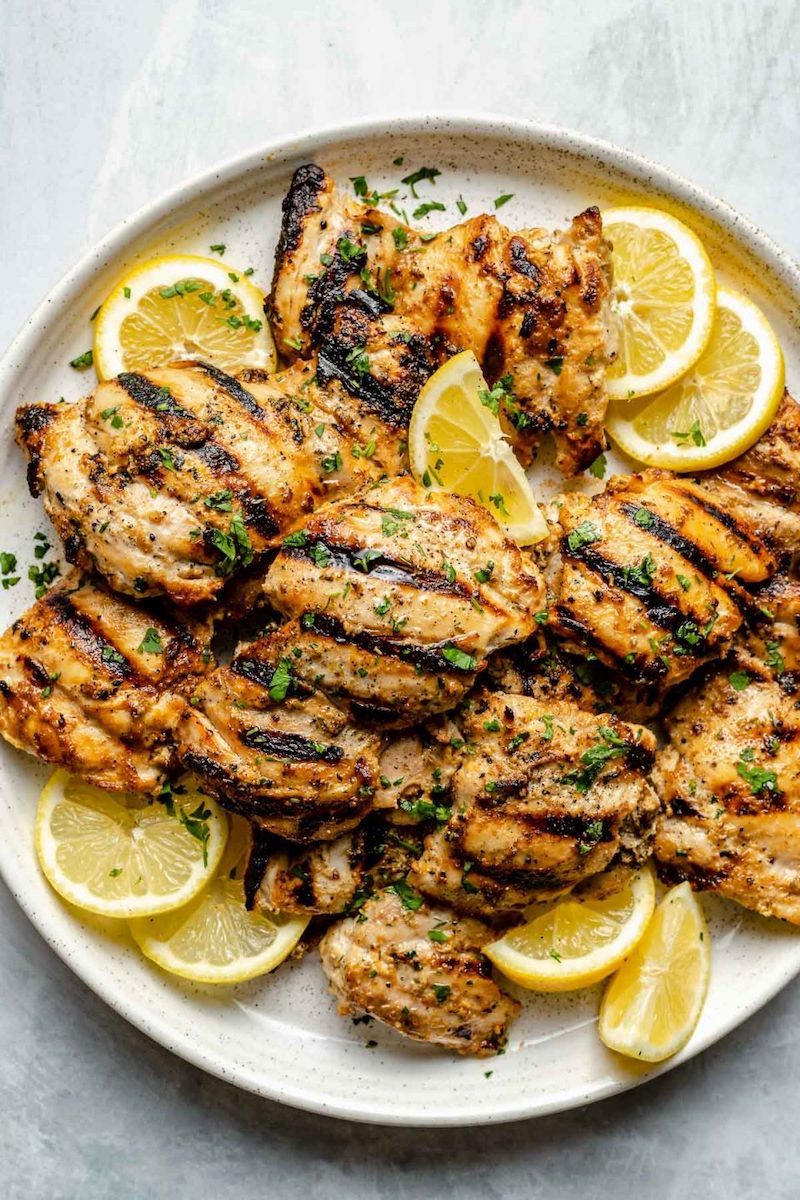 Marinade for Chicken with Coriander and Lime
Ingredients:
2 limes – grated peel and juice
1 tsp coriander
1 tsp cumin
2 tbsp olive oil
1 tbsp honey
sea salt
1 tsp black pepper
Preparation:
For this chicken marinating recipe, you need a blender.
Blend all the ingredients until you have a homogeneous mixture.
Coat the meat well, then place it in a suitable container in the fridge, wrapped in cling film.
It should stand for at least 4-5 hours, after which you can put it on the grill.
Time to cook your chicken!
Make sure to add some garlic for that extra kick of flavor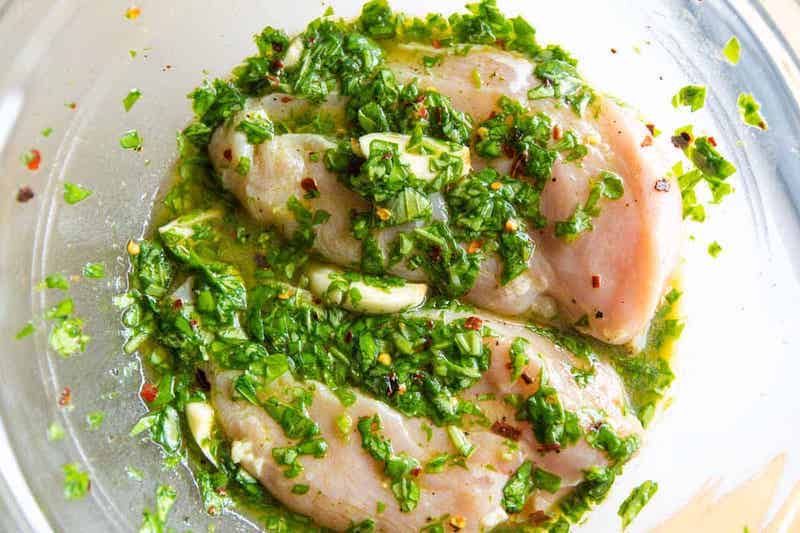 Serve this cilantro chicken with some lime juice and enjoy!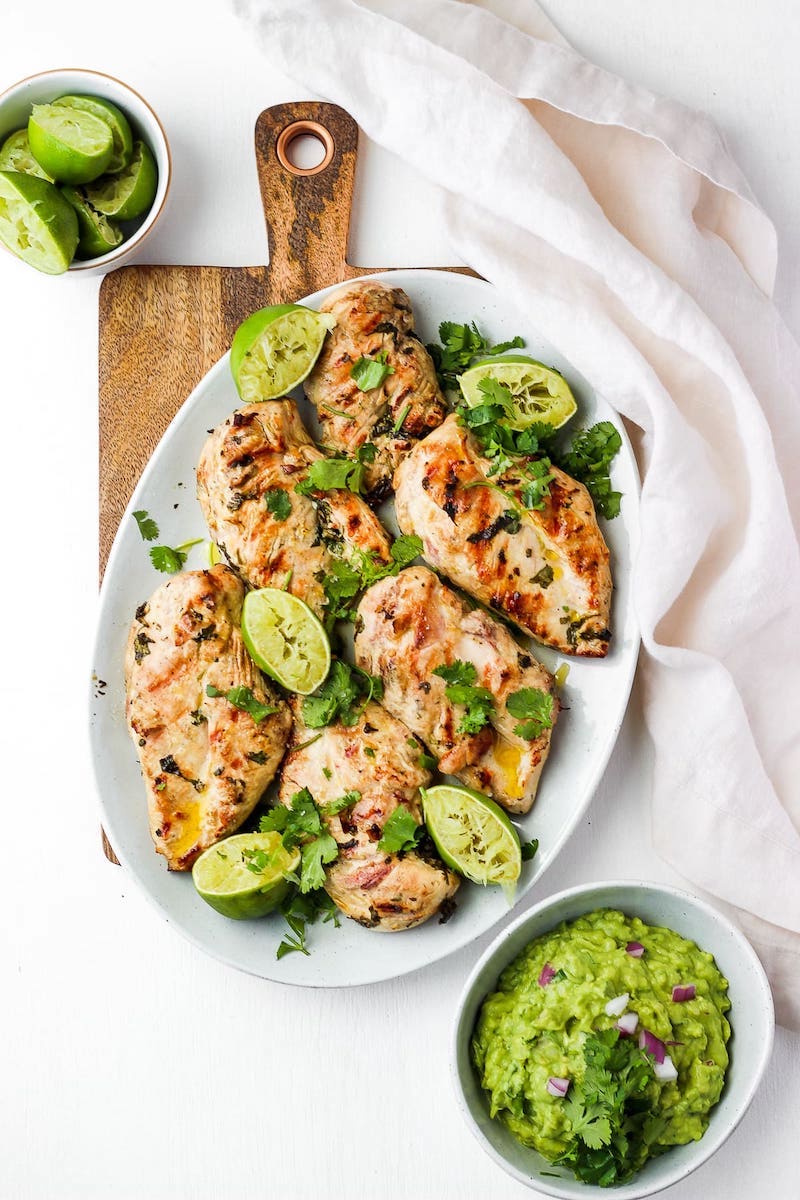 Chicken Marinade with Soy Sauce
This marinade will give the chicken breast juiciness and an unusual but delicious taste. Use a quality soy sauce that does not contain artificial coloring or flavors. It is also better to avoid soy sauce that is too dark. Marinading your chicken breast in such a sauce should not be longer than 4 hours, so the taste doesn't become too rich. Also, if you happen to own an air fryer, try making this recipe in it for the quickest dinner ever! Take a look at our guide for more delicious air fryer chicken recipes!
Ingredients needed:
soy sauce – 100 ml
garlic cloves – 2pcs.
a pinch of red pepper
half a tablespoon of balsamic vinegar
half a lemon
olive oil or butter – 1 tbsp.
spices to taste (salt, black pepper, garlic powder, onion powder, etc.)
Preparation:
Finely chop the garlic or grate it.
Pour the soy sauce into a deep bowl.
Add the chopped garlic and balsamic vinegar to it. Mix everything well.
Squeeze the juice of half a lemon into the resulting mixture and add the butter or olive oil.
Pour the spices into the resulting mixture and carefully combine the components of the marinade.
Allow the mixture to infuse for at least 1-2 hours.
Time to cook your chicken!
Soy sauce and chicken complement one another perfectly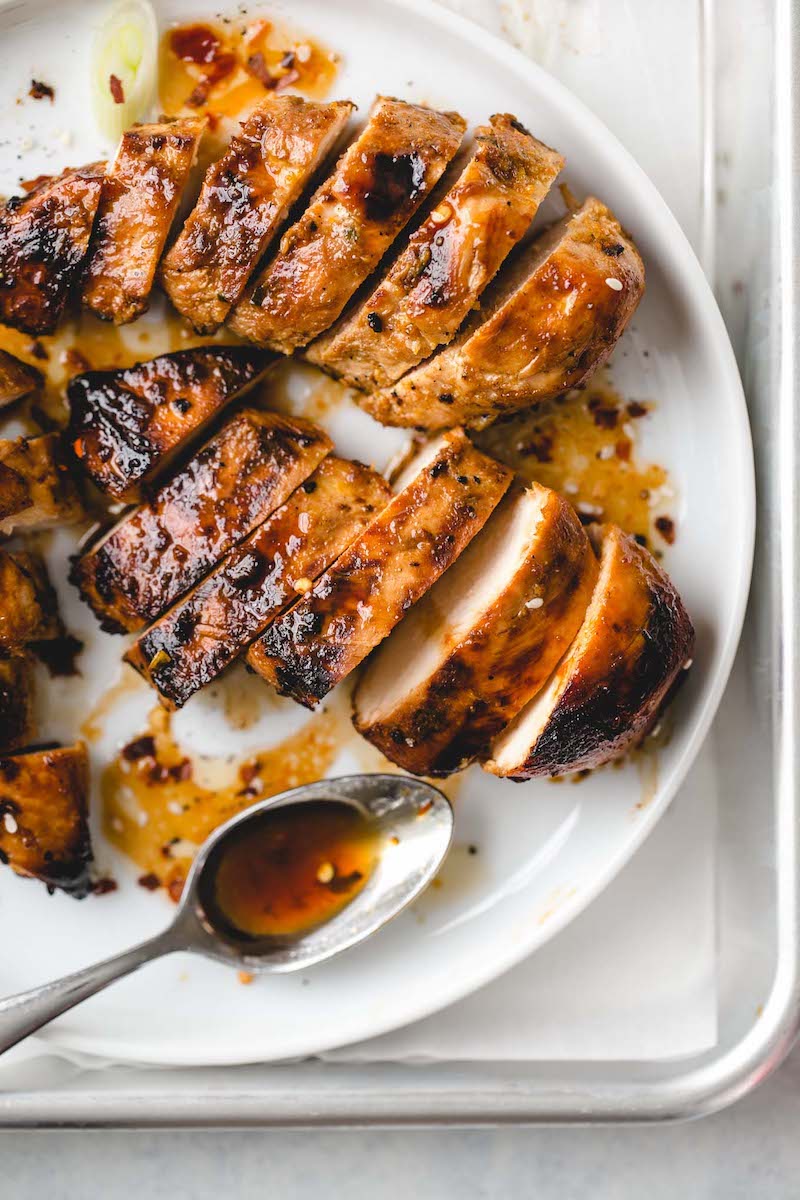 Marinated Chicken with Pineapple
With this recipe, you are sure to surprise both yourself and your party guests. And for a hint of what they'll taste like, serve with pineapple rings or other fruit. If you save the top of the pineapple, make sure to check how you can grow a pineapple plant from it in 4 easy steps!
Ingredients:
1 tsp pineapple juice
2 tbsp white wine
2 tbsp soy sauce
3 tbsp olive oil
1 tsp mustard
black pepper
salt
Preparation:
Mix all the ingredients in a deep pot.
Soak the chicken in the marinade and put a lid or foil.
After 3-4 hours in the refrigerator, they will be ready to roast.
Time to cook your chicken!
Grilled pineapple and chicken are the flavor combination you never knew you needed!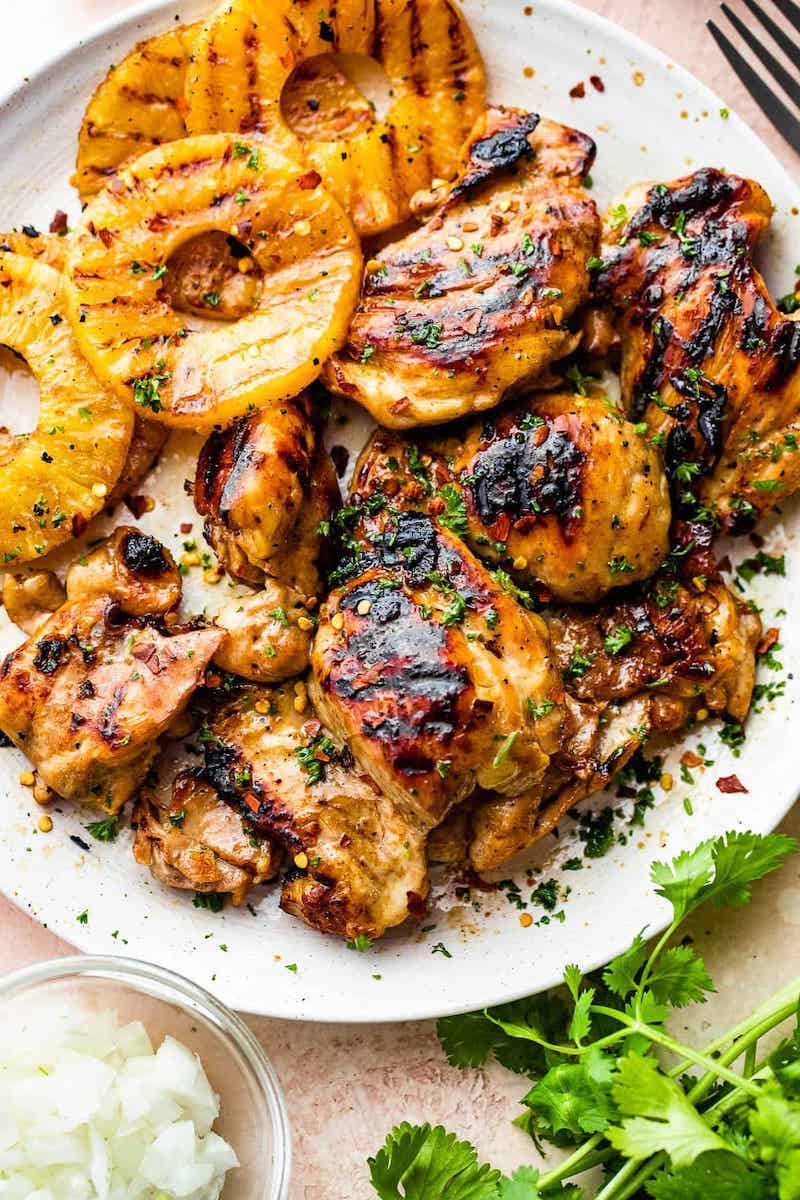 Marinated Chicken Steaks with Fresh Herbs
For this recipe, it is very suitable to have a cast iron plate, but also on the grill, the result is very tasty. Here is a guide for growing and taking care of indoor fresh herbs!
Ingredients:
3 tbsp olive oil
the juice of one lemon
1 tbsp honey
4 cloves of garlic – pressed
1 tsp. Oregano
1 tsp Thyme
1 tsp Basil
salt and pepper to taste
Preparation:
Chop the spices very finely.
Fresh is much more flavorful, but if you don't have any, you can use dried.
Mix them with the rest of the ingredients. Set aside 1/3 tsp of the marinade.
With the other, you brush the meat and let it stand well covered for about 6-7 hours in the refrigerator.
Enjoy!
Grill some lemons for the ultimate tender chicken experience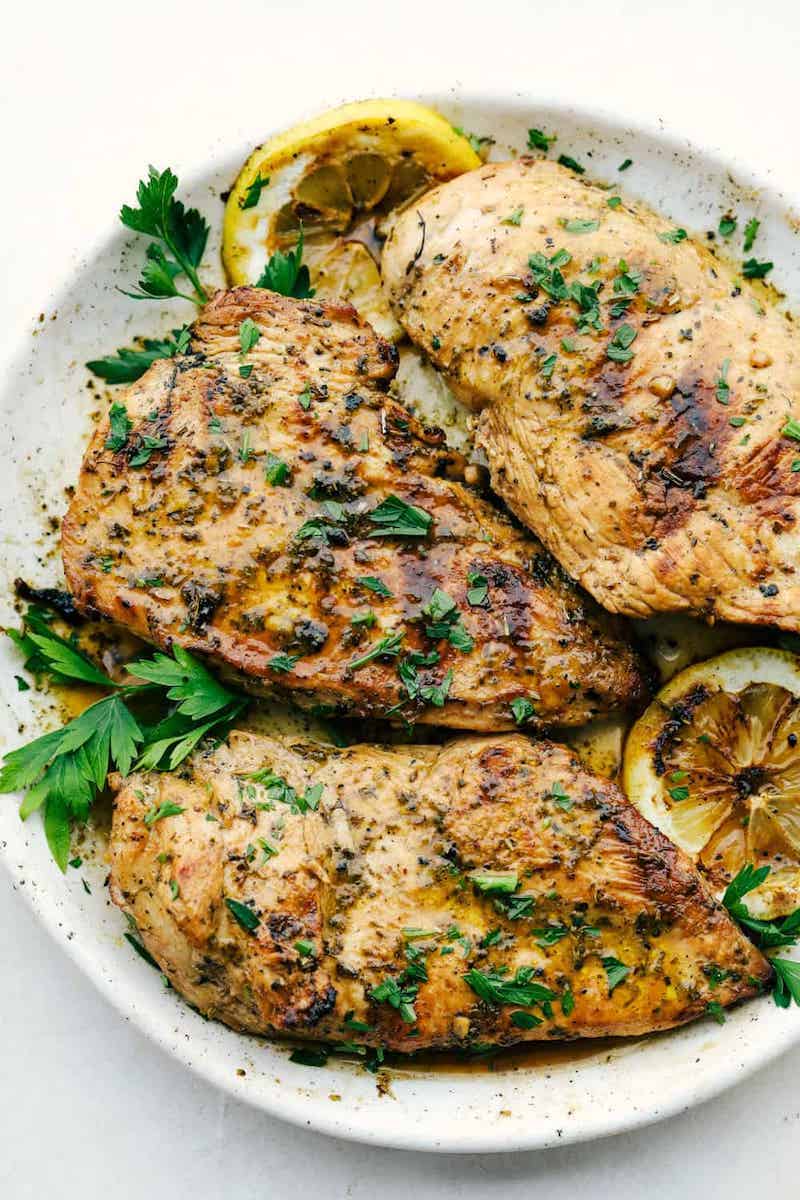 Honey Mustard Marinade
This honey mustard sauce for marinating chicken fillets is very quick to prepare. The honey shouldn't be too thick, and the mustard should be without grains. The sauce should be applied evenly to the chicken breast on all sides. Honey mustard sauce is best made all at once!
Ingredients:
2 tbsp honey
2 tbsp mustard
some chicken seasoning
1 clove garlic
a splash of vegetable oil
Preparation:
Blend the garlic or chop it finely.
Combine the honey, mustard, and garlic in a small bowl.
Stir until a homogeneous mixture is formed.
Add seasonings and some olive oil.
Time to tenderize your chicken!
Honey mustard chicken is a classic choice that goes amazing with roasted veggies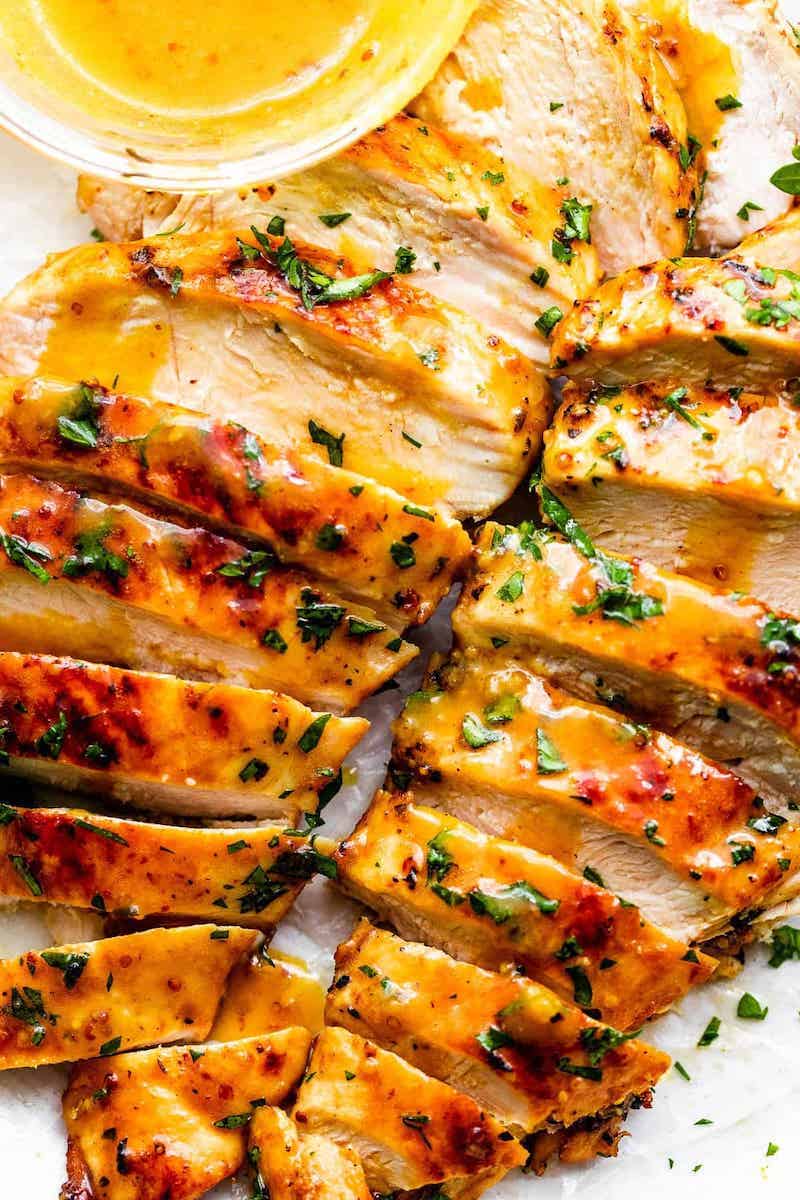 Yogurt-Based Diet-Friendly Marinade
A yogurt-based marinade for chicken is an excellent option for those who want to keep the calories to a minimum. Minimal ingredients, maximum taste.
Ingredients:
250 ml natural yogurt
100 ml mineral sparkling water
1 clove of garlic
a splash of olive oil
spices to taste
Preparation:
Crush the garlic very finely.
Add the mineral water, chopped garlic, and spices to the yogurt. The yogurt should be without fruit additives and with a fat content of at least 3%.
For better nutrition, the meat in this marinade should be left overnight. The minimum time is two hours.
Time to cook your chicken!
Add some smoked red paprika to this chicken to add some more color and flavor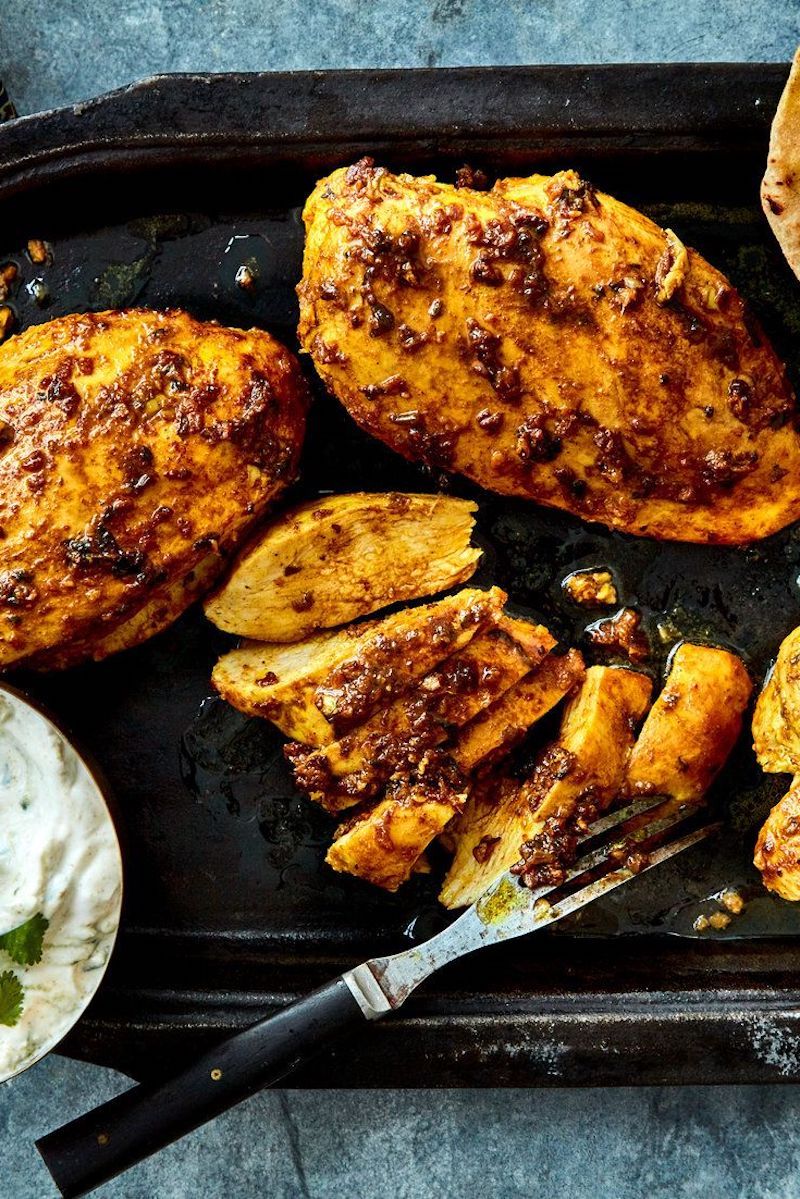 Chicken Marinade with Kefir
The kefir marinade softens the fiber, making the chicken juicy and tender.
Ingredients:
500 ml kefir
3 onions
1 lemon
10 g garlic
dried dill
seasoning (salt, black pepper, garlic powder, onion powder, etc.)
Preparation:
Cut the onion into rings or half rings.
Chop the garlic into pieces.
Wash the lemon and squeeze the juice from it into a bowl.
Add the spices, onion, garlic, herbs, and lemon juice to the kefir.
Mix the ingredients well and add your chicken.
Time to tenderize your chicken!
This recipe is perfect for chicken thighs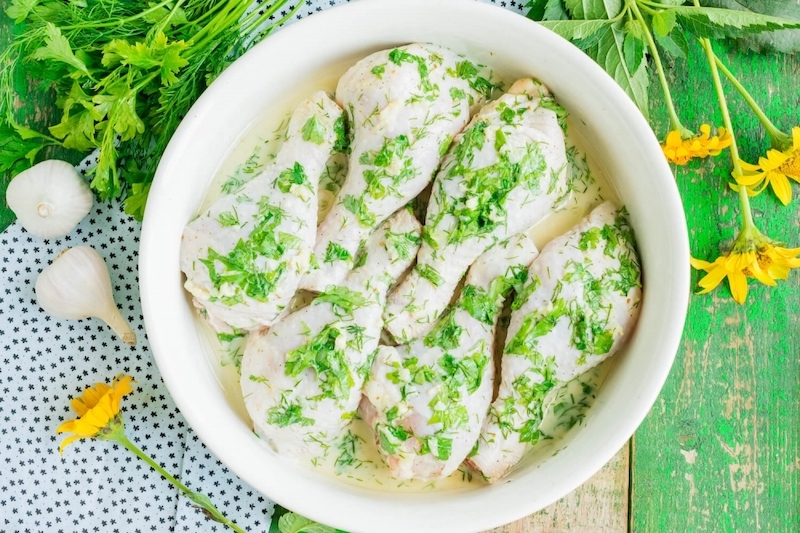 How to tenderize chicken? Marinate it in some kefir!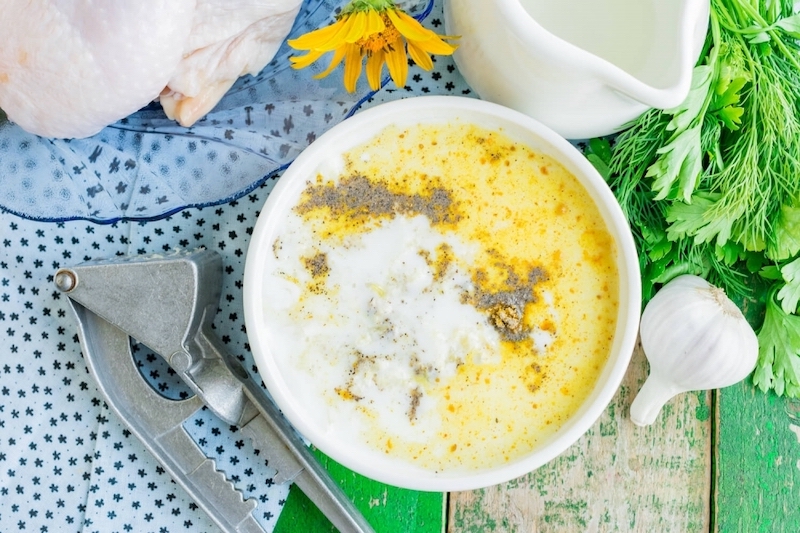 Add your herbs on top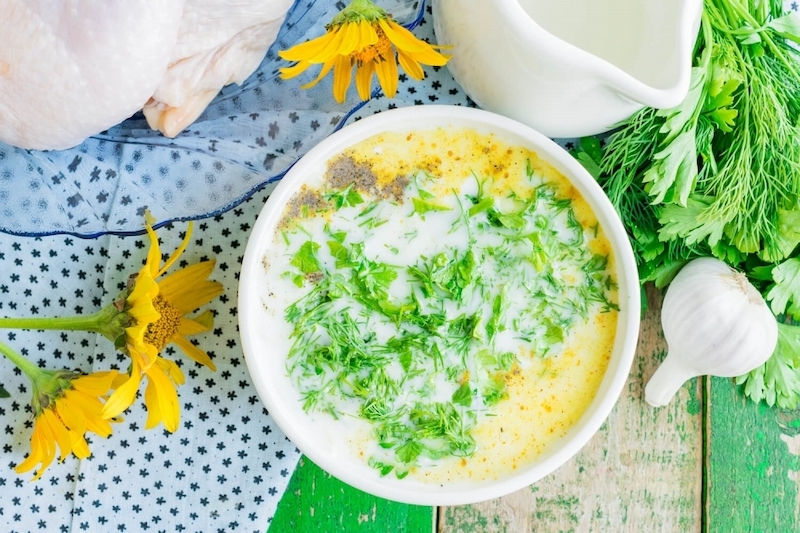 Bake it until golden brown and enjoy!