Porsche 918 Spyder will be into production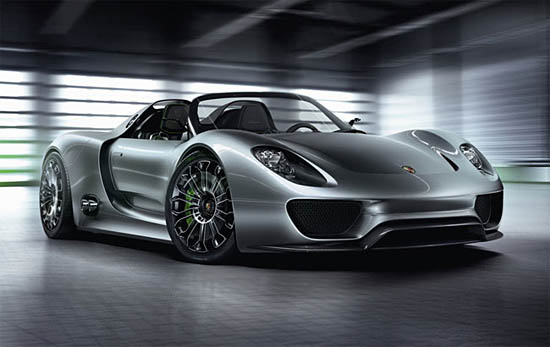 At first it all seemed like a media stunt, but the Porsche 918 Spyder Hybrid will go into production after the overwhelming interest at Geneva Auto Show. See the video of the car running on its own and many more pictures after the jump.
"Production of the 918 Spyder in a limited series proves that we are taking the right approach with Porsche Intelligent Performance featuring the combination of supreme performance and efficient drivetrain concepts," said CEO Michael Macht. "We will develop the 918 Spyder in Weissach and assemble it in Zuffenhausen. This is also a very important commitment to Germany as a manufacturing base."
The waiting list for the car is now 2000 (Porsche were willing to take the vehicle into production with 1000) and the price tag for this gem is $630,000 – the most expensive car in the Porsche line-up… ever.
The combined maximum power of the car is 718bhp delivered by a mid-mounted high-revving 500hp (at 9,200rpm) V8 combustion engine and two electric motors which launches the hybrid to 100 km/h in just 3,2 seconds and accelerating to the maximum speed of 318km/h. All this by consuming only 3 liters per 100 kilometers and emitting just 70 grams of CO2 per kilometer.
This seven speed Porsche is actually a 4 wheel drive. While the two front wheels are driven by one electric motor, the rear wheels are powered by the engine and the other motor.
According to Porsche the monocoque bodyshell made of carbon-fiber-reinforced plastic (CFP) and liberal use of magnesium and aluminum not only reduce weight to below 1,490 kg, but also ensure supreme driving precision thanks to a high level of torsional stiffness.
The production of this eco-beast will total 1200, which is a little less than the Carrera GT which are only 1500 in the whole world, so if you want one, hurry up and get on the waiting list and pray that almost 800 people just move out of earth and live somewhere else.