---
Congrats! You're probably celebrating finally getting your braces taken off and completing your initial orthodontic treatment. Which is a great time, indeed. You'll finally be able to show off that perfect smile you put so much time and effort in! But to keep that smile beautiful and keep it permanently aligned, you'll be spending some time with a retainer. But don't worry, retainers are much less noticeable and easier to take care of than braces. However, when wearing a retainer it's easy to forget it needs cleaning as well. Just as we brush our teeth every day, we need to clean the retainer as well. So, let's see how to clean retainers quick and easy!
Wearing a retainer helps to hold the perfect smile in place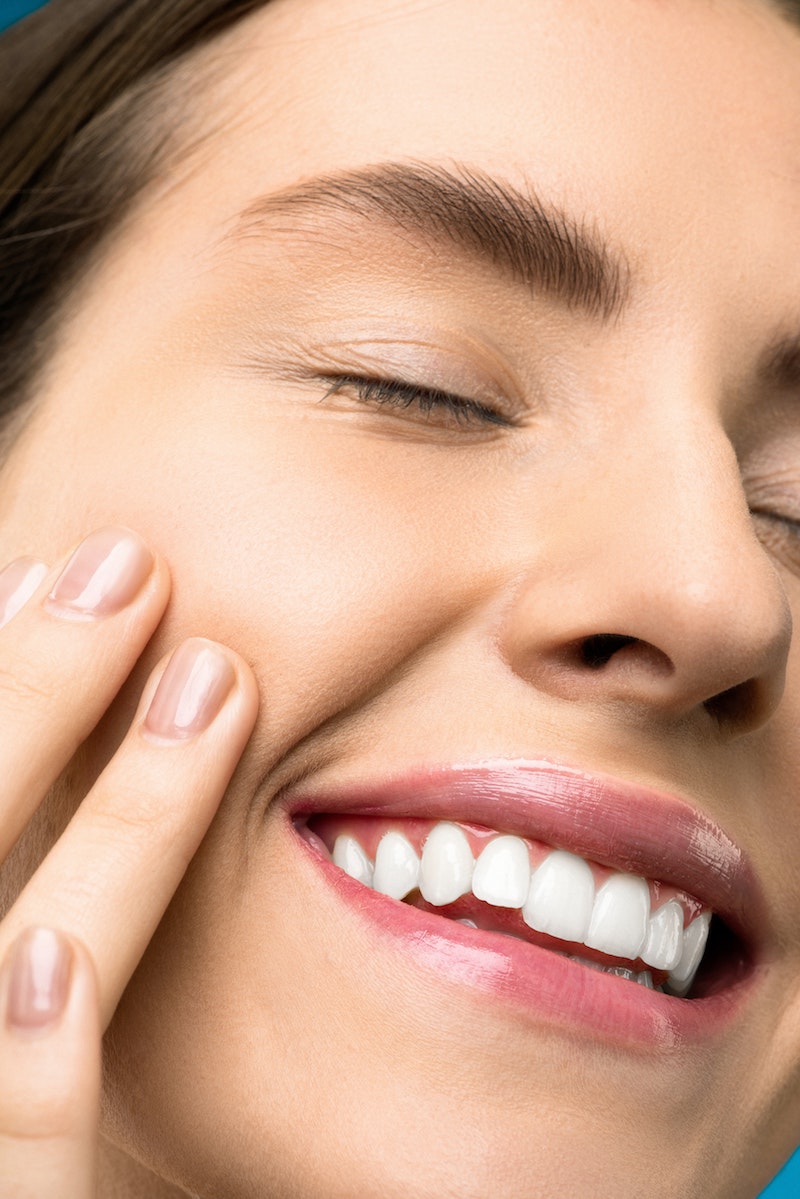 ---
Retainers are super helpful when it comes to maintaining a perfect smile. The most common reason you may need to wear a retainer, especially after getting braces taken off, is that it will help the teeth stay set in their new positions. Teeth have memory and won't stay in their new places unless you're proactive.
If you are still growing, it's very important to wear your retainer. This is because as your body grows, your teeth do some shifting. It's the retainers job to control this.
It's best to wear your retainers full time for the first three to six months. However, since your teeth are always moving, in order to maintain a straight smile your whole lifetime, you'll probably need to wear them at least nightly.
The good news is, that after some time it won't be necessary to wear them that often, but keep in mind that if you stop fully, your teeth will gradually move back to their original positions.
Your teeth tend to shift with time, that's why wearing a retainer is important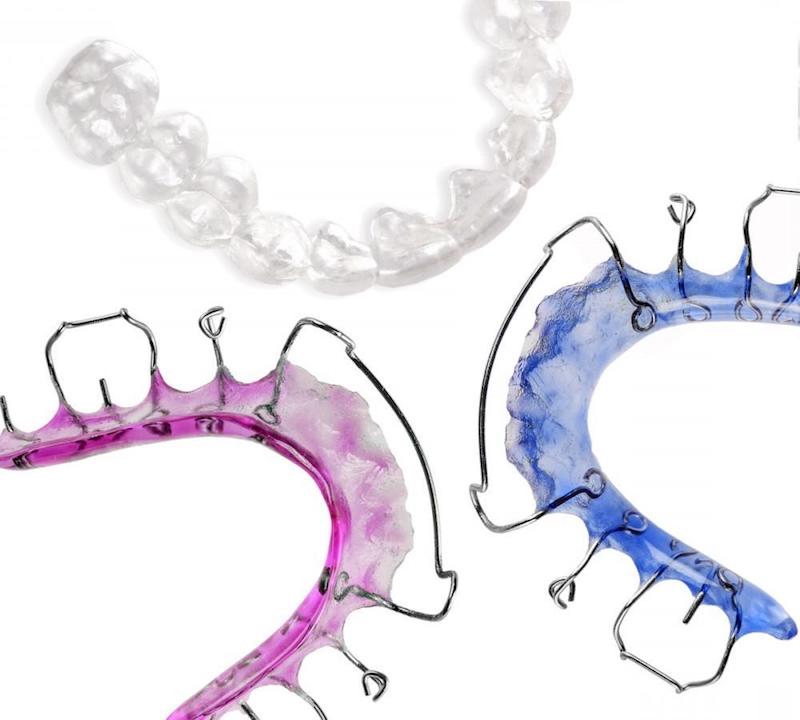 How Often Should I Clean My Retainer?
You may be wondering how frequently should you be cleaning the retainer? Well, the truth is, no matter if you need to wear the retainer during the entire day or just at night, it still needs to be cleaned at least once a day. Cleaning is a very important aspect of life, from cleaning every room in your house to your retainer. It should be done with care.
Since the retainer sits inside your mouth and against your teeth for long periods of time, it can quickly accumulate bacteria, plaque, and tartar. It's best to clean it every day and do a more in-depth cleanings at least once a week.
Clean your retainer at least once a day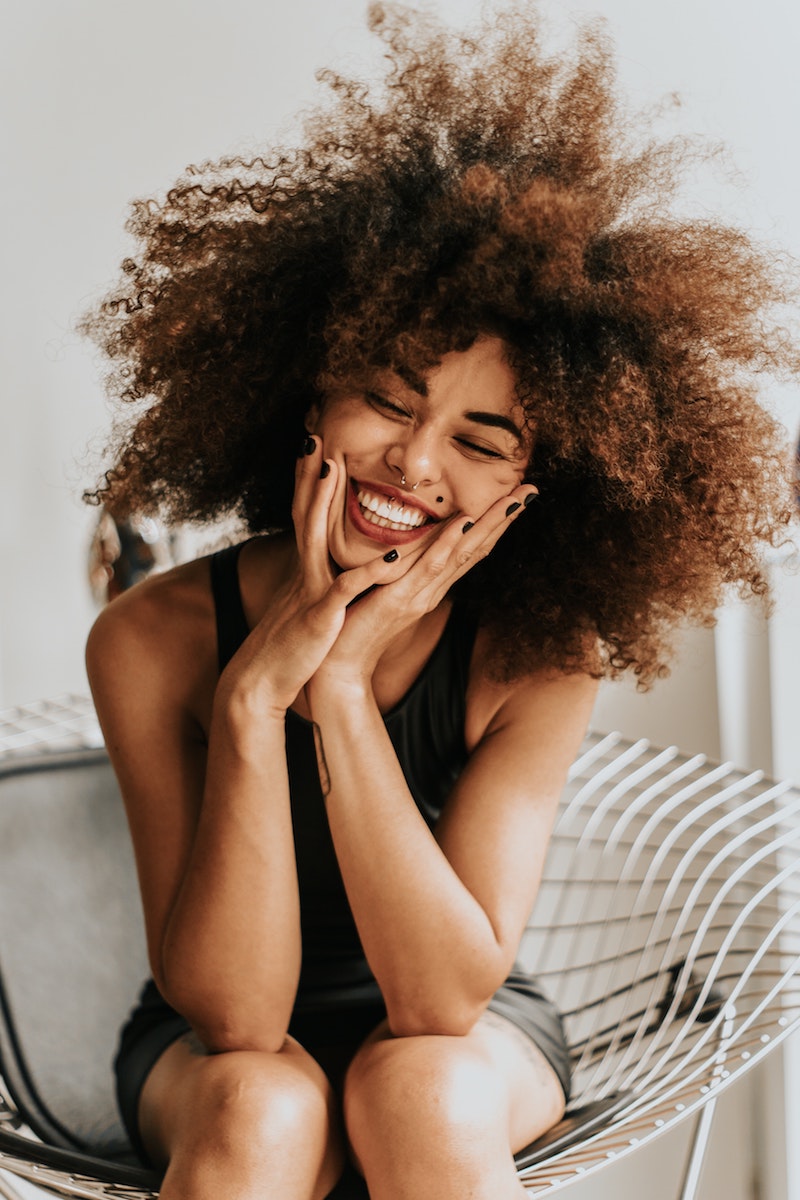 Best Way To Clean Retainers
Finding the best way on how to clean retainers depends on what type you have. There are three types you possibly may possess:
Hawley
These retainers are molded from an acrylic material to fit in your mouth. They have a wire to help hold the retainer in its place and are removable and easy to clean.
Clear Plastic
These retainers are also called Essix, Vivera, or clear aligners. They slip over your teeth and are nearly invisible, hence the name. You can remove them pretty easily. However, they are not as durable as Hawley retainers.
Fixed
This type of retainer is a permanent retainer. It is attached to the lower set of front teeth. They are usually put on if you have a higher risk of the teeth shifting. As the retainer is permanent, it cannot be removed.
There are three types of retainers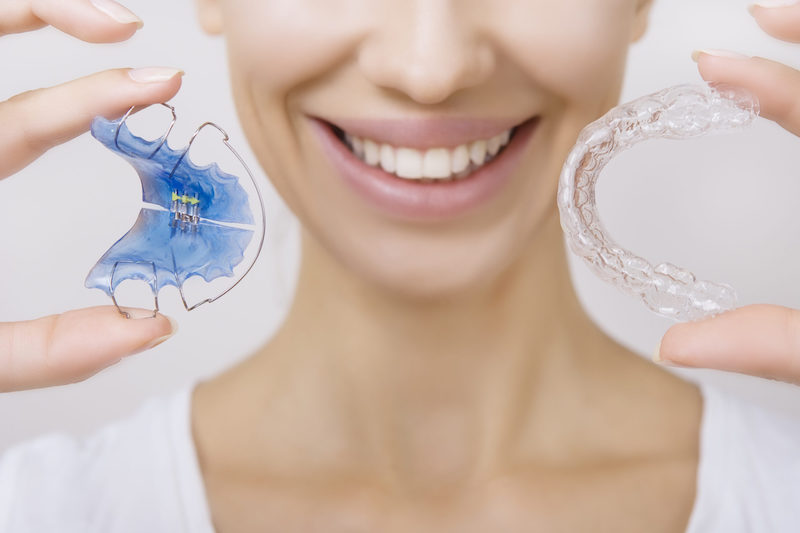 ---
How To Properly Clean Retainers?
Okay, now we know what type of retainers there are, let's see how to properly clean them. Be careful with what you clean and soak your retainers, as they absorb anything you clean them with.
Water
Water is universal, no matter if you're drinking lemon water for health benefits, you're showering, or you need to clean something. If your retainer feels dirty during the day, you can swish some water around in your mouth. Do this for however many times you may need.
It's important not to let retainers dry out, as then they are more prone to damage. To avoid this, make sure to soak your retainer in distilled water any time it is removed.
Don't let retainers dry out, as they can get damaged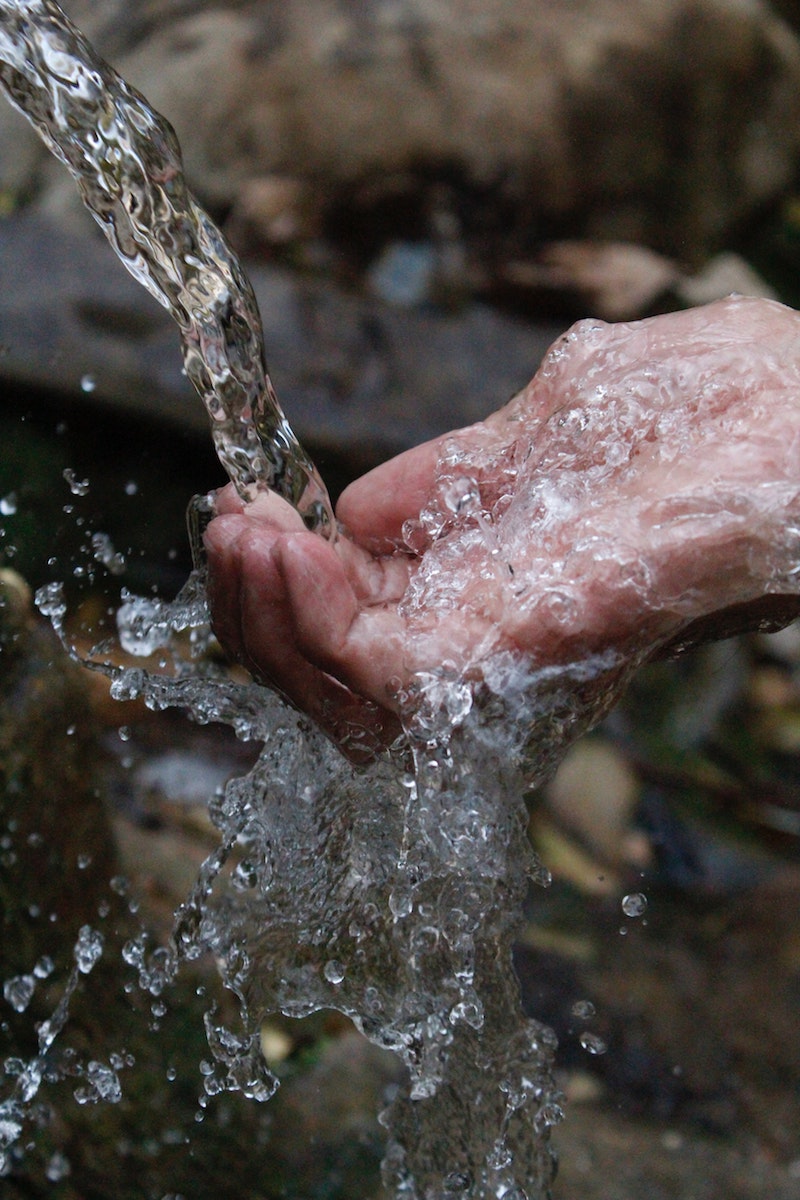 Baking Soda
If you are looking for a safe, all-purpose disinfectant, baking soda is your champion. Baking soda may also help whiten retainers that have started to turn yellow. Since soda controls bacteria without all the harsh chemicals, it will help a retainer developing harmful pH imbalances.
Items: 
Baking Soda
Water
Soft Bristle Toothbrush (Optional)
Method:
Create a paste by mixing equal parts baking soda and water. The paste should be thick enough to stick to the retainer.
Apply the paste all over the retainer. You can use a soft bristle toothbrush but be very gentle.
Rinse residue.
Baking soda is an all-purpose, safe disinfectant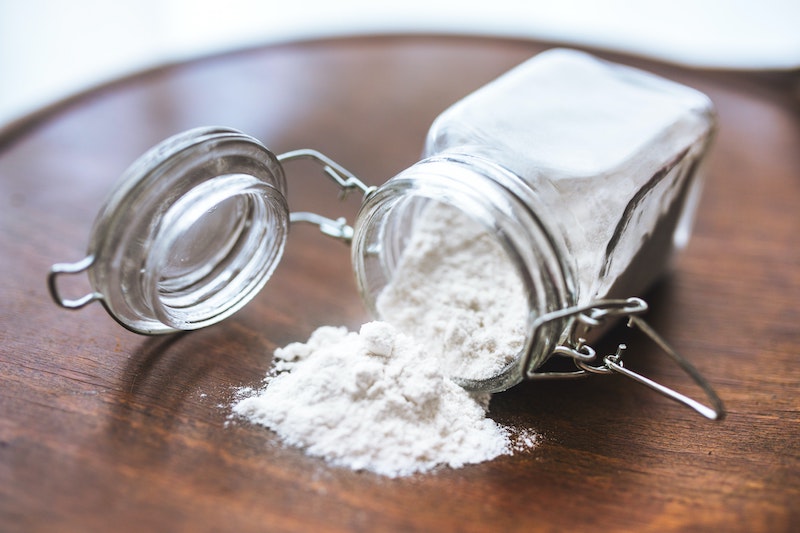 Vinegar
White vinegar is a great disinfectant that can help remove bacteria and odors. You can even use it for shoes, like Birkenstock sandals. It's best to use this method once a week at least to deep clean the retainers.
Items:
White Vinegar
Lukewarm Water
Small Dish
Method: 
In a small dish make a mixture of equal parts vinegar and water.
Soak the retainer in the mixture for 20 minutes.
Rinse with water.
As vinegar has a strong smell, make sure to soak the retainer again in distilled water for another 20 minutes.
Vinegar can get rid of bacteria and unpleasant odors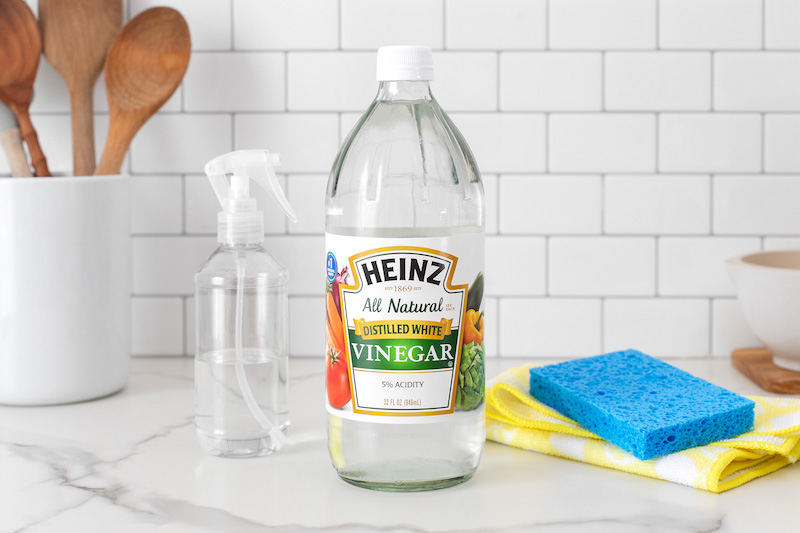 Castile Soap
This type of soap is less toxic than other cleaning products. You can make your own version of Castile soap by making a solution from olive oil and coconut soap, but you can buy the ready product at most stores.
Items:
Castile Soap
Lukewarm Water
Small Dish
Method: 
Mix a small amount of the soap with the water.
Dip the retainer in the mixture and let it soak.
Rinse it off well with water before putting it back into your mouth.
You can make a version of Castile soap at home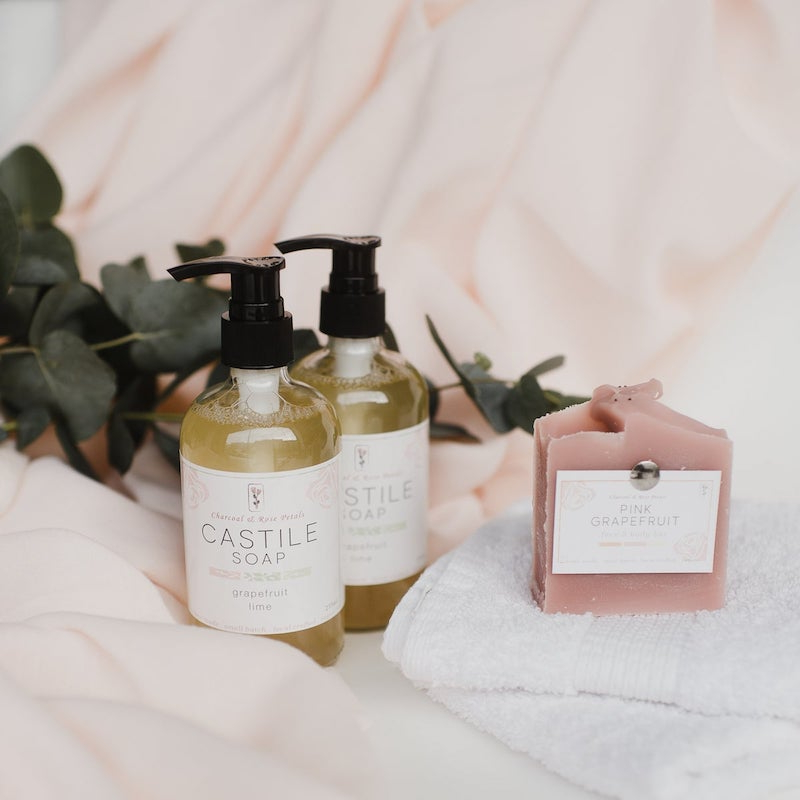 Floss
As permanent retainers are attached to your teeth, the best way of really keeping them clean is to floss them daily. This process may seem intimidating at first, but you'll get the hang of it!
Items:
Method:
Use a 6-inch piece of floss for between your two front lower teeth. You can also use a floss threader if you want to make the process easier.
Hold one end of the floss with your finger and the other (if using) with the threader.
Once the floss has gotten under the retainer wire, start moving it up and down between the teeth all the way to the gum line.
Gently slide the floss sideways to the next area you wish to clean. Pull it down until it's once again between your teeth.
Repeat with each tooth that is attaches to the permanent retainer.
Use a floss threader to make the process easier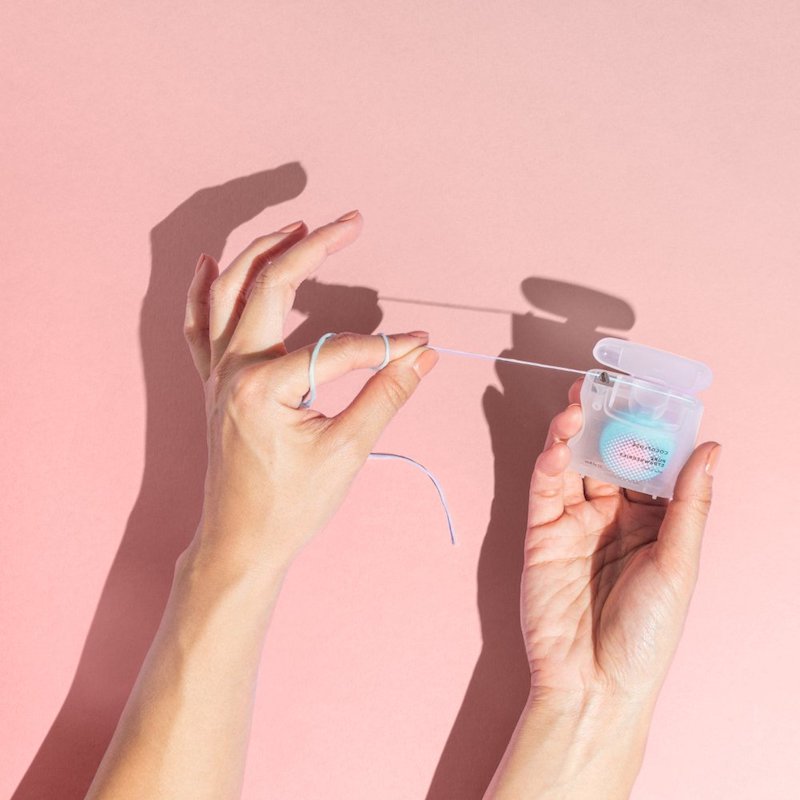 Retainer Cleaner
If you do not want to try out any at-home solutions, or you just don't have the time, you can buy ready to go retainer cleaners from the store. Remember to always follow the manufacture's instructions. Ask your dentist or orthodontist to recommend a brand.
There are many cleaning solutions for retainers on the market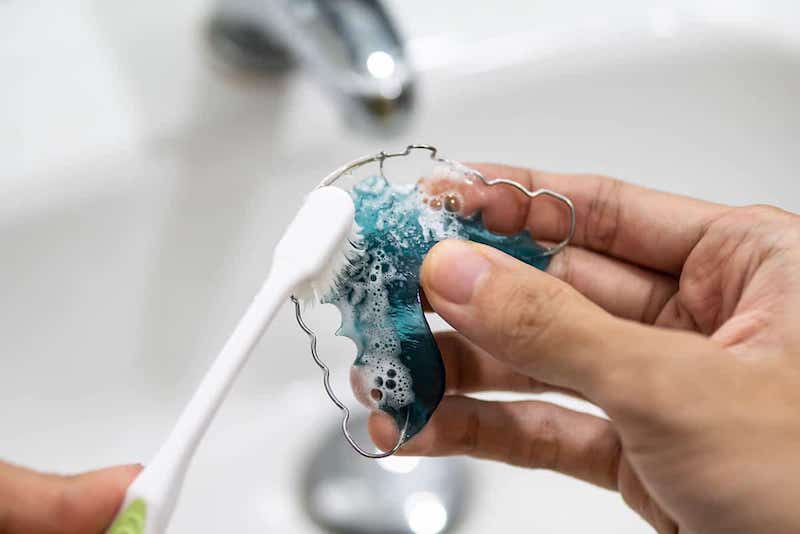 Dentist
If you feel like your retainer needs a good thorough cleaning and disinfection, and you want to make sure it's done right – take it to your dentist! Dentists have ultrasonic cleaners and special solutions to remove any buildup without the use of toxic chemicals.
Go to your dentist for a deep clean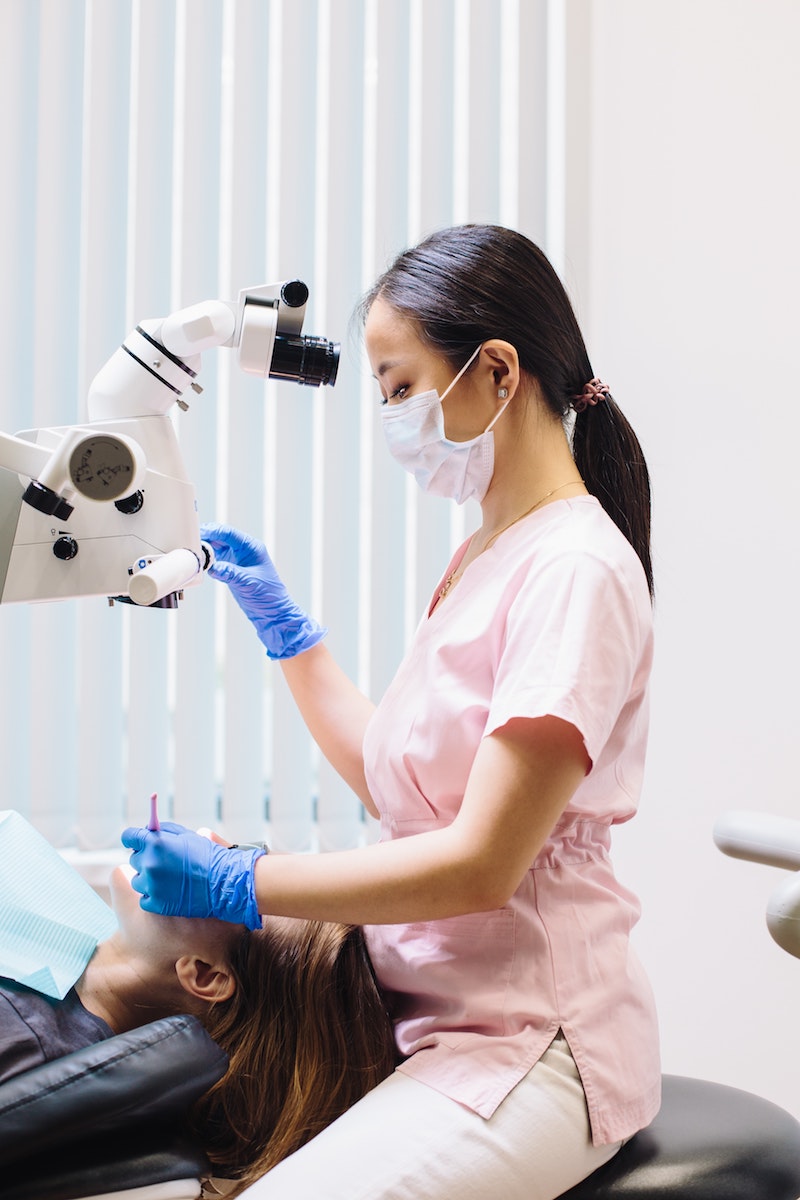 DO NOT:
Use toothpaste. It contains abrasive compounds which will damage the delicate materials.
Brush on your retainer. It will scratch it and cause bacteria to build up.
Soak it in hot or boiling water, or put it though the dishwasher. The retainer can get distorted or melt.
Use denture cleaners. Many cleaners contain persulfate, which can cause damage to the retainer.
Soak in harmful chemicals such as mouthwash, rubbing alcohol, or bleach.
Use carbonated drinks. These are not effective and can create a breeding ground for bacteria.
Toothpaste contains abrasive compounds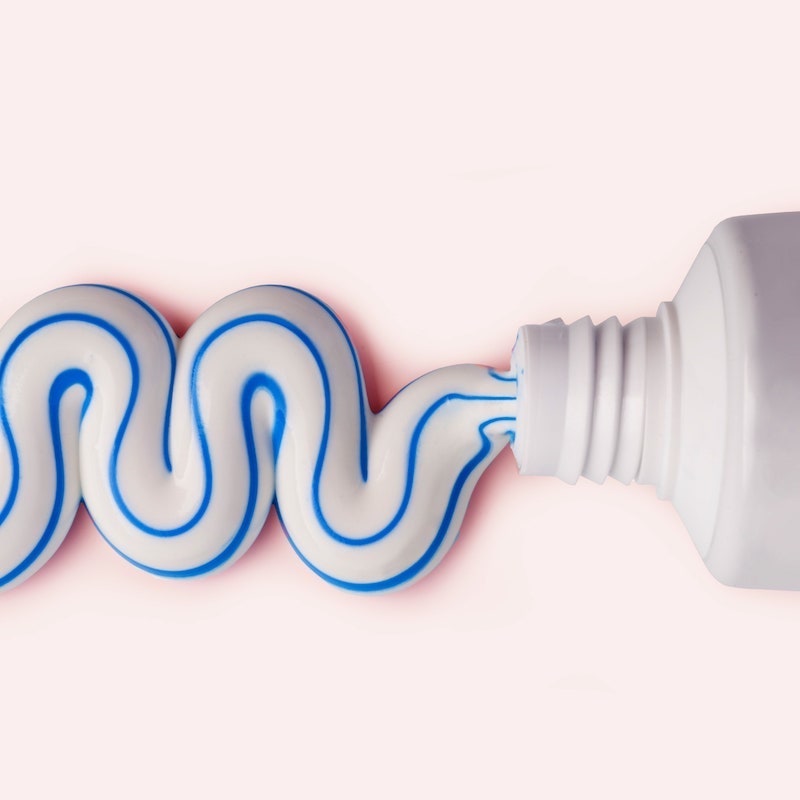 Why Does My Retainer Smell?
Don't worry, this happens more often than you think. As we mentioned wearing your retainer all day will cause build up from bacteria and plaque. But regular cleaning and good retainer maintenance will help minimize the chance of unpleasant smells. Other than all the cleaning tips above, here are some other things to keep in mind.
Clean Your Case
Make sure to clean your retainer case regularly as well. Try to clean it once a day before you put your retainer away in it. Gently clean and scrub all surfaces with some warm, soapy water. After that just rinse it off and pat it dry.
Cleaning your case will help keep your retainers bacteria-free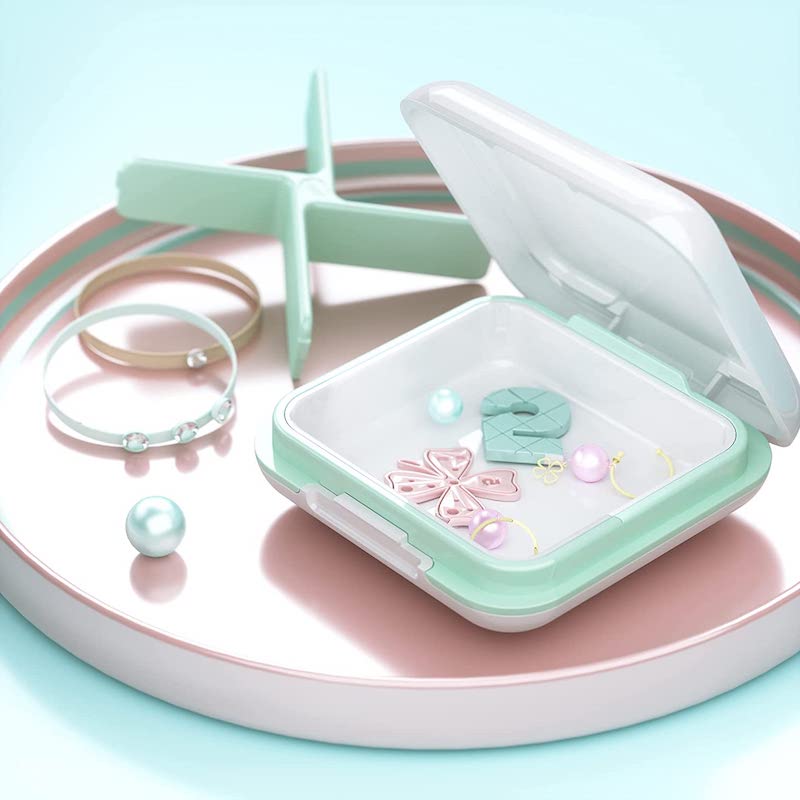 Keep Watch
Make sure to keep your retainer away from things like pets. They might chew or choke on it. You should also be mindful of where you put your retainer while eating. Putting it on a dirty surface will attract bacteria, you may also knock it over causing damage, or if it's left on a napkin it can get accidentally tossed in the trash. Always be mindful of your retainer.
Make sure to keep an eye out for your retainer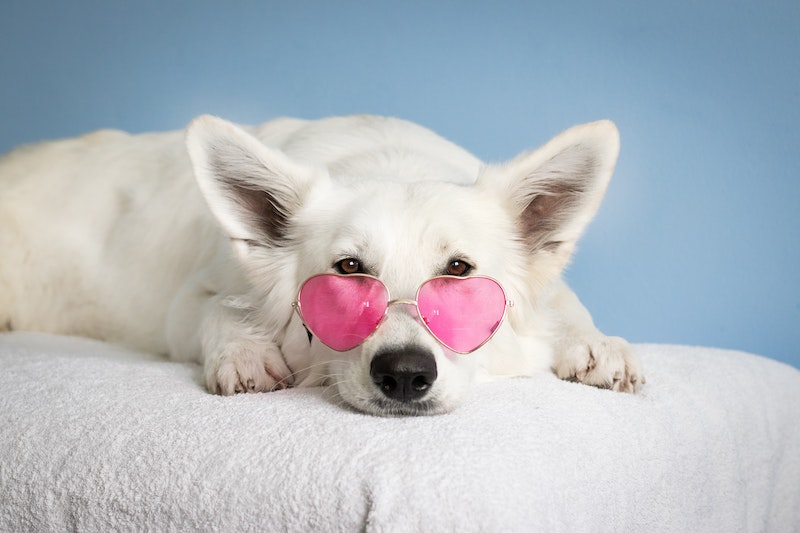 Replace If Needed
Just like other common things such as contact lenses, retainers are subjected to daily wear and tear. Keep in mind that eventually they may need to be replaced. Essix containers usually last around six months to a few years with proper care. This is because the plastic tends to wear out. Hawley retainers can be used from 5 to 10 years if they are properly taken care of.
Retainers do need to be replaced after a certain time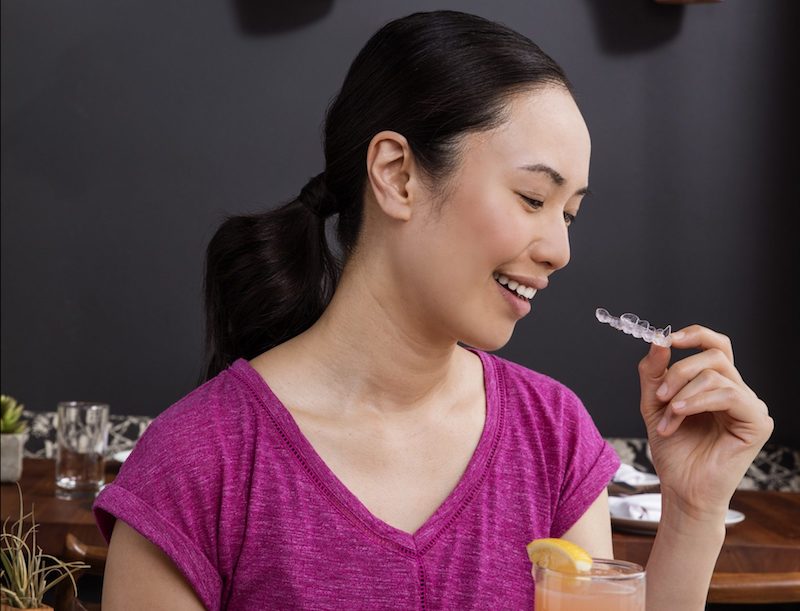 Overall, this is all you need to know when it comes to taking care of and how to clean retainers. With proper care your retainers can last you years, so make sure to put in the extra effort for that perfect smile.
Take proper care of your retainers in order to have a beautiful smile