An Easy Guide on How to Clean Birkenstocks?
Birkenstocks have been making quite the big comeback in recent times, and it seems they are here to stay. Which is understandable because when it comes to cute and comfortable sandals, Birkenstocks offer everything you need! Not only do they give a great vintage vibe, they are also great for your feet. With a super supportive foot bed that molds to the shape of your foot, with this comfortable shoe, you can walk hours on end. They also come in multiple fresh styles to fit any taste! However, with great sandals, comes great resposinibilty. So, let's learn how to properly clean and take preventive care of our Birkenstocks. Here are some questions you've probably asked yourself and a super easy guide on what to do to keep those sandals fresh and clean.
Beautiful Birkenstock sandals for the summer

One of the best things about these sandals are they longevity. Birkenstocks have been reported to last several years and even over a decade when correctly cared for and treated. After breaking them in, you won't want to get rid of these sandals. So, let's learn how to take care of them, so you can get the most out of them.
A pair of Birkenstocks can last over a decade

How do you clean Birkenstocks without ruining them?
Since Birkenstocks come in a variety of different materials and models to choose from, it's important to understand the upper material's needs before jumping straight to cleaning. For a simple fix for all types of materials, Birkenstocks shoe care kit is designed to work on all the brand's shoes. However, there are at home methods that will do them just as good. Just make sure to take care and select the correct products.
Correct cleaning is essential for taking care off your sandals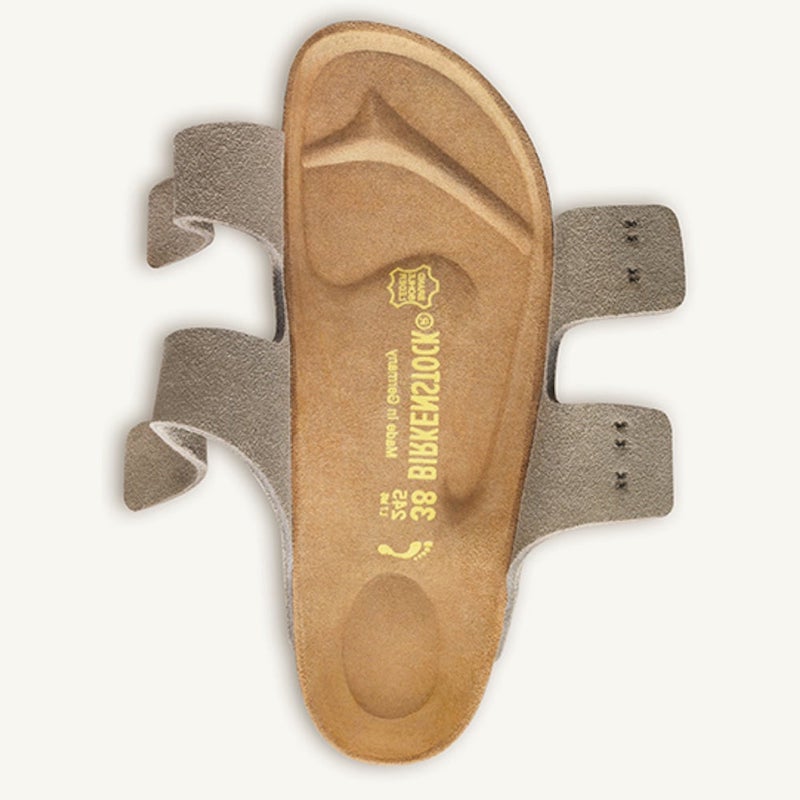 What is the best way to clean your Birkenstocks?
Suede Birkenstocks
As suede tends to be delicate, you'll to make sure to be gentle and take your time with the cleaning process. It is very critical to let wet suede pairs of sandals dry fully before taking on cleaning them. Use a suede brush, or a normal brush, to remove any dried and coarse dirt and dust. Open the straps and clean them, both inside and outside, with a damp brush. They should be good to go after they dry. If there are stains you will have to take on some additional steps, but don't worry, we also tell you all the tips and tricks later on in the article.
Let wet suede pairs of sandals dry fully before cleaning

Leather Birkenstocks
Birkenstocks have a few types of leathers in their collection, so make sure to check with one fits your sandals in order to clean them correctly. It's best to use a leather cleaner to get optimal results. However, if you want to take it a step further, it's a good idea to also purchase a lather conditioner. Or an all-in-one formula! The cleaner removes all the dirt and grime, while the conditioner hydrates and protects the leather, increasing its longevity.
Comfortable and fashionable 

Oiled and Nubuck leather
Dab a dime-sized amount of the cleaner onto a cloth. Apply it to the upper bands using a gentle circular motion. This helps the leather absorb the liquid. Too much liquid can damage the finished product, so keep that in mind. Remove any leftover cleaner with a cloth. If you also have a conditioner, apply it the same way as the cleaner. Let the pair dry for 24 hours.
Leather sandals are easier to clean than suede

Patent Leather
This type of leather is one of the easiest to clean. Use a special patent leather cleaner or a bit of water and oil. Dampen a microfiber cloth with some water and wipe the upper bands from all the dirt. After that, use another dry cloth to dry the surface. If you have any scruff marks you want to get rid of, just dip a bit of olive oil, mineral oil or petroleum jelly onto the cloth and gently rub the surface where the marks appear. Leave it on for 20 minutes and wipe it off. It's that easy.
Birkenstocks are a great choice for many occassions 

Birko-flor and BirkibucBirkenstocks
This type of Birkenstocks are made from a PVC material and are lined with a soft, breathable layer of fleece. The process is very easy. All you need is a damp cloth. Wipe away the upper bands but be careful not to get the underside wet as fleece takes a long time to dry and can get soppy.
PVC plastic repels dirt and water while the soft fleece ensures maximum comfort 

EVA Birkenstocks
Lightweight and cushy, this design is great as it is also waterproof. All you require is water and soap. You can run them under the sink water and clean them with some soap. Dry them with a cloth, and they are good to go. Their footbed requires the same type of cleaning, so it makes them the easiest pair to clean.
So many pretty colors to choose from

How to clean Birkenstocks foot bed?
Ah, the footbed of the Birkenstocks. The best thing about them as well as the worst thing. Even though this is what makes the sandals extremely comfortable, it also means that the long wear times can lead to sweaty, dark smudges which leaves an unpleasant odor and makes the shoes look worn down. But don't fret, because we have got the solution for the persistent stains. The golden child of DIY cleaning solutions—baking soda and water. You can also substitute baking soda with Borax.
Materials:
Baking Soda (Or Borax)
Water
Old toothbrush (Or a Suede Brush)
Cloth
Spoon
Cleaning Gloves
Instructions: 
Remove any excess dirt from shoes using a clean toothbrush or a suede brush.
Mix a bit of the baking soda with the water until a paste like texture forms.
Use the toothbrush or a clean cloth to gently scrub the paste into the footbed. Use a circular motion.
Let the formula sit overnight. In the morning, use a damp cloth to wipe it away.
Important! Let your shoes completely dry at room temperature for at least 24 hours. If the stain persists, repeat the process.
An alternative is to apply a cleaner and refresher spray every few weeks. We also recommend using a cork sealer as this will protect the soles and prevent them from drying out.
Long wear times can lead to sweaty, dark smudges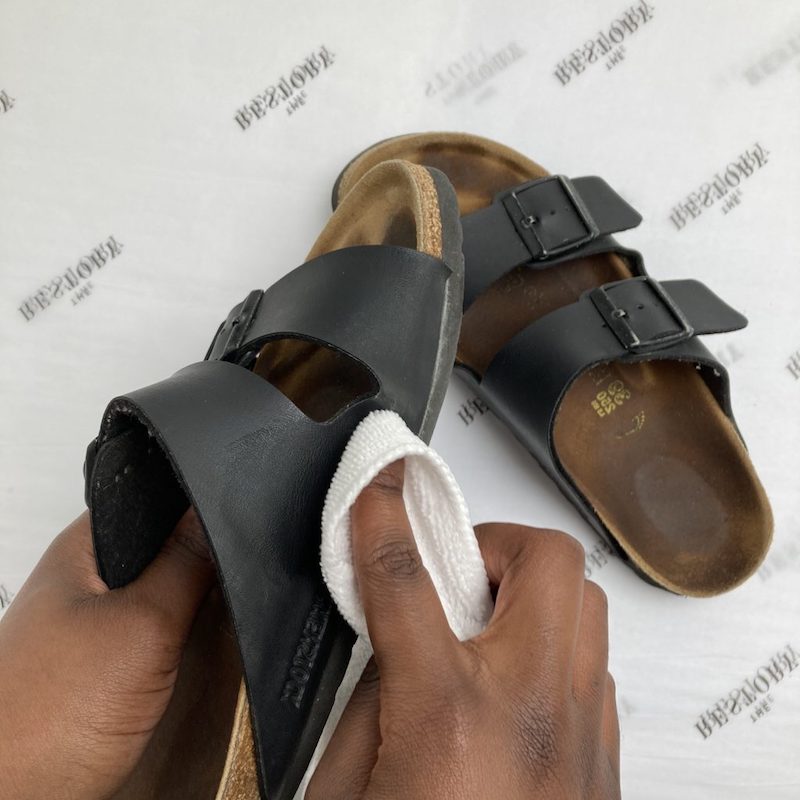 How do you clean Birkenstocks at home?
If you don't want to buy overpriced shoe products or simply don't have access to them at the moment, here are some nifty at home cleaning hacks. Stains can be quite persistent depending on what they are from. Whether that is a pesky ink stain or you spilled some wine on your sandals, all they require are a few basic supplies and some elbow grease.
Cornstarch
For oil stains on your favorite pair of sandals, cornstarch is your best friend. Dab a little cornstarch where the stain is and let it sit for a few hours. The powder will absorb the oil from the material, which afterwards can be brushed away with a suede brush. It may need a second attempt if the cornstarch needs more time.
Cornstarch is found in all supermarkets
White Vinegar
Sometime some stains just refuse to go away, that's when white vinegar comes into play. Dab a small amount on the stain with a cloth and rub it away gently. You want to dampen the material enough, but not soak it. If the shoes dry and the stain is still there, try again.
White vinegar is a great cleaning solution for multiple surfaces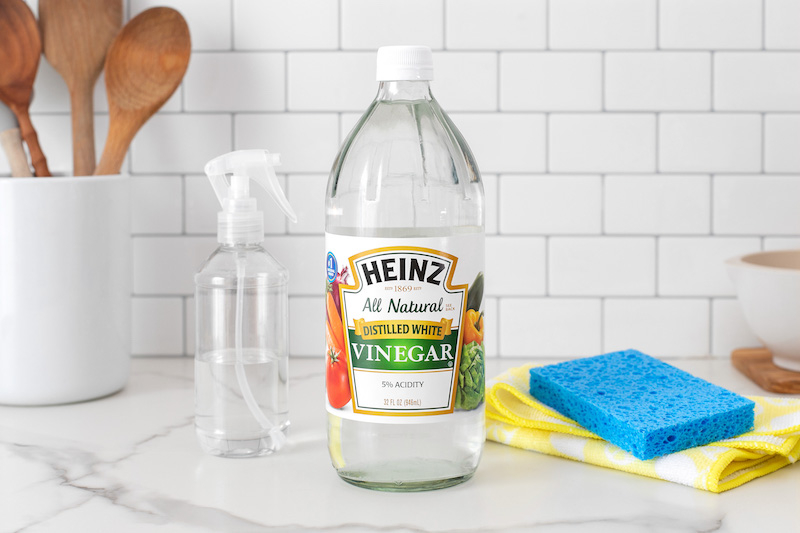 Can you wash Birkenstocks in the washing machine?
But why go through all that trouble of cleaning when I can just throw them in the washing machine, right? Unfortunately, you can not wash your Birkenstocks in the washing machine. The straps of the sandals are too fragile for that kind of force and will most likely be damaged by the tossing and turning of the drum.
Washing machines will likely damage your sandals

How to take care of Birkenstocks?
Well, now we know how to deep clean them, but how can we protect them as much as we can to avoid frequent cleanings? Maintaining the shoe in between cleaning is the key.
Birkenstock was founded in 1774

Shoe Care Kit
You're going to need some essentials products if you want your shoes to have a long life. The first things you require are a non-aerosol spray to clean and refresh the foot bed is, as well as a non-aerosol water and stain repellent that can protect suede and leather. For the protection of the cork material of the sandal, we recommend a cork sealer. Finally, the last thing on the list is a brush to clean and refresh the suede and nubuck sandals. You can find variations of such kits online or as we mentioned before at the Birkenstock shop. Regular use of such products will help extend the life of the Birkenstocks as well as minimize odor and dirt build-up. Here are even more tips and tricks on how to protect your sandals:
A shoe care tip is a great thing to have at home

Regularly clean off any dirt, grass, and sand
This one is easy and will help ensure your sandals to look nice as well as help to avoid getting dirt on your footbed which can lead to discoloration. Use a damp cloth to wipe them off. If you live in a muddier area, it's best to wipe your Birkenstocks as soon as you get home.
Regular cleaning means better looking sandals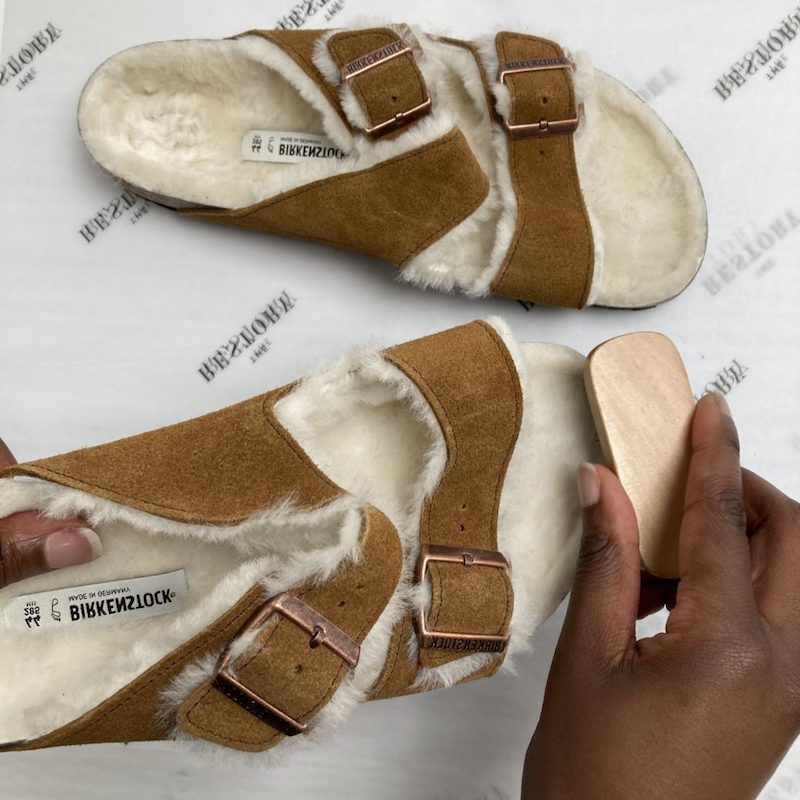 Do not let them dry in direct sunlight
According to the company, you shouldn't let your sandals dry out in the sun or on a radiator. It's best to let them dry at room temperature in order for them to retain their moisture-absorbing qualities. The dryer is also off limits for this shoe, so plan to clean wash your shoes a day in advance before wearing them, as they need at least 24 hours to fully dry.
Direct sunlight is not recommended for wet Birkenstocks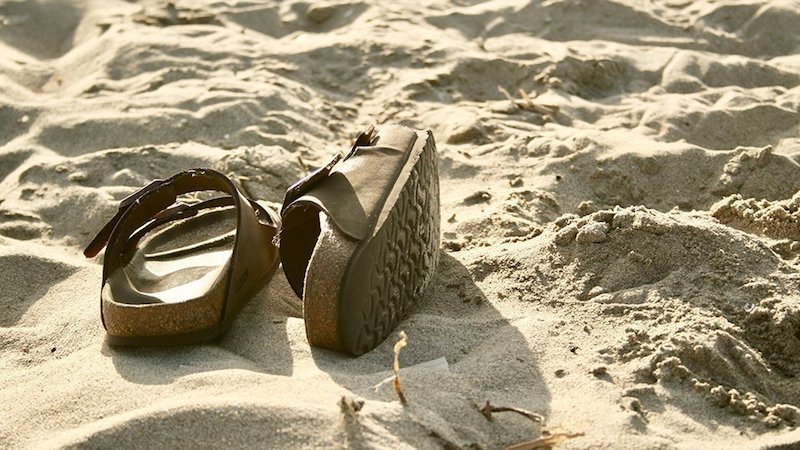 Nubuck Leather and Suede
It's best to spray the upper leather of your sandals regularly with a colorless waterproofing spray, but do not overdo it. Spray only the outside and cover the footbed with paper to protect it from the spray.
Waterproof spray ensures extra protection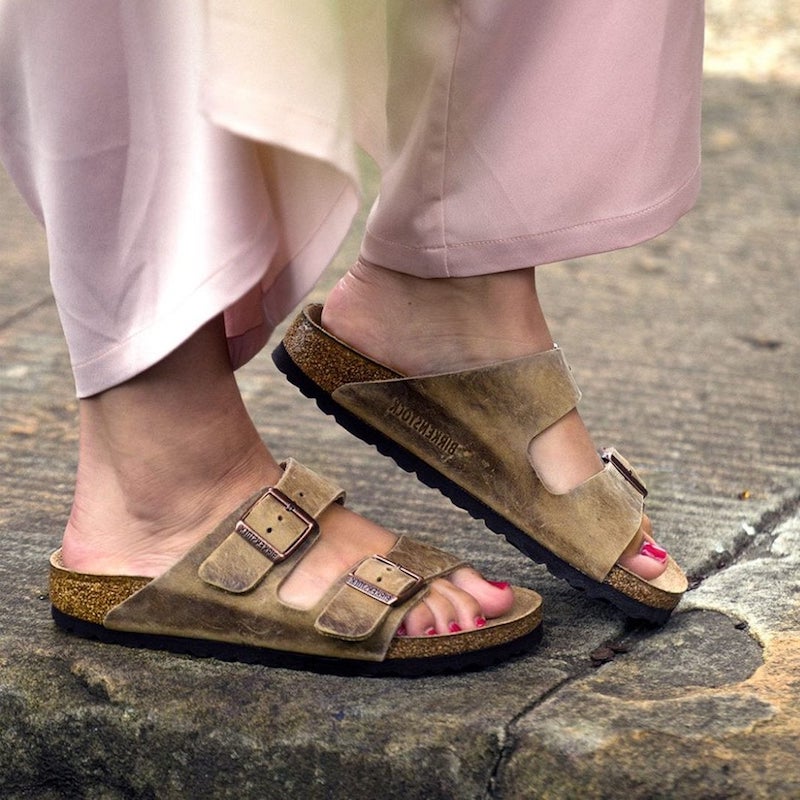 Natural Leather
In order for your leather to have a long life, it's best to regularly grease them up with some leather grease. Birkenstock recommend to grease only the outside of the leather and once again to cover the footbed with paper for protection while doing so.
There are over 100 versions of the best-selling Arizona Birkenstocks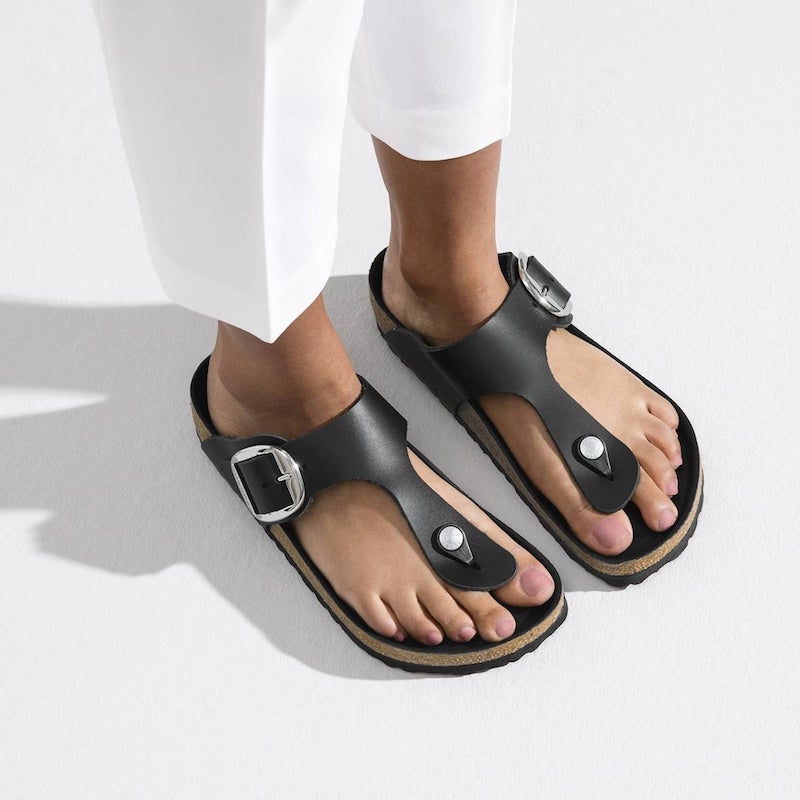 How to keep Birkenstocks from smelling?
The answer is simple! All you need to do to keep your favorite pair of sandals from smelling or looking bad is keeping them as clean as possible. By following the simple maintenance tips and learning how to clean Birkenstocks correctly, you can wear your favorite pair of sandals for quite the long time and avoid the unpleasant odor.
Regular cleaning will help eliminate unpleasant smells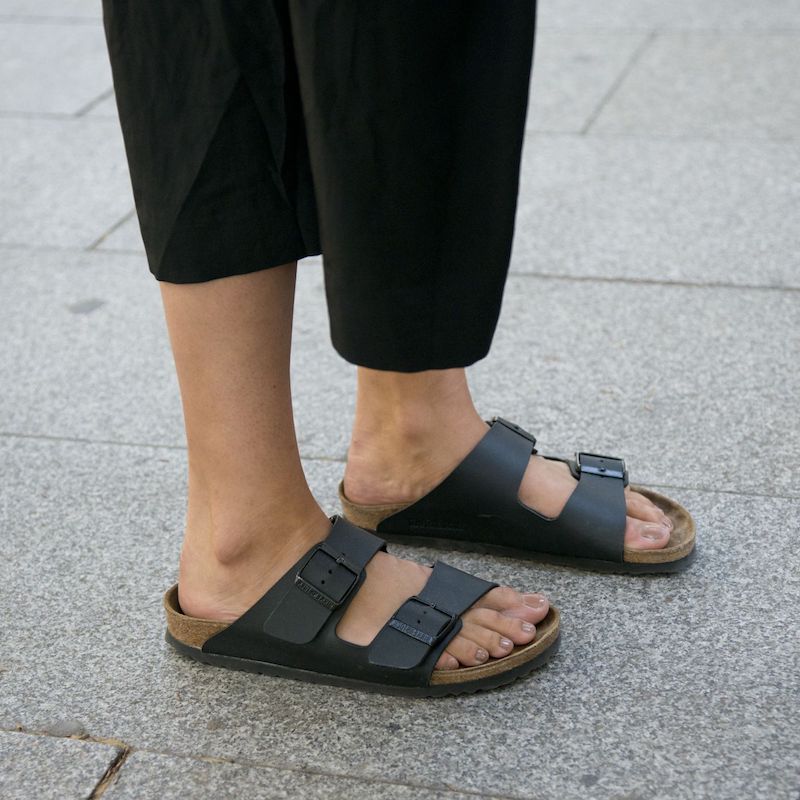 Now that you have everything you need to know on how to clean Birkenstocks, you can finally enjoy your Birkenstocks without having to worry that you're going to get them dirty. Go rock them sandals!
Who said Birkenstocks can't be high fashion?