12 Easy Tricks That Will Help You Drink More Water
There is no doubt that many of us are guilty of not drinking enough water. Have you ever remembered that you haven't taken a sip of water all day? Or, do you wait for the extreme thirst to hit, so you pour yourself a glass of water? Do you often feel dehydrated and cranky? Yes, we thought so!  Drinking a sufficient amount of water is not only beneficial, but also absolutely necessary to have a healthy body and a quick mind. Although the benefits of hydrating the body are many – good gut flora, soft wrinkle-free skin, weight loss, etc., it also helps in better control of diabetes. So, let's take a look at some of the tips and tricks that will help you drink more water daily!
Let's see what are the best tricks to help you drink more water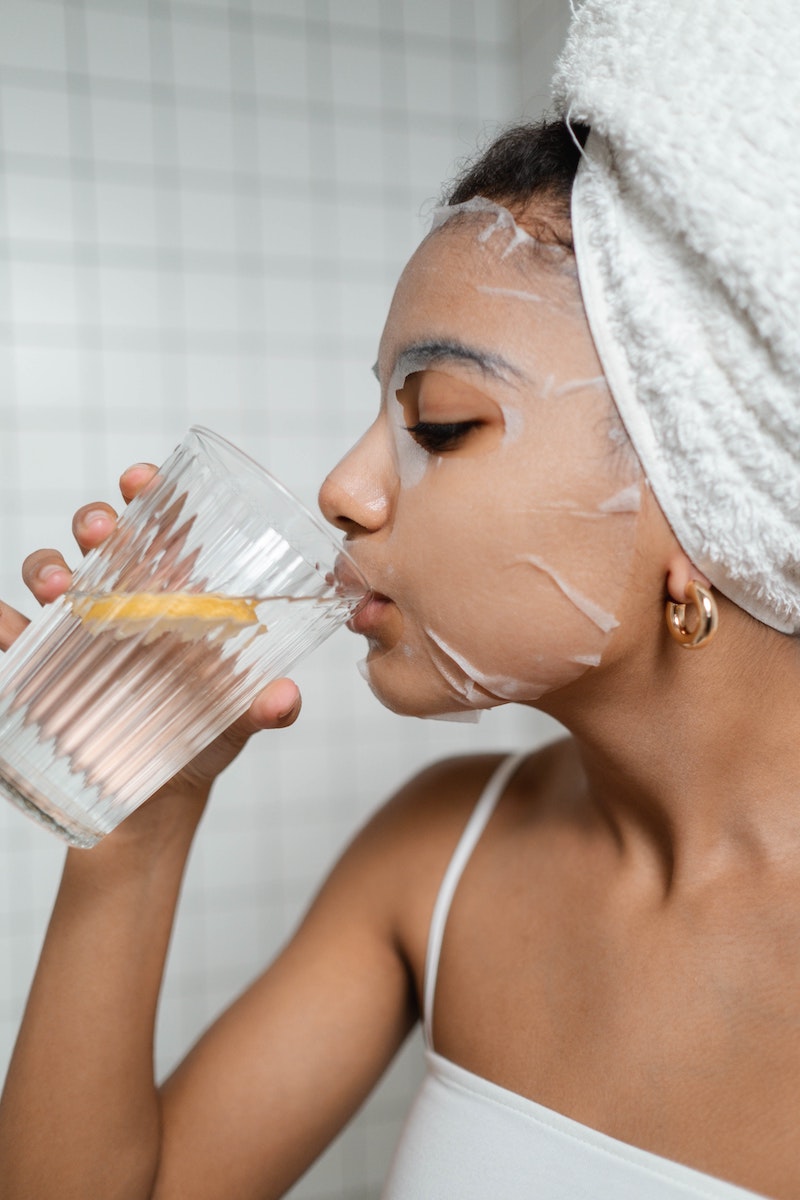 Make a schedule
First, you have to determine how many glasses or liters of water you should consume each day, and make a schedule illustrating your goal. Ideally, men should consume at least 2.5 liters and women at least 2 liters of water daily. You can also calculate the amount of water you need individually – the formula is 30 ml of water per kilogram of body weight. I.e., if you weigh 60 kg, multiply by 30, and you will get an 1800 ml daily ration. You also need to determine the times when you will drink your water. For example, you can make it a practice to drink a glass of water before or after every shower, after every trip to the toilet, or every time you get up to move your legs at work. This is the most important step of setting a goal and making it a conscious habit! Now let's see what the other tricks suggest.
Making a schedule will help you set your daily water goals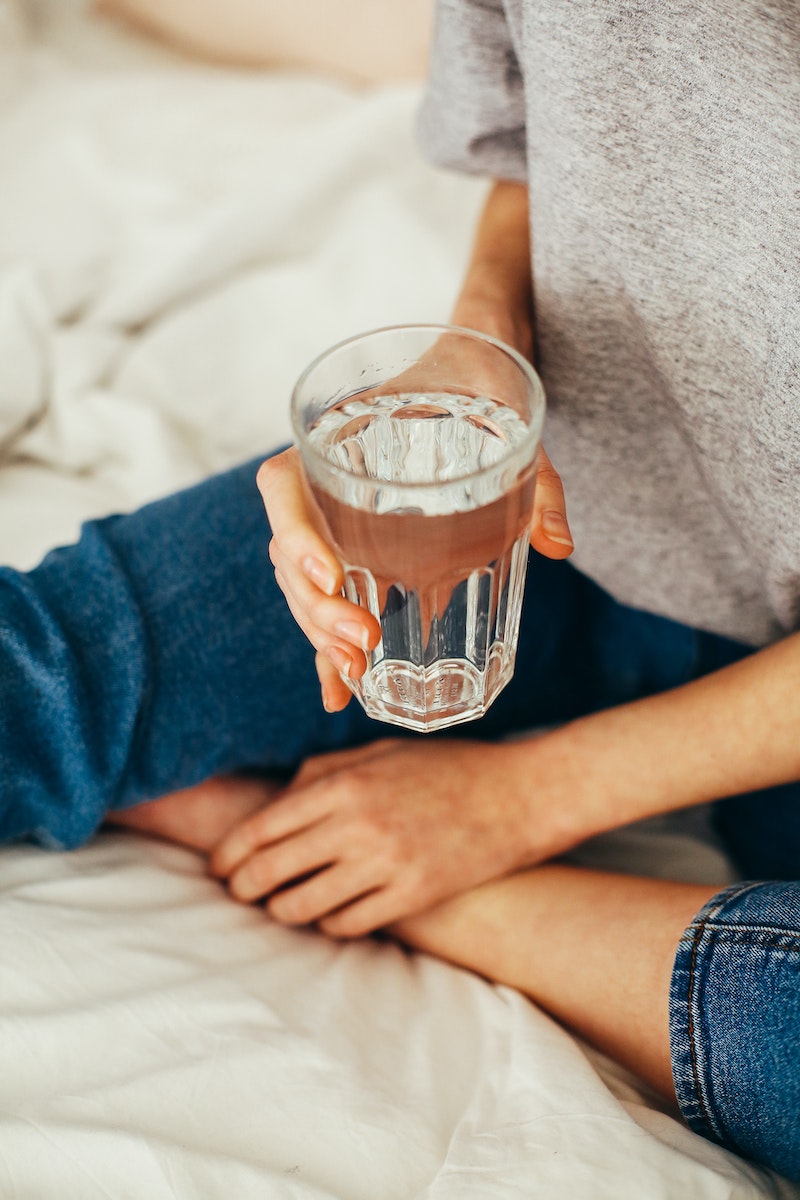 Drink water before meals
It is considered good practice to drink a little water before each meal as this helps you not feel so hungry, which, in turn, prevents you from overeating. Drinking a glass of water about half an hour before a meal is also a good method of aiding digestion. And, it is also a super easy way to remind yourself to drink some more water during the day! If you want to detox your body and help your skin glow, add a few drops of liquid chlorophyll to the water!
Make it a habit to drink more water before every meal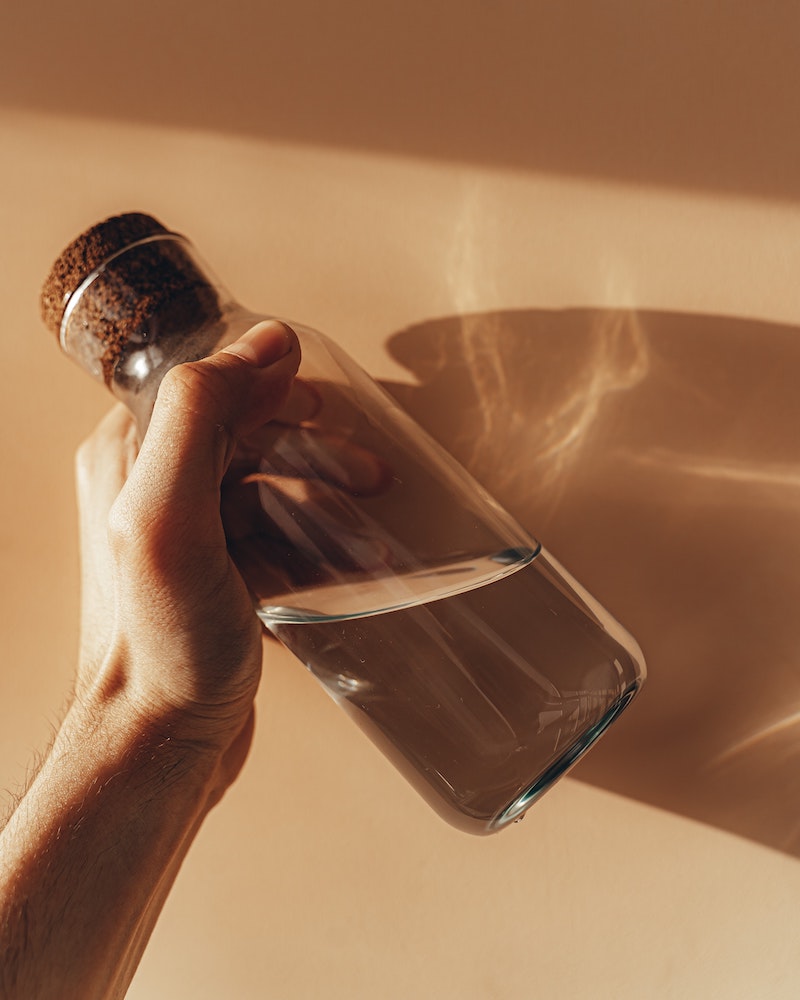 Always keep water near your bed
It is always a good idea to keep a bottle full of water on your desk when you are working, or carry it in your purse when traveling. Leave a water bottle near your bed in case you get thirsty at night or early in the morning after waking up. You will drink a little more water if it is constantly in your sight!
Always make sure you have water waiting for you near your bed
Flavor the water with fruits, vegetables, and herbs
You don't enjoy drinking plain old water that much? Then soak your favorite fruits, vegetables, or herbs in a pitcher of water overnight or for a few hours. In addition to helping you drink more water, adding mint and lemon, for example, will boost your metabolism and aid weight loss (if you are trying to get more healthy). Citrus fruits, cucumber, mint, lemon, and watermelon are the best flavors that you can experiment with! Add some lemon slices to your water if you want to help your digestion. Lemon water is super good for you, so try to drink a glass every morning after waking up!
Flavor your water with different fruits, herbs, or even vegetables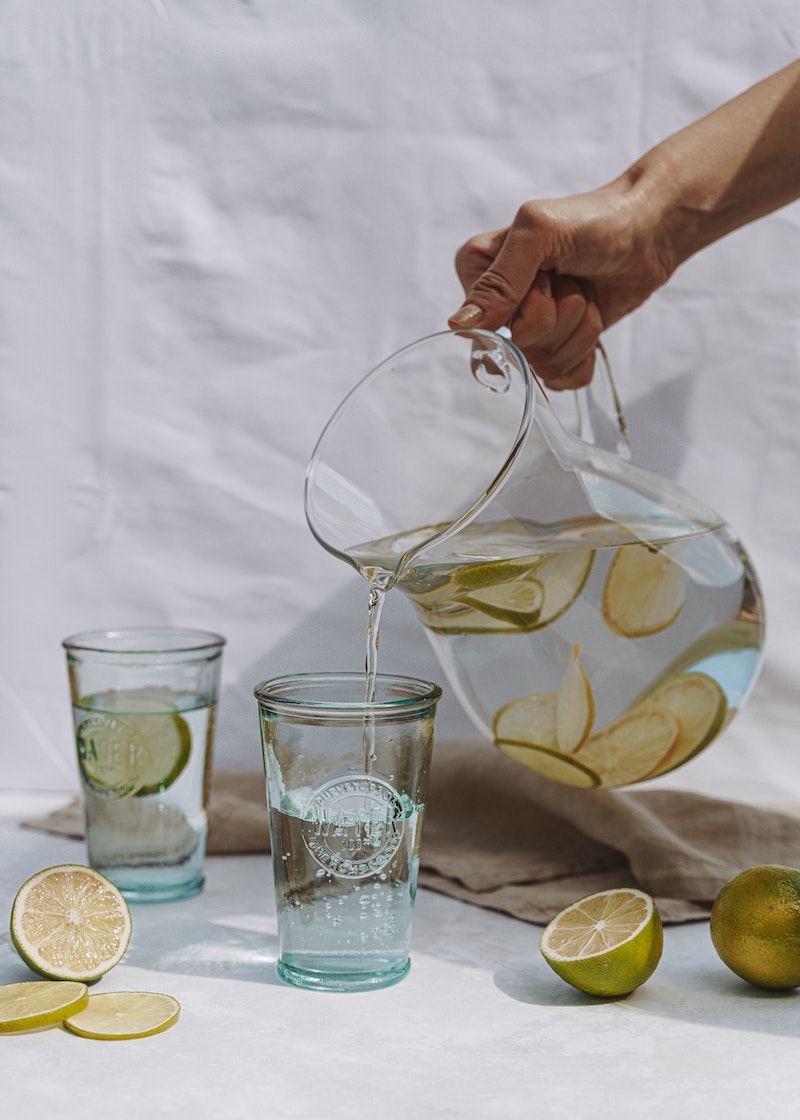 Buy one-liter bottles of water
That is a great way to make sure that you are reaching your water goals. For example, buy two one-liter bottles at the start of the day and aim to drink the first by lunchtime and the second by the end of the day. Not only will this help you reach your hourly goals, but it will also help you keep track of the amount of water you consume throughout the day! Our advice is to purchase a reusable bottle and just refill it if you have the opportunity to do so!
Get yourself a bottle that will help you track how much water you drink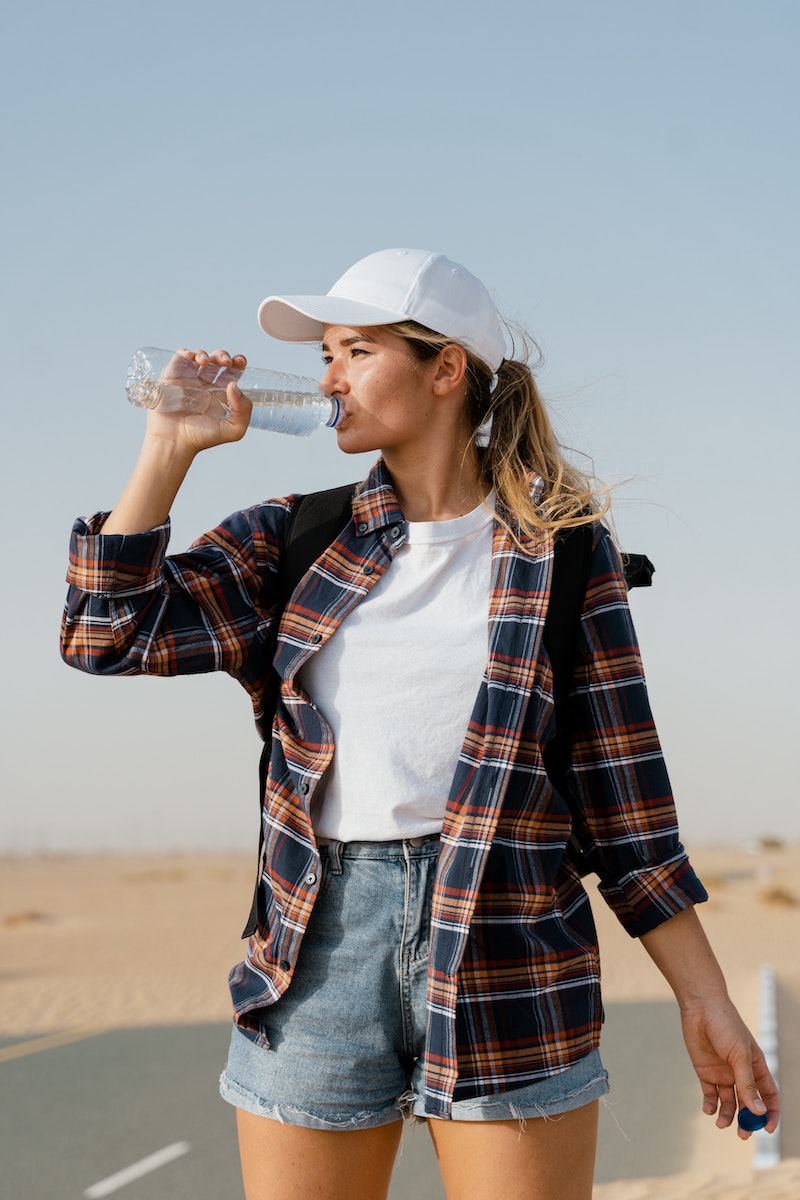 Use a straw
Using a straw helps you drink water at an even faster pace. You can even drink from a straw while watching a movie, or typing on your computer. Straws make drinking water so much easier and more enjoyable. And before you know it, you will have reached your daily water intake. We advise you to purchase glass, bamboo, or metal straws, and just reuse them every day! They are durable, easy to clean, and pretty to look at!
Add a cute reusable straw to your bottle, it will help you drink more water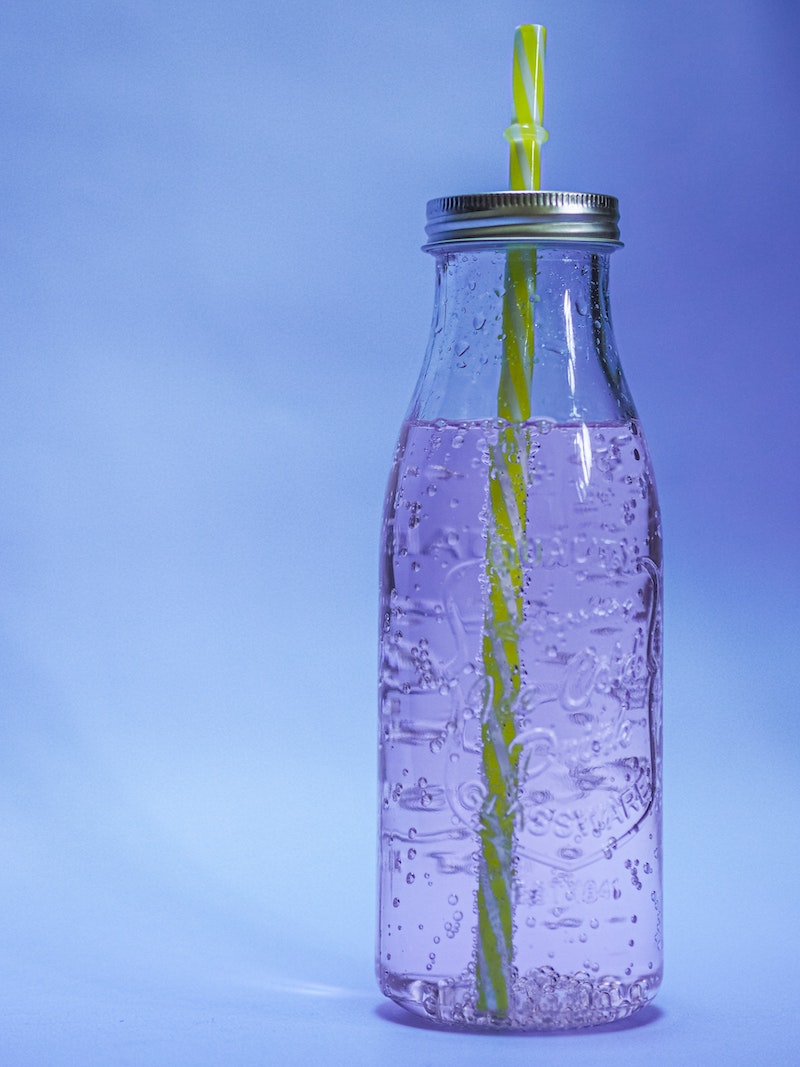 Use reminder apps
There are now dedicated apps to remind you when it is time to grab another glass of water for the day. They also have graphs to help you track your progress. This is especially good for those of you who spend more time on your phone. Enabling push notifications will help remind you to hydrate at specific times of the day! If you don't want to use apps, you can always use your phone's alarm as a helpful reminder.
Using reminder apps is perfect if you are always on the go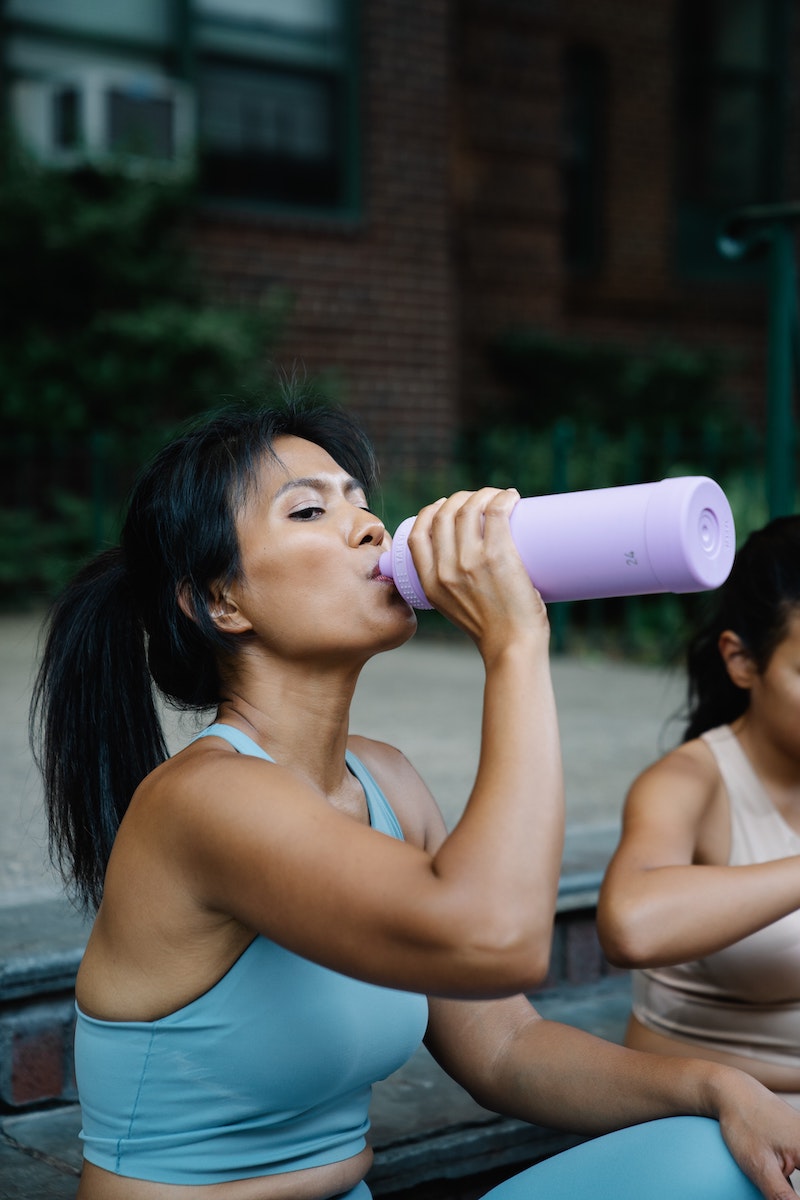 Always refill your glass or bottle of water
When the glass or bottle is consistently full and close to you, you are more likely to drink the water. And, that's a fact! So, make sure that you have a bottle of water in your bedroom, and in the kitchen and living room. Or, just make sure to carry one bottle wherever you go in the house. That might be a tedious task at first, but your skin will thank you!
Keeping your bottle or jar full of water is the key of drinking more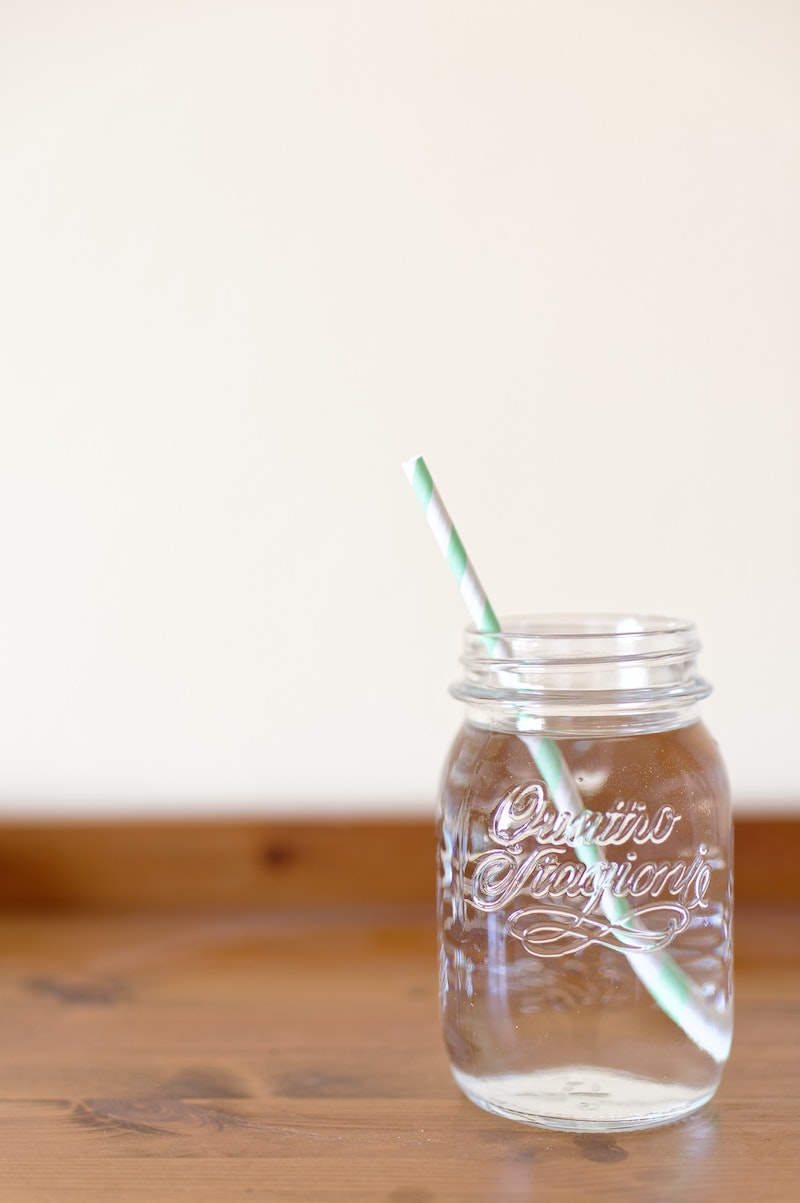 Hydrate when partying
A very important rule to keep your fluid levels up is to drink a glass of water after (or at the same time as) each glass of cocktail. This will reduce alcohol dehydration and prevent a severe hangover in the morning. So, next time you are at a bar, make sure to order some water as a side to your Strawberry Mojito!
Sip on some water with every cocktail you have to make sure you are hydrated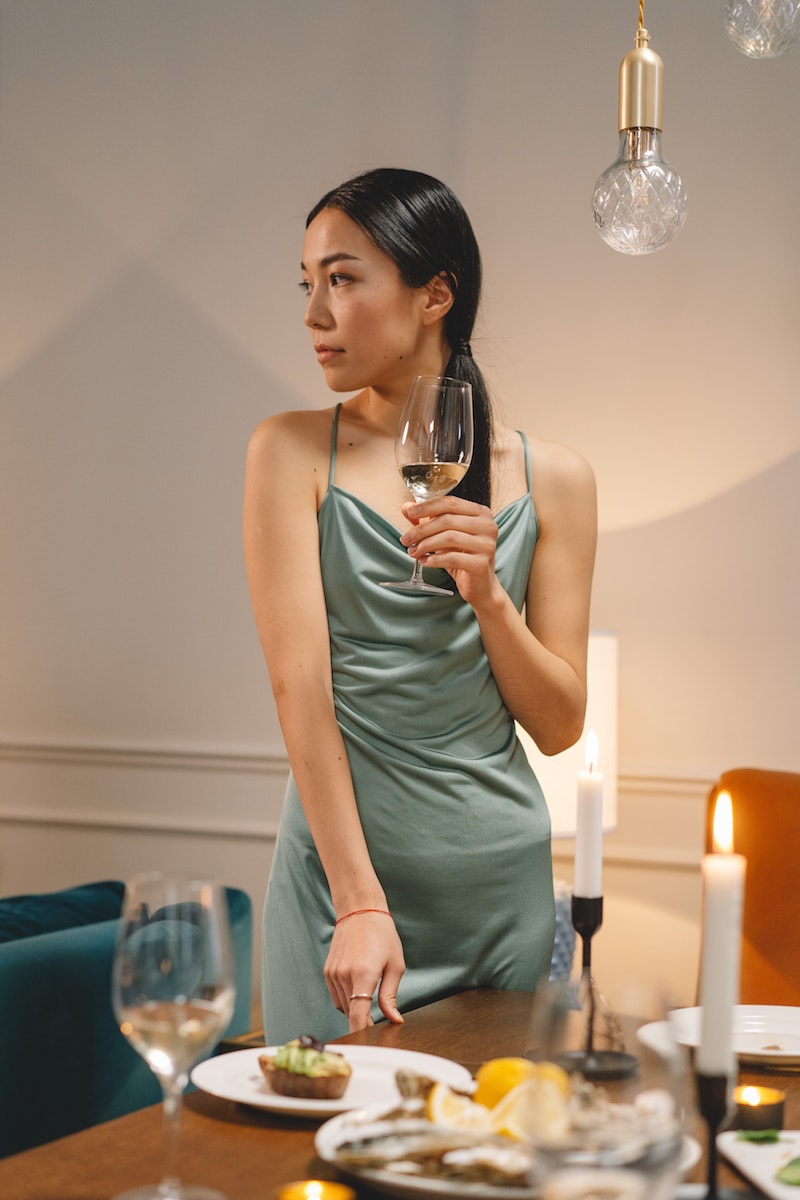 Set a rule
Create a rule for yourself that will help you drink more water. For example, no coffee until you have had at least one glass of water is a very good rule to follow. That way, you will hydrate in the morning before your caffeinated beverage of choice. Or, you can set a rule that every time you complete your daily water goal, you get a small treat! Find something that motivates YOU!
Set a rule to drink a glass of water before your morning cup of coffee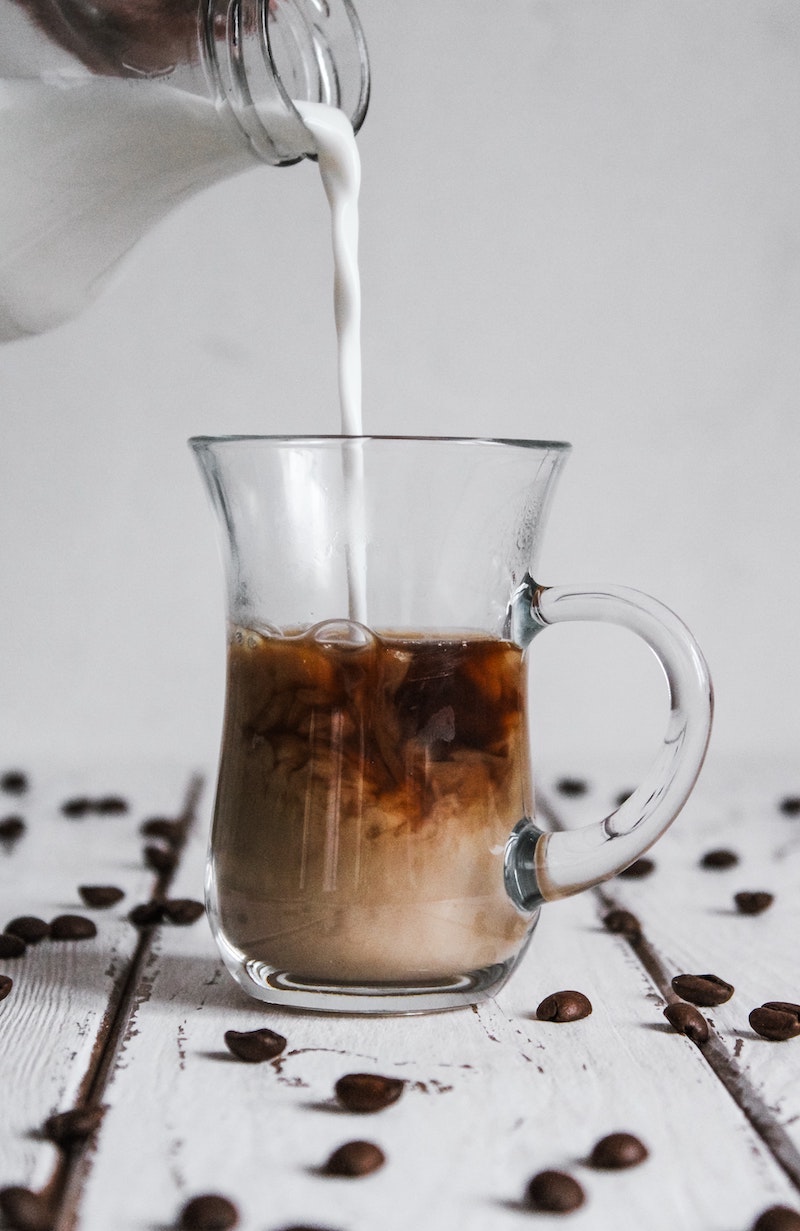 Include high water content foods in your diet
Another way to get more in your body is to consume fruits that have a high water content! Produce such as cucumbers and watermelon are mostly water, so this is perfect for those of you struggling to reach your water goals. See which are the best summer fruits to snack on for glowy and healthy skin in the hot summer months!
Eat some juicy watermelon to help hydrate your body and your skin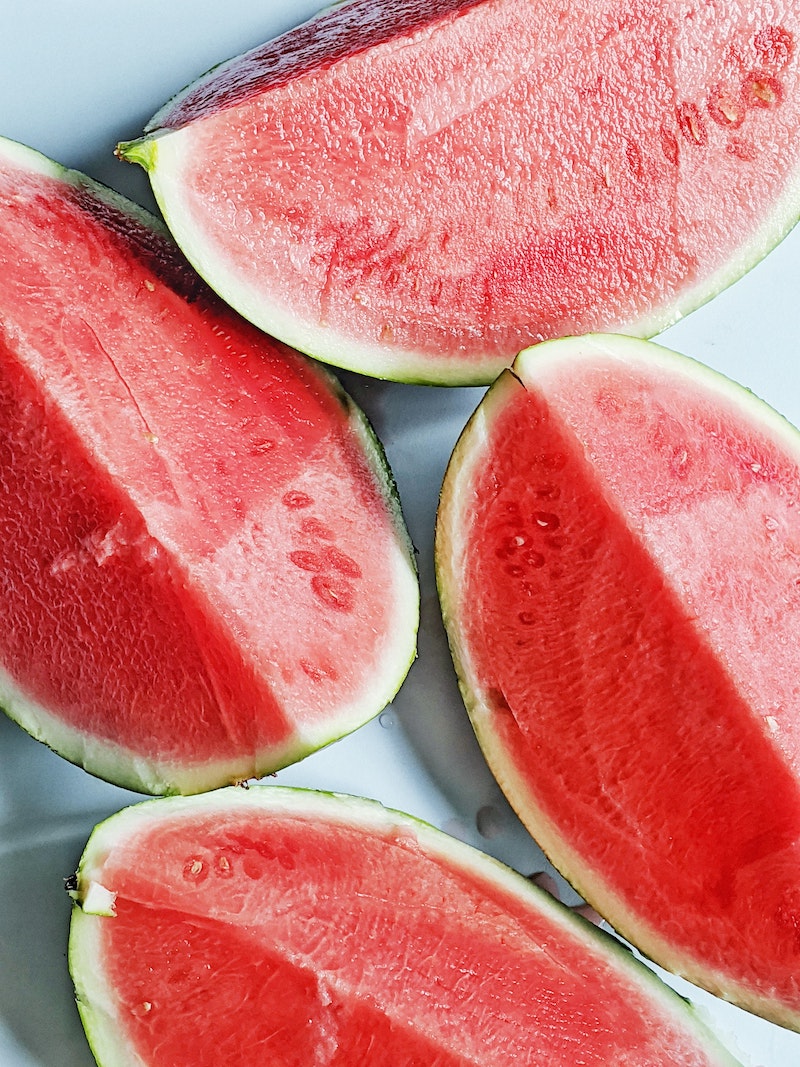 Use a portable bottle with a water filter
You may want to get a portable bottle fitted with a filter, as filtered tap water generally tastes better and is also a healthy option to have on hand at all times for drinking. That means that no matter where you are, you will always have delicious fresh water to drink!
A portable water bottle with a filter is a must for people always on the go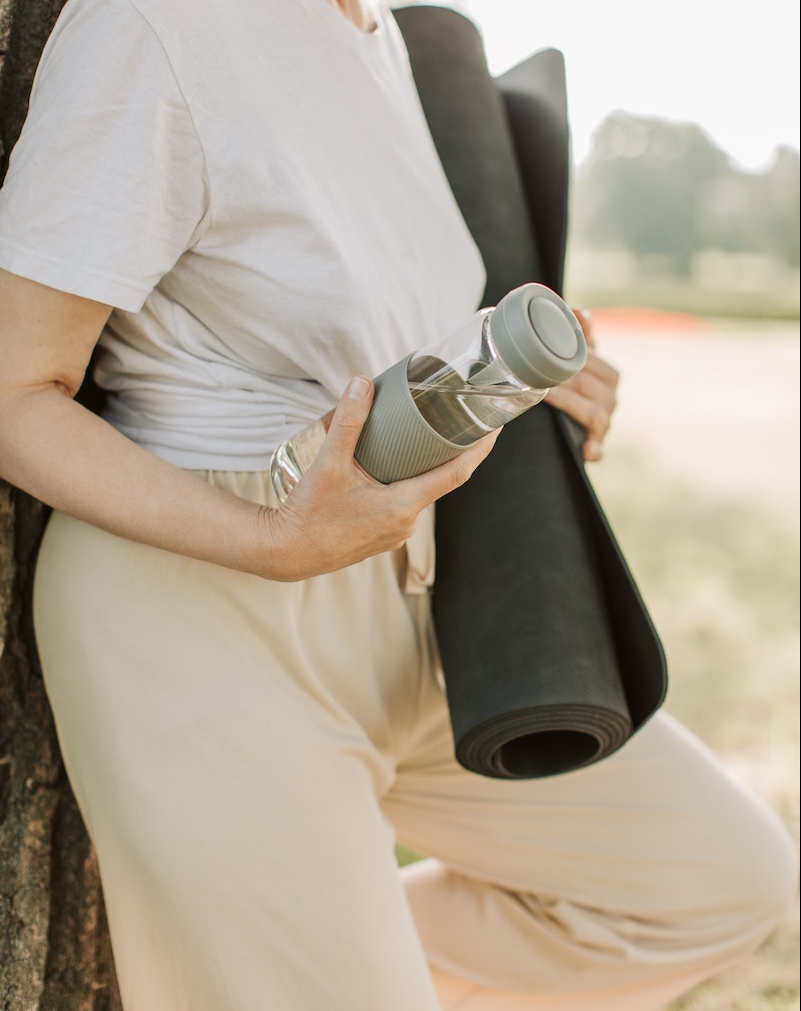 Related Content
Sources
Edna ©
Self ©