85 Stylish Herringbone, Arabesque, Mosaic and Subway Tile Kitchen Backsplash Designs to Brighten Up Your Home
John Griffith
---
Regardless of their design, most kitchens have one thing in common – the backsplash. Although it is often overlooked, this humble element is in fact very important, as it helps preserve your kitchen in good shape for longer. For those not familiar with the term, backsplash is what we call the piece of wall behind the sink and stove. As this particular area is exposed to water damage and is subjected to sprays of oil and sauce when we're cooking, it requires some very special protection. Depending on the style of your kitchen, the backsplash can be covered in different kind of tiles, stacked stone, mosaics or even glass. One of the most popular choices at the moment is the so-called subway tile kitchen backsplash, named for its resemblance to the type of wall covering used in the metro. However, there are plenty of other variations you can opt for.
The mission of this article is to help you choose a backsplash that perfectly compliments your kitchen, by providing information about the different options, and offering a carefully selected assortment of inspiring images. But before we get started, don't forget to check out our kitchen section – it's full of great money-saving tips, furniture ideas and lots of inspiration!
A beautiful example of a subway tile kitchen backsplash in white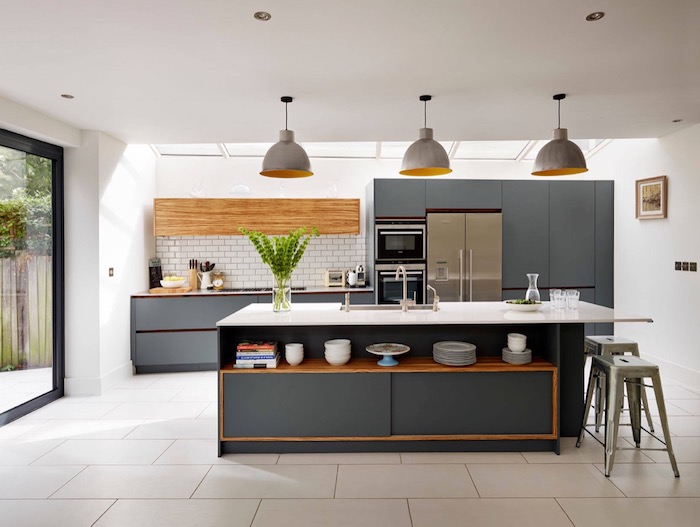 ---
Subway Tile Kitchen Backsplash
The subway tile backsplash is an excellent choice for people who want to create a more homey living space. When combined with the right furnishings, these simple and minimalistic tiles can transform your kitchen into a cozy and stylish room, with subtle hints of vintage charm. To get the most out of your subway backsplash, combine it with an antique water faucet or a retro stove. Add brass or wooden details to create a warmer, sunnier feel.
Here, the antique water tap and brass planters nicely compliment the lovely subway tiles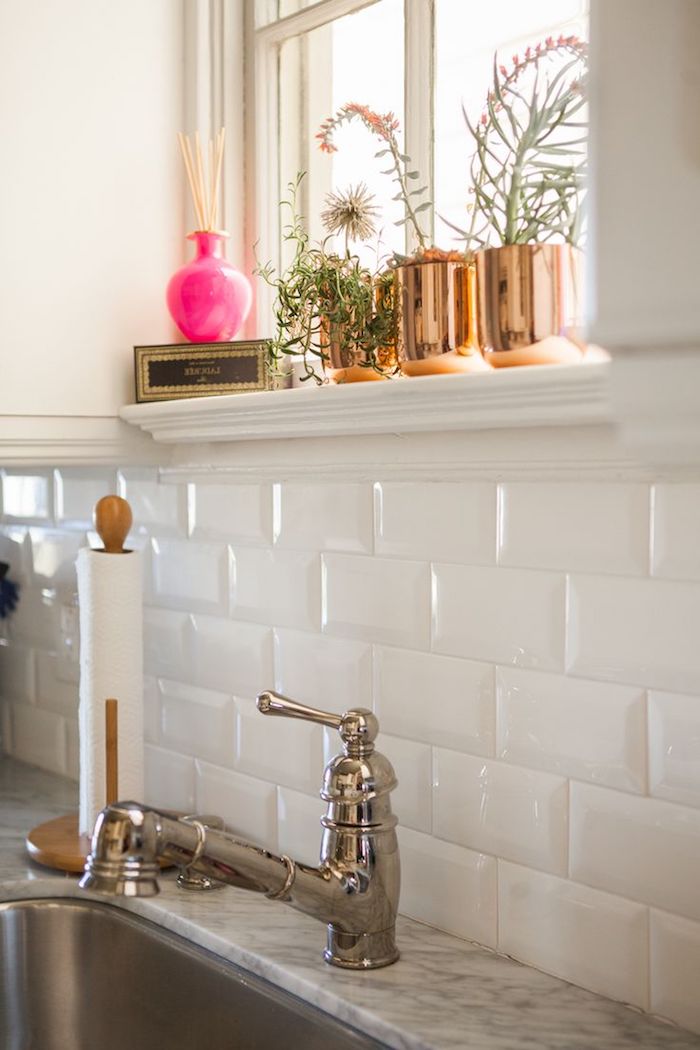 Useful tips for installing a subway tile backsplash
Herringbone Tile Kitchen Backsplash
Due to its attractive and playful pattern, the herringbone backsplash is also a very popular option. However, although it definitely looks very appealing, it also comes with some disadvantages. Unlike subway backslash styles, which are relatively easy to install, this particular kind will require the attention of a professional, and can be quite costly to get. Nevertheless, it is very much worth it, as the picture bellow clearly shows.
Pure ivory-colored perfection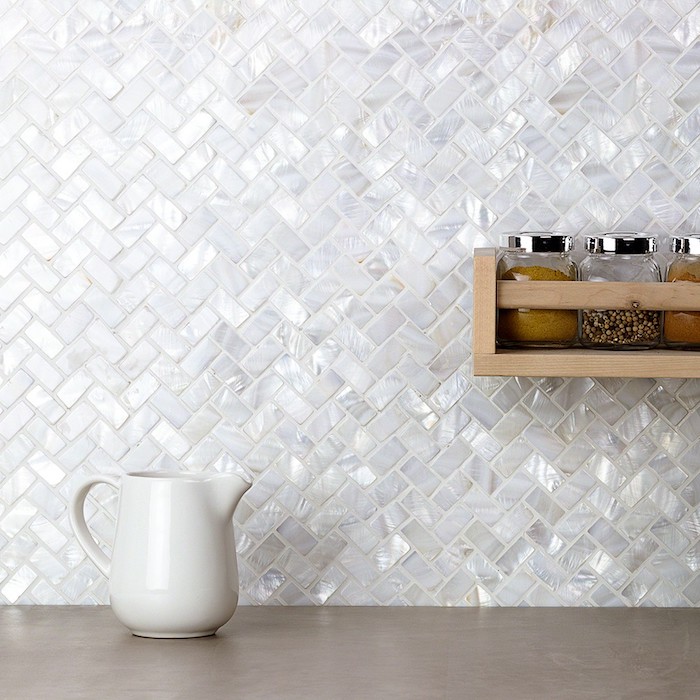 Off-white herringbone tiles – a great solution for your kitchen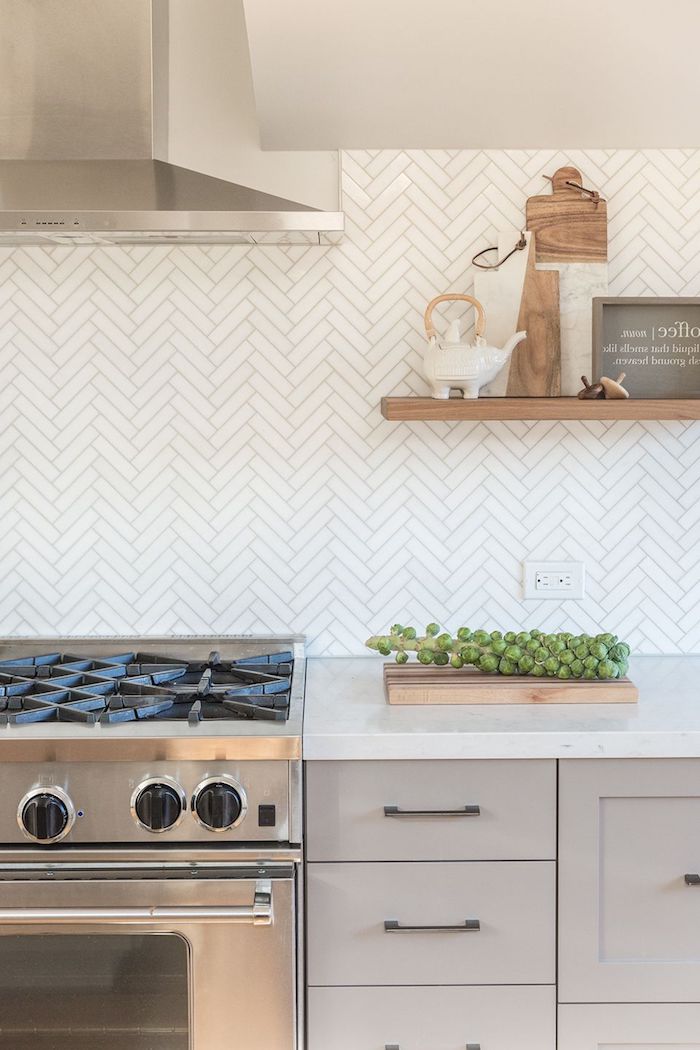 ---
Arabesque Tile Kitchen Backsplash
Home owners looking for something a tad more original, should consider opting for an arabesque backsplash. These beautiful ornate tiles are the perfect mix between classic glamour and refreshing contemporary chic. Plus, they come in a variety of colors and patterns, which makes them a great choice for all kinds of kitchens. Choose white arabesque tiles to achieve a simpler, brighter look, or go for vibrant, colorful designs for a truly unique space.
White kitchens will never go out of style…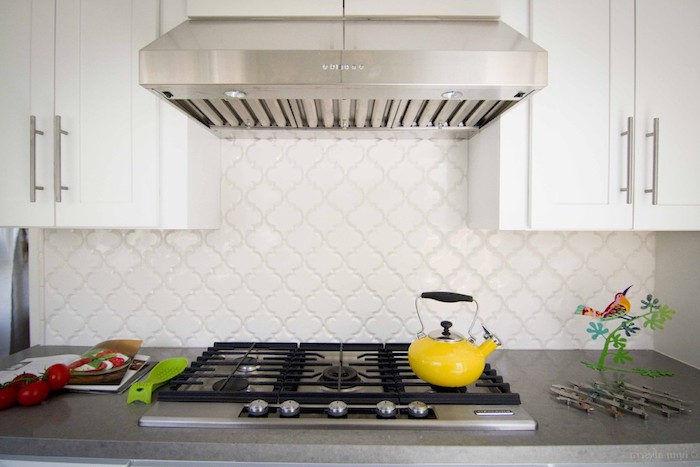 …but experimenting with color is also very much worth it!
Glass mosaic backsplash
If you're dreaming of a modern kitchen, glass tiles are for you. Functional and beautiful, they possess a slick, futuristic feel with an artistic twist. Needless to say, mosaic tiles are extremely varied. Not only do they come in all shapes and sizes, but they can also be customized in accordance to your taste and preference. For example, if you love the beach, and would like to incorporate sea-related elements into your kitchen, you can opt for a gorgeous seashell mosaic.
Recreate the serene beauty of a day at the beach with this exceptional mosaic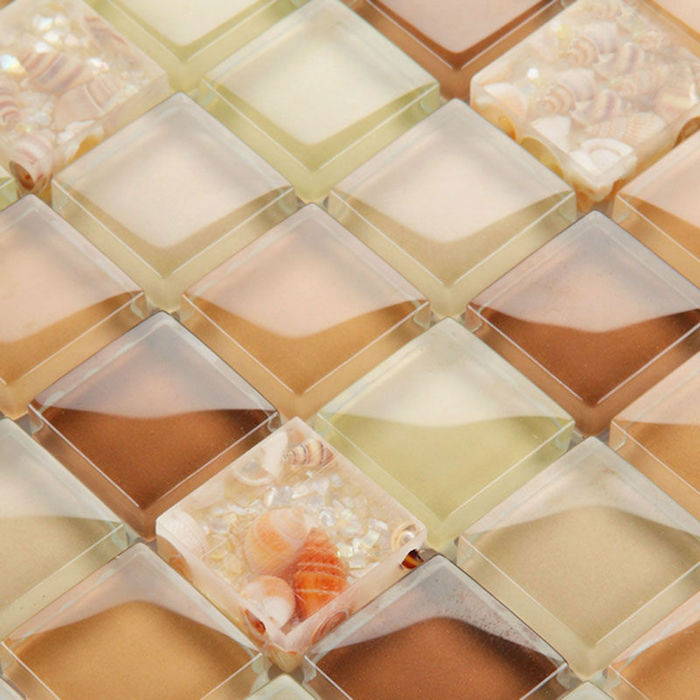 Pretty backsplash in light shades of blue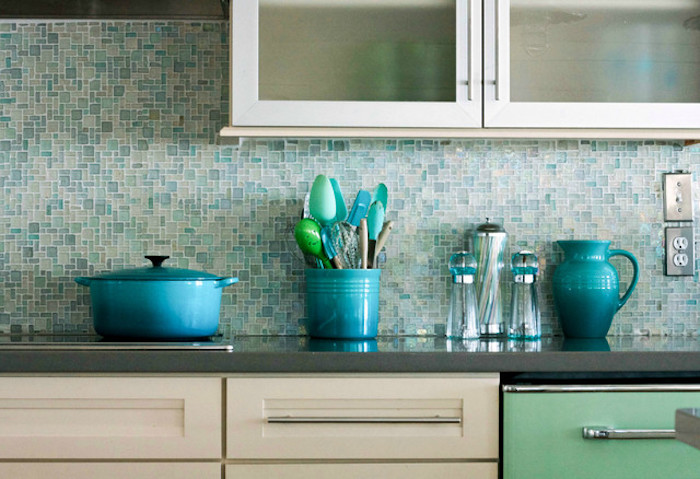 Stacked stone backsplash
The stacked stone backsplash is incredibly stylish and definitely one of our favorites. It combines the rough power of nature with the timeless appeal of minimalism. While this makes it an ideal choice for modern, industrial-style homes, it will look great pretty much everywhere. Similarly to arabesque tiles and mosaics, stacked stone elements come in a variety of shapes and colors, ranging from simple white and black, to pewter grey and sandy brown.
Stacked stone tiles in brown and beige will give your kitchen a warmer feel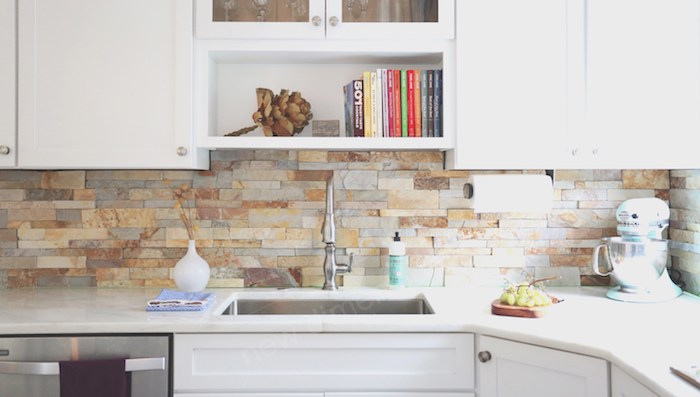 Bring the beauty of nature into your home!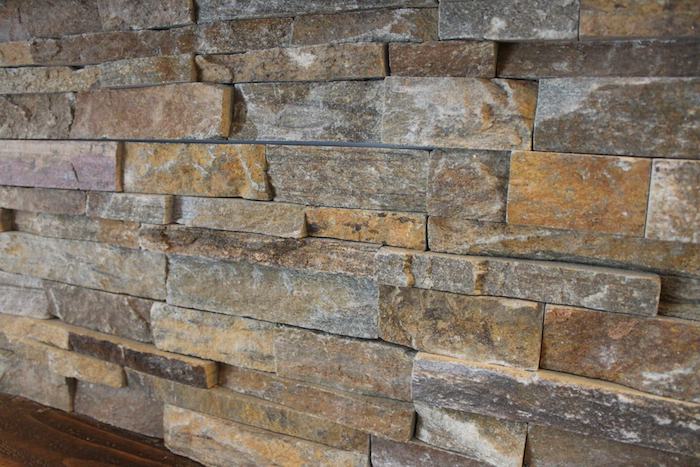 We hope you've enjoyed our selection! Bear in mind the examples listed above are only a few of the numerous backsplash varieties available on the market. Browse our gallery to find even more ideas and inspiration, and don't shy away from experimenting. After all, your kitchen ought to be just as unique as you are!
Subway tile kitchen backsplash in soft shades of green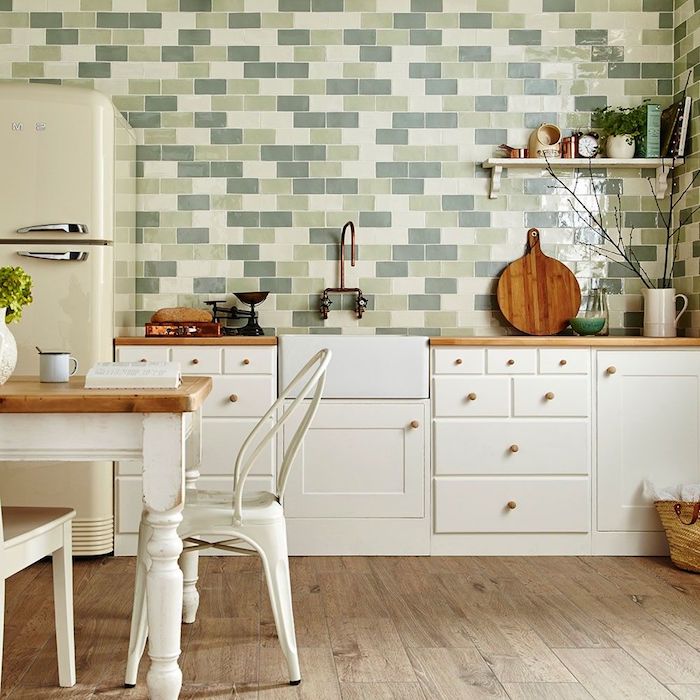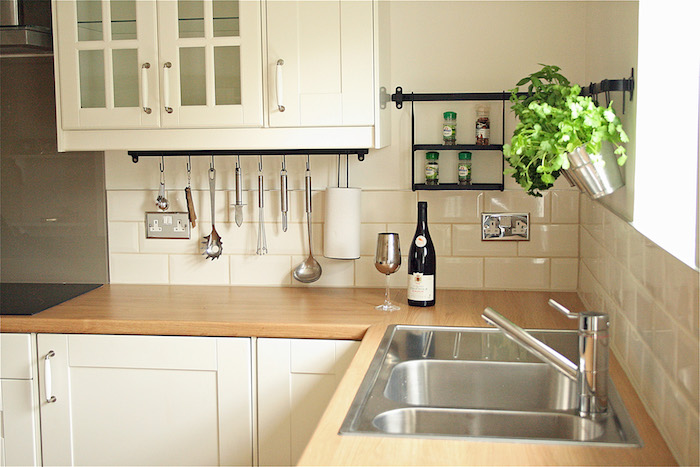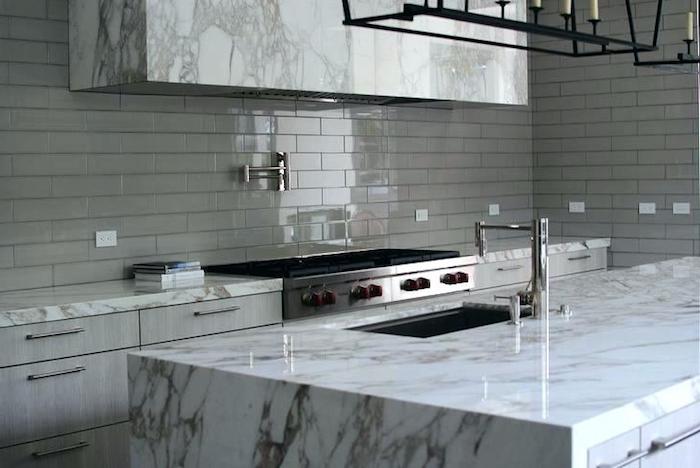 We love this bright and cosy kitchen!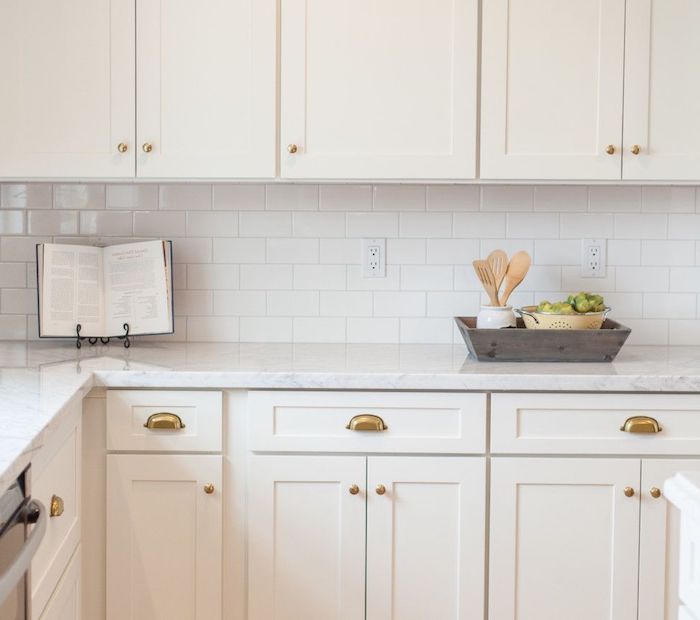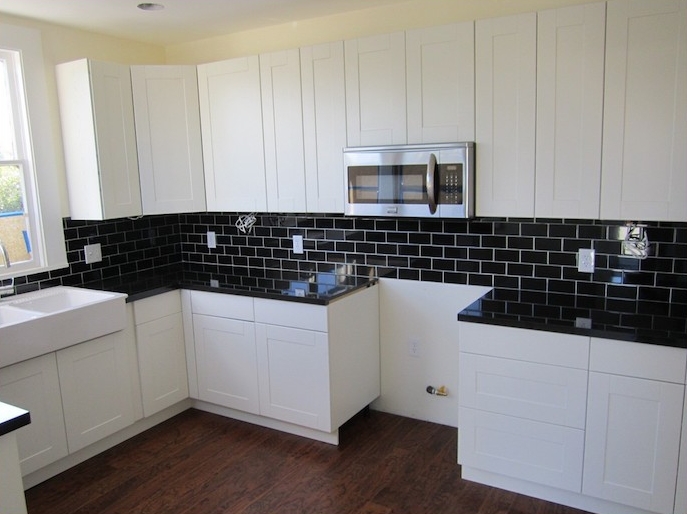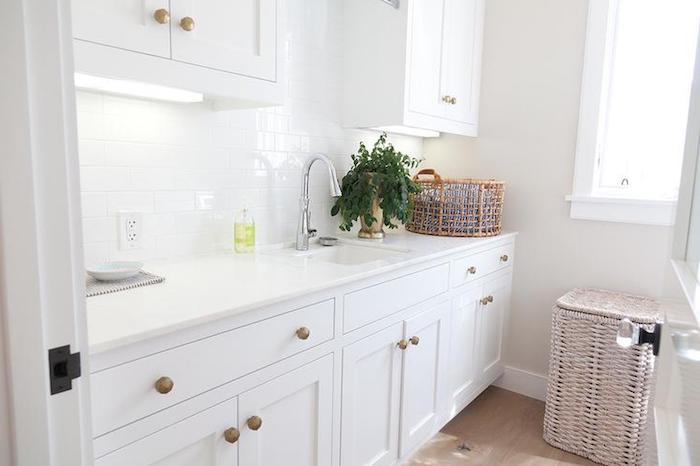 Pale marble subway tile kitchen backsplash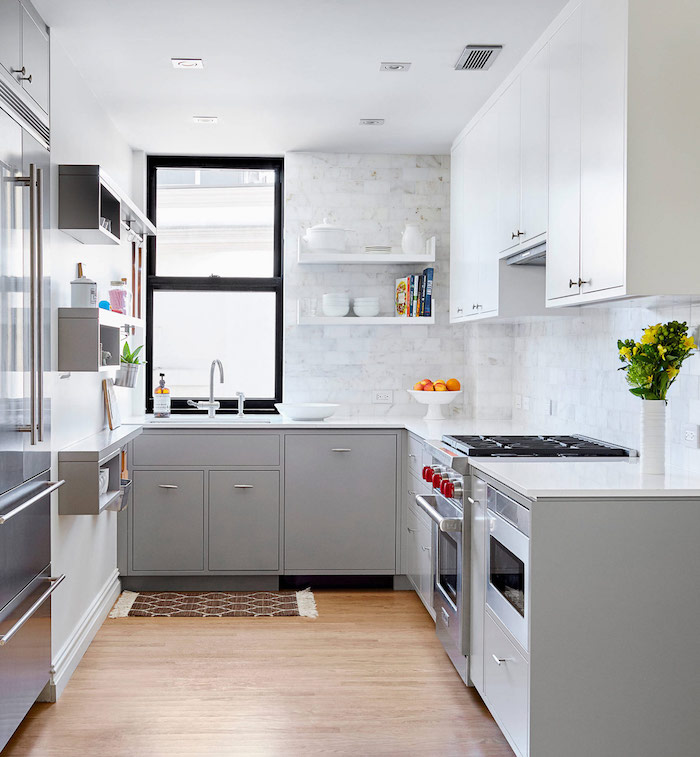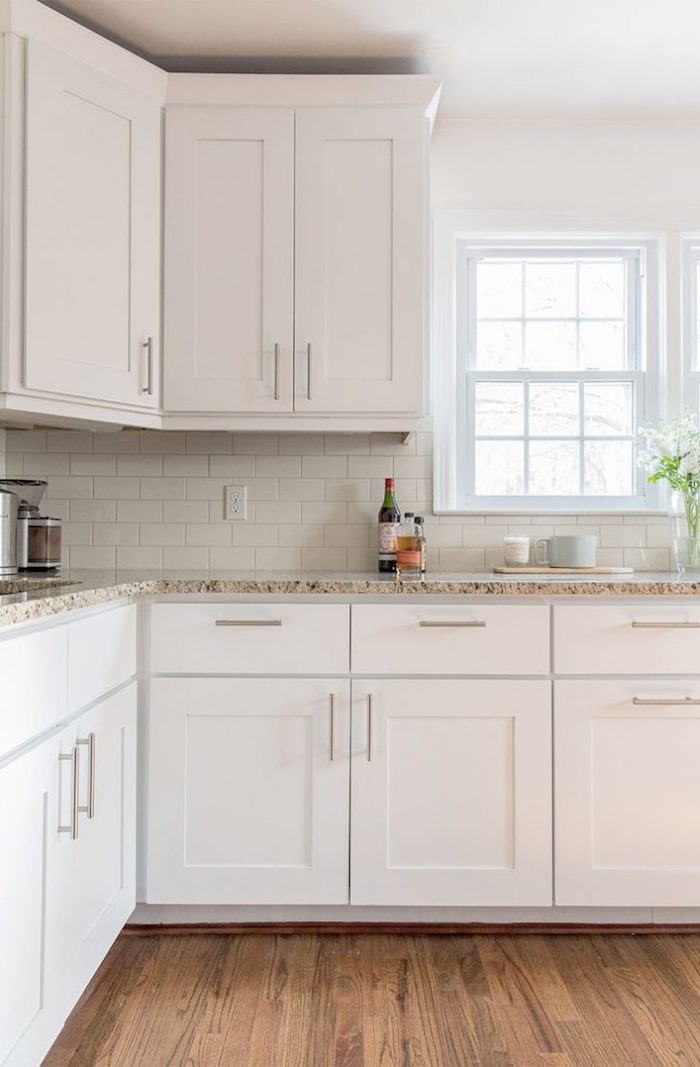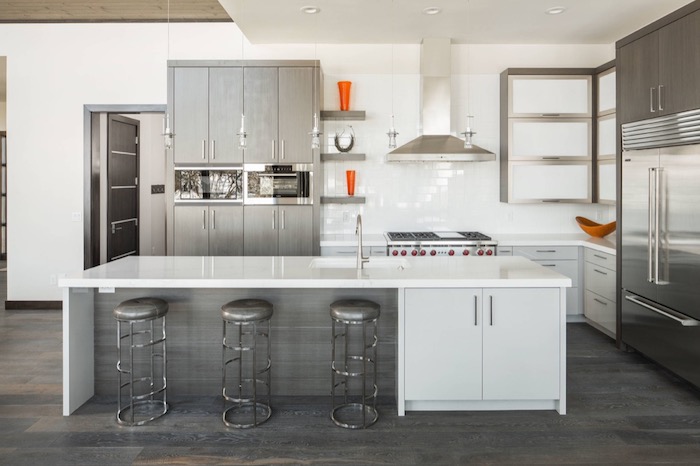 How cute is this vintage kitchen?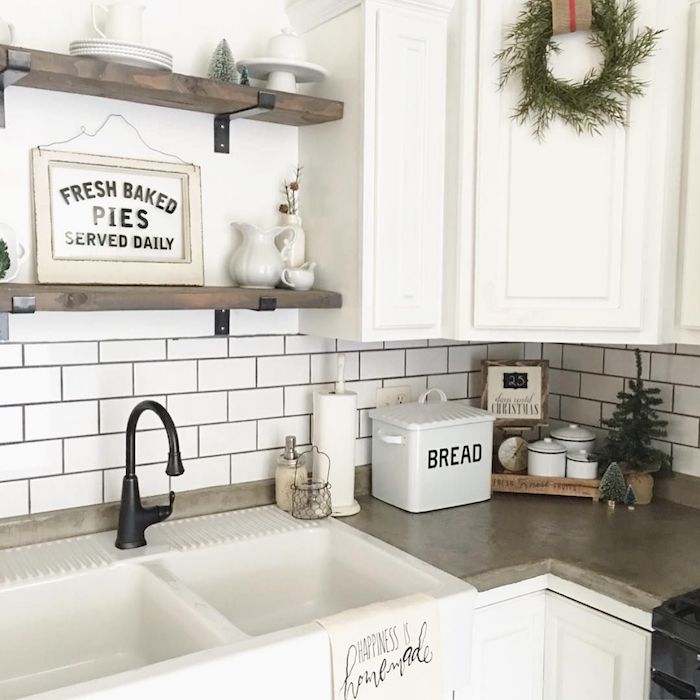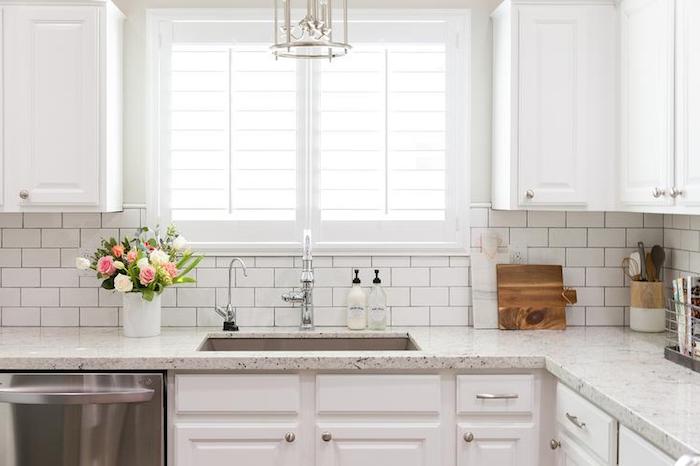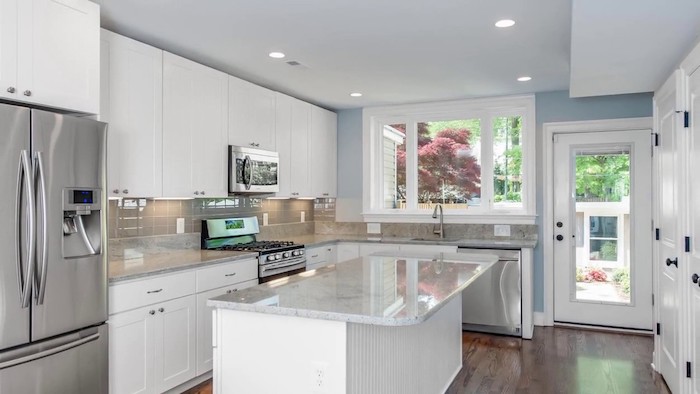 Glossy subway tiles in dark grey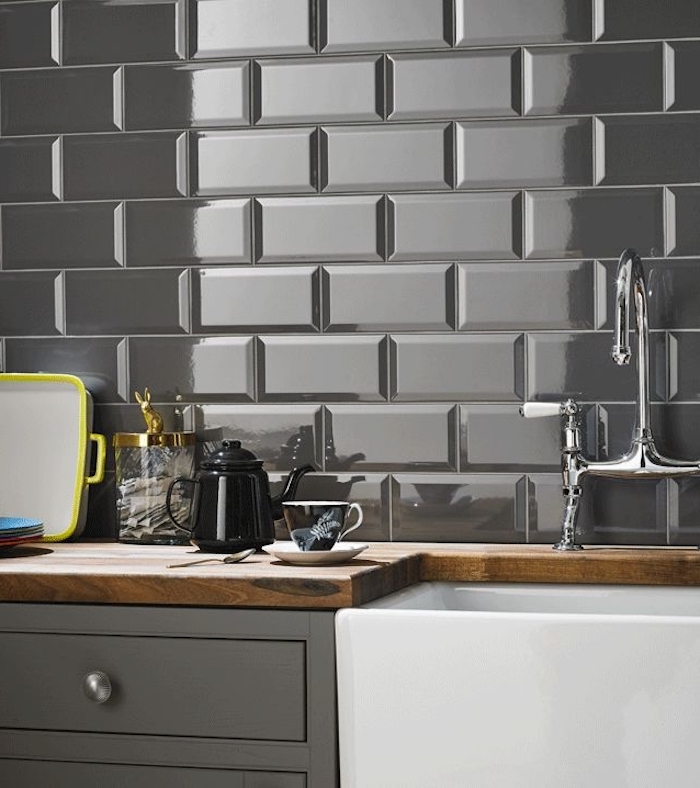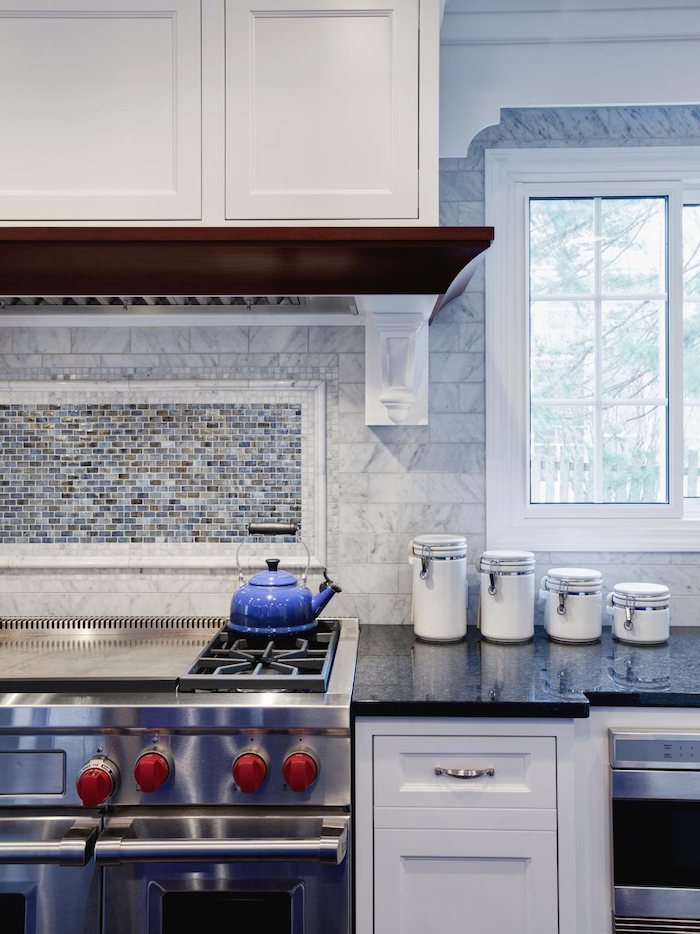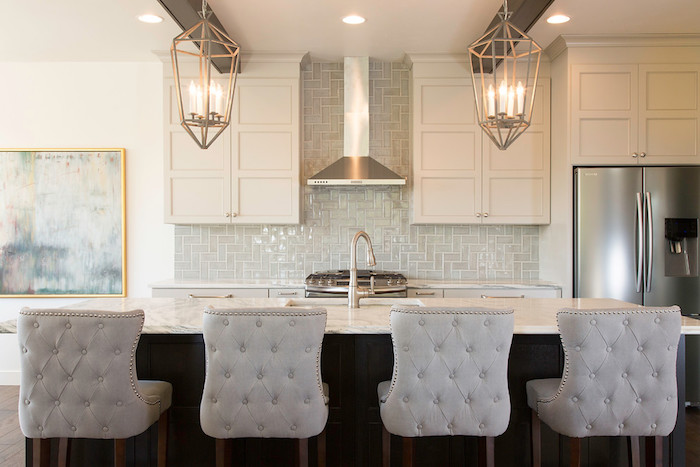 Little details can really add a charming, homey feel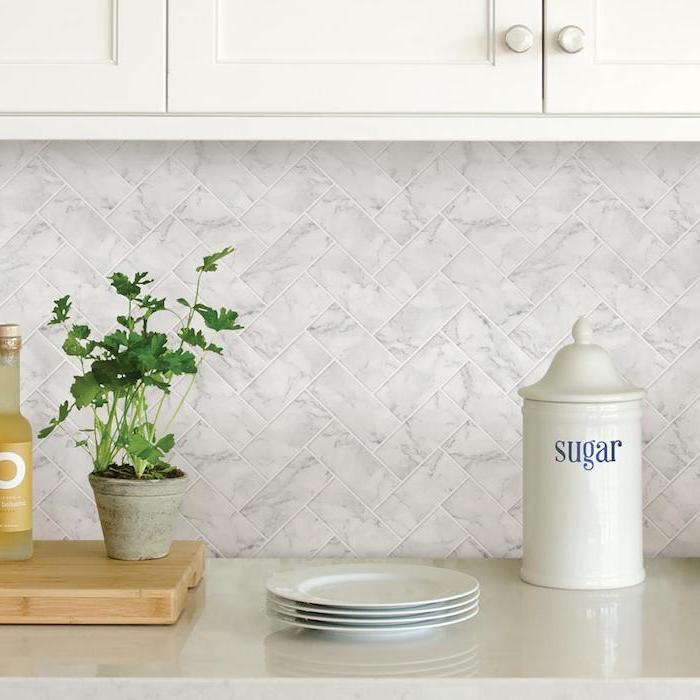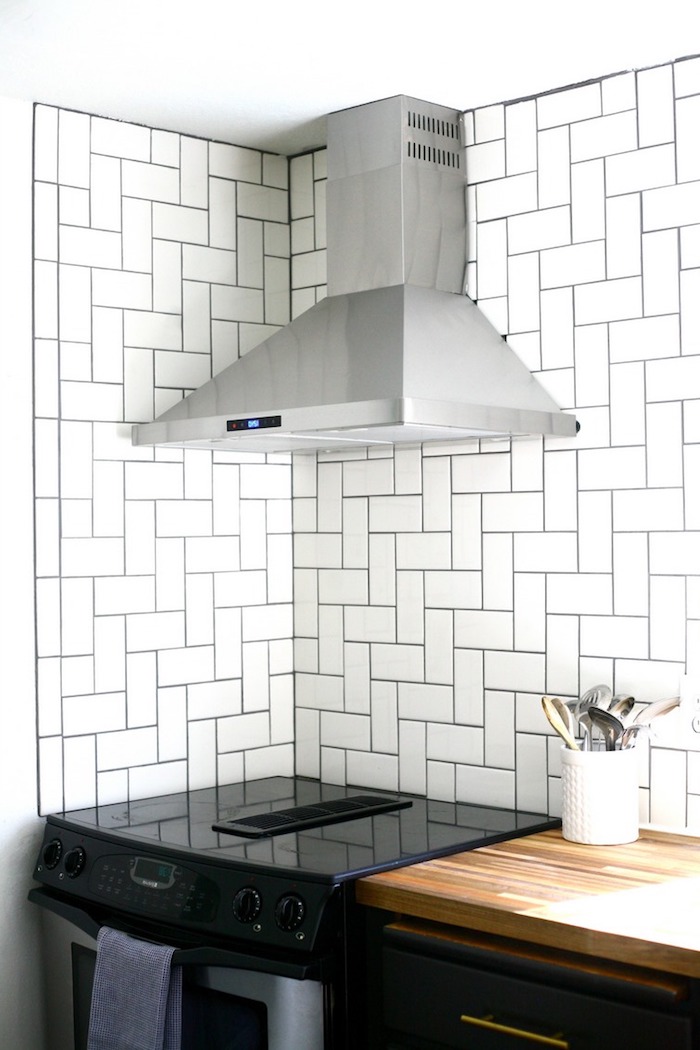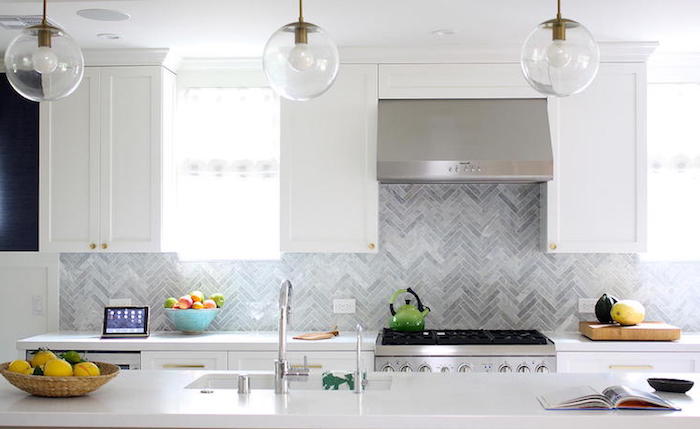 We really wish we could get our hands on this adorable pink toaster!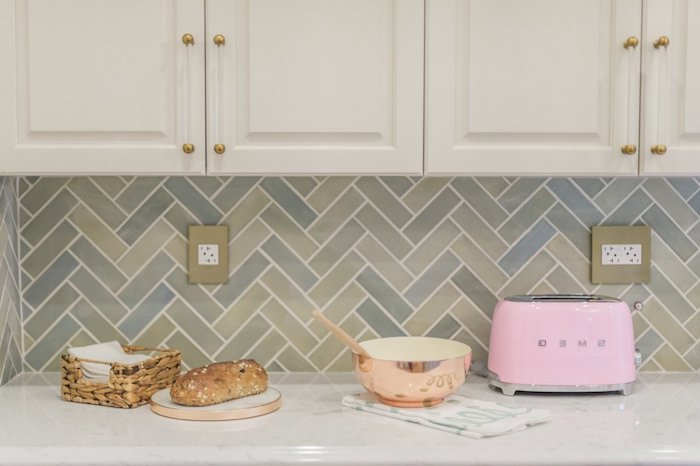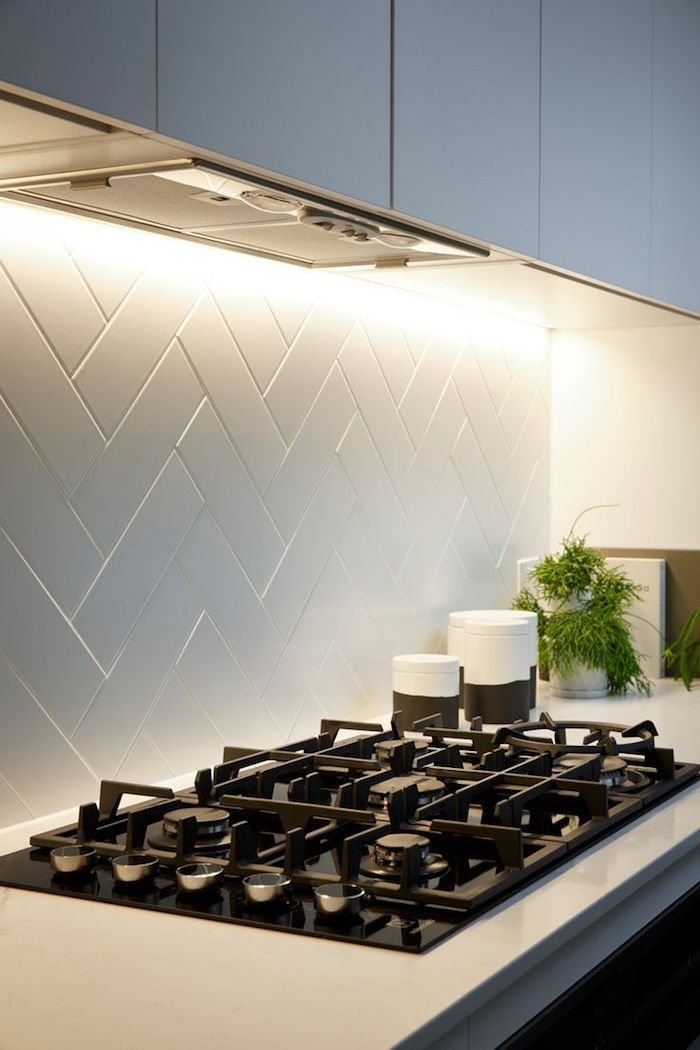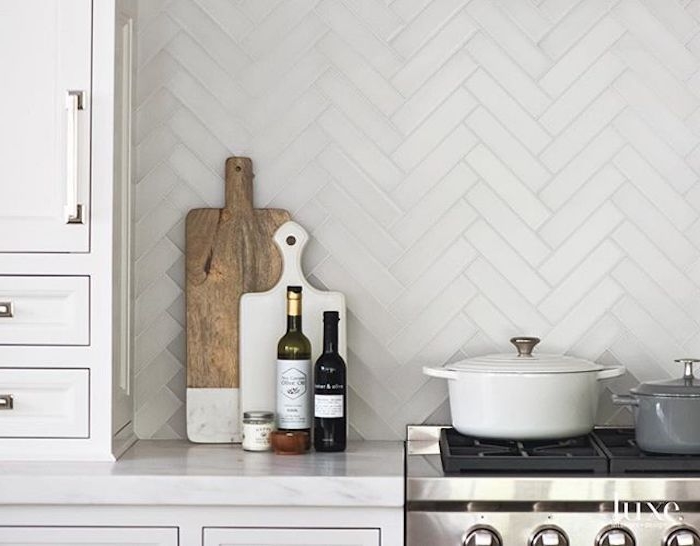 Off-white and dark blue – a stylish and classy combination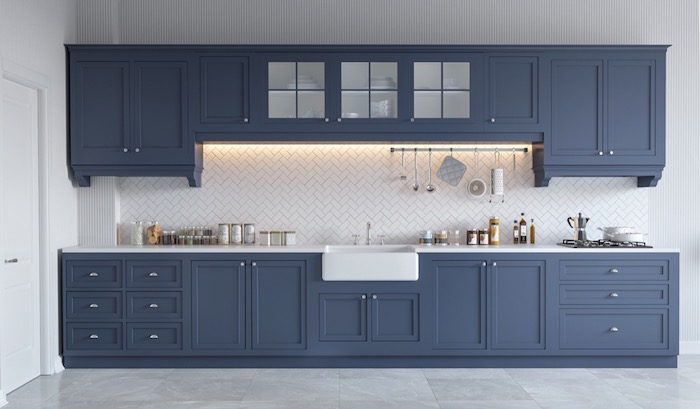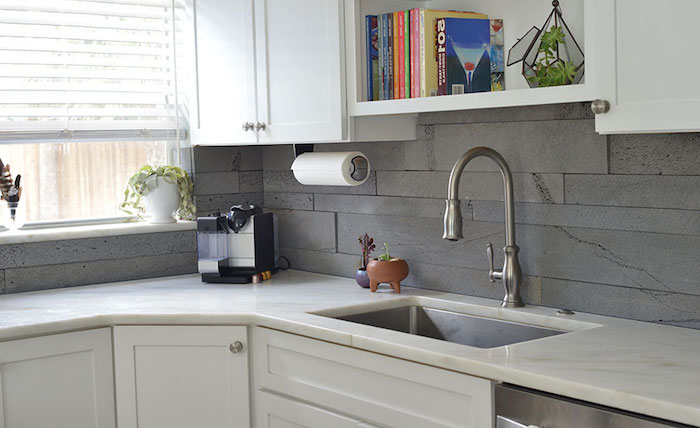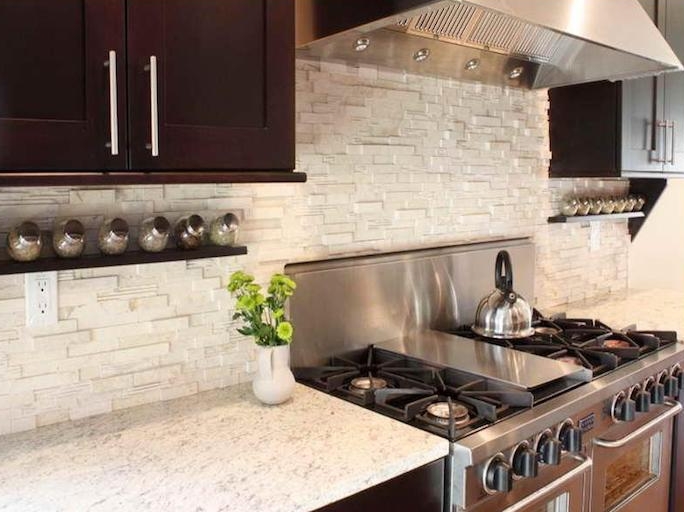 A lovely contrast between rough stone and smooth glass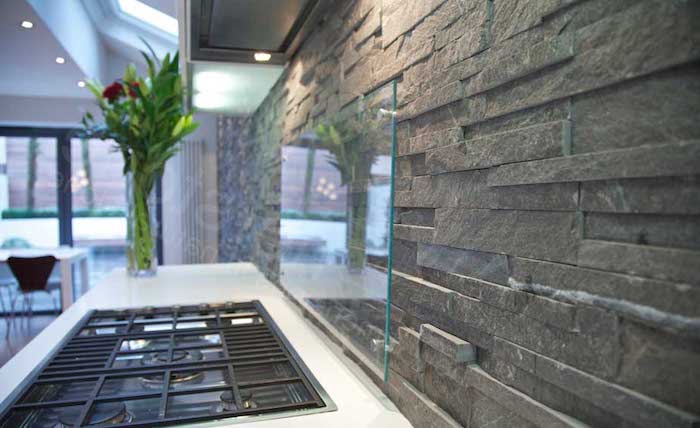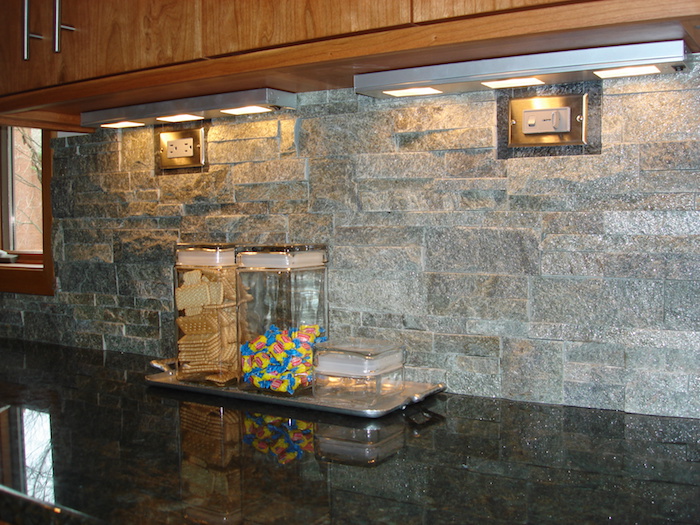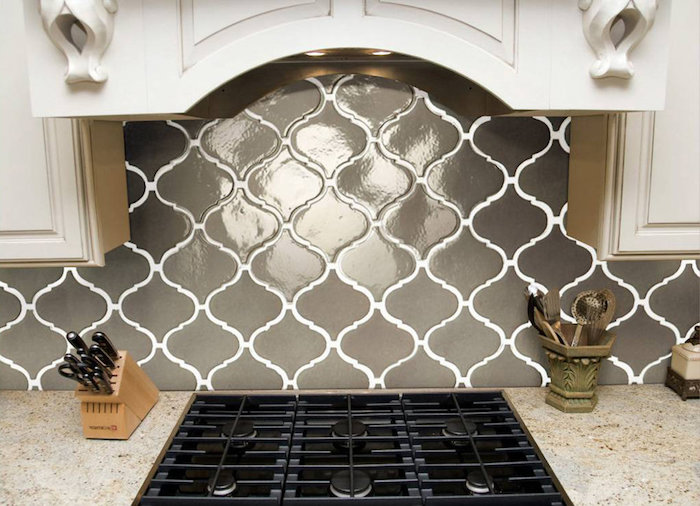 Another beautiful backsplash suggestion in white and pale grey – this time, with arabesque mosaic tiles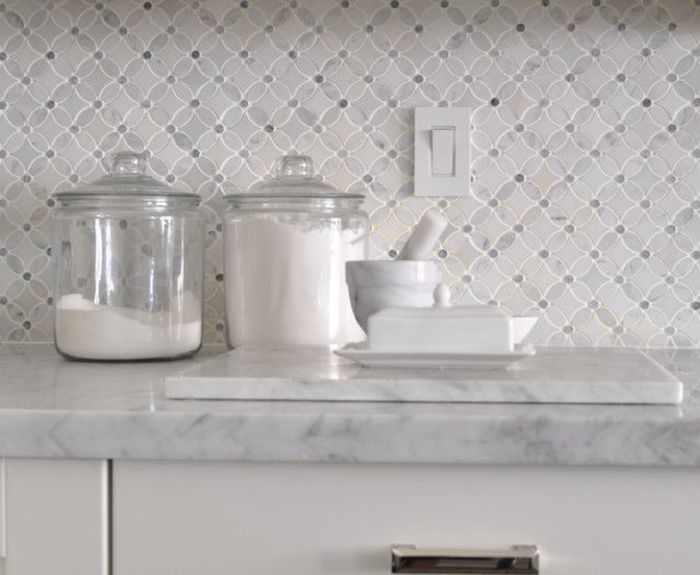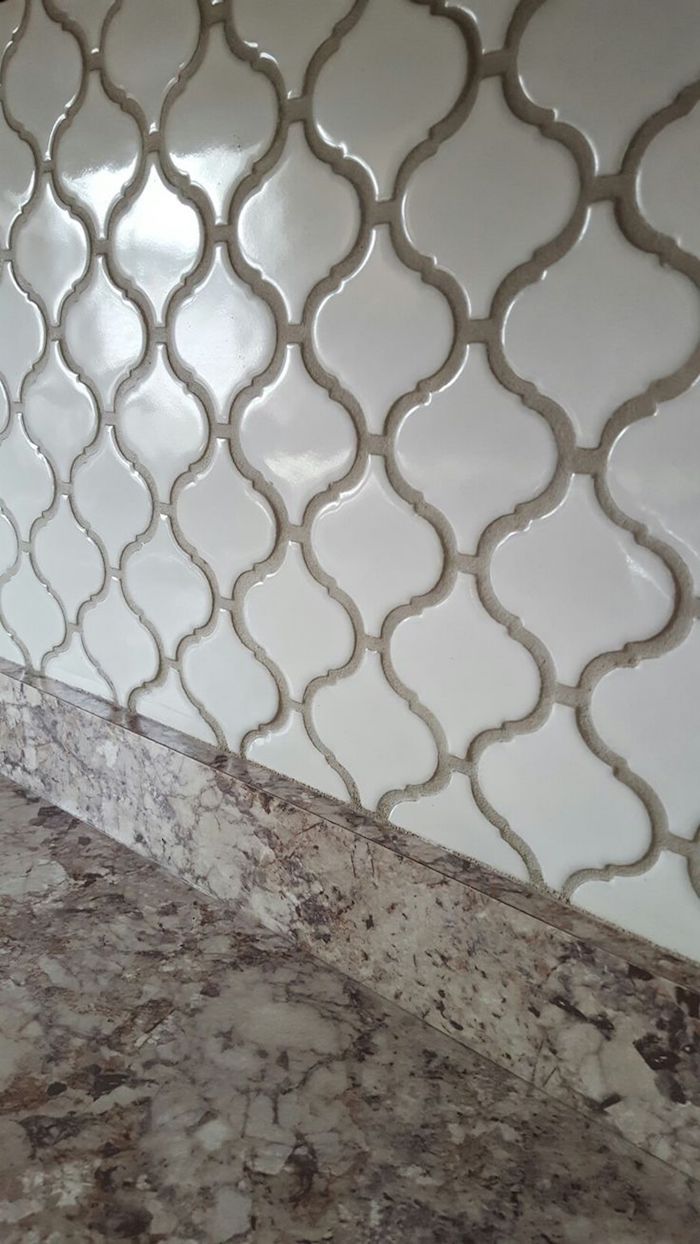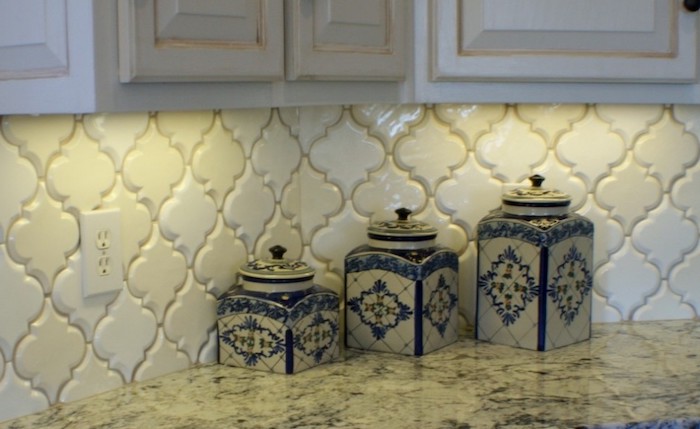 Be careful when choosing the color of your tile joints – even a small shade variation can create a strikingly different result!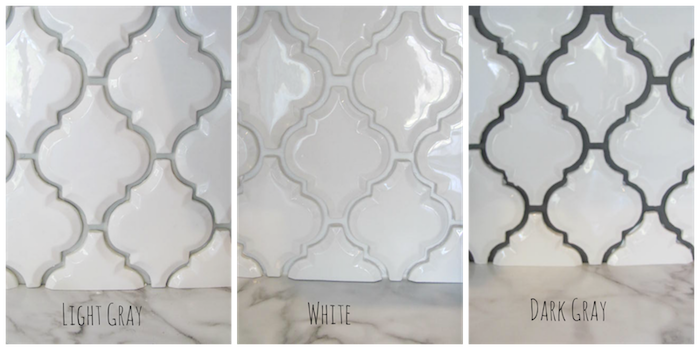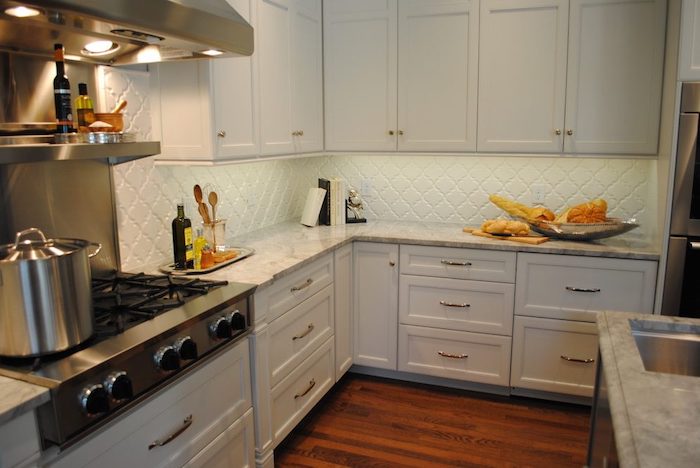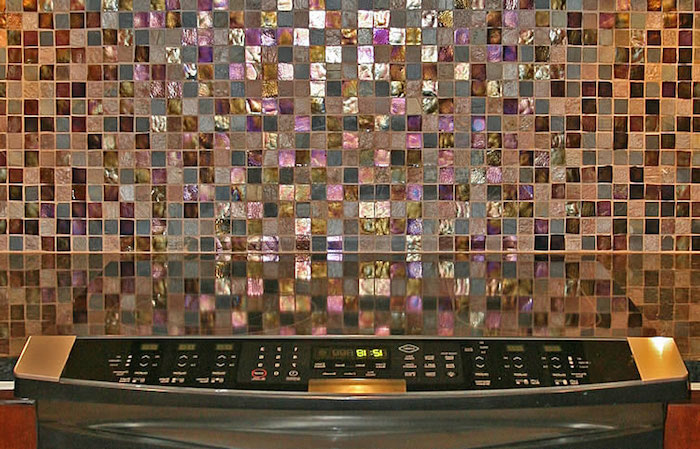 Gorgeous mosaic tiles in blue and green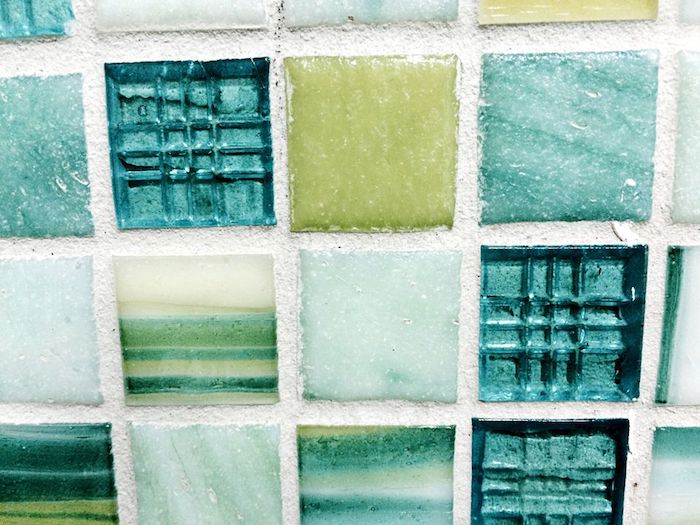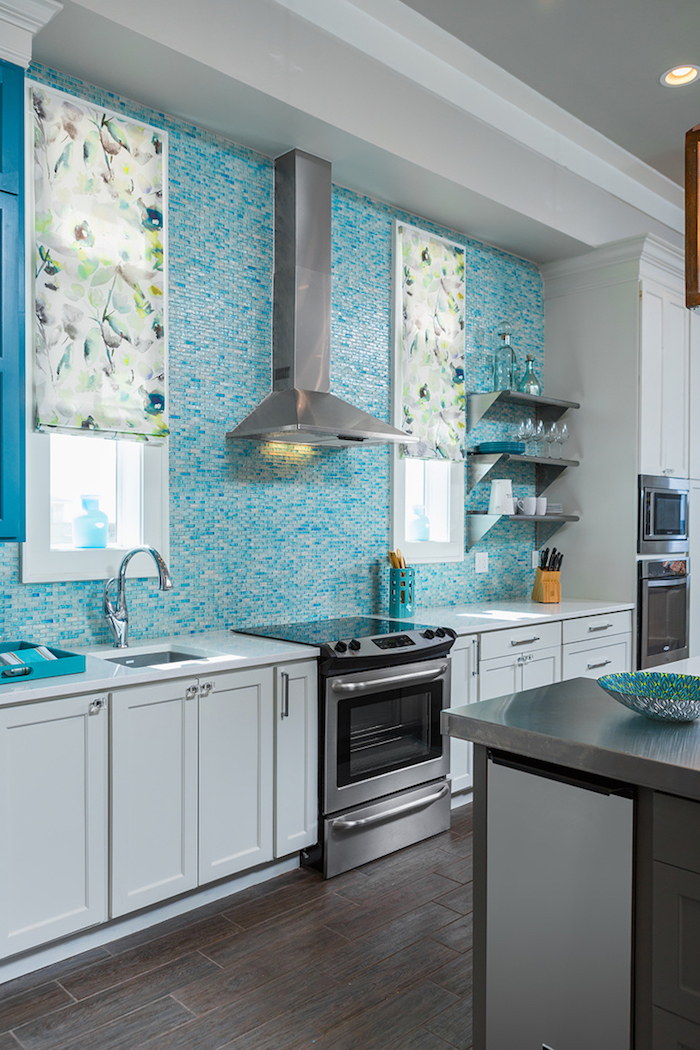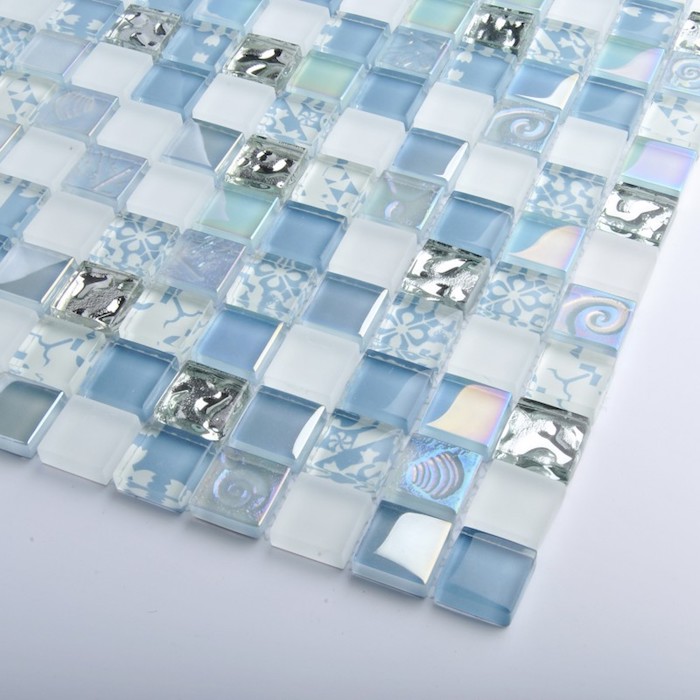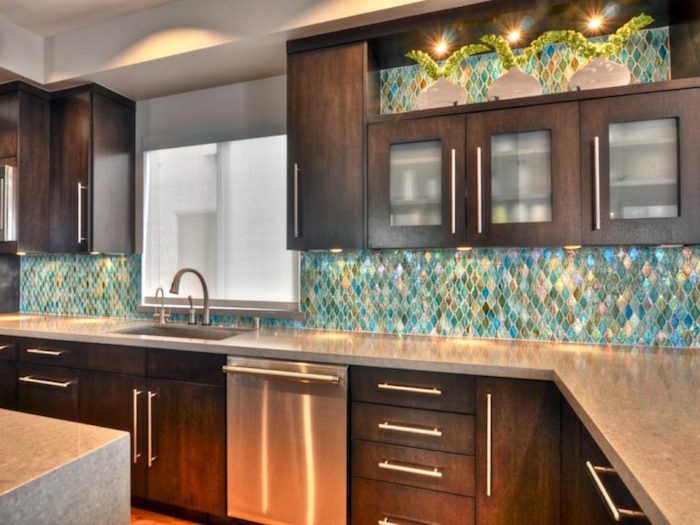 An incredibly stylish and modern suggestion, for those who want to stay ahead of the interior design curve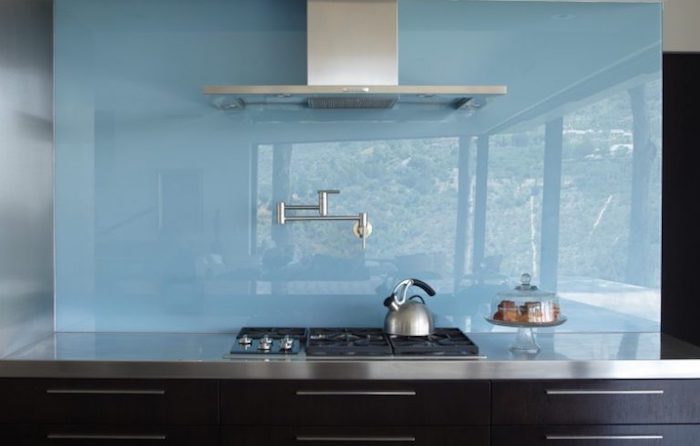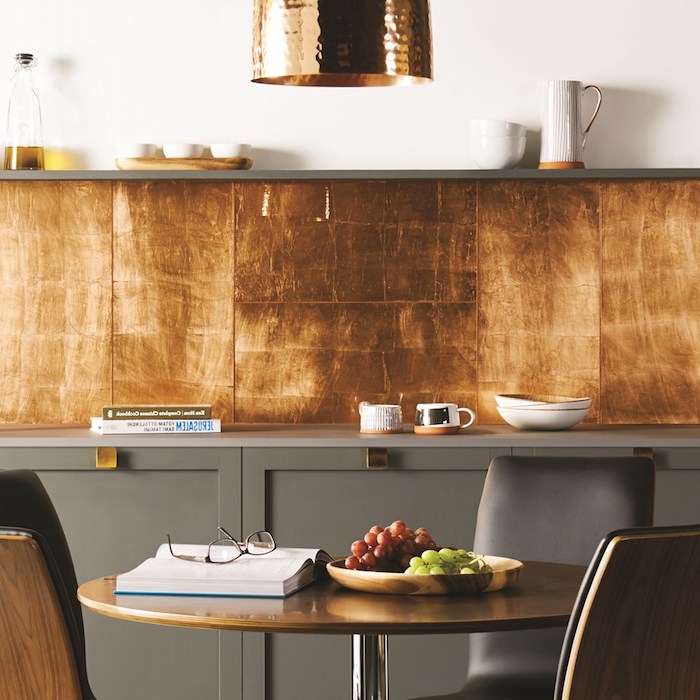 Bring the seas into your kitchen with this clever 3D backsplash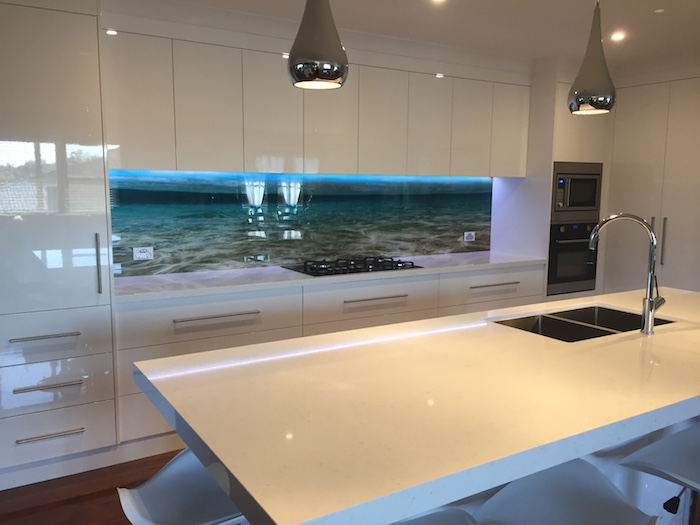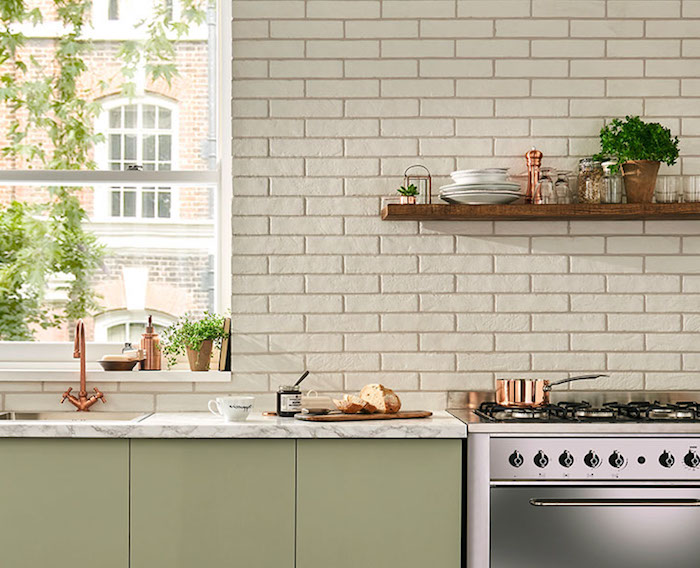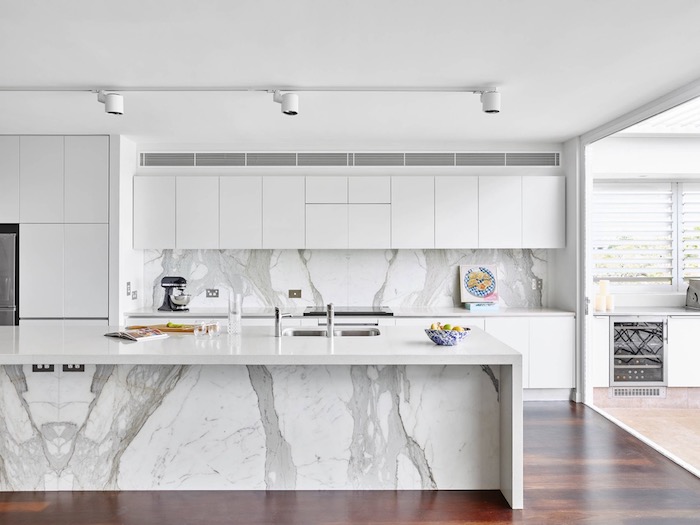 Recreating the calming effect of flowing water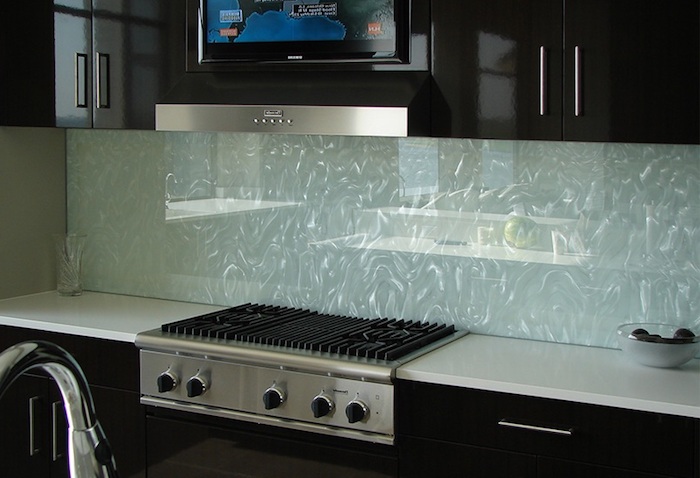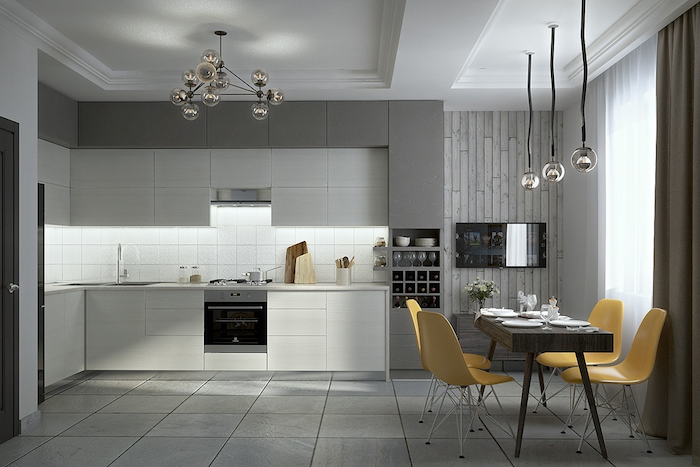 Kitchen in pale neutral tones, with a contrasting backsplash in black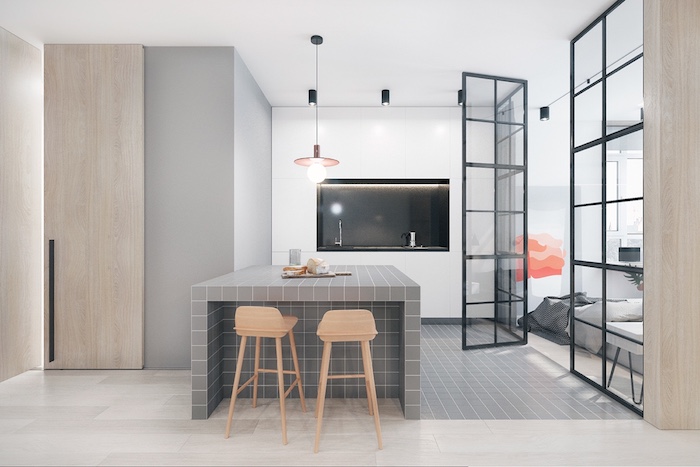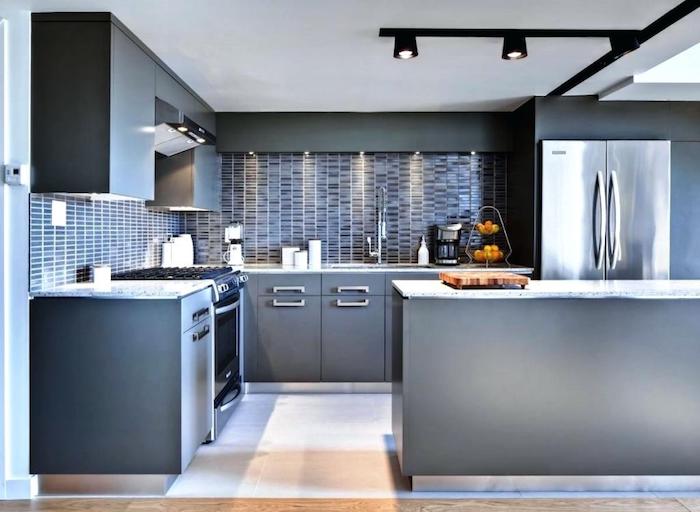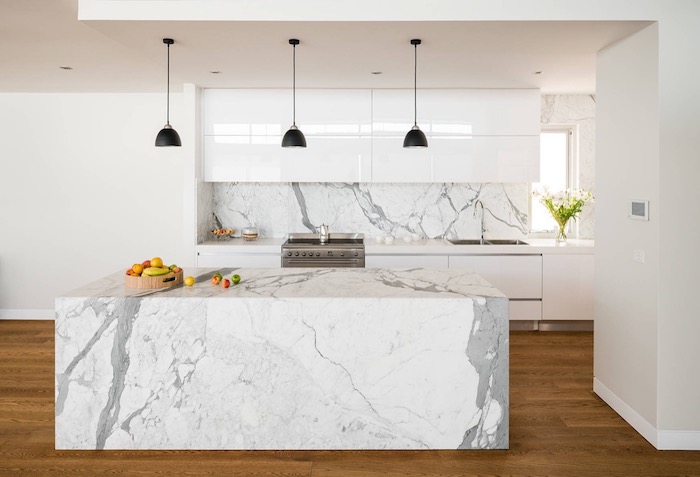 Kitchen meets dining room, meets green house, in this beautiful, nature-inspired design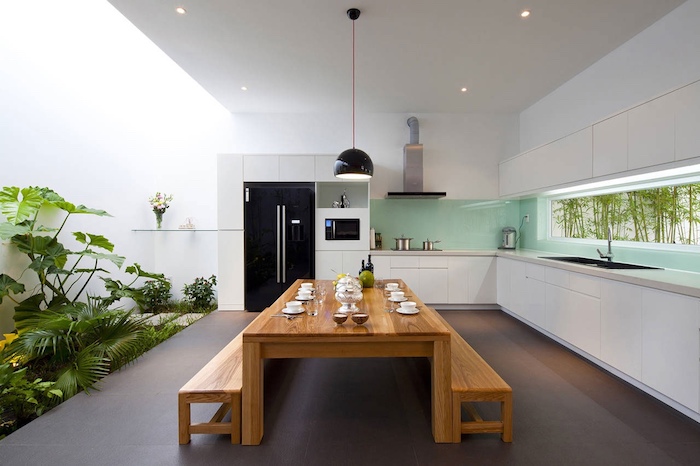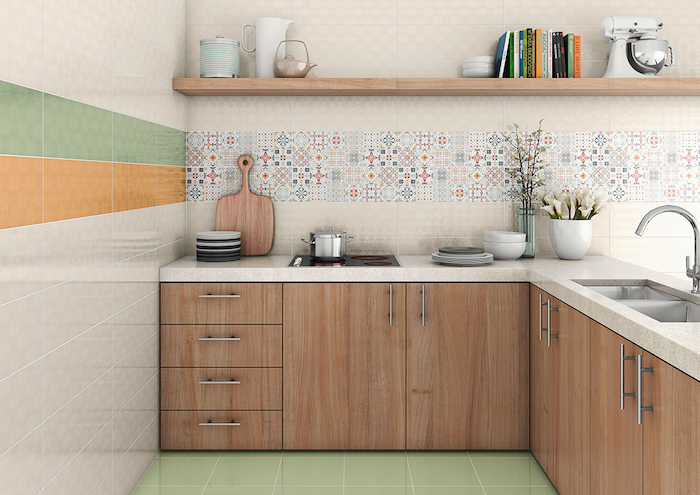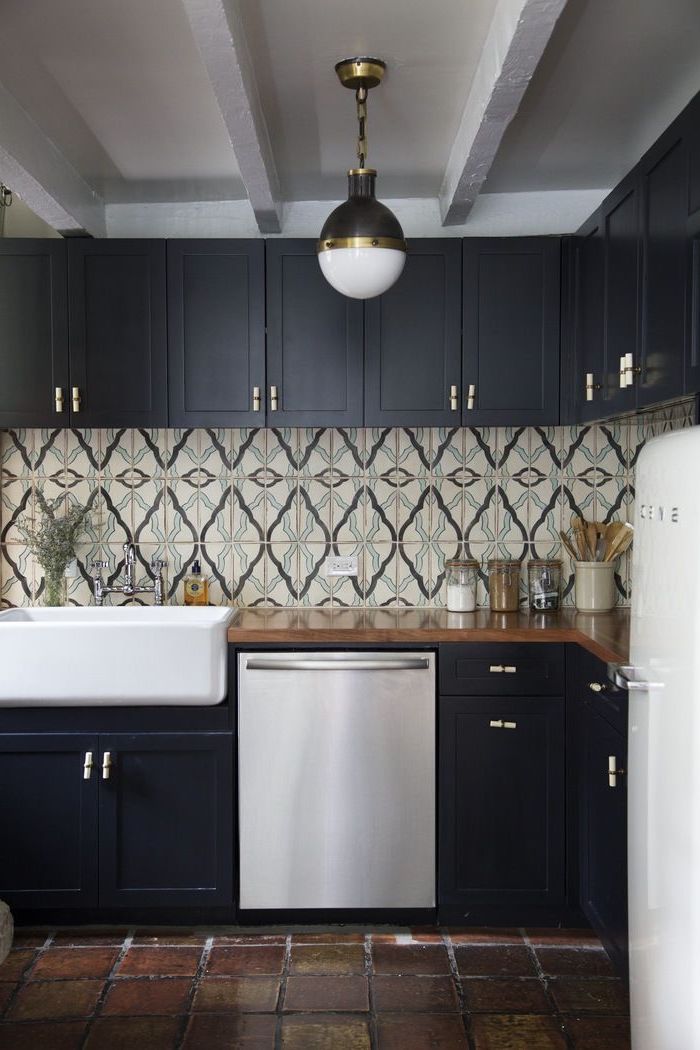 Metal backsplash – a somewhat unusual, but also stylish and functional idea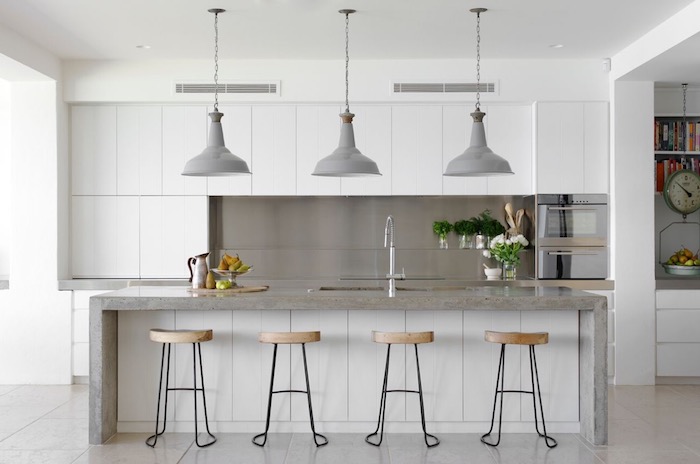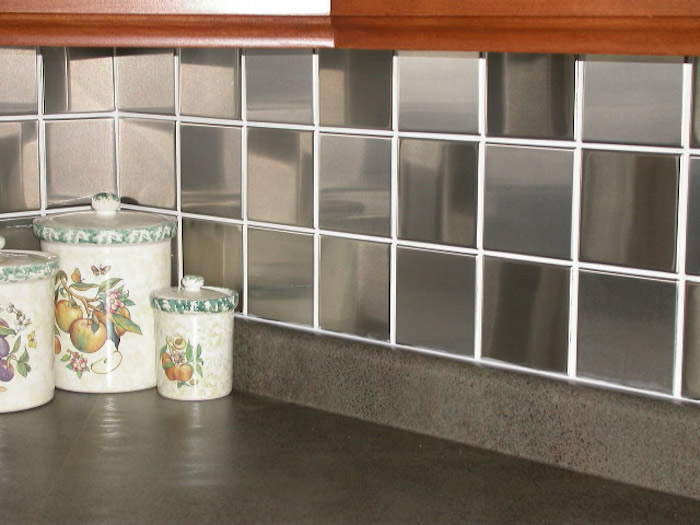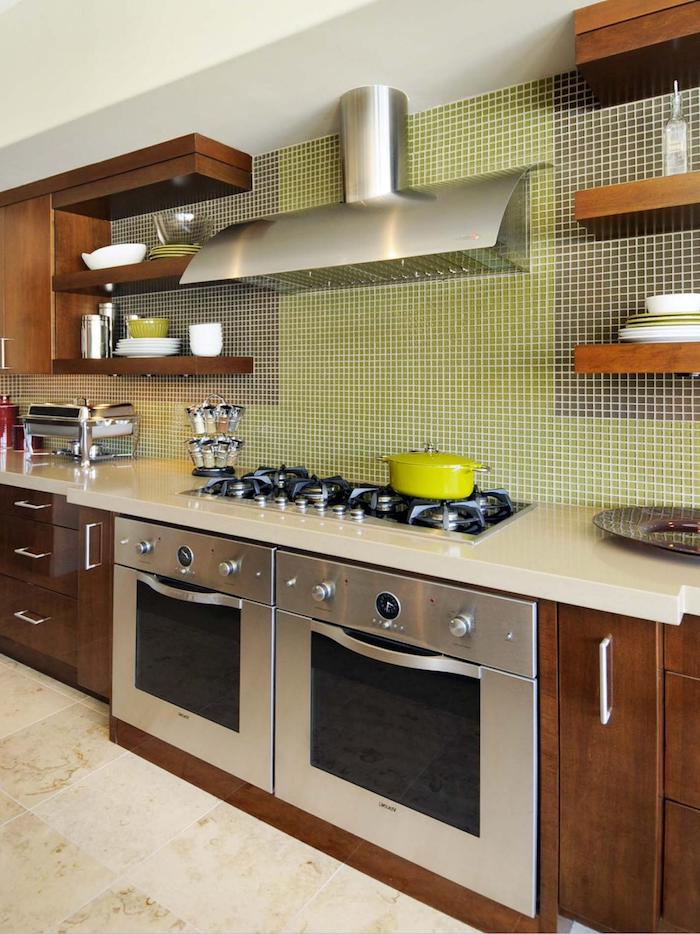 This lovely design not only offers a gorgeous contrast between black and white, but also successfully blends vintage charm and modernity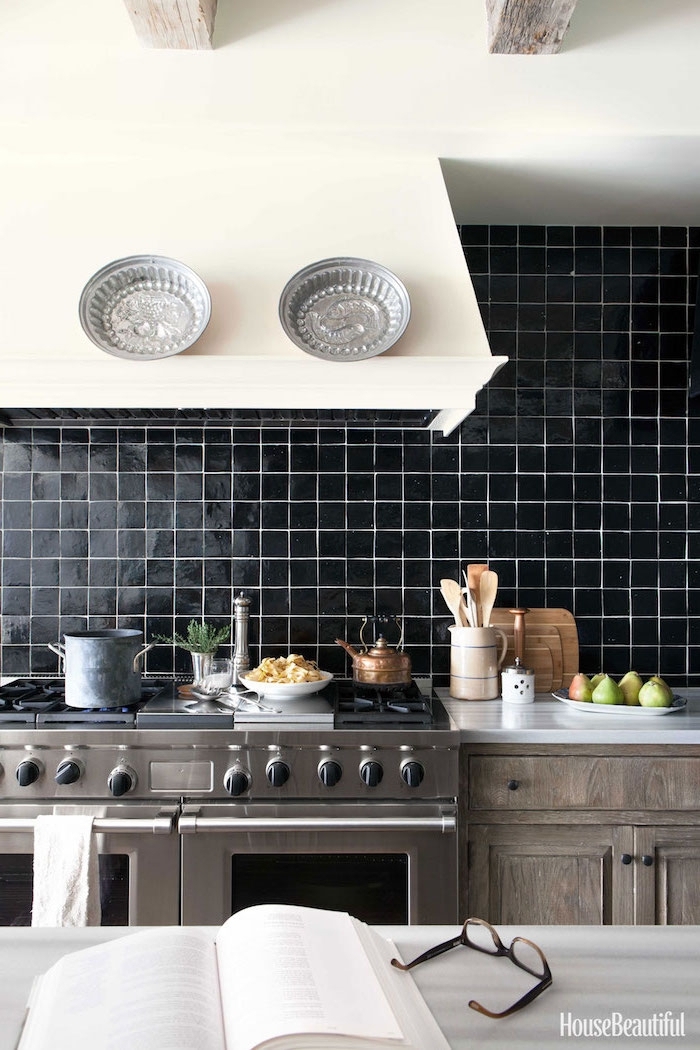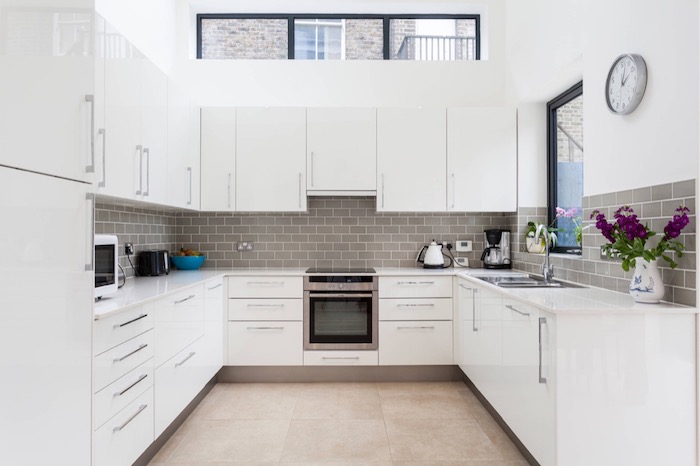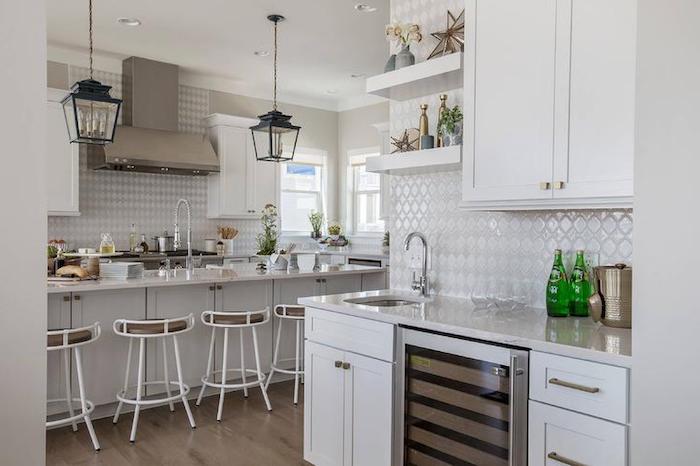 Arabesque tiles in creamy pale beige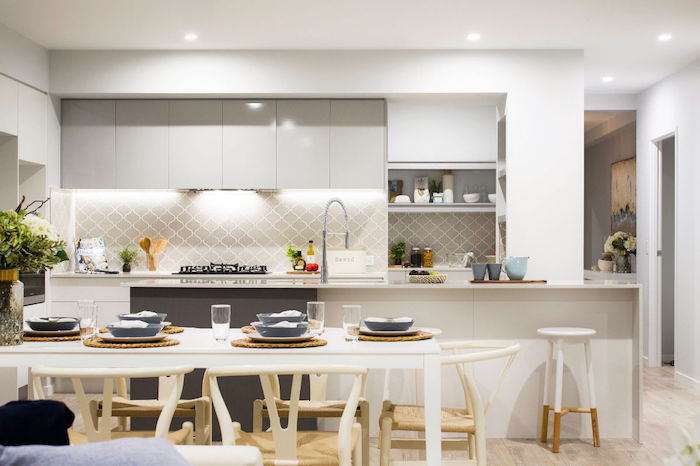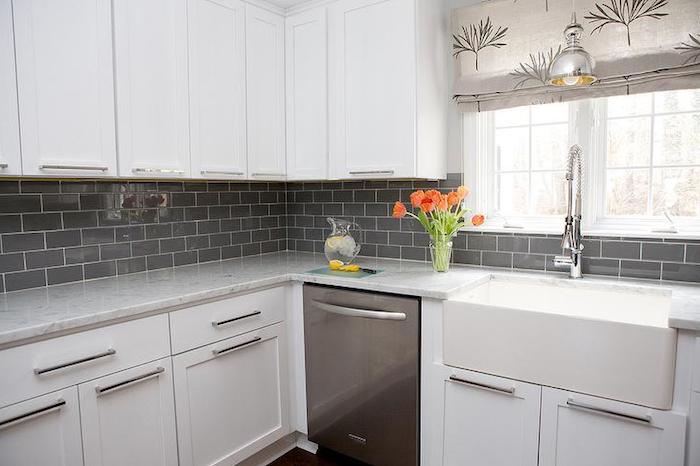 Marble has always been a very popular backsplash choice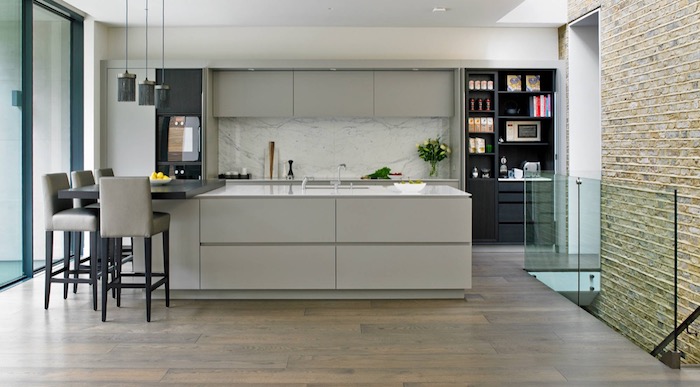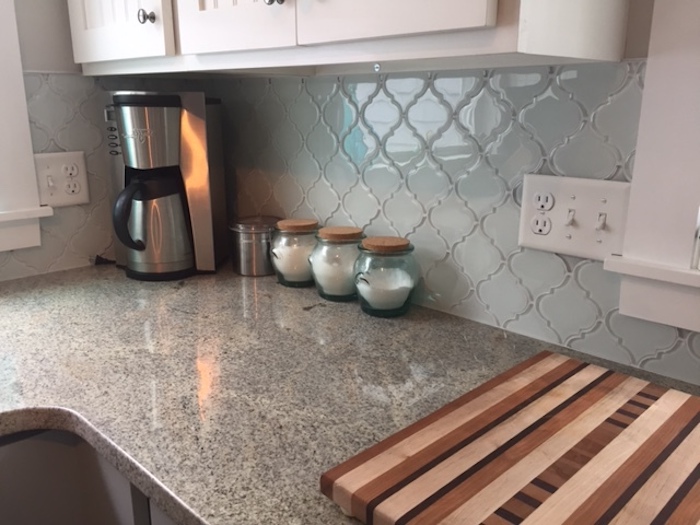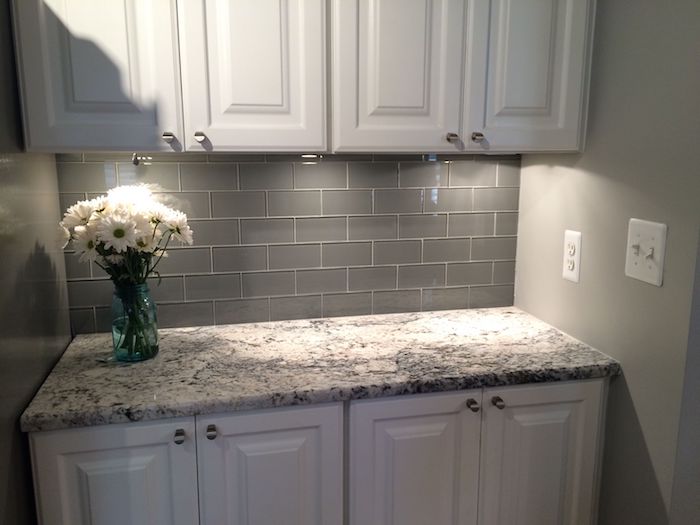 Tiles in duck's egg blue – another enduring favorite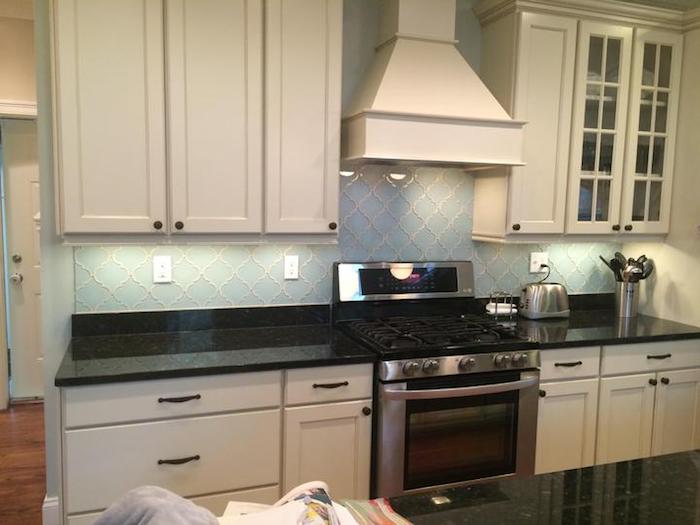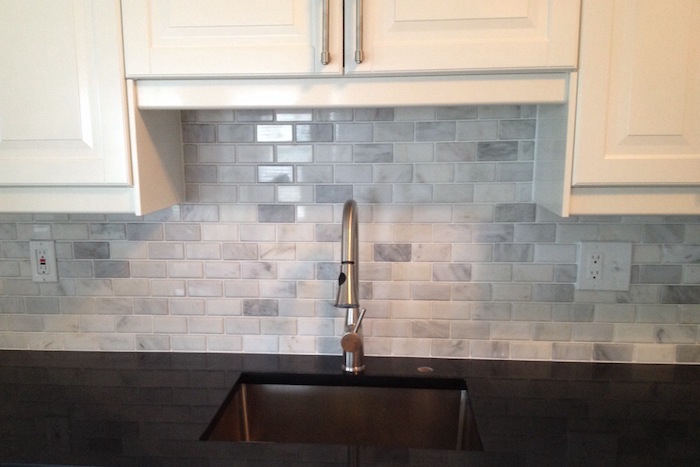 Why not add a touch of antique glam?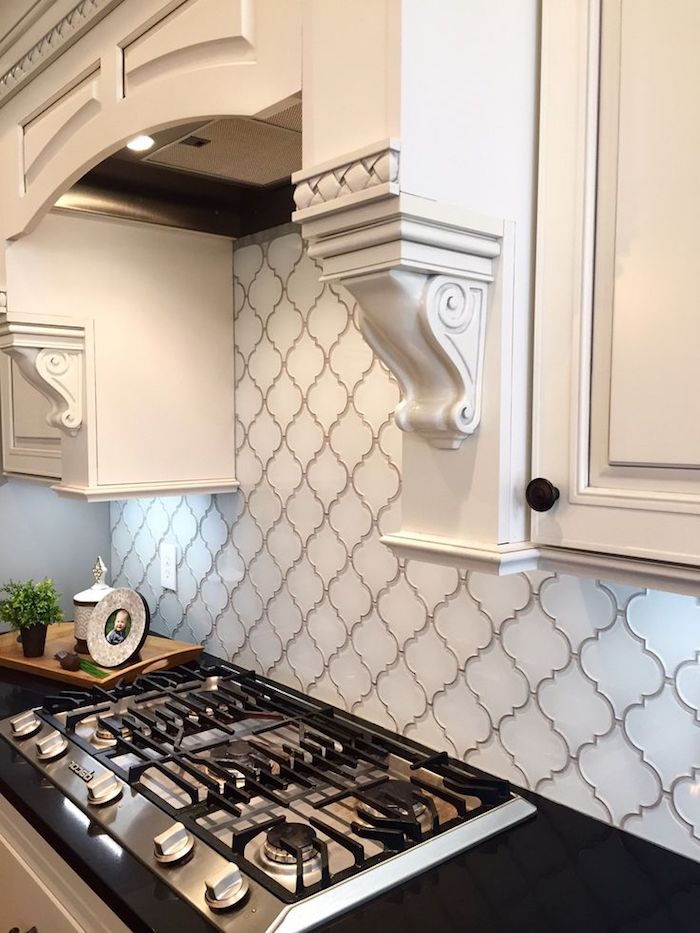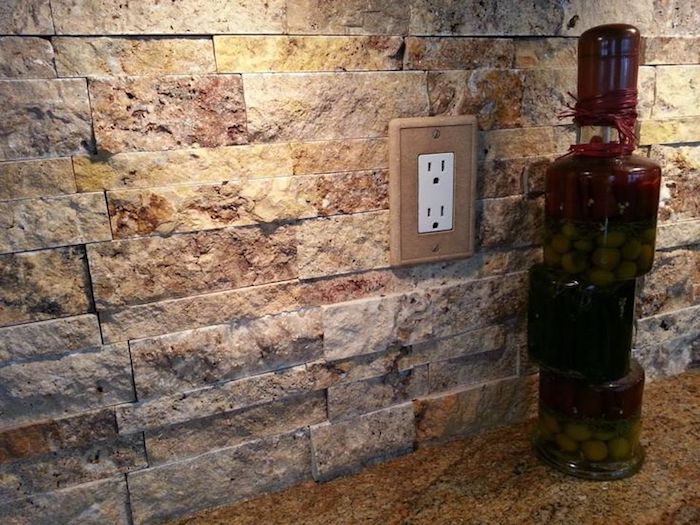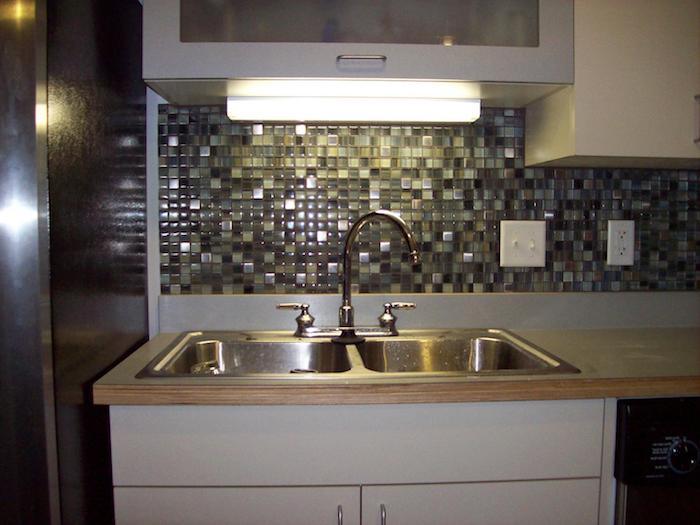 Pale grey kitchen splash tiles and pale turquoise cabinets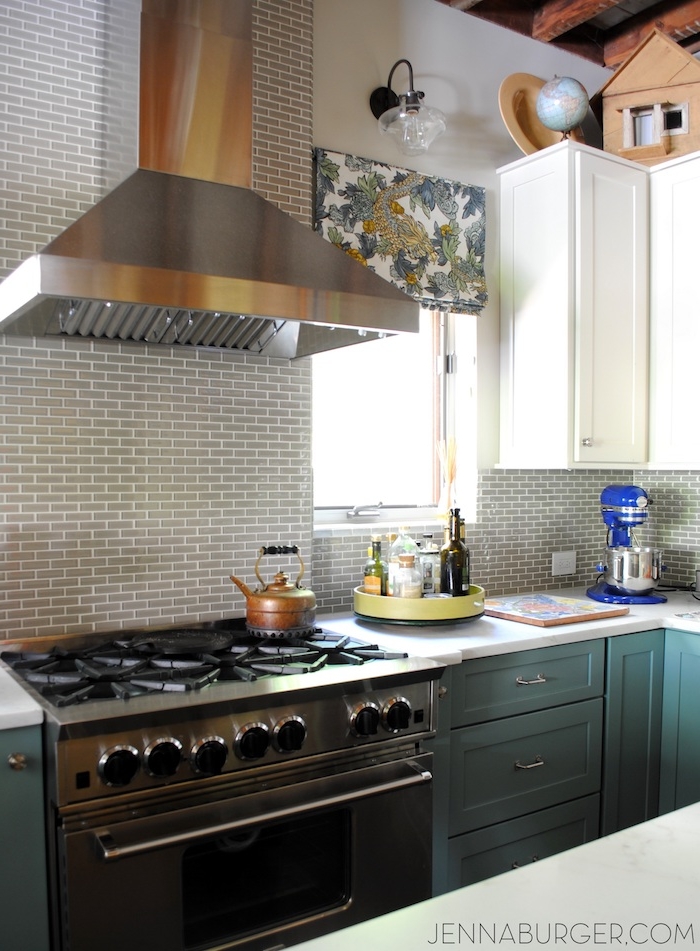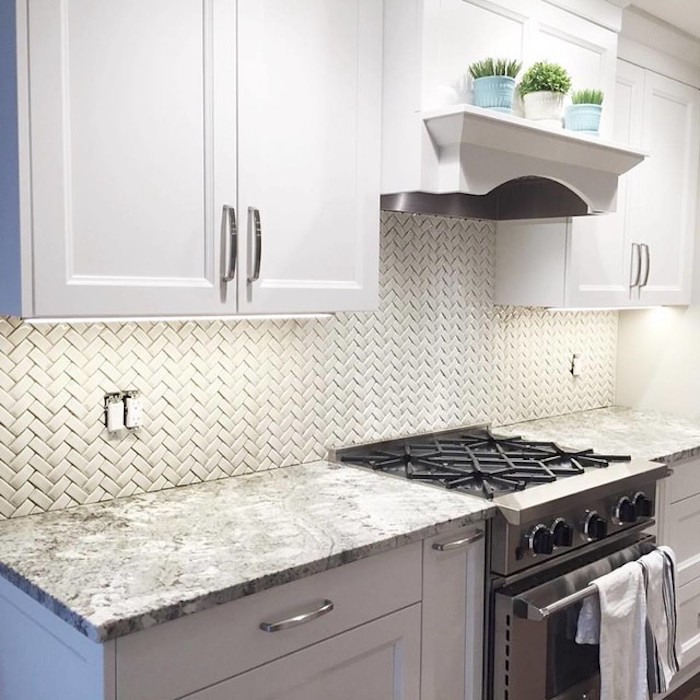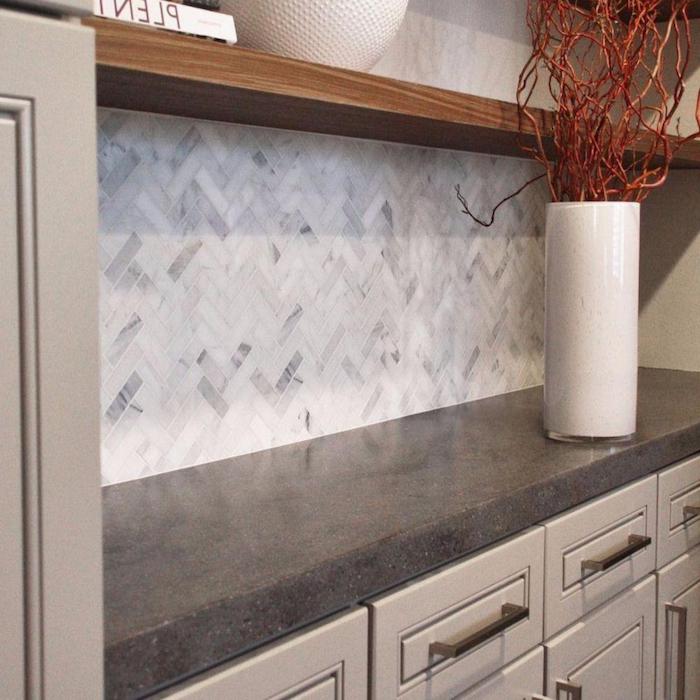 It's hard not to love this magnificent rustic set up