Say Yes To a Modern Farmhouse Kitchen Decor
Renovating your home can be such a refreshing experience. Even if what you are doing is not that major, even the new colors on the walls will bring in the feeling of something new into your life. If, however, you have big plans on your mind and want a complete and total remodelling, right now you are probably looking for ideas. And we have plenty just for you. In this article, we are going to focus on the "heart of the home" – the kitchen. It is one of the most important rooms in our home. It is where we prepare the food and gather around the table as a family to share a meal together. So, today we are going to give you a few ideas for a modern farmhouse kitchen decor, which is going to bring the best of both worlds together.
Bring the best of both worlds together with our ideas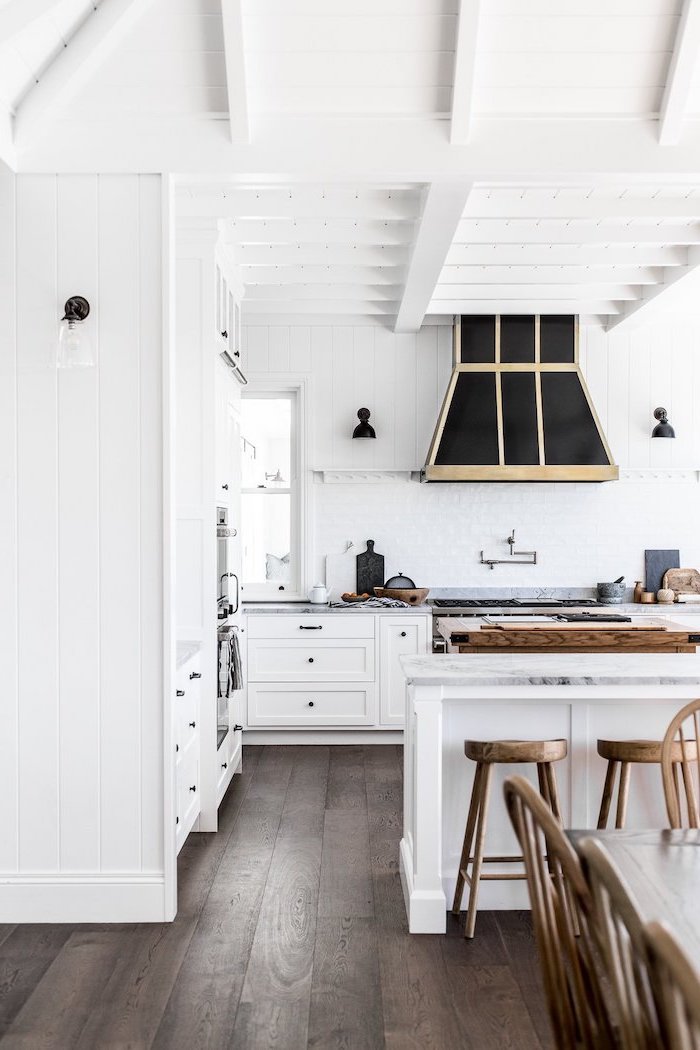 What is modern farmhouse style?
When we say the best of both worlds, we really mean it. Modern farmhouse style brings the sleek lines of contemporary decor along with the country inspired coziness of farmhouse interiors. It is the perfect combination for people, looking for breathtaking, eye catching design with high functionality. The good news for everyone trying to recreate this style at home is that it is very easy to do it yourself. There are a few things which set the farmhouse apart from all other interior design styles. Because of that it is not that difficult to achieve. So, read on to find out how to turn your kitchen into an example for the modern farmhouse style.
Ideas on how to recreate the modern farmhouse kitchen design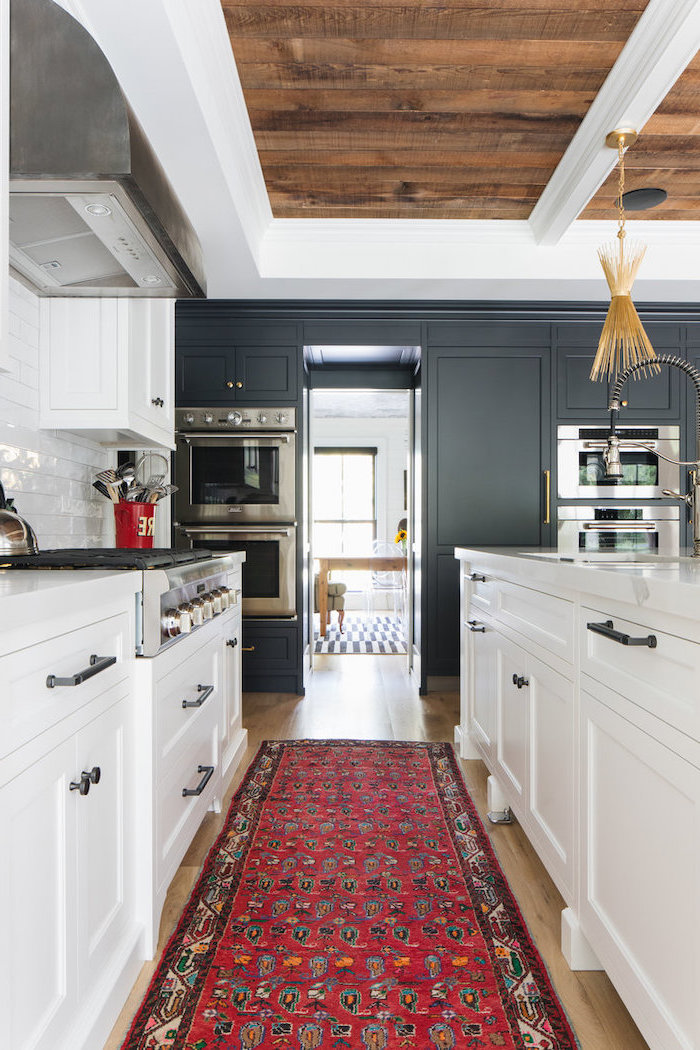 How can I decorate my kitchen farmhouse style?
As we already told you, there are a few elements which really set this style apart from any other. If you add a few of these elements and pay attention to the small details you can really turn your plain old kitchen into a space with a modern farmhouse aesthetic. So, without further ado, here are our tips on how to decorate a modern farmhouse kitchen.
Follow our tips and you will have a gorgeous kitchen you would love to spend time in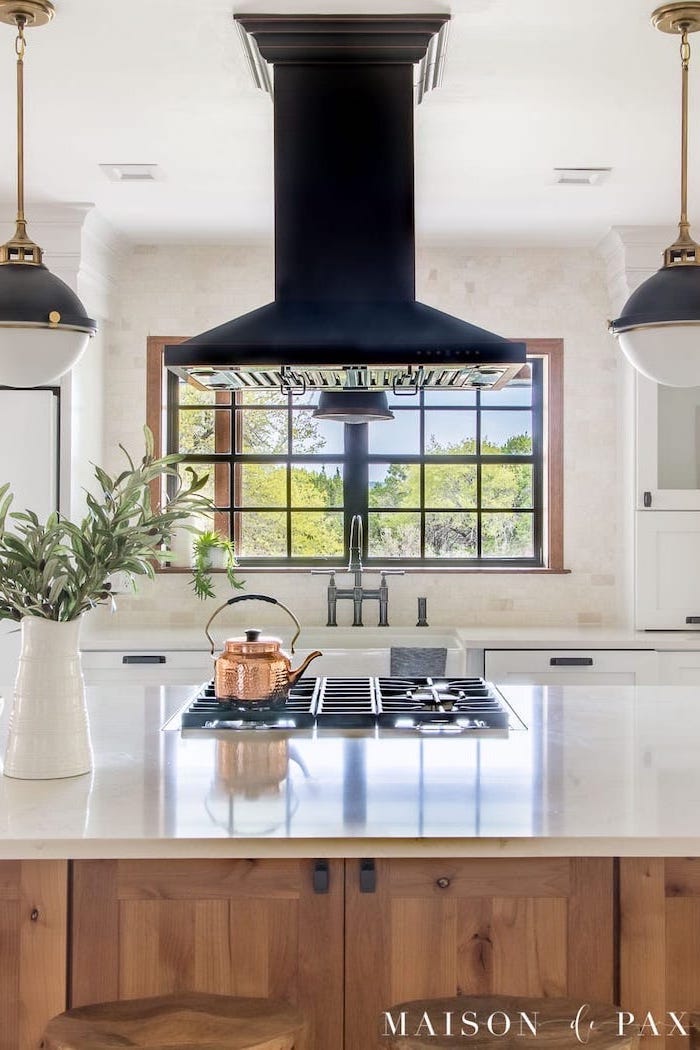 Modern farmhouse kitchen with natural elements
This is probably one of the biggest signs of farmhouse design. Using natural elements brings so much coziness to your home. Naturally, the element that is used the most is wood. Wooden countertops, floors and cabinets are staples of the farmhouse interior. Don't be afraid to use as many natural elements as you can. Mix wood with copper and you will have the trendiest kitchen. Trust us!
Use as many natural elements as possible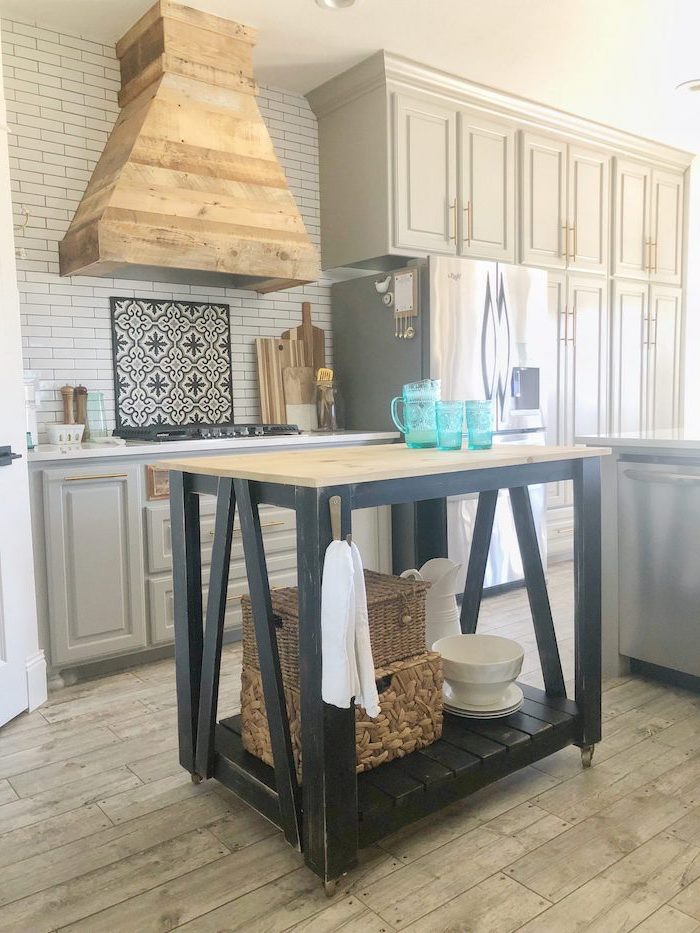 Use neutral colors for your cabinets
Neutral colors are another staple of the farmhouse design. A white farmhouse kitchen is a very popular trend. Using white subway tiles for backsplash, along with white shiplap on the ceiling. Or even having all white cabinets with a wooden countertop. The possibilities are endless. You can also use pastel shades of green or beige to add a bit more character.
Mix pastel colors with white shiplap and an interesting, eye catching backsplash to turn your kitchen into the trendiest space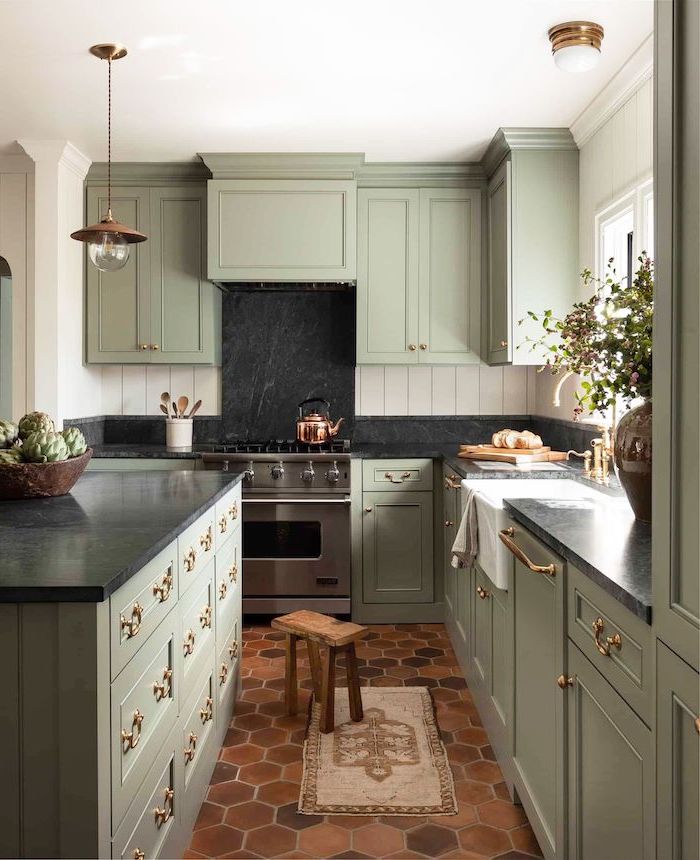 Choose a nice pattern for your floors
If you are looking for that extra wow factor then you can absolutely invest in cool patterned tiles for your floor. Having a pattern on your floor screams farmhouse decor. Furthermore, it is a great addition to the chicness of your kitchen.
Turn your kitchen into a chic and cozy place with a cool floor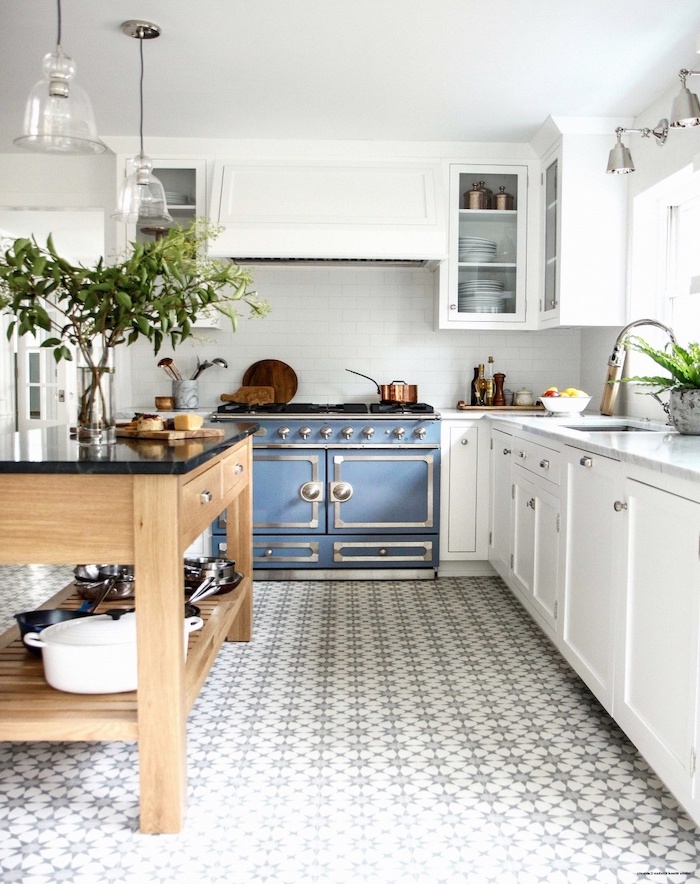 The importance of a good backsplash design
The most popular type of backsplash when it comes to farmhouse design is subway tiles. You can stick to the classics and use them or you can pick out cool tiles with a pattern. Or, if you are working on a budget, you can get vinyl to create a gorgeous backsplash, which is going to be the focal point of your kitchen.
Never underestimate the character that a good backsplash brings into your kitchen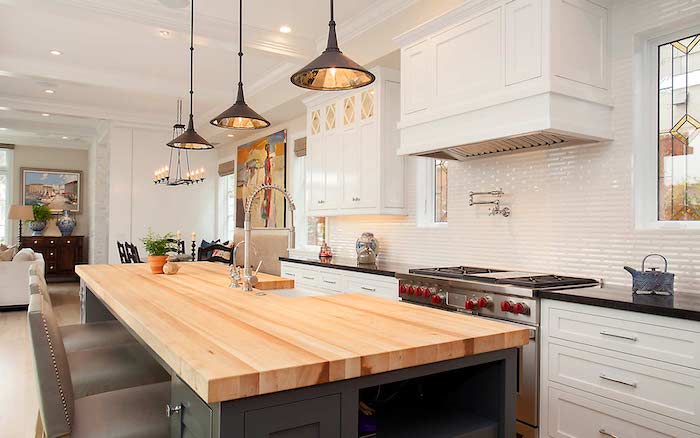 Modern farmhouse kitchen with open shelving
Yet another element that is particular to the design. Open shelving is a great way to open up your kitchen, add more storage and make a statement. Plus, it is so easy to achieve, Just add a few shelves to your backsplash, or remove the doors of your cabinets and voila! Now, you have a modern farmhouse kitchen.
Add open shelving to your kitchen for extra storage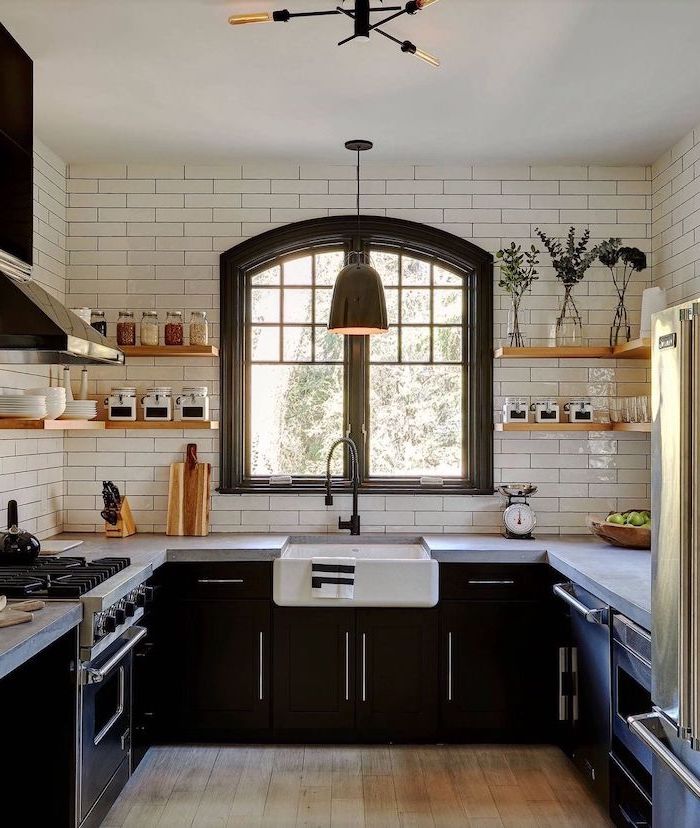 Use statement lighting
Making a statement with your lighting is a big deal in the farmhouse decor. Just because the style itself speaks of coziness and functionality, doesn't mean that you can't go all out when it comes to lighting. Statement pendants, made of natural elements are going to add so much character to your kitchen and provide you with all the necessary light to cook the night away.
These pendant light fixtures are so cool and creative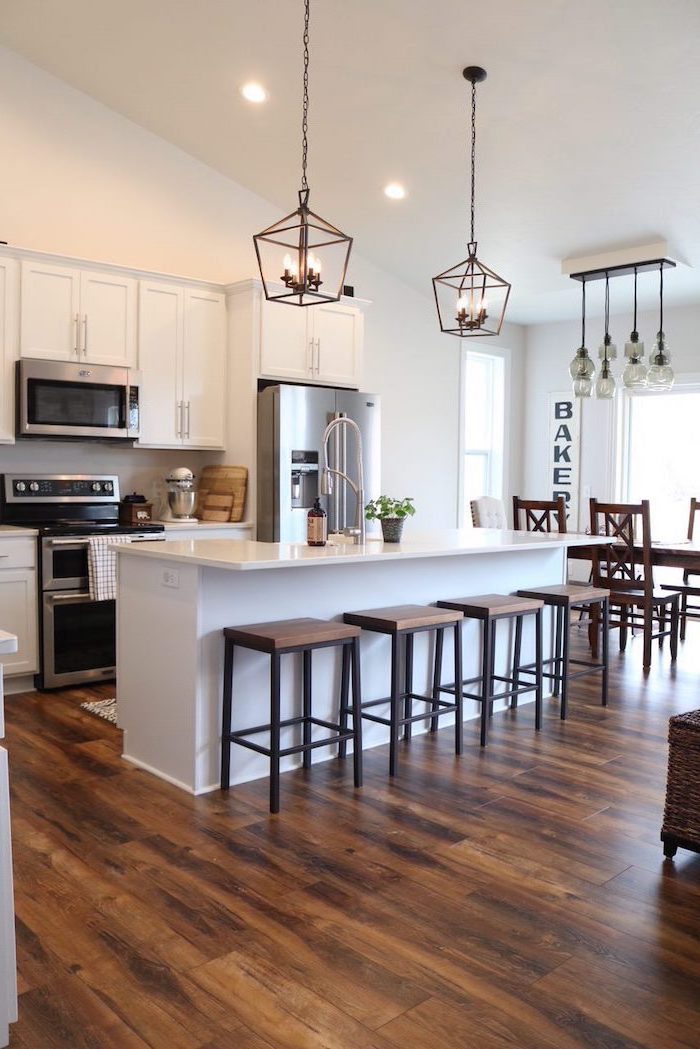 Exposed beams are the perfect way to add the farmhouse touch to your modern interior
Barn ceiling with exposed wood beams is the perfect finishing touch to your modern farmhouse kitchen design. It adds coziness and character to the room. What's more, if you add a few sliding barn doors, you will definitely make the room feel a lot more trendy and cozy. Let a few pendant lights hang from the high ceiling above the kitchen island and your kitchen will look as if it came straight out of an interior design magazine.
This ceiling makes the kitchen look so spacious and airy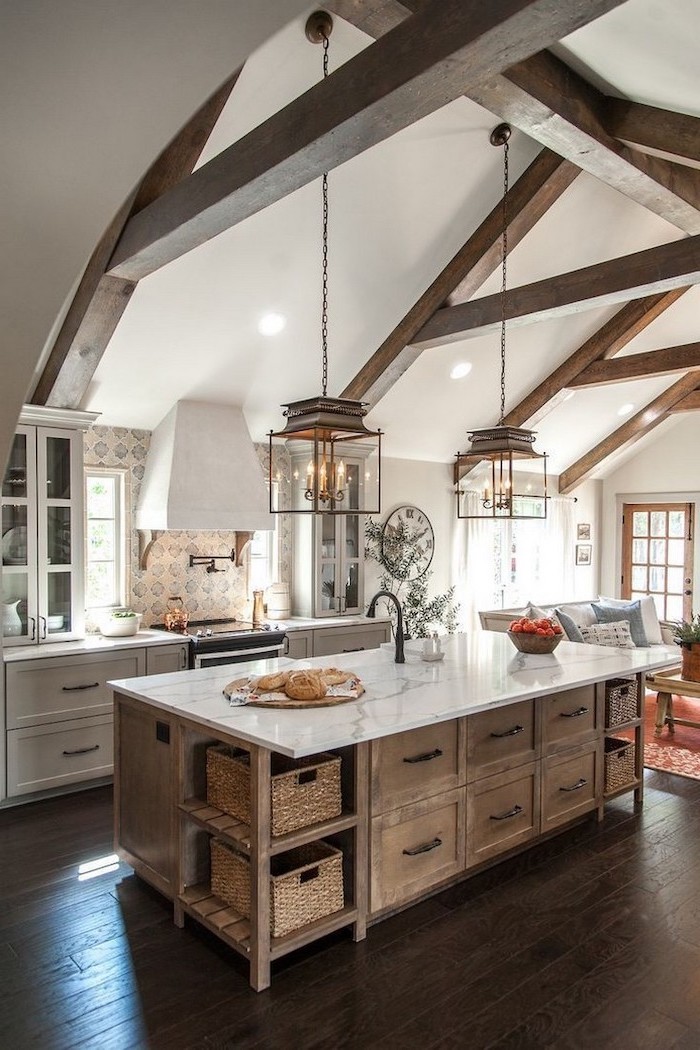 Now that we have covered most of the things which make the modern farmhouse style what it is, scroll down to find even more ideas. Think of your space and what you can do with it and pick and choose ideas from these gorgeous kitchens.
Scroll down through our gallery to find all the inspiration you are going to need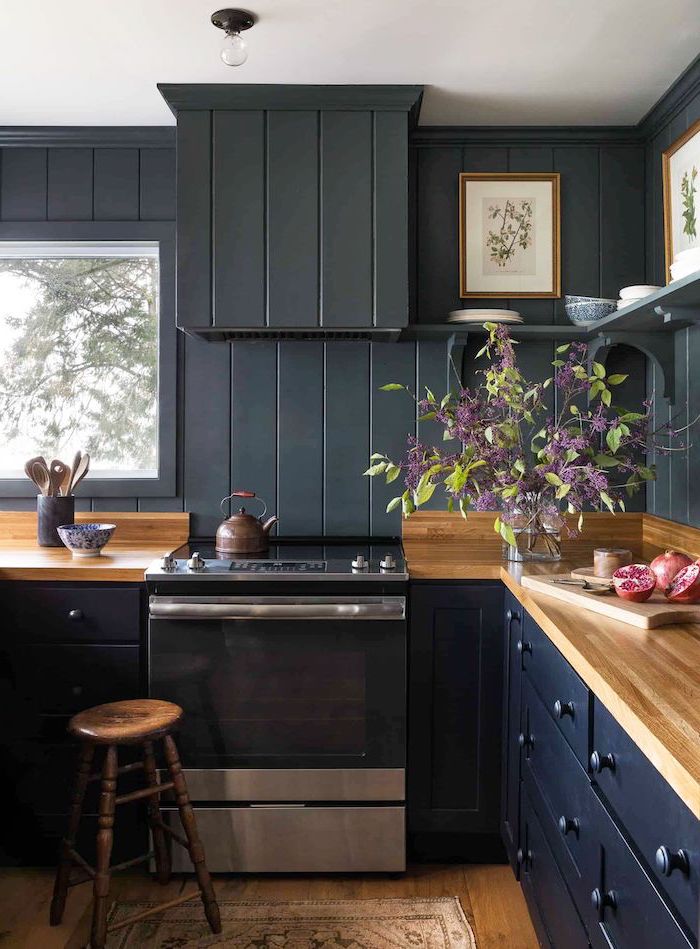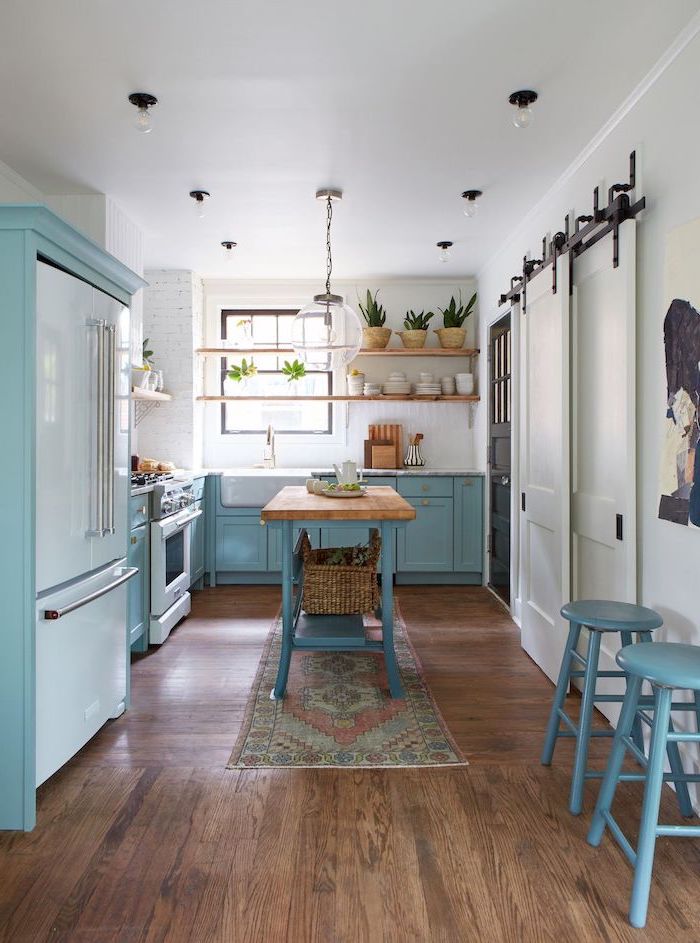 Gorgeous white farmhouse kitchen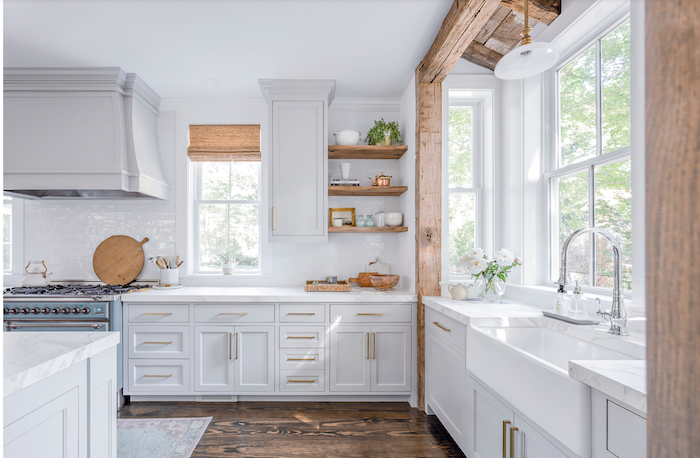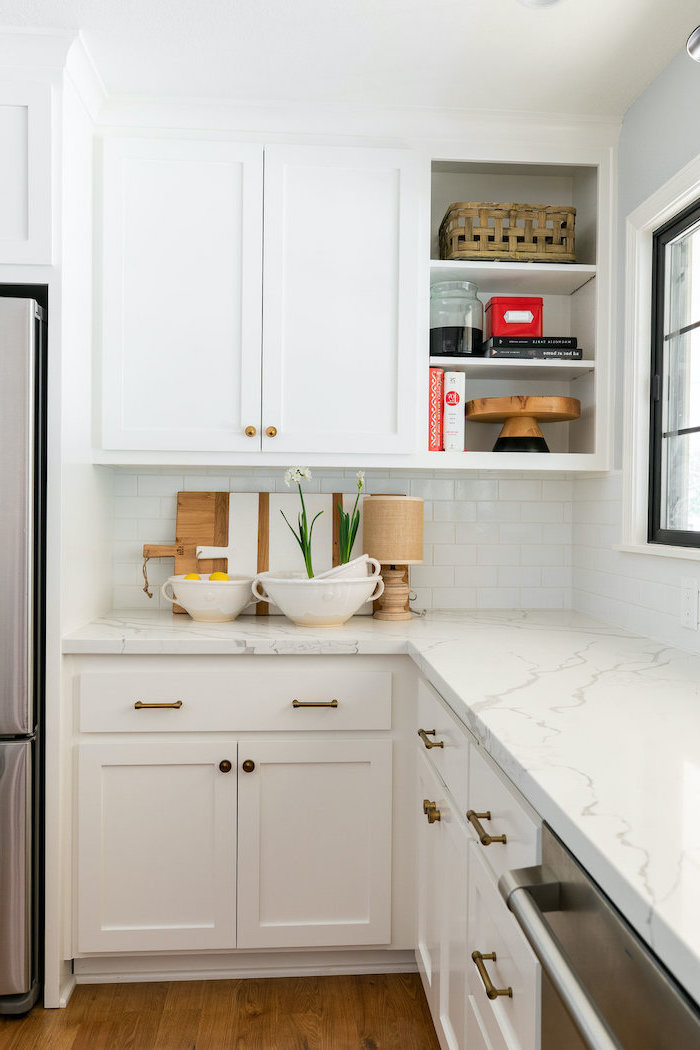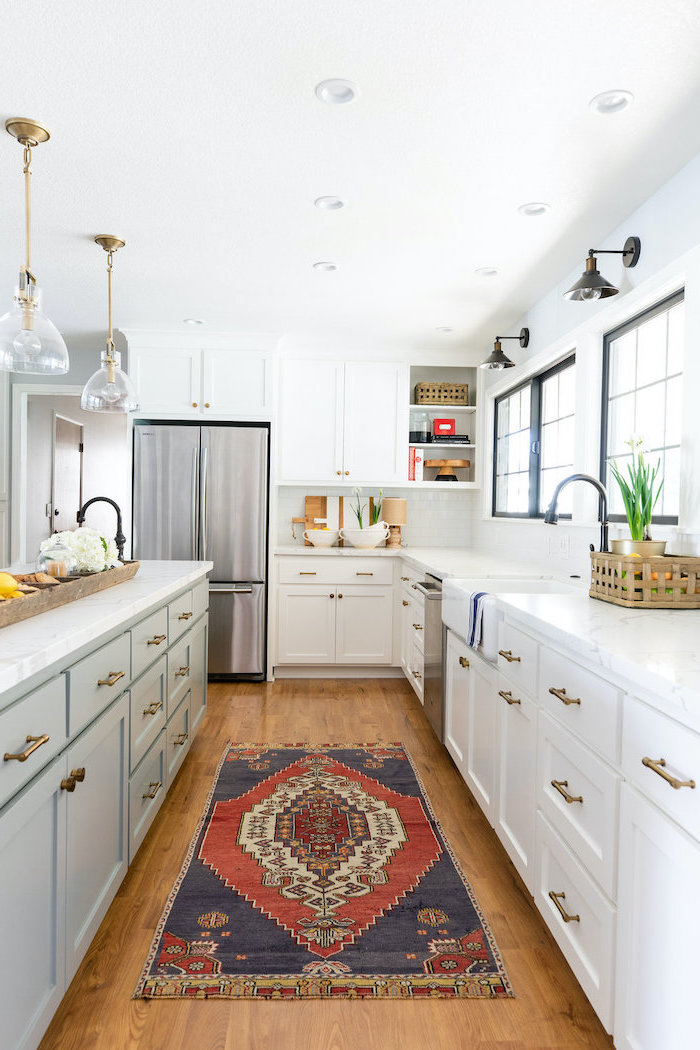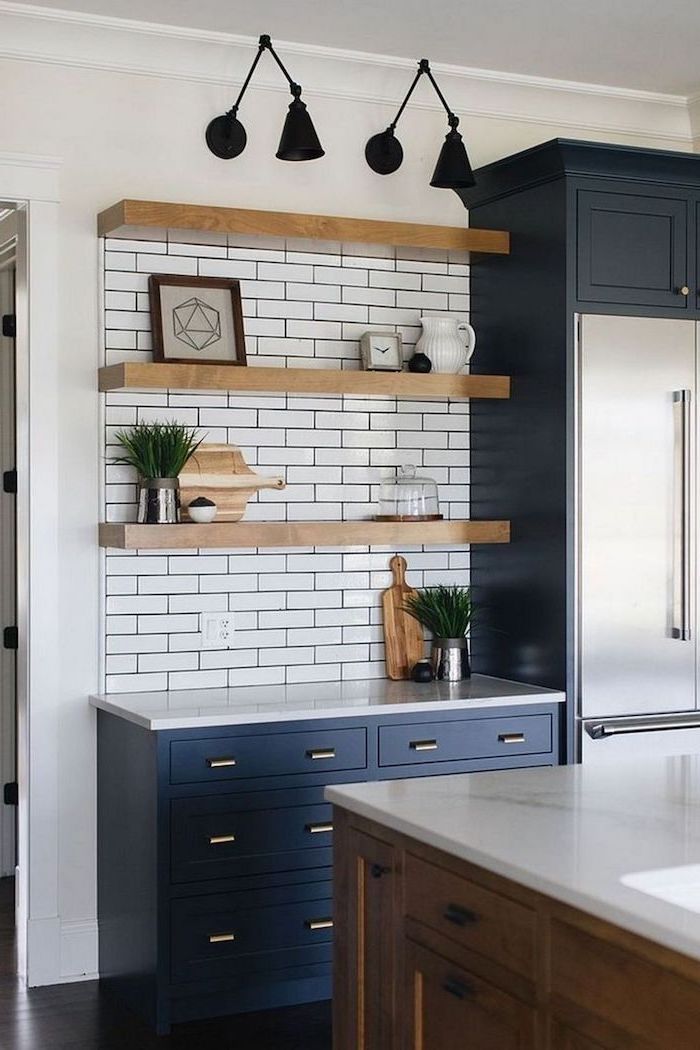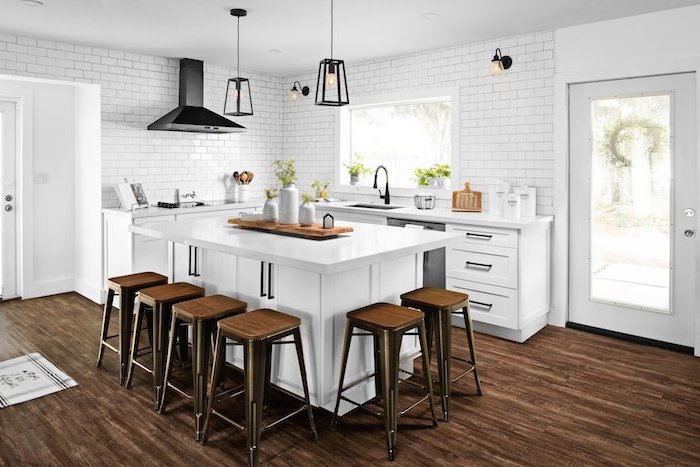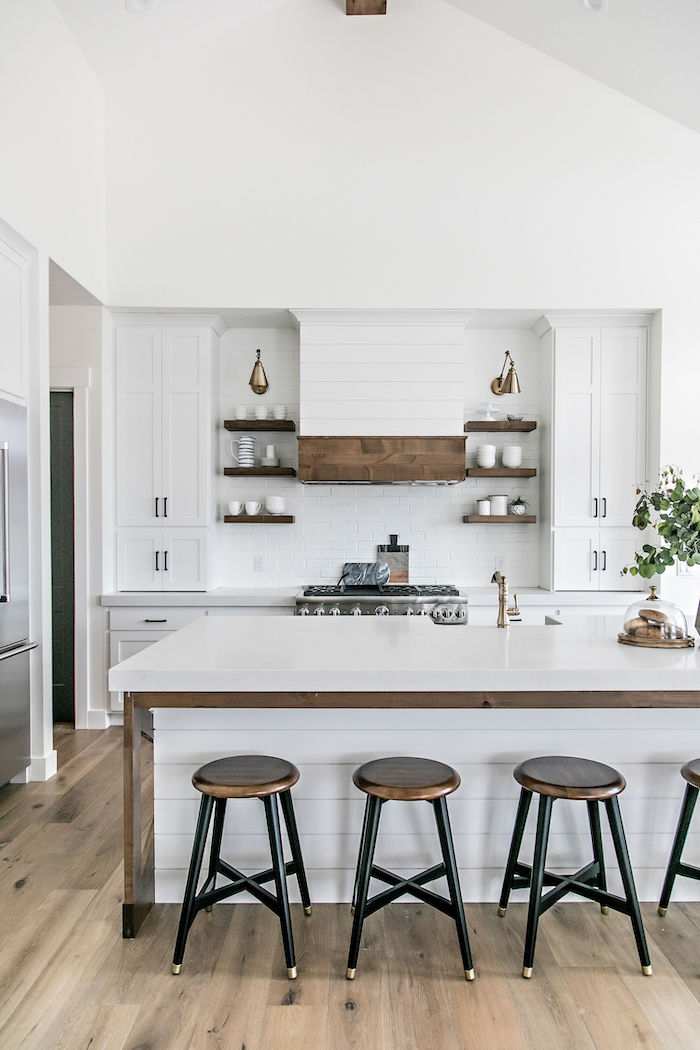 Modern farmhouse kitchen with a classic, gorgeous backsplash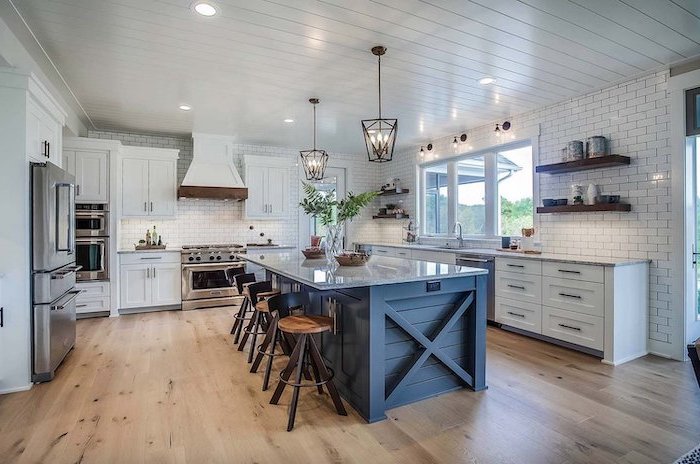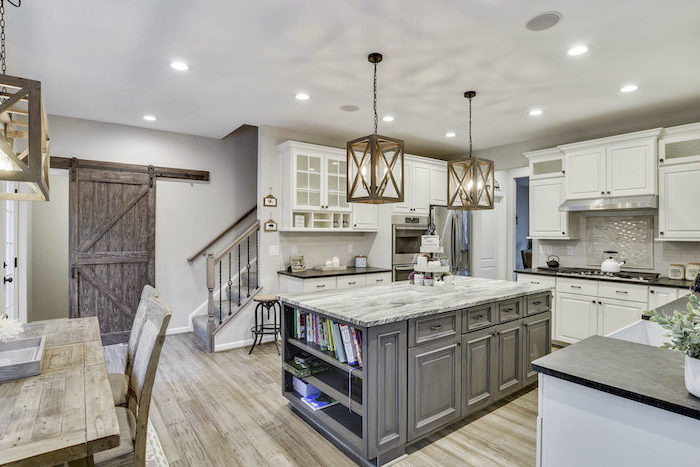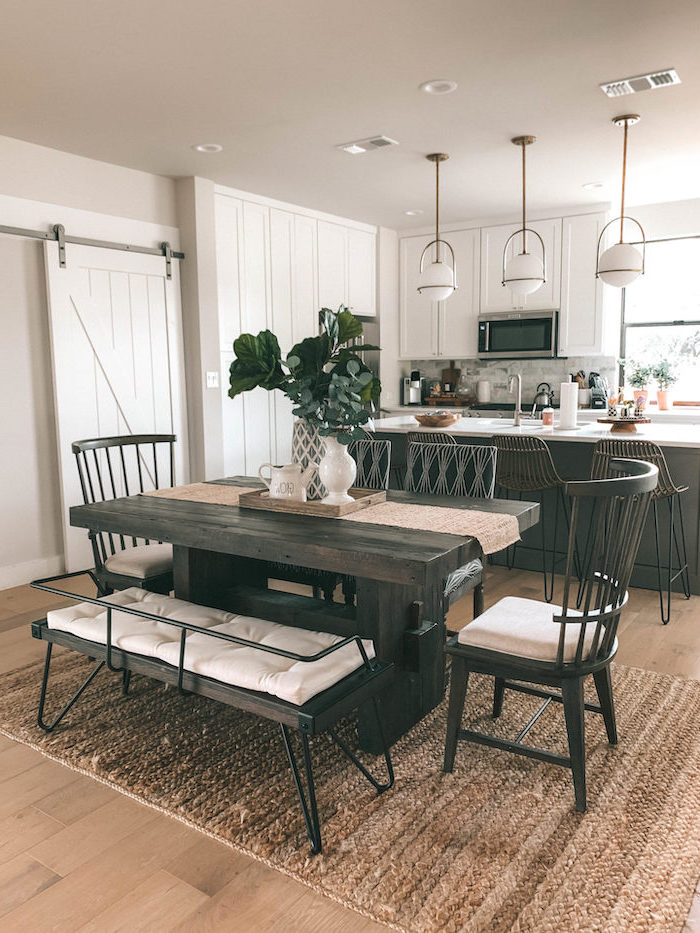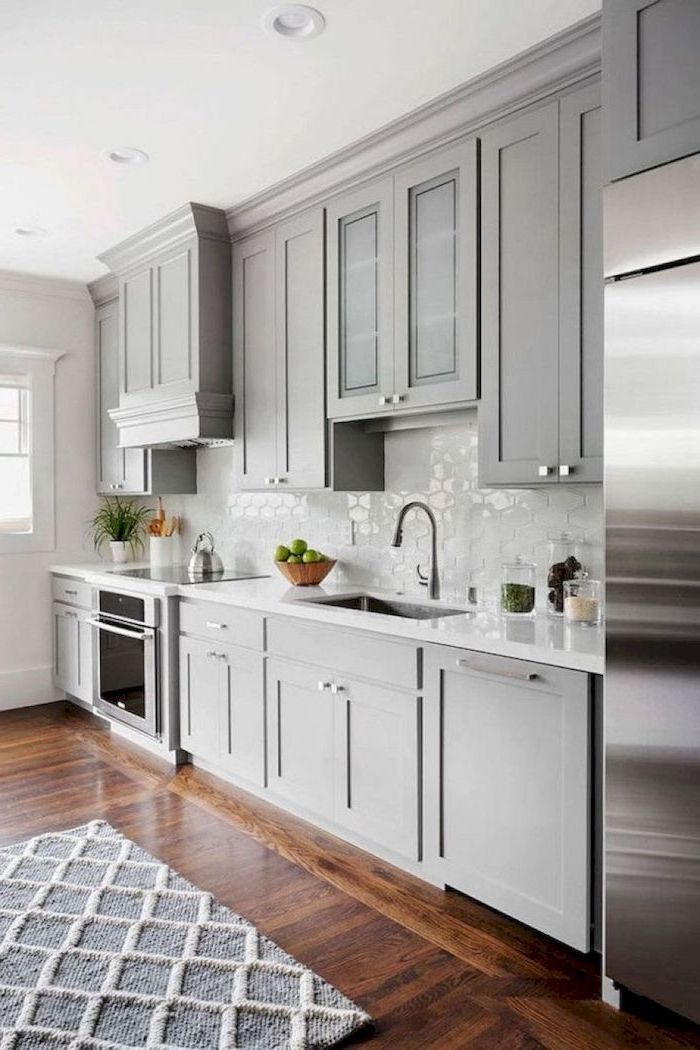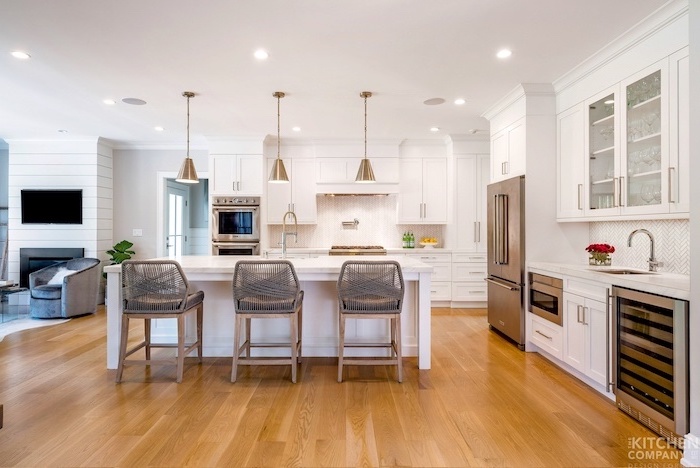 Farmhouse kitchen decor using lots of natural materials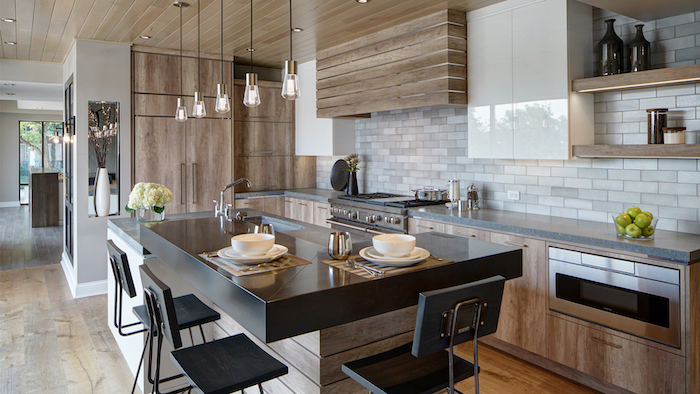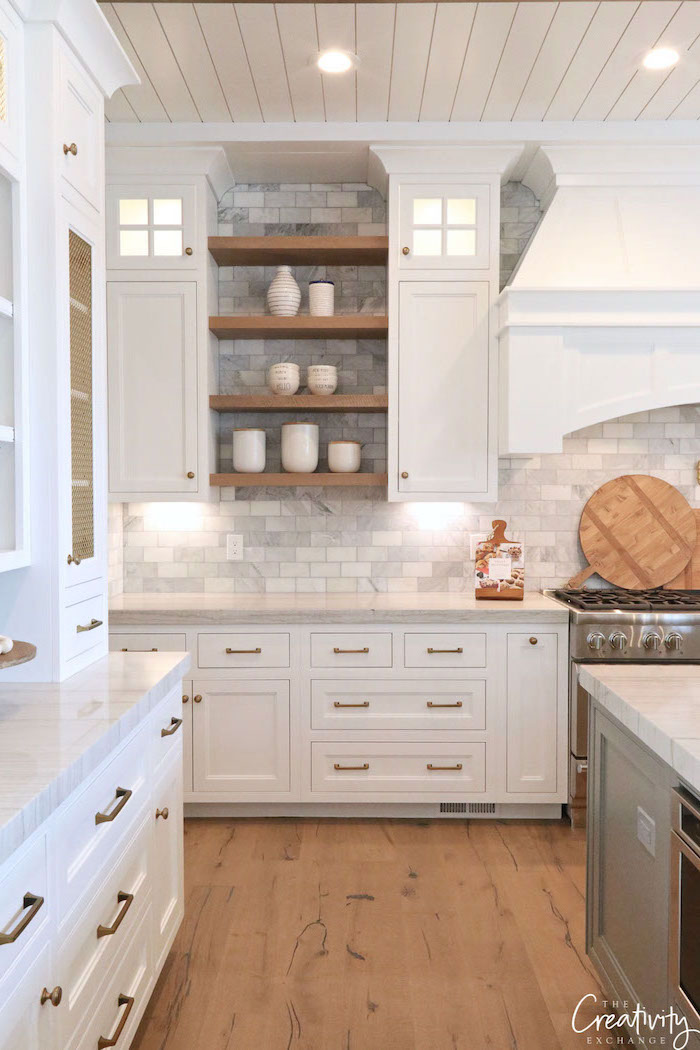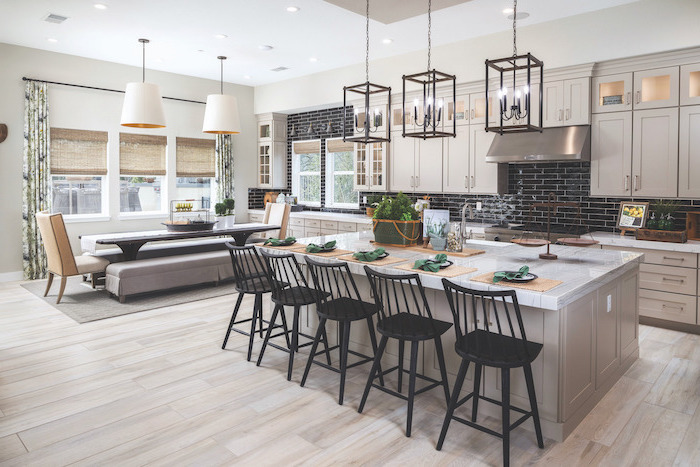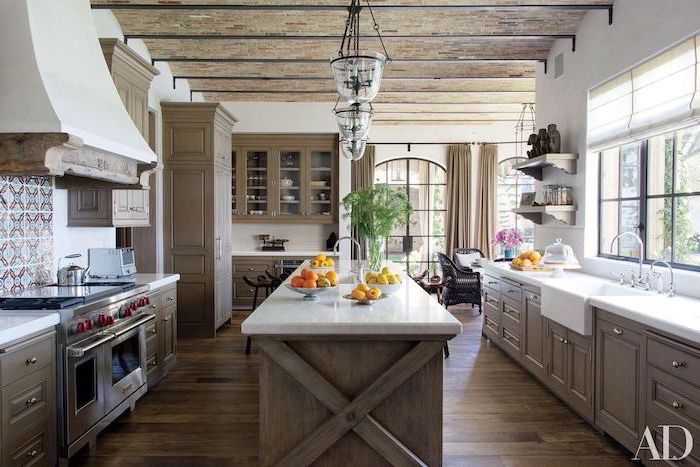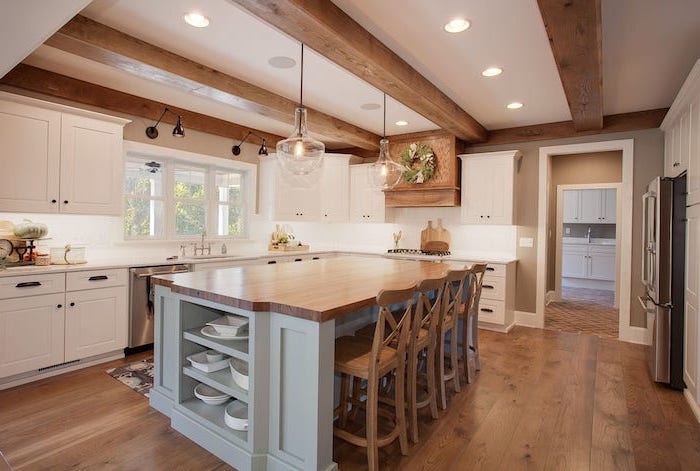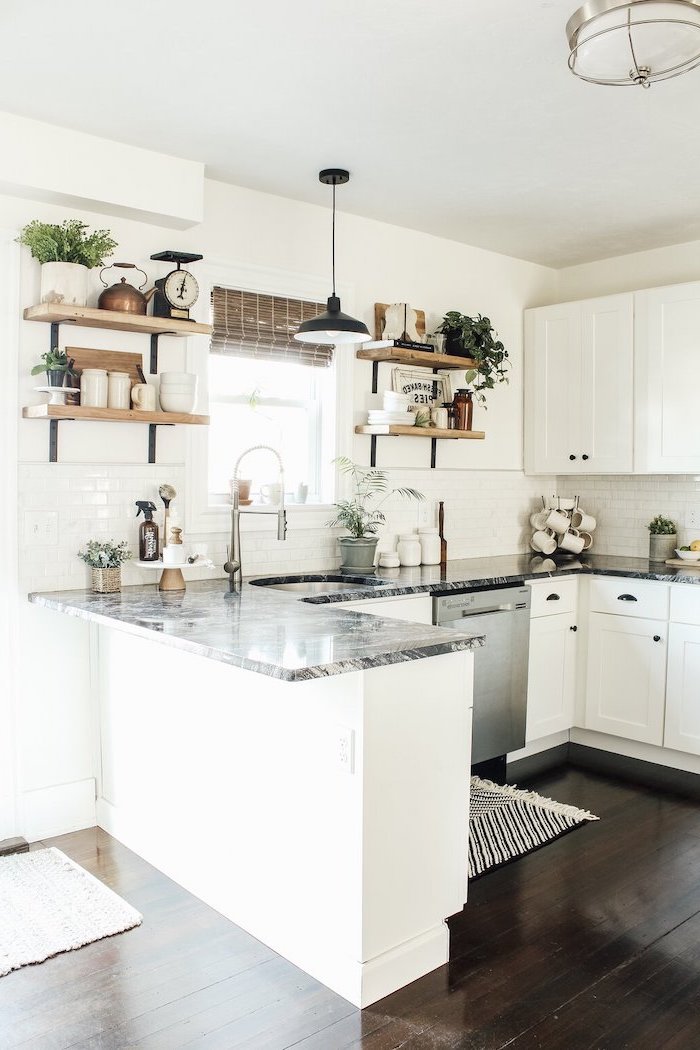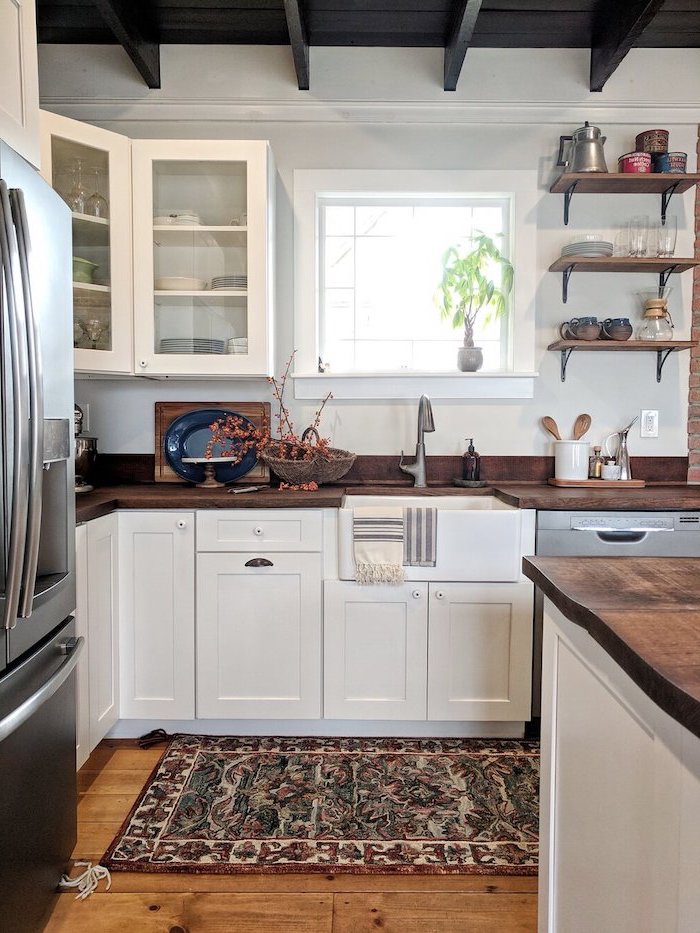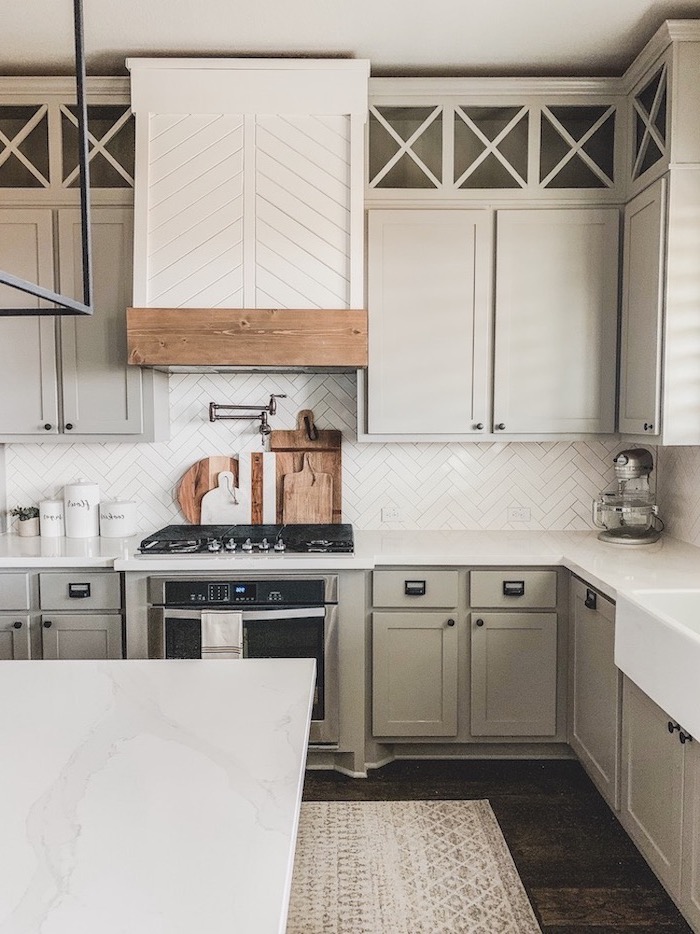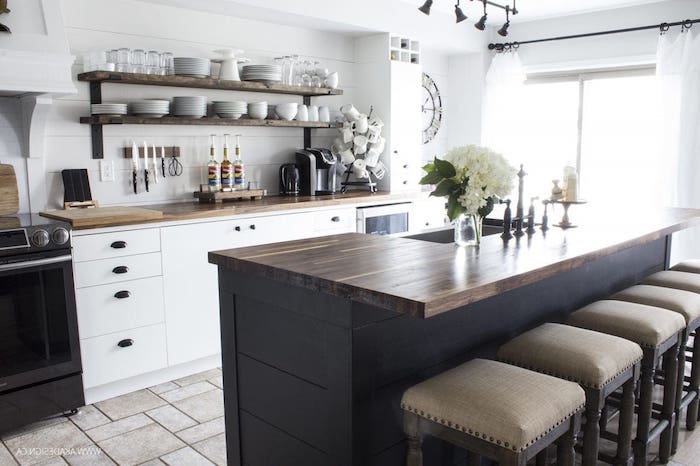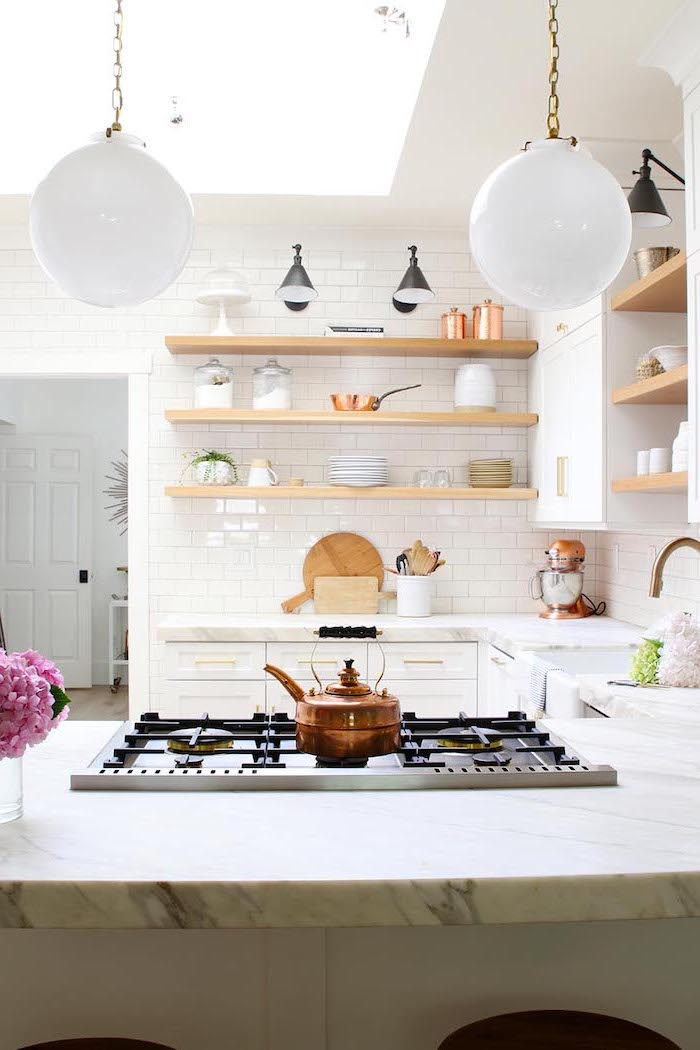 Farmhouse kitchen decor ideas with open shelving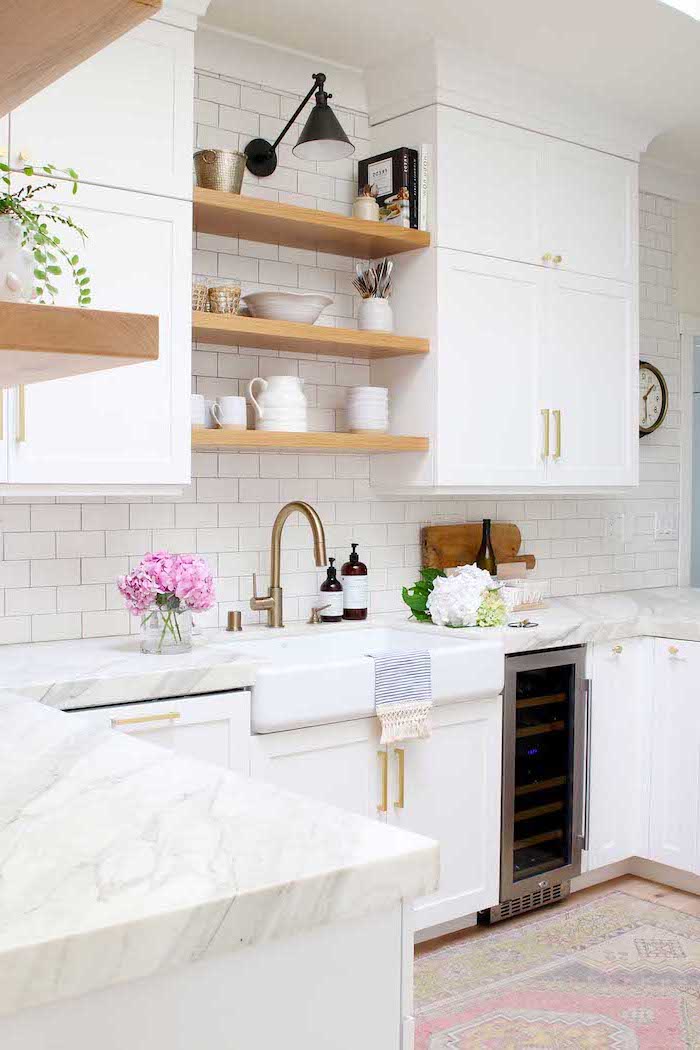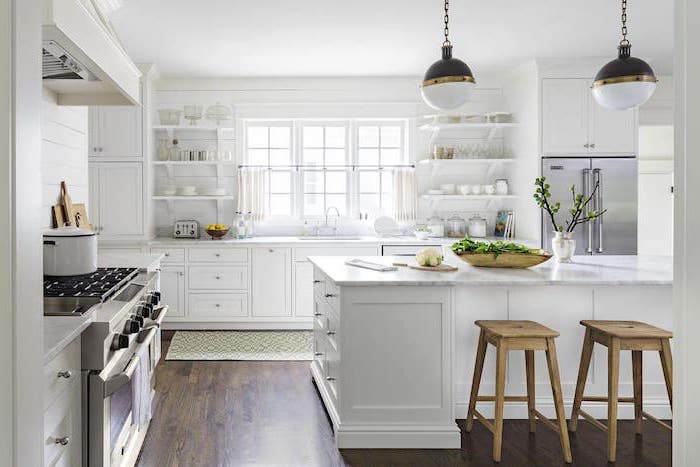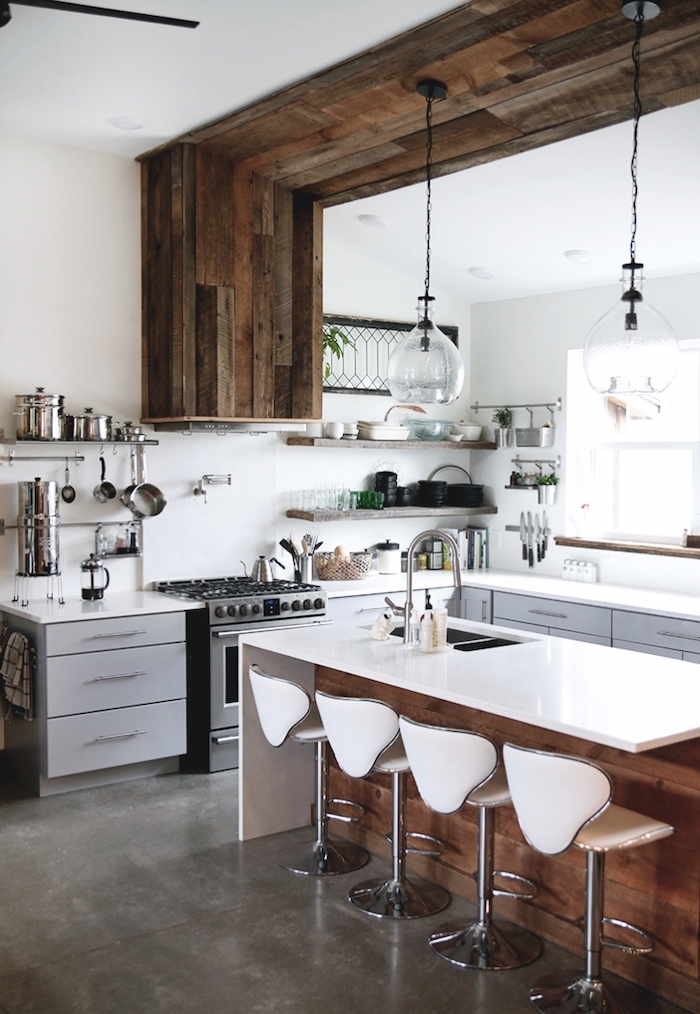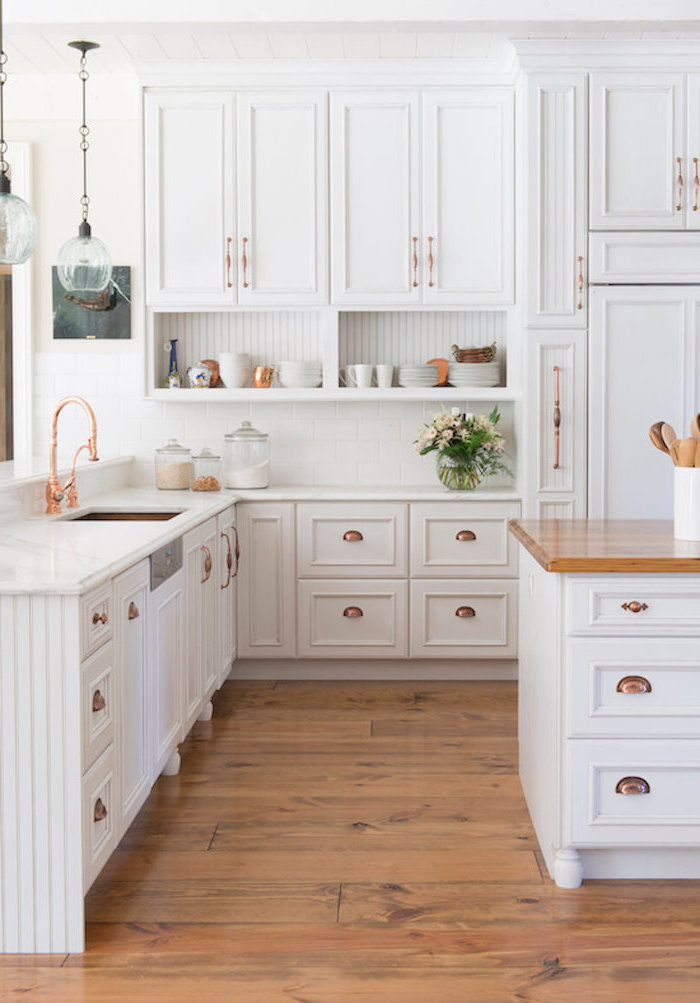 Modern farmhouse decor ideas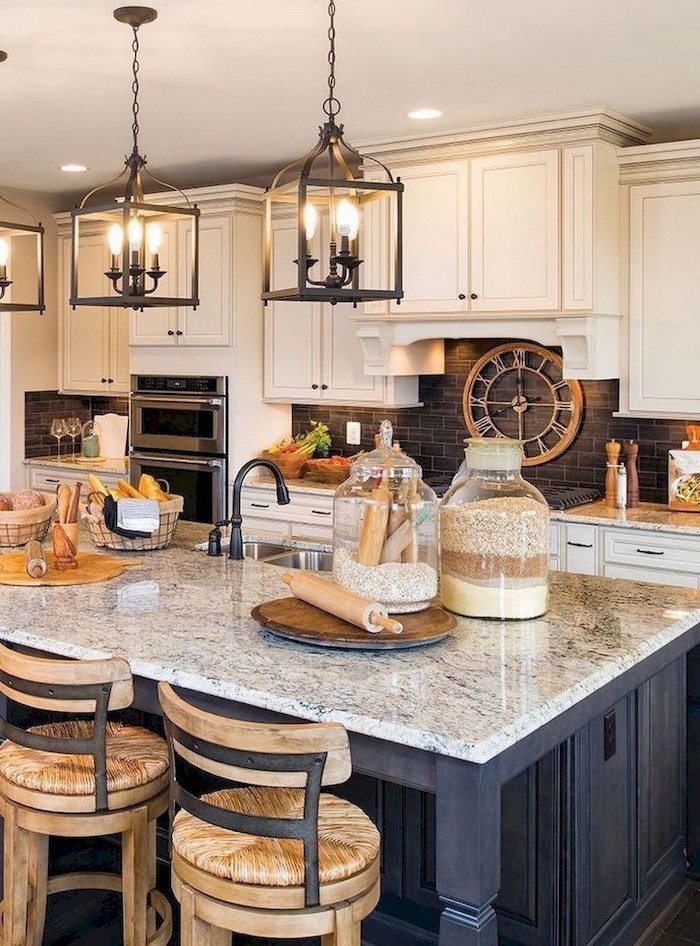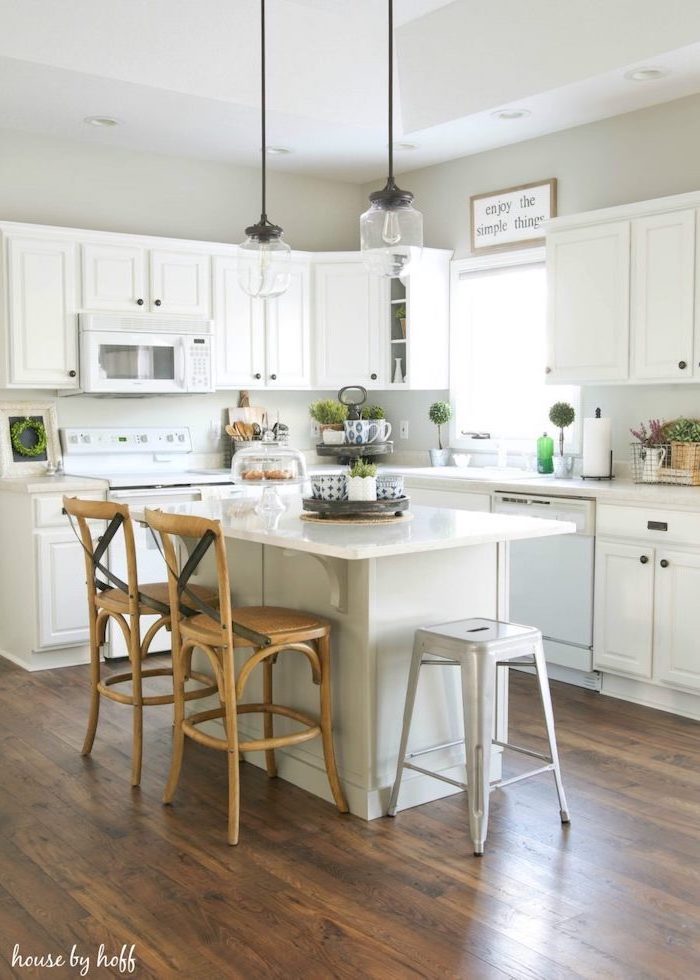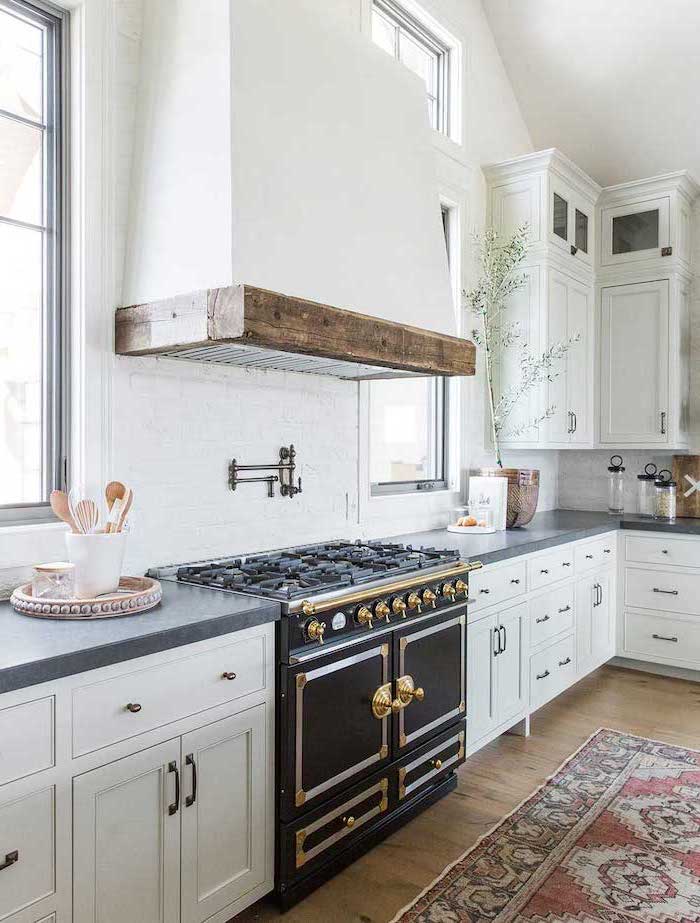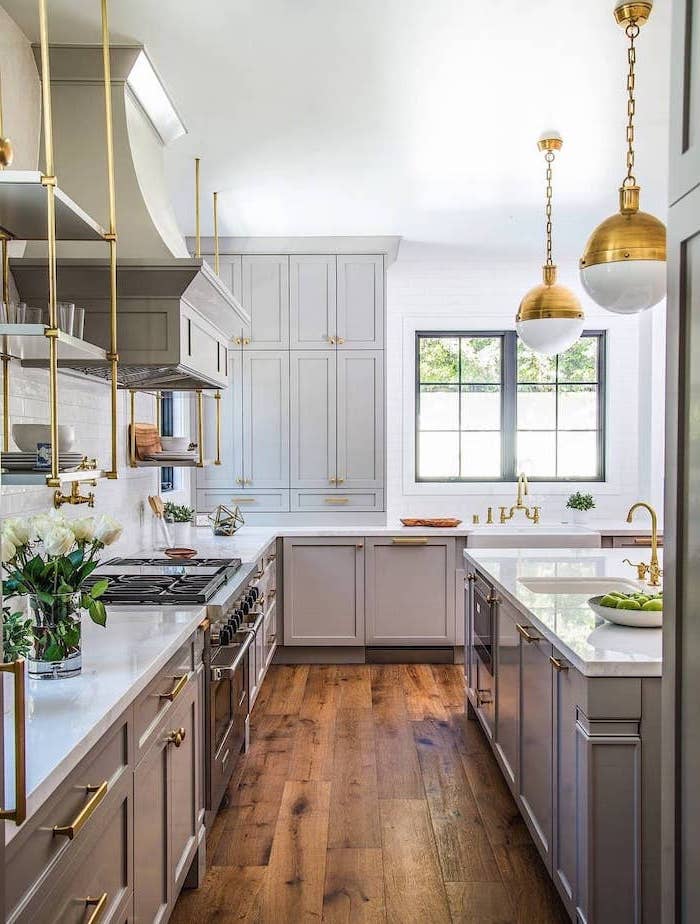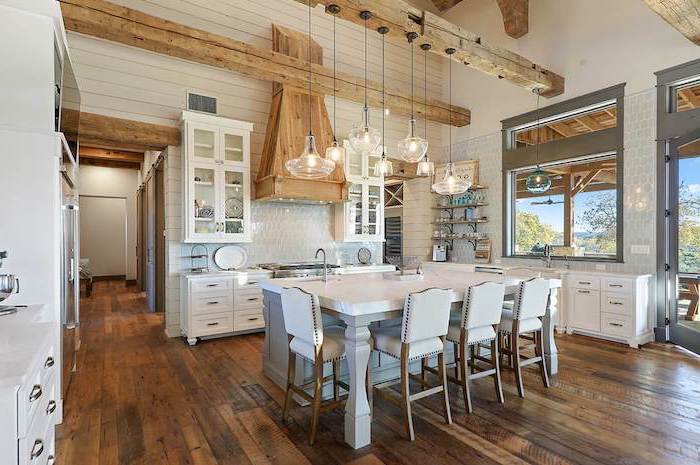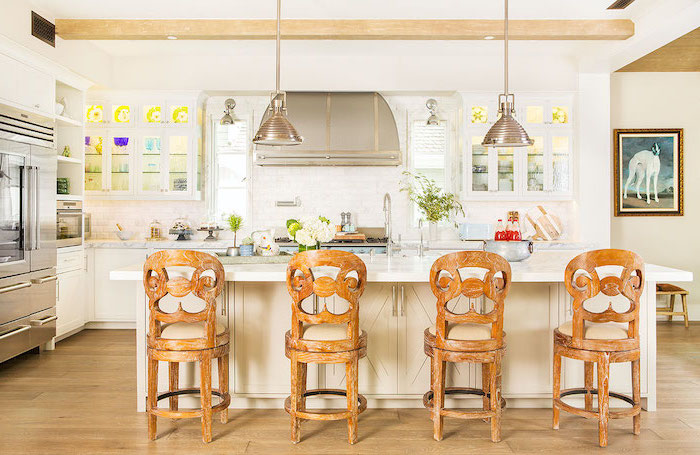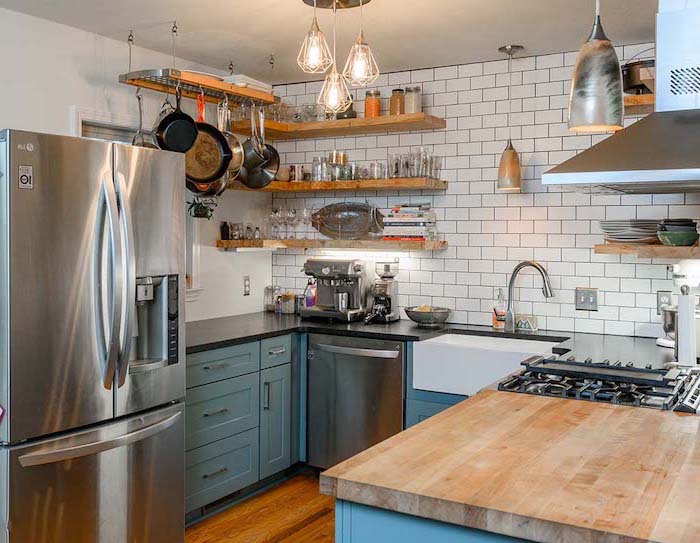 Farmhouse kitchen backsplash with white tiles and shiplap on the ceiling