Take a Look At These Bathroom Tile Ideas If You Are Looking For Inspiration
We have been in lockdown for a few years now, right? Well, no, it hasn't been years, but it sure feels like it. If you are like us and have been going crazy as of late, you are probably looking for new ways to entertain yourself. If you have already tried every hobby and workout you could find on the internet, right now you are probably hunting for new things to do around the house. Well, it might just be time for a bit of remodelling. So, today, we are going to show you a few bathroom tile ideas just in case your bath needs some extra love. What's more, you can absolutely DIY some of these ideas, because, trust us, tiling is not that hard to do. So, browse through our gallery and pick out your favorite look for your bathroom.
Gorgeous bathroom tile ideas to help you update your bath's look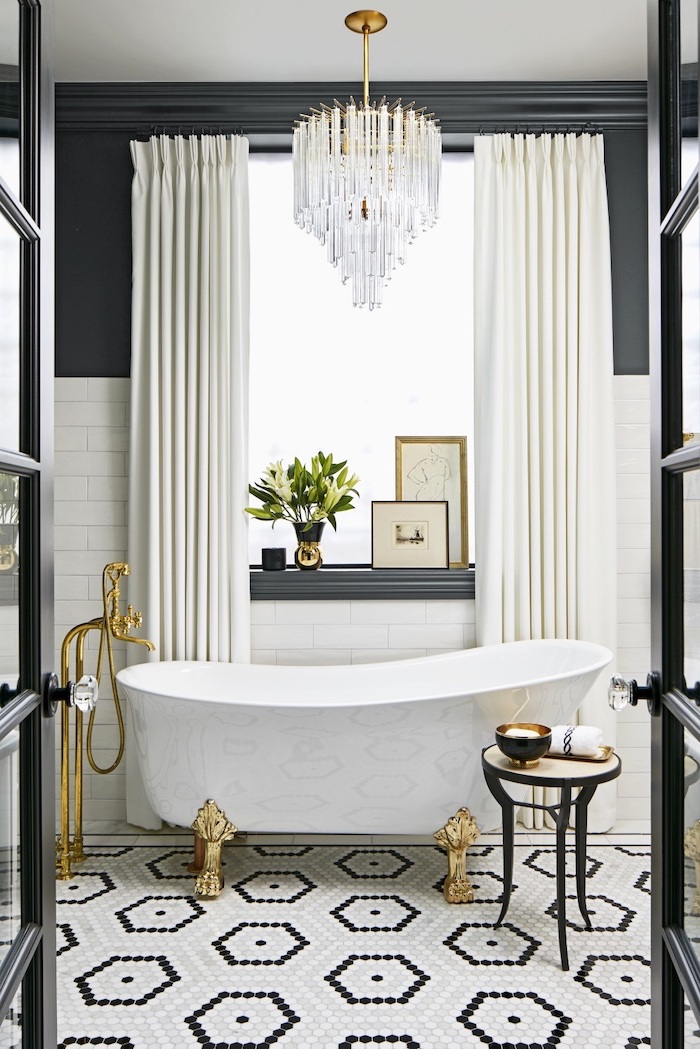 Bathroom tile ideas trending for 2021
If you browse through any interior design magazine you will probably notice that there are many different designs to choose from when it comes to bathroom tiles. Which is, of course, good news, because that gives you a lot more room for creativity and imagination. Looking for the best, most suitable tiles for your bathroom can be challenging, but if you consider a few things, your selection will be much easier. So, here is what to consider before you decide on the tiles:
How big is your bathroom?
How much money are you willing to spend?
What do you want to change in your bathroom's look?
After you consider those you will be all set to start on your bathroom remodelling journey.
Sometimes all it takes to give your bathroom a completely different look is a simple tile upgrade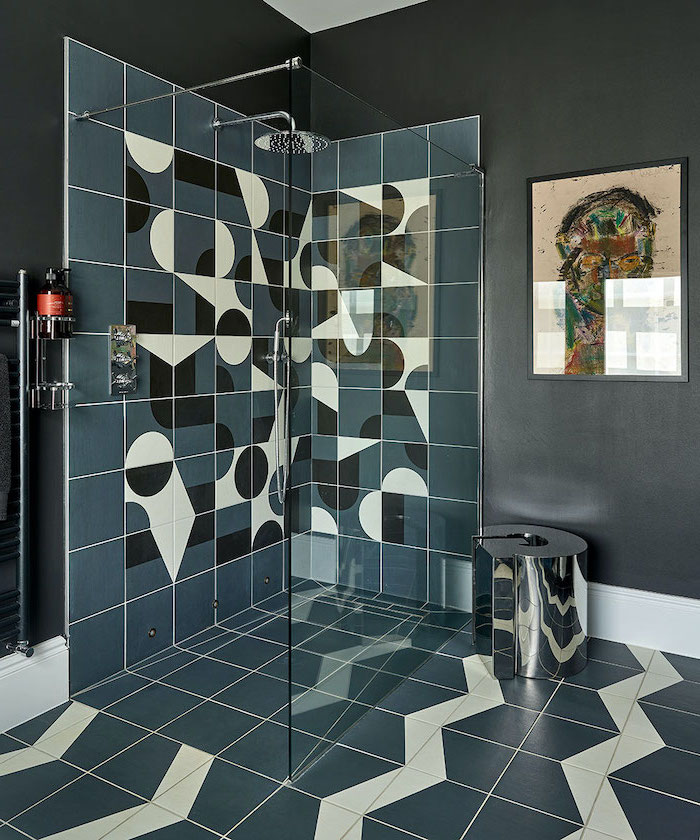 What is the most popular tile for bathrooms?
Without a doubt, the most popular type of tiles to use in your bathroom are subway tiles. There is just something about them that makes them so functional. And, keep in mind, that when we say subway tiles we don't just mean the boring old white subway tiles. On the contrary. You have so many different options when it comes to putting them up. First of all, of course, is the color. You can experiment with so many different colors, which are going to give your bathroom a completely different look. The second one is the arrangement. Experiment with shapes and positions of the subway tiles. Whether you choose a chevron pattern for example, or you choose to mismatch them by putting them up in different directions, you will give your bath so much depth!
Subway tiles can be so versatile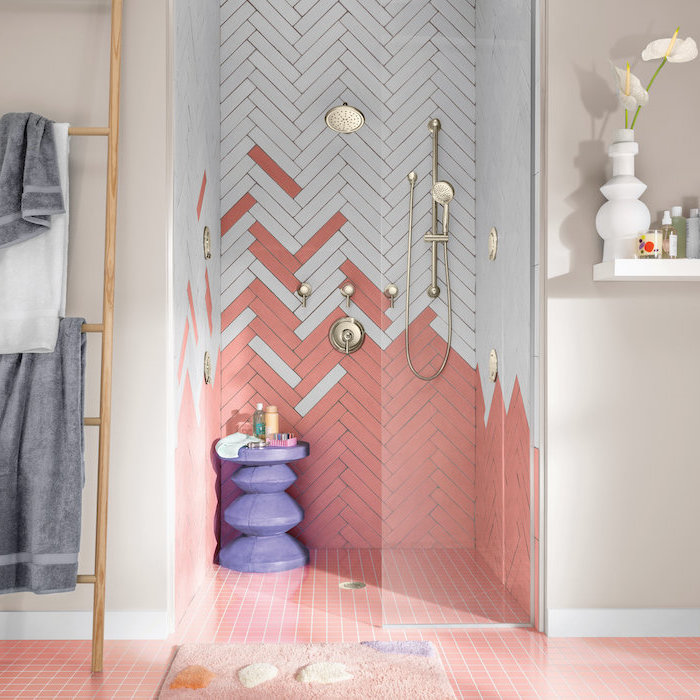 What kind of tile should I use in a small bathroom?
If your bathroom is small the best option you have is to go with tiles from the floor all the way up to the ceiling. This will make the room appear much bigger. Another focal illusion you can use of course is to use lighter colors. It is no secret that lighter colors will make any room appear bigger and airier. And, finally, go for tiles with a glossy finish. They reflect light, which will, once again, make the room appear more spacious.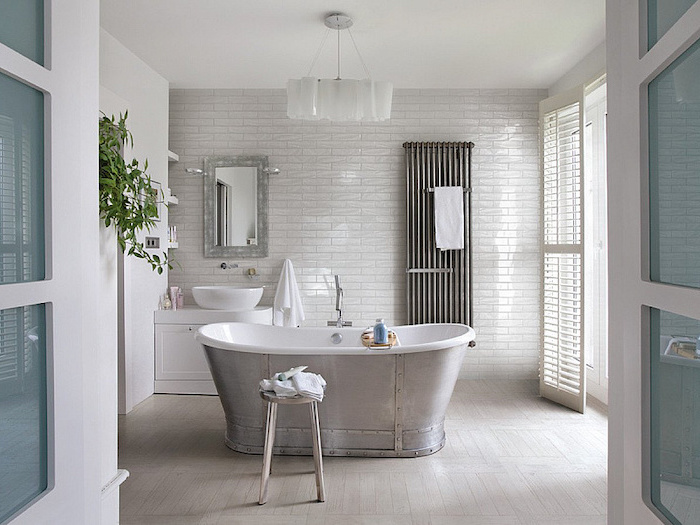 Which color is best for bathroom tiles?
As we already said, for smaller bathrooms try to use lighter colors, which are going to open up the room and make it feel more airy. On the other hand, if you are lucky and own a large bathroom then you have nothing to worry about. You can go crazy about tiles in different colors and you can even mix and match those colors. And, naturally, there are a few trends which are going to be taking over the interior design world in 2021. It is up to you whether you want to follow them or not.
Give your bathroom a vintage design with the turquoise subway tiles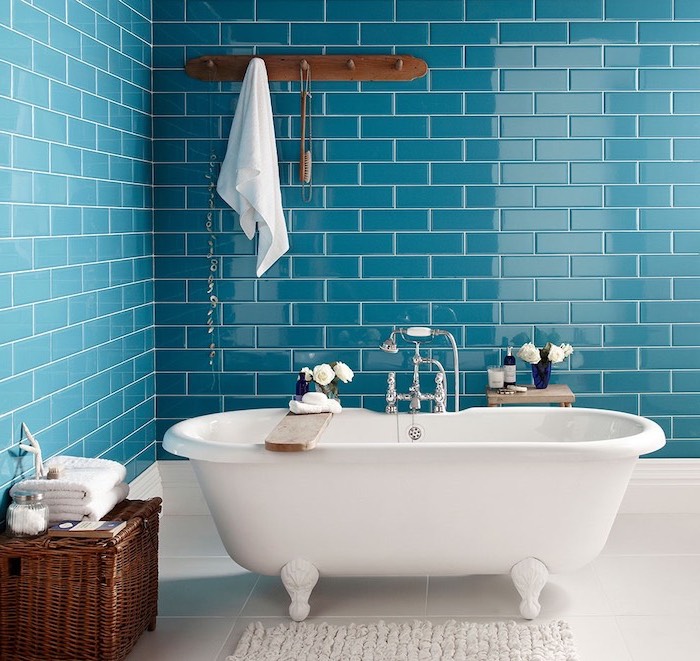 Mixing and matching shapes, colors and materials
The photo below is a perfect example of how stylish a bathroom can look even when you mix colors and materials. Black marble on the floor and black marble subway tiles on half of the wall look incredibly luxurious. Add to them a little bit of white and gray and you have yourself a bathroom, which looks as if it came straight out of an interior design magazine.
Don't be afraid to mix and match designs, colors and materials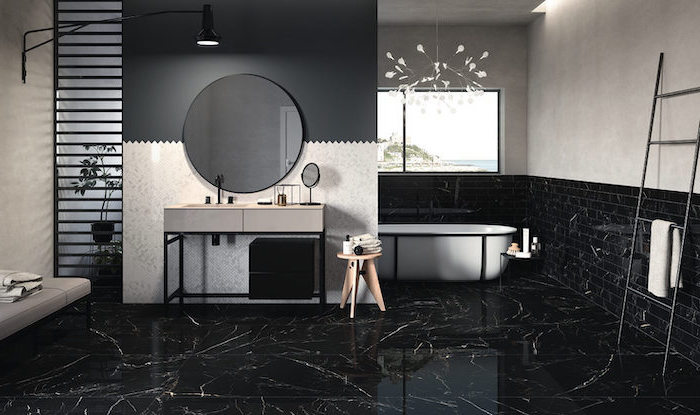 Make a statement with a bit of color
If you are looking for a way to spice up your bathroom then a colorful accent wall might be just the way to do it. Many people opt for simpler, more neutral colors when it comes to their bathroom. That, however, shouldn't always be the case. The photo below proves that adding some color to your walls, which is also complimented with tiles in geometric shapes, can give your bathroom lots of depth. What's more, this wall will be the main focal point, which is going to anchor the whole design.
Add some color to your bathroom's interior to anchor it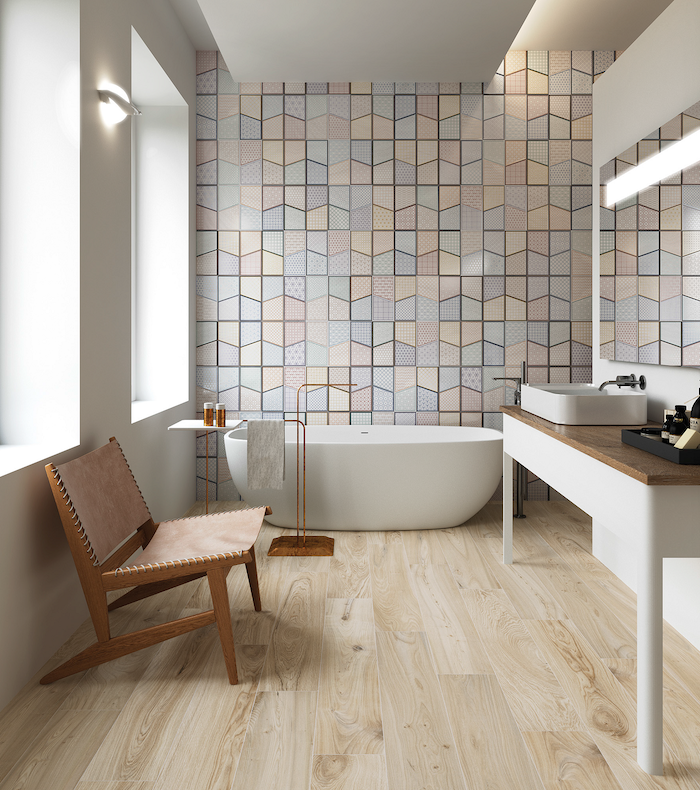 Separate the shower with a different set of tiles
If you are looking for some separation between the shower, WC and bath, then using different tiles can be just what you need to do. That way the shower will become the main focal point of the room. What's more, the room will appear to have even more space because the difference in the tiling will give it more depth. You can use tiles in a different color or even experiment with tiles in different shape or material. As we already said, mixing and matching will be the thing to do in 2021.
This bathroom is so dreamy
Tiles with patterns
If you are not afraid to experiment, please try this trend. Patterned tiles are so beautiful when used right. Look, we are not saying that you should go overboard and have your whole bathroom covered with patterned tiles. However, you can pick a specific area, which is going to serve as a focal point. For example, you can cover the floor with patterned tiles while keeping the walls neutral. Another option is to separate an area with colorful tiles like the shower or the bath.
This is such a clever way to use patterned tiles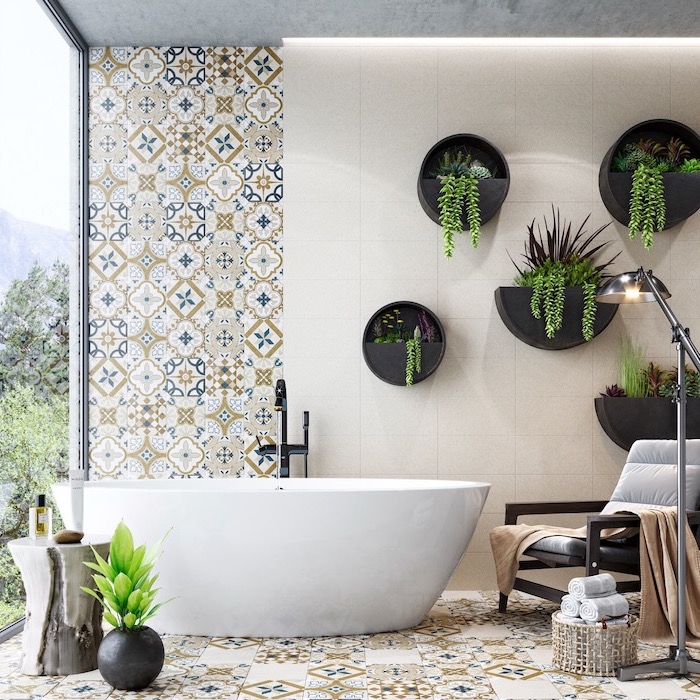 Create beach house vibes with mosaic tiles
Mosaic tiles are so interesting to look at. What's more, the good news is they can be used in any color, shape and design you want. So, whether you decide to use them to separate an area, as a focal point, or as a little accent to an already tiled wall or floor, it is impossible to go wrong with them.
This design gives us such beach house vibes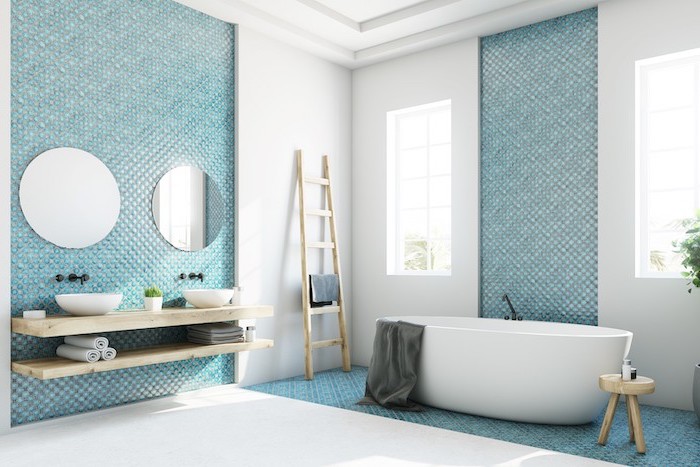 Create coziness with mock wood tiles
Installing wood in your bathroom is not a good idea since wood expands when it comes to constant contact with water. But we live in the 21st century, however, and people have come up with a way to still have wood in their baths. With mock wood tiles you can create so much coziness in your bathroom. The best option is probably to cover your floor with them. But, if you are feeling creative, you can always try adding them to a wall.
Mock wood tiles are the perfect option if you want to give yourself that spa feeling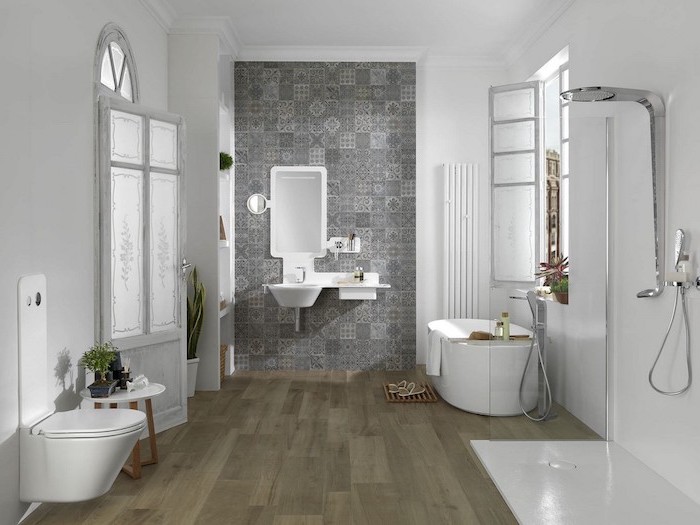 Mix wallpaper with tile
Who doesn't love a colorful wallpaper? If you want to keep the vintage look of your home try combining water resistant colorful wallpaper with plain subway tiles. Trust us, the results will be unmatched. What's more, this is a great option if you are working on a budget, since putting up a wallpaper can be much cheaper than tiling.
Just look at this gorgeous design and tell me you don't want to have a bathroom like this one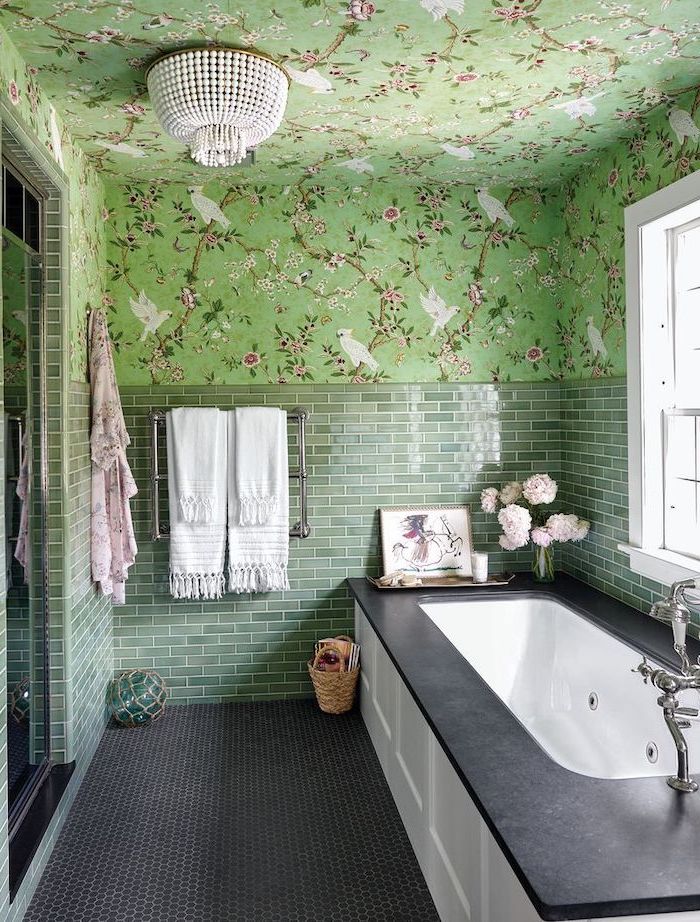 Mirror, mirror on the wall
Yet another great option for smaller bathrooms or for people who love a good mirror. Mirror tiles are not that popular yet, but watch them become popular in the years to come. And, if you love to experiment try this trend before people have completely become obsessed with it.
Mirror tiles are a great option for a smaller bathroom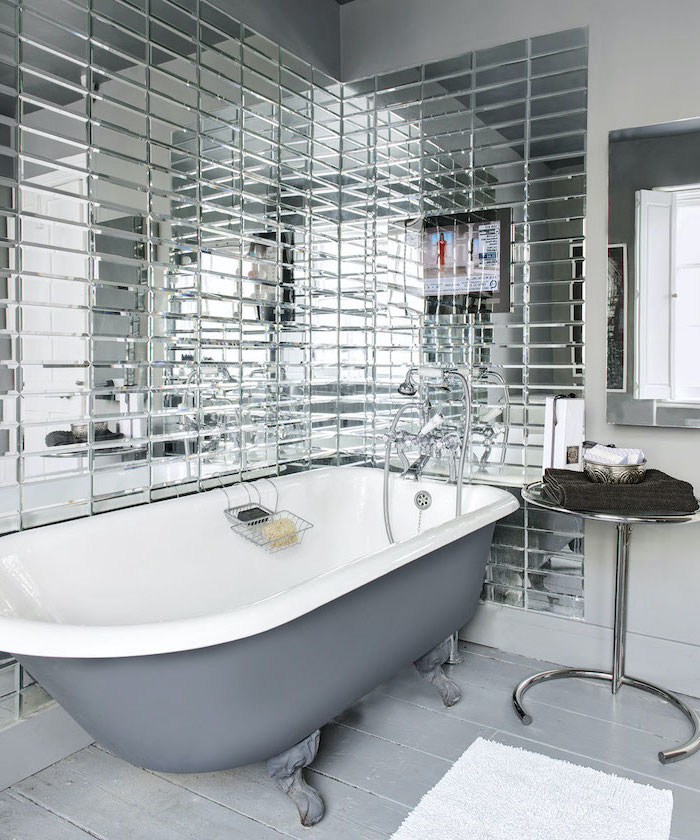 Now browse through our gallery and find even more bathroom tile ideas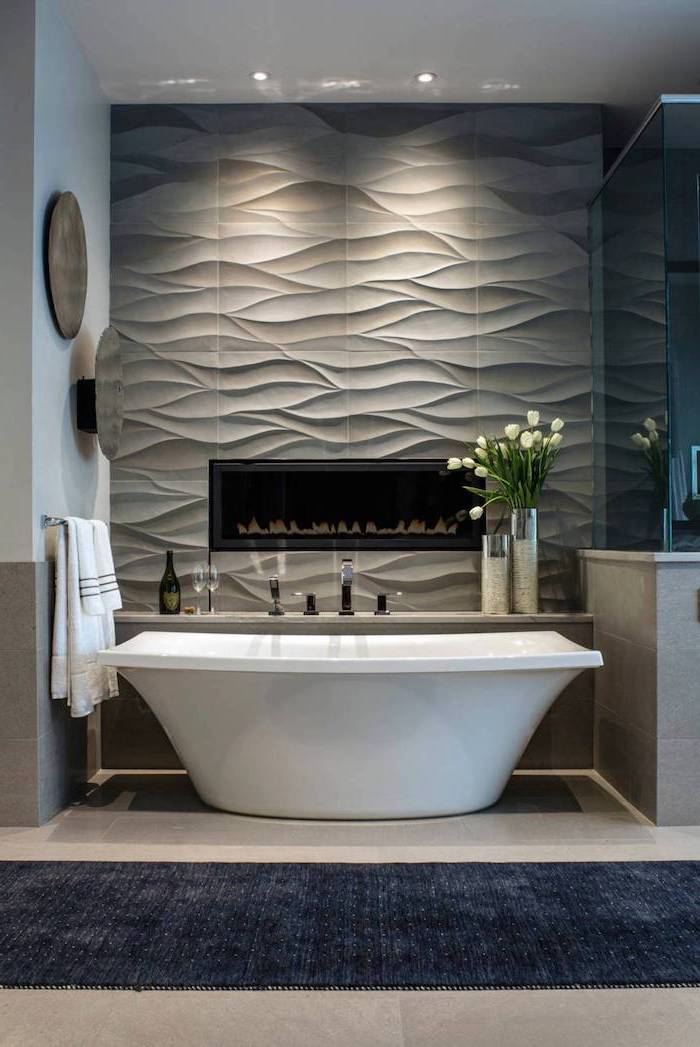 And here is some DIY advice on how to tile a floor for beginners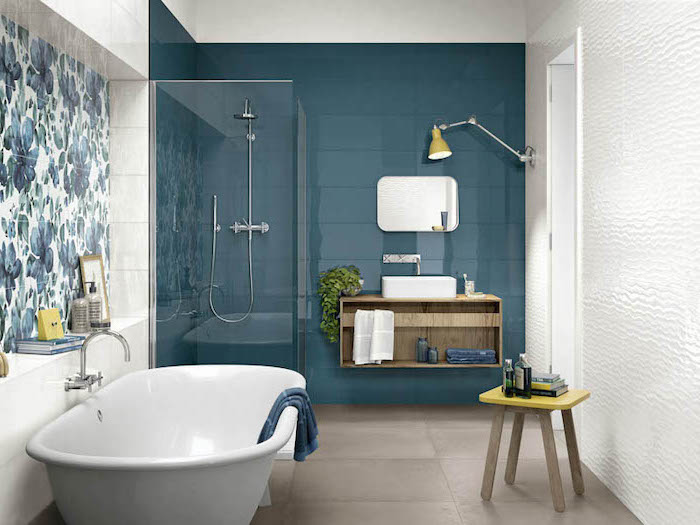 Create an escape from everyday life by tiling your kitchen with natural stone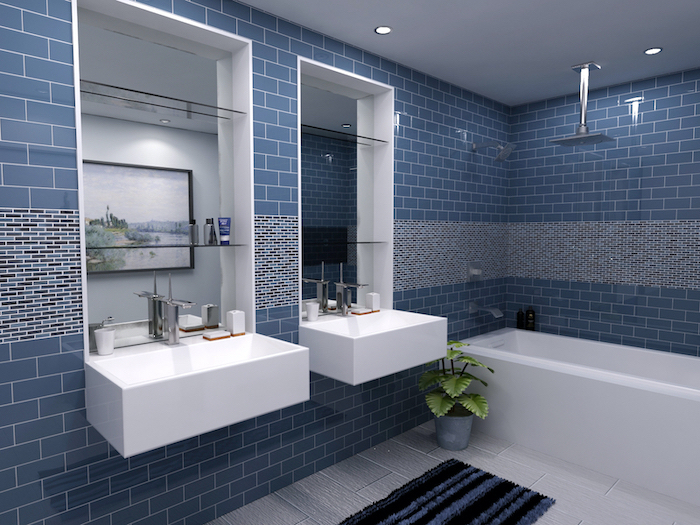 Copper tiles, combined with dark walls is interior design goals
Give yourself a chic bathroom in rose gold
This is just such a cool idea for both colors and shapes
Mix and match bathroom tile ideas
Marble bathroom floor tiles will give off a luxurious feeling