How to Use Industrial Pipes at Home for a Modern Interior
Nowadays, there is such a variety when it comes to different types of interior design. It might be a bit difficult to select just one. The good news, however, is that you can have a fusion of different styles which are still going to look absolutely amazing when they are blended together properly. One of the most popular styles in modern homes today is the industrial, for example. However, many people decide not to use this style for their entire home, but use small accents of it here and there. And, one of the best ways to incorporate the industrial vibe at home is through furniture made with industrial pipes. They are modern and add so much character to your home. So, in this article you can find a tutorial on how to make your own industrial pipe bookshelf, as well as a few ideas.
A few industrial style accents will create a modern home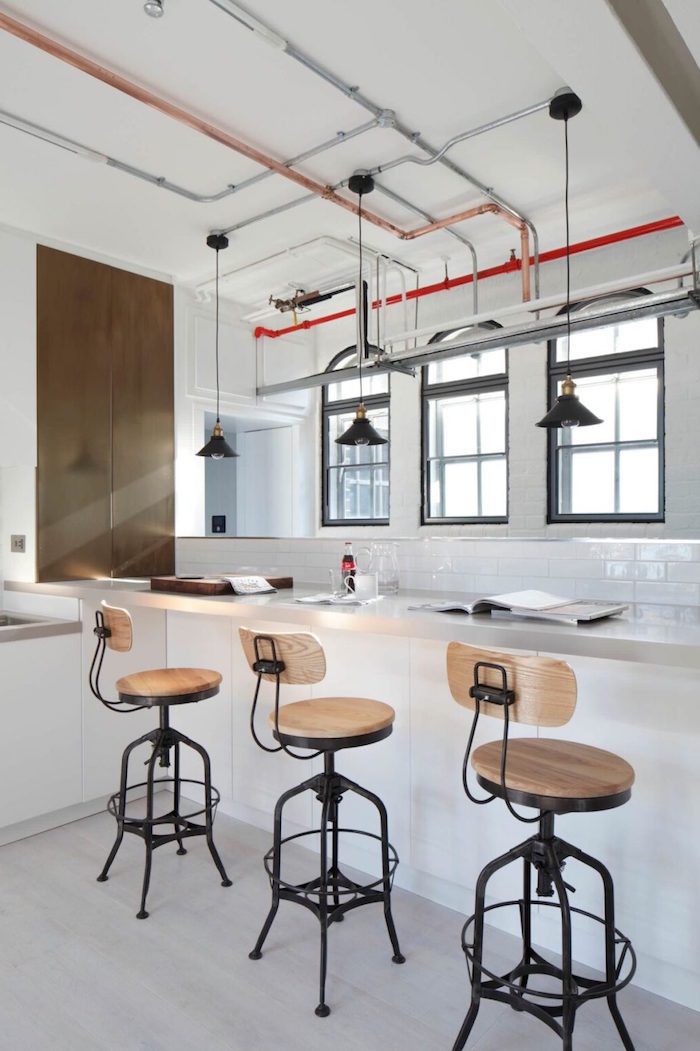 What are the most popular industrial pipe furniture?
There are a few types of furniture you can even make yourself if you feel crafty enough. Bookshelves, tables, chairs, TV cabinets, you name it. Any piece of furniture made with industrial pipes looks amazing. Furthermore, it gives your home a modern, urban vibe and look. Another positive side of using not just pipes, but all kinds of metal in your home is that it is one of the most long-lasting materials out there. Nowadays, there are so many innovations being made when it comes to the production of metal. What's more, companies like Ceratizit manufacture tools, made from almost indestructible materials, which can help create so many beautiful pieces of art from metal, which you can then add to your home decor.
This is definitely a creative way to use industrial pipes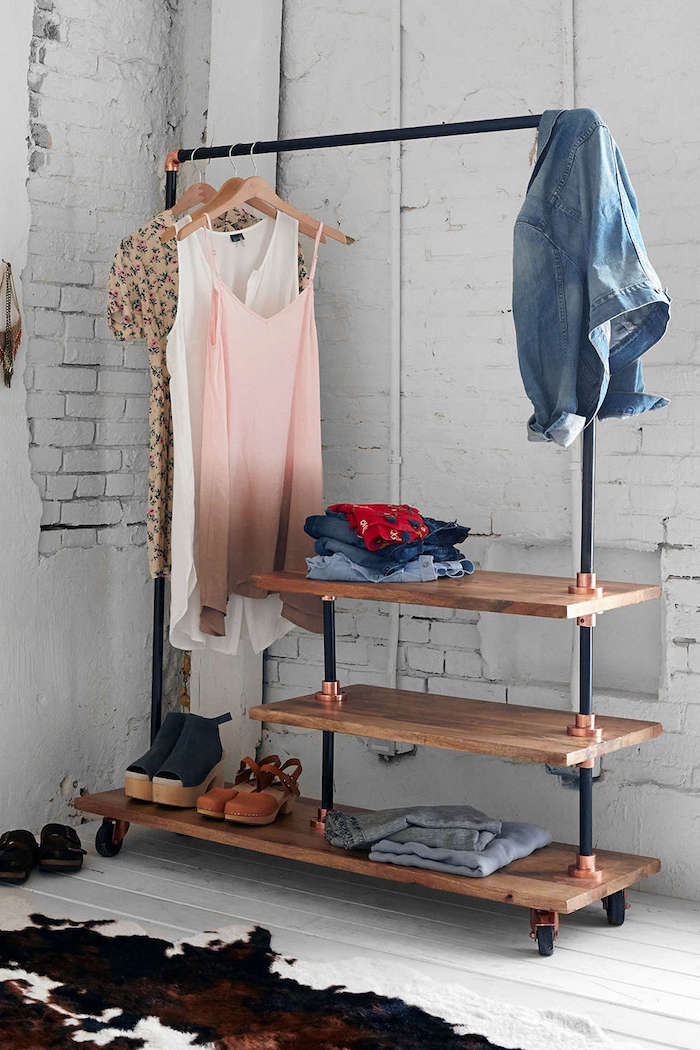 Do you want to make this bookshelf for your home? Well, we've got the DIY.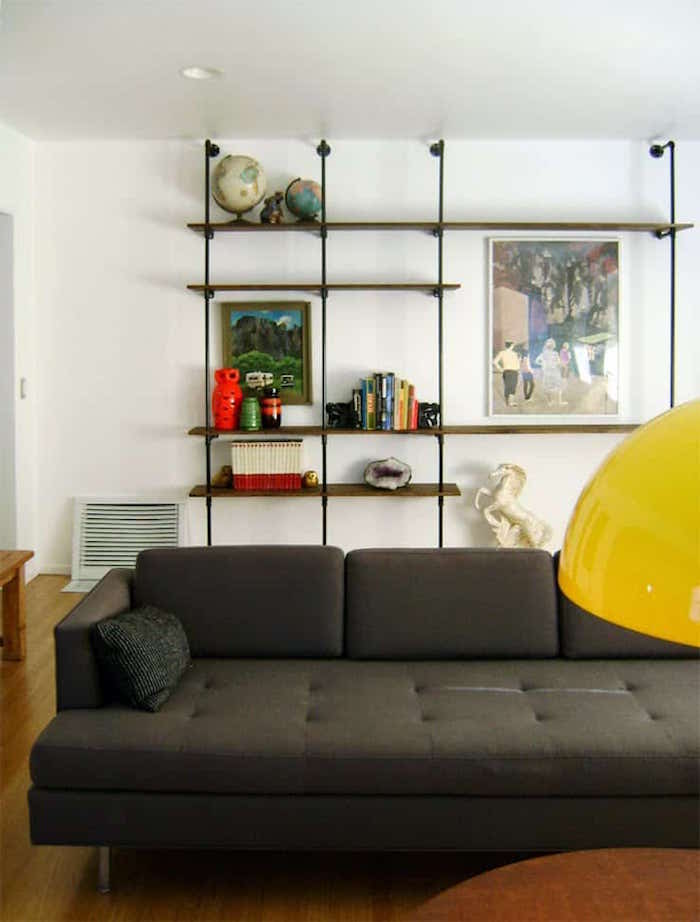 How to make a bookshelf with industrial pipes?
Supplies:
plumbing pipe and fittings (all at 1/2″)
Fittings:
18 90º elbows
14 3-way tees
8 base flanges
Pipes:
6 x 12″
7 x 18″
1 x 32″
3 x 30″
1 x 43″
14 x 8″
4 x 9″
Wood shelves:
2 1″ x 12″ x 10′ pine planks
2 1″ x 12″ x 6′ pine planks
Stain and paint:
dark walnut and walnut (mixed 1/2 and 1/2)
black spray paint
Tools:
drill
medium grit sandpaper
dish soap
ladder
This DIY is definitely not for beginners, but the hard work pays off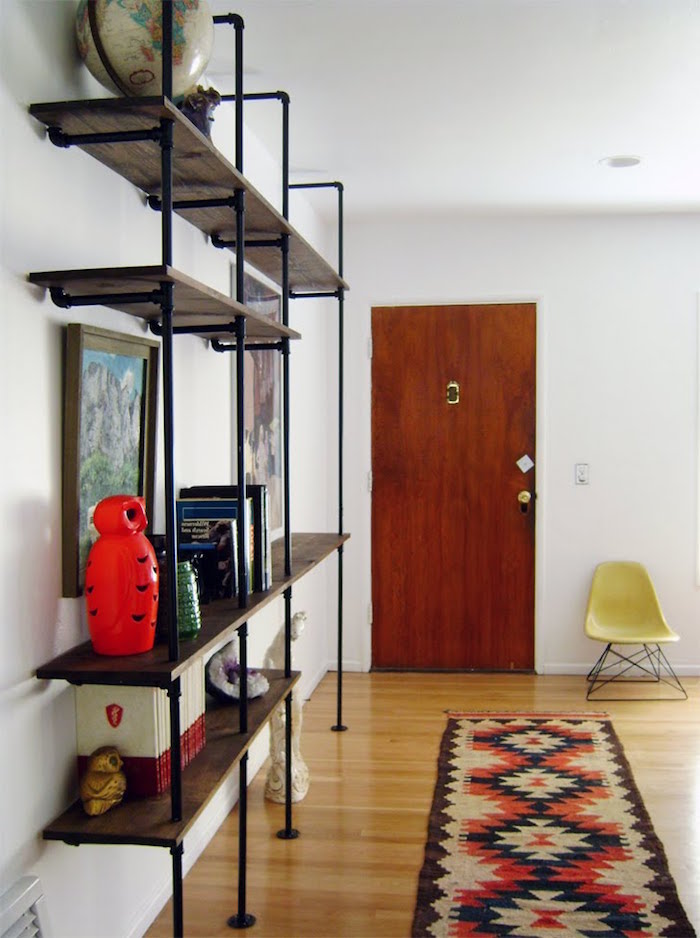 Industrial pipe ideas and DIY
Instructions:
Start by preparing your tools.
First, drill holes in the wood planks big enough so that the pipe can go trough them and still have just a little bit of wiggle room.
Keep prepping by cleaning the pipes well with the dish soap and once they dry, spray paint them in black and leave for a few hours to dry fully.
Prep the rood planks by sanding them first and then cover it with the walnut stain. Once again, let it dry fully for at least a few hours.
Now it is time to start building the bookshelf. Arrange all the pipes and planks on the floor before you start attaching them together to make sure everything is in place. Have a look at the photos above to check how the bookshelf is going to be arranged.
Start arranging the bookshelf on the wall piece by piece. Don't rush this process as everything needs to fit properly.
Once everything is where it should be and the bookshelf is solid, secure it to the wall with screws through the flanges and you are all set!
Source: The Brick House
Using industrial pipes as railing is a genius ideas which is going to make your home look so modern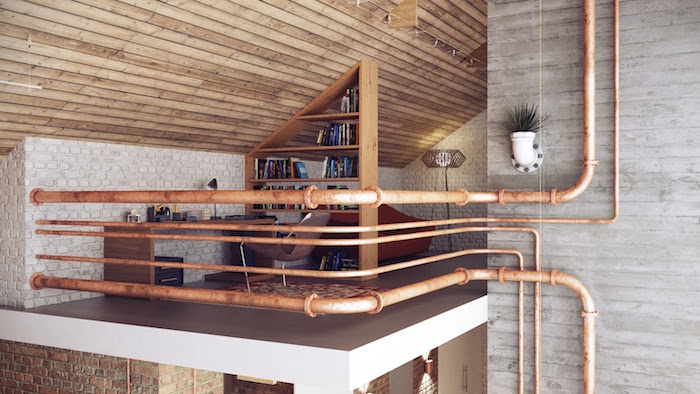 How to use industrial style furniture in your home?
In general, you don't need to have a house which is entirely styled in an industrial way. This is a very unique type of interior which can easily be incorporated into other styles. For example, mid-century modern style allows for usage of industrial style lampshades and furniture. If you want to keep the look understated, it might be worth noting that in a bathroom with subway tiles for example, shelves made of industrial pipes are a must have. The good news is you can make most of these furniture yourself. Or, you can even replace the legs of the coffee table that you already have with pipes and create a unique piece of furniture. Just don't be afraid to experiment and try new things and your home will have the contemporary look you dream of.