50+ living room decorating ideas for every taste
Are you looking to redecorate your home? Or maybe you have just bought a new house or apartment and are looking for modern and contemporary living room decorating ideas?
In this article, we will give you 50+ living room decor ideas. We will show you how to decorate a small living room, how to make a statement and make your living room stand out.
Nowadays, it is very often to find a living room that consists of a sitting room, a dining room and a TV room, all in one. That's why it is very important to use each space in a smart and efficient way, so as not to lose space, because of a clutter of furniture. With these living room decorating ideas it will be very easy to stylishly decorate your living room with less furniture and create a more spacious look, which is also modern and contemporary. The good news is that there is a variety of furniture out there, fitting for every taste. Some people like a more homey look, others are trying to achieve a minimalist look, which is very modern and on trend right now.
So, how can we describe the perfect living room?
It should definitely be spacious. Use low furniture to visually make your living room look bigger. Instead of using a cabinet for your TV, mount it on the wall to avoid clutter.
Forget about wallpapers, paint is on trend right now and you can use any colour to make a wall in your living room stand out. Make it the focal point in your beautiful home. Paint one of the walls in any colour and leave the rest white to create a more spacious look. Just make sure that everything is colour coordinated.
A statement turquoise wall with colourful carpet and throw pillows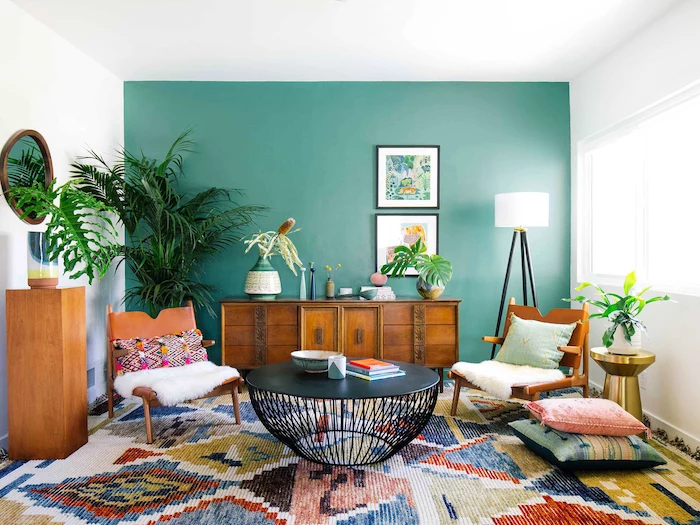 Living room decorating ideas with geometrical symmetry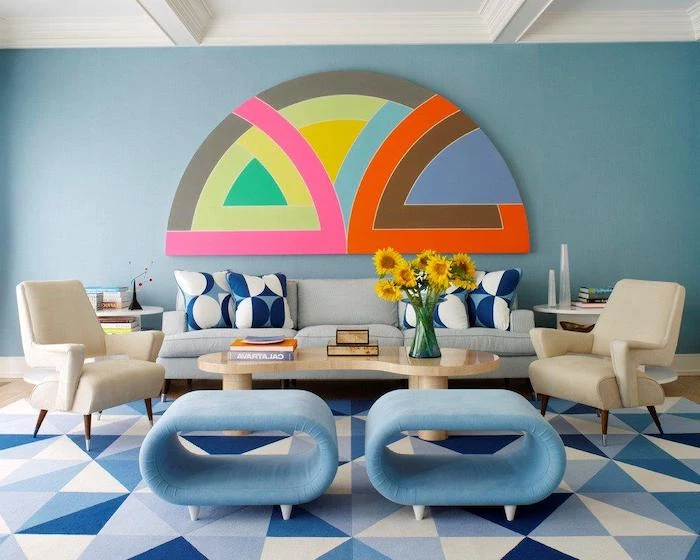 Very important for the living room is your sofa, since it will be the main centrepiece everything else should revolve around it. There are many living room decorating ideas where the sofa is right in front of the all. If you have more space, however, don't glue it to the wall. Place it in the middle of the room, so as to make it more modern. If you decide to have a carpet, make sure just the front legs of the sofa are on the carpet. If you are looking for a more simple look, you can paint the walls in a neutral colour and buy a different coloured sofa to make it stand out. Many people prefer corner sofas, because they are very comfortable. Plus who doesn't want more sitting room for when you have friends come over. Pair it with a few printed throw pillows and a colour coordinated carpet to make the room look stylish and modern. Also, avoid big armchairs, because they take up a lot of space. Instead, opt out for stylish S-shaped chairs, for example.
Make a statement with an elegant blue corner sofa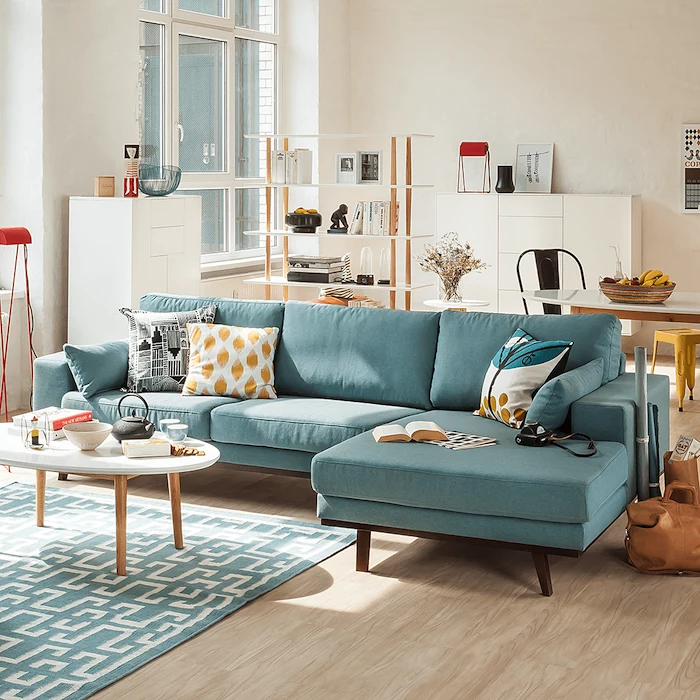 While some people are looking to create a cozy and homey look, other compromise the comfort for an incredibly stylish and modern sitting room. If you have decided to paint your walls with a dark stylish colour, use mirrors on the walls to visually create more space. If you pair the bold colour on the wall with a coloured sofa, you will make even more of a statement. Velvet sofas are very trendy right now. Finish your elegant look with a beautiful hanging chandelier and some plants.
Elegant sitting room in bold colours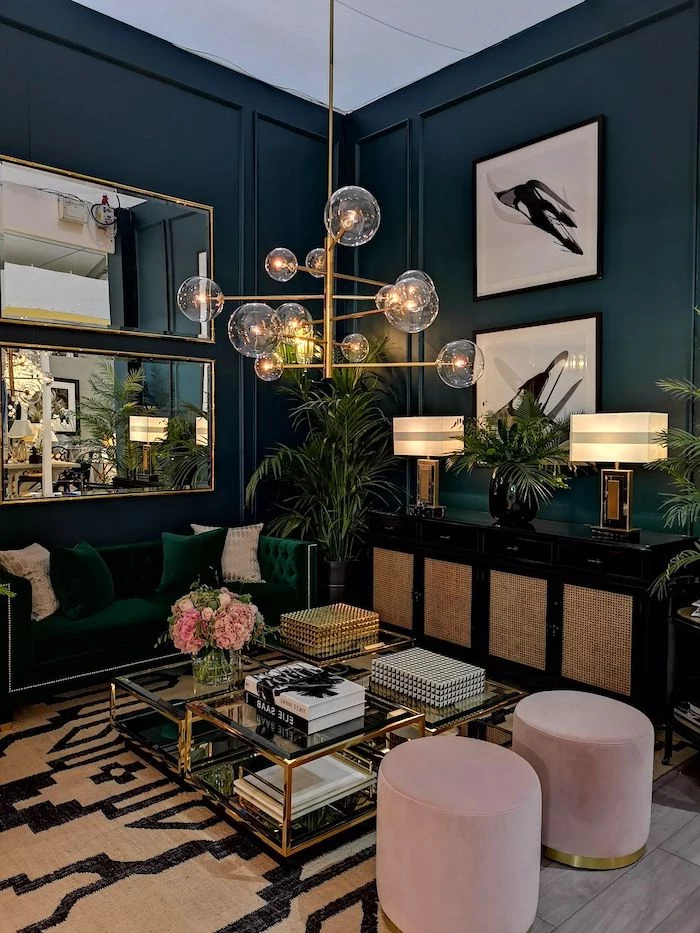 Another thing that many people prefer to have in their living room is a fireplace. Not only does it provide coziness and sophistication to your home decor, but it can also be an amazing place to sit down for a bit of relaxation after a long day at work in those cold winter evenings. Nothing beats sitting in front of the fireplace with a good book and a glass of wine. There are, of course, a few ways you can build your fireplace. If you want the living room to look cozy build a brick wall around the fireplace. Make sure all your furniture are pointed towards it and use warm pastel colours to create a relaxing feeling. If, however, you want that minimalistic, modern look in your living room, use elegant tiles to cover the fireplace wall. If they are dark, use a lighter coloured couch to make it stand out.
Cozy living room with a fireplace as a centrepiece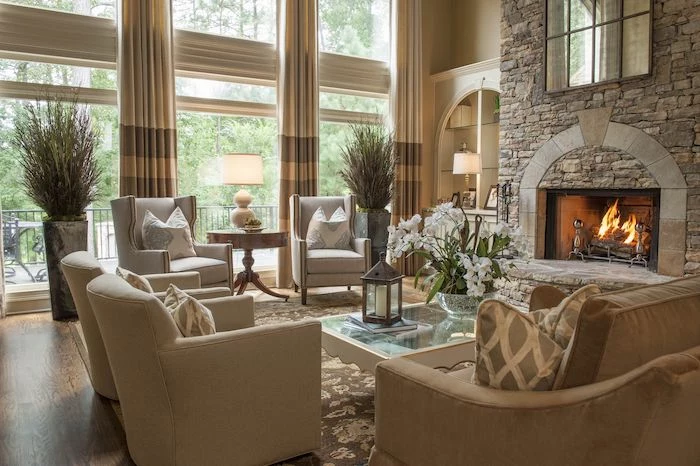 Minimalistic and stylish fireplace with modern furniture create a contemporary style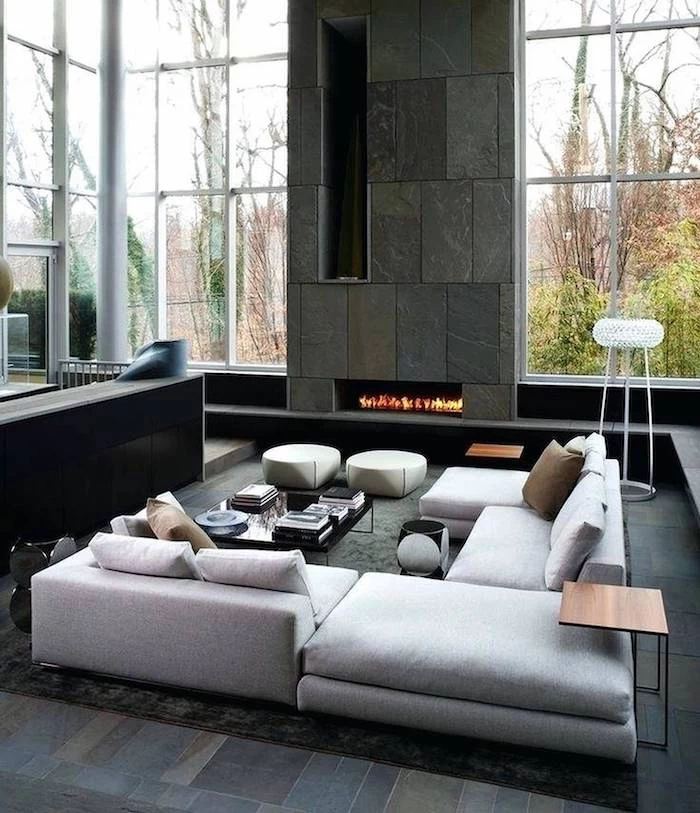 Large living room with large windows and colourful accessories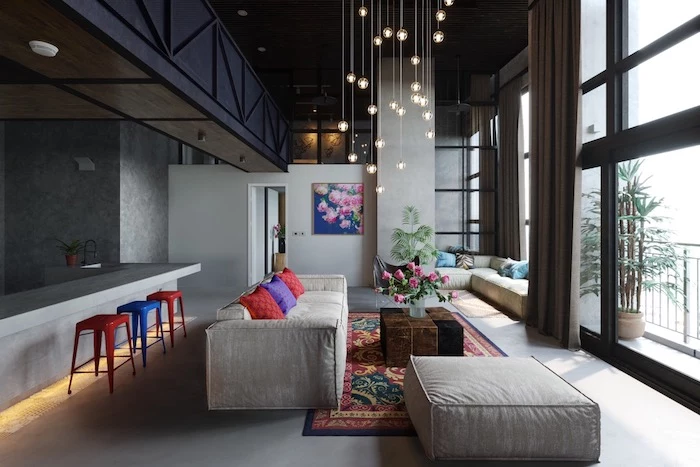 Minimalistic cozy living room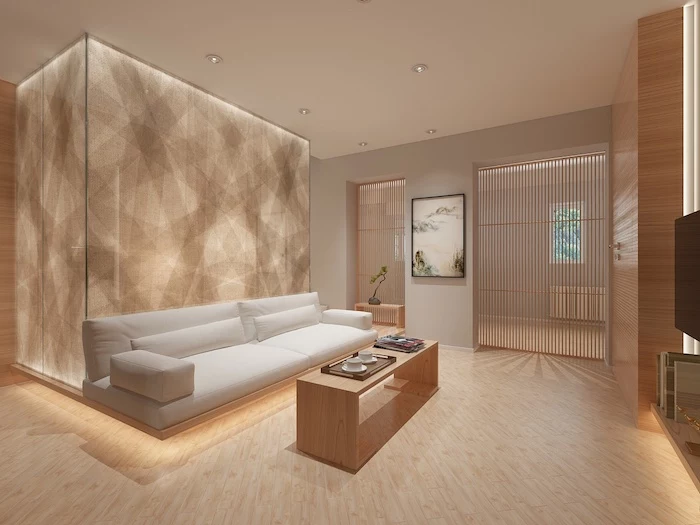 A statement wall made of wood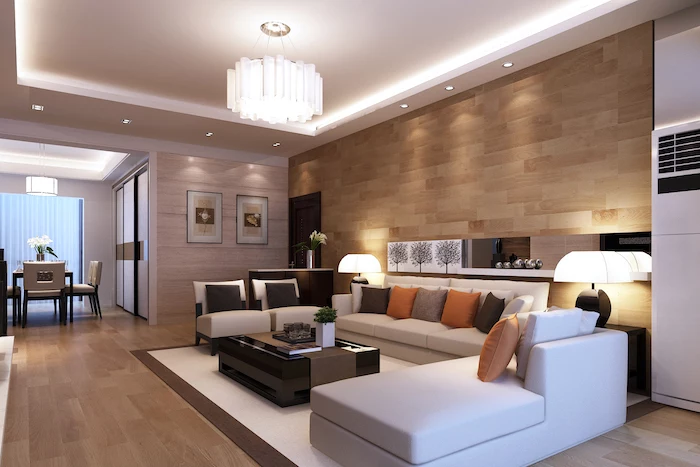 Large bookshelves create an elegant look
Elegant living room in grey and blue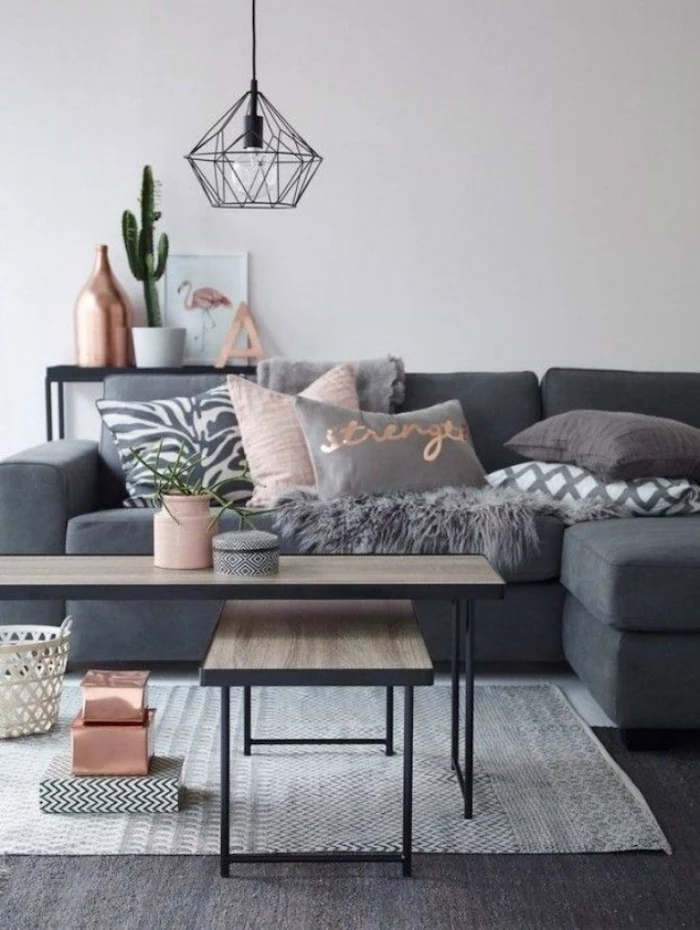 A statement wall with a beautiful wallpaper
Create your own style with colourful throw pillows and a blanket
Green velvet couch, used as the main focal point of the living room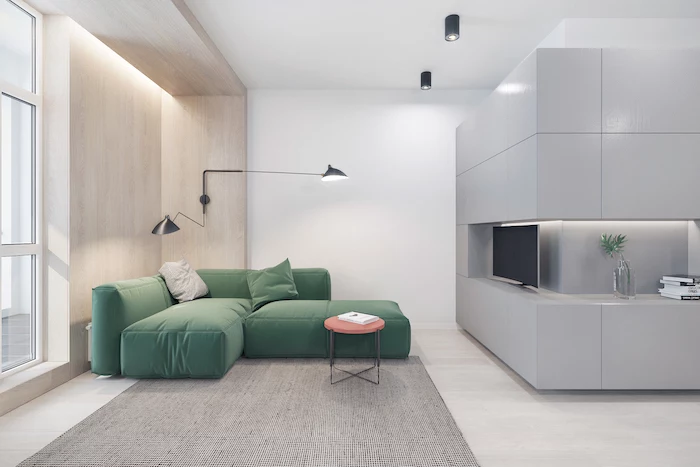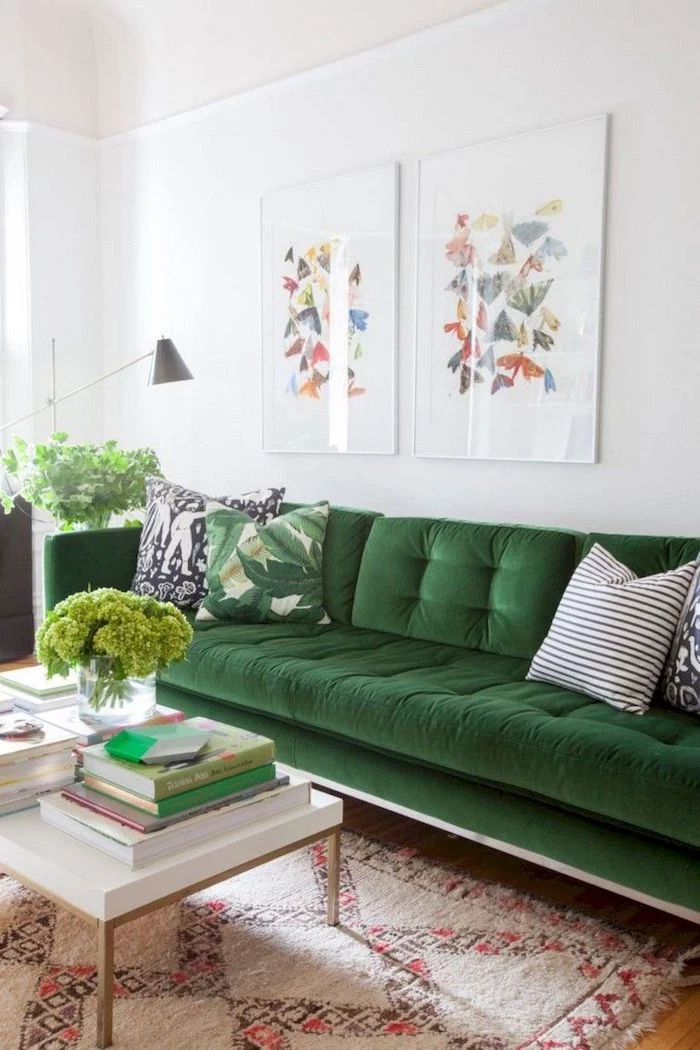 Mirrors visually create more space
Minimalistic look in different shades of grey
Elegant minimalistic living room
A very simple, but elegant look with a beautiful LED light
An elegant look for the gamers with a beautiful LED light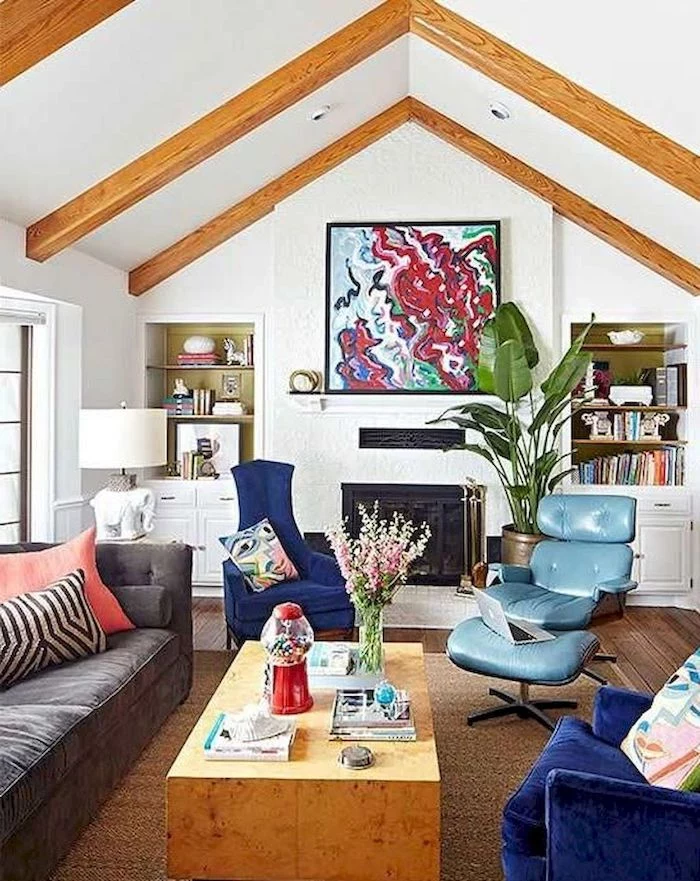 Dark blue velvet couch as a statement