---
If you have had to cancel your wedding this year, we feel for you. Honestly, planning a wedding can be so stressful and 2020 has definitely not made it easy. So, whether you have had to cancel yours for 2021 or you just became engaged and are planning yours for next year, we are here to help you. Today, in this article we are going to focus on a specific craze that has been slowly taking over the world – the bohemian wedding. So, what is one of the most important things for a bride? Her wedding dress, of course. So, read on to find out what are the boho wedding dress trends for 2021. And here's to hoping that 2021 will be a better year and you will be able to say the "I do" many people dream of.
Boho wedding dress trends for 2021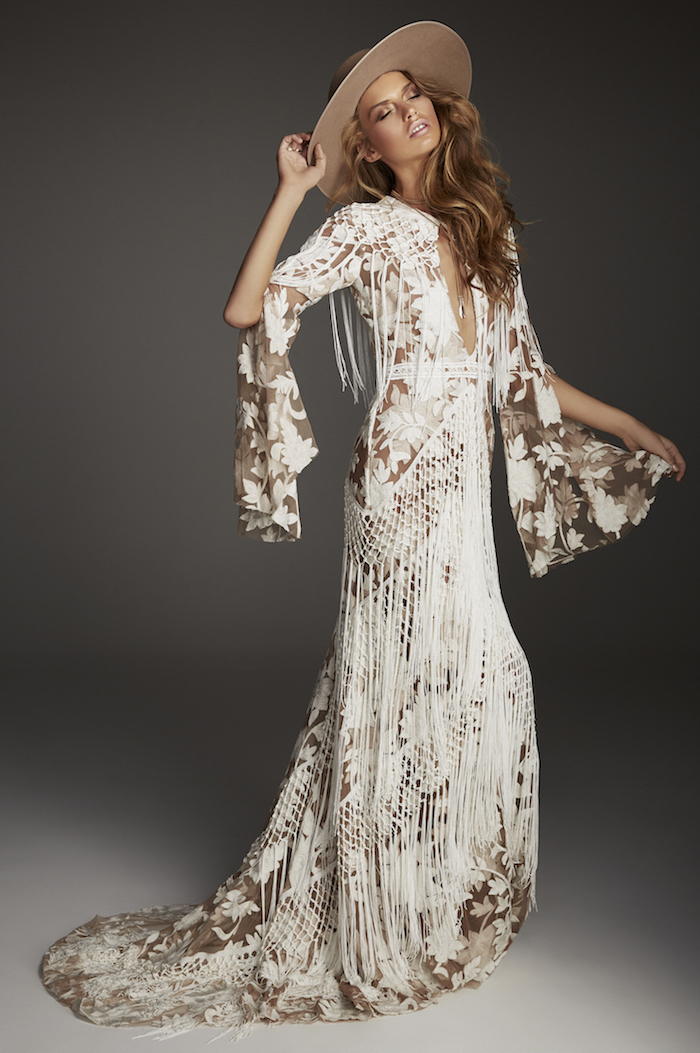 ---
The thing that sets bohemian weddings apart from the rest is their connection to earth and nature. Their whimsical, romantic tones are intertwined with the feeling of a whimsical woodland enchanted book. They are often held outdoors and lack lavish floral arrangements and vivid colors. Instead boho weddings are distinguished by the earthy tones used in the decorations, as well as the choice of field flowers, greenery and pampas grass, for example. Another thing that is very different about boho weddings is how casual they are. Not only is the bride wearing a more casual dress, the whole wedding party is. So, if you are invited to a bohemian wedding, don't over do it with the dress or suit.
Boho weddings are inspired by nature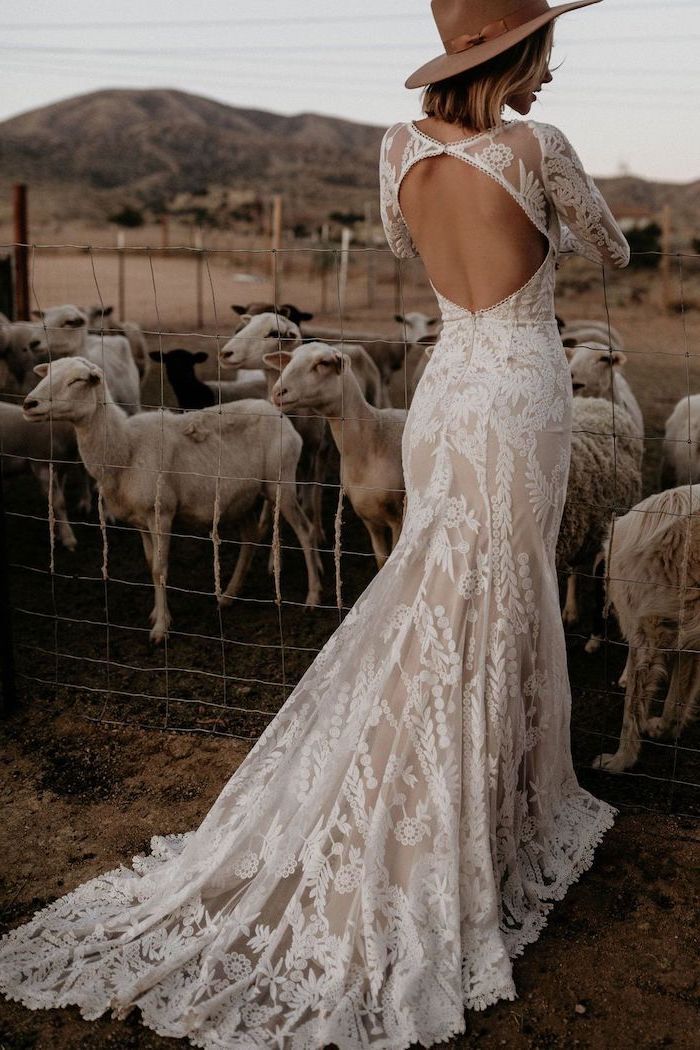 What is a boho wedding dress?
You can spot a boho wedding dress from miles away. They are so different from any other dress out there. What sets them apart is their flowy style and their light as air fabrics. What's more, they are usually made of lots of lace and floral designs. They are comfortable and the best part is they fit any body shape perfectly. No matter what shape or design you are going to choose, you will definitely feel connected to nature and you will be super comfortable throughout the whole day. After all, it is one of the most special days in your life.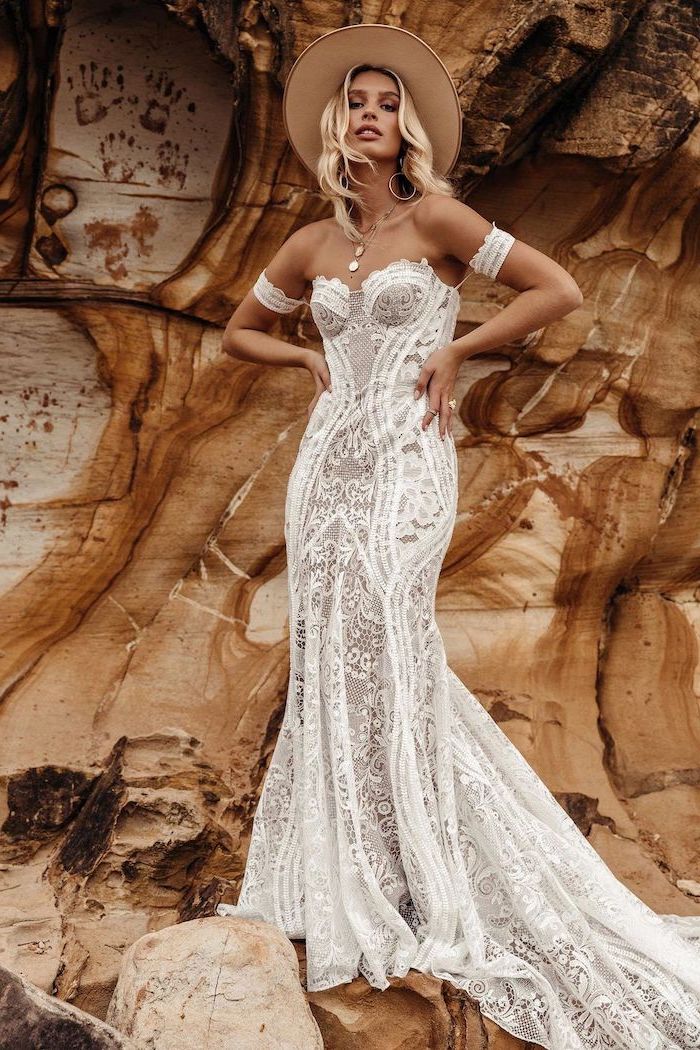 What are the boho wedding dress trends for 2021?
In 2021 boho will still be in style. So, if that is the kind of wedding you are planning to have, go for it. When it comes to choosing your dress, however, things may not be as simple. Boho dresses are so beautiful, it might be so difficult to pick the one. Fear not, however, because we are here to help. So, we have prepared a few tips on how to pick the boho dress most suitable for your body. Even though we are sure that you would look breathtakingly stunning in any one of them.
A gorgeous vintage boho dress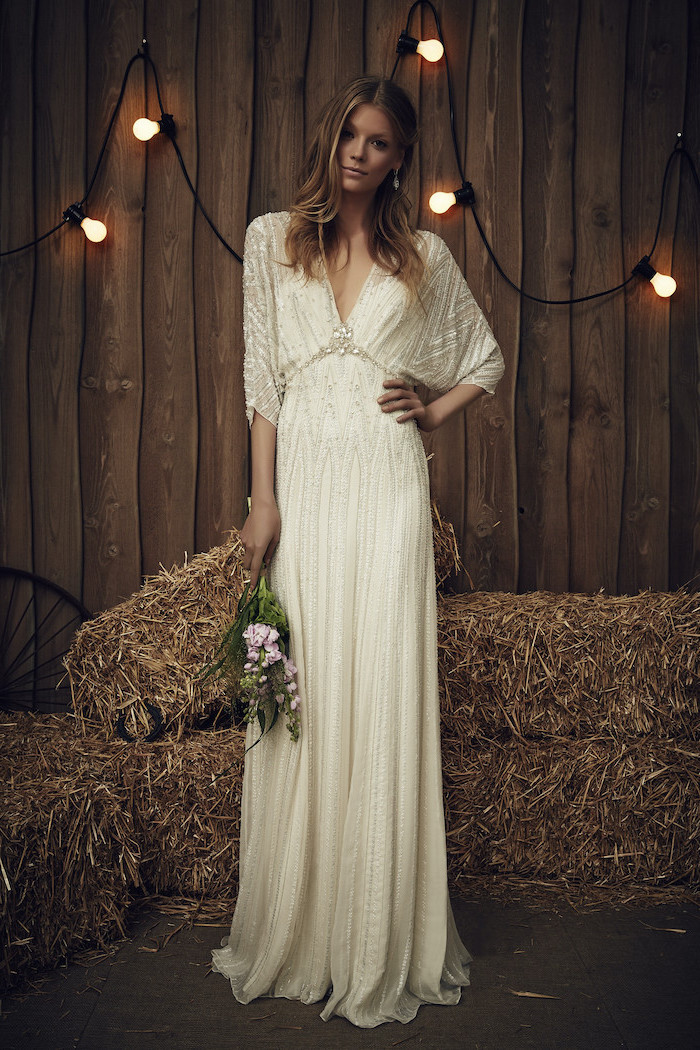 ---
Long sleeve boho wedding dresses
Long sleeves are usually preferred when it comes to winter or fall weddings. Usually, if your wedding is during the summer you would want a more open dress, so that you feel fresher, instead of super hot. That shouldn't necessarily be the case, however, when it comes to boho dresses. Since they are usually made of lots of lace, the lacy sleeves are a great addition which is still going to keep you fresh and looking absolutely fabulous. What's more, because of the casual vibe of boho dresses, bell sleeves look amazing and are super airy and freeing.
Long sleeves, which are going to keep you cool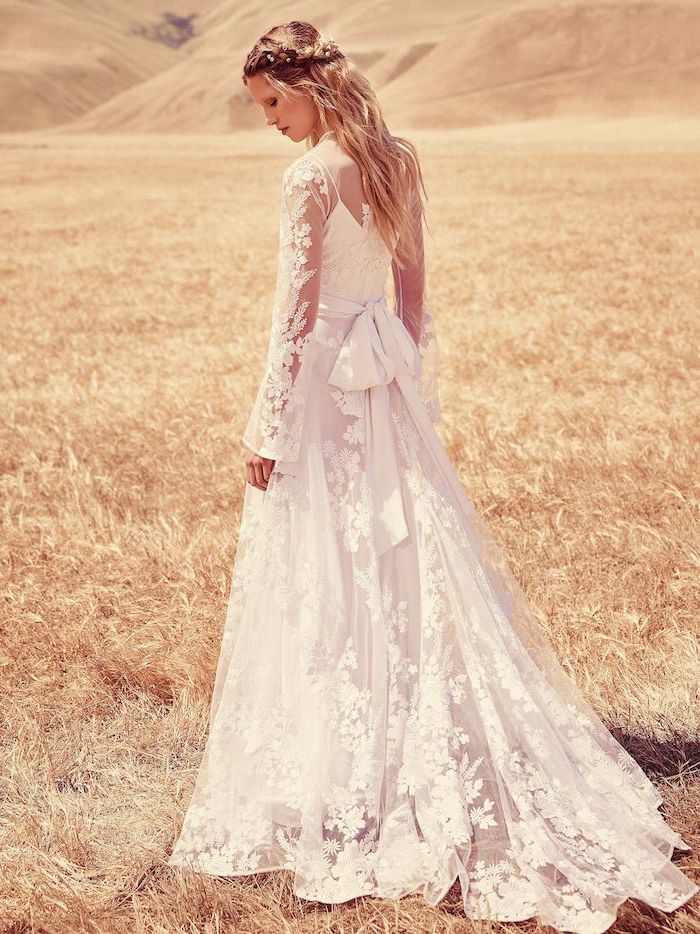 It's all about flounce
Flounce is going to be a big trend in 2021. Therefore, it will be very popular amongst wedding dresses, as well. Whether you choose to add some flounce to your sleeves, neckline or the bottom of your dress you will not be wrong. Plus, you can add all three, which is going to give a romantic whimsical feeling to your wedding day outfit. Add some lace and you will have and absolutely stunning combination for a wedding dress.
Add some flounce to an otherwise simple design to make it extraordinary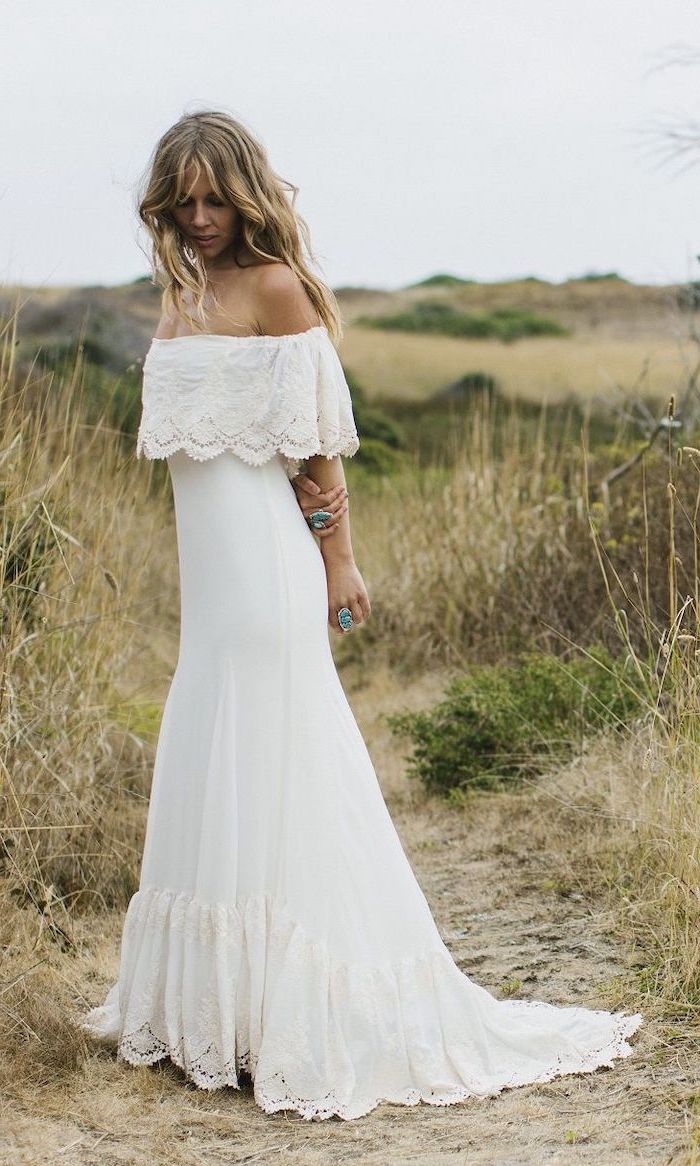 V-necklines are here to stay
If you want to go boho, but would like to keep the classical, elegant elements to your wedding dress then this is your best option. V-necklines underline your shoulders and waist, especially if the bottom part of the dress is still flowy. Adding some lace to your neckline is, of course, a must for any boho dress.
Just look at this gorgeous wedding dress with a V-neckline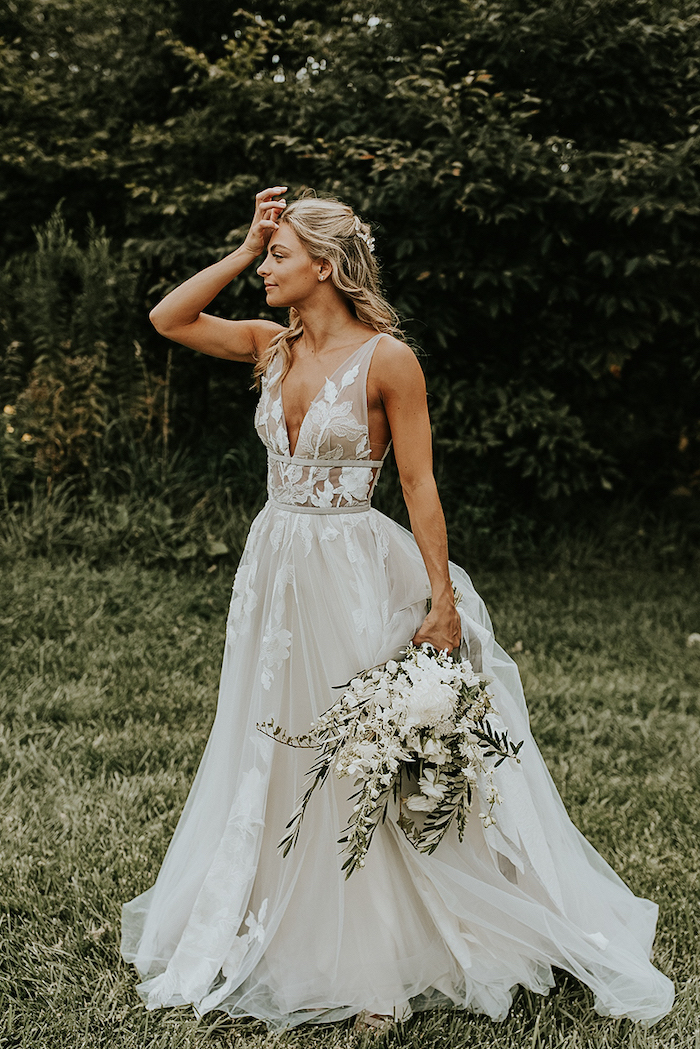 Let your back do the talking
Showing off your back is a classy, elegant way to be very sexy without showing off too much. What's more, having a dress with a bare back, which is more closed at the front will keep you from pulling and tugging it all day. You definitely won't have to worry about exposing anything you wouldn't want to otherwise. So, keep it classy, elegant and sexy with a bare back dress.
Just look at how gorgeous this dress is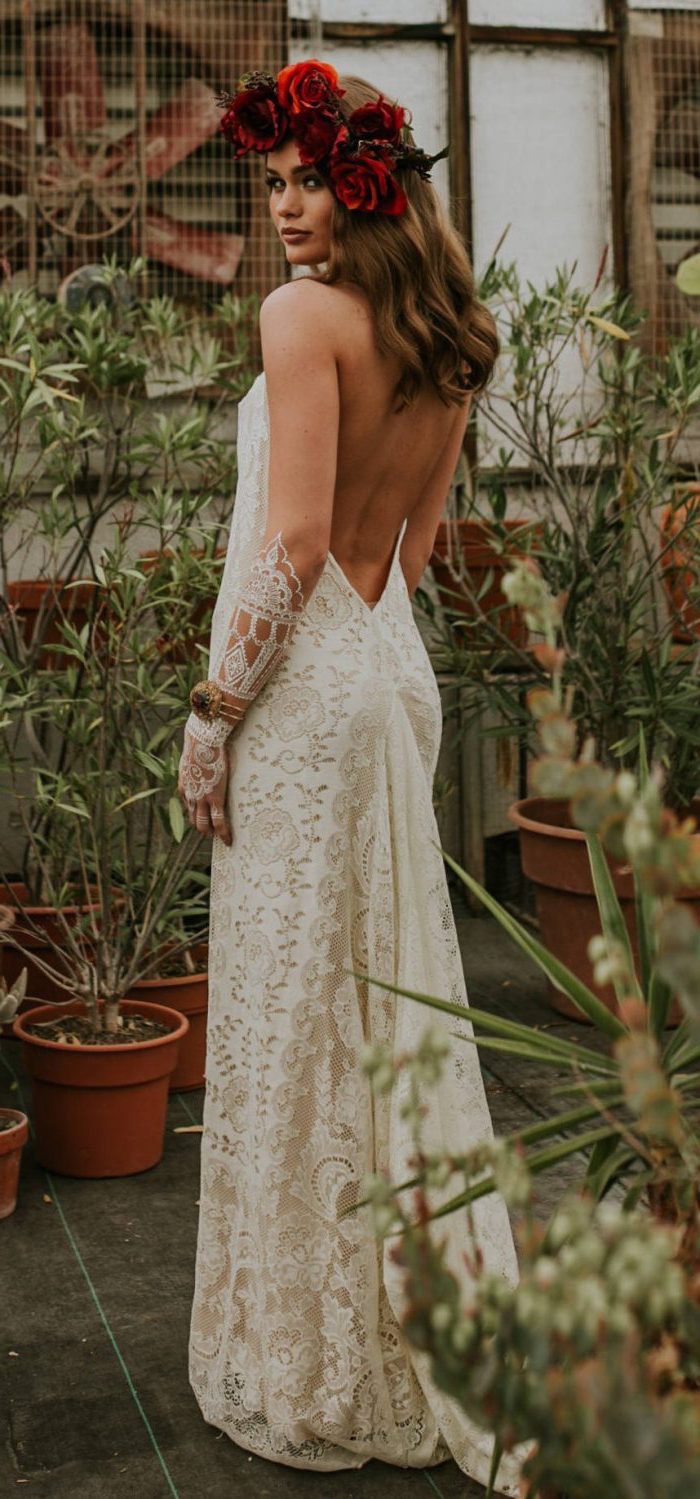 Add some fringe
As we have already said, boho wedding dresses can be more casual. That is exactly why adding some fringe to them is not a bad idea. As you can see in the photo below, lace combined with fringe is definitely a great and creative combination, no one saw coming. So, don't be afraid to try it in 2021.
The details in this dress are crazy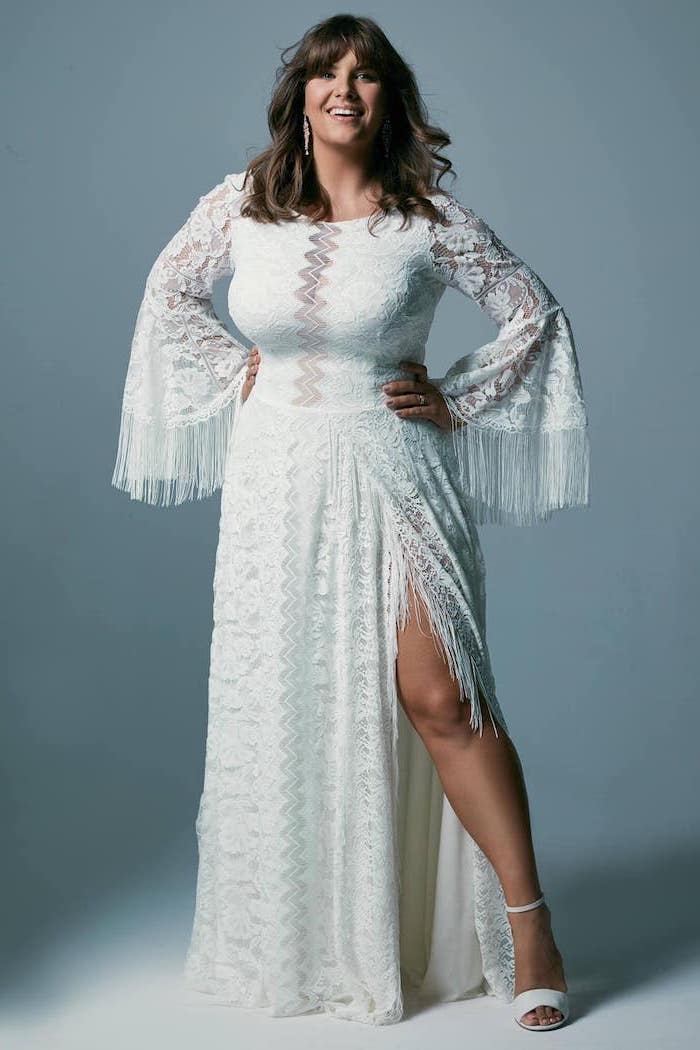 Make a statement with lots of lace
Lace, lace and only lace – that is the most important thing when it comes to boho dresses. The amount of details that have gone into the dress, pictured below are so intricate, but make for an incredibly special wedding dress.
I mean, just look at those sleeves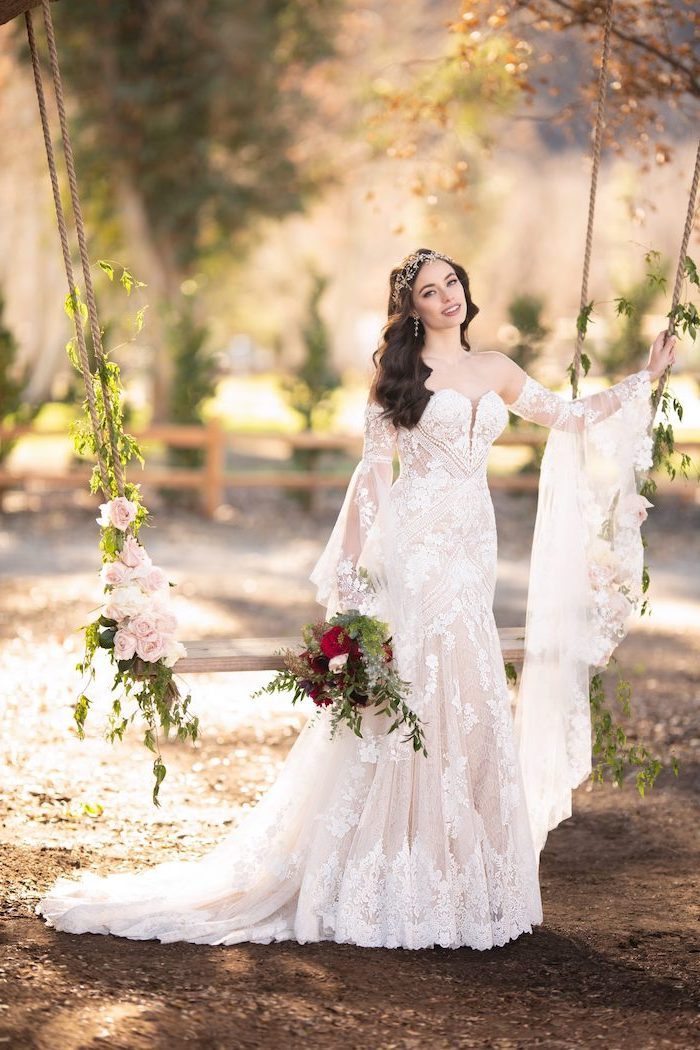 Show off your waist
Showing off your midriff area has become such a trend as of late. Therefore, it comes as no surprise that midriff baring wedding dresses are going to be very popular in 2021. Once again, this is possible because of the casual vibe that comes with boho weddings. So, show off your waist and help yourself be cool throughout the whole day by choosing this type of dress.
Intricate lacy top with a simple bottom – all eyes are on the midriff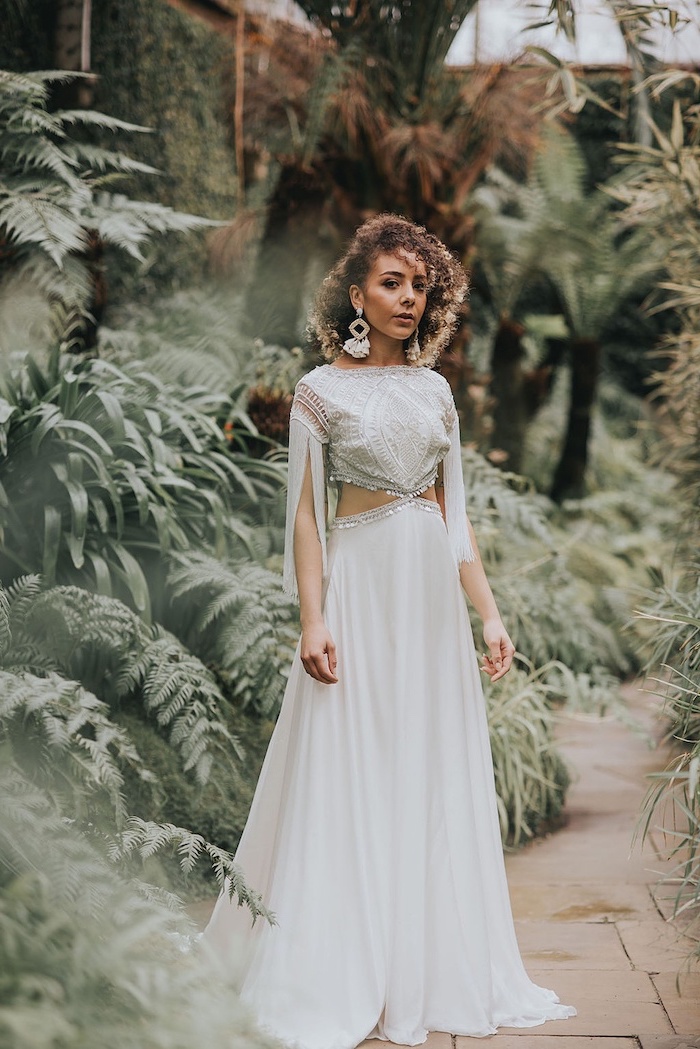 Now, browse through our gallery to find even more boho wedding dress ideas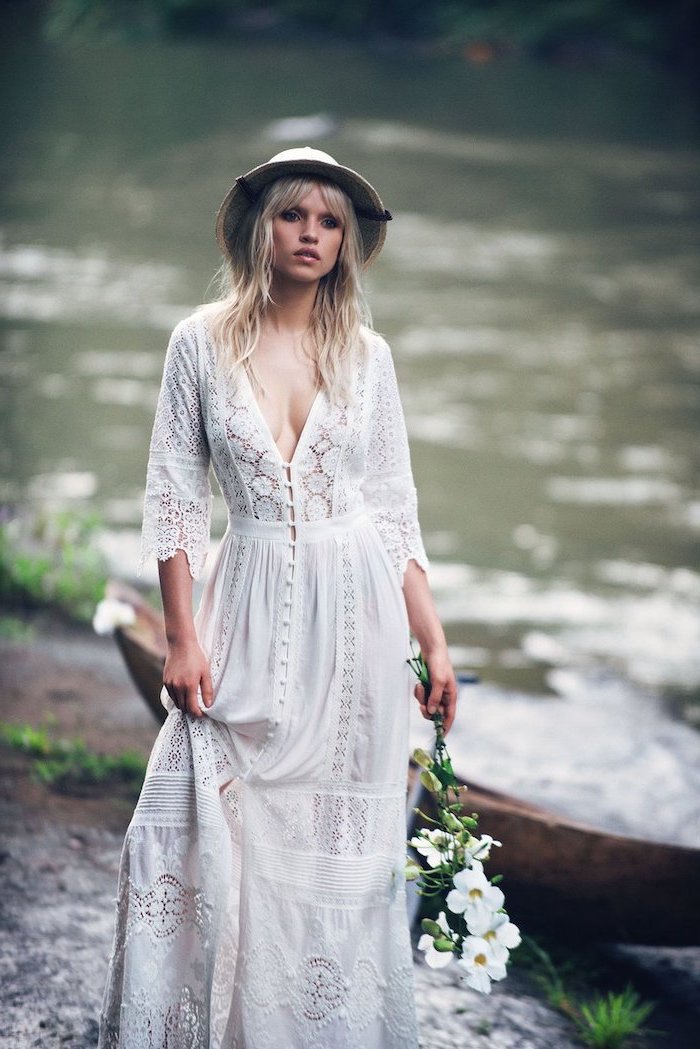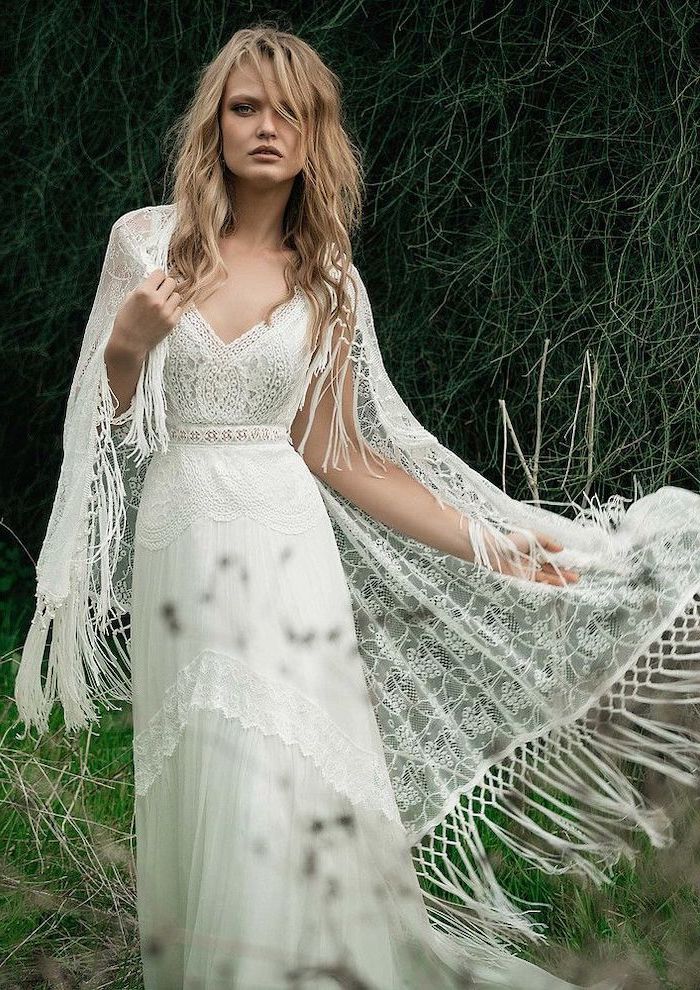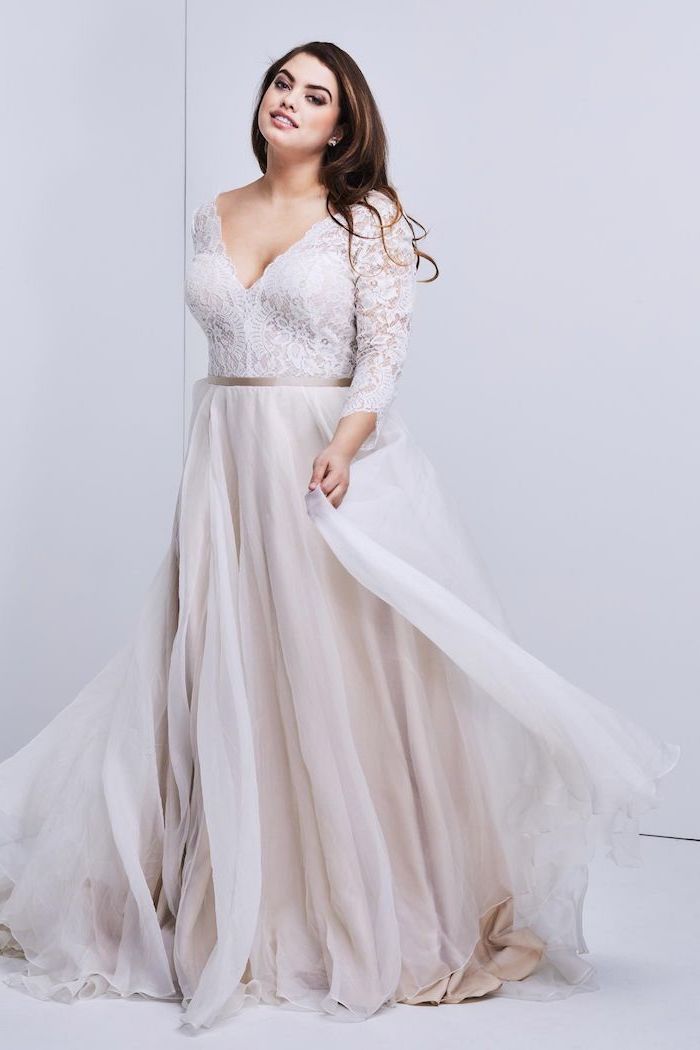 Gorgeous plus size beach wedding dresses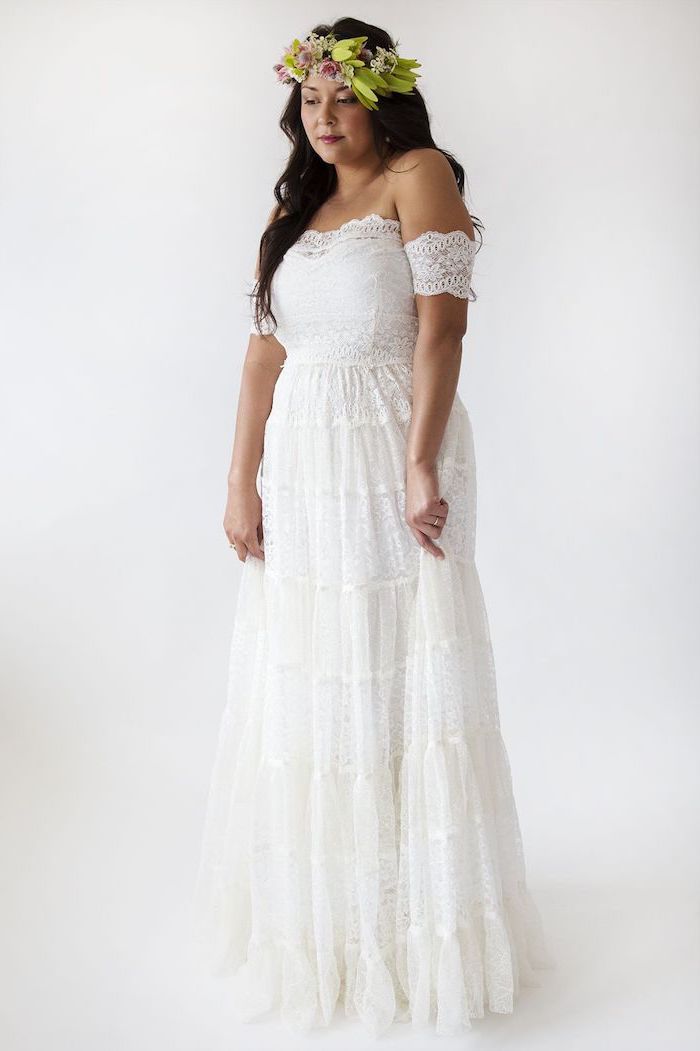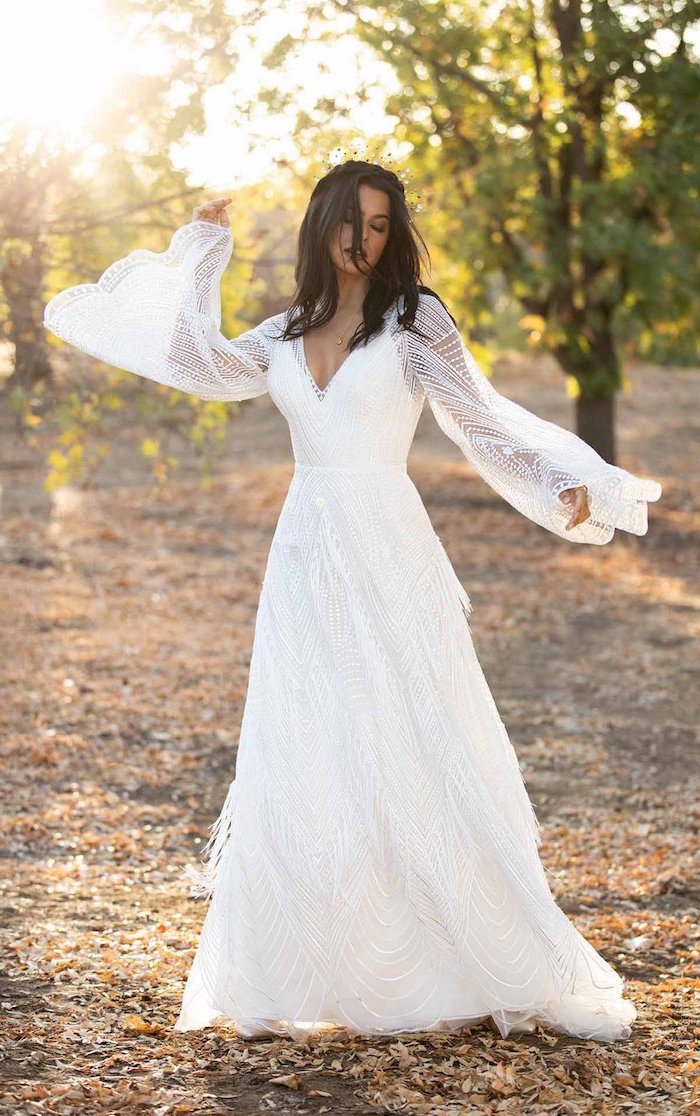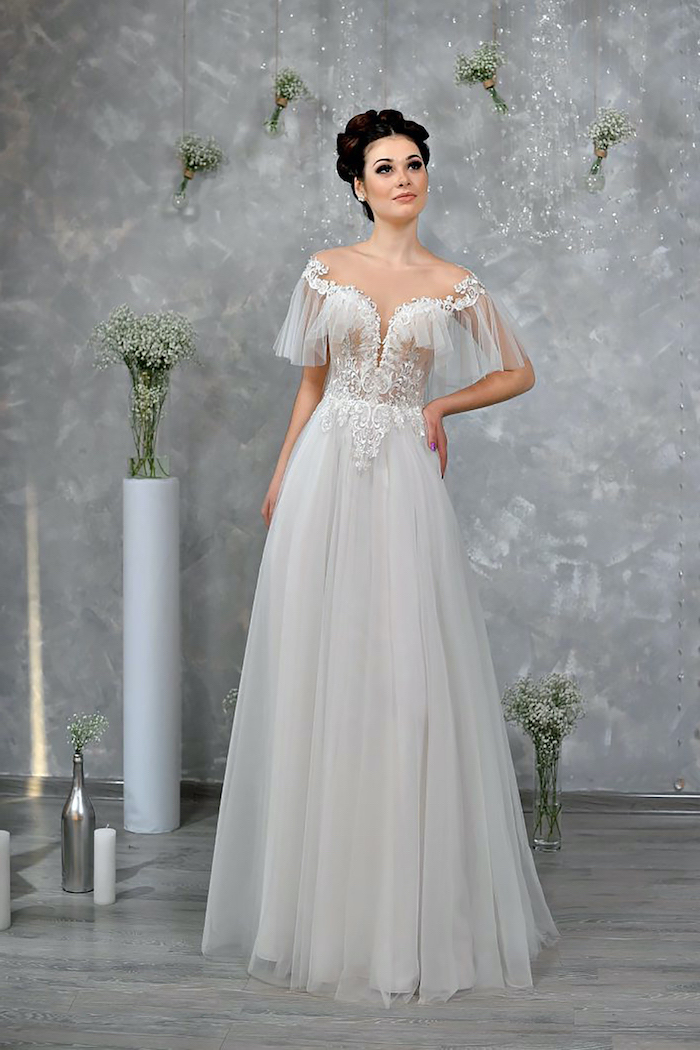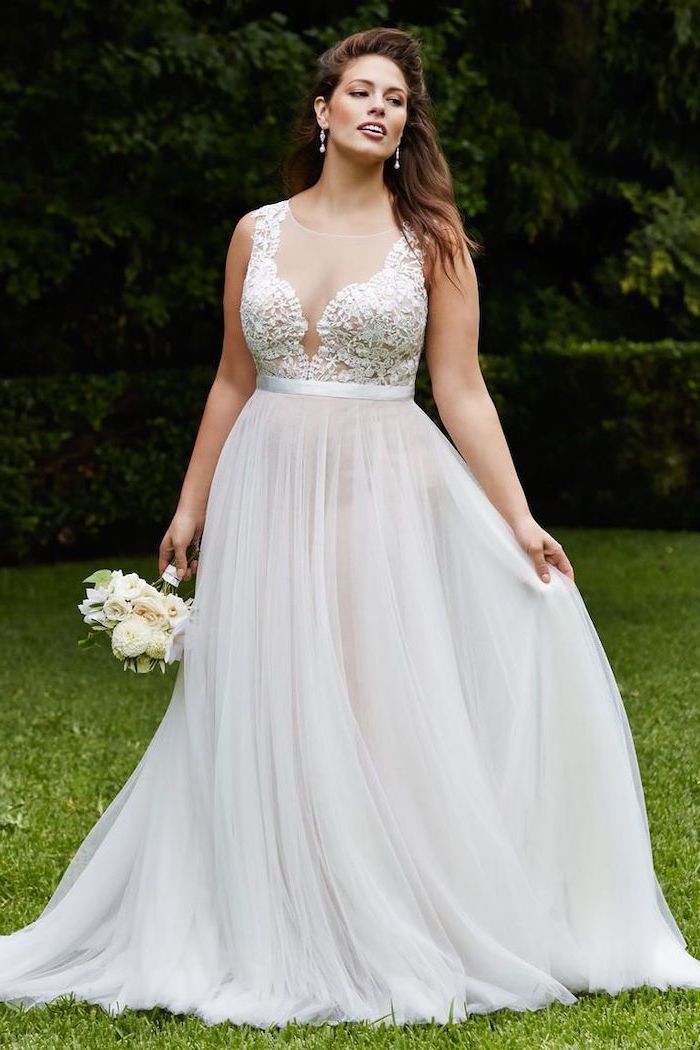 Unique wedding dresses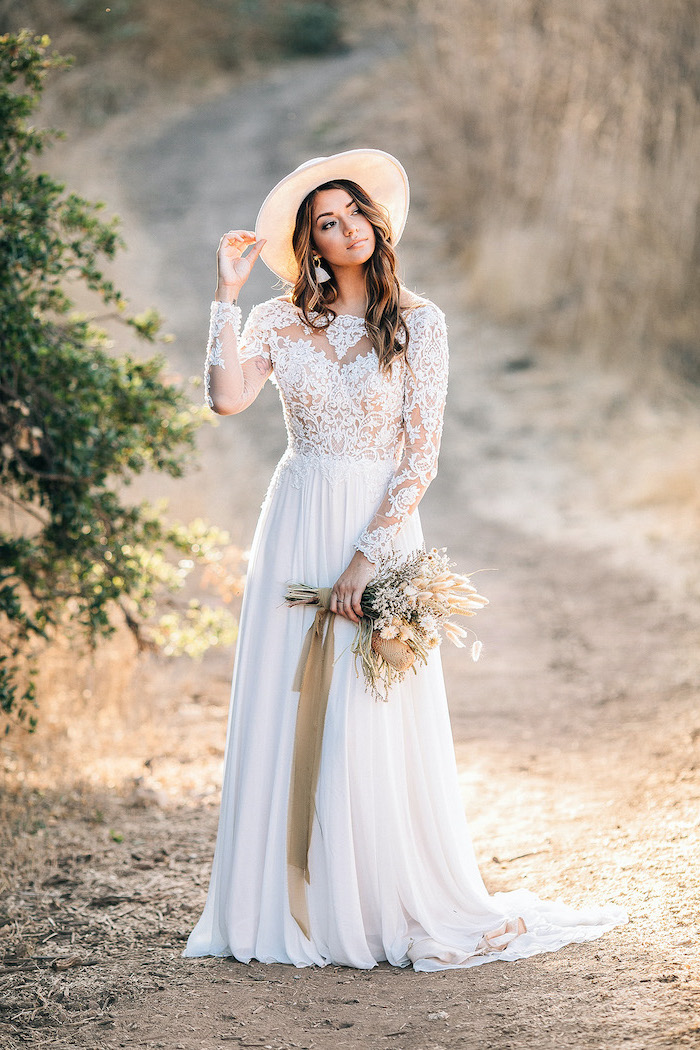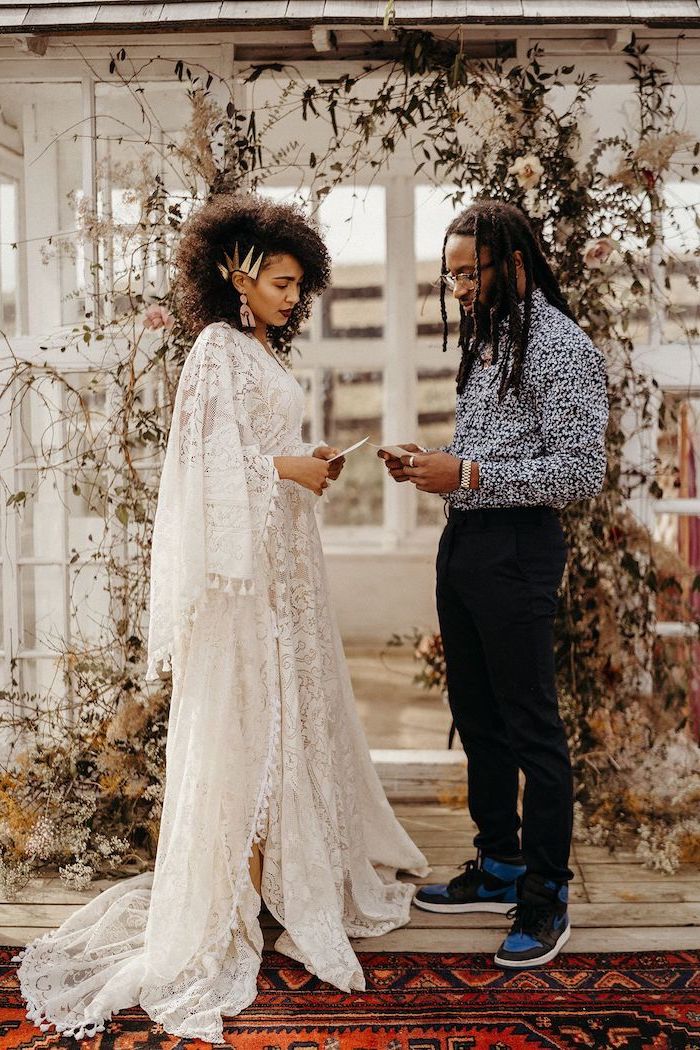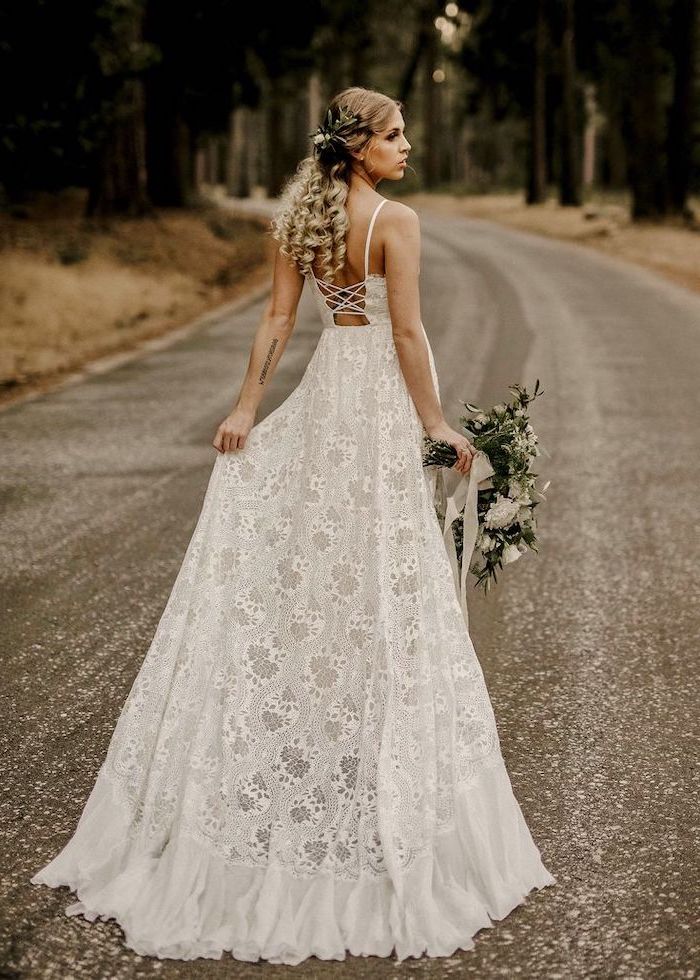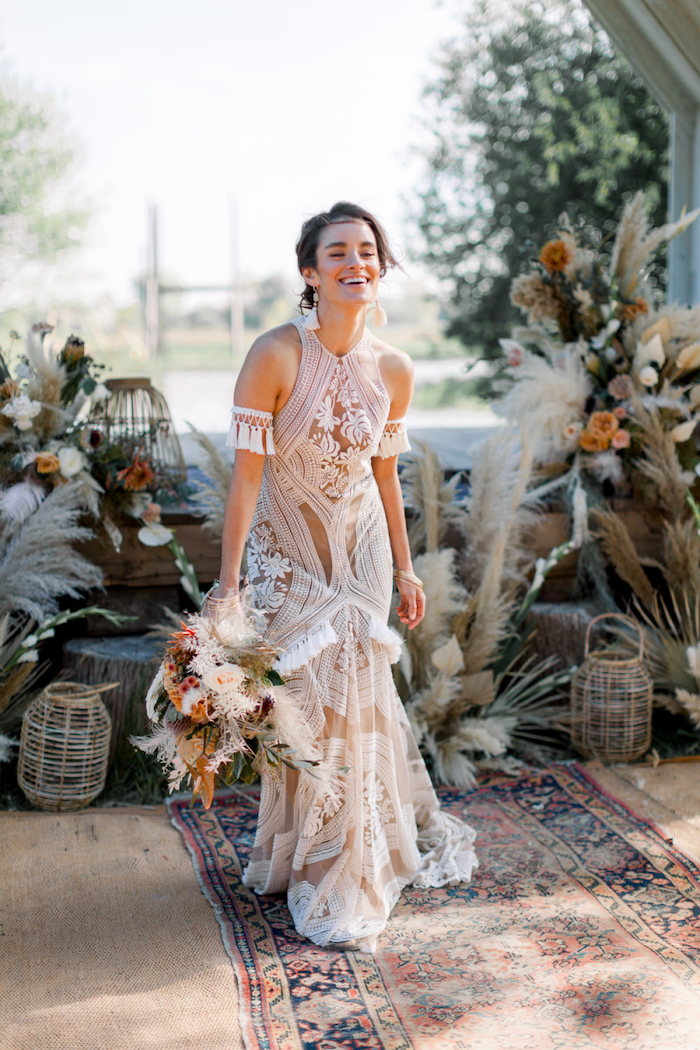 Boho lace wedding dress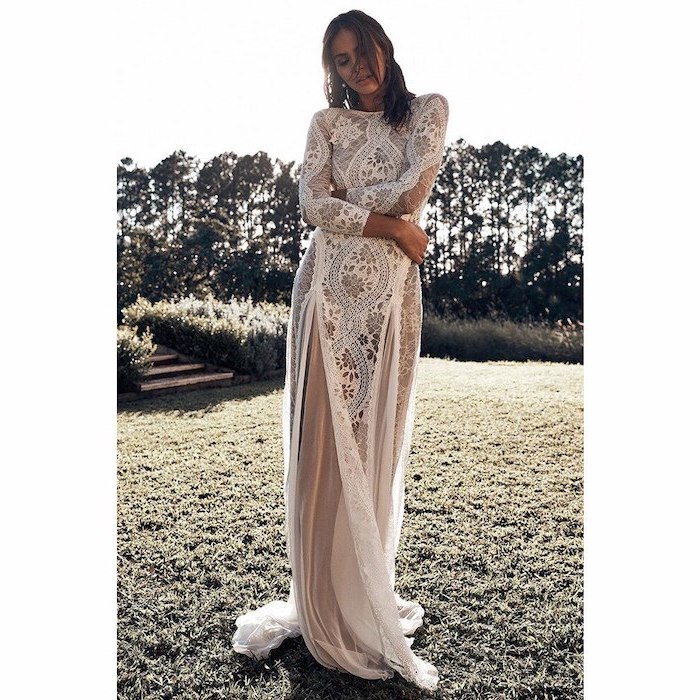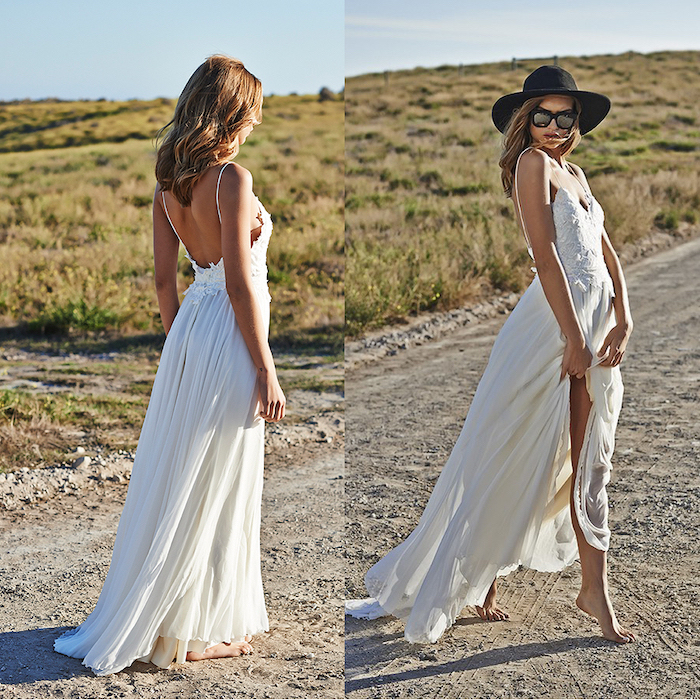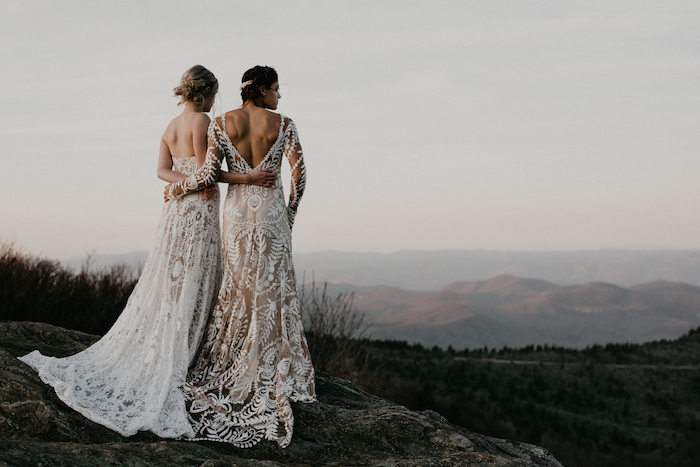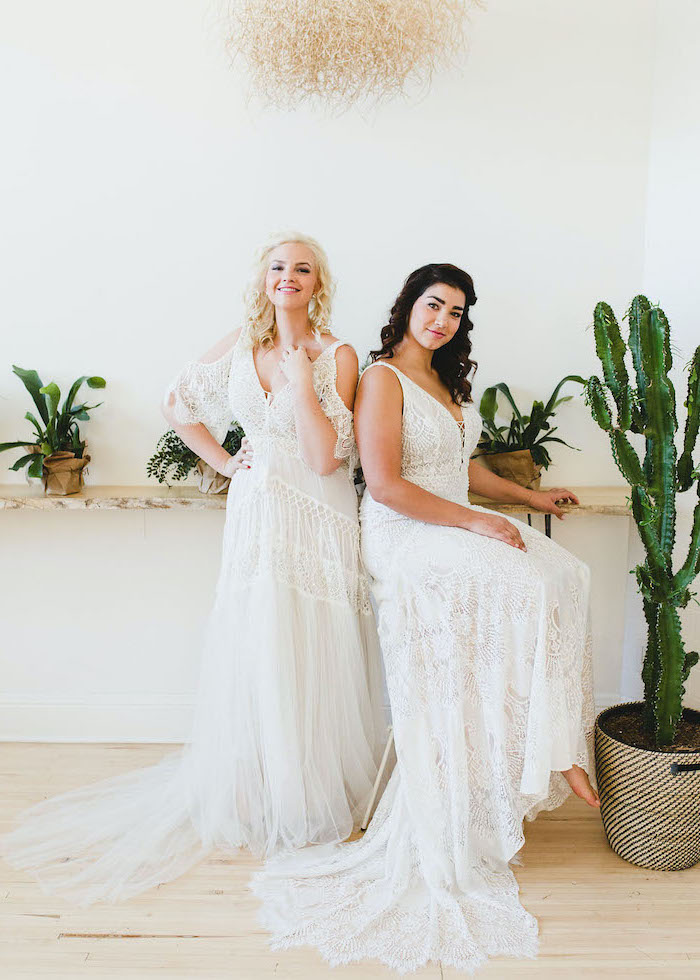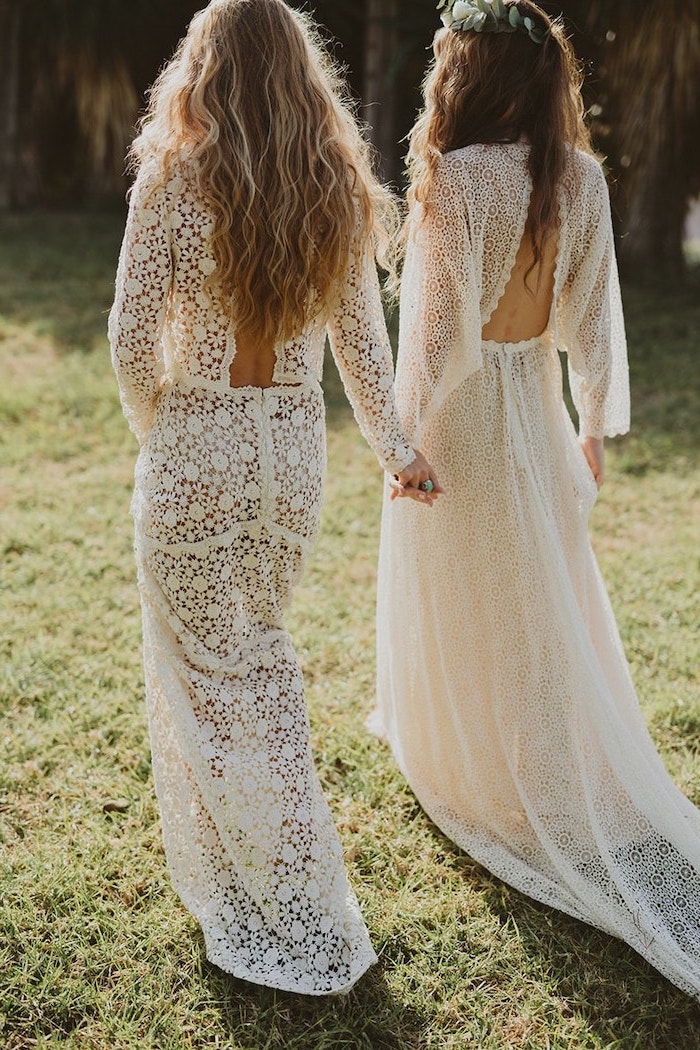 Gorgeous flowy wedding dress with an interesting neckline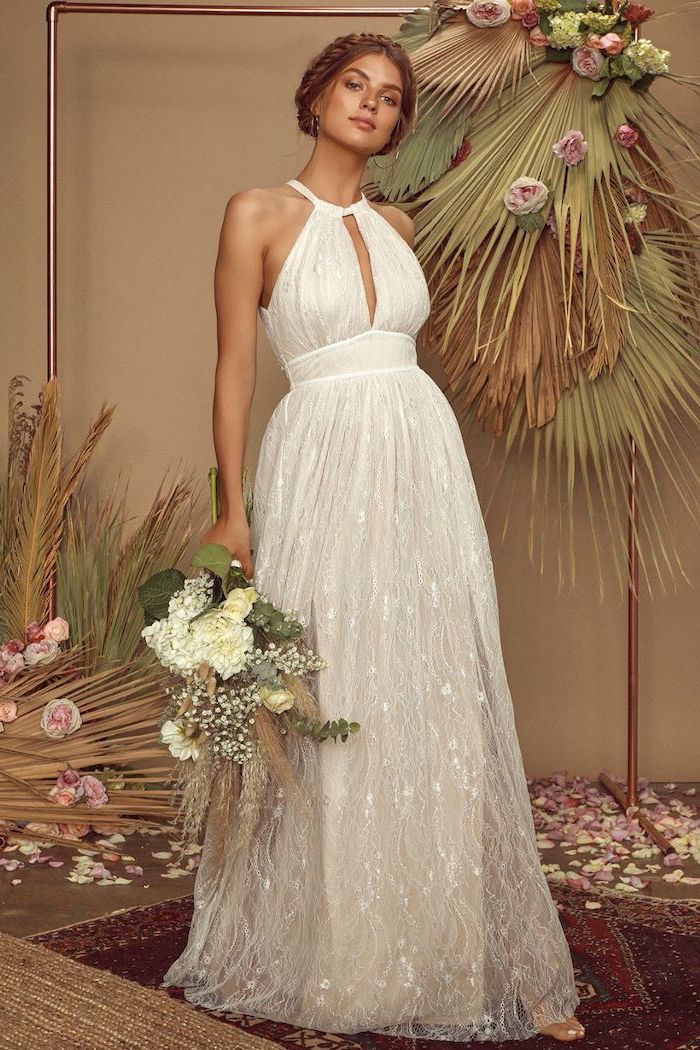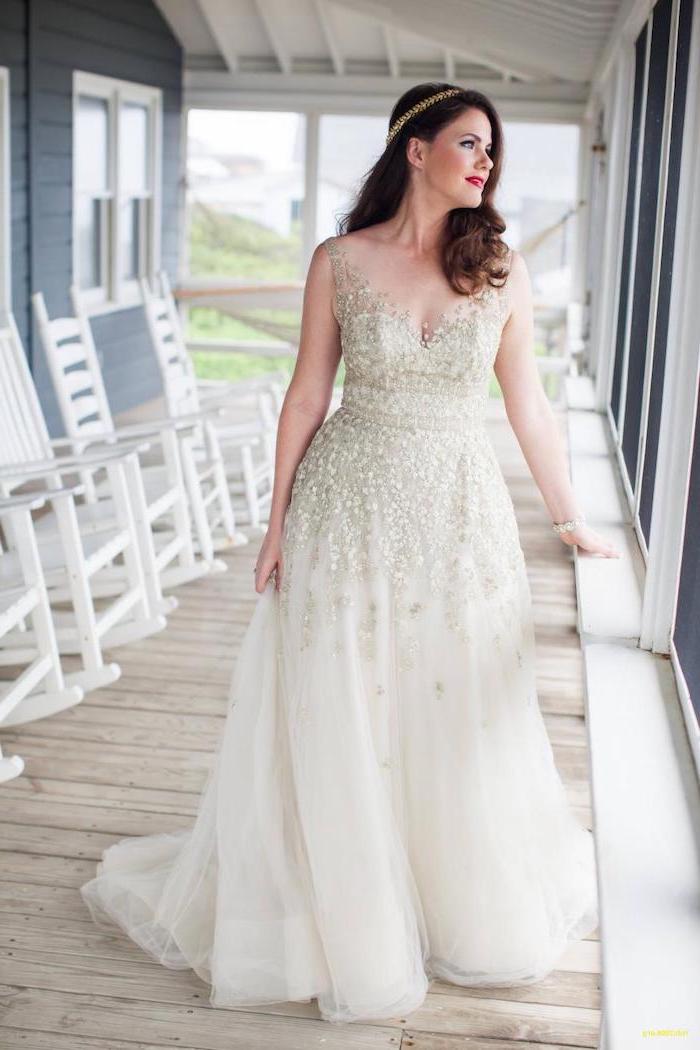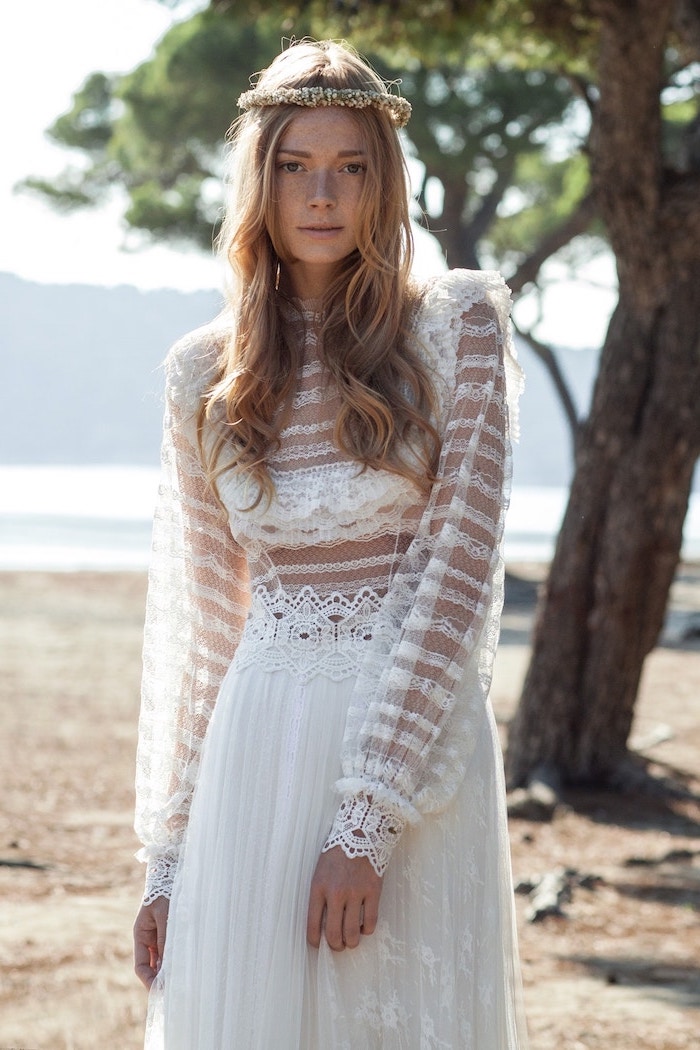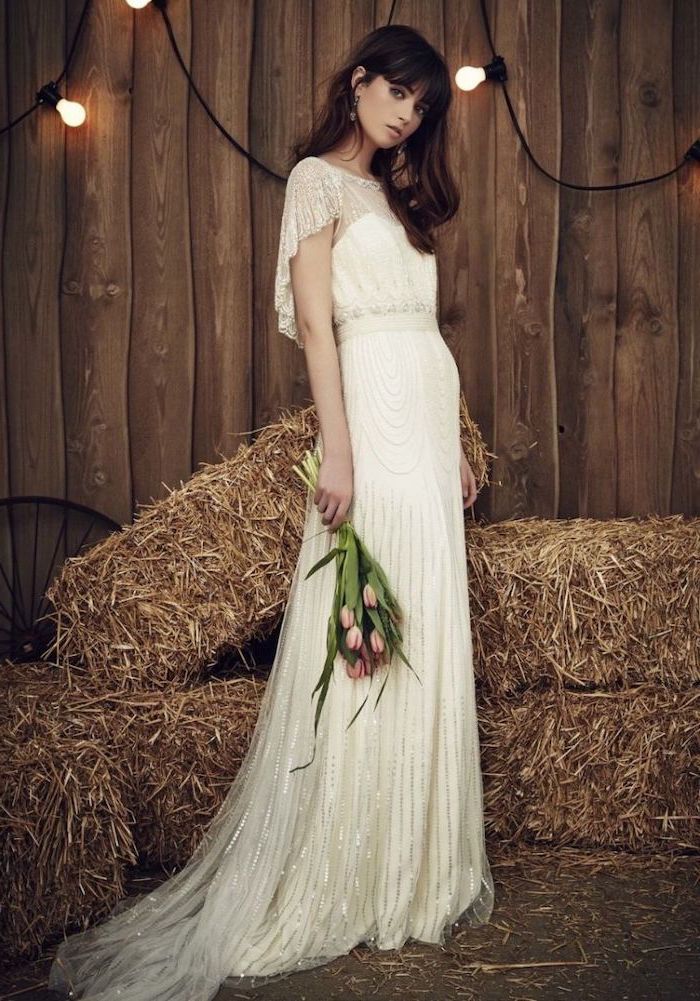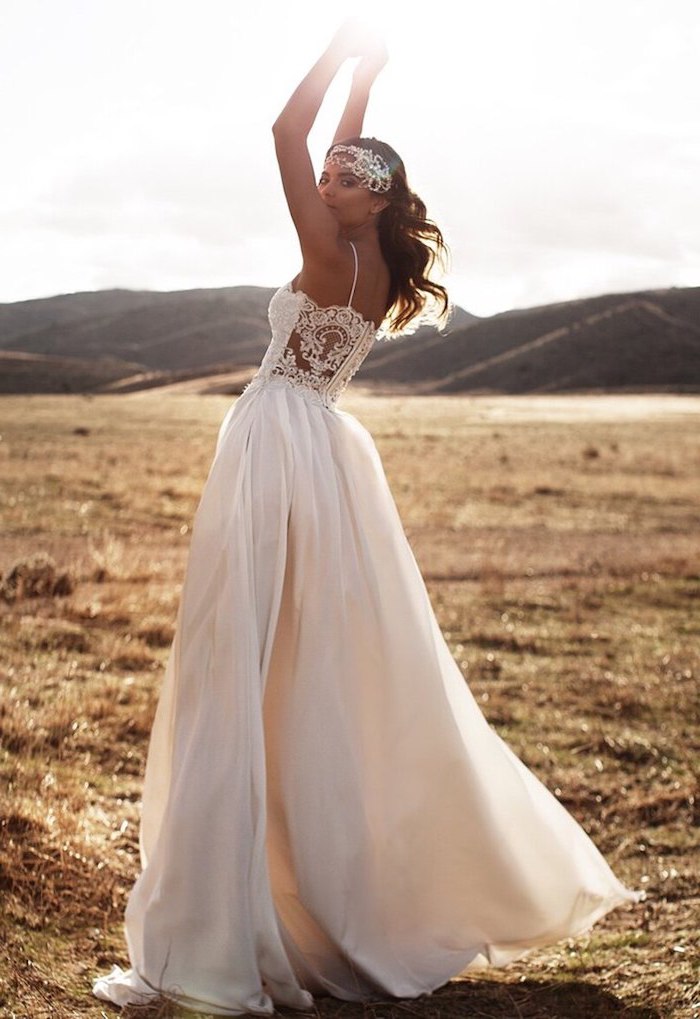 Lacy bohemian wedding dress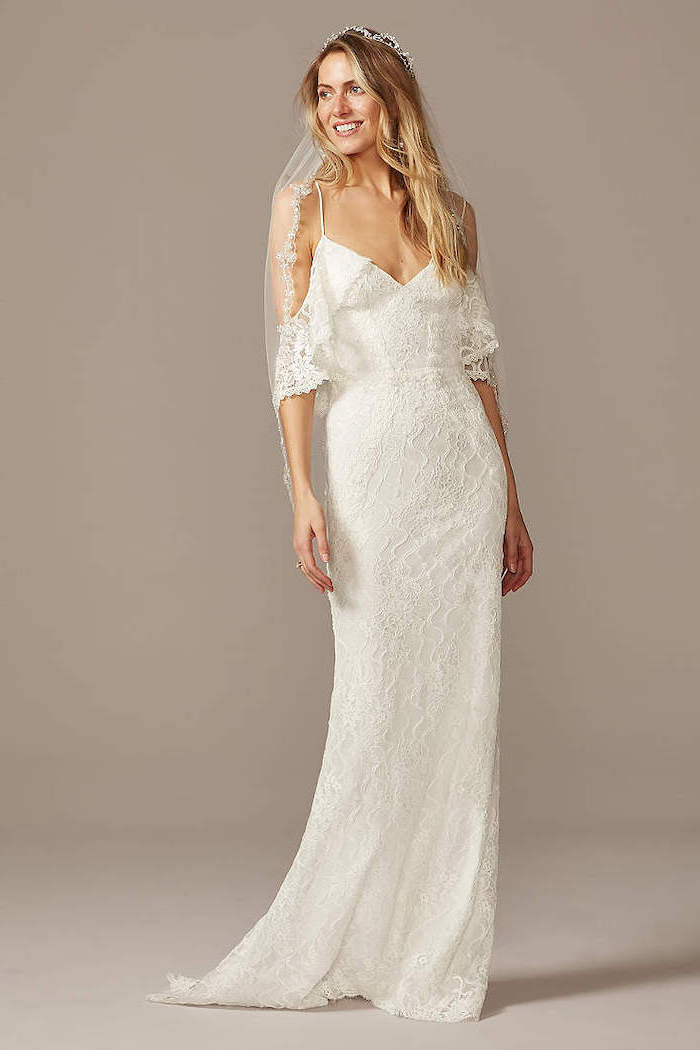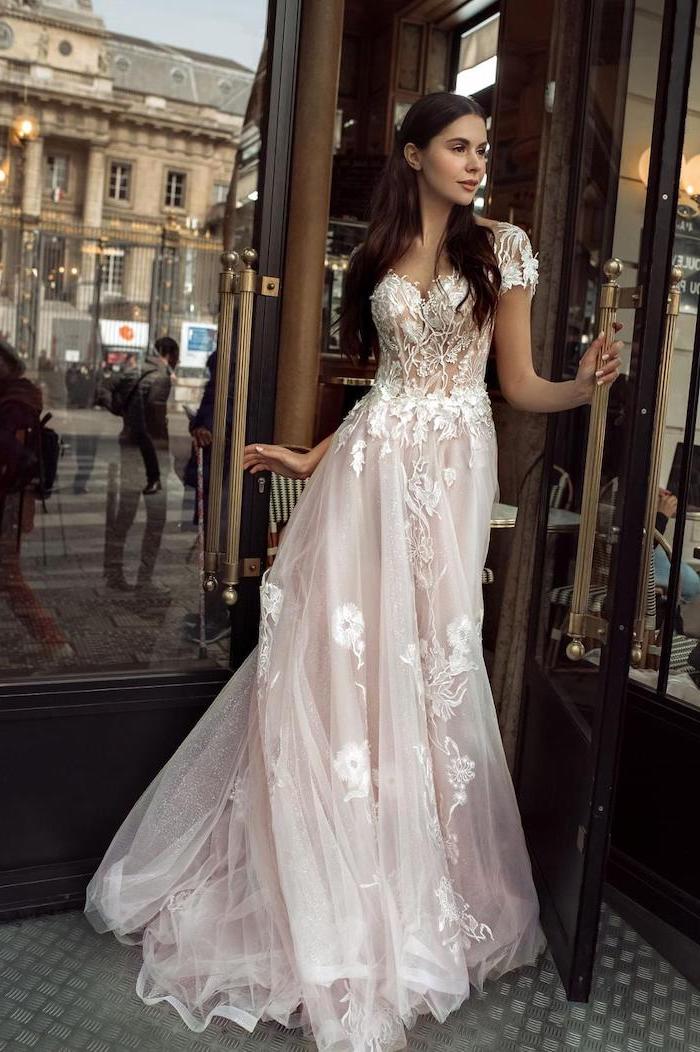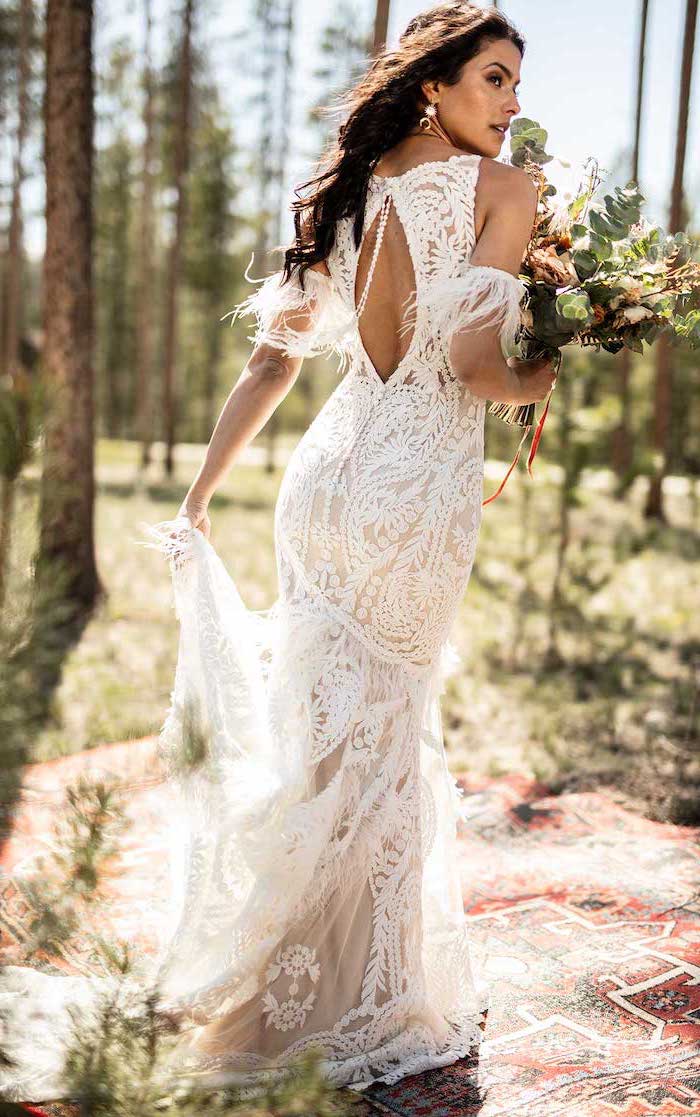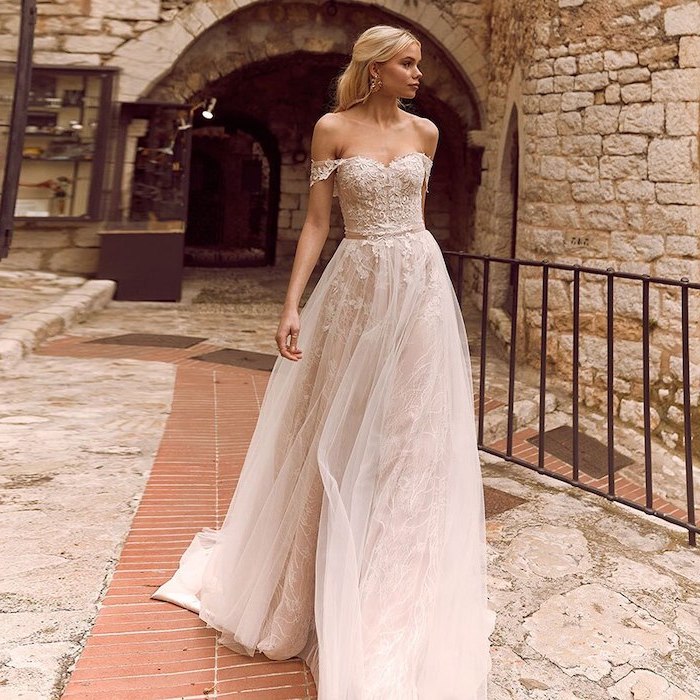 Bohemian style wedding dresses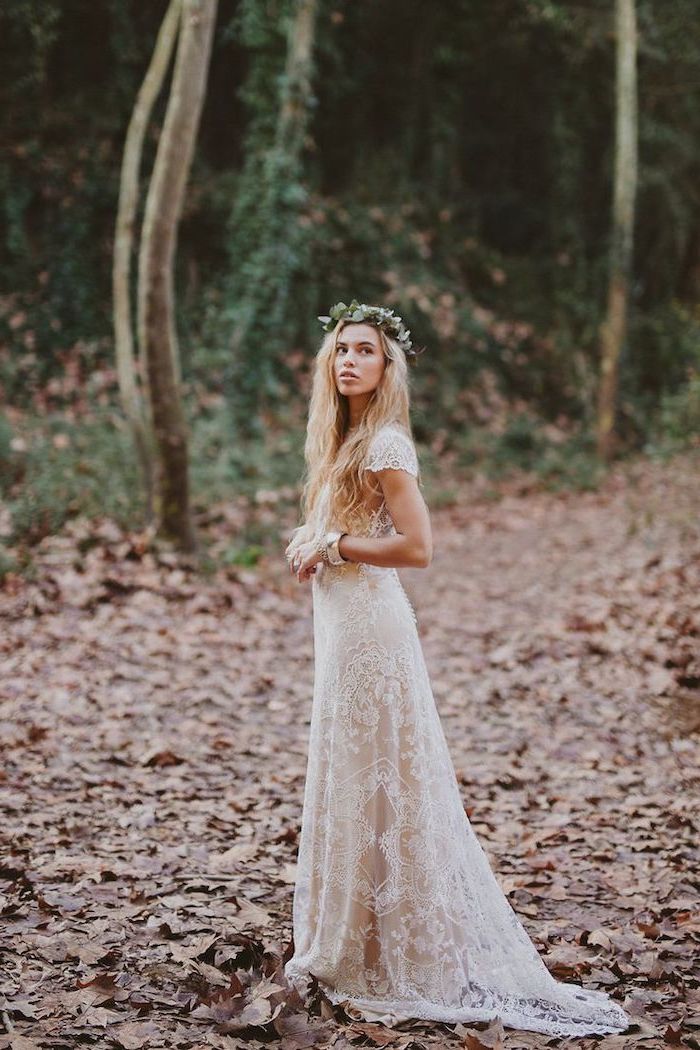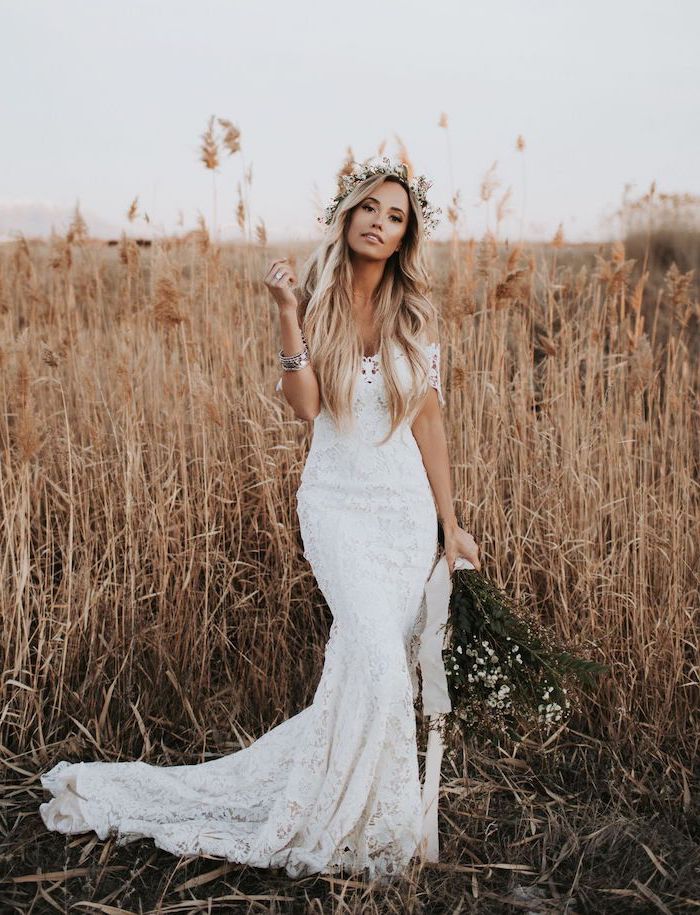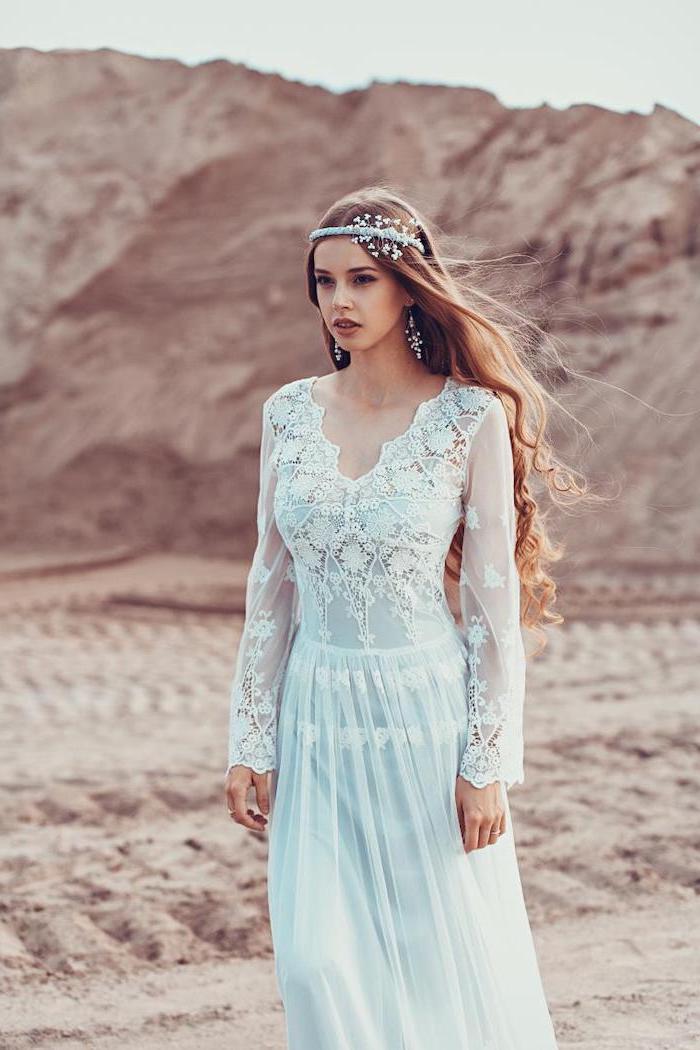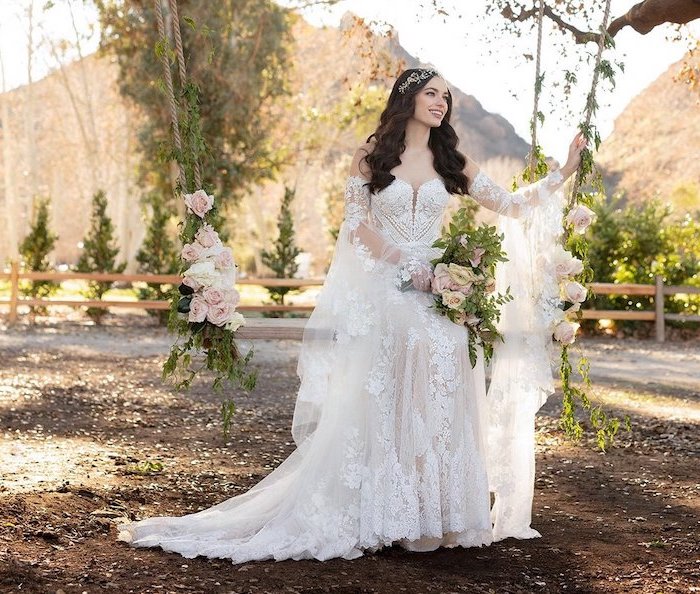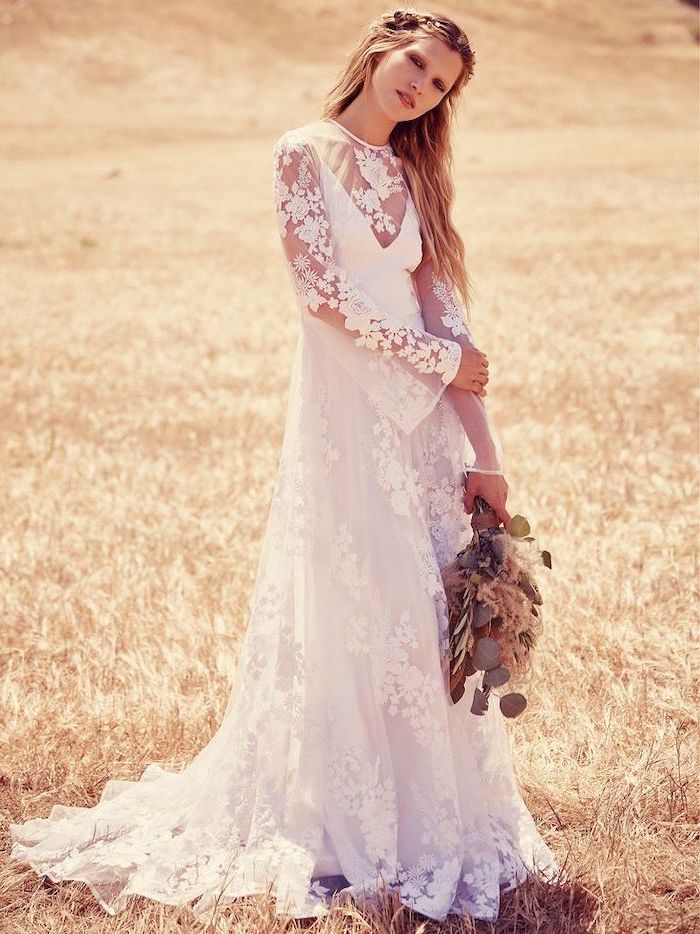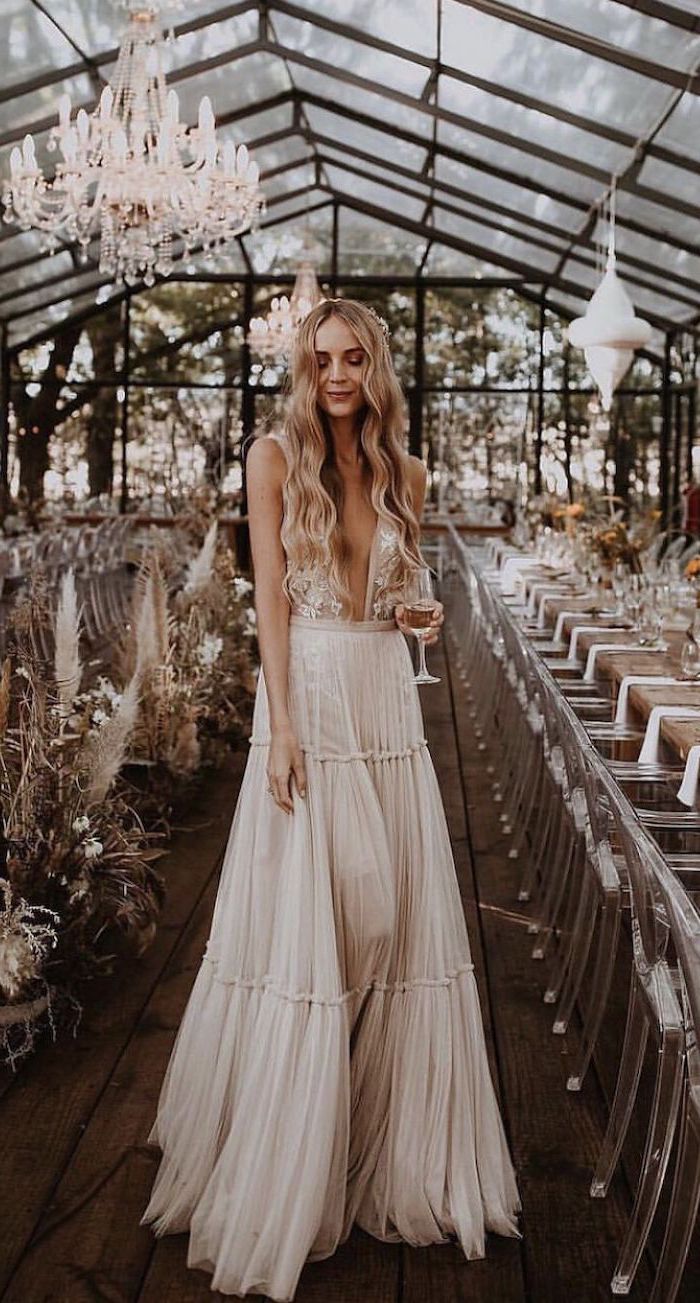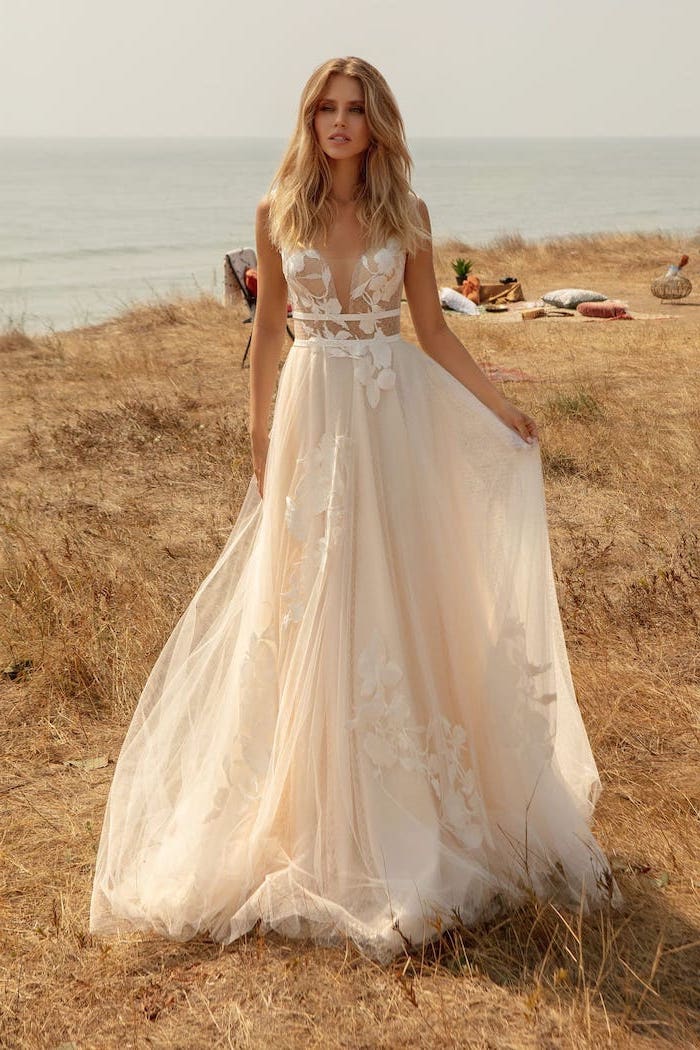 Stunning plus size boho wedding dress