How to find the most stunning wedding dresses online and pick the best one?
Getting married is one of the most important days in a woman's life. It is something little girls often dream about – their dream wedding day and, mainly, the beautiful white dress that would make them feel like princesses. Because is there a girl who doesn't dream of being a princess? If you are engaged and about to be married, congratulations! And, if you are on the hunt for the wedding dress of your dreams, we are here to help you? In this article we are going to give you some tips on how to find the best wedding dresses online and, especially wedding dresses for the beach, because your destination wedding deserves the best.
How to find the most stunning wedding dresses online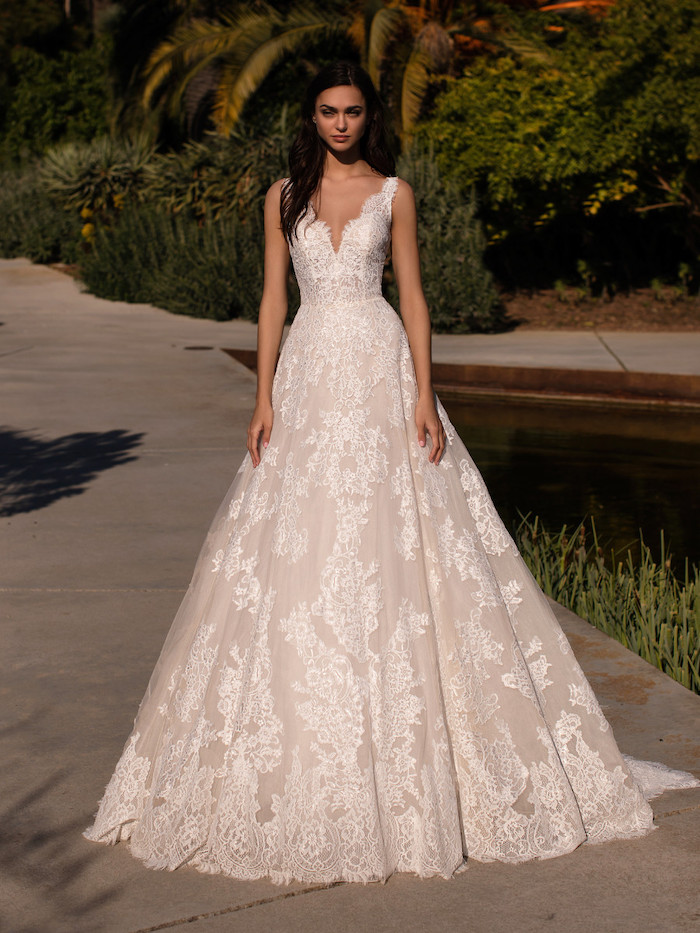 Finding your wedding dress is one of the hardest decisions to make when planning your wedding. That is why, you need to be careful. Especially, if you have decided to buy your dress online. If that is the case, there are a few things you need to consider:
Make sure that you are buying your dress from a legitimate website. We know that super low prices can be alluring, however these types of websites are not always to be trusted. First of all, the design may not match the one pictured. Second of all, the sizing can be all wrong and you might end up with a smaller dress that doesn't fit properly.
Keep in mind that you and the model pictured have different build and proportions. Therefore, the dress won't look absolutely the same on you, as it does on the model. However, it might even look better on you.
If you are not sure which dress silhouette will fit your body type best, go to a bridal shop. You can try on different dress types and when you see which one looks best on you, you can start browsing online for the dress of your dreams.
Gorgeous wedding dress design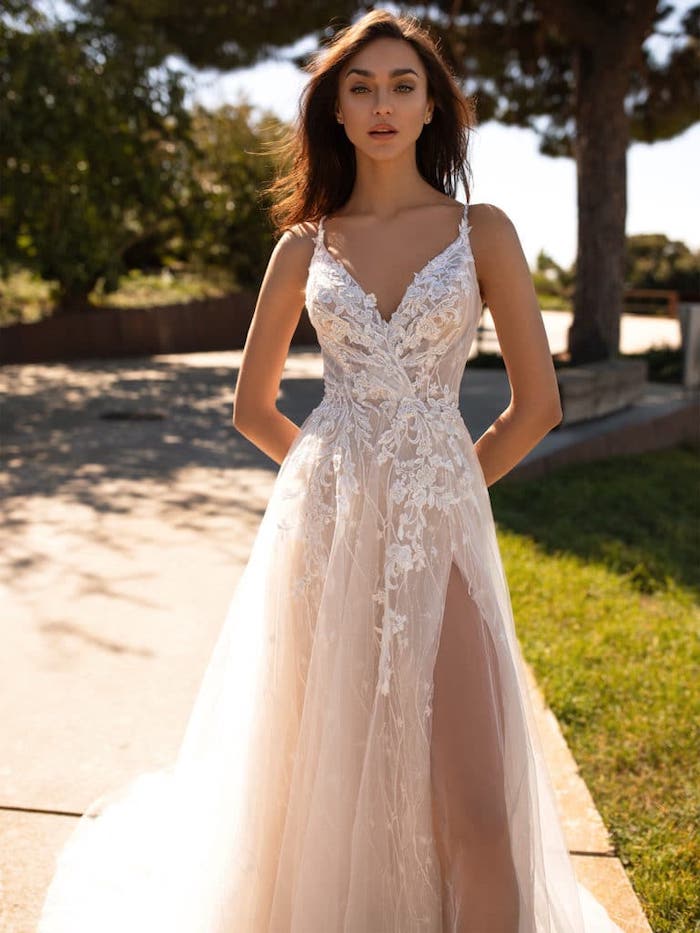 What are the most popular wedding dress silhouettes?
Ball gown – for the wanna-be princesses. A ball gown features fitted bodice with a full, wide skirt, which usually consists of layers of tulle.
Sheath – perfect for dancing queens. Sheath wedding dress falls straight to the floor and skims the body. This makes this type of dress very easy to move around in. Which is why many brides prefer this type of dress silhouette for a beach wedding.
A-line – mixture of a ball gown and a sheath dress. Called an A-line, because of the skirt, which creates the letter "A", as it flares out from the waist down, though not as much as the ball gown.
Mermaid – to show off those curves. Mermaid silhouette features a tight, fitted bodice, which goes all the way down to the waist and hips and flares out at the knees.
Fit and flare – a toned-down version of the mermaid silhouette. This type of dress has a fitted bodice through the chest and waist, but is a bit more forgiving down to the hips. It flares out right above the knees, which allows for easier movement of the legs.
Stunning example of a fit and flare silhouette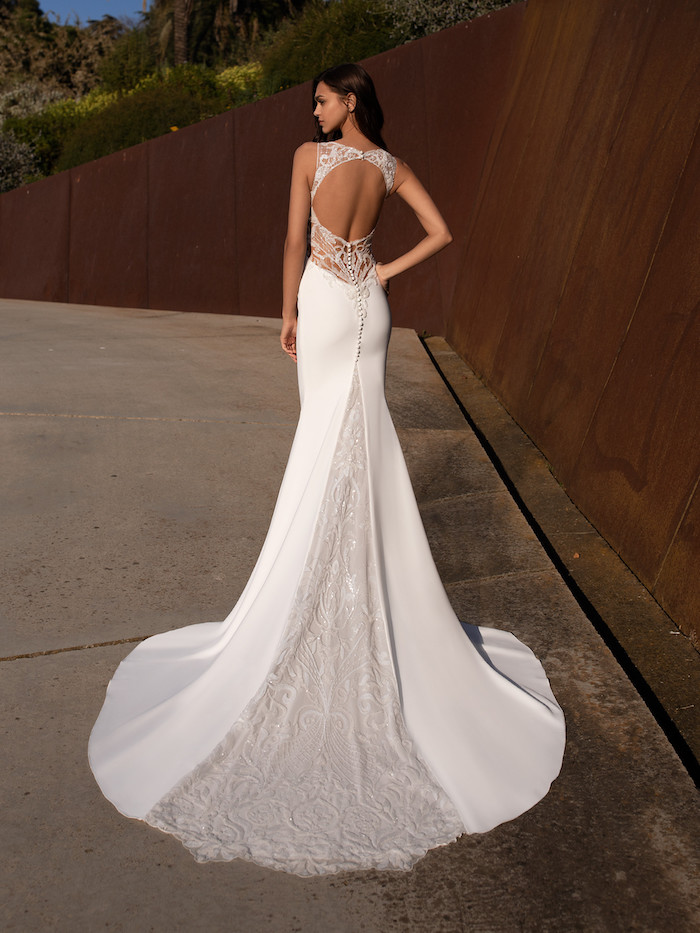 To sum up, with the rise of online shopping, wedding dresses are no exception. That is why, buying your dress online can be super easy. You just need to be well informed and make a careful selection about what it is that you want. After that, buying wedding dresses online is time-saving and super easy.
Wedding dresses for the beach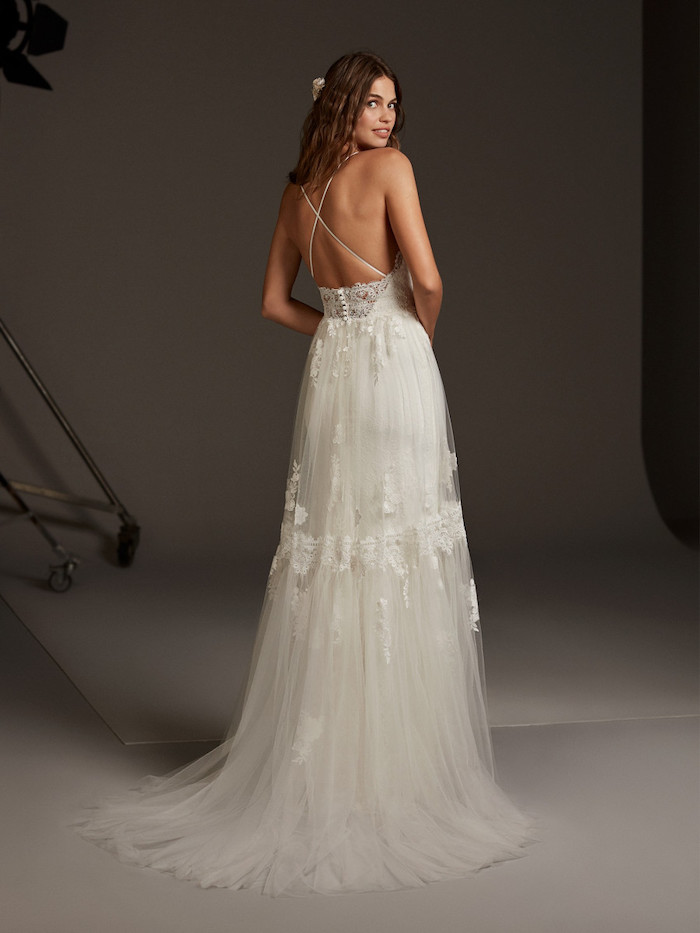 Strapless gorgeous ball gown wedding dress