Low-Key Backyard Wedding Ideas for the 2021 Wedding Season
Who doesn't love a big wedding? Having all of you friends and family around with a big party celebrating your love sounds amazing, right? Well, unfortunately, lots of people have had to adjust their wedding expectations this past year. Though many people have opted to postpone their weddings, some have decided to embrace the smaller, more intimate experience. So, with the summer season approaching and it being the preferred wedding season, we have decided to offer a solution. If you don't want to cancel or postpone one of the most important days of your life, we have a few backyard wedding ideas, which might definitely work for you! You might think that a backyard wedding is too simple for you, but after you see our ideas, you will understand that even the most understated decor can be magical!
A backyard wedding is a very intimate experience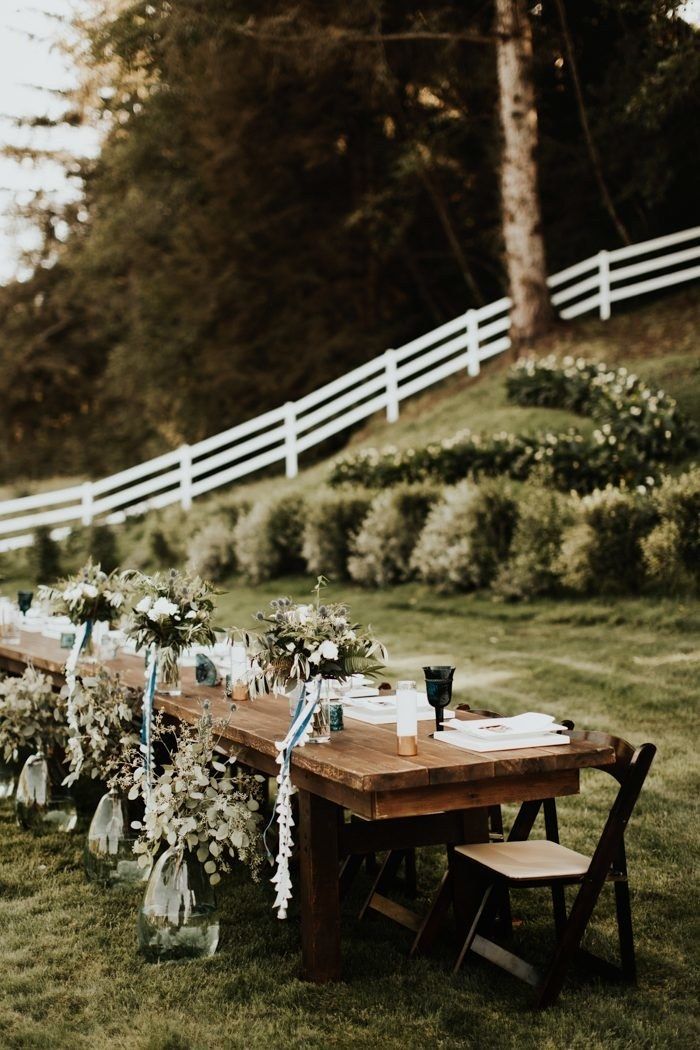 Planning a wedding is always a daunting task, but having it in your back yard might make it just a tad bit easier. First of all, if you have decided to take up organizational duties make sure that you enlist some help from your closest friends and family. Organizing a wedding can be very stressful, especially if you are the bride, so you will definitely need the support. The second thing to think about is the budget. If you have bigger budget and a small back yard, you can always rent a large beach house, for example and use their back yard. If you have a smaller budget, however, you back yard can turn into just as a magical place as any other. Plan ahead, give assignments to people you trust and don't forget to have fun.
Assign tasks to your closest friends to help you organize the wedding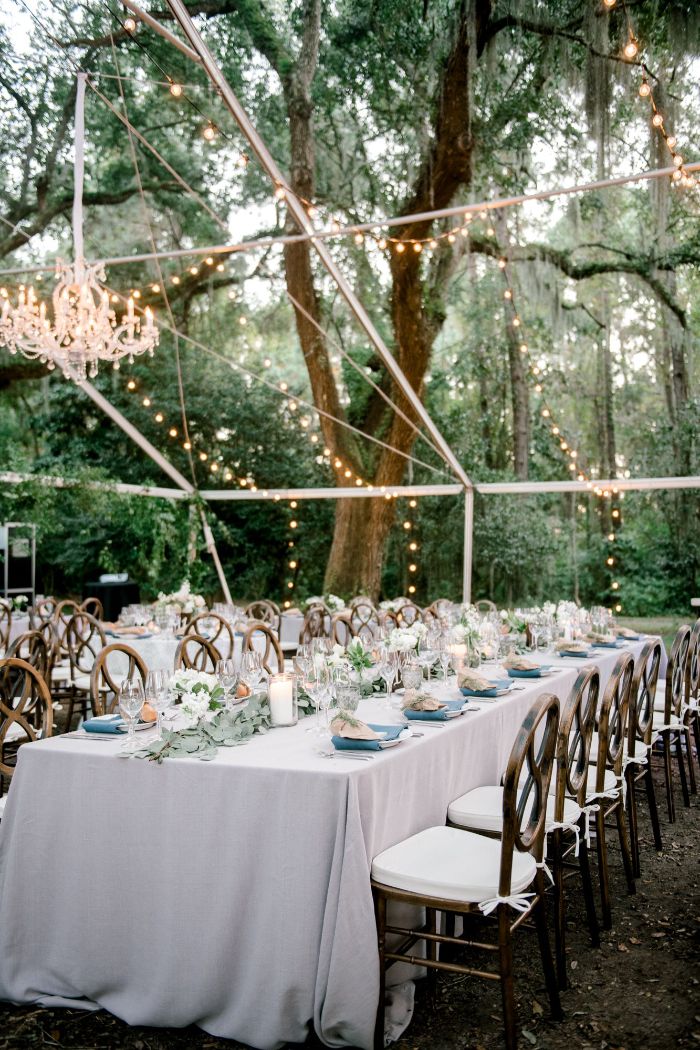 What do you need for a backyard wedding?
Once you start planning you will have to pay attention to a few very important must haves for your backyard wedding.
Backyard wedding ideas for every weather
Everyone prays for nice weather on their wedding day, but everyone also needs to have a plan B, just in case. For garden weddings your best bet for any type of weather is to set up a tent. On one hand, if it is sunny and hot, the tent might keep you cool and can keep the sunshine away. On the other hand, if it is raining you and your guests will be protected and can keep enjoying the party without worrying about getting wet. Before you plan on the size of the tent, make sure you know the number of guests you are going to have. The good news is that there are plenty of spaces which provide tents for hire.
Tents are the perfect solution for any weather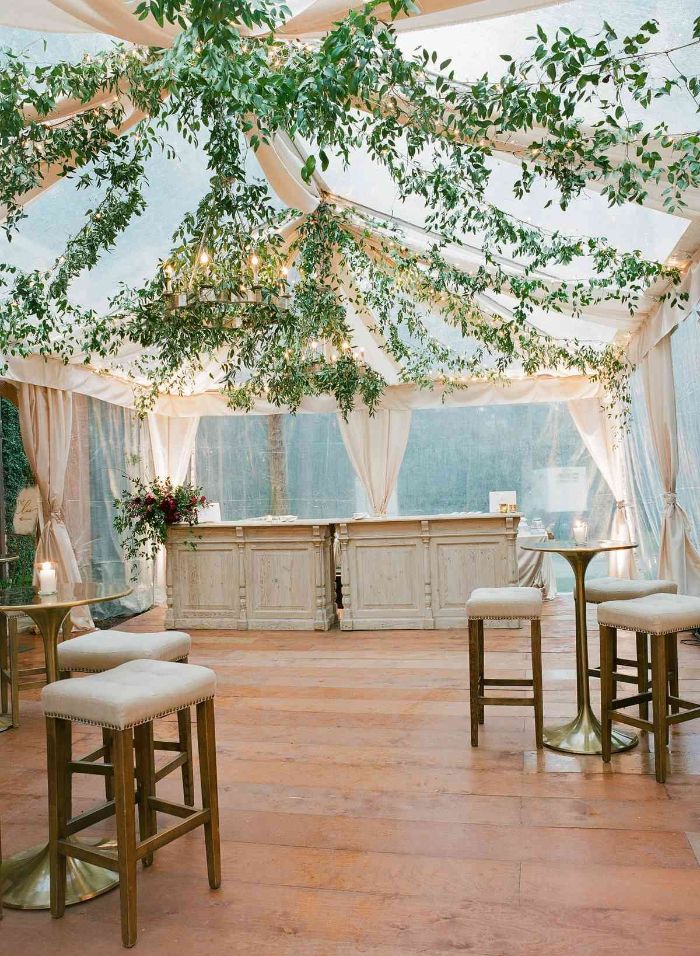 Set up the space where the ceremony is going to be held
Every bride needs an aisle. So, pick a spot, set up a few rows of chairs and start thinking about decoration. Once again, it is worth noting that if the weather is not on your side, this space can be under the tent you have already set up. However, if the weather is nice, it is good to have the ceremony separate from the place where the party is going to be. A lot of people choose to set up the ceremony under an old, tall tree to use as a centerpiece. If your back yard has one of them, you are definitely lucky. Not only is it going to give the wedding a focal point, but it will also provide some shade for your guests, as well as yourself.
The aisle doesn't need to be super fancy, because all eyes will be on you any way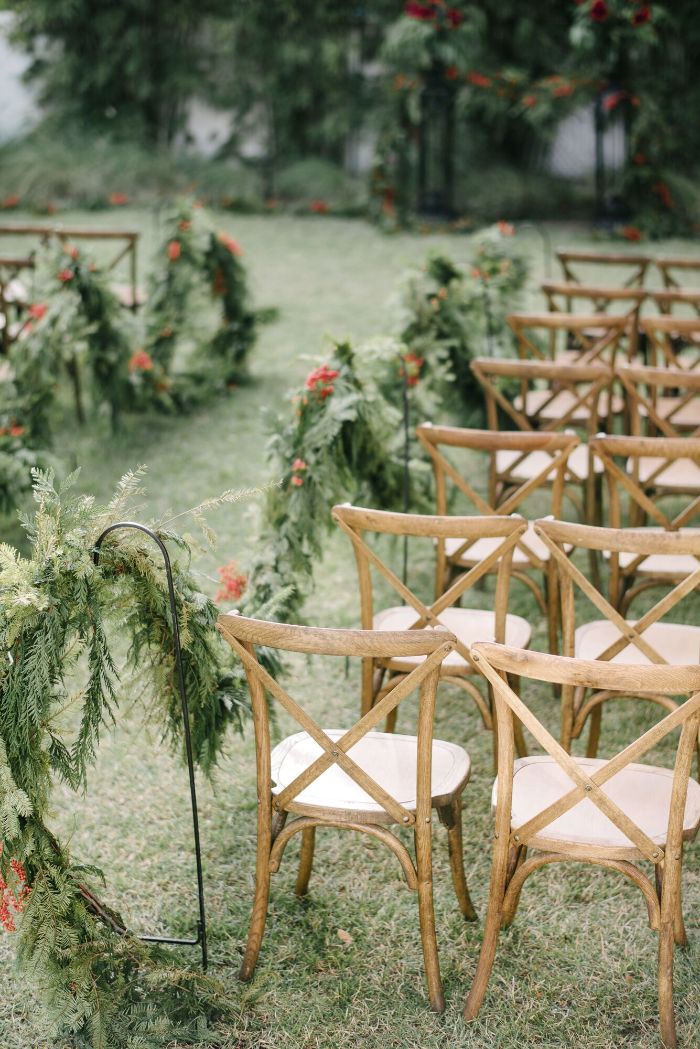 Backyard wedding lighting ideas
The lighting is extremely important. Having an outside wedding means that you may not have enough access to electricity and plugs, which is why you need to plan for lighting ahead. Undoubtedly the most popular means of lighting are strings of lights and fairy lights. You can often see trees wrapped in fairy lights and strings of lights hanging above the tables and dancefloor from trees. This is not only a great way to provide enough light at your wedding, but these tyme of lights provide a warm glowing, intimate light, which is going to feel very romantic. Furthermore, you can add some lanterns and candlesticks on the tables for extra romance.
Lighting is very important in any outdoor wedding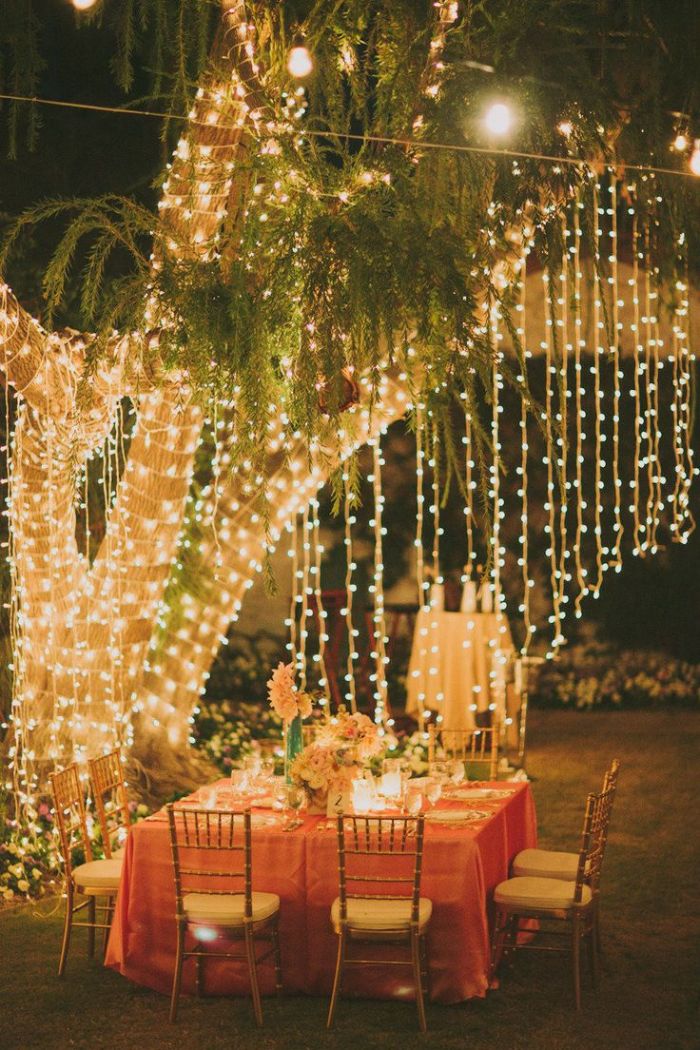 Backyard wedding decorations
The good thing about having a backyard wedding is that you already have the beauty of nature at your disposal. The only thing that you need to do is add to it. Of course, as is the case with any type of wedding, flowers are a must have. Whether as centerpieces, decorations on the arch for the ceremony, or simply hanging from flower pots from the tent ceiling, flowers need to be in the decorations. Pampass grass is especially popular when it comes to these rustic, boho style weddings. Another very popular way to incorporate nature is with greenery table runners. That way your tables will look minimalistic, yet super gorgeous. To be honest, when it comes to decorating outside, flowers, greenery and fairy lights might be all that you need.
Keep the decor simple, being around nature means that half of the decor is already done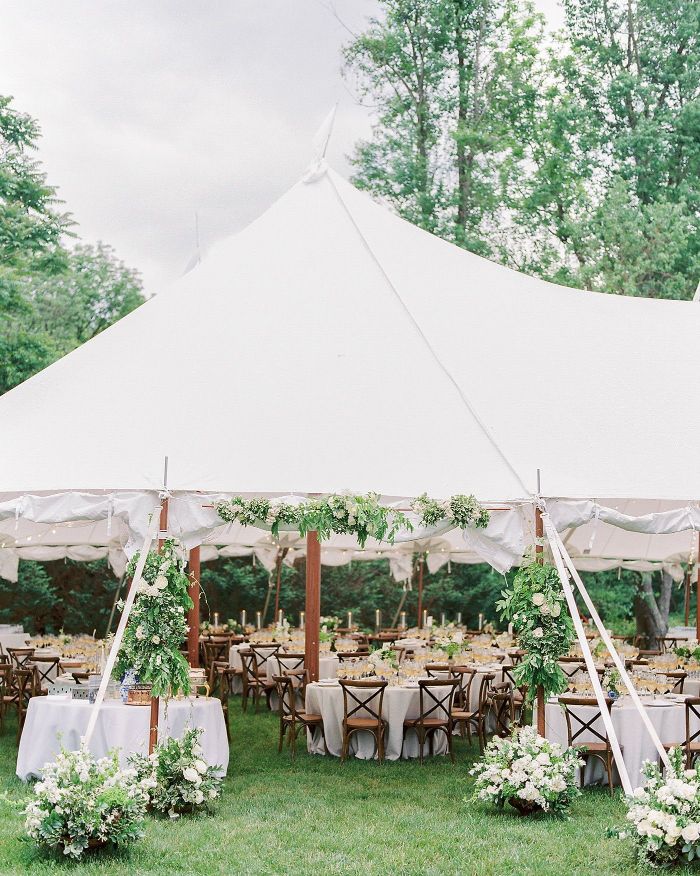 Use food as additional decor
Having backyard wedding is a very intimate experience. That is why, the best way to serve food is with banquet tables. The good news is you can use these tables as additional decor. Set up a desserts table where you can place the wedding cake along with all other sweets. Add a few flower bouqets and you have a gorgeous centerpiece. Same goes for the savory tables. Adding decorations to them, adds to the overall look of the wedding venue. Another great idea is to have a charcuterie table with all kinds of cheese, fruits, dips and appetizers. This will give you a more classy, elegant look.
Use desserts as additional decor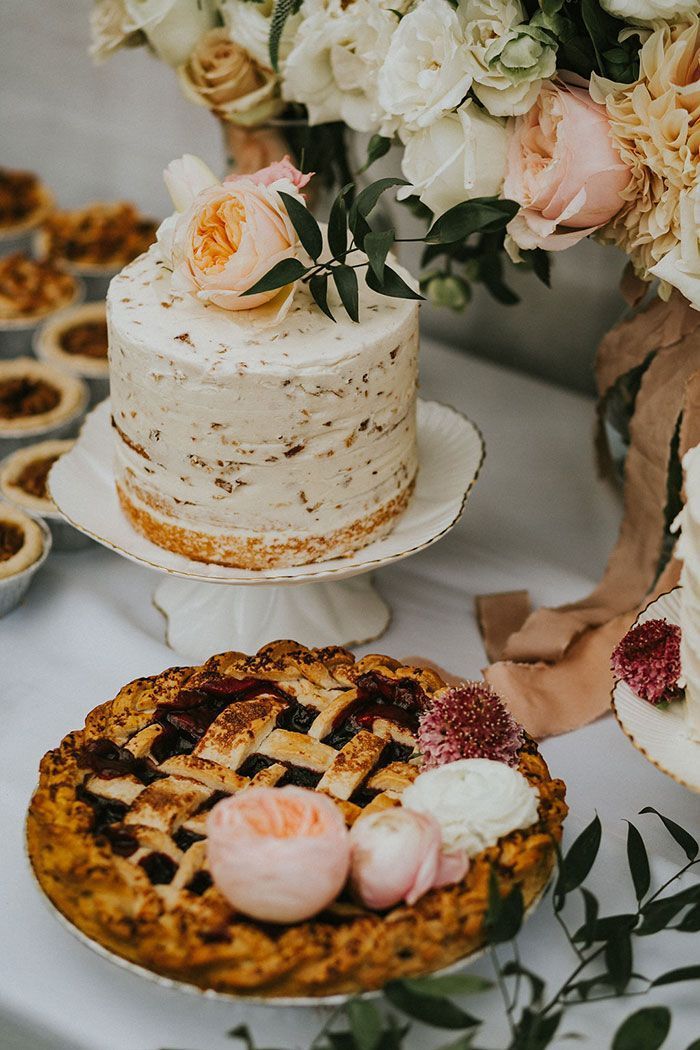 Just look at this rich, fancy table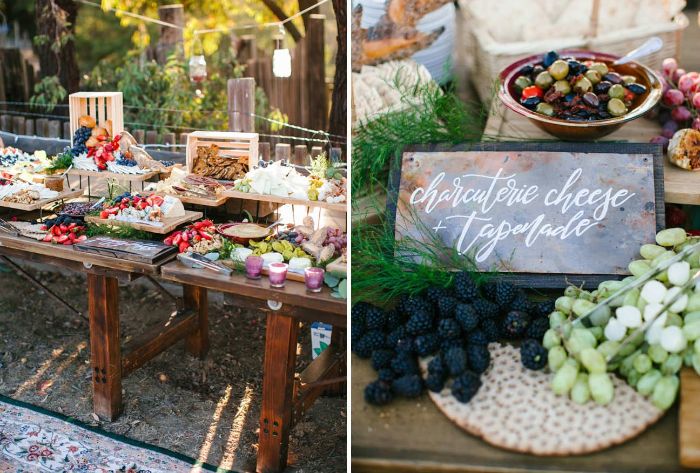 Backyard wedding ideas for the outside bar
Well, it is no secret that every wedding needs an open bar. So, take the bar outside. Set up a bar just as you would a banquet table. Here you have two options. The first options is to have everything ready for people to just take. Drinks such as beer and water can be stored in a container filled with ice. On the other hand, use pitchers for wine and cocktails. And, if you are dealing with a hot day a lemonade table would be something your guests will love. The other option is to have an actual bartender prepare the drinks for you guests. Choice is yours!
Who doesn't love an open bar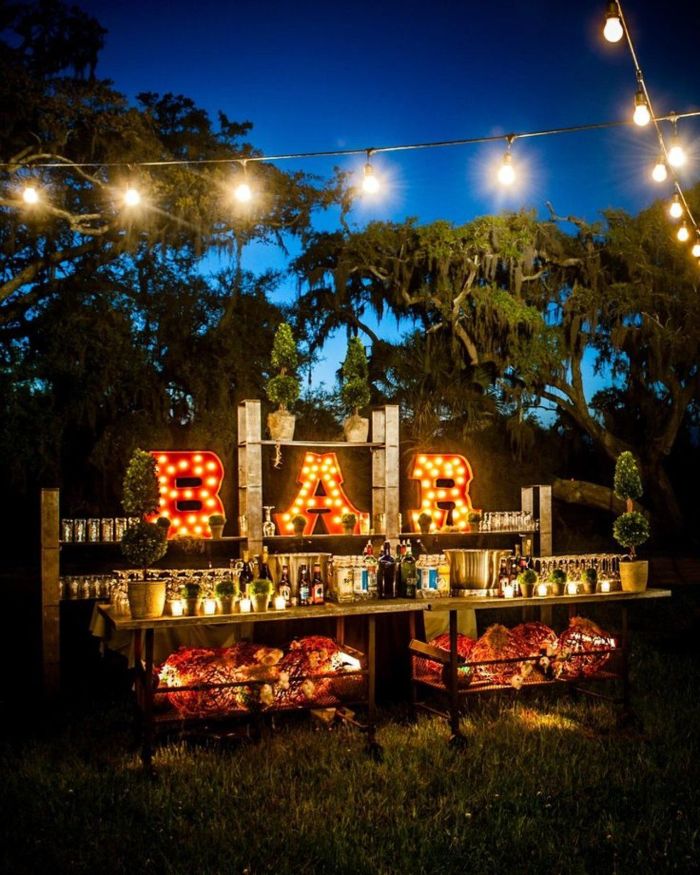 Set up a lounge area
Setting up a nice lounge area with a cool backdrop can be a great place for pictures. What's more, it can be a place for people to relax and talk away from the party. Furthermore, it can be a place for people to wait between the ceremony, the photoshoot and the actual party, Another reason why you should have a lounge area is so that you and your new significant other can escape the wedding at least for a little while. Set up a nice sofa with a few armchairs, you can also add a nice carpet for a little fanciness and you are all set.
Set up a cool lounge area for people who want to escape the party at least for a little while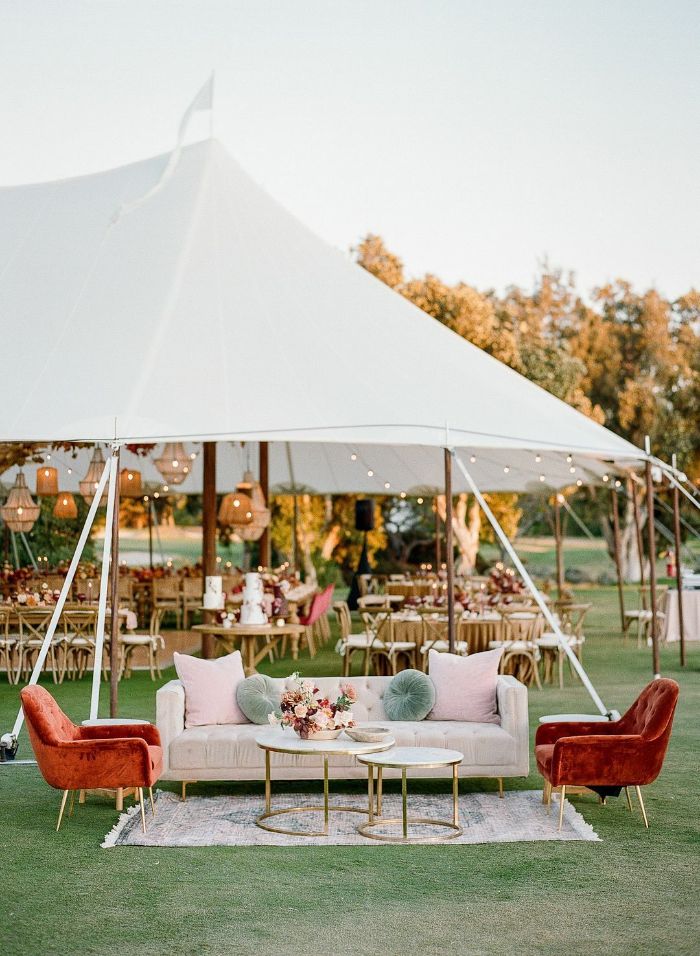 Another lounge area idea for a rustic backyard wedding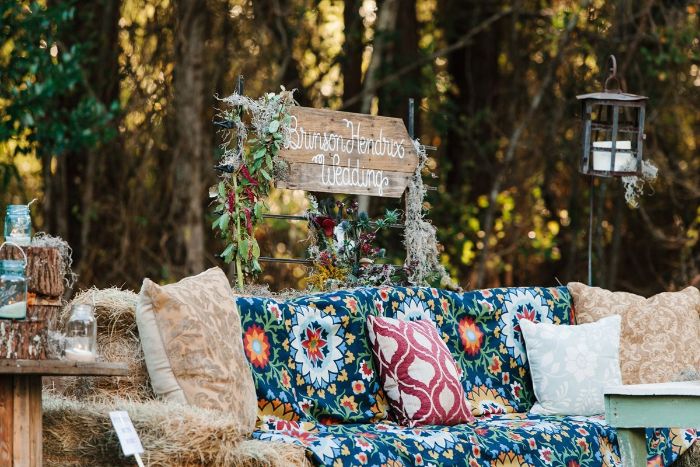 Now keep scrolling through our photo gallery for even more backyard wedding ideas
Sparkle it up with the help of your guests
Create the wedding of your dreams in just 5 steps
Here's how to use an old, beautiful tree as a centerpiece for the ceremony
Provide blankets in case your guests get chilly
Or use heating lamps and fire pits
Coordinate your outside wedding decorations with the area in which the wedding is being held
You don't need a ton of decorations if you have this type of view
Have seating charts ready for when your guests arrive