Count down the days to Christmas with a DIY advent calendar
It is official! Holiday season has begun. Although it is still the beginning of November, shops and supermarkets have already started with the Christmas decorations and products. That is exactly why, we should start preparing, too. So, after you figure out your Thanksgiving menu and gather your Christmas decorations, all that's left to do is start counting down the days to the best holiday of the year. And, is there a better way to do that than with a DIY advent calendar. So, keep reading to find a few tutorials for awesome advent calendars you can totally recreate at home.
Create an advent calendar to count down the days to Christmas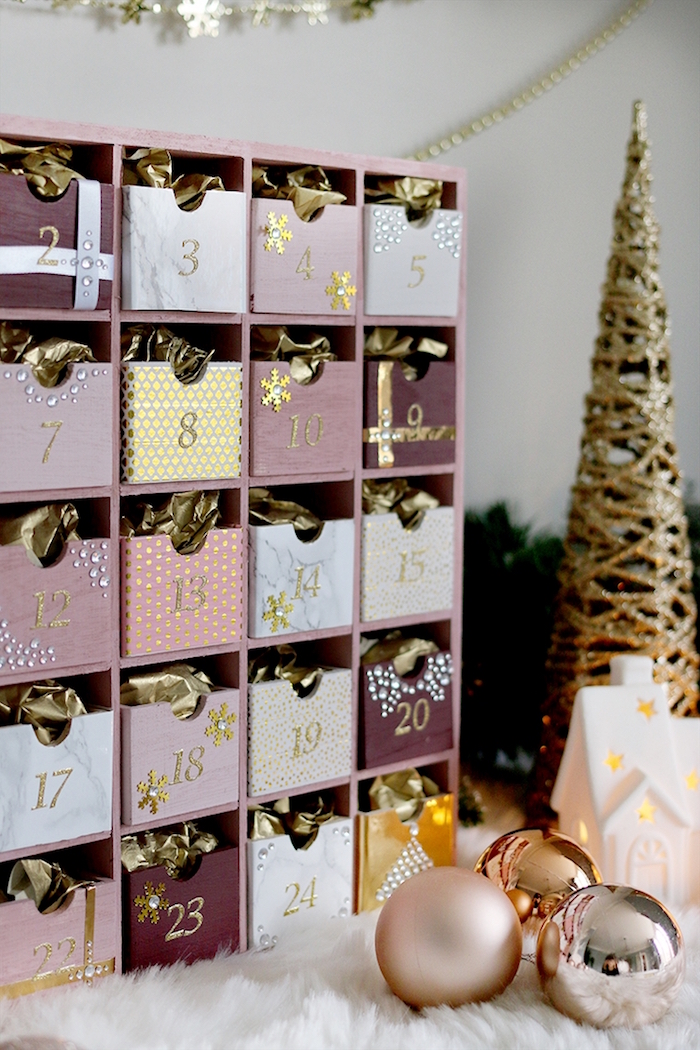 How to make an advent calendar?
Supplies:
1 wood 25 drawer cabinet
a selection of paint
self adhesive numbers
washi tape for decoration
pack of adhesive rhinestones
other adhesive decorations such as snowflake sequins and vinyl
a selection of candy
gold wrapping tissue paper
This DIY tutorial is very easy to recreate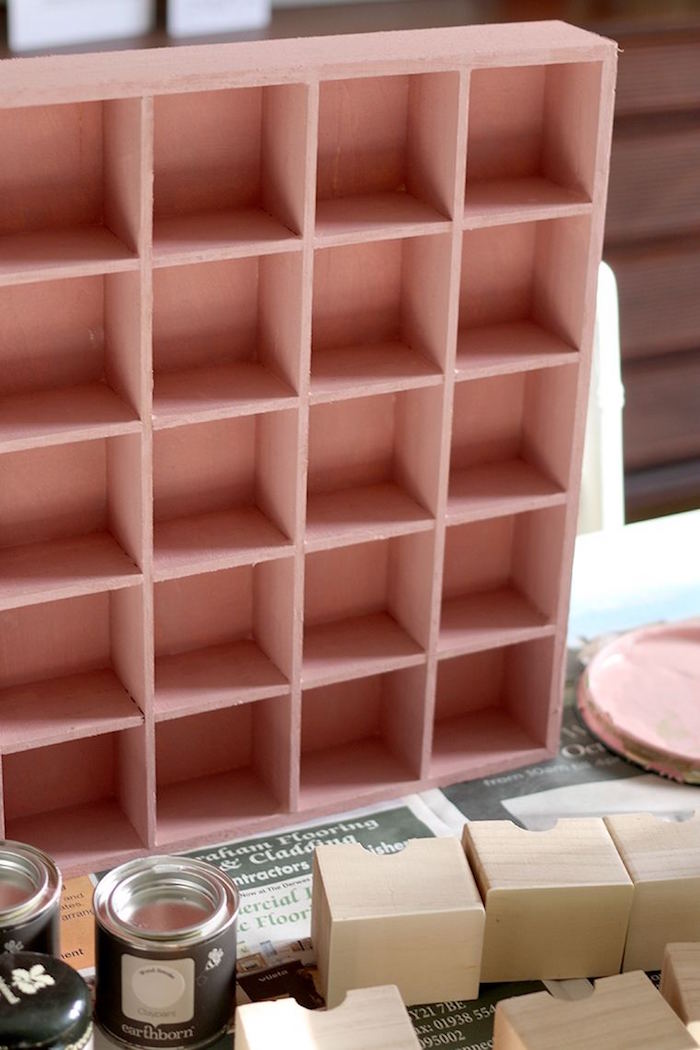 Start by painting the small drawers in the desired colors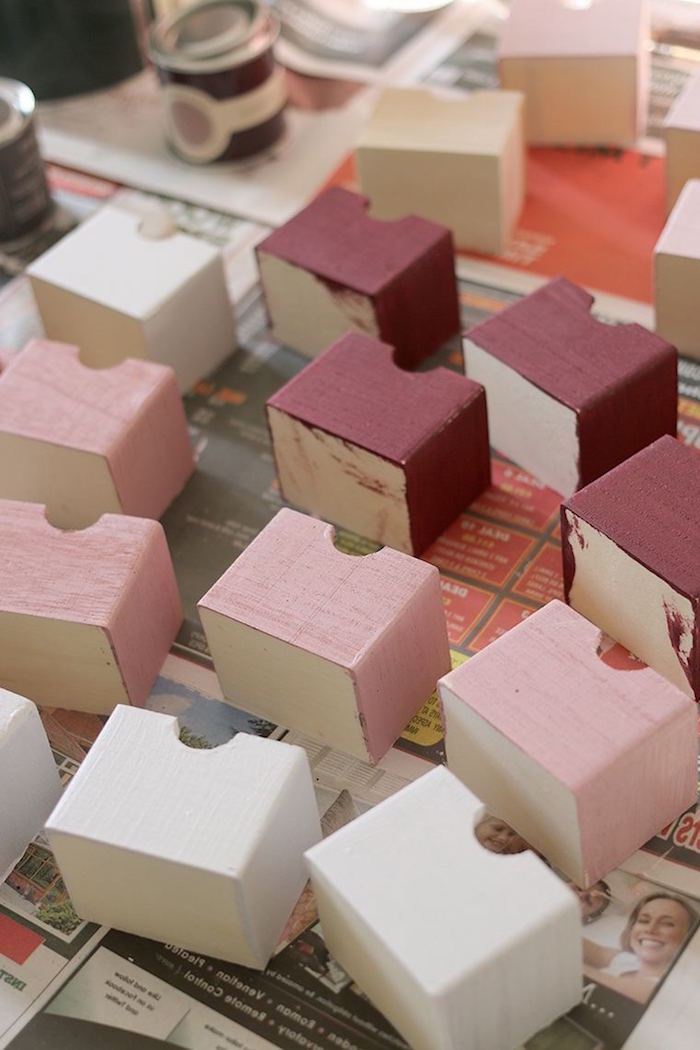 Decorate a few with self adhesive vinyl or washi tape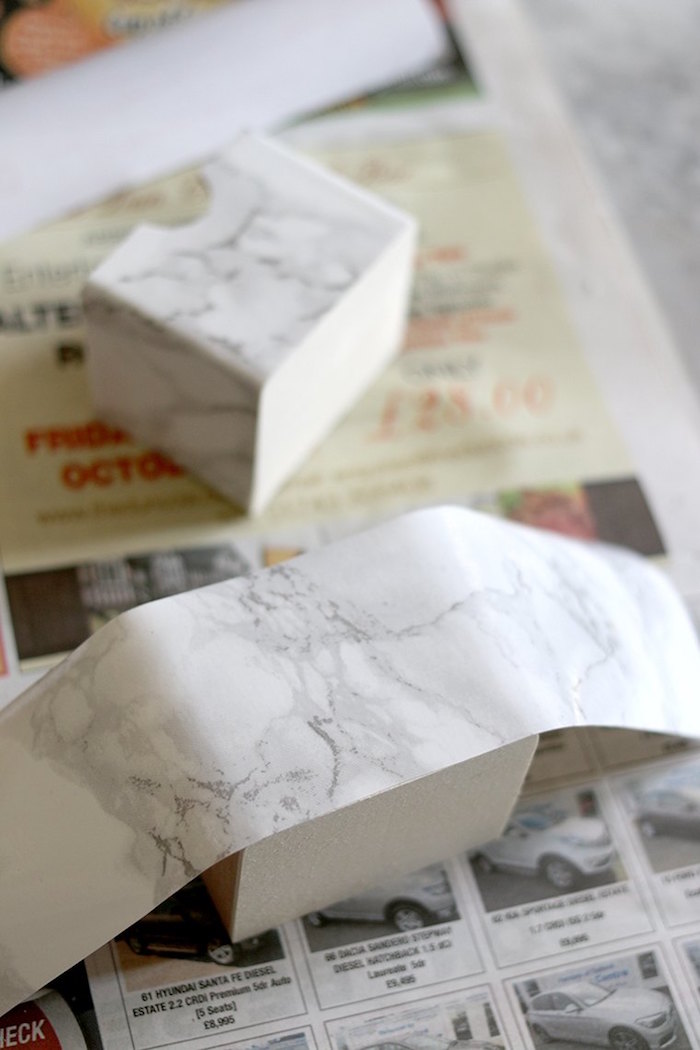 Decorate the others with adhesive rhinestones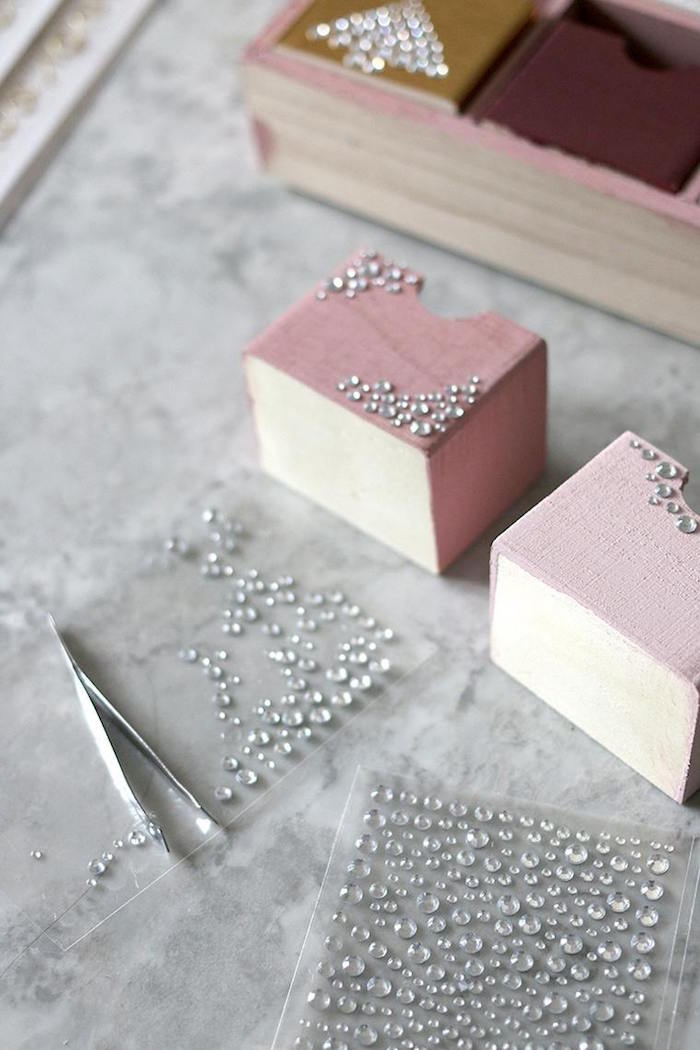 Add the number to each drawer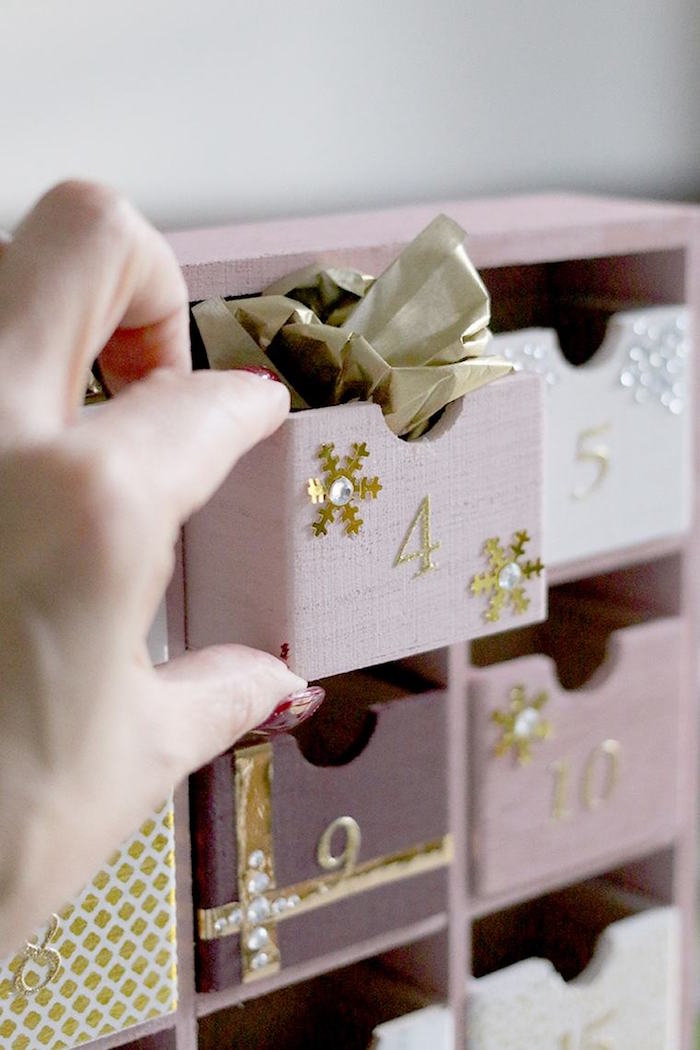 Fill each drawer with candy and put gold tissue paper on top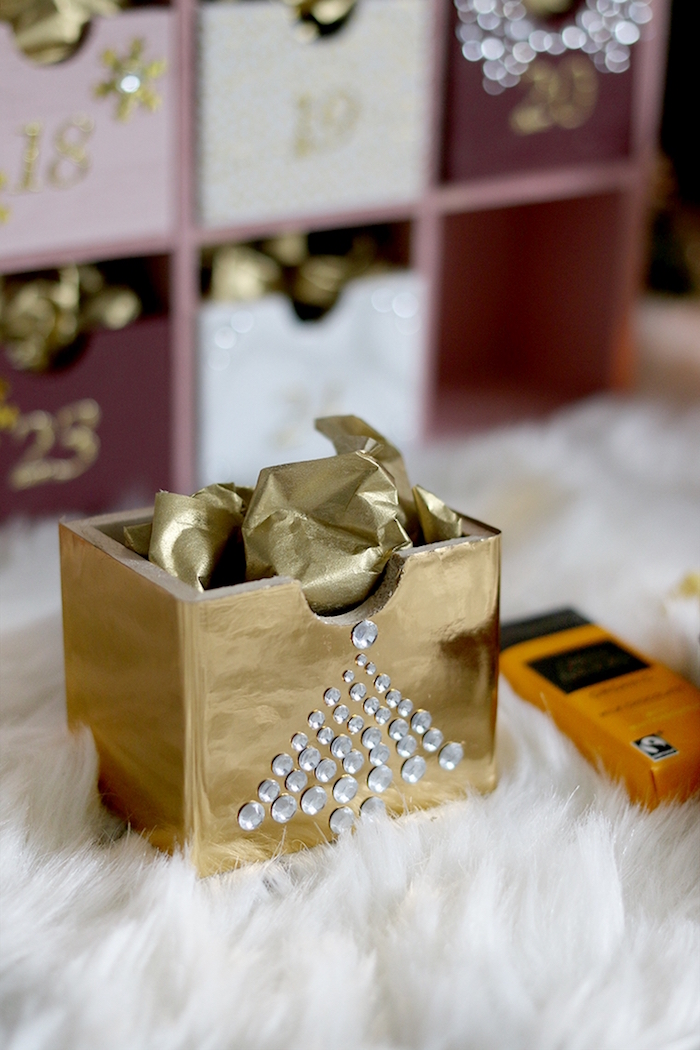 Enjoy your advent calendar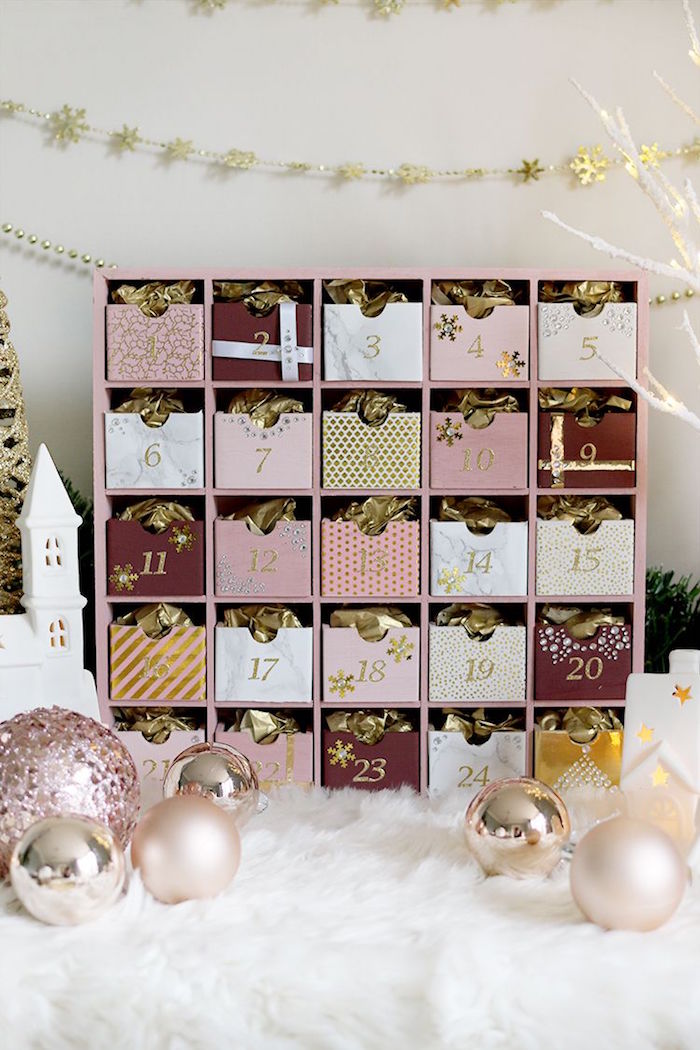 Source: Swoon Worthy
Fun, colorful DIY advent calendar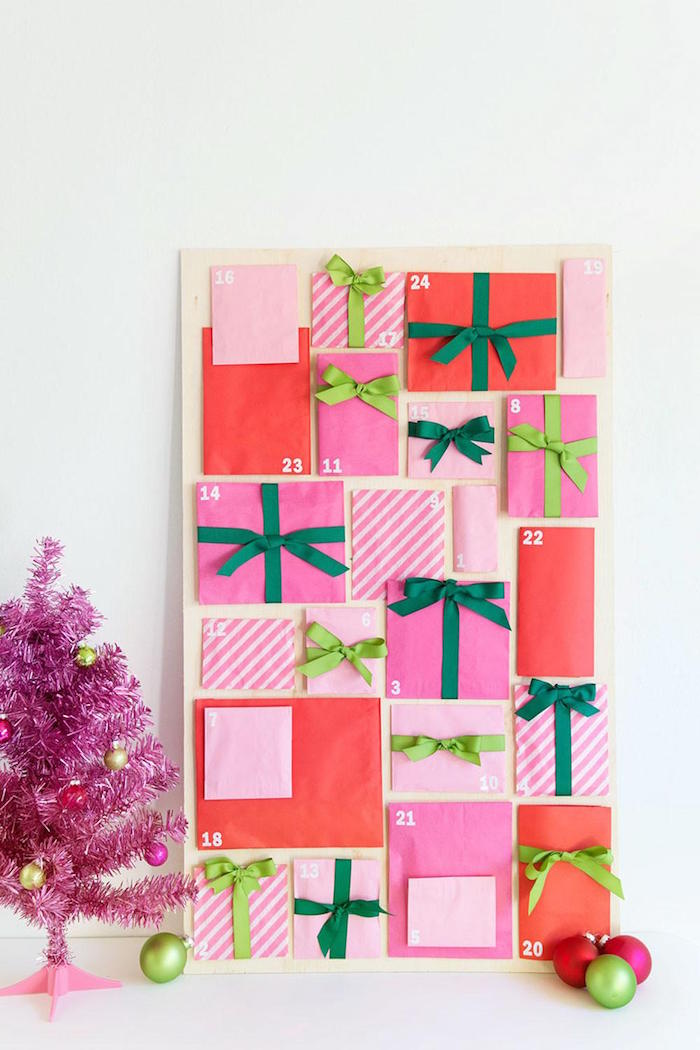 DIY advent calendar
Supplies:
a selection of paper bags in different colors
a selection of ribbons in different colors
washi tape
self adhesive numbers
wood board
a selection of candy or small toys and treats you can fit inside the bags
Fill the bags with all kinds of candy and treats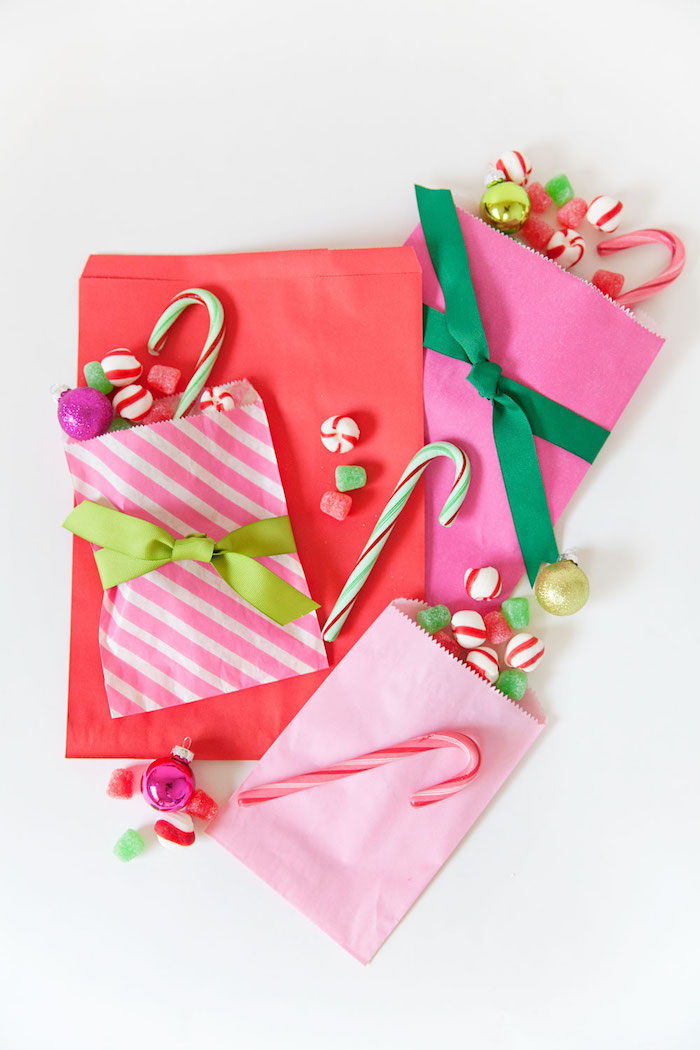 Instructions:
Fill the bags with different candy, toys and treats.
Fold the bags in a variety of ways and tape them down with washi tape.
Wrap the bags with different ribbons and once again in a variety of ways.
Add the numbers to the bags.
Arrange the gifts onto the wood board and once you decide on the way they are going to be arranged, tape them down.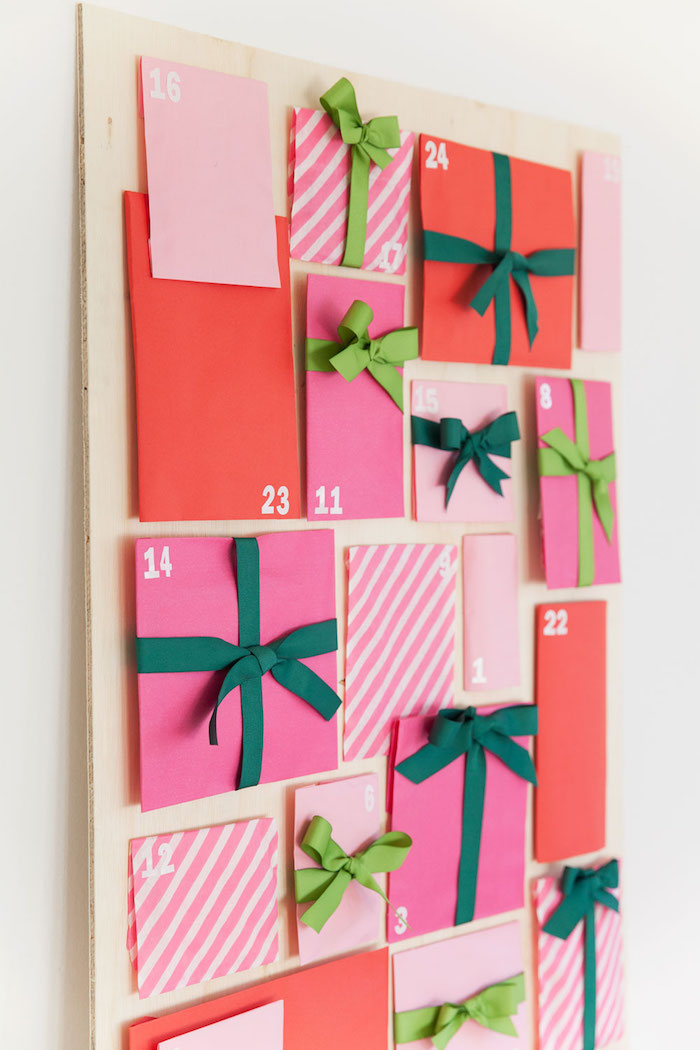 Source: Tell Love and Party
Super stylish rose gold advent calendar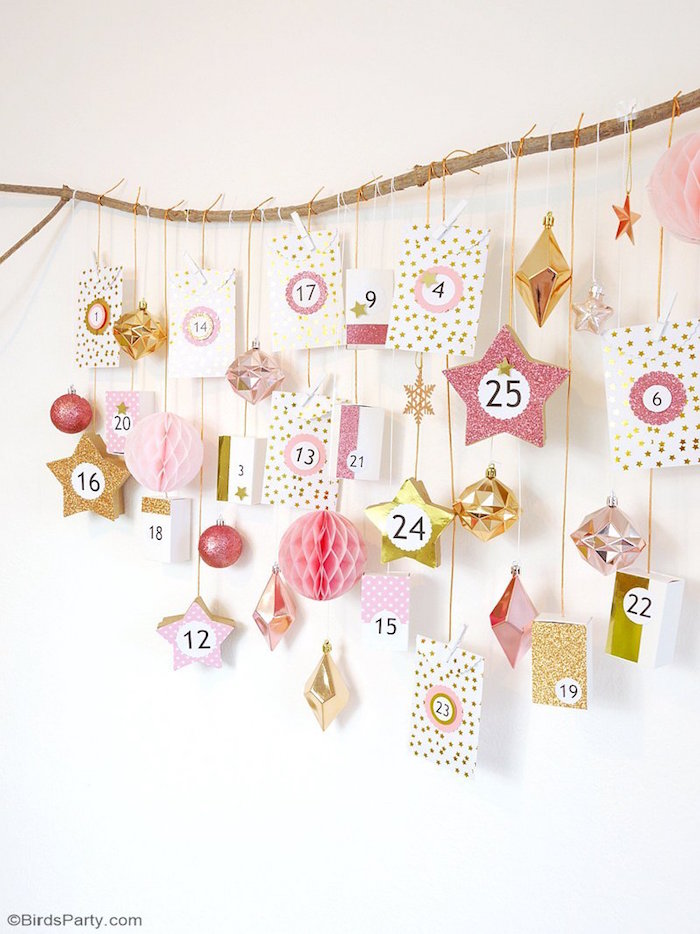 Christmas countdown calendar
Supplies:
star-shaped paper mache boxes
small match boxes
paper envelopes
small pegs
scissors
craft knife
colored cardstock
glue and 3D foam stickers
cord
wooden pegs
self adhesive numbers
hole puncher
ornaments of your choice
tree branch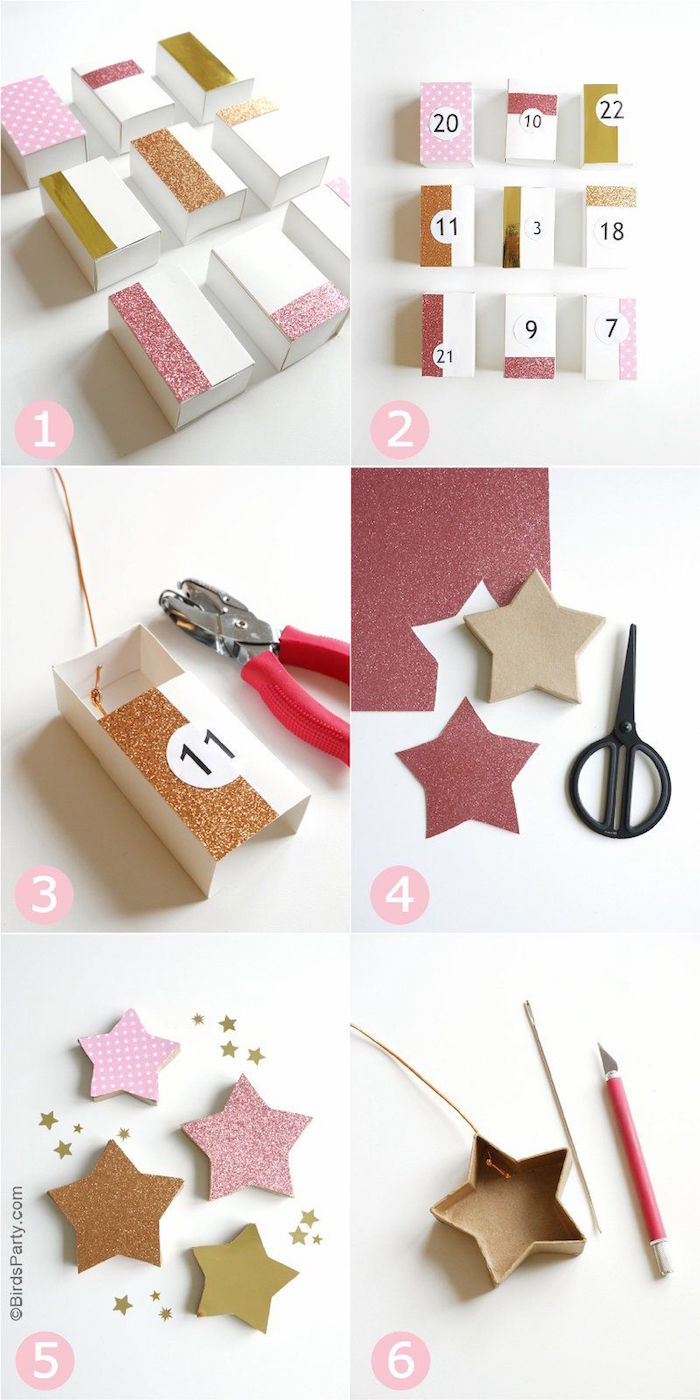 Instructions:
Cut a tree branch and hang it on your wall.
Decorate all the boxes with cardstock and 3D foam stickers.
Using the hole puncher to create a hole on the top part of each of the boxes. Thread the cord through it and tie a knot on the inside to hold it.
Fill the boxes with different candy and treats.
To decorate the envelopes use cardstock and add the numbers. You can also decorate with 3D foam stickers.
Secure the top with a peg and tie them with the cord.
Finally tie the boxes and envelopes to the tree branch in various orders and heights. You can also add additional ornaments and baubles.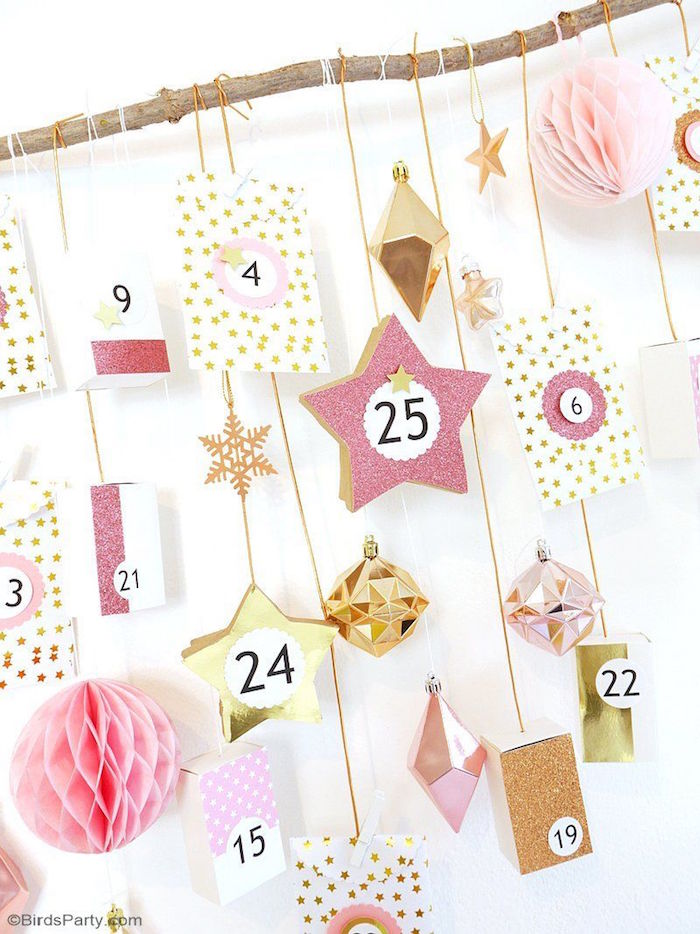 Source: Birds Party
Probably the easiest DIY tutorial out there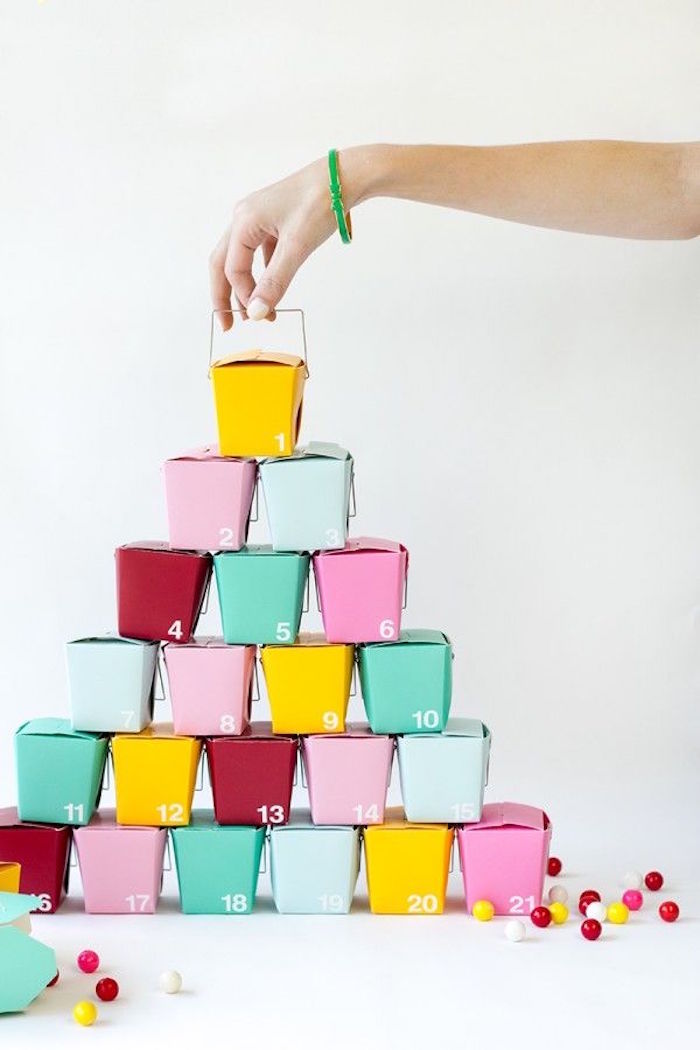 Fun advent calendars with take out boxes
Supplies:
25 mini take out boxes in colors of your choice
number stickers
candy and treats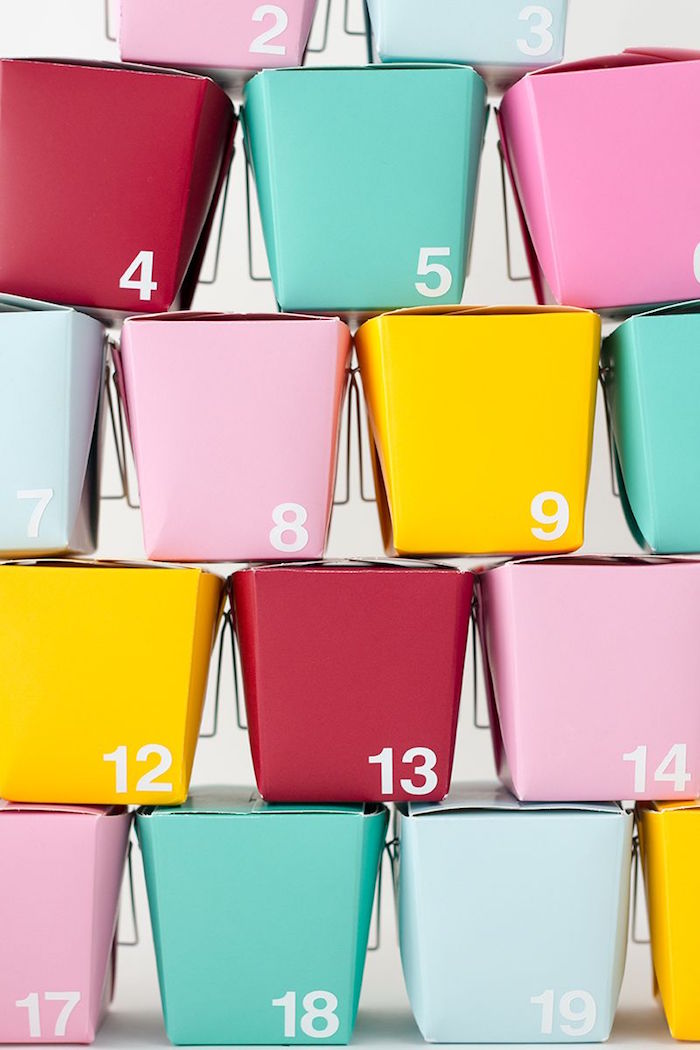 Instructions:
Stick the numbers to the boxes.
Fill them with various candy and treats.
Arrange them to resemble a Christmas tree.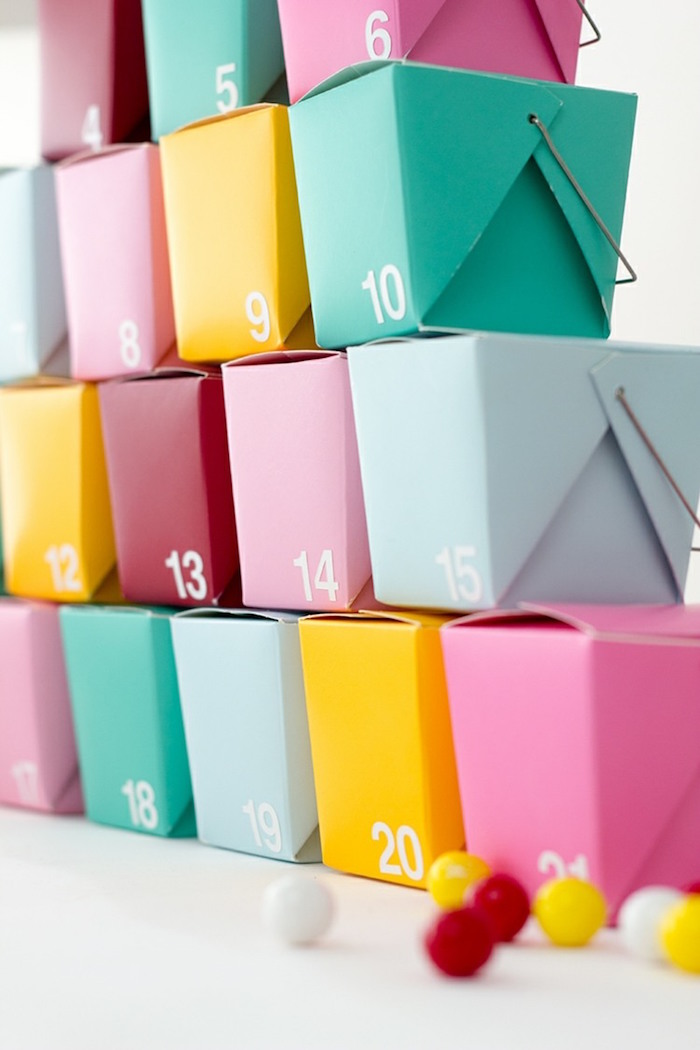 Source: Studio DIY
Christmas tree advent calendar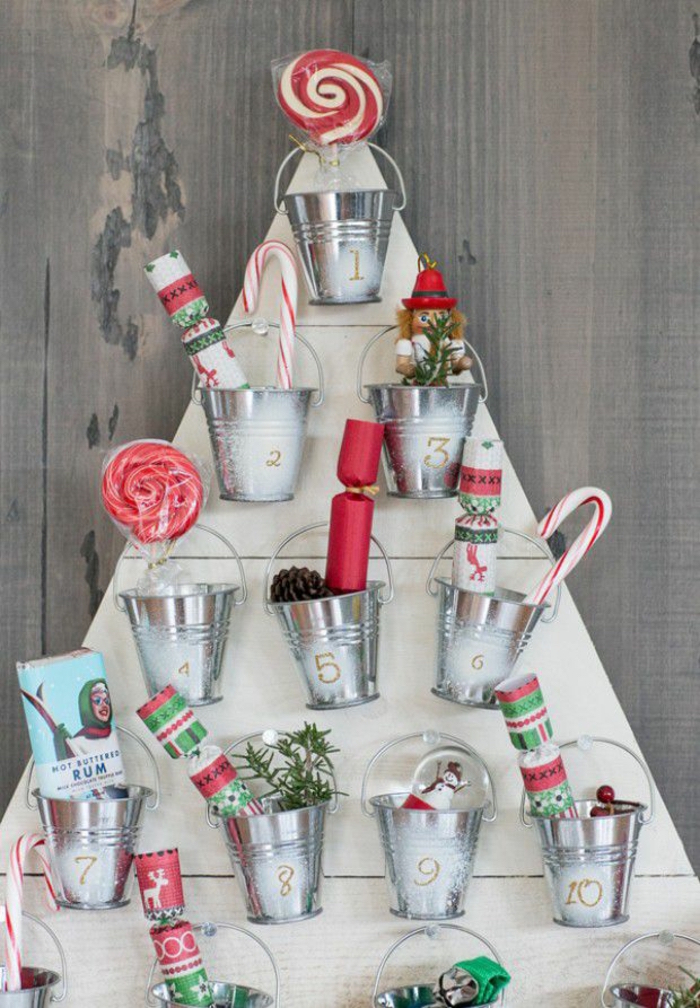 DIY advent calendar ideas
Supplies:
wooden triangle board
25 small galvanized buckets
25 roofing nails
wood stain or paint, if desired
number stickers
candy, toys or treats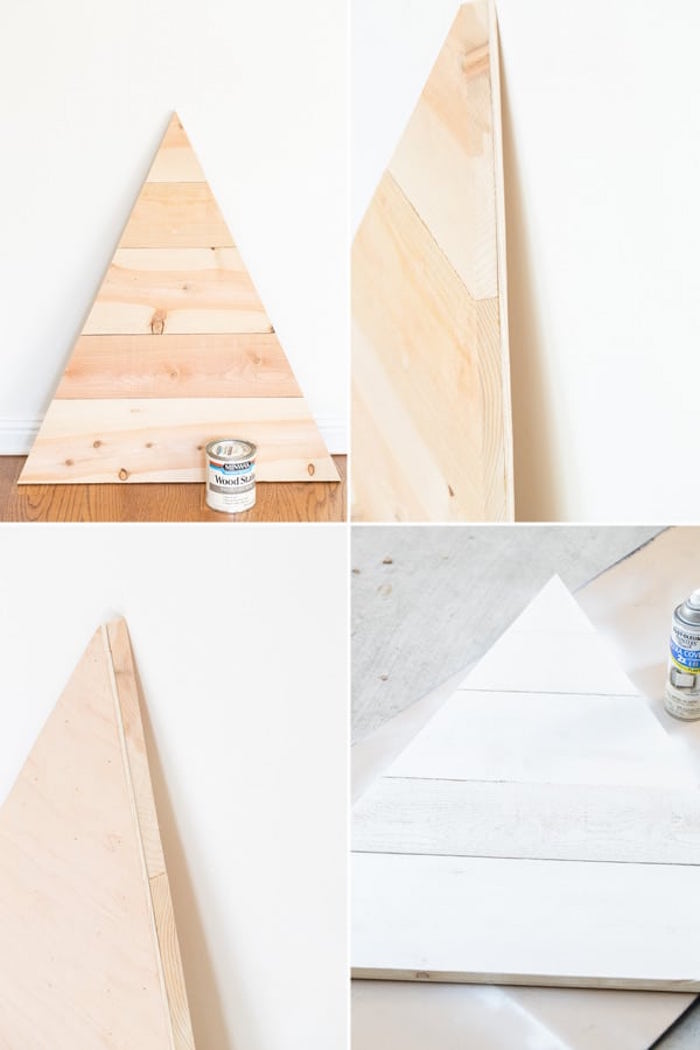 Instructions:
Start by painting the wood board in a color of your choice, or leave it as it is.
Arrange the buckets on the board and mark each spot with a pencil.
Hammer the nails in place.
Decorate the buckets as you wish and add the number stickers.
Finally, hang the buckets to the board and fill them with various treats.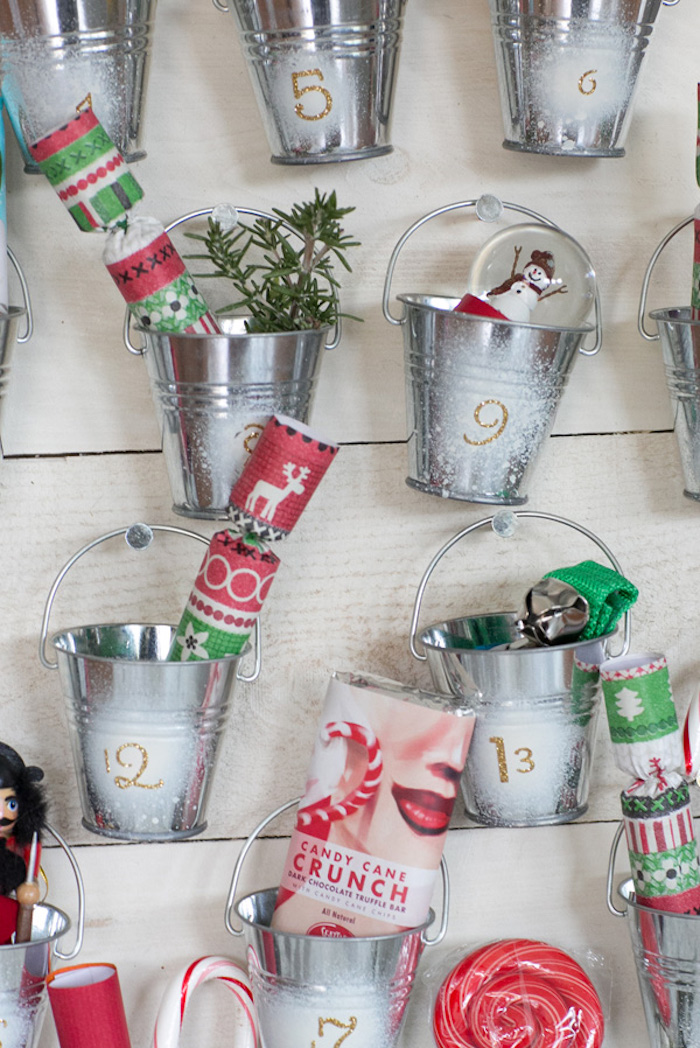 Source: Sugar and Charm
Yet another super easy DIY step by step tutorial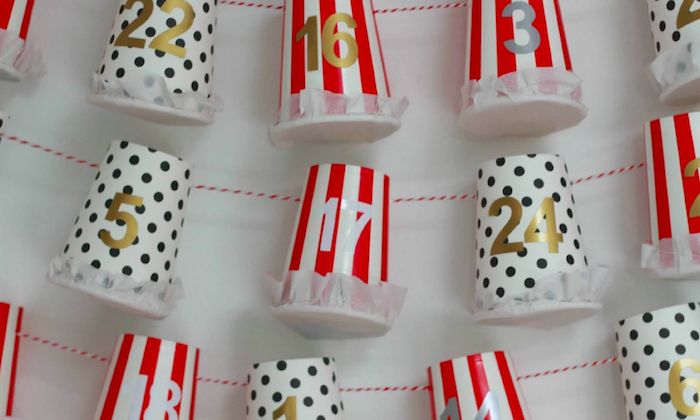 Homemade advent calendar with paper cups
Supplies:
24 paper cups
tissue paper
elastic bands
bakers twine
number stickers
a selection of sweets and treats
needle and scissors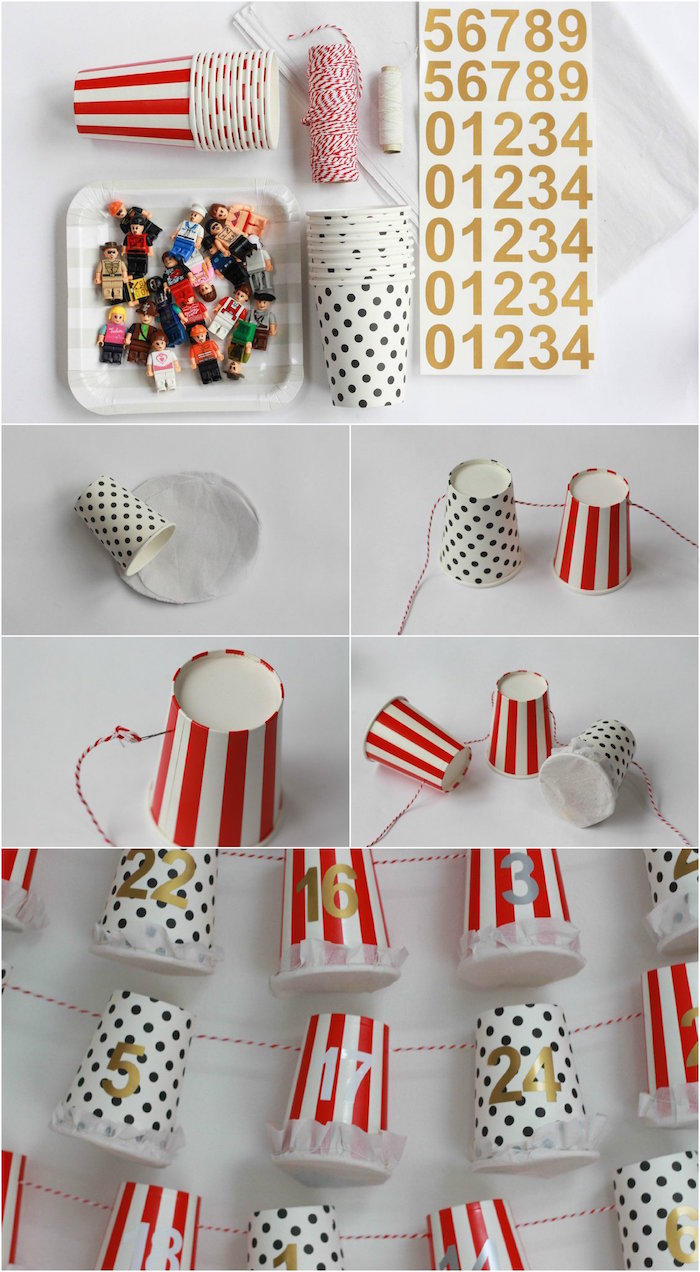 Instructions:
Trace circle in the tissue paper slightly larger than the diameter of the cups and cut out the circles.
Use the needle to thread the bakers twine through each cup.
Add the treats and sweets to the cups. Cover the top of each of the cups with the tissue paper and secure with an elastic band.
Stick the numbers to the cups and hang them to your wall.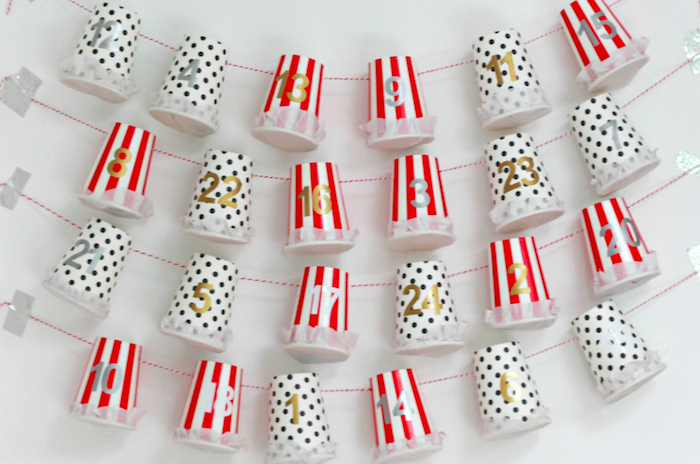 Source: Pretty Little Party Shop
Unique advent calendar
The good news is that because of how crazy 2020 has been, we have plenty of time on our hands. That time can easily be spent taking up a new hobby such as crafting. And what better way to start your crafting journey by creating your very own advent calendar. Because, despite everything, we are all still looking forward to Christmas. So, if you are like us and can't wait for this holiday to come, an advent calendar is the best way to start counting down the days to December 25th.
Some of these advent calendars are genious
Advent calendar, but make it fun – pop a balloon each day to start it off in the most fun way possible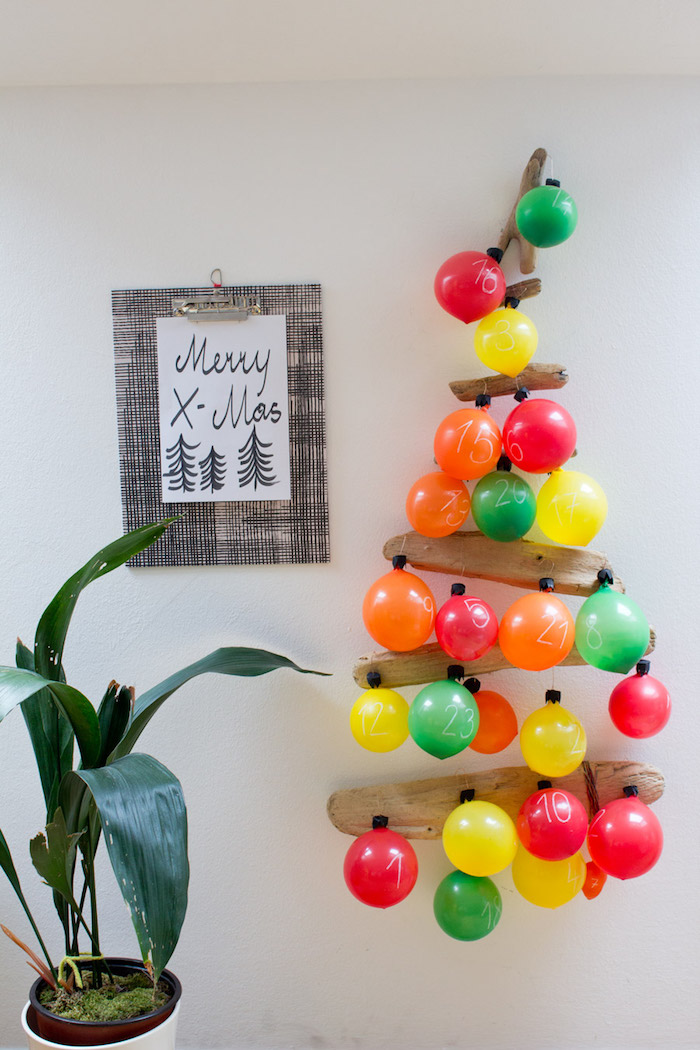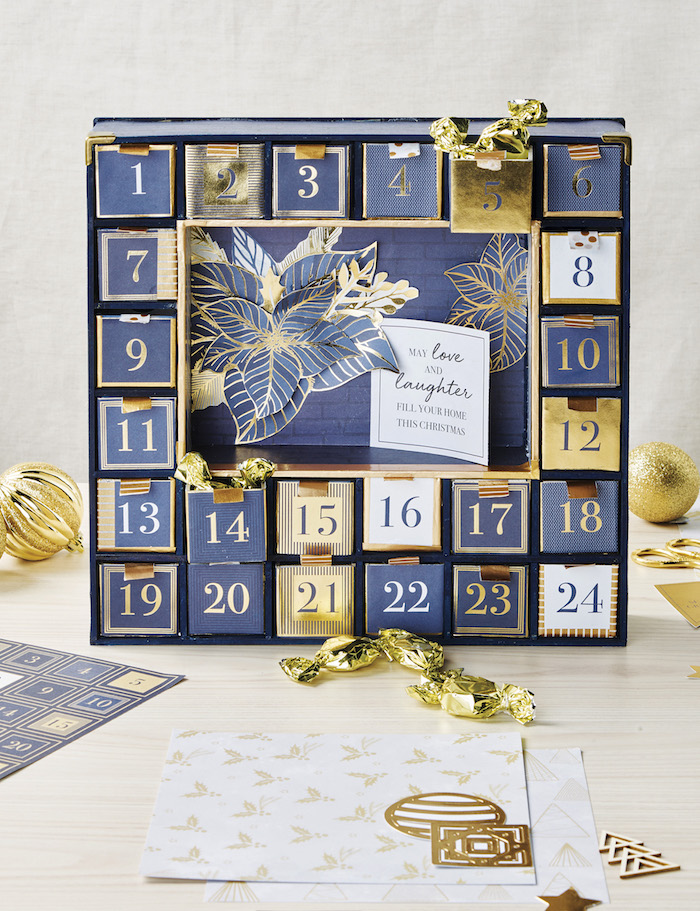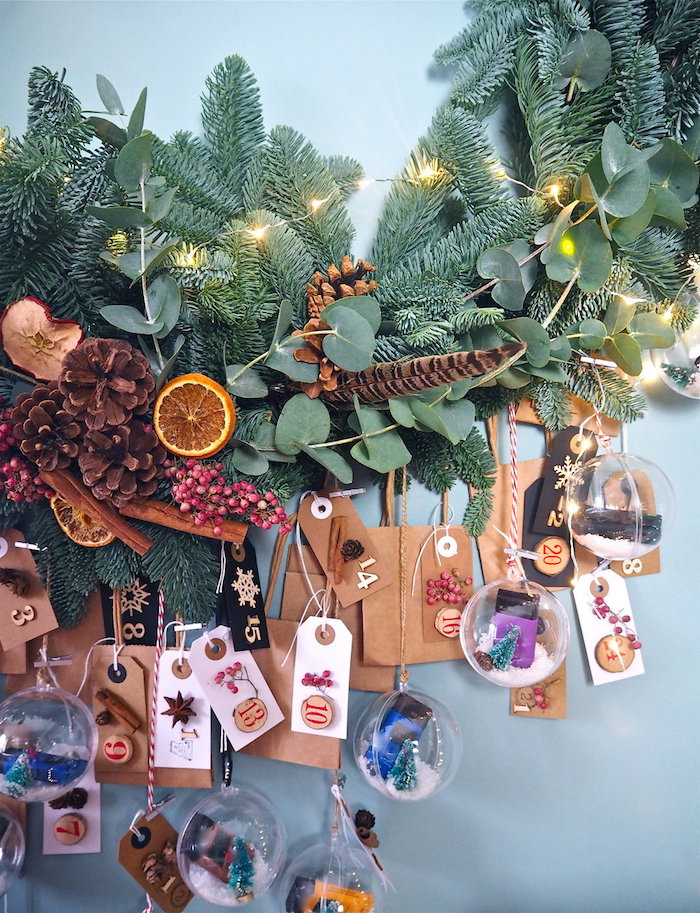 Another festive DIY idea with take out boxes
Make Christmas come early with these cute mini stockings filled with treats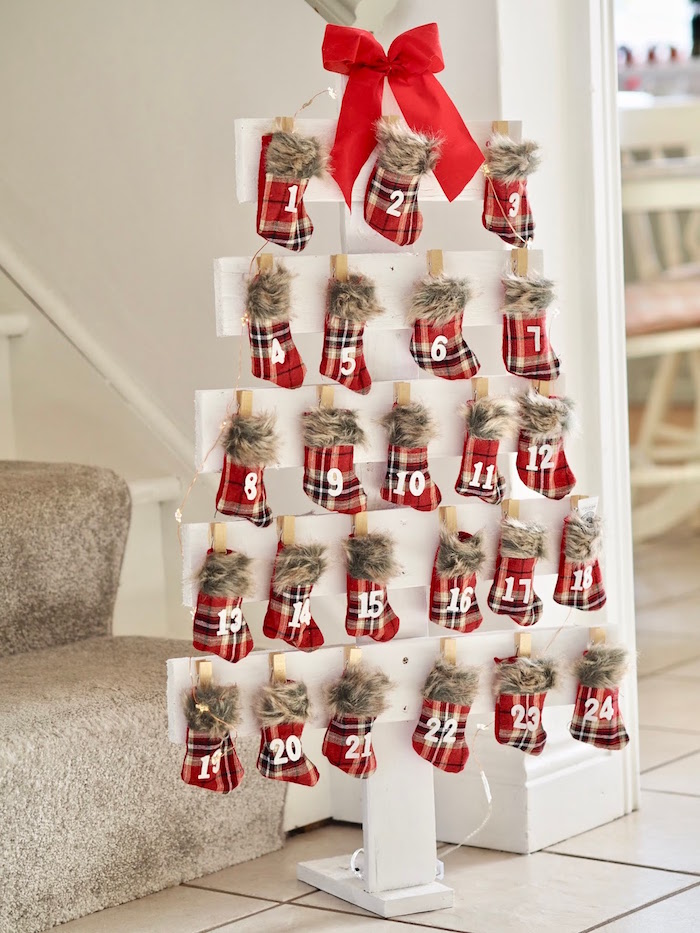 Or use your own socks for an original and creative advent calendar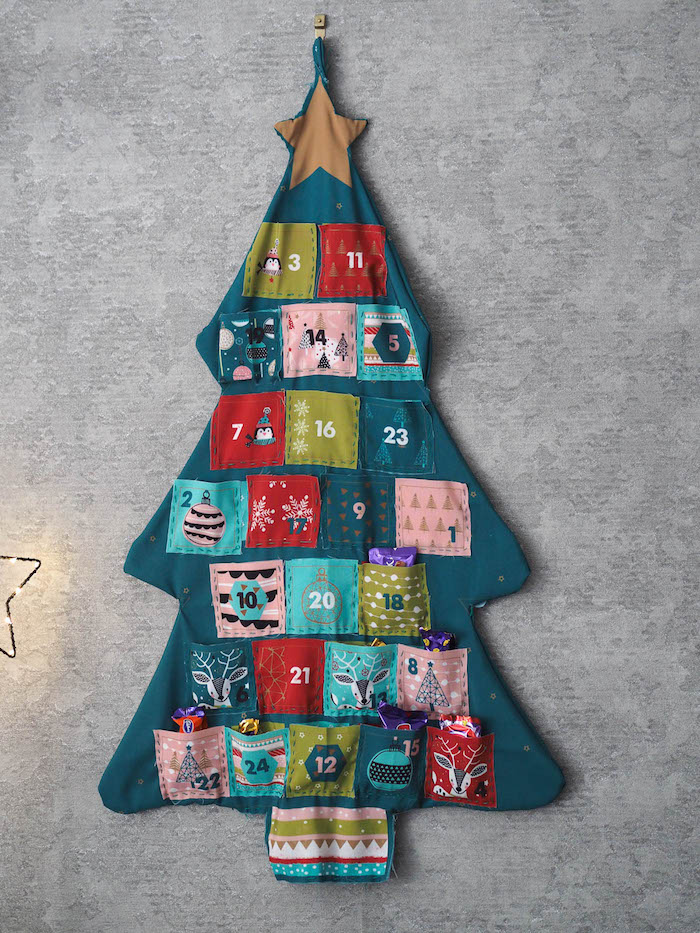 Minimalistic idea with small bags of goodies
You can fill your calendar with inspirational quotes written on small pieces of paper for a motivational start of the day
And this fairy lights Christmas tree advent calendar is just so original and beautiful