Thanksgiving side dishes to add to your festive menu in 2021
Well, now that Halloween is gone, it is time to start preparing for the holiday season. And as we all know, the holiday season starts with one of the best days of the year – the day to give thanks and be grateful for everything and everyone in your life. Needless to say, one of the biggest traditions of Thanksgiving is the dinner with family and closest friends. Because of that, today, we have prepared a few Thanksgiving side dishes you definitely need to add to your festive menu in 2021. And, although we've kept it traditional, we have still included a few more interesting recipes.
A Delicious baked Brie recipe, courtesy of our very own Archzine Studio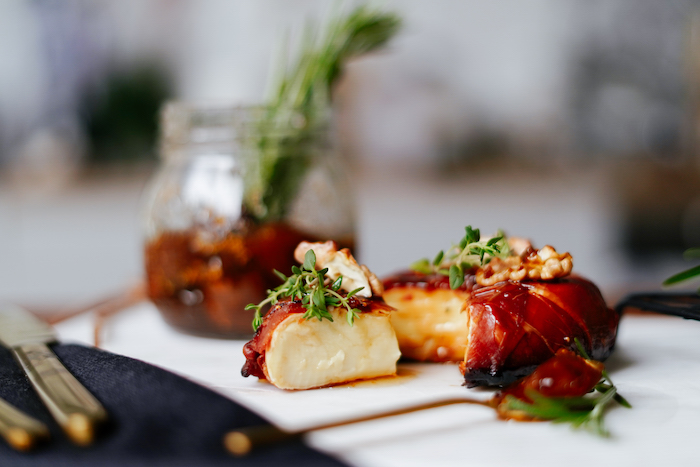 Thanksgiving side dishes – baked Brie recipe
Ingredients:
Brie cheese
garlic
fresh thyme
fig jam
prosciutto slices
raw walnuts
These are the ingredients you are going to need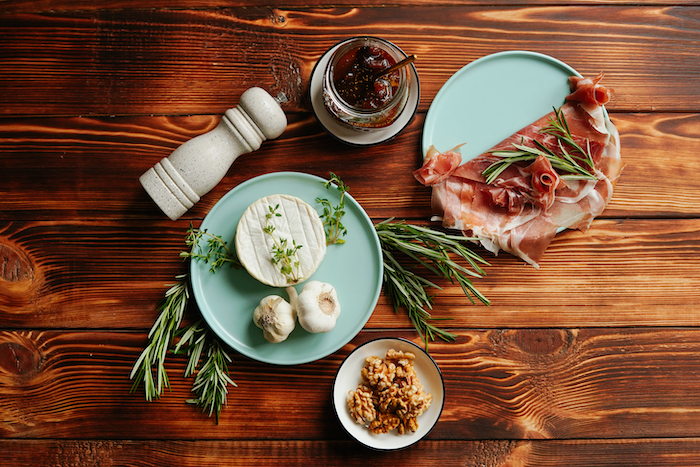 Cut slits into the Brie and put garlic and fresh thyme between them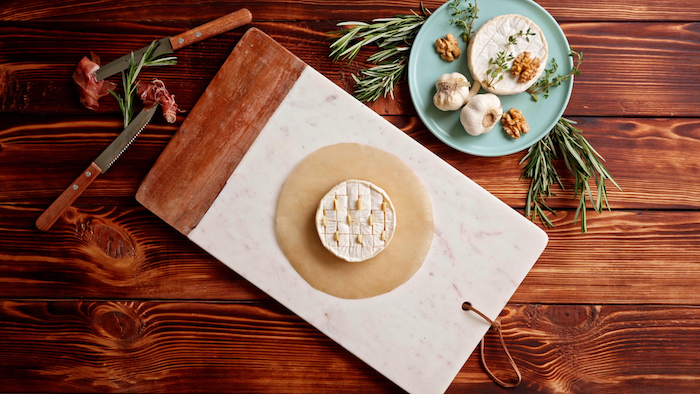 Spread the prosciutto slices and arrange them so that they can cover the whole cheese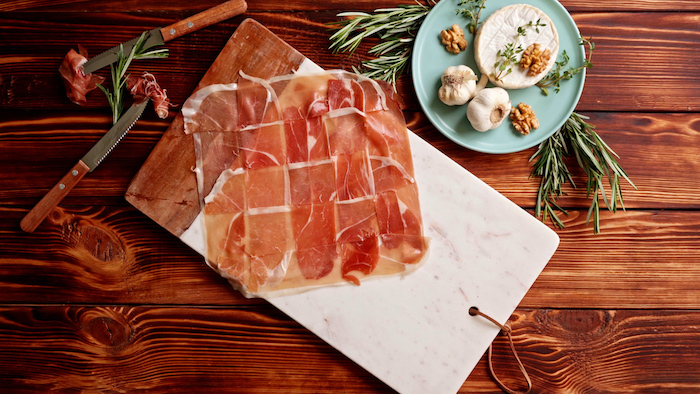 Place the Brie in the middle of the prosciutto and drizzle with fig jam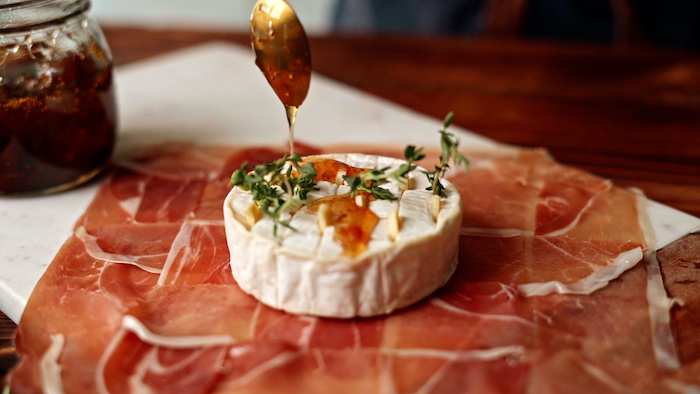 Wrap the Brie in the prosciutto and place on a paper lined baking dish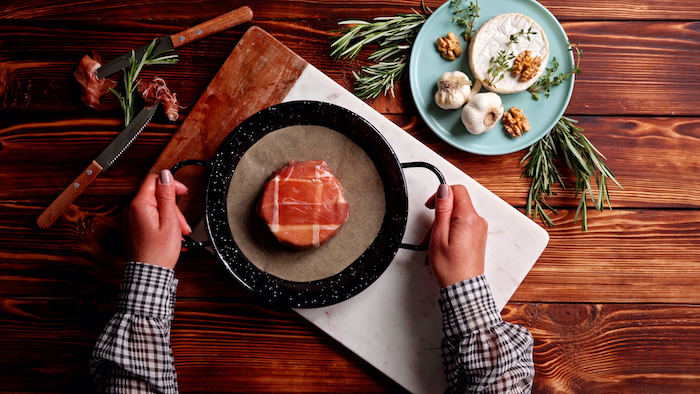 Bake at 200 degrees for 15/20 minutes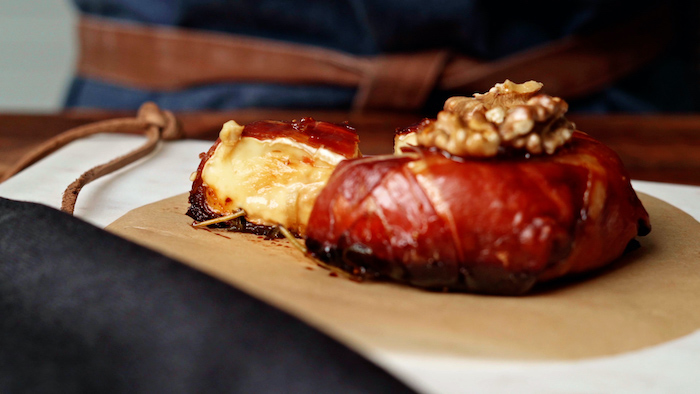 Serve with raw walnuts and a drizzle of fig jam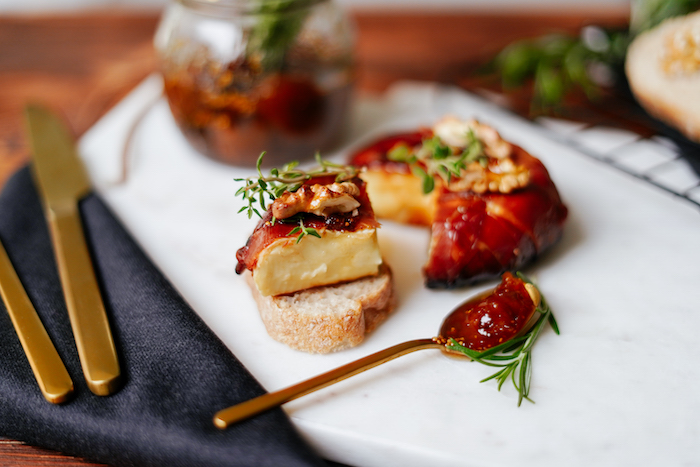 Another recipe from Archzine Studio – stuffed Portobello mushrooms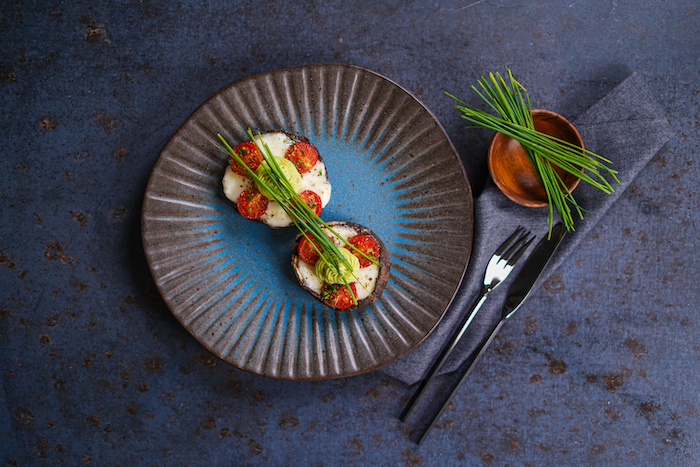 Easy Thanksgiving side dishes
Ingredients:
4 Portobello mushrooms
melted butter
125gr mini buffalo mozzarella balls
150gr cherry tomatoes
black pepper
wild onion
For the mousse:
1 avocado, pureed
1/2 red onion
juice from 1/2 lemon
5 tbsp olive oil
This is such an easy recipe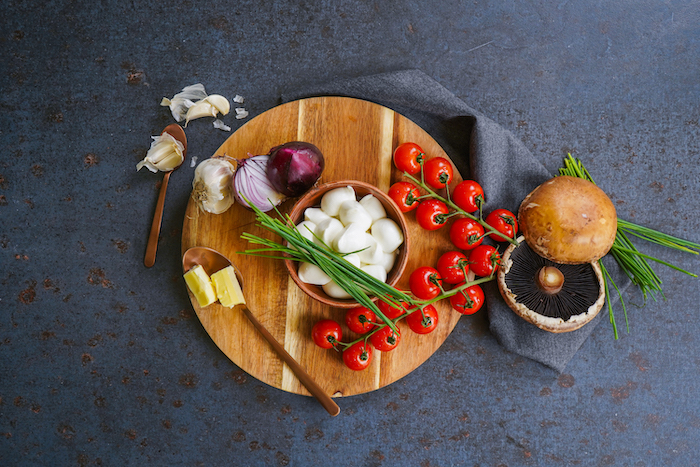 Cover the mushrooms with butter on both sides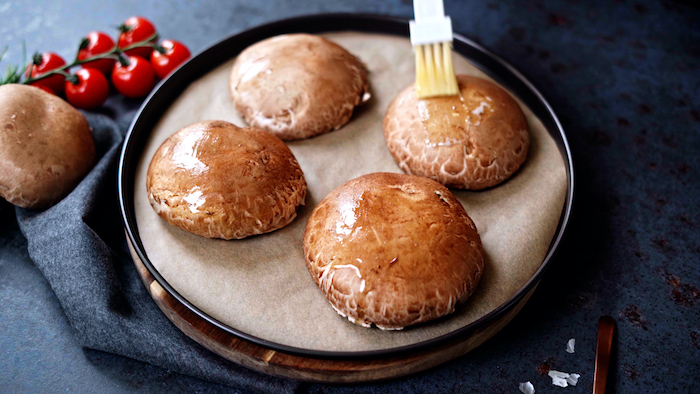 Fill with mozzarella balls and halved cherry tomatoes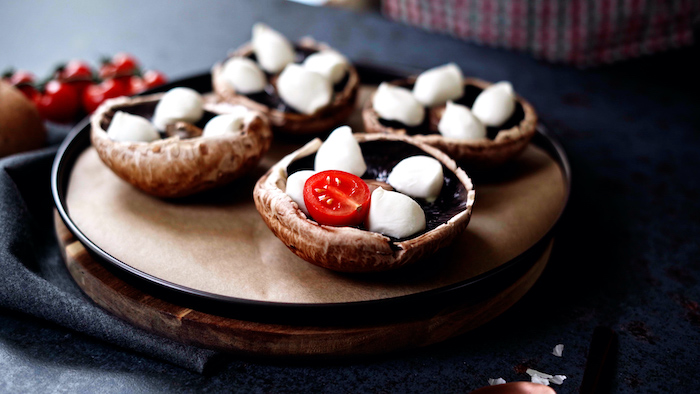 Sprinkle with black pepper and bake for 10/12 minutes at 180 degrees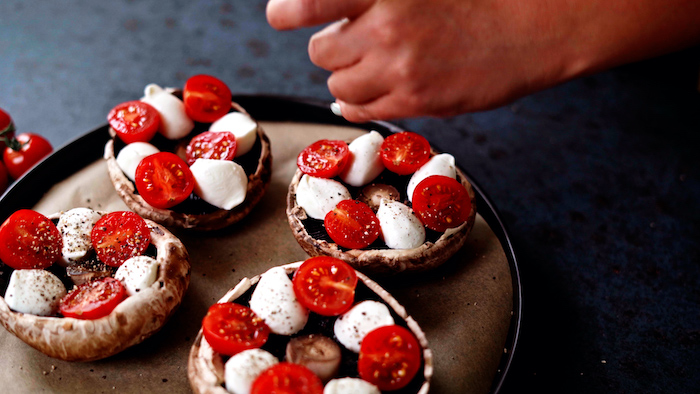 In a bowl mix all of the ingredients for the mousse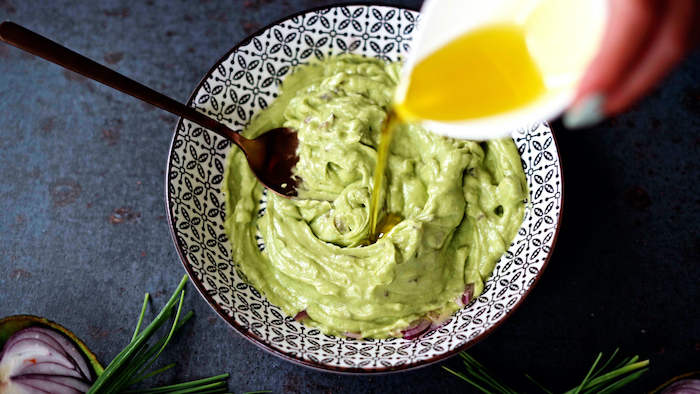 Use a piping bag to decorate the mushrooms with the mousse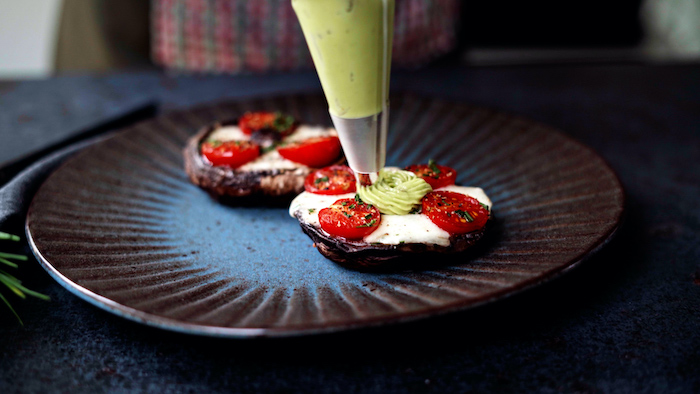 Garnish with wild onion
Traditional mashed potatoes recipe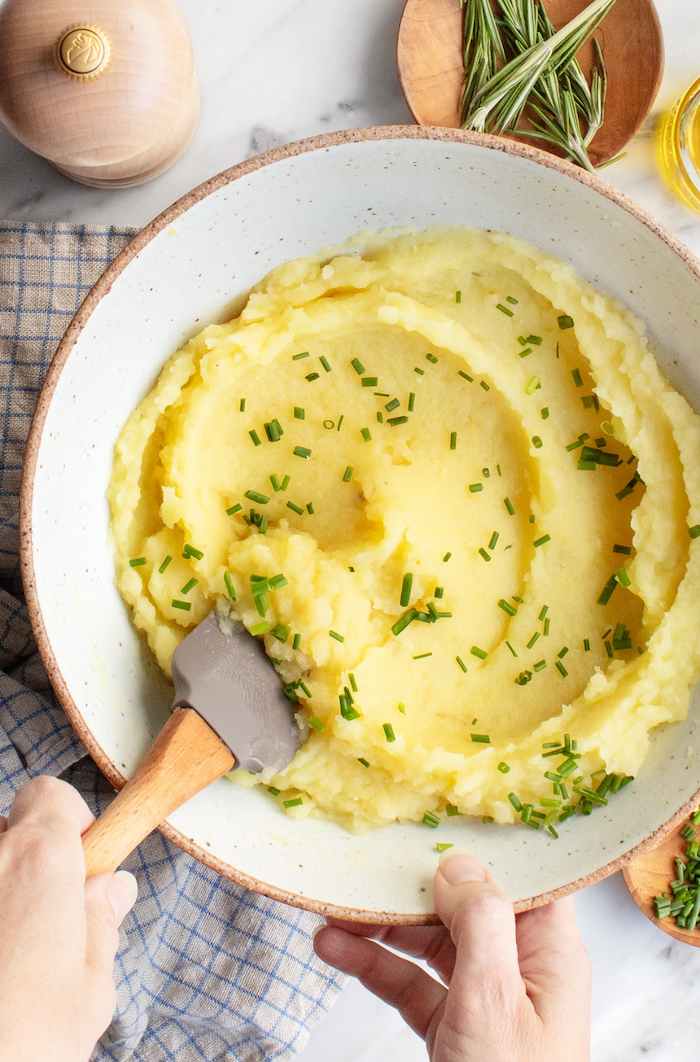 Thanksgiving dinner ideas
Ingredients:
For the roasted garlic:
1 whole garlic bulb
olive oil
salt
For the mashed potatoes:
1 lbs potatoes, peeled
2 tsp salt, divided
1/3 cup olive oil
black pepper
butter
chopped chives and rosemary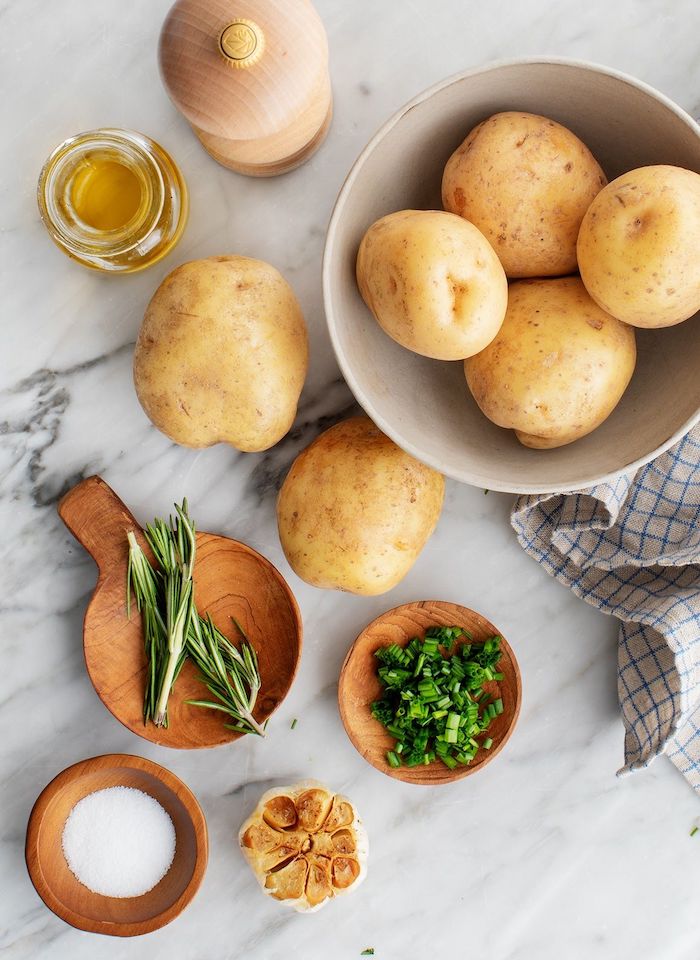 Instructions:
For the garlic:
Preheat the oven to 350°F.
Cut the top of the garlic bulb and place it cut-side up on a piece of foil. Drizzle with olive oil and sprinkle with salt, then wrap the garlic in the foil and roast for about 50 minutes. Once ready, mash and set aside.
For the potatoes:
Boil the potatoes, drain, reserving 1 cup of the water.
Mash the potatoes and add the roasted garlic, olive oil, 1/4 of the reserved water, 1 tsp salt and black pepper. Fold until creamy and add more water if desires.
Serve hot with butter, chives and rosemary.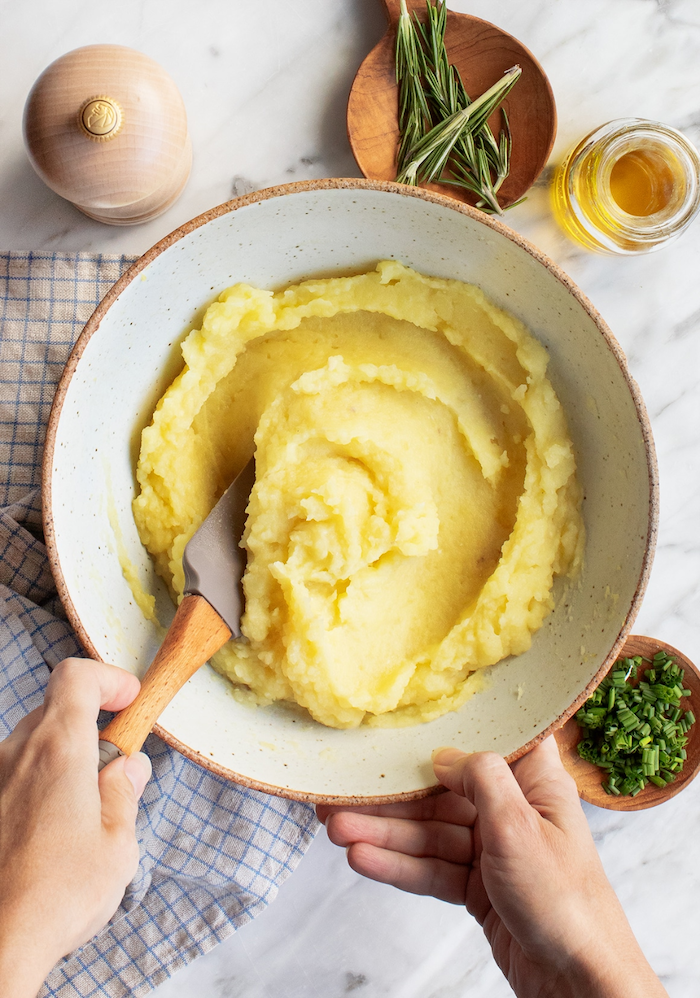 Source: Love & Lemons
Creamy potatoes au gratin
Best Thanksgiving sides
Ingredients:
1 1/2 cup heavy cream
1/2 tsp salt
1/2 tsp black pepper
2 garlic cloves, smashed
3 sprigs thyme
2 tbsp butter
3 shallots, diced
4 Kale leaves, chopped
2 lbs red potatoes
2 oz Gruyere cheese, grated
1 oz Parmesan cheese, grated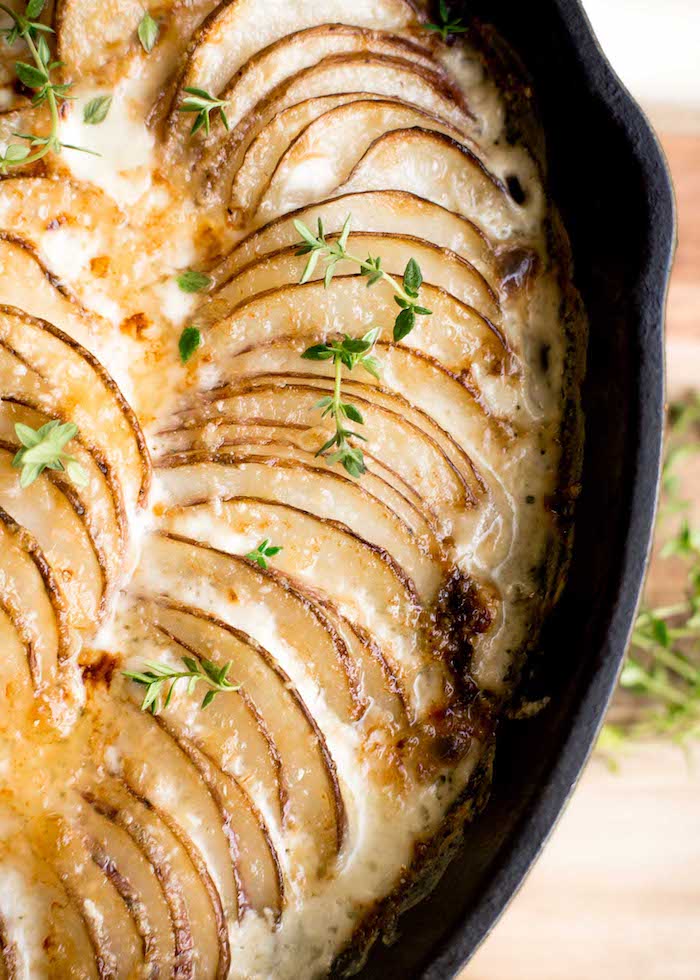 Instructions:
Preheat oven to 325°F.
In a saucepan mix the cream, salt, black pepper, garlic and thyme. Cook over medium heat, while stirring for about 4 to 6 minutes until the cream starts to bubble. Remove from heat and keep stirring until the mixture cools slightly.
Melt butter in a skillet and saute the shallots and kale leaves for about 4 minutes.
Slice the potatoes into 1/8-inch slices and fan them out over the kale in the skillet. Remove the thyme and garlic from the cream mixture and pour it over the potatoes. Cover with foil and bake for about 80 minutes.
Remove the foil and sprinkle with the cheeses. Broil for 5-6 minutes.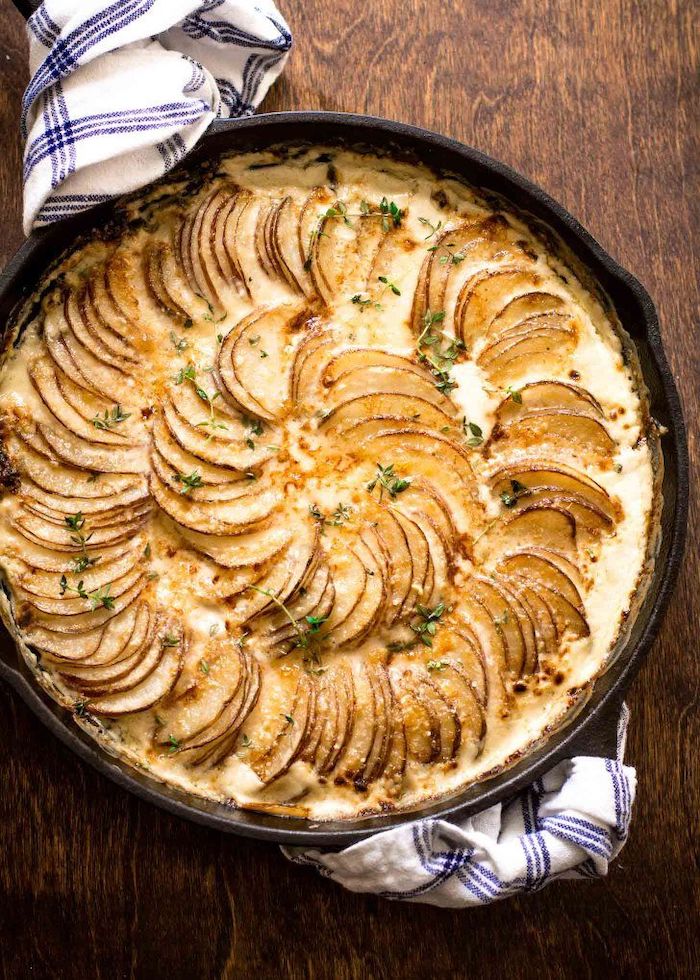 Source: Inquiring Chef
Traditional mac & cheese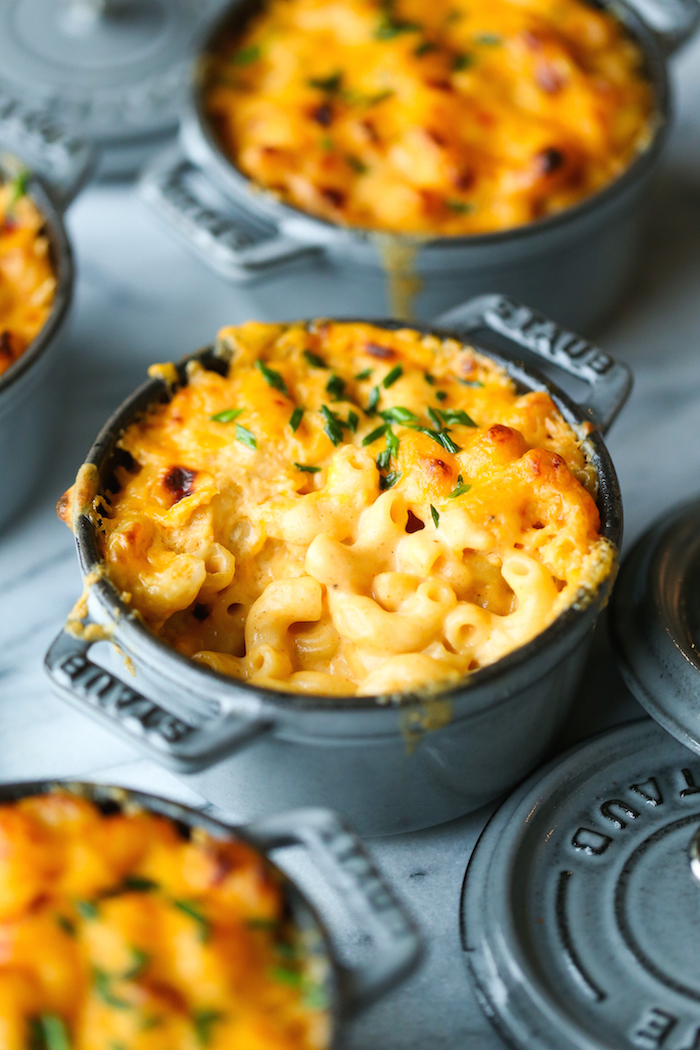 What to make on Thanksgiving?
Ingredients:
1/2 lb elbow pasta
3 tbsp butter
3 tbsp flour
1 tsp paprika
1/2 tsp onion powder
2 12-oz cans evaporated milk
12 oz shredded cheddar cheese, divided
1/4 cup grated Parmesan
salt and pepper
2 tbsp chopped chives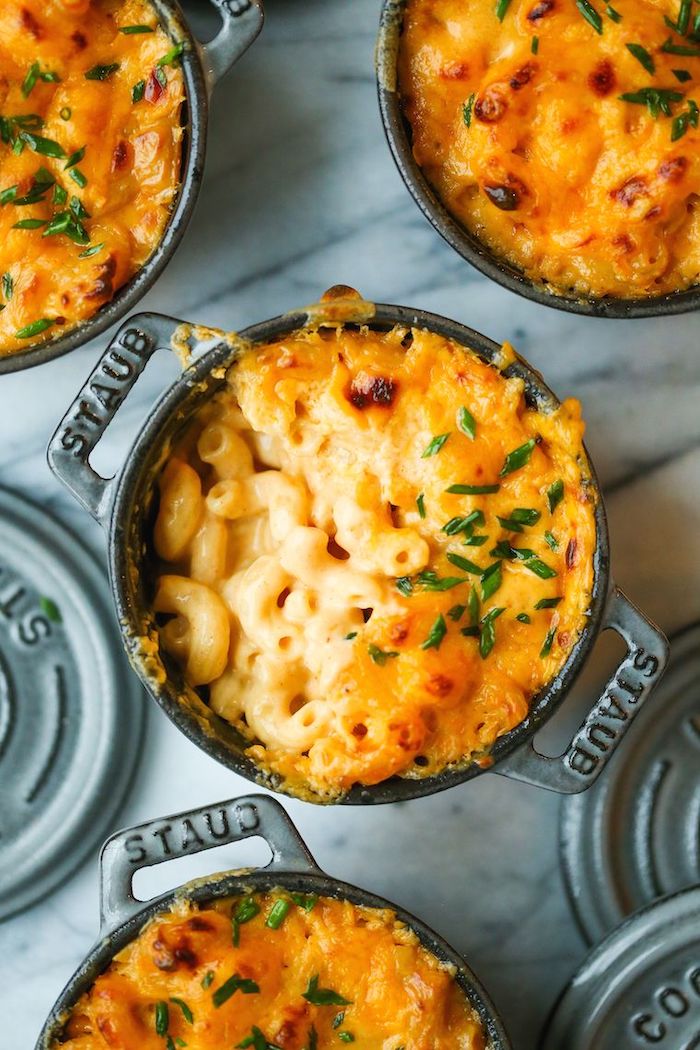 Instructions:
Preheat oven to 400°F.
Cook pasta according to package instructions.
In a skillet melt the butter and whisk in flour, paprika and onion powder. Cook for about a minute.
Gradually add the milk and cook for about 5 minutes. Remove from heat, then add 2 cups cheddar cheese and parmesan. Add the pasta and sprinkle with salt and pepper.
Transfer the mixture into ramekins and sprinkle with the remaining cheddar cheese.
Bake for about 25 minutes and serve with chives.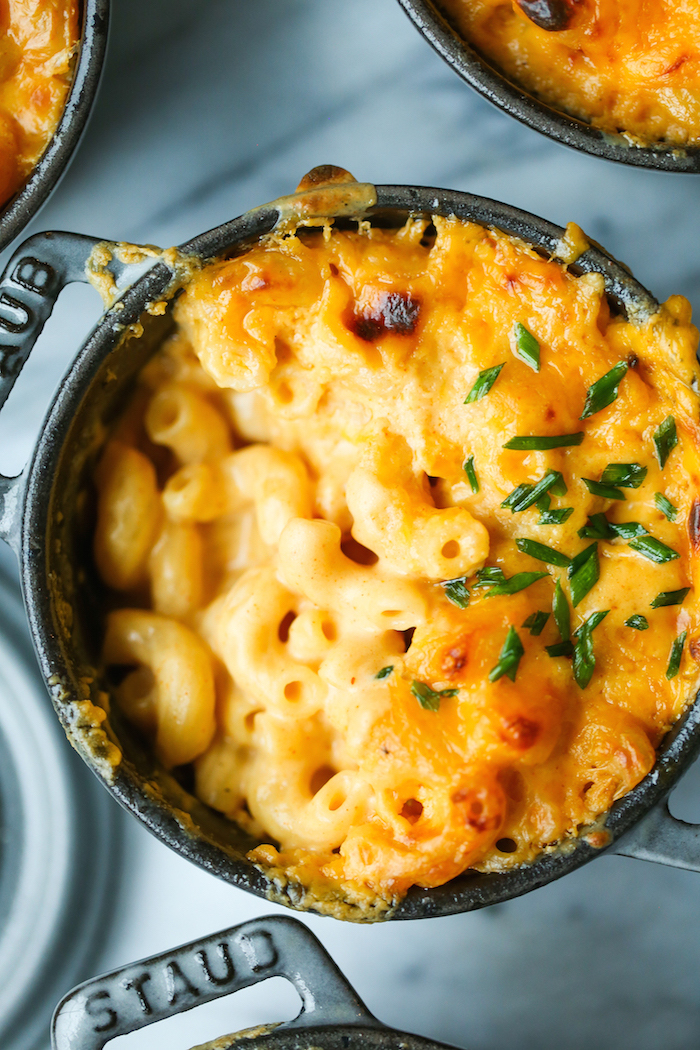 Source: Damn Delicious
Butternut squash for dessert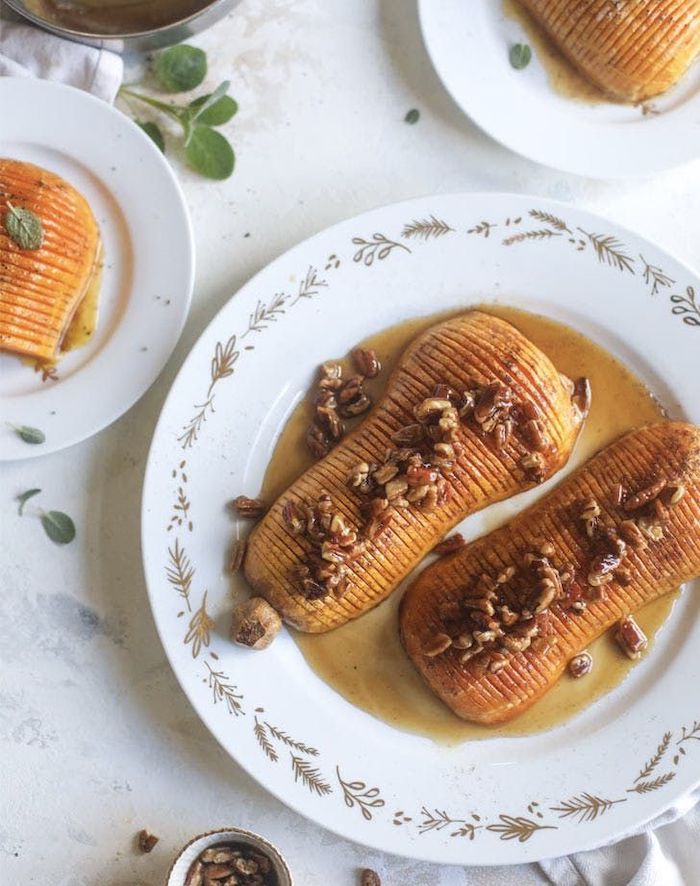 Thanksgiving dessert recipe
Ingredients:
1 butternut squash
3 tbsp olive oil
1/2 tsp each salt and pepper
For the maple pecan:
1/2 tsp cinnamon
1/4 tsp nutmeg
1/4 cup maple syrup
2 tbsp butter
3 tbsp chopped pecans
For the brown butter sage:
1/2 tsp ground sage
1/4 tsp nutmeg
1/2 cup butter
fresh sage leaves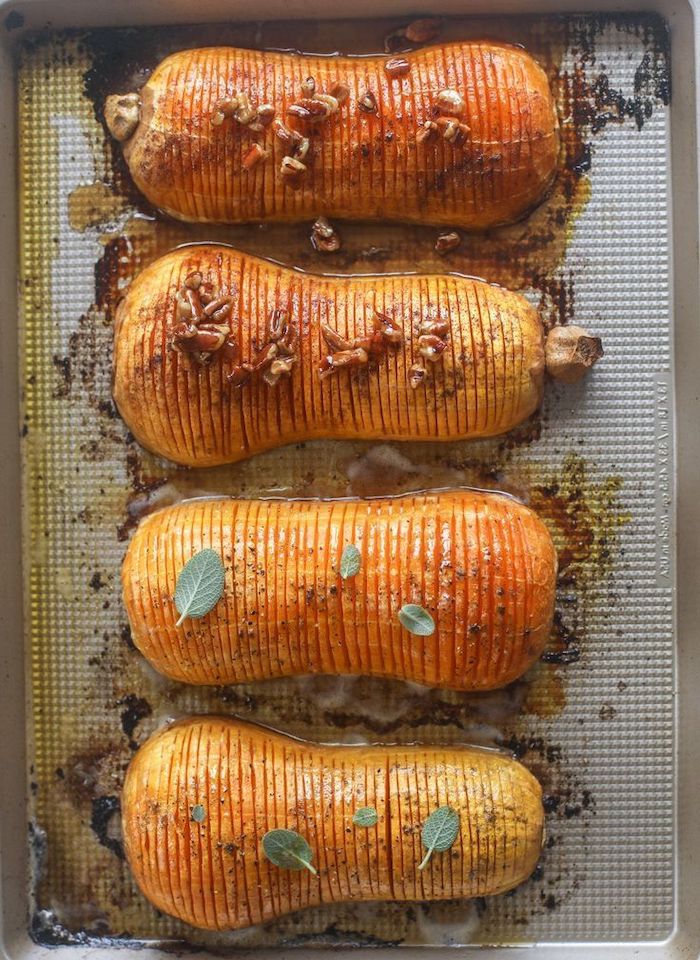 Instructions:
Preheat oven to 400°F.
Cut the squash lengthwise and remove the seeds and peel the outside. Transfer to a baking dish with the cut-side down, cover with olive oil and sprinkle with salt and pepper. Bake for about 15 minutes. Let cool slightly.
Make slices into the squash as shown in the photos. Drizzle with olive oil again and sprinkle to halves with sage and nutmeg and the other two with cinnamon and nutmeg. Roast for additional 20 minutes.
To make the first glaze bring the butter, maple syrup and pecans to a simmer and let cool.
To brown the butter, in a saucepan melt butter and stir it as it bubbles for about 2-3 minutes until it becomes brown. Remove from heat and add the sage leaves.
Two halves of the squash drizzle with pecan mixture, the other two with the brown butter sage. Transfer back to the oven and bake for another 20-30 minutes.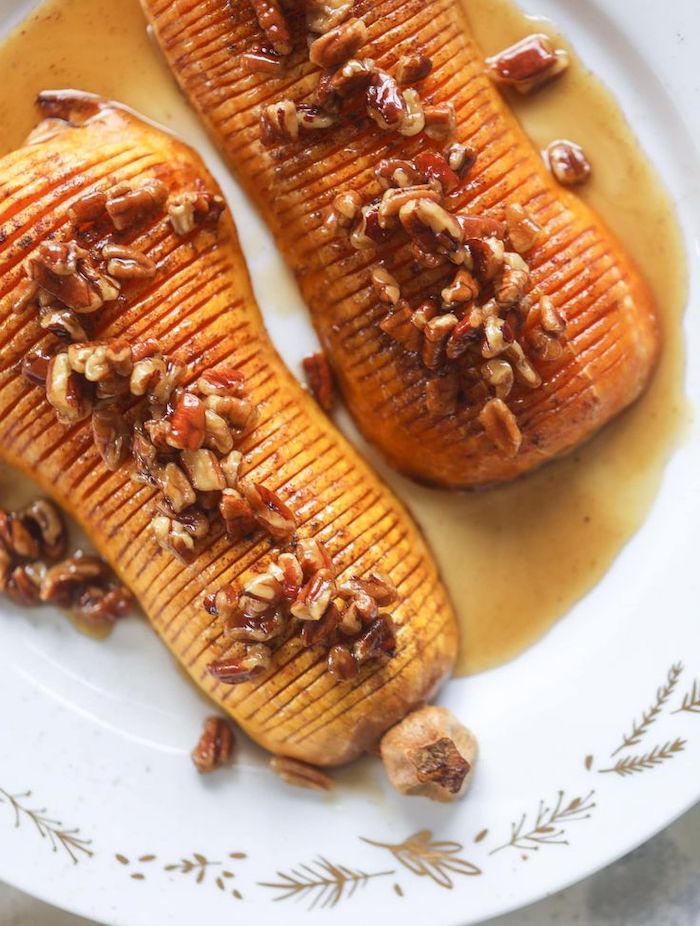 Source: How Sweet Eats
Everyone's favorite candied yams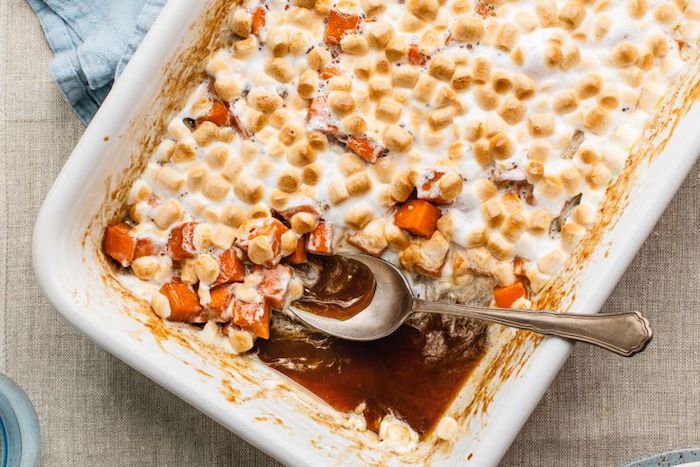 Thanksgiving food ideas
Ingredients:
4 lbs sweet potatoes
2/3 cup brown sugar
6 tbsp butter
1 tsp cinnamon
1/2 tsp salt
dash of nutmeg
dash of ginger
1 tsp vanilla extract
4 cups mini mashmallows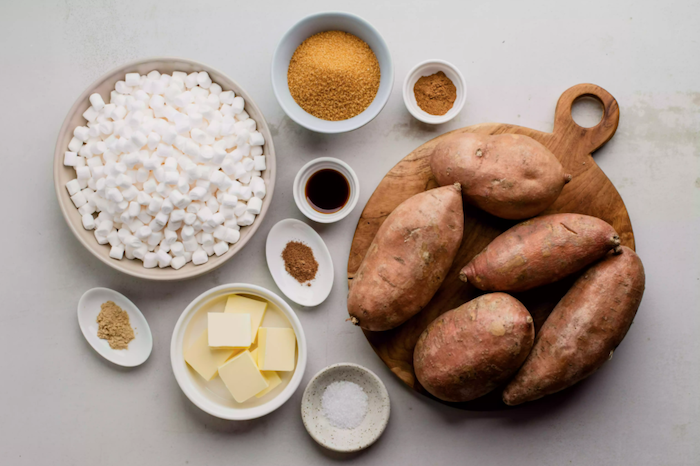 Instructions:
Preheat the oven to 375°F.
Peel the sweet potatoes, cut them into cubes and arrange them in a shallow casserole.
In a saucepan mix the brown sugar, butter, cinnamon, salt, nutmeg and ginger. Bring to a boil and stir consistently for about 8 minutes. Stir in the vanilla extract.
Pour the sugar mixture over the potatoes and cover the casserole with foil. Bake for 45 minutes, then remove the foil and stir gently. Bake additional 30 minutes, stirring occasionally.
Increase the temperature to 400°F and cover the potatoes with the mini marshmallows. Bake for additional 3 to 5 minutes.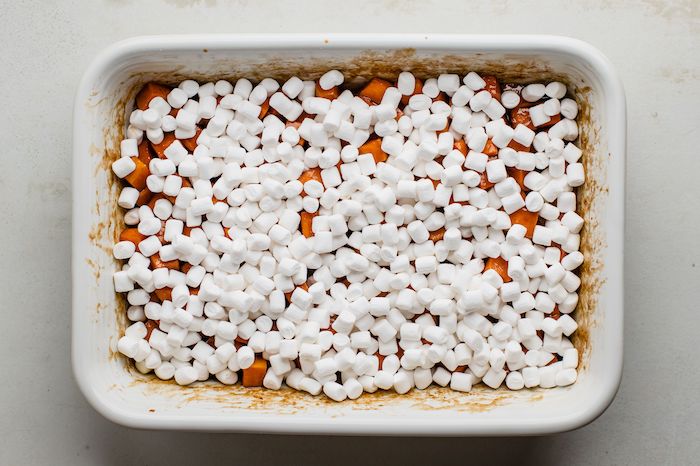 Source: The Spruce Eats
Delicious corn casserole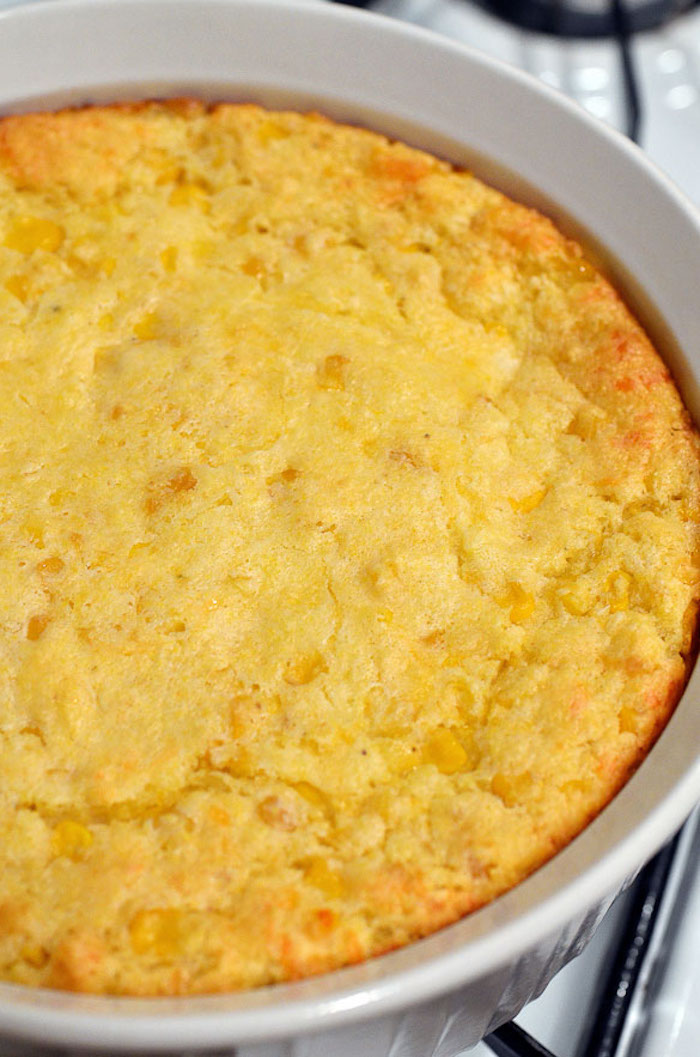 Thanksgiving side dishes 2020
Ingredients:
15-oz can whole kernel corn, drained
15-oz can cream-style corn
8-oz box corn muffin mix
1 cup sour cream
4 tbsp melted butter
1 cup shredded cheddar cheese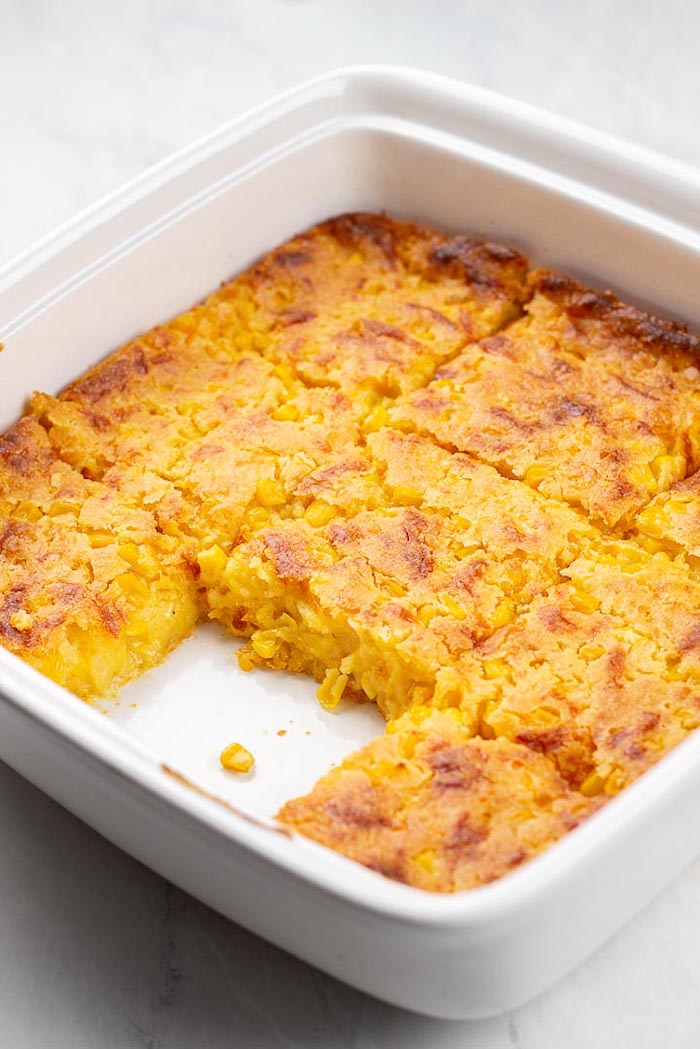 Instructions:
Preheat oven to 350°F.
In a bowl mix all of the ingredients and spread evenly onto a greased casserole dish.
Bake for 55 minutes.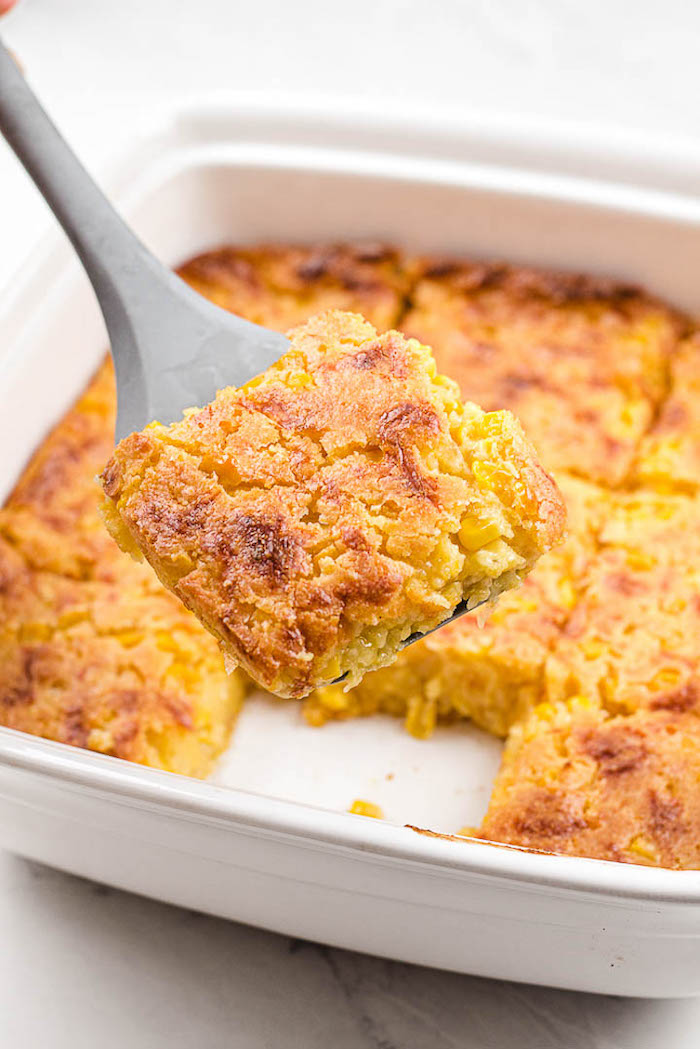 Source: Seeded At The Table
Easy recipe for roasted broccoli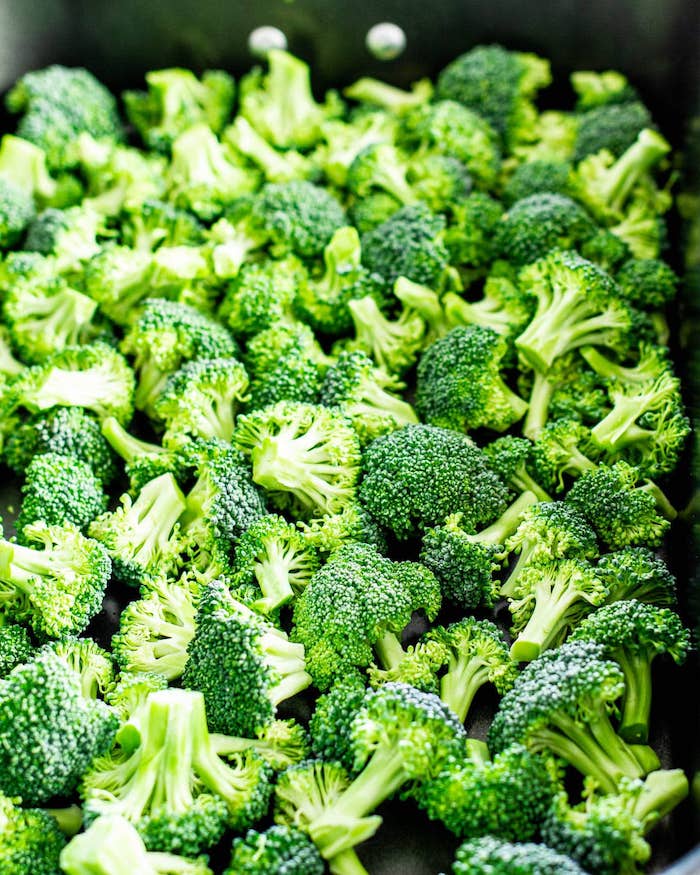 Thanksgiving side dish recipes
Ingredients:
2 heads broccoli
5 cloves garlic, thinly sliced
3 tbsp olive oil
1 1/2 tsp salt
1/2 tsp black pepper
2 tbsp lemon juice
1/4 cup pecans, toasted and chopped
1/3 cup grated Parmesan cheese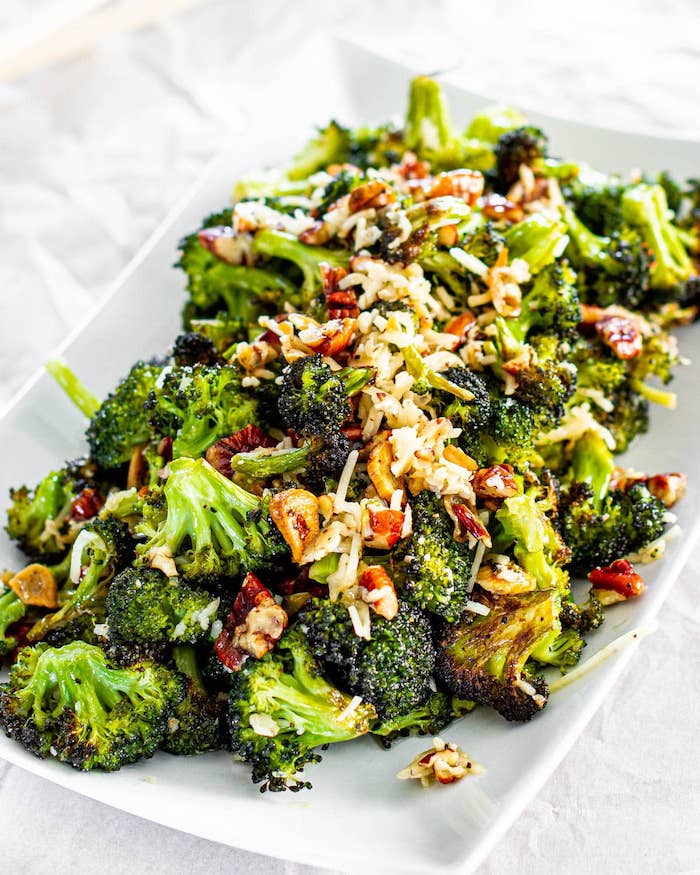 Instructions:
Preheat oven to 425°F.
Place the broccoli florets in a baking sheet. Toss in the garlic, olive oil, salt and pepper. Roast for about 25 minutes, stirring halfway through cooking.
Remove the oven and toss with pecans, lemon juice and Parmesan cheese.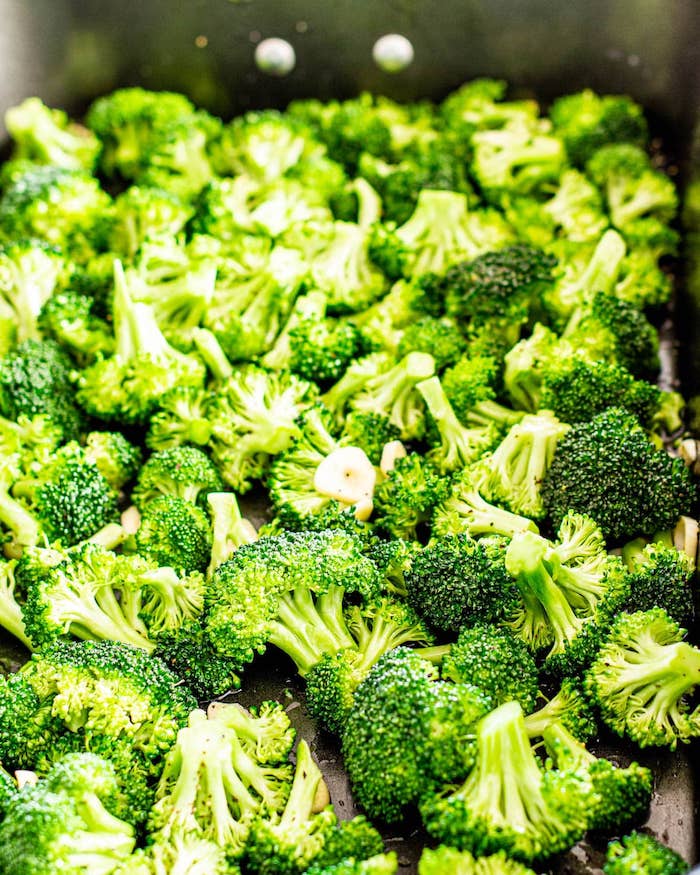 Source: Jo Cooks
Delicious roasted carrots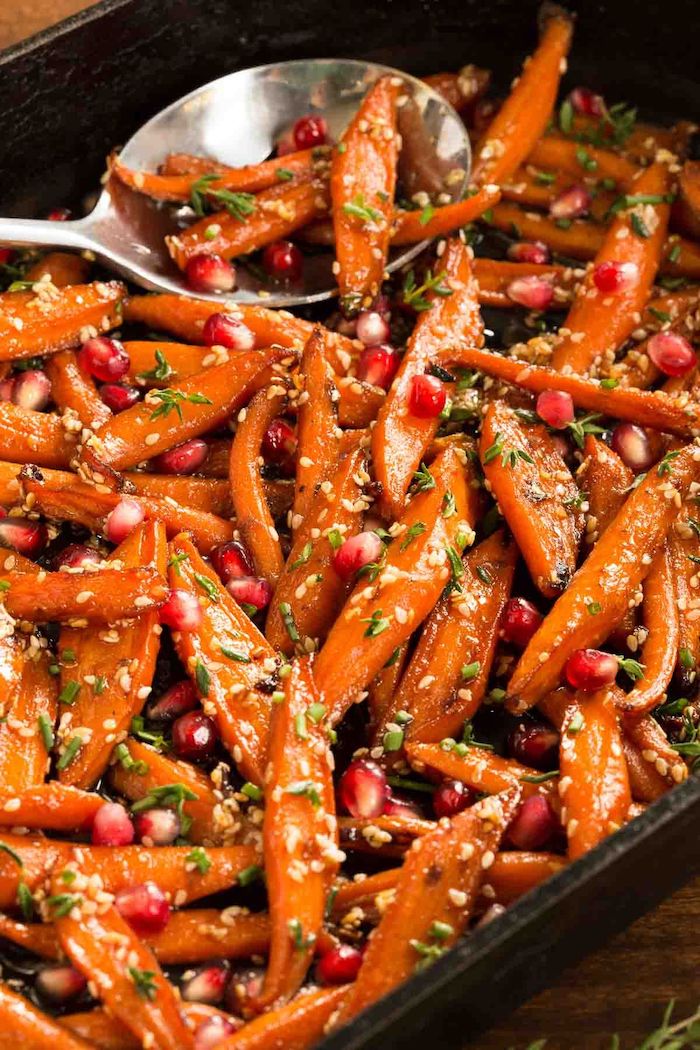 Thanksgiving vegetable side dishes
Ingredients:
2 lbs carrots, peeled and sliced into long pieces
2 tbsp olive oil
1 tbsp maple syrup
2 tbsp honey
1 1/2 tsp coriander
1 tsp salt
1/4 tsp black pepper
1 tbsp sesame seeds
1 tbsp thyme leaves
1/2 cup pomegranate seeds
1 tbsp fresh chives, chopped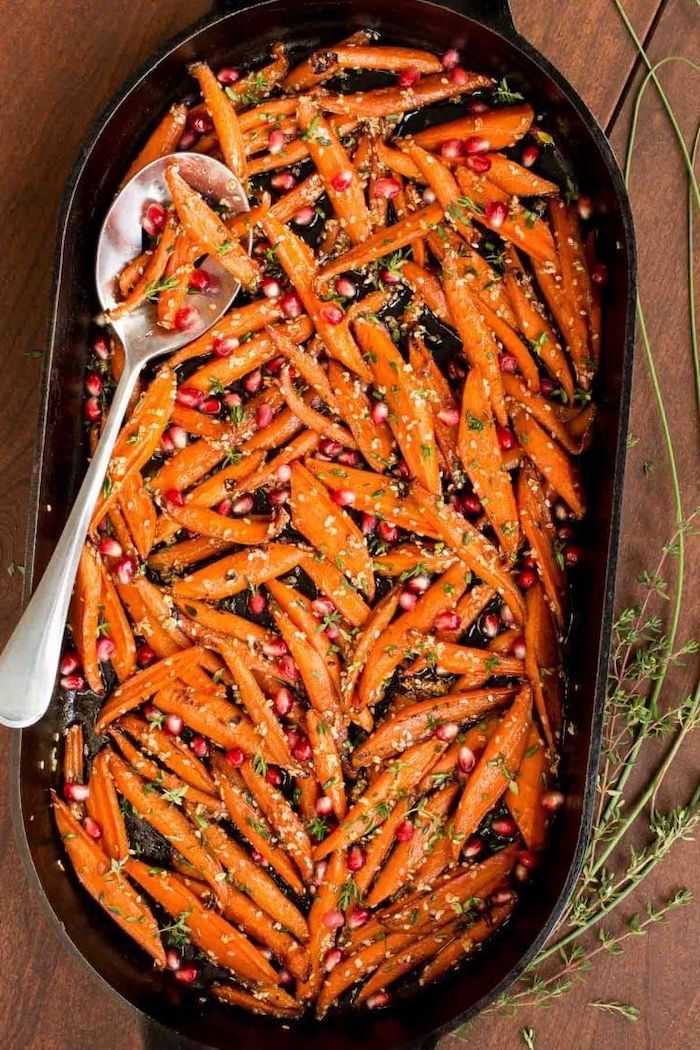 Instructions:
Preheat oven to 450°F.
Place the carrots in a greased baking sheet and drizzle with olive oil, maple syrup and honey. Toss in coriander, salt and pepper and spread out the carrots on the pan in a single layer.
Roast for 10 minutes, stir and roast for additional 20 minutes, stirring every 5 minutes.
Serve with sesame seeds and pomegranate seeds.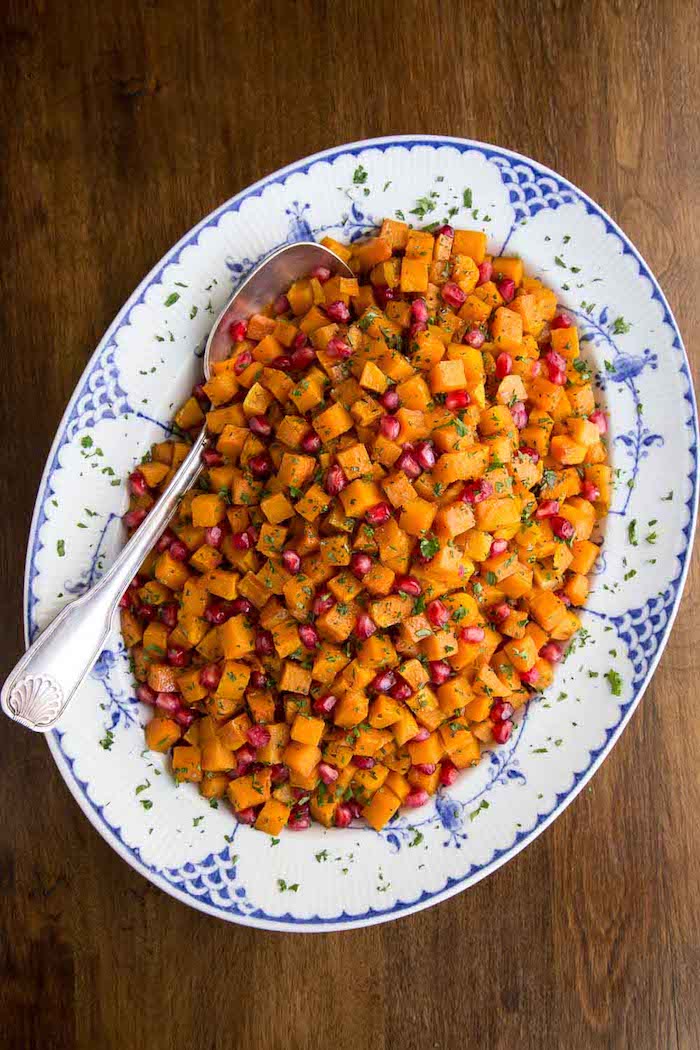 Source: The Cafe Sucre Farine
More Thanksgiving side dish ideas
Be grateful and give thanks
The Thanksgiving Day has one of the most versatile festive menus