The best Outfits For Teens Summer 2021 Edition
Is it time to get our summer clothes out? Yes, yes it is! As the weather is getting warmer and the days are getting longer, it is high time we ditch those long winter coats and replace them with trendy summer outfits. So, today, in this article we are going to discuss what are the best, cute outfits for teens which you can rock during the summer of 2021. What's more, we are going to discuss how to pair clothes and colors, how to accessorize and what are the newest trends from the fashion runways. So, keep reading to get a few ideas and scroll down through our photo gallery to find lots of super cool and trendy outfits for the ultimate It girls out there.
Denim shorts with an oversized sweatshirt is the perfect summer evening outfit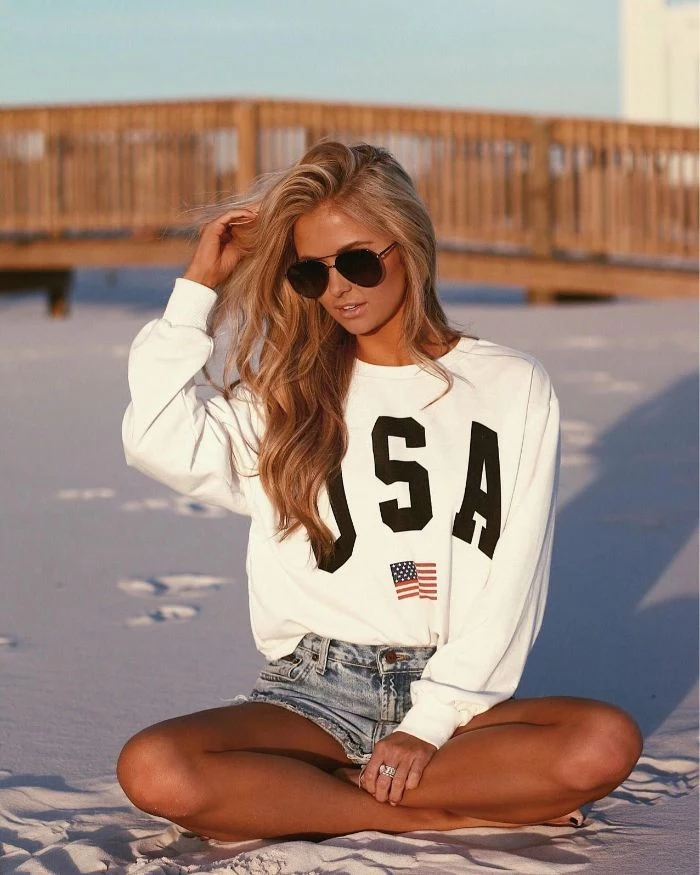 What clothes should every teenage girl have?
Before we start discussing the trends of summer 2021, it is also important to cover the basics. That is why we are going to tell you that there are a few essentials that every girl needs to have in her wardrobe. If you have those you can put together the best outfits all summer long.
A nice pair of jeans. First of all, this is the most important, basic thing that everyone should have in their wardrobe, regardless of gender and age. Jeans are great, because they can be paired with literally everything. What's more, they can be used for a more casual or even a business casual look.
T-shirts and tops in basic colors. Having t-shirts and tops in colors such as white, black, nude or even gray opens up so many possibilities. They can also be paired with everything and can be a nice option for a more understated look.
A pair of white sneakers. We are all aware of everyone's love Nike Air Force One's. That is why we all need to have a pair. The Adidas Superstars are another great option. Sneakers you can pair with anything and still look good and very trendy.
There are a few basic pieces of clothing we all need to have in our wardrobe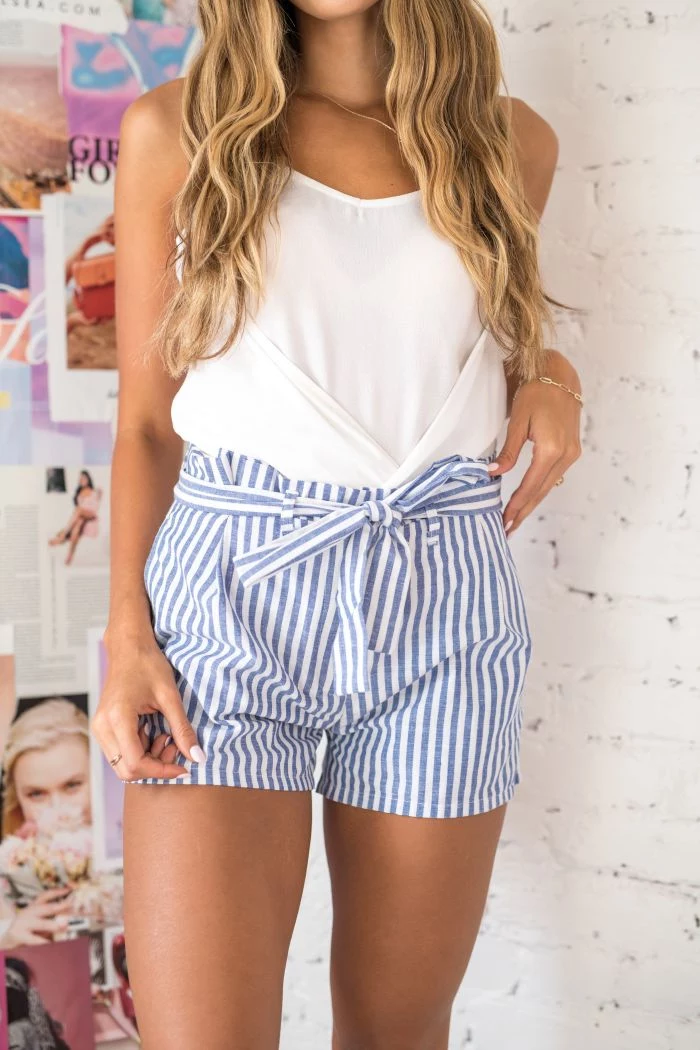 Ideas for cute outfits for teens for summer 2021
After social isolating at home for a whole year, we all want to show off our fanciest clothes. However, people have a newfound love for comfortable clothes. And this year it is all about comfort. Oversized clothes and t-shirts, biker shorts, leggings, accessorized with trendy jewelry and awesome sneakers are the trendiest types of outfits this summer. So, if you already have them in your closet, you are lucky. If not, now is the perfect time for a shopping spree.
2021 is all about comfort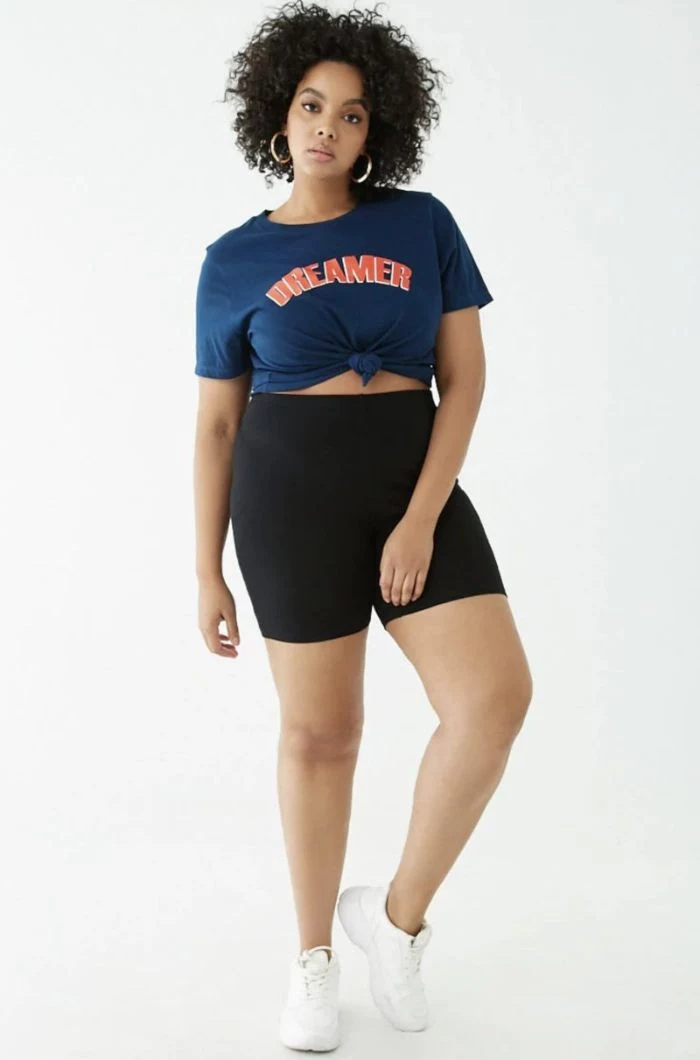 Cute outfits for teens with denim
Denim doesn't just mean jeans. Denim shorts, skirts, jackets and even shirts can be an amazing base for you everyday outfit. Black denim skirts are going to be super trendy this summer. Pair them with a graphic t-shirt and a pair of comfortable sneakers and you will have a casual, yet trendy outfit. Denim jackets will always be trendy, as well. You can never go wrong with throwing a denim jacket on and going out.
Denim is a classic in every way, shape and form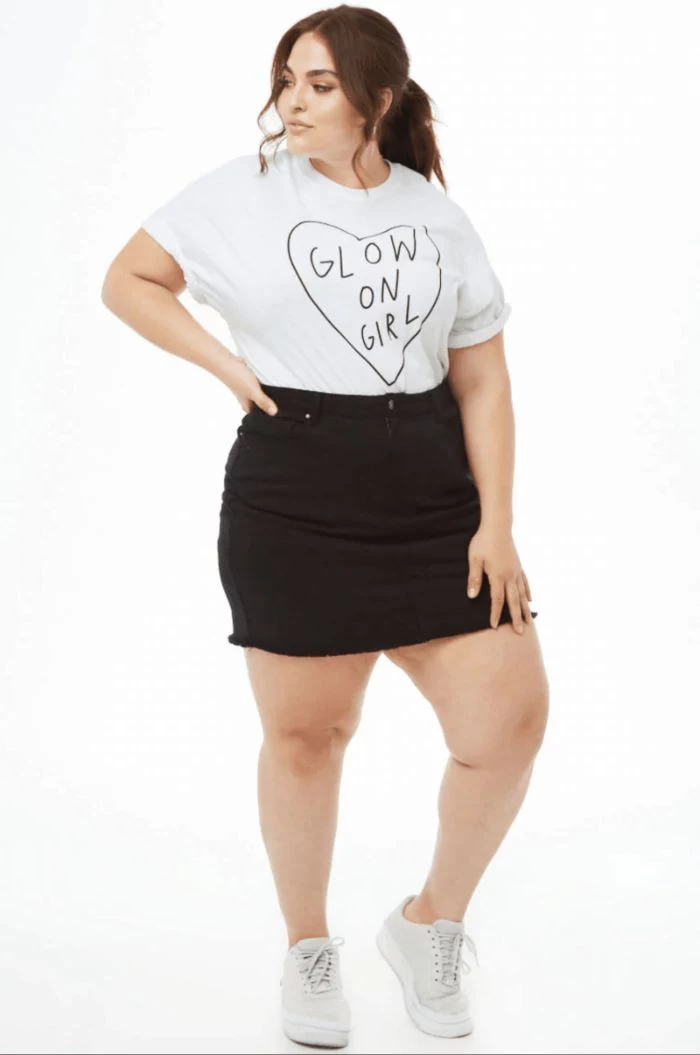 Get preppy
Mini plaid skirt with a nice crop top and a pair of white sneakers screams preppy. It is an incredible outfit which is definitely going to turn heads. If you want to feel ultra modern but have the comfort as well, this type of attire is perfect for you. Some beach waves, sunglasses and all natural makeup look will be the perfect addition to your look.
The preppy look will never go out of style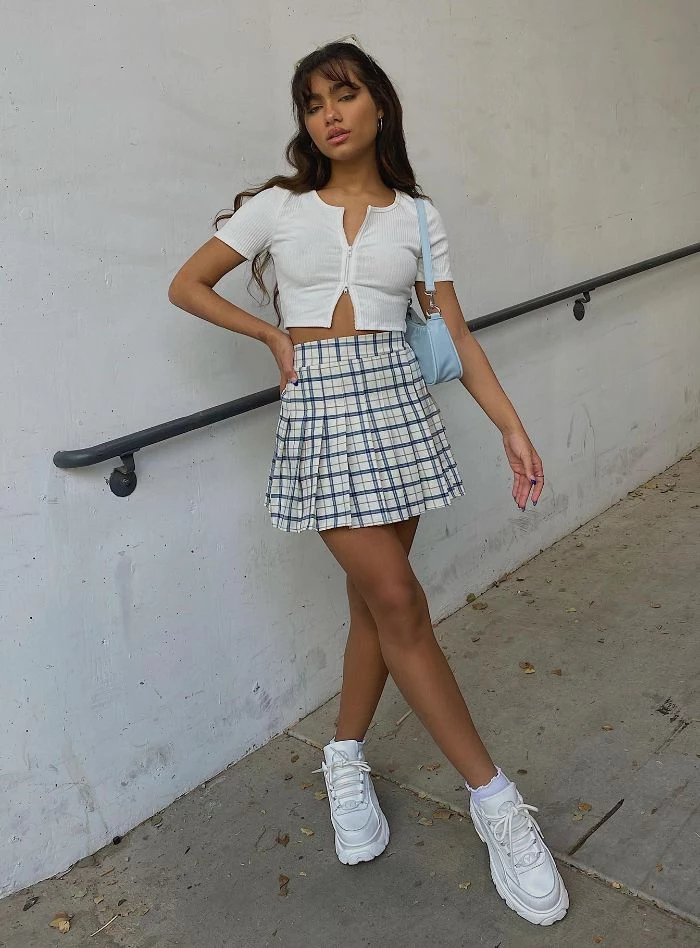 Keep it super casual
A pair of denim shorts and a t-shirt is really all you need for the summer. They will keep you cool and trendy. Choose a t-shirt with a fun design to bring some character to the overall outfit. Whether you choose to combine this type of attire with sandals or sneakers, you will look amazing eather way. Pair it with a cute bag and the must have accessory for the summer – sunglasses. This type of outfit is so easy to put together, will keep you comfortable throughout the day and can also be very modern.
Keep things simple with a more casual, understated look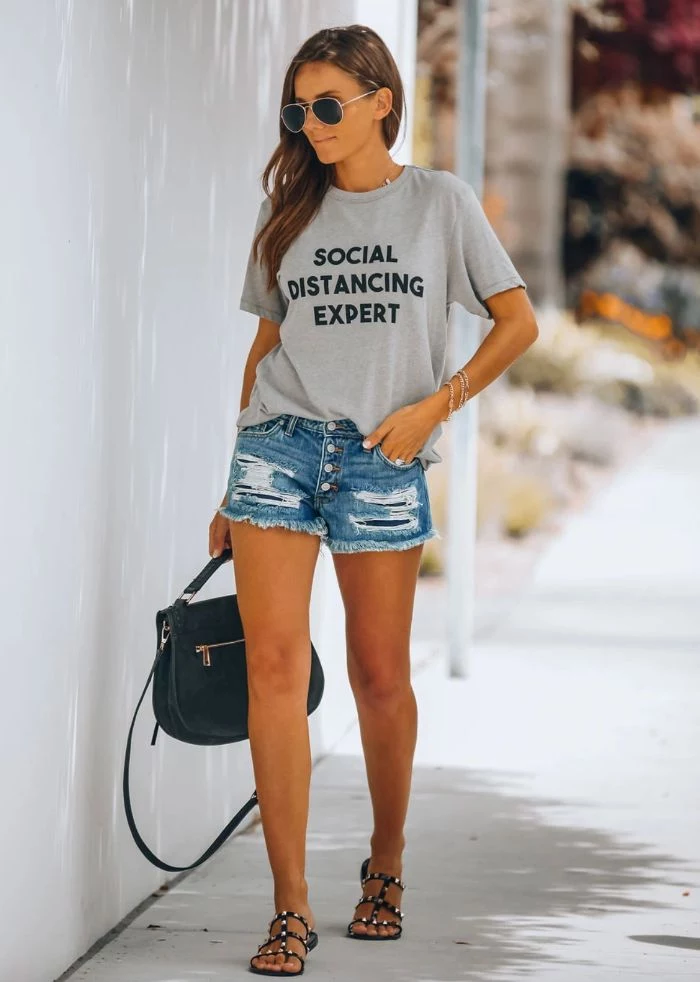 The look of the Tik Tok generation
What is the look of the Tik Tok generation you might ask. Well, here it is! High waisted jeans and a crop top is all you need to put together this look. Choose light high waisted jeans, which may also be slightly ripped here and there. On the other hand, you can choose a crop top with a simple, understated design, showing off your midriff. This look may be slightly understated, but is incredibly trendy. What's more, it can keep you cool throughout the day. Then, once the sun goes down, you can just add a denim or leather jacket on top and you are ready for the evening as well.
You can never go wrong with high waisted jeans and a crop top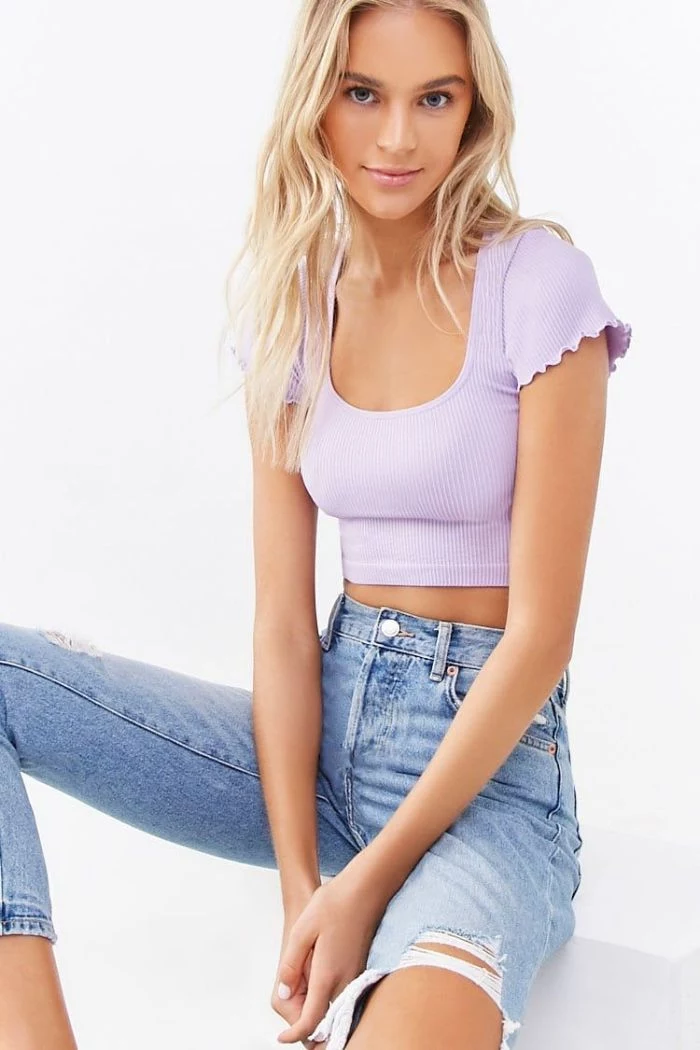 Feminine and cute outfits for teens
If you want to feel extra feminine, but comfortable as well, a nice short dress is the way to go. Since the 90s style has been on the rise lately, dresses, paired with boots are very common. That is because they look extremely stylish. They are also quite reminiscent of the rebelious 90s which are, undoubtedly, everyone's favorite fashion era. On the other hand, if you want to be super comfortable, you can always pair a dress with sneakers. This type of outfit can also be called preppy. Isn't it amazing that just by changing shoes, you can go for a completely different look? Just have a feel for what you want to wear on a particular day.
Bring the 90s back with this look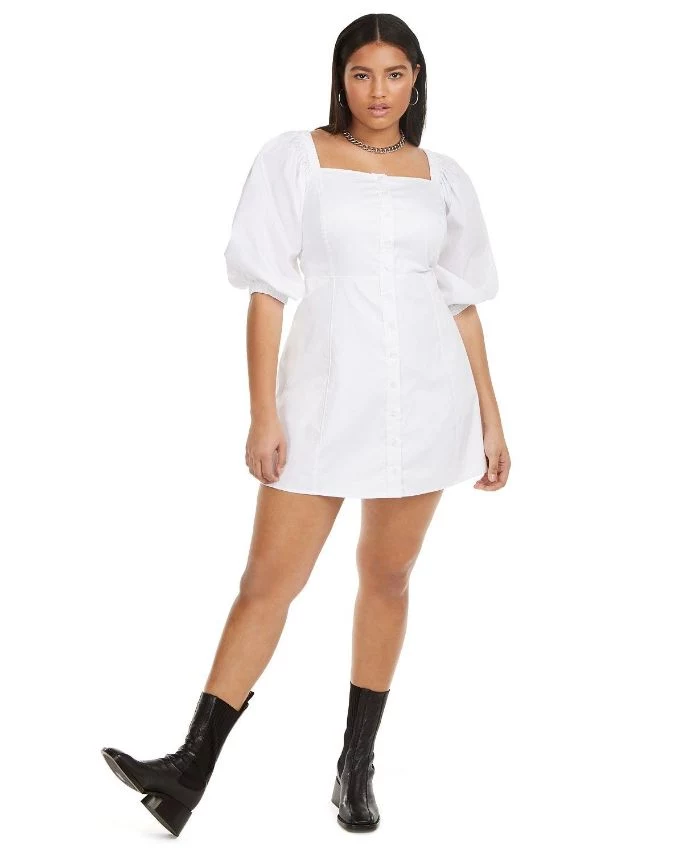 Activewear for ultimate comfort
Who says that activewear is only reserved for gyms? As we have already mentioned, the summer trends of 2021 are all about comfort. And is there anything more comfortable than a pair of leggings, sports bra and an oversized sweatshirt? The answer is definitely no! What's more, nowadays there are so many amazing activewear brands, which offer leggings and sweatshirts in all kinds of colors and prints. How can you even resist them?
Go out for a walk with friends, then go straight to the gym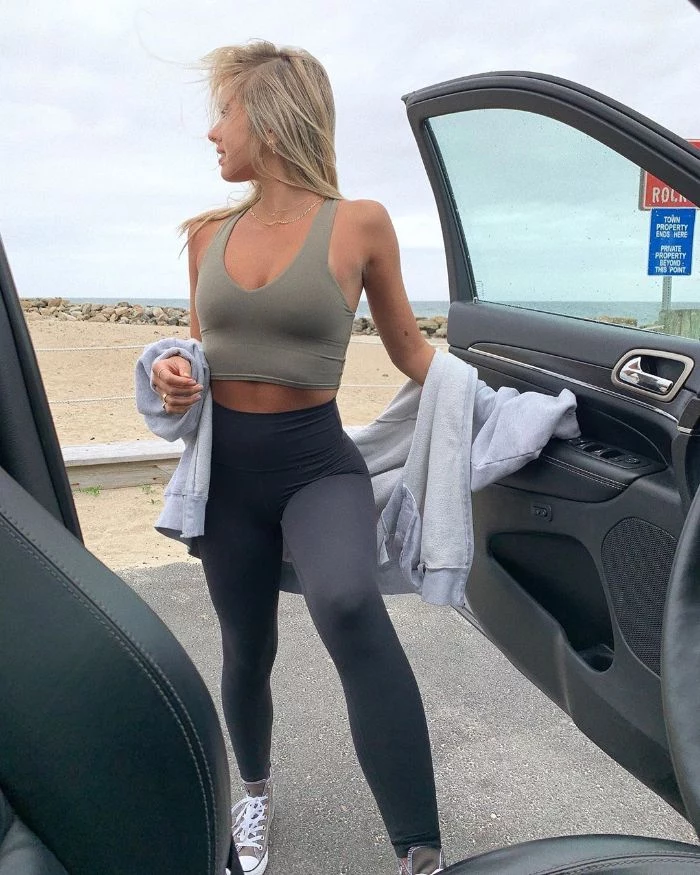 Oversized clothes
Oversized clothes in general are all the rage right now. That is quite understandable – comfort above everything. Oversized t-shirts and sweatshirts worn as dresses are the ultimate "It" girl look. Pair them with sneakers or even some Doc Martens and you will definitely be able to pass the 90s vibe check. Take a page out of Hailey Bieber's book and put your hair in a nice low bun and you will be super modern everytime you set foot outside.
Take a page out of Hailey Bieber's book and copy this look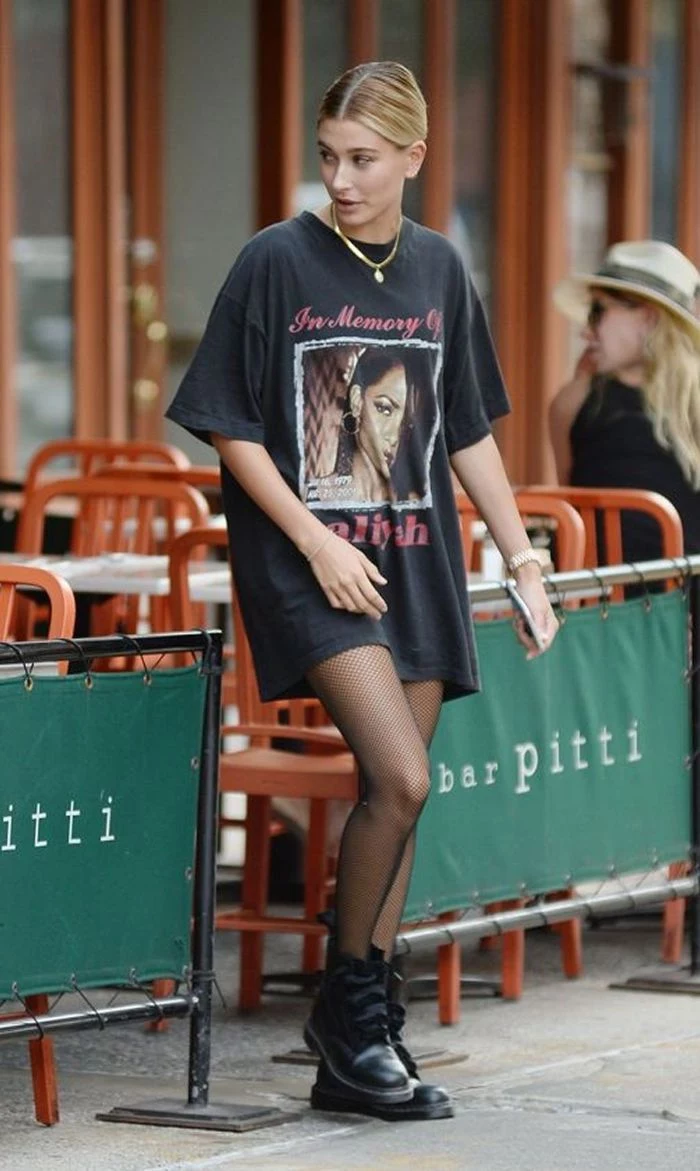 Do you want more inspiration? Keep scrolling down through our gallery for even more cute outfits for teens
The fashion of summer 2021 will be all about feeling comfortable
Keep it casual with an understated black and white look
Match the sun with a cute yellow crop top and a pair of denim shorts
Jeans and a t-shirt – what more could you possibly need in a summer outfit
The preppy style is very popular and has been for awhile now
Cute outfits for teens summer 2021 edition
Wear a t-shirt with your favorite band's logo to express yourself