The Best Summer Salad With Figs: Easy and Delicious
With summer approaching, it's time to substitute the hearty soups and stews for some fresh salads and fruits. That's why we decided to mix the best of both worlds and make this refreshing summer salad with figs. It's the perfect meal for when it's too hot to cook, and you're too tired, but still want something delicious. This salad is bursting with all kind of flavors and textures. Crispness from the walnuts, freshness from the arugula, sweetness from the figs, and soft burrata cheese. And the dressing ties everything together perfectly. Create a symphony for your taste buds by making this quick and easy meal. But not only is this salad delicious, it's also visually stunning. So, if you're wondering what to make for guests, this is it. Without further adieu, let's see how to make this stunning salad.
Yummy fresh ingredients
If you enjoy seeing the process before taking on a recipe yourself, make sure to check out our easy-to-follow video tutorial. This recipe is super easy and simple, yet it's bursting with flavors. So, if you're in the mood for a fresh summer salad, this recipe is for you!
Check out our YouTube video recipe tutorial for this yummy summer salad
Summer Salad With Figs Recipe
Preparation time: 10 minutes
Total time: 15 minutes
Equipment:
Cutting board
Knife
Silicone Spatula
Plating Board or Bowl
Ingredients:
For the dressing:
3/4 tbsp Olive Oil
1 tbsp Dijon Mustard
1 tbsp Honey
2 tbsp White Balsamic Vinegar
Salt
Black Pepper, ground
For the salad:
250 grams Fresh Arugula
200 grams Fresh Figs
125 grams Burrata Cheese
1/2 Red Onion, sliced
50 grams Walnuts
Step-by-Step Instructions: 
First it's time to prepare the dressing. In a small bowl combine the olive oil, mustard, honey, white balsamic vinegar, salt, and pepper.
Mix everything together well and set aside.
Now it's time to prepare the rest of the ingredients. Wash your arugula, slice the onions thinly, and cut the figs in two.
Prepare your serving bowl or serving board.
Place the arugula first. Next add the figs on top. Place them all around the salad.
Take the burrata cheese and tear it apart. Place it once again evenly all around the salad.
Top with the thinly sliced red onion and then add the walnuts.
Finally, take the dressing you put aside and with a spoon pour it around the whole salad.
Enjoy!
Visual Steps
First step: Prepare the ingredients for the dressing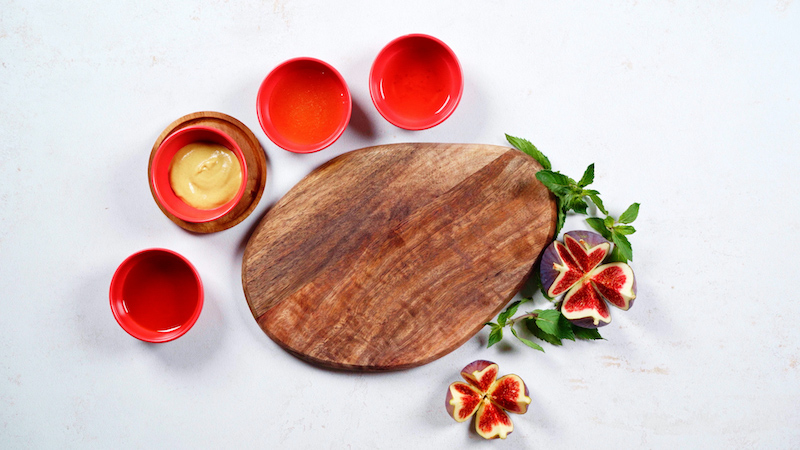 Second step: Add in the oil and mustard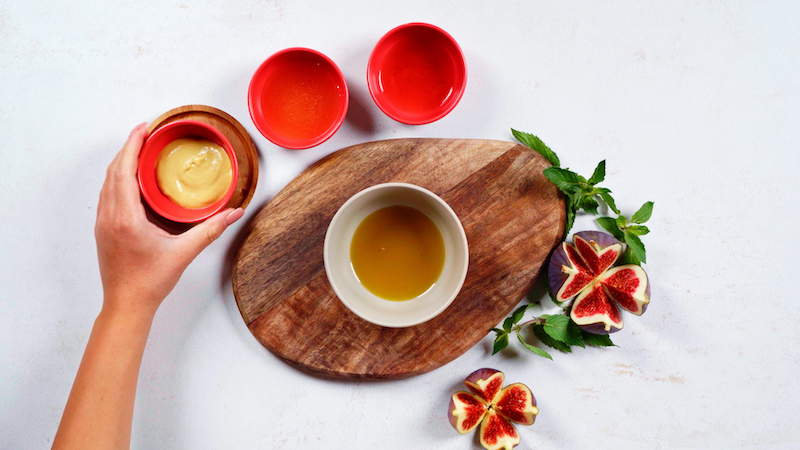 Third step: Add in the rest of the dressing ingredients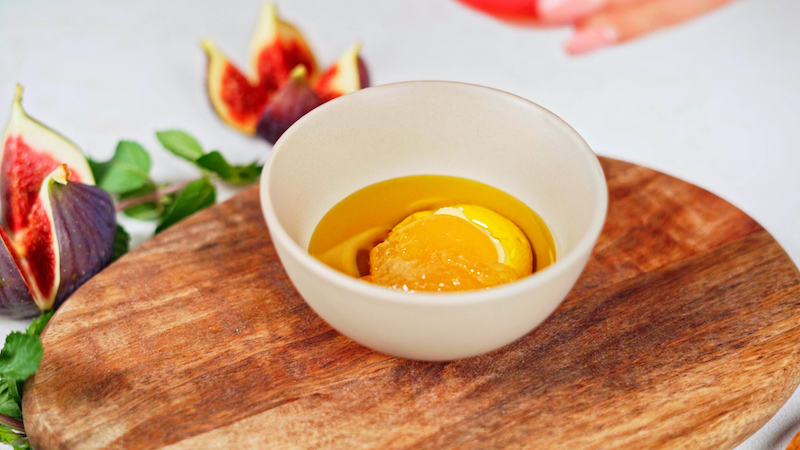 Fourth step: Add salt and fresh pepper to taste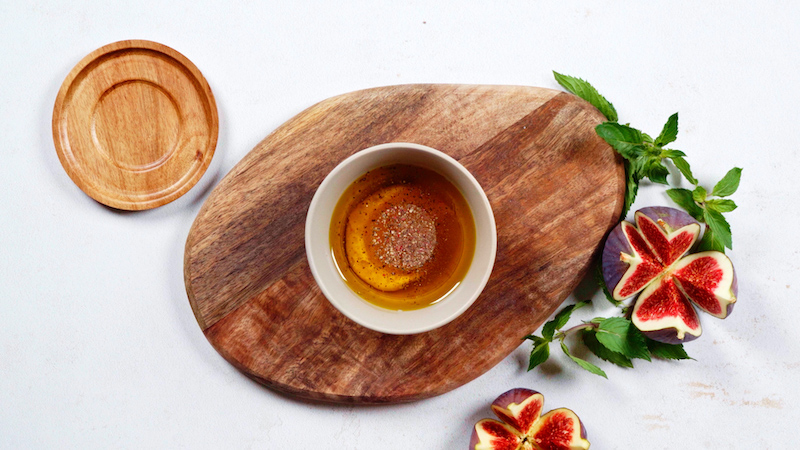 Fifth step:Mix everything well and put aside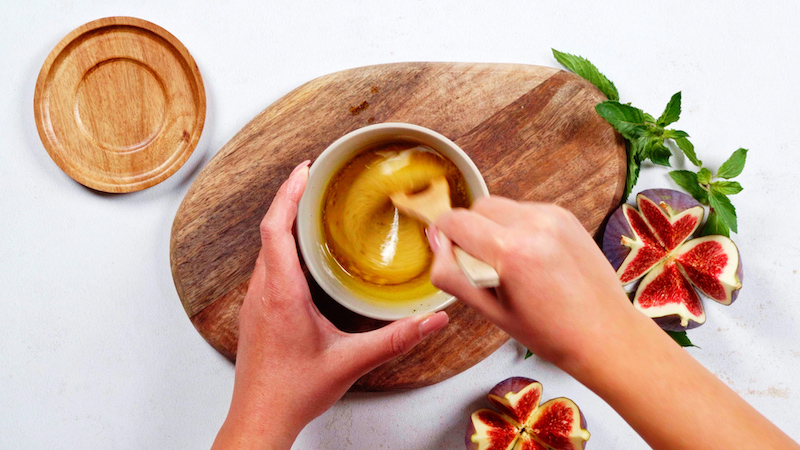 Sixth step: Prepare the salad ingredients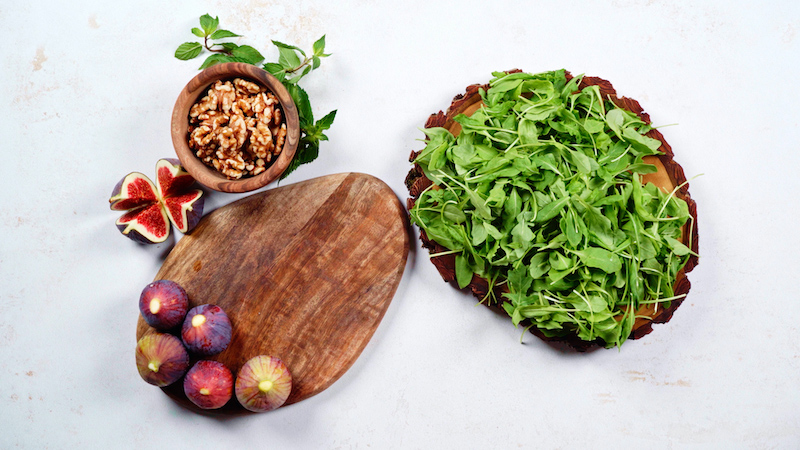 Seventh step: Add the arugula to your board or bowl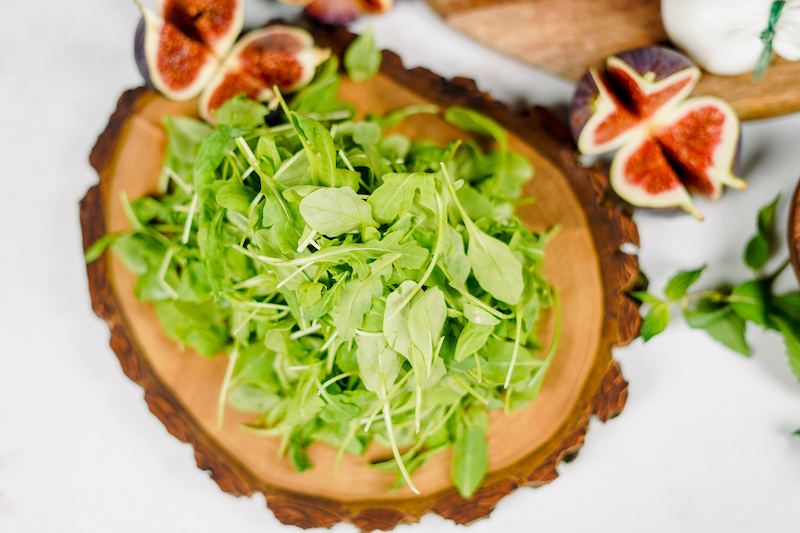 Eighth step: Top with halved figs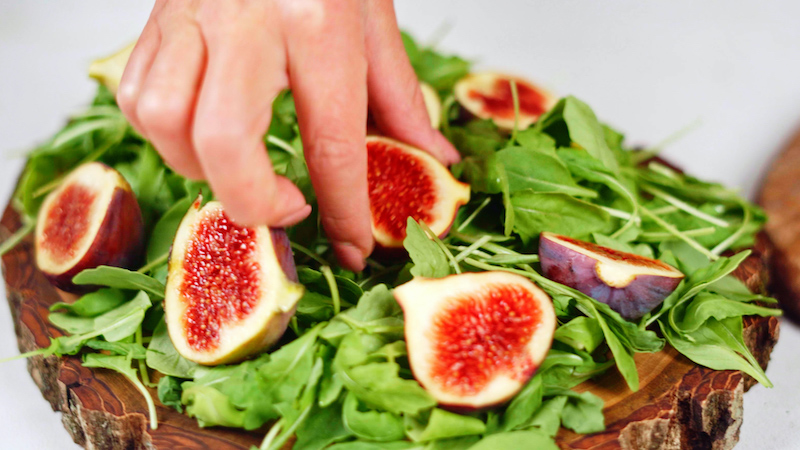 Ninth step: Tear the burrata all around the salad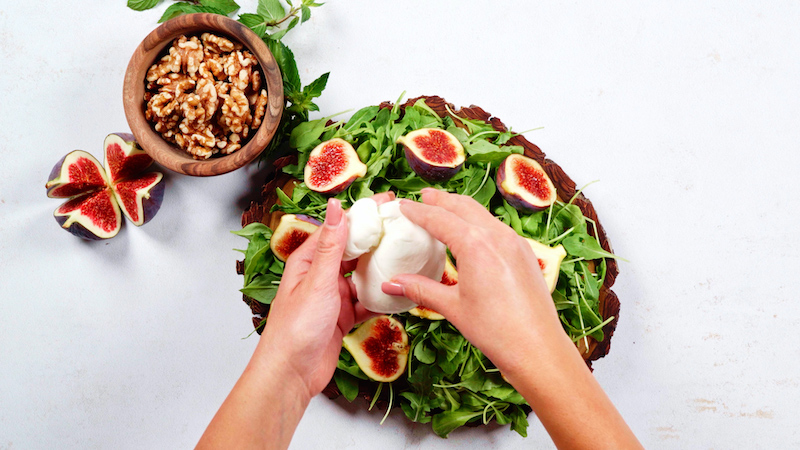 Tenth step: Add the slices of red onion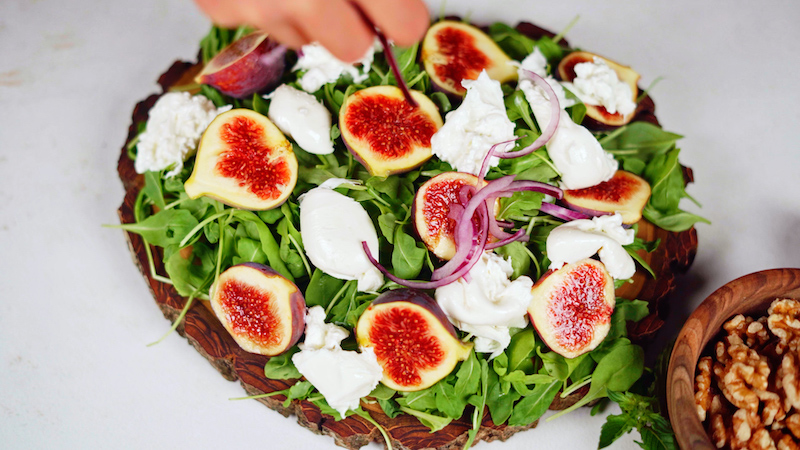 Eleventh step: Top with some walnuts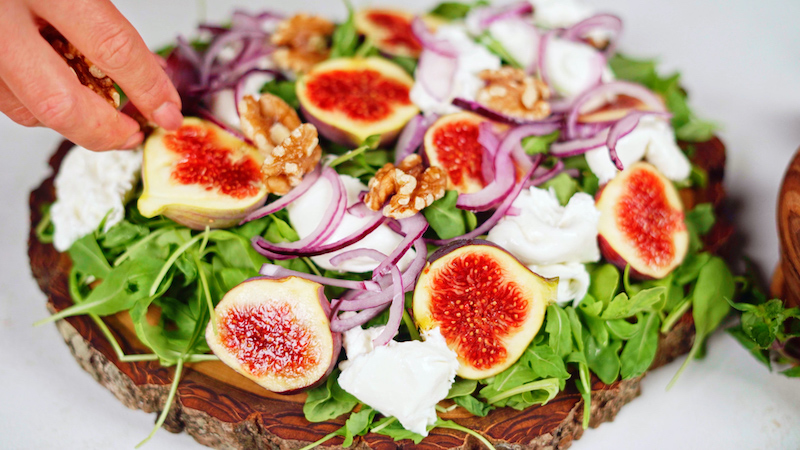 Twelfth step: Drizzle the dressing all over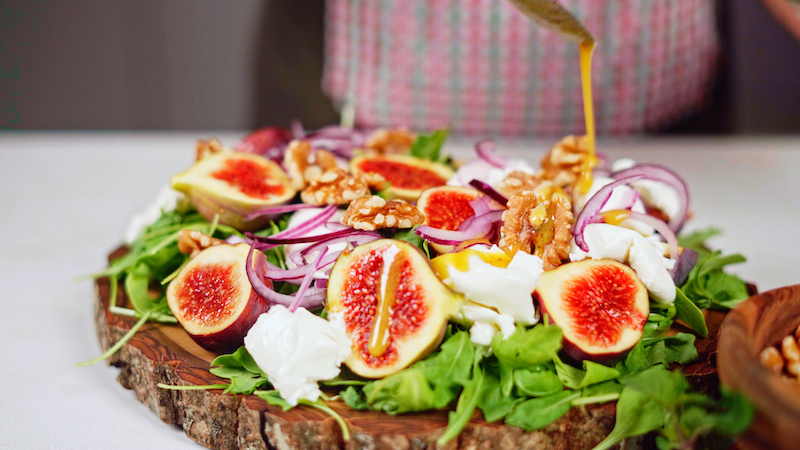 Thirteenth step: Enjoy!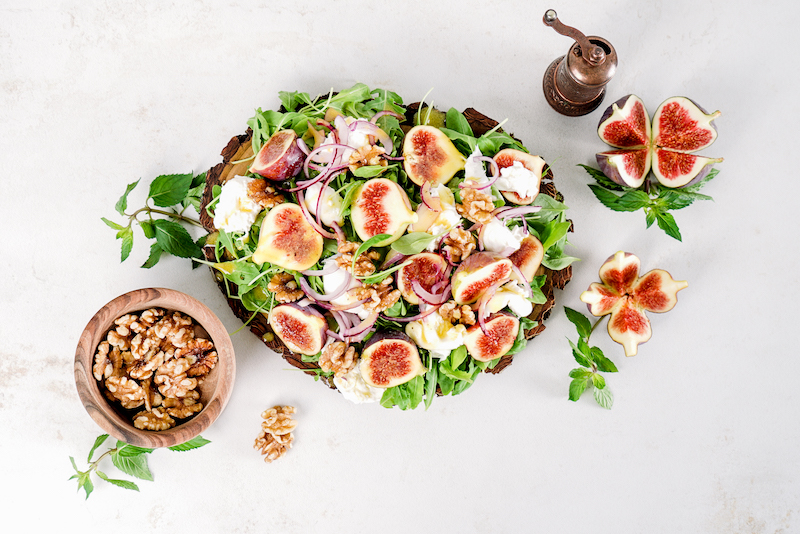 Tips and Tricks
Just like any recipe, this one also has its own tips and tricks that make it better than any other recipe. That's why today we're gonna share with you all the secrets you need in order to make this salad the best summer salad you've ever eaten.
Beautiful, juicy figs and burrata cheese are an amazing combination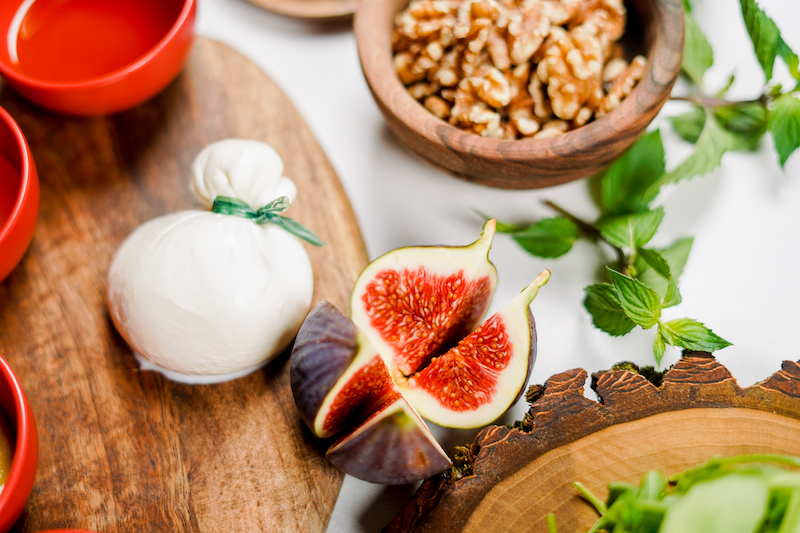 Grind the pepper fresh
While you can use already ground pepper, using freshly ground pepper gives the dressing a more potent taste. Fresh ground pepper is a beautiful addition to all the rest of the favors in this fresh salad.
Substitute the figs
While this is a summer salad with figs, if you do not enjoy this type of fruit, you can easily substitute it. One of the best things about summer is the abundance of fresh fruit. Instead of figs you can use peaches, nectarines, strawberries or whatever else your heart desires.
Chill the dressing
It's really warm during the summer, which means all of us are searching for ways to cool down. Other than a delicious strawberry mojito, you can put the dressing in the fridge while you make the rest of the salad. This will give it a fresh, cool touch to help you cool down.
Roasted or Raw Walnuts
We haven't specified if the walnuts in this salad are roasted or raw. This is because you can do both! It really depends on your own taste and dietary needs. So, feel free to use either version, both still taste amazing.
Walnuts can be roasted or raw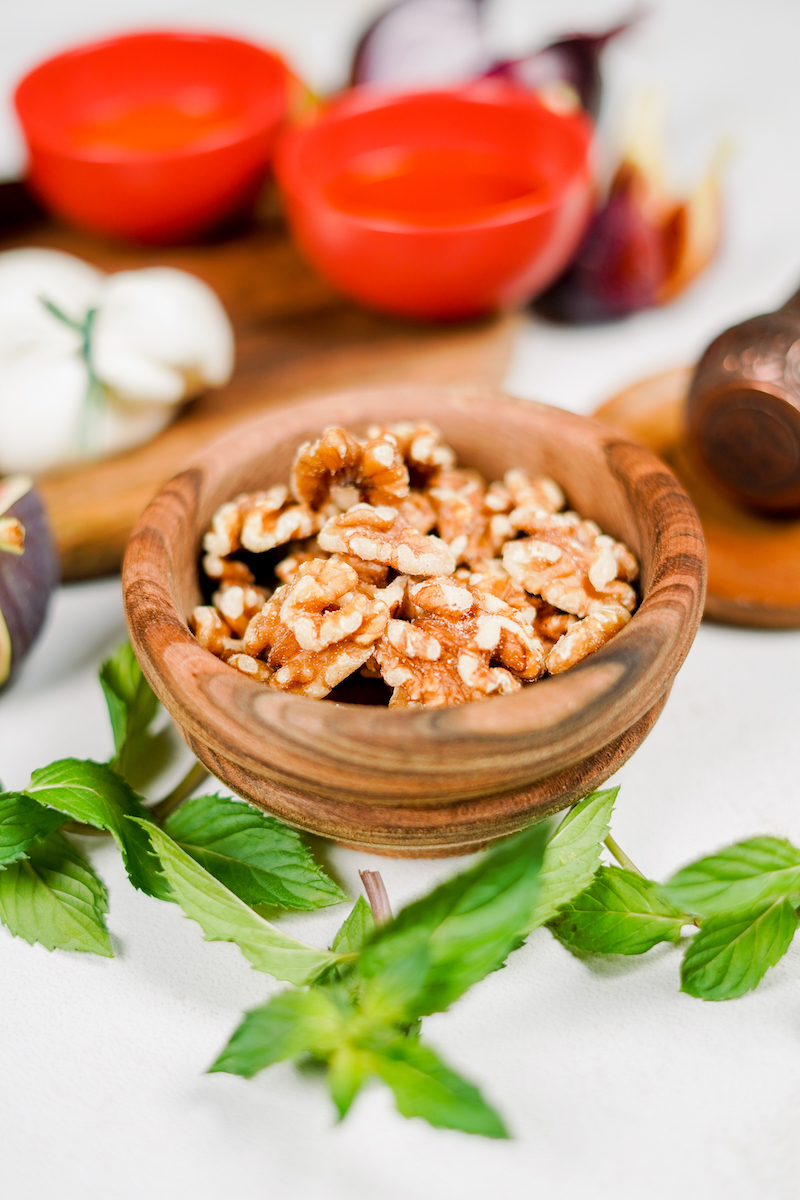 If you liked this recipe, make sure to check out the rest of our delicious recipes over on our YouTube Channel. There you can find plenty of yummy treats, like this semifreddo ice cream, for dessert after the salad. So, make sure to check it out and share with use what you think of this incredible summer salad in the comments. Oh, and make sure to tell us what you would like to see next time!
Enjoy this yummy salad