---
Semifreddo is a classic Italian dessert. This ice cream has a unique half frozen, half creamy texture which makes it unique. Fun fact: semifreddo actually translates to "half frozen" or "half cold".  Unlike regular ice cream which is churned and then served into balls, the semifreddo is molded and sits as a loaf. It's typically served in slices and with fruits. There are plenty of versions to this delicious, creamy ice cream, however today we will show you a raspberry and vanilla semifreddo with plenty of fresh berries. This dessert is easy to do, and looks like a professional made it. It's a great idea as a finish to a dinner party, so don't be afraid to show off your amazing semifreddo making skills and wow your guests. Filled with fresh fruits, every bite of this ice cream tastes like summer.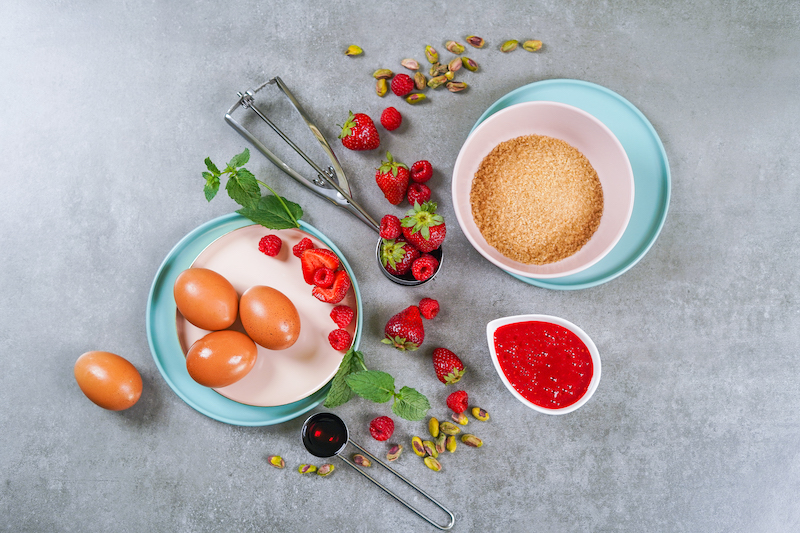 ---
Homemade Semifreddo Ice Cream Video Tutorial
Check out our video tutorial for easy, visual instructions for this delicious and refreshing semifreddo ice cream. This recipe takes no more than fifteen minutes to make. The real waiting is letting it freeze. However, other than wait, you don't really need to do anything else, other than decorate on top after it has frozen. This ice cream is the best treat after a long hot summer's day. It will cool you down and satisfy your sweet tooth! Let us know what you think of this semifreddo ice cream in the YouTube comments!
Check out this easy-to-follow video tutorial for this yummy ice cream
Homemade Semifreddo Ice Cream Recipe
This easy, non-fussy semifreddo is a great dessert to make-ahead of a heat wave. It takes around fifteen minutes to make and around six hours to freeze, so make sure you have your time planned out beforehand. Once you make this ice cream once, you just won't be able to stop. It's cold, creamy texture is so refreshing, it's addictive! And the fruit gives it extra freshness and amazing taste.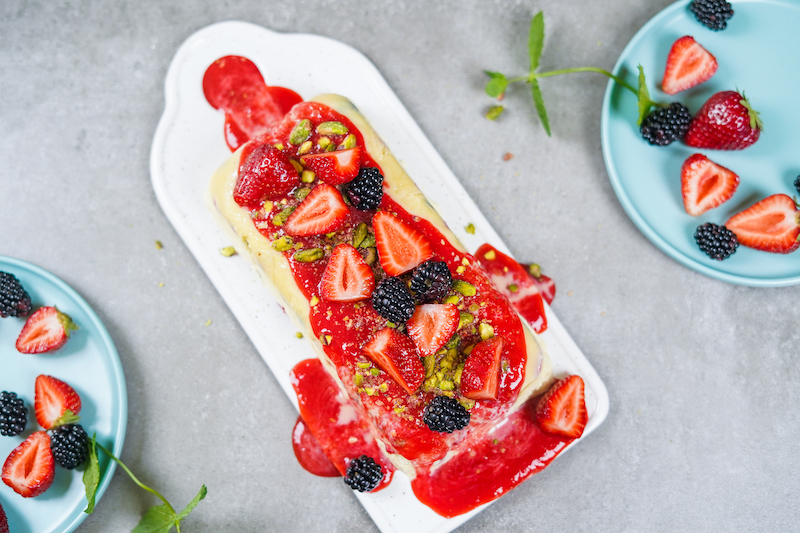 Equipment:
Large Bowls
Loaf Mold
Freezer
Hand Mixer
Whisk
Plastic Wrap
Silicone Spatula
Ladle
Ingredients:
3 Egg Yolks
1 Egg
150 grams Brown Sugar
400 ml Whipping Cream
 1 tbsp Vanilla Extract
Raspberry Purée
Fresh Berries Of Your Choice (Raspberries, Strawberries, Blueberries)
Pistachios
Step-by-Step Instructions:
Prepare your loaf pan by putting enough plastic wrap to cover the insides and a bit of the outside, so you can cover the semifreddo on top as well. Put aside.
Separate three egg yolks from the whites.
In a large bowl, crack one egg and add in the other three yolks. Add the brown sugar to the eggs and mix with a whisk.
After that take the hand mixer and beat the eggs and sugar until they have combined.
In another bowl, add in the whipping cream and vanilla extract. Once again with the hand mixer beat the cream until it turns a fluffy consistency.
Add in the eggs and sugar to the whipped cream.
With a silicone spatula fold in the two mixtures until they have combined.
Take the preprepared loaf pan and put one ladle worth of the mixture inside.
Take some raspberry purée and pour some inside the loaf pan.
Add in some fruit and pistachios. Making sure they are well distributed.
Add in another ladle of the mixture and repeat the toppings.
Cover the semifreddo with the rest of the plastic wrap.
Freeze for at least six hours. However, it's best to leave it overnight.
When you are ready to serve, flip the semifreddo onto a plate.
Drizzle with more raspberry purée and top with fresh berries and pistachios.
Enjoy!
Visual Steps
If you prefer visual instructions, here are some easy, step-by-step photo instructions to help you through the process.
First step: In a large bowl, add in three yolks and one egg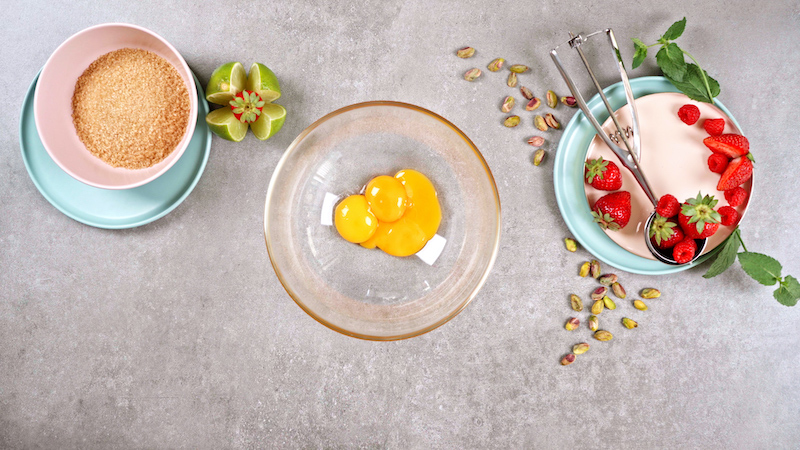 Second step: Add in the brown sugar to the eggs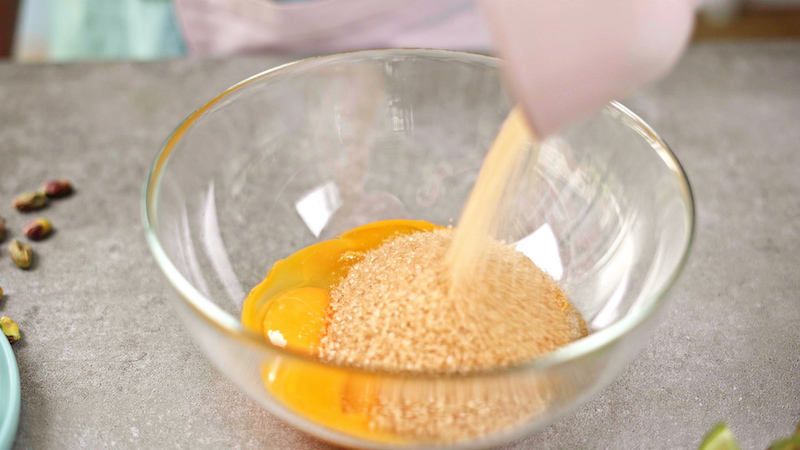 ---
Third step: Mix well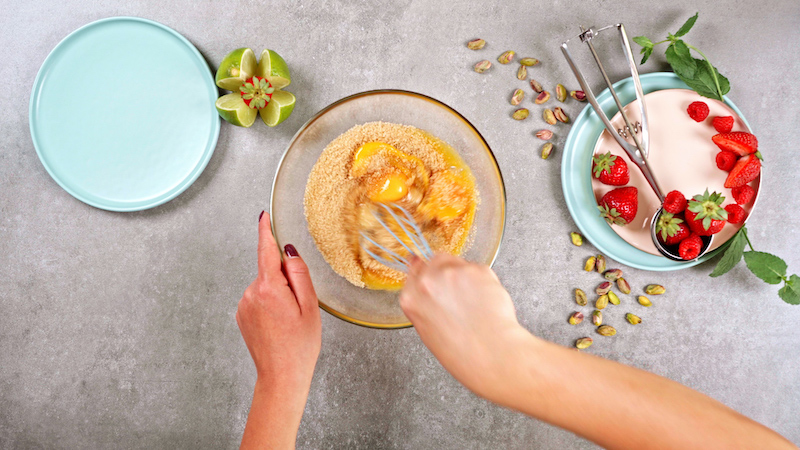 Fourth step: Beat the eggs and sugar with a hand mixer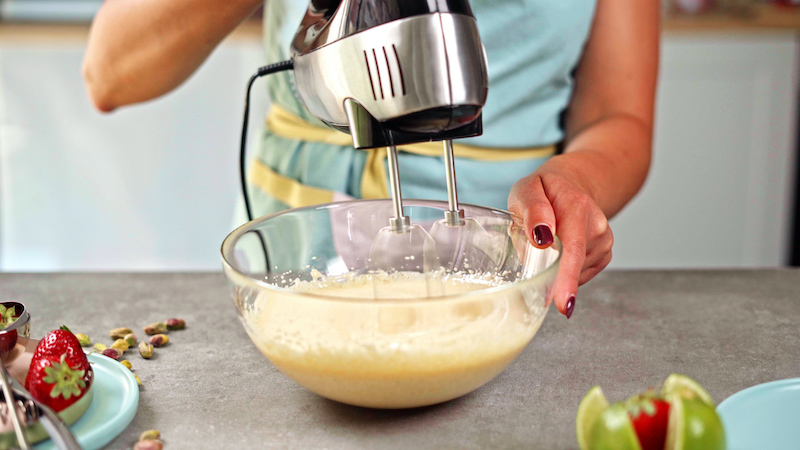 Fifth step: In another bowl, put the whipping cream and vanilla extract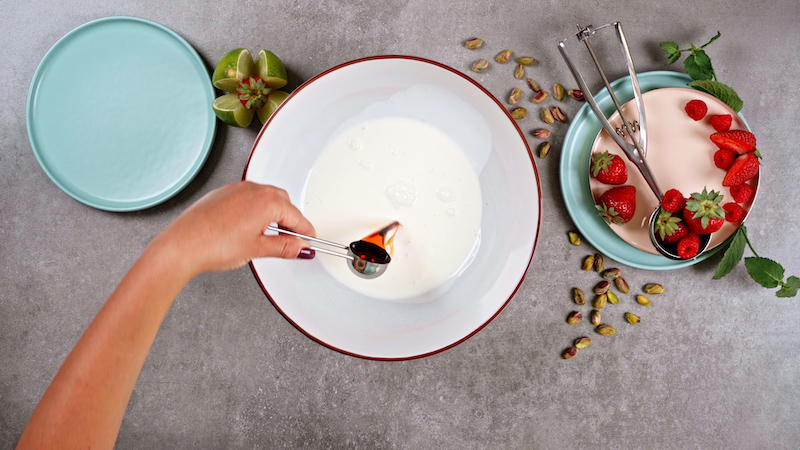 Sixth step: Beat with a hand mixer until it turns fluffy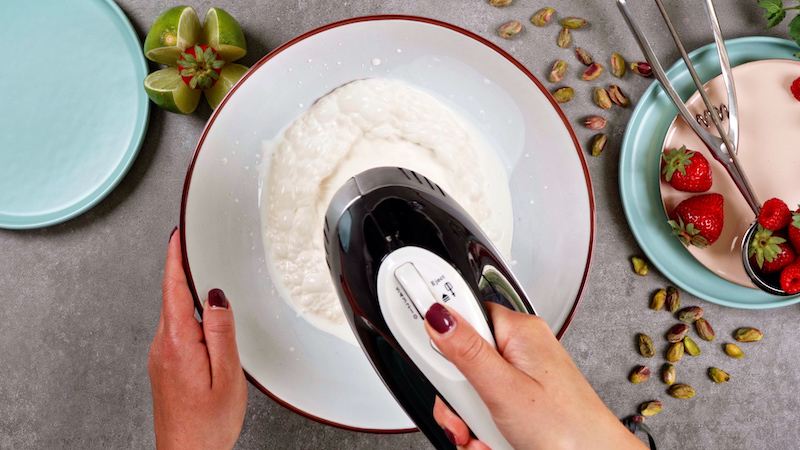 Seventh step: Pour the egg mixture into the whipped cream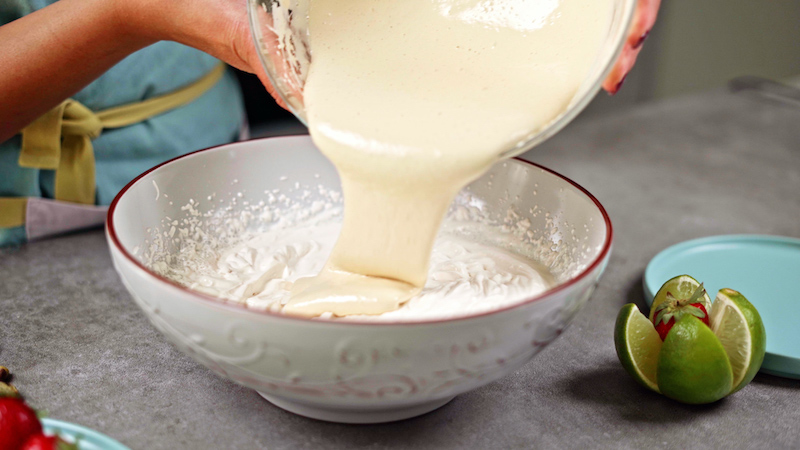 Eighth step: Mix the two mixtures together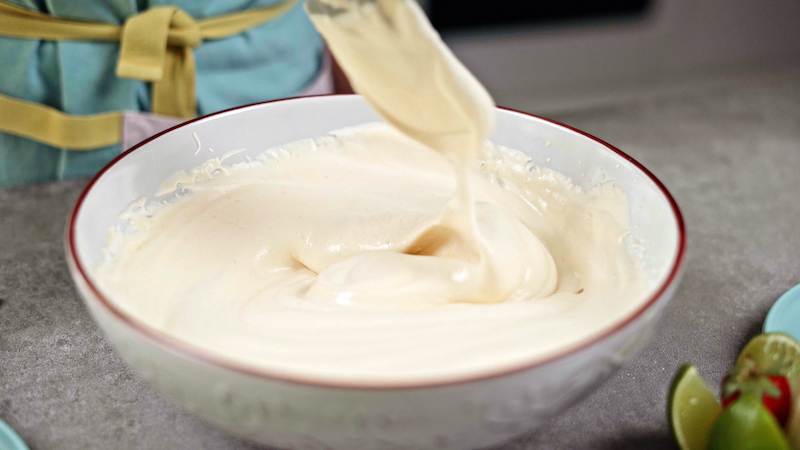 Ninth step: Put one ladle of the mixture into the loaf pan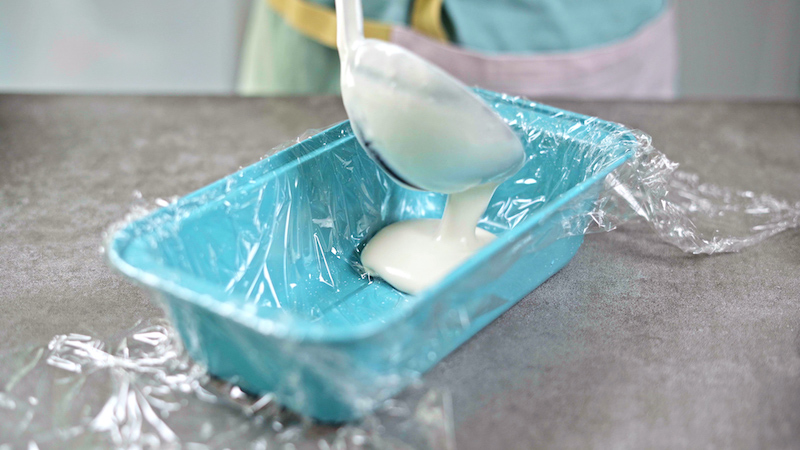 Tenth step: Pour in some raspberry purée
Eleventh step: Top with some berries and pistachios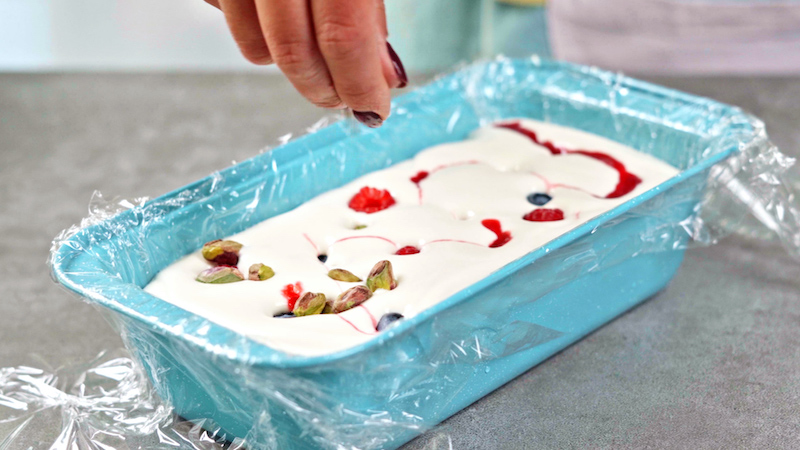 Twelfth step: Put another layer of the ice cream and pour more purée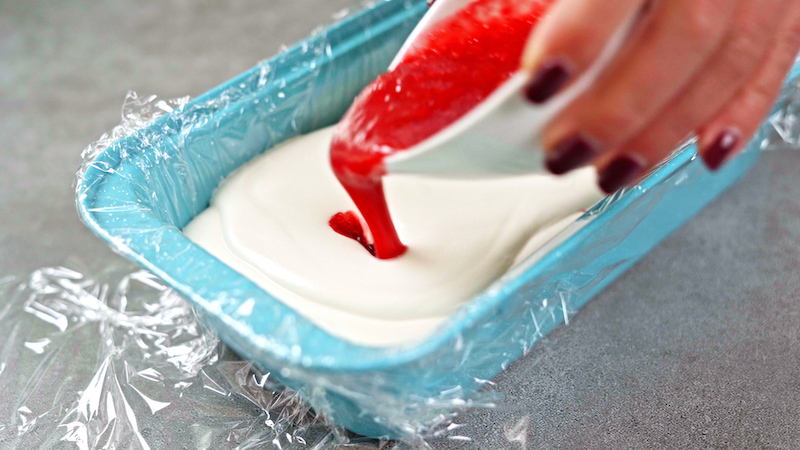 Thirteenth step: Top once again with pistachios and berries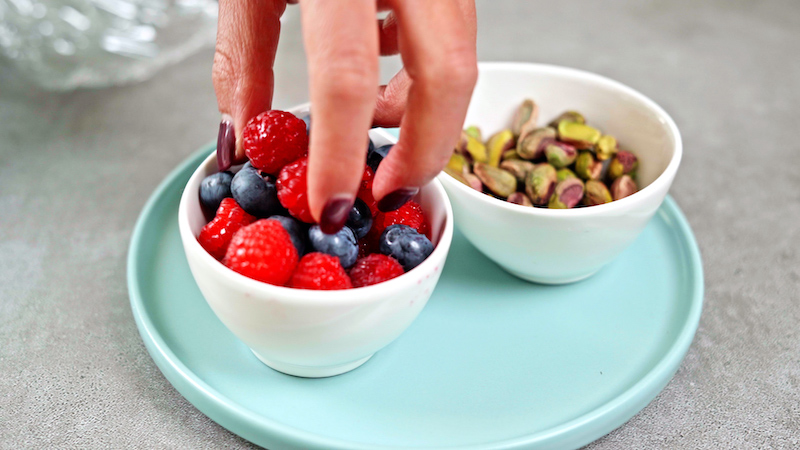 Fourteenth step: Freeze for at least six hours or overnight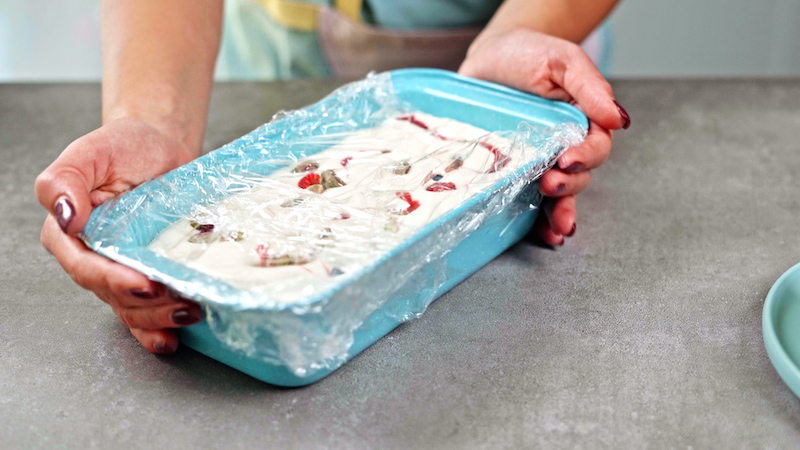 Fifteenth step: Onto the frozen semifreddo, pour some purée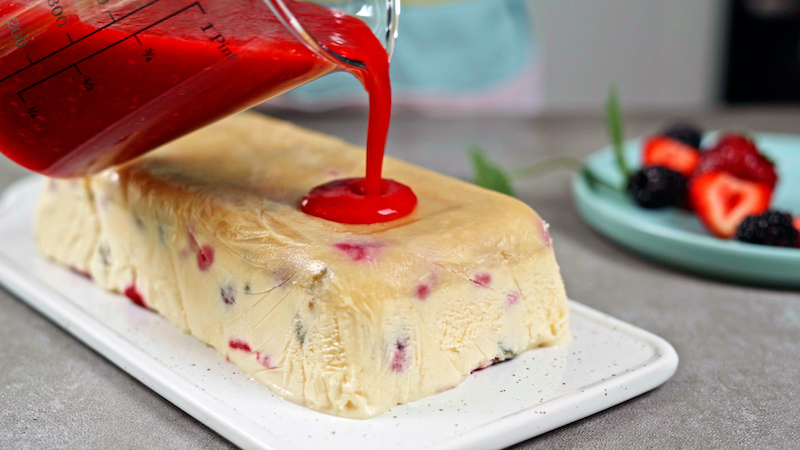 Sixteenth step: Decorate with berries and enjoy!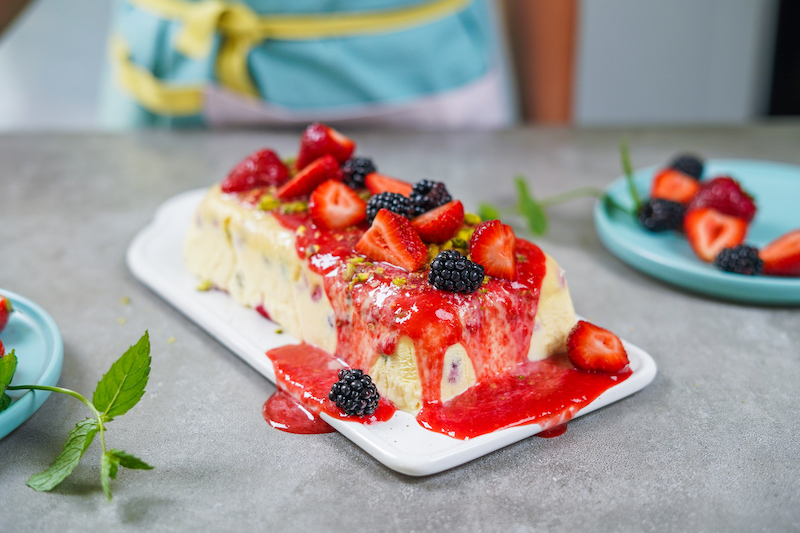 Tips and Tricks
In order to achieve the best homemade semifreddo ice cream, you'll need to know these tips and tricks. With these secrets you'll be a master and the process will be a breeze.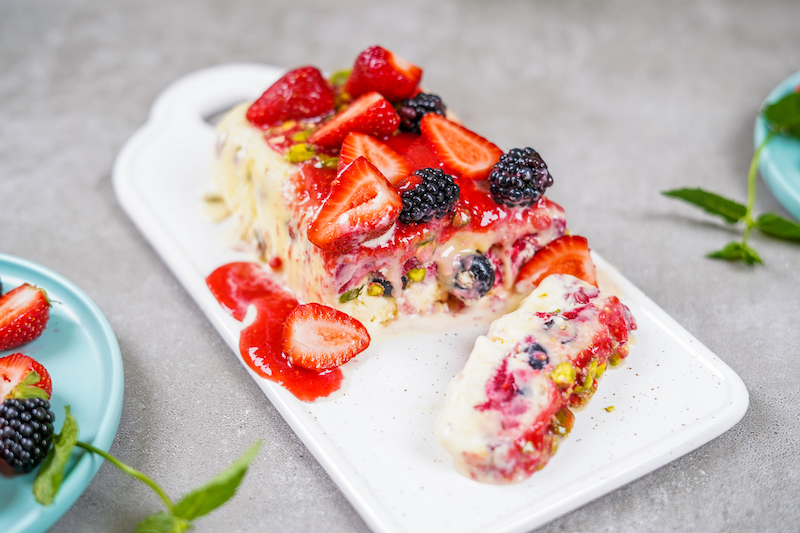 Don't skip on the plastic wrap
The plastic wrap is a must-have when making semifreddo. It's important not to skip this step as it's the best way to guarantee the semifreddo gets out of the loaf pan easily and in one piece.
Keep the utensils cold
It's very essential to keep all the utensils and ingredients you will be using chilled. This is because the semifreddo can melt very easily, so it's best to keep everything around it cold in order for it to keep its shape.
Silicone Loaf Pan
To make sure the semifreddo keeps its form and is easy to get out, it's best to use a silicone pan. Yes, the plastic wrap will also do this job, but being extra sure never hurt any semifreddo.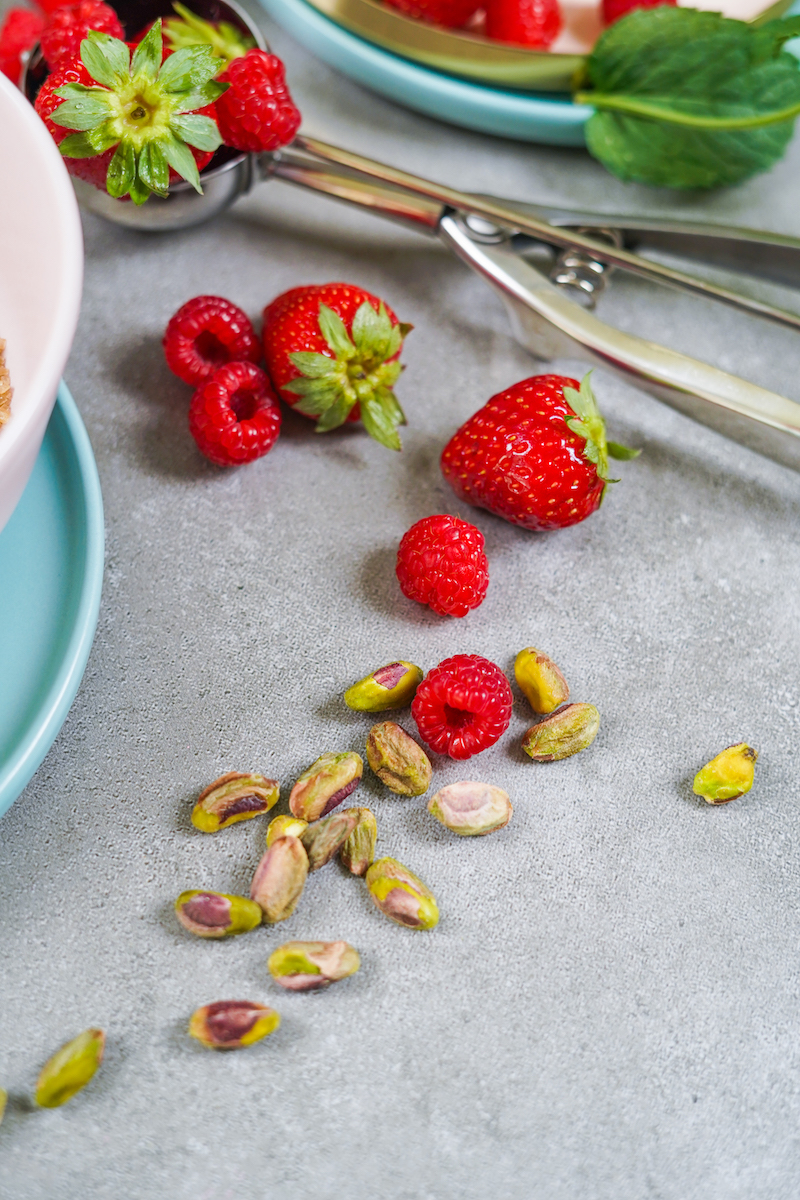 Make sure to check out the rest of our recipes on our YouTube channel! There you can find other yummy food recipes, such as easy, keto lemon cookies. Give us your opinion on this amazing ice cream in the comments! Don't forget to mention in the comments what else you want to see from us in the future.