The Best Chicken and Shiitake Homemade Ramen: Easy and Tasty
Ah, ramen. This Japanese noodle dish is what we consider as soul food. Hearty, warm and versatile, it's a great choice for lunch or dinner. So, if you're in the mood for some elevated homemade ramen, then you should definitely give this recipe a try. It's packed with flavors, and it's super easy to put together! The fresh veggies and flavorful chicken make this dish healthy, hearty and super satisfying. This homemade version of the noodle soup is just as good as the restaurant ones. However, the main difference is that you can make this one as many times you like when you like. So, roll up your sleeves, put on your chef hat and let's get cooking.
This Japanese noodle dish is what we consider as soul food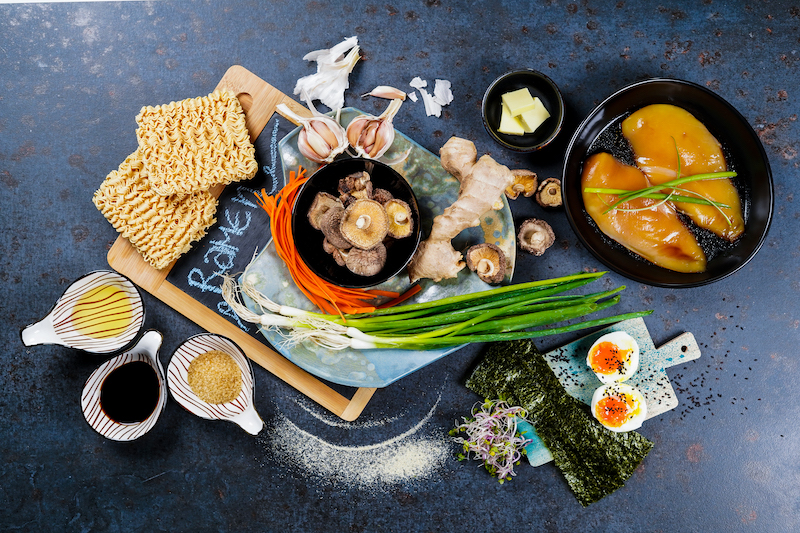 If you enjoy having visual instructions to go along with your cooking, then make sure to check out our easy video tutorial. This recipe does take around an hour, but it's certainly worth it. If you are craving good ramen, then make sure to try this recipe out!
Check out this easy-to-follow video tutorial for these yummy noodles
Homemade Ramen Recipe
Preparation time: 15 minutes
Total time: 1 hour
Equipment: 
Stove top
Pot
Pan
Ladle
Spatula
Prongs
Ingredients:
2 tbsp Sesame Oil
30 gr Butter
2 tbsp Fresh Ginger, minced
4 cloves Garlic, minced
100 gr Shiitake Mushrooms
1,5 l Vegetable Broth
1 tbsp Rice Wine
1/2 tsp Chili Sauce
3 tbsp Soy Sauce
1 tbsp Brown Sugar
120 gr Instant Noodles
2 Chicken Breasts, marinated
Carrot, sliced
1 Egg, soft-boiled and halved
Green Onion, chopped
Black Sesame Seeds, baked
Nori, for decoration
Step-by-Step Instructions: 
Take a deep pot and put it onto the stove top on medium heat.
Pour the sesame oil into the pot.
Take the butter and put it in the pot as well. Stir the butter a bit, so it melts and gets incorporated with the oil.
Add in the minced ginger and garlic.
Mix them well and let them cook for a minute or two until they become fragrant.
Add in the mushrooms. Stir and let everything cook until the mushrooms have a nice brownish, golden color.
Add in the vegetable broth to the pot.
To the pot, add in the rice wine, chili sauce, soy sauce, and brown sugar. Mix everything with a ladle until everything is incorporated.
Bring the broth to a boil.
When the broth is boiling, add in the uncooked ramen noodles. Submerge them in the broth and let them cook.
With some prongs, break down the noodles, so they can separate and mix them well.
Cook them for as long as their manufactures instructions has advised. When they are cooked, bring the pot off the heat.
Take a non-stick pan and put it on medium heat.
Cook the marinated chicken breasts on both sides. When they are ready, take them off the heat.
Prepare a bowl.
With the prongs, take some ramen noodles and put them in the bowl.
Add in at least two ladles of the broth to the noodles.
Chop up one of the chicken breasts into slices and place them on top of the noodles.
Top with some mushrooms, sliced carrots, the soft-boiled egg, some green onions and a bit of sesame seeds.
Enjoy!
Chicken and shiitake ramen noodles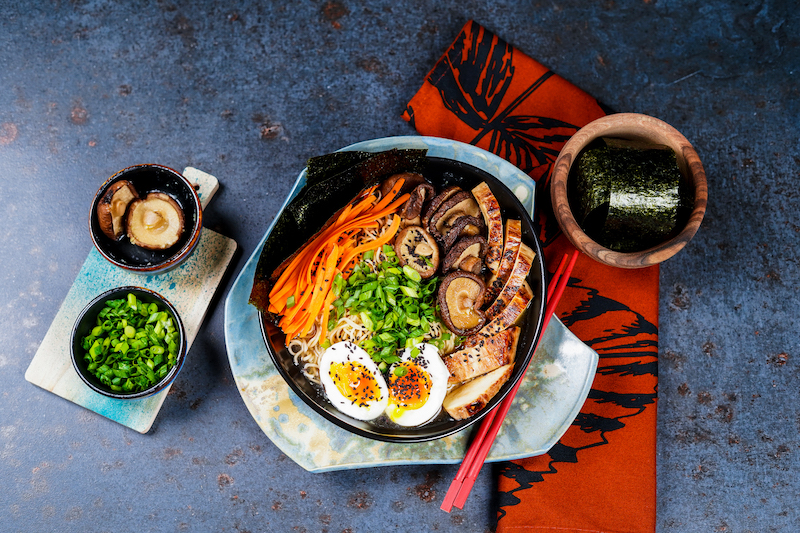 Visual Steps
First step: Prepare the ingredients. Cut, chop and mince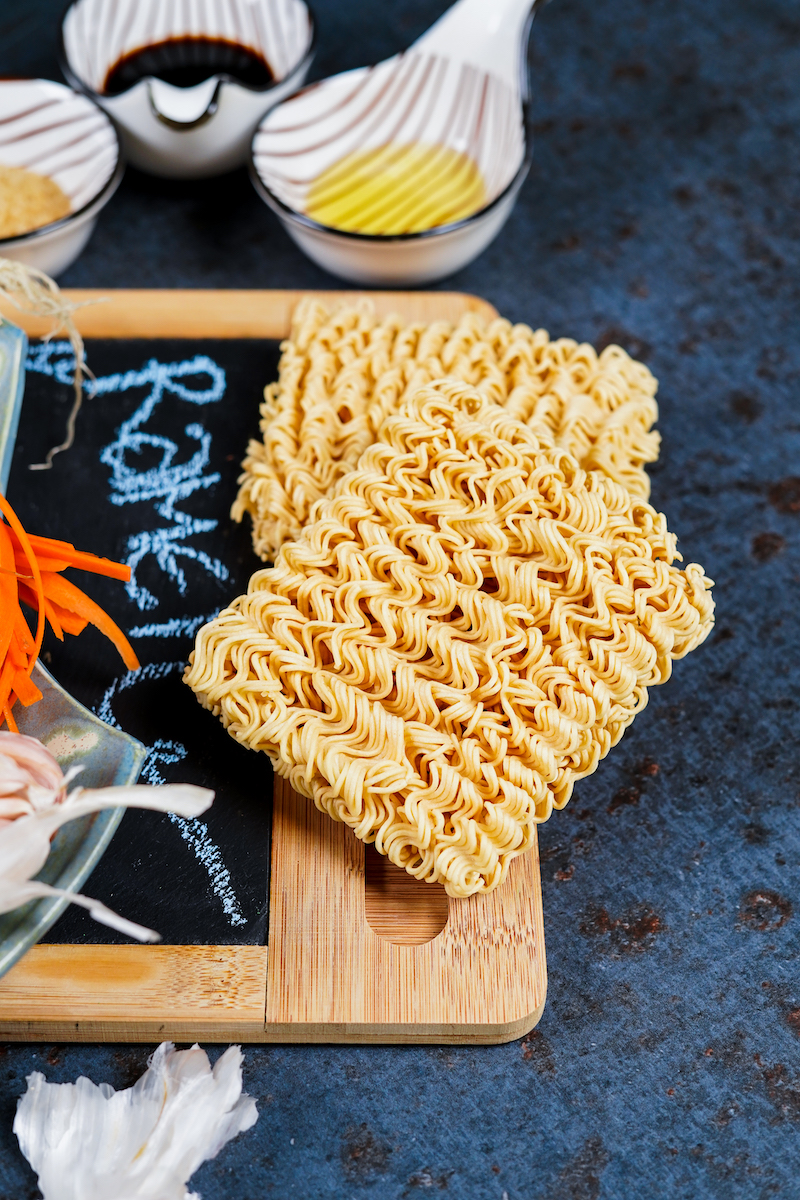 Second step: Heat the sesame oil and the butter in a pan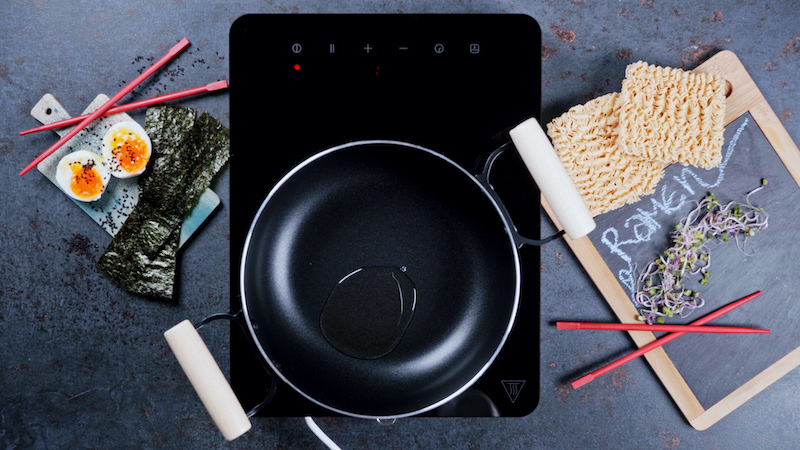 Third step: Add in the minced ginger and garlic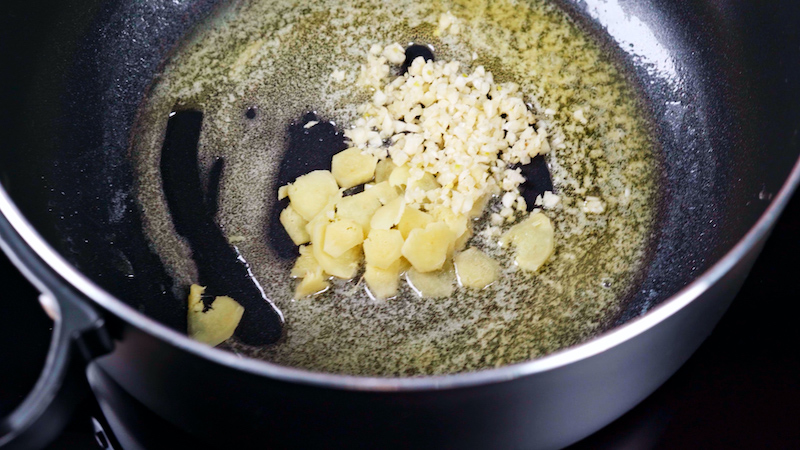 Fourth step: Add the shiitake mushrooms and cook them until they have browned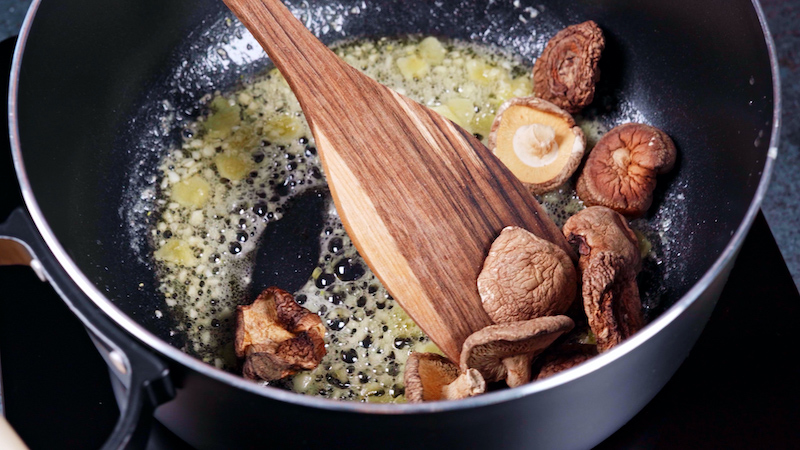 Fifth step: Add in the stock, rice wine, chili sauce, soy sauce, and brown sugar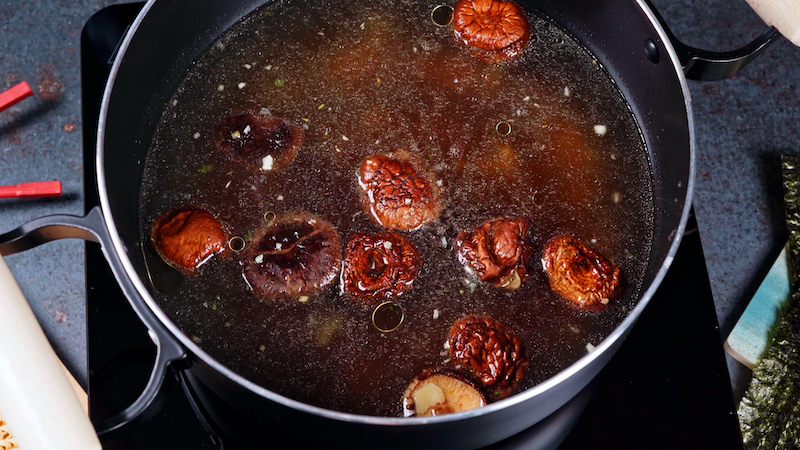 Sixth step: Bring the broth to a boil and add in the ramen noodles. Cook as instructed on the ramen packet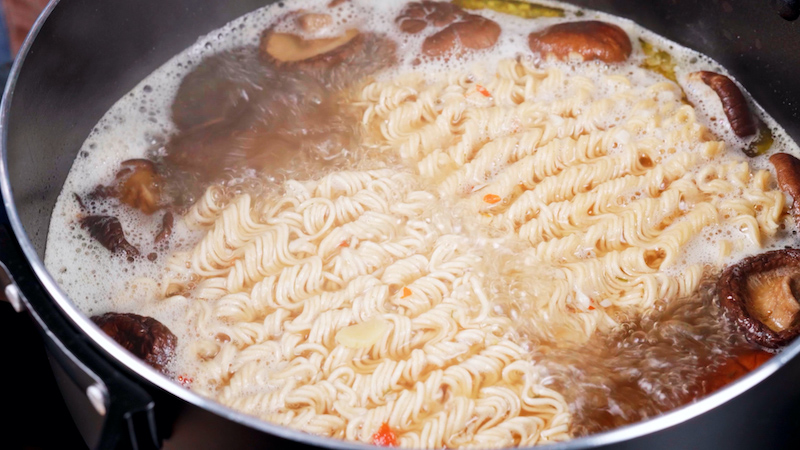 Seventh step: Grill the marinated chicken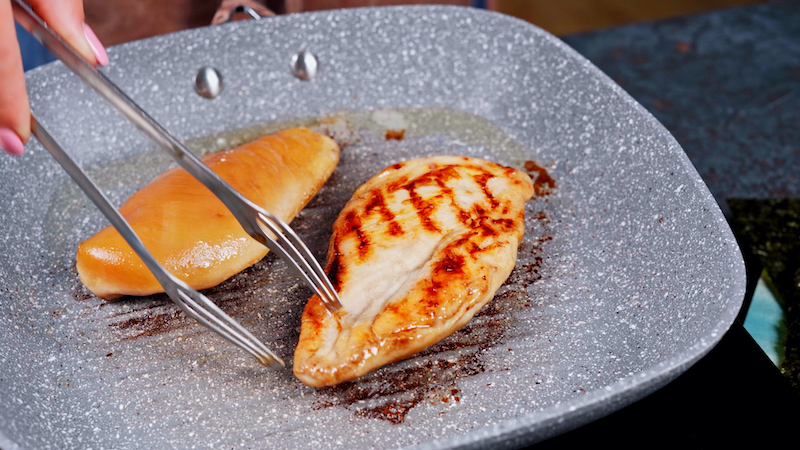 Eighth step: Put your noodles in a bowl with two ladles of the broth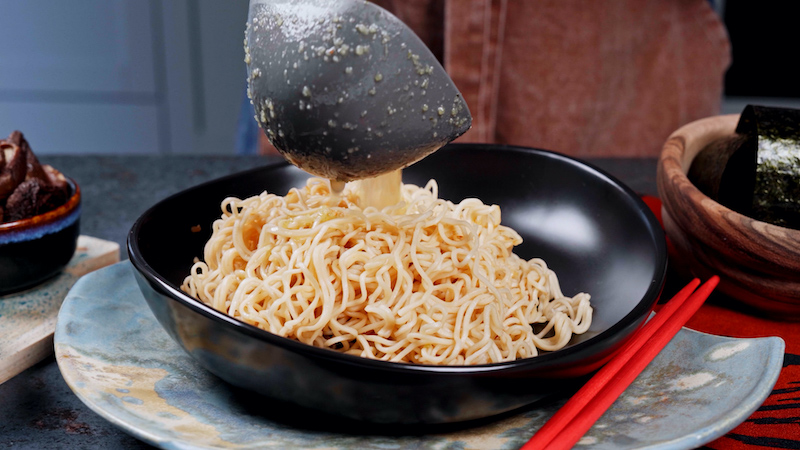 Ninth step: Top with some chicken slices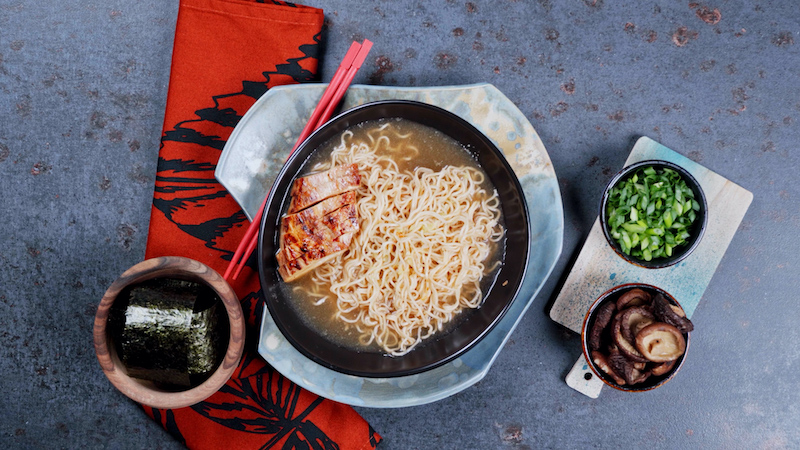 Tenth step: Add some mushrooms, carrots, egg, green onion and black sesame seeds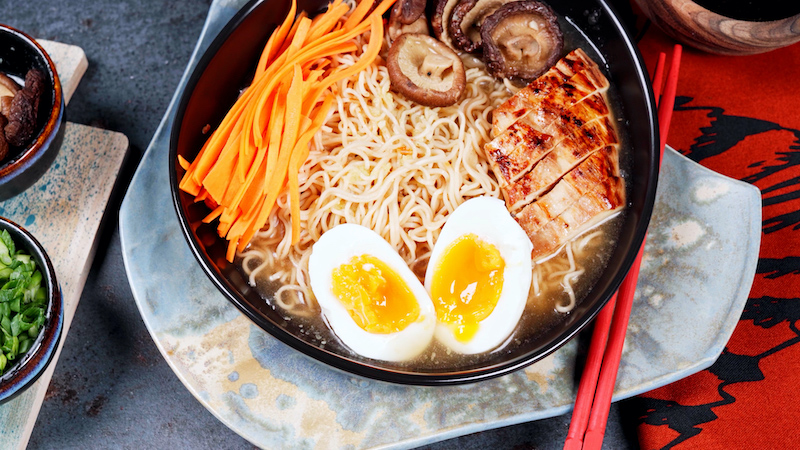 Eleventh step: Enjoy!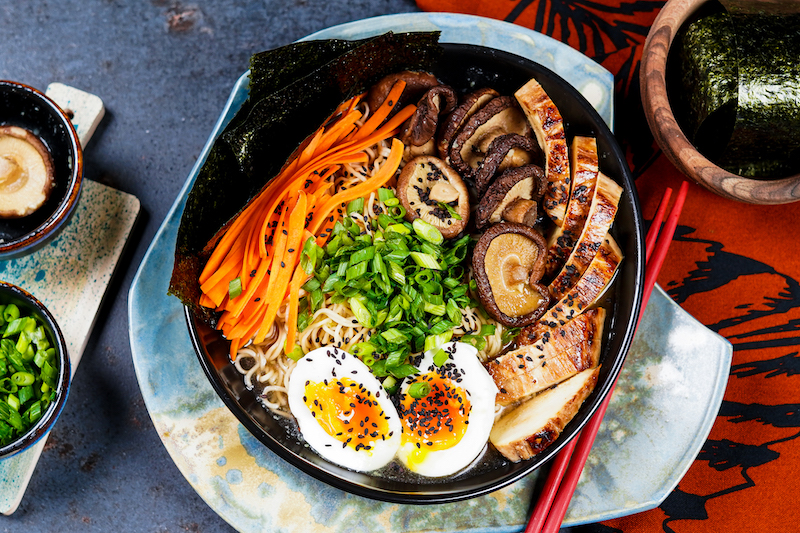 Tips and Tricks
In order to achieve the best results for this chicken and shiitake homemade ramen, you'll need to know these tips and tricks. With these secrets, achieving these yummy ramen noodles will be a breeze. And they'll turn out to be the best you've ever tried!
Use the tips and tricks to achieve the best ramen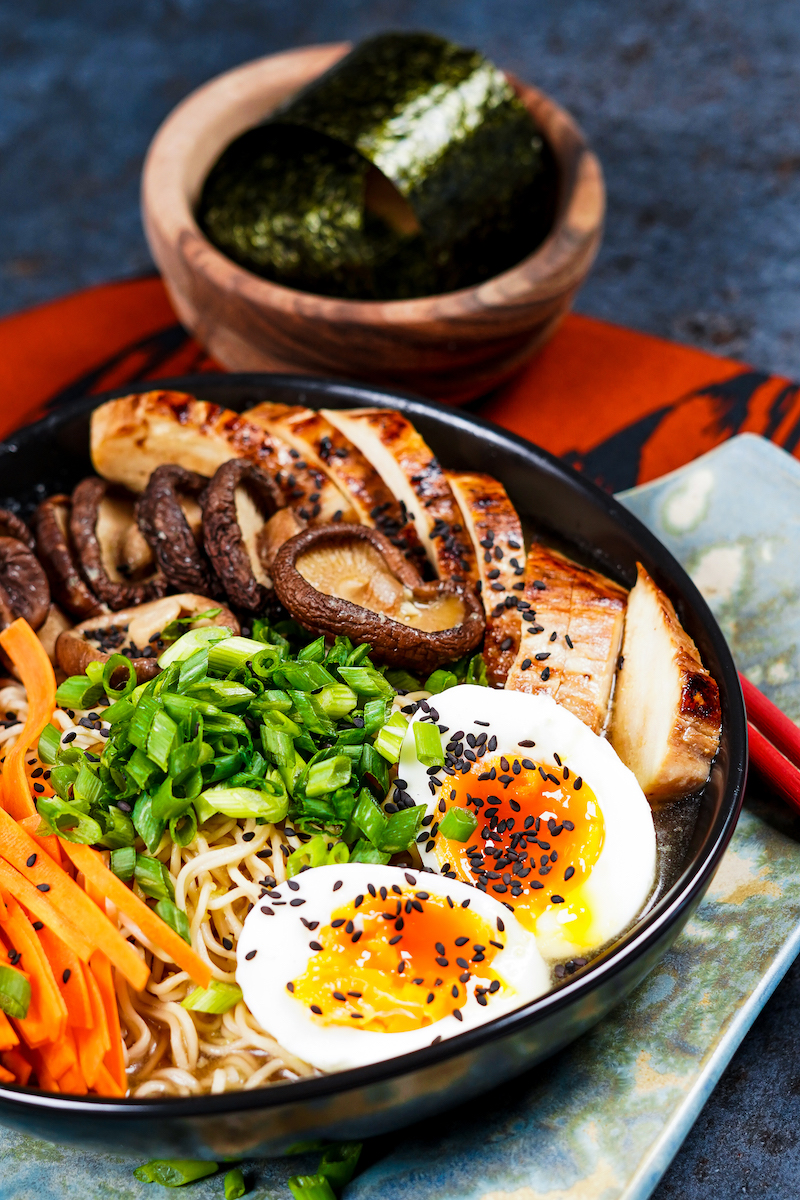 Chicken Marinate
In order for the chicken to be super flavorful, you'll need to marinate it. You can do any marinade you like, essentially. It's up to you. You can try an oil, soy sauce and Chinese spice mix marinade. Or make a soy sauce, garlic, cayenne pepper, and mirin marinate.
Perfect Soft-Boiled Egg
The perfect soft-boiled is a must-have addition to this ramen. It brings a specific flavor and texture that cannot be achieved with anything else. To make a soft-boiled egg nice and gooey, it's best to boil it for no more than six minutes. Boil the egg while the broth is boiling.
Tofu
If you are vegan or a vegetarian, feel free to substitute the chicken in this recipe with some tofu. Just make sure to marinate it beforehand as well, in order to get all those good flavors. You can also skip out on the egg. Make this recipe your own.
Pick the best ingredients for you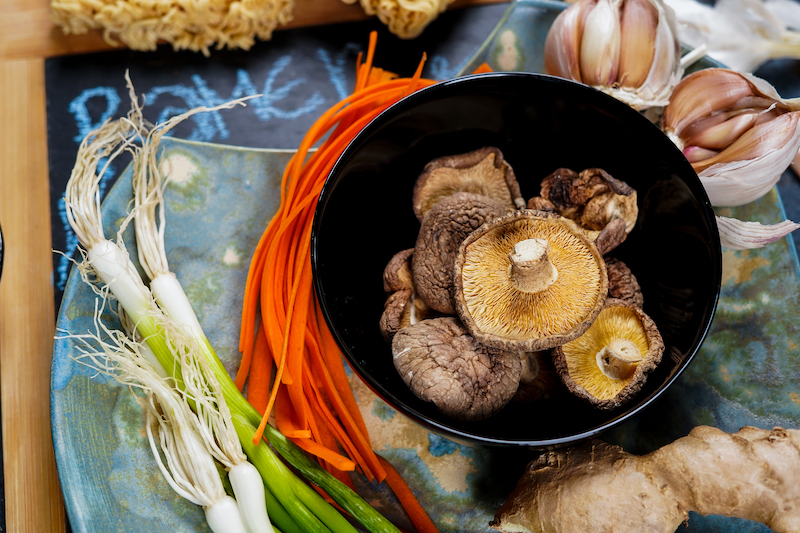 If you enjoyed this dish,  make sure to check out the rest of our amazing recipes on our YouTube Channel. There, you can find a variety of sweet and savory dishes, such as this delicious veggie stir-fry! Make sure to let us know if what you think of this homemade ramen in the comments, and don't forget to give us recommendations of what you would like to see next time!
We hope you enjoy this delicious ramen