Quick Pizza Bowl Recipe for the Perfect Movie Night
Ah, pizza. There is rarely a person in the world who doesn't love pizza. This delicious Italian classic is one of the most irresistible meals out there. Not only that but it comes in thousands of combination in order to fit everybody tastes. It's also super versatile when it comes to occasions. It's great for a movie night, for a party, for when you're feeling lazy, or just as a snack. And while ordering pizza is the most common way of acquiring this amazing treat, we can also make it at home. However, not all of us have the time or want to spend energy on kneading pizza dough. But don't worry, there are many ways to enjoy this Italian classic. Today, we will show you a creative and easy way to enjoy your favorite pizza. This quick and easy pizza bowl recipe is a great idea for a weekday dinner. You can experiment with any toppings you like and make it to fit your taste.
There are many ways to enjoy this Italian classic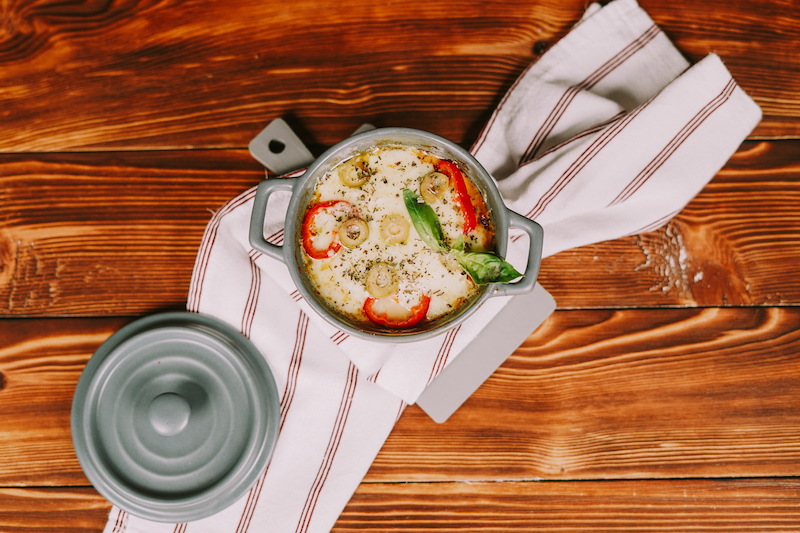 If you are hosting a gathering, however you don't have hours to slave away in the kitchen and don't want to serve just plain pizza, this is a great idea. Why not create a fun experience for the guest by letting them choose their own toppings? All you will need to do is prepare the dough, which takes minutes, and chop up the toppings, such as homemade mozzarella, tomatoes, or even the controversial pineapple. Since this recipe takes only a couple of minutes to cook as well, you can easily let the guest go wild with the toppings and cook them before everybody is starving!
Use any types of toppings you wish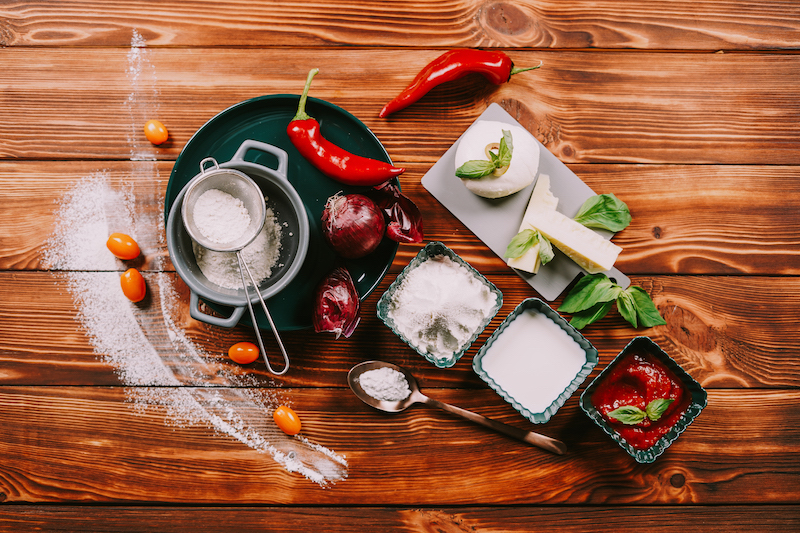 Quick Pizza Bowl Video Tutorial
Watch our easy-to-follow video for visual instructions on this delicious pizza bowl. This recipe takes no more than thirty minutes, so you can make it super quick after work, when you are starving, or if you are planning to serve it at an occasion – right before the guest arrive. This pizza bowl is great for anytime. Make sure to check out the video and let us know what you think of this delicious treat in the comments!
Here is an easy-to-follow, simple video tutorial for this amazing treat!
Quick Pizza Bowl Recipe
This quick pizza bowl recipe is super easy to make and will become a hit in your household. Once you've made it once, you won't be able to stop. This is a great way to satisfy the pizza cravings without the hassle of ordering and waiting for it to be delivered. Make this tasty recipe for your next gathering or for a weekday when you don't feel like spending too much time on preparing food.
Ingredients:
8 tbsp Flour
1 tsp Baking Powder
2 tbsp Olive Oil
8 tbsp Milk
2 tbsp Tomato Sauce
Dried Oregano
2 Cherry Tomatoes, halved
1/3 Red Pepper, chopped
1/4 Red Onion, chopped
80 gr Shredded Mozzarella
3 Green Olives, chopped
Dried Basil
Method:
In a small ceramic pot or bowl, add in the flour, baking powder, olive oil, and milk.
Mix well until you achieve a dough like consistency.
On top of the dough spread the tomato sauce.
Sprinkle with a pinch of dried oregano.
Add on the toppings. Make sure to spread the tomatoes, peppers, and onion.
Sprinkle thoroughly with the shredded mozzarella.
On top of the mozzarella, add the green olives.
Microwave for around three minutes. Keep in mind that the time may vary depending on microwave and how big the bowl is.
Take it out of the microwave and sprinkle with some dried basil.
Allow to cool for a bit before eating, as it will be very hot.
Enjoy the cheesy, delicious goodness.
First step: Add in the flour, powder, oil, and milk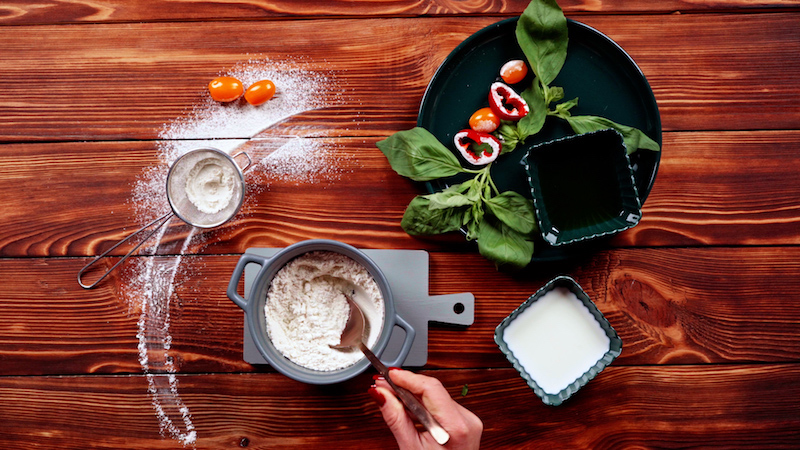 Second step: Mix until you achieve a dough like consistency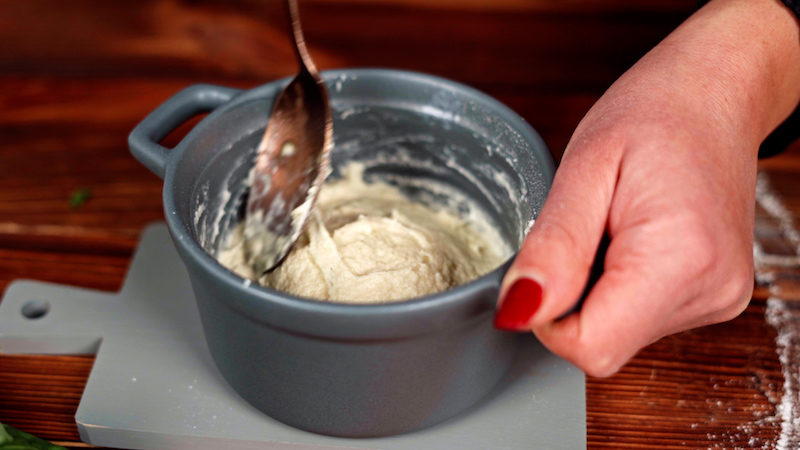 Third step: Spread the tomato sauce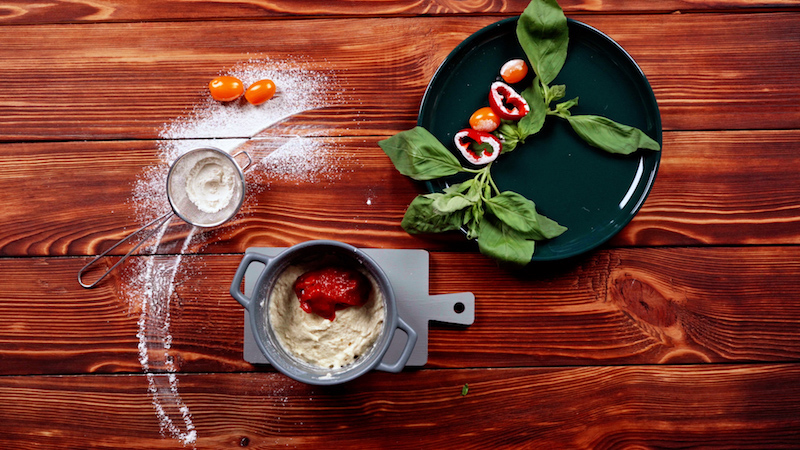 Fourth step: Add on the tomatoes, peppers, and onion.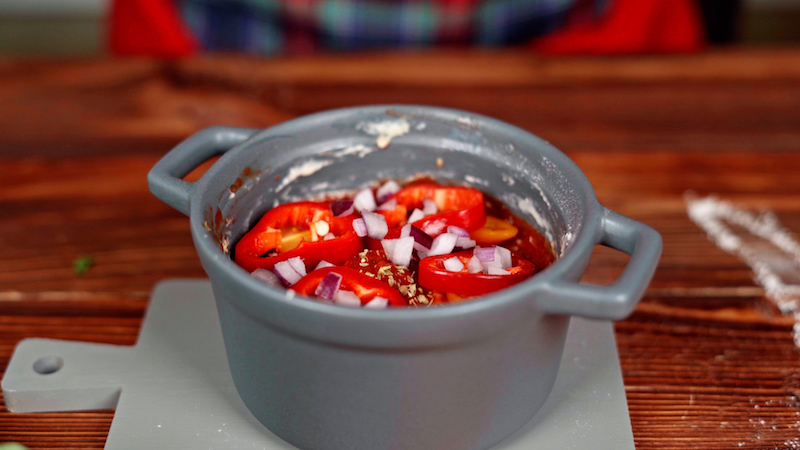 Fifth step: Sprinkle with mozzarella and olives
Sixth step: Microwave for around three minutes, let cool and enjoy!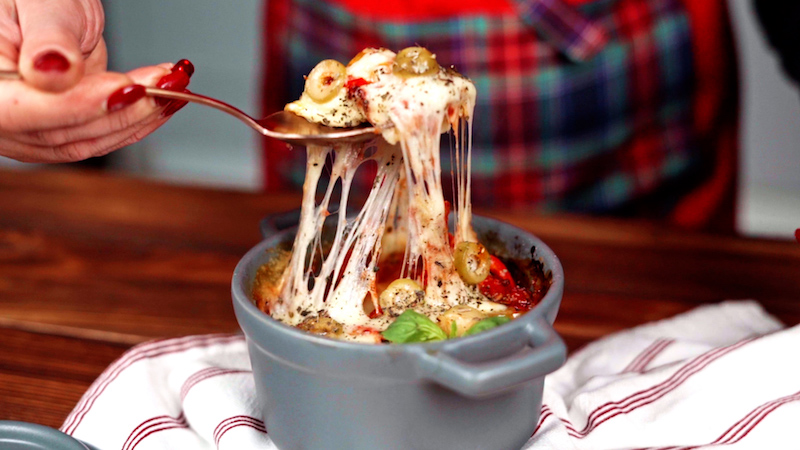 Tips and Tricks
Here are some helpful tips and tricks to make this cooking experience as easy and pleasant as possible! These are all the quick pizza bowl recipe secrets you will need in order to achieve the best results with minimal efforts.
If you do not own a microwave, don't worry! You can make this recipe in the oven as well, however it will take a bit longer. Preheat the oven to 400 degrees F and put the pizza bowl under the broiler.
When is the pizza done? Here is how you can find out. It's ready when it rises up and the toppings are bubbling in the microwave.
You can precook the dough if you want to be extra sure it is cooked thoroughly. After you make the dough in the bowl, cook it in the microwave without any toppings. Cook for around one minute. After that put all the toppings and cook for an additional minute.
Experiment with toppings! We have given you only some example toppings, however you can mix this recipe up any way you wish. Make it your own. Try out different styles.
These bowls are best enjoyed warm. You can make them beforehand but make sure to cook them before your guest arrive or when they arrive.
These are all the quick pizza bowl recipe secrets you will need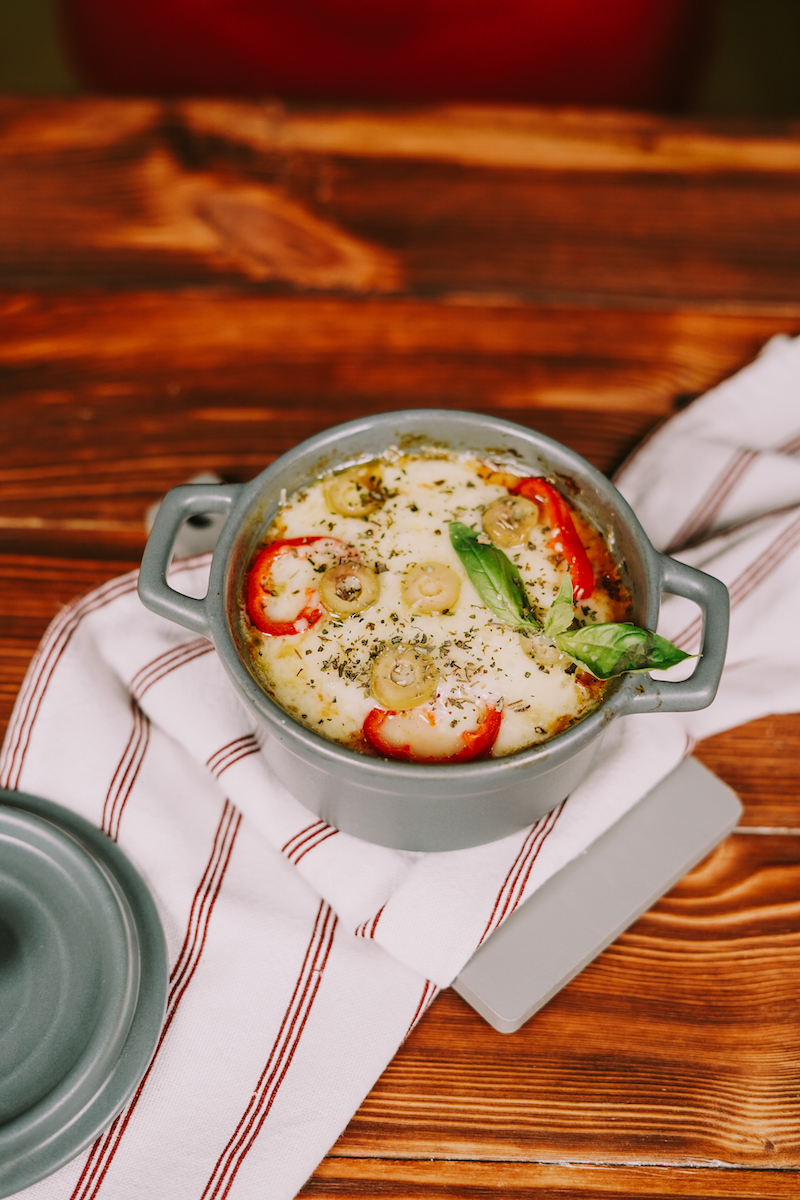 Make sure to check out the rest of our recipes on our YouTube channel! There you can find other yummy, easy recipes, such as desserts after the pizza. Check out these marzipan balls or try out our other great recipes. Let us know what you think of this delicious pizza in the comments and what else you would like to see from us!
Let us know what you think of this delicious pizza