Actually Easy Keto Lemon Cookies For A Superior Easter Dessert
Who doesn't love a soft, chewy cookie that's bursting with fresh flavors? These keto lemon cookies are amazing. They are everything you could ever want from a cookie! If you love the citrus taste, then this is definitely a recipe you should try out. It's great for a weekday treat or as the main dessert at a holiday gathering such as Easter brunch. They are super easy to make, don't take too much time and thanks to their lemon punch they will become a family favorite.
Who doesn't love a soft, chewy, lemon cookie?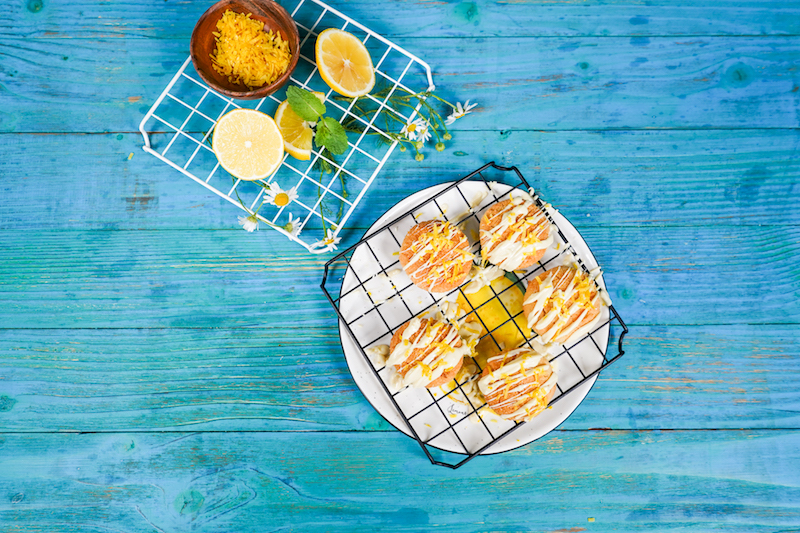 You won't be having any leftovers with these cookies. And one of the best parts about them is that even if you are following a keto regime, they are suitable. Plus if you aren't, they are still a batch of delicious, soft, lemony bites. So, win-win. However, don't take our word for it, try them out for yourself. But believe us, once you make them, you won't be able to stop!
These cookies are keto friendly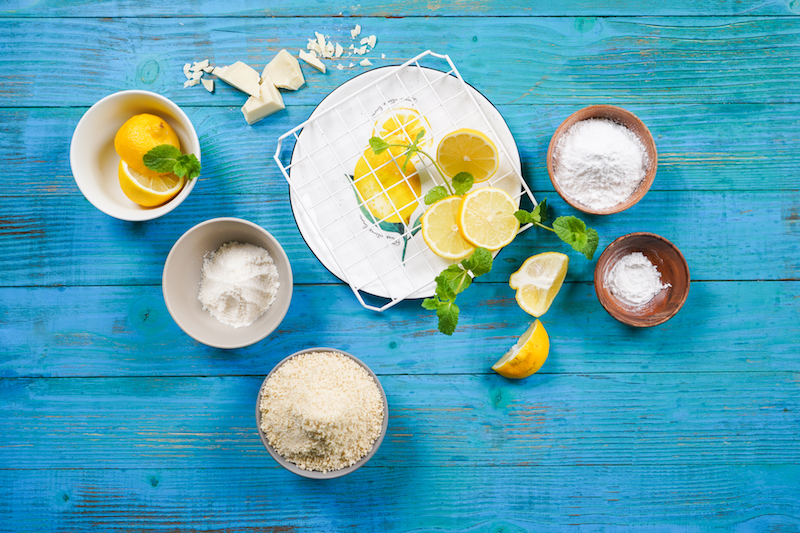 Check out our video for visual instructions for these delightful, fresh lemon cookies. This recipe takes less than an hour, and most of that time is spent in waiting for them to cook or cool down. These cookies are great both for an Easter brunch and just as a treat when you are craving something sweet. Let us know what you think of these keto cookies in the YouTube comments!
Here is an easy-to-follow, simple video tutorial for these yummy keto lemon cookies
Keto Lemon Cookies Recipe
These keto lemon cookies are soon to become a family favorite. Both for the holidays such as Easter and for weekdays. Soft, chewy and bursting with lemon flavors. They are easy to make, and you will be hooked with just one bite. The lemon gives them an amazing, refreshing taste that you won't be able to get enough of. Give this recipe a try. Believe us, you won't regret it.
Equipment:
Bowl
Juicer
Whisk
Grater
Oven
Pan
Parchment Paper
Ingredients:
 1 Egg
1/4 teacup Coconut Milk
1/4 teacup Lemon Juice
1 tbsp Lemon Zest, grated
1/4 teacup Erythritol
1 teacup Almond Flour
3 tbsp Coconut Flour
1/2 tbsp Baking Powder
Step-by-Step Instructions:
Preheat the oven to 180 degrees C or 350 degrees F.
Line a pan with some parchment paper and put aside.
Take a big bowl.
Crack the egg into the bowl.
To the egg, add in the coconut oil and the lemon juice.
Whisk the ingredients well.
After everything is combined, add in the erythritol and grated lemon zest.
Once again whisk everything together.
Add in the almond flour, coconut flour, and baking powder.
Mix with the whisk. A type of doughy like texture will start to form.
Put the mixture into the refrigerator for around fifteen to twenty minuted.
After the time has passed, it's time to start forming the cookies.
Take some dough and roll it around in your palm. Form circular shapes aka cookie shape.
Take the lined pan and start putting the cookies on it.
Make sure to leave some space in between them.
Put the cookies into the oven and bake for around fifteen minutes.
Voilà! Let them cool and enjoy.
Decorate if you wish.
Visual Steps
Here are some easy, step by step, visual instructions to help you out!
First step: Crack an egg into a large bowl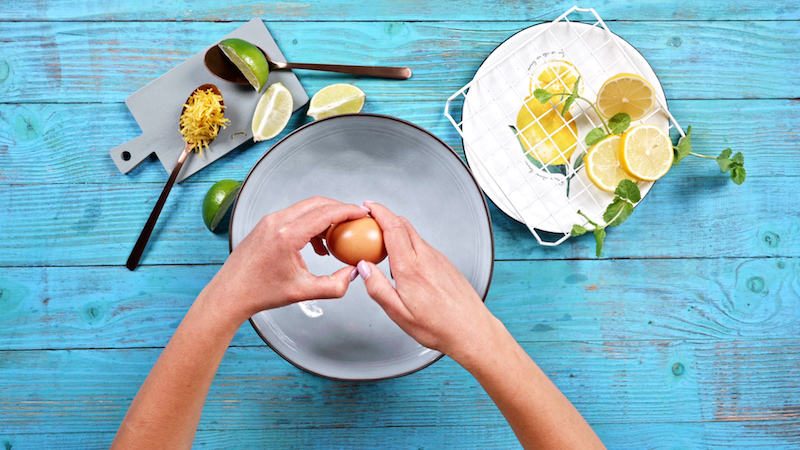 Second step: Add in the coconut oil and the lemon juice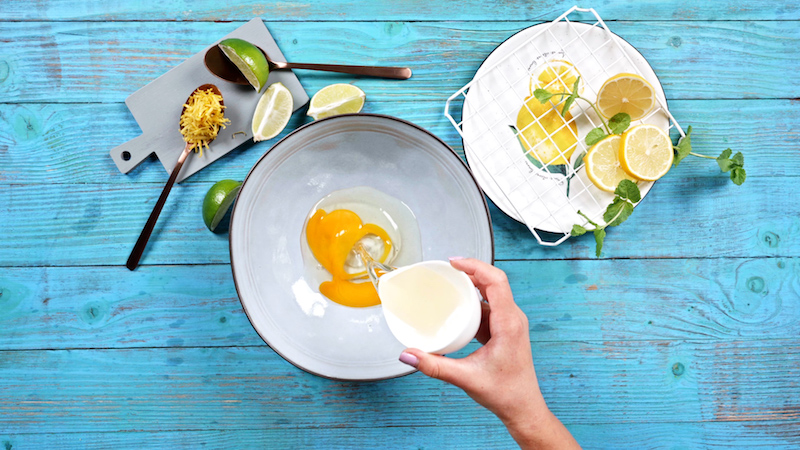 Third step: Whisk and then add in the erythritol and grated lemon zest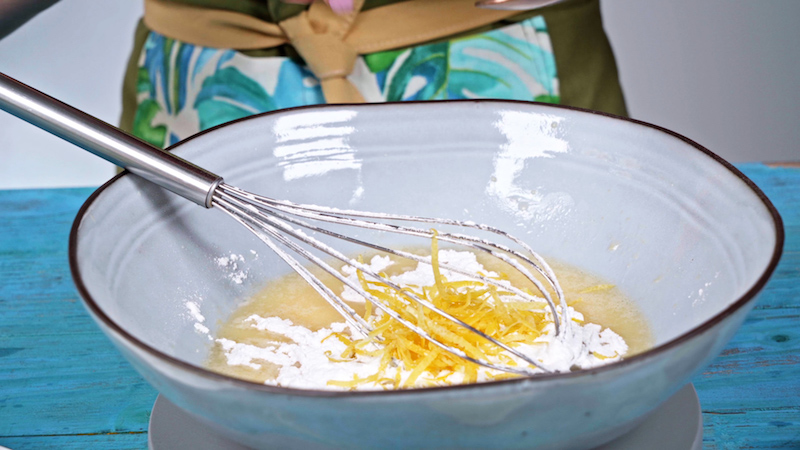 Fourth step: Mix everything well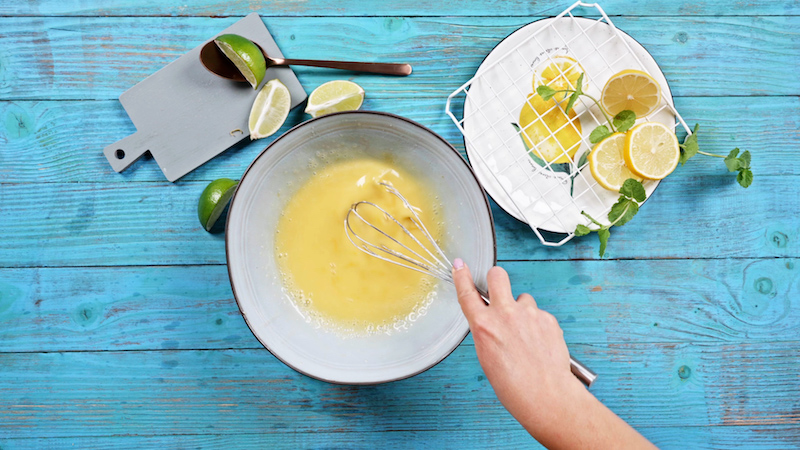 Fifth step: Add in the almond flour, coconut flour, and baking powder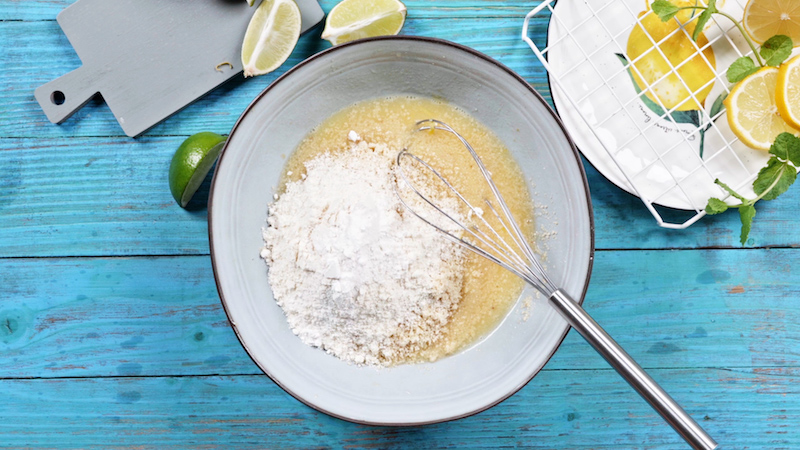 Sixth step: Mix until a type of doughy like texture starts to form and refrigerate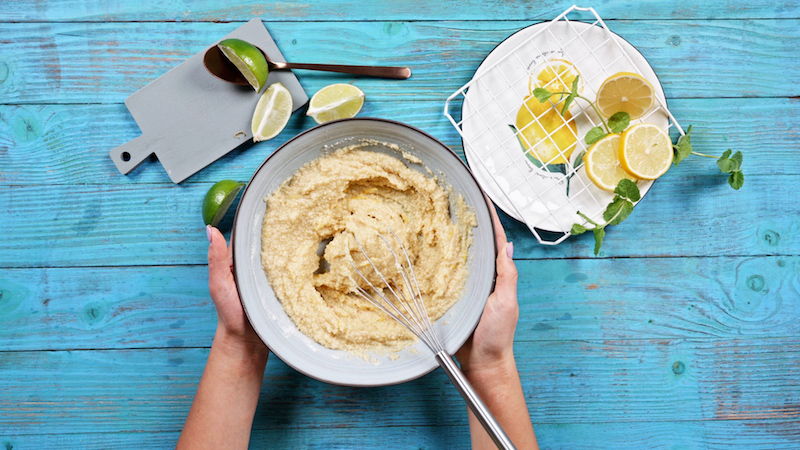 Seventh step: Start creating little cookie shaped circles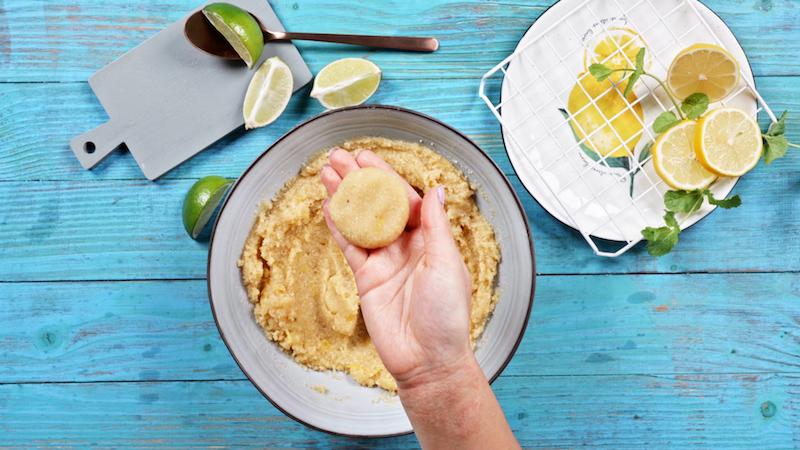 Eighth step: Place the cookies onto a pan with parchment paper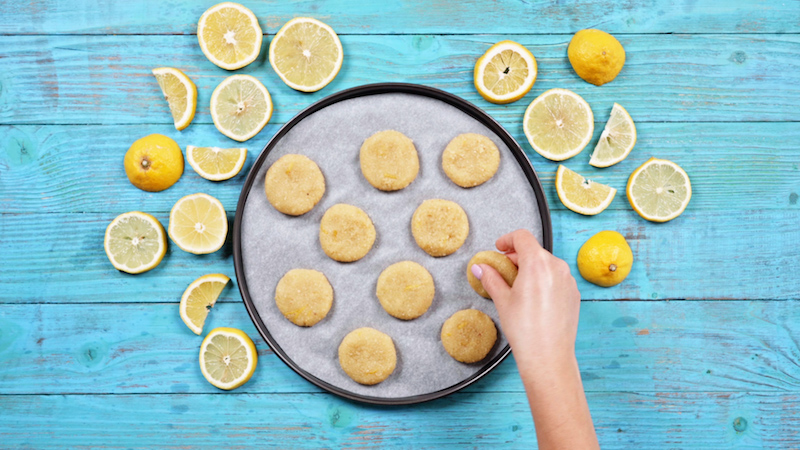 Ninth step: Bake for fifteen minutes and let cool afterwards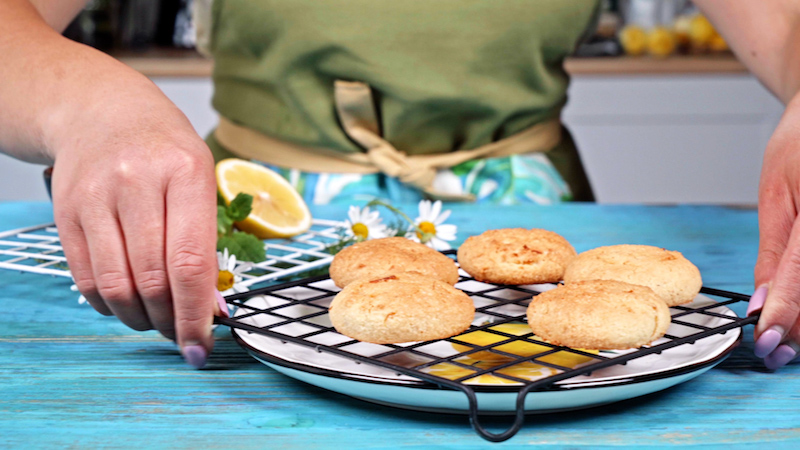 Tenth step: Decorate as you wish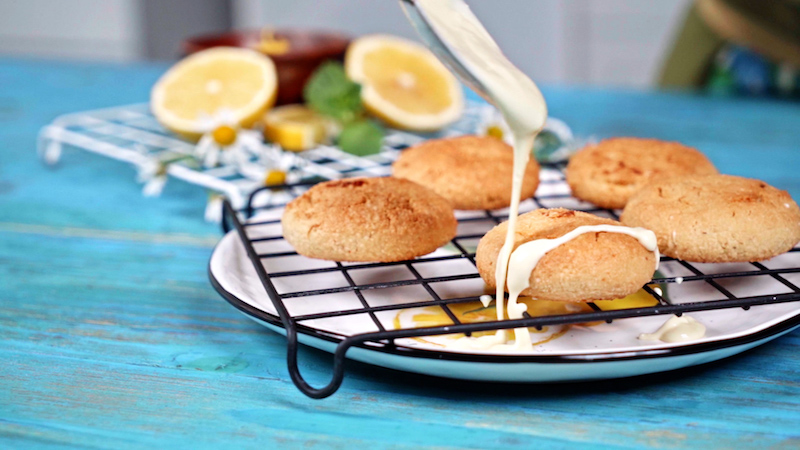 Eleventh step: Enjoy!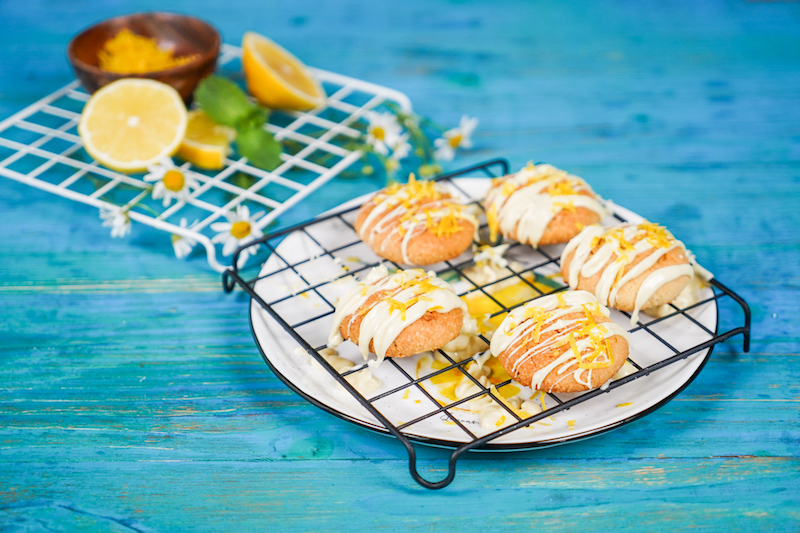 Tips and Tricks
Here are some helpful tips and tricks to make this cooking experience as easy and pleasant as possible! These are all the keto lemon cookie secrets you will need.
Here are some helpful tips and tricks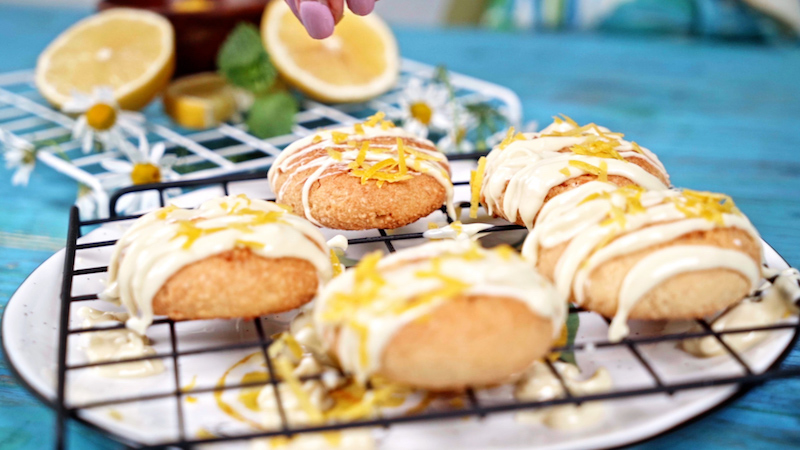 Keto Glaze
Adding a glaze to your cookies gives them extra flavor and makes them look extra beautiful. There are many glaze versions. For a keto lemon one all you will need to do is use around half a cup of erythritol, a tablespoon of butter, two teaspoons of water and at least a teaspoon of lemon extract. Make sure to glaze the cookies after they have cooled down.
Powdered Sugar Coating
If you want to give the cookies a nice, crackly look here is how you can achieve this. All you need to do is take a lot of powdered sugar and coat the cookies excessively with it. Do this before baking them. It's important to use a lot of sugar as it will melt into the cookies if it is not enough.
Use Fresh Lemons
Since lemons are the main star of these cookies, it's important to pick your ingredients correctly. Using fresh lemons instead of bottled juice gives them a much fresher, flavorful and better taste. While bottled juice will also work, it doesn't give the same benefits. Fresh juice also has no additives and preservatives.
Customize
One of the best things about these cookies is that they are customizable. What we mean by this is that while they are lemon cookies, if you do not enjoy lemons, you can use another citrus. Make them with oranges or limes.
Storing
If they somehow don't get eaten, or you made a double batch to have some for later on, here is how to store them. Make sure you store them in a tightly sealed container. You can keep them both in the refrigerator or at room temperature. They will be good for around a week. You can also keep them in the freezer for up to six months.
Delicious, zesty, lemony – perfect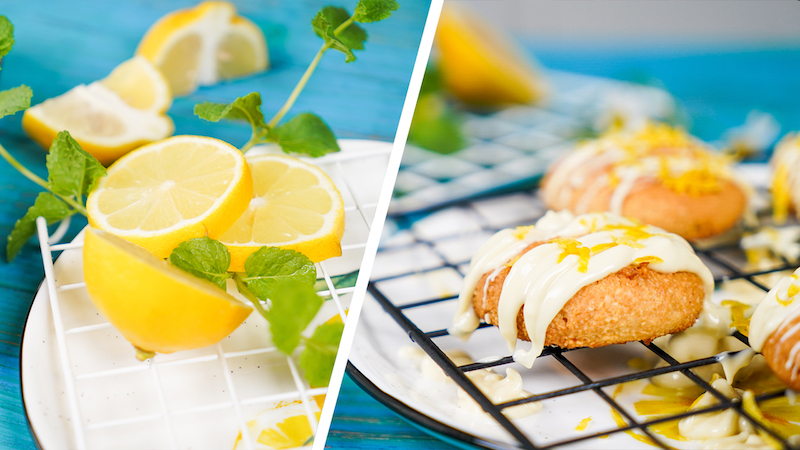 Make sure to check out the rest of our recipes on our YouTube channel! There you can find other yummy food recipes, such as easy, gluten-free strawberry shortcakes. Give us your opinion on these delicious cookies in the comments! Don't forget to mention what else you want to see from us in the future.
We hope you enjoy these cookies