---
A healthy lifestyle is probably one of the trendiest topics out there and with good reason. Eating right, exercising regularly and trying your best to be healthy leads to better health and a longer life. That is exactly what draws people to this lifestyle. However, we all have guilty pleasures. Those things that we just can't stop ourselves from doing or eating. More often than not, these things are certain snacks. Watching a movie, working from home, or even just chilling can unlock the cravings for these snacks. Fear not, however, because in this article, we have gathered a few guit-free, easy to make healthy snack ideas to satisfy all of your cravings.
You can lead a healthy lifestyle and still have snacks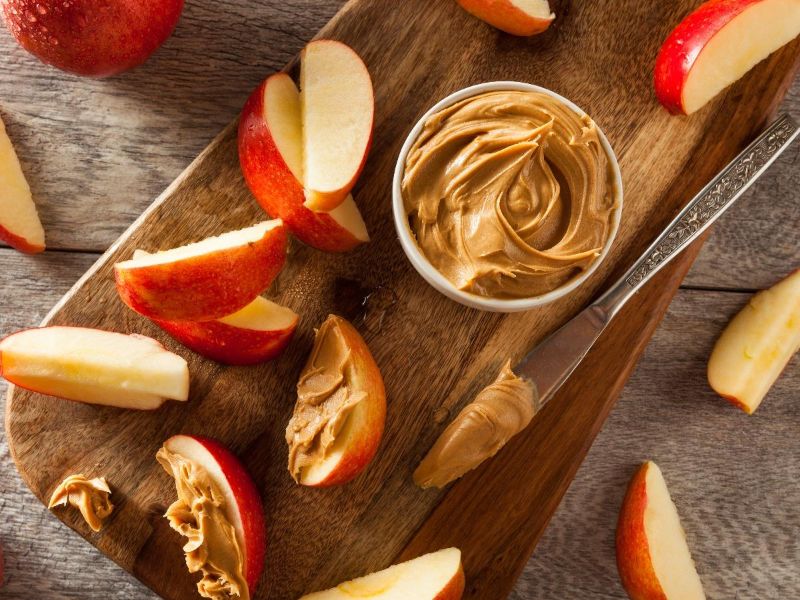 ---
Healthy snack ideas for every taste
If you are someone who likes to snack on the regular, than it might be a good idea to have some snacks prepared. However, sometimes you just need to snack on something quickly. So, here are a few two or tree ingredient snacks you definitely have at home.
Apple slices with peanut butter
Apples are high in fiber and antioxidants. They boost your metabolism and help your stomach. Peanut butter balances your cholesterol levels. Therefore, the two together are not only delicious, but are also super healthy.
Here are some good, healthy combos you can try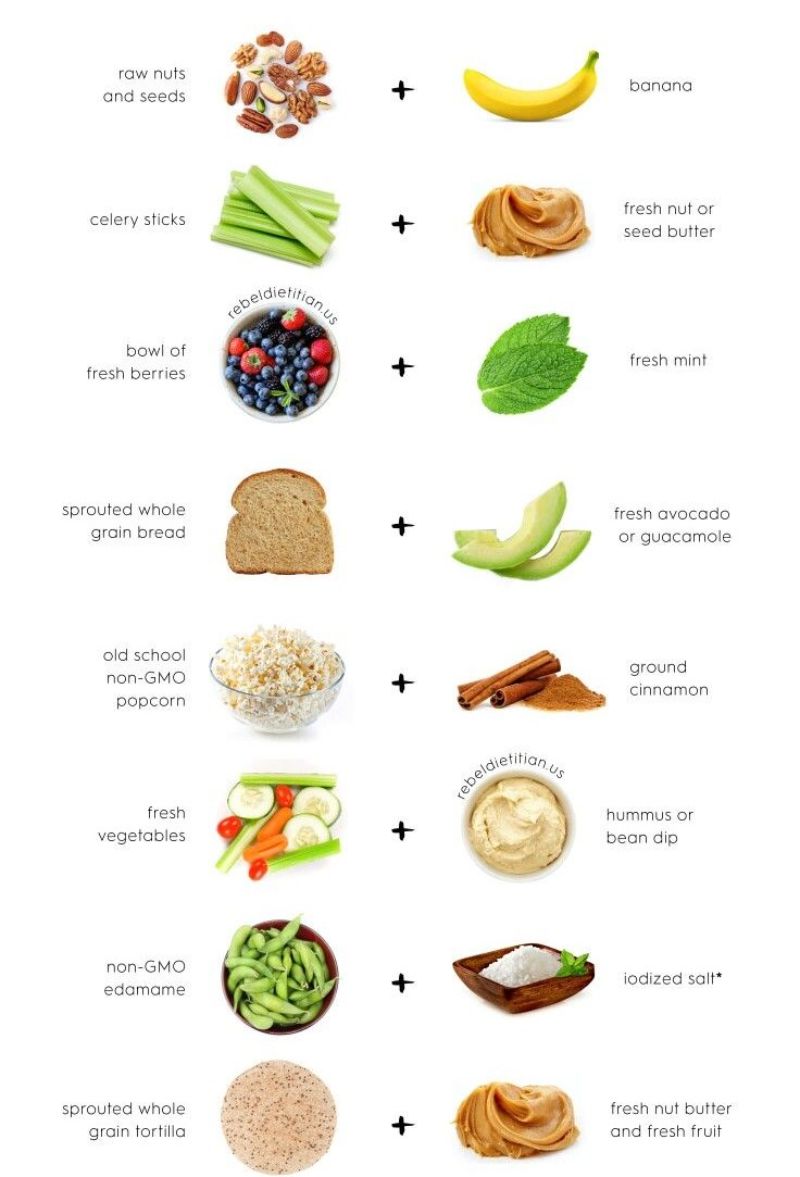 Mixed nuts
Nuts are the perfect combination of healthy fats, protein and fiber. What's more, they are very filling. A small amount of nuts can help reduce your appetite. Therefore, nuts make for a perfect snack, always in moderation, though.
Different nuts have different benefits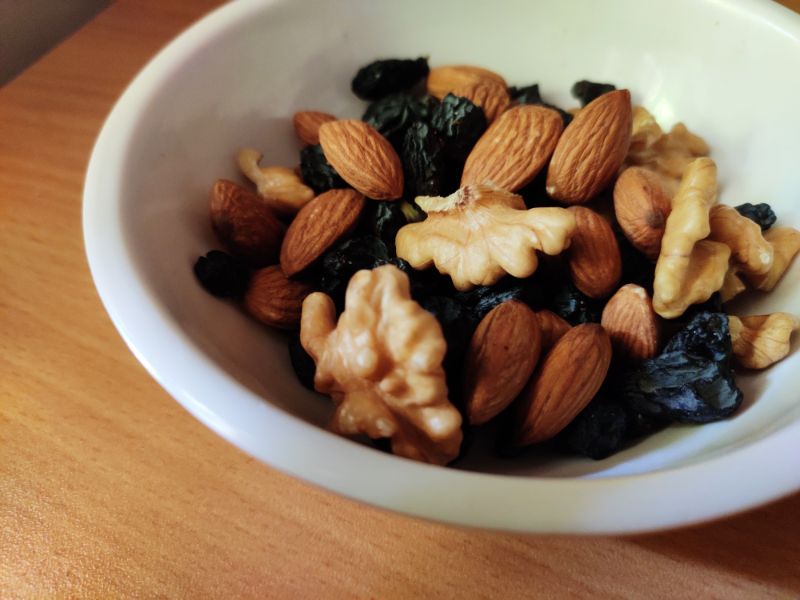 Oatmeal, yogurt and fruits
It is no secret that fruits are a must in every person's healthy meal plan. So, even though you can just have them separately, they are also a good addition to other snacks. For example, oats soaked in yogurt and garnished with some fresh berries is a snack, rich in fibre and healthy fats.
Fruits should be a part of your healthy meal plan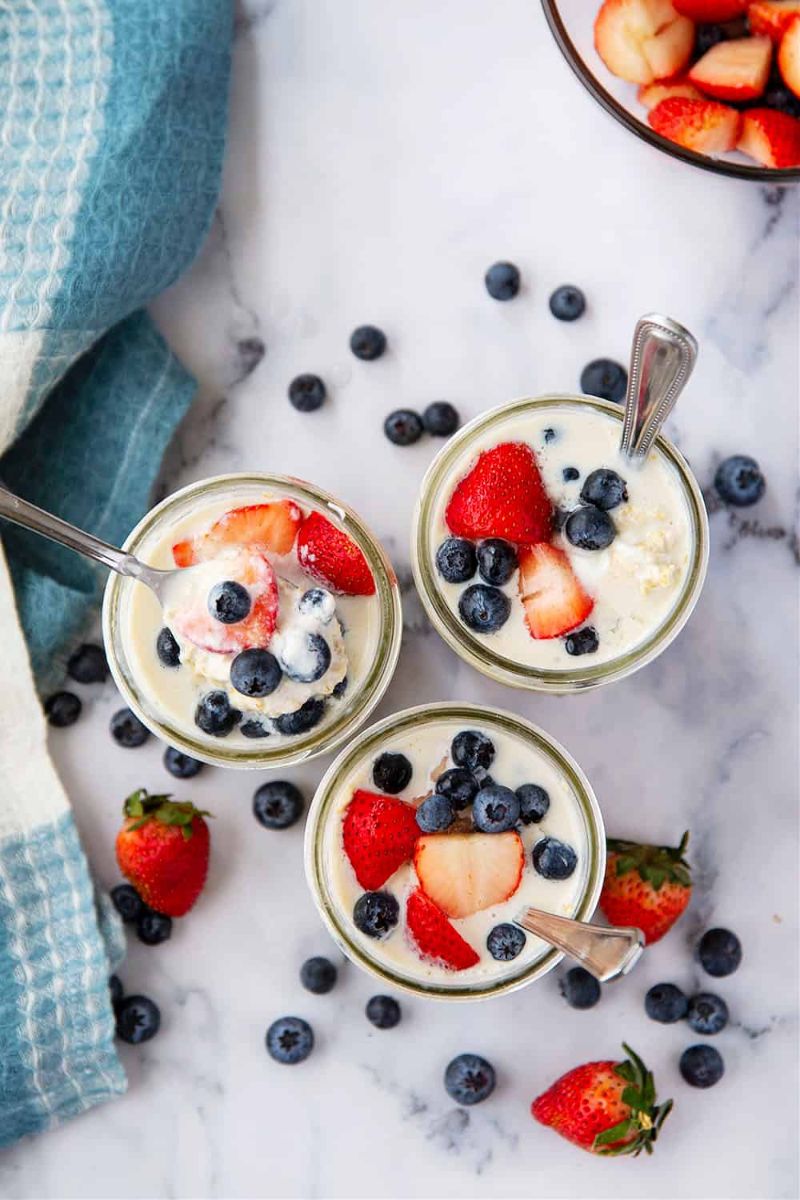 ---
Veggies
Same as fruits, vegetables are rich in fibre and vitamins and are very important for your health. Snack on veggies with a nice dip, such as yogurt or guacamole and you won't feel guilty.
Eat your veggies!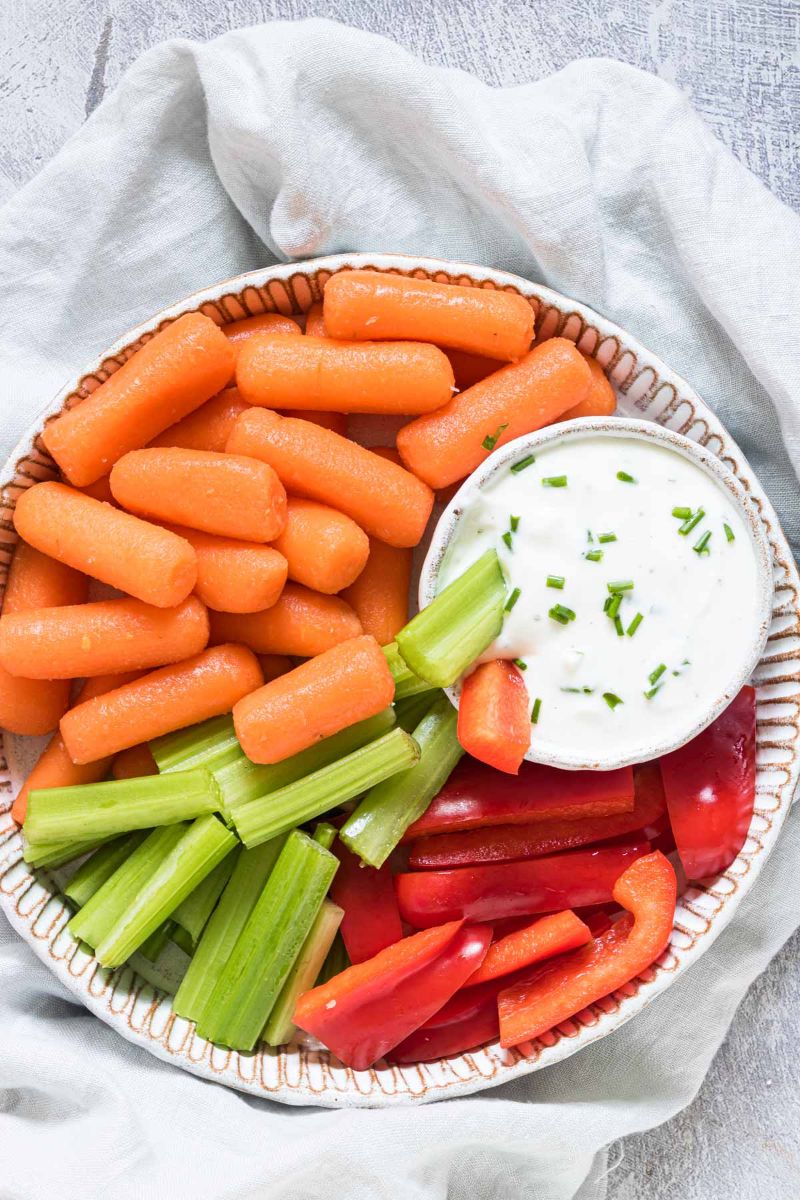 Smoothies on the go for a busy lifestyle
If you are busy and don't have time to eat regularly, than you definitely need on the go snacks, which can keep you from getting "hangry", while also giving you everything your body needs. Smoothies are the perfect option. Prepare a smoothie, transfer it into a big bottle and you will have a snack you can have at all times.
Smoothies are delicious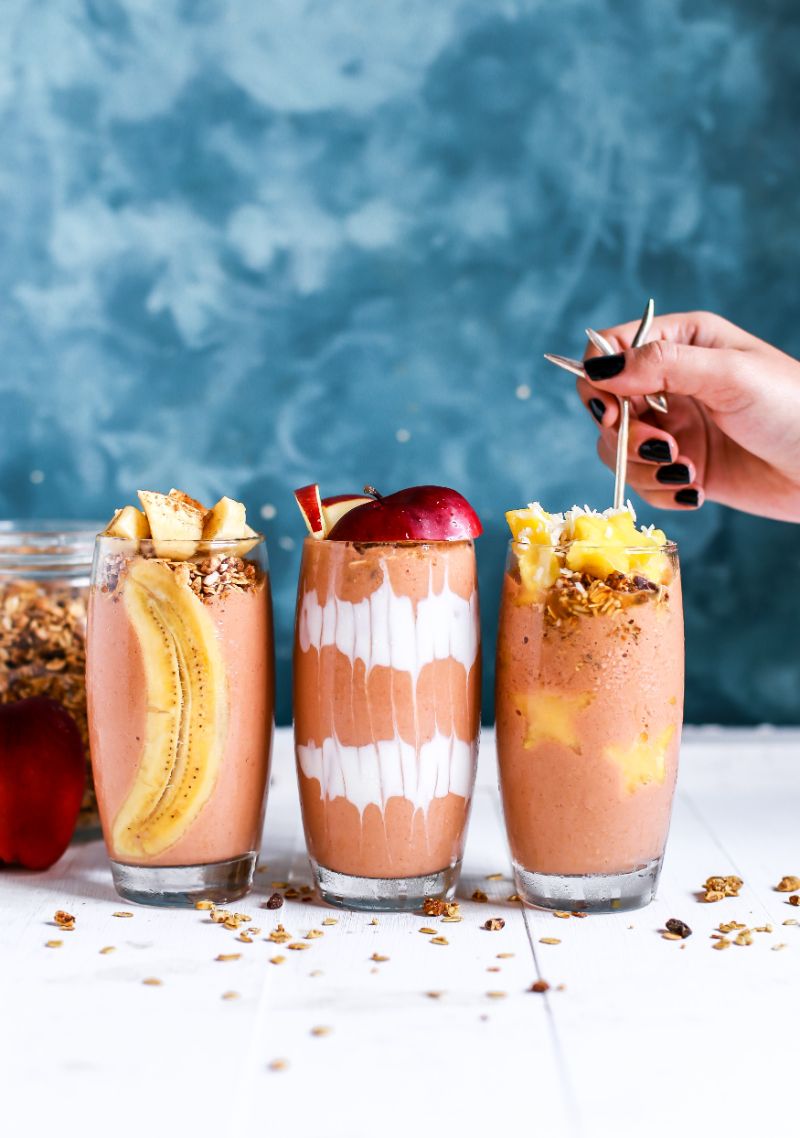 Healthy snack ideas to meal prep
Meal prep is a great thing to do if you are busy, but want to live a healthy lifestyle. Naturally, there are some great snacks you can meal prep and keep in your bag for on the go snacks.
Here are some recipes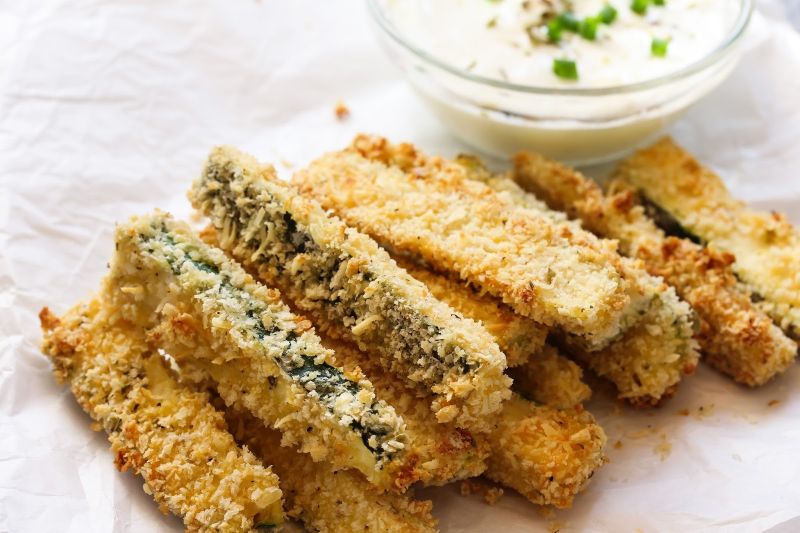 Baked zucchini fries recipe
Ingredients:
2 zucchini
3/4 cup panko breadcrumbs
1/4 cup parmesan cheese
1/2 tbsp Italian herbs
salt and pepper to taste
2 eggs, beaten
Instructions:
Preheat the oven to 425F.
Cut the zucchini into sticks.
In a bowl mix the cheese, breadcrumbs and herbs.
Dip the zucchini sticks into the beaten eggs than into the breadcrumbs mixture.
Place onto a paper lined baking sheet and season with salt and pepper.
Bake for 20-25 minutes. Serve with yogurt sauce.
Source: Kayla Itsines
Healthy muffins recipe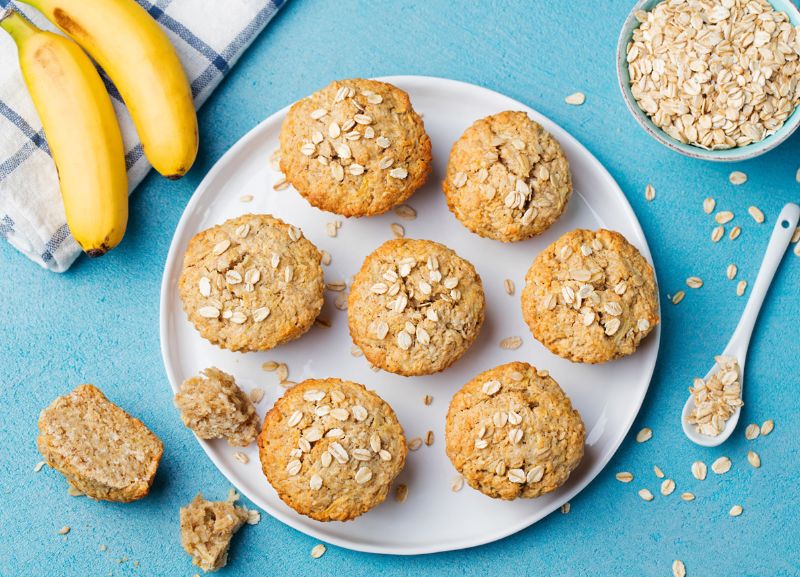 Healthy snack ideas – delicious muffins
Ingredients:
2 eggs
2 tbsp maple syrup
1 tsp vanilla extract
3 bananas, mashed
125ml milk
75g rolled oats
260g whole wheat flour
1 tsp baking soda
1/2 tsp ground cinnamon
Instructions:
Preheat oven to 350F.
In a bowl whisk the eggs, then add the maple syrup and vanilla extract. Finally, add the bananas and milk.
In another bowl mix the oats, flour, baking soda and cinnamon.
Mix the banana mixture with the dry ingredients.
Divide the mixture in a 12-cup muffin tray.
Bake for 15-20 minutes.
Source: Kayla Itsines
Ready for more?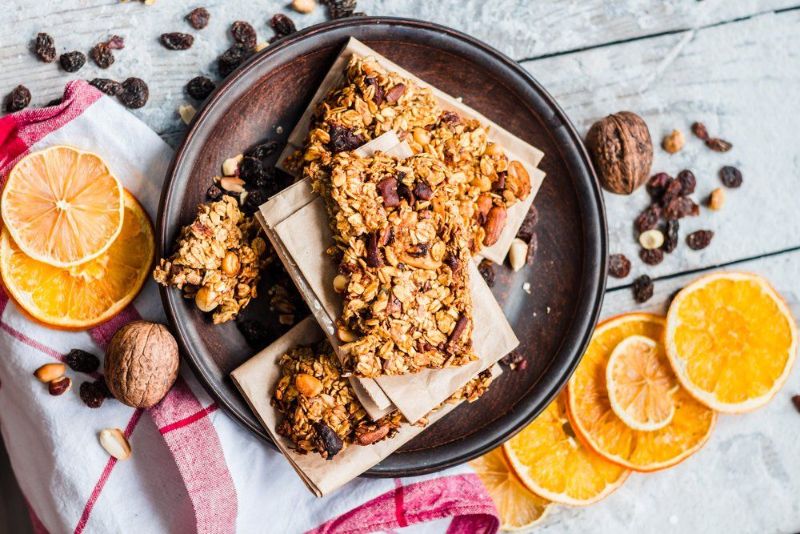 Homemade granola bar recipe
Ingredients:
2 cups rolled oats
1/2 cup shredded coconut
30g walnuts, roughly chopped
1/2 cup honey
1/2 cup orange, juiced
2 tbsp almond butter
1 tsp vanilla extract
1/8 tsp salt
Instructions:
Preheat oven to 325F.
Mix the oats, coconut, orange juice and walnuts and transfer onto a paper lined baking tray. Toast for 10 minutes.
Heat the butter, honey, vanilla extract and salt in a saucepan. Transfer into a bowl.
Add the oat mixture to the honey mixture and mix well.
Transfer the mixture into the baking tray and press down, Bake for about 15 minutes.
Source: Kayla Itsines
It is all in the name – these energy balls are and energy booster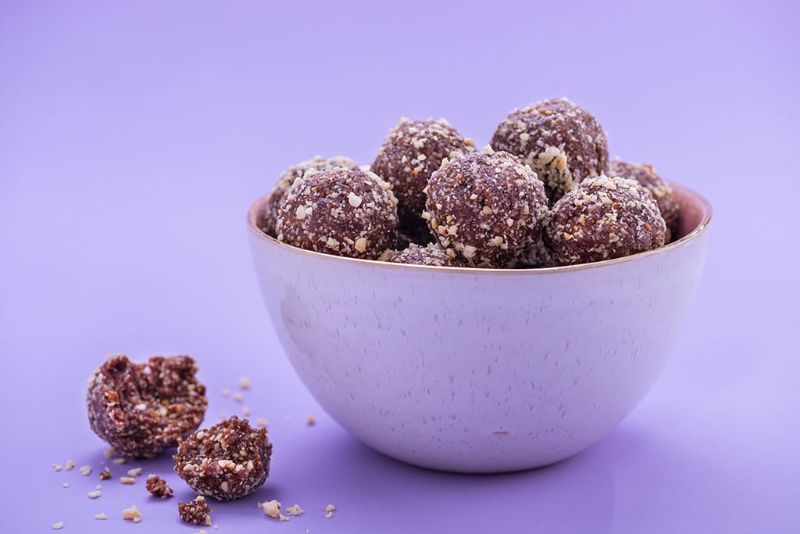 Energy balls – healthy snack ideas
Ingredients:
14 dates, pitted
200g almonds
4 tbsp peanut butter
1 tbsp cacao powder
crushed peanuts
Instructions:
In a food processor blend all of the ingredients together. If the mixture is too sticky and a little bit of water.
Use your hands to form balls with the mixture.
Roll the balls into the crushed peanuts and place onto a plate or tray.
Refrigerate for at leaste 30 minutes.
Source: Kayla Itsines
Hummus dip – the perfect addition for your veggies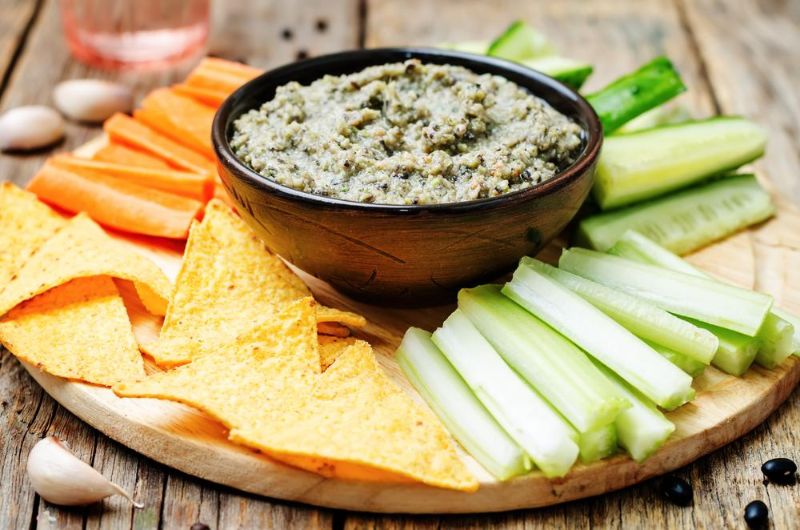 Black bean hummus dip recipe
Ingredients:
225g can black beans, drained and rinsed
225g can of chickpeas, drained and rinsed
3 garlic cloves
juice from 1 lemon
2 tbsp chopped coriander
1/4 tsp cayenne pepper
1/2 tsp cumin
1/4 cup water
2 tbsp olive oil
salt and pepper to taste
Instructions:
Blend all of the ingredients. except the olive oil, salt and pepper, together in a food processor.
Gradually add the olive oil and season with salt and pepper.
Source: Kayla Itsines
Falafel balls you can even have for lunch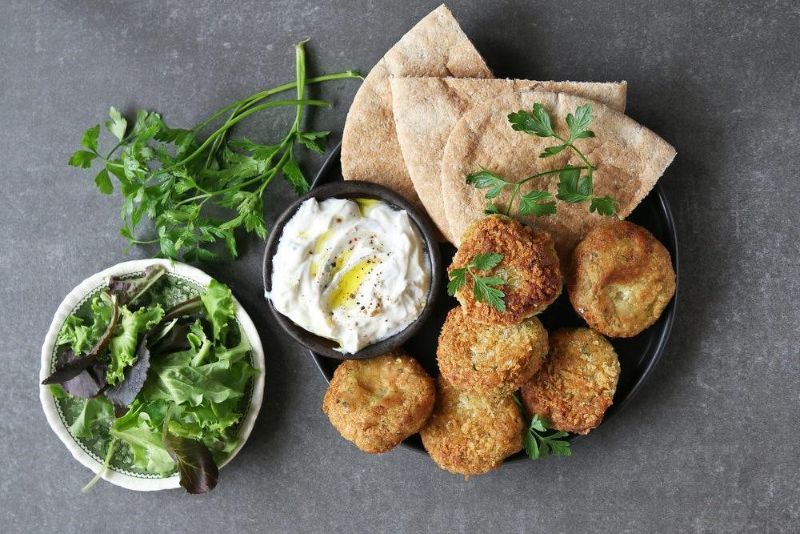 Healthy snack ideas – falafel balls
Ingredients:
250g can chickpeas, drained and rinsed
juice from 1/2 lemon
a handful fresh parsley, chopped
1 garlic clove, crushed
1/2 tsp ground cumin
1/2 tsp ground coriander
2 tbsp whole wheat flour
salt and pepper to taste
1 tbsp olive oil
Instructions:
Blend all of the ingredients, except the olive oil, together in a food processor.
Shape into 6 falafel balls with your hands and flatten slightly. Refrigerate for 30 minutes.
Heat the olive oil in a fry pan and cook the falafels for about 5 minutes on each side.
Source: Kayla Itsines
Protein shakes are the perfect on the go snack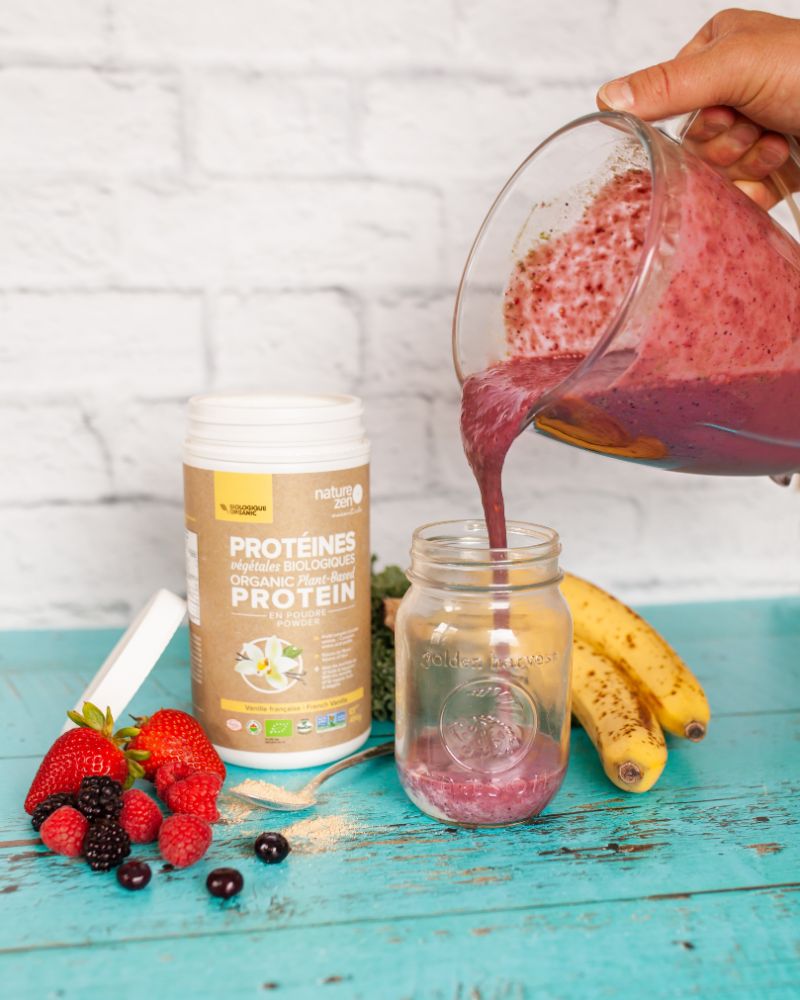 The avocado toast has become quite popular in recent years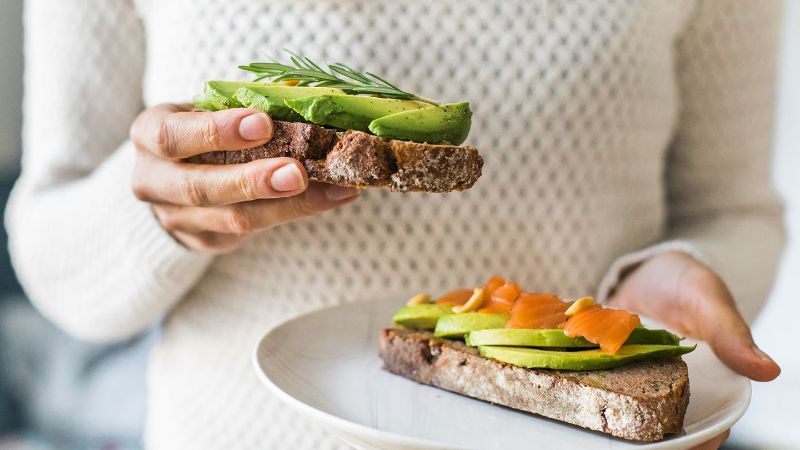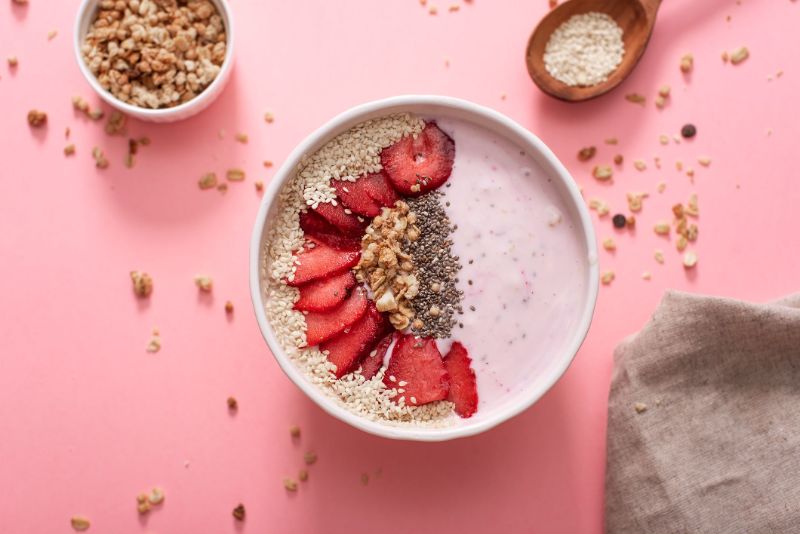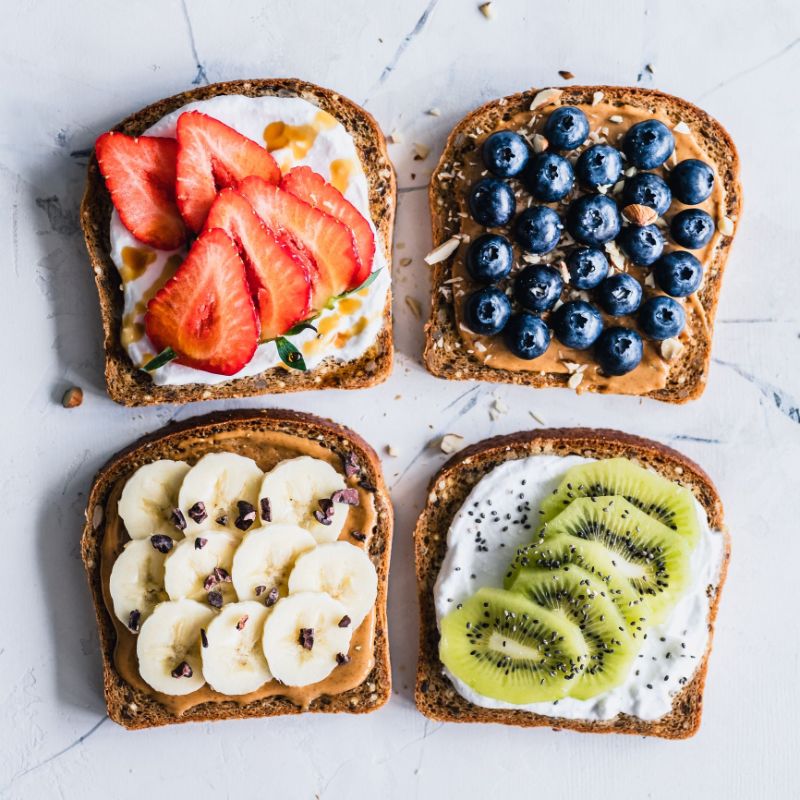 Chia pudding with some fruits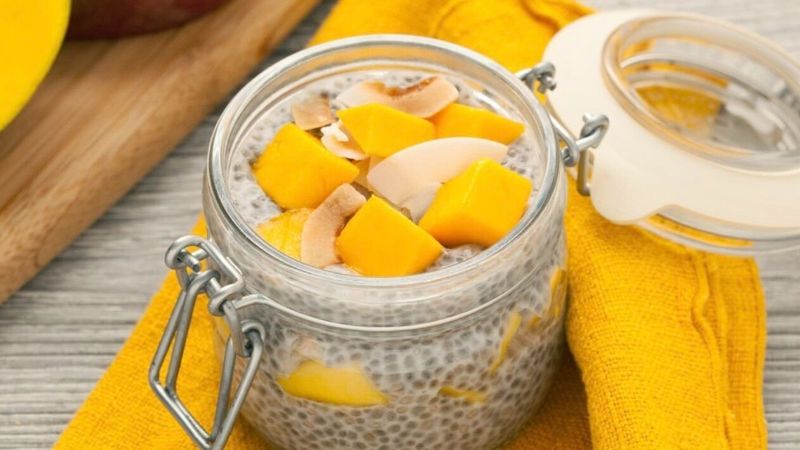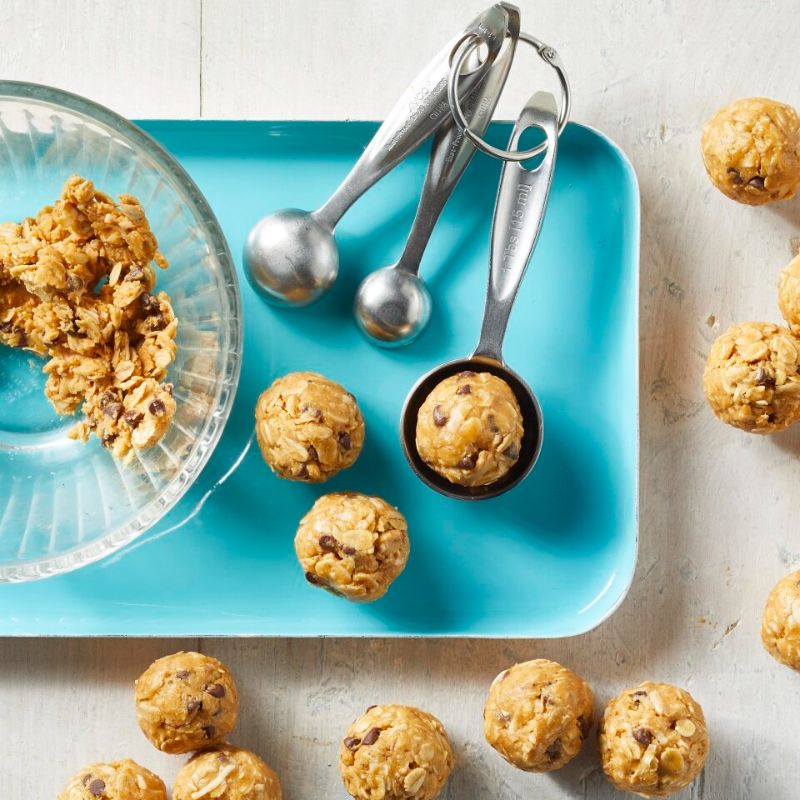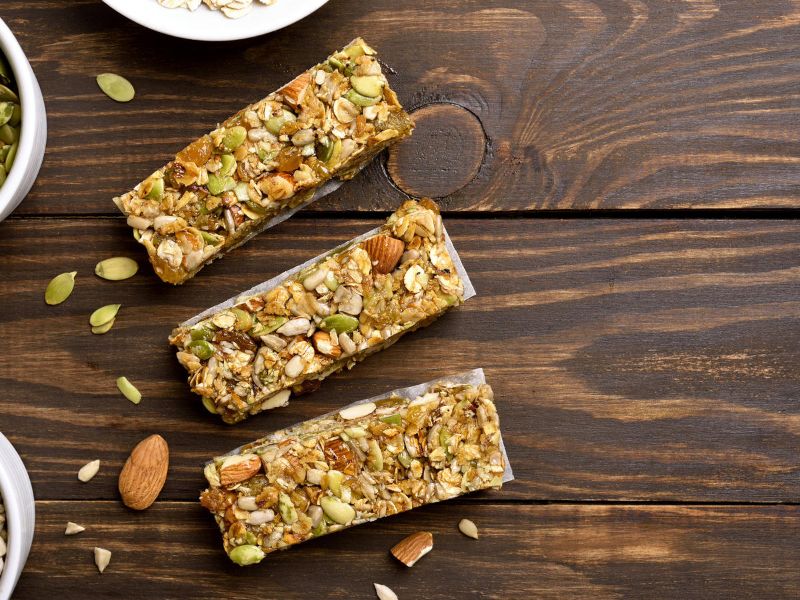 Baked pear with cottage cheese – delicious and healthy