---
Since we are currently in lockdown number, I don't know – 250, it seems like eating out is a thing of the past. Some of you may not even remember the last time they went out to eat in an actual restaurant. We are not even going to talk about going to the bar and having a full blown party night with your friends. And, because we are pretty sure we all miss it, we have prepared a special article for you today. We have prepared 8 special recipes for finger foods for party in our very own kitchen. And we want to share them with you and inspire you to throw a nice house party for all of your friends. We bet they will appreciate it a lot. So, keep reading to steal ideas from our very own kitchen.
All recipes are courtesy of Archzine Studio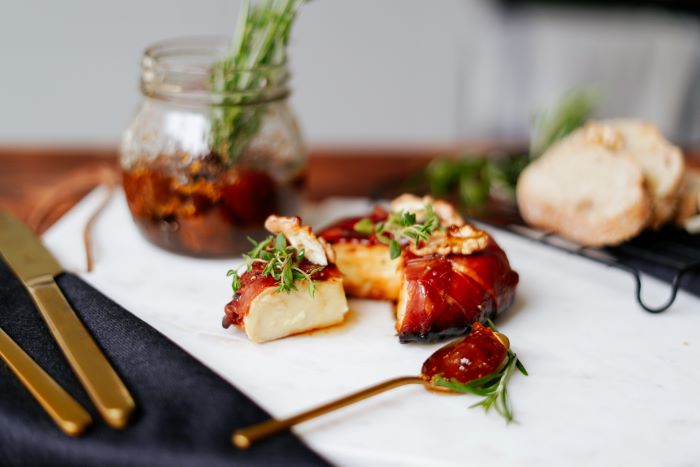 ---
Finger foods for party – baked Brie
Ingredients:
Brie cheese
garlic
fresh thyme
prosciutto
fig jam
raw walnuts
The ingredients you are going to need for this simple baked Brie recipe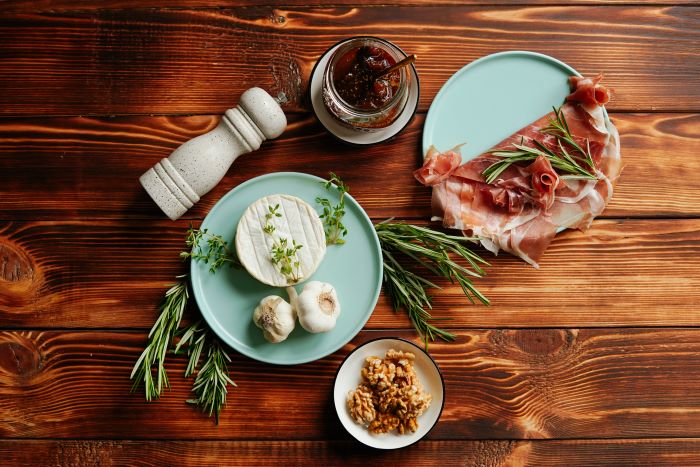 Instructions:
Make little slits in the Brie cheese and fill them with garlic and thyme.
Arrange the prosciutto slices as shown in the video. Place the Brie in the middle.
Drizzle some fig jam on top of the Brie and wrap in the prosciutto.
Transfer to a paper lined baking tray and bake at 200 degrees for 15/20 minutes.
Once ready, transfer to a plate, drizzle with fig jam again and place a few raw walnuts on top. Cut into triangles and serve with bruschetta slices.
You can use as much garlic and thyme as you want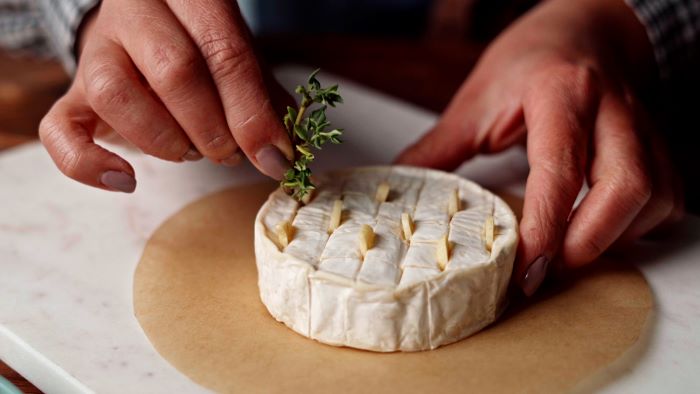 Make sure the prosciutto slices completely cover the Brie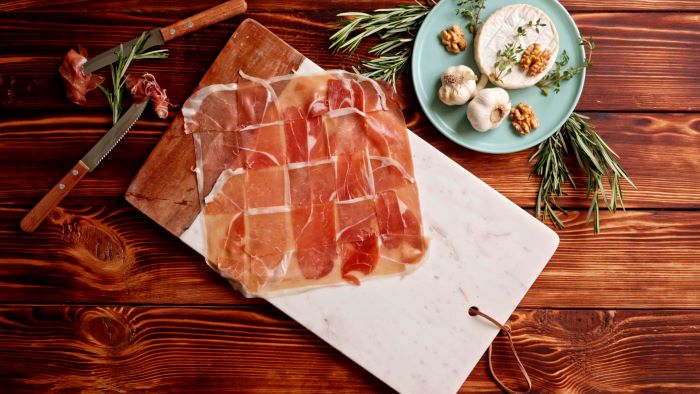 ---
Put as much fig jam as you want but keep in mind you can add more after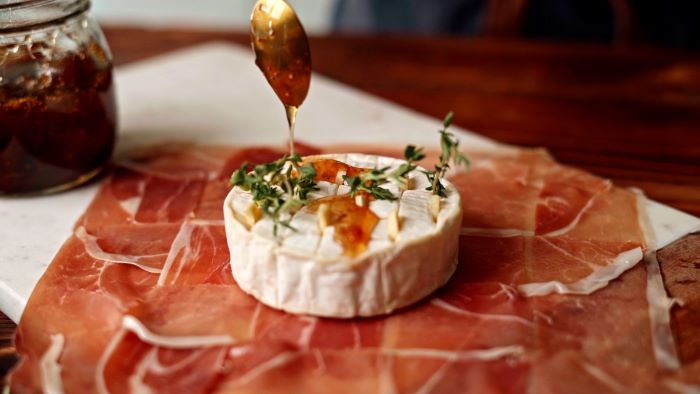 Don't over bake it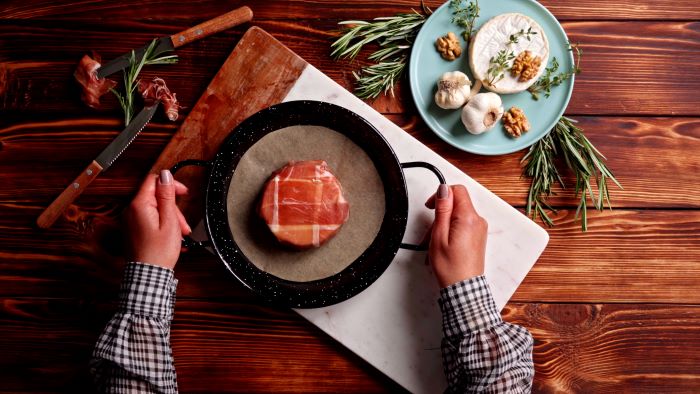 Serve while it is still hot and the cheese is soft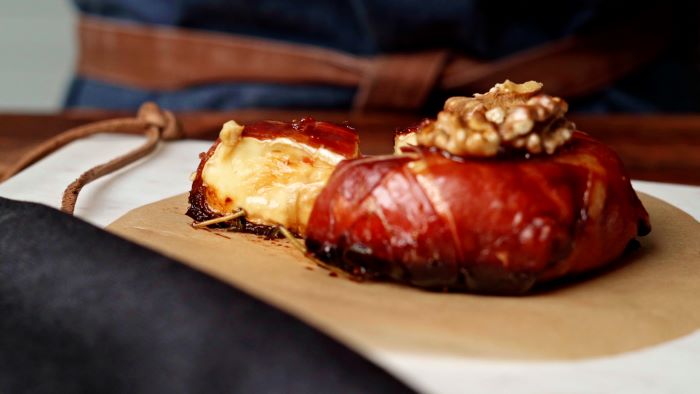 Stuffed potato bites are the perfect finger foods for party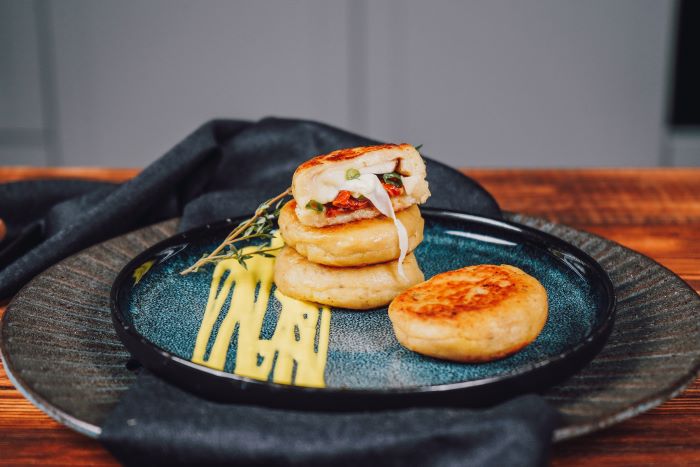 Appetizer recipes
Ingredients:
400gr, boiled and mashed
100gr rice flour
40gr parmesan, grated
1 tsp dried oregano
1 egg
mushrooms, sliced
sun dried tomatoes
mozzarella
green onion
We present to you – the ingredients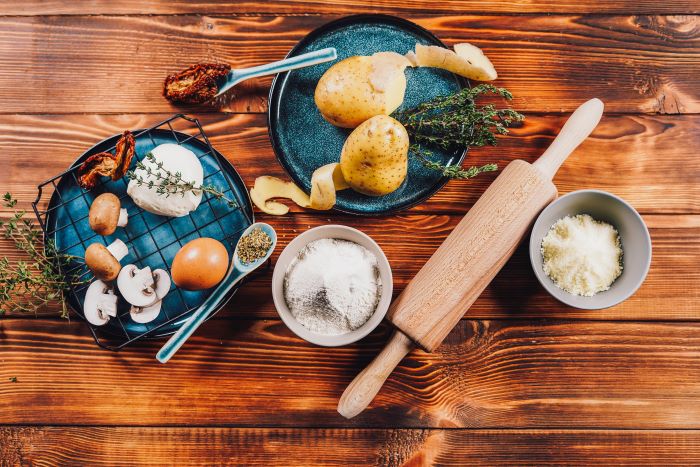 Instructions:
Mix the mashed potatoes, flour, parmesan, oregano and egg in a bowl with your hands until dough is formed.
Roll out the dough on a floured surface. Use a cookie cutter to cut out round shapes from the dough.
Place one round piece of the dough on a plate and top with a slice of mushroom, one sun dried tomato, a slice of mozzarella and green onions. Cover with another round piece of the dough and press the sides with your fingers so it is completely covered.
Heat some olive oil or butter in a saucepan and fry on each side for about 3/4 minutes.
Mix the ingredients with your hands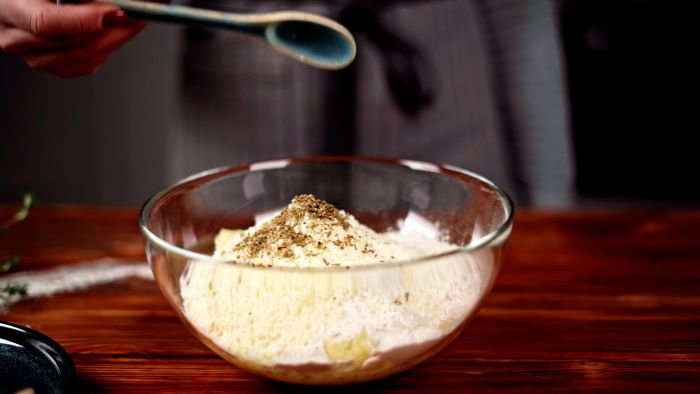 Roll out the dough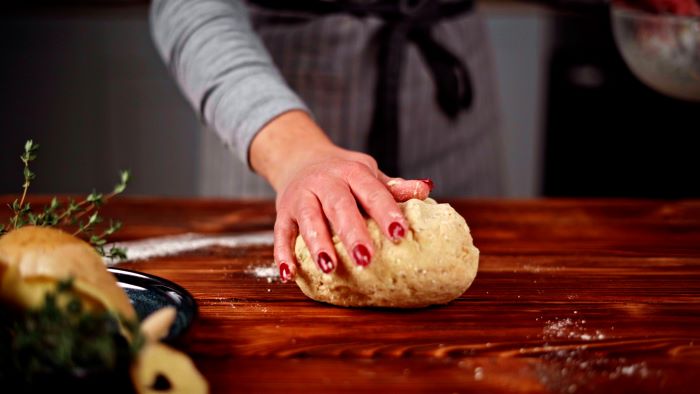 You can cut it in any shape you want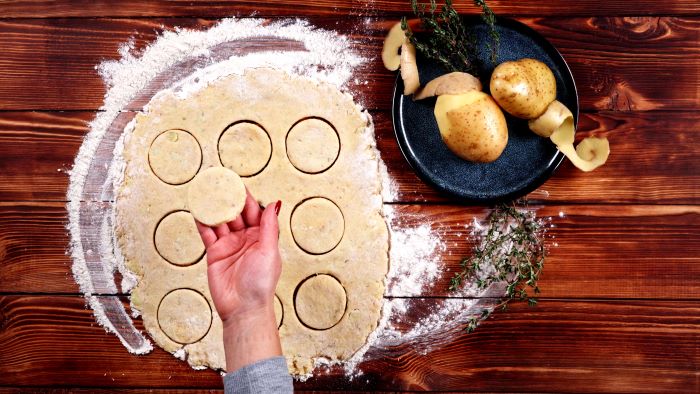 Top with the products for your stuffing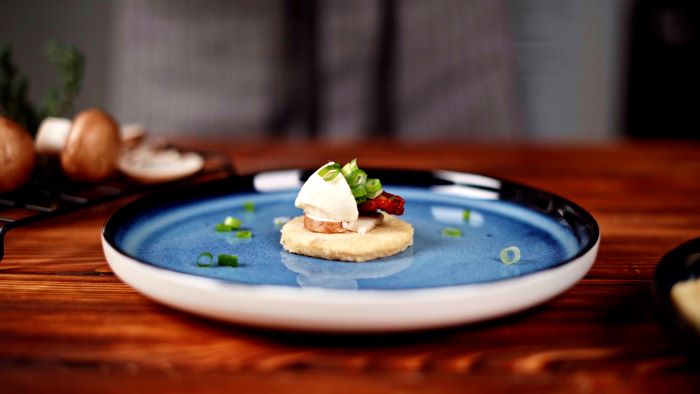 Make sure they are completely covered so nothing spills out while they are cooking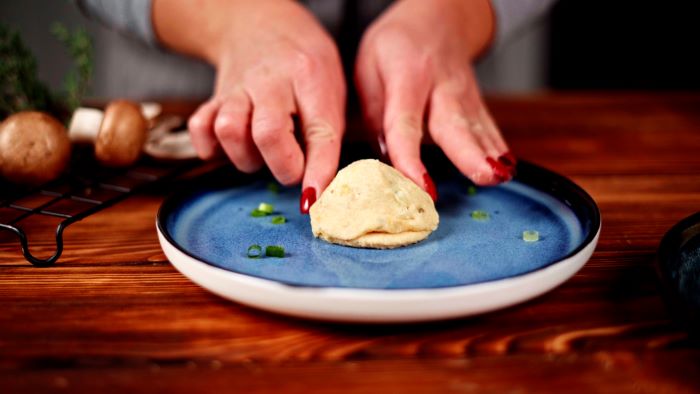 3/4 minutes on each side is enough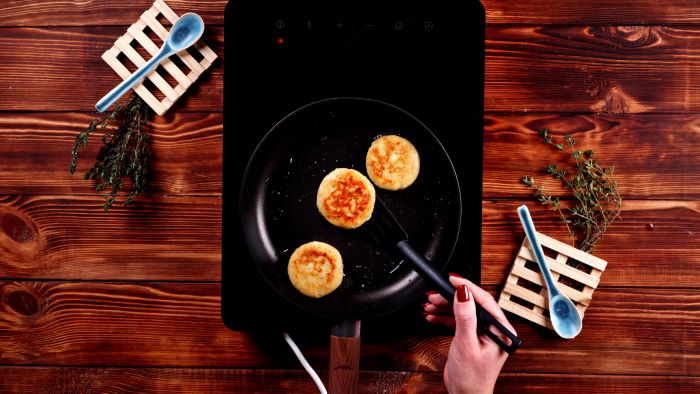 Delicious and healthy salmon meatballs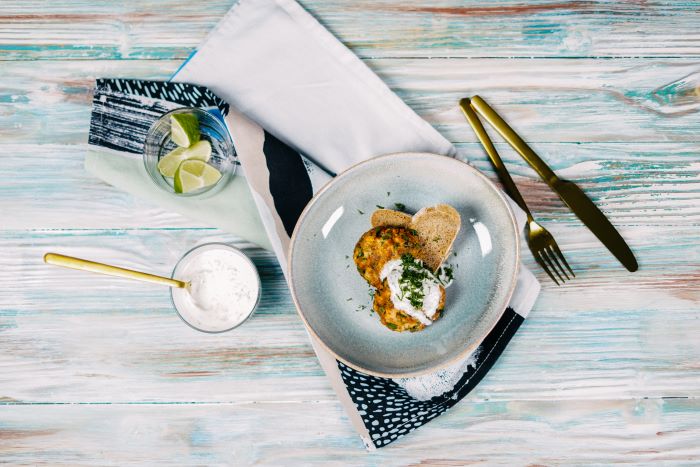 Easy party appetizers
Ingredients:
250gr finely chopped salmon fillet
1/4 cup fresh parsley
1 tbsp capers
2 tbsp fresh dill
1 tbsp Dijon mustard
4 tbsp whole-wheat breadcrumbs
1 tsp smoked paprika
1 egg
bruschetta
tzatziki sauce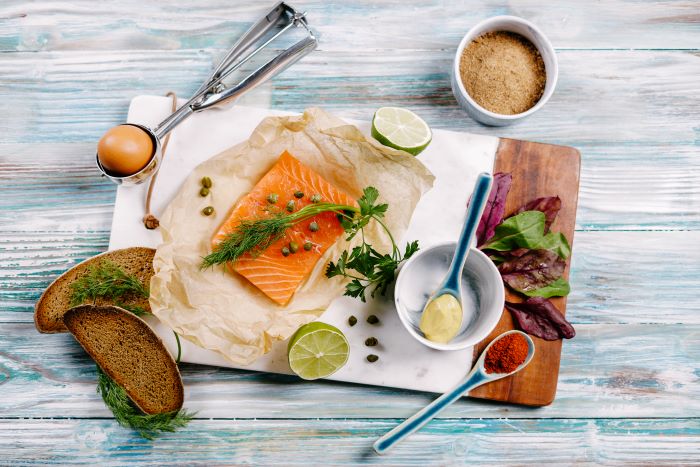 Instructions:
In a bowl mix the salmon fillet, parsley, capers, dill, breadcrumbs, paprika, Dijon mustard and egg.
Grab a handful of the mixture and shape into a meatball.
Transfer onto a paper lined baking dish and bake at 200 degrees until golden brown.
Serve with bruschetta slices and tzatziki sauce.
Mix all of the ingredients well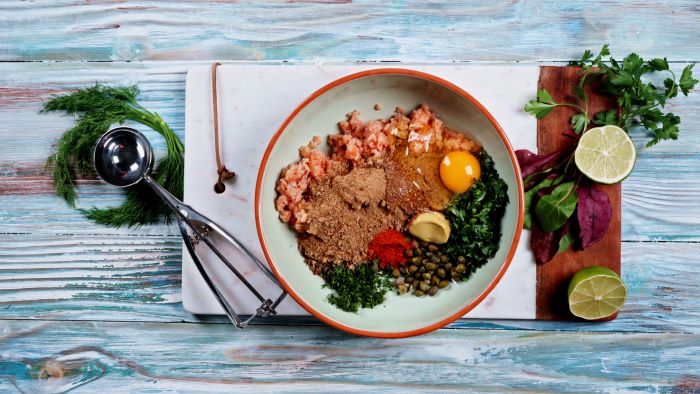 Shape into meatballs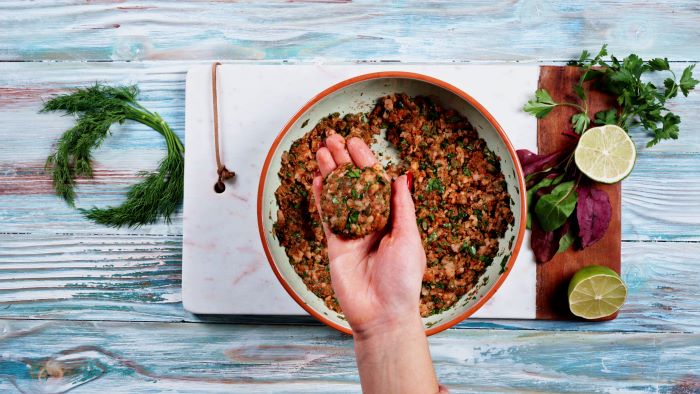 Bake until golden brown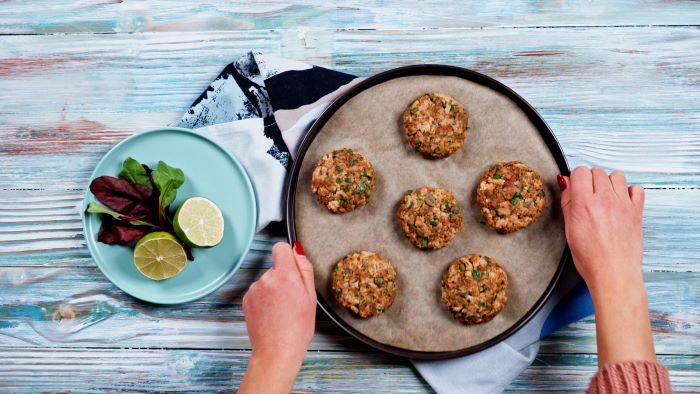 Now it is time for some delicious spring rolls with shrimp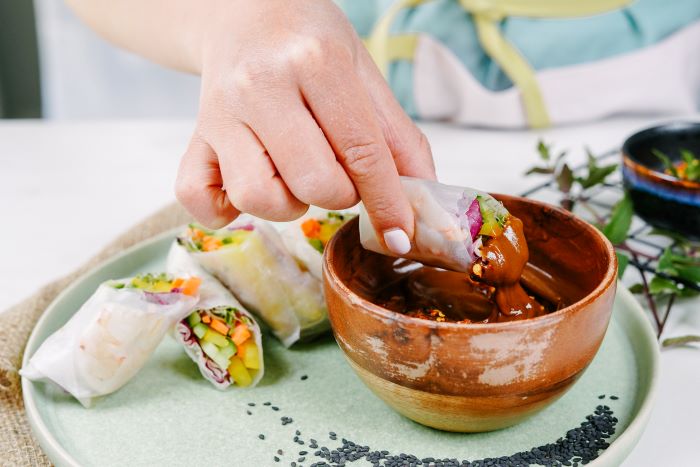 Easy appetizers for a crowd
Ingredients:
For the spring rolls:
rice paper wrappers
radicchio leaves
cucumber
yellow bell pepper
carrot
sprouts
sauteed shrimp
For the sauce:
2 tbsp soy sauce
60gr peanut butter
2 tbsp sesame oil
2 tbsp balsamic vinegar
chilli pepper powder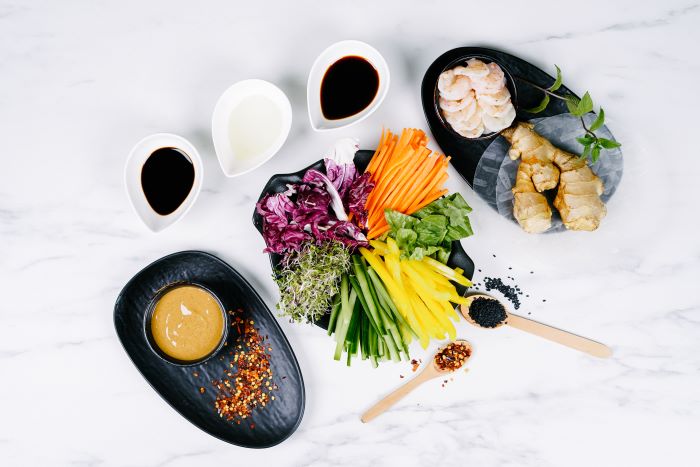 Instructions:
Start by slicing all of your veggies and dipping your rice wrappers in cold water.
Spread the rice wrapper on a flat surface and start layering the radicchio leaves, cucumber, pepper, carrot and sprouts.
Roll on time then place the shrimp. Roll as shown in the video and cut in half.
Mix all of the ingredients for the sauce in a bowl until fully incorporated. Sprinkle with chili powder.
First roll in the veggies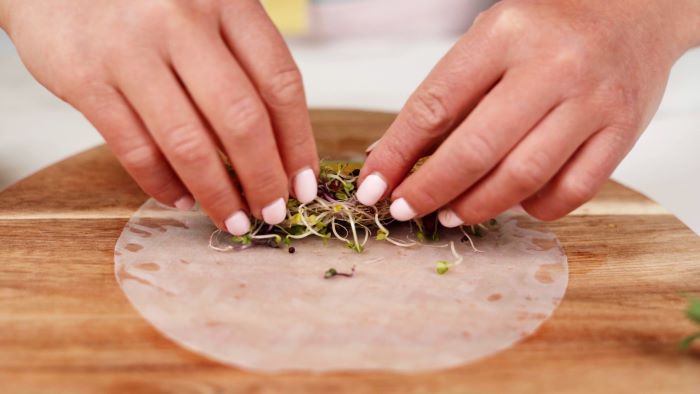 Then add the shrimp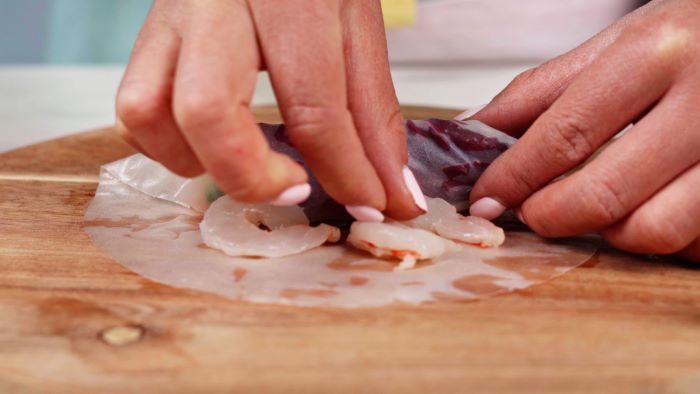 Cut in half, but not in a straight line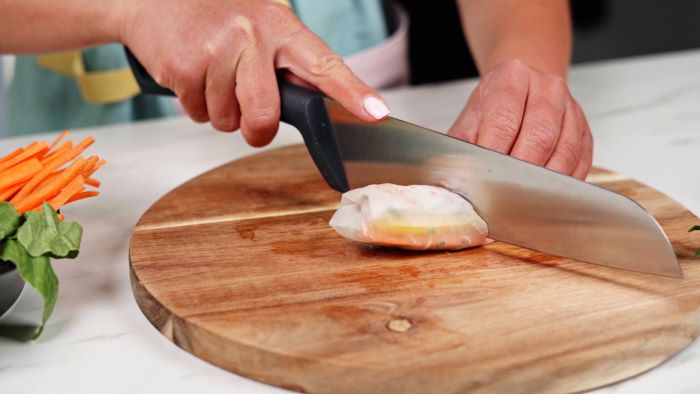 Prepare the sauce and serve along with the spring rolls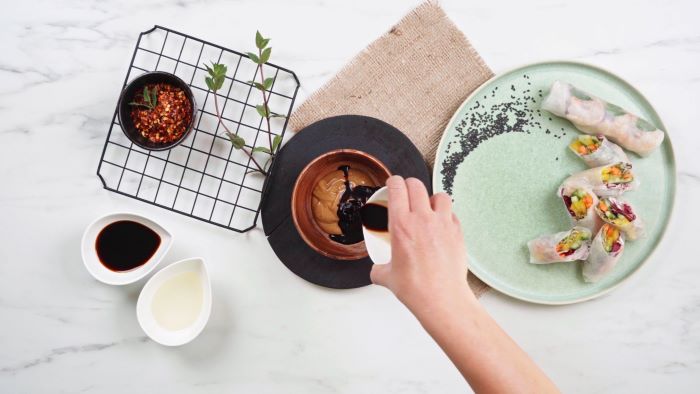 Healthy stuffed mushrooms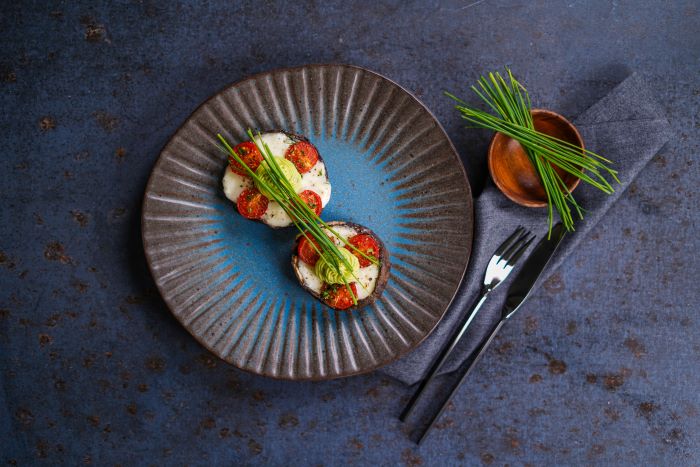 Healthy finger foods for a party
Ingredients:
4 Portobello mushrooms
butter, melted
125gr mini buffalo mozzarella balls
150gr cherry tomatoes, halved
black pepper
wild onion, chopped
For the sauce:
1 avocado, mashed
1/2 red onion, chopped
juice from 1/2 lemon
4/5 tbsp olive oil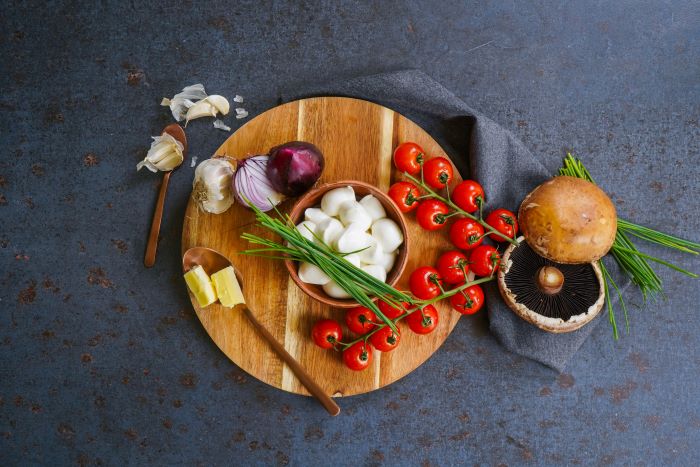 Instructions:
Place four Portobello mushrooms on a paper lined baking tray and cover them with melted butter on both sides.
Fill each mushroom with 4 mini buffalo mozzarella balls and 4 cherry tomato halves. Sprinkle with black pepper and wild onion. Bake for 10/12 minutes at 180 degrees.
In a bowl mix the ingredients for the sauce until fully incorporated and transfer to a piping bag.
Garnish the baked Portobello mushrooms with the avocado sauce and wild onion.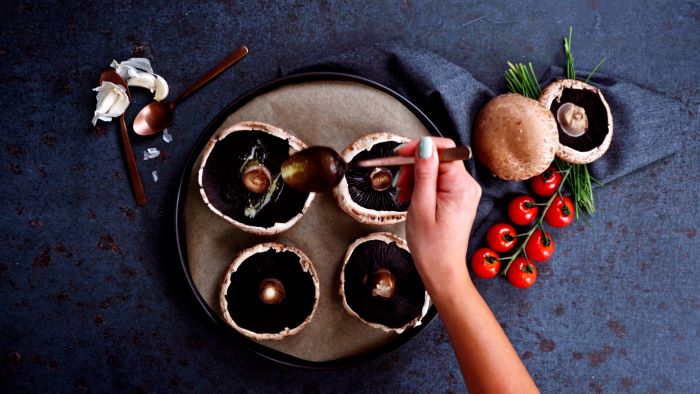 You can put more mozzarella and tomatoes if you want to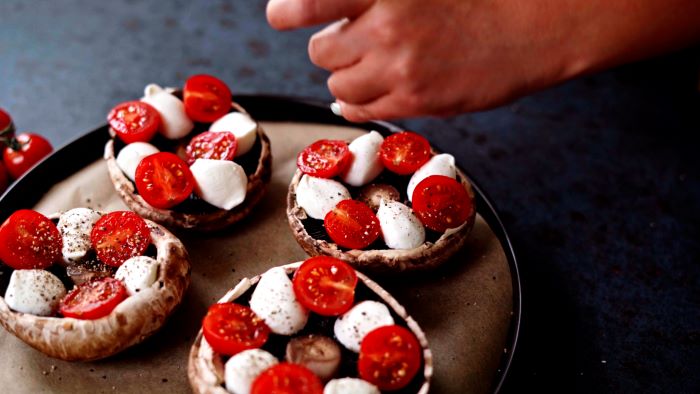 Mix the sauce well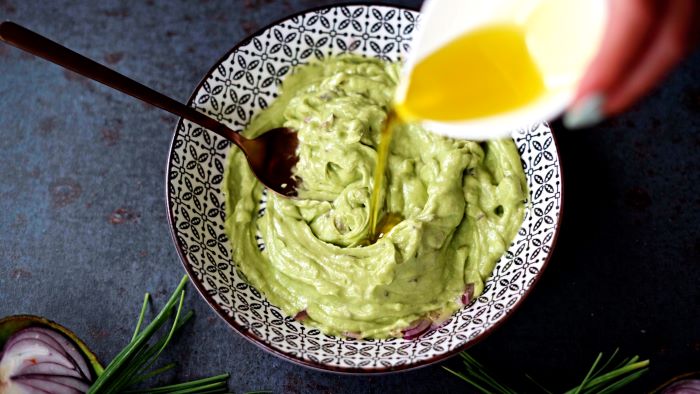 And put as much as you want from it on the mushrooms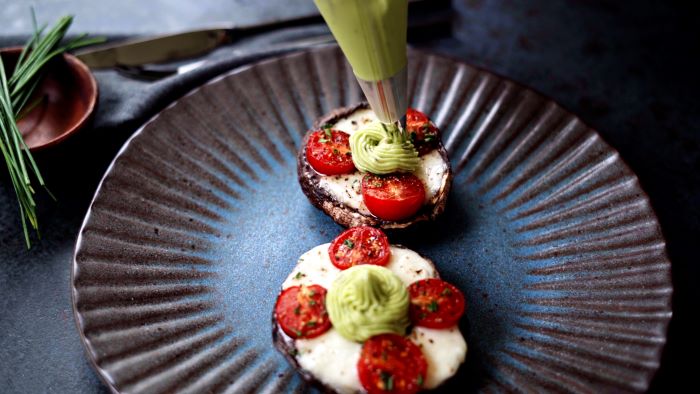 Recipe for scrumptious stuffed tomatoes with quinoa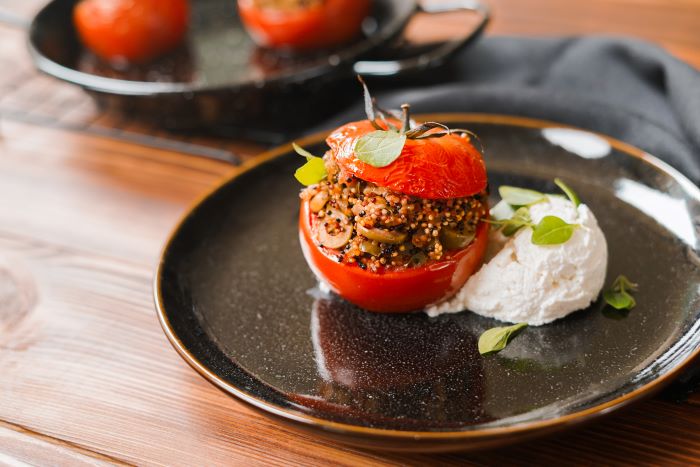 Birthday party food ideas
Ingredients:
3 firm tomatoes
2 tbsp olive oil
1 yellow onion, chopped
1 green pepper, chopped
2 cloves garlic
1 tsp oregano, dried
1 tsp basil
100gr qinoa mix
50gr green olives, chopped
1 handful cedar nuts
ricotta cheese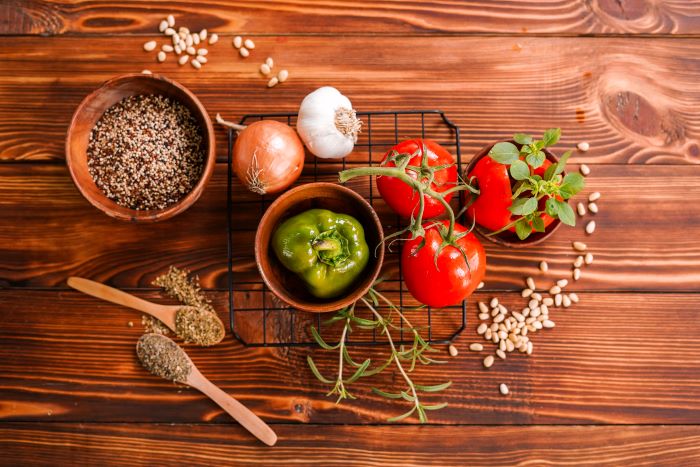 Instructions:
Start by cutting off the tops of the tomatoes and carefully taking their insides out. Keep the tops.
Heat olive oil in a sauce pan and add the onion. Cook for a few seconds and add the peppers, garlic, oregano and basil. Cook until the onion is transluscent and add the insides of the tomatoes. Then, add the quinoa mix and olives. Stir well, cook for a few minutes and add the cedar nuts.
Fill the tomatoes with the quinoa mixture, transfer them to a baking tray and cover with the tops. Drizzle with olive oil and bake at 190 degrees for 30 minutes.
Serve with ricotta and fresh basil.
Carefully take the insides of the tomatoes out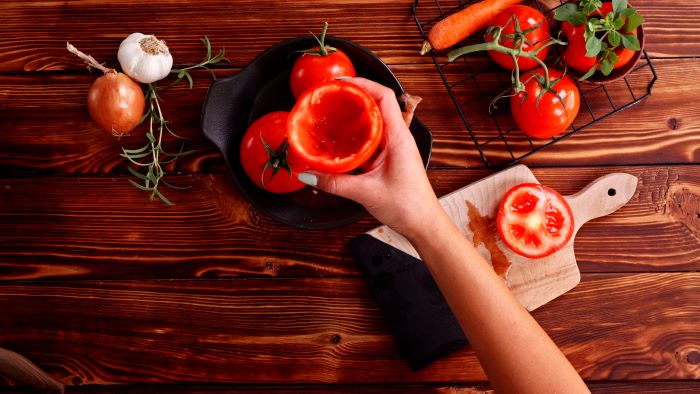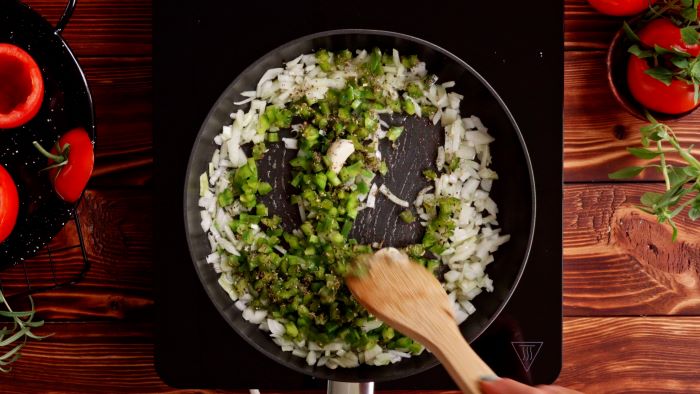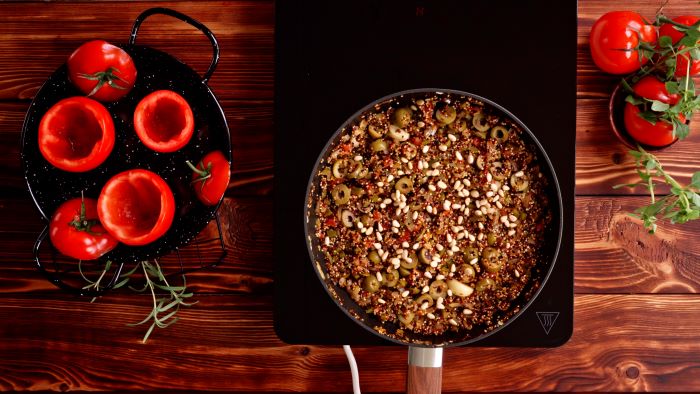 Use the olive oil generously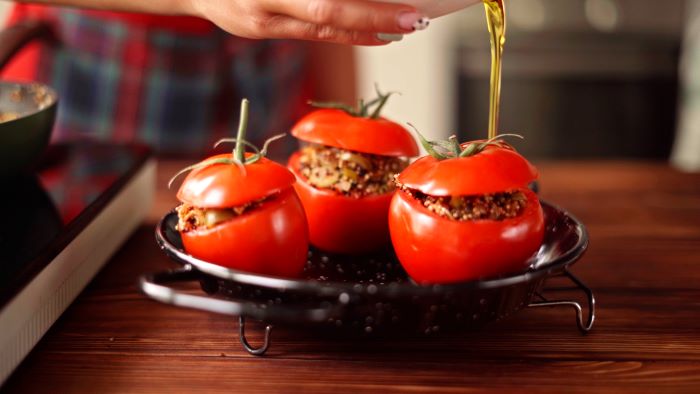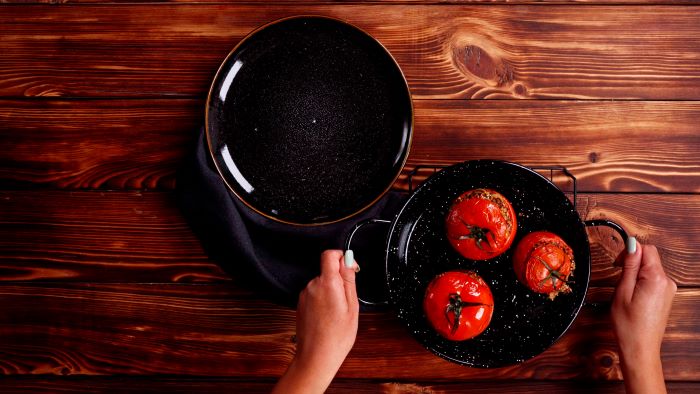 Tuna tartare recipe for all the seafood lovers out there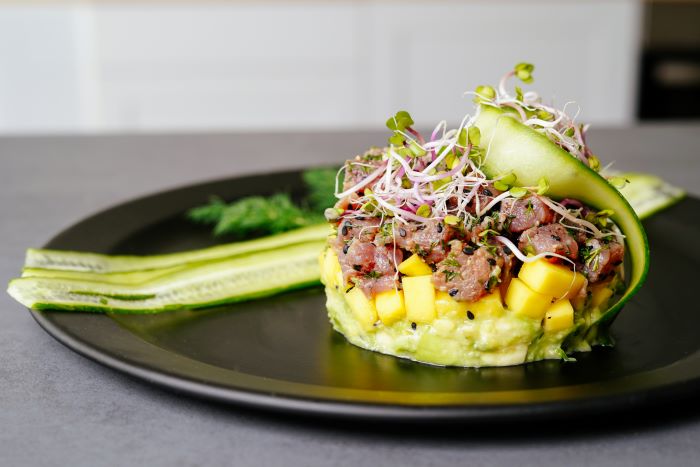 Best appetizers to bring to a party
Ingredients:
tuna steak
fresh dill
green onion
chilli pepper
juice from 1/2 lemon
1 tsp black pepper
2 tbsp soy sauce
black sesame seeds
mango cubes with black sesame seeds
sprouts
For the avocado sauce:
1/2 avocado
2 tbsp sesame oil
1/4 cucumber
juice from 1/2 lemon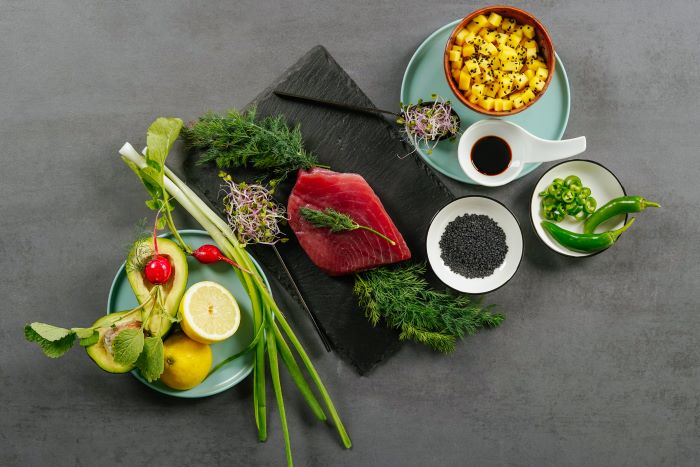 Instructions:
Cut the tuna into cubes and chop the dill, onion and pepper.
Fill a bowl with ice and place another bowl on top of it. Transfer the chopped ingredients to the bowl, add the lemon juice, black pepper and soy sauce and mix well. Add the black sesame seeds and mix again.
In another bowl add the cubed avocado with the rest of the ingredients for the sauce. Slightly mash the avocado.
Place a small round ring from a cake baking tray on a plate. Add the avocado sauce on the bottom. Top with the cubed mango with black sesame seeds. Place the tuna on top and remove the ring. Garnish with a cucumber slice and sprouts.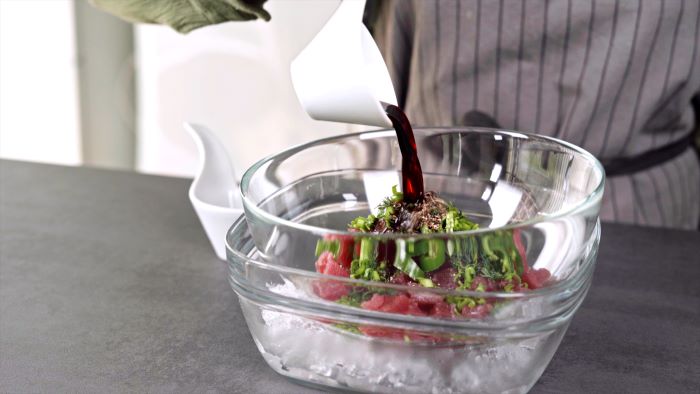 You don't have to mash the avocados completely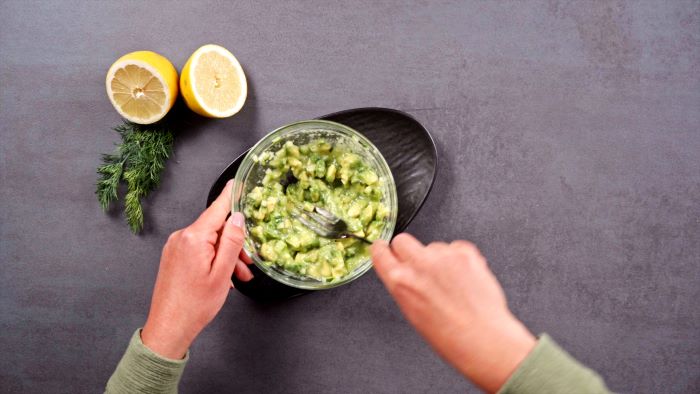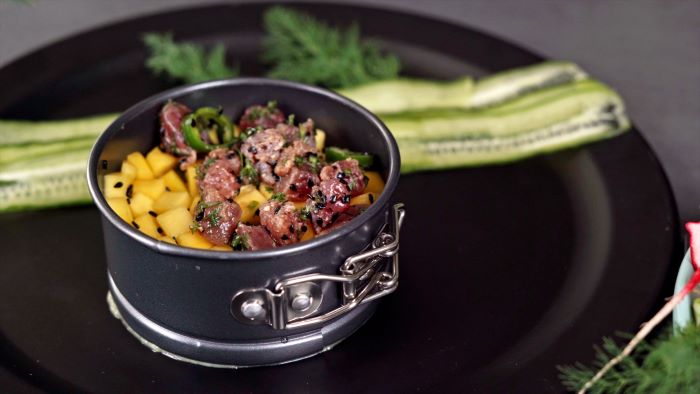 Tasty summer appetizer – zucchini fritters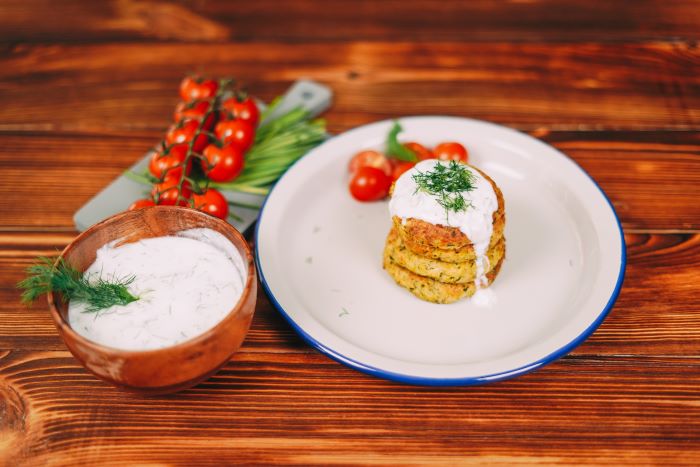 Summer finger foods for party
Ingredients:
1 yellow squash
1 zucchini
2 eggs
125gr shredded cheese
6 tbsp breadcrumbs
2 tbsp grated Parmesan
1/2 a bunch fresh dill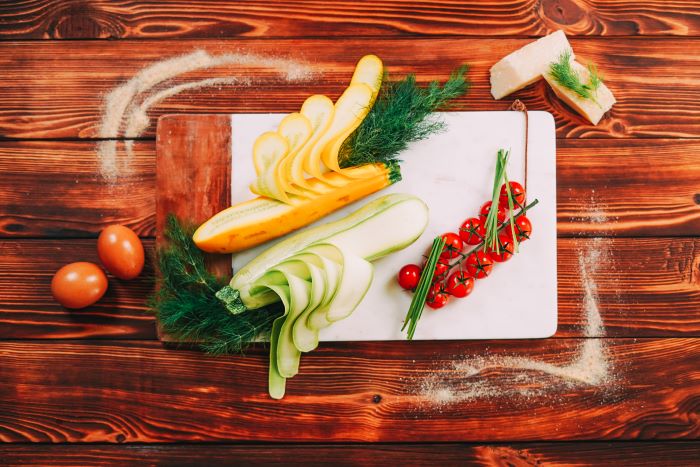 Instructions:
Start by shredding the squash and the zucchini. Place them in a towel and drain all the excess water.
Transfer them to a bowl and add the eggs, mix then add the shredded cheese, breadcrumbs, parmesan and dill. Mix until everything is fully incorporated. Grab a handful and shape into a meatball.
Place the meatballs on a paper lined baking sheet and bake at 190 degrees for 20 minutes.
Serve with tzatziki sauce and fresh dill.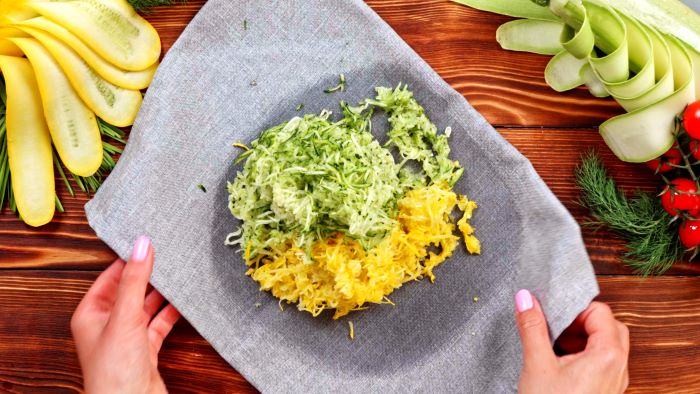 Such and easy recipe – all you have to do is mix everything in a bowl