---
Going out and partying is something that almost seems wrong at the moment. However, a small at home get together is always a good idea. And if you are the designated hostess of your friend group's parties, we are rooting for you. What's more, we want to help you impress your friends and guests even more. Which is why in this article, we are going to show you how to assemble a meat and cheese platter for the ages. So, keep reading to find a bunch of charcuterie board ideas, what it actually consists of, as well as ideas for what types of meat, cheese, fruits and condiments to use. Trust us, follow our tips and your friends will be super impressed by your hosting skills at your next get together.
Impress your guests with a charcuterie board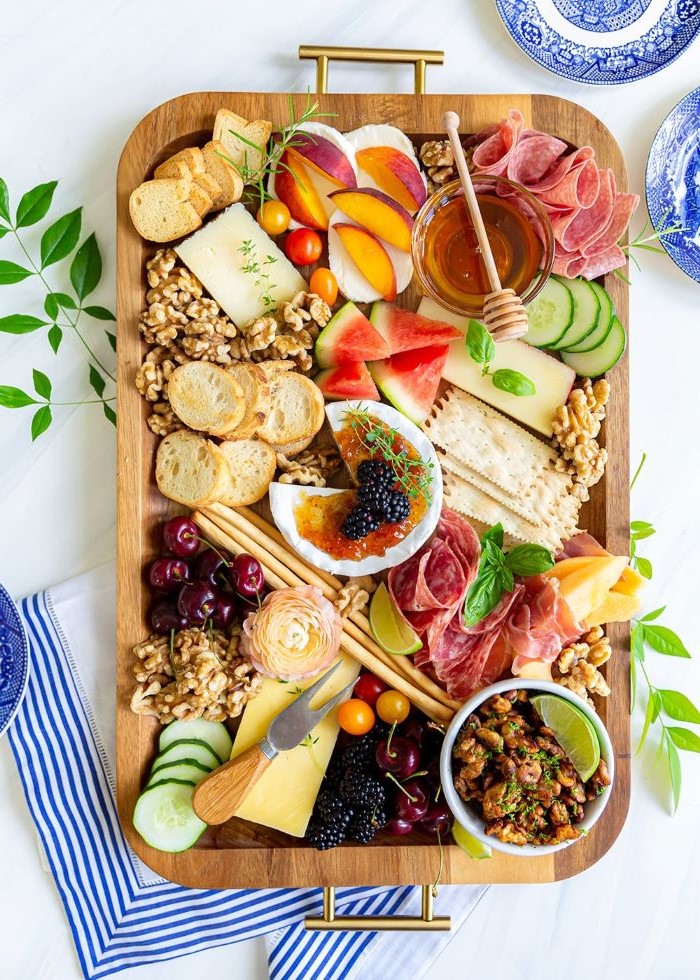 ---
What is a charcuterie board?
In general, a charcuterie board is a meat and cheese platter. However, it has become so much more than that. The art of charcuterie is the preparation of cured or smoked meats. How to pronounce charcuterie, you may ask? Well, it is pronounced shahr-koo-tuh-ree. So, nowadays, these platters are a must have part of the menu. They consist of the must have cheeses and meats, as well as fruits, veggies, nuts and different condiments. In general, you can assemble a charcuterie platter from literally anything you can find in your fridge. There are, however, a few things, which are staples and you definitely need to use. So, keep reading to find out how to build a charcuterie board.
Meat and cheese are must haves on the platter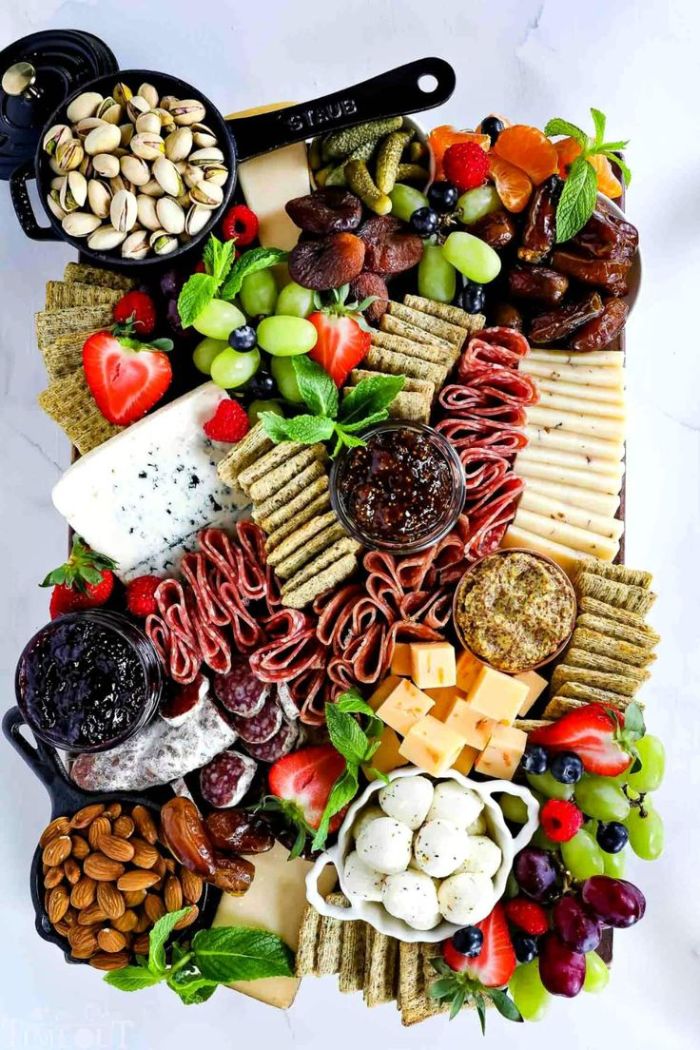 What is in a charcuterie board?
As we have already stated you can put anything on a charcuterie board. But, there are a few things, which are always there:
meat
cheeses
bread and crackers
fruit and nuts
pickles or olives
dips
Of course you can always be creative with the things you put on the board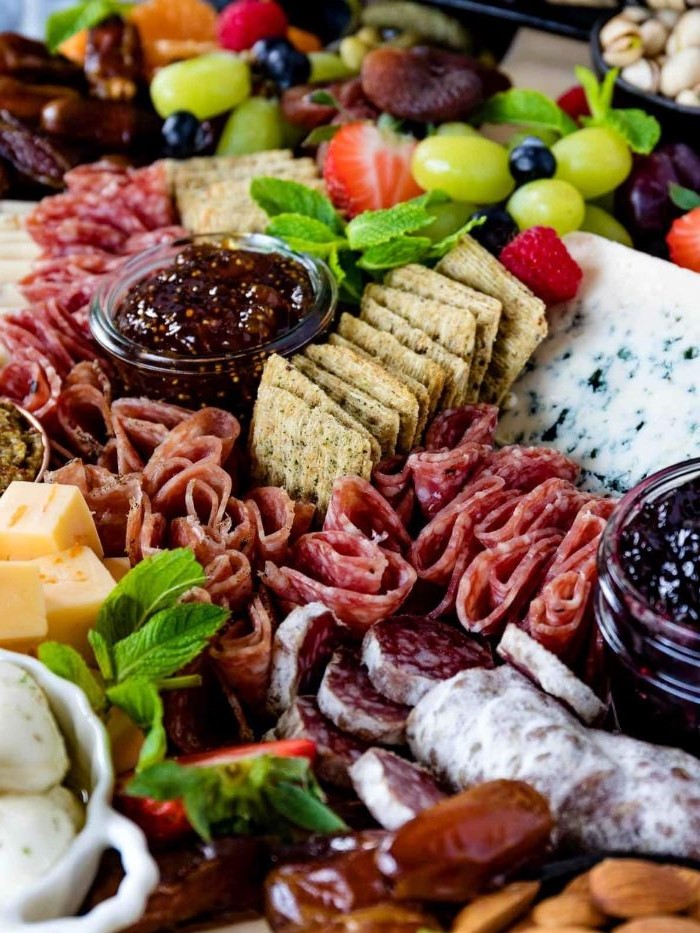 What meats go on a charcuterie board?
In general any type of cured meat works on a charcuterie platter. You can also add more than 2 types, it is up to you. Salami, pepperoni, prosciutto and ham work great. However, you can always add cooked sausage or even steak cut into pieces. Count about 3-4 slices per person. Also, don't forget to be creative when displaying the meat on your board. You can roll up the salami and create interesting shapes, so it looks beautiful and interesting.
Carefully select your meat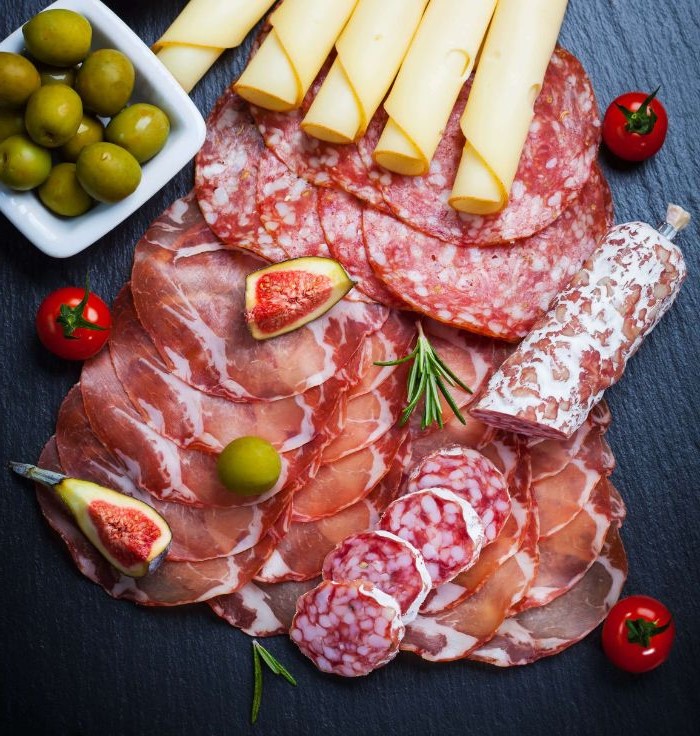 ---
What cheese goes on a charcuterie board?
All types of cheeses are welcome on a charcuterie platter. Wedges of brie cheese or blue cheese look great. What's more you can bake the brie with some jam and let it be the main focus of your platter. Cheddar, Gouda, mozzarella, feta or even parmesan can be used on a board. Below you can find a detailed list of the different types of cheese as well as their best pairings. After all, you want to have pieces on your charcuterie board, which compliment each other. So, have a look at the list and choose the type of cheese you want to serve and find out what to pair it with.
Detailed list of the types of cheese you can use and what to pair it with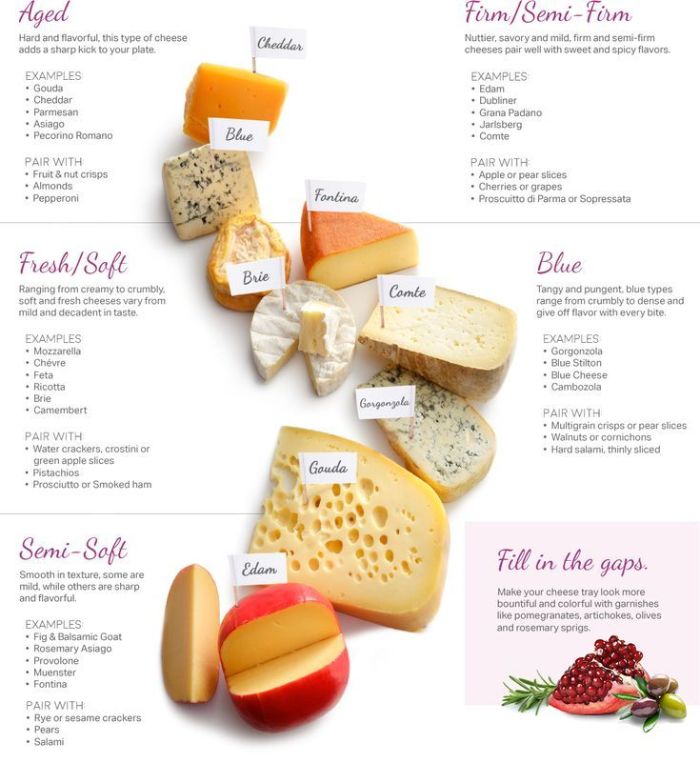 Charcuterie board ideas for the rest of the items you need to add
Bread and crackers – this is pretty straight forward. Add a selection of crackers, which can have herbs in them or different kinds of seeds. When it comes to bread you can use a baguette to which you can add butter and garlic or butter and herbs.
Fruit and nuts – it is always a good idea to use seasonal fruits. So, depending on the season choose fresh fruits to add to your board. If you are in the middle of winter, dried fruits are also an option. Nuts, on the other hand, are completely up to you. They are a good complimentary piece to your meat and cheese platter.
Pickles and olives – another good complimentary piece to the rest of the board. Having something pickled added to your charcuterie platter will add some sourness to the meat and cheese.
Dips – any type of condiments are welcome as long as they compliment your meat and cheese. If you are using brie cheese for example, it is a good idea to have some kind of jam or even honey. Hummus, spinach dip, onion dip and just dip of any kind are great additions to your multi-flavoured platter.
You have so many options for things to add to your platter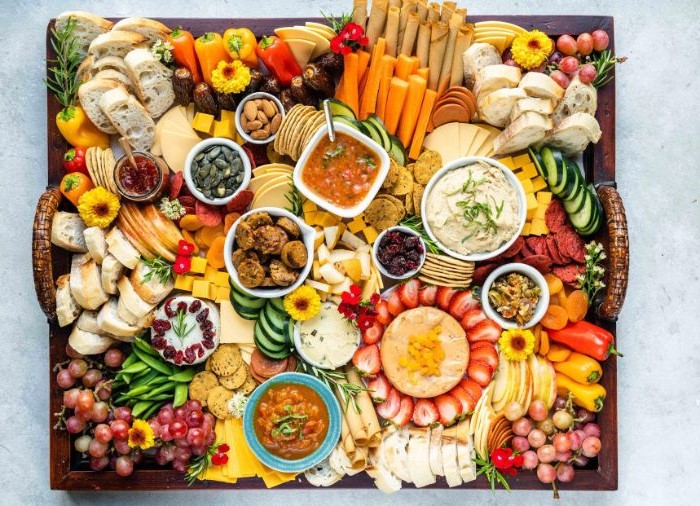 How to assemble a charcuterie board?
There are a few steps to follow to assemble the perfect charcuterie board:
Prepare your board. Choose a wooden or marble board, which is big enough to fit all of the ingredients you want on your charcuterie platter.
Add small bowls. Scatter small bowls around the board, which your are going to fill later with your jams, dips and pickled veggies.
Prepare all of your ingredients. Peel, cut, slice and make sure all of the pieces are ready to be placed on the board. If you have decided on cooked sausage or baked brie, prepare it beforehand.
Add your cheese. Once again if you are using baked brie as the main focus of your platter, make sure it is the focal point of the board. Then, add the other types of cheese you have decided to use.
Add the meat. Roll up the meat and add it around the cheese. If you are using cooked sausage or steak, cut it in cubes or slices and add it as well. Furthermore, it doesn't have to all be in the same place. You can scatter it around the board.
Add fruits nuts, crackers, bread as well as any types of veggies you are using. Once again feel free to scatter them around the platter.
Finally, fill the bowls with your dips and condiments. You can also use them for the nuts or pickled veggies.
For the gran finale you can add some fresh herbs and twigs for extra decoration. If you are making a holiday platter you can decorate it with things, which are synonymous with the holiday. For example for Christmas you can use rosemary twigs and cranberries.
This is a pretty simple example of what a charcuterie board consists of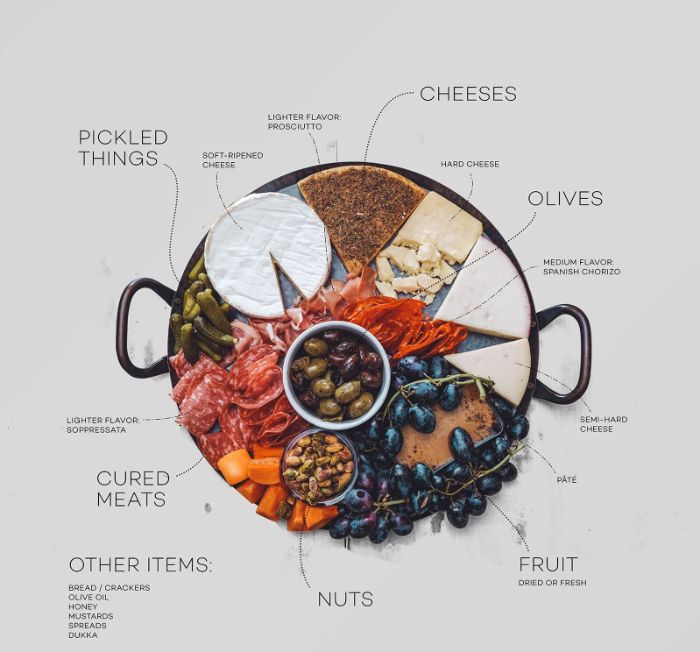 Now scroll through our wonderful, delicious looking photo gallery to find many more examples and steal a few charcuterie board ideas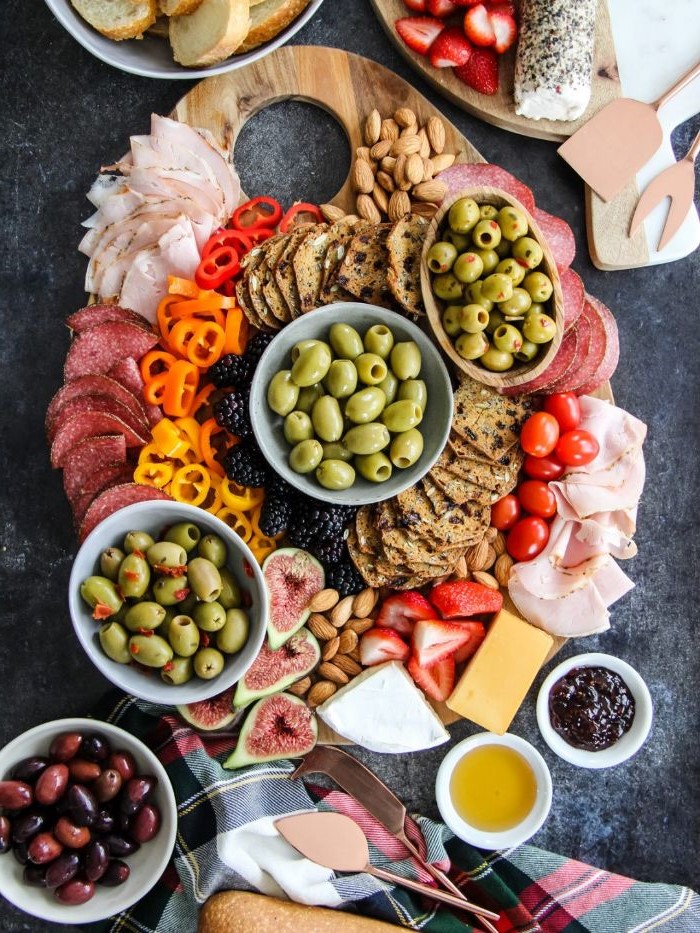 Wine – the perfect addition to a charcuterie platter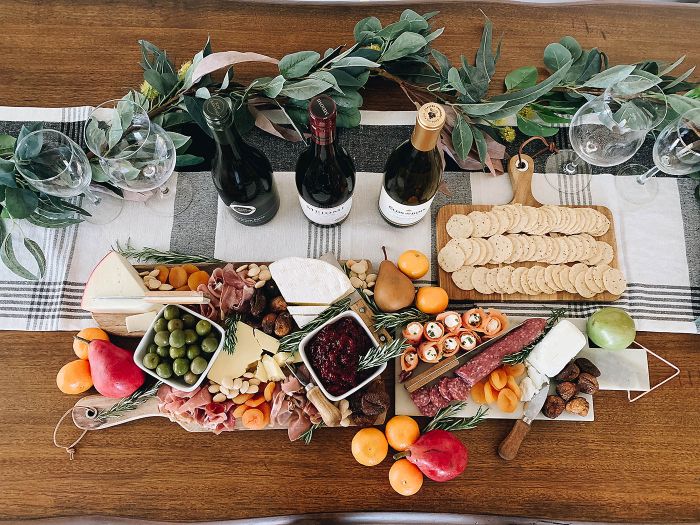 If you know what your friends like to eat you can tailor your meat and cheese platter accordingly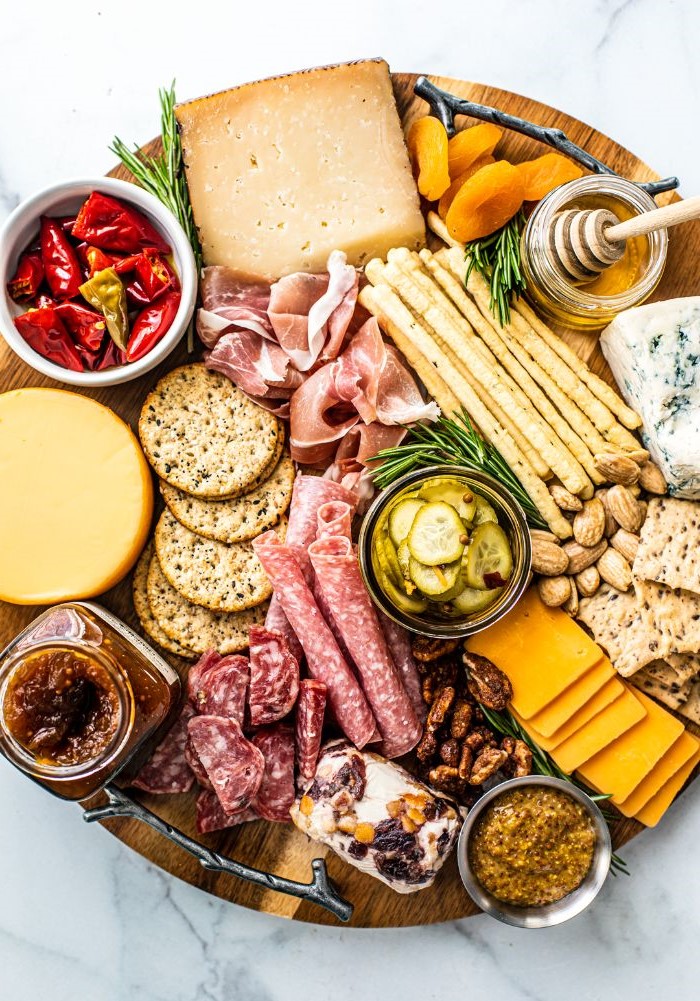 There is no specific way in which you need to arrange the board, it is all about creativity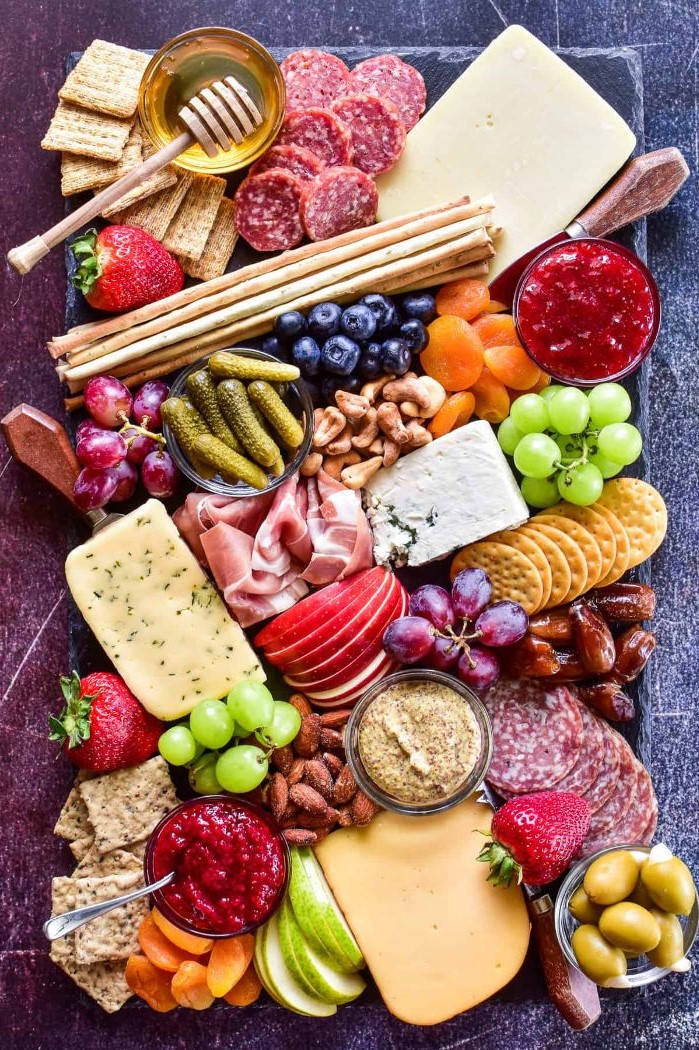 Grape is another great addition to any cheese platter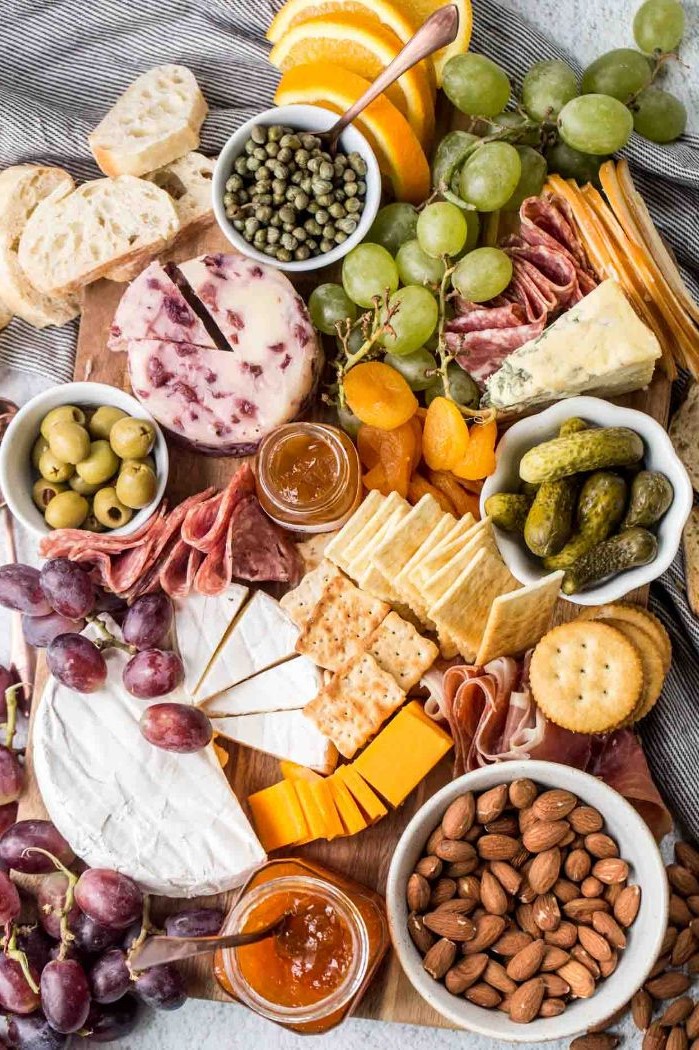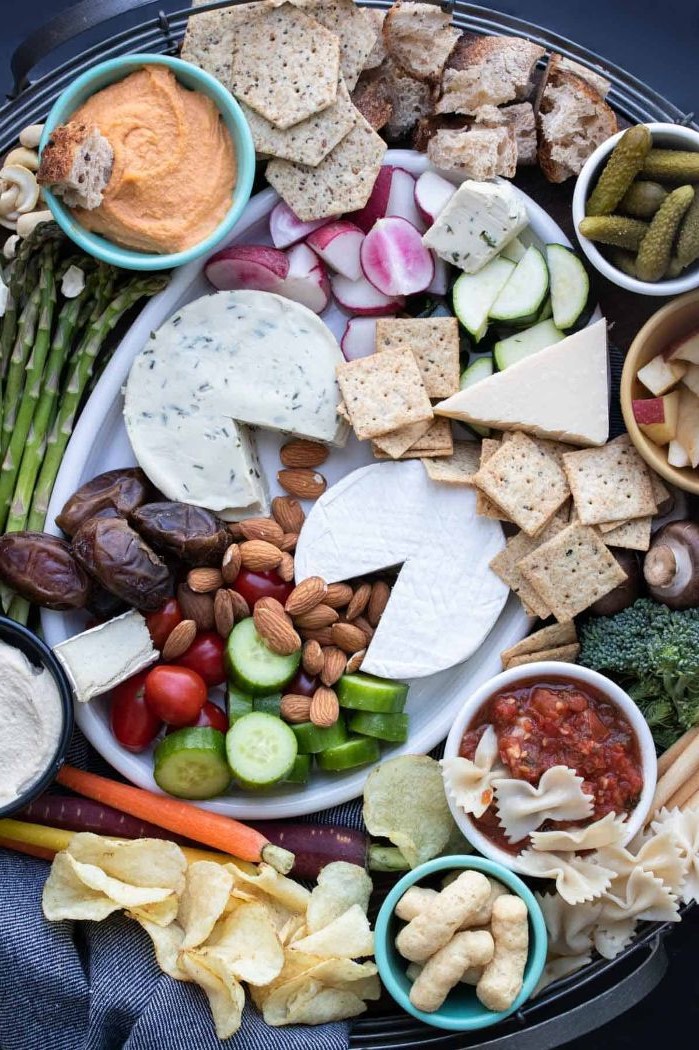 Example of a simple charcuterie board and what it contains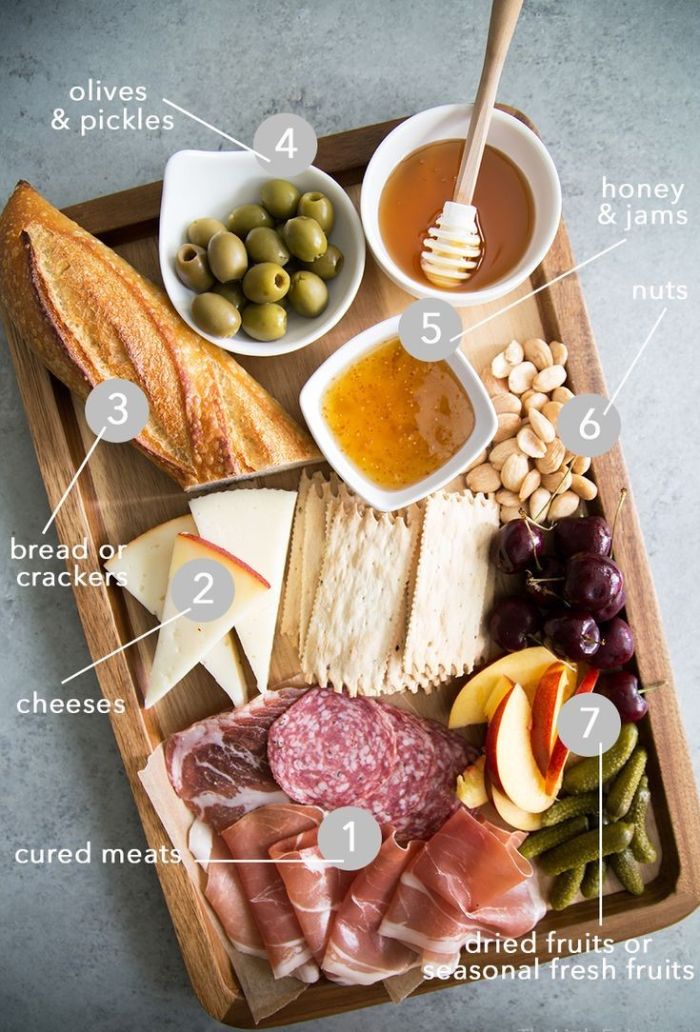 Sweet charcuterie board with chocolate, candy and cookies – perfect for St. Valentine's Day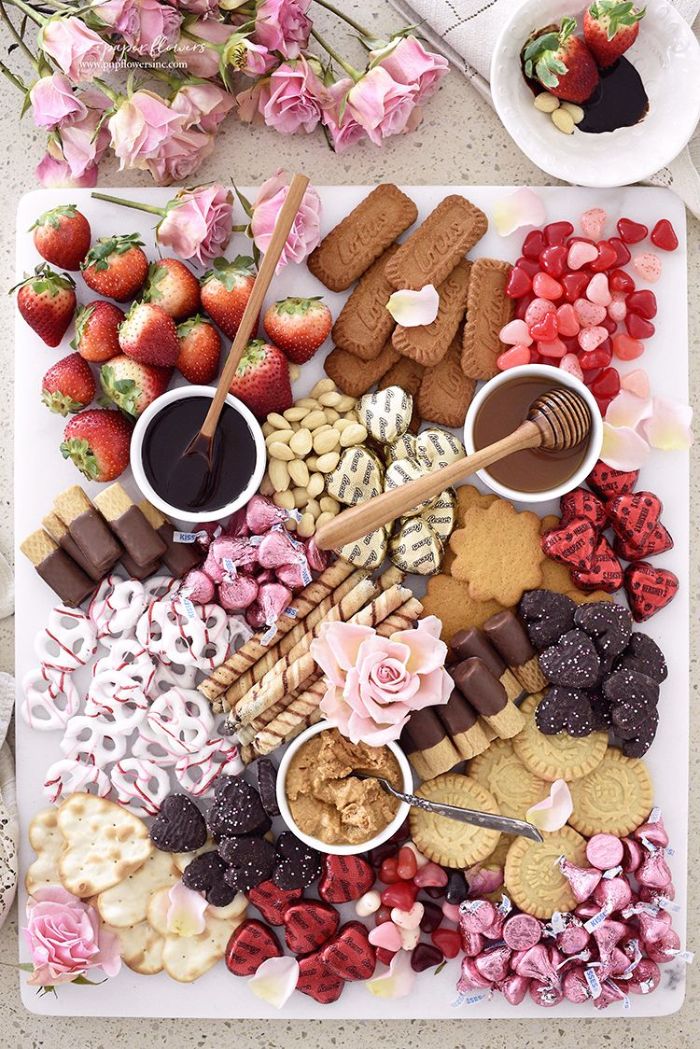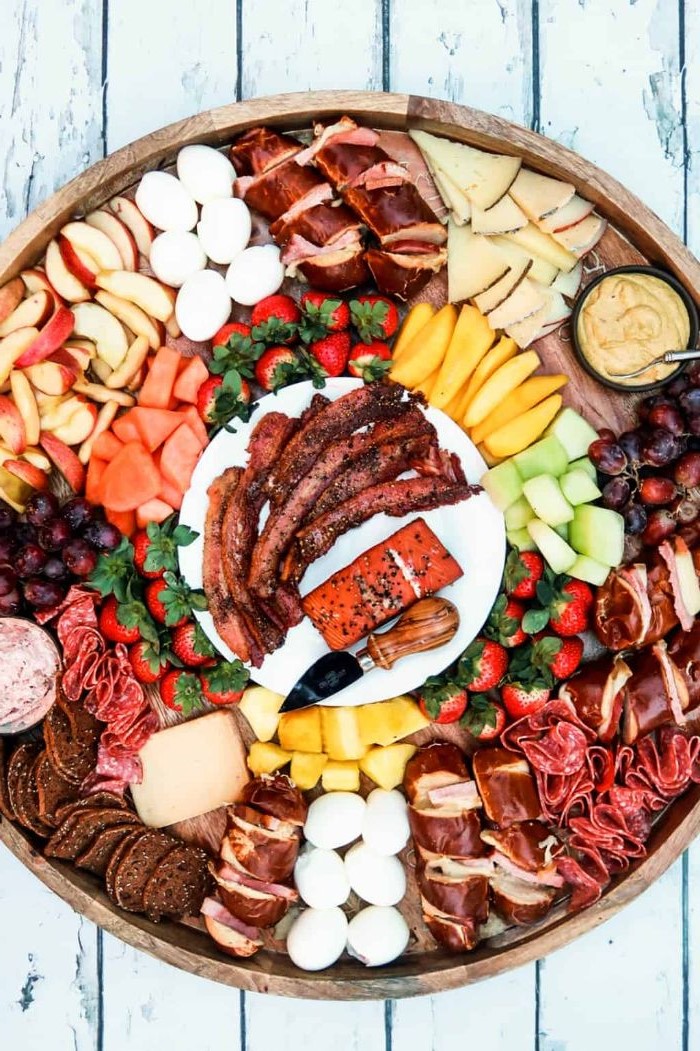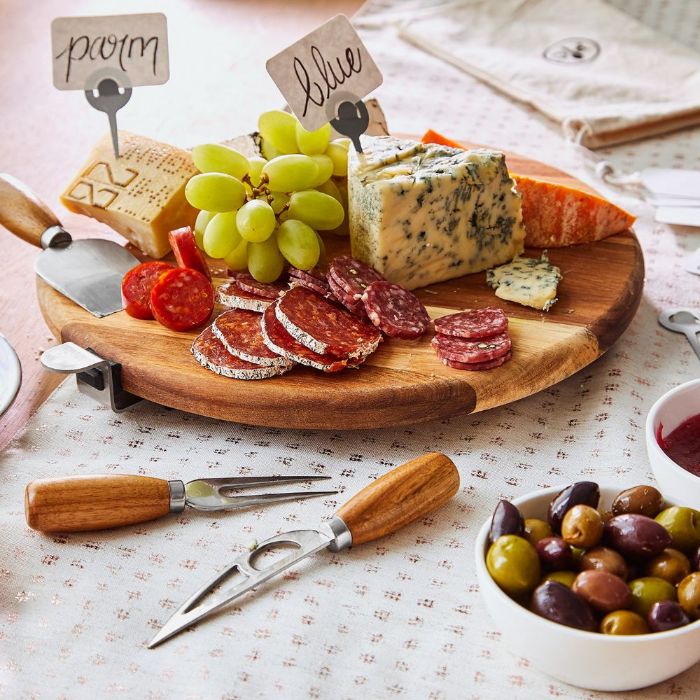 These are probably the best types of cheese to use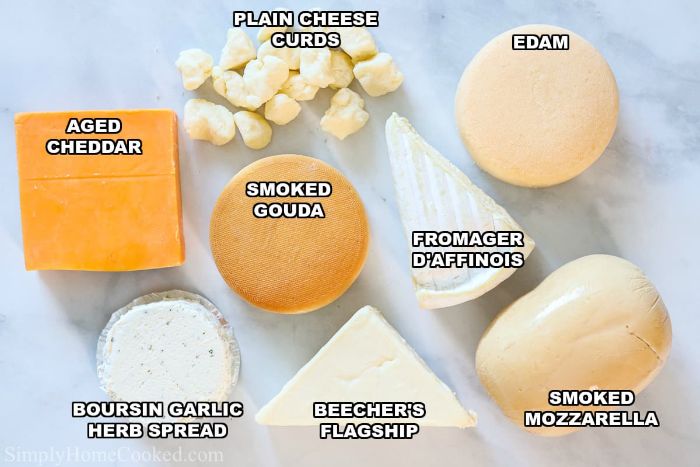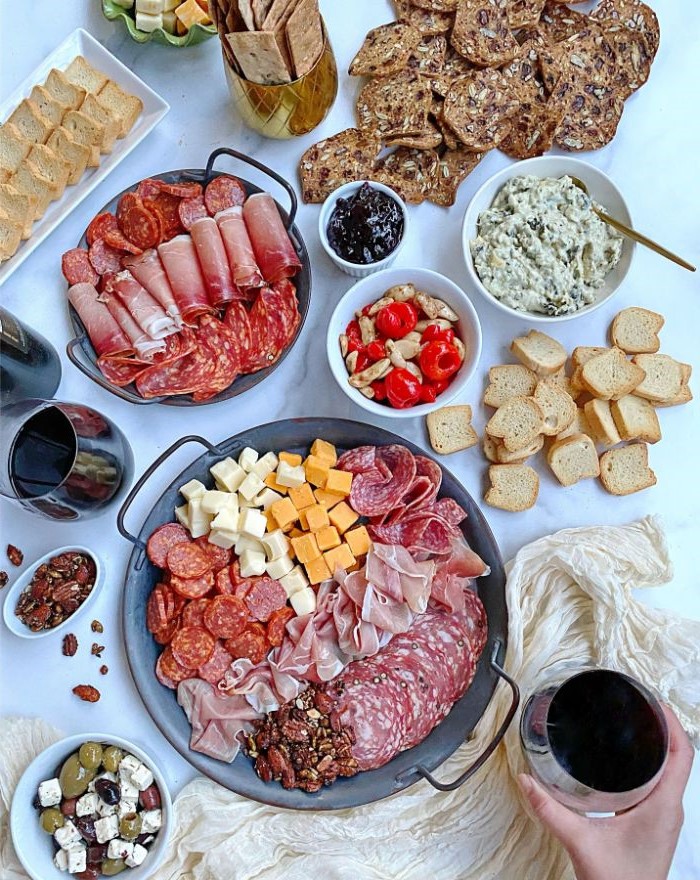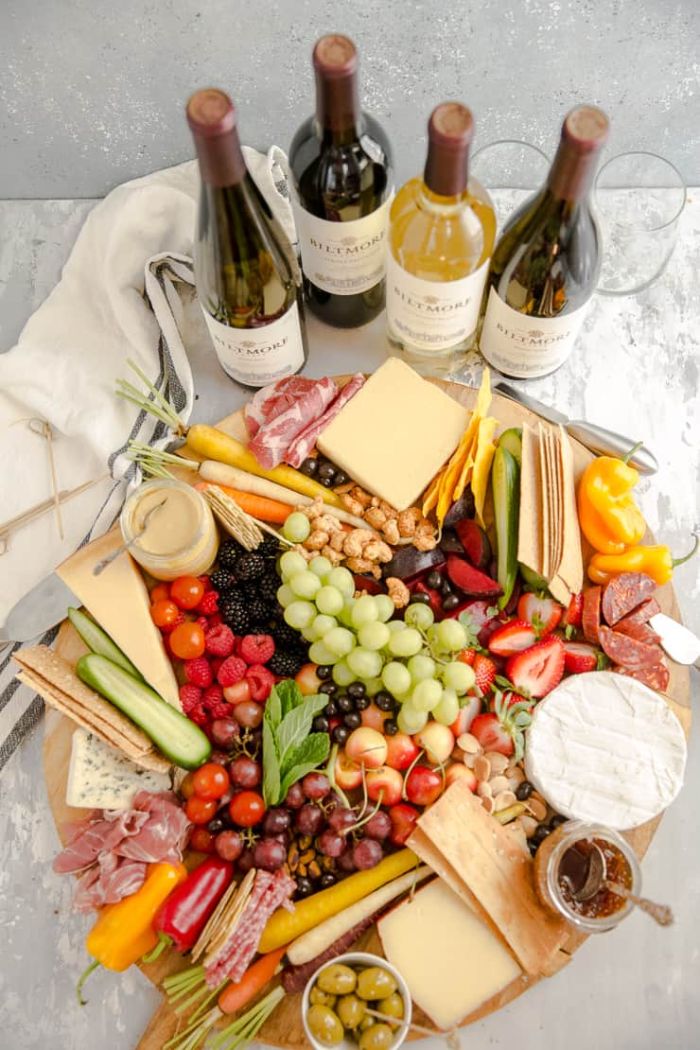 4th of July charcuterie board ideas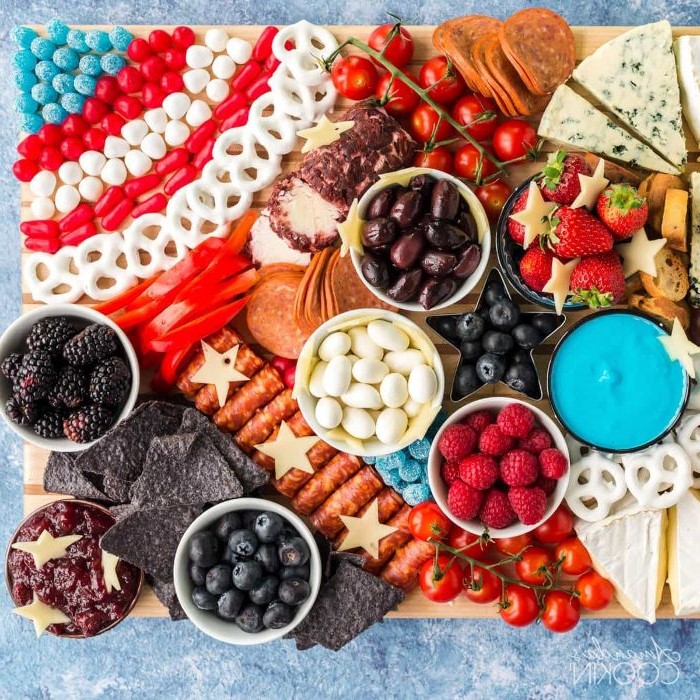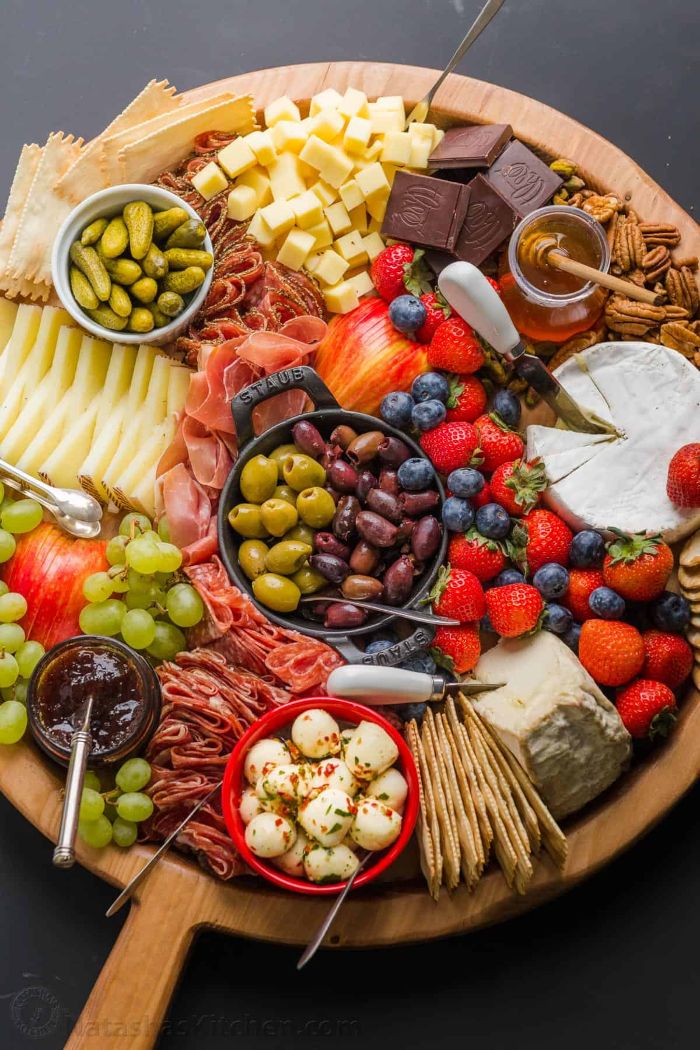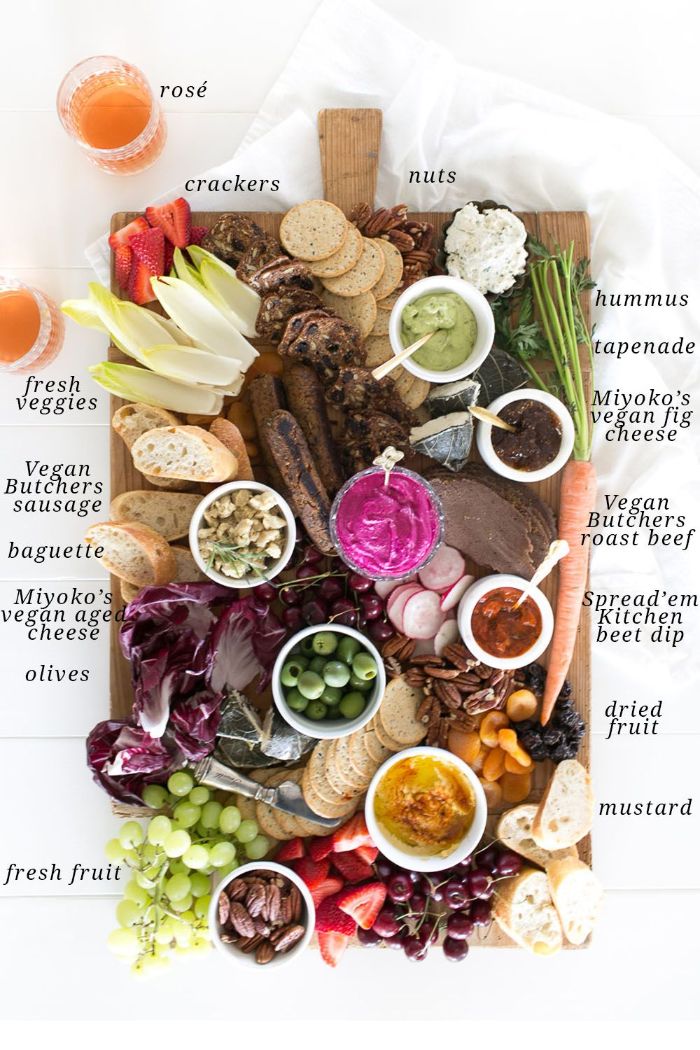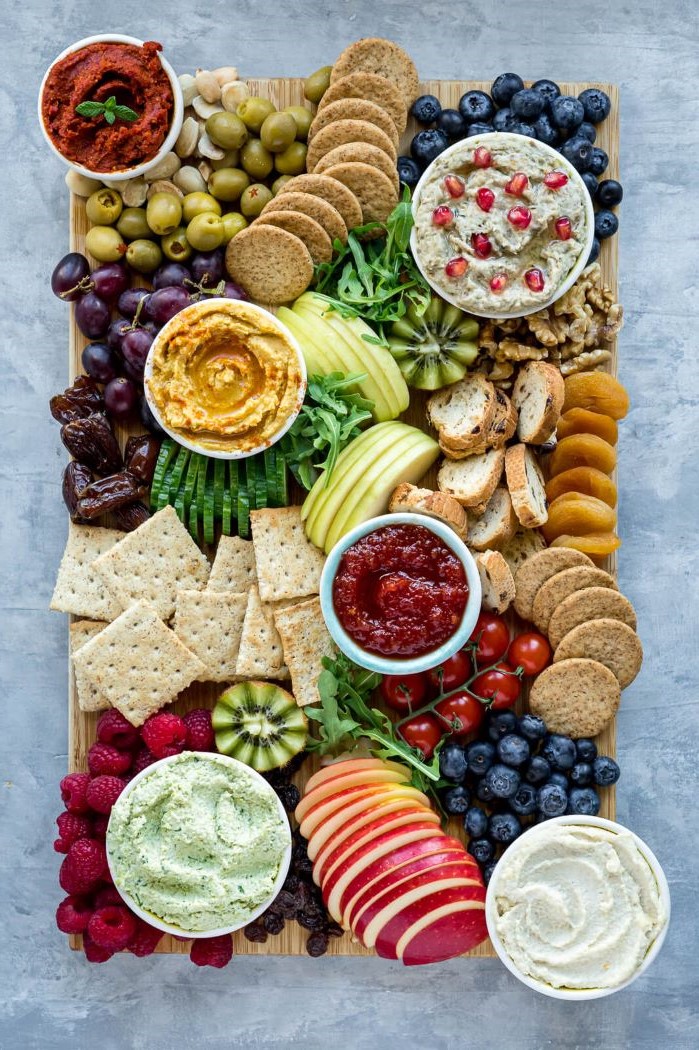 Who says you can only have one board – you can use multiple, instead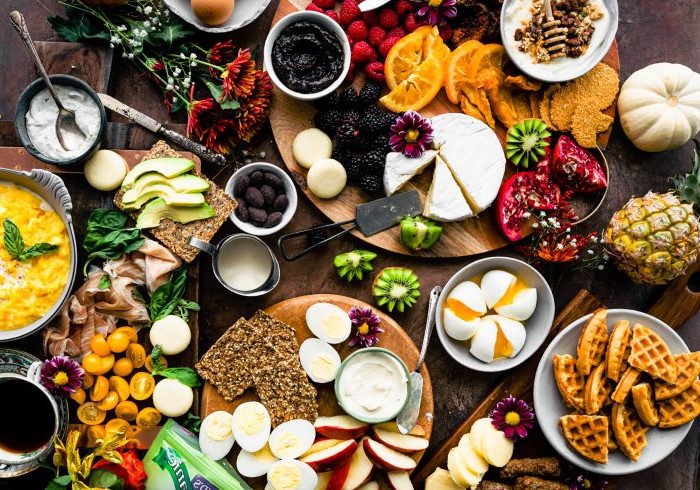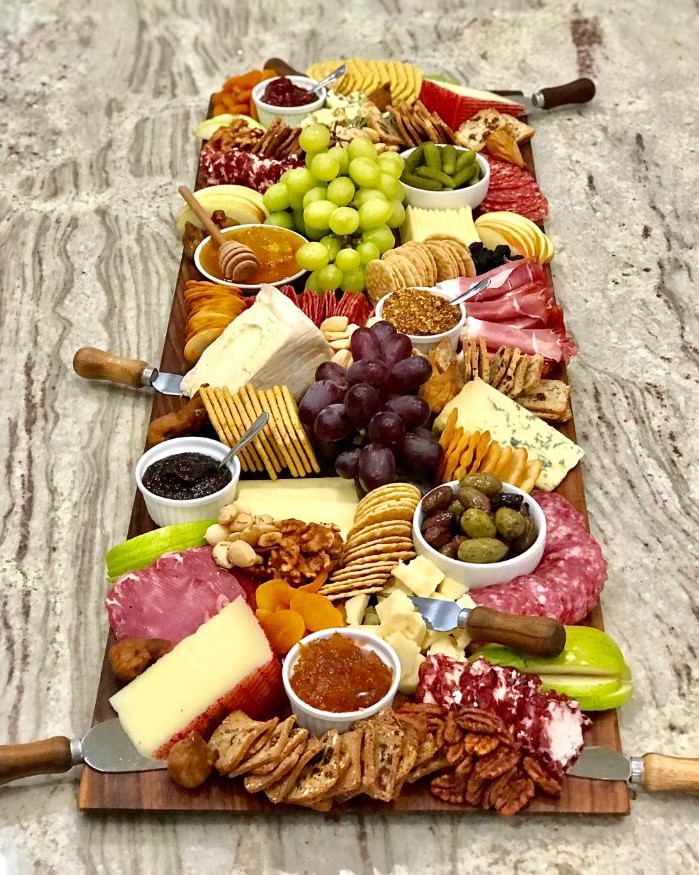 The ultimate charcuterie board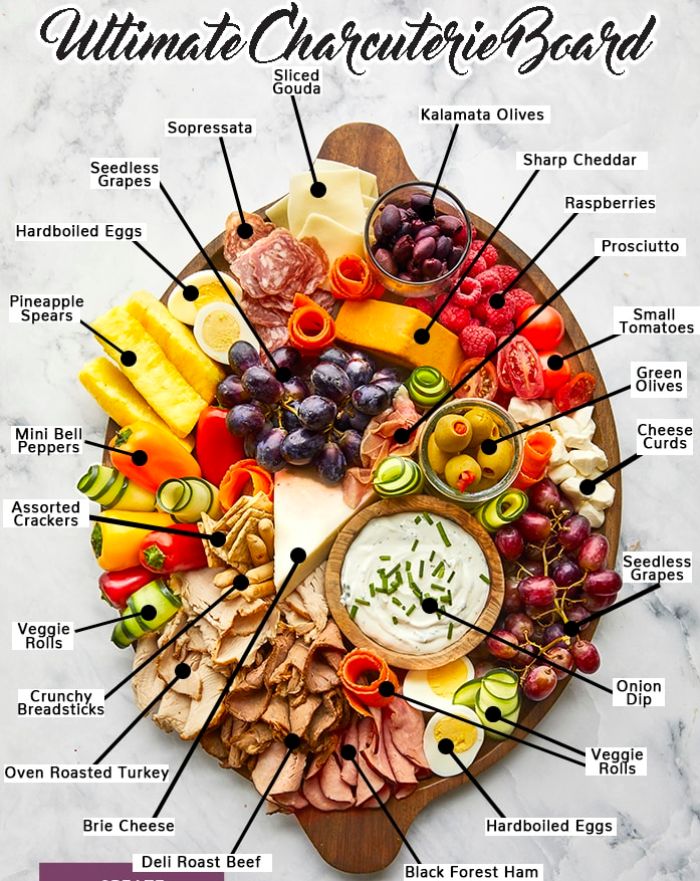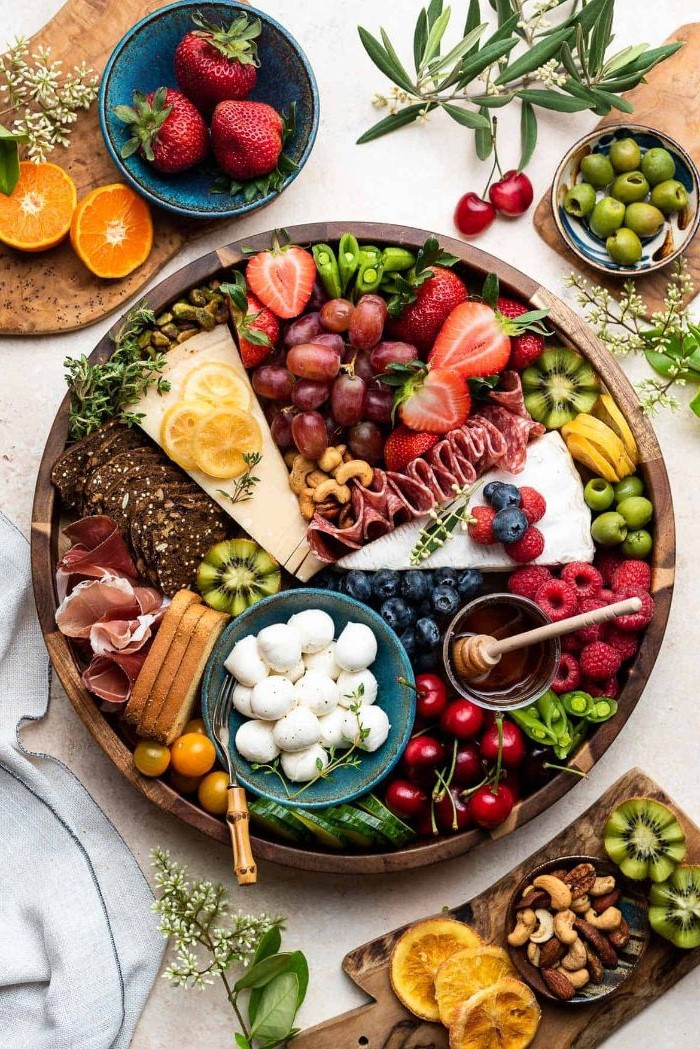 Is there anything better than baked brie with honey, grapes and toasted baguette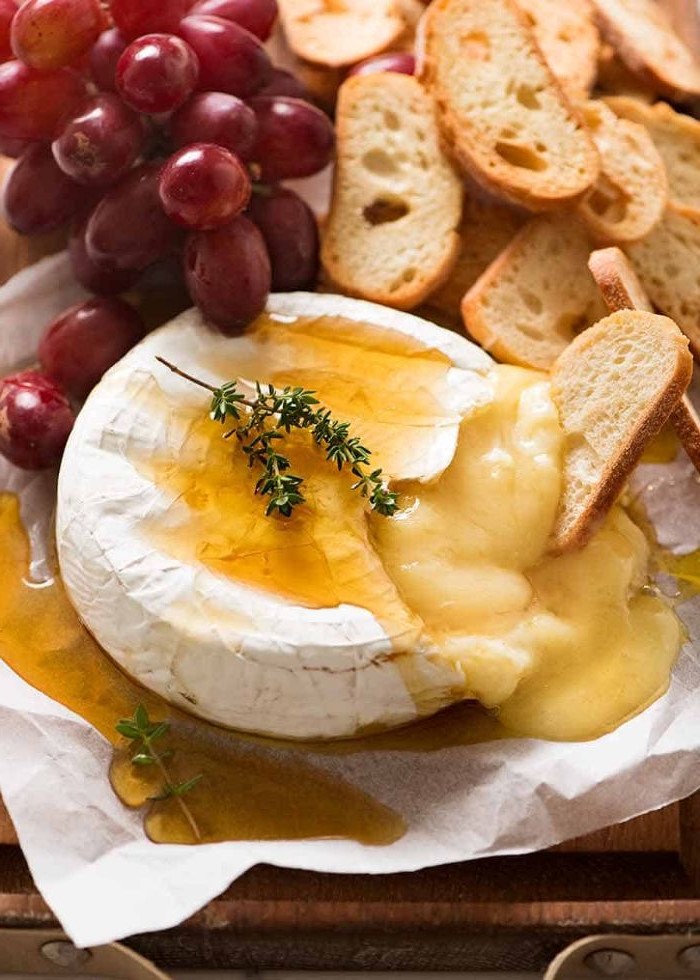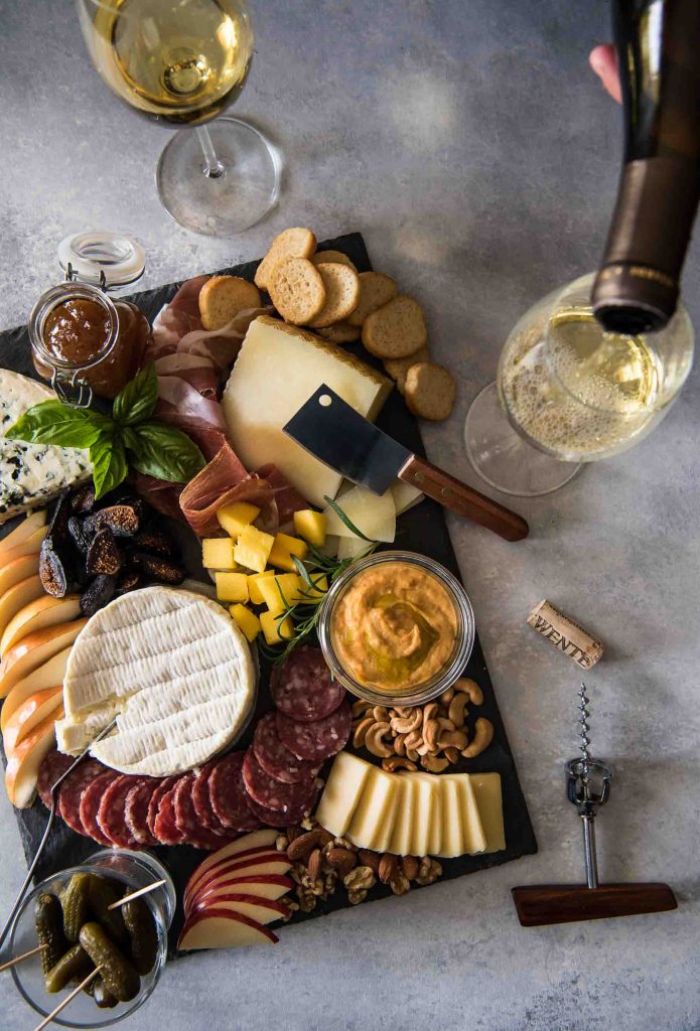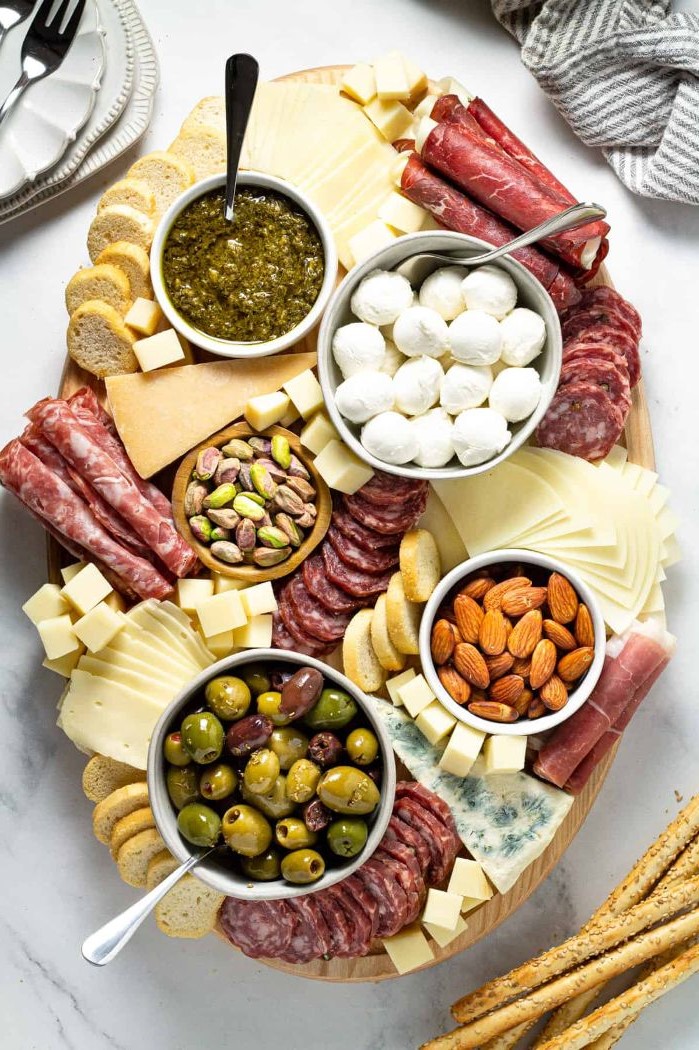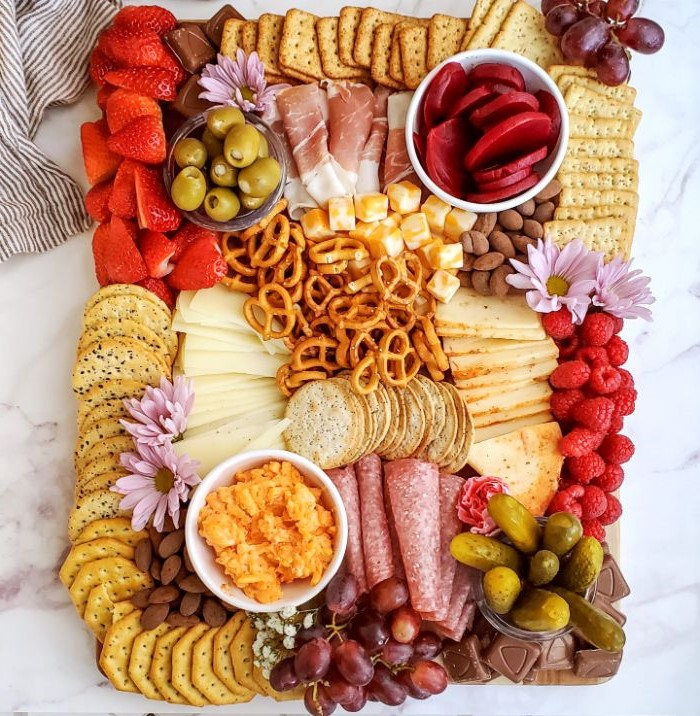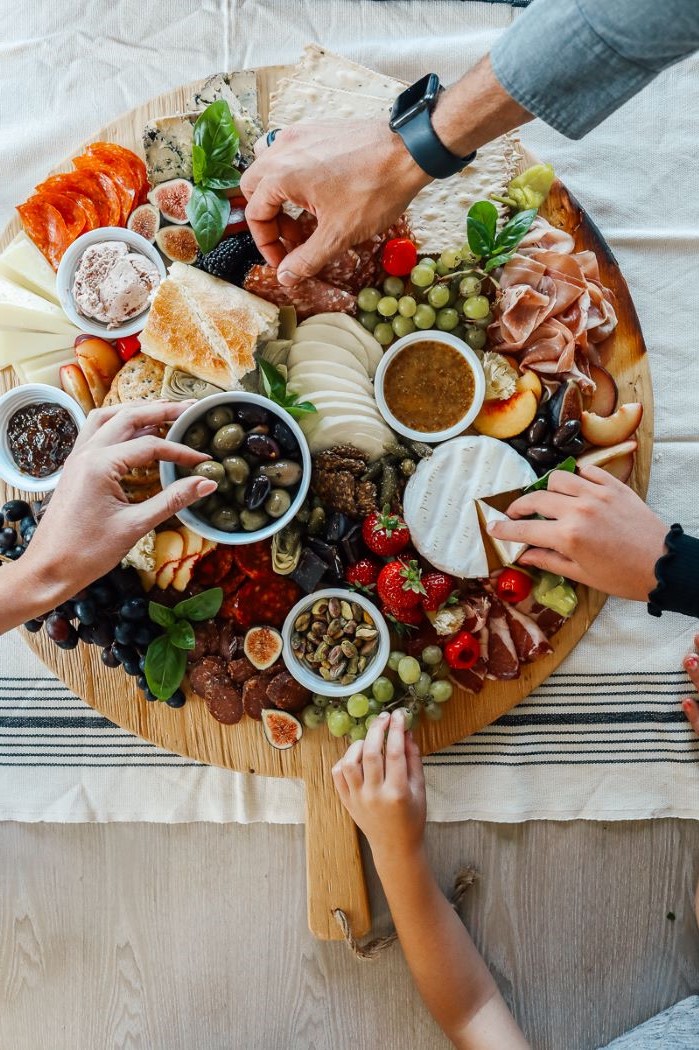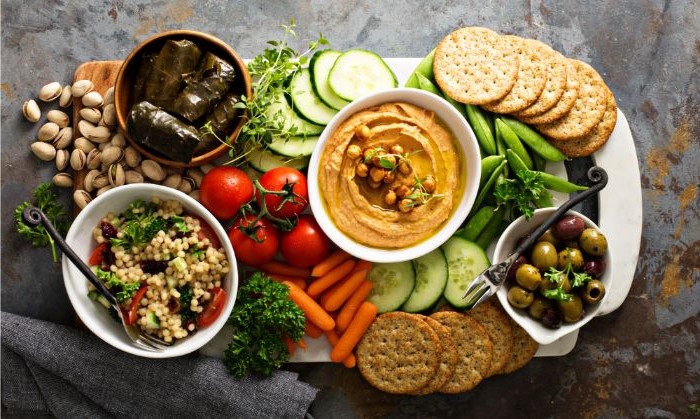 Cute idea for Christmas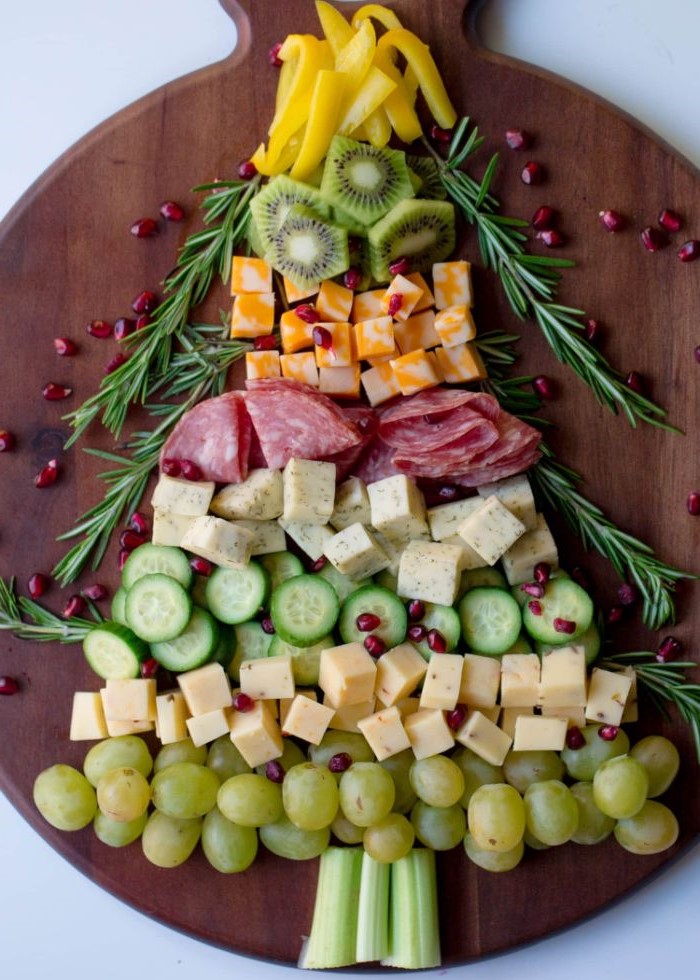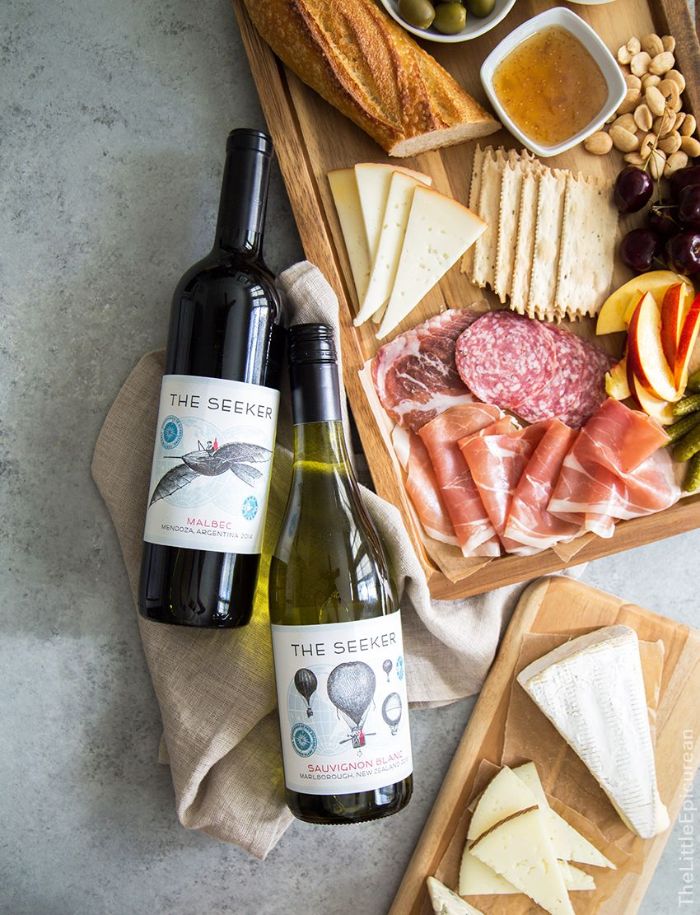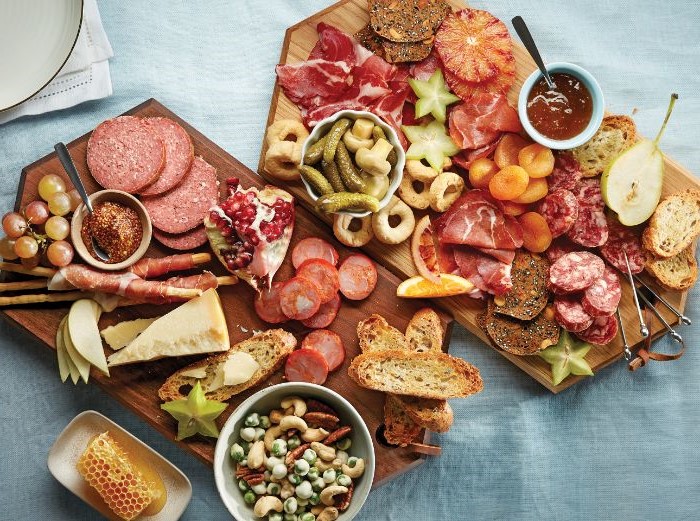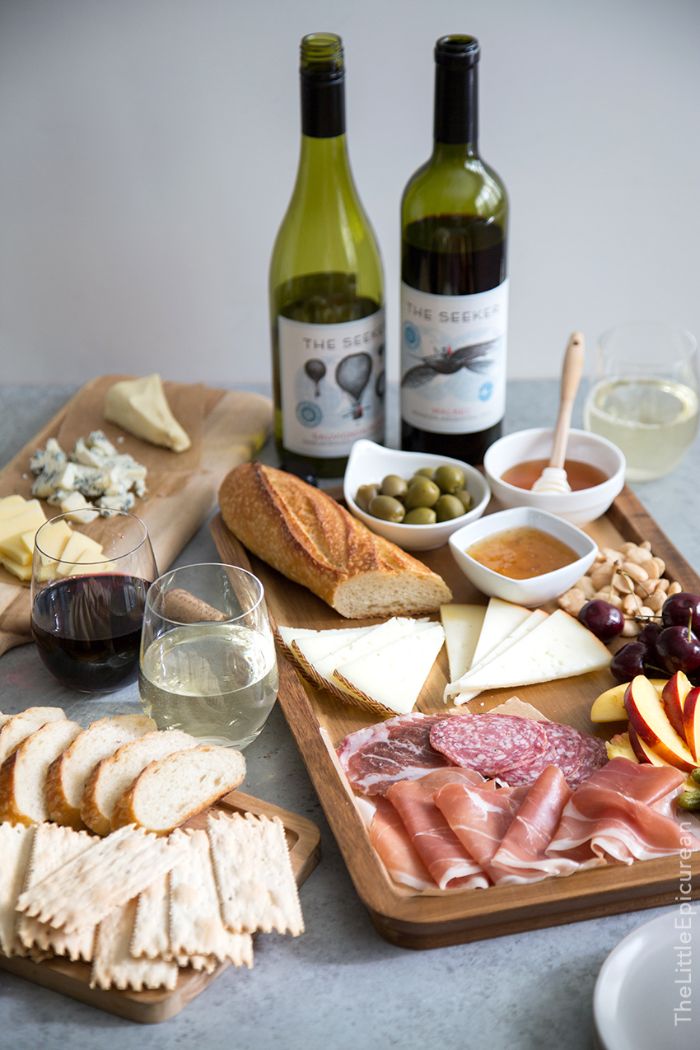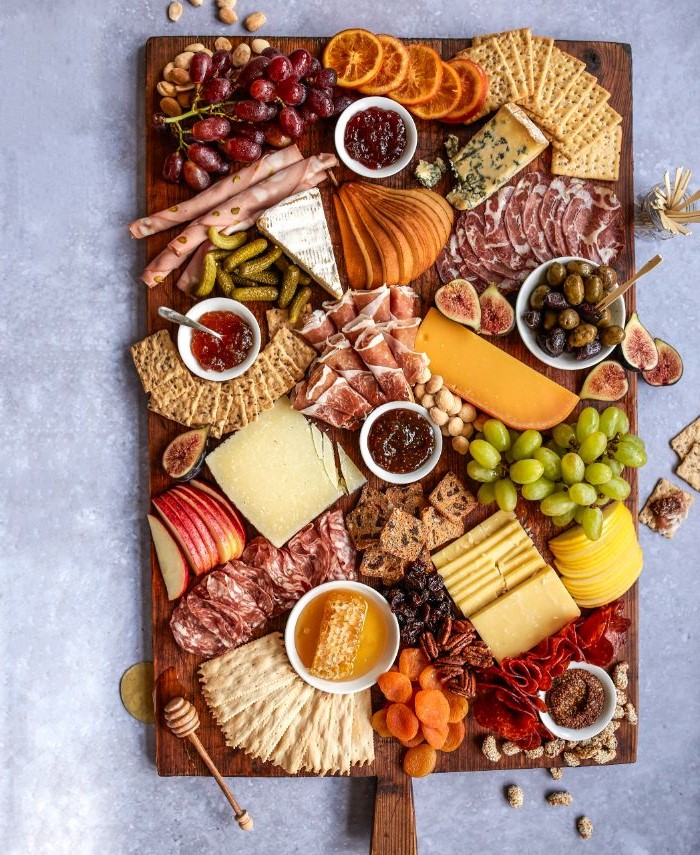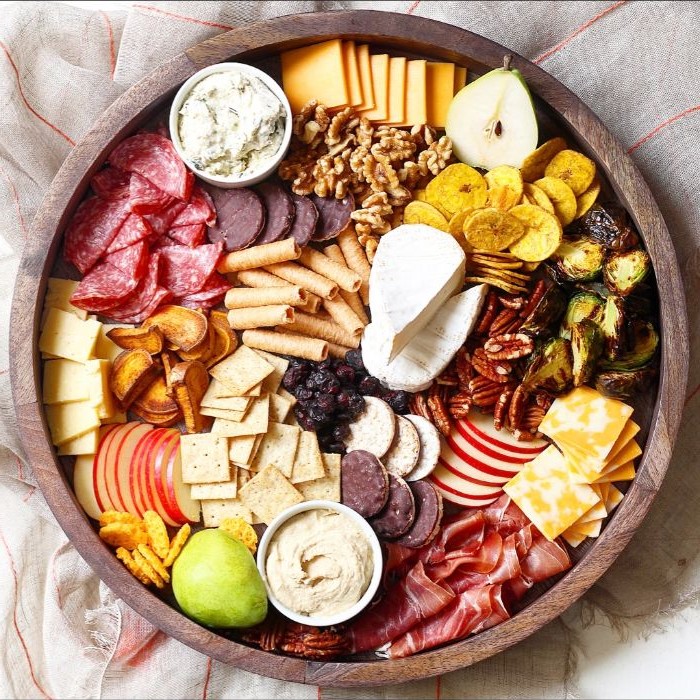 The wine is the most important addition to your meat and cheese platter