---
If you have already started your weight loss journey, good for you! We believe that a healthy lifestyle should be on every person's agenda. And, although movement and exercising is very important, it wouldn't really make much of a difference if you are not eating healthy. Which is why, today, we decided to help you with your meal planning. So, here are 10 easy and healthy recipes for weight loss you can try in order to diversify your meal plan.
Healthy recipes for weight loss with a balance between protein and healthy carbs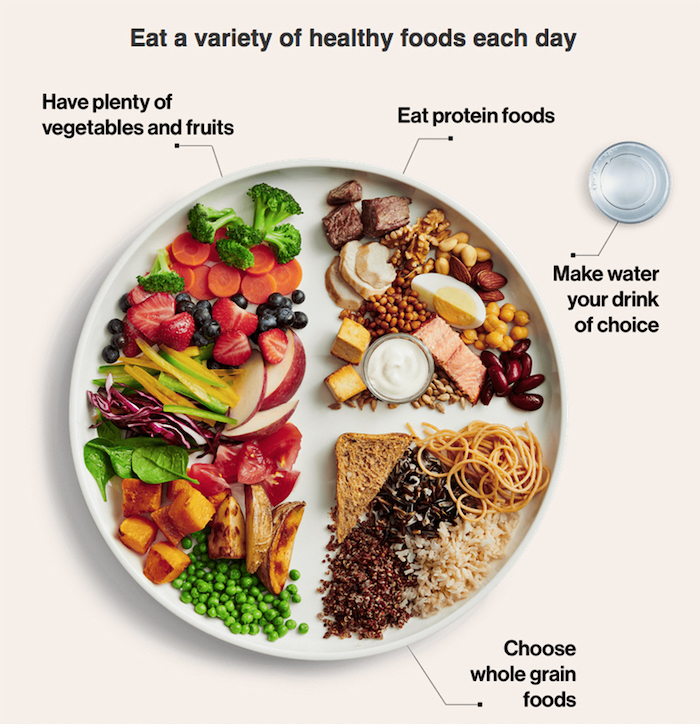 ---
Asian tofu recipe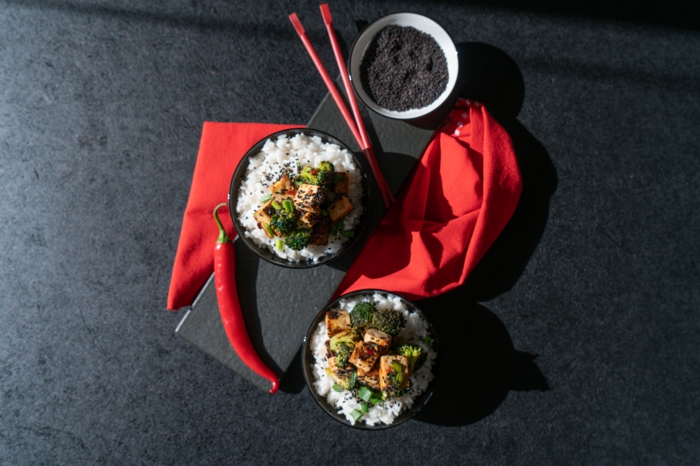 Healthy recipes for weight loss – Asian tofu
Ingredients:
250gr silken tofu
5 tbsp soy sauce
juice from ½ lemon
1 tsp garlic powder
1 tsp chili paste
3 tbsp sesame oil
250gr broccoli
cooked rice
black sesame seeds
The ingredients you are going to need for this recipe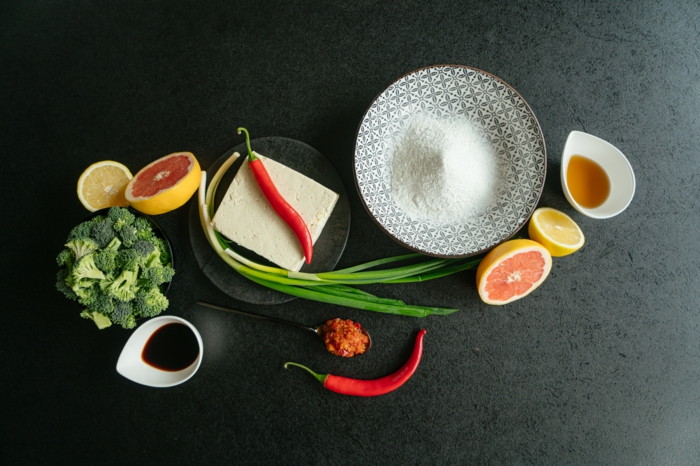 Mix the soy sauce, lemon juice, garlic powder and chilli paste in a bowl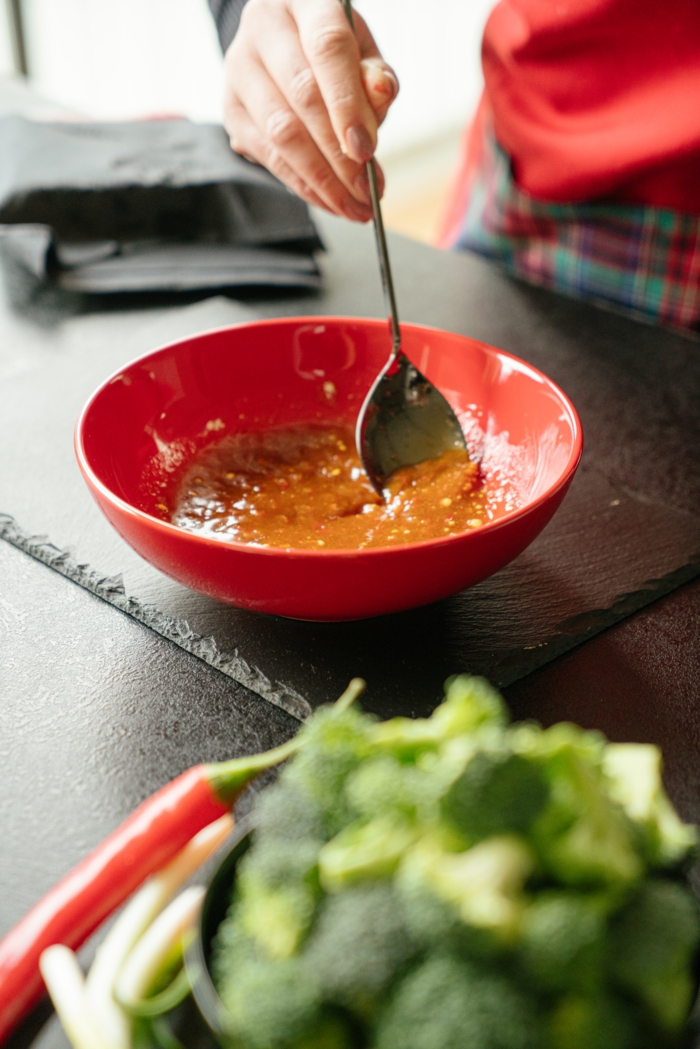 ---
Cut the tofu into cubes, add it to the sauce and let it marinate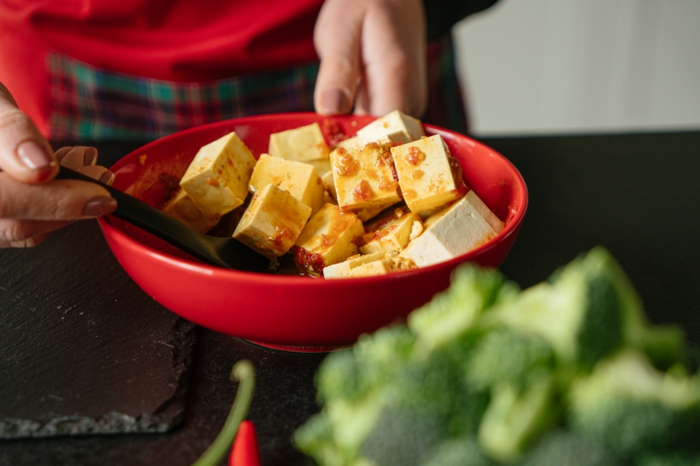 Heat the oil in a sauce pan and add the broccoli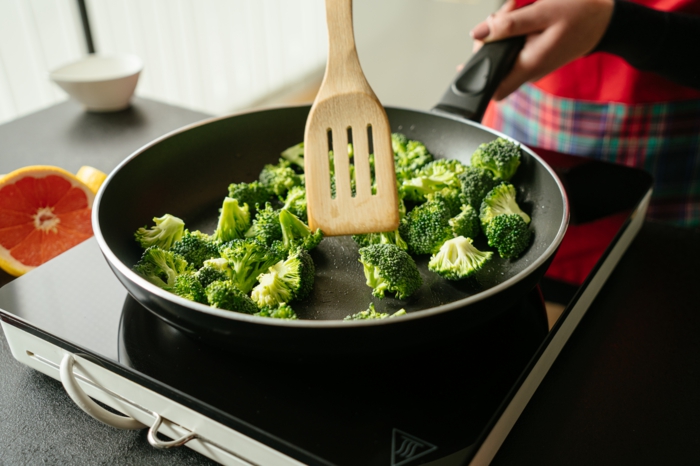 Add the marinated tofu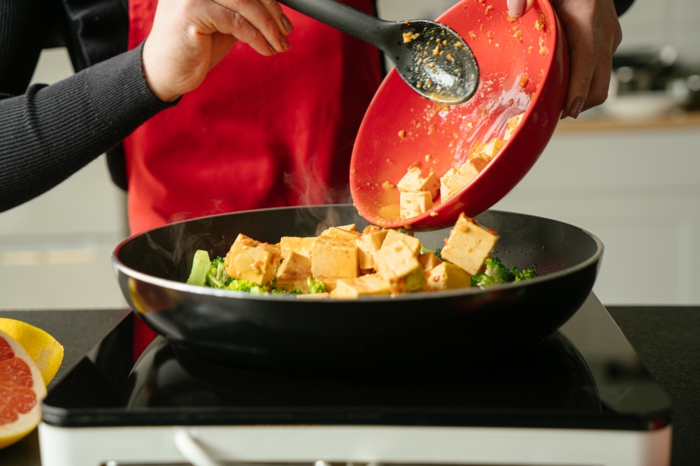 Cook until golden brown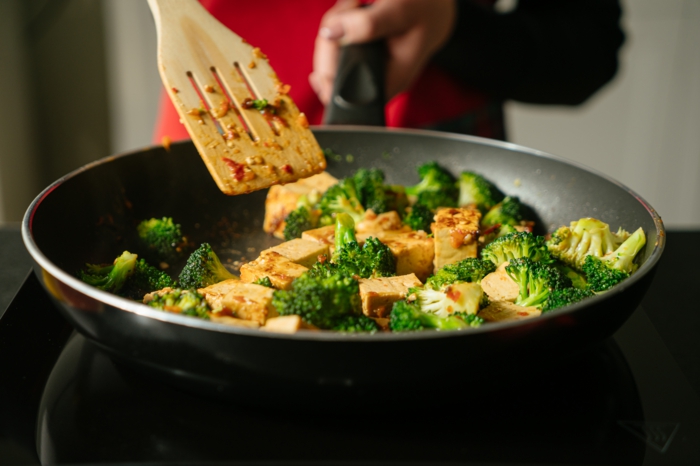 Serve over white rice and top with black sesame seeds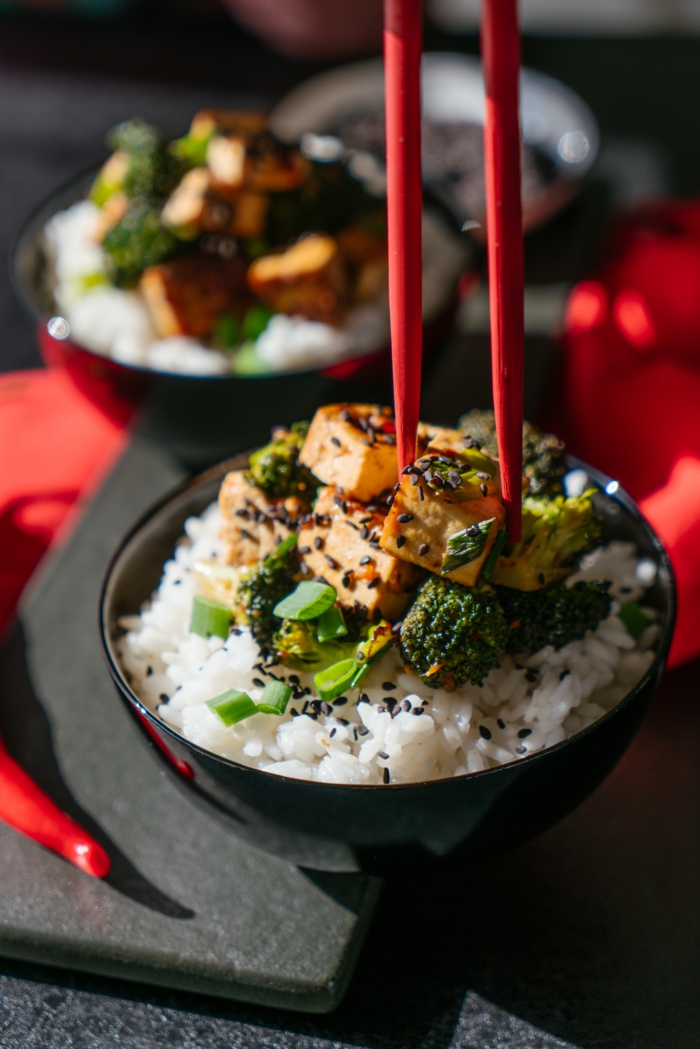 Roasted cauliflower enchiladas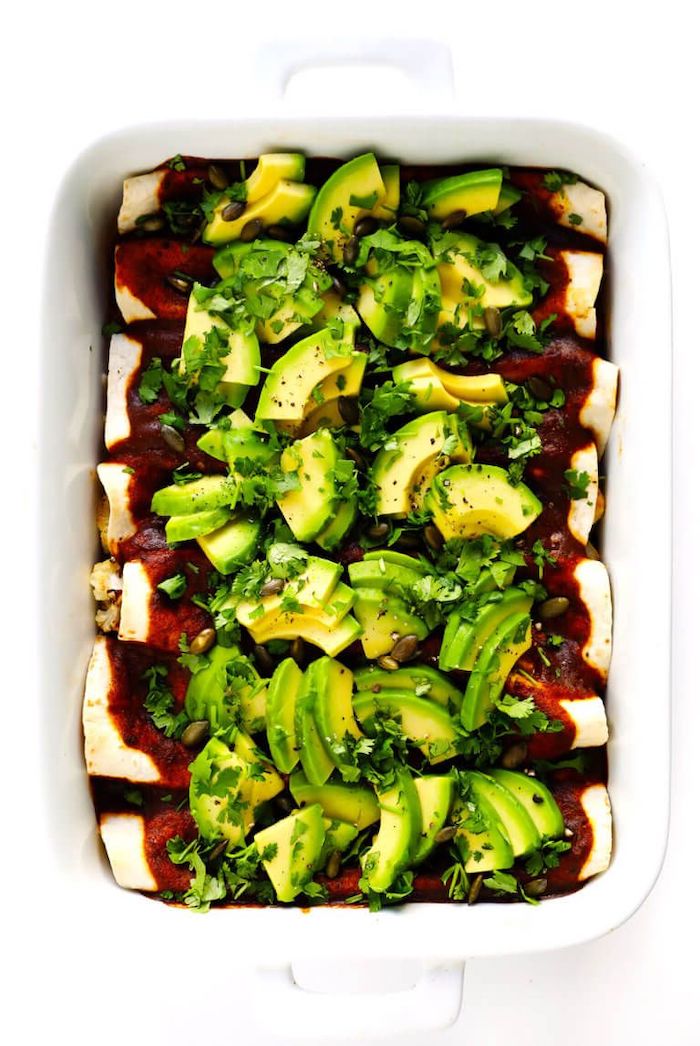 Roasted cauliflower enchiladas recipe
Ingredients:
1 batch red enchilada sauce
1 batch roasted cauliflower
7-8 large tortillas
1 cans beans
1 bag shredded cheese
toppings: avocado slices, fresh cilantro, crumbled queso fresco, pepitas
Delicious and healthy recipes for weight loss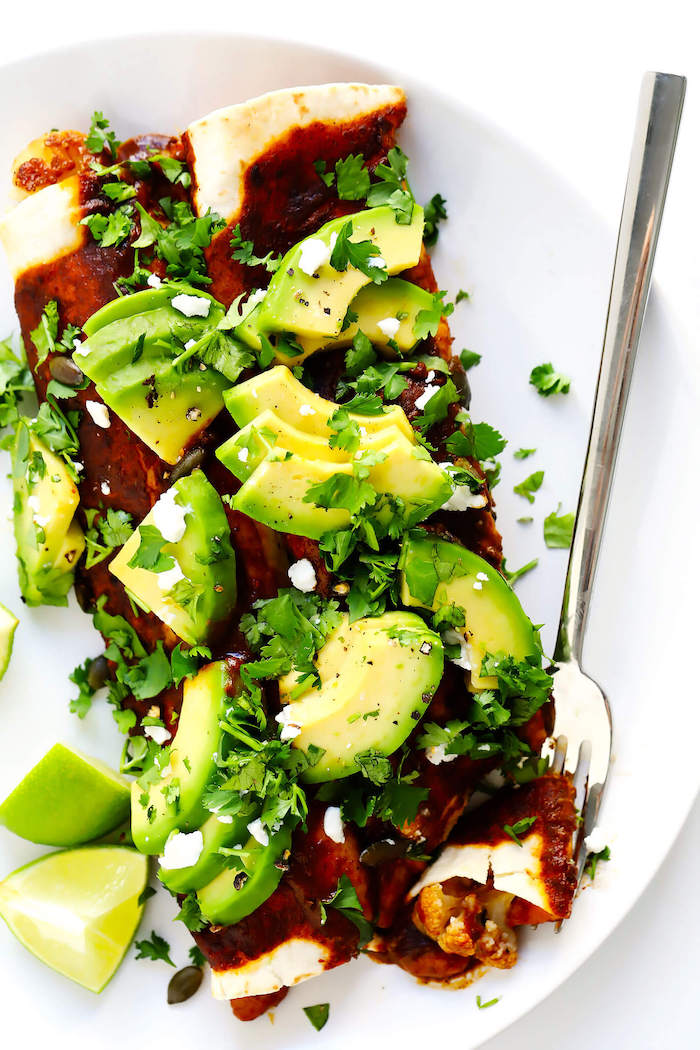 Instructions:
Heat oven to 180 degrees.
Pour 1/4 cup of the enchilada sauce on the bottom of a 9×13-inch baking dish and spread evenly.
Place a tortilla on a plate and put a spoonful of enchilada sauce at the center and spread evenly. Then, add 1/4 cup of shredded cheese, topped with beans and roasted cauliflower.
Roll up the tortilla and place it in the dish. Repeat the same with the rest of the tortillas.
Spread the rest of the enchilada sauce on top of them in the dish.
Bake for 20-25 minutes.
Garnish with toppings.
Easy to make and super tasty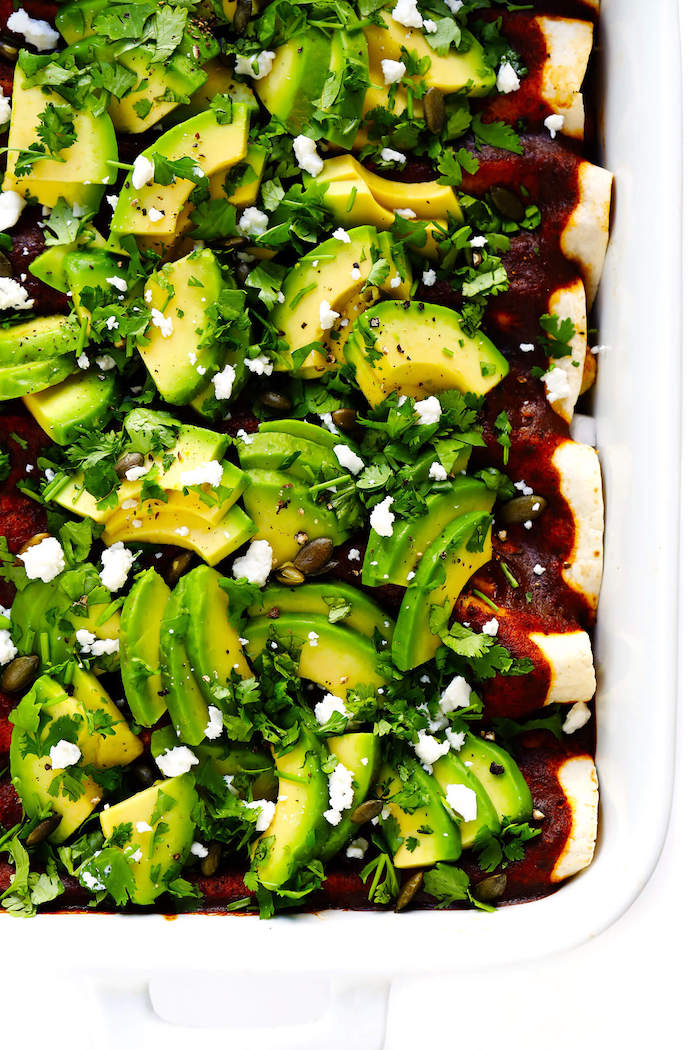 Butternut squash, chickpea and lentil stew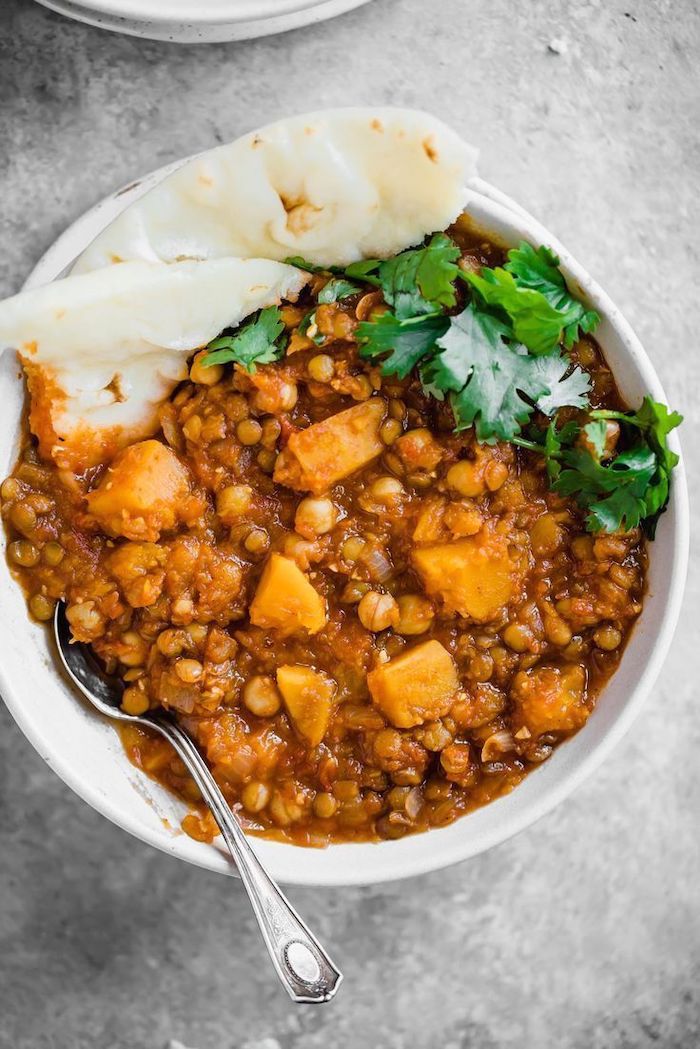 Chickpea and lentil stew recipe
Ingredients:
1 onion, chopped
1tbsp olive oil
6 garlic cloves, minced
1tsp cinnamon
2tsp cumin
1tsp ground turmeric
1/4tsp cayenne pepper
1 can crushed tomatoes
2 1/2 cups vegetable broth
1 can chickpeas
4 cups cubed butternut squash
1 cup green lentils
1/2tsp salt
black pepper
fresh juice of 1/2 lemon
1/3 cup chopped cilantro
Super tasty stew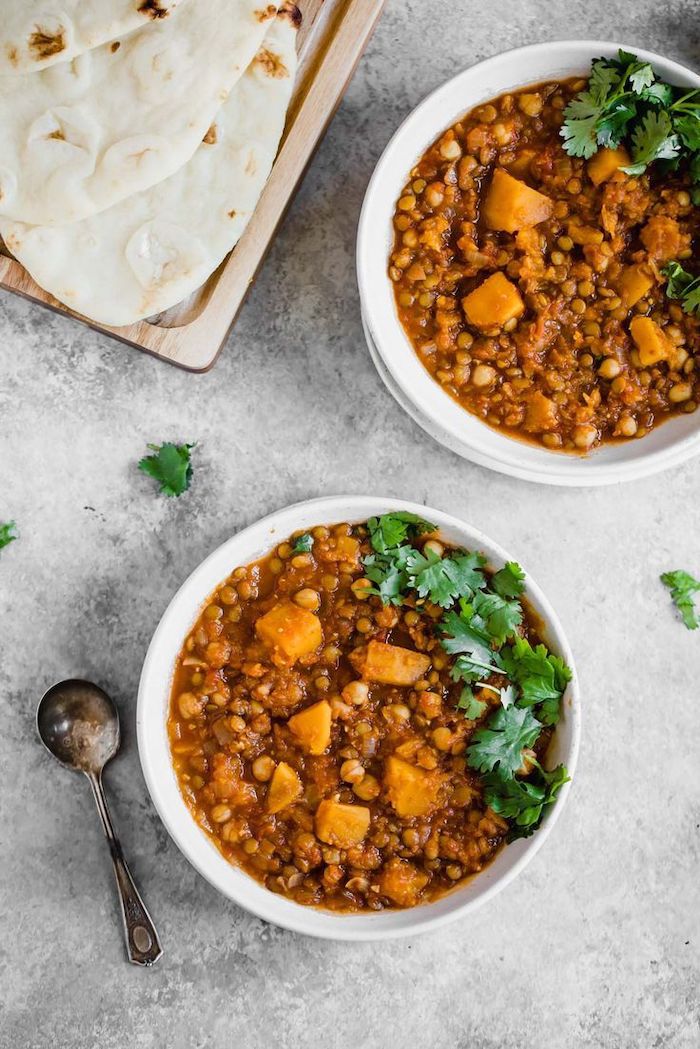 Instructions:
Heat the oil in a pan. Add the onion and garlic and cook for a few minutes. Add the cumin, cinnamon, turmeric, cayenne and cook for 30 seconds. Then, add the tomatoes, broth, chickpeas, butternut squash, lentils and salt and pepper and bring to a boil, cover and simmer for about 20 minutes.
Add the lemon juice and sprinkle cilantro.
Add some bread and voila!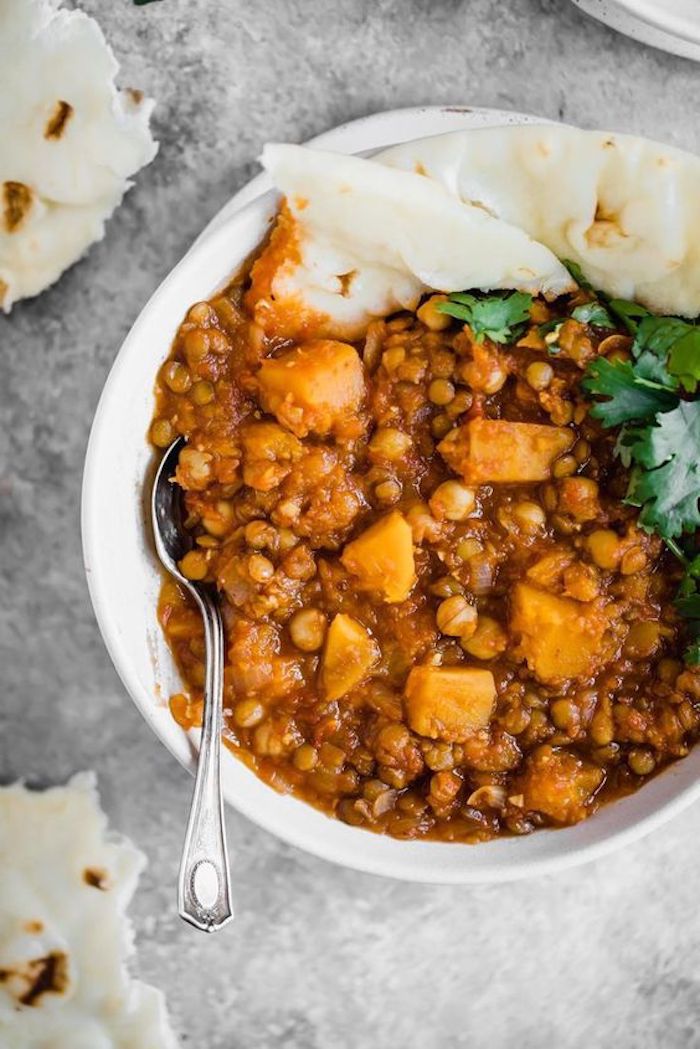 Chicken tikka masala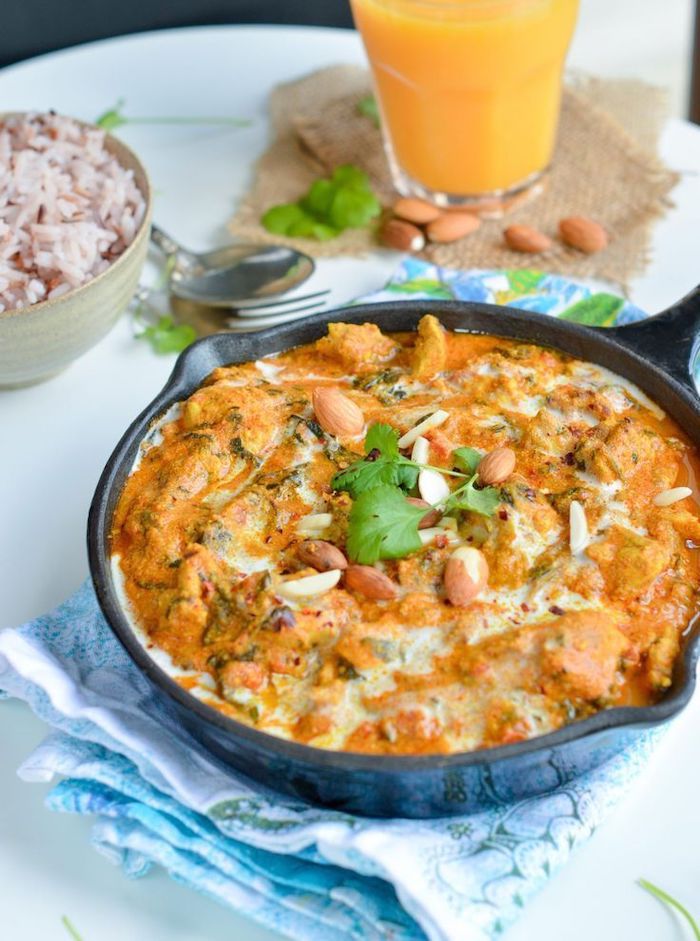 Tikka masala rrecipe
Ingredients:
For the chicken marinade:
800g boneless chicken thighs
1/2 cup yoghurt
1tbsp ground coriander
1tbsp minced ginger
2tbsp lime juice
1tbsp ground turmeric
1tbsp ground garam masala
2 garlic cloves, minced
1tbsp ground cumin
Almond masala paste:
2tbsp coconut oil
2 onions, diced
3tbsp tomato paste
2 garlic cloves, chopped
1 fresh ginger
1tsp ground garam masala
2tsp ground cumin
1tsp ground coriander
1/4tsp chilli flakes (optional)
1/2tsp salt
3tbsp ground almonds
1 can crushed tomatoes
1/2 cup water
1 cup unsweetened coconut milk
1/4 cup fresh coriander
Delicious Moroccan dish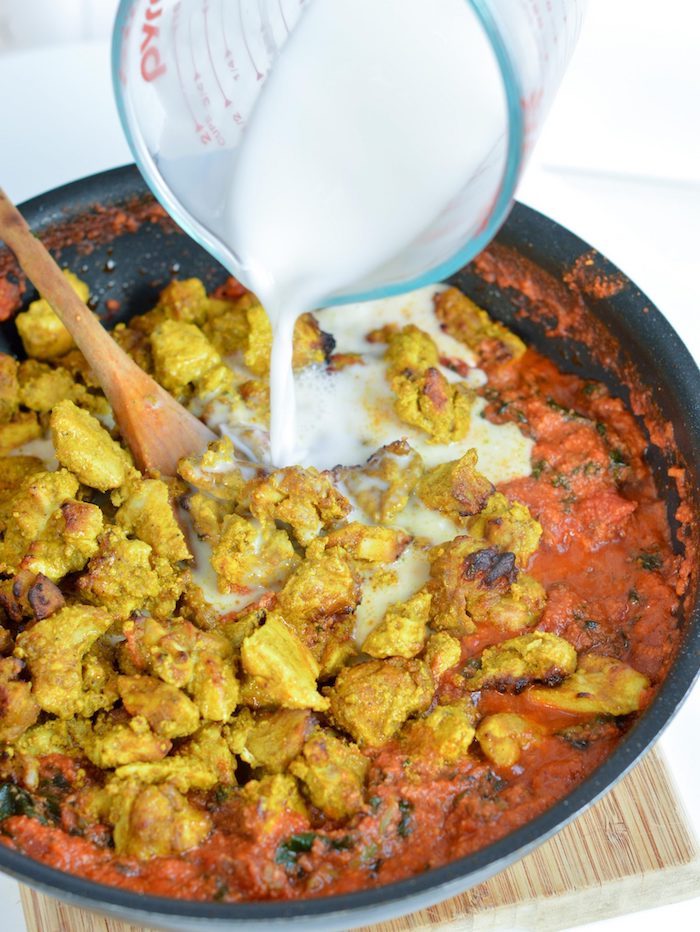 Instructions:
In a bowl add the chicken, yoghurt, lime, garlic and the marinade spices and toss well. Refrigerate for 1 hour.
Preheat oven to 200 degrees.
In a frying pan, add the coconut oil, then the onion and cook for 2-3 minutes. Then, add the garlic and cook for 1 more minute.
Add the spices – ginger, garam masala, cumin, coriander, chili, salt and almond. Cook for 1 minute until a paste is formed.
Add the tomato paste, crushed tomatoes and water and bring to a boil. Reduce the heat and simmer for about 15 minutes.
Place the marinated chicken on a tray and bake for about 15-20 minutes, stirring once every few minutes.
Once the chicken is baked, transfer it to the pan with the sauce and then add the coconut milk. Simmer for 5 minutes.
Top with coriander.
A low calorie meal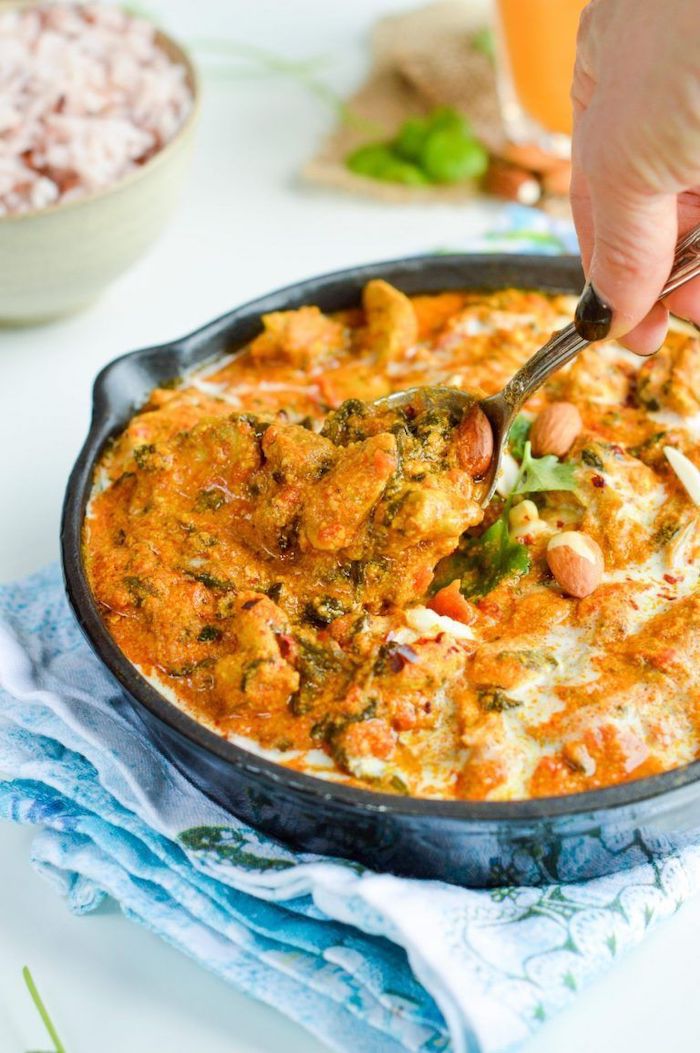 Curried chicken and vegetables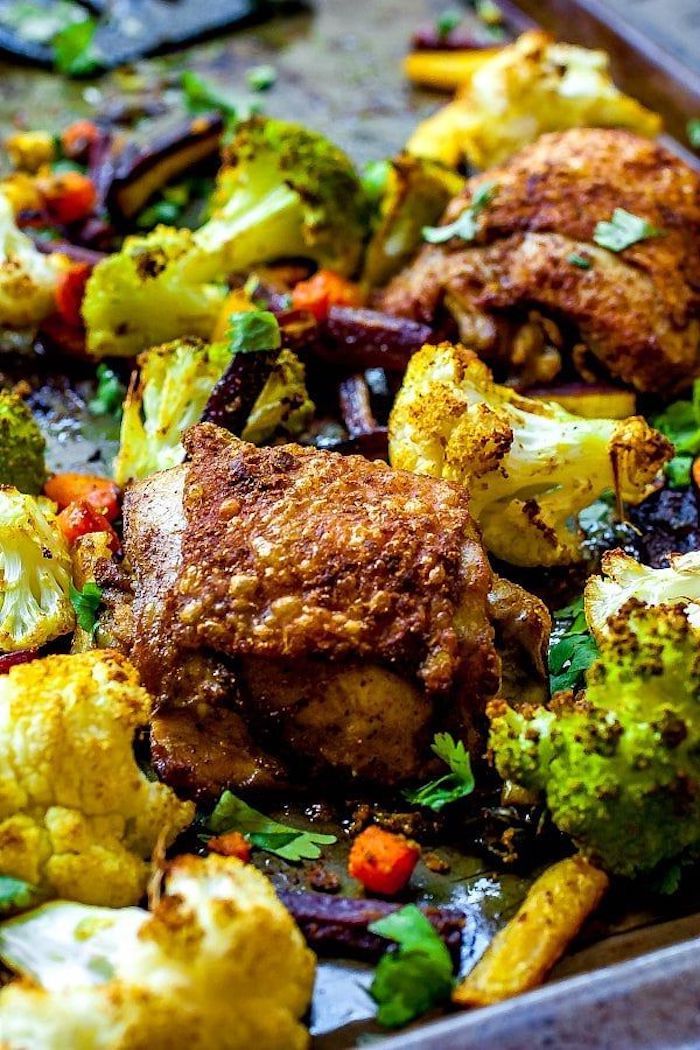 Healthy recipes for weight loss – chicken and veggies
Ingredients:
4tbsp olive oil
4tsp curry powder
2tsp salt
4 cups cauliflower
3 cups carrots
2 red bell peppers
1tbsp shredded fresh ginger
6 chicken thighs
2 cups green onions, chopped
1 cup cilantro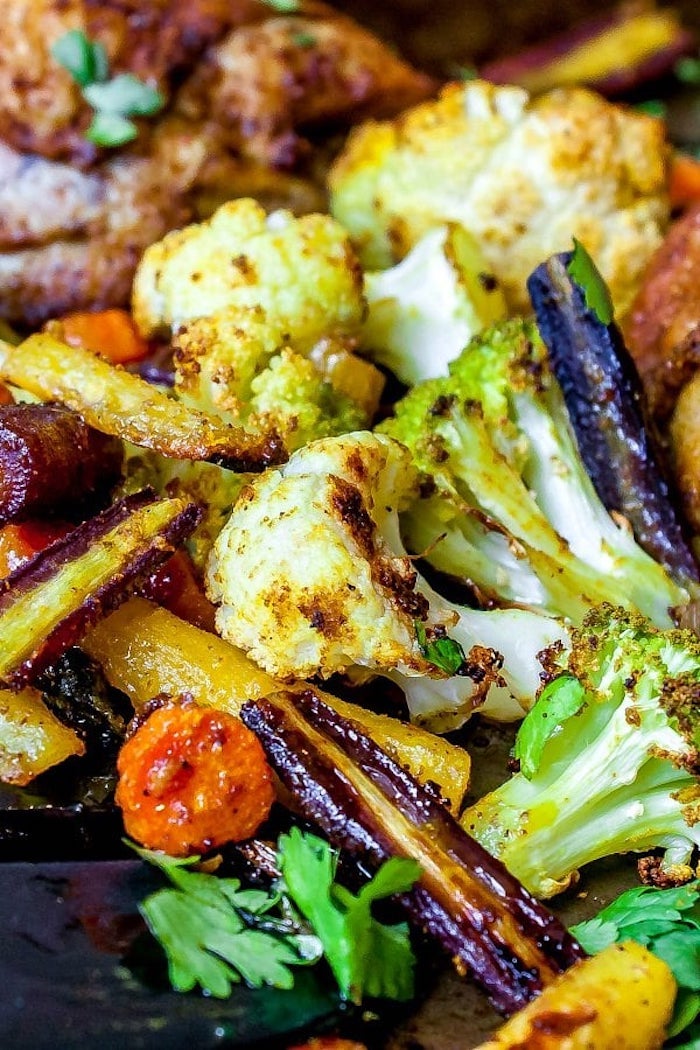 Instructions:
Preheat oven to 200 degrees.
In a bowl, mix 2tbsp olive oil, 2tsp curry powder and 1tsp salt. Then, add cauliflower, carrots, bell pepper and ginger and toss.
Place the vegetables on a greased sheet pan.
In another bowl, mix 2tbsp olive oil, 2tsp curry powder and 1tsp salt, add chicken thighs and toss.
Place the chicken on top of the vegetables in the pan.
Bake the chicken for 20 minutes, take out of the oven and sprinkle green onions on top, then bake for 10 more minutes.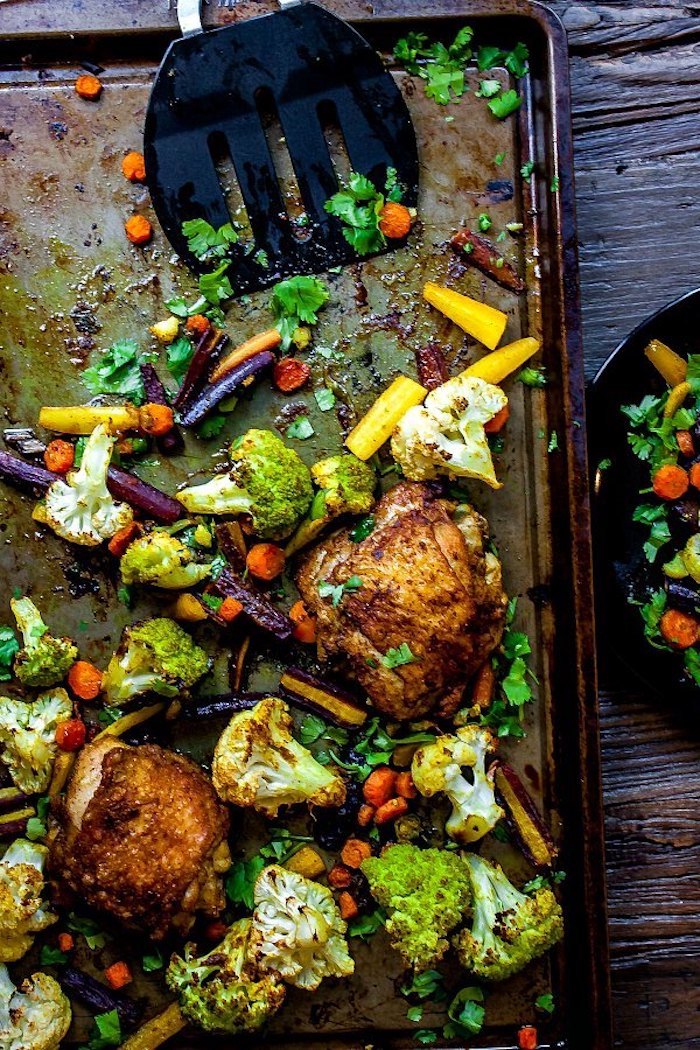 Honey lime shrimp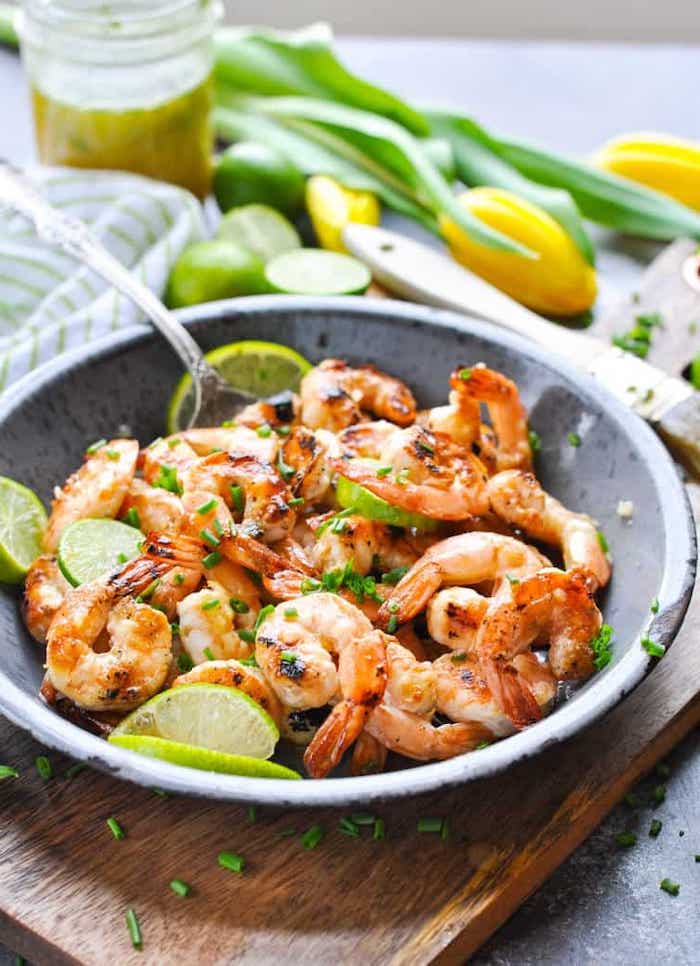 Honey lime shrimp recipe
Ingredients:
1lbs peeled and deveined shrimp
1/4 cup fresh lime juice
1/4 cup rice vinegar
1/2 cup honey
1/4 cup Dijon mustard
1/4 cup minced chives
2tsp minced garlic
2tsp salt
1tsp pepper
1/2 cup olive oil
Instructions:
To make the marinade mix all the ingredients except for the shrimp.
Marinate the shrimp for 30 minutes in half of the dressing.
Thread shrimp onto wooden skewers.
Grill the shrimp for 10 minutes. Use the rest of the dressing to coat the shrimp while they cook.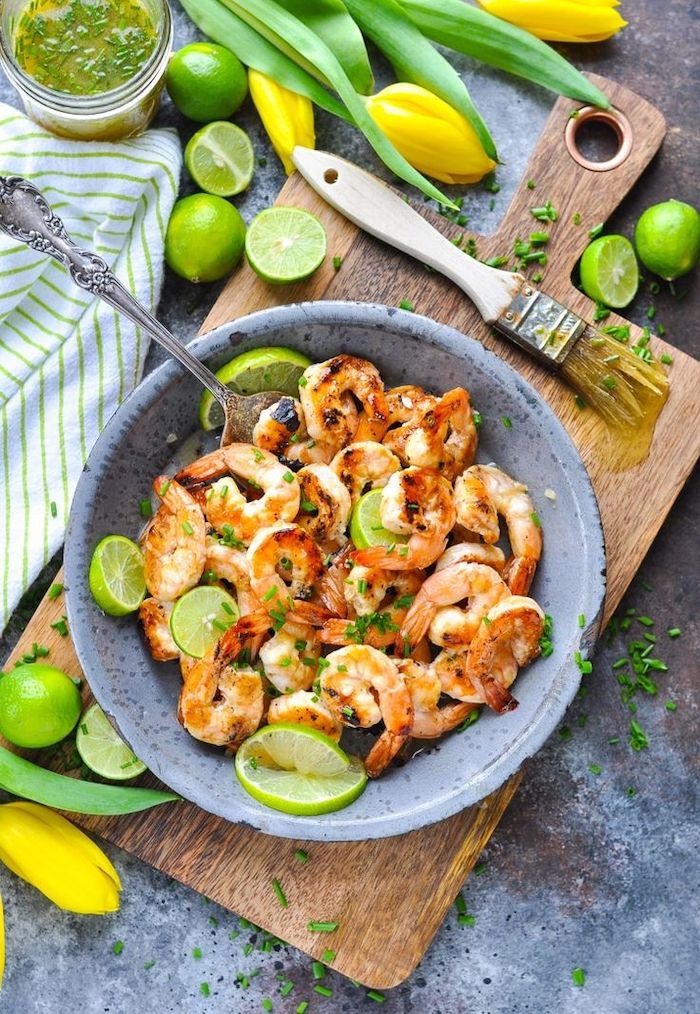 Blackened salmon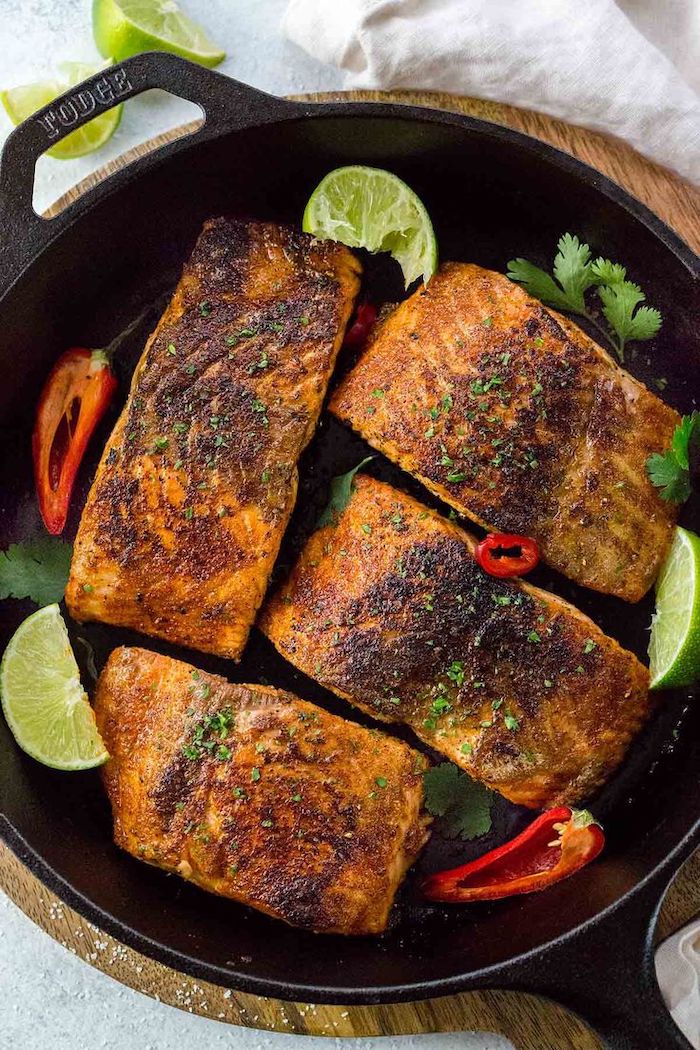 Healthy recipes for weight loss – baked salmon recipe
Ingredients:
1tsp paprika
1tsp cumin
1/2tsp garlic powder
1/2tsp onion powder
1tsp dark brown sugar
1/2tsp kosher salt
1/4tsp chili powder
1/4tsp black pepper
680gr salmon fillet, skin removed
1tbsp olive oil
1 lime
1tsp chopped parsley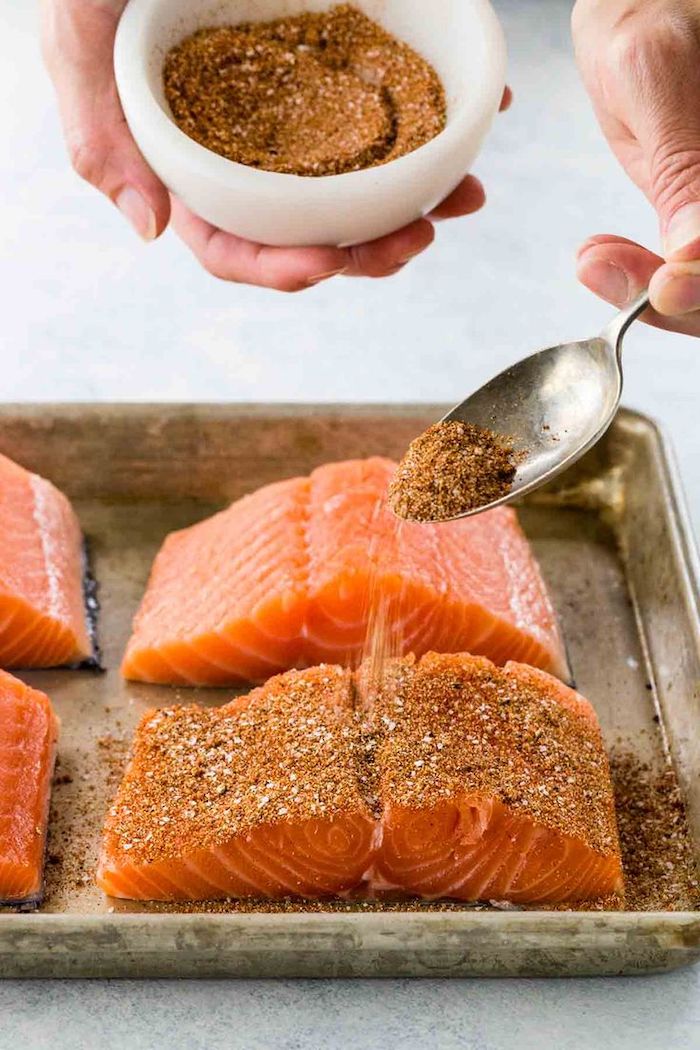 Instructions:
In a bowl mix paprika, cumin, brown sugar, garlic and onion powder, salt, chili powder and black pepper.
Cut salmon fillets into 4 pieces.
Season each side of the fillet with 1tsp of the seasoning mix.
Heat oil in a skillet and place the salmon fillets and cook for 2-3 minutes, flip and cook for 2 more minutes.
Serve with lime wedges and parsley.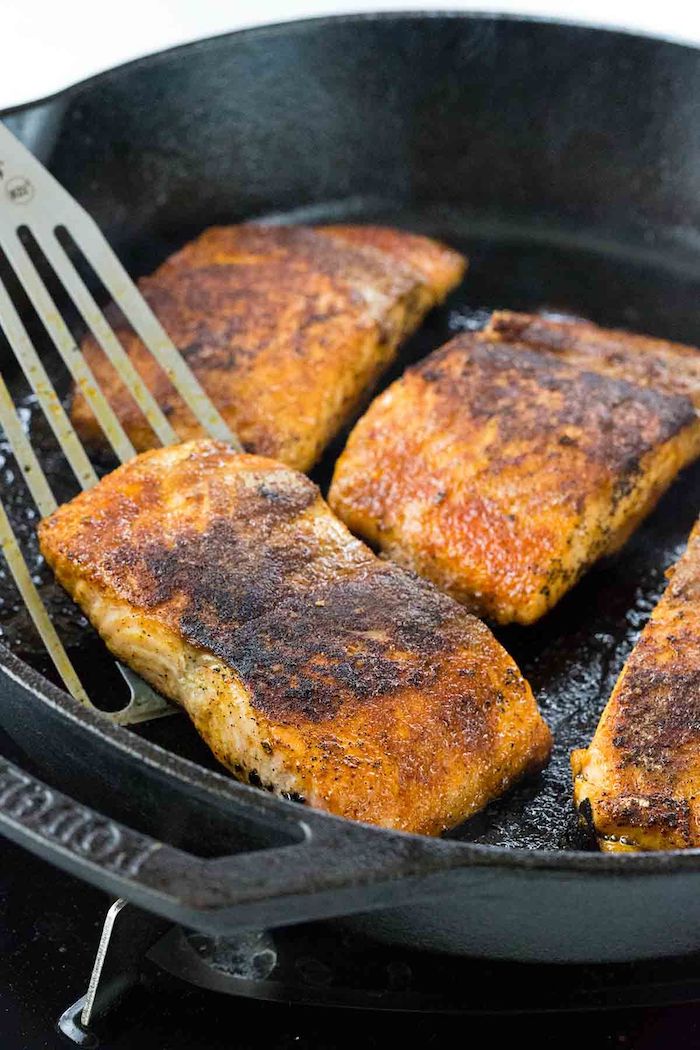 Steak fajitas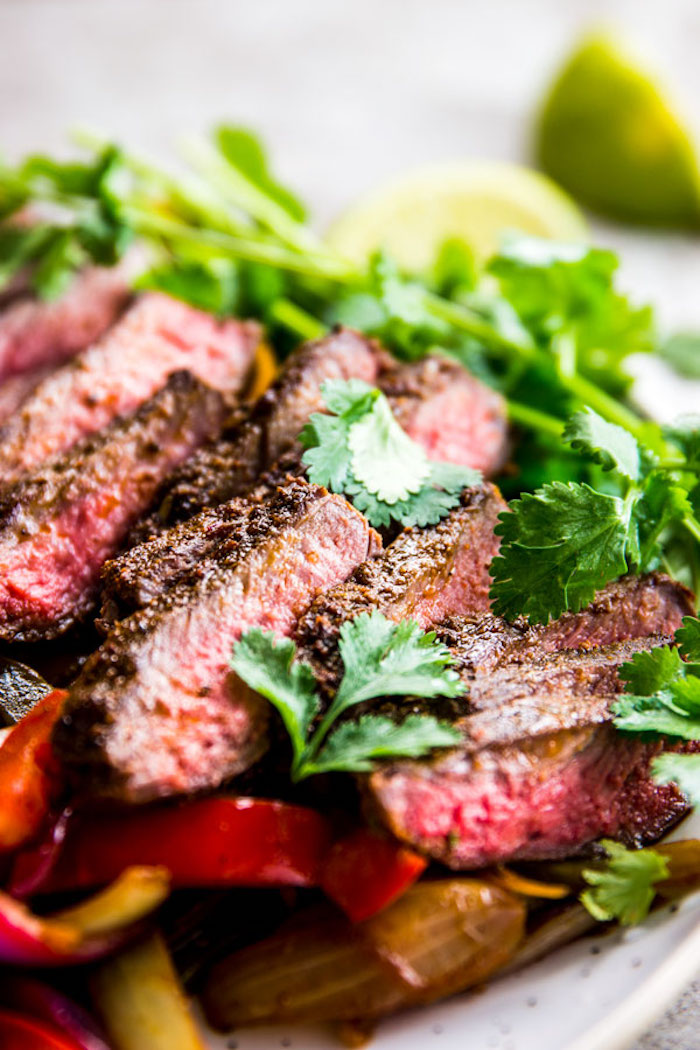 Steak fajitas
Ingredients:
For the meat:
2tbsp taco seasoning
salt and pepper
1 lime
olive oil
2 large flank steaks
For the vegetables:
1 each – green, yellow, red peppers
2 red onions
1 yellow onion
1 lime
To serve:
8 small tortillas
sliced avocado
sour cream
cilantro
salsa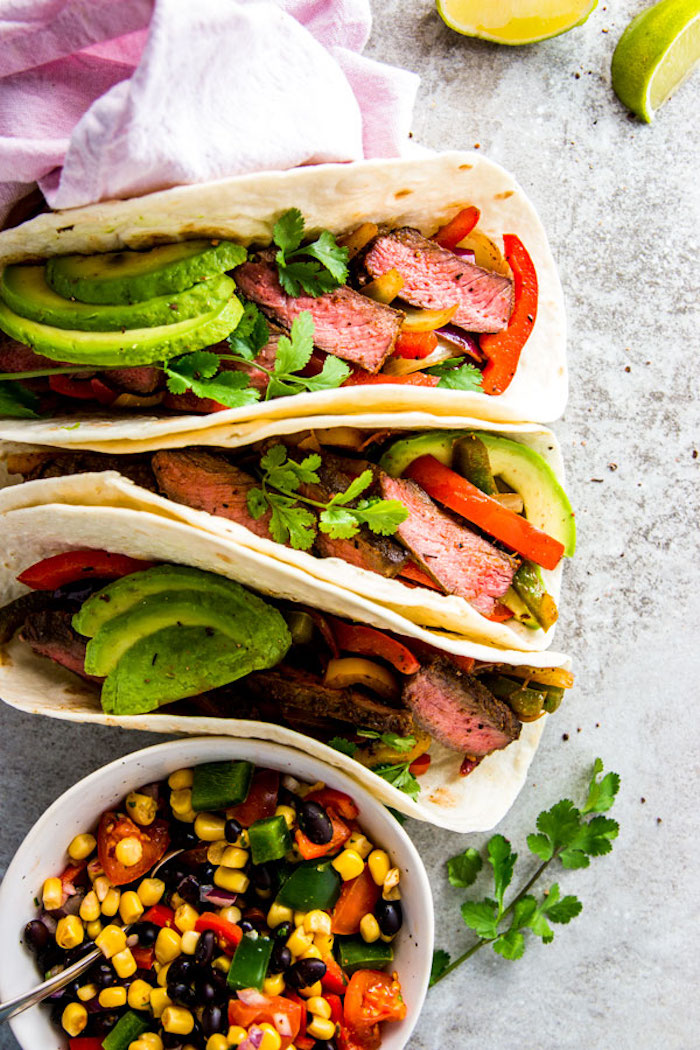 Instructions:
In a bowl, mix the taco seasoning, salt and pepper, lime juice and olive oil. Add the steaks and let them marinate.
Slice the peppers into strips, peel the onions and cut into wedges.
In a skillet, heat oil and sear the marinated meat for about 2-3- minutes on both sides. Transfer to a plate.
In the same skillet stir fry the vegetables for about 4-5 minutes. Squeeze the lime juice on top of them and toss.
Slice the meat into strips and place on top of the tortilla, add the vegetables and the toppings.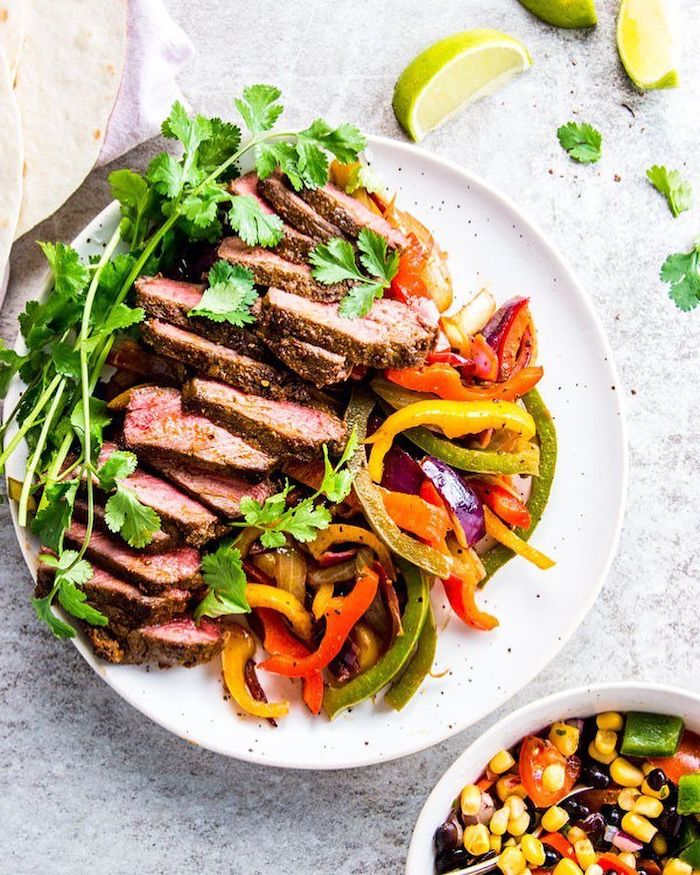 Steak soup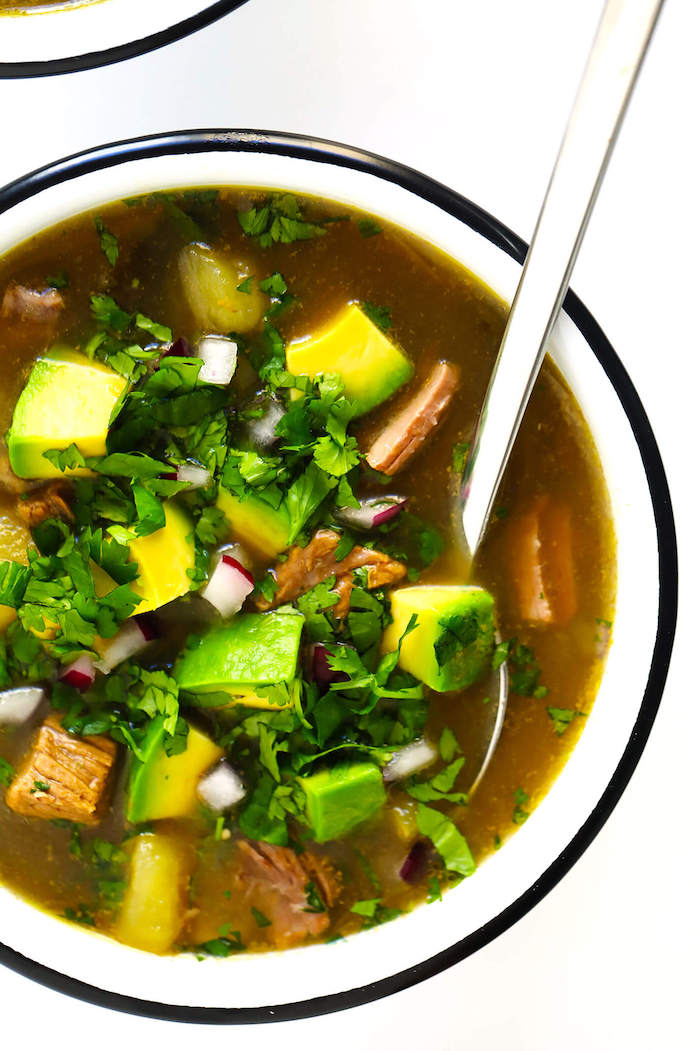 Steak soup recipe
Ingredients:
1tbsp olive oil
1 white onion
4 garlic cloves
1 poblano pepper
4 cups vegetable stock
2 cups salsa verde
1 1/4 lbs gold potatoes
1 1/4 lbs steak
2tsp ground cumin
salt and pepper
toppings: diced avocado, fresh cilantro, red onion, sour cream, shredded cheese, crumbled tortilla chips (optional)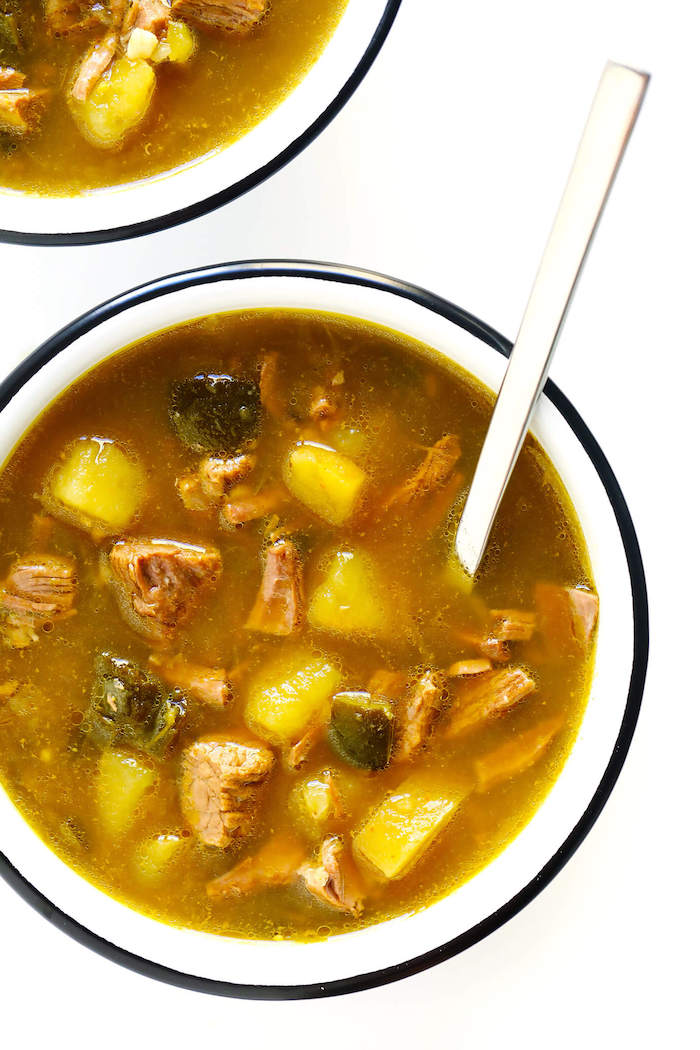 Instructions:
In a stockpot heat oil, add the onion and pepper and saute for 5 minutes. Then, add the garlic and saute for 1 more minute.
Add the rest of the ingredients and stir well. Simmer for about 20-30 minutes, add salt and pepper to taste.
Serve with the toppings, or with ones you choose.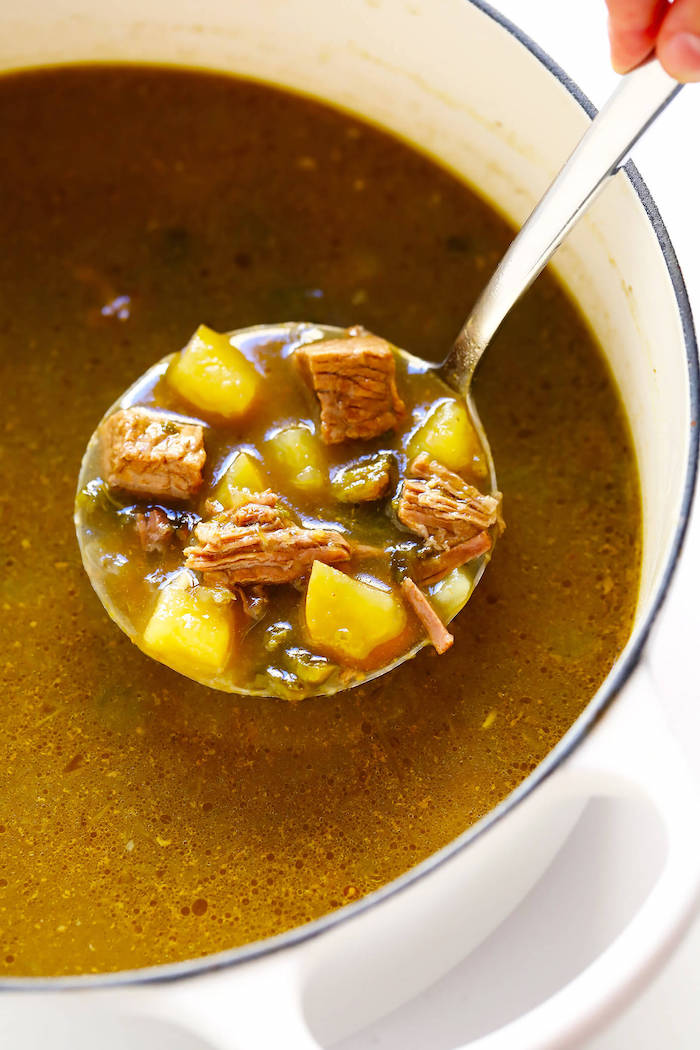 Turkey noodle soup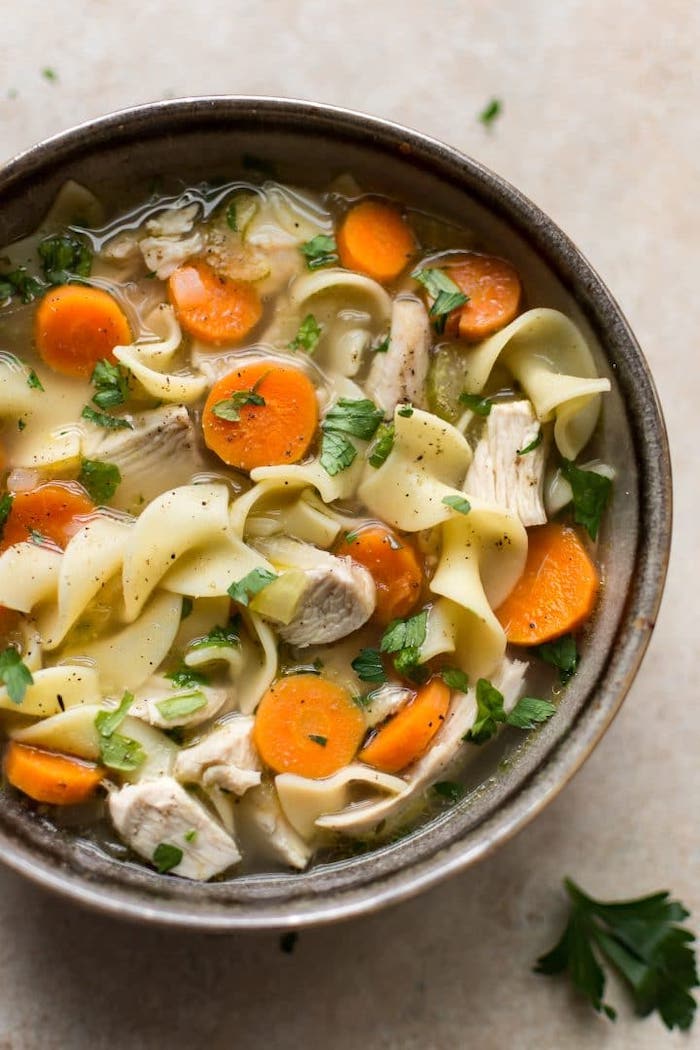 Turkey noodle soup
Ingredients:
2tbsp butter
1/2 onion, chopped
3 sticks celery
3 garlic cloves
4 cups chicken broth
4 cups water
2 cups cooked turkey
2 dashes Italian seasoning
3 carrots
2 cups egg noodles
2tbsp parsley
salt and pepper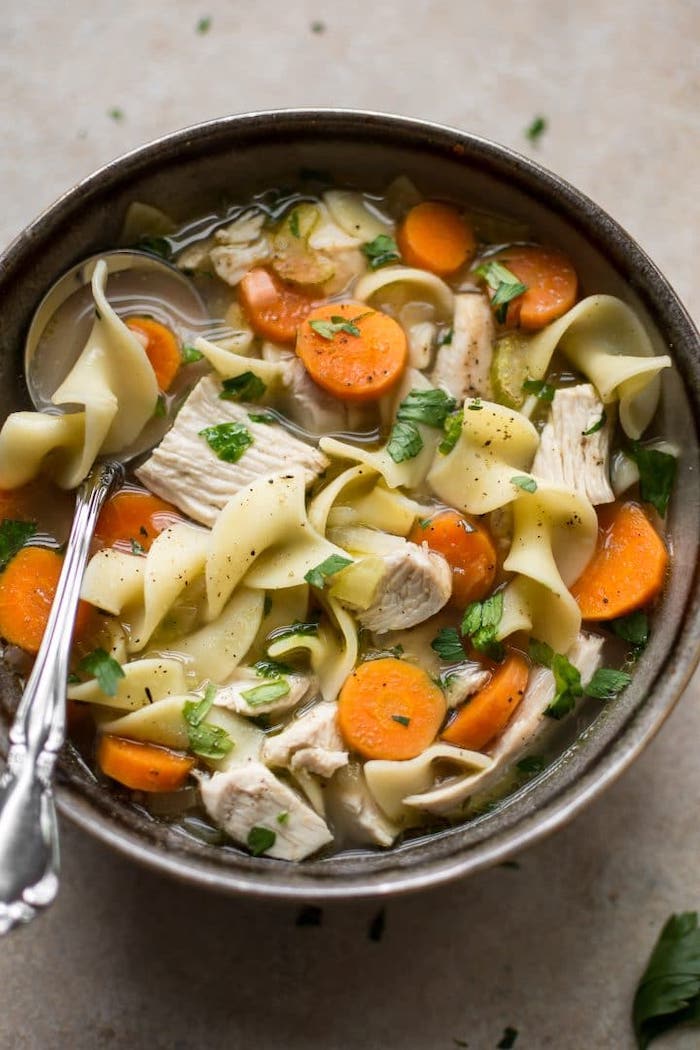 Instructions:
Melt the butter in a pot, add the onion and celery and saute for 5-7 minutes, then add the garlic and cook for 30 more seconds. Then, add the broth, water, turkey, seasoning and carrots and bring to a boil.
Add the egg noodles and reduce the heat. Cook for 10 more minutes and season with salt and pepper to taste.
Add the parsley before serving.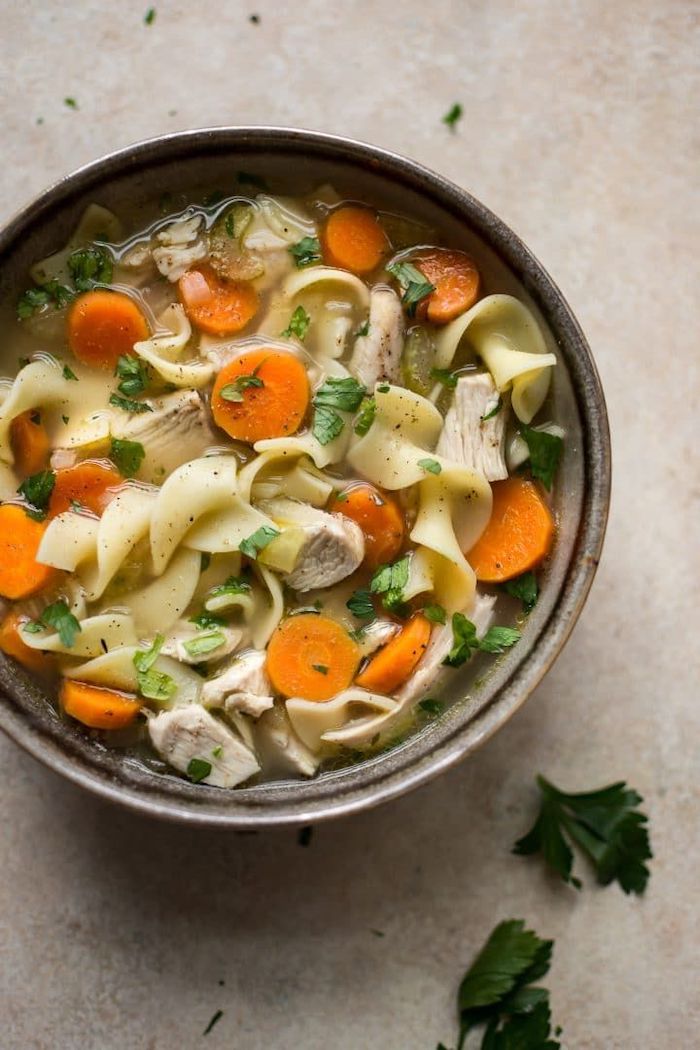 Spiced chickpea wrap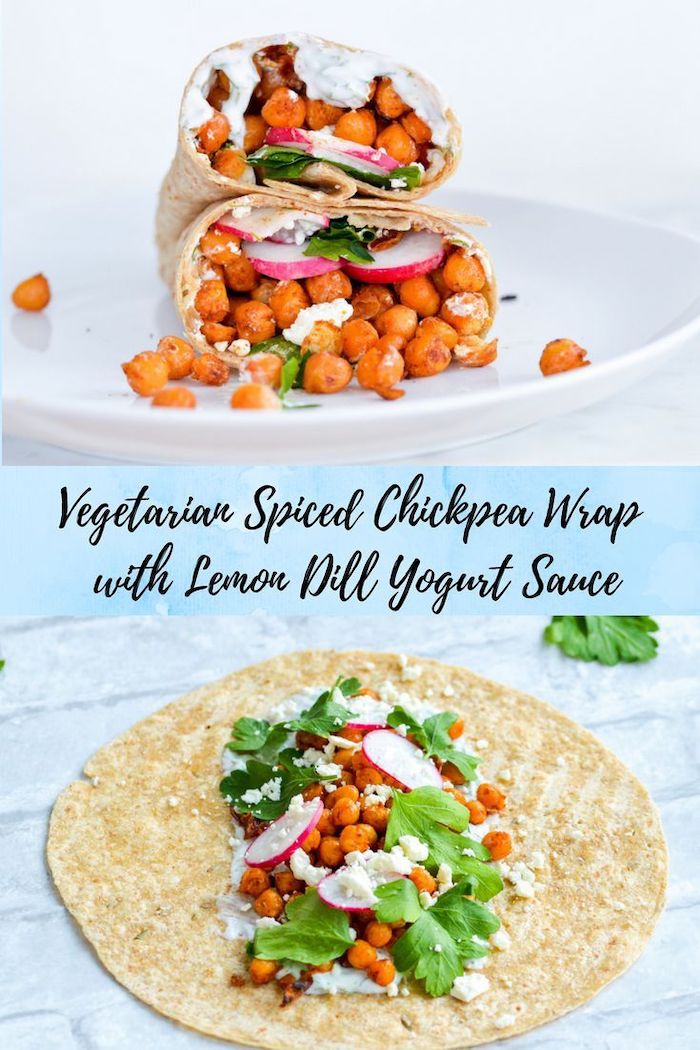 Chickpea wrap – healthy recipes for weight loss
Ingredients:
1 can of chickpeas
1tbsp paprika
1/4tsp salt
1tsp garlic powder
1tsp olive oil
2 large tortillas
3 small radishes
2tbsp parsley leaves
1/4 cup feta cheese
For the yoghurt sauce:
1tsp honey
1/2 cup plain Greek yoghurt
1tbsp chopped dill
1tbsp lemon juice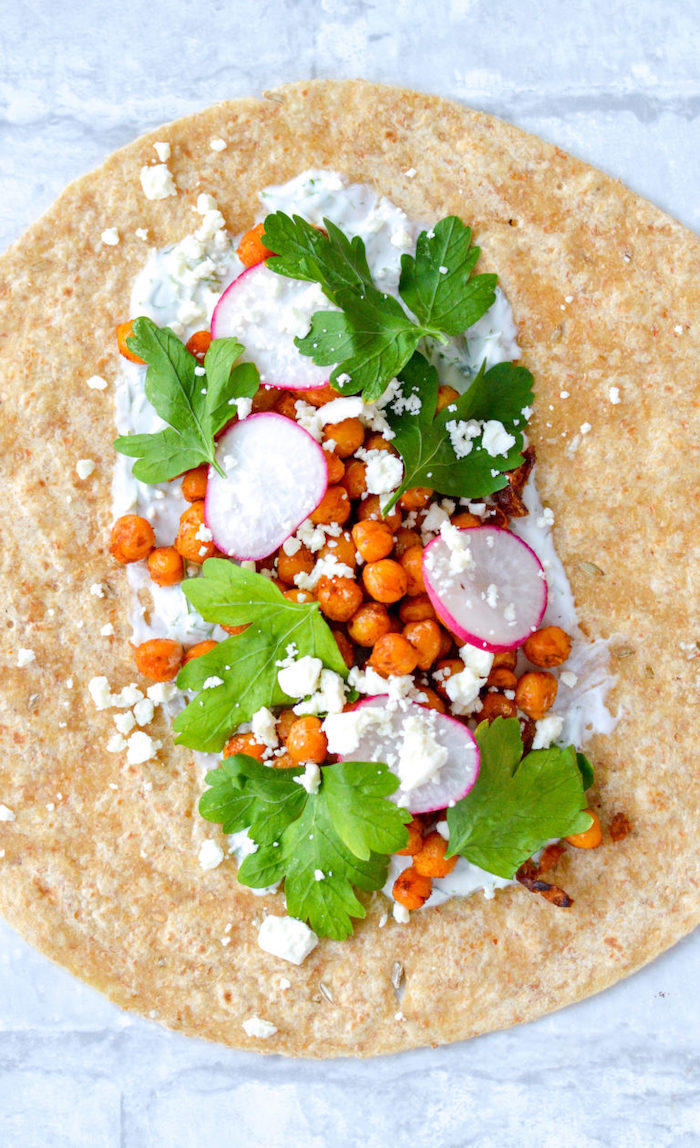 Instructions:
In a bowl combine chickpeas, paprika, garlic powder and a pinch of salt.
Add oil inn a skillet,  then add the chickpeas and cook for 7-9 minutes, stirring frequently.
In a bowl, mix the yoghurt, dill, lemon juice, honey and the remaining salt and stir well.
On the tortilla spread 1/2 the yoghurt mix, top with half the chickpeas, half the radishes, 1tbsp parsley leaves and 2tbsp pf feta cheese. Fold into a wrap and repeat the same with the other tortilla.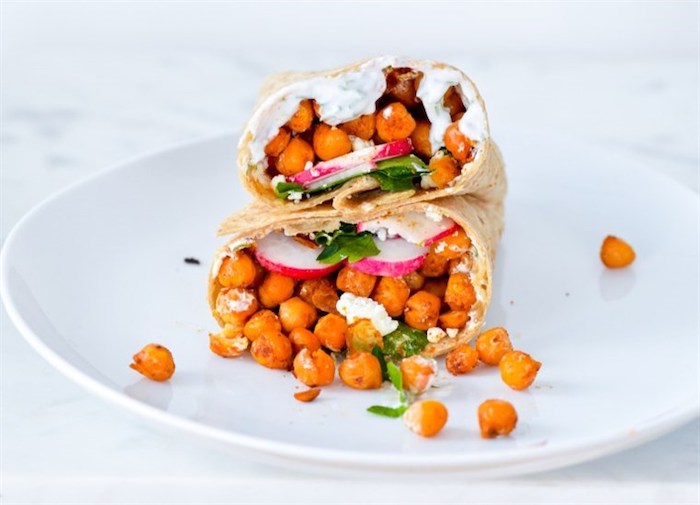 Healthy recipes for weight loss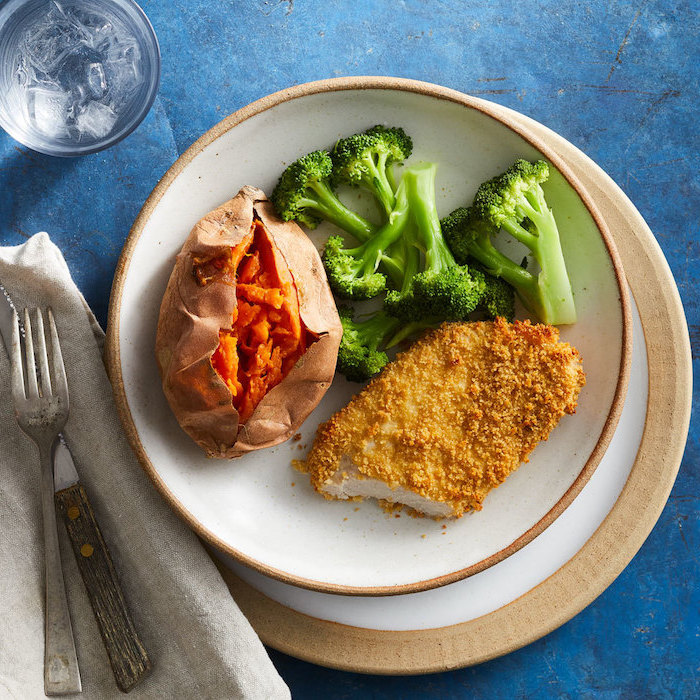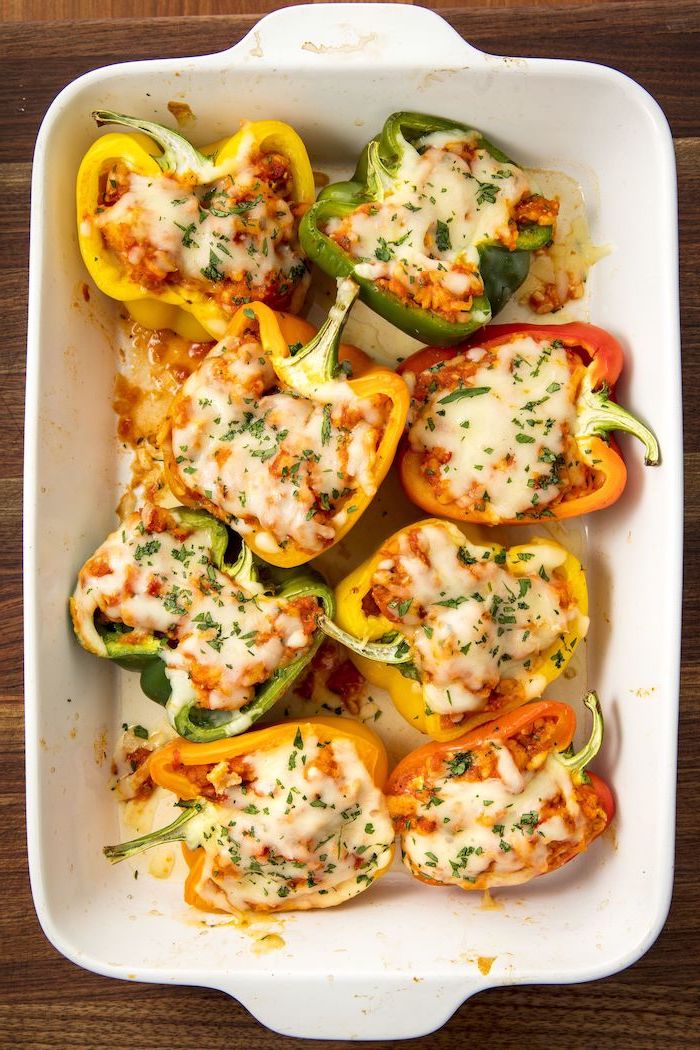 Best weight loss diet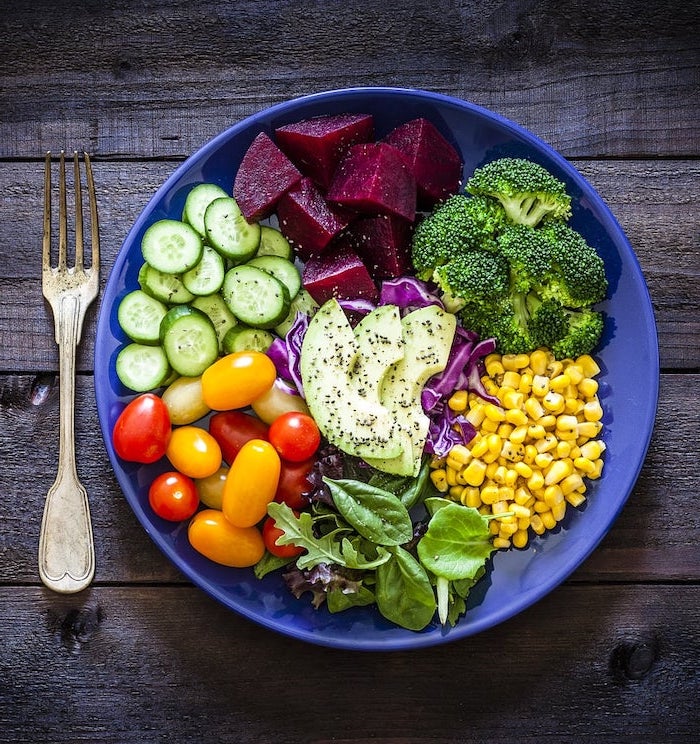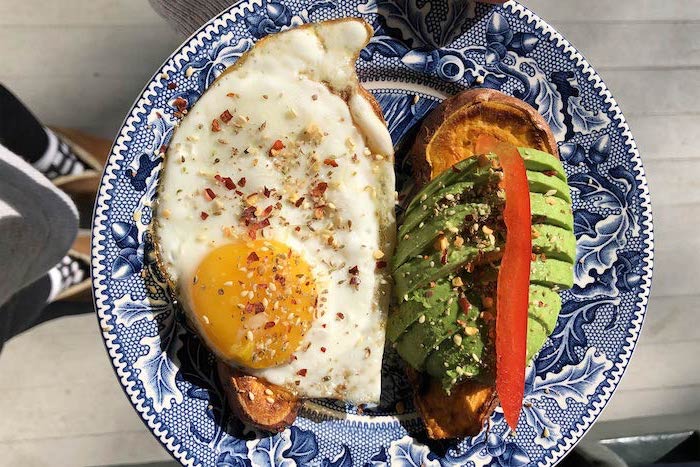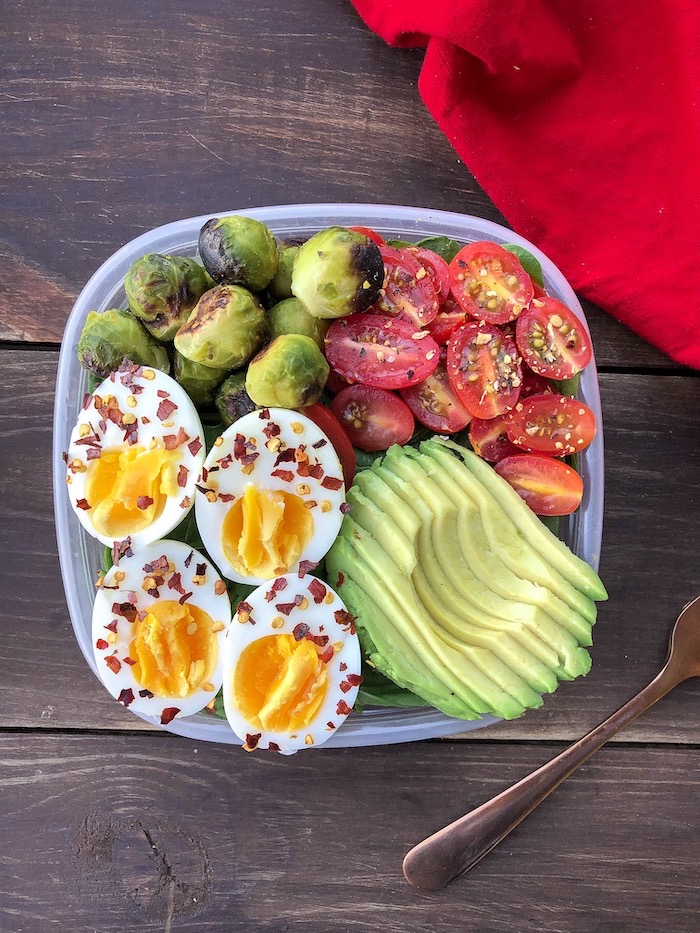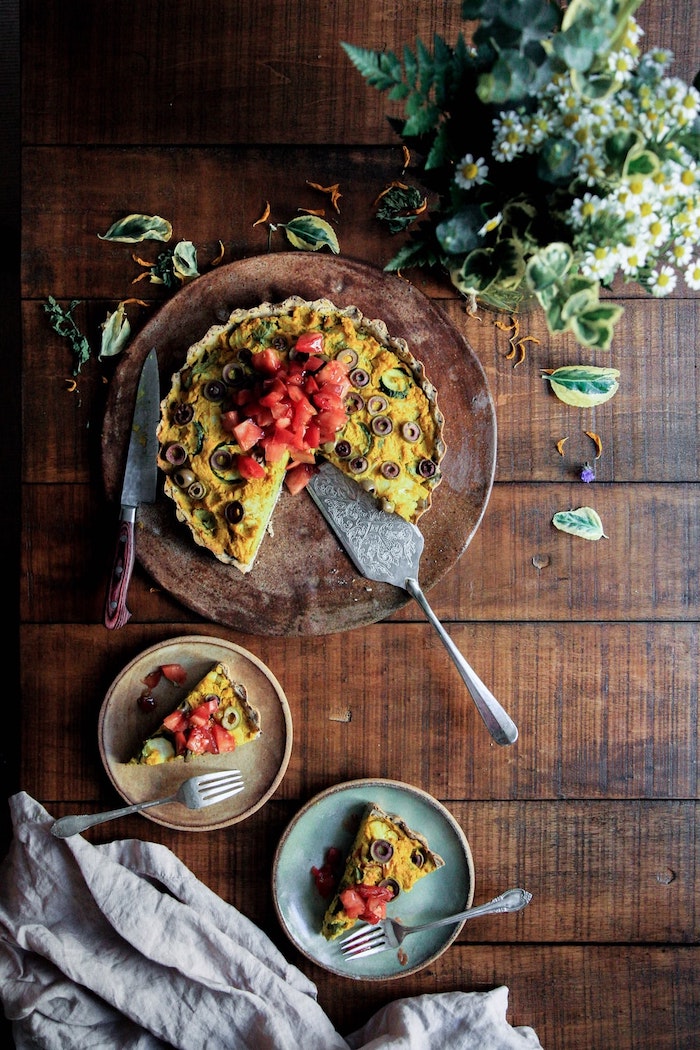 Weight loss meal plan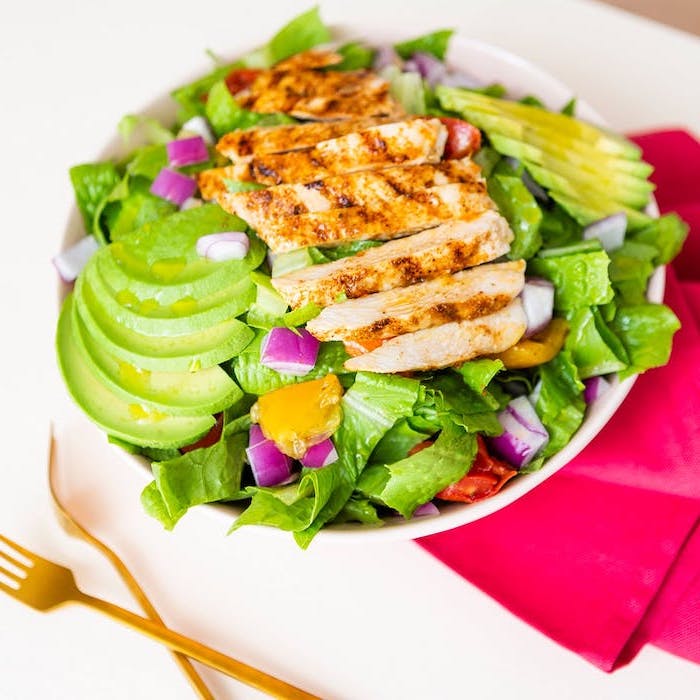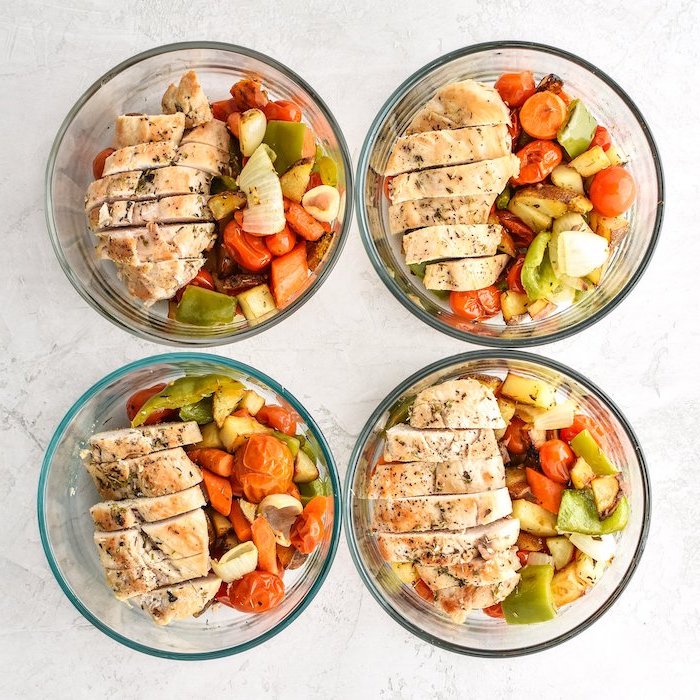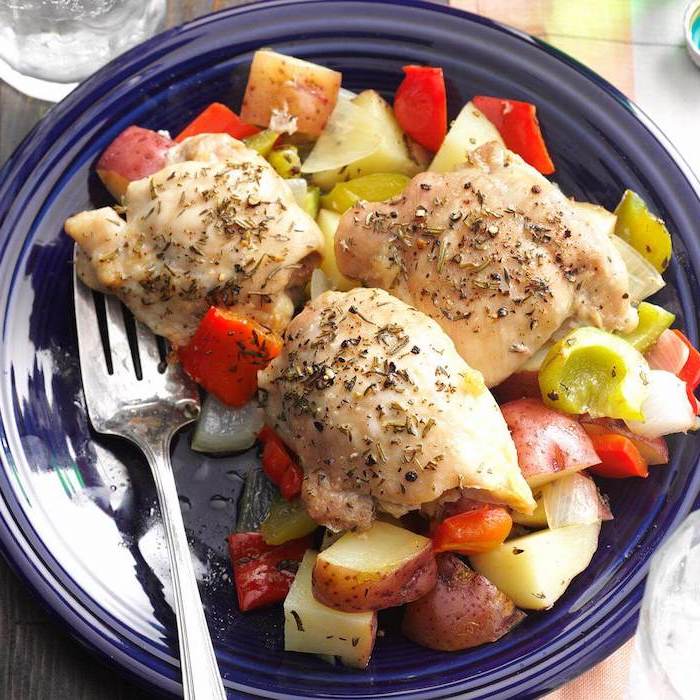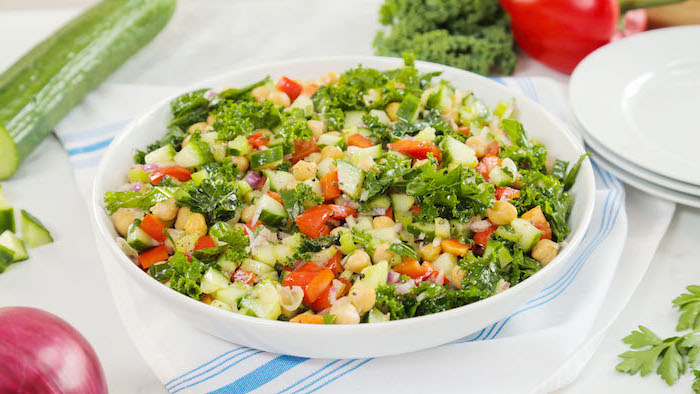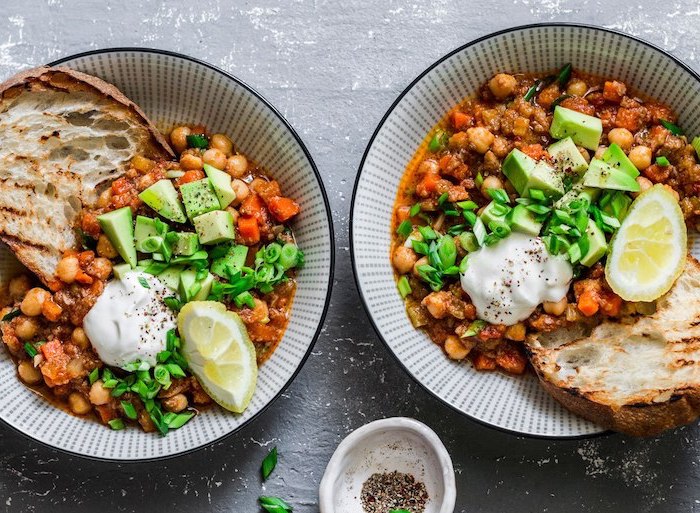 Low calorie meals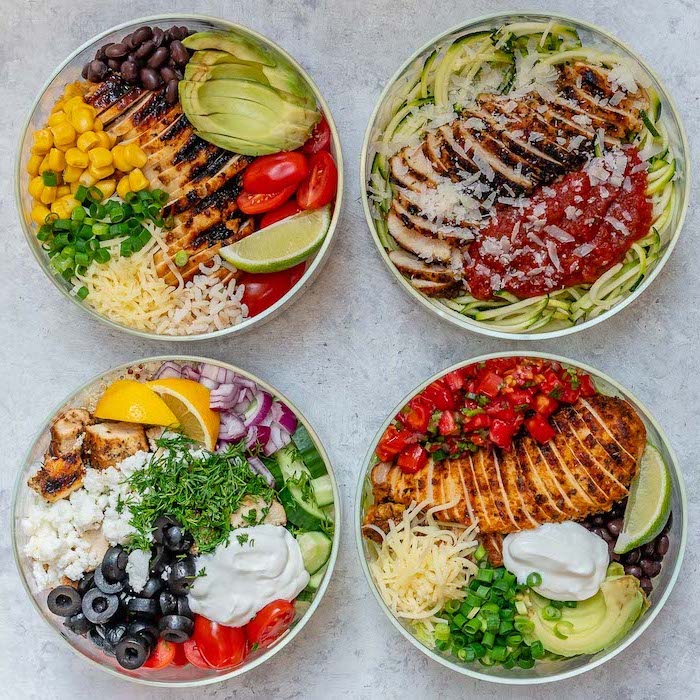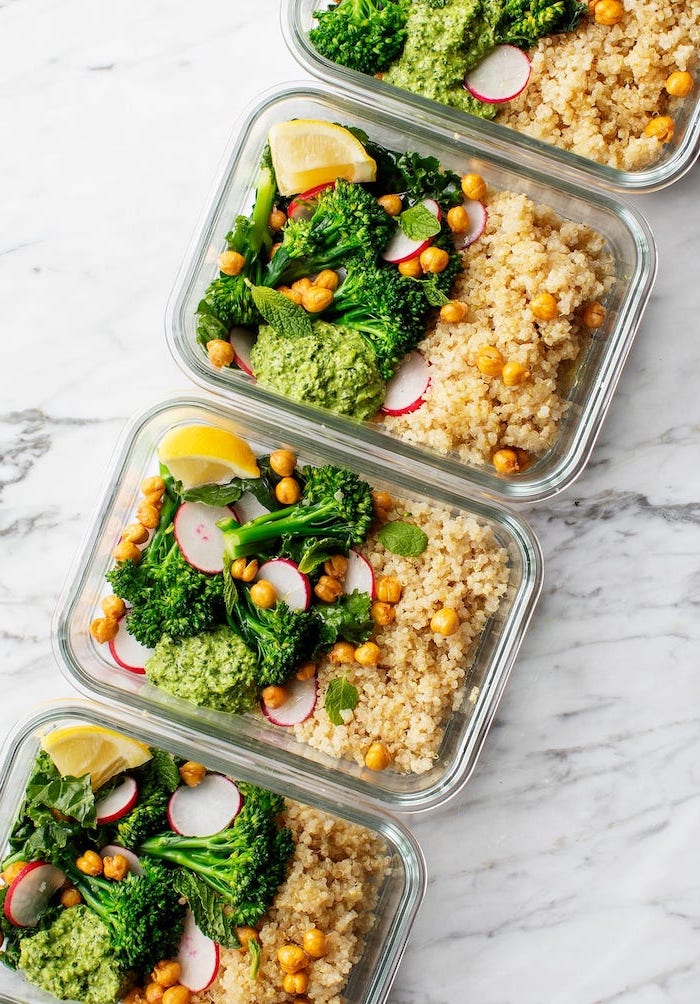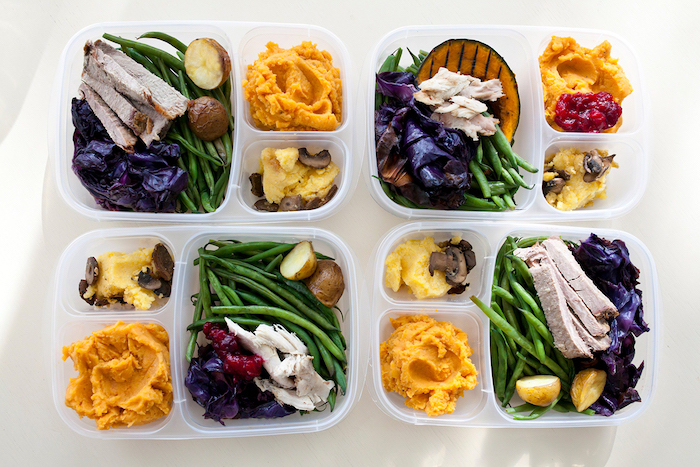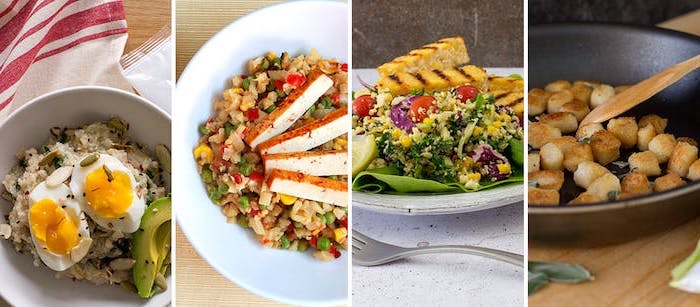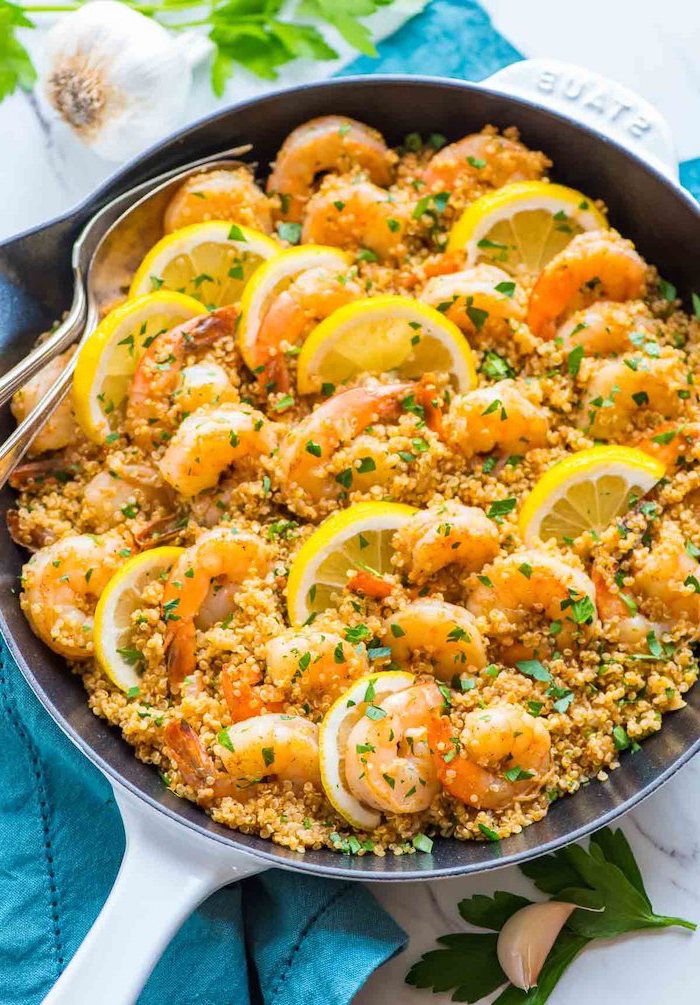 Weight loss diet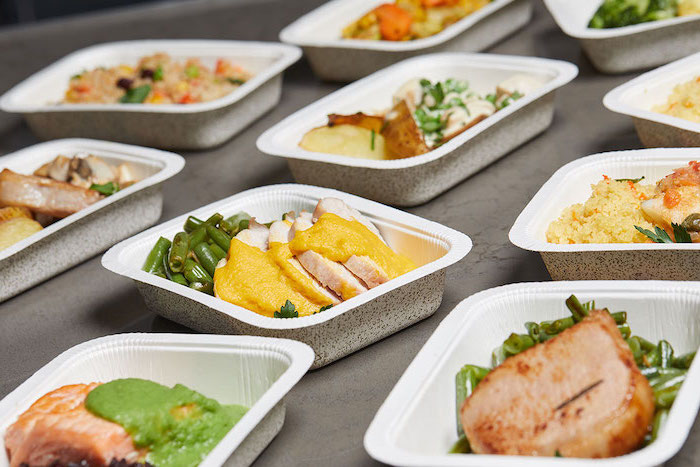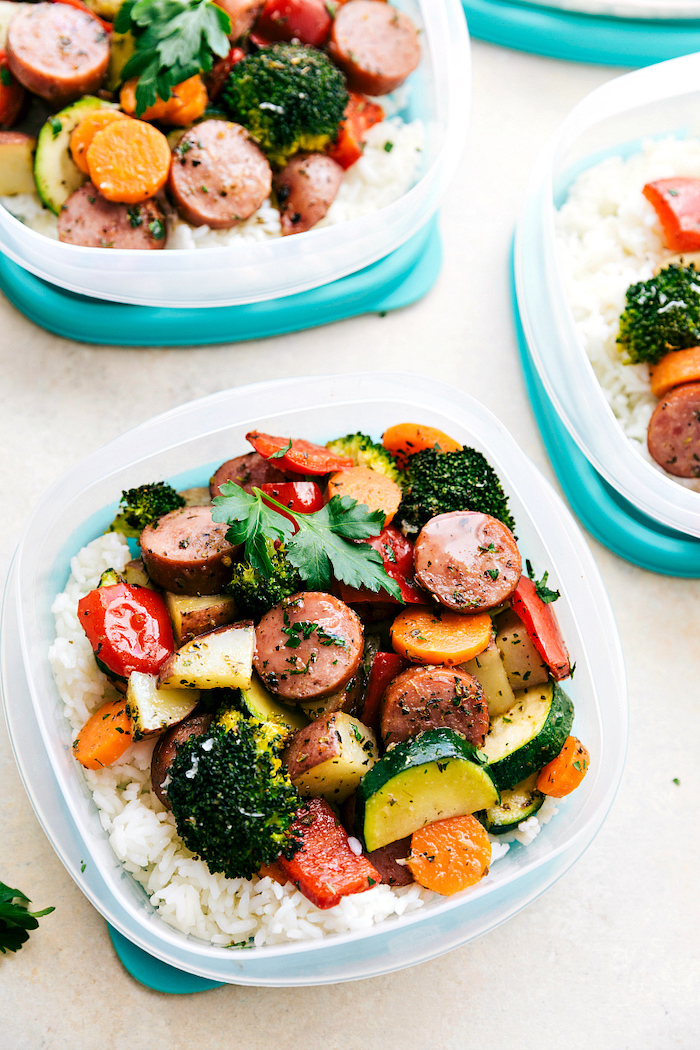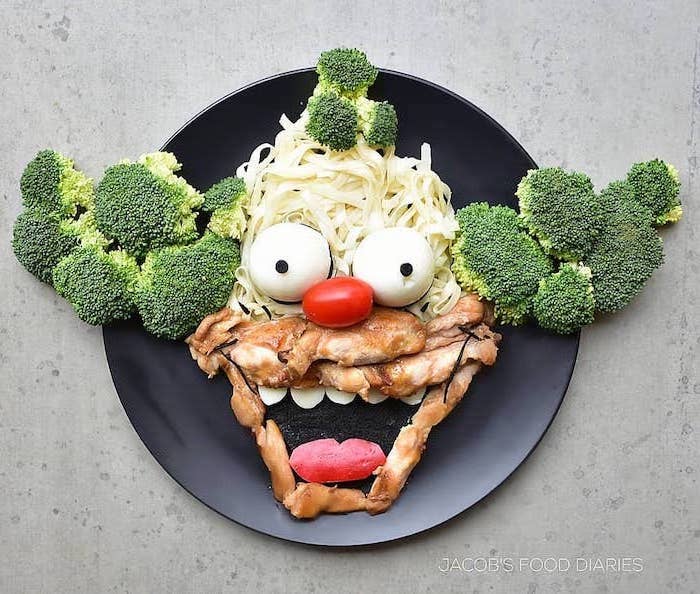 Healthy meal prep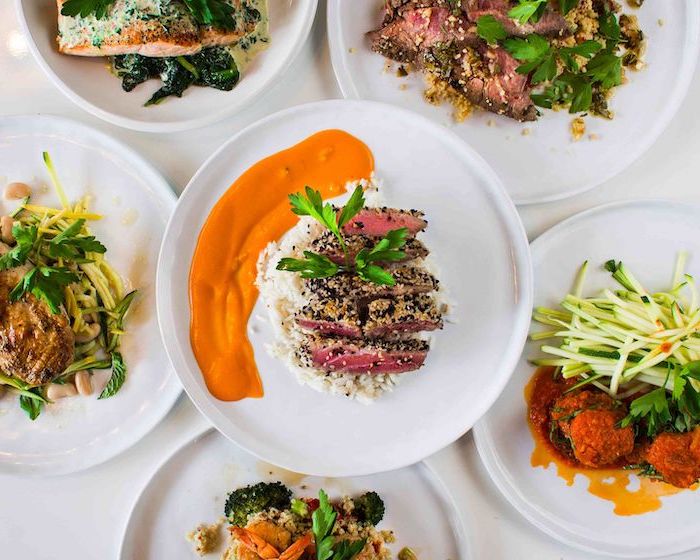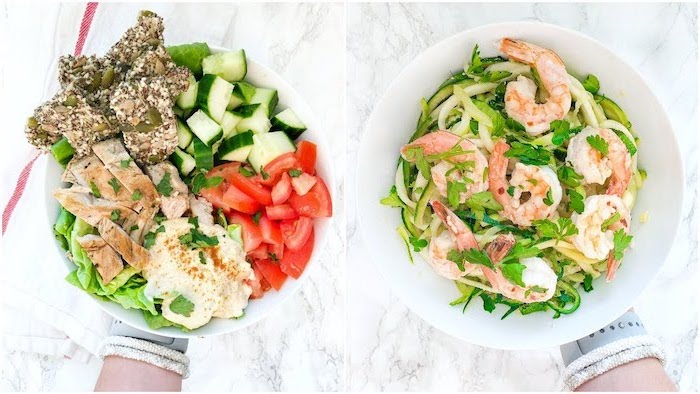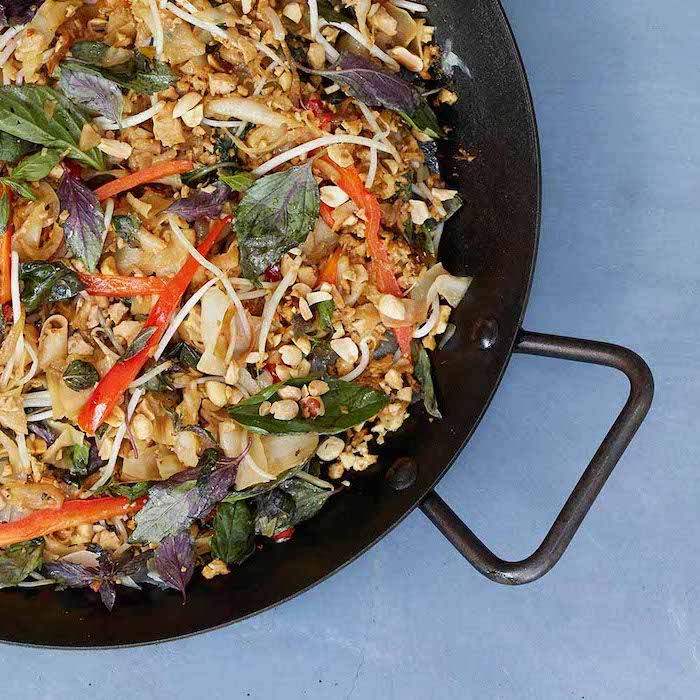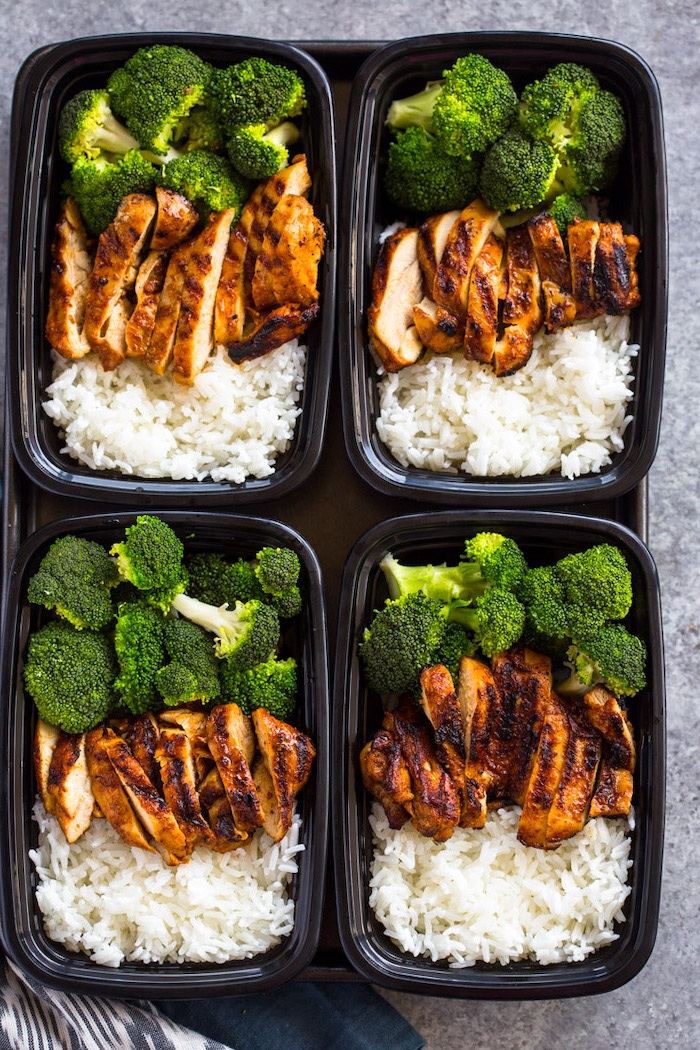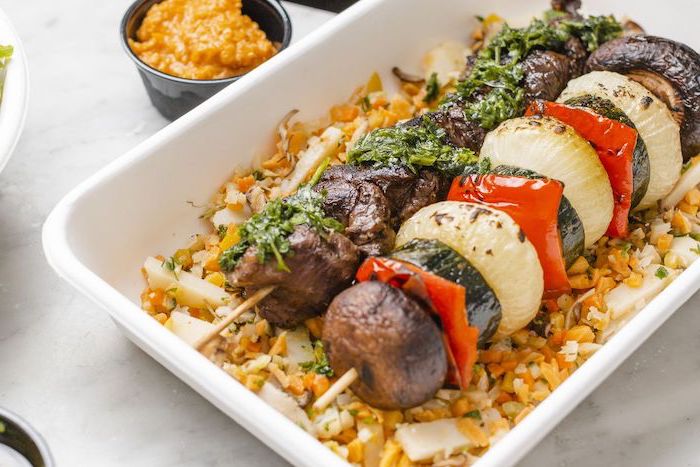 Healthy meal plans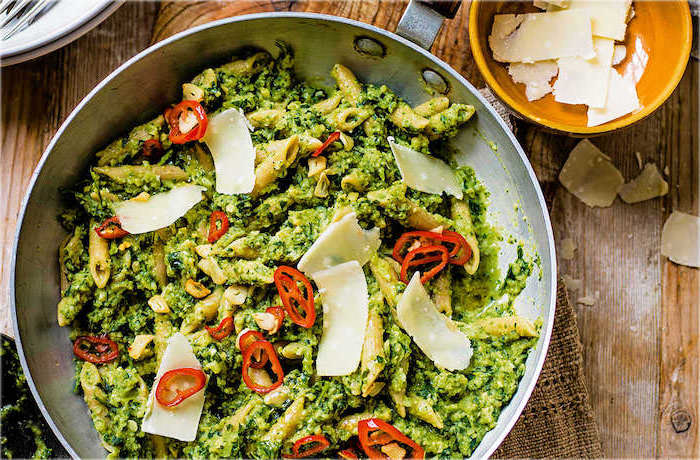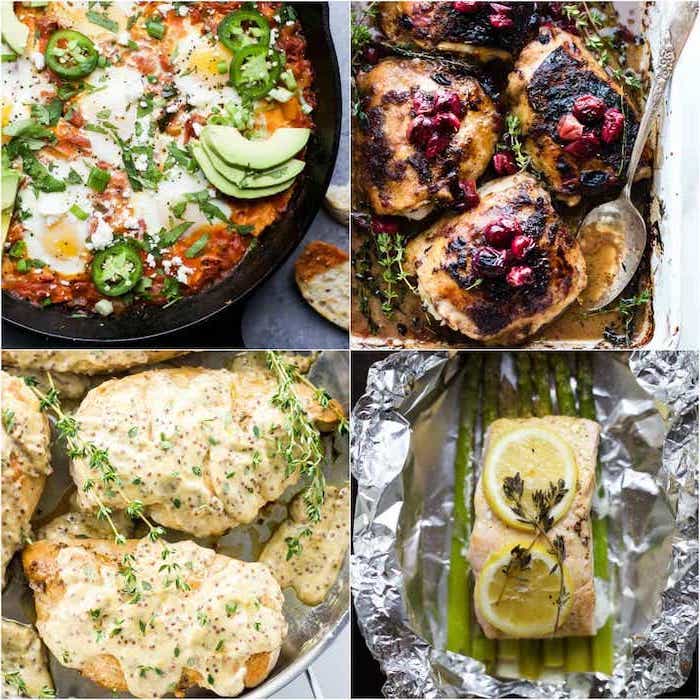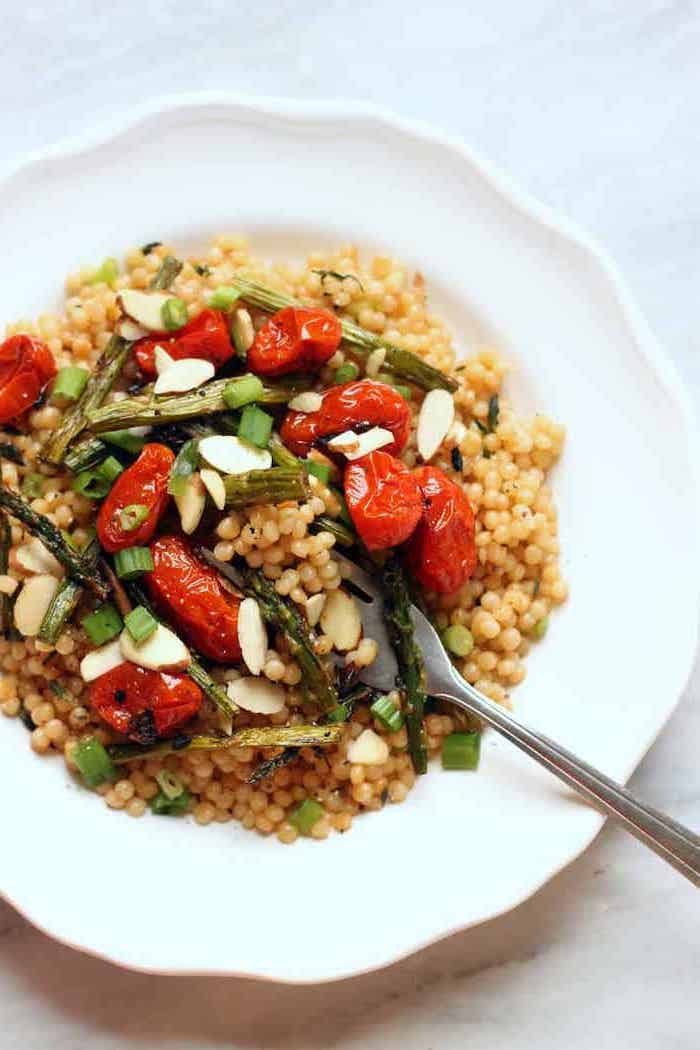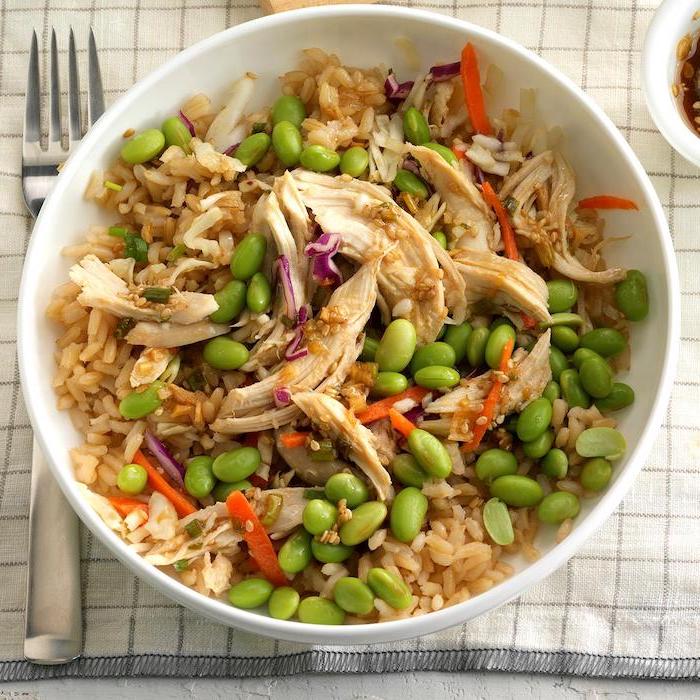 Meal prep for weight loss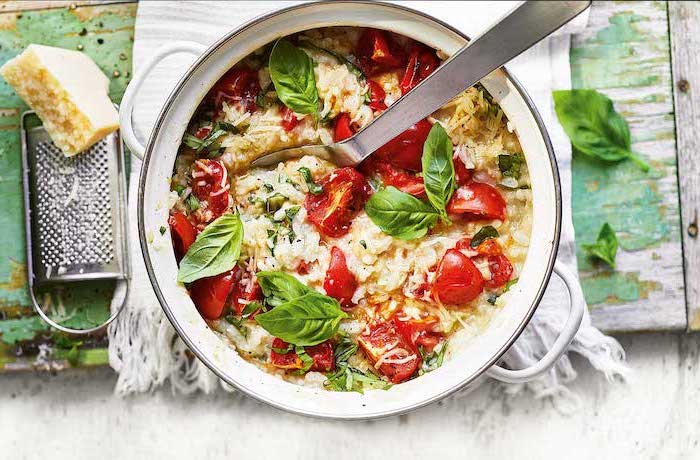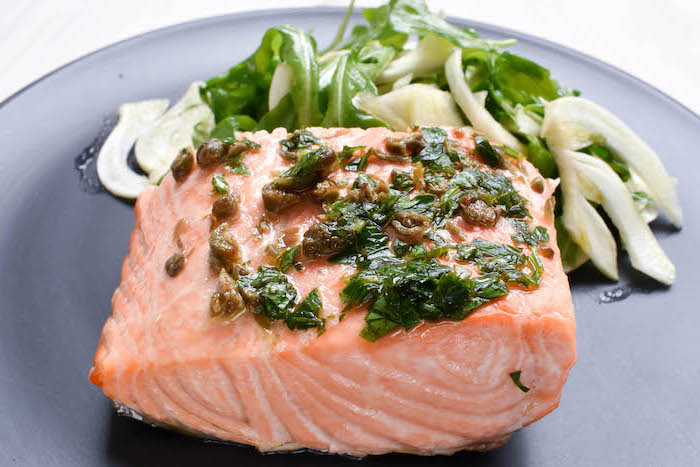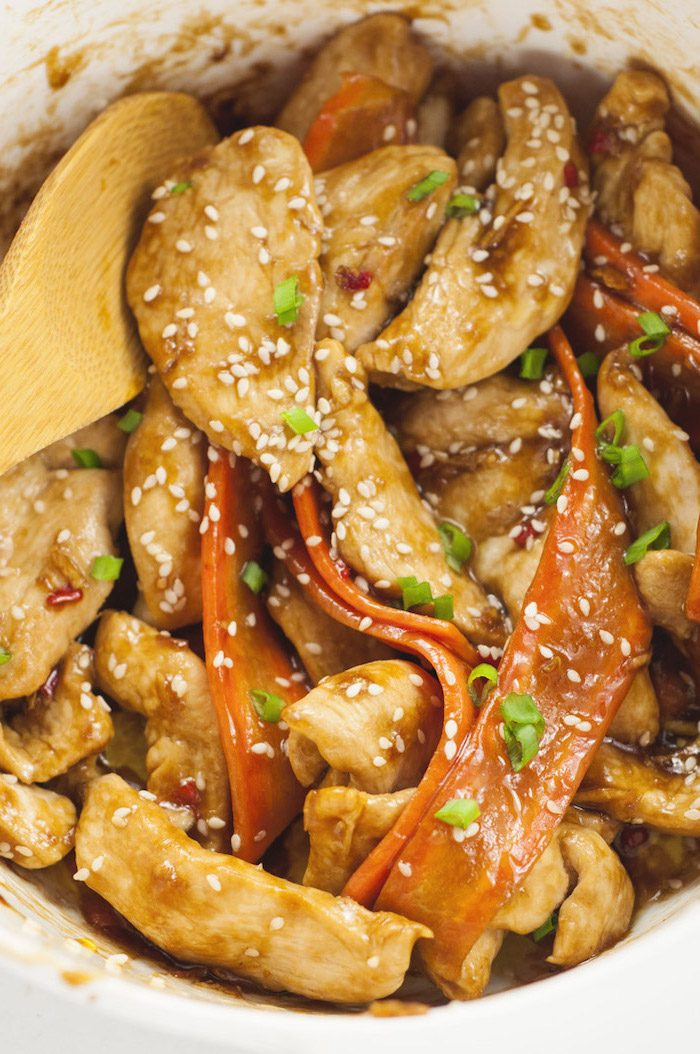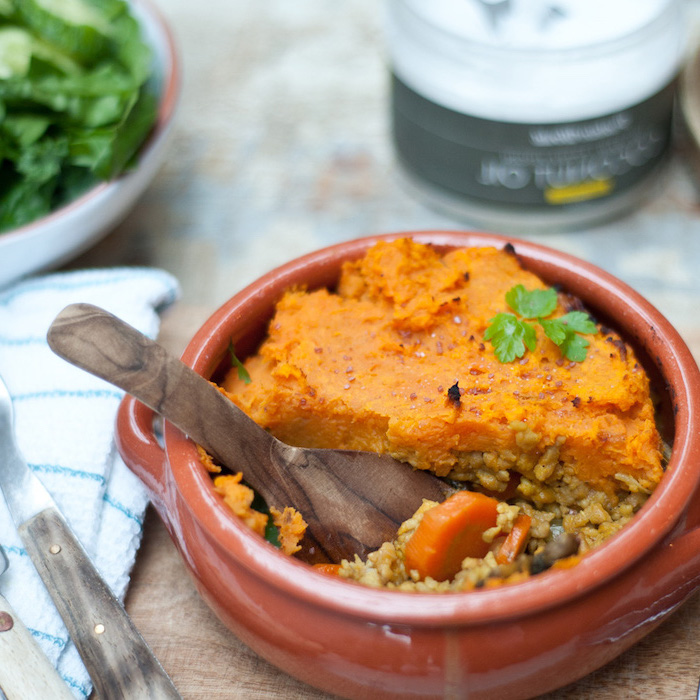 Healthy meal prep ideas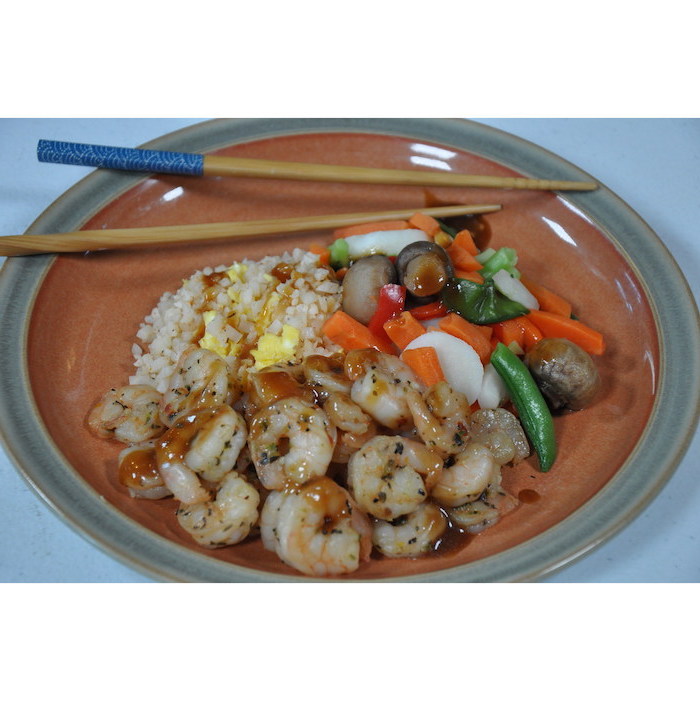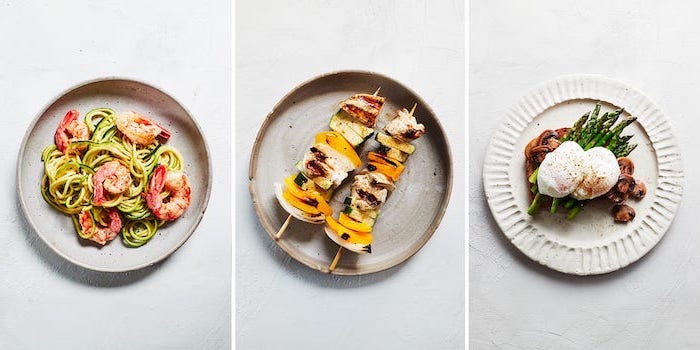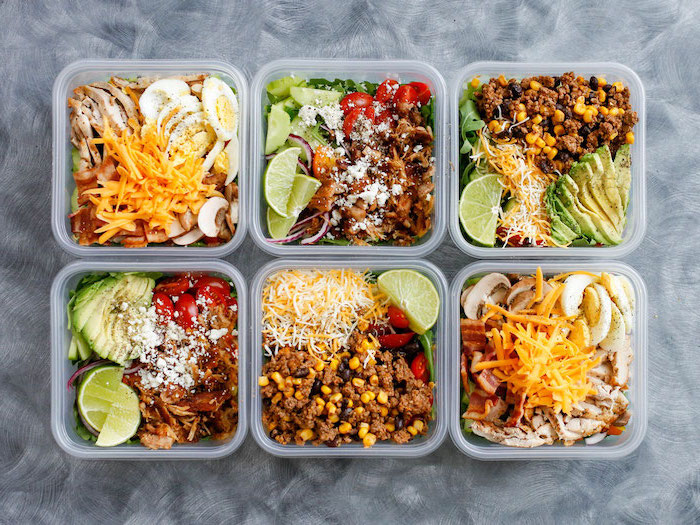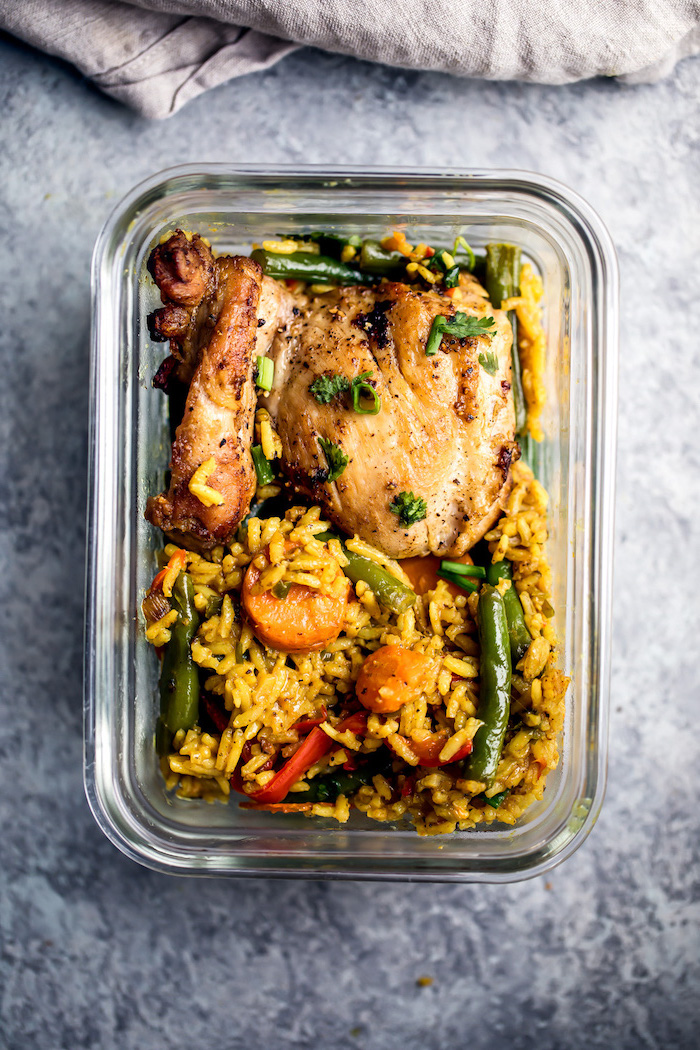 Diet plans for women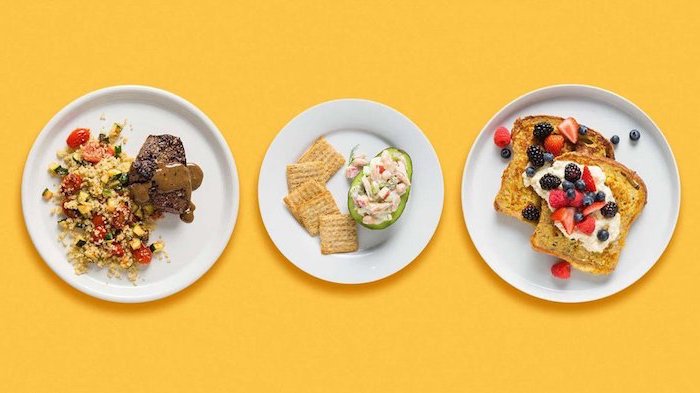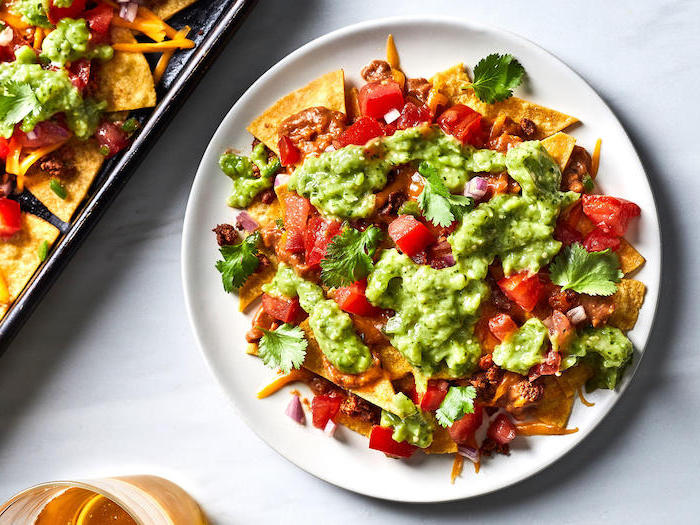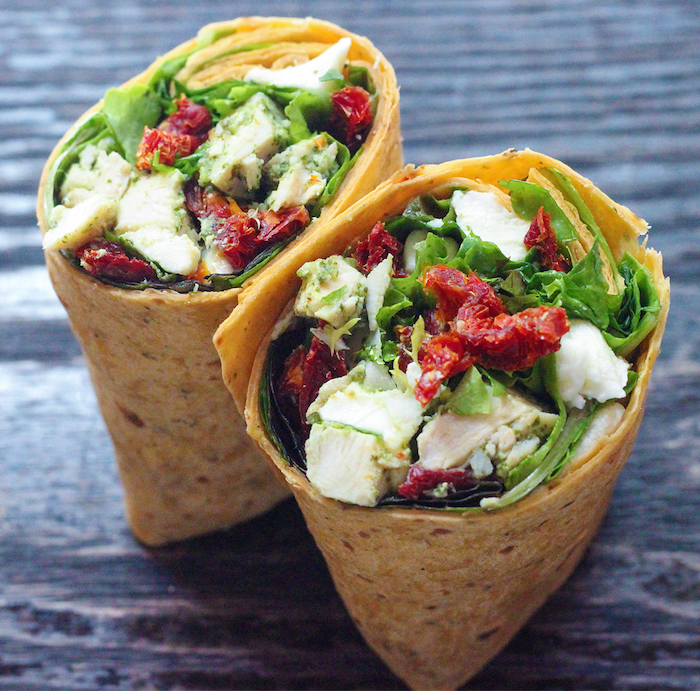 Foods that help you lose weight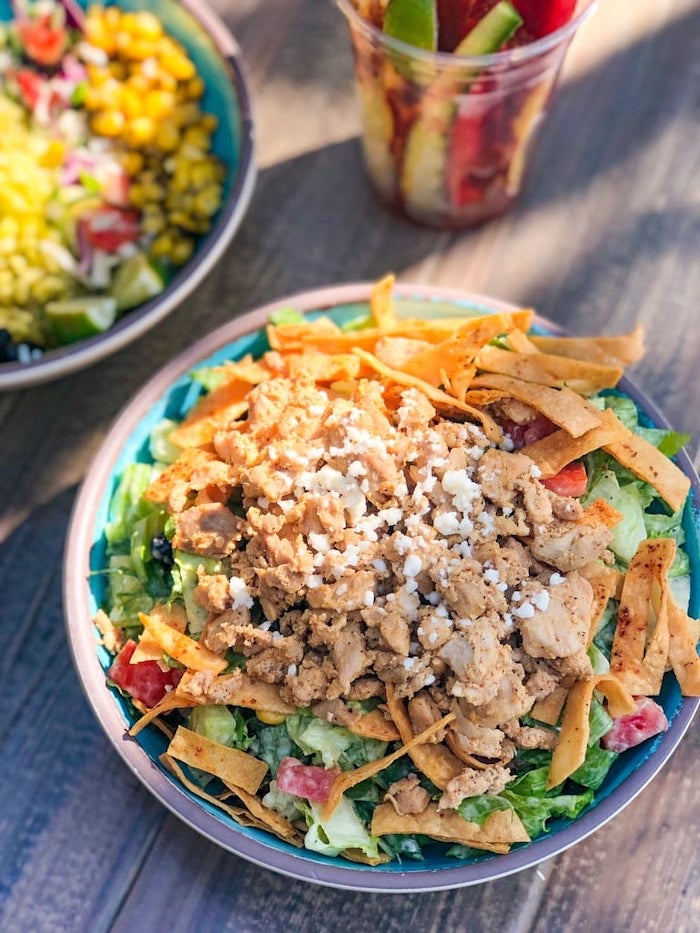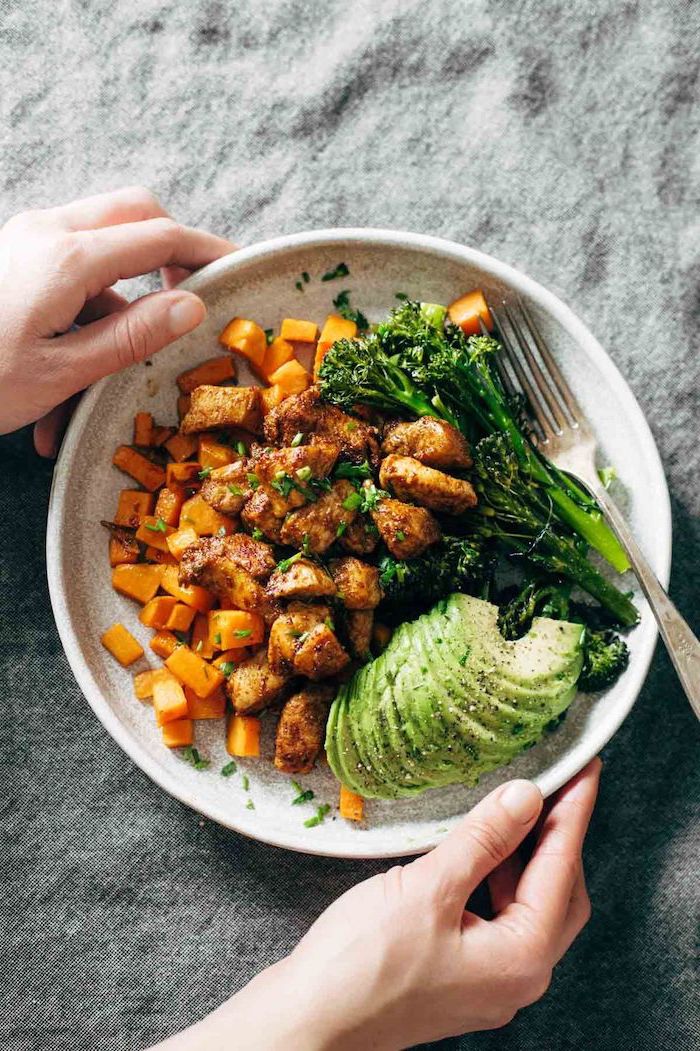 Healthy meal prep ideas for weight loss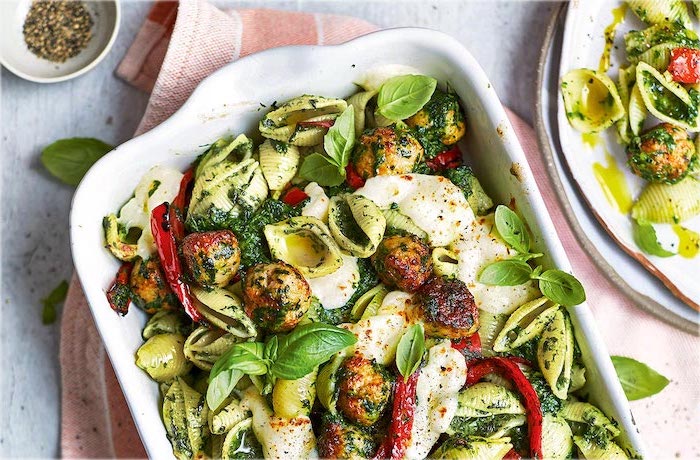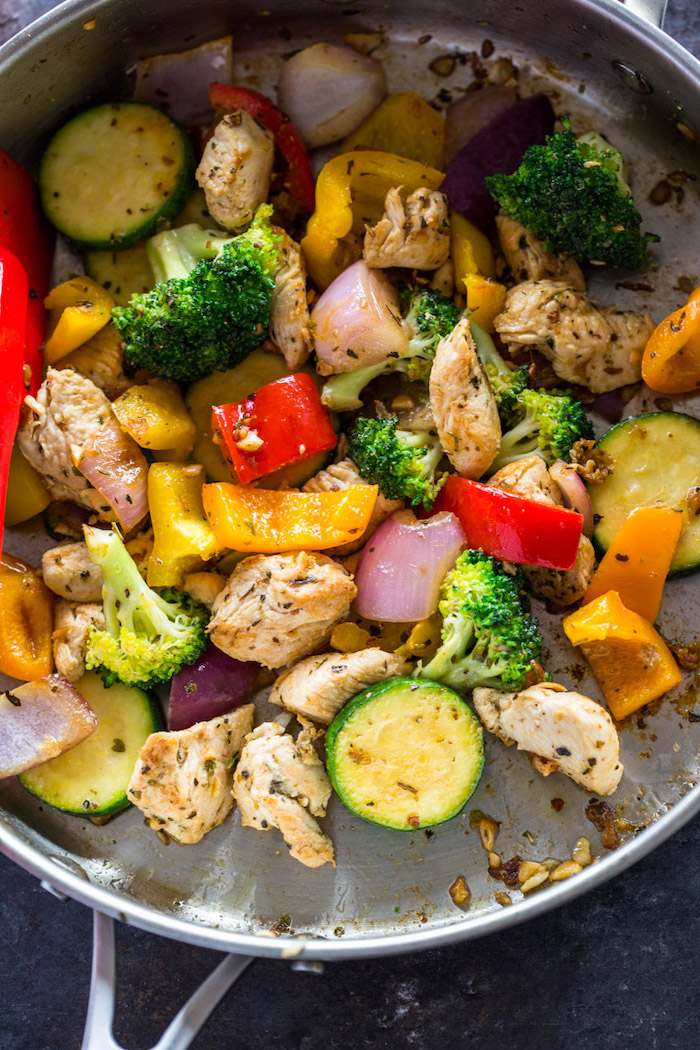 Simple meal plan to lose weight