10+ Easy Overripe Banana Recipes
It's happened even to the best of us. You buy a bulk of bananas thinking you'll be able to eat them all before they start turning brown. And what feels like seconds, have been days, and you start to notice that those beautiful, yellow bananas on the countertop have mysteriously turned quite brown. But don't despair, you're in luck. Overripe bananas are a superhero when it comes to normal and plant based baking. At this stage of their lives bananas are still very healthy for you and even have additional benefits such as antioxidants, which help the delay of cell damage. They are also much easier to digest. The browning of bananas happens when all the starch inside them has broken down into sugar. That's why they are sweeter and perfect for baking. Here are some super easy and delicious overripe banana recipes and ideas to help you use up those leftover bananas!
Enjoy these overripe banana recipes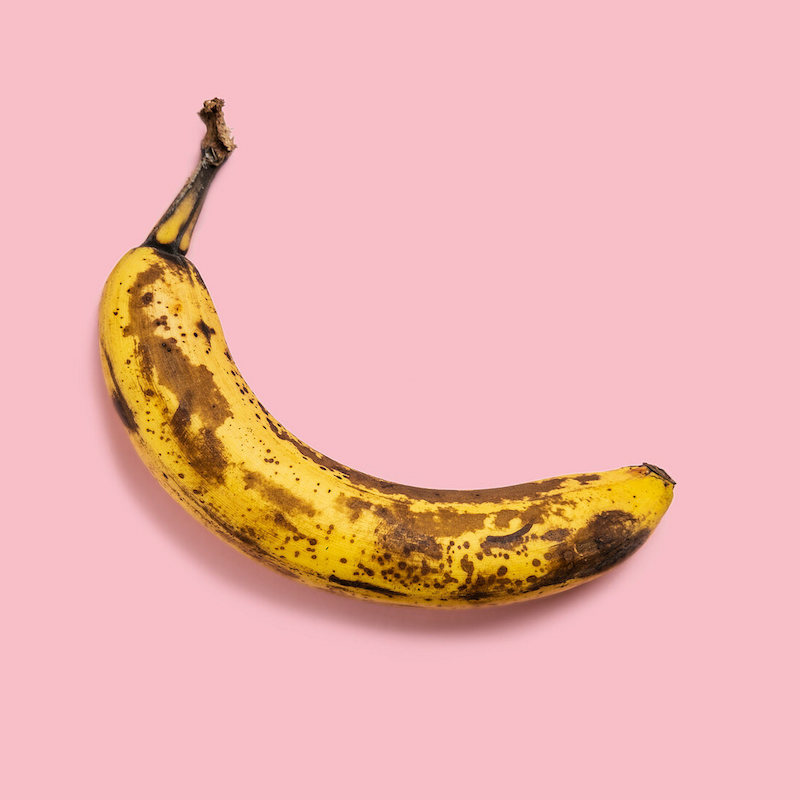 There are plenty of healthy overripe banana recipes that you can incorporate the leftover fruit you have. If you are looking for delicious breakfasts for you to try while sipping on your coffee, here are some.
Bananas are packed with a bunch of great minerals and vitamins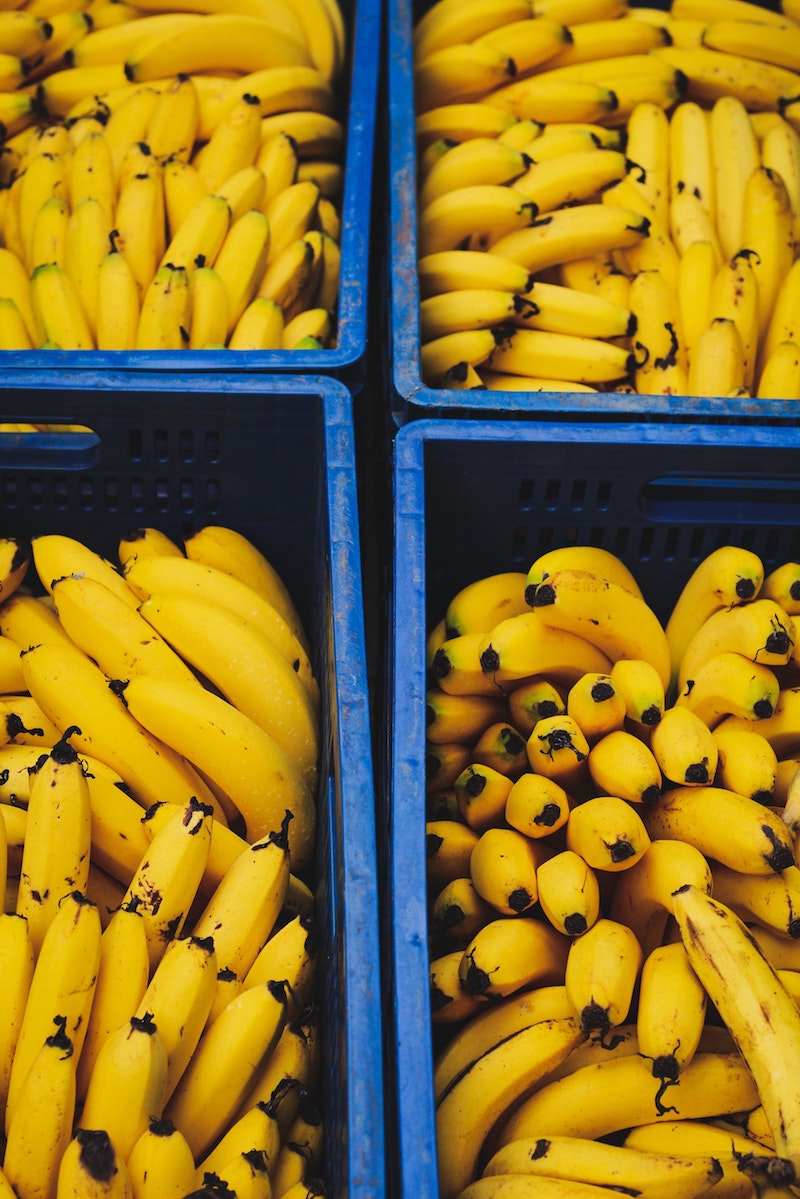 Banana Cookies
There are many healthy cookie recipes out there, but these cookies are not only good for you, they are also wholesome and yummy. Banana cookies are also great for when you need a good, satiating breakfast on the go. They are easy to make and delish.
Makes 12 cookies
Ingredients:
2 cups Quick Oats
1/2 tsp Cinnamon
1 cup Mashed Bananas
1/2 tsp Baking Powder
1/2 tsp Baking Soda
2 tbsp Honey
1/2 tsp Salt
1/2 cup Peanut Butter
1 tsp Vanilla
1/2 cup Chopped Pecans (or other)
1/4 cup Chocolate Chips (or Raisins)
Method:
Preheat your oven to 350F.
Line a baking sheet with some parchment paper and set aside.
In a bowl combine the oats, cinnamon, baking powder, baking soda, and salt.
Stir in the mashed banana, peanut butter, honey, vanilla, pecan, and chocolate chips.
Scoop the dough using a 1/4 measuring cup to form 12 cookies.
Flatten the top of each cookie and bake for around 15 minutes.
Allow the cookies to cool before storing them in an airtight container.
Yummy and super easy to make cookies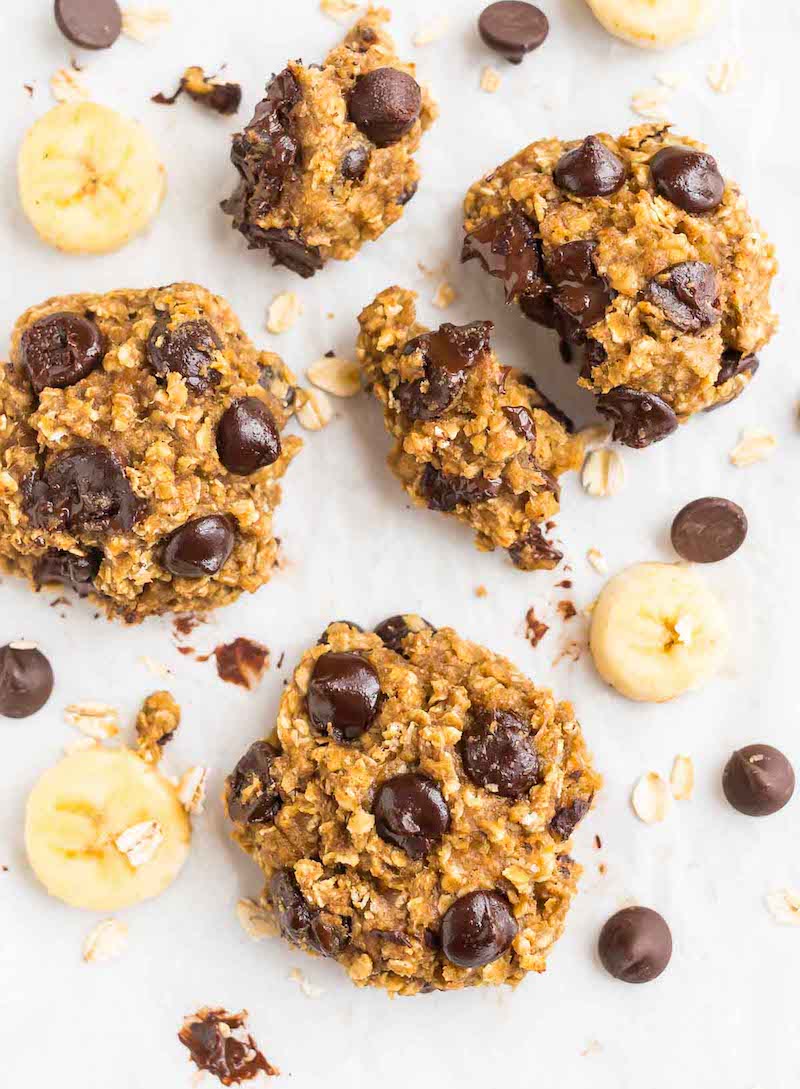 Banana Pancakes
Who doesn't love some good ol' pancakes for breakfast? Try making some with those overripe bananas you've got lying around for an easy and healthy treat.
Ingredients:
1 Overripe Banana
2 Eggs
1/4 tsp Cinnamon
1/8 tsp Salt
Method:
Mash the banana in a bowl.
In another bowl, whisk together the eggs.
Add the eggs to the banana and whisk them until combined.
Add in the salt and cinnamon and mix well.
Preheat a skillet over medium heat. Spray it with some cooking spray.
Use a tablespoon to drop the better. Let it sit for some minutes and then flip it over. Cook for an additional 1 or 2 on the remaining side.
Move to plate.
Glaze with honey if you desire.
Pancakes are the perfect breakfast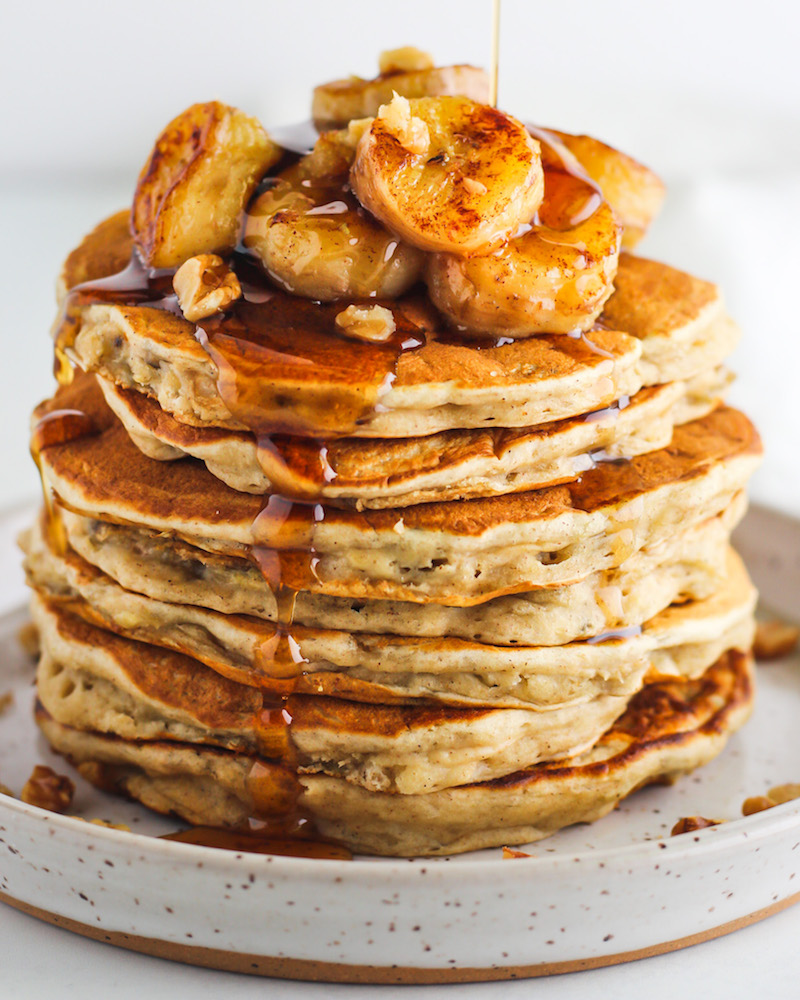 Banana Flaxseed Waffles
This recipe is a delicious combination of just five ingredients that create a yummy, crispy waffle.
Ingredients:
2 Medium-Sized Bananas
4 Eggs
1/2 cup Plain Greek Yogurt
4 tsp Baking Powder
1/2 Ground Flaxseed
Sliced Banana or Strawberry For Toppings
Honey
Method:
In a bowl mash the bananas.
Add in the eggs, yogurt, flaxseeds, and baking powder.
Put the mixture in a food processor.
Blend until you have a homogeneous mixture.
Let the mixture sit for a couple of minutes.
Pour the batter into a waffle maker.
Let it cook until the maker indicated they are done, or until no more steam is coming out.
Serve the waffles with some sliced bananas or strawberries and honey.
Choose whatever toppings you like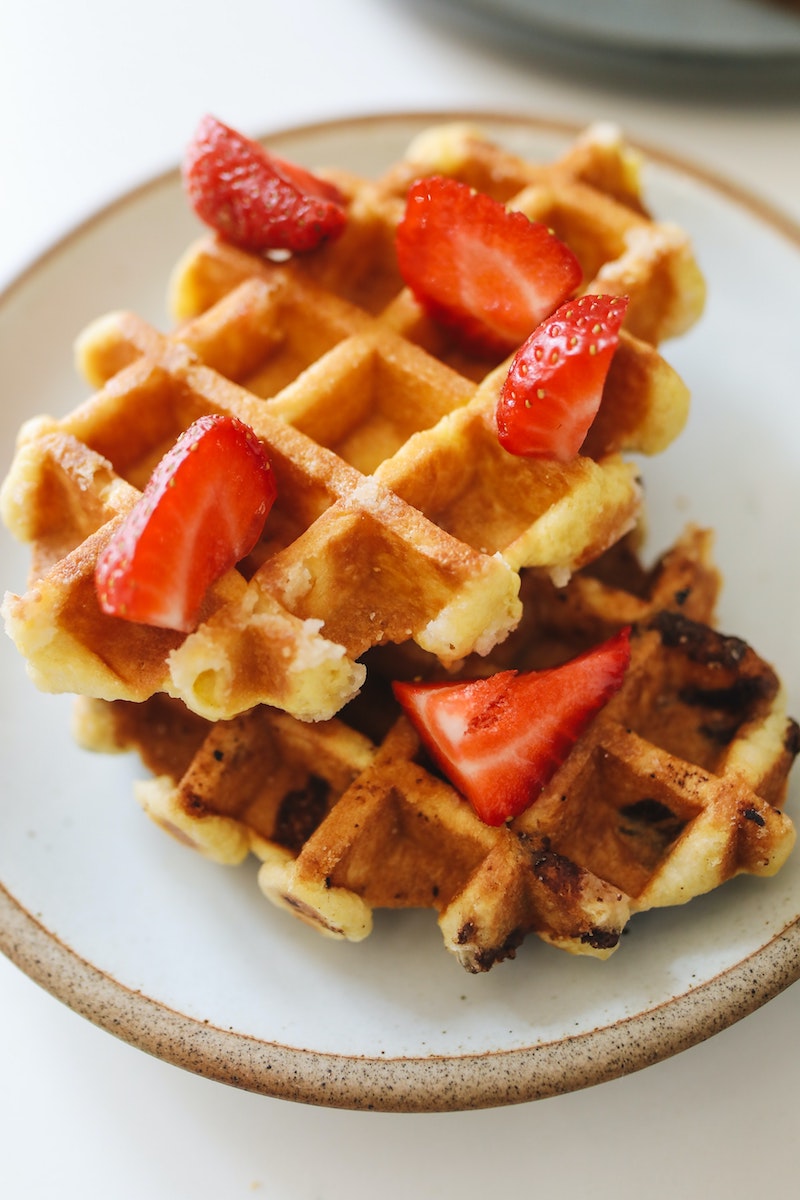 Easy Banana Recipes
If you're craving something sweet, and you're wondering what to do with all that fruit, here are some amazing overripe banana recipes.
Banana Bread
Ah, a real classic, overripe bananas are perfect for this heavenly dessert. We just couldn't resist adding a banana bread recipe.
Ingredients:
1/2 cup Butter
3 Large Overripe Bananas
2 Large Eggs
1 tsp Vanilla
2 cups All Purpose Flour
1 cup Sugar
1 tsp Baking Soda
1/2 tsp Salt
1/2 tsp Cinnamon
Method: 
Preheat your oven to 350F.
Spray a loaf pan with some non-stick cooking spray or grease it with some butter. Set aside.
Put the butter in a bowl and microwave it until it's melted.
Add the bananas into the bowl with butter and mash them with a fork.
Add in the vanilla and eggs to the bowl and with the fork mash and stir them until no yellow streaks from the egg can be seen.
In another bowl mix in the flour, sugar, soda, salt, and cinnamon.
Add the dry ingredients to the wet ones and mix together with a spatula until they have combined.
Pour the batter into the loaf pan and bake from 45 to 55 minutes. Insert a toothpick in the center of the loaf. If it comes out clean, it is ready.
Banana bread is a classic treat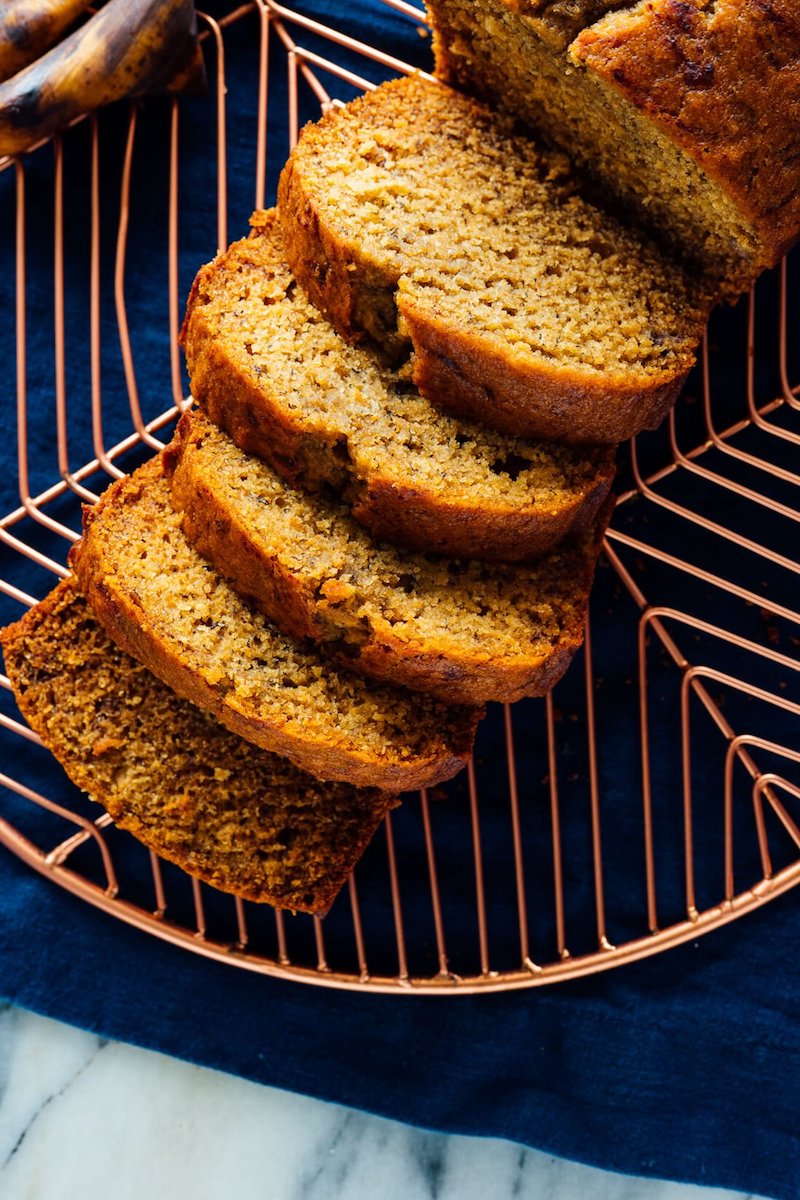 Banana Fritters
This recipe is super easy, and it has excellent results!
Ingredients:
2 cups self-raising flour
1/2 tsp baking soda
1 1/2 cup water
4 bananas
1 cup plain flour
1/2 cup oil
Method:
Sift the flour and the soda into a bowl. Add in the water and mix until you get a smooth batter.
Peel the bananas and cut them into three. Roll them lightly in flour.
Drop the banana pieces into the batter and drain any excess.
Deep-fry the bananas in hot oil until they turn golden brown.
Remove from the oil, drain on some paper and serve hot with some ice cream.
This yummy treat comes from West Africa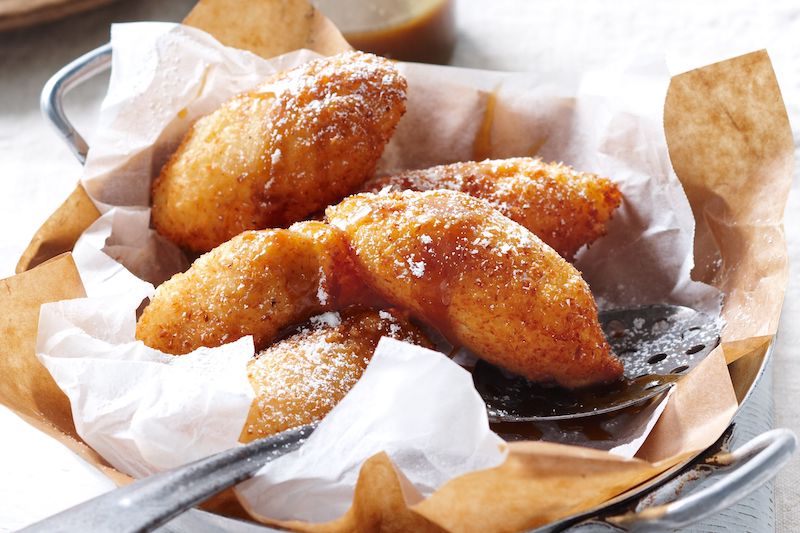 Banana Ice Cream
You don't need a fancy ice cream maker and a ton of ingredients to make amazing overripe banana recipes for ice cream. In this case all you even require is just one ingredient.
Ingredients: 
1 Large Banana
Optional: Chocolate Chips
Method:
Peel the banana and chop it into small pieces. Just make sure they are evenly sized.
Put the bananas in an airtight container. Place them in a freezer-safe glass bowl or a freezer bag.
Let the banana pieces freeze for at least 2 hours. Ideally leave them overnight. They should be solid.
In a food processor or blender pulse the frozen pieces. Keep pulsing until the banana looks crumbly. Don't forget to scrape down the food processor.
Start blending until the bananas start to look gooey, like mush.
Keep blending until it looks like oatmeal. It will get smoother but will still have some chunks in it.
As the last bits of banana start to smooth out, the mixture should shift from blended banana to a creamy, soft-serve ice cream like texture. You can add add-ons like chocolate chips in this stage and mix them in.
Transfer into an airtight container and leave in the freezer until it's solid.
Beautiful and simple ice cream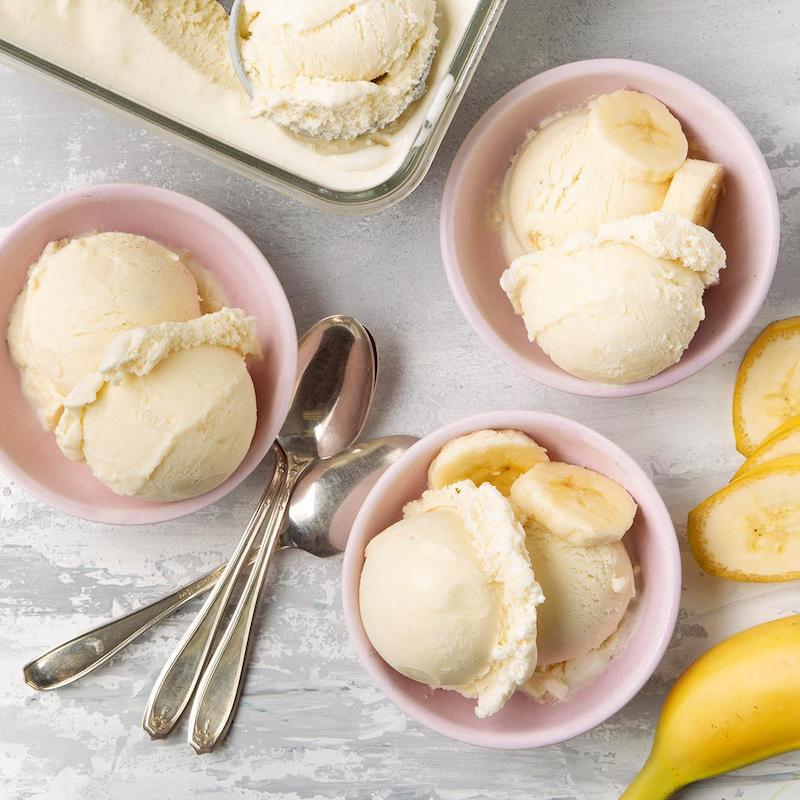 What To Do With Old Bananas?
As we mentioned in this stage bananas are great for baking. There are many ideas for guilt-free, easy recipes for snacks with overripe bananas. But what you probably didn't know is that there are many other creative ideas on how to use them! Here are just some.
You get creative with your bananas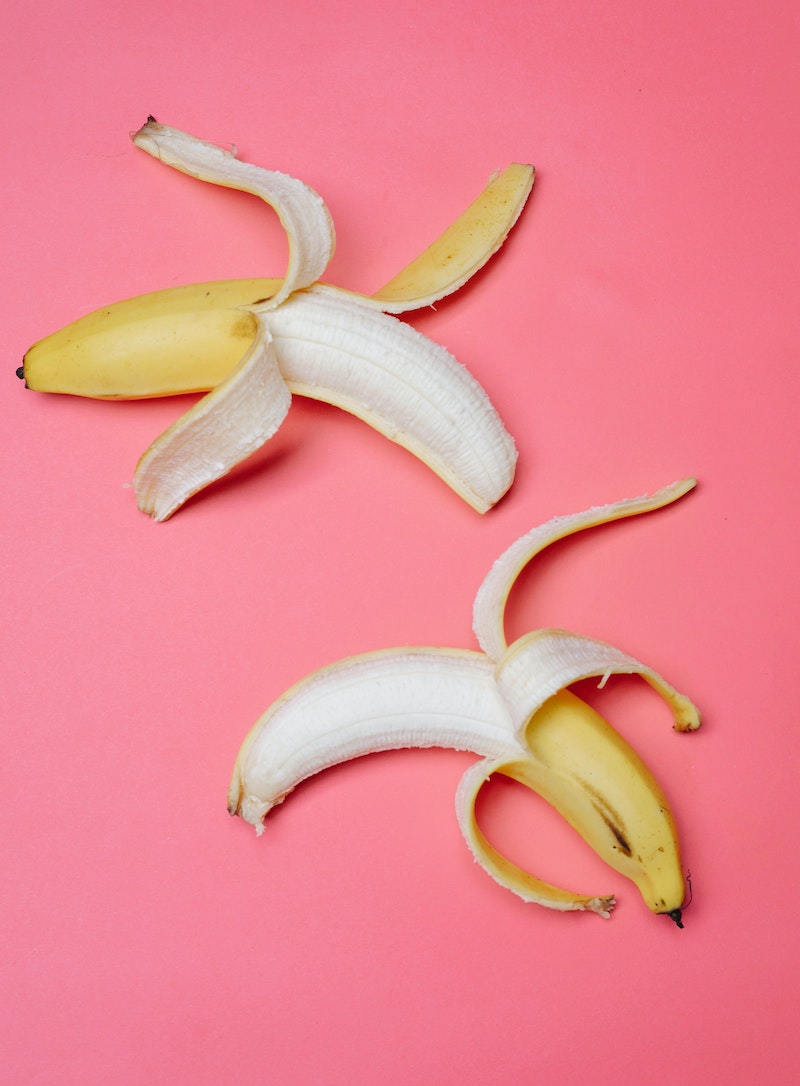 Shoe Shiner
Bananas contain potassium which can also be found in shoe polish. So, if you have any shoes in need of a good scrub, use the banana peel. Rub it all onto your shoes and then buff with a soft cloth for an easy shine!
The peels can be great for shoe polishing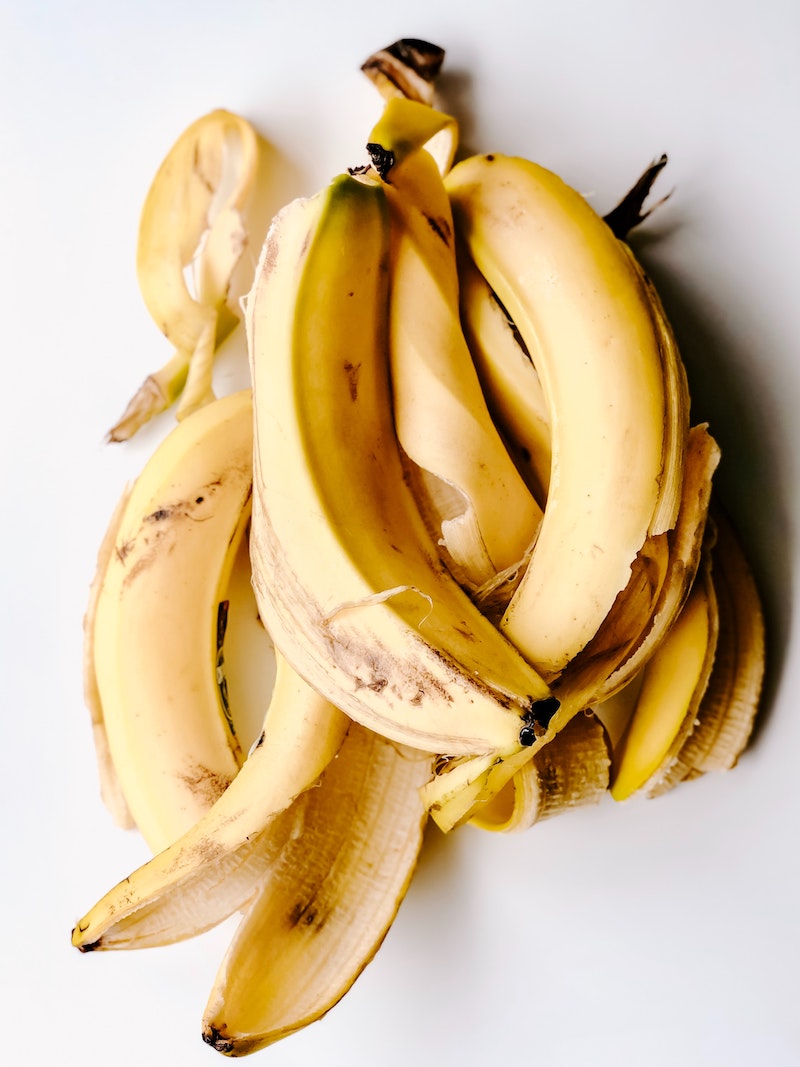 Plant Fertilizer
Bananas make an excellent concentrated fertilizer for your houseplants. This is because they are rich in vitamins and minerals and will help promote growth. The potassium content of the fruit can help build general plant health, build up it's resistance to disease and increase its strength!
Items:
Method:
Peel your banana.
Place it in a jar filled with water and replace the lid.
Let the jar sit out for a day or two.
Strain out any solids.
In order to use the fertilizer on your plants, make sure to dilute 1/2 cup of the concentrated banana water with one gallon of water.
Water your plants as usual using the diluted fertilizer mix.
Make your plants grow big and strong with banana fertilizer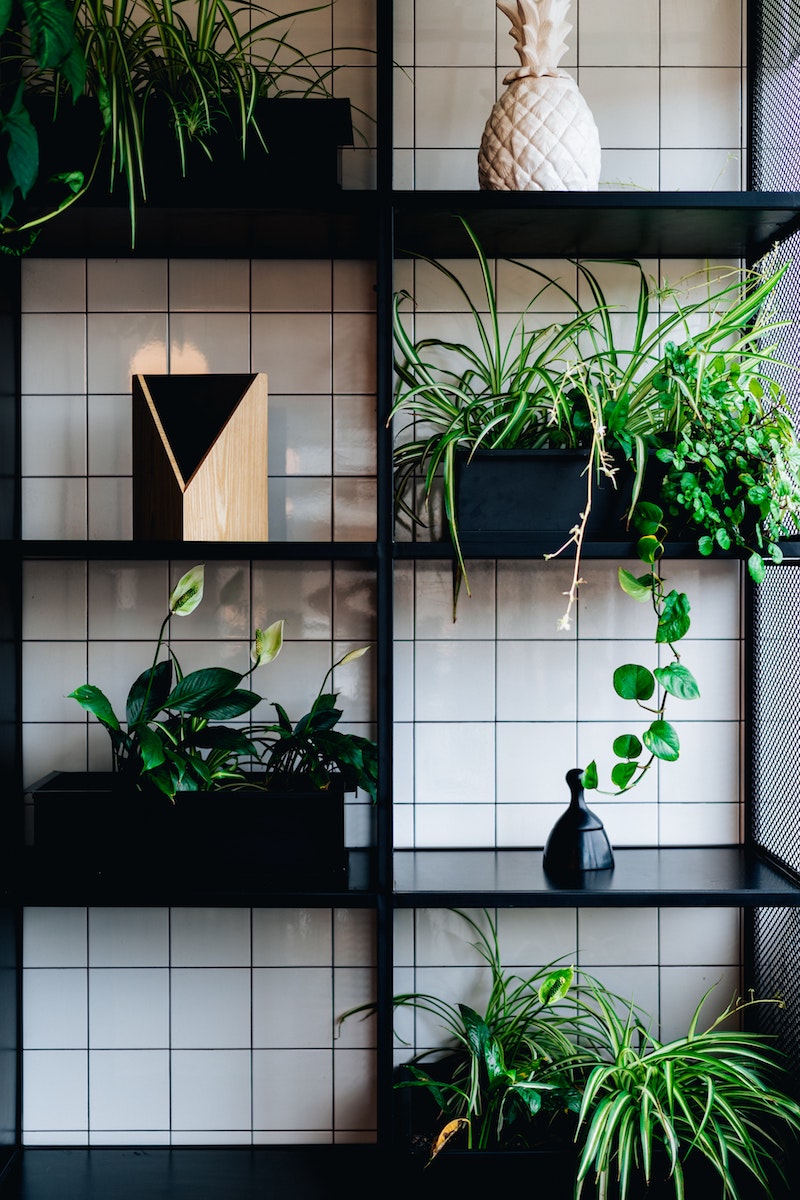 Smoothies
You can peel, chop, pack, and freeze your bananas, so you can easily add them to your smoothies recipes throughout the week. You can pack a whole bag of bananas, or you can make portion mixes.  Keep in mind though, overripe bananas are sweeter, so if you don't want too much sweetness in your drink, put a smaller amount.
You can freeze bananas for later or until you decide what to do with them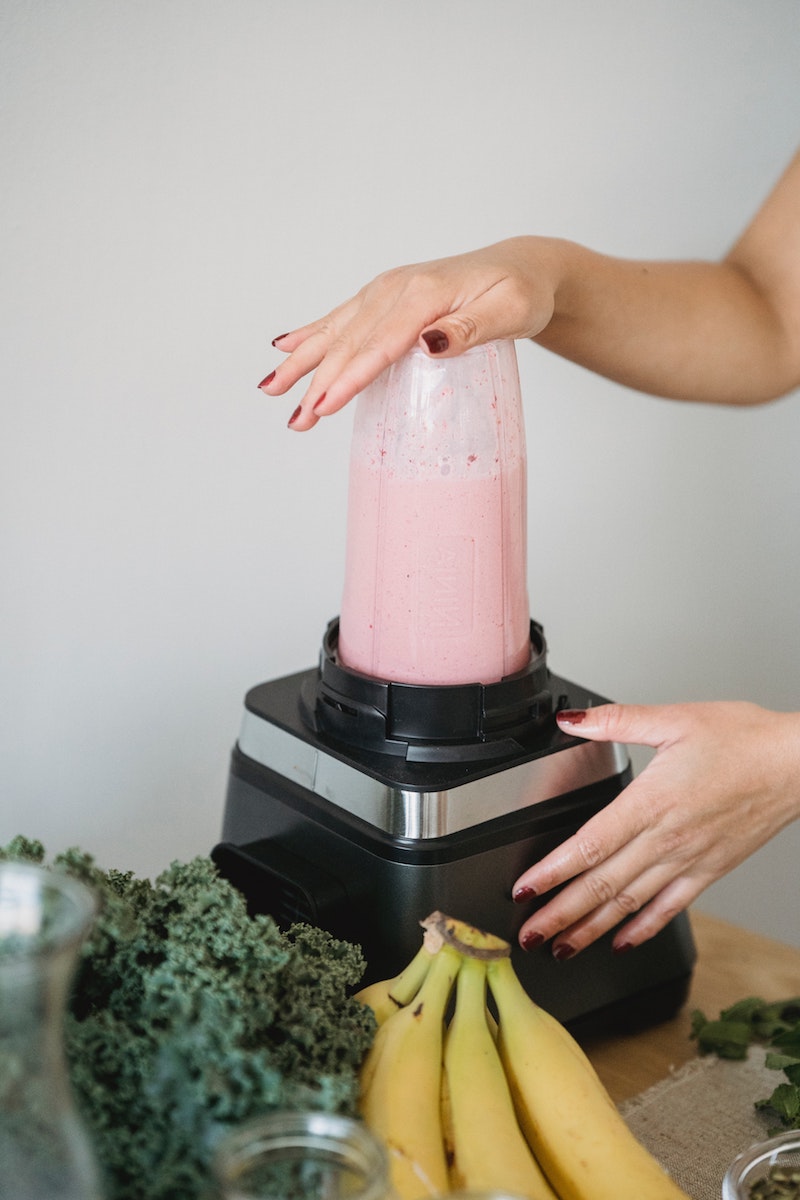 Hair Mask
Bananas have many great qualities, not only are they delicious, they are also filled with a lot of healthy nutrients. They contain vitamins A, E and C as well as natural oils which are great for our hair. These nutrients can prevent split ends, improve hair growth, and improve your hair's elasticity. So, why not use those overripe bananas to make a homemade hair mask to help make your hair shiner, healthier and bouncier!
Items:
1 Banana
2 tbsp Carrier Oil of Your Choice (For Example: Castor oil is great for hair growth)
2 tbsp Honey
1/2 cup Coconut Milk
Food Processor
Optional: Container
Disposable Shower Cap
Method: 
Add all the above-mentioned ingredients in a blender or food processor.
Blend until the mixture is smooth.
If you want to make a bigger batch, and have more for later on, have a container ready to put the mixture in.
Apply to your hair and make sure to evenly distribute it all over your hair and scalp.
Put on a disposable shower cap (or a plastic bag) and let the mask sit for 30 minutes.
Rinse it off and wash your hair as normal.
Bananas help hair grow, shine, and become more healthy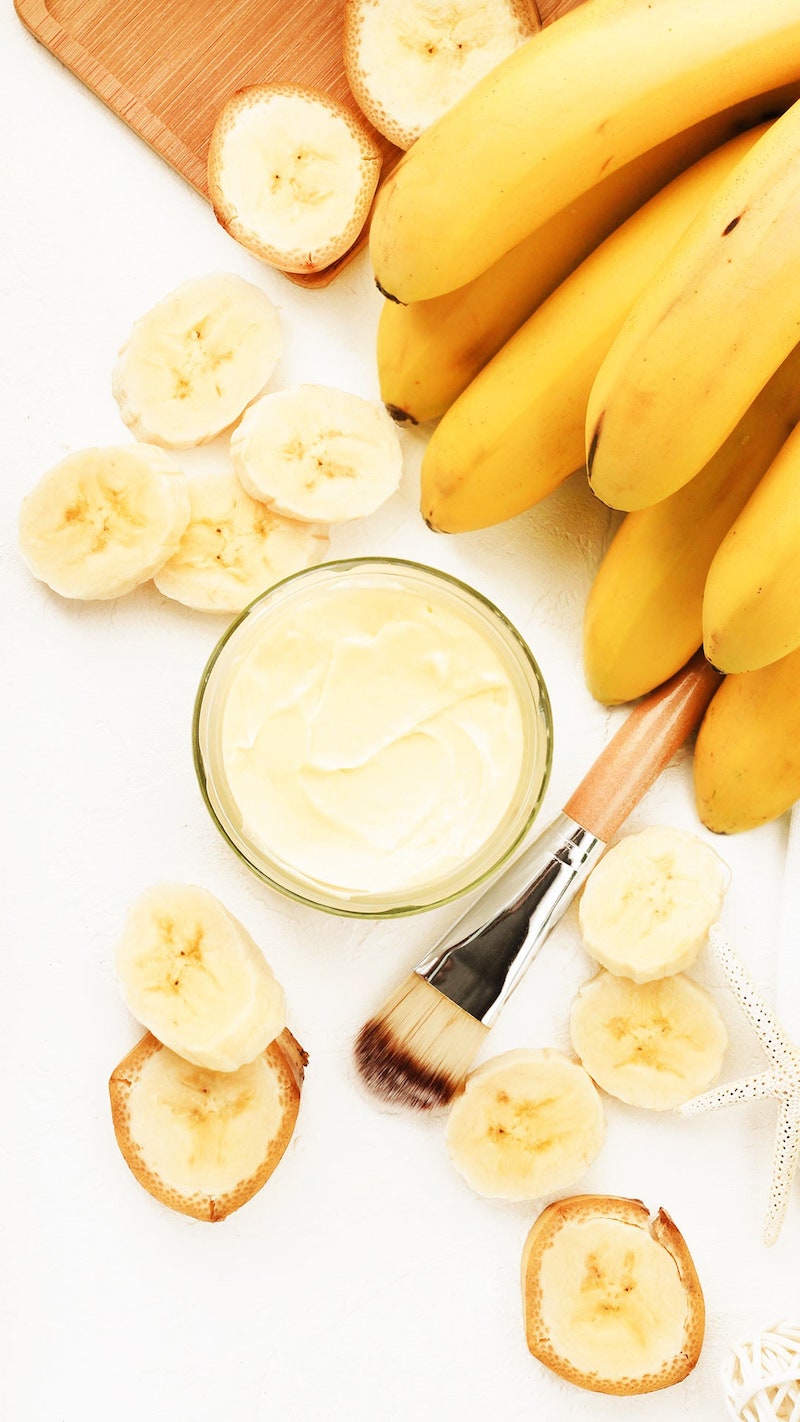 Sugar Scrub
You can make a sugar scrub to help exfoliate your skin! The process is super easy, and it will feel great when you hop in the shower and rub the scrub all over. It will leave your skin feeling soft and smooth. The banana flesh also adds a nice soothing effect!
Items:
Overripe Banana
Sugar
Lavender Essential Oil
Bowl
Fork
Optional: Container
Method:
Peel and mash your banana in the bowl.
Add 3 tablespoons of sugar and a few drops of the lavender oil.
Mix well.
If you want to make a bigger batch, and have more for later on, have a container ready to put the mixture in.
This scrub is a great exfoliant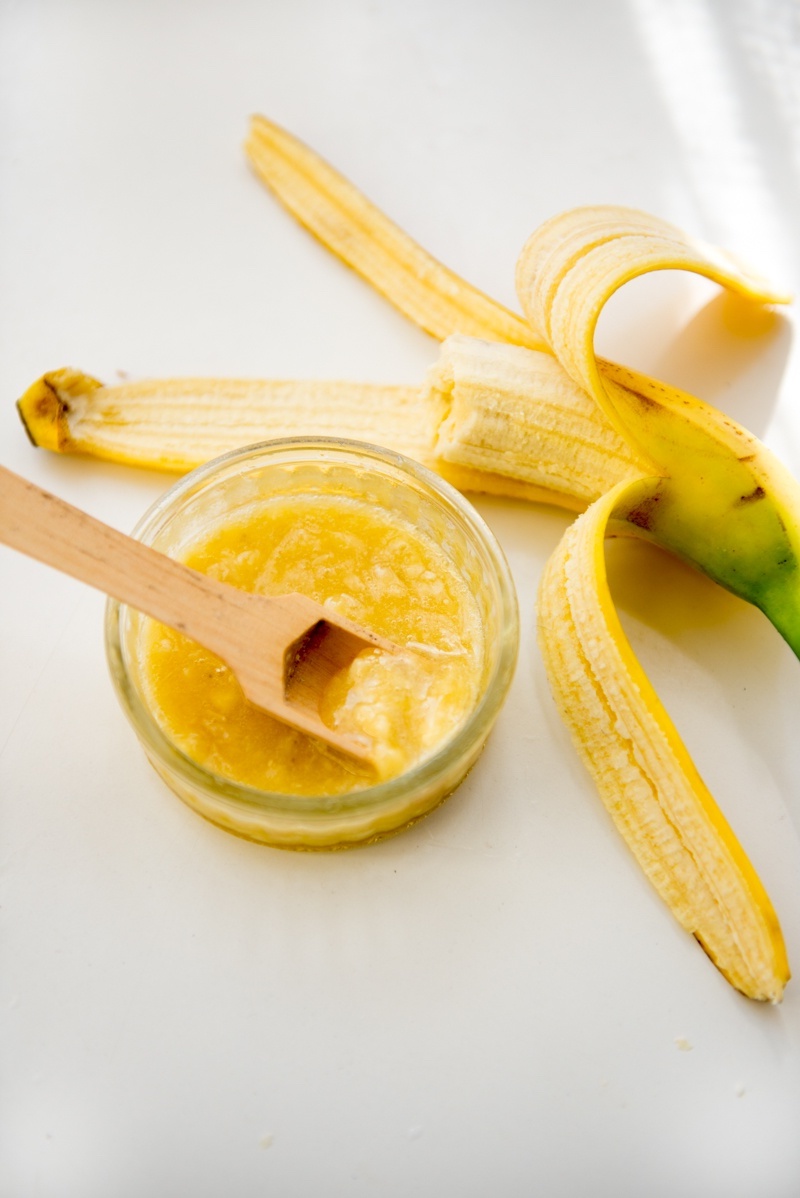 We hope you found these overripe banana recipes as delightful as we did, and you try them out next time you've got some brown bananas lying around. There are always creative ways to use and reuse foods in your fridge, such as leftover chicken, or as it was in our case – delicious bananas.
Who knew you can do some much with overripe bananas?