---
Gua Sha is a method of gently shaping the skin with a stone to unveil a tighter and glowier complexion. What's more, Gua Sha has been a part of traditional Chinese medicine for hundreds of years. And there's no denying that this is one of the most popular beauty trends right now! So, if you want to learn how to take better care of your skin, check out our guide on how to use a Gua Sha stone for a face massage. There you will not only learn about the benefits of face massaging but also how you can easily start using a Gua Sha tool at home. Now, we will continue our Gua Sha guide with an article about the advantages of the different types of stones used for Gua Sha massages. Continue reading to find out which stone is right for you:
Wondering which Gua Sha material is perfect for your skin? Find out below: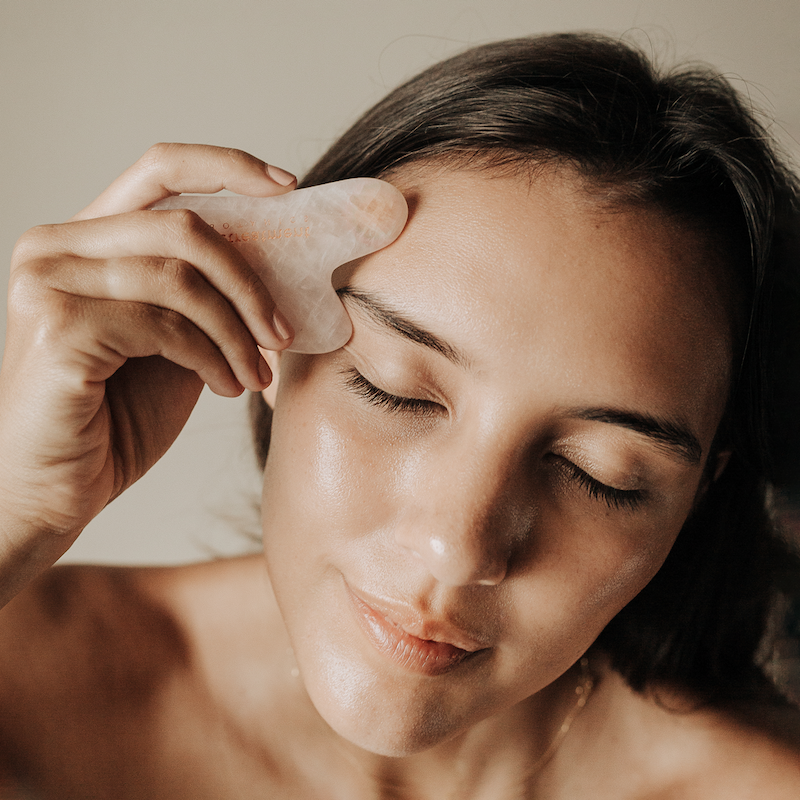 ---
Gua Sha is an ancient technique of massage that involves the use of a tool to promote fluid circulation beneath the skin. What's more, Gua Sha aims to improve one's health and provide relief from symptoms like chronic pain, migraines, and stress. Traditional Chinese culture utilized gemstones with unique benefits depending on the skin type of each individual. Two of the most common stones used in Gua Sha tools are Jade and Rose Quartz. There are, however, a lot of different options for you to consider.
The Gua Sha massage technique promotes better and healthier skin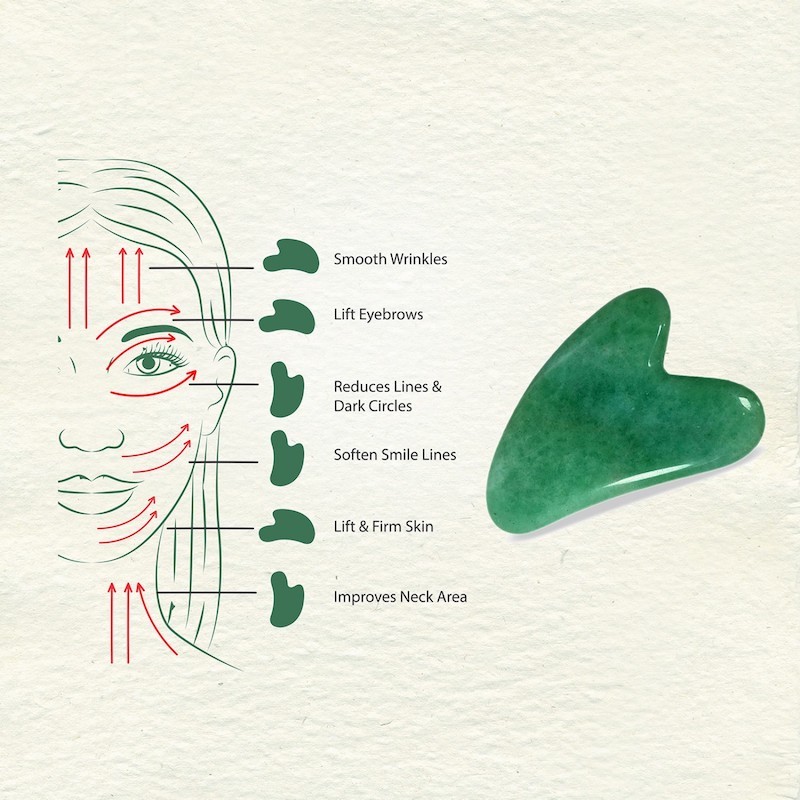 Does the type of Gua Sha stone matter?
Healers began to draw connections between Gua Sha tools and elements occurring in nature as the Gua Sha technique progressed through the ages. Many people believe that precious stones and crystals have the ability to positively charge the body, and that this is the reason why stones and crystals work so effectively for humans. Fashioning Gua Sha tools out of various sorts of crystals adds a new layer of advantages to the process. Many people think that every crystal that emerges from the ground has a set of metaphysical powers that can heal, enhance, or protect the person who uses it. Every element has a distinct 'personality' and 'character.' Gua Sha therapy restores the body's Qi balance. For this to happen, the tool's material resonance must match that of the body.  Healing is promoted not only by the scraping massage technique but also by the material's natural pulsating frequency. So, yes, the type of material used for the making of Gua Sha tools does matter!
The materials used for making Gua Sha tools have different benefits and advantages 
What are the different types of Gua Sha stones?
Green Jade Stone
Green Jade or Feng Jade has a long history of use in Chinese medicine, and it is regarded as the ultimate gemstone in traditional Chinese beauty therapies. What's more, in Ancient China, Green Jade was the most valuable stone. It represents purity, moral integrity, and endless life. Green Jade is naturally cool to the touch. This stone supports peace, balance, and positivity in terms of gemstone energetics. Moreover, Jade shields its wearer from negative energy and aids in the clearing of negative energy and thoughts. Many people believe this stone helps with inflammation and reduces redness on the skin. Jade's Qi energy is very similar to that of the human body and as a result, it is beneficial in preserving the body's Qi balance. Women who seek a soothing and calming effect on their skin should consider using Jade Gua Sha tools.
Green Jade is the ultimate gemstone in traditional Chinese culture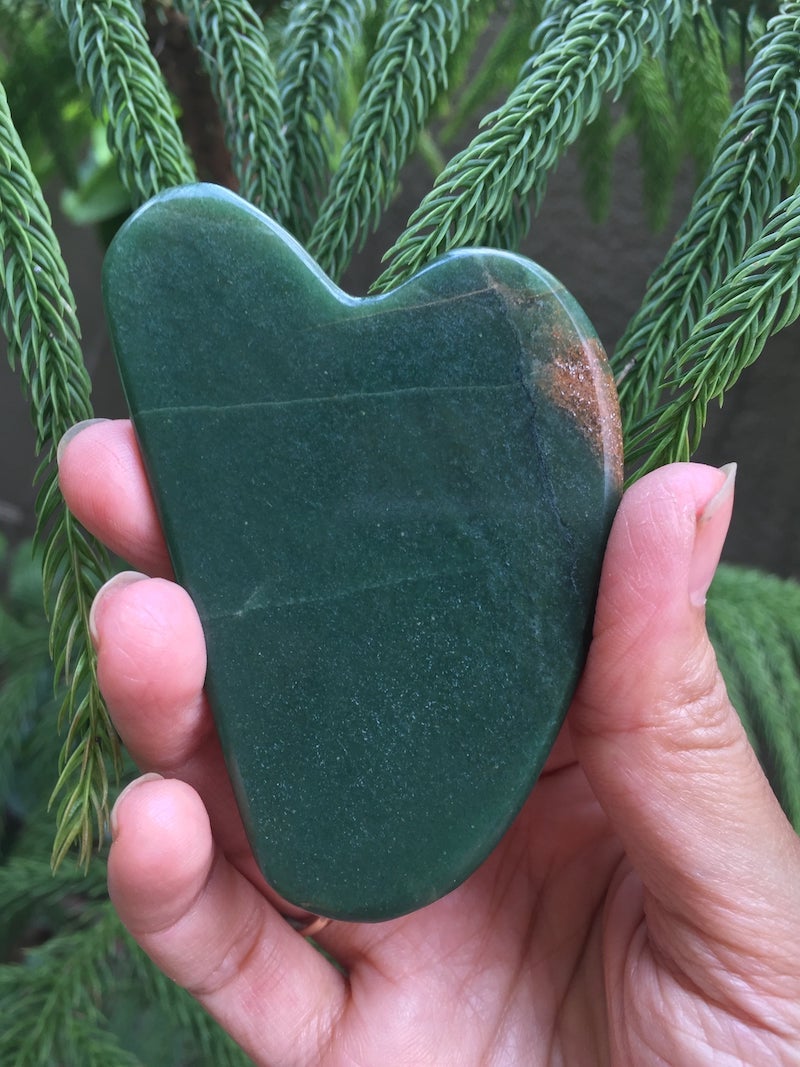 ---
In Ancient China, Green Jade was the most valuable stone, and it symbolized eternal life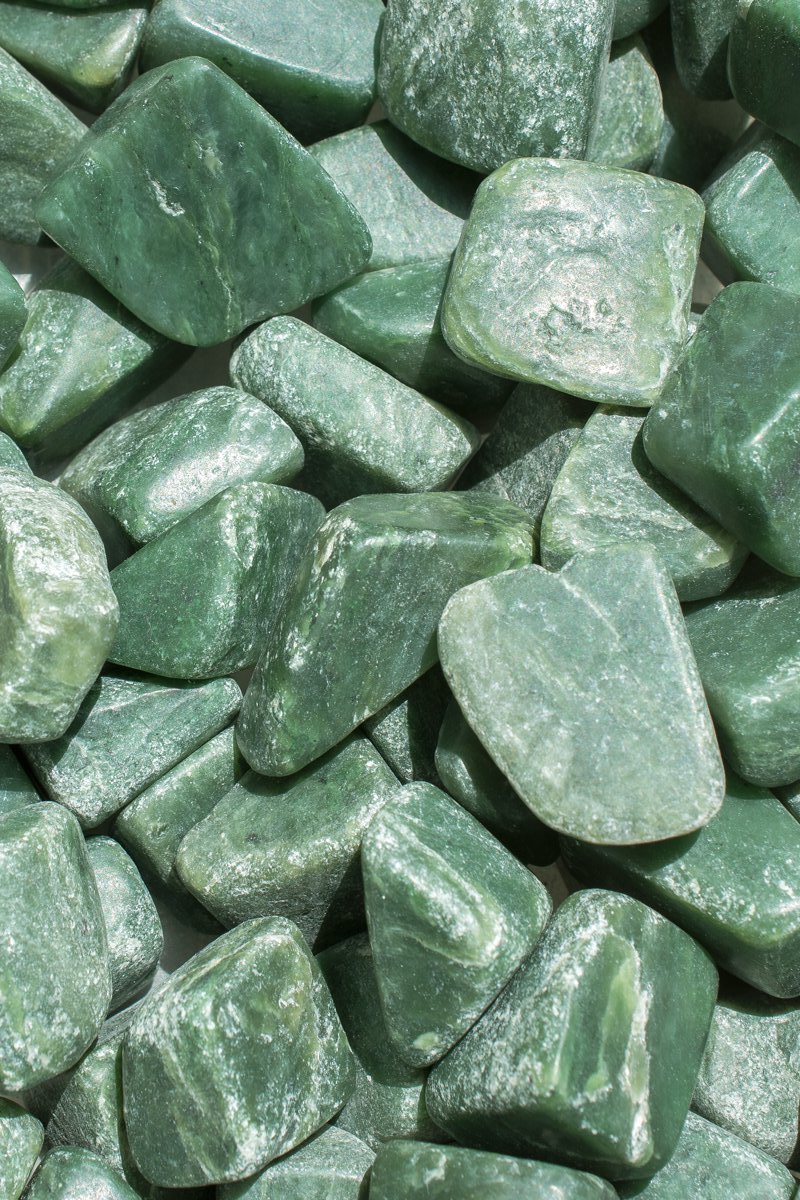 White Jade Stone
White Jade, commonly known as Nephrite Jade, is a lovely, translucent white stone that has been used in China since 6000 BCE.  Moreover, White Jade was the most highly regarded and valued form of Jade. Moreover, White Jade is a symbol of heaven and purity. It is similar to Green Jade since it is also cool to the touch, but it is smoother and more slippery, which is perfect for face massages.  White Jade is peaceful, centering, and brings serenity, harmony, and luck to those who wear and use it. It aids the body's natural healing process and is especially beneficial for women who struggle with fluid retention and puffy skin. White Jade is a stone that can help you improve your vibrations, consciousness, and clarity. This crown and upper chakra activator is amazing to incorporate into your everyday self-care routine.
White Jade is also known as Nephrite Jade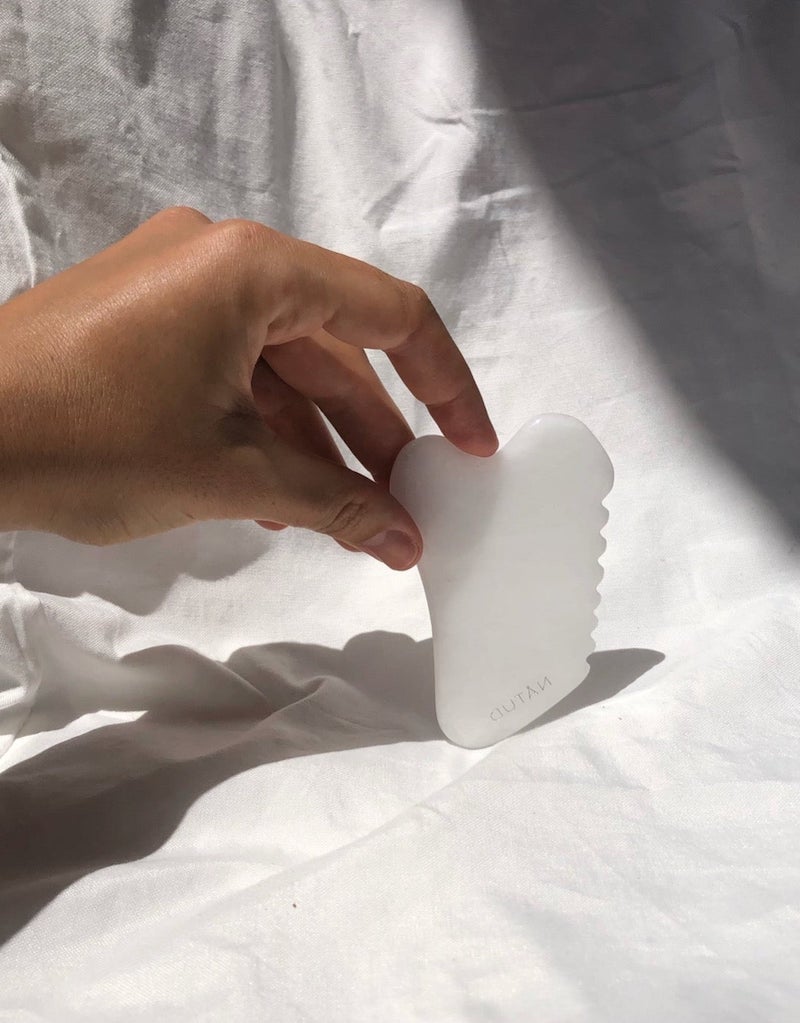 This is a highly valued form of Jade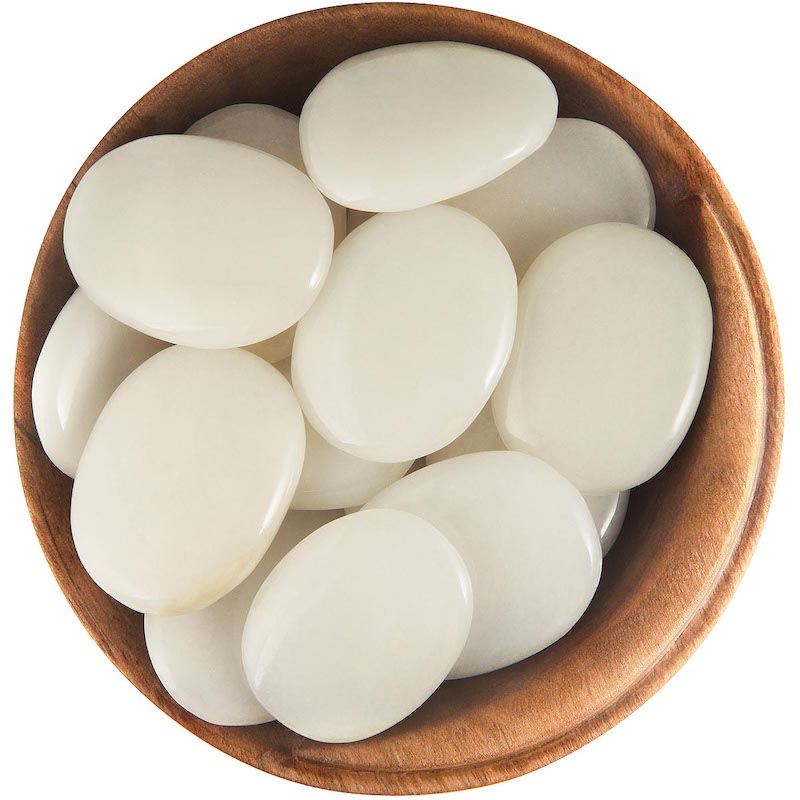 The perfect crystal for women who struggle with fluid retention and puffy skin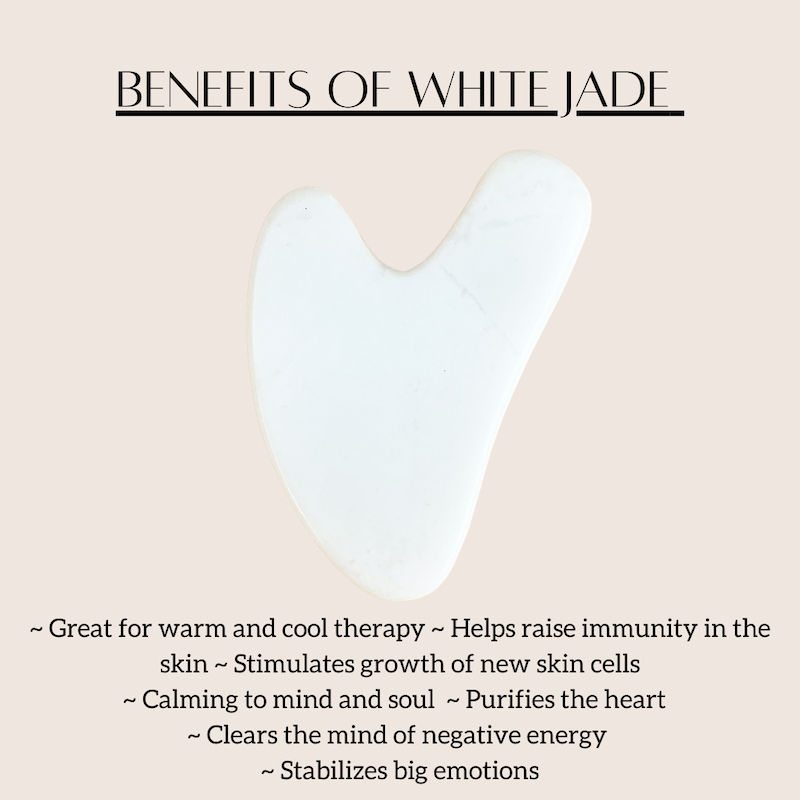 Rose Quartz
The usage of Rose Quartz in beauty treatments has a long history, dating back as far as Ancient Egypt. Rose Quartz was an essential part of Cleopatra's baths, since it holds healing and anti-aging powers. It creates soothing vibrations, which makes it an effective tool for releasing facial tension and the healing of acne and wrinkles. Rose Quartz has a charge that helps to awaken the skin, making it ideal for women who suffer from stagnation and hyperpigmentation. It works best when kept in the freezer since it creates a relaxing effect on the skin. This helps reduce active inflammation and gives the skin a glowy look.
Rose Quartz reduces inflammation and helps with hyperpigmentation
This is the ultimate love crystal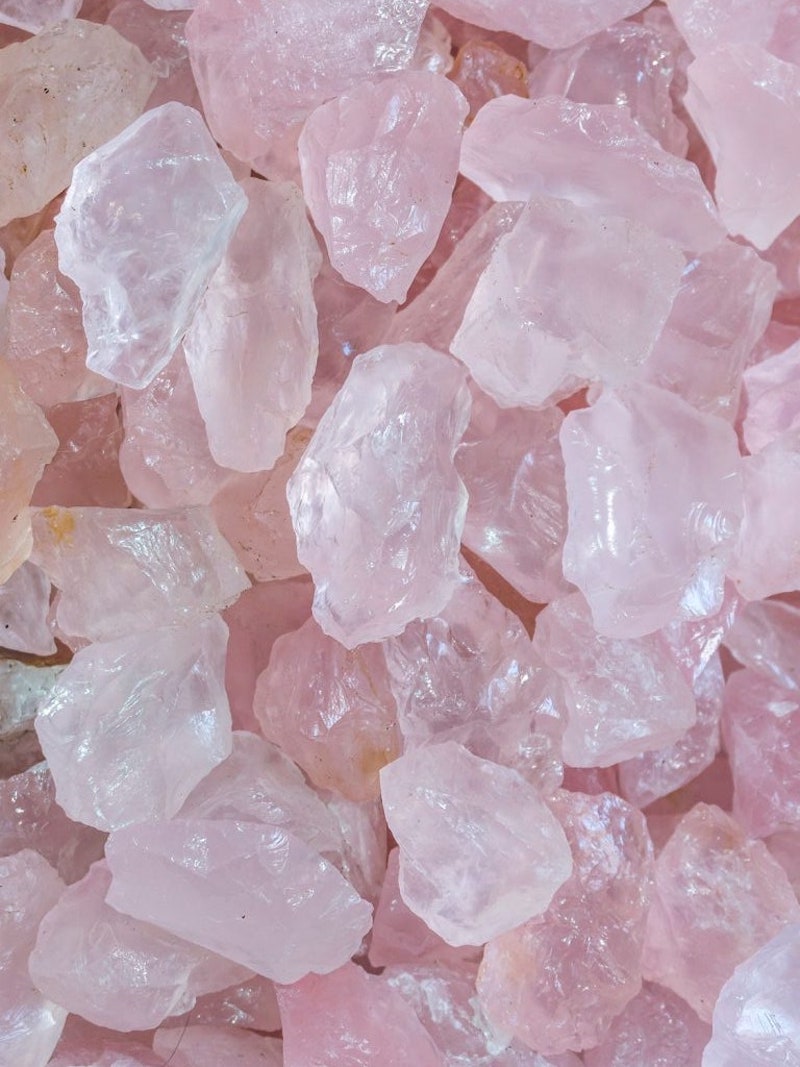 Rose Quartz is a soothing and gentle stone with many skin benefits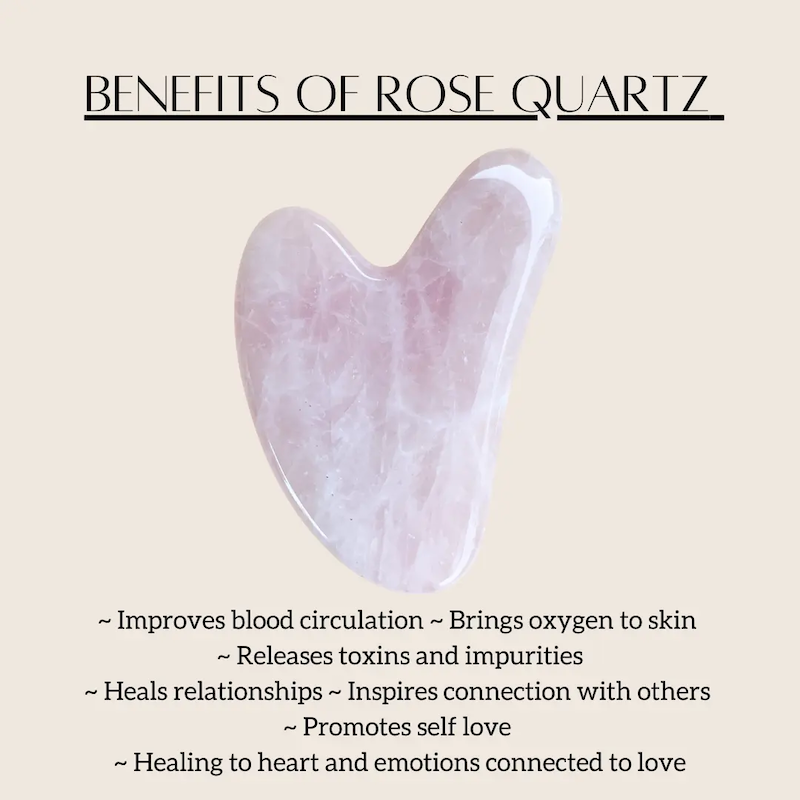 Green Aventurine
Aventurine is most commonly found in India, earning its nickname "Indian Jade". An Aventurine stone has dazzling fuchsite specks that give it a unique shimmering iridescence. Aventurine is the 'stone of opportunity,' and it is considered to be the luckiest of all crystals. What's more, the anti-inflammatory characteristics of Aventurine make these Gua Sha tools excellent for women who struggle with acne, eczema, and rosacea. Aventurine is extremely smooth and polished, and it warms up quickly to the touch. Green Aventurine aids in the healing of emotional imbalances, as well as calming anxiety and aggression. Green Aventurine is effective for eliminating wrinkles and increasing skin turnover. Although it is significantly less popular in the Gua Sha culture than Jade, it is still a fantastic stone to consider if you're dealing with early aging and frown lines.
Green Aventurine is also known as Indian Jade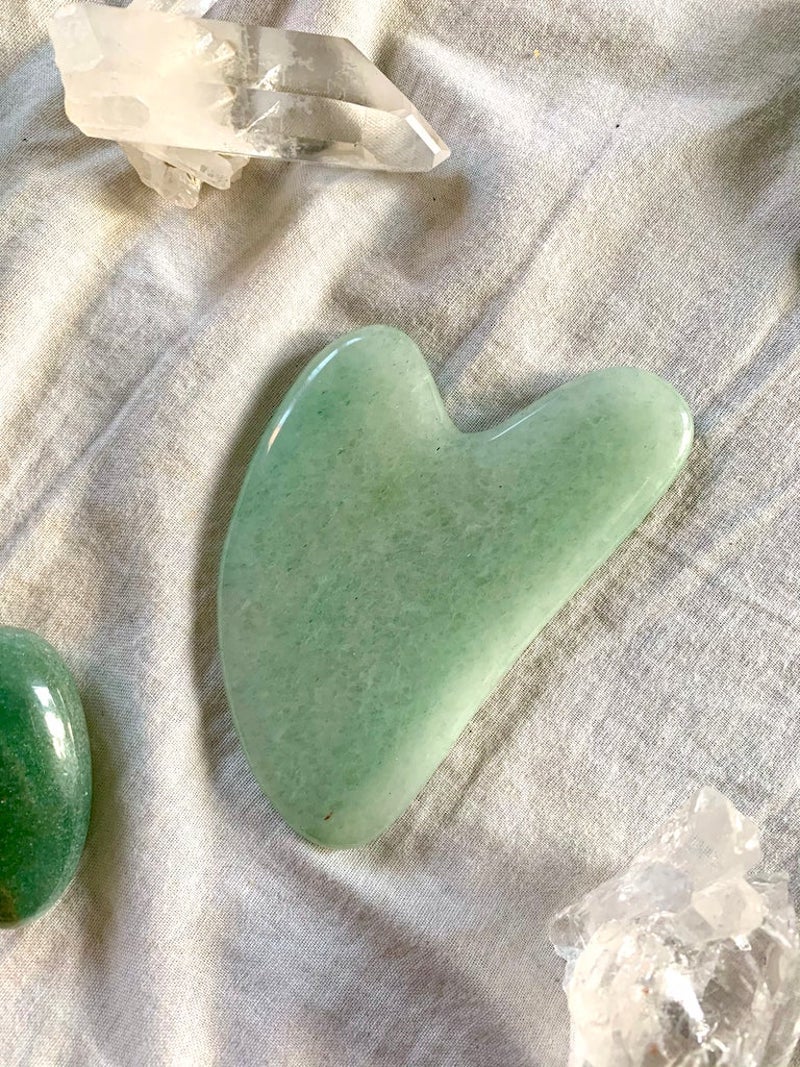 This stone is the luckiest of all crystals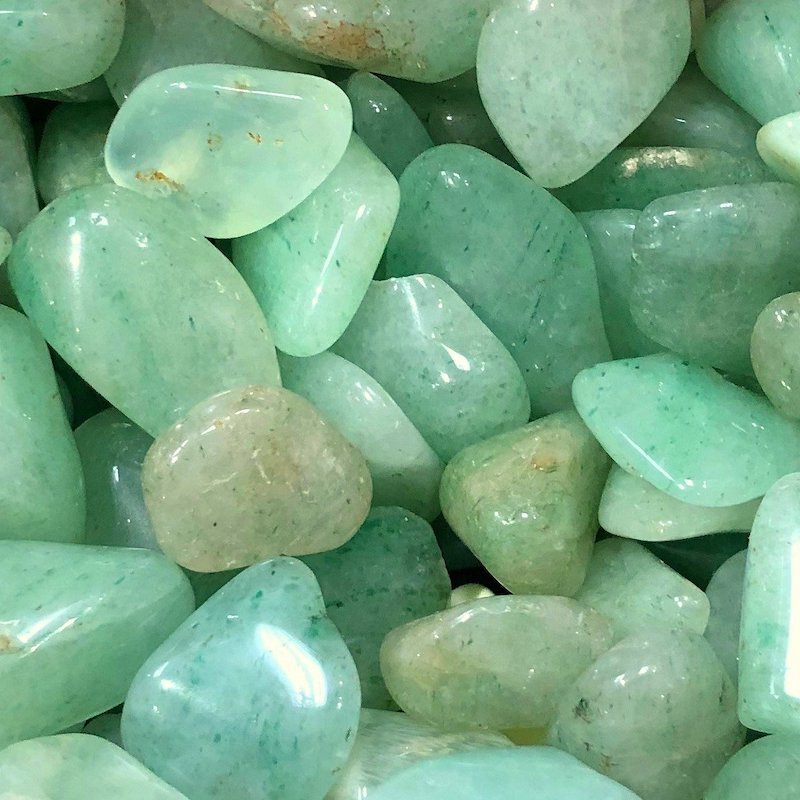 The perfect tool for women struggling with premature aging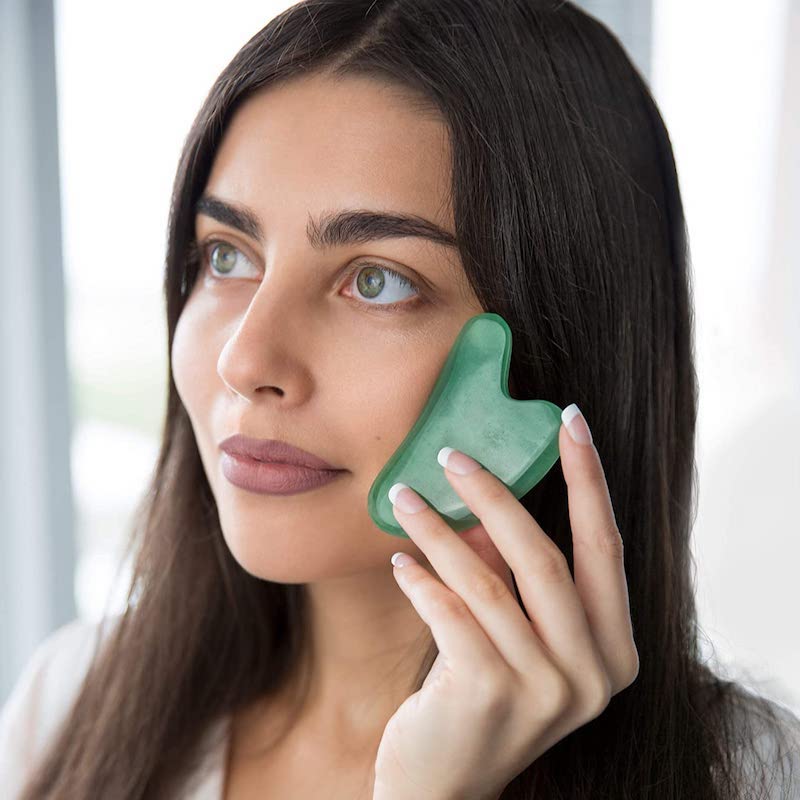 Amethyst
Did you know that the Ancient Greeks used Amethyst to help them avoid intoxication and overindulgence?  Amethyst has a lot of negative ions, and therefore it possesses a lot of anti-inflammatory qualities. This stone is a fantastic option for women who want a more even complexion and who struggle with redness, breakouts, inflamed skin. Moreover, Amethyst is the ultimate meditation stone, since it promotes a feeling of spirituality and happiness.  In the world of skincare, Amethyst is quite popular. This stone has a wonderful cooling effect on the skin, which aids in the loosening of tense muscles and the prevention of wrinkles. It's the ultimate anti-inflammatory little gem to keep in your bathroom cabinet.
Amethyst Gua Sha is the ultimate anti-inflammatory tool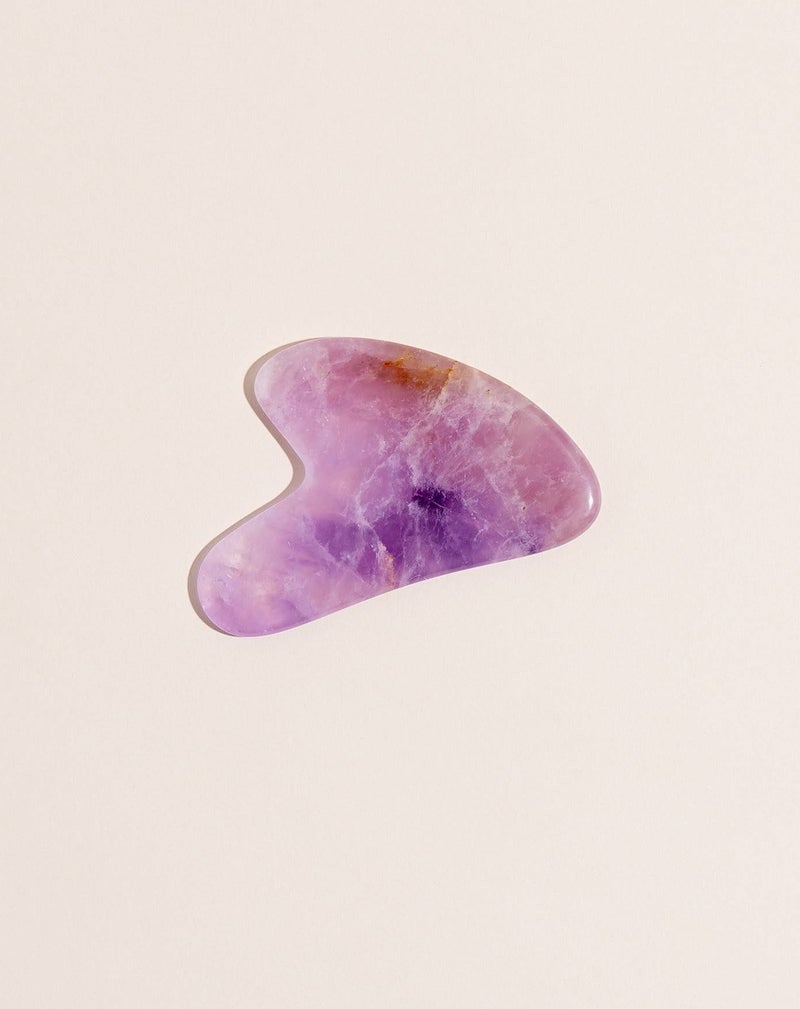 The Amethyst crystal is a popular meditation stone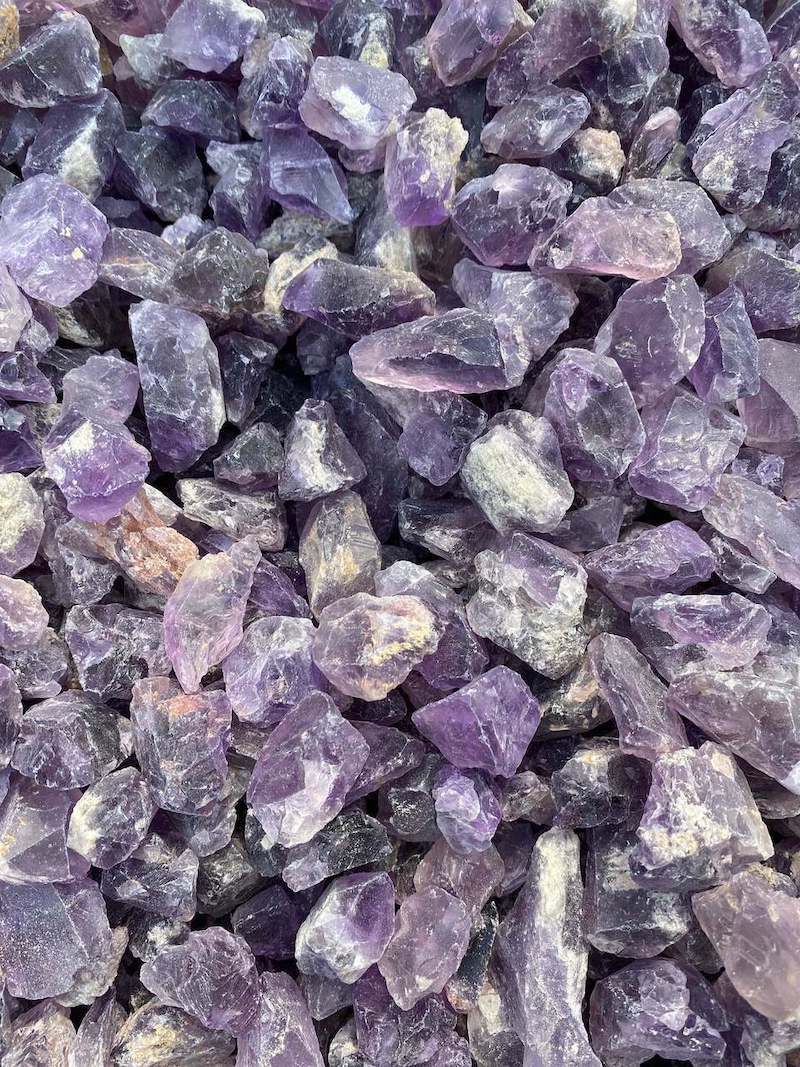 This is the perfect stone for women who struggle with acne and inflammation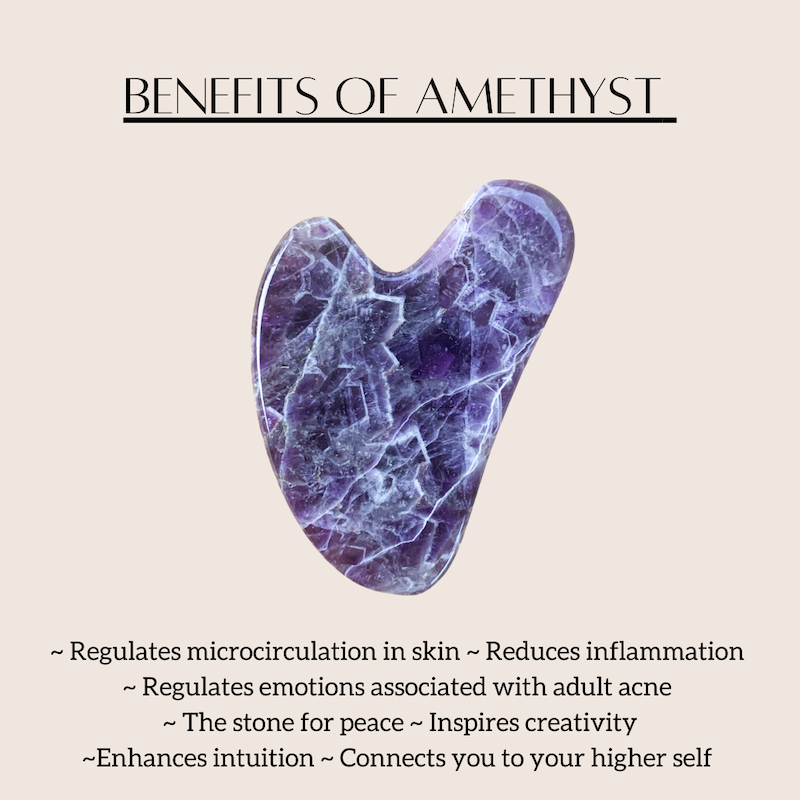 Blue Sodalite
The vibrant Blue Sodalite is a very rare gemstone that was discovered in Greenland's Ilimaussaq region. What's interesting is that, and it has the unique ability to be fluorescent under UV light!  Sodalite has the ability to promote internal harmony, stability, and grounding. It is a heavy, solid stone that soothes irritated skin and relieves tension. Therefore, Blue Sodalite is best for releasing tight muscles and promoting a balanced face complexion. Opt for a Sodalite Gua Sha for its harmonizing properties and soothing effect on an over-worked nervous system.
The Blue Sodalite Gua Sha promotes a balanced face complexion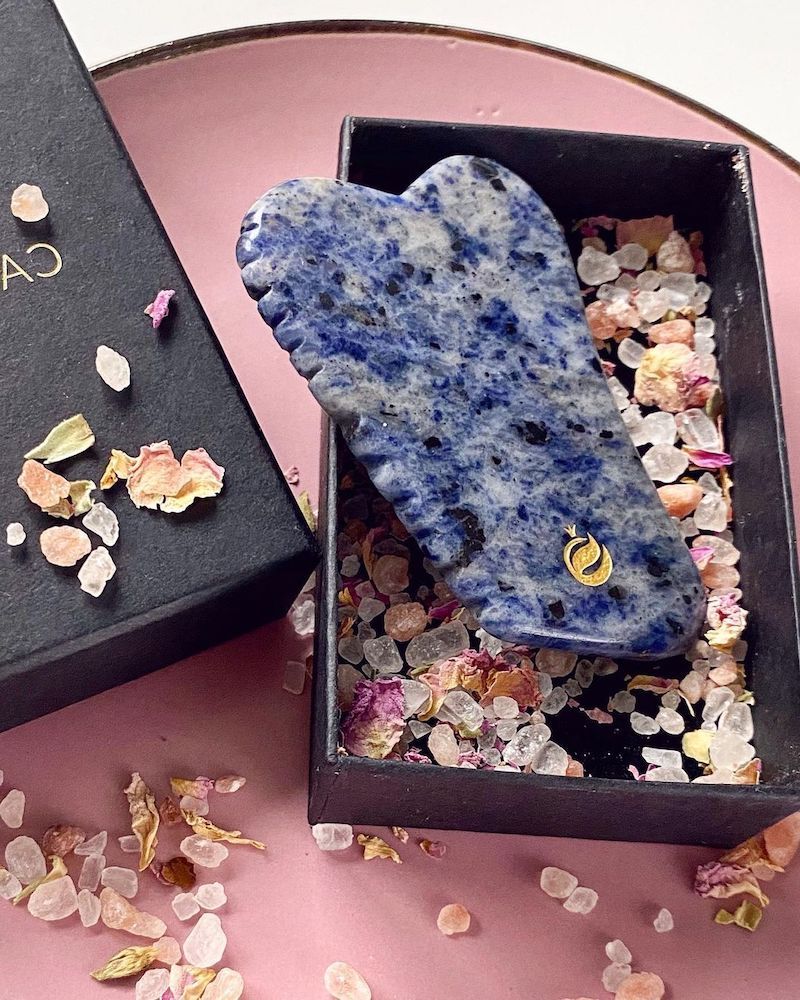 Blue Sodalite is a very rare crystal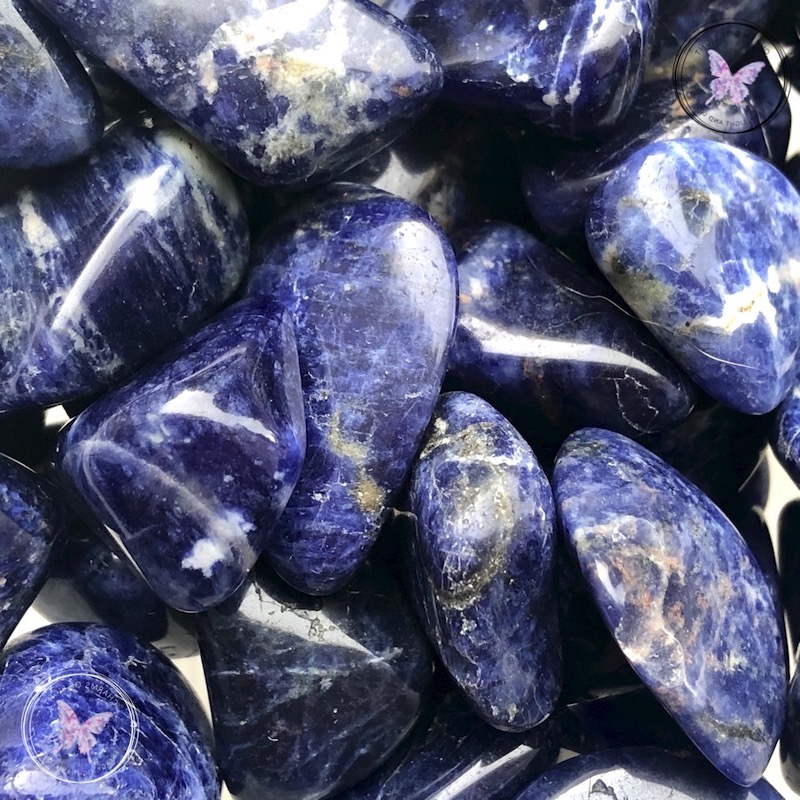 Blue Sodalite soothes irritated skin and relieves tension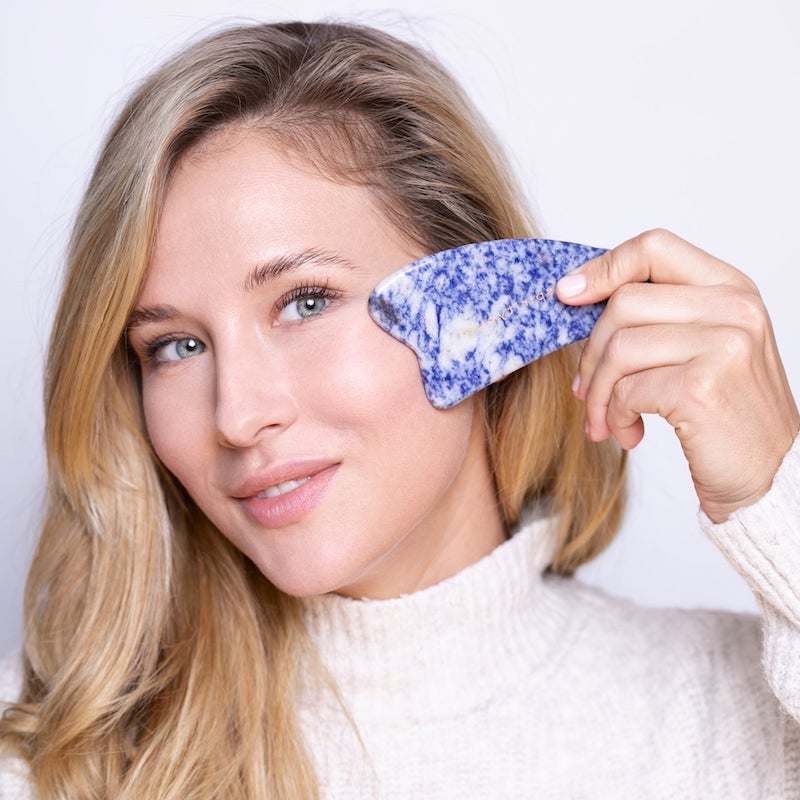 Bian Stone
This black stone comes from a Chinese mountain. What's more, it is said that there it was struck by a meteor, which gave the stone significant, supercharged properties. This stone contains over 40 minerals and since it produces negative ions it has antioxidant qualities. The Bian stone is the 'original' Gua Sha stone. Because it has an extremely high rate of electronic pulses, it is ideal for deeper muscle work and tension relief. It is an extremely heavy stone, making it a great tool for deep tissue penetration on areas like the thighs, glutes, and calves. The Bian stone is a miracle worker when it comes to stress management and tension relief. If you want to do Gua Sha the authentic way, then consider purchasing a Bian stone.
The Bian stone is the original Gua Sha tool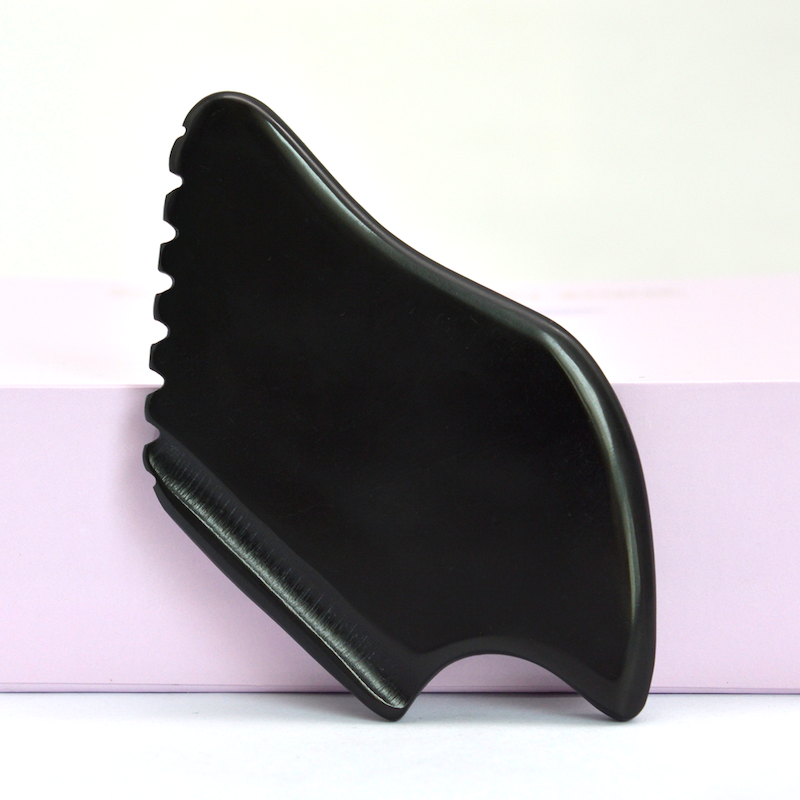 The Bian stone is ideal for deeper muscle work and tension relief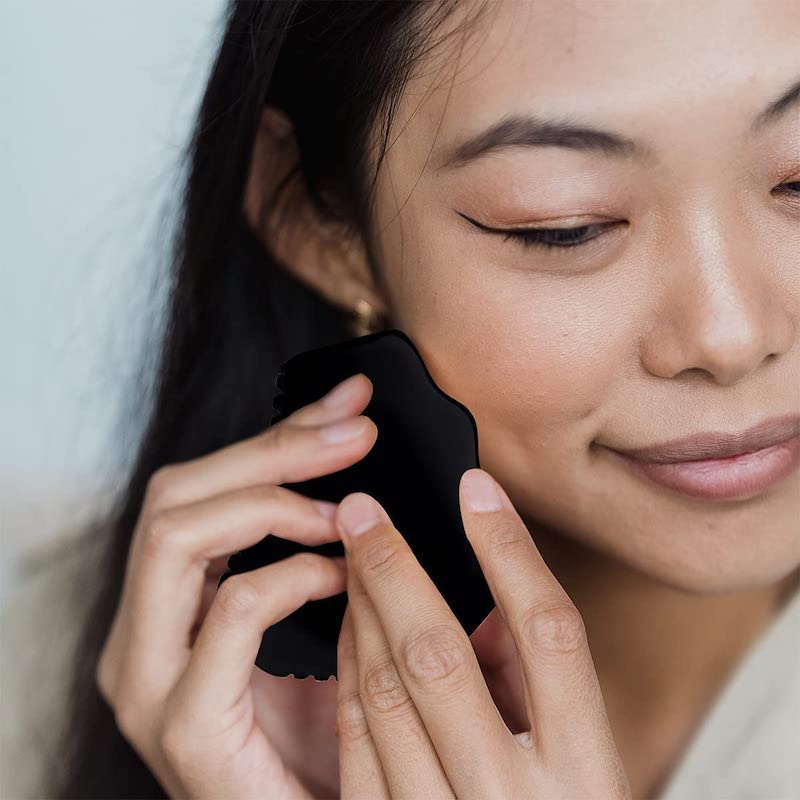 Stainless Steel Gua Sha
Gua Sha tools made of medical-grade stainless steel are becoming increasingly popular. Because of its high durability and sanitizing properties, this material is popular among experts. In addition, the resonance frequency is good, and the grip feels comfortable. What's more, stainless steel is non-porous, which prevents bacteria build-up. It is self-cooling, naturally cold to the touch, and extremely durable. So, if you are looking for an eco-friendly, durable option, then stainless steel is the way to go!
Stainless steel Gua Sha tools are becoming more and more popular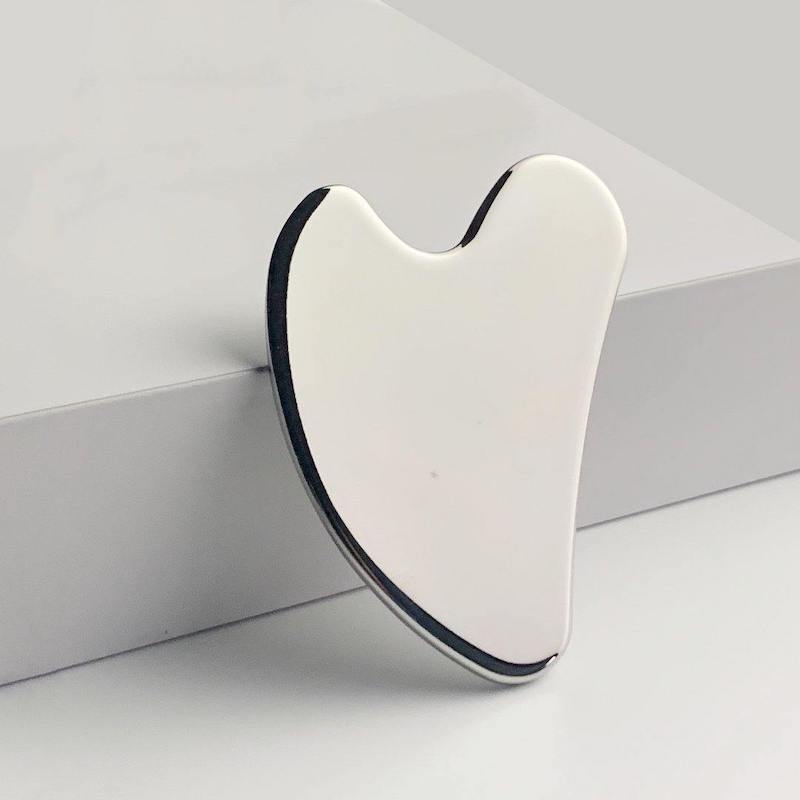 Stainless steel has many advantages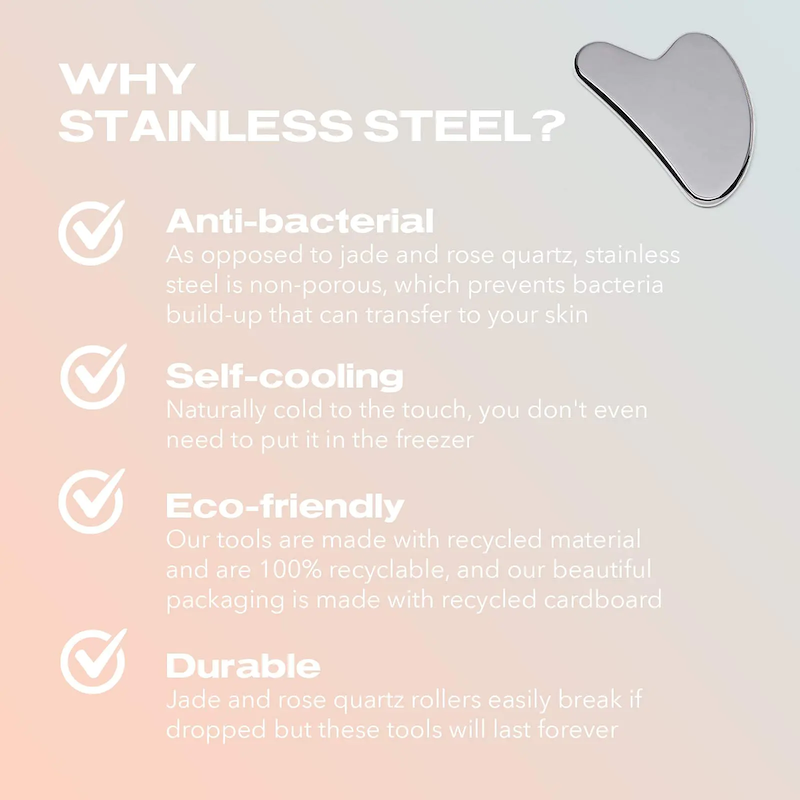 The perfect Gua Sha tool for a cooling massage