Try These Small Kitchen Ideas to Maximize Your Space
Not everyone is blessed with large houses or apartments with big open plan areas. And if you are one of those people, we are here to ease your pain and help out with your interior design. In general, everyone wants a big living room, a place where you can hang out with all of your friends. Which is why, the kitchen is the one room getting overlooked in these situations. Having a small kitchen, however, doesn't mean that it can't be modern and functional. In this article we are going to share a few small kitchen ideas, which are going to help you maximize your space. What's more, we are going to give you tips on how to turn your kitchen into a contemporary, modern room you are absolutely going to love.
Just because your kitchen is small doesn't mean it can't be super modern and fully functional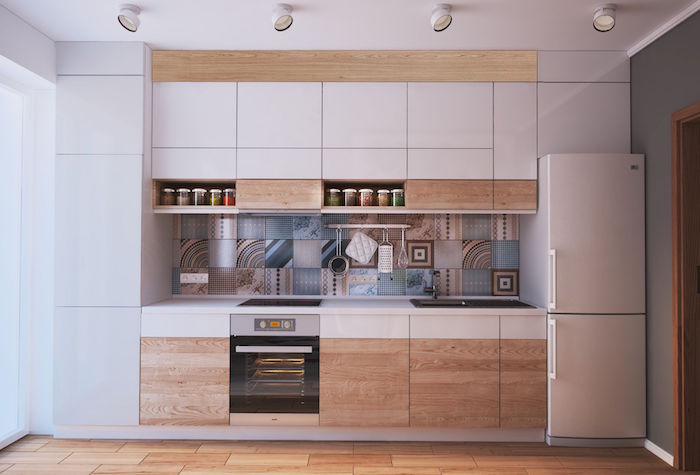 What is the best layout for a small kitchen?
When you are planning your kitchen's layout, it is important to remember a couple of things. First of all, the best layouts for a small kitchen are either a galley or a corridor kitchen. However, if neither of these is possible a one wall kitchen sometimes can work wonders for your interior design. Secondly, having a small kitchen means less expenses. Furnishing a smaller space is easier when it comes to costs, so you can splurge a bit and buy all the things you want. Before you start planning your layout, however, think of how much time you spend in the kitchen. If you love to cook then you need to plan a bit more and make sure you have everything you need. If, however, you prefer take out and going to restaurants, then you can save yourself some space and money.
A one wall kitchen is the perfect solution for people who don't spend a lot of time cooking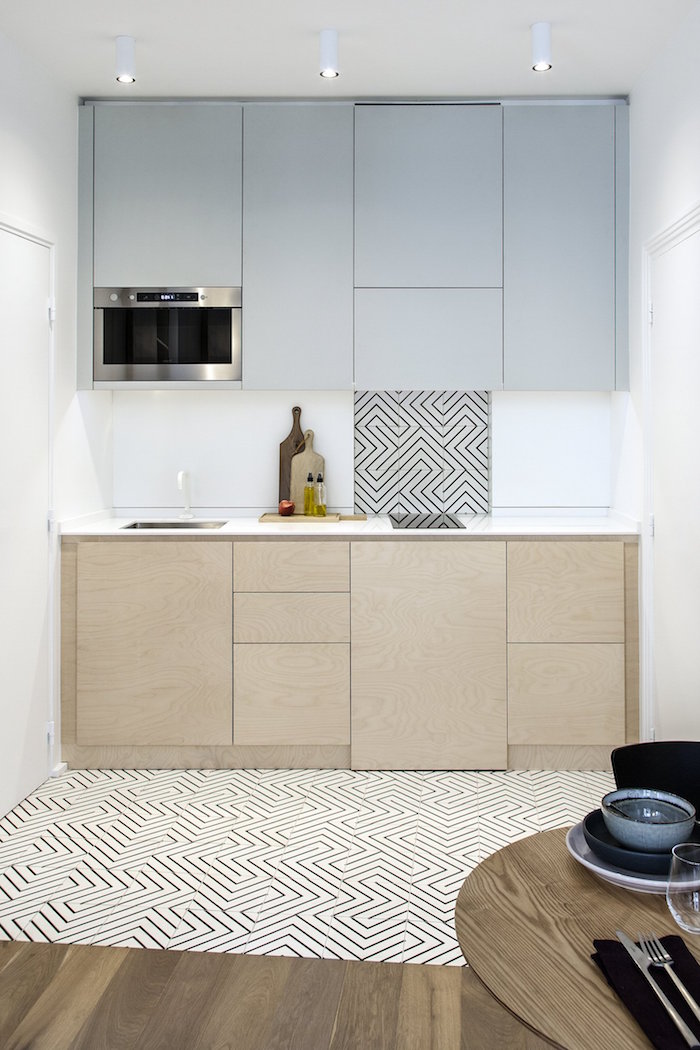 How do you decorate a small kitchen?
Interior design has its own science and the beauty of it is seen best in smaller spaces. If you follow a few tips from interior designers you can make any space seem bigger, airier and ultra modern. Which is why, today, in this article, we are going to share these tips with you. Hopefully, we can help you with your layout and furnishing choices. So, keep reading to find a few small kitchen ideas you can try in order to have a fully functioning, modern kitchen area.
Furnishing a small area in the right way can make it look more spacious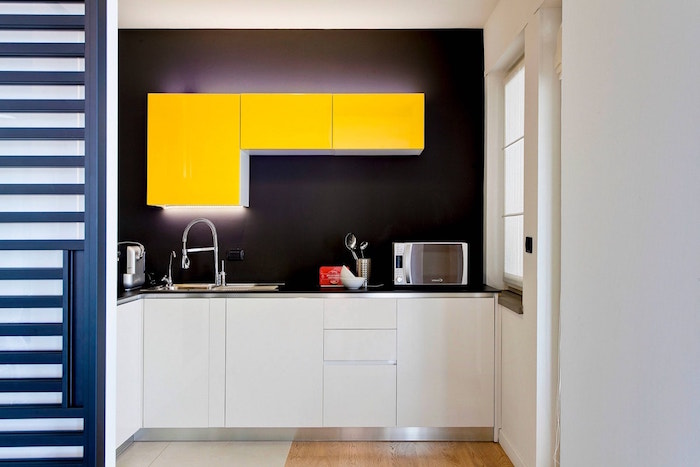 Small kitchen ideas with open shelving
If you have a small kitchen open shelving should be your new best friend. In order to maximize your space you need to use shelves anywhere you possibly can. Mount as many shelves on the wall as you can fit. That way, not only are you going to have more space to store your appliances, but you will also create the feeling of a more spacious area. By keeping your shelves open you will make the room feel airier. What's more, you can add shelves in any size anywhere you can.
Open shelving is a life saver when it comes to small kitchens

Floor to ceiling cabinetry
In order to maximize your space and have enough storage in you kitchen, floor to ceiling cabinetry is the best solution. Usually in kitchens there is space between the top cabinets and the ceiling. In this case, however, this space needs to be utilized in the best way possible. It is the perfect space to store things that you may not use all the time, but still have to have in your kitchen. Furthermore, floor to ceiling cabinetry will give the illusion of a higher ceiling. That, in turn, will make the room feel more spacious.
Make sure you have enough storage space with cabinets going all the way to the ceiling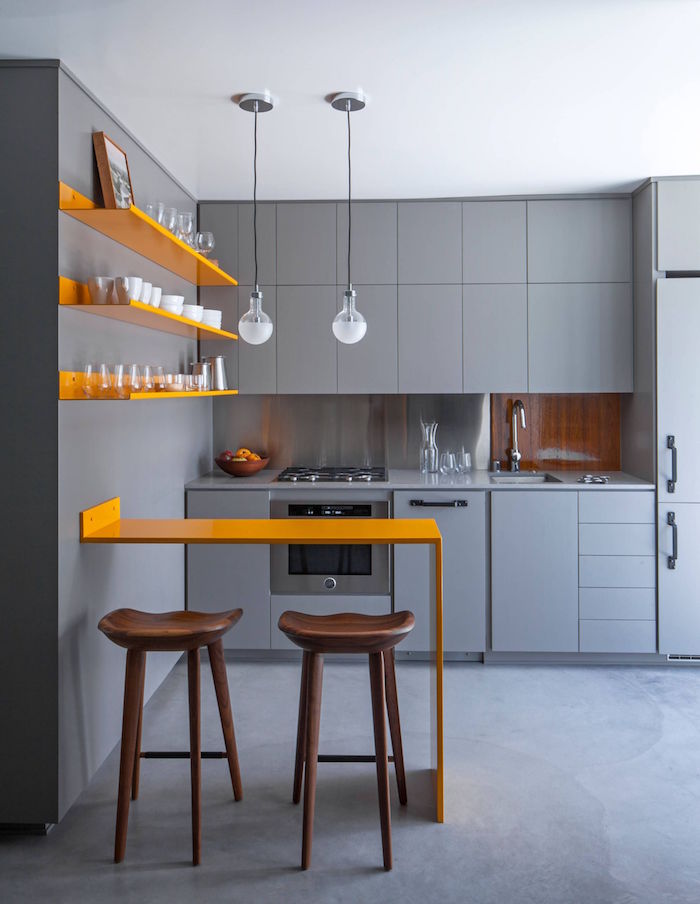 Small kitchen ideas in lighter colors
Every person in the world should know that lighter colors make a room feel bigger, more spacious and airier. Therefore, lighter colors are perfect for your small kitchen design. And if you think that white is boring, we feel you. If you want to add some fun to your kitchen's interior, utilize your backsplash. As you can see in the photo below, white cabinets with a colorful backsplash and a fun rug make this small kitchen look like it came straight out of an interior design magazine. Add some wood for a finishing touch and you are all set.
Keep the colors light and add drops of color to your backsplash for a fun kitchen interior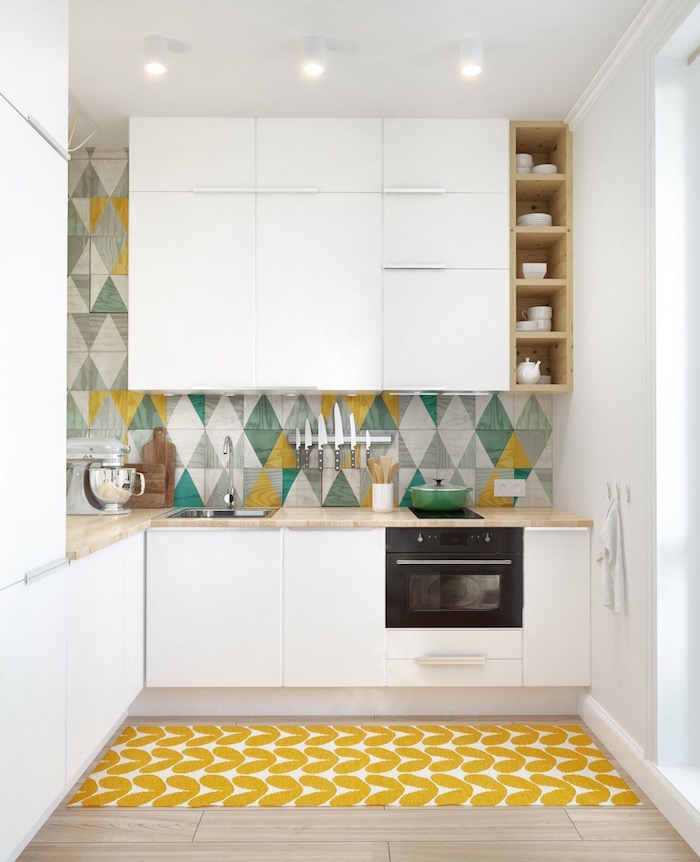 Declutter your countertops
To be honest for this tip it doesn't even matter how big your kitchen is. Anytime you declutter your countertops, the kitchen will look more spacious. Of course that is especially true when it comes to small kitchens. If you have a small prep area and it is covered with appliances, bottles and other items, you won't have enough space to prepare your food. So, put everything away in your cabinets and let your countertops breathe. If you don't have enough space in your cabinets, you can always add a small shelf above the stove. Still, your prep are is going to be free of clutter and you won't have to wonder where to prepare your food.
Declutter your cooking space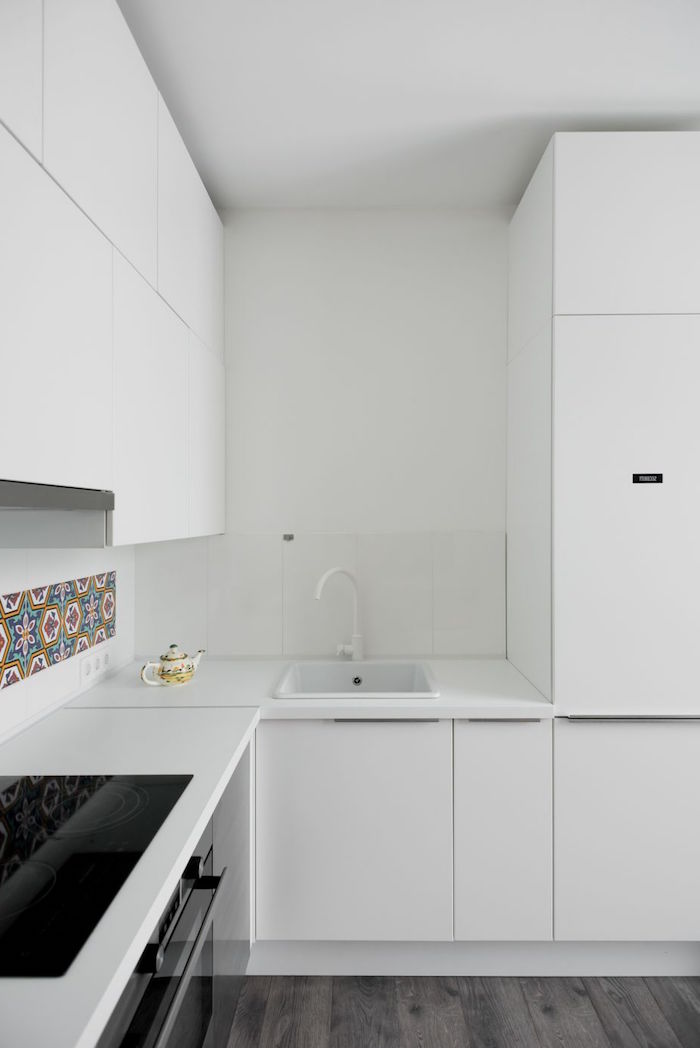 Small kitchen ideas with good lighting
When it comes to small areas, lighting is everything. The way you light up a small room can change its entire look. Same goes for your small kitchen, of course. First of all the more natural light you get the better. If that is not the case, however, fear not, we have the solution for you. Pendant lights above your separate prep area or island are a must. If you don't have that however, the best solution is lights under your top cabinets. Not only are they going to be very helpful when you get to cooking, but they will also create the optical illusion of a more spacious kitchen.
Add lights under your top cabinets if you don't get enough natural light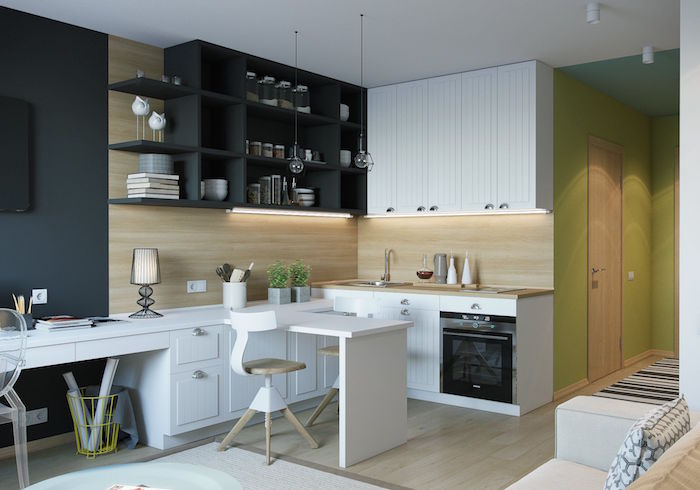 Organize your cabinets
In order to make a small kitchen work everything needs to be organized. We already talked about decluttering your countertops, but the inside of your cabinets is just as important. Because you don't have enough storage space, the amount you have needs to be well organized so that you can fit everything you have in your kitchen inside. So, take the time to organize your cabinets and figure out where is the best place for each item. Furthermore, utilize any nooks or awkward corners you may have by turning them into drawers. That way everything in your kitchen is going to be easy to find and within reachable distance.
Organize your small kitchen to maximize your space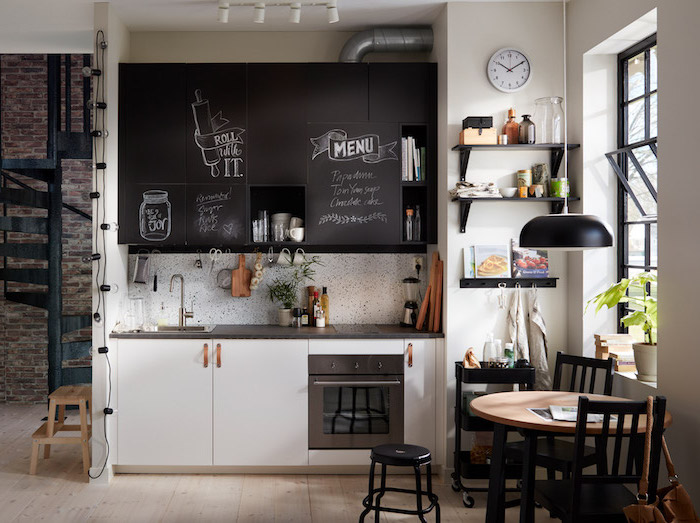 After we shared all these tips it is time to give you some visual small kitchen ideas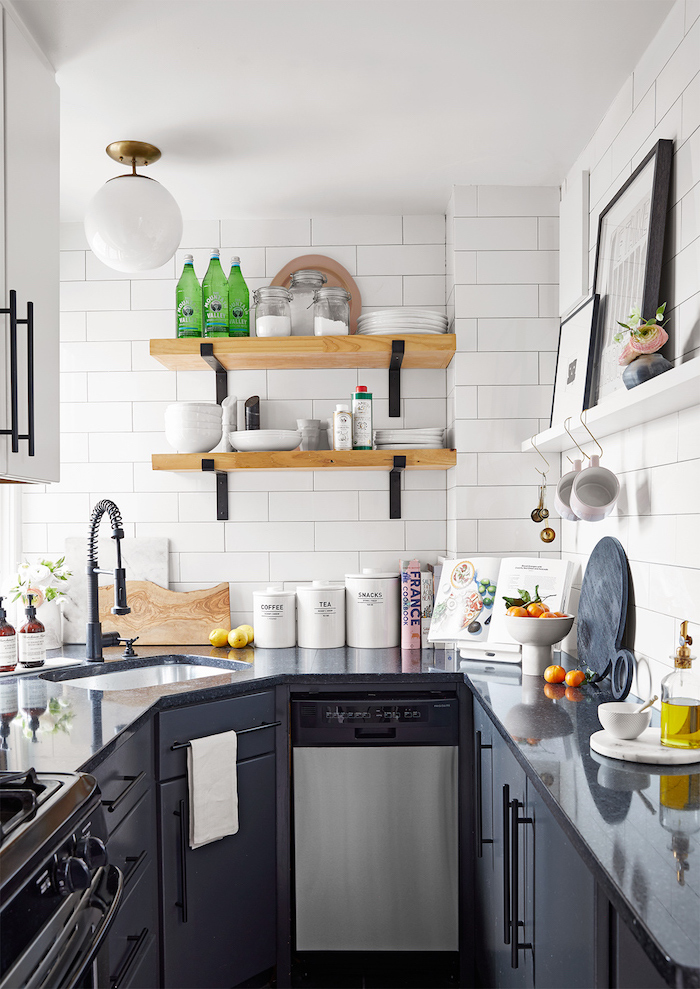 If you have enough natural light, don't be afraid to use darker colors for your cabinets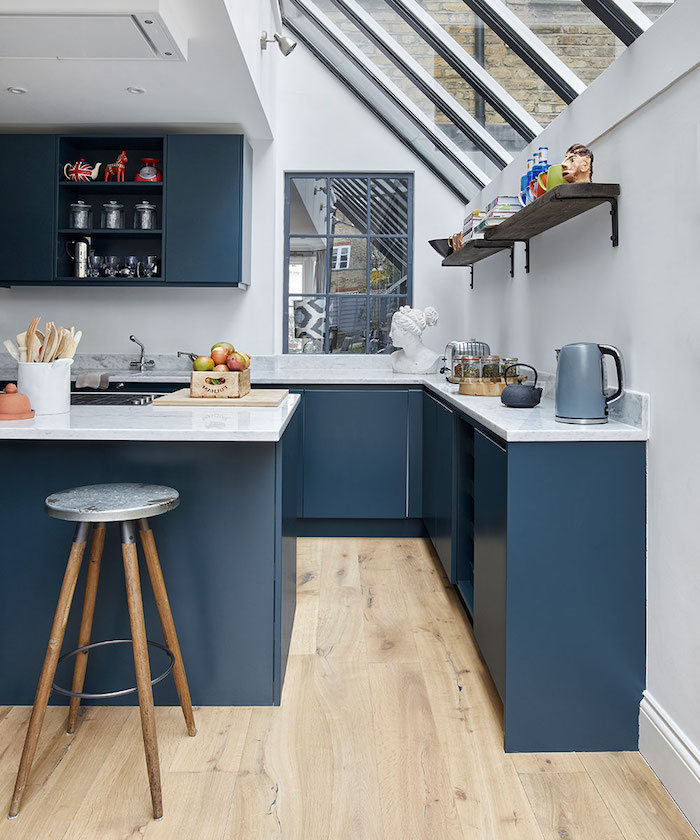 Add a breakfast nook to maximize the space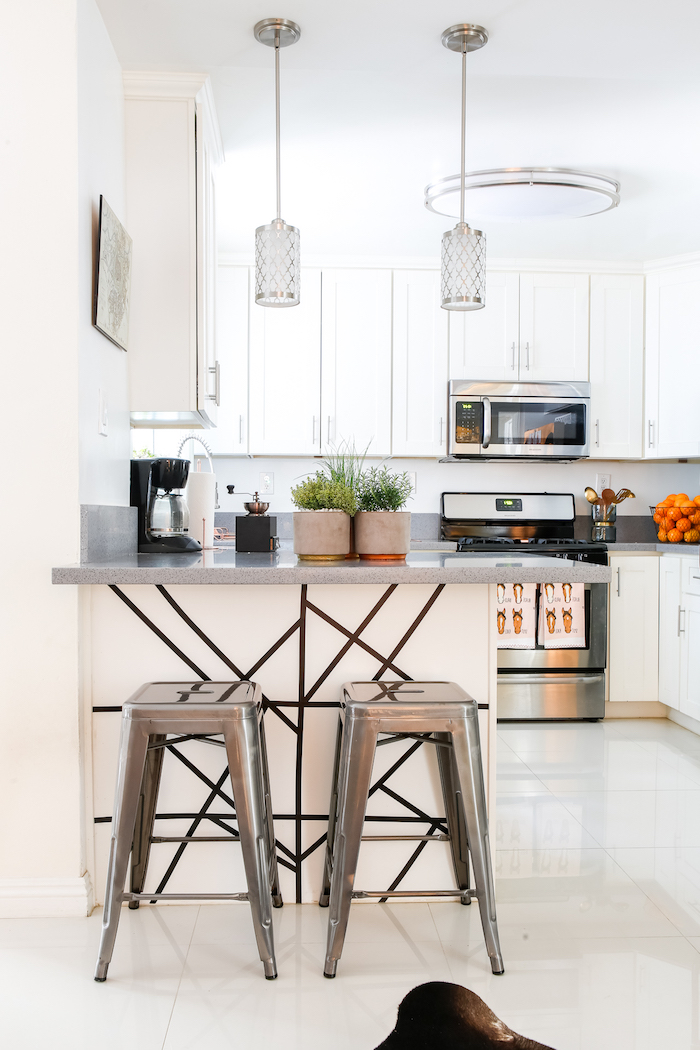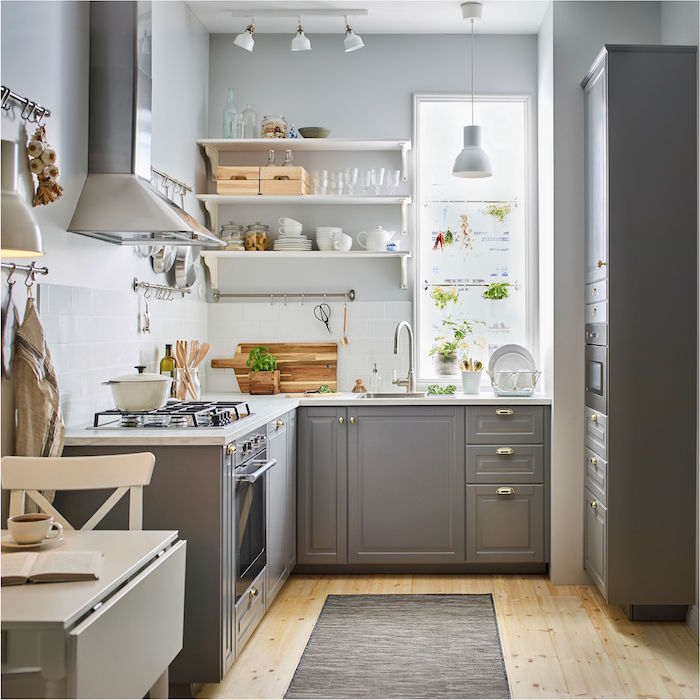 If you want to add a bit of color add an accent wall to your kitchen, but leave the backsplash simple
Color coordinate your kitchen with the rest of the open plan area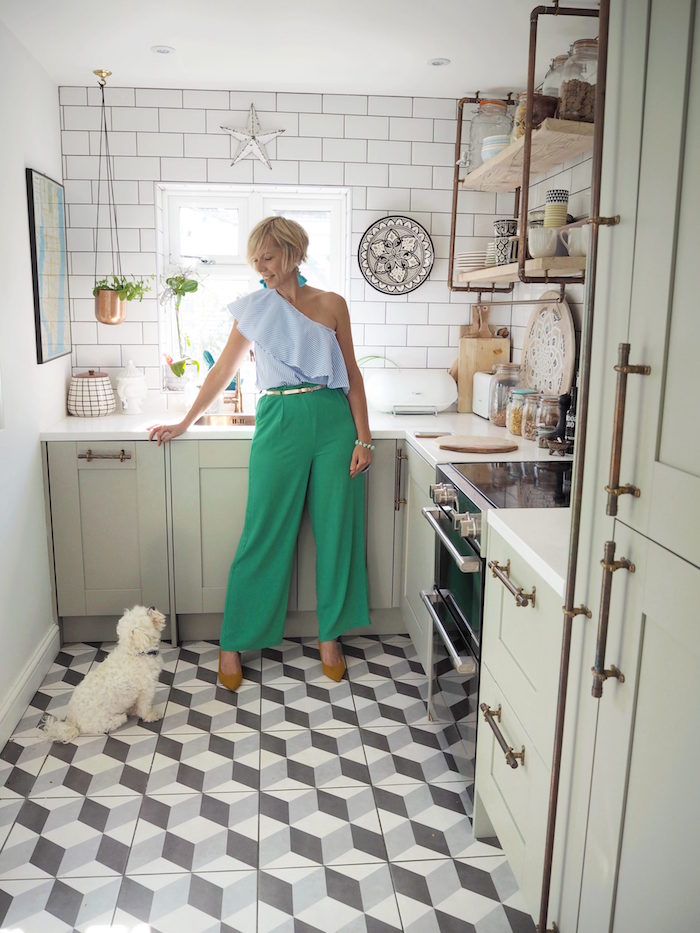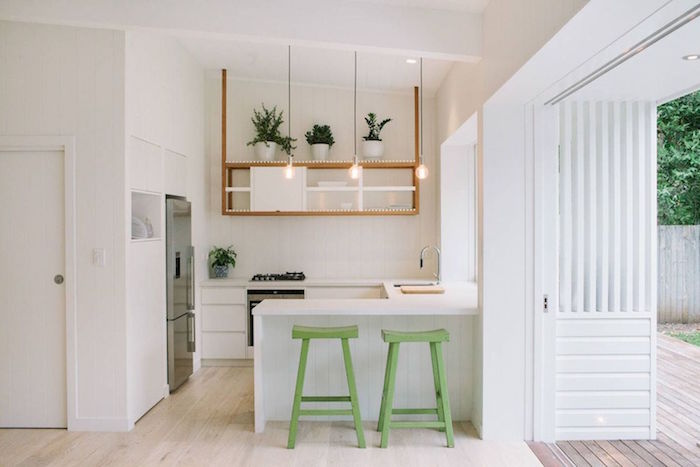 Make your kitchen fun with matching backsplash and floor tiles
Add as many lights as you can
Here is an interesting idea to try if you love purple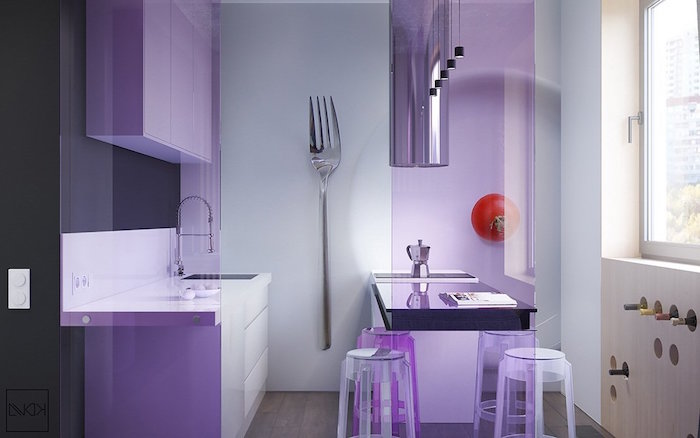 Or red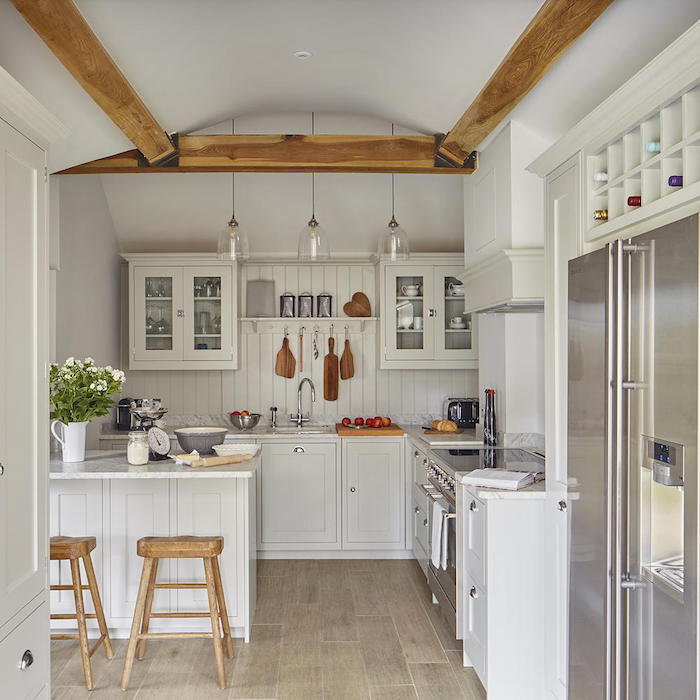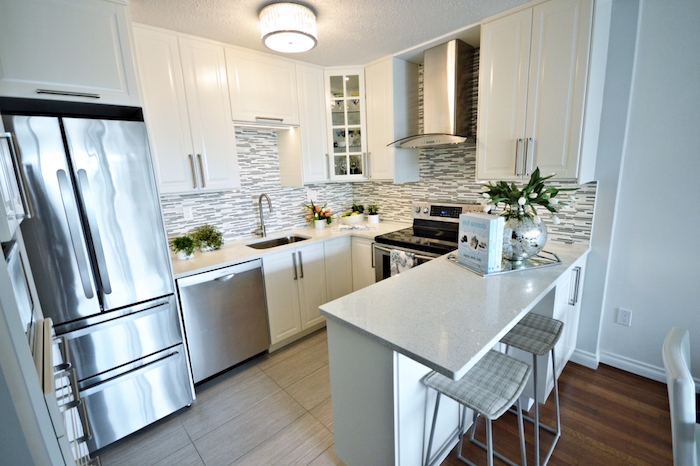 Floor to ceiling cabinetry works wonders
Add black accents for an extravagant interior design