These Hallway Decor Ideas will Turn your Home into a Creative Space
For every homeowner, their interior design should play a significant role. After all, the way you arrange your home says a lot about you. What's more, there are so many interior design trends out there right now, it might be a bit difficult to pick just one. And throughout all of the designing of your living room, kitchen, and bedroom, there is one area of your home that often gets overlooked. This is exactly why, in this article today, we decided to give you a few hallway decor ideas, for a modern and creative space, which is going to greet your guests as soon as they walk in through the front door. We have decorating tips, as well as ideas for furniture to use and how to arrange them so that you don't overcrowd your narrow hallways.
The hallways often get overlooked when it comes to interior designing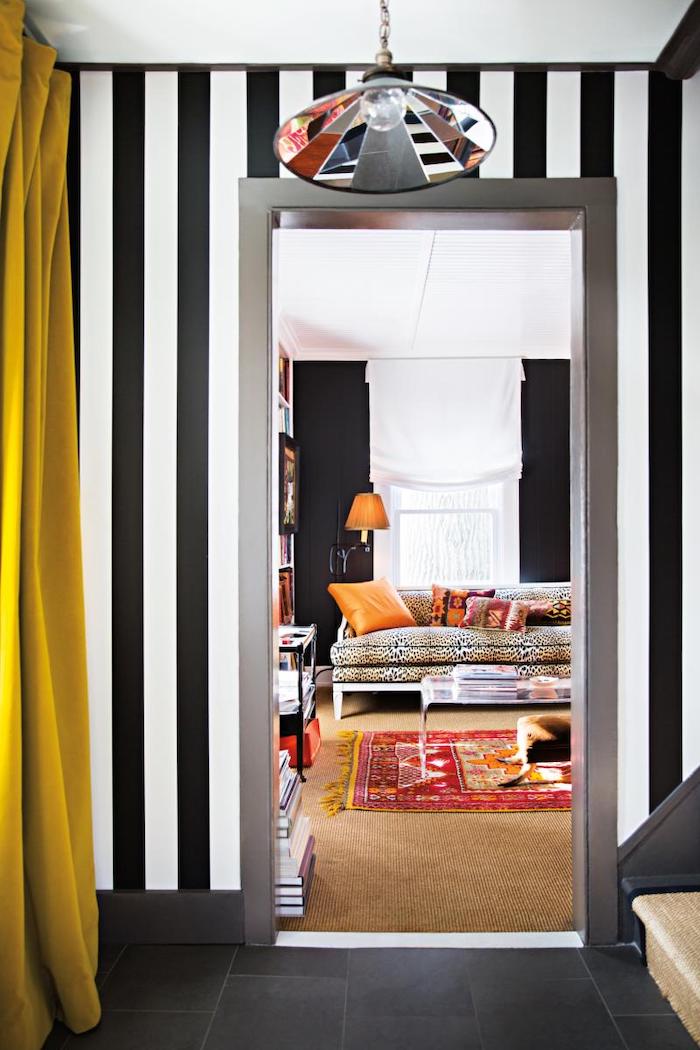 Your entryway is the first thing people see when they walk through your front door. That is exactly why it is extremely important for your hallway to be as presentable and modern as possible, so that it impresses your guests. One way to do that is to add some color. If your overall design is reliant on more neutral colors than a splash of brightness is perfect for your entryway. You have a few options on how to do this. First of all, you can commit to an entire accent wall. Your second option is to decorate your front door in a different color. Your third option is to add a nice, colorful rug, which is going to be the accent for your hallway.
Or you can do all 3 options at once and have an amazing, creative and interesting hallway design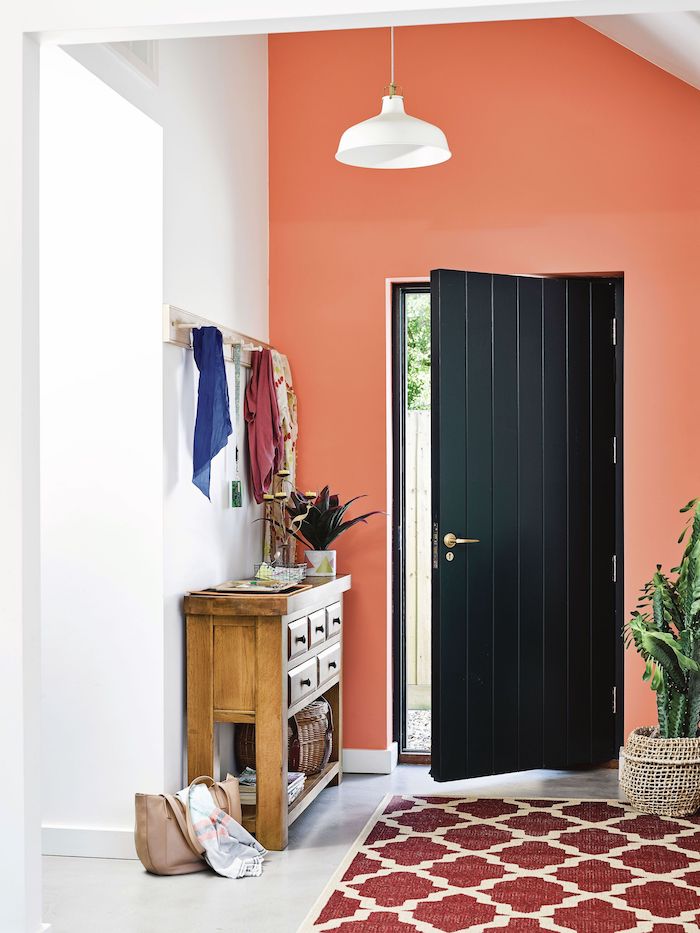 Hallway decor ideas with mirrors
Hallways are generally overlooked when it comes to special interior trends. However, there is one trend that has been around for ages when it comes to decorating your entryway. That trend is the use of mirrors. In general, we all know that mirrors create the optical illusion of more space. That is exactly way they are perfect for narrow hallways, which can sometimes feel too narrow and claustrophobic. What's more, mirrors in the hallways are very functional. Picture yourself leaving for work in the morning, you have your bag, keys, shoes and jacket are on and you are able to take one last look at the yourself before you leave. Is there a person in the world who doesn't love to do that? We are pretty sure there isn't.
Use mirrors to create the optical illusion of more space in narrower hallways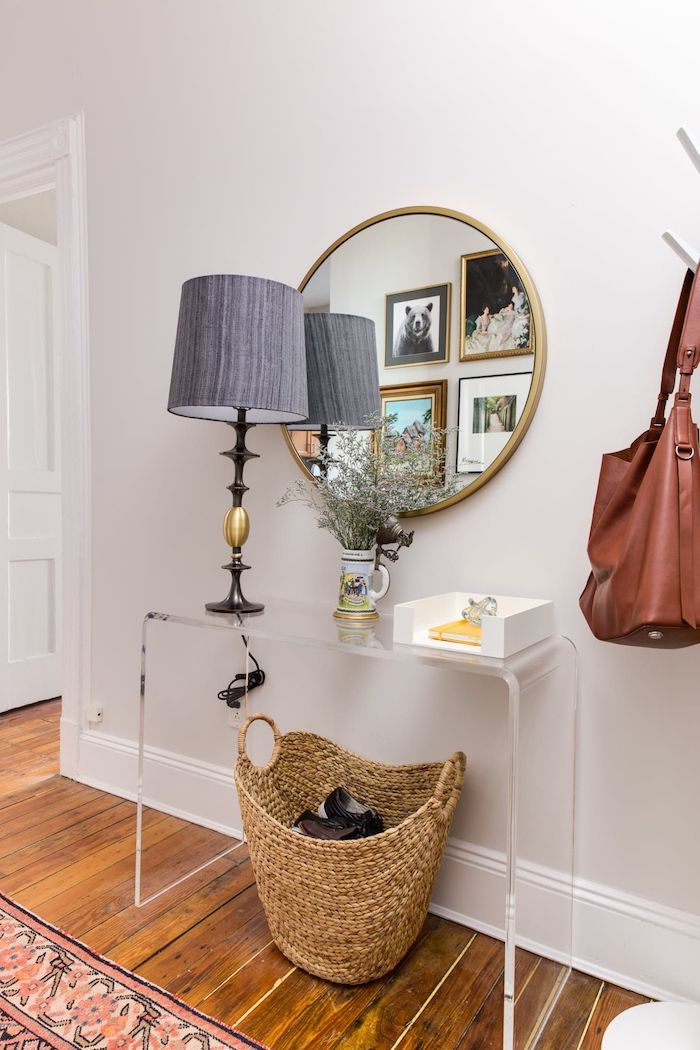 Add storage to your hallways to maximize space
If you are lucky and have wide hallways, then you should definitely do something about that extra space. After all, a family home that has a lot of storage space rarely looks overcrowded and flooded with all kinds of items that look like they don't belong. Wide hallways are the perfect space for adding that extra storage. A few shelves, drawers and even closets might be a good idea for a wide hallway. Furthermore, you can even have a full on bookcase in your hallway. This will create an interesting and creative vibe in your entryway and it will definitely provide a point of conversation for anyone who enters your home.
Use your hallway to display your massive book collection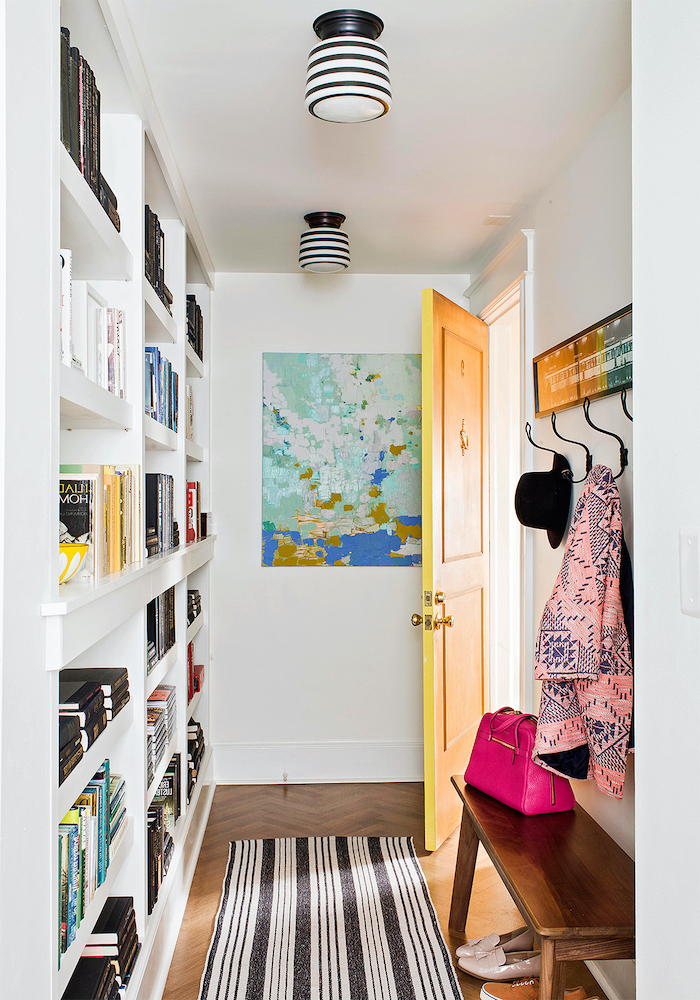 Hallway decor ideas with gallery walls
If you are not keen on the idea of adding an accent wall to your hallway, then we have the next best thing for you. Those bare hallway walls are the perfect spot to display your family photos or artwork. Pick out interesting frames that go well with the overall design of your home and hang them symmetrically on the wall. Your family photos can look great and will be visible for everyone who walks through your hallway. However, if you prefer to keep the family memories more private, than a nice artwork collection is a good substitute. Just make sure that the artwork you have chosen goes together well. Pick a theme and start arranging.
A hallway wall can be the perfect spot to display family photos or artwork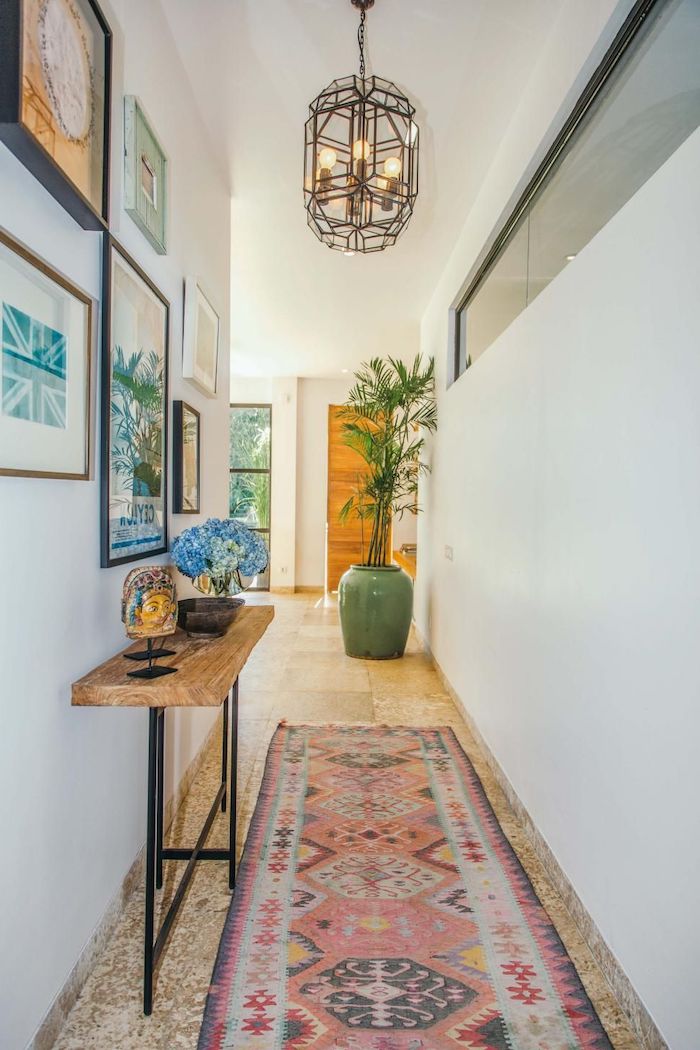 Accentuate with a rug
Some narrow hallways don't really give us a lot of freedom when it comes to decorating. You may not have enough space for storage and you might want to keep things simple. In that case there is a little something you can do to still give your entryway some character. What is that thing? Well, rugs. Hallway runners can be a great way to add a pop of color to your entryway. What's more they will add some warmth and coziness to your home. Whether you choose a rug in neutral color, or one that will be the centerpiece, runners are a must have item in your hallway.
Add a rug for extra pizzazz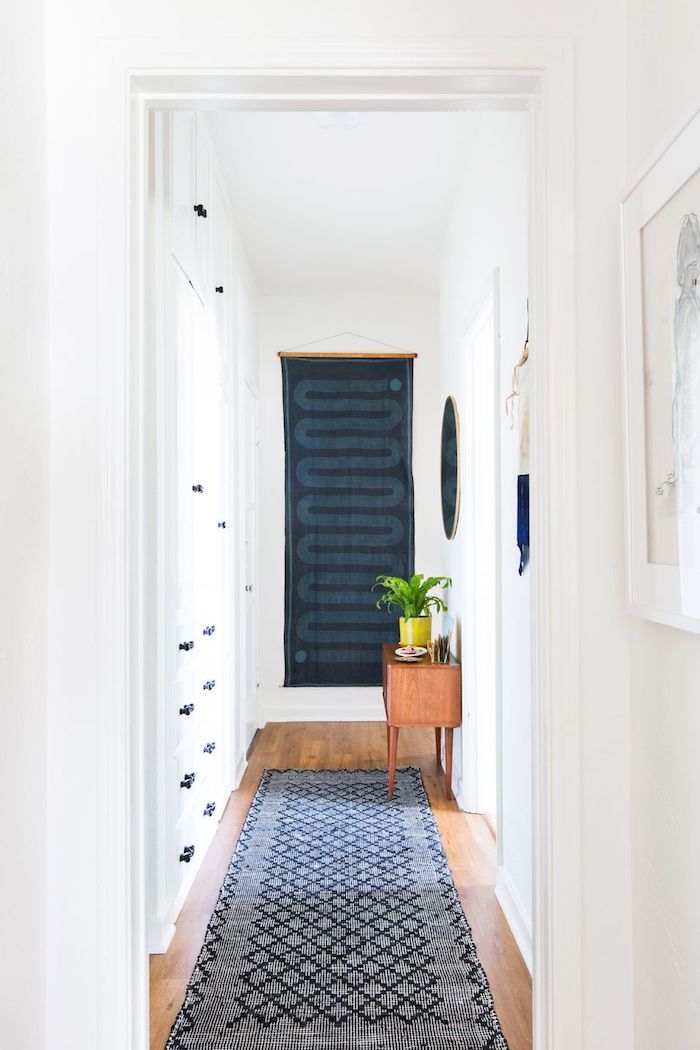 Bring the nature inside with a few plants
The hallway is the perfect spot for any large plants you might have at home. If there are any awkward corners or spaces that seem empty and you don't know what to do with them, adding a plant might be just the right way to go about filling them. What's more, we all know that having indoor plants is good for the overall quality of the air in your home. That, in turn, helps you focus, alleviates stress and helps you relax. And this is the exact feeling your guests are going to get from entering your house and seeing your plants at the forefront, greeting them at the front door.
Create a natural feeling with a few plants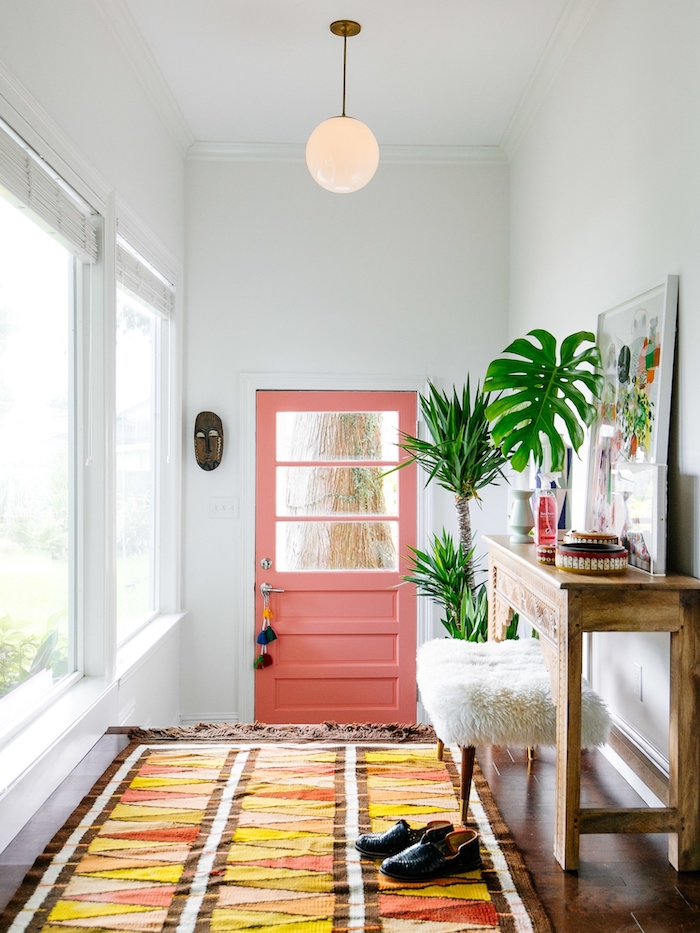 Hallway decor ideas with colorful tiles
If you are the type of person who likes to experiment and isn't afraid to try new things, then this trend is just for you. Instead of using a rug to keep things interesting in your hallways, why not opt for colorful floor tiles instead. Choose tiles in a pattern that goes well with your overall decor. That way, your hallways will be the natural successor of the rest of the rooms in your house. Plus, everyone will be super impressed with your floor as soon as they walk in. We guarantee it!
You can opt for colorful tiles instead of a rug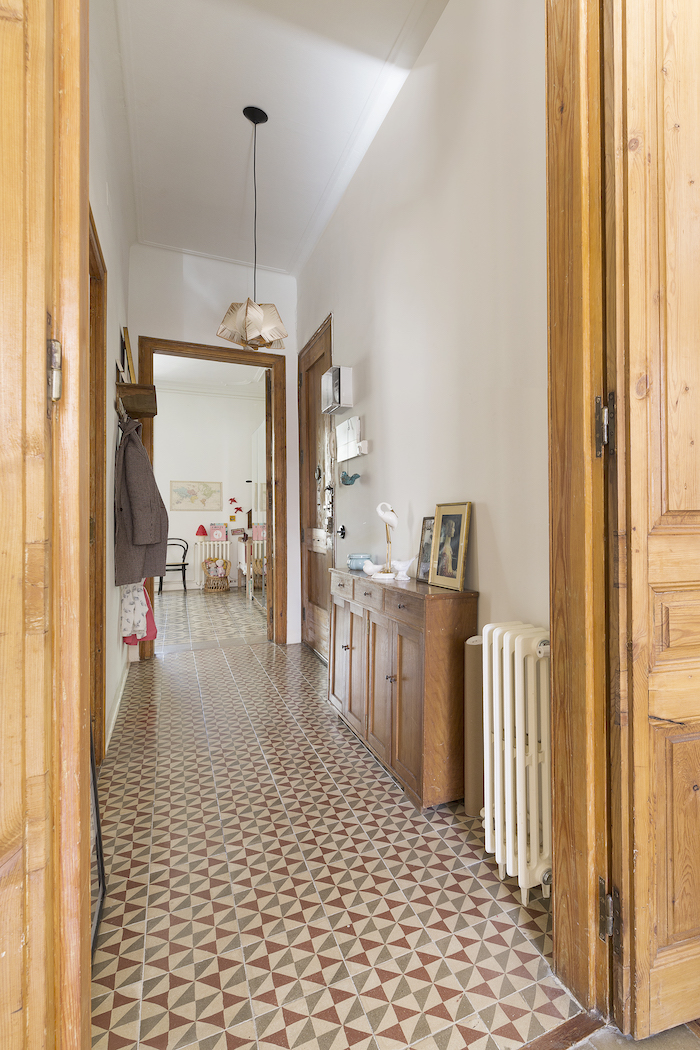 A good bench goes a long way
If you don't really need storage and are just looking for a statement piece, then having an eye catching bench in your hallway is the way to go. You can make a statement with a velvet bench in a bright color, or opt out for functionality. Benches can come in handy when putting on your shoes, or taking them off. If you don't need storage you can fill the wall above the bench with a photo gallery or artwork. On the other hand, if you still need some storage you can add a few creative hallway hooks for your coats and jackets.
Let the bench be the statement piece of your hallway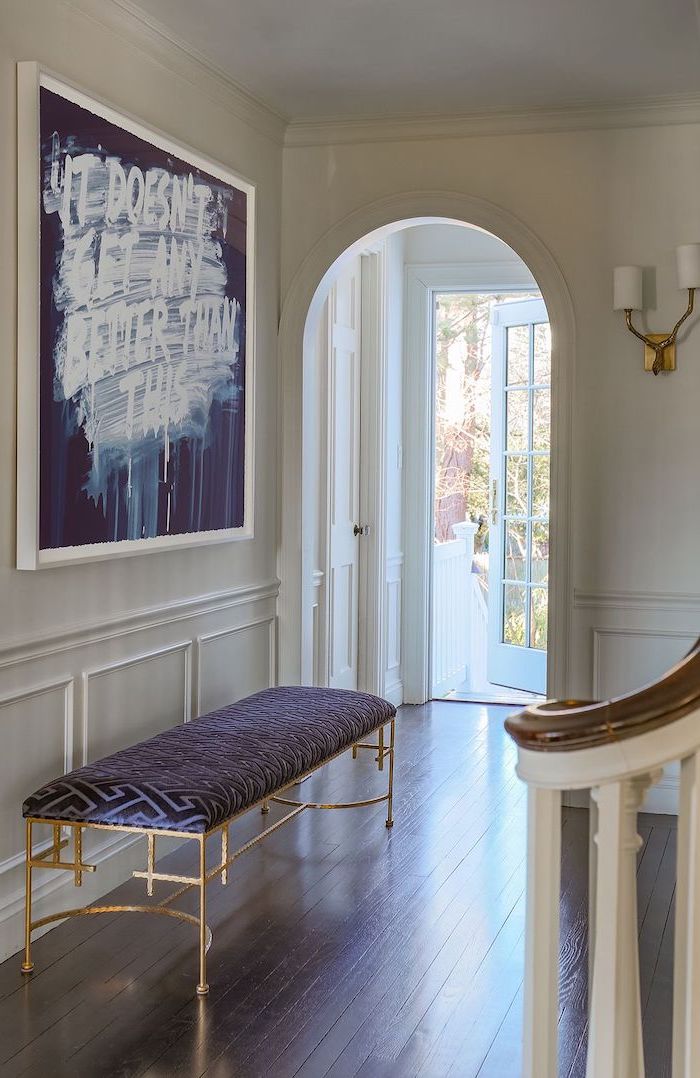 Don't forget a console table
Even if you don't have a lot of space in your hallway, it might be worth investing in a small console table. If your hallway is wide then invest in a bigger one. Console tables are the perfect place to unload after coming home. Especially, if you come home carrying a bunch of things. Unload everything on your console table, so that you are able to hang your coat and take off your shoes. You can use the table as a space to keep your keys, as well as some decorative accessories. You can hang some artwork above it or a mirror. Either way, every hallway needs a console table.
Add a console table so that you have space to unload after coming home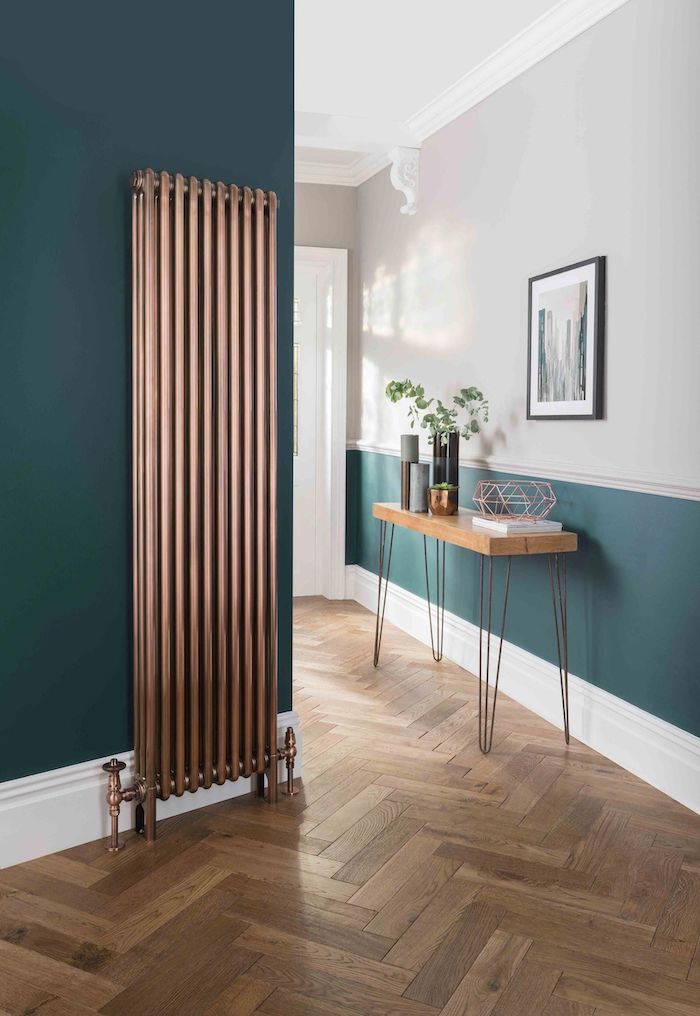 Are you ready for even more hallway decor ideas?
Dark colors, eye catching lighting – the perfect first impression of your home
Have some fun with your hallway hangers
Match your doors' color to your wallpaper
Fun and creative hooks will add so much character into your home
This is such a genius idea!
Use vintage pieces for a hallway with character
Add a few wall mounted shelves for extra storage