8 Thanksgiving appetizers to add to your 2021 festive menu
Thanksgiving is the perfect holiday. It involves lots of eating, drinking and most of all, spending time with your loved ones. It may be just one day, but it is definitely a great time to spend having fun with your closest family members. Of course, as any favorite holiday suggests, you need to have lots of good food. And if you are the hostess, we are here to help you with that. Naturally, the Thanksgiving turkey has to be a part of the menu, however, should never overlook the appetizers, either. That is why today, in this article, we want to offer you 8 ideas for Thanksgiving appetizers you absolutely have to add to your festive menu in 2021.
Here is a fun recipe you have to try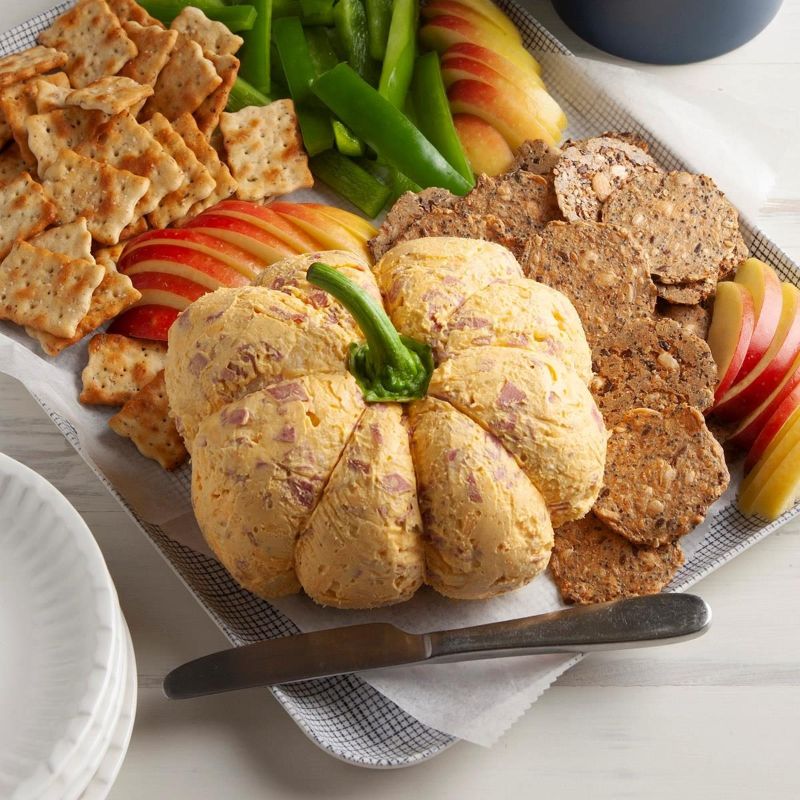 Thanksgving appetizers – pumpkin cheese ball recipe
Ingredients:
8oz cream cheese, softened
1/2 cup canned pumpkin
8oz crushed pineapple
2 cups shredded cheddar cheese
2 1/2 oz dried beef, finely chopped
1 tbsp finely chopped onion
green pepper stem
crackers
Instructions:
Beat the cream cheese, pumpkin and pineapple in a large bowl.
Add the cheddar cheese, beef and onion.
Shape the mixture into a ball, cover with plastic and use 4 rubber bands to make it look like a pumpkin.
Refrigerate for 1 hour, then add the pepper stem. Serve with crackers.
Source: Taste of Home
Delicious hummus recipe, perfect for Thanksgiving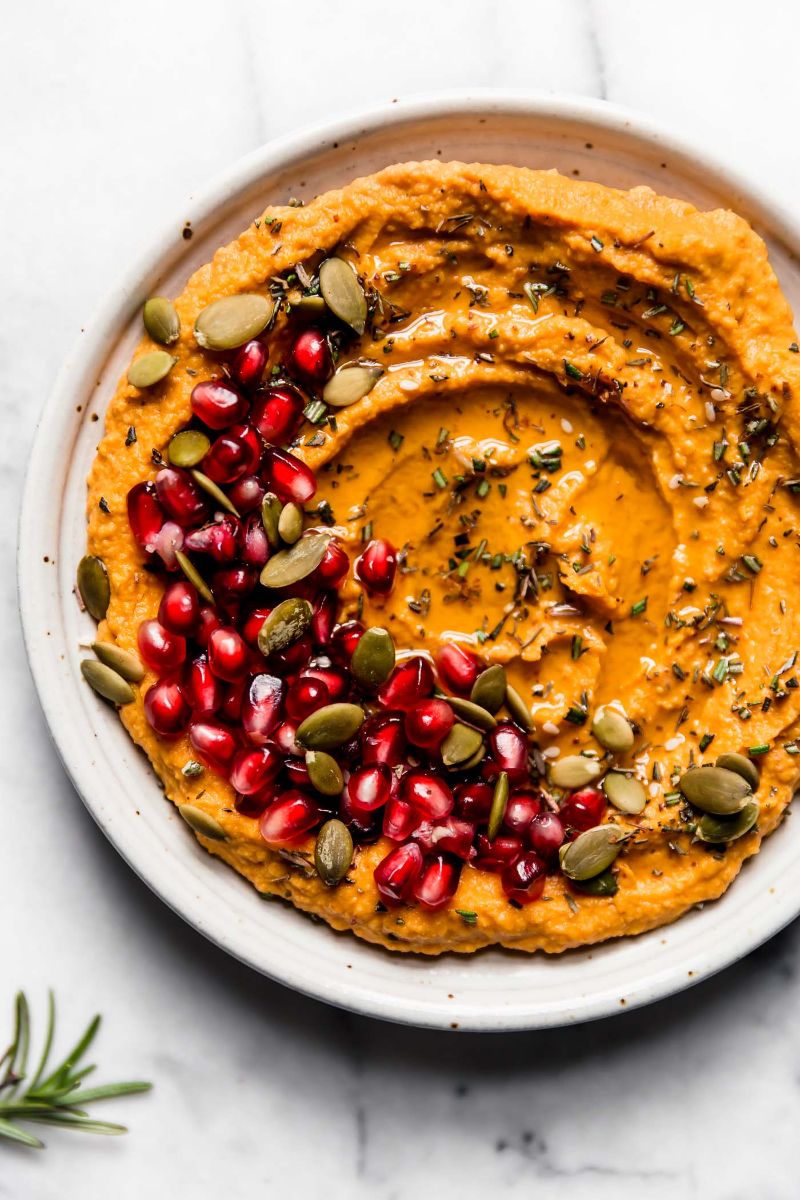 Pumpkin hummus recipe
Ingredients:
150z chickpeas, drained and rinsed
15oz pumpkin puree
2 garlic cloves, minced
1/2 lemon, juiced
1/3 cup tahini
1 tbsp pure maple syrup
1 tsp salt
3/4 tsp ground cinnamon
1 tsp ground cumin
pinch of cayenne pepper
1/4 cup olive oil
1/4 cup ice water
Instructions:
Add the pumpkin puree, chickpeas and garlic to the bowl of a food processor. Pulse a few times, then add the tahini, lemon juice, maple syrup, salt, cumin, cinnamon and cayenne pepper.
Turn on the processor slowly. Gradually add in the oilive oil, then let the processor run for about 3 minutes.
Gradually add the ice water until the desired texture is achieved.
Garnish with a drizzle of olive oil, pomegranate arils and finely chopped rosemary.
Source: Plays Well With Butter
The next recipe can be a part of the Thanksgiving table decor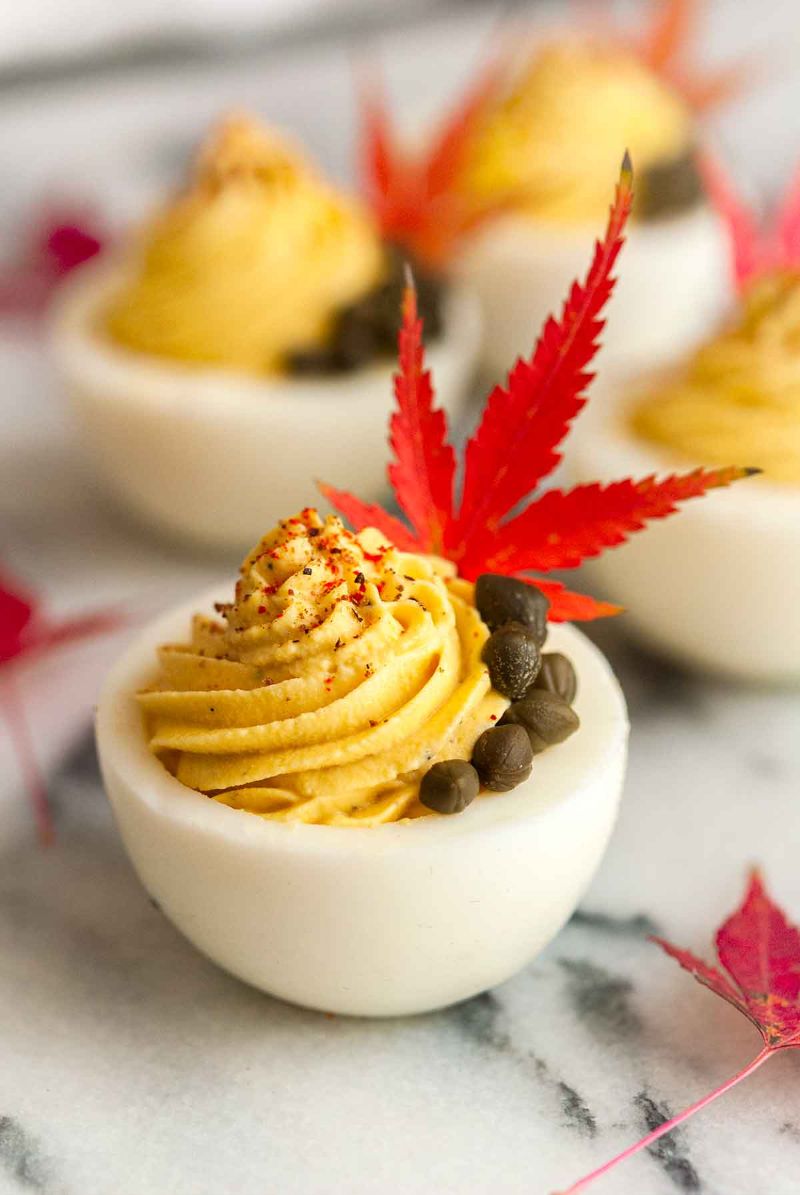 Thanksgiving deviled eggs recipe
Ingredients:
6 eggs
1 tbsp mayonnaise
1 tsp spicy brown mustard
1/8 tsp nutmeg
1 tsp creamy horseradish
smoked paprika
salt and pepper
1 tbsp capers
small maple leaves
Instructions:
Boil the eggs in a large pot for about 20 minutes. Then, transfer into cold water and refrigerate for about half an hour.
Once cool, remove the shells.
Slice the eggs through the centre to get two equal halves and carefully remove the yolks. Slice a little bit off the bottom so that the eggs stay straight.
Add the yolks to a large bowl. Mix in the mayo, mustard, horseradish, nutmeg, salt and pepper.
Use a piping bag to fill the eggs with the mixture and garnish with capers, smoked paprika and the small maple leaf.
Source: She Keeps a Lovely Home
Who doesn't love pigs in a blanket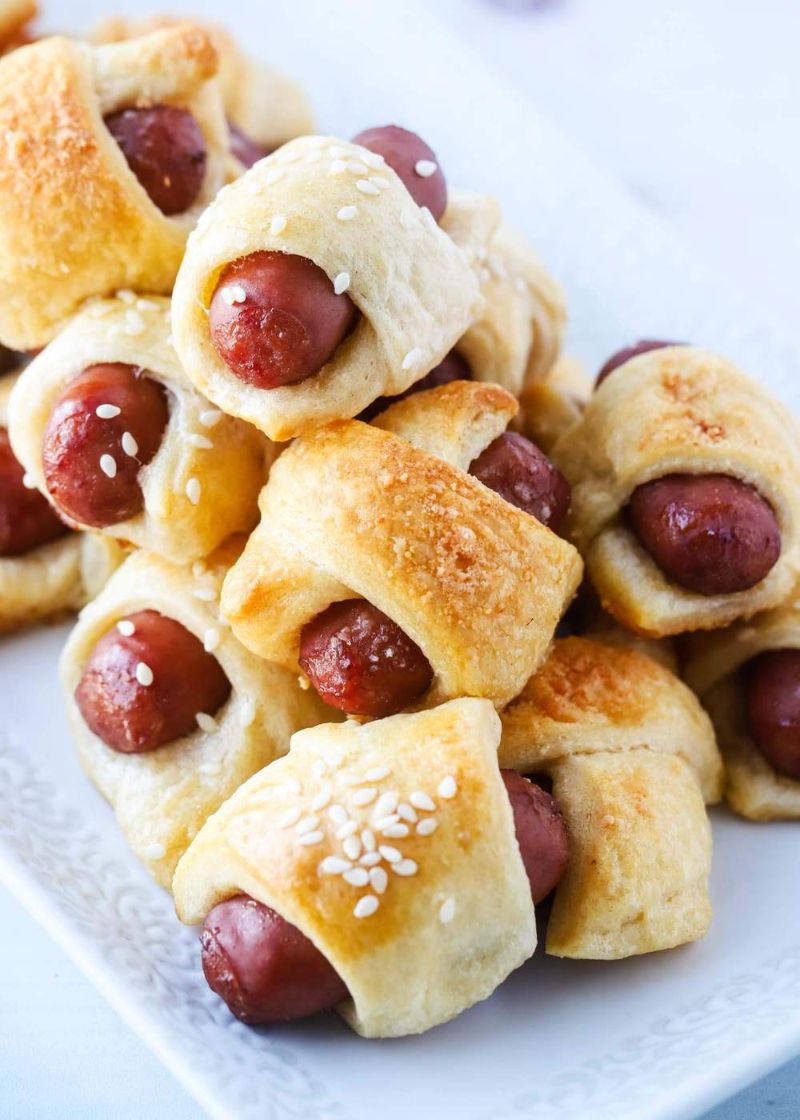 Easy Thanksgiving appetizers – pigs in a blanket recipe
Ingredients:
1/2 tsp garlic powder
3 tbsp butter, melted
14oz mini smoked sausages
8 oz crescent rolls
2 tbsp parmesan cheese
Instructions:
Preheat oven to 375F.
In a bowl mix the garlic powder and butter.
Cut the crescent triangles into 4 smaller triangles.
Wrap the mini sausages on the dough and wrap them. Place onto a paper lined baking tray and brush on the garlic butter.
Sprinkle with parmesan and bake for about 12 minutes.
Source: I Heart Nap Time
Are you ready for something crunchy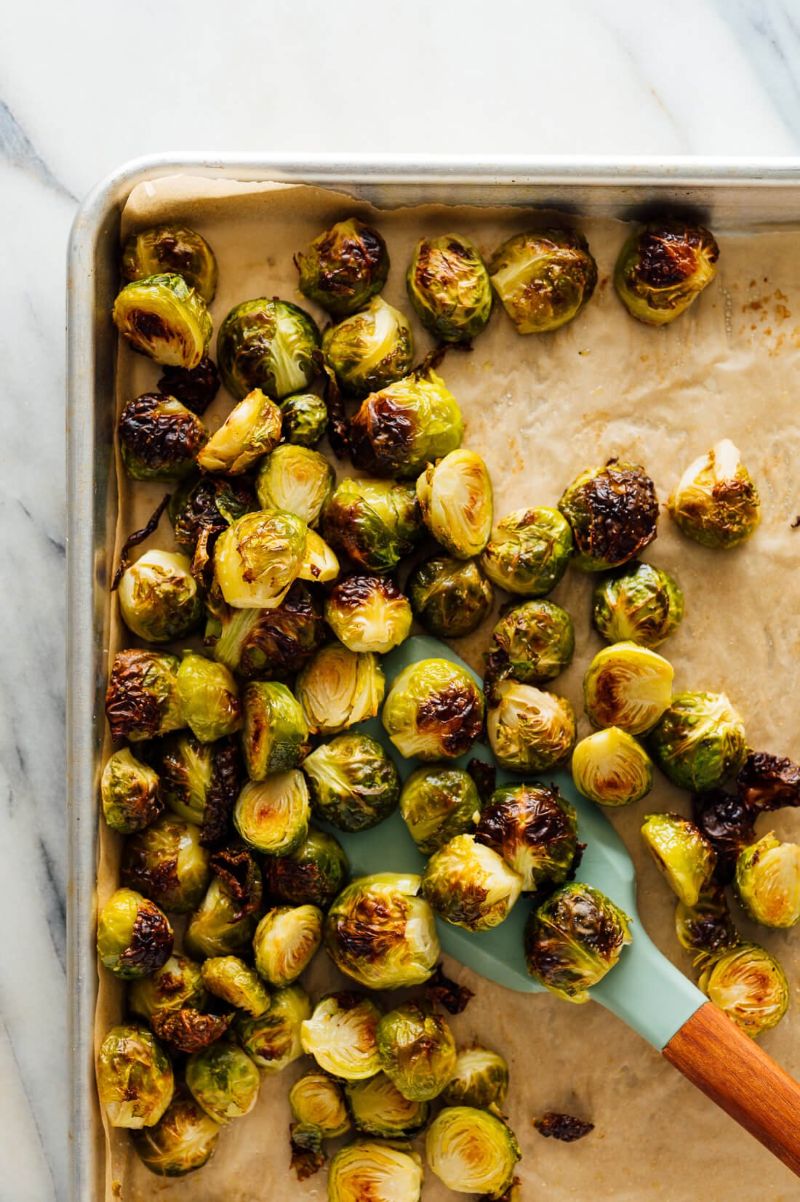 Roasted Brussels sprouts – one of the best Thanksgiving appetizers
Ingredients:
1 1/2lbs Brussels sprouts
2 tbsp olive oil
1/4 tsp salt
Instructions:
Preheat oven to 425F.
Slice off the ends of the Brussels sprouts and cut in half.
Line a baking sheet with parchment paper and add the Brussels sprouts.
Drizzle with olive oil, season with salt and toss. Then, arrange in an even layer with tha flat side facing down.
Roast 17-25 minutes until golden on the edges.
Source: Cookie and Kate
Everyone's favorite hors d'oeuvre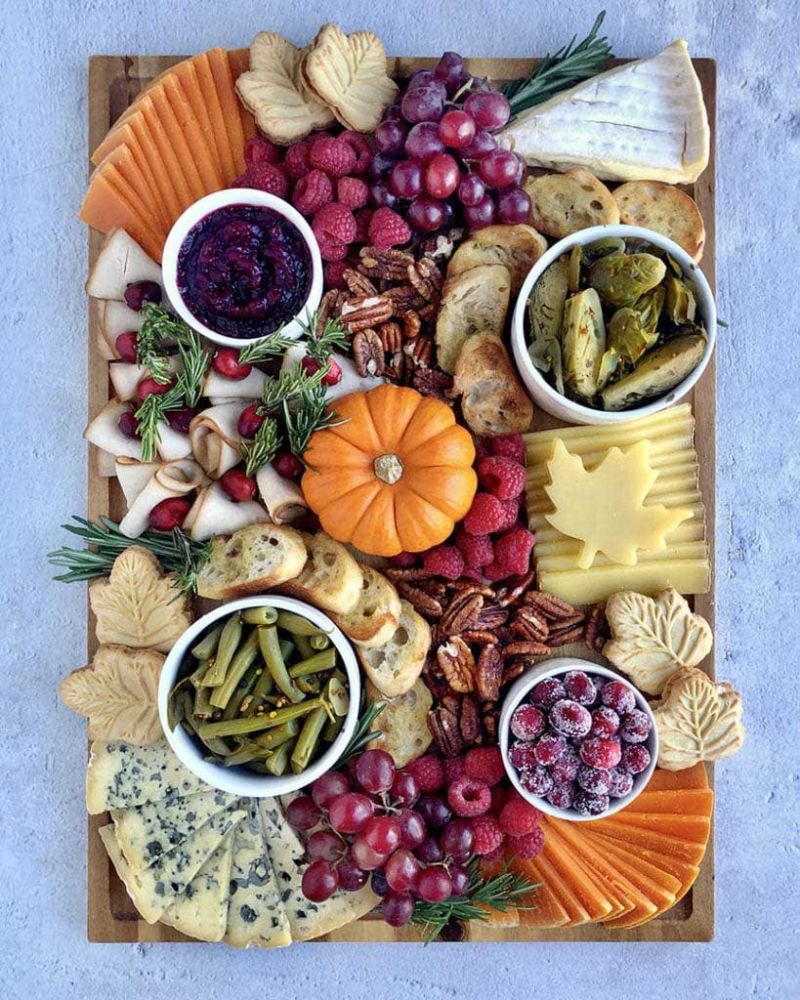 Thanksgiving charcuterie board
Ingredients:
Brie cheese
Mimolette cheese
Comte cheese, shaped into maple leaves
Bleu d'Auvergne
turkey "kebabs" (use a rosemary sprig and a cranberry to keep the turkey rolled)
baguette slices
mini orange pumpkin
purple grapes
raspberries
cranberry jam
candies pecans
pickled green beans
rosemary
cranberries
Instructions:
Place the condiments in bowls and arrange the rest of the ingredients around them. You can use the photo above for reference or arrange them in a way you like.
Source: Ain't Too Proud to Meg
Now it's time for something sweet and savory

Sweet and savory Thanksgiving appetizers – stuffed figs with goat cheese
Ingredients:
12 fresh figs
4oz soft goat cheese
1 tsp olive oil
salt and pepper
1/4 cup date syrup (you can substitute with honey)
Instructions:
Preheat oven to broil.
Cut off the stems of the figs and cut in an X shape on top.
Place onto a paper lined baking sheet.
Use a piping bag to pipe the goat cheese into the figs.
Lightly brush with olive oil and sprinkle with salt and pepper.
Transfer into the oven and broil for about 4 minutes.
Slightly warm the date syrup or honey. Take the figs out of the oven and drizzle with the syrup or honey.
Source: Tori Avey
Everyone's favorite sweet potatoes are making an appearance as well

Sweet potato bites – perfect Thanksgiving appetizers
Ingredients:
2 sweet potatoes
olive oil
salt and pepper
1 watermelon radish, thinly sliced, cut into half moons
2 tsp sesame seeds
For the avocado tartare:
1 tsp sesame oil
2 tsp fresh lemon juice
1/4 tsp Dijon mustard
1/4 cup red onion, diced
1 ripe avocado
salt
Instructions:
Preheat oven to 425F.
Slice the sweet potato middles into thin rounds.
Place onto a paper lilned baking sheet and drizzle with olive oil. Season with salt and pepper and roast for about 20 minutes. Flip over and roast additional 15 minutes.
To make the avocado tartare mix the sesame oil, lemon juice, mustard and salt in a bowl. Add the onion and set aside.
If the sweet potatoes are almost done, dice the avocado and add it to the tartare with a squeeze of lemon juice (this will prevent it from going dark). Season with salt.
Top the sweet potato rounds with the radish slices and avocado tartare.
Garnish with sesame seeds and coarse salt.
Source: Love & Lemons
You can be as creative as you want with your Thanksgiving appetizers

Even the simplest bites will do the trick if done right

These Thanksgiving charcuterie board ideas should give you enough inspiration

Zucchini bites for the people looking for a healthier option

Cheese and spinach dip – the perfect Thanksgiving appetizer

Be extra with a nice fondue with a few different types of cheese – you will definitely impress your guests